May you are a big fan of archery and willing to learn this sport. Hitting the targets will make you ambitious to achieve your life goals too. So, keep on practicing the archery on a daily bases with these 10 best DIY archery target ideas that will allow you to shoot arrows anywhere in or out of the house. These ideas are using so many different materials to make these targets that will make cool handmade gifts too for archery sports lovers. From using old wood to old carpet to paper, use all materials to build some nice archery targets at home.
Explore this collection of 10 DIY homemade archery target ideas that contains some of the best homemade samples that you will love to clone. Now, you just no need to spend a lot on the archery training at home. Just recycle, upcycle, and repurpose various materials from home to build these targets.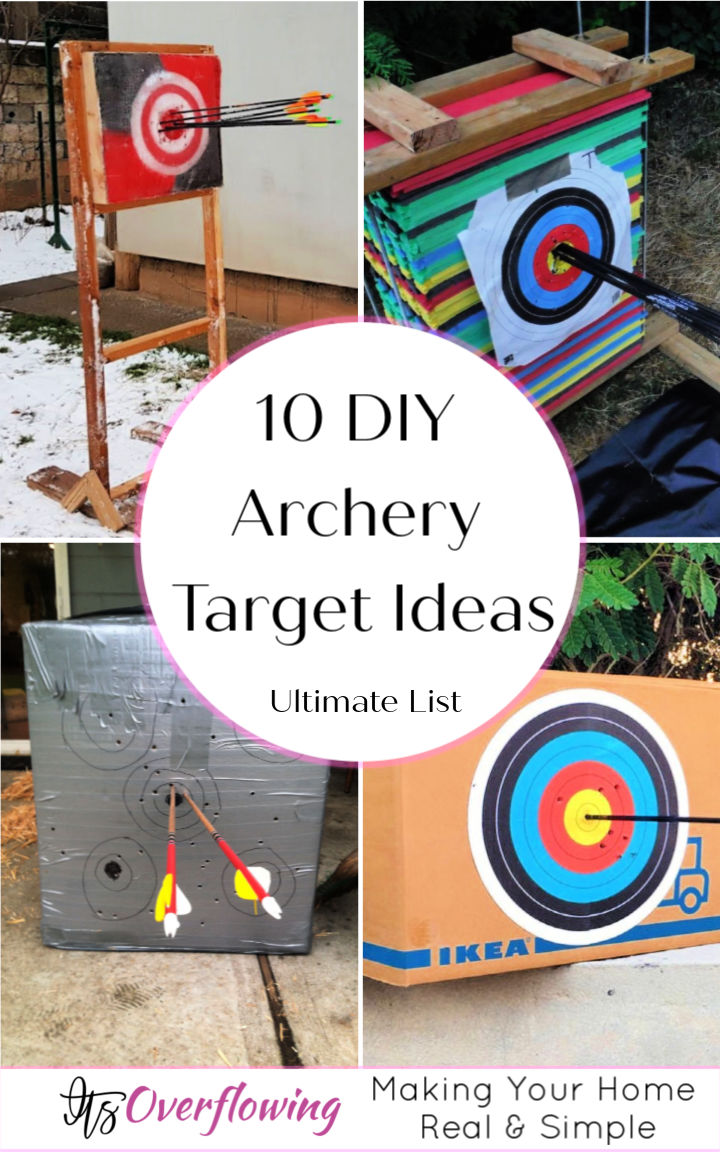 Stack the carpet pieces and compress them down using a wooden frame assembled with threaded bolts and nuts to build an archery target. Repurpose the concrete bags and stuff them nice to make lovely archery targets. Stack also the A4 papers to make no-cost archery targets and also stack the foam floor mats to gain instant colorful archery targets in no time.
Another great option will be cardboard boxes. Stuff the cardboard boxes with custom materials and finish with archery target prints adhered in front to make lovely archery targets. Wrap also the duct tape around a cardboard box to gain an archery target. Browse the entire list of these DIY Archery Target Ideas to get manual instructions to build an archery target like a pro.
1. Ultra-durable Foam Archery Target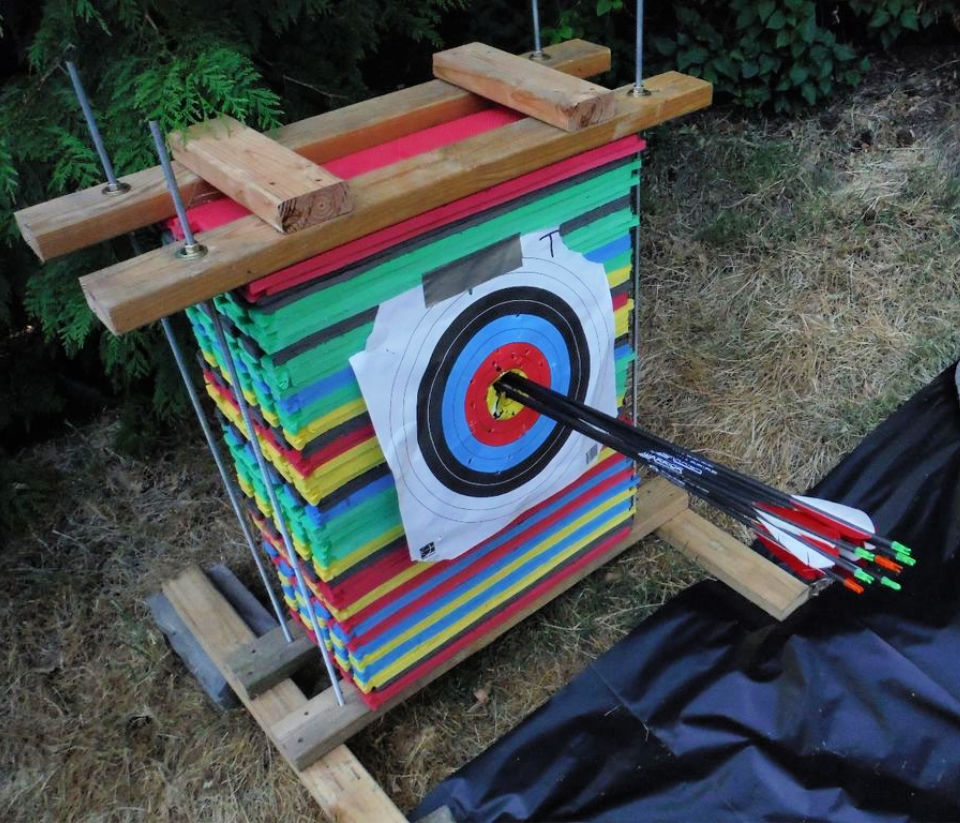 Keeping your archery practices for the annual competition by making this durable archery target can be set to any of your outdoor. Stack the 24″ square foam floor mats and start adding sheet until you get the desired height. Build a wooden structure using 2x4s and long carriage bolts holding inside the stacked foams. Details here instructables
2. Homemade Archery Target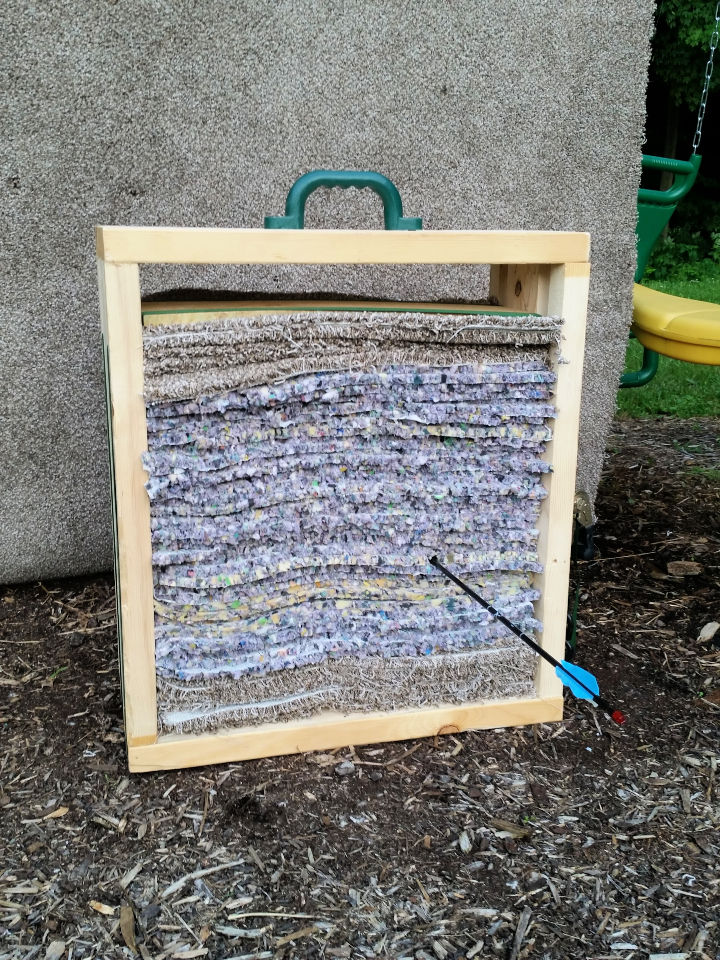 Build this another fantastic looking archery target by stacking the equally cut rectangular strips of carpet inside a hollow wooden frame. Use an 8′ length of 2×10 to build the wooden square frame, and you need 100 square feet of carpet for this project. Next, just finish with 2 ratchets 1″ straps with a handle. mamasgeeky
3. DIY Economical Archery Target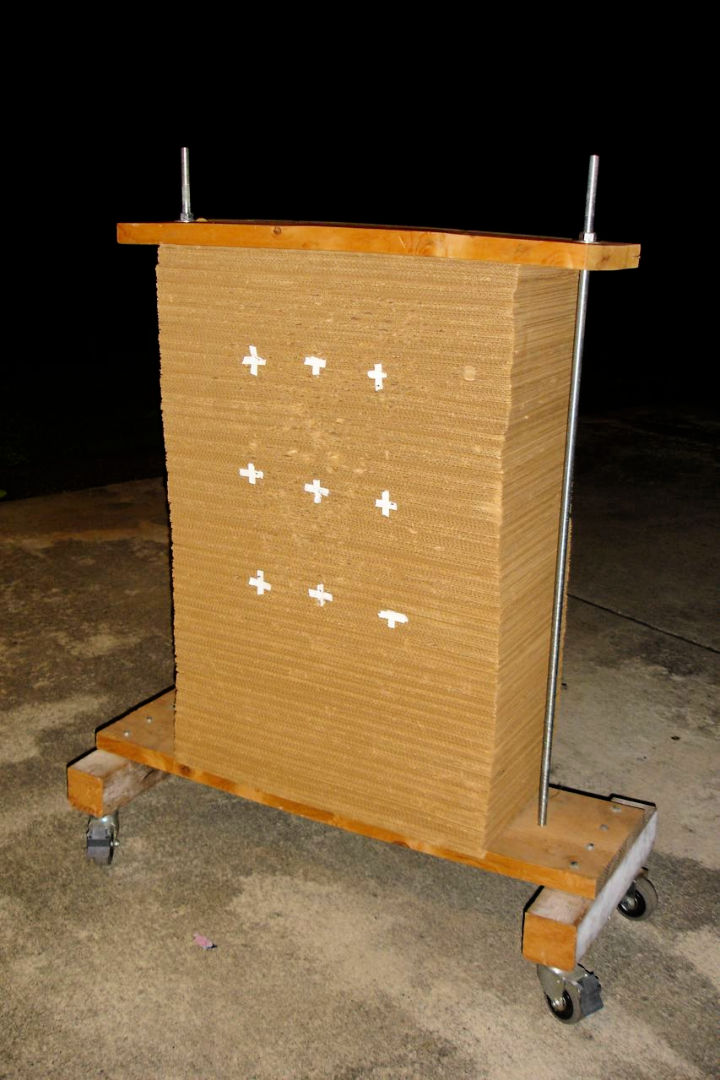 Check out here another quick and budget-friendly plan to build an archery target inexpensively. Just stack 14″ x 30″ pieces of corrugated cardboard to gain a heightened target that you can secure in place, building a wooden frame. Build the opt compression supports and base supports using 2″x12 and 4″x4″ cedar posts and assemble them using threaded bolts and nuts. Finish with rolling wheels. outdoorblog
4. Archery Target Using Cardboard Box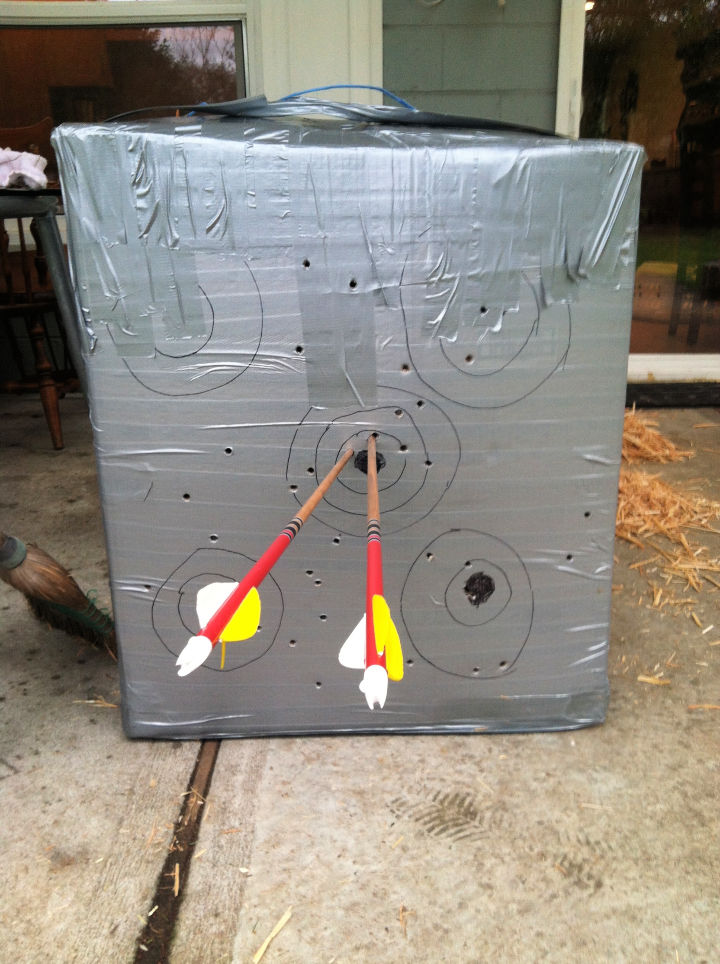 Grab an old cardboard box from your home that may have got after receiving some home appliance deliveries. Wrap the duct tape around them to get them waterproof and set as a new archery target. This archery target will cost you the cost price of duct tape, the $7. rosecityarchery
5. Budget-Friendly Archery Target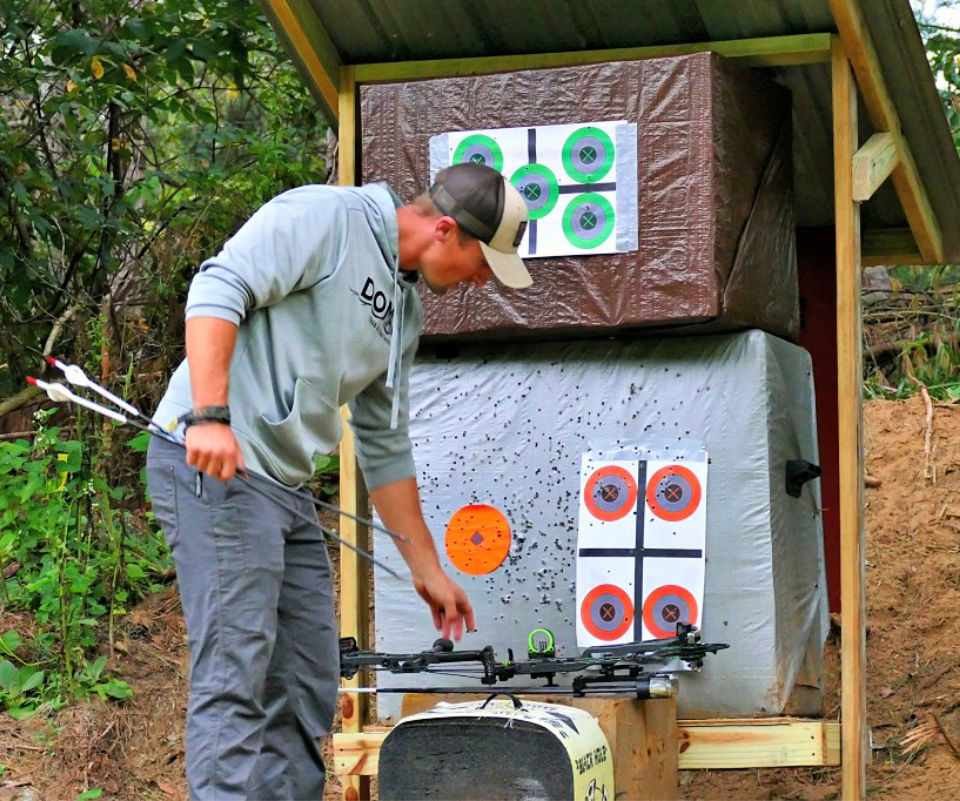 Build a 32″ x 22″ inches archery target at the cost of $30 using the tarp, 1x2s pine boards, 3/8″ plywood, cardboard, and box of drop cloth poly film. Next, build a second target at a $25 cost price using 1x2s pine boards, 1/4″ OSB wafer board sheathing, tarp, cardboard, and drop cloth. Details here life out there
6. Suburban Outdoor Archery Range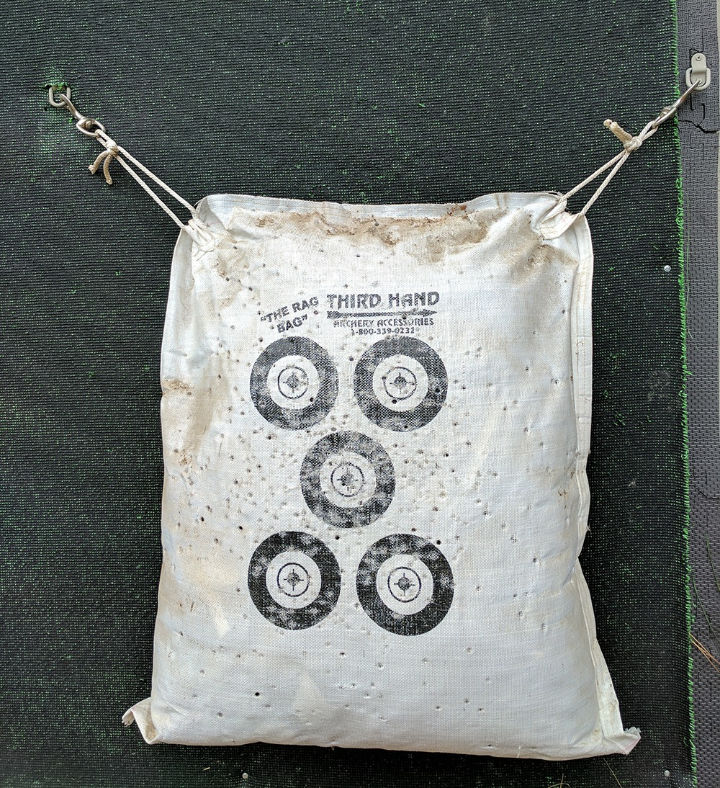 Willing to participate in the archery sports? Then get skilled enough by practicing daily. This will demand to build your own archery target that you can set to your outdoor. There are lots of options, build this suburban outdoor archery range using 4x4s, 1/2″ plywood, concrete bags, white exterior paint, hinged metal loops, and quick release clips. survivingprepper
7. Archery Target Used A4 Sized Papers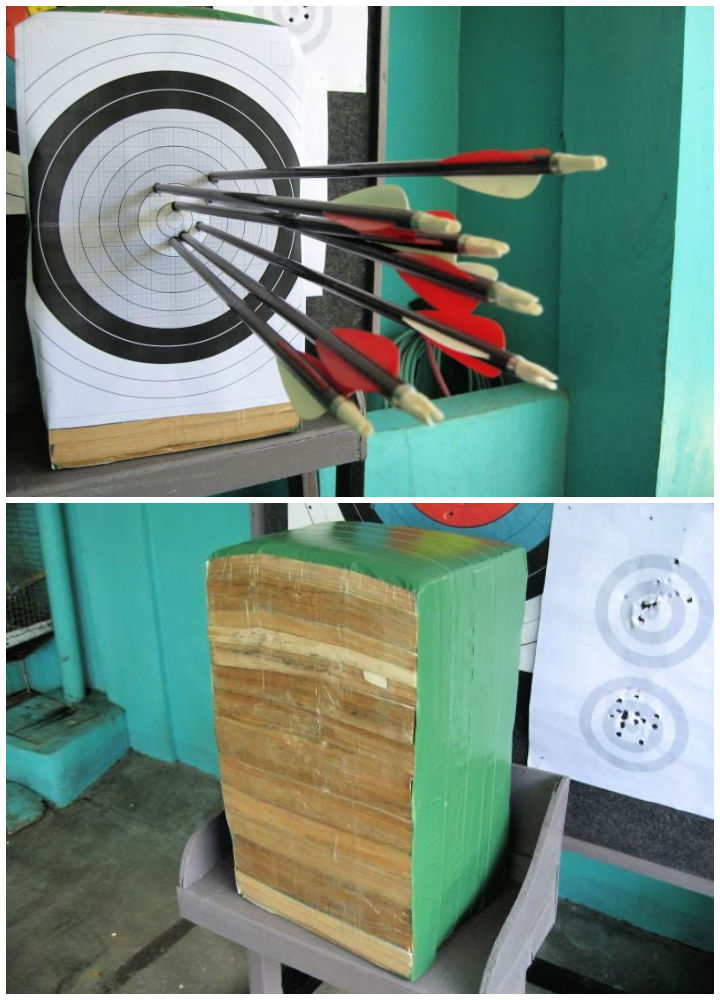 Use also the A4 papers to build quickly an archery target that will work great for sure. The idea is to stack the paper or their bundles until you get the desired target height. Next, add compression by wrapping the rope around and add waterproofing using duct tape. Details here instructables
8. Archery Target from Scrap Materials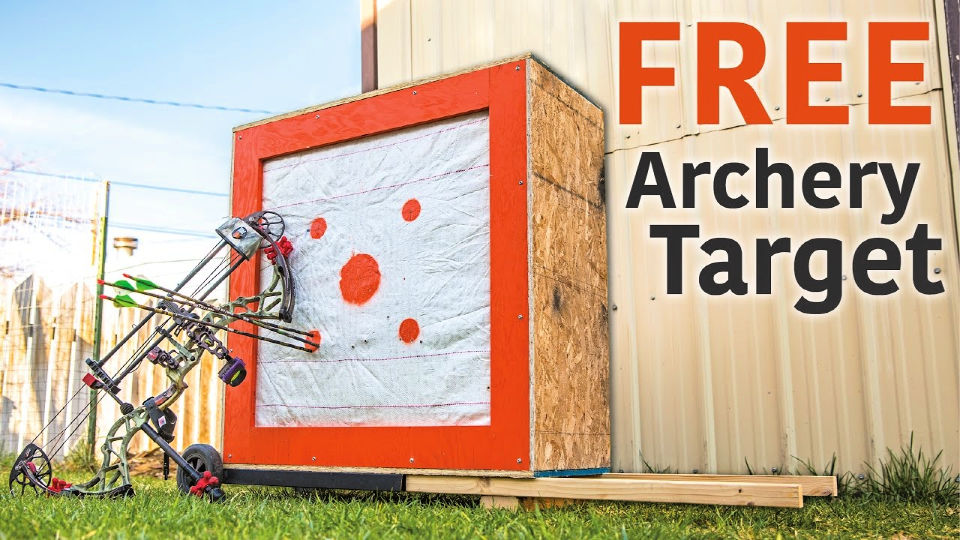 Get here the free video instructions step-by-step to build this archery target. It will not cost you too much as it is made of scrap materials. Build the front square frame using wood slats and a durable plastic bag. Next, just fit it in another bigger frame made of plywood. Fill inside space with plastic bags or with thrown away materials of this kind. youtube
9. How to Make Archery Target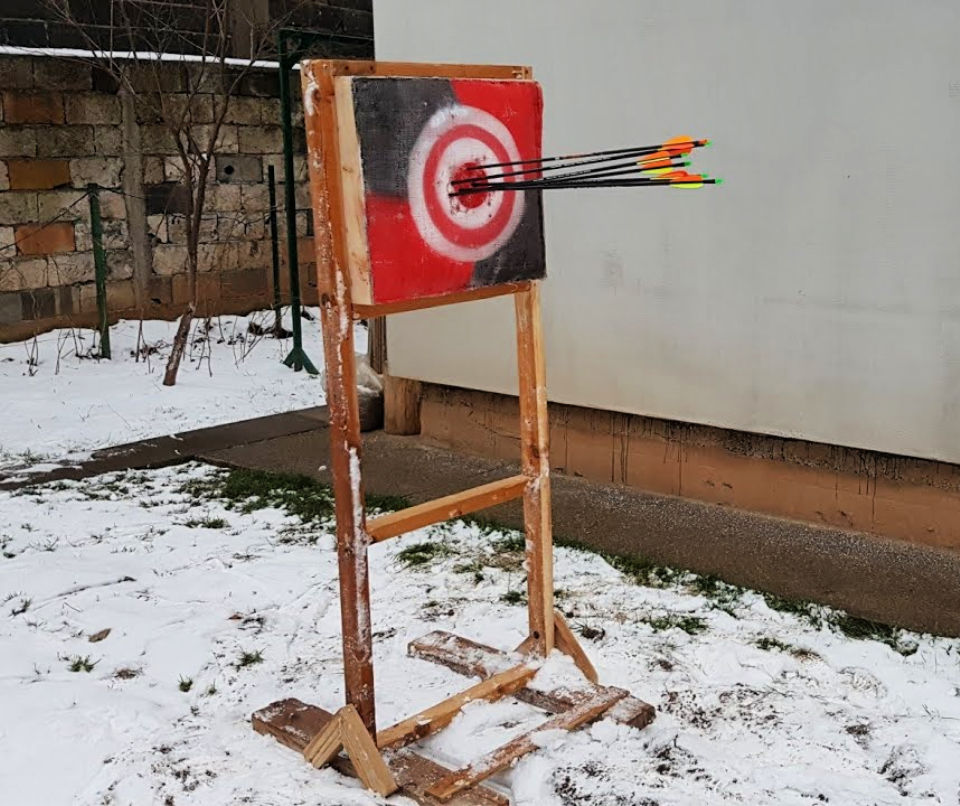 Are you brainstorming how to build a cool archery target? Then just get all free video instructions from here. Start making this archery target by building first a square wooden hollow frame using your favorite wood slats. Next, just use plastic sheets, fabric, custom stuffing, and foam to stuff it to gain a lovely target. Don't forget to set it in a standing frame to set it on a targeted height. youtube
10. Homemade Cardboard Archery Target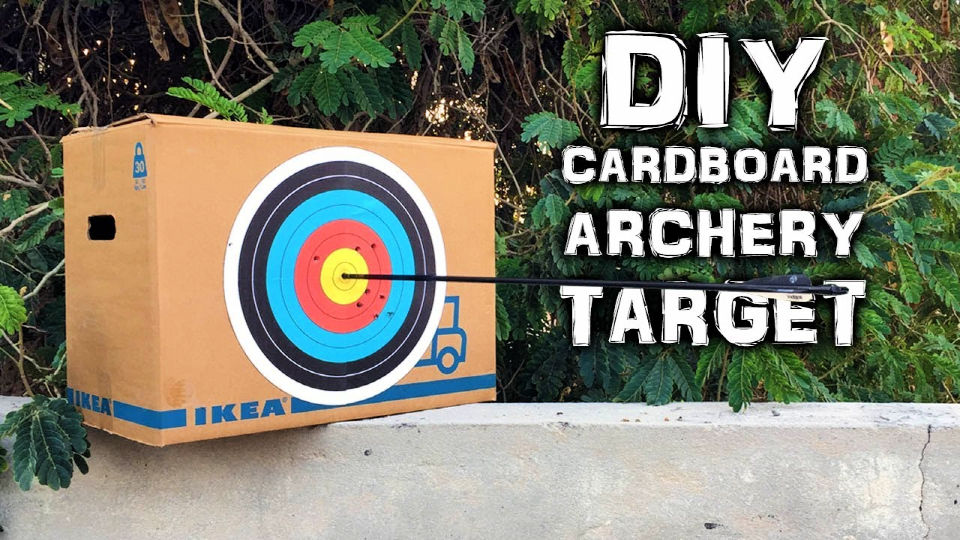 Making this cardboard archery target is super simple and will involve only the recycled cardboard boxes and pieces. Stuff your selected cardboard boxes with stacks of cardboard pieces that can simply be glued to inside the box. Next, print down the archery target shape to add on the front side. youtube
Conclusion:
The DIY projects department allows you to build all that does not come in your budget range. Don't cancel out your archery target practice for the annual sports competition due to not having a good archery range target. Just make a DIY archery target at home using the recycled materials you home like wood, plastic bags, foam, and old carpet pieces, etc. These homemade archery target projects will provide step-by-step instructions and tutorials to build a target with every possible material.