Keeping your cats safe from the predators should not mean to miss out on all the outdoor luxury. Keep your cats safe from all outdoor hazards while enjoying fresh outdoor air using outdoor cat enclosure! Learn how to build a catio with these 30 free DIY catio plans that include step by step instructions, materials and cut list.
These outdoor cat enclosure plans will provide step-by-step instructions, free plans, visual guides, and even video tutorials to build a catio like a pro with all the features that will be the real heaven for your cat to live with.
From a miniature catio to a window cat enclosure to a giant catio, see readymade samples of all in this list of 30 DIY outdoor cat enclosure plans that are going to be the best cat catios. These giant cat cages may come with the wood log tree inside for a natural appeal and hence will make your cats exercise in totally safe outdoor environments.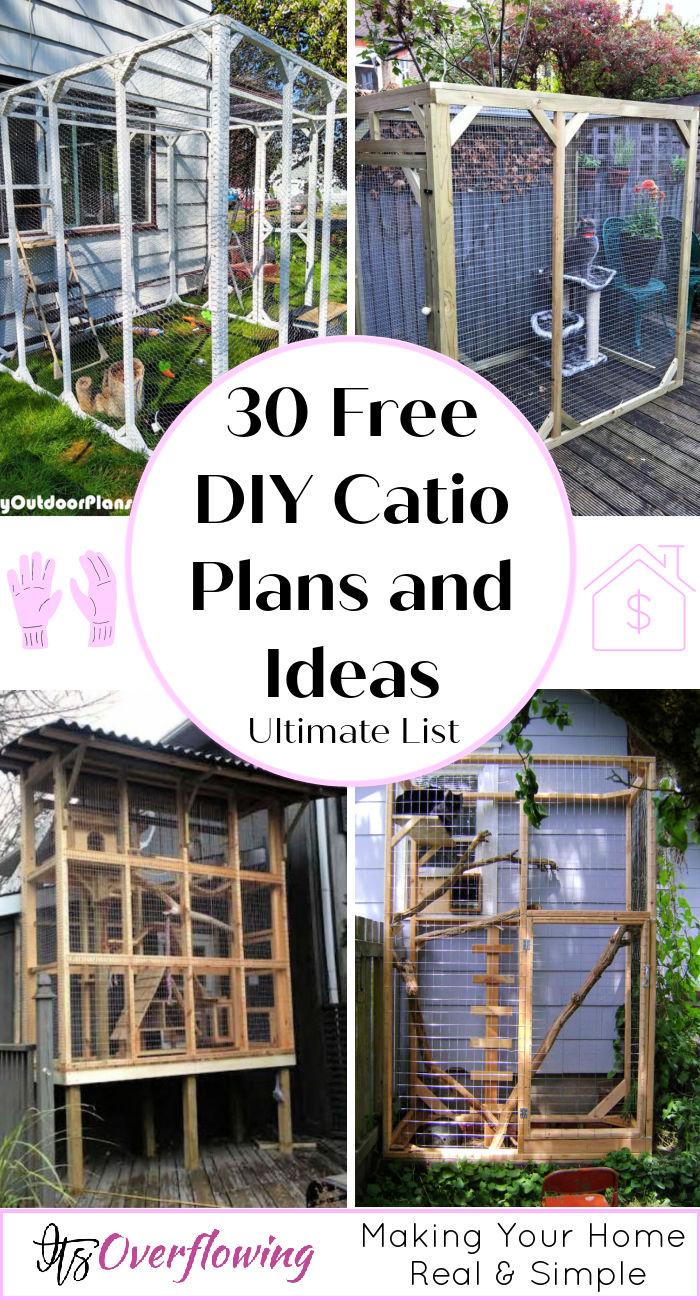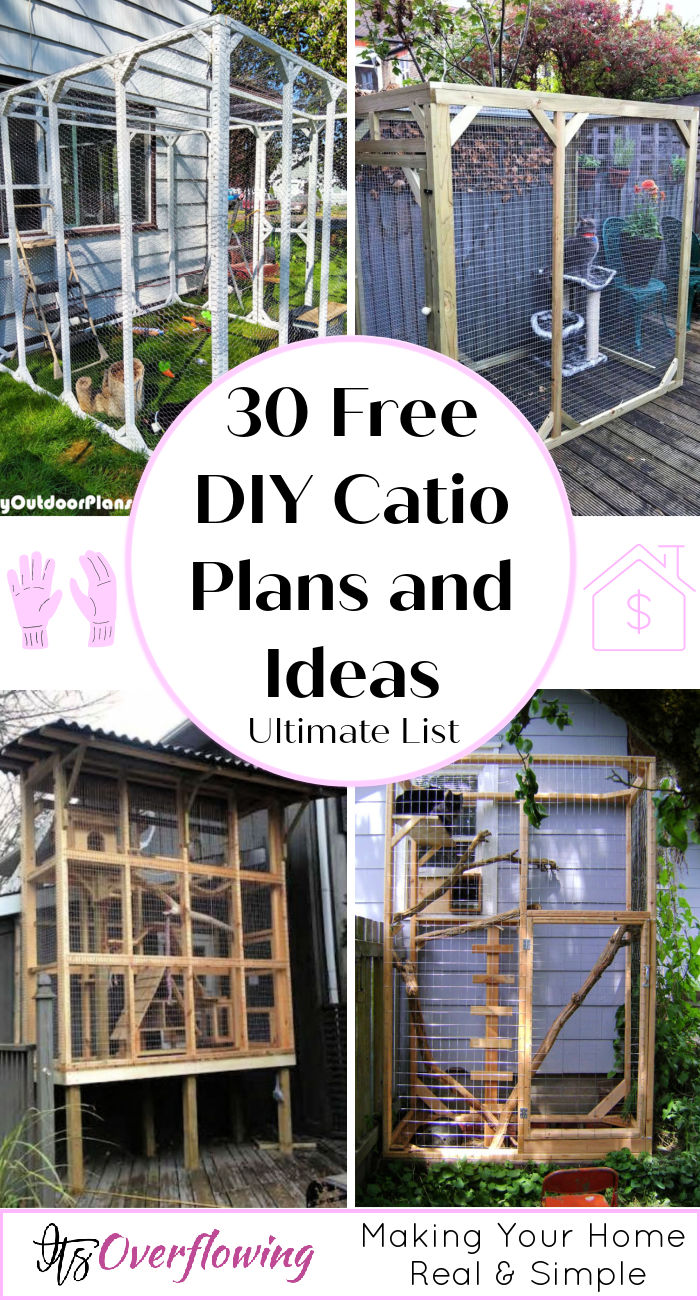 Build an outdoor catio manually using 2x4s, 2×2, and other lumber, cedar, or pine wood boards. Just use the wooden lengths to build the frame according to your plans. Finally, you can finish them with a waterproof roof and hardware cloth for total safety. Go with the IKEA bookcases to build instant beautiful cat enclosures and also get the free catio plans here to build a portable catio in no time. Browse the entire list of these catio plans to see also DIY catio designs that come with bigger tunnels. You will get a variety of these cat cages to build with the PVC pipes and tubes.
1. How to Build a Catio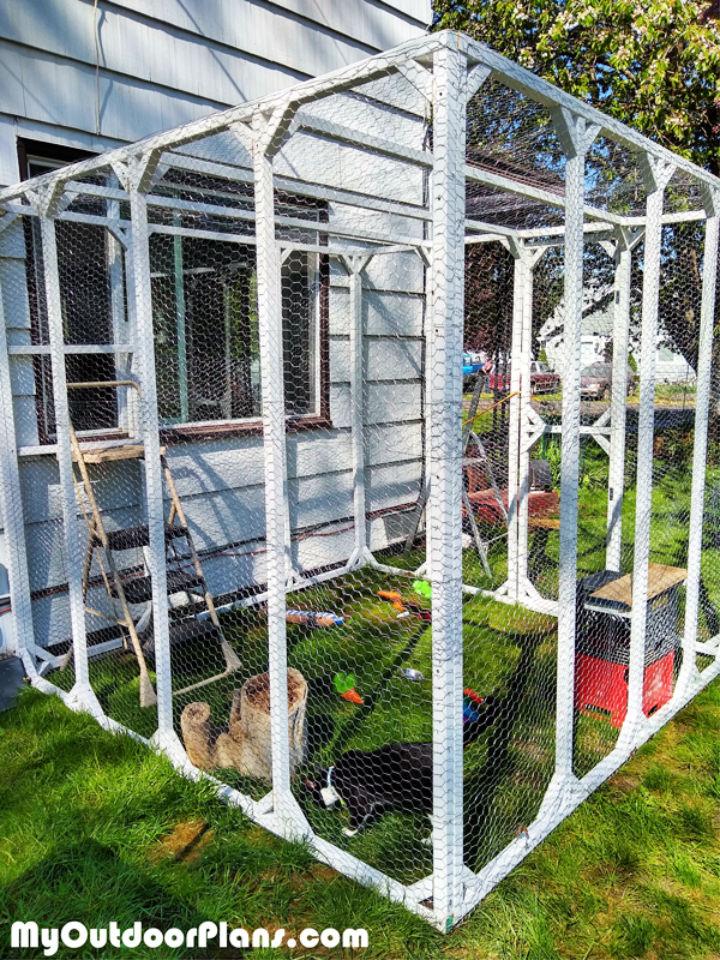 Protect your furry friends from the predators by building this catio. Get here the free plans to build a cat catio that will allow them to safely enjoy the outdoor weather. Build most of this DIY catio using the 2×2 lumber planks in so many different lengths. After you build the frame, just transform it into a cage using hardware cloth. Details here myoutdoorplans
2. DIY Catio with PVC Pipes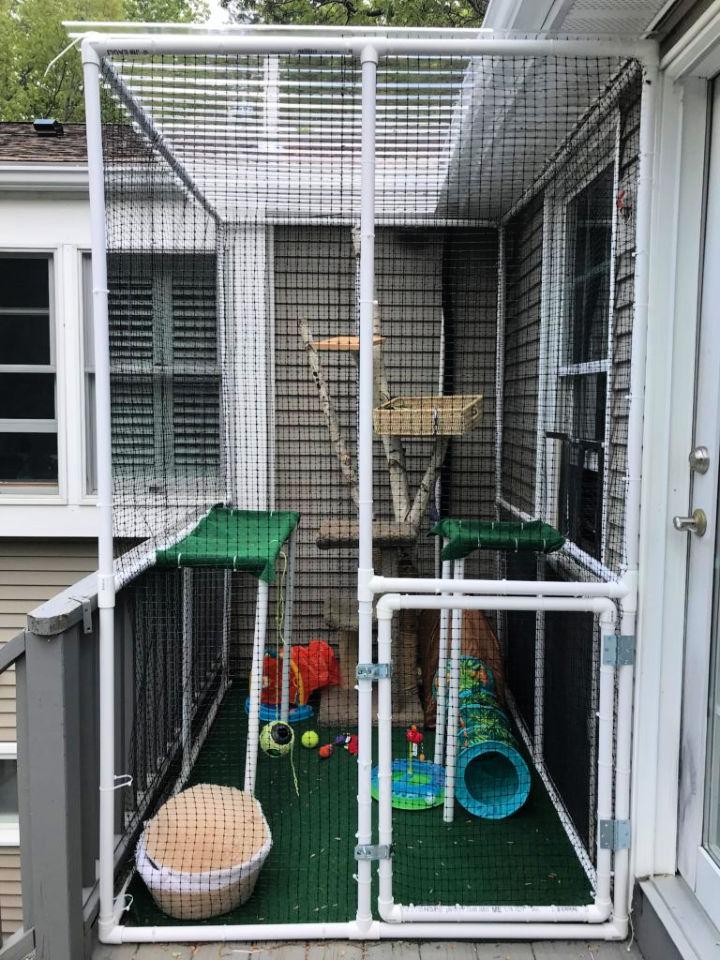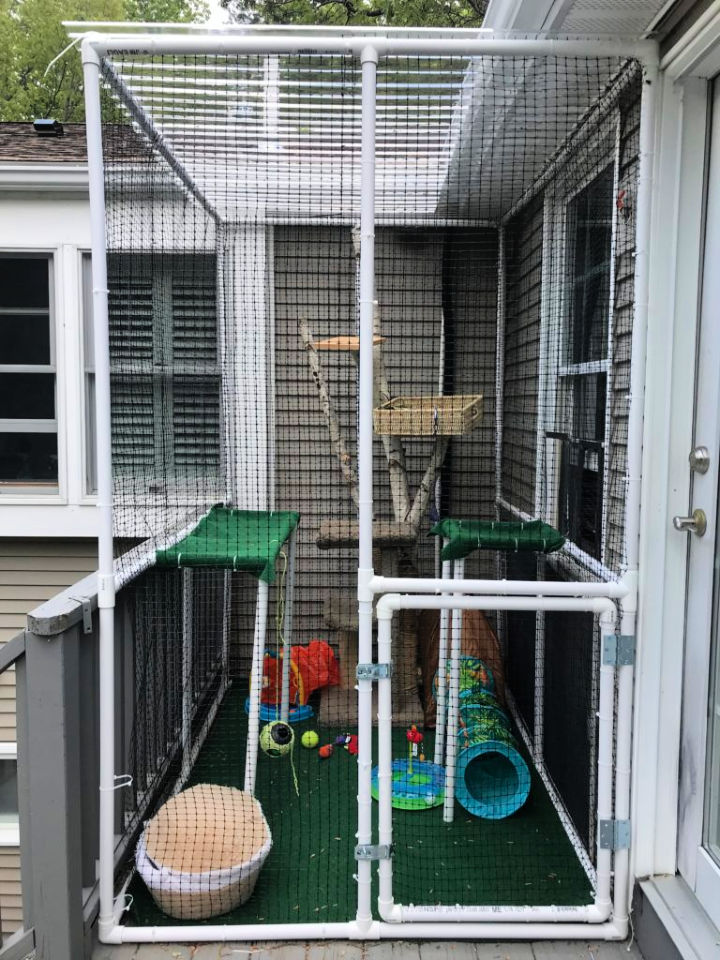 Help your cats safely get some fresh outdoor air using this PVC pipe catio. It will keep your cats safe from the car hits. Build this safe Catio for a cat will cost you less than $300. Build first the frame of this catio using the PVC pipes and then cover the frame with the Blue Hawk Plastic garden fencing. Details here ourrepurposed
3. Homemade Outdoor Catio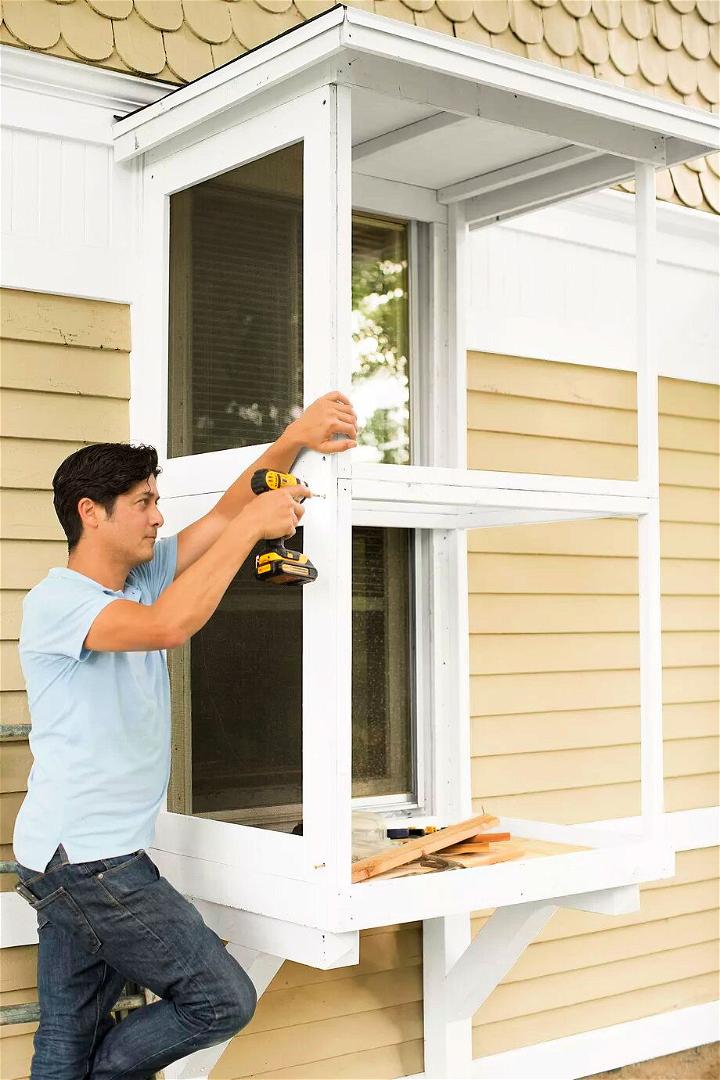 This is here the most fantastic design of cat catio. It allows the cats to breathe in the fresh outdoor while keeping them at home. Yes, this outdoor catio is built attached to the home exterior and allows access to cats from inside. Use the plywood, lumber, and pine boards to the overall skeleton of this catio. Use a rolling roof for this DIY cat catio. thisoldhouse
4. Inexpensive DIY Catio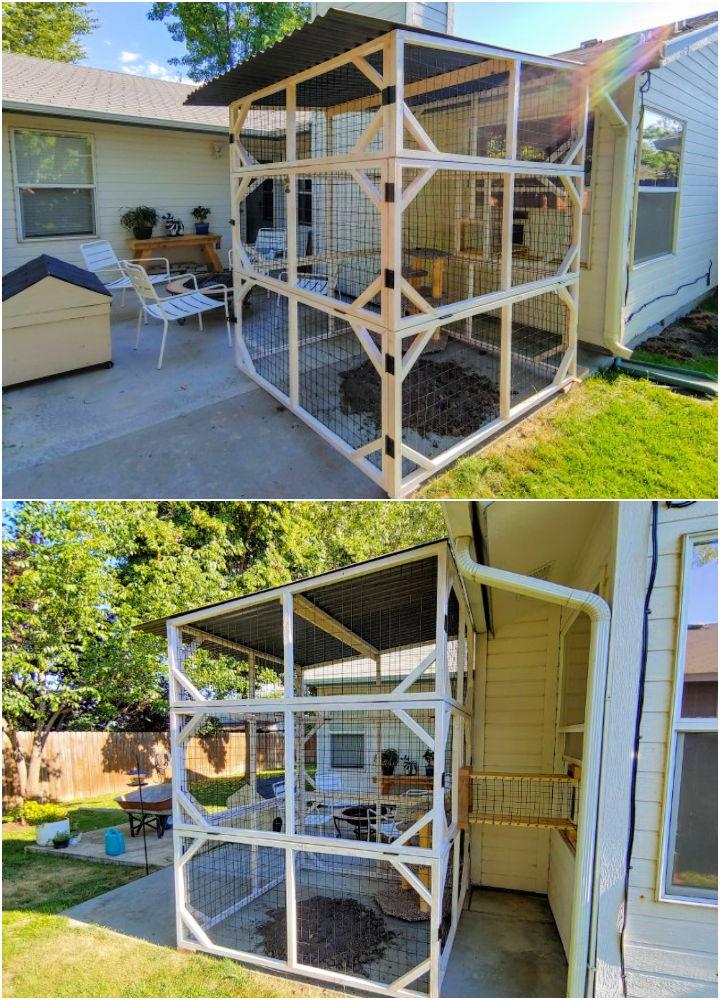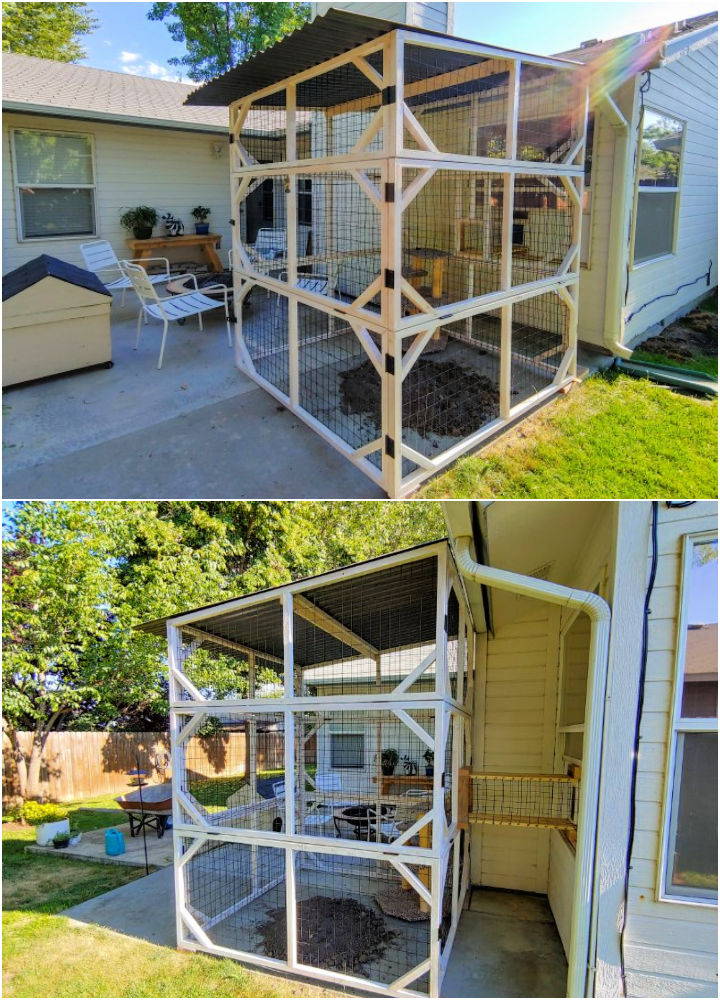 Building this catio will cost you $350 dollars, and it will complete in just 24 hours. use the 2x2x8′ lumber lengths and build first the 12 rectangles. Put them together and cover with hardware cloth to build this inexpensive but durable and super safe DIY catio. Free plans and tutorial here simplycats
5. Free Catio Building Plan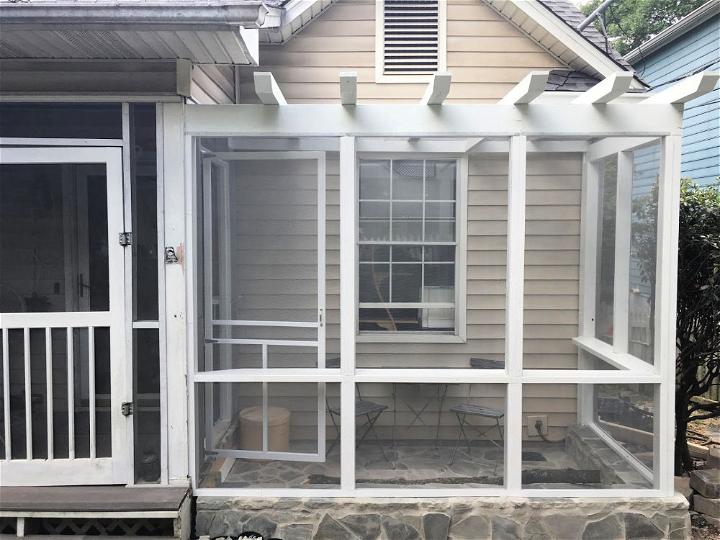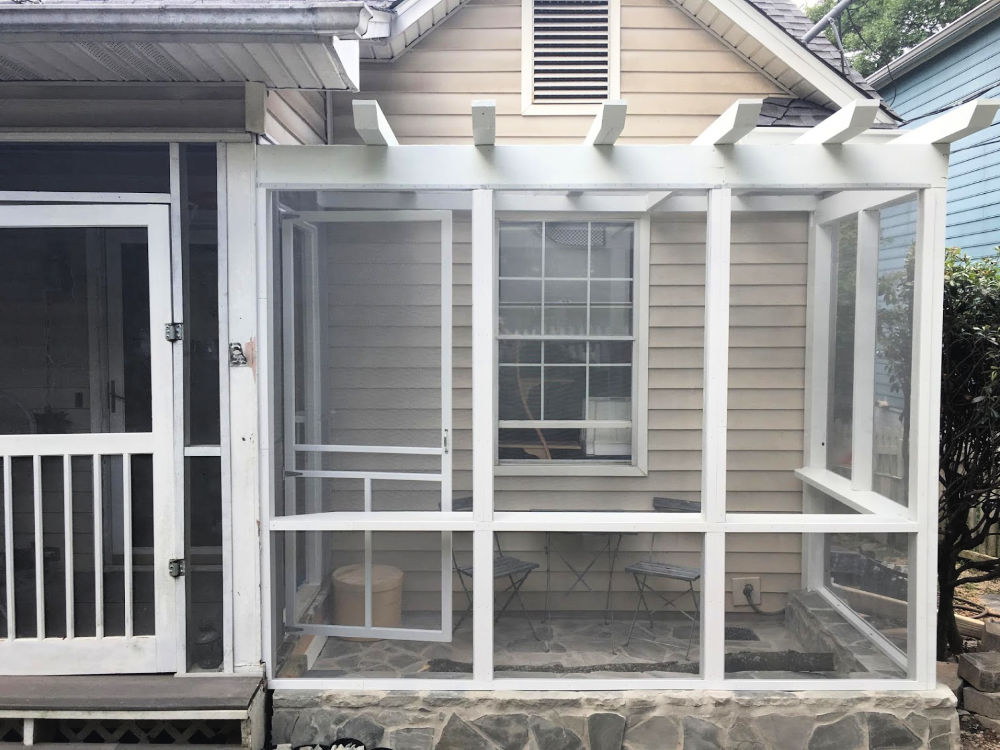 Check out one of the most amazing DIY Catio Plans that comes with a paved floor. You will get instructions here not merely to build a catio like a pro but also for how to decorate it well. Grab the custom durable lumber lengths to build the frame, including roof rafters. Next, transform it into a safe cage using wire mesh. fundamentally
6. Outdoor Enclosure for Cats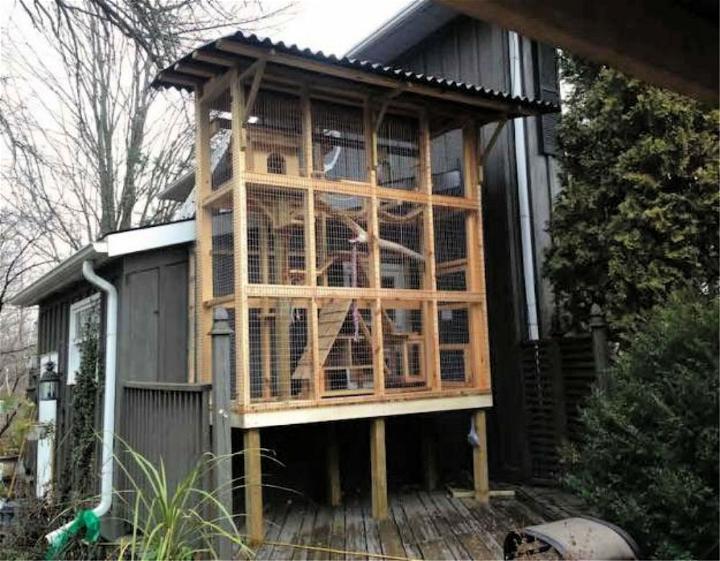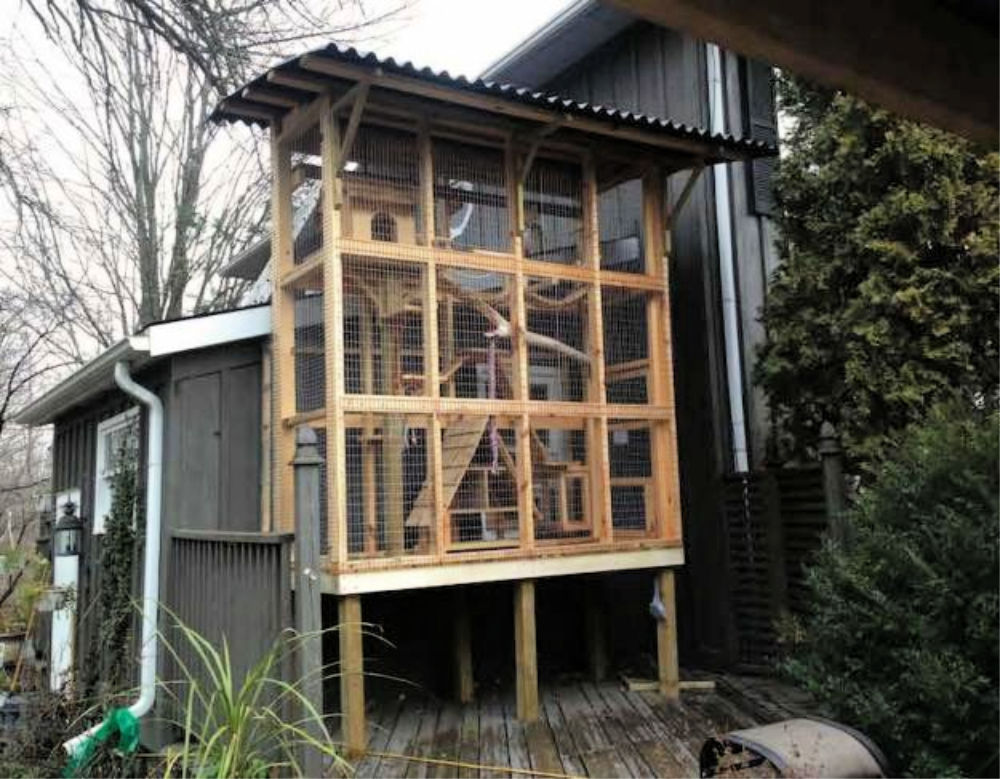 Help your cats to stimulate their minds by exercising in this outdoor cat enclosure. Along with keeping the cats safe from outdoor hazards, it will add a great curb appeal too. go with the 2x4s and 4x4s wood lengths to build the entire frame of a catio, including a solid bench base. This finished catio is 8′ long x 3′ wide and 9′ tall. Details here canadianwoodw
7. Portable DIY Catio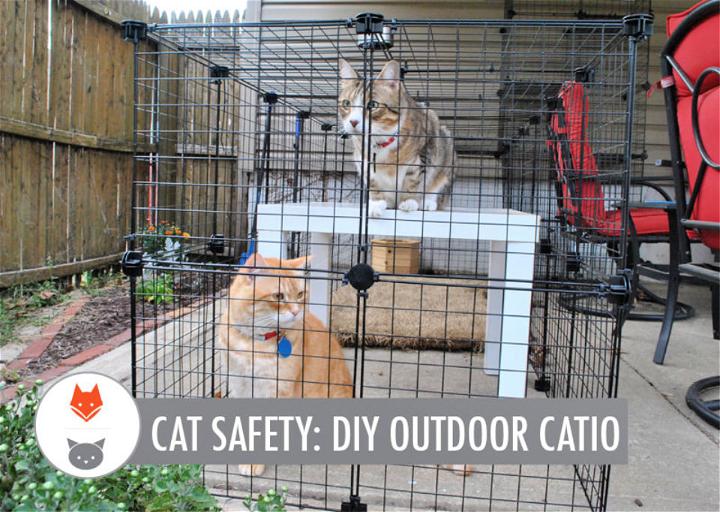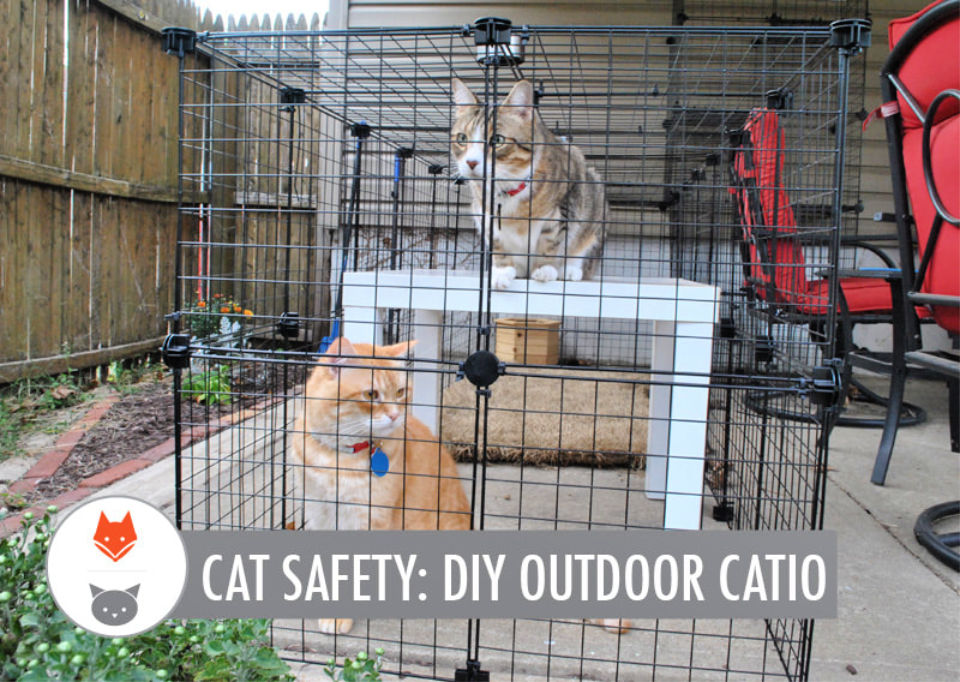 Just build this portable DIY catio that you drag to any outdoor location to make your cats live the outdoor luxury in safer environments. You need Store Cube Storage, Mallet, zip ties, wire cutters, and carpet to build this portable DIY catio. Install the custom cat play stations inside to make them live the luxury. foxandfeline
8. Build Your Own Catio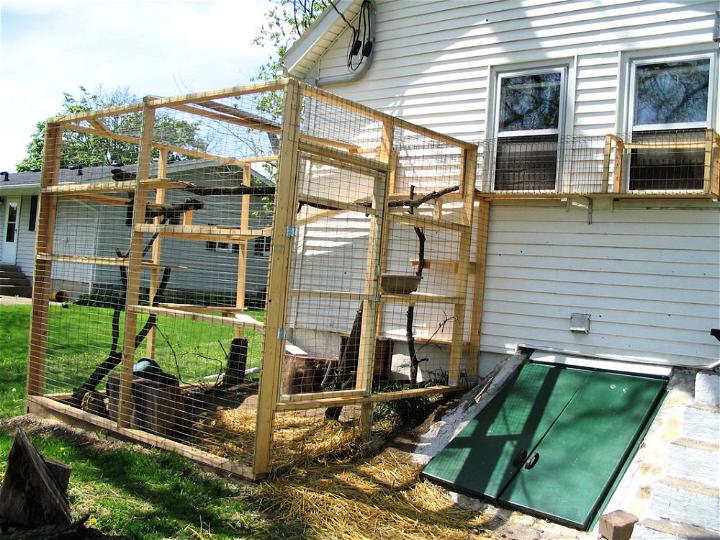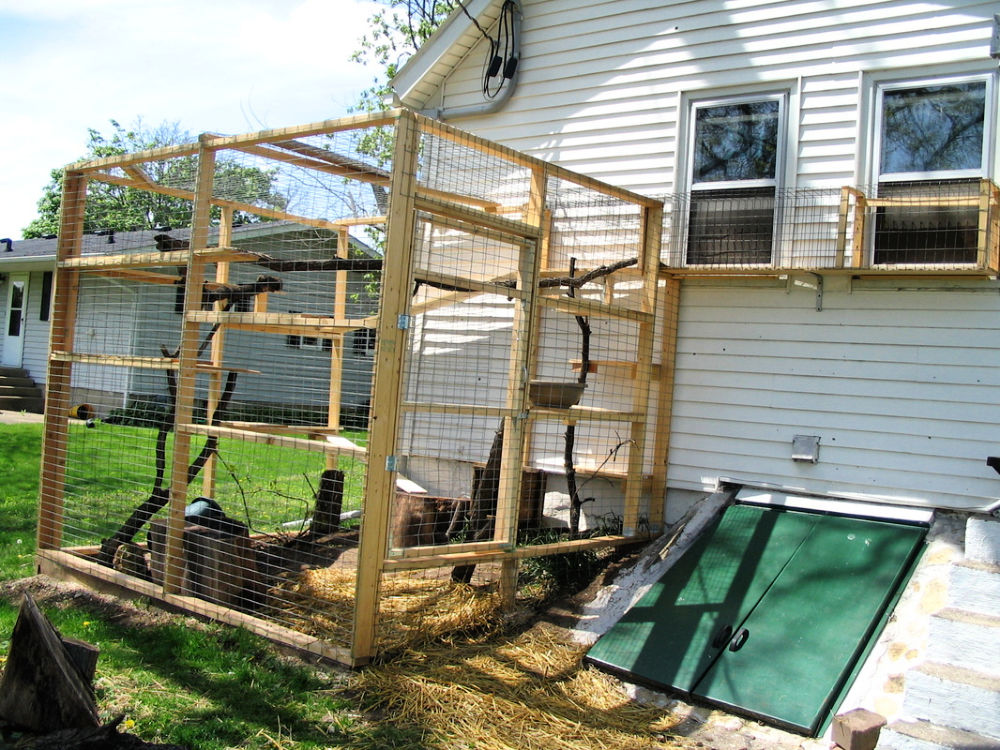 Building this covered giant enclosure for cats will add a great curb appeal for sure. Here you need the 1×12, 2×4 and 2×6 to build this catio that is nicely covered with the netting mesh. You can opt for both hardware cloth or chicken wire for this DIY Catio. Details here ourtinyhomeste
9. DIY Catio with PVC Tubes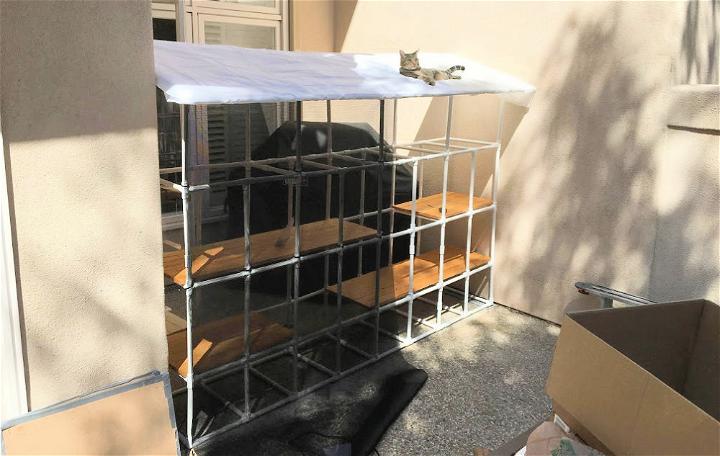 Just put together the PVC tubes to build this catio frame and then cover different levels of it using wood planks. Raise this catio to desired levels and then finish with the plastic or wire netting. For the roof, just wrap the wood in a shower curtain, and this will make you get a waterproof roof for the catio. cat snipcade
10. Outdoor Cat Enclosure or Catio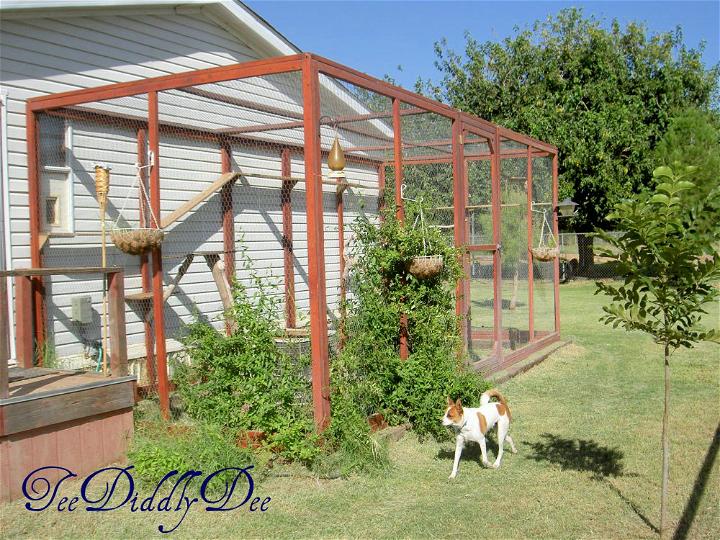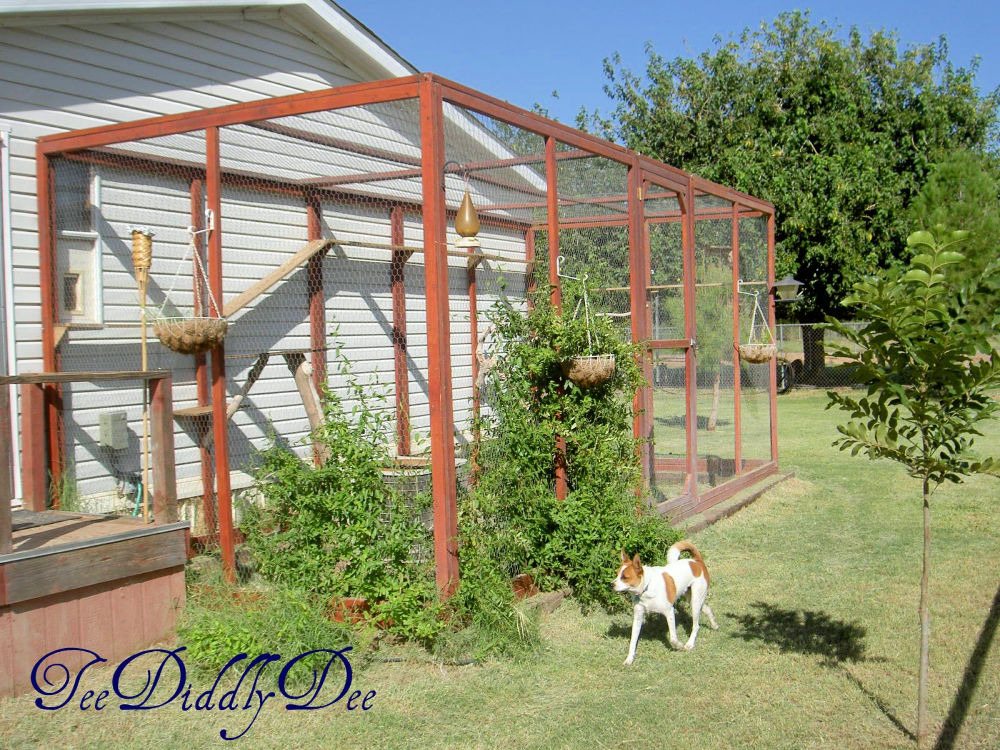 A one of the most creative DIY Catio Plans that will help you build a 21ft long x 8'6" wide x 8'4" tall cat enclosure like a pro. Here you need 2x3s, scraps of plywood, 4ft tall roll of chicken wire, 1x6s, tree branches, and some cat doors to build this giant cat enclosure. Details here teediddlydee
11. Awesome Large Backyard Cat Enclosure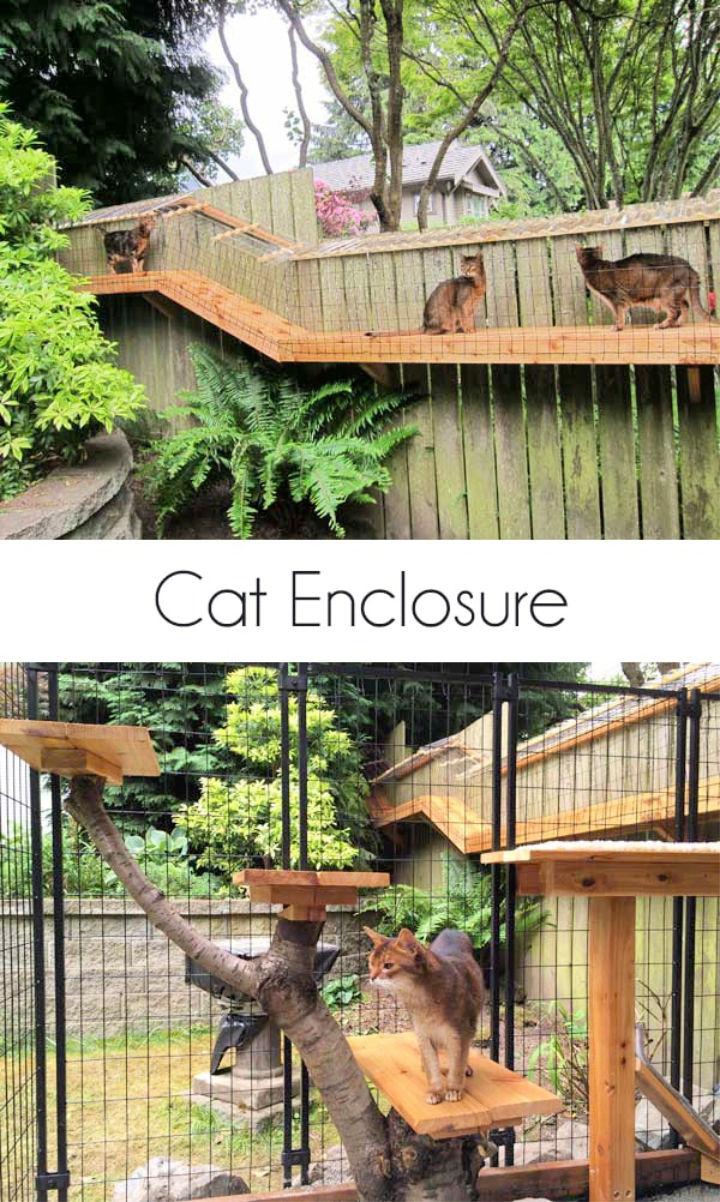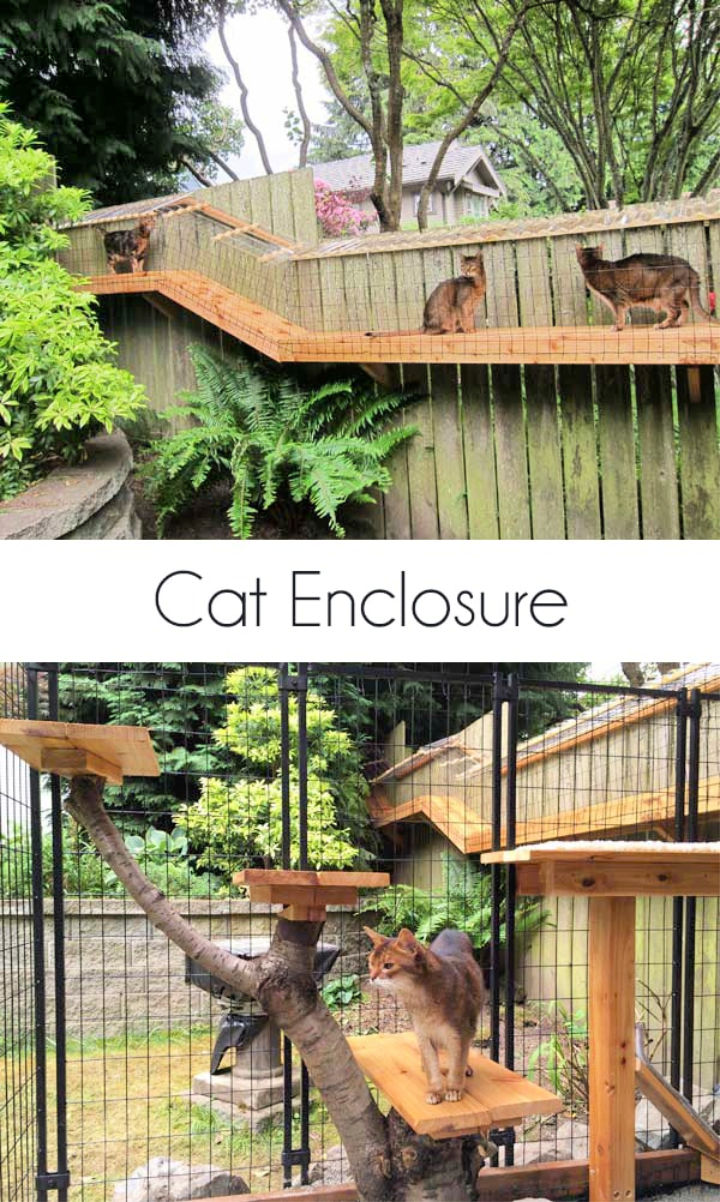 Get here a free DIY Catio Plan that helps build a cat enclosure with lots of tunnels. These tunnels finally end up in a bigger backyard cat enclosure. Here you are actually to build the protected ways all around the house to let your cats visit the outdoor. Building this large cat enclosure may be a little challenging. cuckoo4design
12. DIY Catio Plans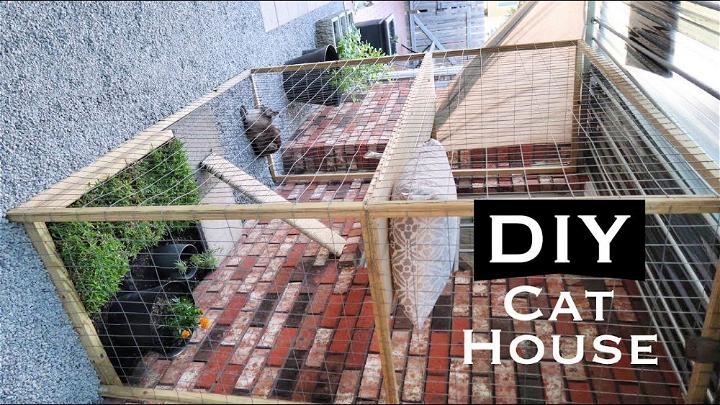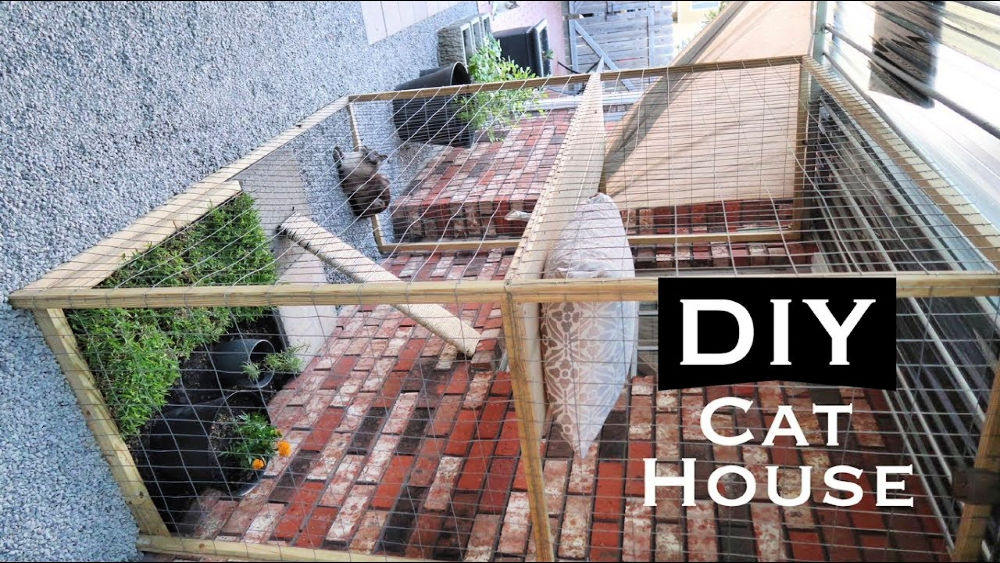 Get here the free plans to build a variety of catios. From miniature catios that come mostly attached to windows, to medium size catio that add a great curb appeal to large catios, you will get here plans for all. Finally, you will get the free plans also for the catio that will provide tunnels. Details here youtube
13. Turn IKEA Bookcases Into A Catio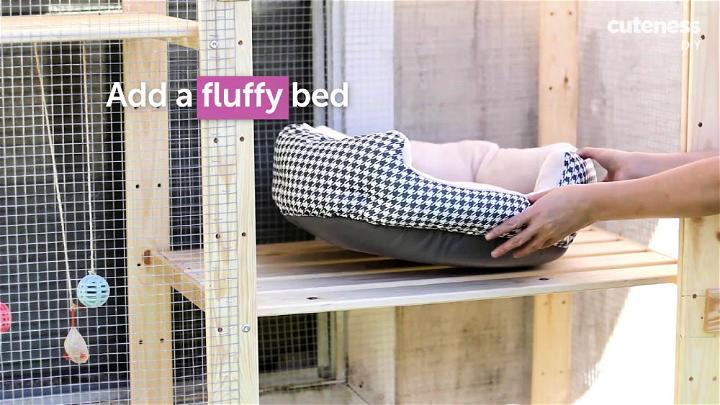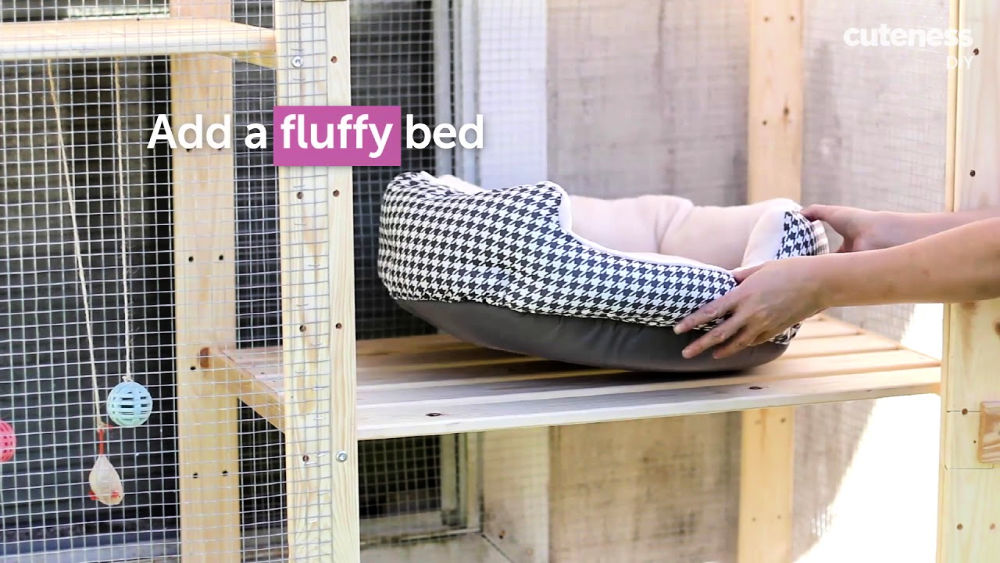 One can build a catio in lots of different ways. Go with this IKEA hack to build a modern-looking catio in a cost-efficient way. Just Get the IKEA bookcases and then transform them into a DIY Catio that will help your cats to exercise in safe outdoor environments. A beginner-friendly catio plan. youtube
14. DIY Catio – Weekend Project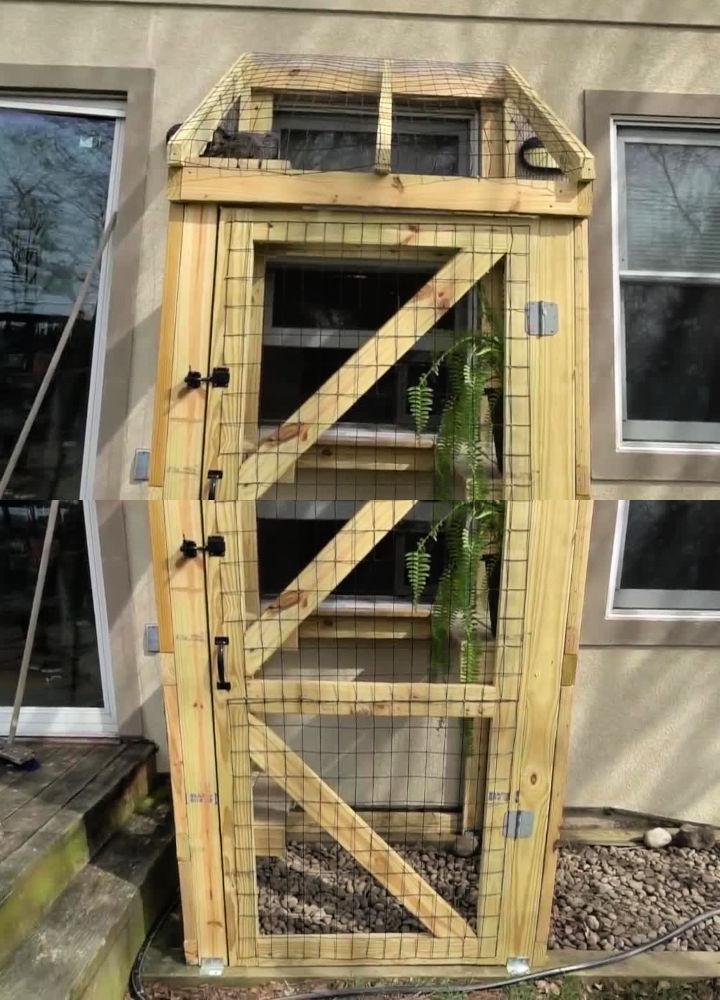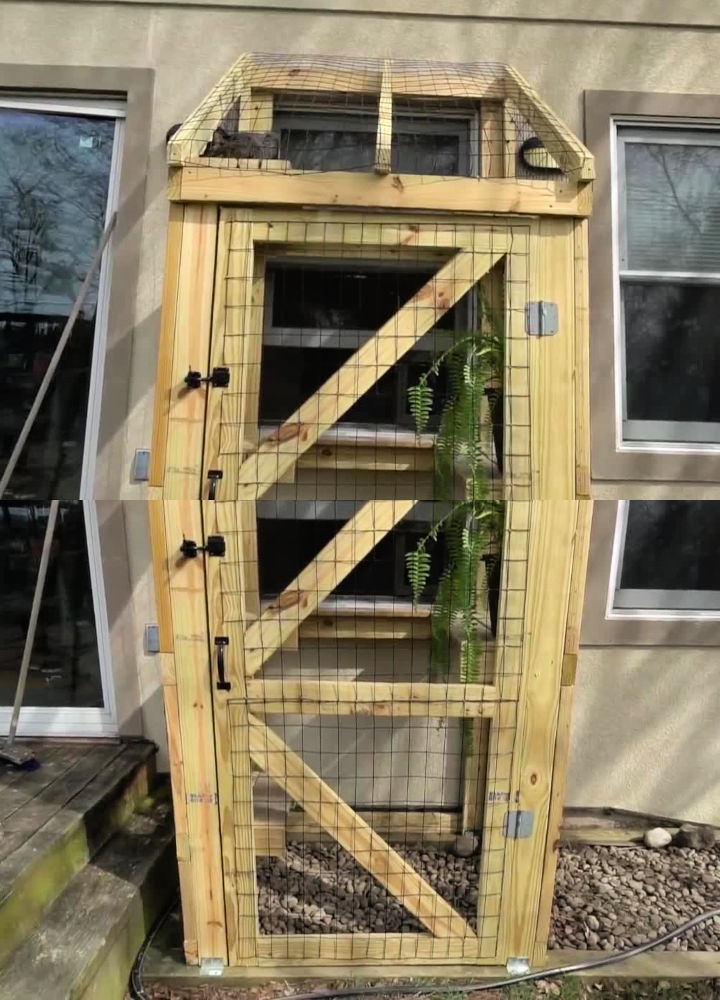 Build this catio using lots of upcycled materials along with 6×6 and 2x4s wood slats. This bigger cat enclosure comes near to the window and will definitely make your cat breathe the fresh outdoor air while exercising. It comes fenced with wire mesh and looks like a bigger cage with the wooden frame. Details here youtube
15. Free Window Catio Plan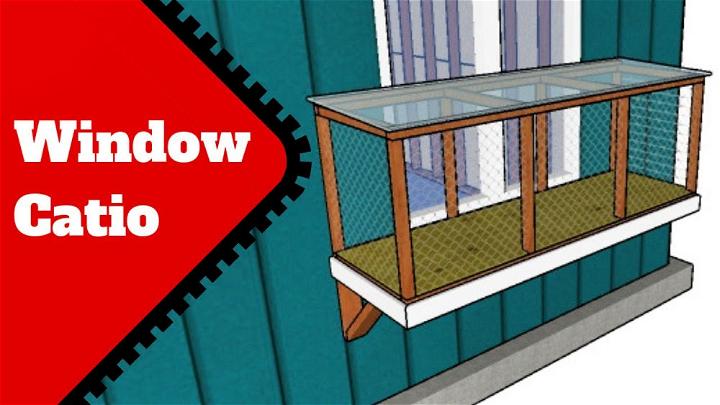 Get here free plans to build a window catio. Build the entire frame of it using 2x2s wooden lengths, and next, you can cover the frame with any of the hardware cloth, chicken wire, or fencing netting wire. Finish this catio with a tilted fiberglass roof that will not let the snow or rainwater to retain. Details here youtube
16. Outdoor Cat Enclosure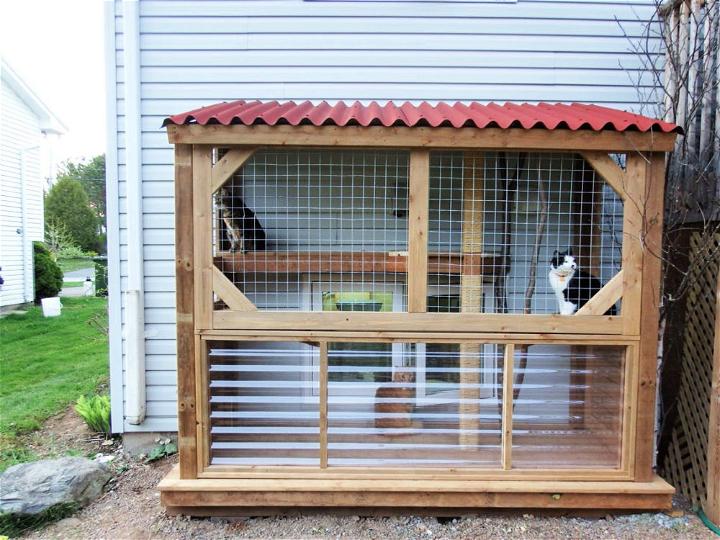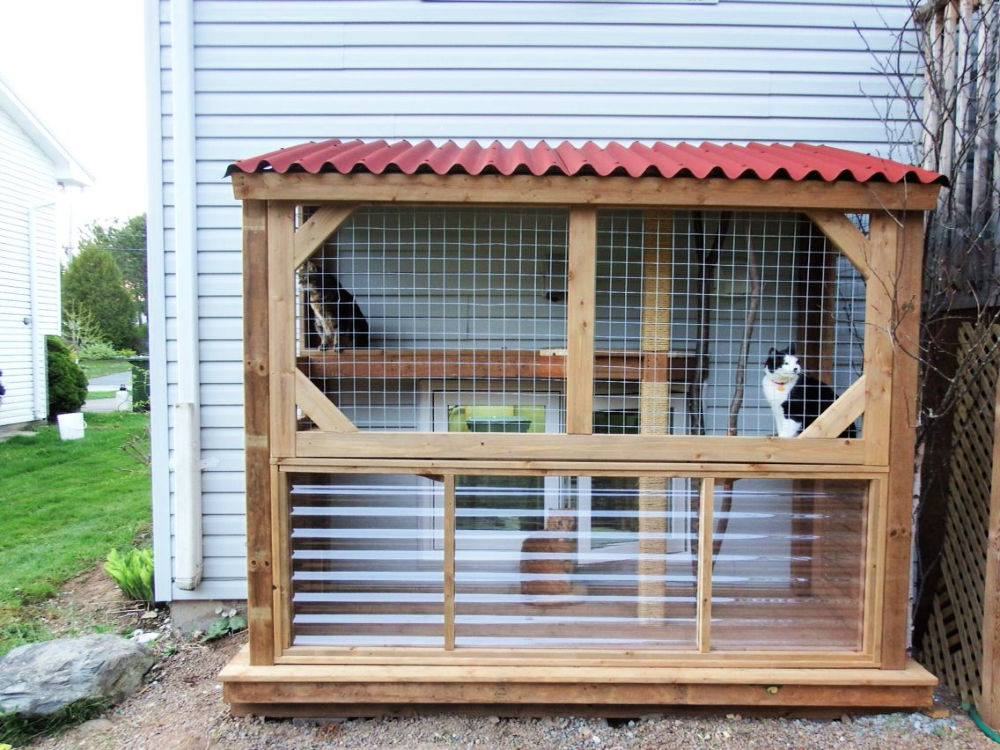 You will love building this wooden cage-style cat enclosure that comes with corrugated tilted metal roof. Building it will cost you much less. Simple use the lumber wood boards like 2x4s to build the frame and use heavier ones like 4×4 to build corner poles. Cover with chicken wire or with hardware cloth.
17. Incredible Catio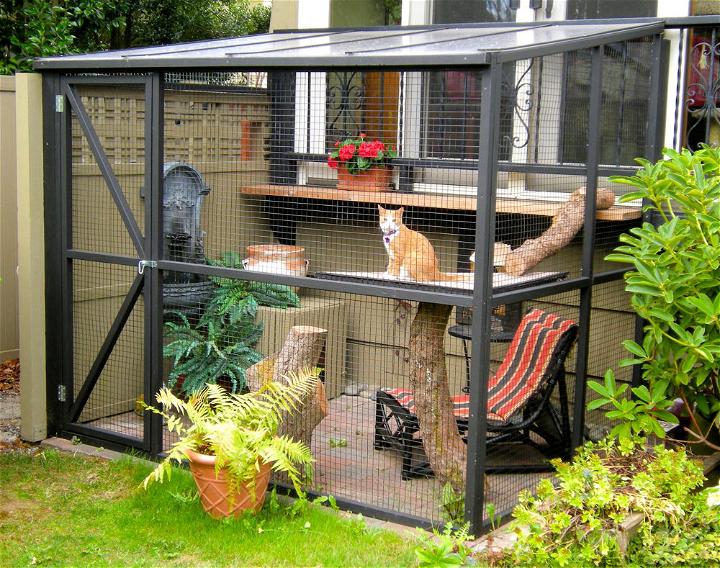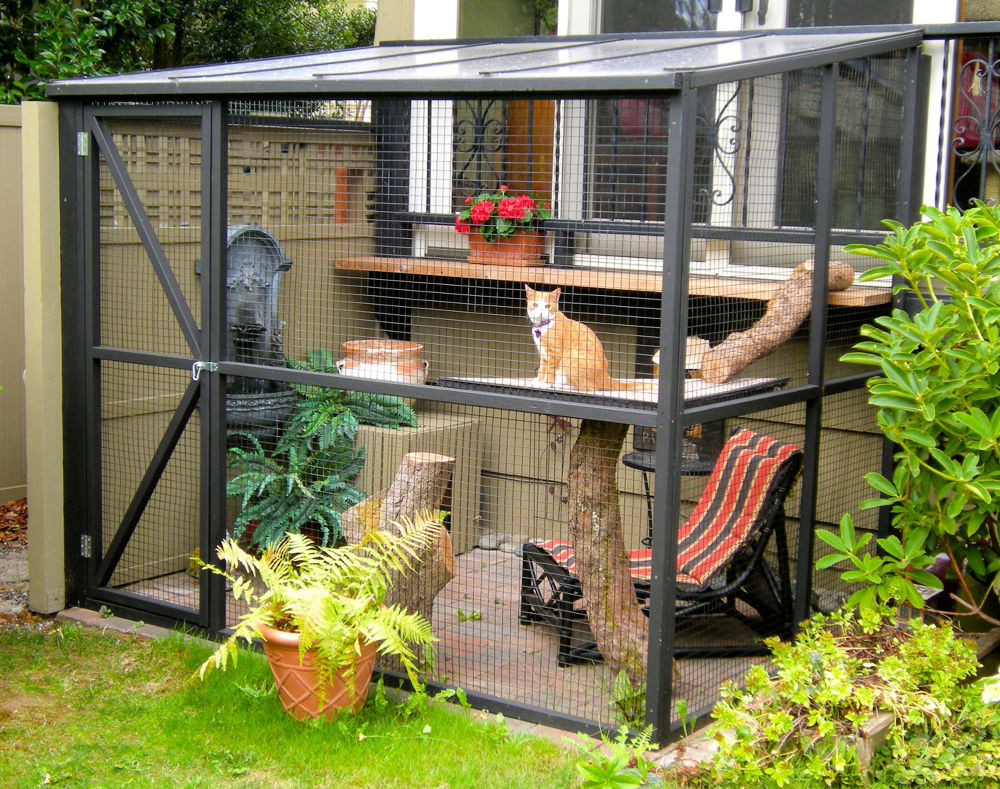 This fantastic cat enclosure comes with a wood log cat tree inside, the perfect gym for a cat. The bigger caged structure allows your cat to exercise freely without outdoor hazards. Build the frame with 2x2s wooden lengths and cover this structure with chicken wire or with hardware cloth. Details here
18. Window Box Catio Cat Enclosure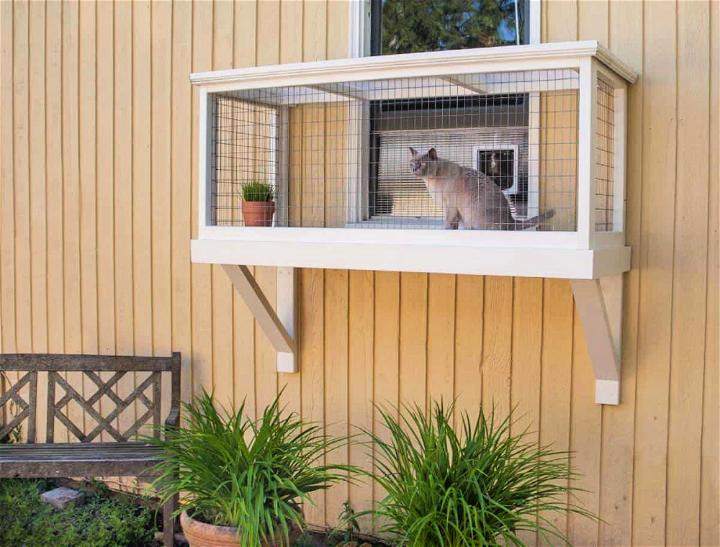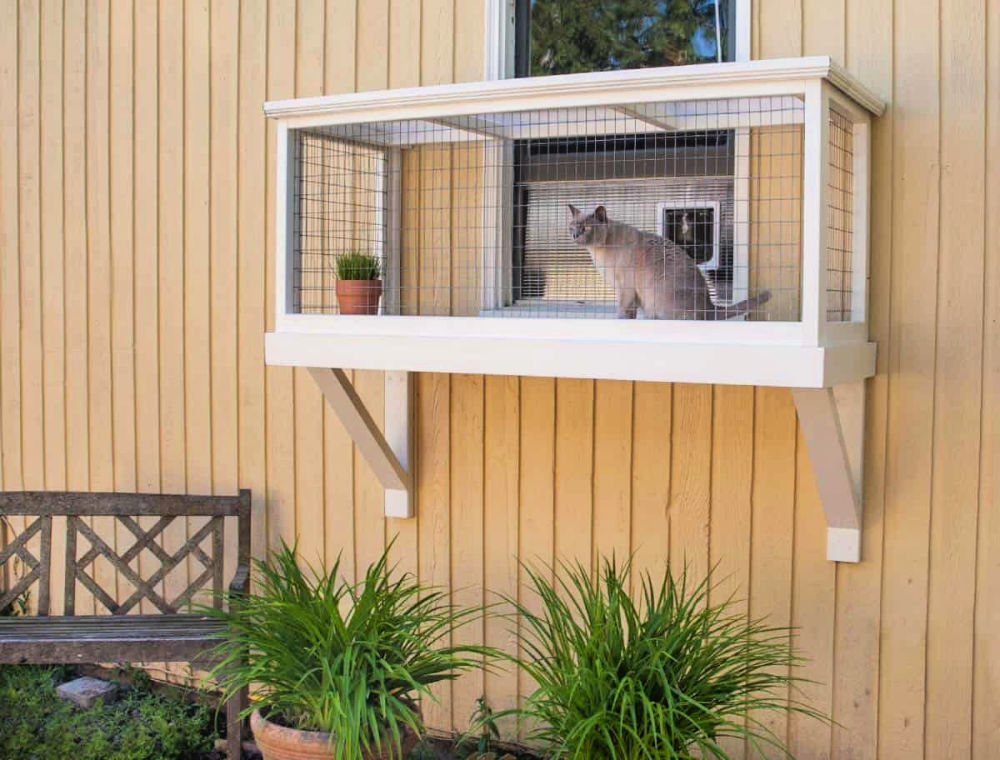 This is here a miniature box-style catio that comes attached to an exterior home window. It will help your cat get the fresh outdoor air while wearing great security against the predators. This catio will also allow your cats to peek at the outdoors. This will de-stress your cats too.
19. Window Box Catio Plan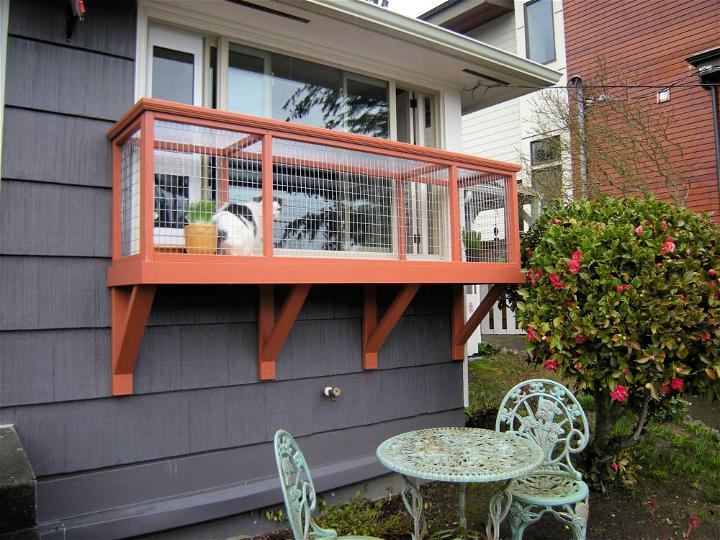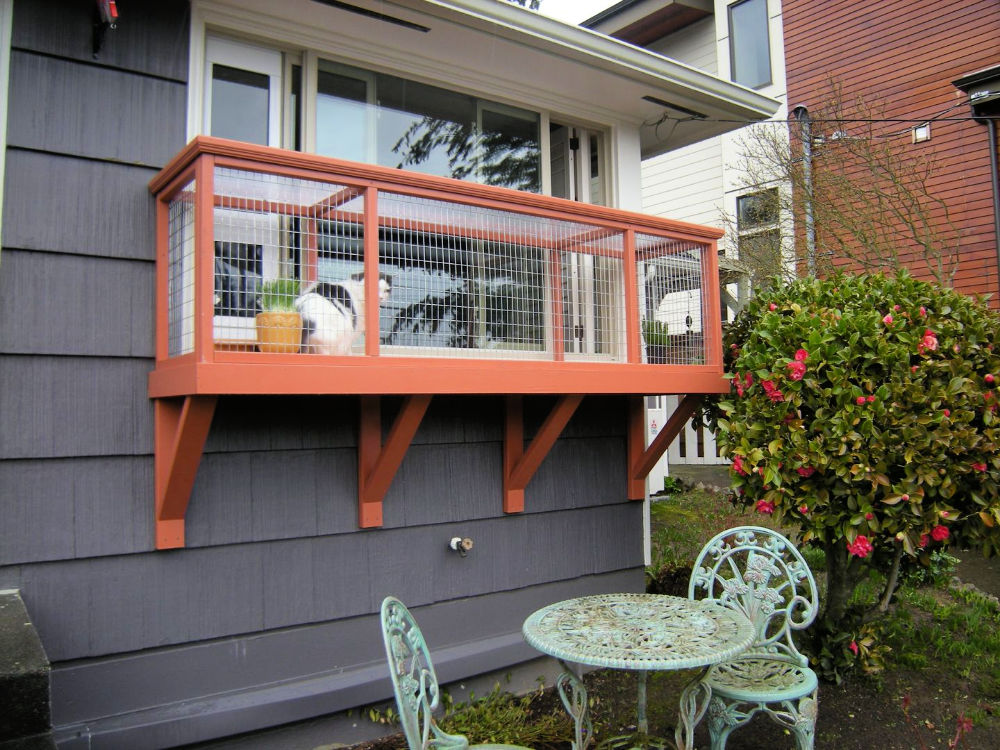 Let your take the view of your outdoor while fresh and pure air using this window box catio. Just build up a big wooden box covering the whole length of the exterior window. Support it there in place using wooden braces and hardware and then get it covered with hardware cloth.
20. Free-standing Custom Catio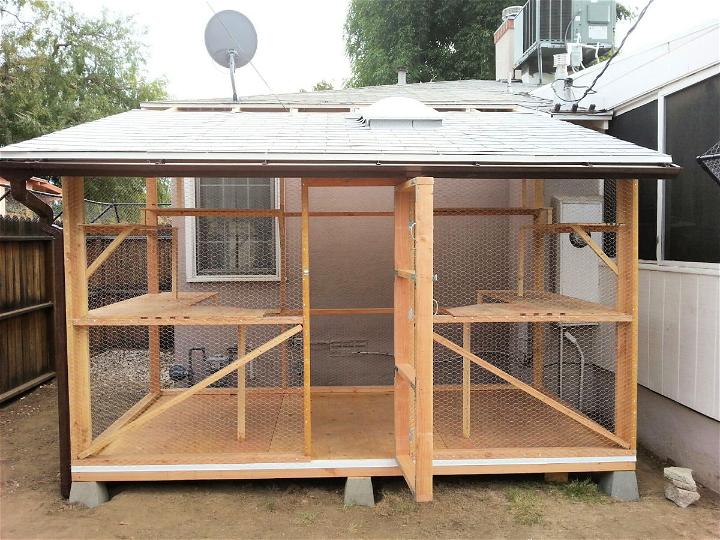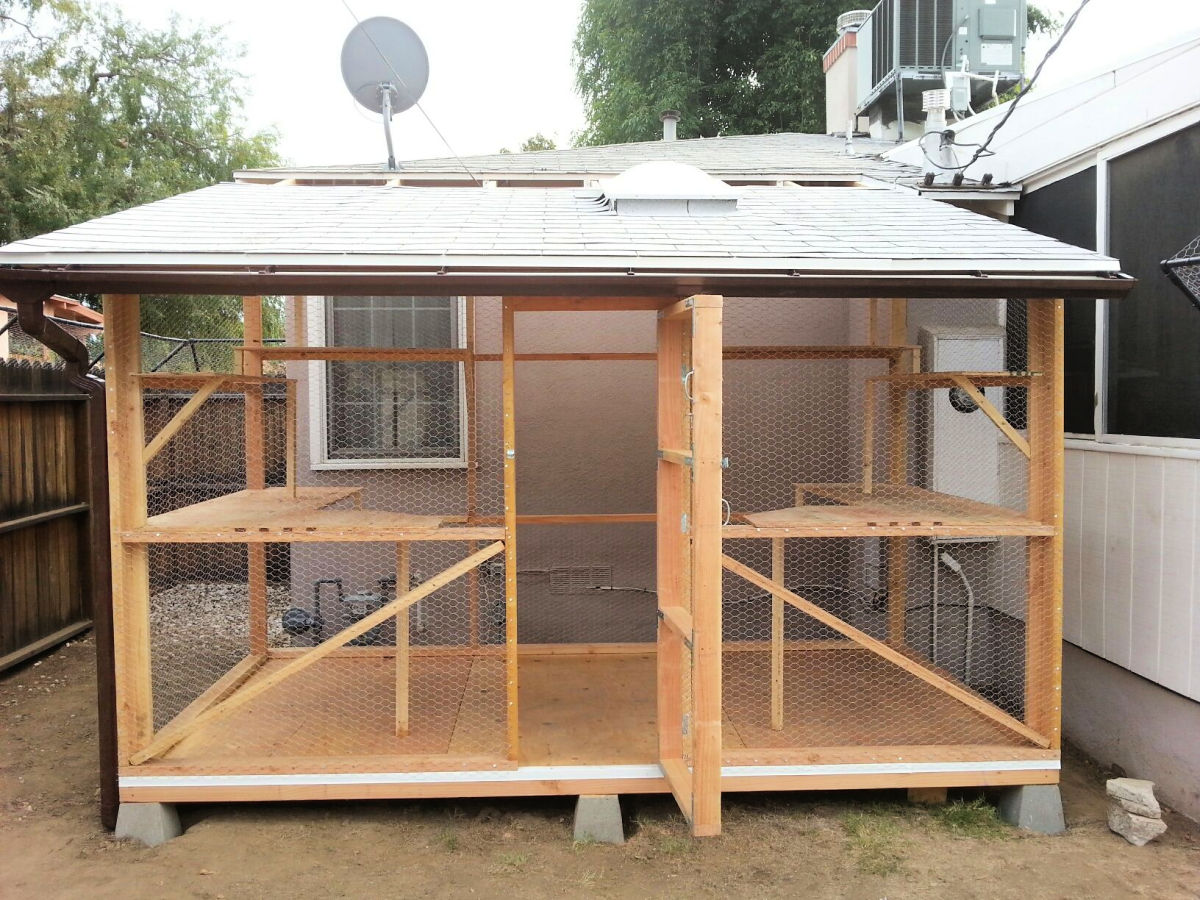 This is here an extra functional and luxurious model of free-standing custom catio that provides raised L-shape platforms for the cat's play. It is a whole big cage made of wood and wire mesh and comes with a sloped roof for snow and rainwater safety. Raise this catio on the concrete blocks to be a little off the ground.
21. Catio for Your Feline Friend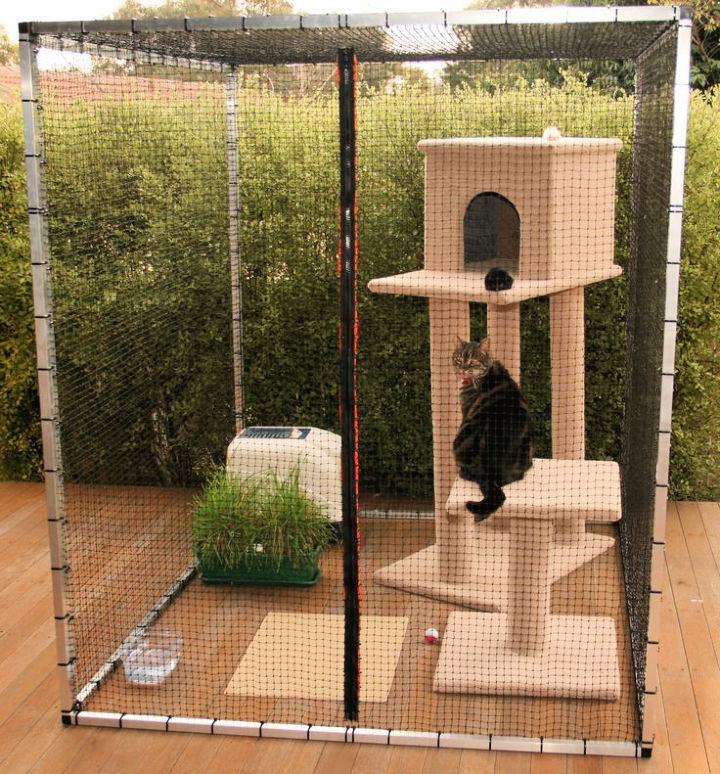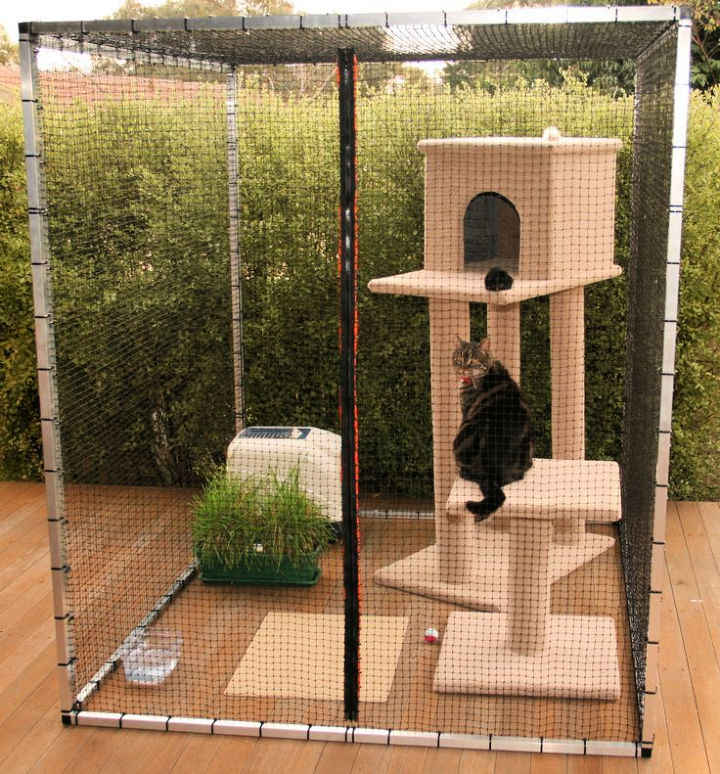 One of the most loved free catio plans ever, the best DIY catio for your cat that comes on a decent height. Build the frame using square wood dowels, 2×2, steel pipes, or with PVC pipes and next get it covered using hardware cloth or wire netting. Put inside some greenery, a cat tree, scratching post, bowls, and other items of cat's luxury.
22. Wooden Cat Catio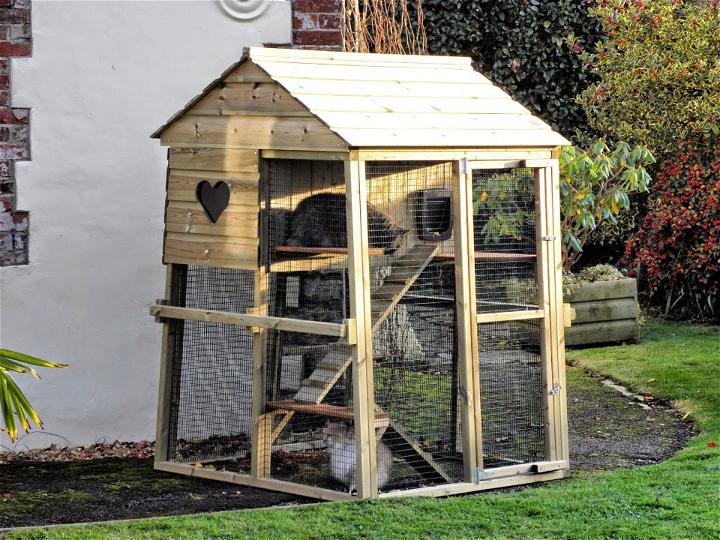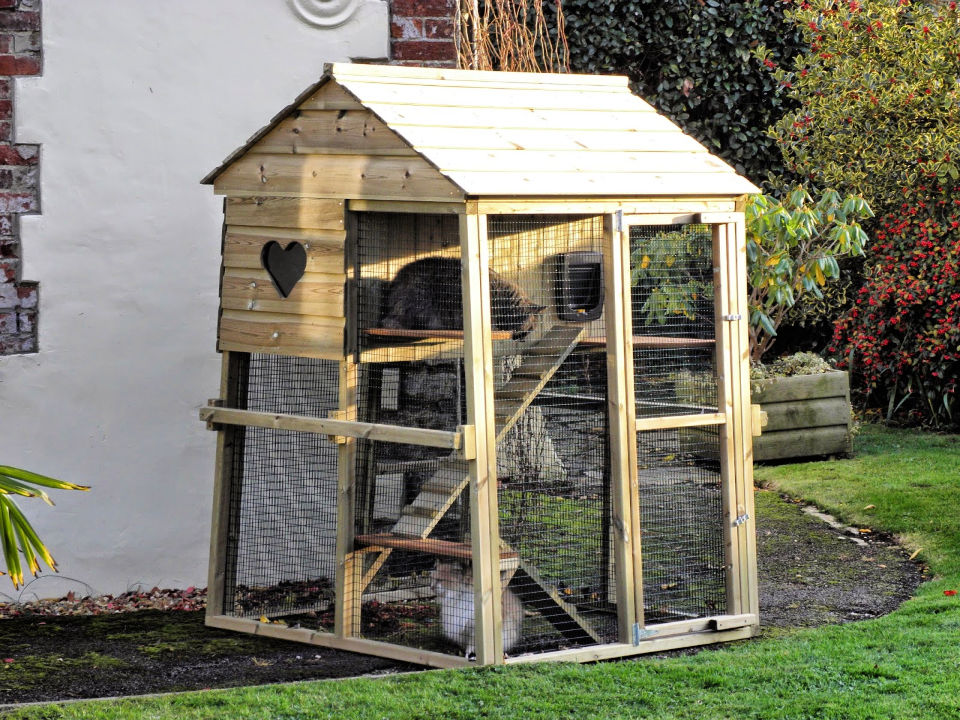 Having access to free and leftover wood? Then do reuse it for your cat's safety while making her enjoy all the outdoor fun, by building this wooden cat catio. This wooden cat outdoor house is just like a Chicken Coop or Rabbit House and provides different ramps and a comfy sleeping section.
23. IKEA Cat Enclosure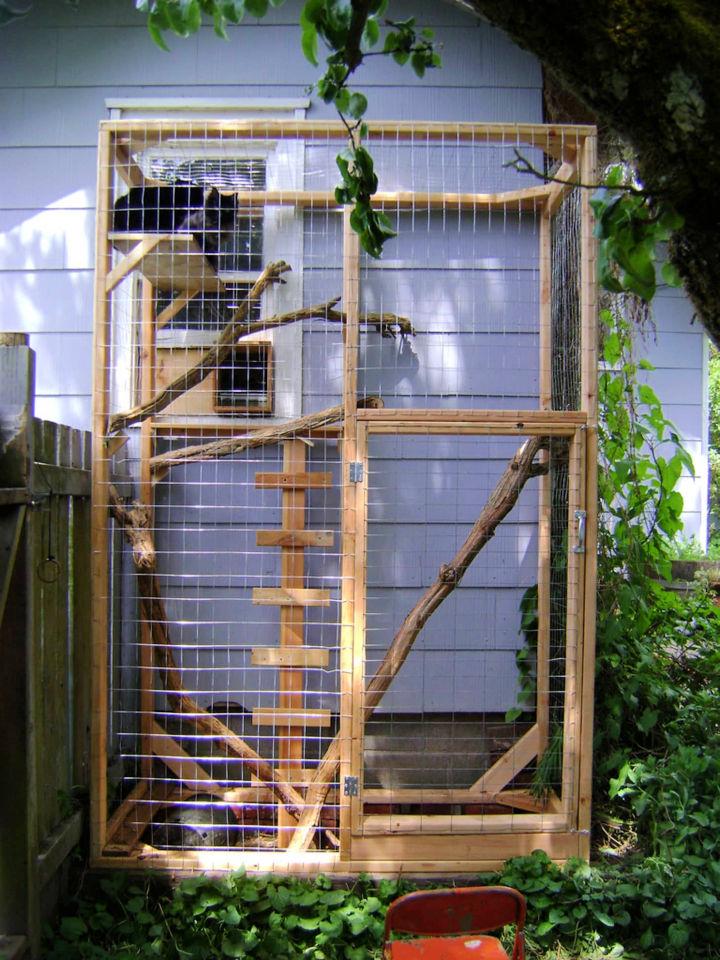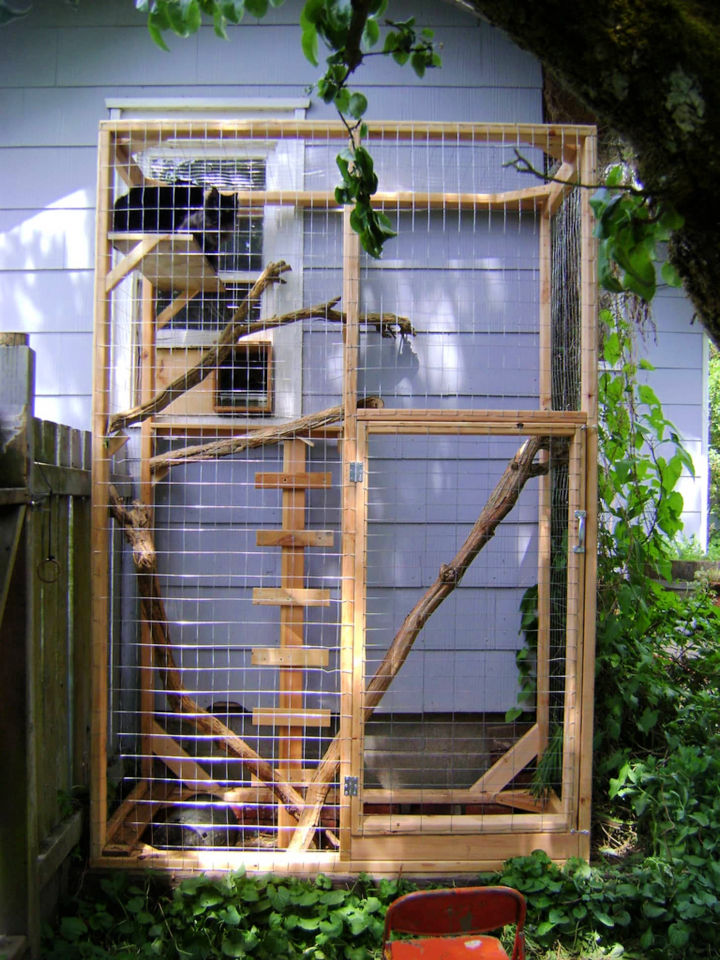 Go with the IKEA components too to build lasting longer, stylish, and expensively looking catio inexpensively. Get inspired by this IKEA cat enclosure that comes with a superior building supported with the wooden frame. Use the IKEA metal grid wall panels to cover it like a cage. Details here
24. Best Outside Cat Enclosure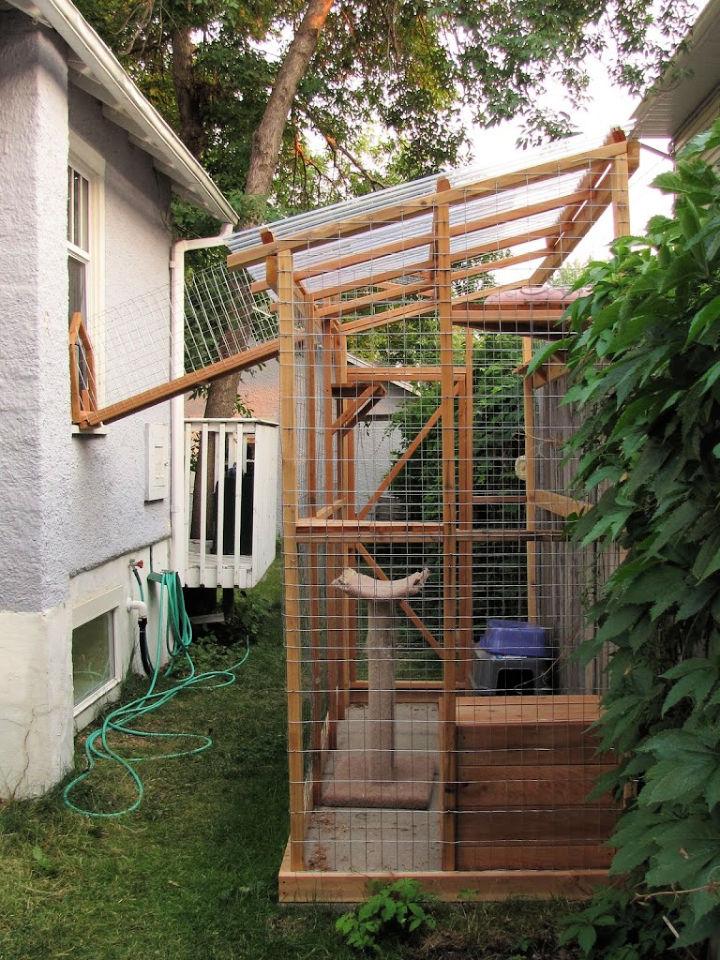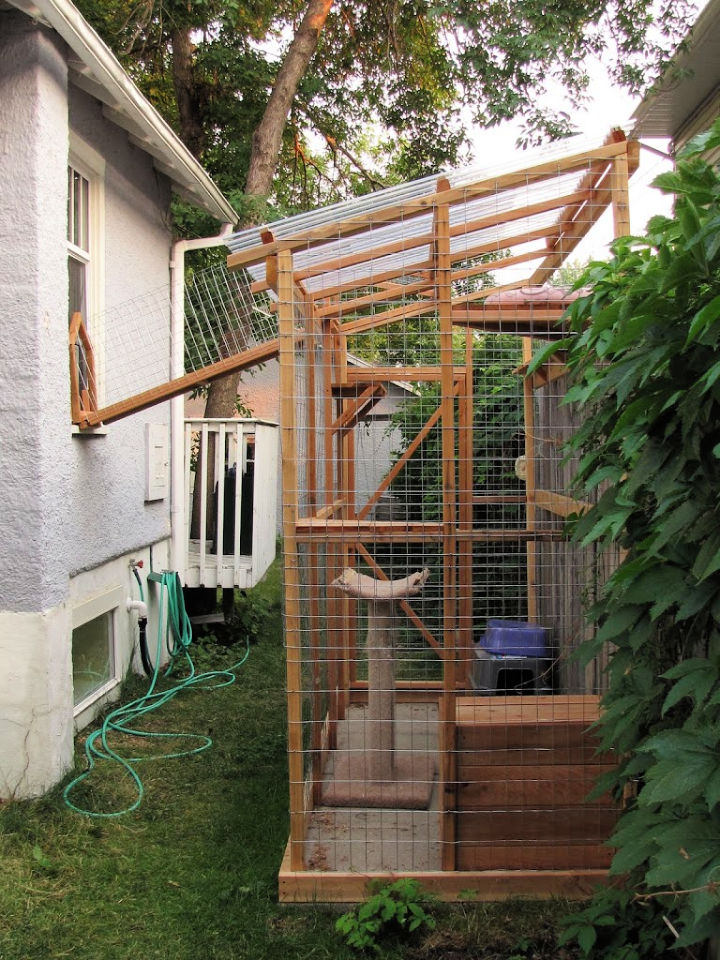 You will love the tunnel system of this better built outside cat enclosure, one of the best models ever built at home. This perfect catio provides a whole building at outdoor but provides a tunnel to enter the home from the window. The tilted roof, heavy-duty wire netting, and a well-built base the main features of it.
25. Garden Pergola Cat Enclosure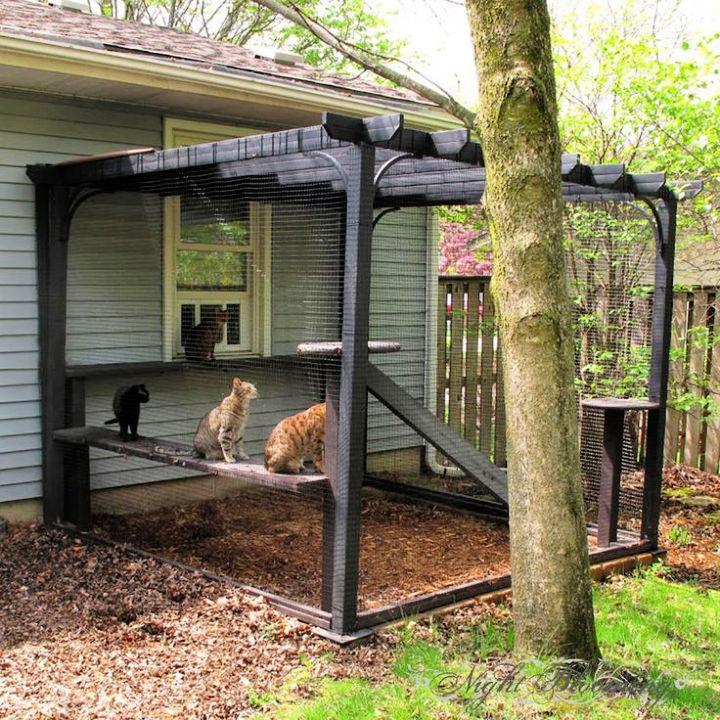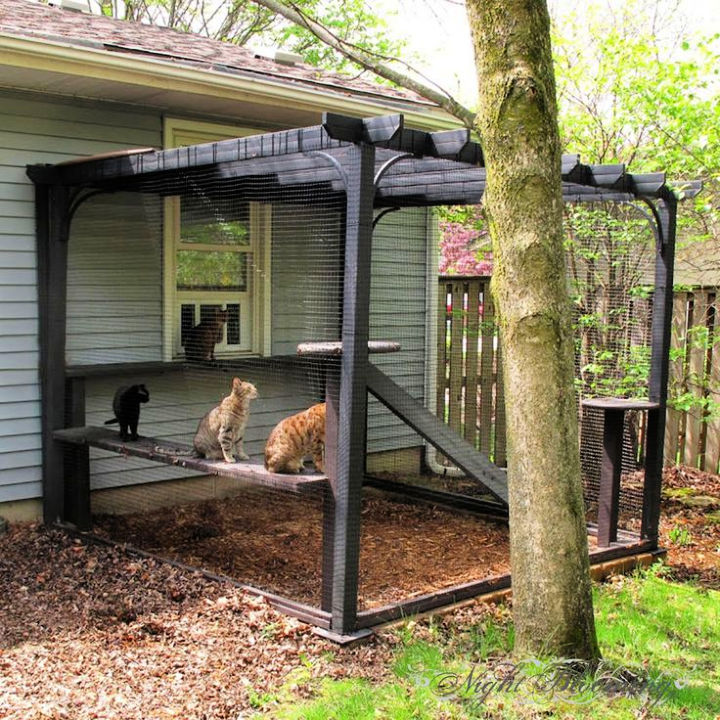 Transform also your old pergolas into awesome looking cat enclosures. You will love this garden pergola cat enclosure model that will be a big love of all the cats. It will be quite quick to make with an already build pergola. Cover all sides of pergola with hardware cloth, next install ramps, and cat trees inside.
26. Indoor Outdoor Catio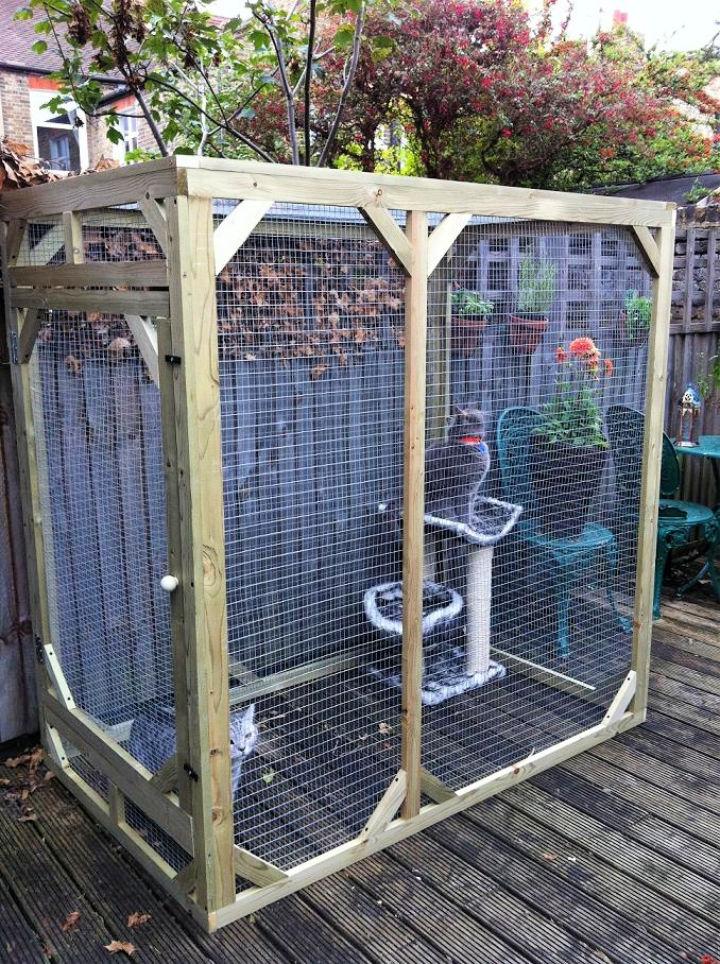 Look at this another quick to build and well-supported model of outdoor catio. Build the frame for this catio using 2x4s and choose the 4x4s to build the heavy-duty poles and pillars. Install a big hinged door and then add the scratching posts and cat trees inside. Details here
27. Outdoor Cat Enclosure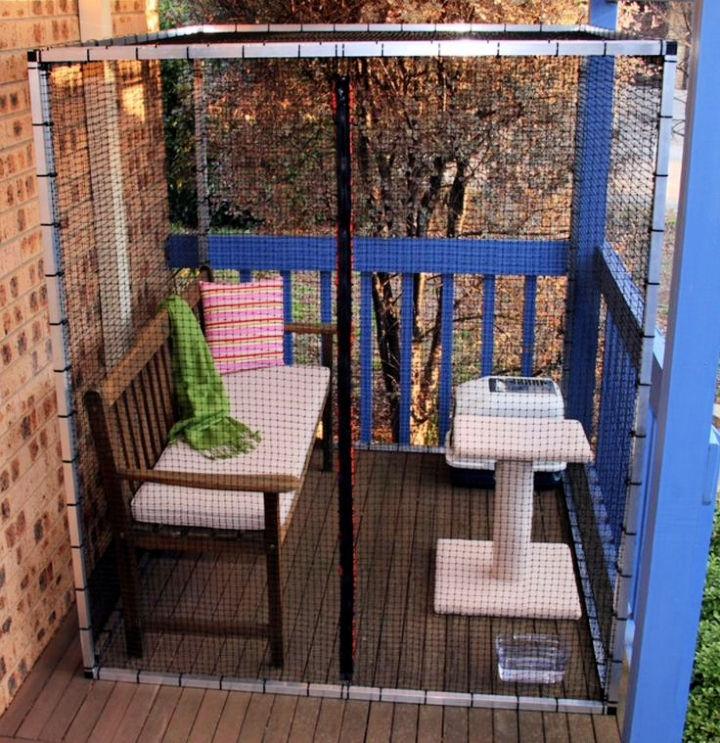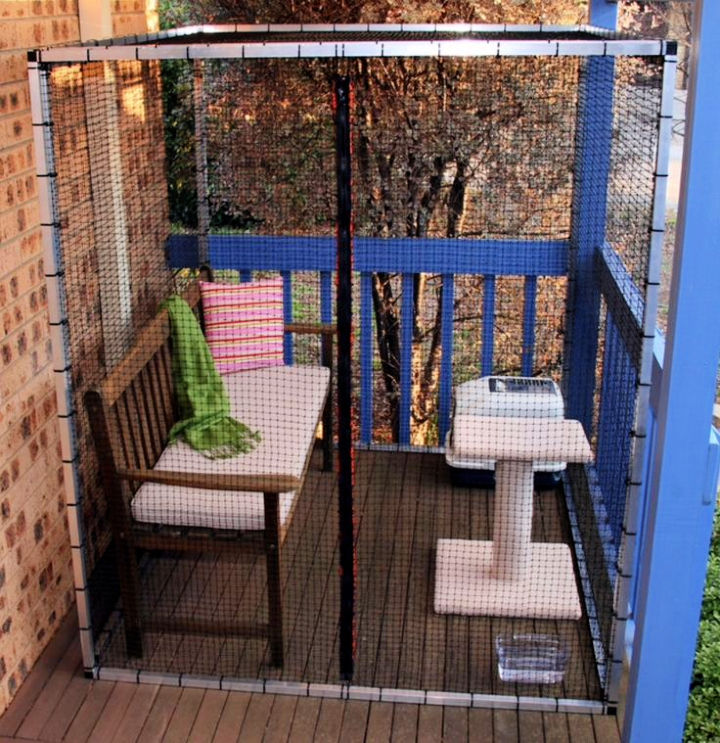 Cats just love to be outdoor, but they can be at a higher risk of predators too. So, make our cats be outdoor in a safe way. Just build this outdoor cat enclosure that ensures better safety of the cats while breathing the pure air inside. Build the frame using steel or PVC pipe tubes and then cover it up with wire netting.
28. Outdoor Cat Shelter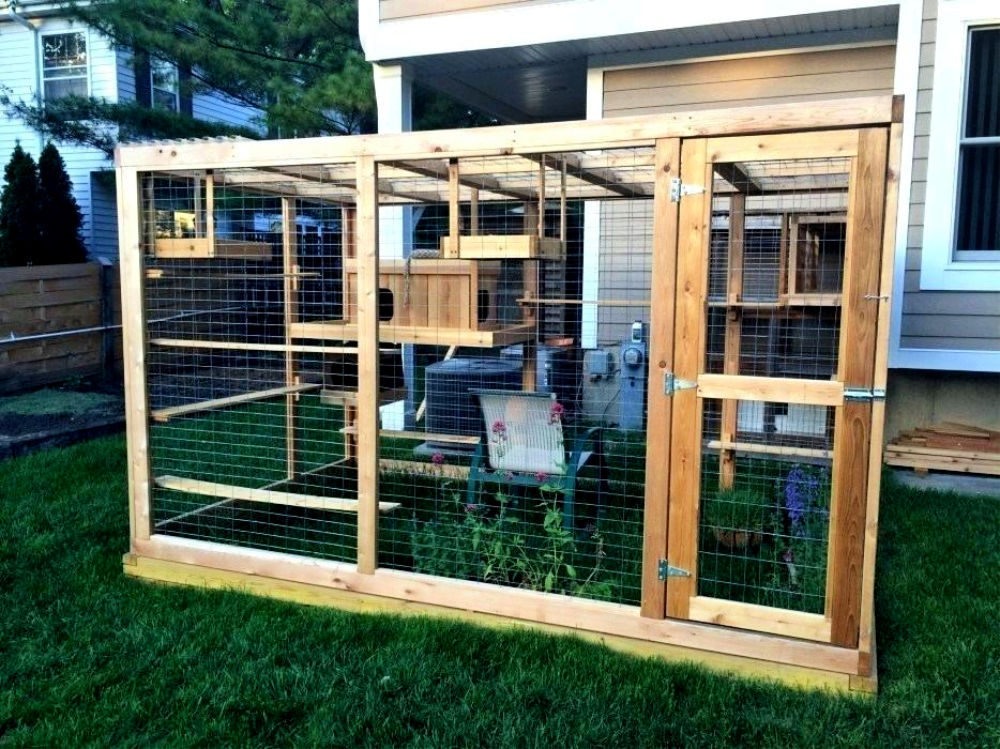 This outdoor cat shelter comes with the ultimate luxurious features. It provides a built-in cat house, custom ramps, and raised platforms for regular exercise. This shelter will also allow you to sit inside on a chair to spend time with your cat and also to view the outdoor when it is raining.
29. Safe Outdoor Cat Catio Haven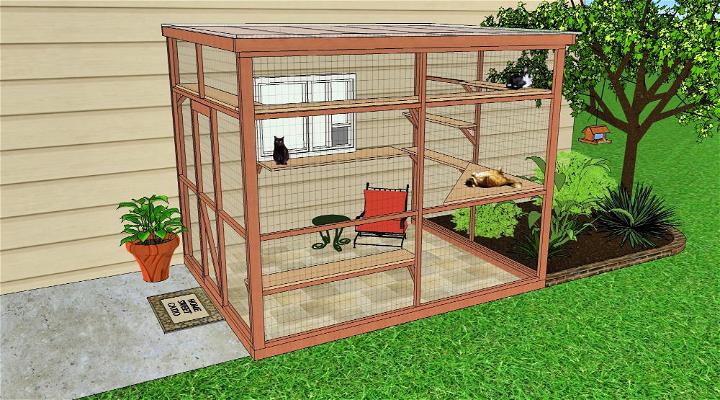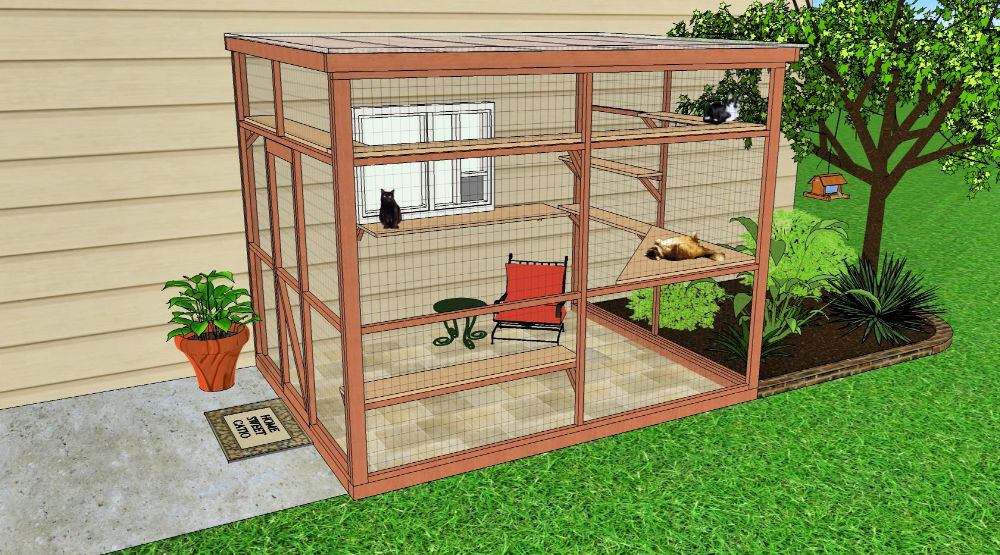 Check out our list of catio plans to build a DIY cat catio heaven. Build first the frame, then cross shelves, will be elevated platforms for cat's fun. Add more inside like a cat bowl, a bed, a scratching post, and other items that your cats will love to play with. Finish with heavy-duty hardware cloth and waterproof roof.
30. Catio for Kitty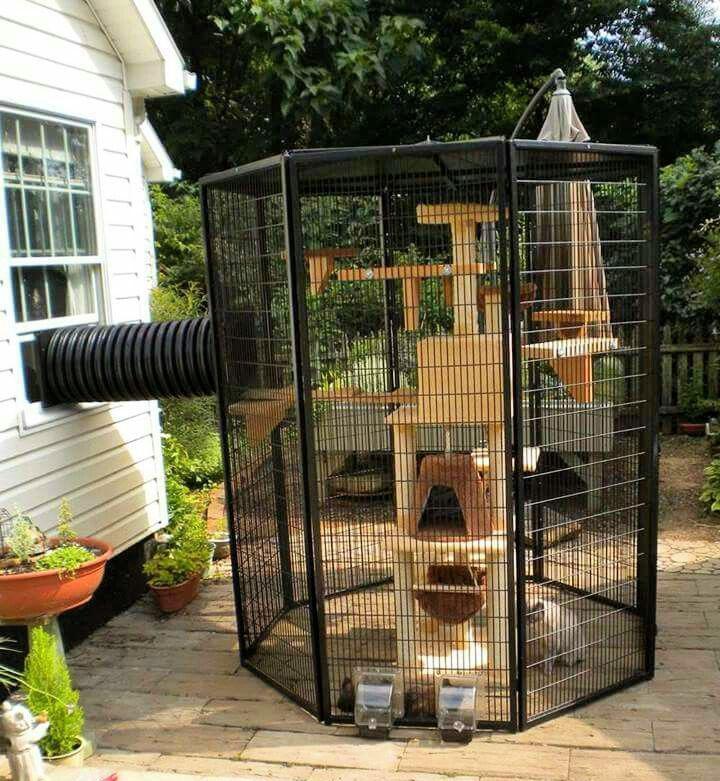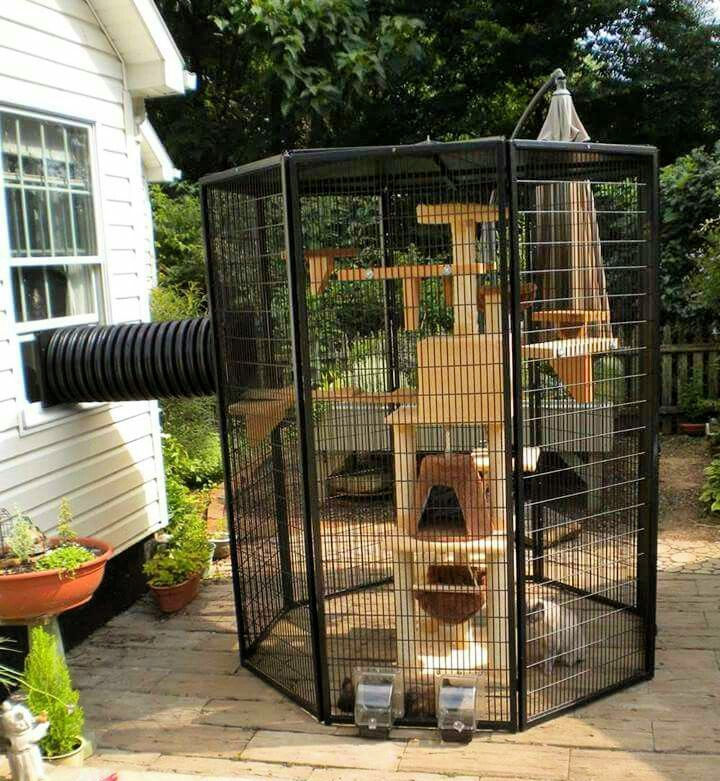 Cats may be safe indoor but not physically fit, so ensure better health and fitness of them by building this DIY catio for kitty. It provides a safe tunnel from the window to the outdoor catio. This design of catio enchants with the hexagonal design and can quickly be made using metal and wood. Add a cat tree inside topped up with a cat house.
Conclusion:
If we just give full freedom to our cats, it will be a big invite for the predators. Moreover, this may also cause car accidents to your cats. So, provide fresh air to your cat without any danger of predators and cat hits using these 30 free DIY Catio Plans that are the safe cages to build outdoor
These catio plans will make your cat feel like they are outdoor and may come attached to your windows too. They will add a great curb appeal and can be an amazing luxury for the cats to live. These catio plans provide a variety of catio designs that will fit every budget and skill level for sure.
DIY Cat Projects You Can Make At Home