Put your cat to a regular exercise and training by building these 20 free DIY cat tree house plans that will also be great for the timid cats and will give a sense of security. If added with a cat house over the poles, they will be the best cave for the cats to hide. Along with amazing design inspirations, you will get here free plans, step-by-step instructions, and even video tutorials on building all cat houses, from simple to ultimate, like a pro. Most of the projects will cost you much less due to being made of recycled items and materials.
This will be a way good enough to put your old things to some good uses. Browse this grand list of 20 DIY cat tree house plans that can be made with a variety of materials and may come with or without the cat houses installed over their top.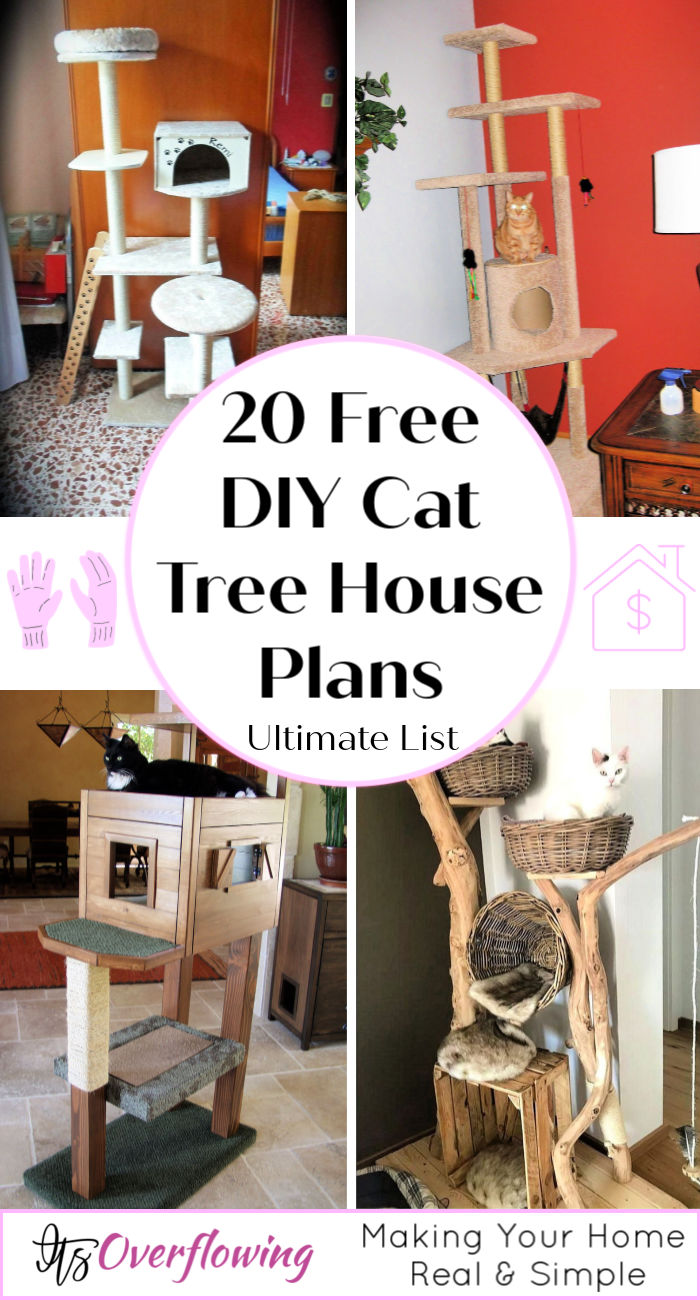 These DIY cat tree house projects involve plans that will fit every budget and skill level. Use the recycled wooden spools to build a cat tree house and repurpose the cardboard tubes and wooden crates also to build a sweet looking cat tree in no time. Next, upcycle the leftover plywood, lumber wood, and pine wood to build lasting longer cat houses. And use the PVC pipes and wooden circles also to whip up a quick, beautiful cat treehouse. Browse the entire collection of these DIY cat tree house plans to see a lot more enchanting designs to choose from.
Learn how to build a cat tree for your feline friend at home! Our collection of these 22 free DIY cat tree plans is really fascinating at so many levels.
1. DIY Cat Tree House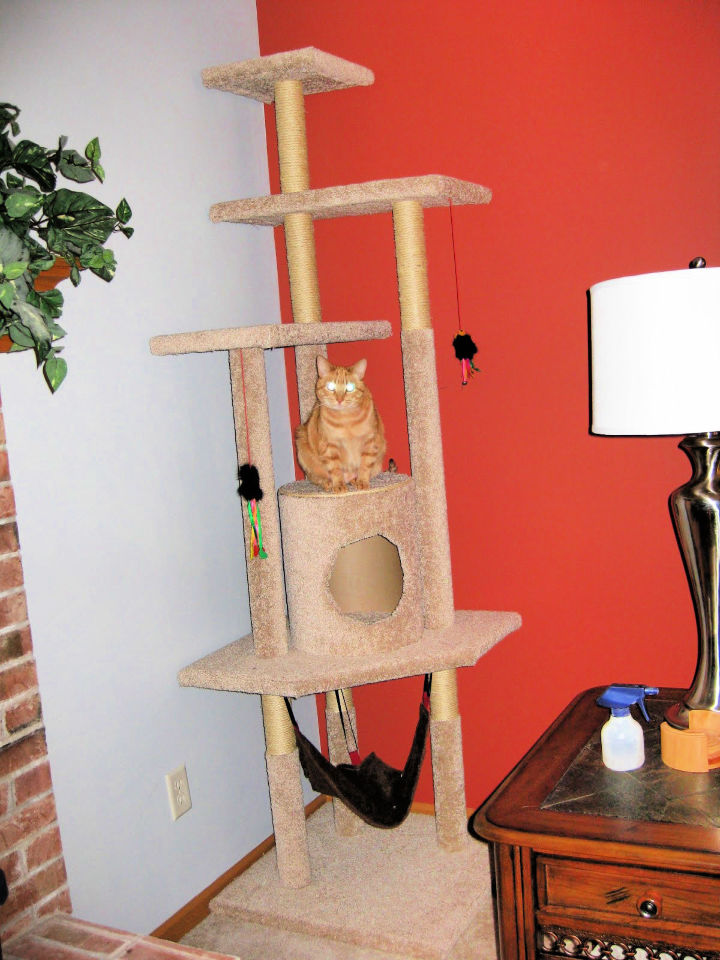 You will love this DIY cat tree house that comes with multiple vertical pillars and will make your cat do great physical training. You need 12″ of concrete form, 2x6ft plywood boards, PVC pipes, sisal rope, 1′ fabric for cat hammock, 60 feet carpet to build this cat treehouse. the experimental home
These cat tree plans save your money and the average cost of building your own cat tree will be lowest ever.
2. Homemade Cat Tree House
Give your timid cat a sense of security by building this cat tree house. One of the vertical poles come with a cute cat house that will help hide your cat while feeling shy. You need different sizes of wood, thick cardboard tubes, 4 wooden curtain rods, a thick Styrofoam piece, fabric, lots of twine, and upholstery foam etc to build this cat tree. instructables
3. Cat Tree House With Crates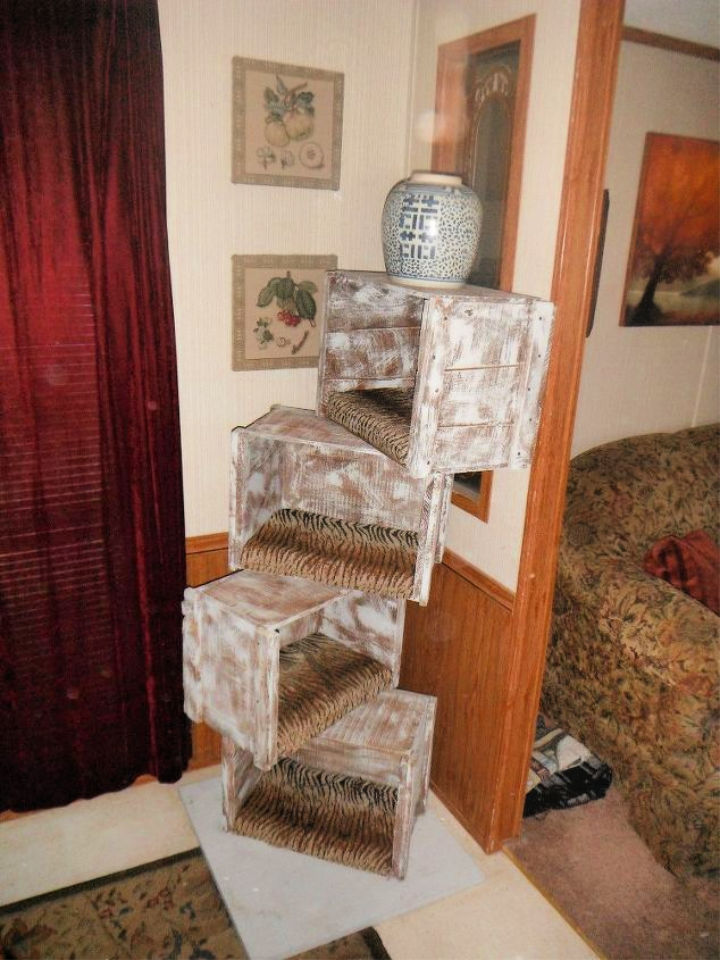 You will love this DIY cat tree house that is to build with recycled crates. Just stack the repurposed wooden crates and cover their inside bottoms with plywood, foam, and upholstery fabric so they will be comfy seats for the cats. One of the best and cost-efficient FREE plans for homemade cat trees to build in no time. hometalk
4. How to Build Cat Tree House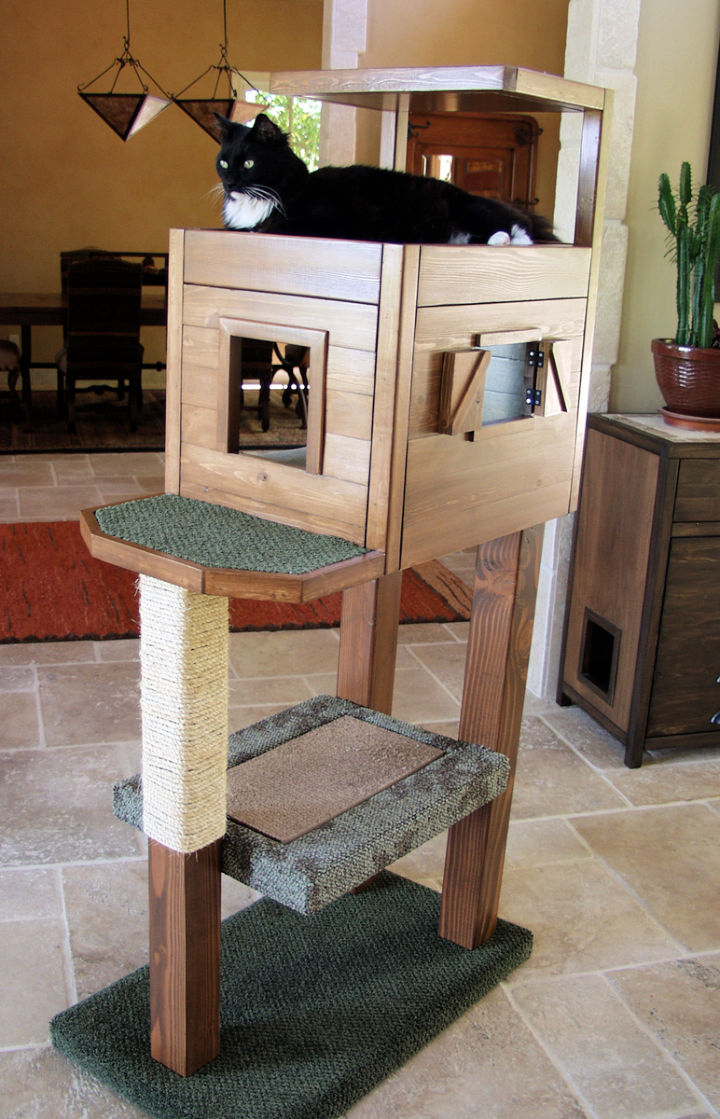 This project will complete in 10-20 hours and will make a great gift for a cat owner. This is here an intermediate crafting project that you will love to do in your spare time. Here you need the MDF or plywood scrap pieces, standard white pine, and douglas fir to build this cat treehouse. Details here ana white
5. Cat Tree House and Scratching Post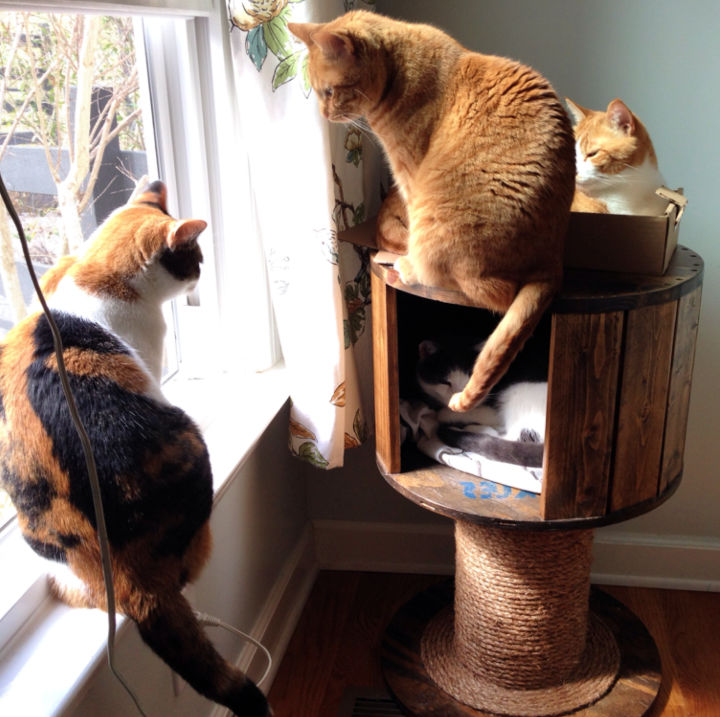 Repurpose the wooden spools too to build a cat house. Get inspired by the sample design that comes with a DIY cat tree house built at the top. You need 1x6s and a recycled wood spool to build this cat tree with a scratching post. A commendable restoration of a spool and a great recycling project. atkokosplace
6. Cat Tree House Plan
If you are in dire need to provide your cats a cat tree house, then get here free plans to build a nice and stable one at a fraction of cost. Grab the 3/4" thick plywood and 2x4s wooden slats to build this cat tree house, will be loved dearly by all cats. Must get it for your cat. buildsomething
7. DIY Cat Demands Tower

Build this outstanding looking cat tower using the 1×10 wooden boards. Next, you need an 18inches wood circle, a 12 x 4ft carpet to build this cat demands tower. This cat tower comes with different platforms and perches for a great say and finally comes covered with the jute or twine to serve as a scratch post too. imgur
8. Cat Tree House Less than 30 Dollars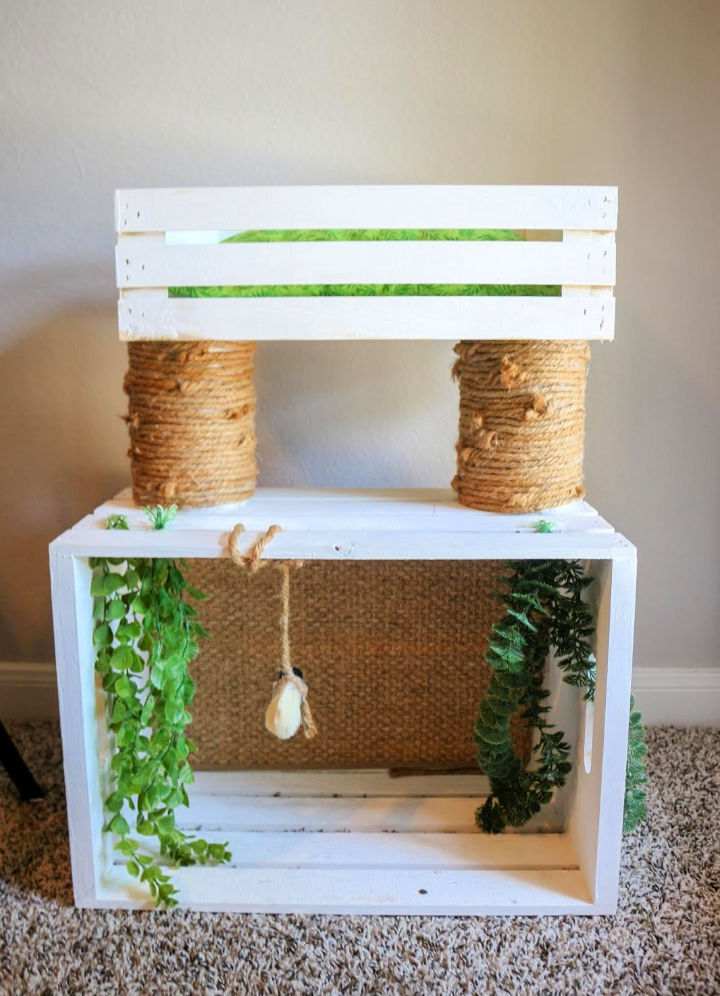 Building this cat tree house will cost much less, like $30 dollars, and can quickly be made with the recycled materials. Here you need 1 big crate, 1 small crate, fabric, pillow stuffing, 2 cans, rope, plastic mats, and fake greenery or foliage to make this cat house. Details here cherryblossom
9. Ultimate DIY Cat Tree House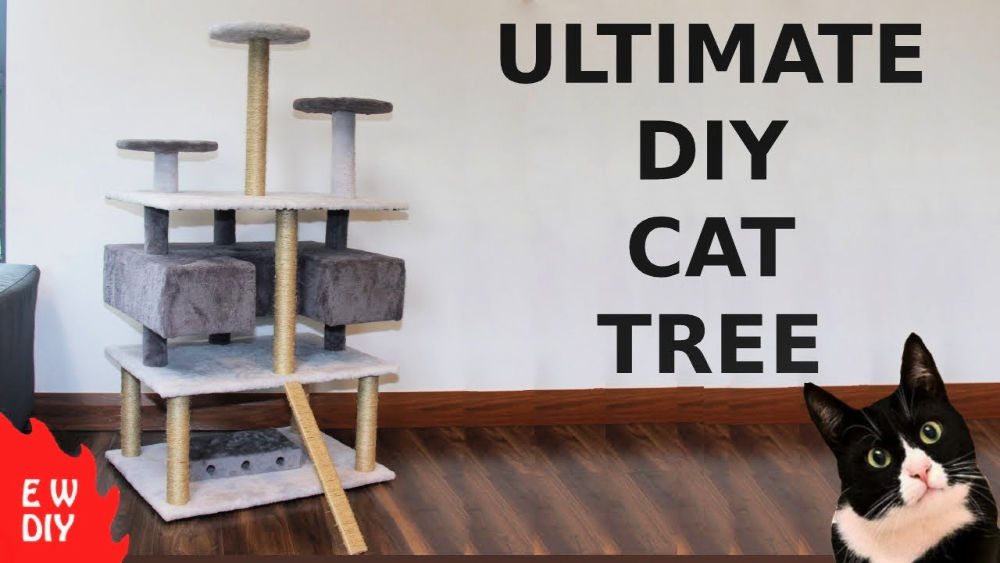 Build this cat tree using 1/2 plywood, cardboard tubes, twine, fleece throws, and 4 small wheels. It will provide all like different poles, the scratching posts, and different levels for the cats. An ultimate DIY cat tree house to build in no time at home. Get the full video instructions from here youtube
10. Build a Ultimate Cat Tree House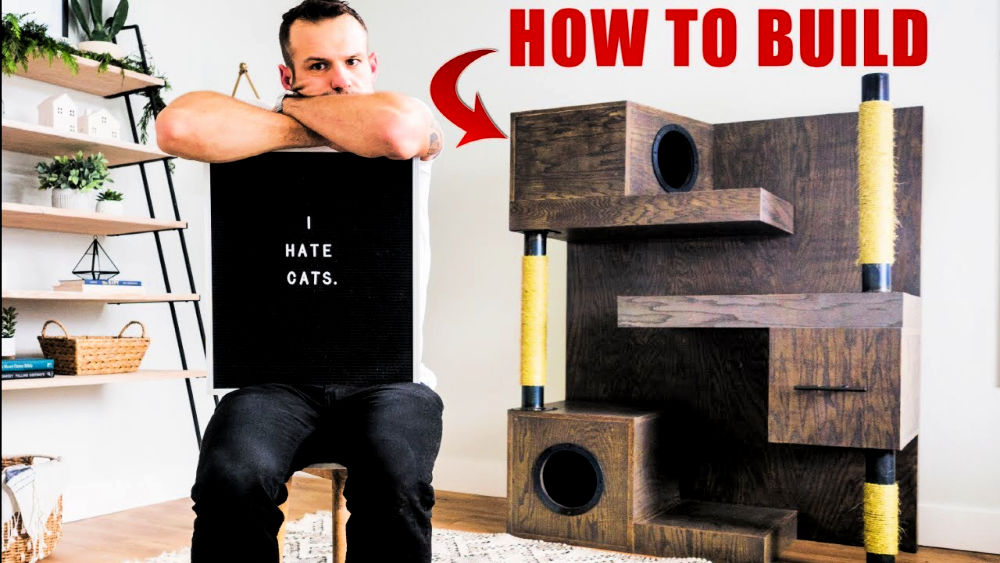 Find here the free video tutorial to build this another great and ultimate cat tree house. It is affordable and will make a great fun place for all cats. Here you need oak plywood and custom wood lengths to build this ultimate cat tree house, a divine place for a cat's fun. Video instructions here youtube
11. Heavy Duty Cat Tree House
For larger cat breeds, opt for this heavy-duty cat tree house. Just build the cat castle with wood and cover it up with the carpet or rug. Use the PVC pipes to install the poles that you can cover with jute or twine too, to make a scratching post for your cat. Full tutorial here youtube
12. Build a Six Foot Cat Tree House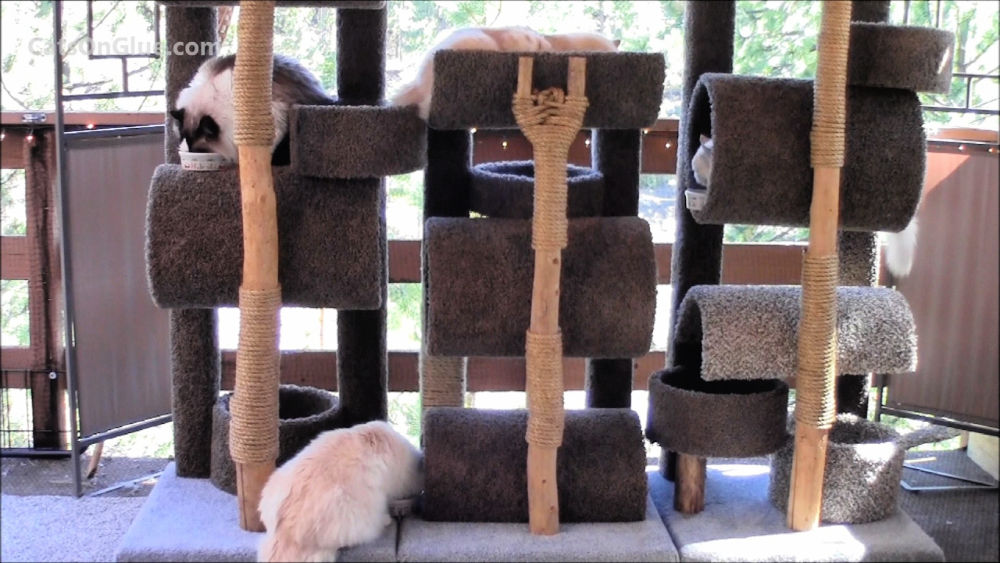 Go with these free video instructions to build a 6-foot cat tree house, will make a cute handmade gift. Here you need carpet in brown, grey and green color and carpet padding, cement form tubes, pine log, 1/2" plywood sheet, rope and 2×4 studs to build this cat tree house. Details here youtube
13. 8ft Cat Tree House
Build this higher cat tree house that will be a better cave for the timid cats to hide when feeling shy or unsecured. This cat tree is 8ft tall and has been raised in sturdiness to serve longer. Build the higher vertical poles using 2.5m pine pallet boards, 0.5m, and 1.3m pine pallet boards. Wrap the sisal rope around the poles so they will serve as scratch posts and finish with MDF platforms. youtube
14. Natural-looking Cat Tree House
This cat tree looks very natural as it comes adorned with the foliage and provides green-carpeted platforms. One of the higher rope wrapped poles come with a cute cat castle. Build platforms and cat house using the plywood and other scrap wood pieces.
15. Adorable Cat Tree House
Take the help of the wood logs too to make a cat tree. Use them as readymade poles for your cat tree house. Grab the higher wood log poles and finish them up with top wooden crate cat bed. This design features the lovely stair steps too made of wooden boards and wood logs helping cat reaching higher level cat castle.
16. Best Cat Tree House
One of the best natural looking cat tree house that comes with a natural tree. First, build the cat house using wood of choice and add its chevron top with vertical tree branches loaded with greenery. Now the final part, just adjust the wooden platforms at different height levels. Details here
17. Cat Trees House for Small Spaces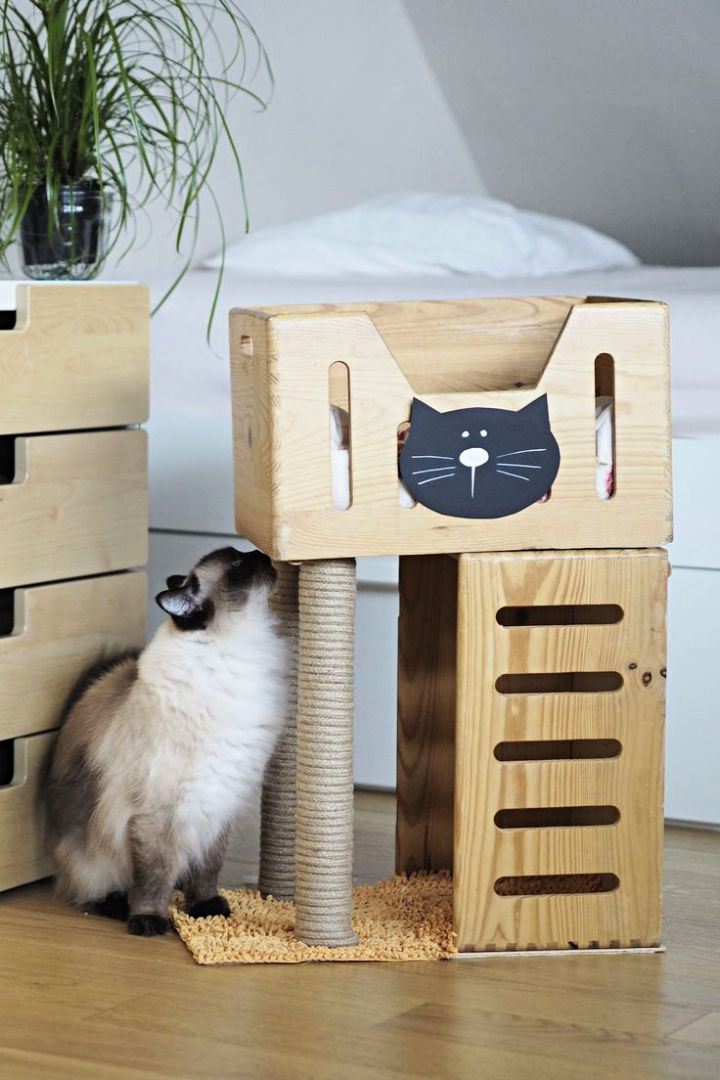 The best way to house your cats in small spaces is to build this tree cat house. Make it using two wooden crates and two cardboard or PVC pipe lengths. Build the wooden crates with the wood of choice and make one stand vertically and let others come on it. Support the front of the top crate with 2 rope covered PVC pipe poles, will be the scratch posts for the cat. Next, add the carpet to the bottom side of this tree house.
18. Cat House Using a Real Tree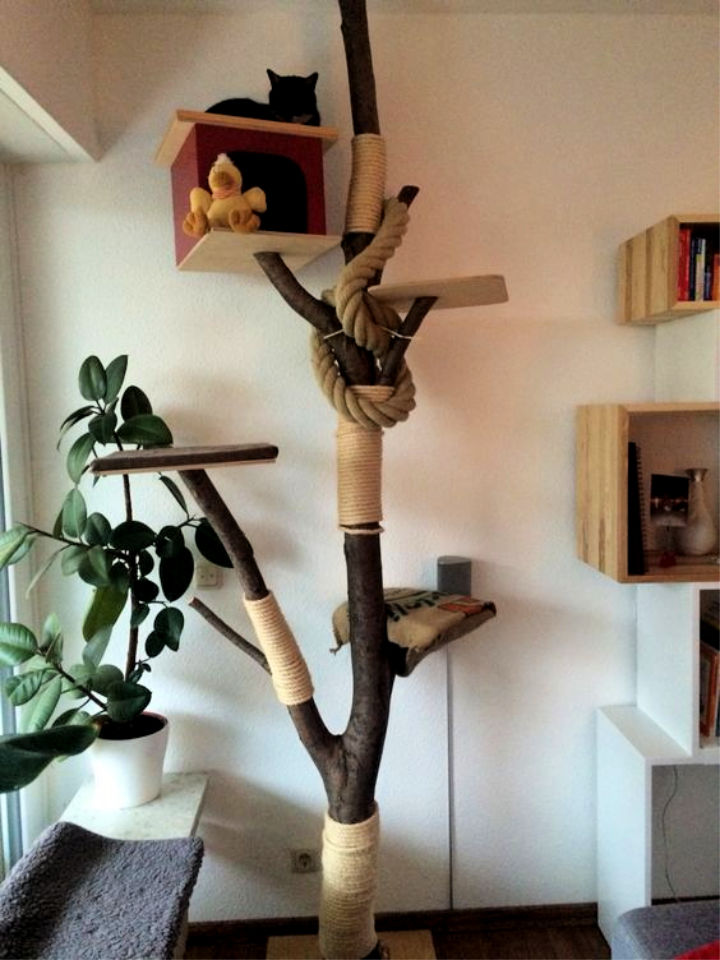 Build this cat house using a real tree and wrap the rope around some section to get the scratch posts for the cat. Add up the branches with wooden platforms and one of which may come with the cat house on it. So, grab a real tree and some wood of choice to do this project.
19. Great Wall-mounted Cat Tree House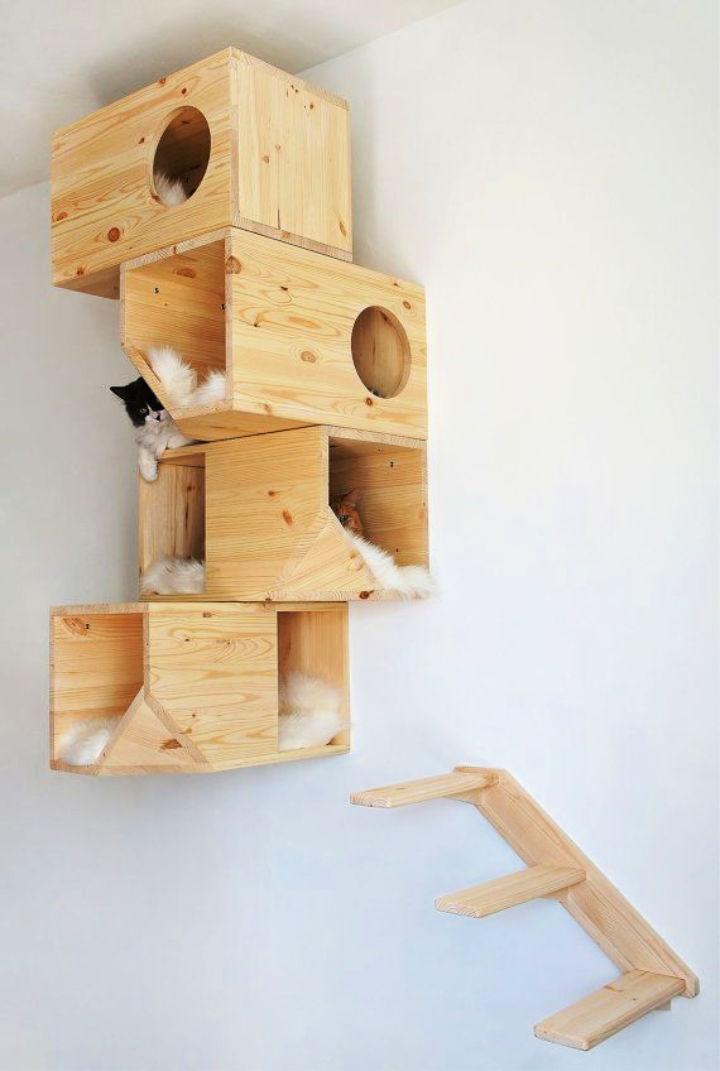 This cat tree house has nicely been mounted on the wall and comes with 4 wooden crate style cat houses. So, it can house 4 cats at the same time and provides the E-shape wall stairs on the wall to reach the higher levels of cat house. Details here
20. Beautifully Designed Cat Tree House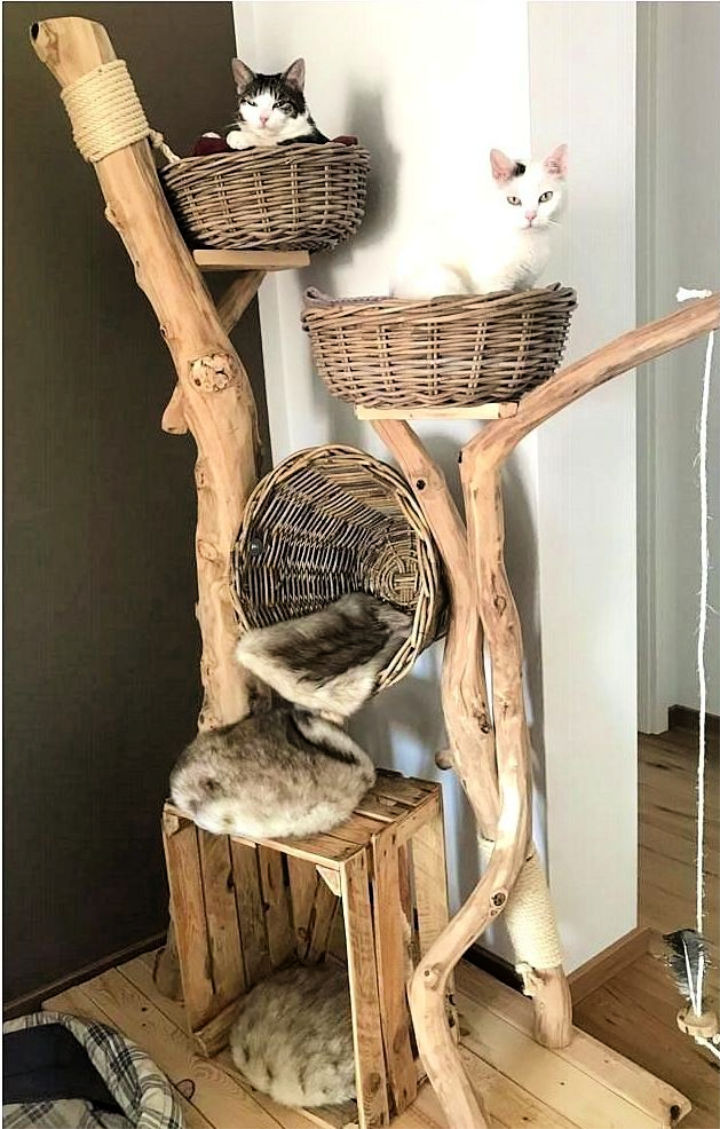 One more well thought and creative version of a cat tree house, again is made of a real repurposed tree. Just bring the old backyard into nice condition by removing greenery and unnecessary branches. Next, adjust the wicker basket cat beds. Wrap the rope around the posts to gain the scratch posts.
Related DIY Ideas for Cats:
Conclusion:
Want to raise some quick steps to keep your cats physically fit? Then you must build these DIY cat tree house plans and ideas that will put your cats on regular training and will help maintain good health too. You will love building these cat trees using lots of recycled materials like cardboard tubes, wood, and PVC pipes, and they will make instant beautiful gifts for cat owners. So, do browse this collection of ideas to see lots of creative DIY cat tree house hacks.