As we always say, cats are better friends. Why? Because they do not judge! On the other hand, children love cats as pets. Therefore, it is necessary to provide a beautiful living space like a perfect DIY cardboard cat house for your pet cats and kittens. So, how to make a cat house? We have beautiful and inexpensive 20 DIY cardboard cat house ideas, which will amaze you. You will be left with no choice but to try them out after looking at what we have gathered for you. You will enjoy making a home for your cat and will cherish more when your cat will love it. After all, the happiness of the cat matters the most!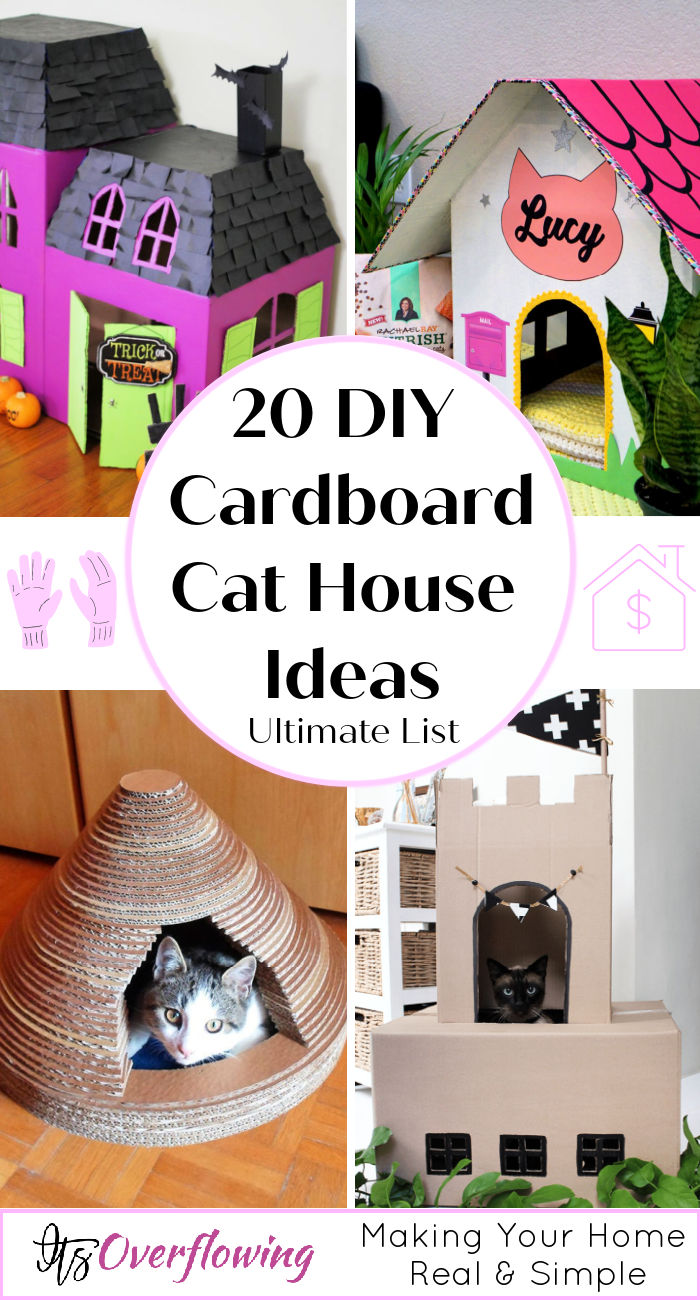 The best part about these DIY cardboard cat house designs is that no expensive accessories and helping material are required. Empty cardboard boxes, scissors, glue, and tape will leave you in jaw-dropping cathouse for your lovely pet. The basic accessories might already be available at your home. Also, there is always an option of embellishment.
Hence, extra stationery can be bought from the nearest market. Similarly, you can brainstorm and use the already available markers and colorful sheets to indulge creativity in the cathouse. You can gift these cathouses to your friends and family. They will love the idea, and you will get famous as a crafter in no time. What better gift can be for someone with a pet other than a pet house. Hop on to tutorials to get numerous DIY cardboard cat house designs regarding cardboard cat house.
1. DIY Cardboard Cat House
Time to give your cat a comfy house using cardboard. Take a cardboard and cut them in rectangular shapes! Join them with a glue gun and make a slanted hut on the top. Embellish the house with stars from glitter sheets. Make grass and mailbox from colored paper. Also, decorate the door with a yellow sheet cut out in a zig-zag manner. happinessisho
2. Turn Cardboard Into Cat House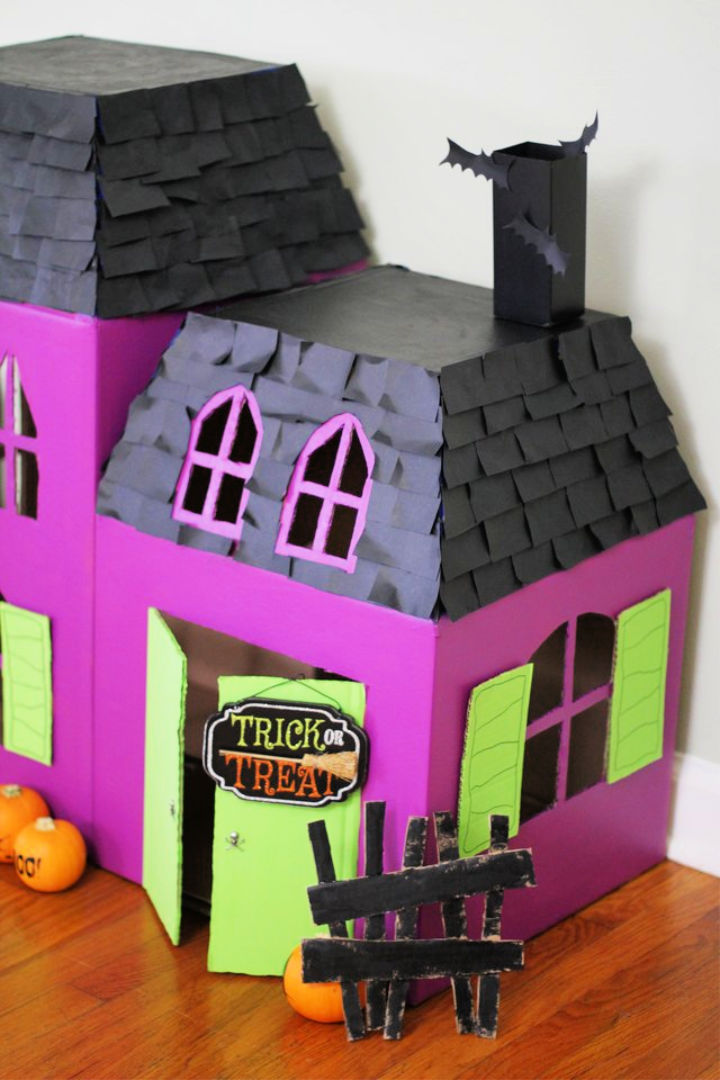 Plan a fun DIY activity with your child and make a DIY cardboard cat house. The cat house explained in this tutorial is perfect for the Halloween theme. You will need boxes along with some box cutters, painter's tape, acrylic paint, measuring tape, and scissors. To give the house a haunted effect, you will need black or grey sheets as well. cuteness
3. DIY Cardboard Kitty Castle
Take some old boxes resting in your store and create this beautiful kitty castle for your fluffy cat. Put a box horizontally. Cut the upper part of the box and fix the other box vertically over it. Cut a door at the front of the vertically placed box and outline it with a black marker. Attach a string on the door, and you are good to go. melissalouise
4. Chewy Box Cat Castle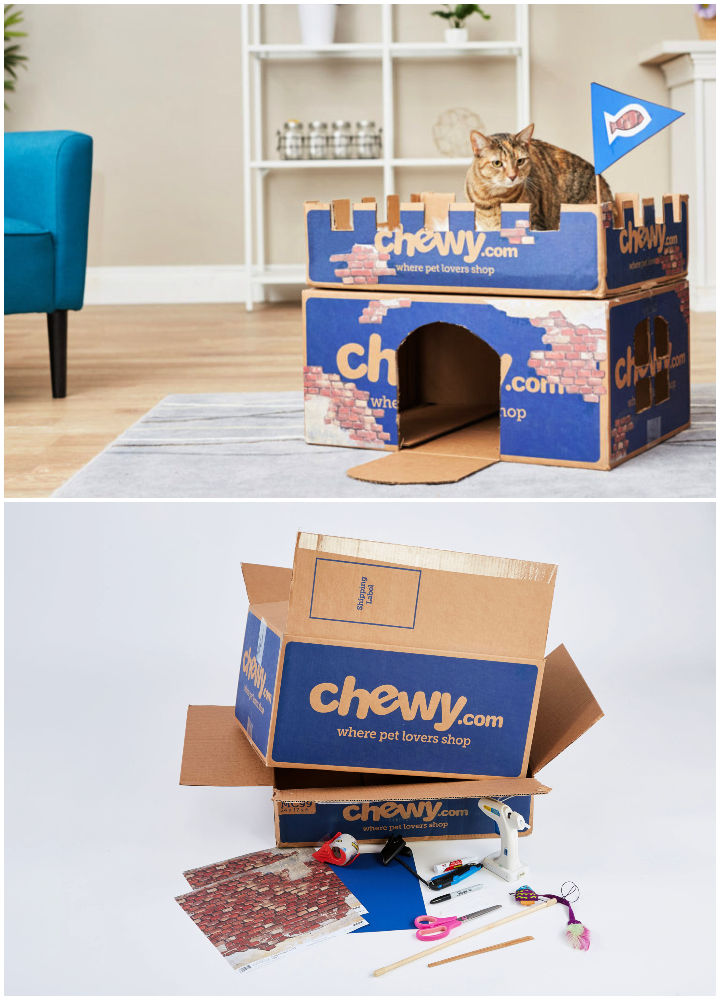 Gather all the chewy boxes you have and make a chewy box cat castle. 2 boxes will make a perfect castle. Carve a door and windows using scissors on the box placed at the base. Similarly, cut a zigzag castle shape on the box placed on the top. A marker, scissors, and the box are enough to craft this DIY activity. petcentral
5. Homemade Cardboard Cat House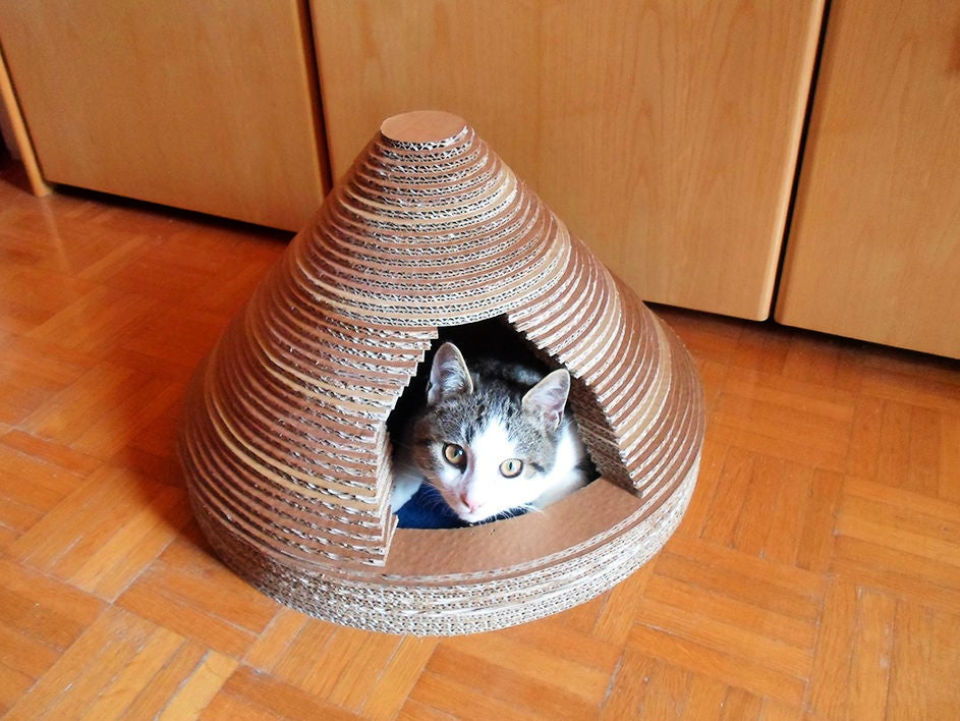 Make a fancy homemade cardboard cat castle by following this tutorial. The castle requires a lot of cardboard discs, cut in different sizes, and placed in concentric circles, one above the other. The size of the discs decreases from bottom to top. Stack the discs and join them using white glue. instructables
6. Easy to Make a Cardboard Cat House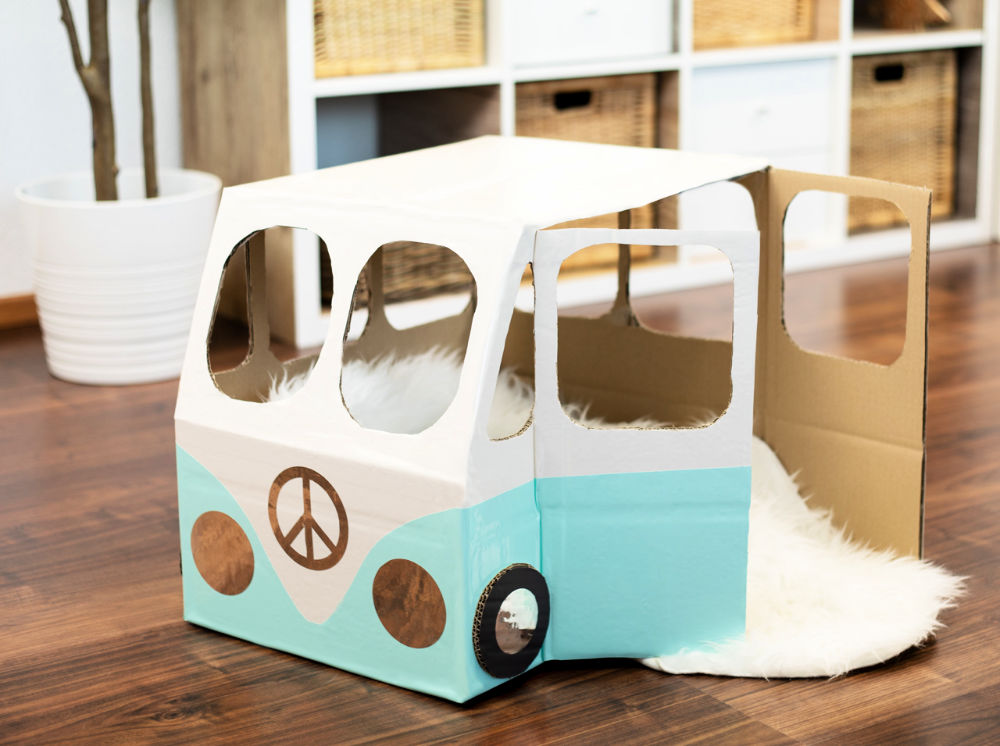 This DIY cardboard cat house features a bus theme in its design. The house has everything; doors, windows, steering, and wheels. The logo of Mercedes brings an X factor in the cat house. After all, your special cat deserves a special place to relax. dcfixbrand
7. Kitty Camper Out Of Cardboard Boxes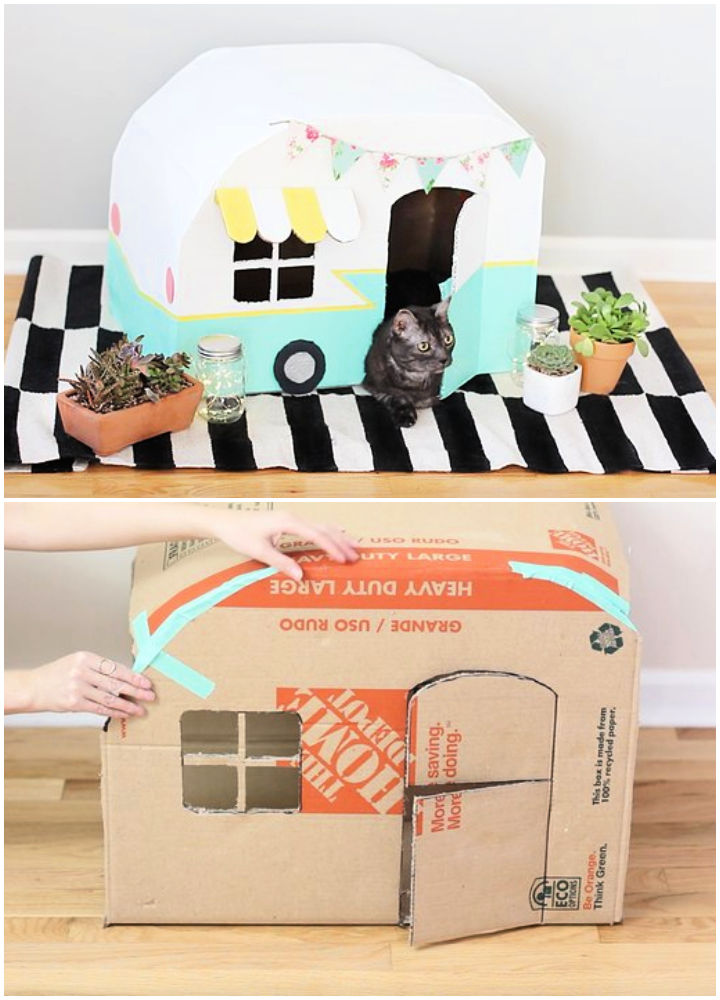 No need to throw away empty boxes. Utilize them in making a cathouse. This particular cathouse can be made using a single card box. Just cut a door and a window on the front of the box. Use tape to join the ends of the box. Ta-Da! You just made a cathouse. cuteness
8. Cardboard Cat Dollhouse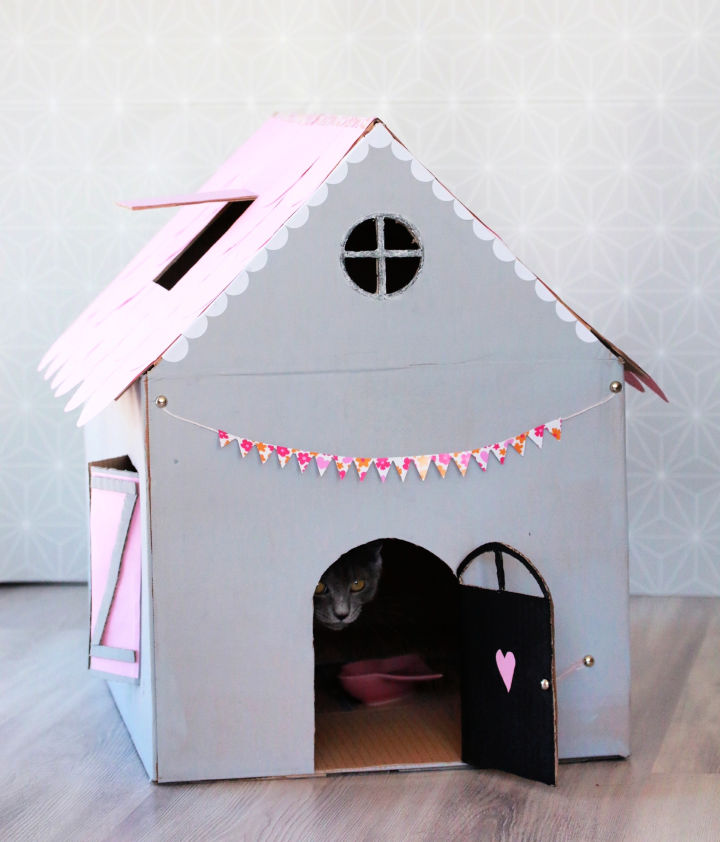 Combine the love of cats and dolls for your little one by making a cat dollhouse. The cat dollhouse demands a little extra effort and material. Along with usual boxes, tape, scissors, and glue, you will also need colorful paper, rivets for scrapbooking, acrylic paint, black paint, and a brush. sp4nk
9. Handmade Cardboard Cat House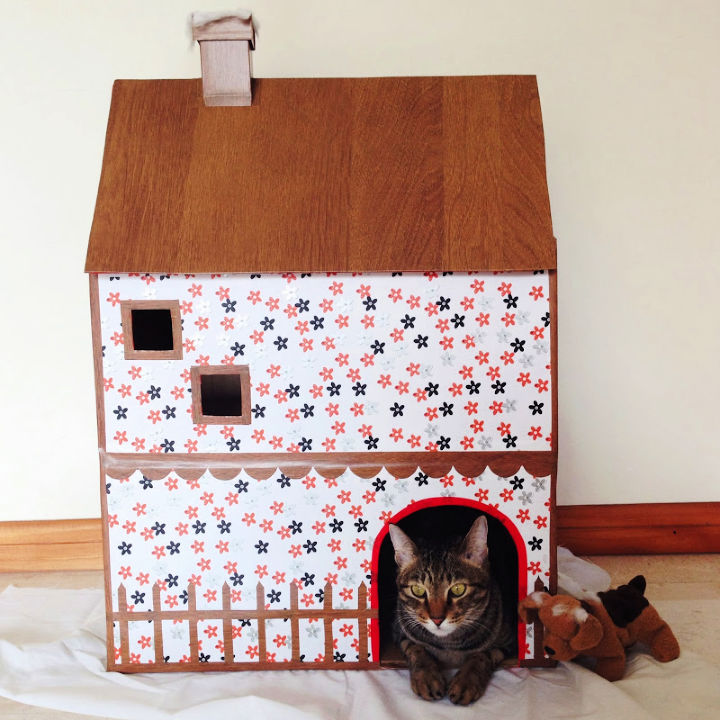 Make this fancy cathouse out of ordinary cardboard with just some extra effort. All you need would be boxes, scissors, tape, glue, and some flower sheet to make it colorful. Along with fancy, make the house comfortable by placing a bubble wrap sheet. Your cat will sleep in peace. pennyforasong
10. Cardboard Gingerbread Cat House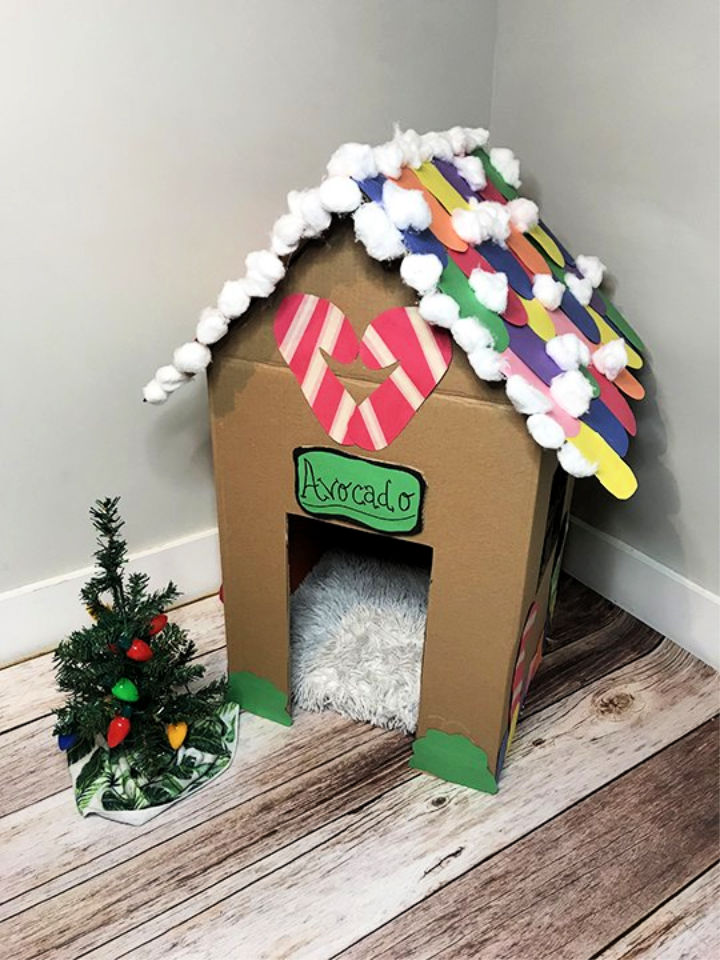 Implement a unique idea to draft a cathouse for your pet a home. Gingerbread cathouse is made of the same ordinary boxes but embellished with colorful papers. To create a snowy effect, cotton balls are glued to the top of the house. You can write the name of the cat above the door. hometalk
11. Build a Cat Cave From Cardboard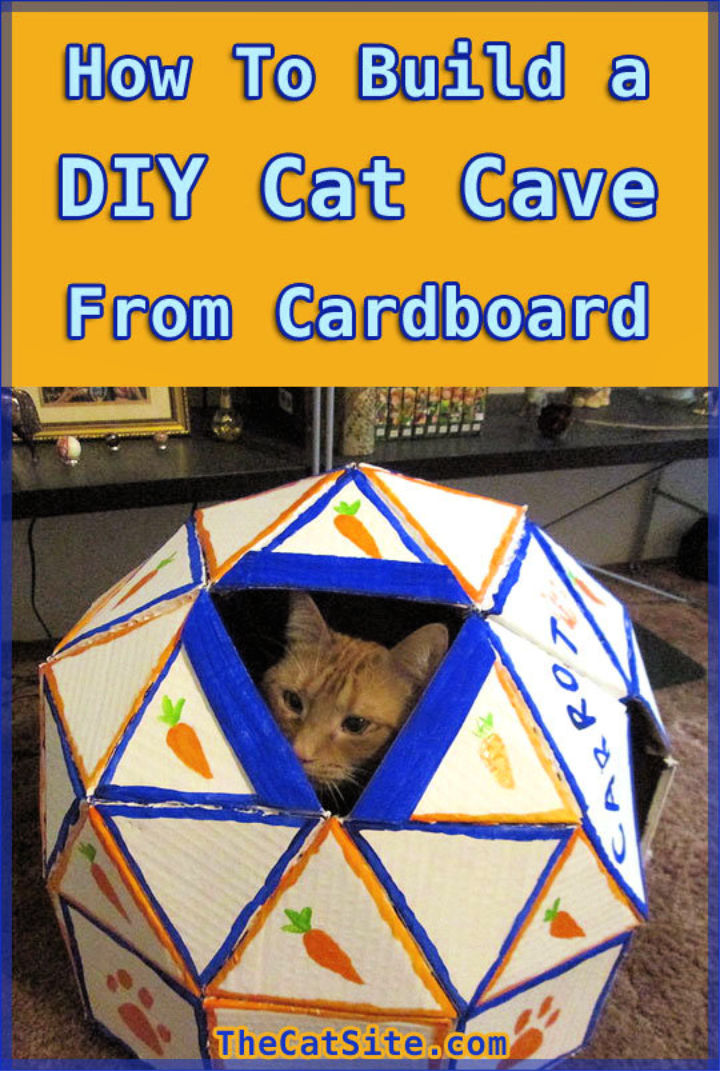 We all have always seen a hut shaped cathouse, but have you ever heard of a cave cathouse? We present an extremely different cathouse in the form of a cave. It can be made easily using cardboards, cut in specific shapes. Follow the exact tutorial, and you will end up making a beautiful home. thecatsite
12. Repurpose Cardboard Cat House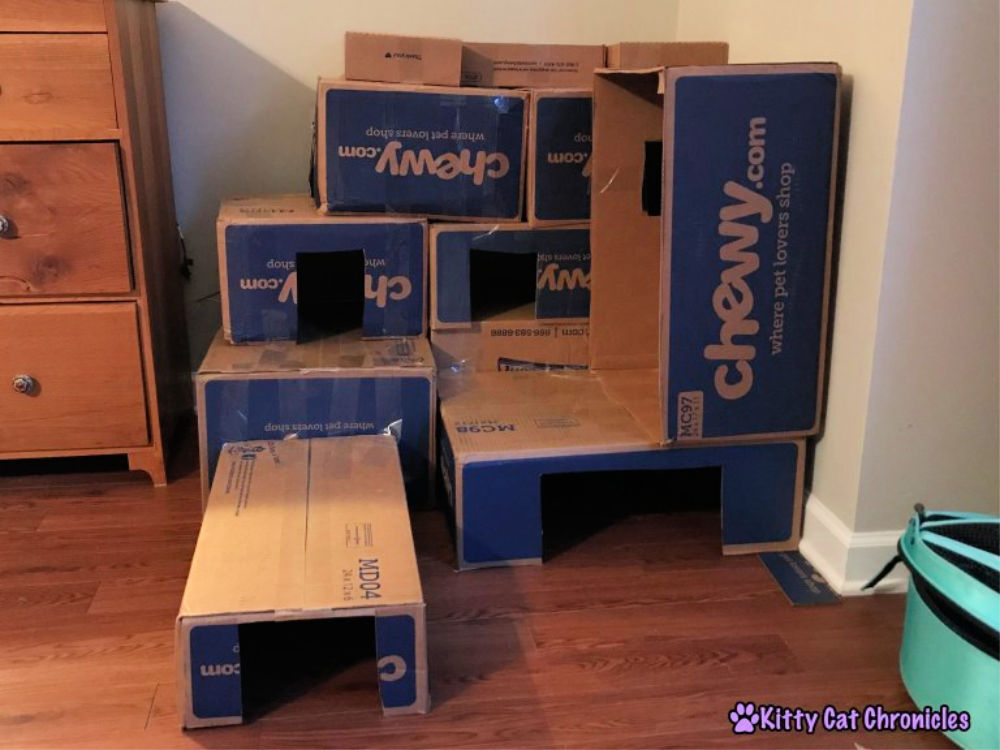 Just not a small house, but a whole mansion can be made for a cat using the cardboards. Do not throw the empty cardboards and keep on collecting them. Place them as explained in the tutorial and create a huge home. Painting and equipping the house with crafts is always an option. kittycatchroni
13. How to Build a Cardboard Cat Castle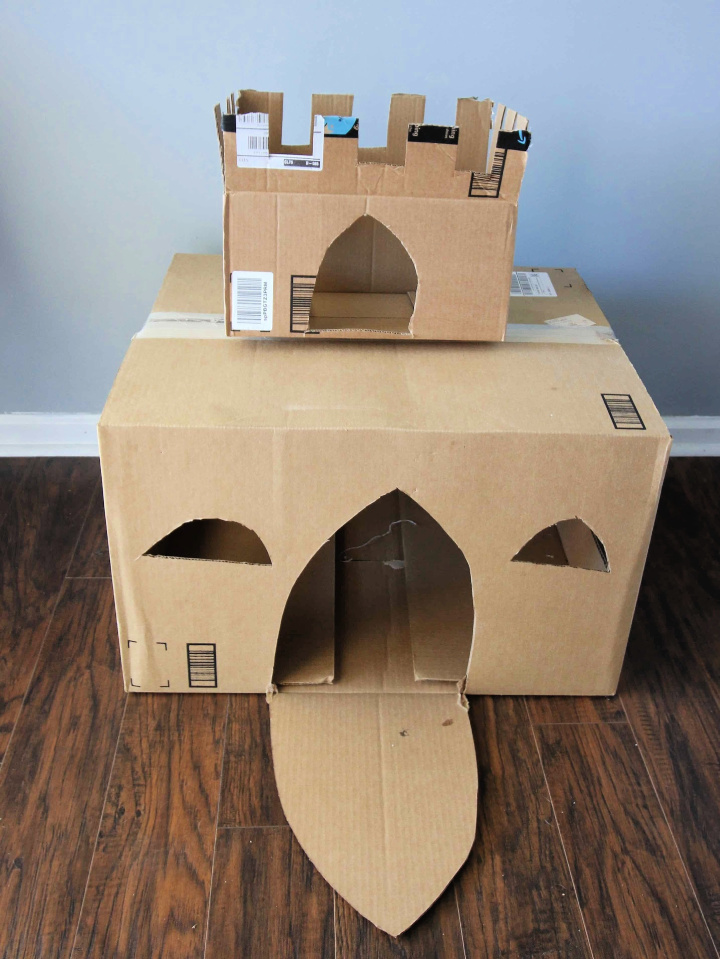 Cardboard cat castle can be made easily, with even a single cardboard box. Take a box. Carve a front door and windows with the help of a scissor. You are done. Yes, you heard it right! You will end up in a castle with just a box and a scissor. charlestoncra
14. Make The Purrfect Cat Home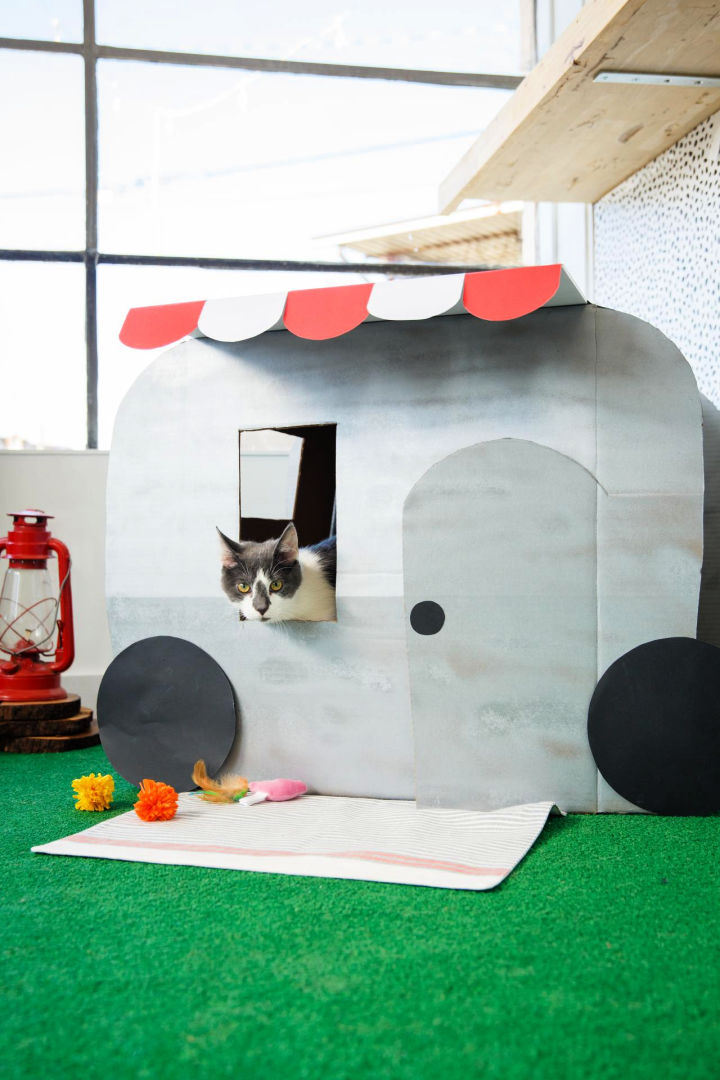 Make a mobile cat home with the help of cardboard and some simple accessories. You can make tires from black card paper in a circular shape and attach them at the bottom of the house. Then also whip up a rotatable door by following this tutorial. hgtv
15. DIY Cardboard Cat House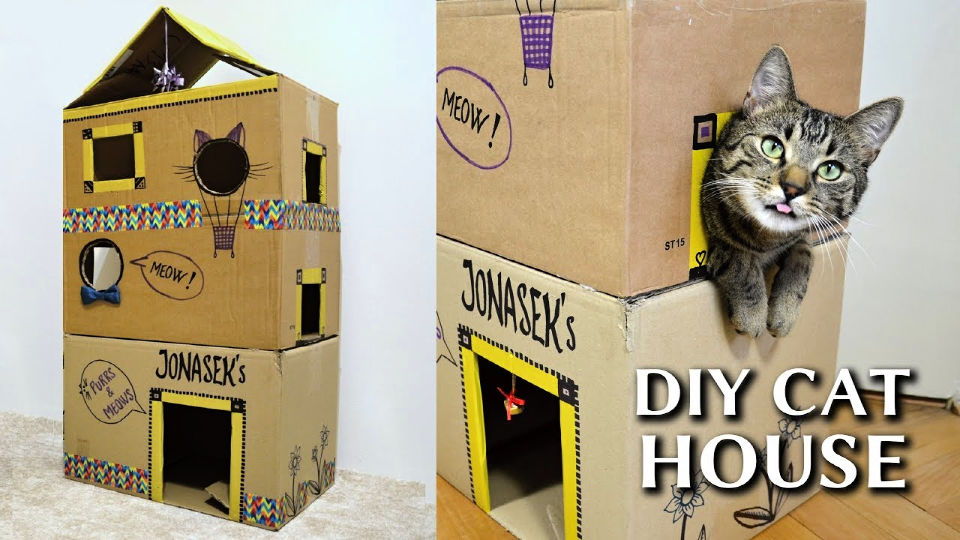 Stack two cardboard boxes and create a beautiful cathouse out of them! Involve your kids in this DIY activity and enhance their crafting skills. Make a door and a window on the lower box. Also, decorate the upper box using markers of different colors. youtube
16. Kitten Cat Pet House from Cardboard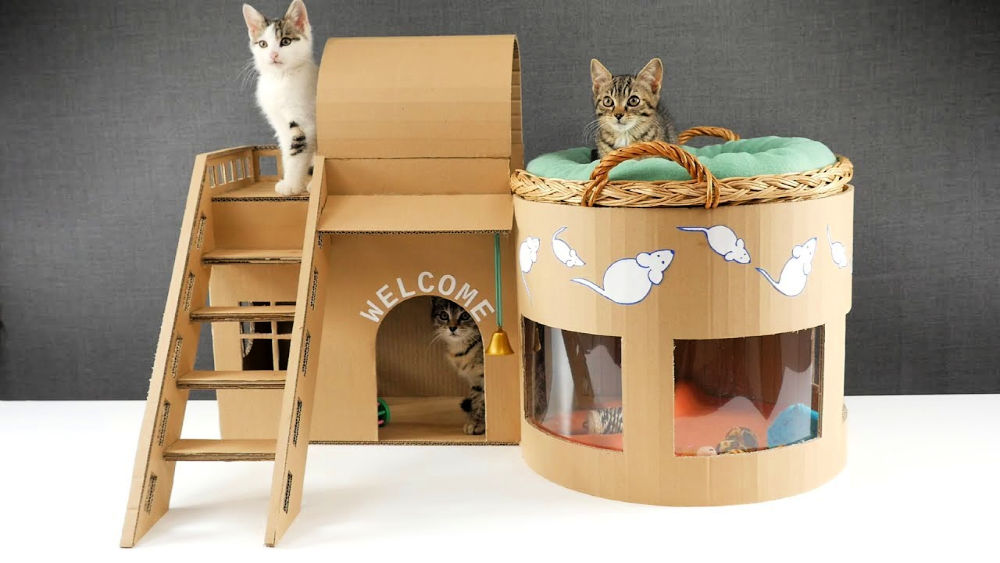 You can make a full-fledge house for your cats with nothing else but cardboard boxes. And by full-fledged DIY cat house, we mean a house with a sunroom, resting area, terrace and rooftop with stairs. Intrigued enough? Watch the tutorial in detail to get hold of this recipe to build a stunning pet house. youtube
17. Cat House for Two Beautiful Kittens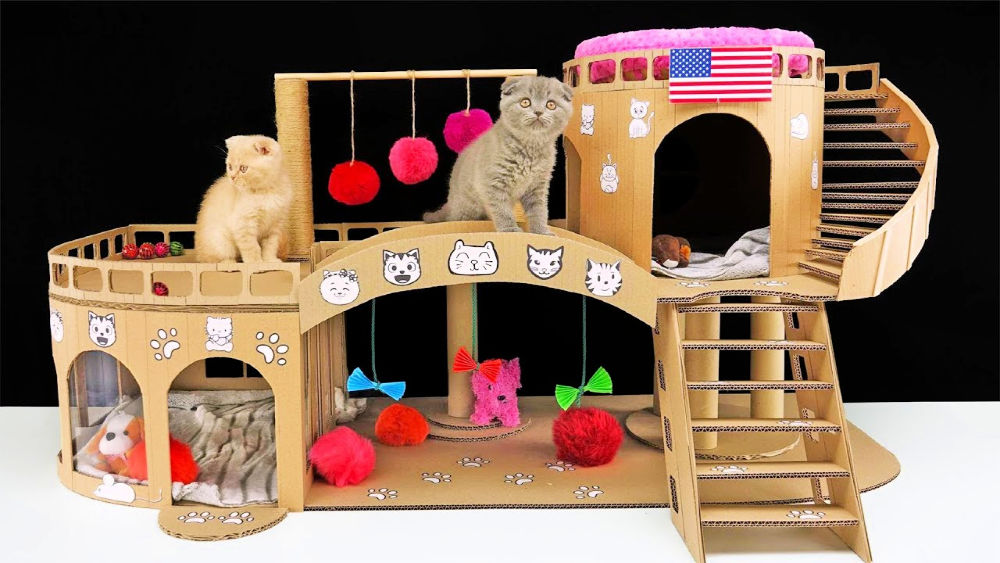 This house can accommodate 2 cats in it. The construction of the cathouse is explained in detail in the tutorial. The addition of pom-poms in the house makes it a colorful piece. Draw cat faces on separate paper, cut them out and paste them on the front of the house to reassure that it is a cathouse. Otherwise, anyone can get confused with its beauty. youtube
18. Cat Pet House From Cardboard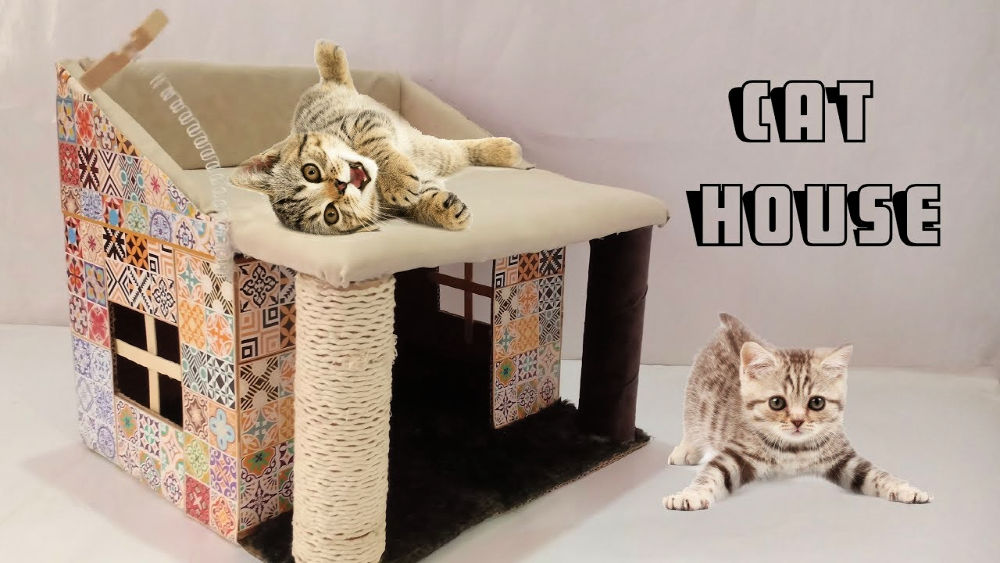 Cat pet house from cardboard will prove to be the most constructive use of empty boxes. This house looks complicated but is really simple to make in reality. The pillars, windows, and doors are all explained in the tutorial. The addition of foam on the top of the house is like the cherry on the top. youtube
19. How to Make Kitten House from Cardboard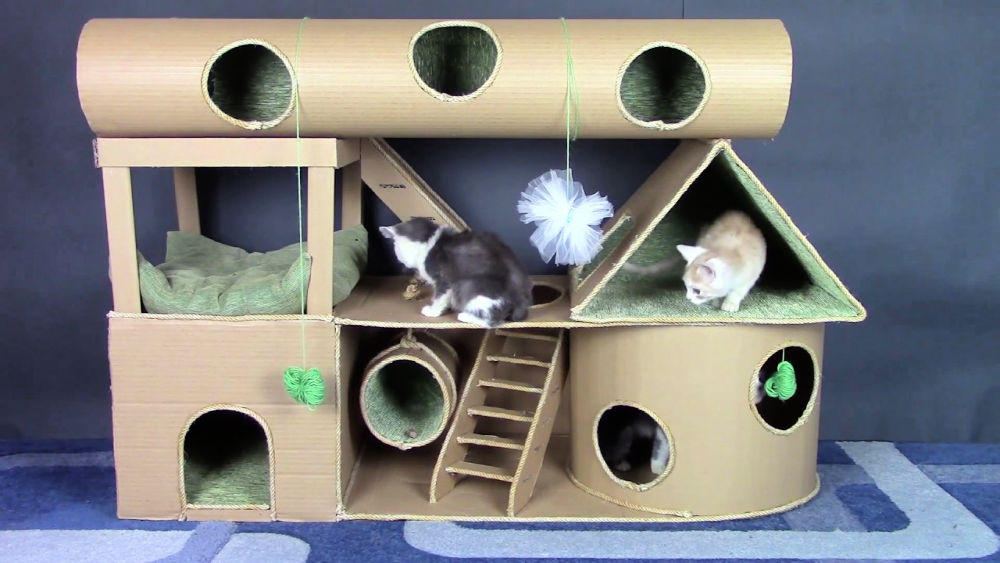 Kitten house, along with a playing maze, can be made for the cats using cardboard. Gather all the card rolls from tissue rolls and empty cartons, and create interesting space for your pet cats and kittens. The kittens will love to play around the house. Cat happy, you happy! youtube
20. Make A DIY Cat House Out of Cardboard at Home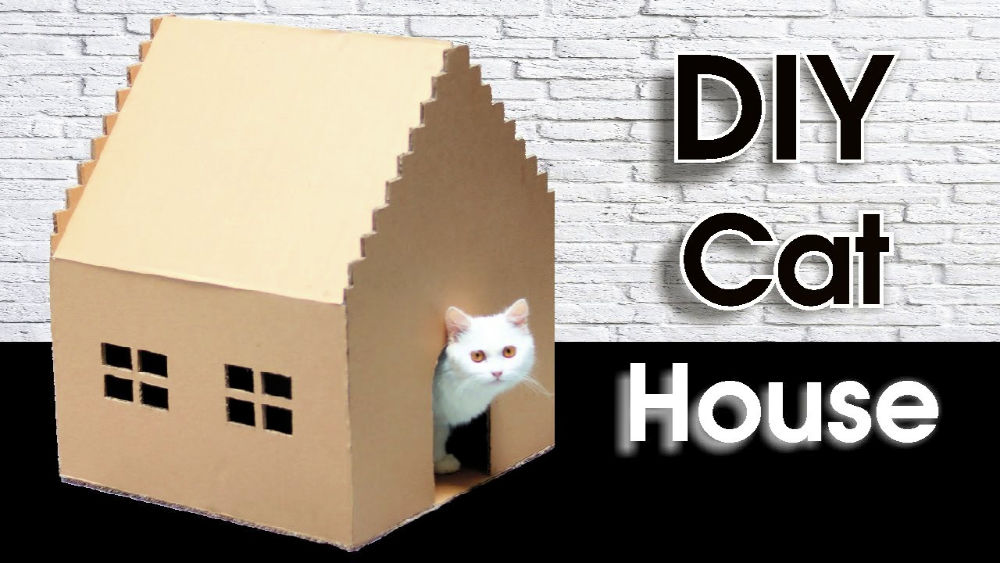 Want to make a unique yet straightforward cathouse from cardboard? Try this one out. You will be amazed at your crafting skills after making this. Cardboard, scissors, and glue are all you need. Equip the front and back of the house with a zigzag pattern. youtube
Conclusion:
So Settle your wandering cat in a pretty house using scrap boxes. We assure you; your cat will certainly love the space and will never scratch your sofas and bedsheets. Bring out your creative skills and polish them with these tutorials. Try any one of these DIY cardboard cat house plans at home. Start from a simple one if you are a beginner in crafting.
Also, involve your children in this DIY cardboard cat house activity and bond with them. Alter the house plans with the ideas of your children. Let them explore and implement their minds in a constructive DIY activity. Hence just get started, and have fun!
DIY Cat Projects You Can Make At Home