Whether you need to make your cats be physically fit or you want them to be more social, just go with these 25 easy homemade DIY cat toys that your cats love to play with. From food inspired cat toys to lovely stuffed mouses, this homemade cat toys collection is having all that can please a cat. Make the cat toy gyms at home that will stimulate your cats to jump and hence will improve their physical health. Make the cat toys on sticks, and also, the cat toy wands will provide hours of fun to your kids.
See readymade designs of all popular DIY cat toys by browsing this collection of 25 easy to make homemade cat toys that will help reduce your cat's boredom. The stuffed mouse toys will work great for kittens to make them learn to mouse. These DIY cat toys can be the best gifts for your cats and will be budget-friendly to make at home.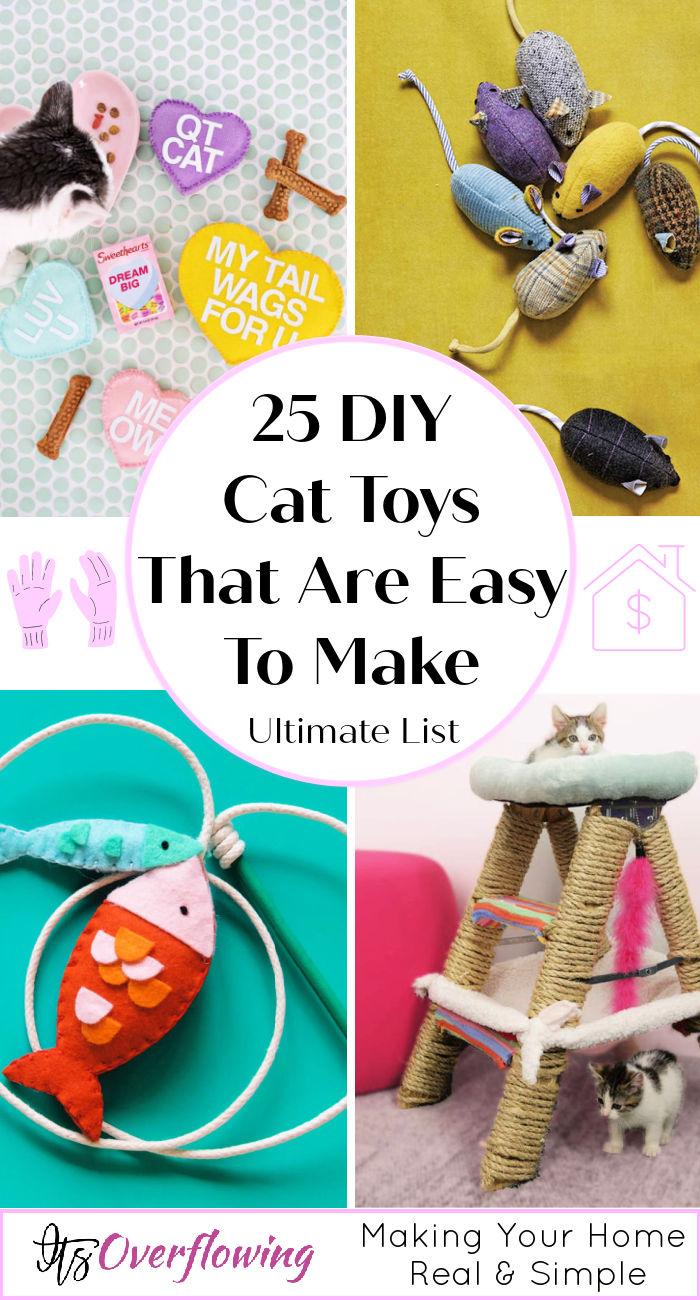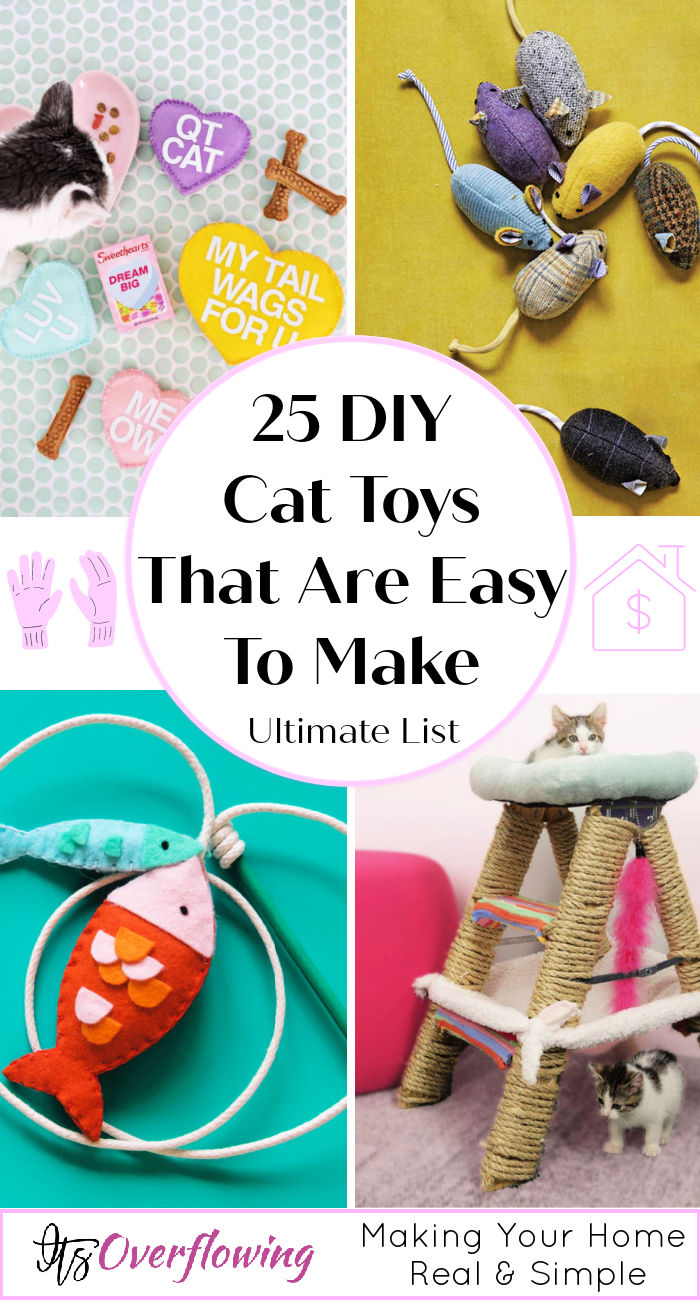 These DIY cat toys will be an instant solution to calm your scared cats. Build the cat condo out of the stool, and this will help your lazy cat to be active. If your cats are suffering from some behavioral problems, then these toys will be an instant cheap treatment to bring them to make to behave normal.
Providing these DIY cat toys to your cats will also reduce their biting the furniture habits, so there will be no damage to your furniture. The cat toy gyms will improve the blood circulation of your cats, and this will be a smart way for your cat to relieve stress. Just browse all these DIY cat toys projects that are just the better gifts to think for the cat owners too.
1. DIY Conversation Heart Pet Toy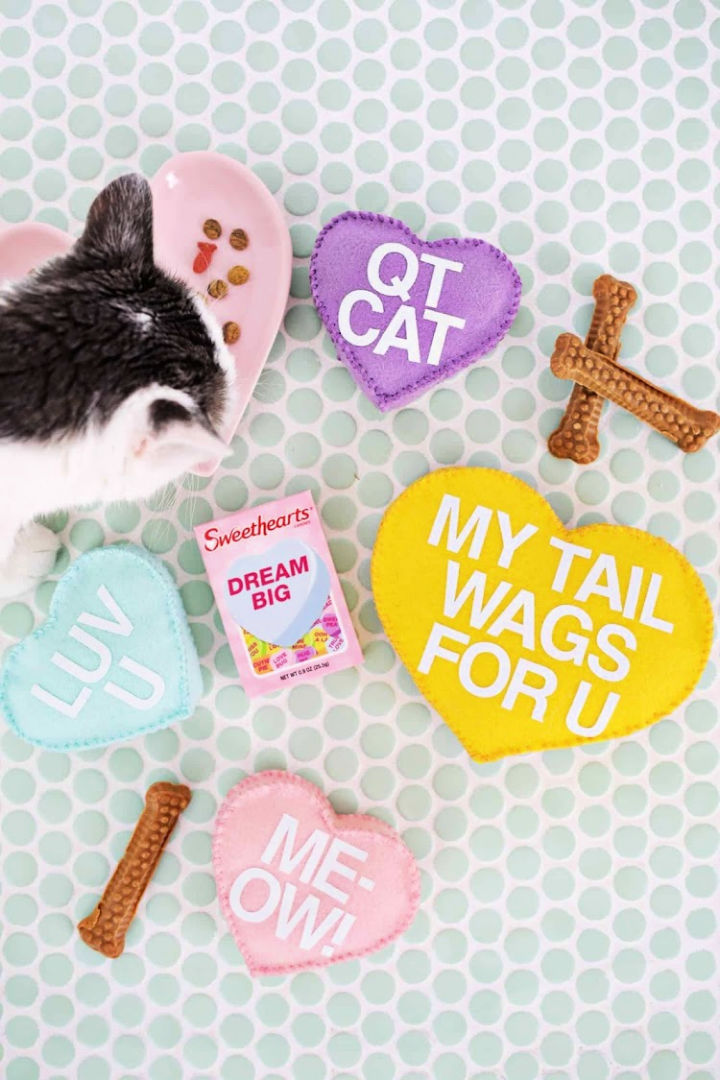 Let your cats be more healthy by playing with these soft conversation heart toys. Grab a paper heart template and then cut the felt heart shapes, sew them together and stuff with polyfill. Finish with iron-on letters and then provide them to your cats to start the fun play. Find these DIY cat toys here abeautifulmess
2. Homemade Felt Macaron Cat Toys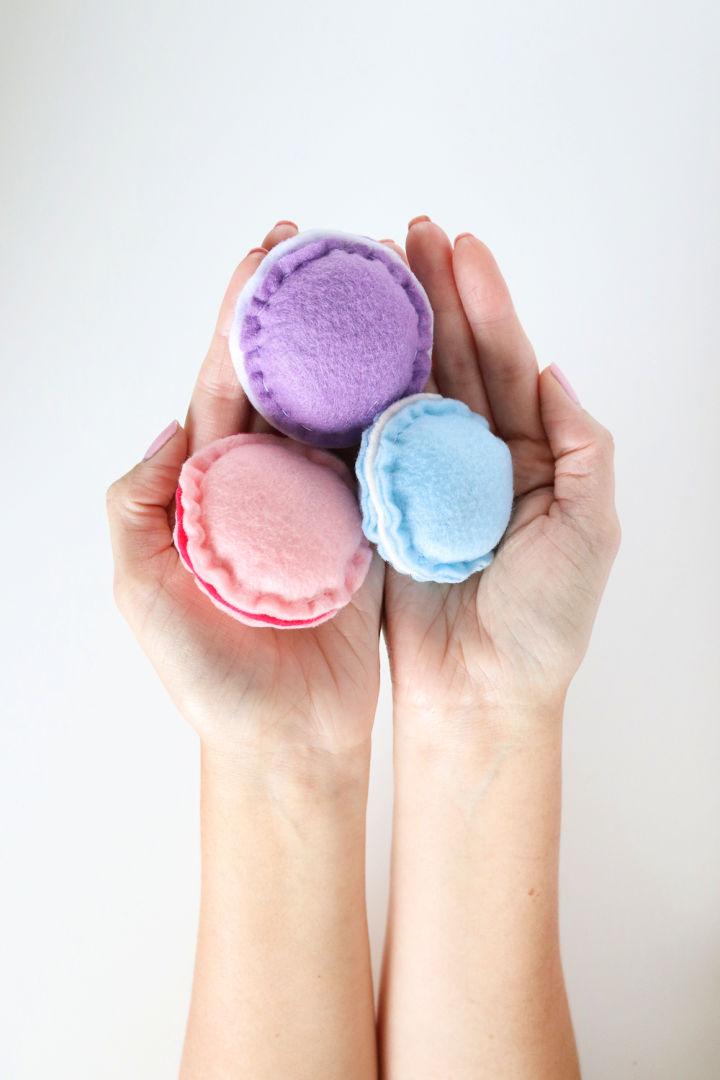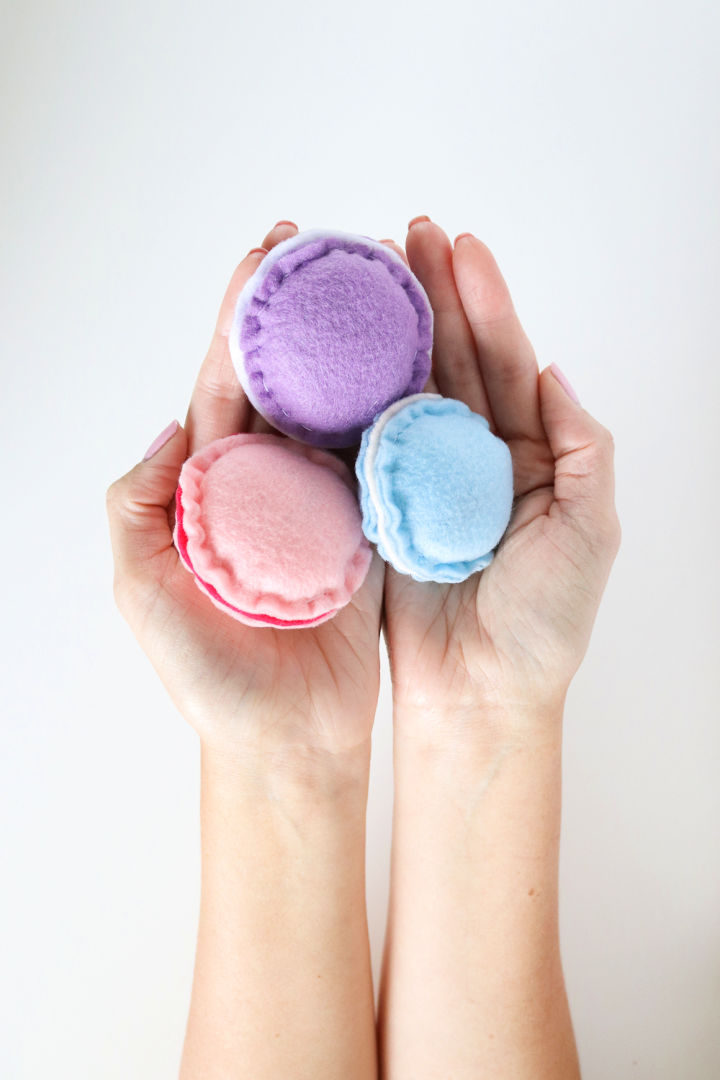 Help release your cat's boredom with these felt macarons that are colorful and will provide hours of fun to your kids. Grab the pastel felt, contrasting felt, pillow stuffing, catnip, and pencil to make these felt macaron DIY kitten toys. These DIY cat toys are super soft to touch. clubcrafted
3. Build a Cat Play Gym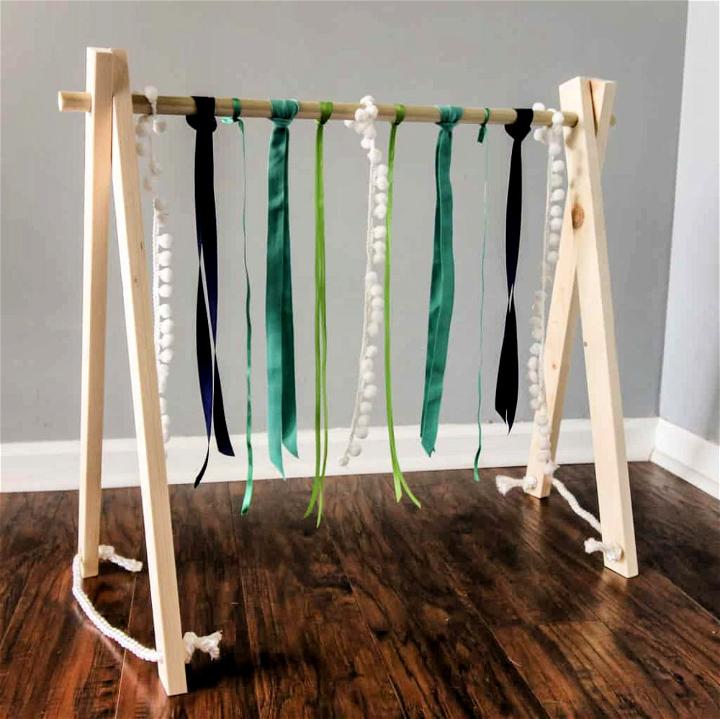 Maintain the good health of your cats by installing this gym as a DIY cat toy that will be loved dearly by all cat lovers. Mainly the gym is made of wood like with 1x2x8′ and 3/4" wood dowels. Next, you need 4′ of rope to control the leg stretch. Finally, hang the colorful lengths of ribbon to threaded dowel. Details here charlestoncrafted
4. Easy DIY T-shirt Cat Toy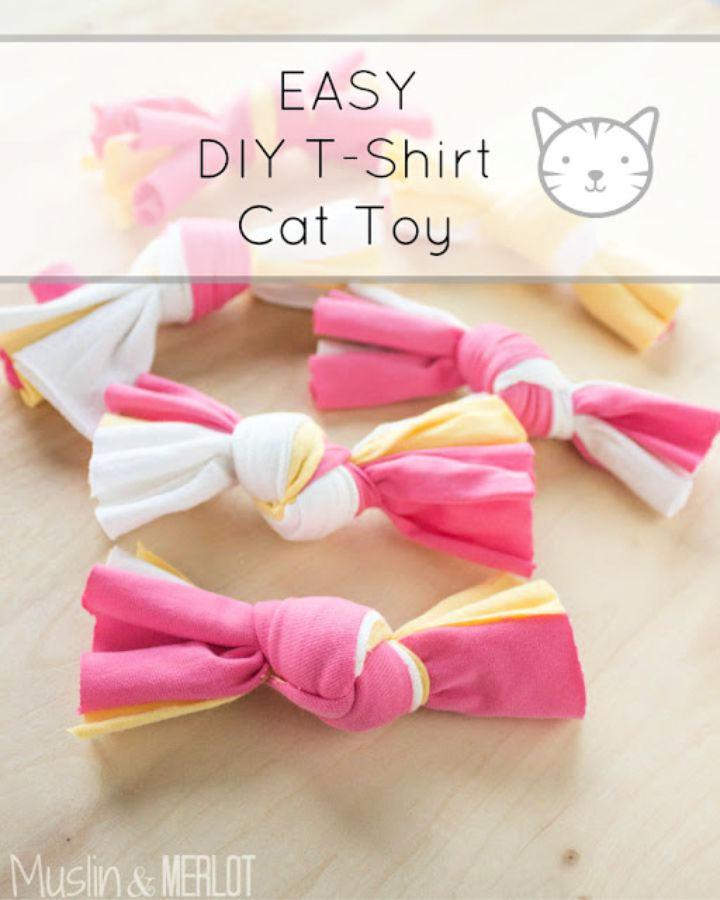 Recycle your old t-shirts and make these candy-like handmade cat toys, they will raise the fun of your cats and are super quick to make. using 2-3 t-shirts, you can make dozens of these DIY cat toys. Just take the t-shirts into strips and then roll them up and tie a knot in the center. Pretty simple and quick. muslinandmerlot
5. DIY Felt Mouse Cat Toy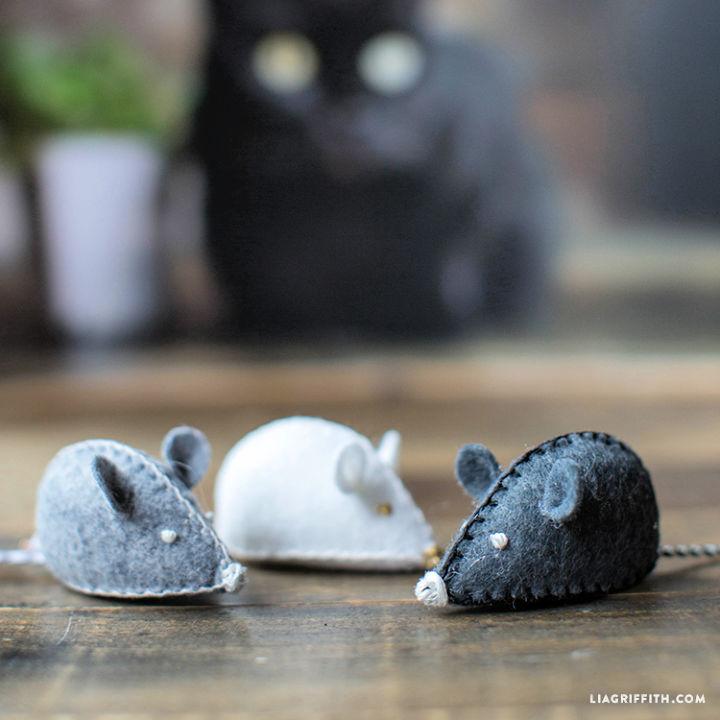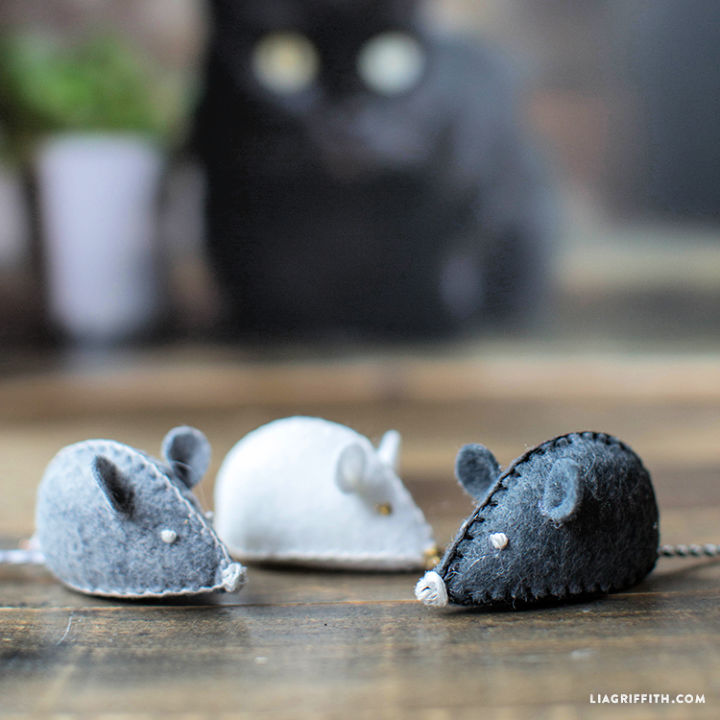 Let your cats practice the mouse hunt at home using these felt mouse cat toys. They are super quick and easy to build. Just grab a mouse template and cut the felt pieces, do a little needle and thread work to sew the sides and add the eyes and nose using a colorful twine and add matching thread as the tail of the mouse. Details here liagriffith
6. How To Make a Pom-pom Cat Wand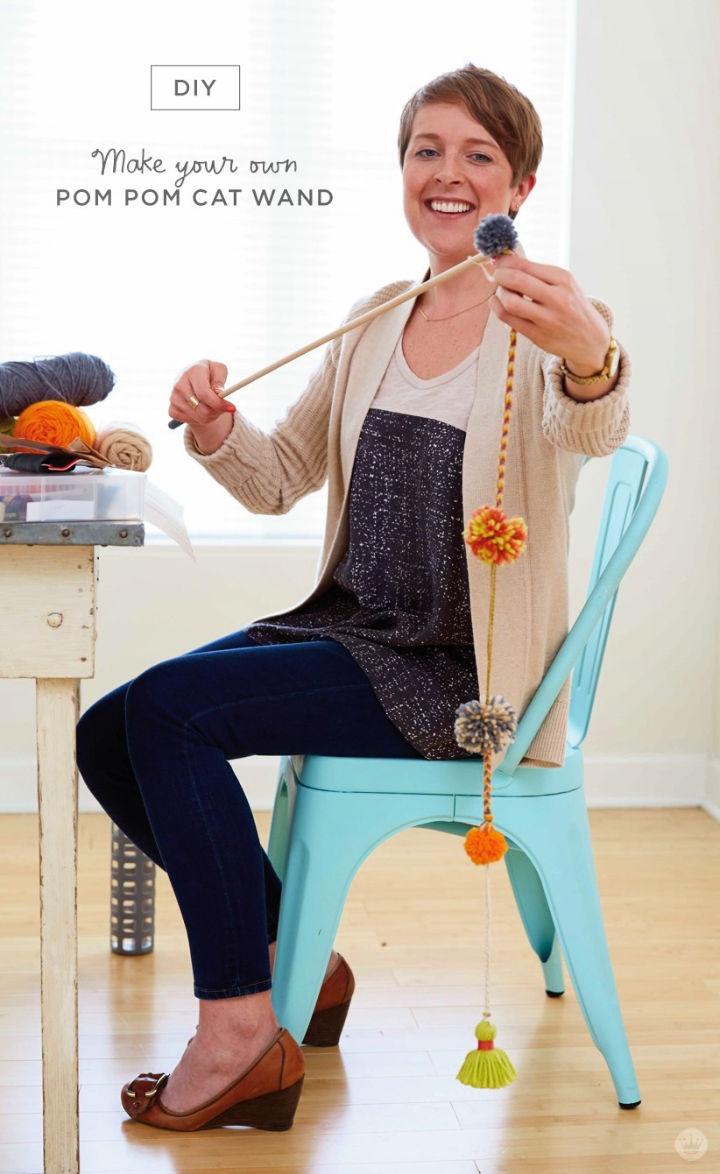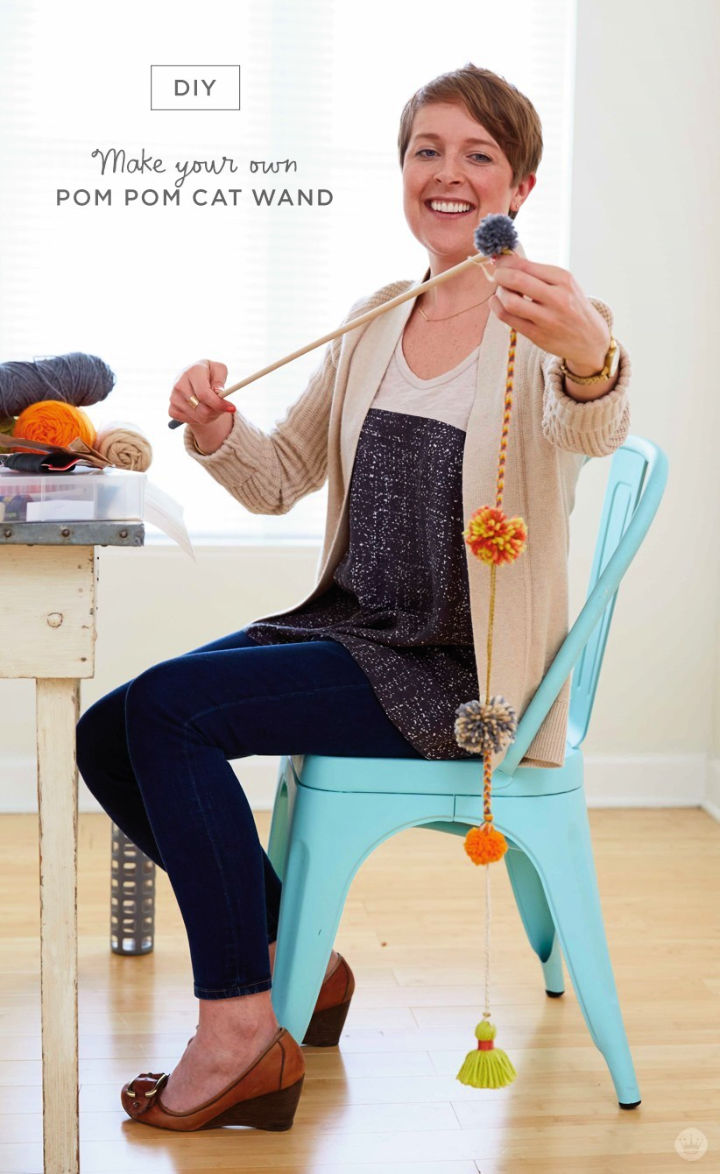 Keep your cats mentally and physically fit using this pom-pom cat wind. Using pom-pom maker and yarn in your favorite color to make colorful pom-poms or tassels. Next, add them on a piece of rope or string to make this pom-pom cat want, hang it on the doorknob or on wall hooks for your cat to play with. thinkmakeshare
7. Feather Cat Toy

One more amazing inspirations to make fun-making cat toys. Grab a feather template and use it to cut feathers out of feeling sheets. Cut fringes insides of feathers and add jump rings for jingle bell hanging embellishments. Finally, get these jingle bell feathers on to a piece of rope to hang on the wall hooks. marthastewart
8. DIY Ribbon Cat Toy

Make this another colorful toy for your cat using a handful of supplies. Just put together some colorful ribbons, faux feathers on a wooden ruler, and on a piece of rope to build this cat toy. The cats will love to jump high to play with this toy, and this will help built strong muscles in them. bowdabra
9. Fishing Pole Cat Toy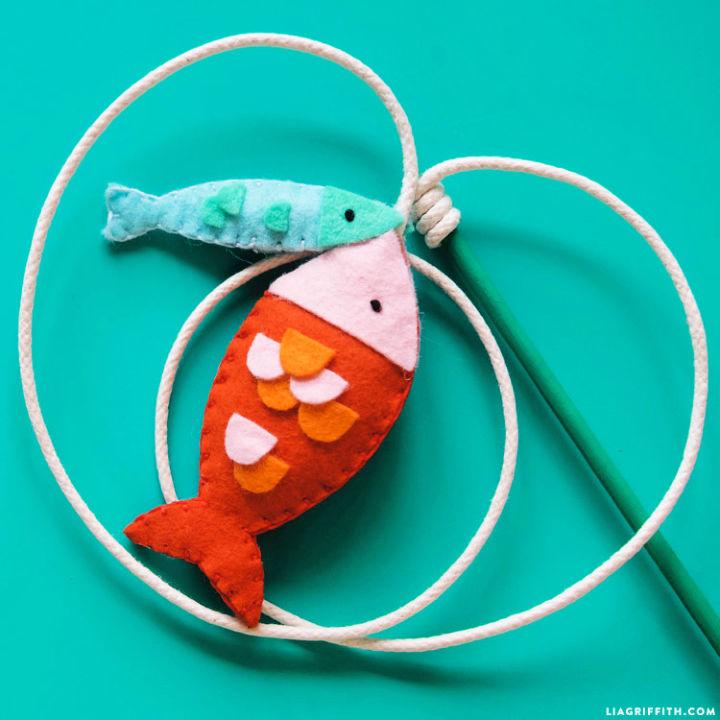 You will love making this fishing pole cat toy at home, will complete in no time. Use the felt and a fish template to make the fish and stuff them up with catnip or polyfill. Use matching embroidery floss to stitch the sides. Get them on to a 16" dowel and use a thin rope as a fishing line. Details here liagriffith
10. Cutest Little Feather Cat Toy

Provide your cats a never-ending fun using this cutest little cat toy, will complete in no time. Here all you need glue, feathers, bells, string, and a wooden stick to make this sweet cat toy. These feather toys, if hanging on a height, will be the cutest gym for your cats for sure. scatteredthoug
11. Cat Toys from Cotton Precuts

Make this one of the sweetest cat toys at home using the cotton precuts, 1/2 cup dried catnip, embroidery floss, candle wicking, bells, and matching sewing thread. These toys look like a bigger mouse and will be a smart toy choice to make the kitten learn to mouse. Learn how to make cat toys out of household items at home. joybileefarm
12. Make a Fleece Catnip Toy

Reduce the boredom of your cats with this fleece catnip toy that is quite something quick and easy to make. Just grab the felt, catnip, batting, riff-raff, dowel rod, and embroidery thread to make this fleece catnip toys, will work up super quickly. It just likes the pom-pom wand toy for the cats. Details here designlovefest
13. DIY Junk Food Cat Toy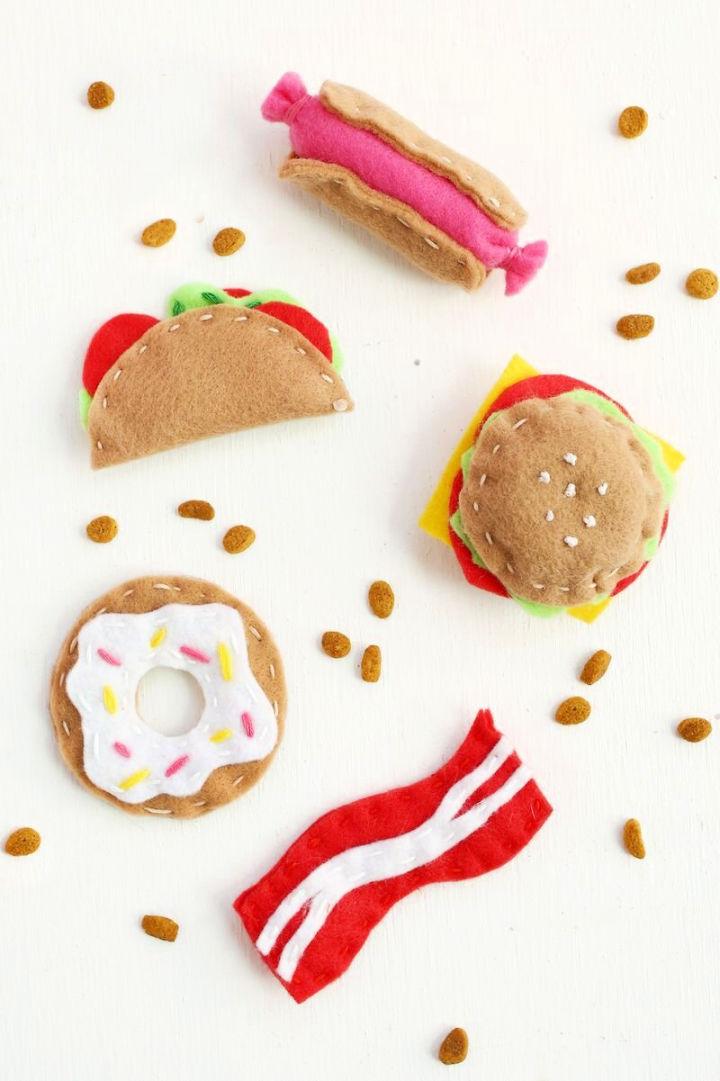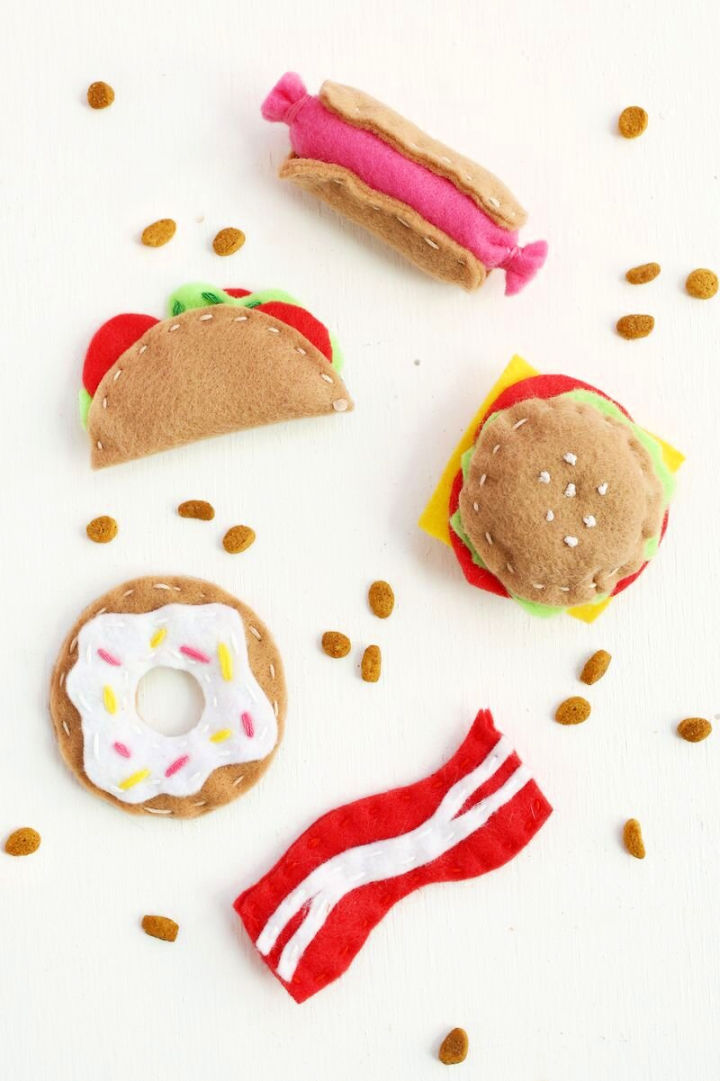 Help your cats to be more social by providing these junk food cat toys, and they are too soft and cuddle to calm a scared cat. Here you need the felt in colors of choice, junk food templates, and loose catnip to make this junk food cat toy. Use the yarn needle and embroidery thread to stitch the sides of stuffed toys. Follow this tutorial to make your own DIY cat toys! abeautifulmess
14. Handmade Fish Cat Toy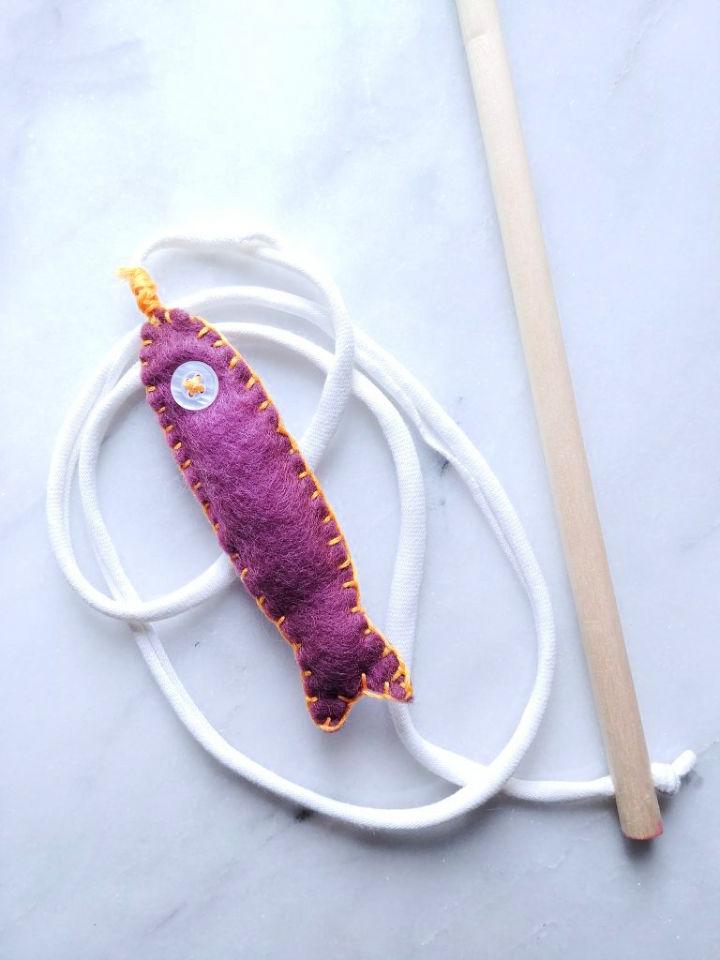 Help your kittens learn to fish using this fish cat toy. Just cut the fish felt pieces according to your fish template and then stuff your fish. Connect the fish to a wooden dowel through a piece of white rope, and the fish cat toy is ready to create too much fun for your cat. Details here saltwaterdaugh
15. Kit Tea Catnip Cat Toys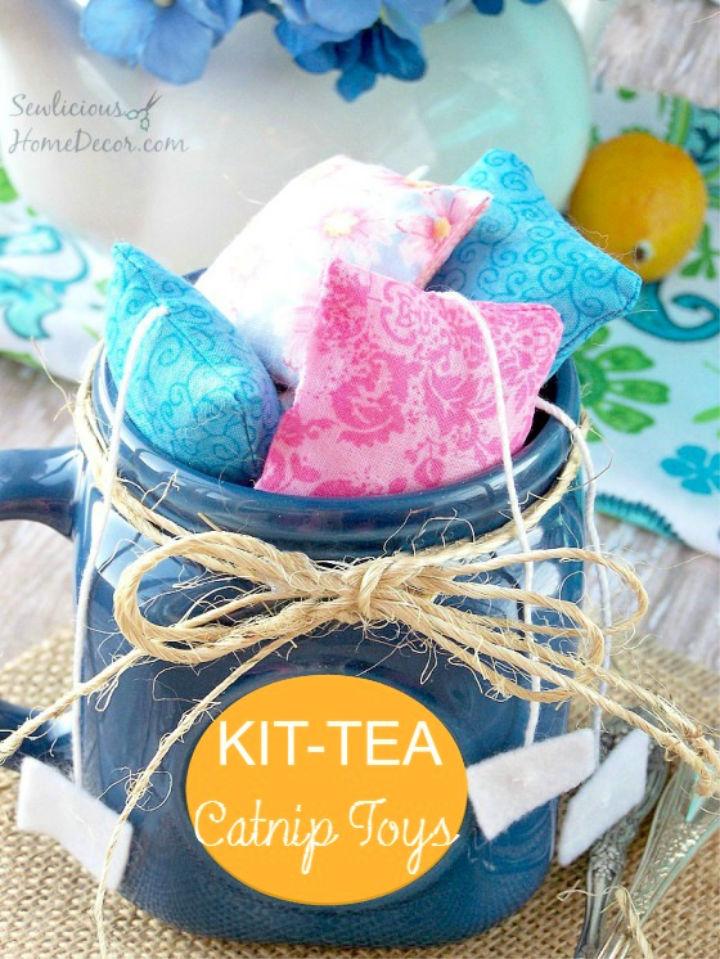 Reduce the biting and scratching of your cats by providing these kit tea catnip cat toys. They are quick and cheap to make, and you can even use leftover fabric and felt to make these kit tea catnip cat toys. You need fabric, catnip, felt, string, and poly-fil to make these plush cat toys. sewlicioushome
16. Felt Sushi Cat Toy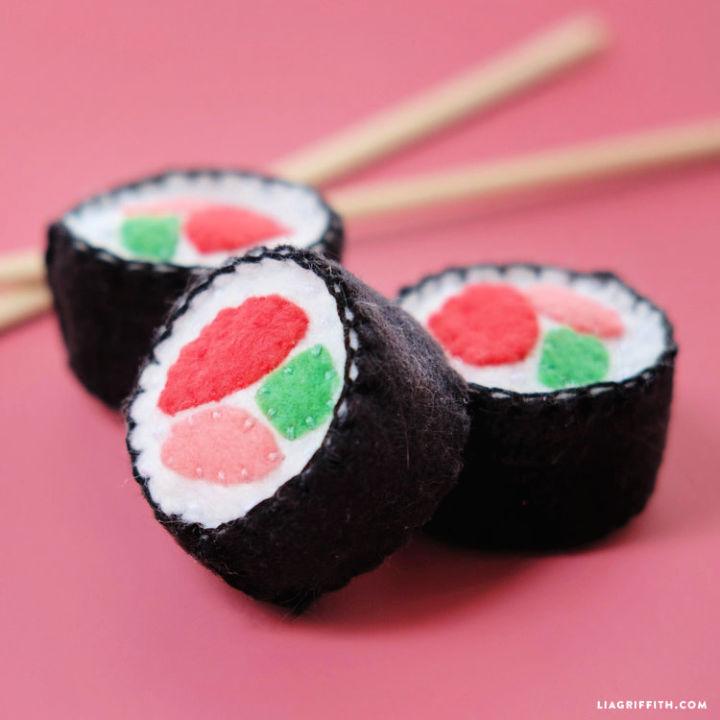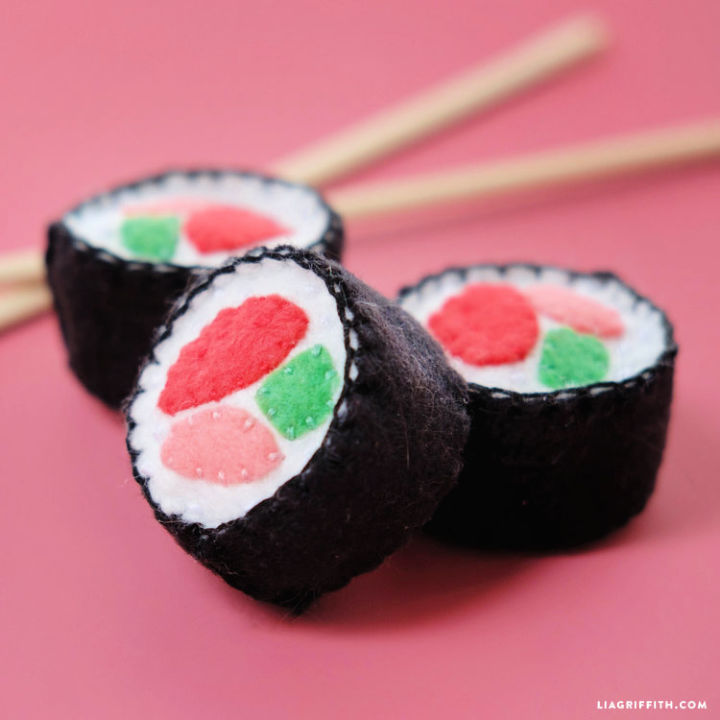 If your cat's do great damage to your furniture and plants by biting and scratching, then reduce this bad habit of them by providing these stuffed felt sushi. They are quite fun-making plush toys for the cats to make in no time. You need wood blend felt, embroidery floss, and catnip to make it. liagriffith
17. Menswear Mouse Toy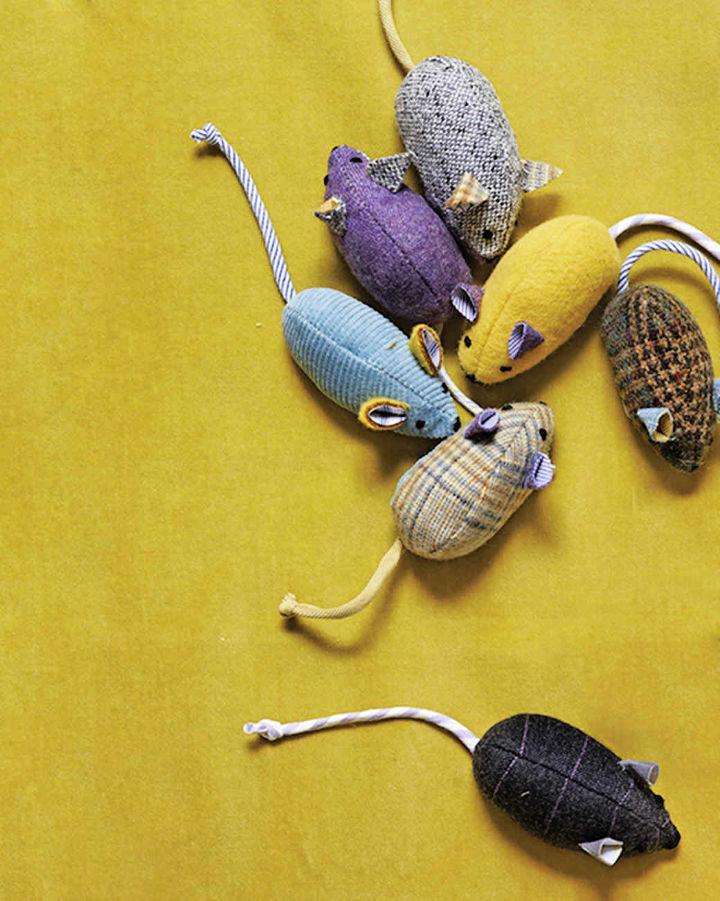 A mouse is one of the favorite foods for a cat, so make lovely stuffed mouse toys at home using old menswear like cotton shirting, wool suiting, and cotton velvet. Use a mouse template and cut your pieces out of the decided fabrics. Next, use a sewing machine, fusible webbing, fill loop turner, and embroidery floss to complete these mouse toys for cats. marthastewart
18. Wooden Dowel Cat Toy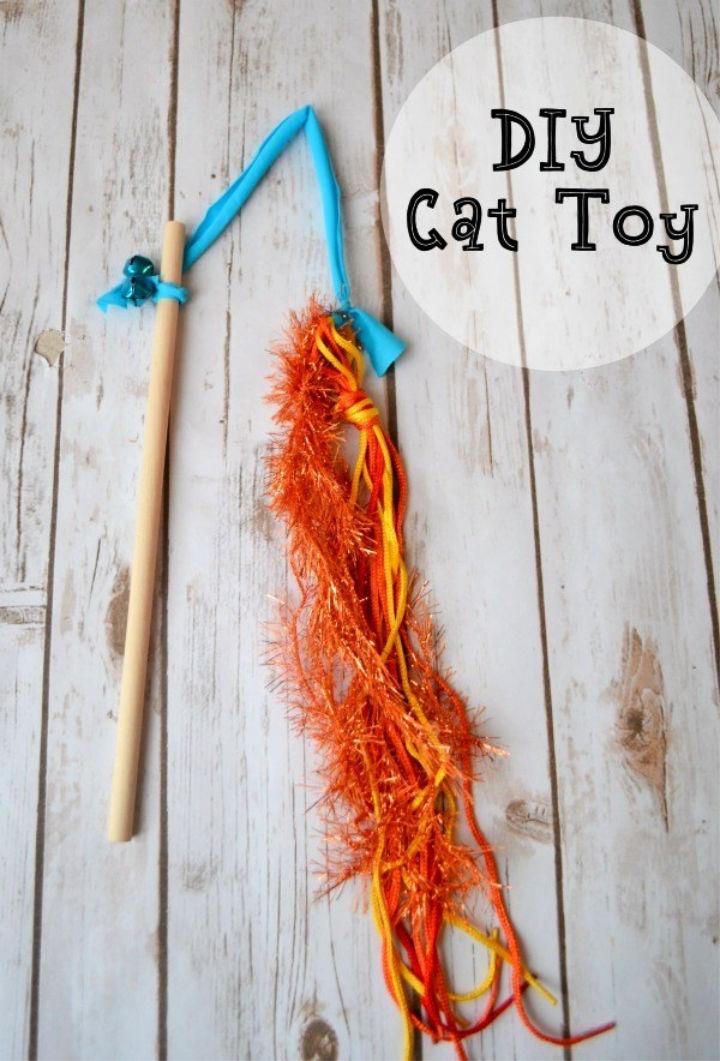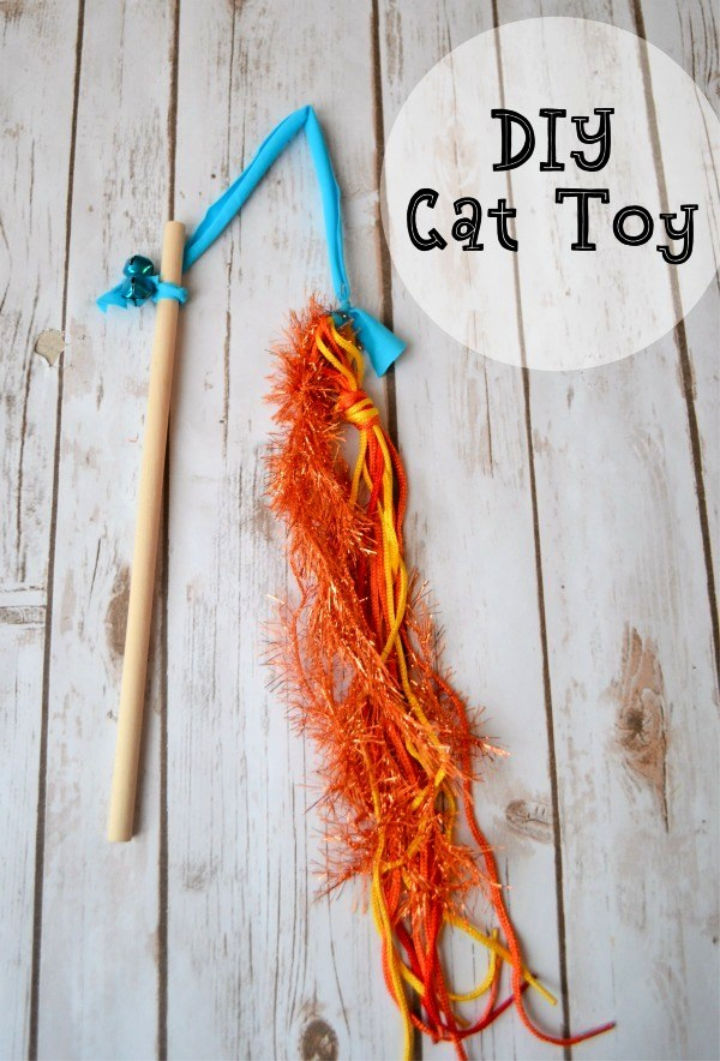 Spend a few minutes with the ordinary supplies and materials and make this fun-making wooden dowel cat toy. Grab a wooden dowel, shoelaces, eyelash yarn, jingle bells, and lycra cord and scissors to make this wooden dowel cat toy. A colorful cat toy to make in no time. amylattacrea
19. Traffic Cone Cat Scratching Posts

The cats just love to scratch by nature, so you can start a never-ending fun of them by making these traffic cone cat scratching posts for them. This will help reduce scratching and biting of your cats too. Just spray paint the traffic cones in white, wrap the rope around them, and use glue to secure them in place. Adorn it more using pom-poms. sofancyblog
20. DIY Cat Condo from a Stool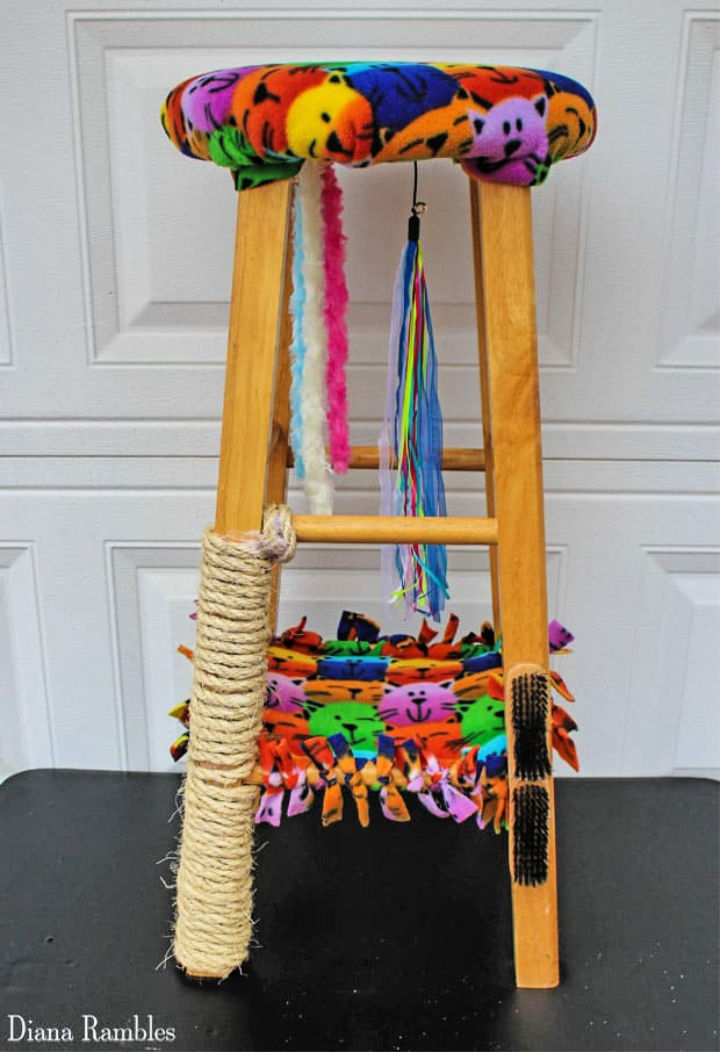 This cat toy will complete in just 20 minutes and require a medium skill level. Just grab a stool and over its padded sea and bottom footrest or shelf with at fabric. Adorn it more with eyelash yarn and wrap them around the stool legs to get the scratching posts. Boost its fun by adding cat toys on a stick. dianarambles
21. Homemade Cat Jungle Gym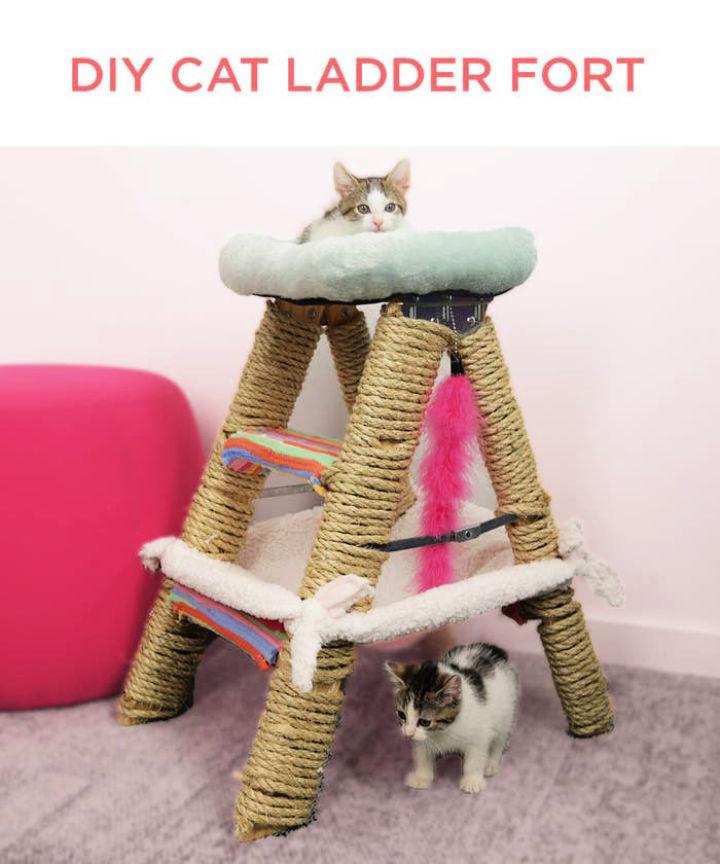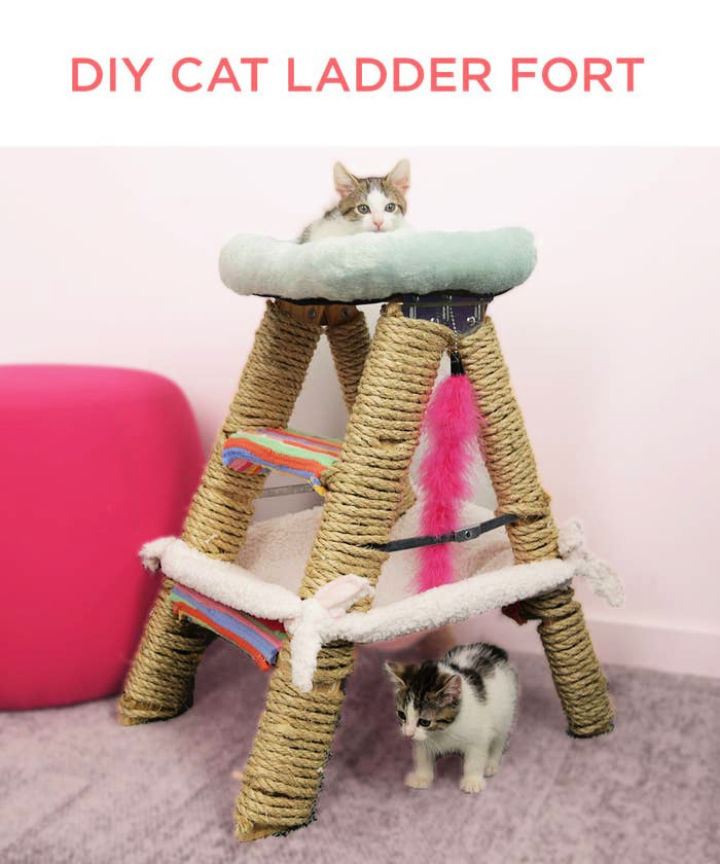 Are you making efforts to keep your lazy cat physically fit? Then do build this cat jungle gym, which will stimulate your cats to do regular exercise. Just grab a wooden step ladder and wrap the rope around its rungs and vertical supports to get the cat scratching posts. Adjust a cat bed on the top and finish with a cat wand toy. To make these DIY kitten toys follow the tutorial here. buzzfeed
22. Cat Tree Using a Real Tree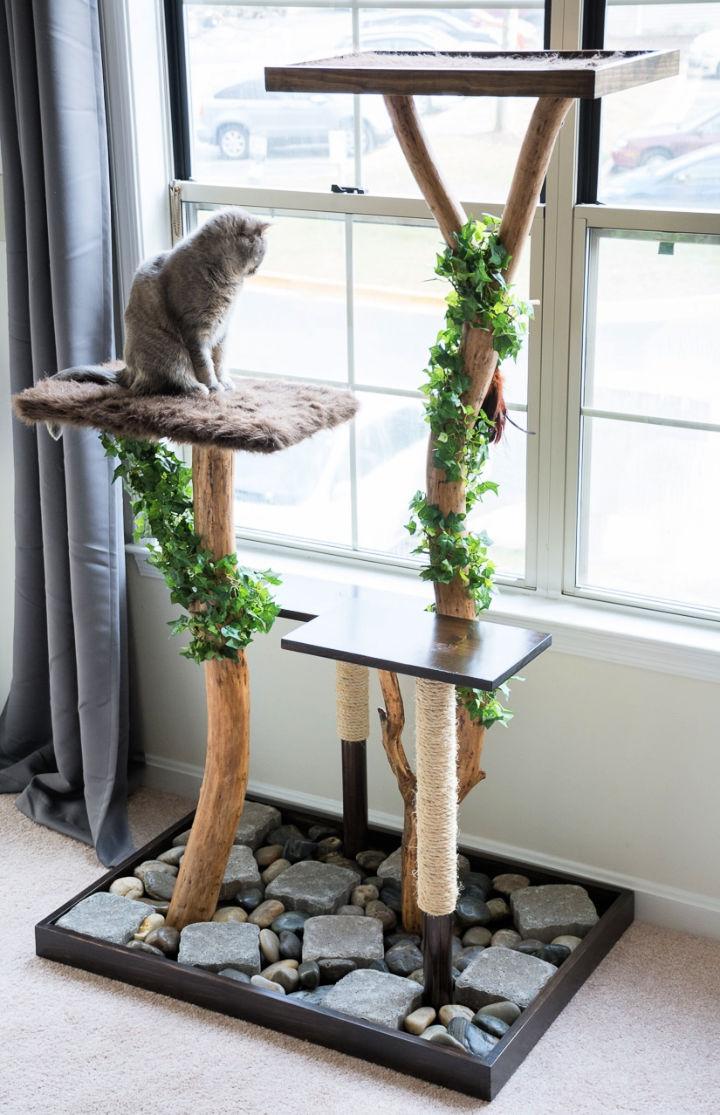 A cat tree is one of the best cat gyms ever. So, why not build a natural-looking cat tree using a real tree? Grab 2 tree branches and make them look natural using faux vines. Wrap the rope around a wood dowel to make the posts and use pine wood, plywood, rocks and stepping stones to build the base. Details here bybrittanygol
23. DIY Natural Cat Toys You Can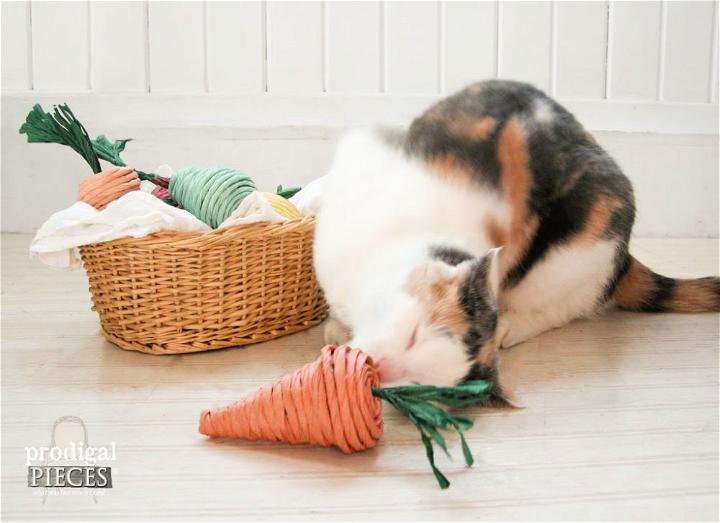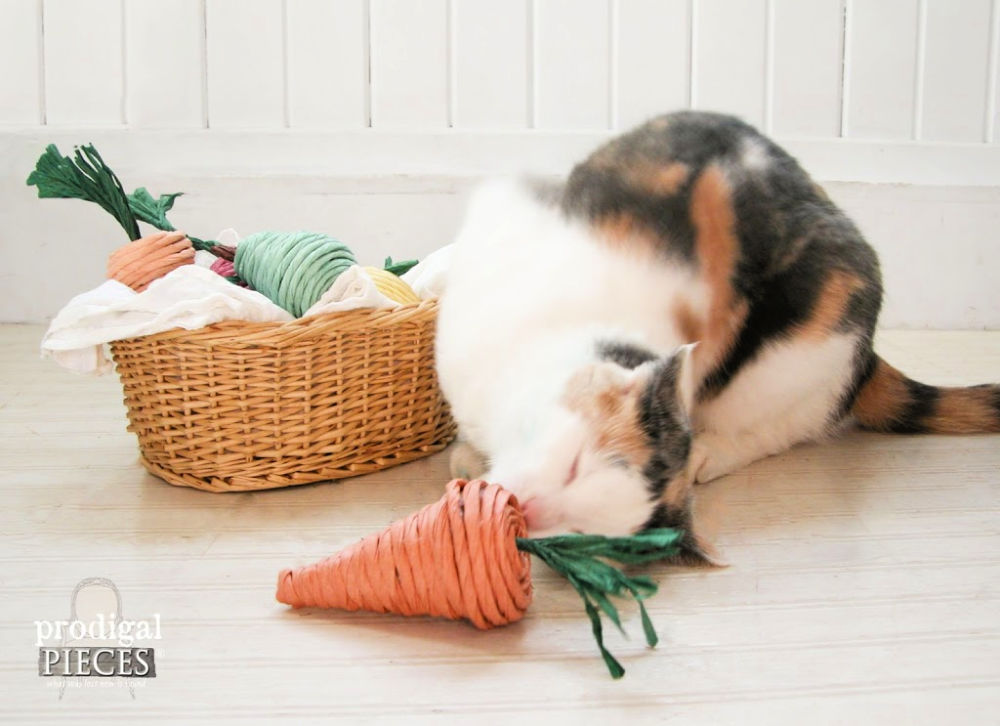 Make also natural-looking cat toys at home using the hollow papier mache shapes. Fill the shapes with grains like sesame seed and with catnip and then wrap the colorful twisted paper all around them. Use craft glue to secure each loop of twisted paper firmly in place. Details here prodigalpieces
24. DIY Cat Toys Using Old Baby Socks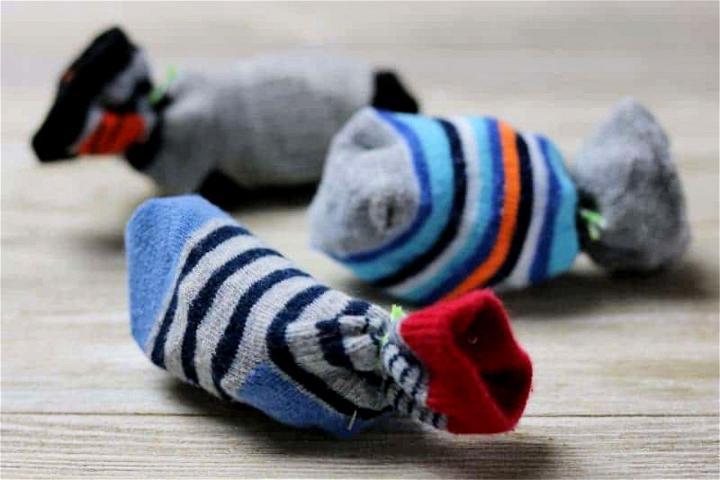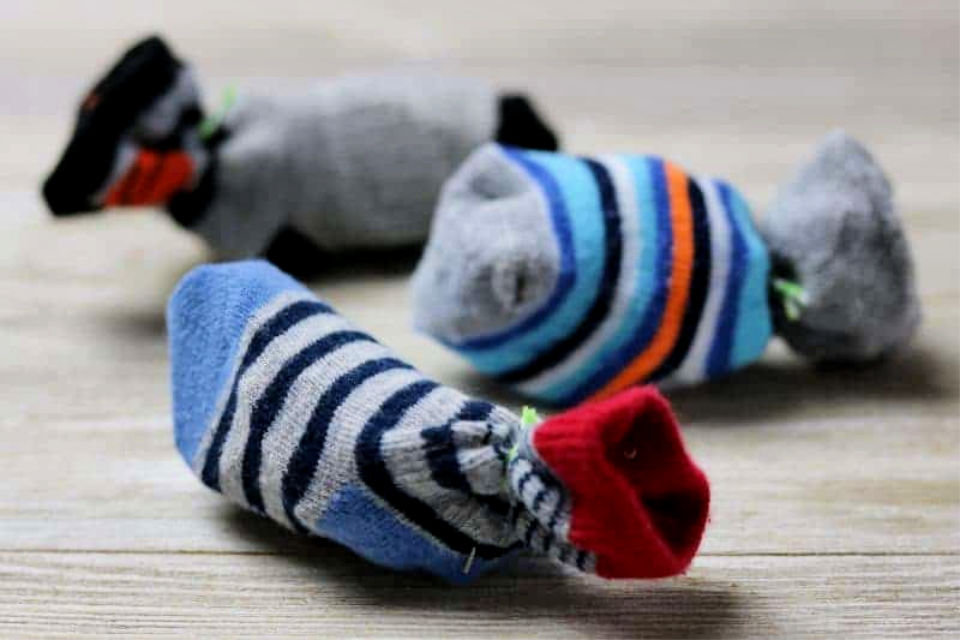 How to make cat toys out of household items? Repurpose the baby socks too to make fun-making toys for your cats. Here you only need a handful of supplies to make these cat toys, the great stash buster project. Stuff the old baby socks with scrap paper or cardstock and then tie the string or yarn around the opening to get them closed. Details here crayonsandcra
25. Hanging Cat Scratcher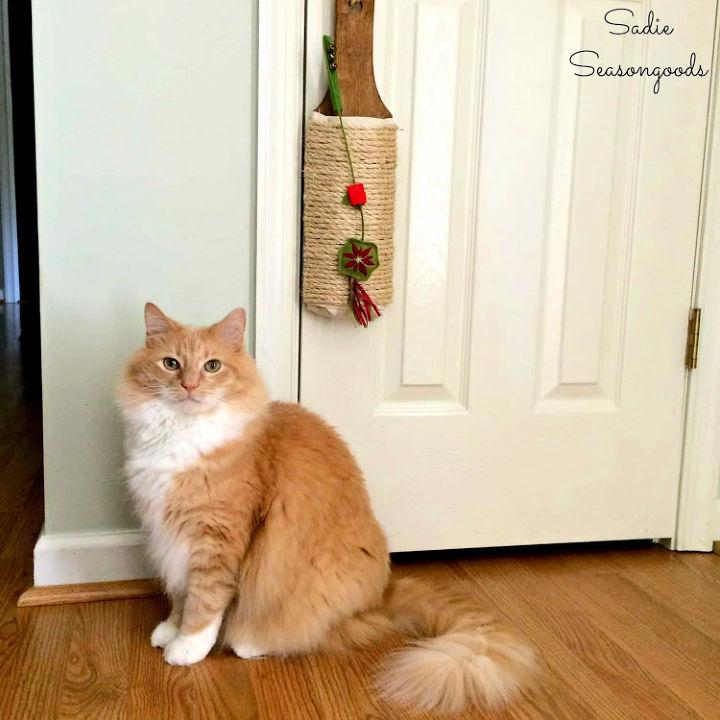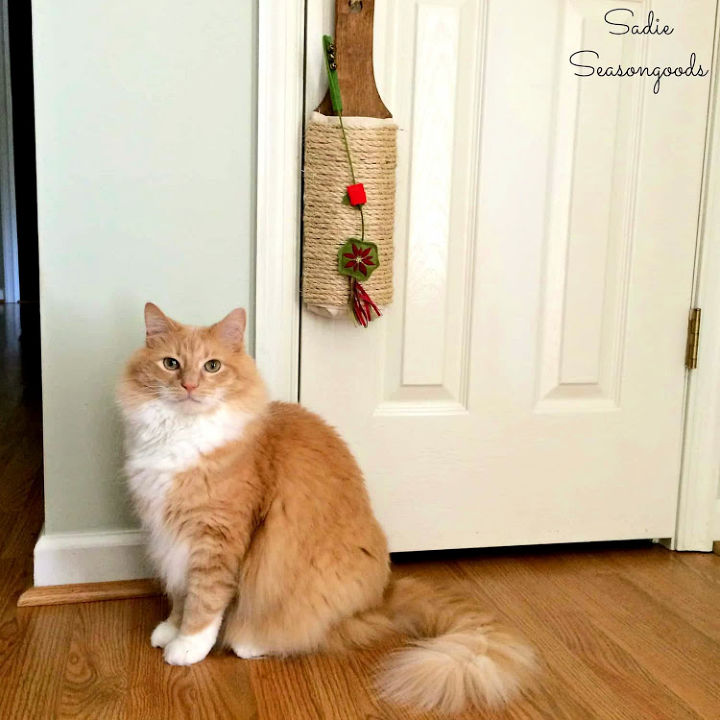 Upcycle the vintage graters also to make lovely DIY cat toys like this hanging at scratcher. Take a piece of canvas cloth to cover the bottom of the grater and then wrap the fabric all around the grater like a bandage. Finally, wrap the rope around the fabric-covered grater and get a lovely cat scratcher. sadieseasongo
Conclusion:
If your cats are putting a lot of weight and becoming lazy, then let them play with these DIY Cat Toys. These homemade cat toys will raise the fun and physical activities of your cats and hence removing laziness, stress, and boredom of your cat. From making lovely stuffed mouse to adorable felt fishes to fabric candies, these cat toy projects have all that can pleas a cat.
Most of these DIY cat toys project are beginner-friendly and will cost you next to nothing. You will also get step-by-step instructions and tutorials about how to make cat toys on a stick that will raise the fun of your cats to the next level for sure.
DIY Cat Projects You Can Make At Home