Build your dog a home of their own with these 15 free large dog house plans that include diagrams, step by step photos, building instructions, and materials/cut list. Dogs are certified to be man's best friends. There have been countless beautiful and powerful exhibitions of loyalty from our friends! If you're looking for an easy to build dog house then these DIY large dog house plans are your way of returning all the love these fellows deserve. A dog house has to be everything! Fitting best into your idea of decor as well as be the perfect homey place for your loyal buddy!
If you have a German shepherd, golden retriever, or other big breeds that get older and bigger with time, your choice should be a sturdy and durable large dog house plan! After all, nobody can keep changing that. Your dog deserves dedicated to love and affection from you, and we can assure you, if anything, these large dog house plans are bound to offer that!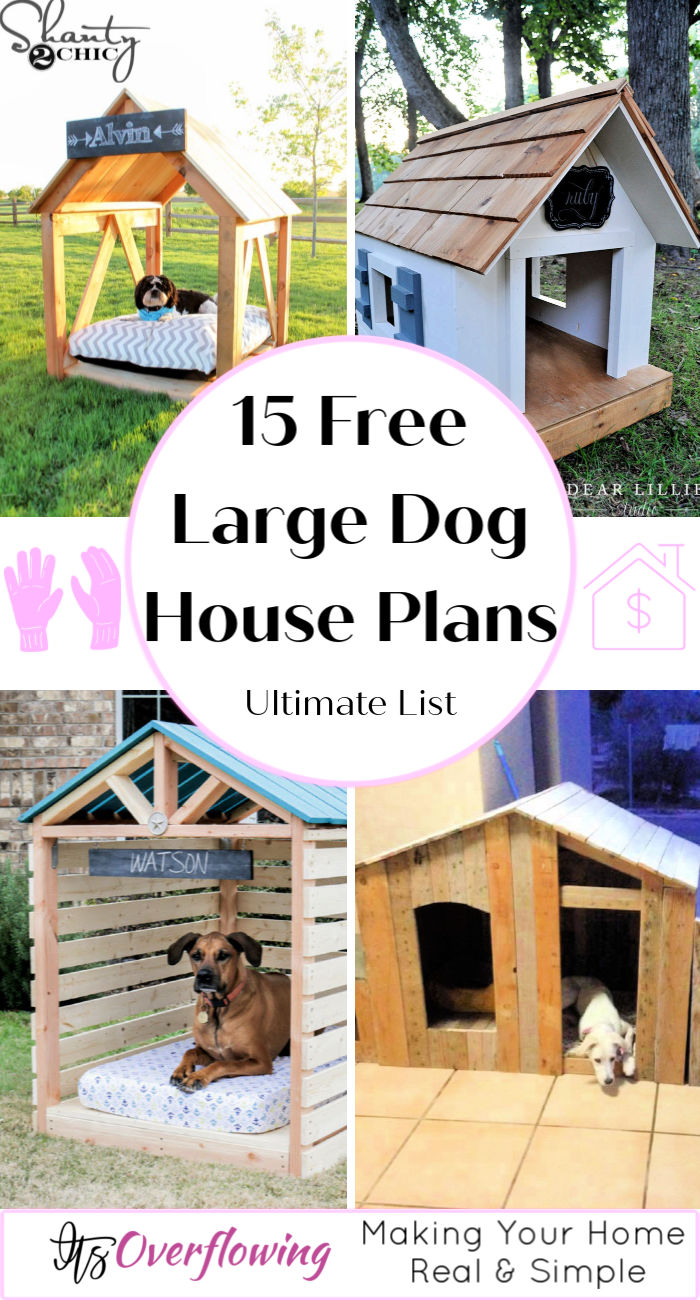 You might feel that building a large dog house plan can be quite intimidating in itself! However, that's not the case, really. In this roundup below, you can find the perfect large dog house plans for your doggie! The key to choosing a plan lies in the size of your dog, your interest to keep it simple or full of details and add the extra factor. Make an insulated dog house or build an open and breezy dog house! The choice is all yours. These detailed free dog house plans and material list are all equipped with detailed cutting lists, materials, tools, and step by step guide with illustrations. So, get started and make your dog the ideal home.
1. How to Build Dog House Gazebo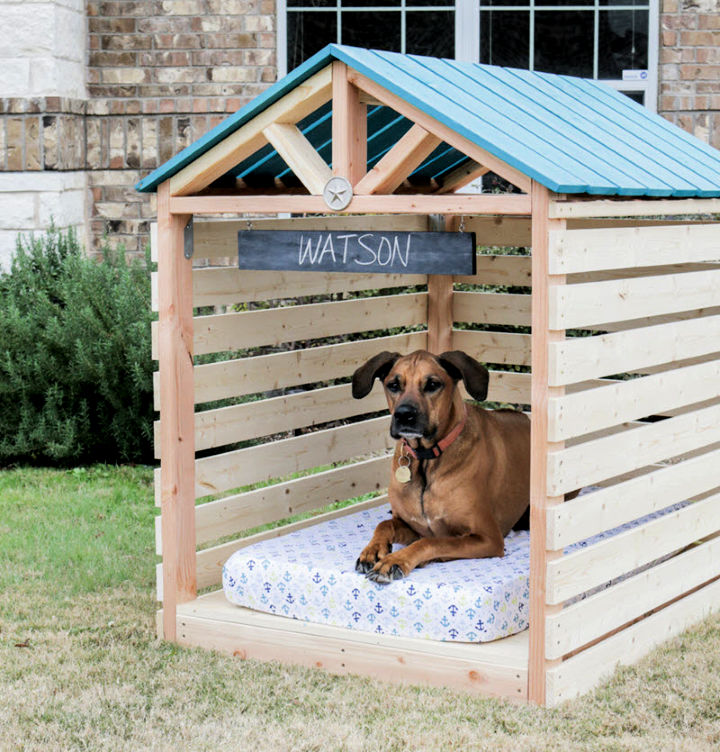 Watson looks quite happy, doesn't he? This could be your dog too. How? Build your dog a sturdy and airy enough large dog house! Given the type of lumber you use, this project will cost you hardly around $250 or so. Like Jenwood House we also believe that building should be a family affair! Make memories while making this dog house. jenwoodhouse
2. Large Dog House Plans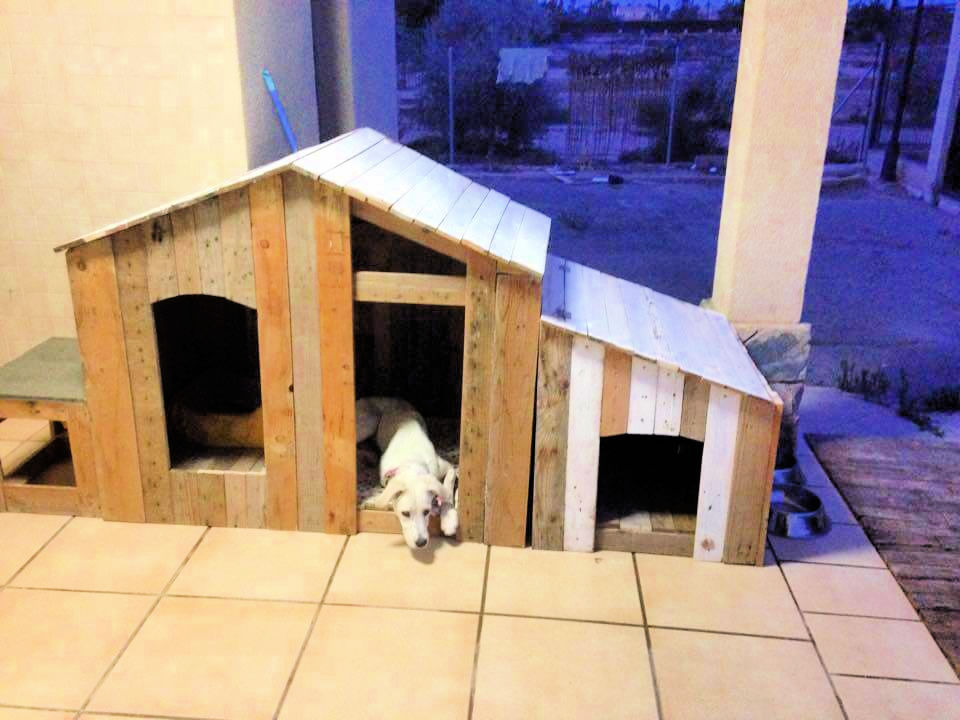 Make this perfect and spacious home for your dog using wooden pallets! The sloppy roof is ideal if you even plan to put it up in the open while your buddy enjoys some rain! Other tools and supplies include finishing nails, roofing felt, roof tacks, roof staples, and drip edge. Get the cutting list details here. easy pallet ideas
3. Wooden Large Dog House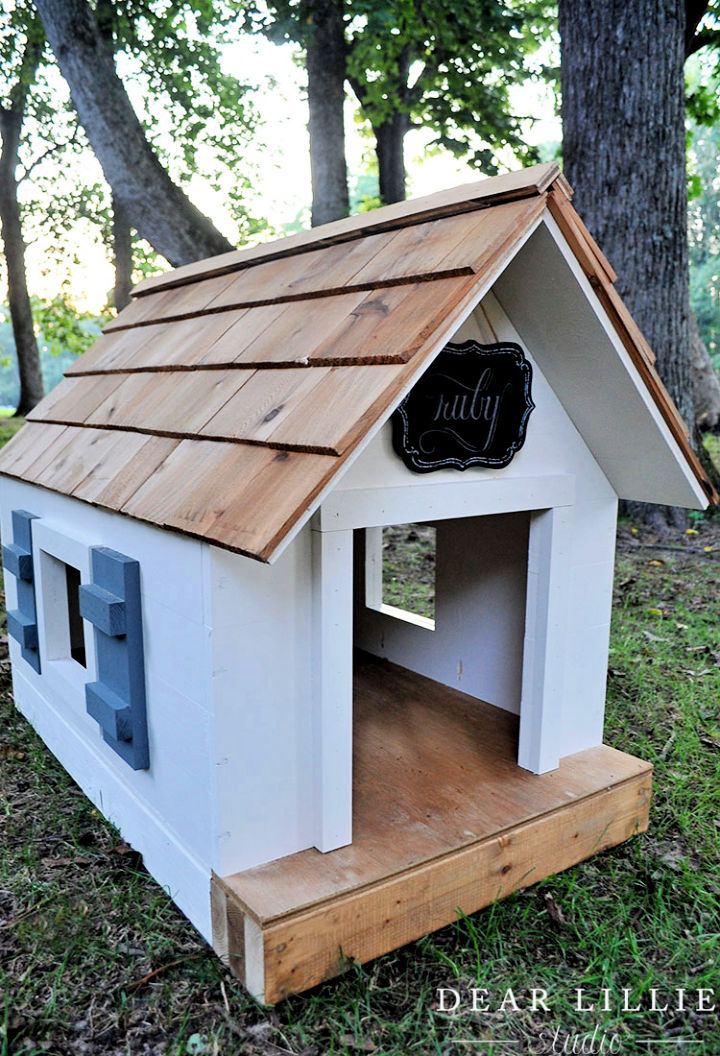 Nothing says love more than a handmade wooden dog house! It looks like something that came straight out of a dollhouse story. The tutorials suggest starting building this dog house by making the cuts first using a miter saw! Don't forget to grab the cutting list from the link below. dearlilliestudio
4. Large Wood Pet Kennel End Table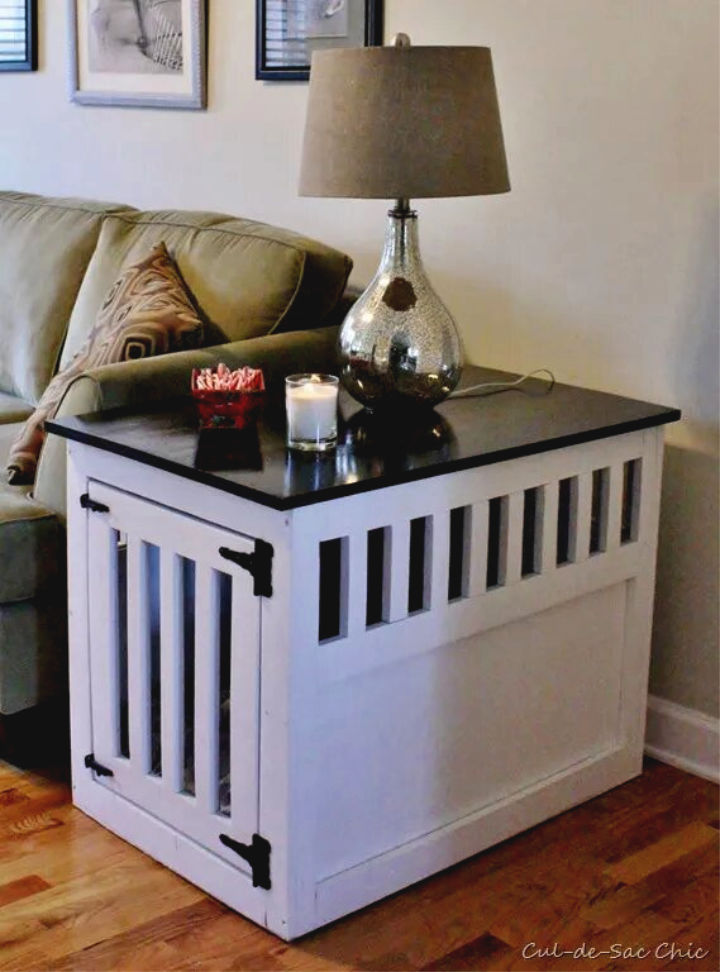 We all know how expensive those pre-fabricated pet houses or dog houses can be! How about we interest you in a rather cheap and affordable large dog house plans? Gather supplies including ¾" plywood, 8′ longboards, 1 sheet of plywood, hinges, latch, and a few more supplies. ana white
5. DIY Insulated Large Dog House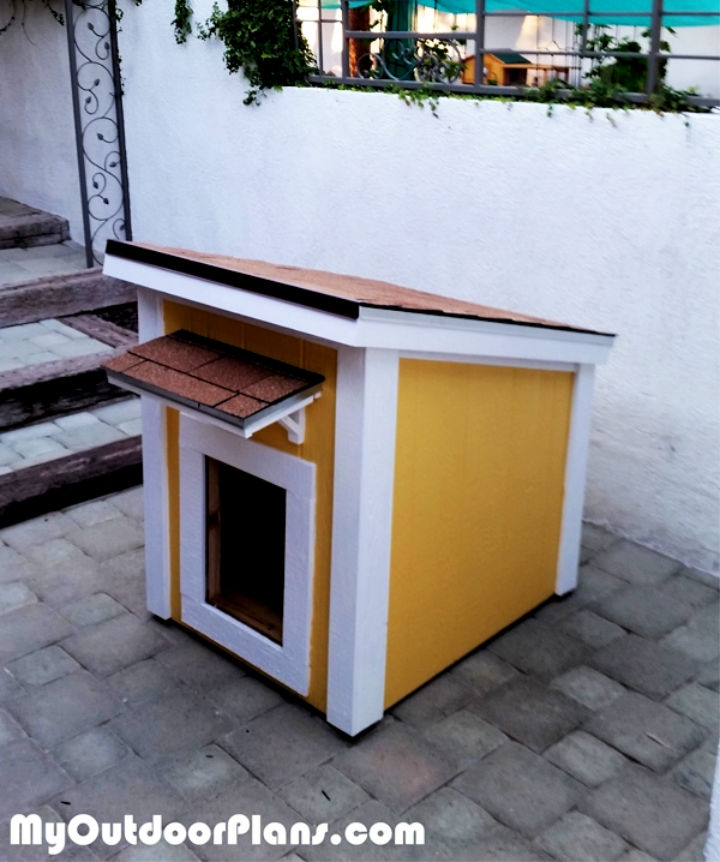 Your large dogs deserve a large house too! Their comfort comes first. If you know the basic woodworking skills, you can easily construct a wooden dog house by yourself. This project will hardly take a weekend to get completed! You can choose the kind of design that suits you the most from My Outdoor plan's collection, here. myoutdoorplans
6. Extra Large Dog House Plans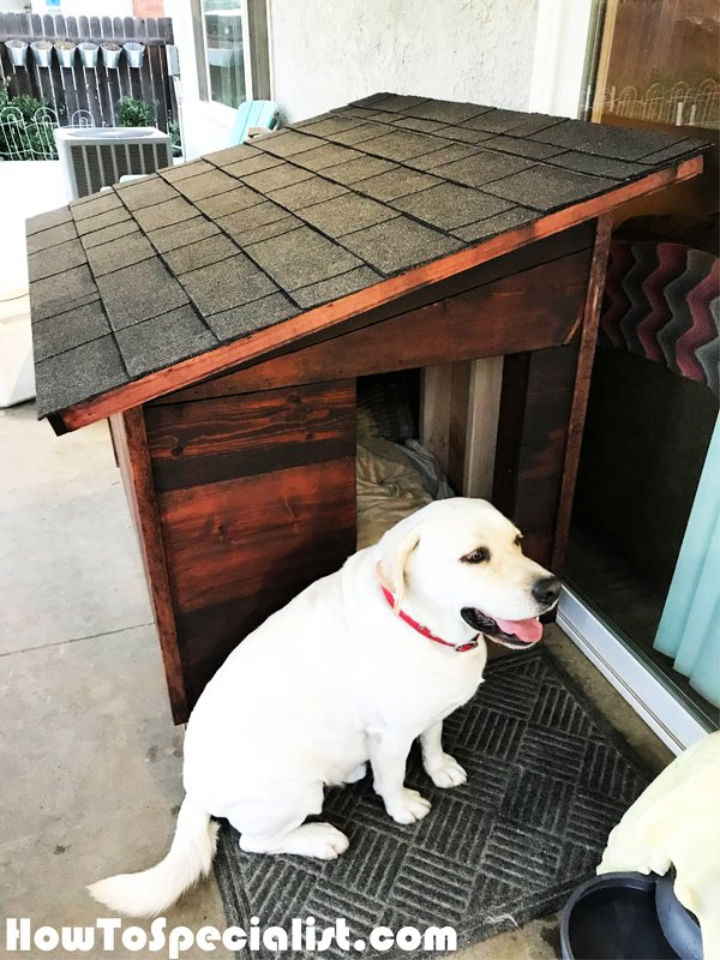 Want to build a sturdy house for your pet dog? We are here to help you. Here we provide you detailed instructions to help you build a house for your pet. Just follow these instructions, and you would be able to build a house whose dimensions can be altered and adjusted according to the need. howtospecialist
7. Large Doghouse With Deck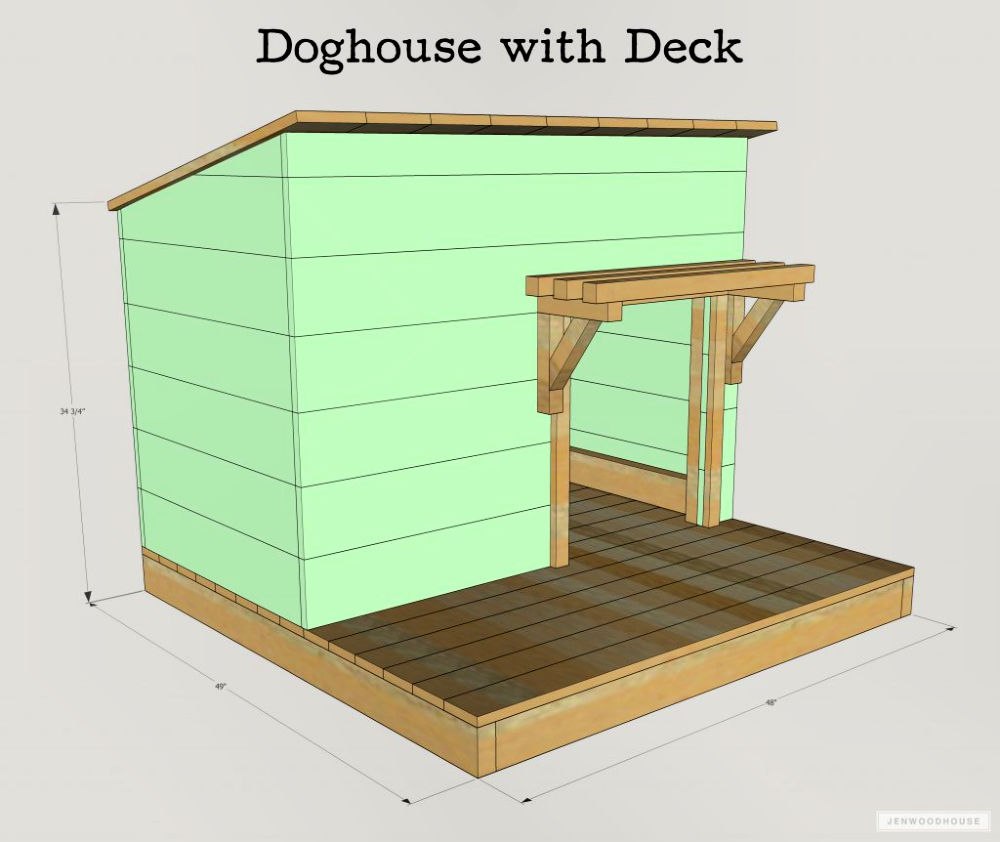 Everyone loves a deck, right? So why can't your dog enjoy it too? Over here, we have some amazing designs for doghouses with decks. Just follow the tutorial, and you will be able to build this dream house for your dog in no time! jenwoodhouse
8. Large Dog House from Pallets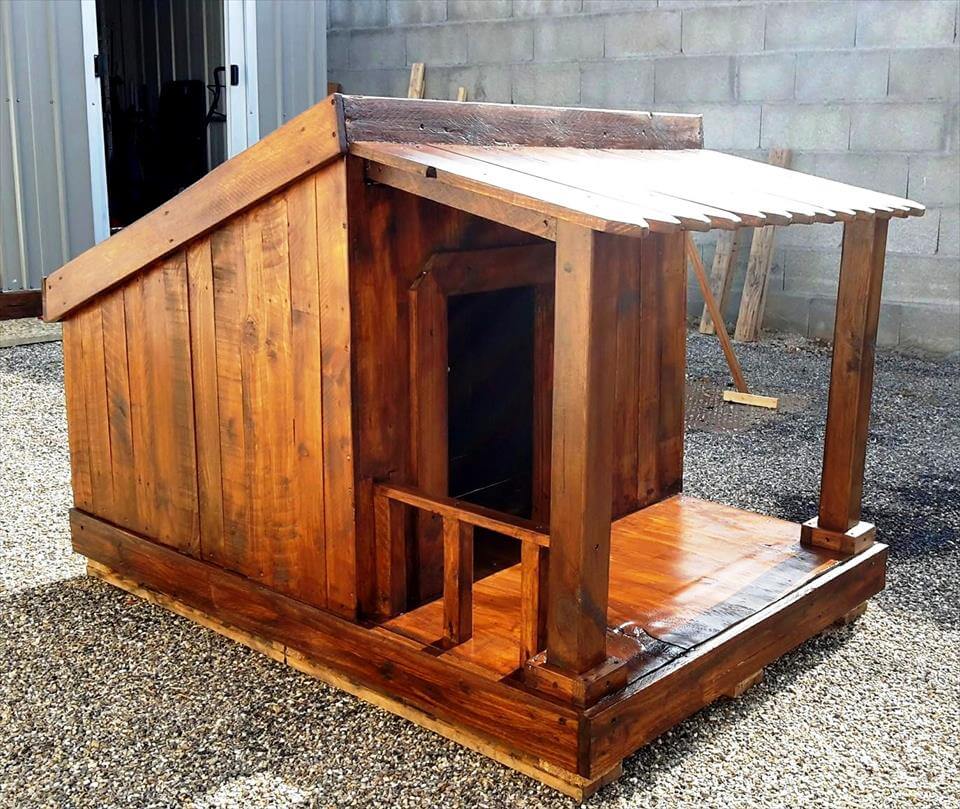 Thinking of building a comfortable dog house for your pet? Fear it might upset your budget? Don't worry. Have some free pallets lain around? With our help you can, you can easily turn these pallets into a dog house, cozy home for your dog. Find step by step plan here. diycraftsy
9. Double Door Large Dog House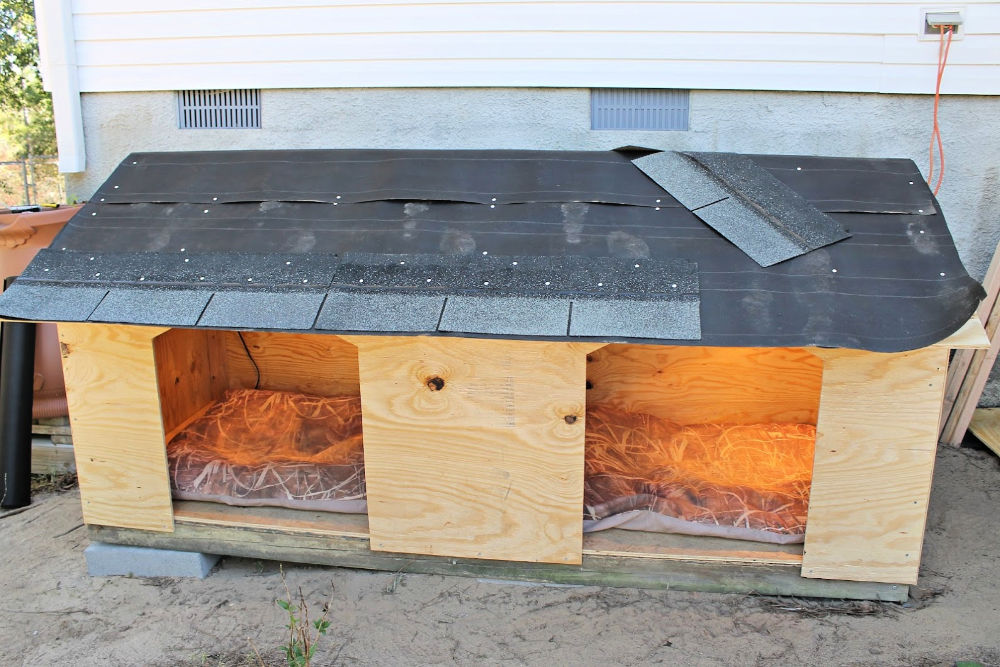 Living alone is no fun. We all need a companion. Then why should your dog live alone? Build your dog a spacious double door doghouse and provide it with the opportunity to enjoy the company of his/her companion under one shelter. All you are going to need is some wood, screws, and nails, and roofing felt intelligentdomesti
10. Modern Mid Century Dog House
If anything, this mid-century modern doghouse is absolutely a masterpiece in itself! It is going to be like a personal villa for your dog. The details are everything here, and this is going to be one of its own kind of wholesome DIY projects made out of pine plywood! Get details here. youtube
11. Homemade Large Dog House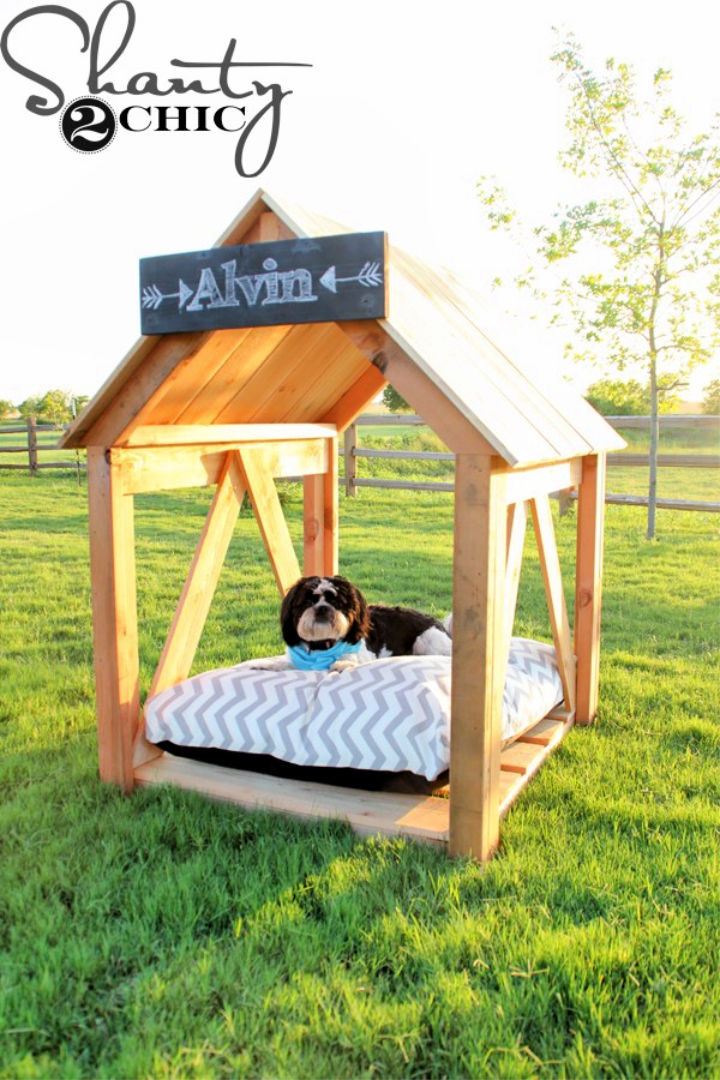 Live around a hot area? Hotter than usual, say Texas? Your large dog house plan needs to be exactly something like this one here. It is pretty breezy and welcoming. Your little guy or girl is going to love spending time in it! Start by cutting the bottom frames, first. shanty 2 chic
12. Free Large Dog House Plan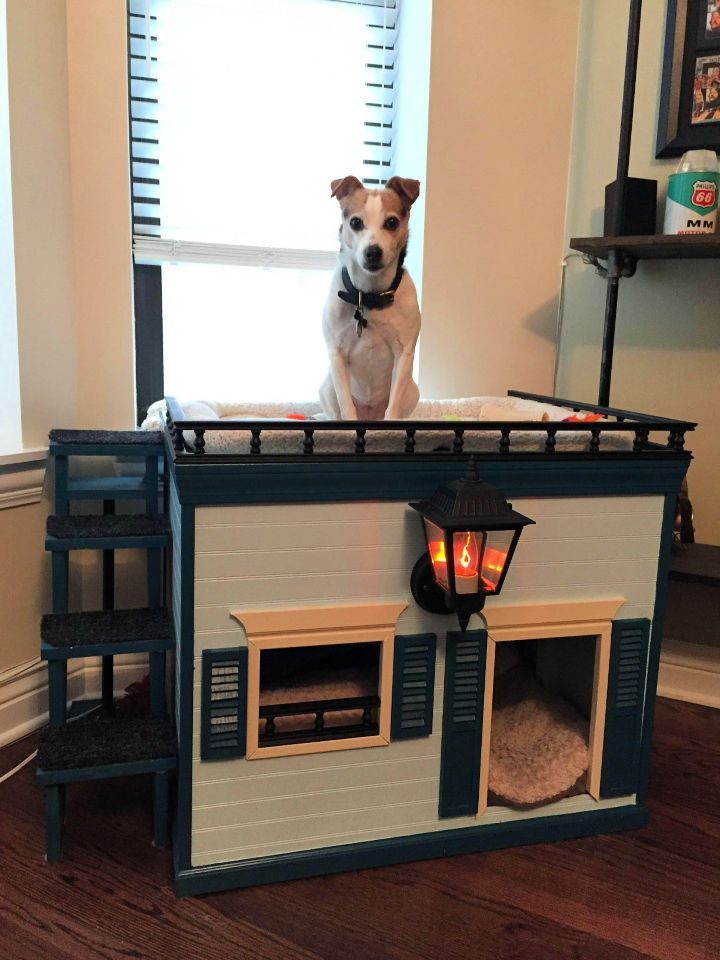 Make a 1 x 2-floor frame for your doggo! Start by framing the sides first and then moving on to the next steps. One pro tip: do try fitting in your dog first. Just so to be extra sure. It is a beautiful little home with an enchanting chateau-style gaslight. imgur
13. Tropical Dog House
We can see how delighted and excited Rocky looks, right? Well, who wouldn't be? This tropical dog house is the perfect place to raise your dog. It is literally just a wonder of an old plywood frame. And some woodworking tools, including jigsaw and drill. imgur
14. Simple Large Dog House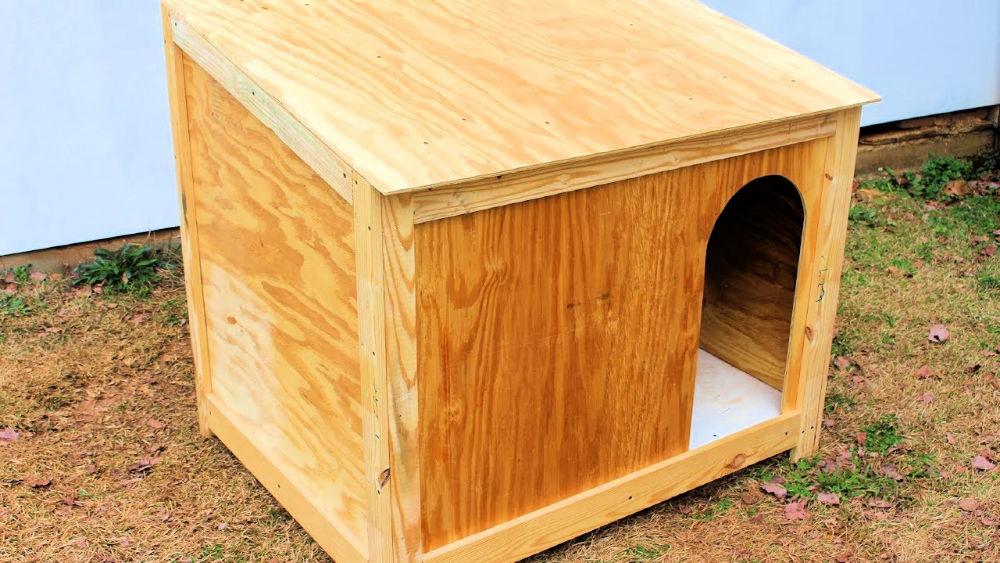 Have you been silently but religiously caring for an outside dog? Then this large dog house made out of reclaimed lumber can be a perfect safe haven for that innocent soul. After all, you have to make sure to keep him warm and dry from the rain or other weather conditions. youtube
15. Build an Insulated Dog House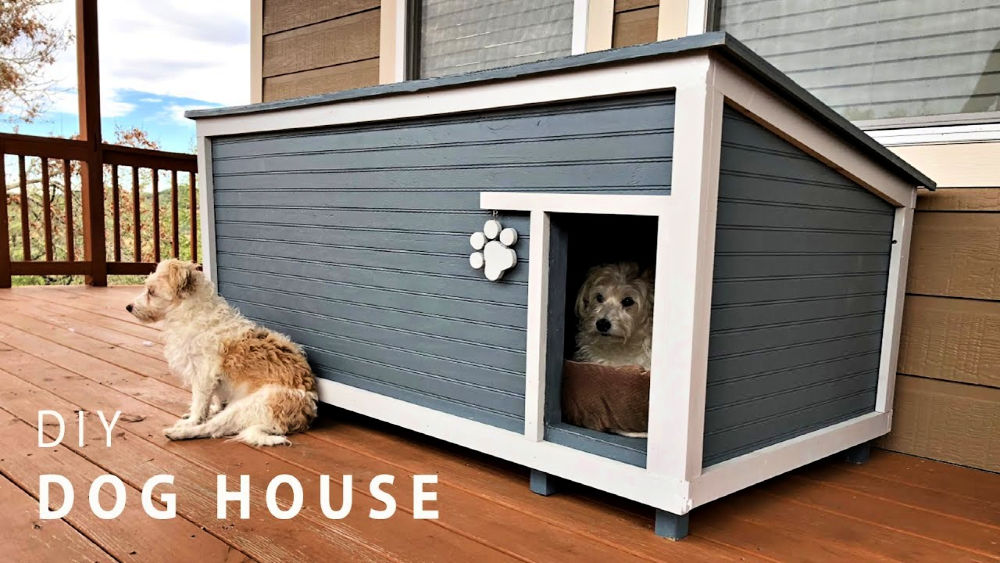 This DIY insulated dog house plan can be a quite rewarding DIY project to take up this weekend! It can keep your dogs warm and safe in all the cold seasons. Gather supplies including wood glue, miter saw, table saw, woodpeckers, track saw, brad nailer, and a few more tools. youtube
A dog ramp can be a huge help for any dog having high weight, trouble handling steps, getting into the car, or climbing furniture. This detailed guide of DIY dog ramp will give you a detailed list of free plans, step by step instructions and material list.
Do you need to build a wheelchair for your mobility-impaired dogs? We'll show you several DIY dog wheelchair plans to build the best wheels for your disabled dogs.
Conclusion:
These large dog house plans can be built over a weekend! The best part is that this DIY woodworking project can be one of its own kind of family activity. You can have a lovely family weekend building these with your kids, trying to get your dog like and fit in it! Get started already!!