After building a shed, the most important part is to add the final door. So, if you are puzzling at how to build a shed door, then go with these DIY shed door ideas that cover a variety of door designs. Most importantly, these plans will help to build the shed doors in a budget-friendly way, using mostly the recycled, leftover, reclaimed, and repurposed wood and items. From a durable hinged door to a gorgeous sliding door, this list of 20 easy DIY shed door ideas will provide free plans for all. Build a single or double door, depending on the size of your shed. Build the slatted doors for the slatted design of the shed, will be a perfect match, and will rock for the visual smoothness and beauty of your shed.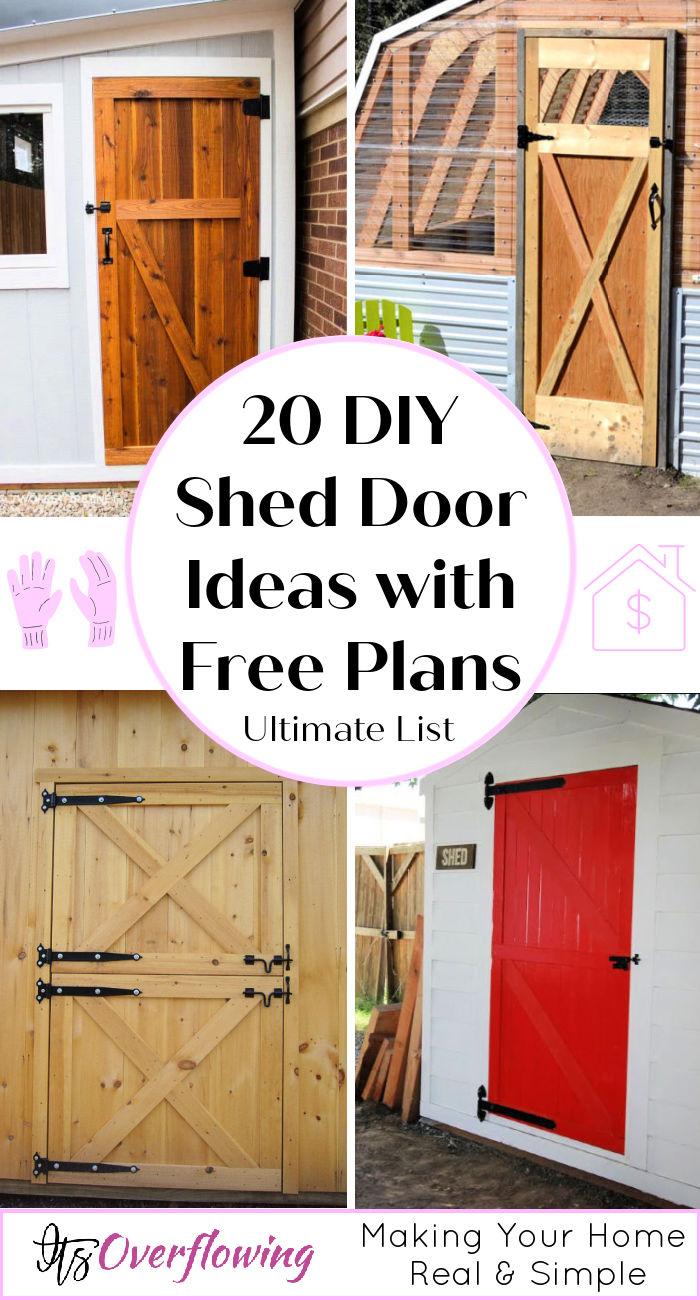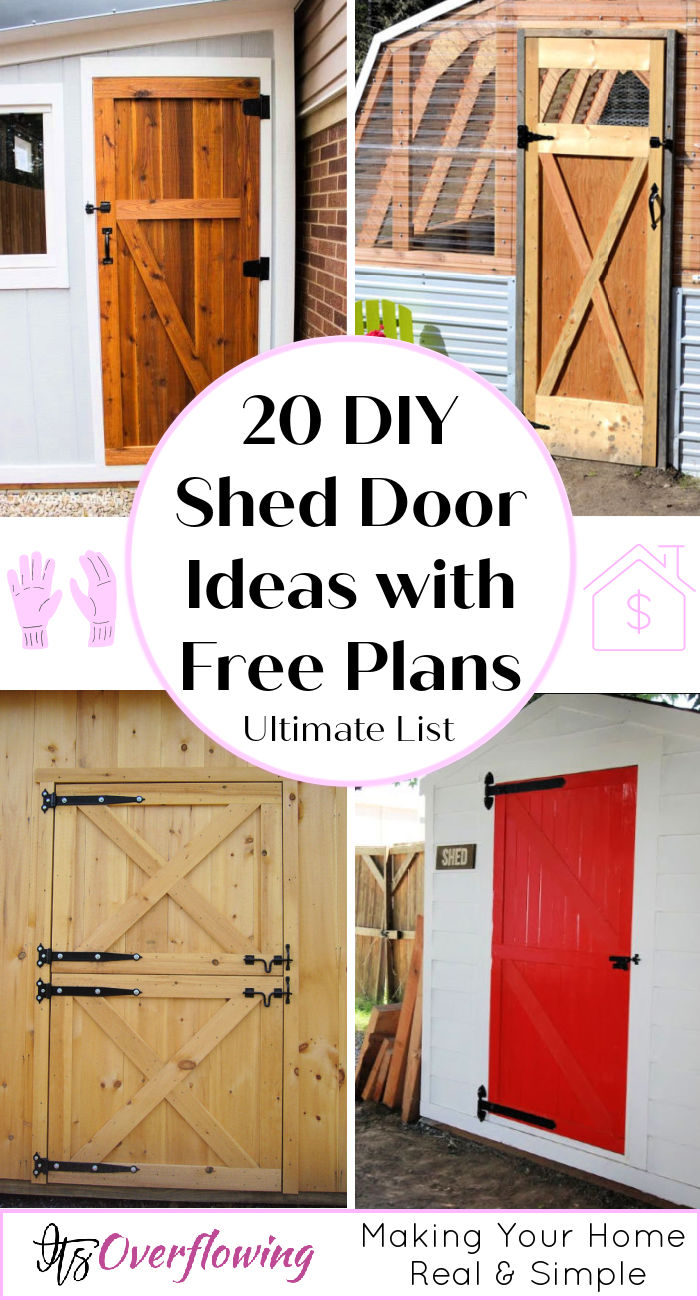 In this collection of free shed door plans, you will get the free diagrams, step-by-step tutorials, and visual guides for building a variety of shed doors like a pro. From modern to vintage-inspired to rustic, you will get the free plans for all. Stain your doors, give a paint finish, or leave blank in wood tone. The choices are all yours. This not end here, get the pro tips here about how to build the glass-paneled doors and get your shed look more impressive X-brace double doors, will add new decorative dimensions to your shed design. Browse the entire list of these DIY shed door plans to see a variety of door samples.
1. How to Build Double Shed Doors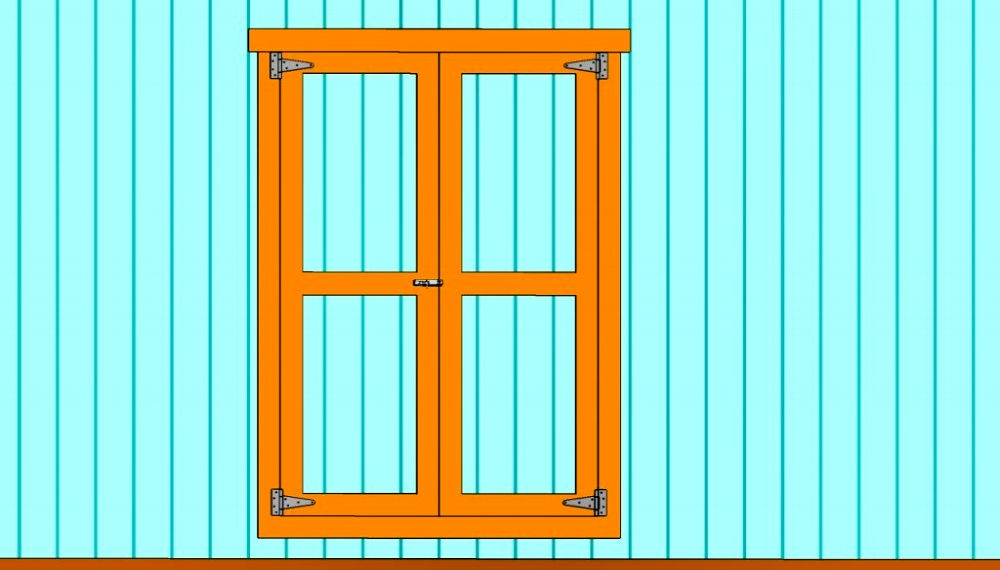 Are you planning an outdoor shed to store your garden equipment and tools? Then get here free plans about how to build a garden shed door. It will be final addition to your hand-built shed. Here you need 1×4, 5×8" grooved plywood, metal hinges, and garden shed latch to build it. howtospecialist
2. DIY Shed Door Plan for Single and Double Door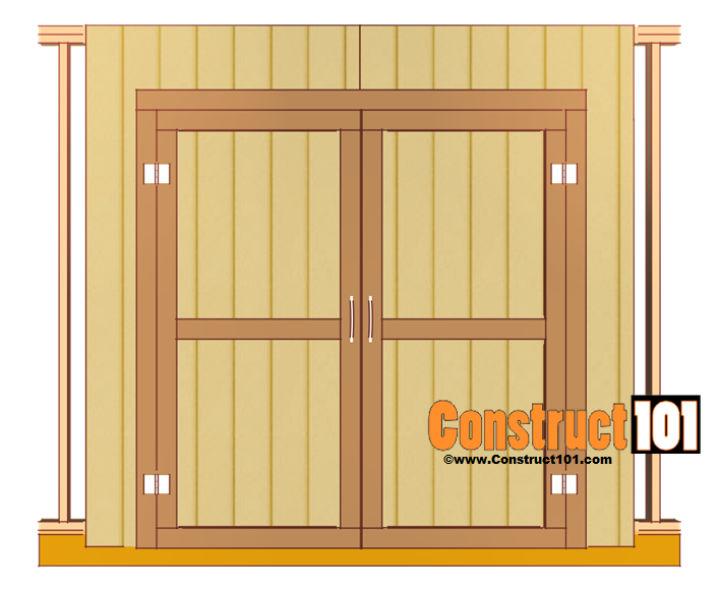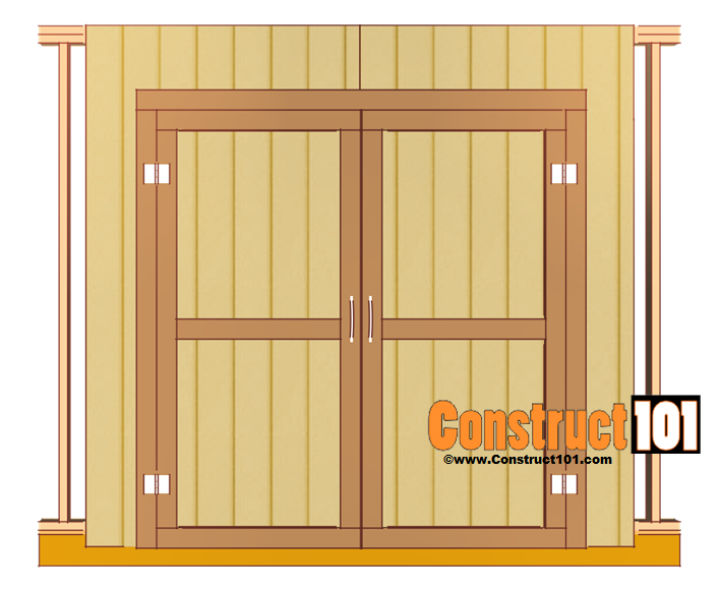 Get the free plans here about how to build a solid shed door. Grab the 2×4, 2×6, and plywood to build this cedar shed door. First, build the frame of the door using studs, bottom plates, and headers. One of the best DIY shed doors to build at home. The illustrations and diagrams will guide you through all the steps. construct101
3. Wooden Barn Shed Doors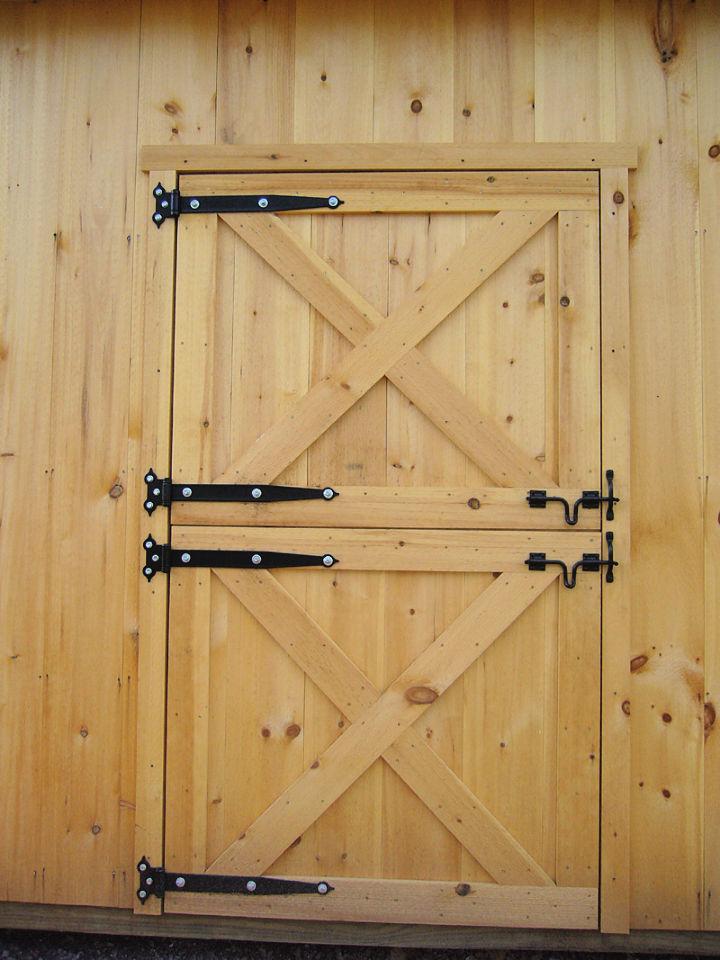 Make your shed super functional by featuring a sliding barn door. Here you will get guides for both hinged and sliding barn door, may be single or double depending on the size of your shed. Use the 1×10 and 2×4 to build the 12′ x 8′ double sliding barn door. Use the durable hardware and fasteners for nice and durable assembly of this wooden barn shed. barntoolbox
4. Shed Door Plans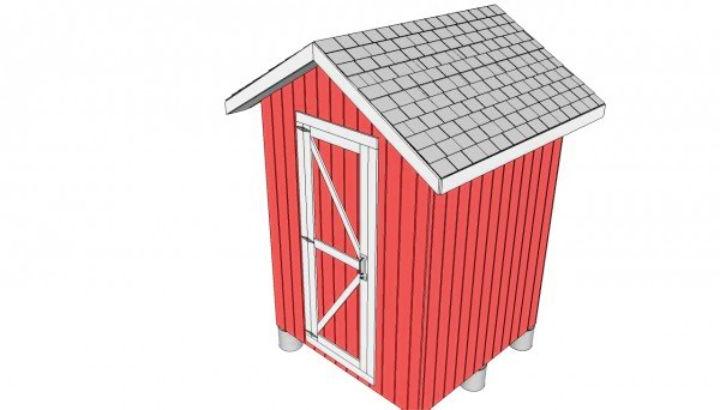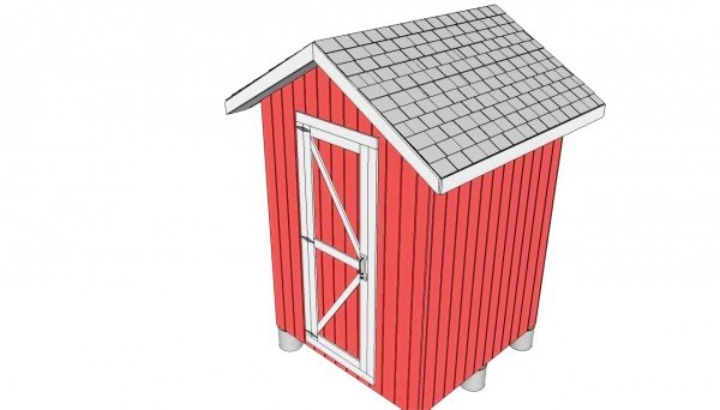 After you build the overall frame and roof of your shed, the final step would be to add a door. Hopefully, you can build a shed door too at home with quite an ease. The provided free shed door ideas and plans include building the frame of the shed door using 1×4 and then use the 5/8" grooved plywood for the siding of the door. myoutdoorplans
5. Building a Shed Door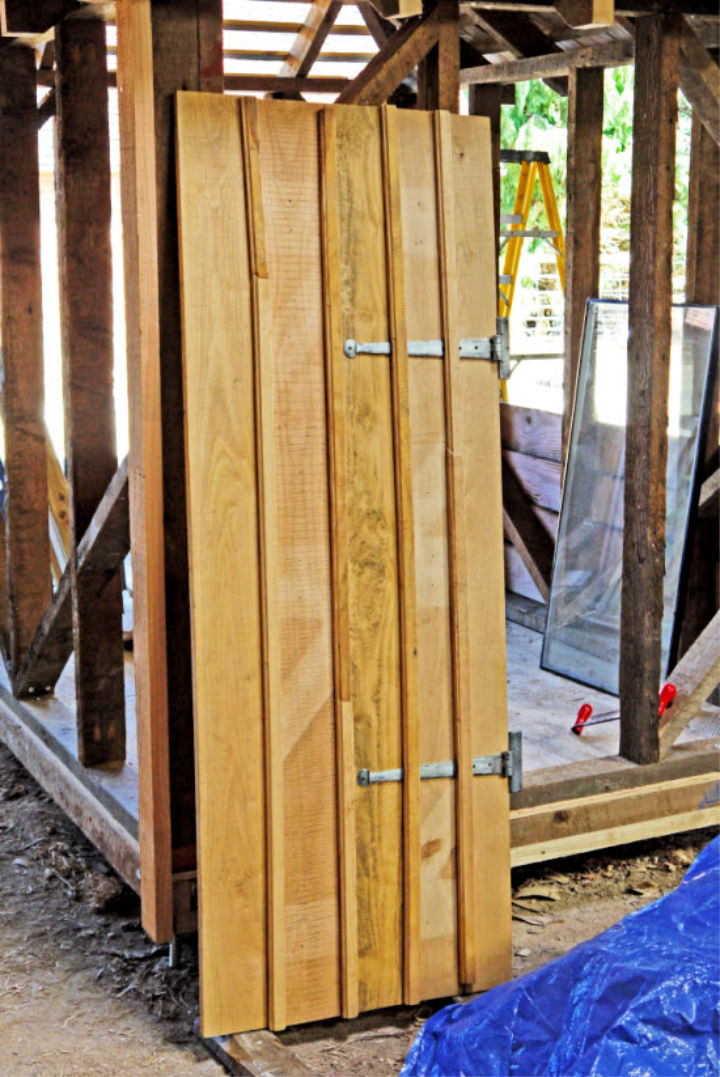 Grab the shed door ideas and free step-by-step instructions here to build all sorts of shed doors like a ledged, ledged and braced, and finally, the ledged braced and framed. Just put together your favorite slats vertically to build the door and then install the braces to the backside or even a frame. Full instructions here shed building
6. Simple Cedar Shed Door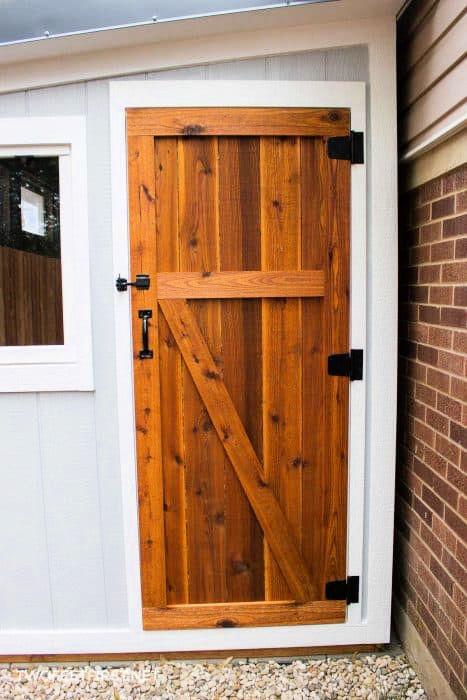 Learn here how to plan and build a simple shed door, will bring a great functional character to the entire shed. This single door has nicely been braced and framed and is to make with solid 6" and 1"x3" cedar boards. Use 7/6" plywood to sheath your door. Finish the door with stain and waterproofer and also with a gate latch. Details here twofeetfirst
7. Making Barn Doors for The Shed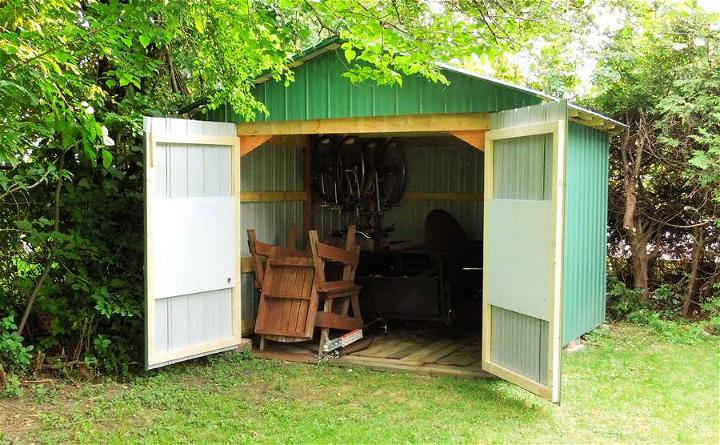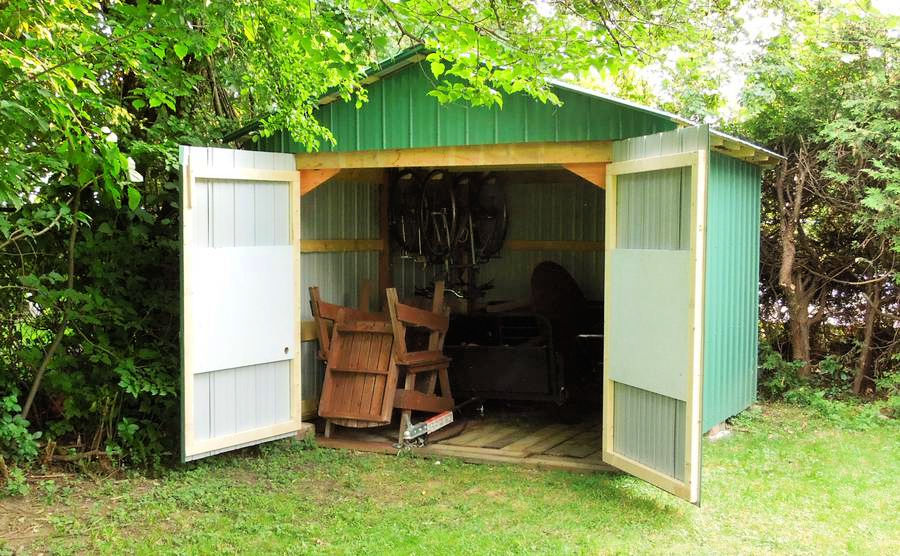 You will surely fall in love with these barn doors that will create a distinguished look of your entire shed. Just build first the frame of the door with a central MDF or plywood panel. Next, cover this door frame using corrugated metal or wood vertical long wood slats. Details here youtube
8. Garden Shed Doors Under $100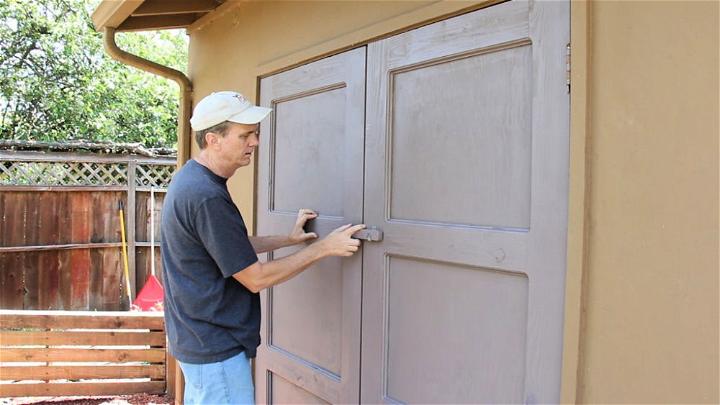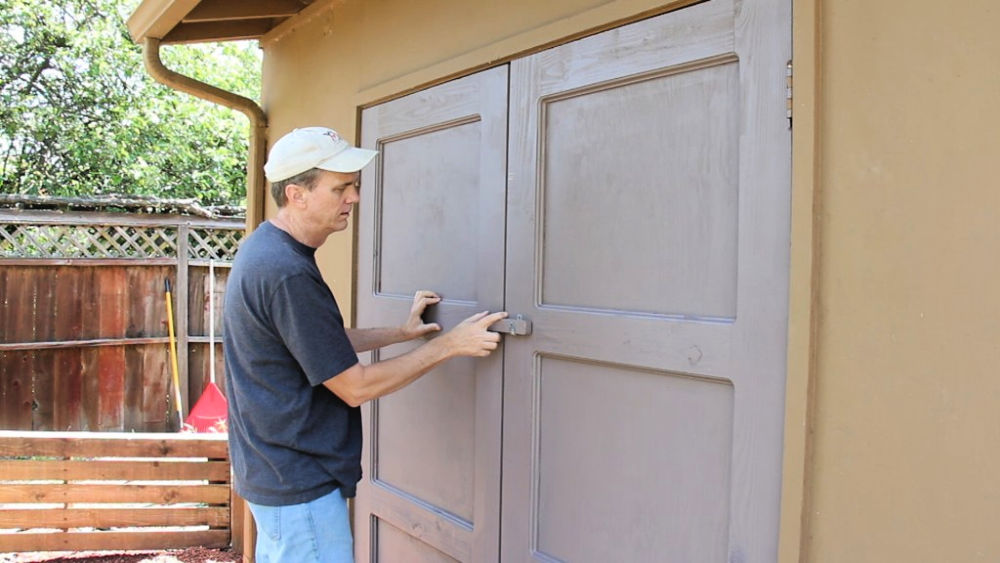 First, use the heavy-duty wooden boards of equal thickness, to build the frame of the door. Next, just fill the door frame solid using plywood siding or sheathing panels, and now you are done. Paint your completed door or finishes with wood stain, the choices are all yours. Building this door will cost you less than $100. youtube
9. Ana White Barn Shed Door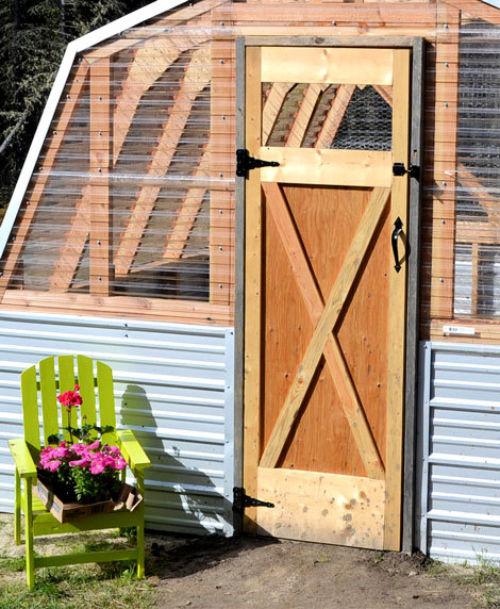 Buying a solid door for your newly build shed can get expensive, but you can build one of your own at home in custom dimensions. This barn door has extra height and builds the frame of it using 1×6, 1×12, and 1×3. Use the 1×2, 1×3, and exterior plywood to build the back of the door. Details here ana white
10. How to Build Shed Doors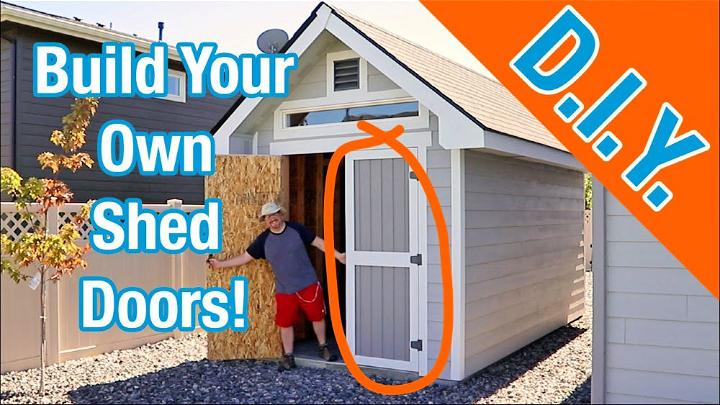 The door is the most important part of the shed to add in the last of the construction. It is expensive to buy too at the same time. So, learn here how to build a one like a pro. First, make a plan, and then build the frame, install the siding at the end. Here you need 2×4, siding boards, several sheets of OSB, trim pieces, hinges, and locking mechanism to build this shed. Details here youtube
11. Easy to Build Shed Doors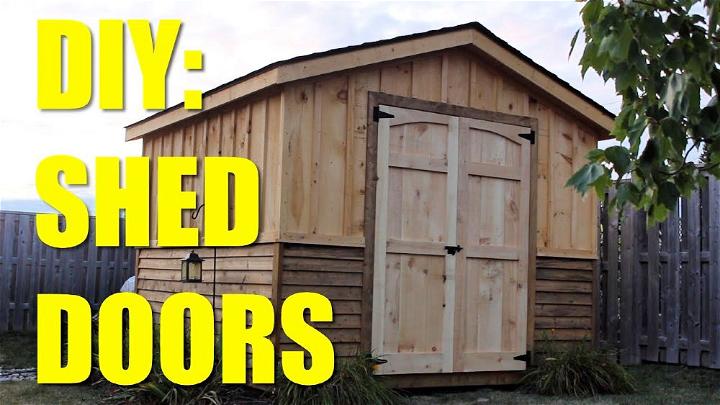 Spend just a weekend to build these doors for your outdoor shed. They will add extra security to your shed and will impress with the slatted wooden appeal. Furthermore, they come on long antique hinges for a traditional appeal. Again build the door frame first and then sheath it nicely to gain a solid wooden door. Details here youtube
12. Barn Style Door Shed for Less Than $40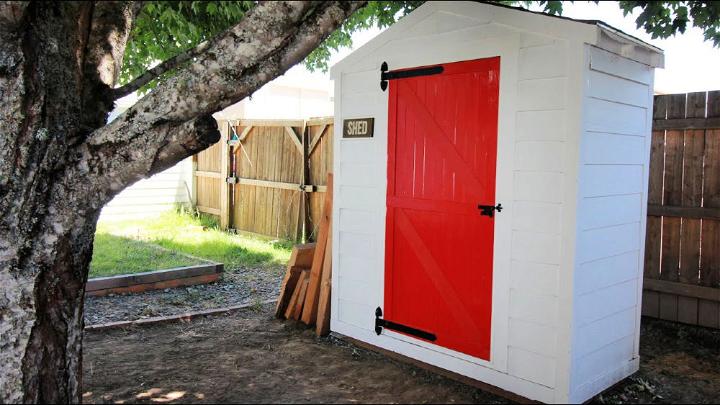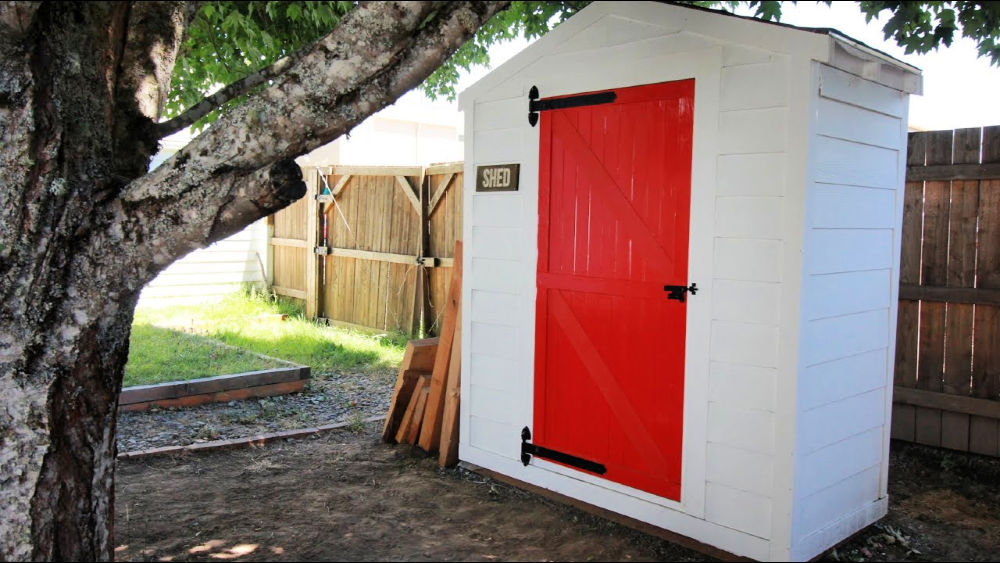 Build a shed may cost you big, and most of your budget is to spend on the doors. Get here the hack to build a stylish shed barn door at the cost of $40. You will get the step-by-step video instructions here about how to build a good looking barn style door may be single or double depending on the size of your shed. Video tutorial here youtube
13. Brilliant Shed Door Design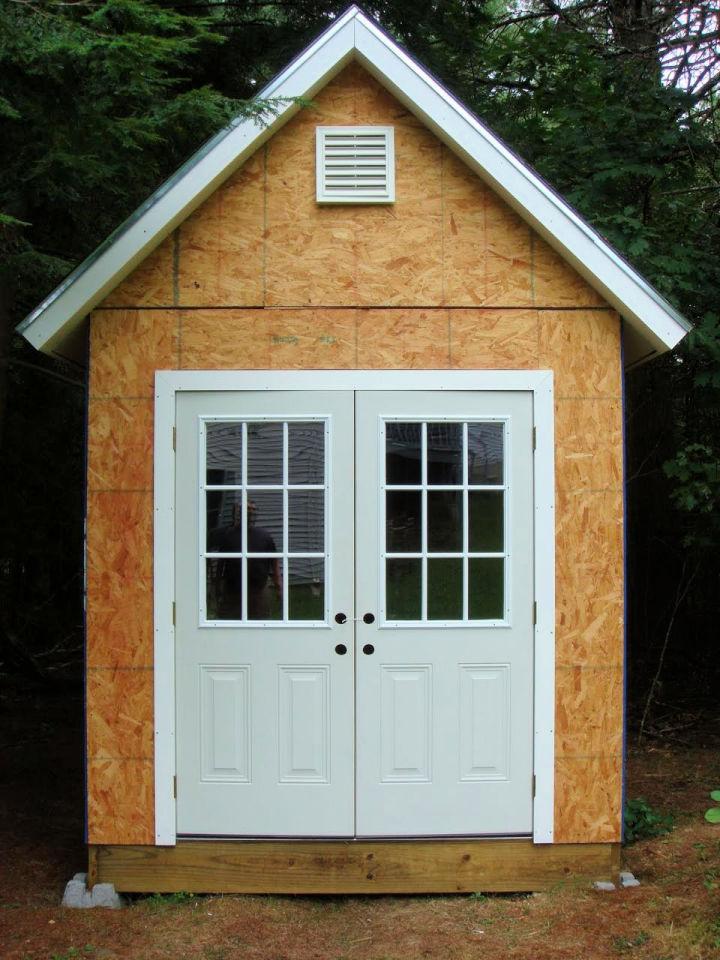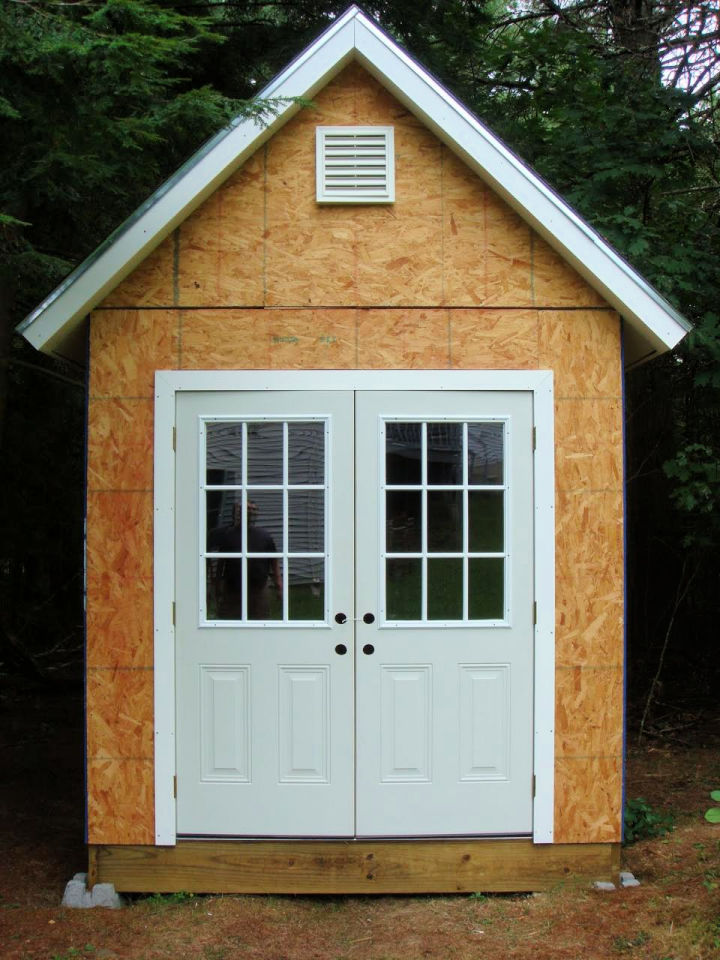 Bring a great style to your shed by adding this glass-paneled door, will be a brilliant final addition. it will bring a bungalow style touch to your shed and is a breeze to make. This double-sided door can be made quickly at home by building first the frame. Next, sheath the frame and finish with glass panels. Paint in white to match the color of your shed.
14. French Door Shed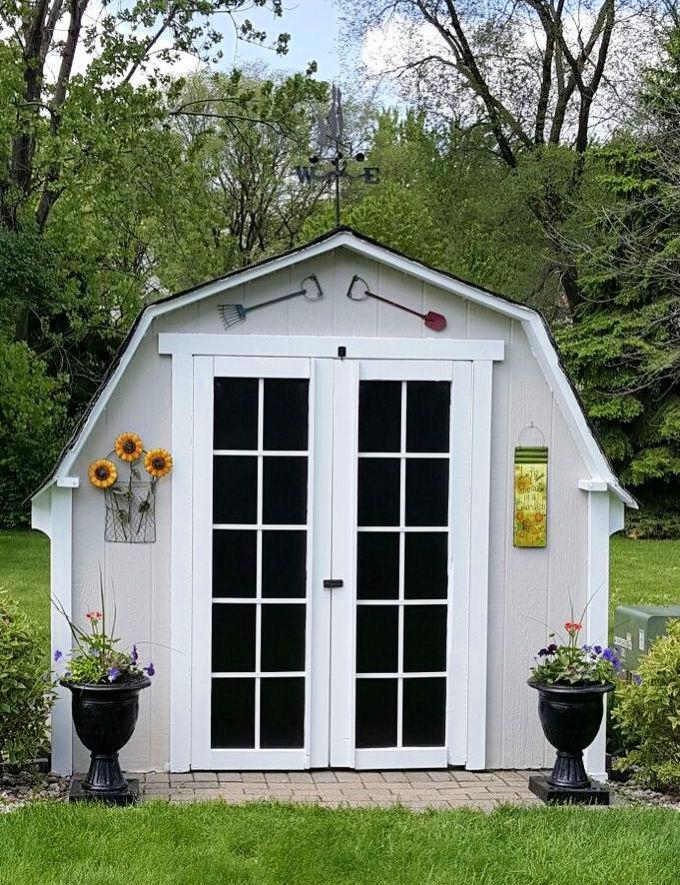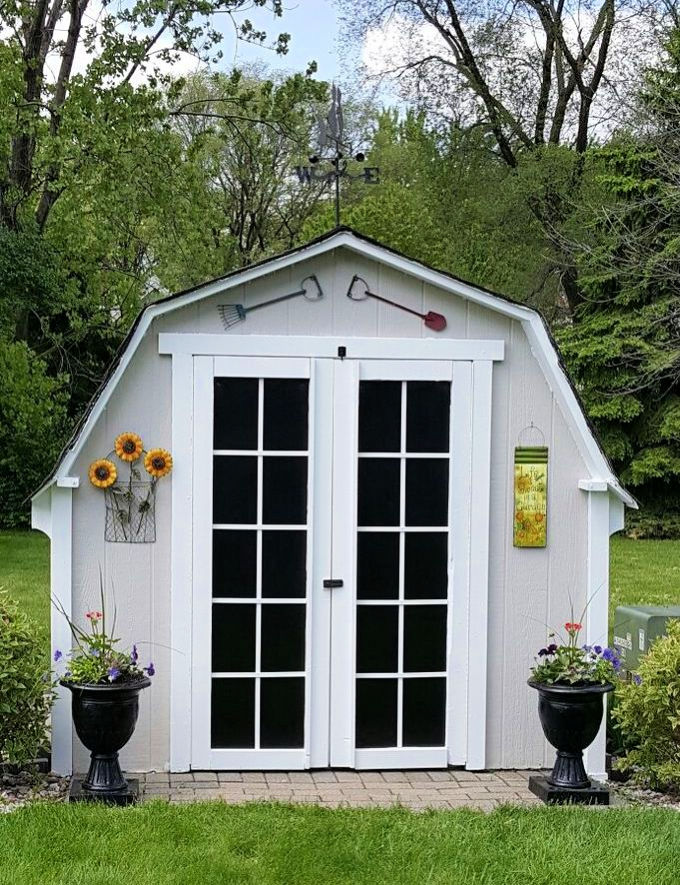 You will give ten out of ten to these unique shed door ideas. The double sloped roof and the perfect glass-paneled doors are the main accent features of this shed. One can easily build the main door, comes with black glass panels, at home by making a little effort. First, prep the frame using wood slats of choice and then fill the door solid.
15. Shed Door With Siding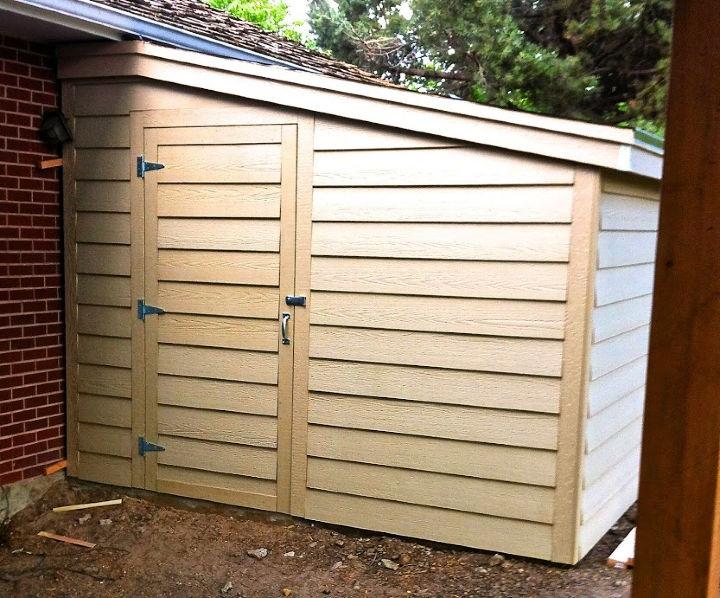 Get inspired by this another gorgeous design of shed door, enchants with its slatted appeal. It comes on 3 antique hinges and goes matching to the entire shed, and this raises the beauty of the entire shed. Finish the door with paint or leave blank in the natural tone of the wood; it will be impressive either way.
16. Storage Shed Doors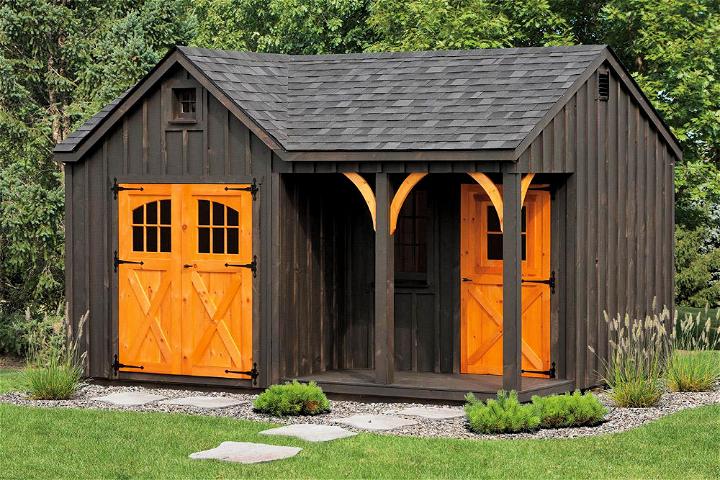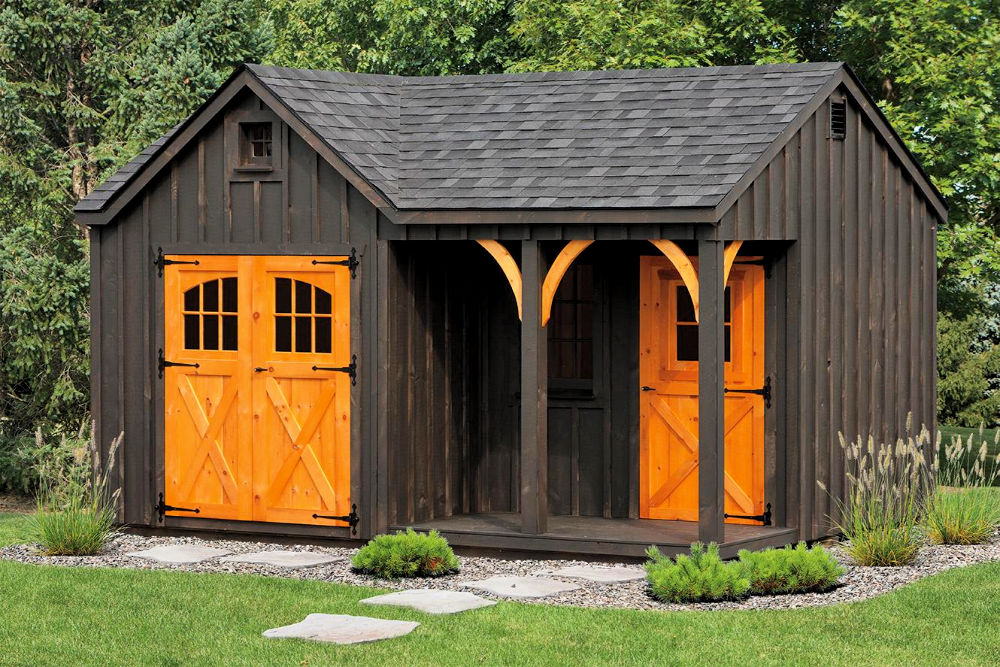 A shed may be the best place at your outdoor to store and organize the garden equipment and tools. Let them be decorative to create a big focal point at your backyard. Peek into details of this dark storage shed that looks one-of-a-kind due to orange doors. The criss-cross front makes the doors a bit more beautiful and enchanting. The big black antique hinges hold them nicely in place.
17. Small Storage Shed Doors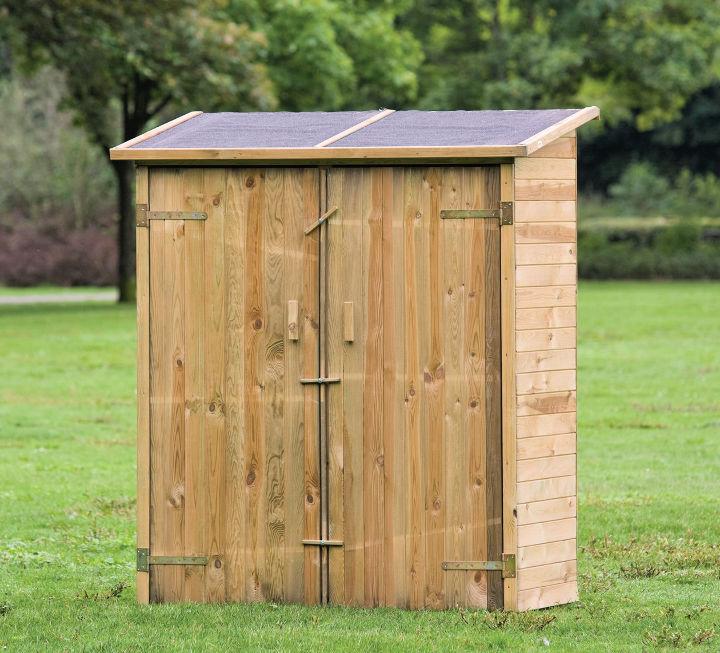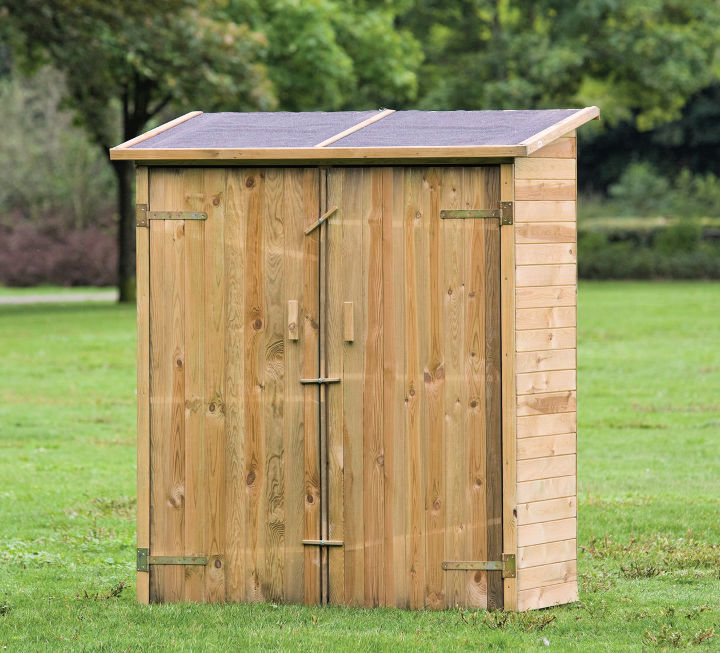 The beauty of this small storage shed will surely arrest you under its spell. It comes with lovely small doors that come with wooden locks and long antique hinges. This shed looks like a cabinet and comes with a tilted roof. Install the siding for a gorgeous solid appeal of the shed. One of the best wooden doors to make for a shed.
18. Backyard Storage Shed Doors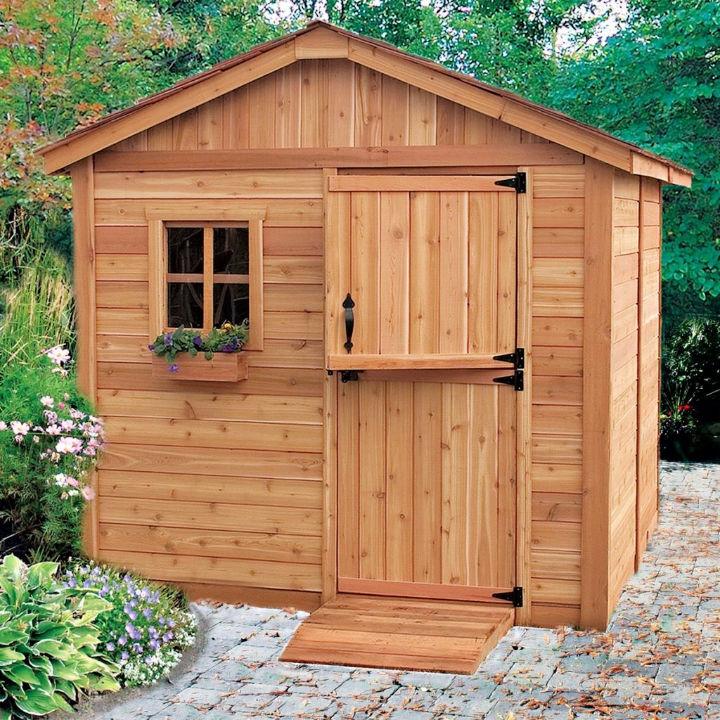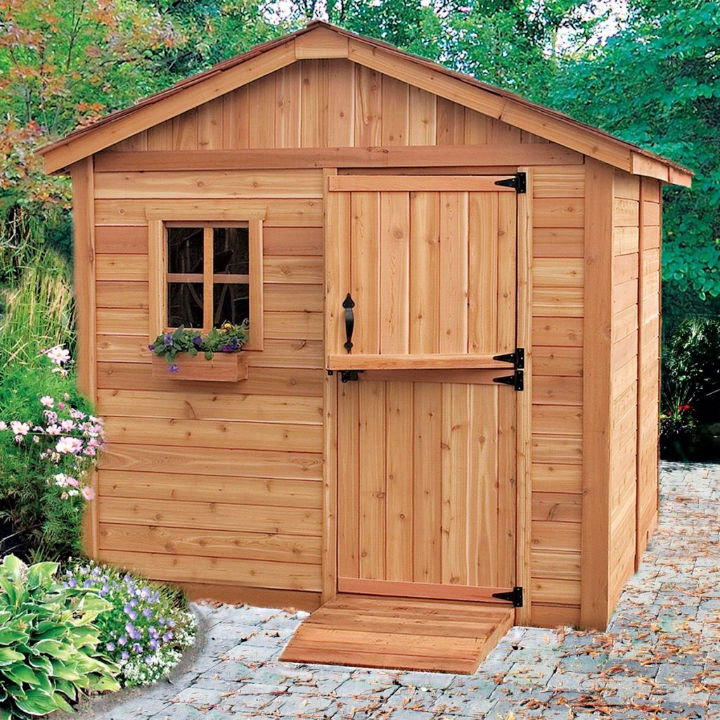 One of the most beautiful sheds that features a glam tone of wood. It comes with a matching door that gives an arresting primary entrance. The entire shed design features the horizontal slatted design while the door comes with enticing vertical slats just for an enchanting visual twist. Simple but great shed door idea.
19. Cedar Shed Doors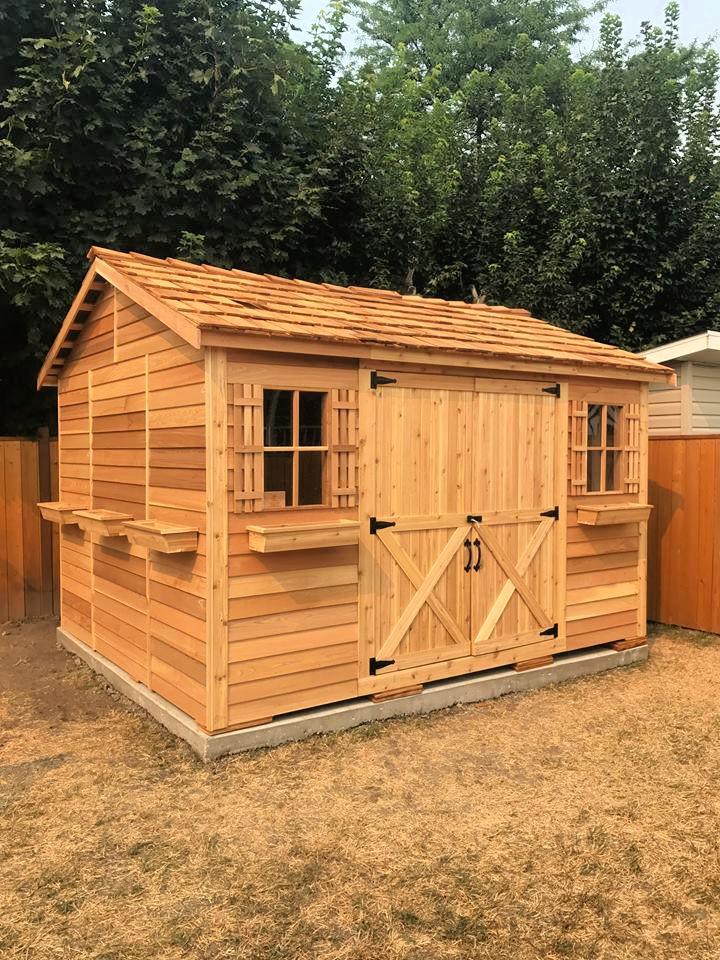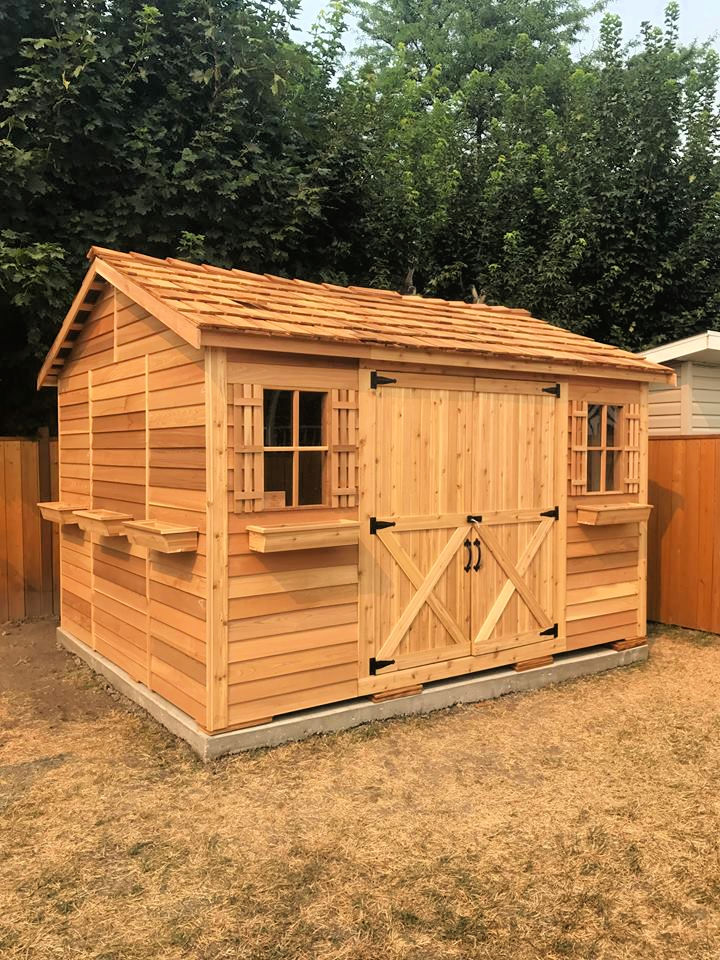 This luxurious wooden shed design will make you say a big wow due to impressive blank wooden appeal. The main lovely feature is the double front door that gains attention from the cross front braces. The doors are to make by putting together the slats vertically, and they go matching to the entire shed. This feature is above all.
20. Garden Shed Doors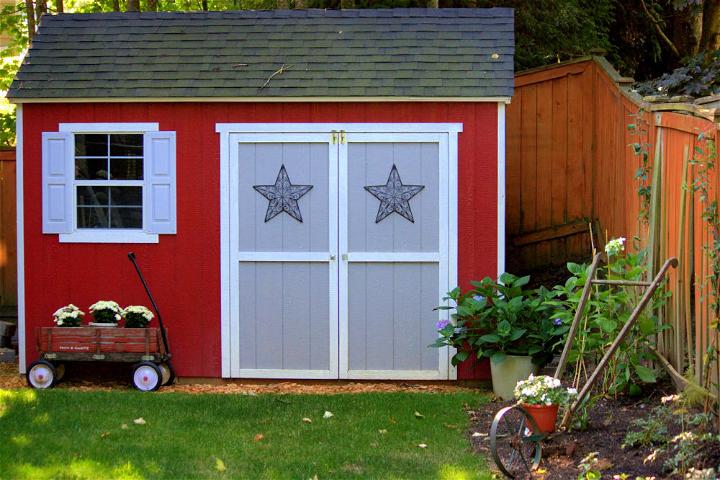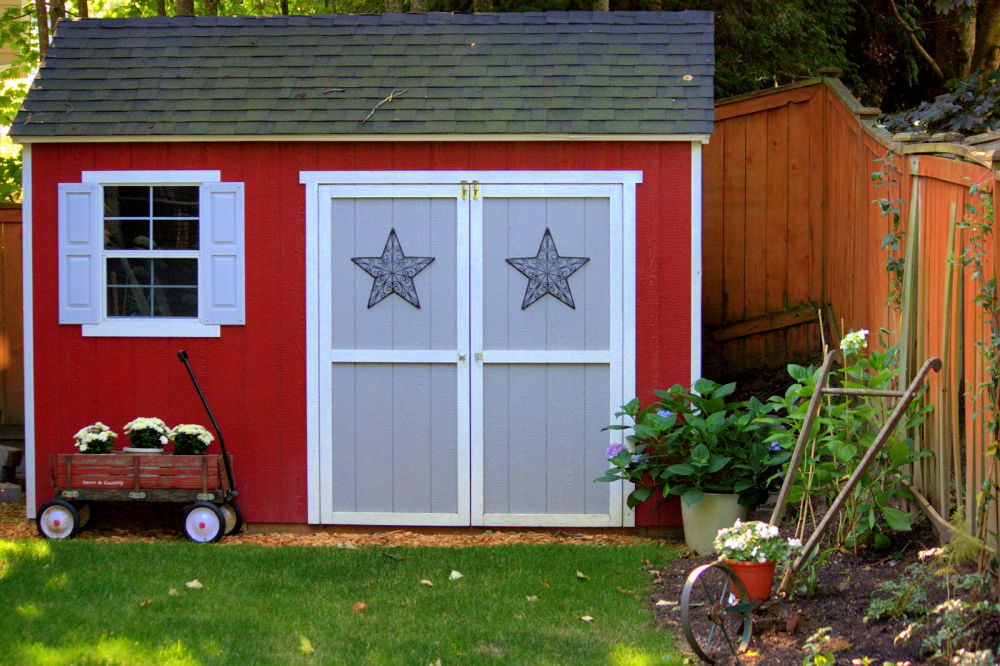 The white painted door goes enchanting with the red-painted appeal of the shed. A most bizarre color combination of red and white appearing in a shed. First, build the frame of the door and then fill them solid with the slatted panels, which can quickly be made with wooden planks of choice. The double door with accent stars in front will jazz up your entire shed for sure.
Conclusion:
If you can build the whole shed by yourself, then why not the doors? This may be challenging for many of us to build the doors fitting exactly to decided an empty spot. So, you are genius enough in taking accurate measurements and doing fine, precise cuttings, then building your own doors can be a child's play for you. For more assistance, head over to these Free shed door ideas and plans that will provide cut lists, illustrations, and even full video tutorials for building a nice wooden shed door at home inexpensively.
Door Stopper: DIY Door stoppers are needed when you have small kids or animals or just need to keep doors opened.