The living room is a place where we spend most of the time. Therefore, it must be equipped with stylish and assistive furniture. This roundup on DIY Sofa Table will result in a very useful and modern piece to put along the sofas. These 20 free DIY sofa table plans will help you to build a beautiful sofa table inexpensively. Once you will make behind the couch table for yourself, you will realize your life was so difficult and boring before them. They provide extra space with your seating area. You can place your books while reading or mug of coffee while having it. To make them attractive, you can put some decoration pieces or flower arrangements. These DIY sofa table plans will give you detailed instructions on building a sofa table.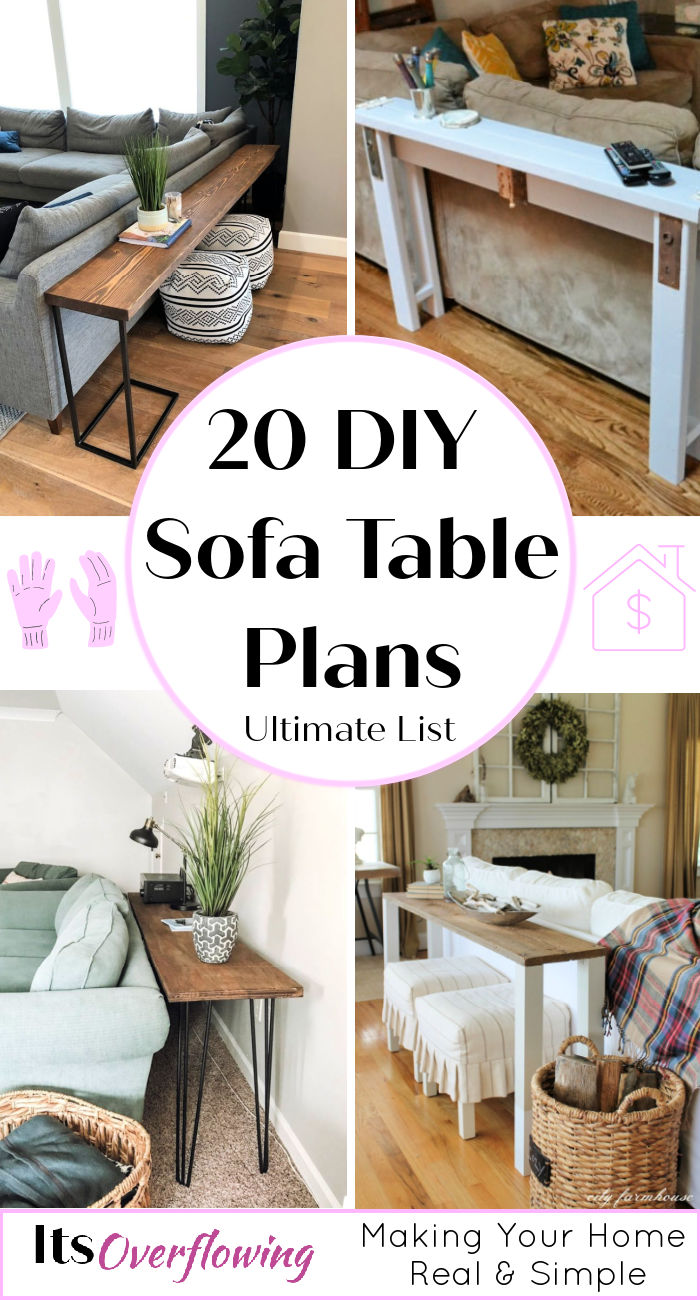 You can make DIY sofa tables in a variety of ways. Either make them as a side table, at the side of your sofa. Or make them as a back table, at the back of the sofa, or make a DIY console table behind the couch as well. If your space is a little congested, then the back or behind sofa table will go perfectly with your home decor. The choice depends on the area and theme of the room. You will need very simple and basic equipment to carry on these behind the couch table plans. Let's just get started, shall we? Take your living room or other room's experience to the new lavish and ultimate comfort!
1. Sofa Table Plans
Here is an easy DIY sofa table project which will give you surely high and satisfactory end results. The sofa table is way more functional than the coffee table. You will realize this, once you end up sprucing one. The good news is, this project neither requires any power tools nor any cuts. brooklynnicole
2. DIY Behind Sofa Table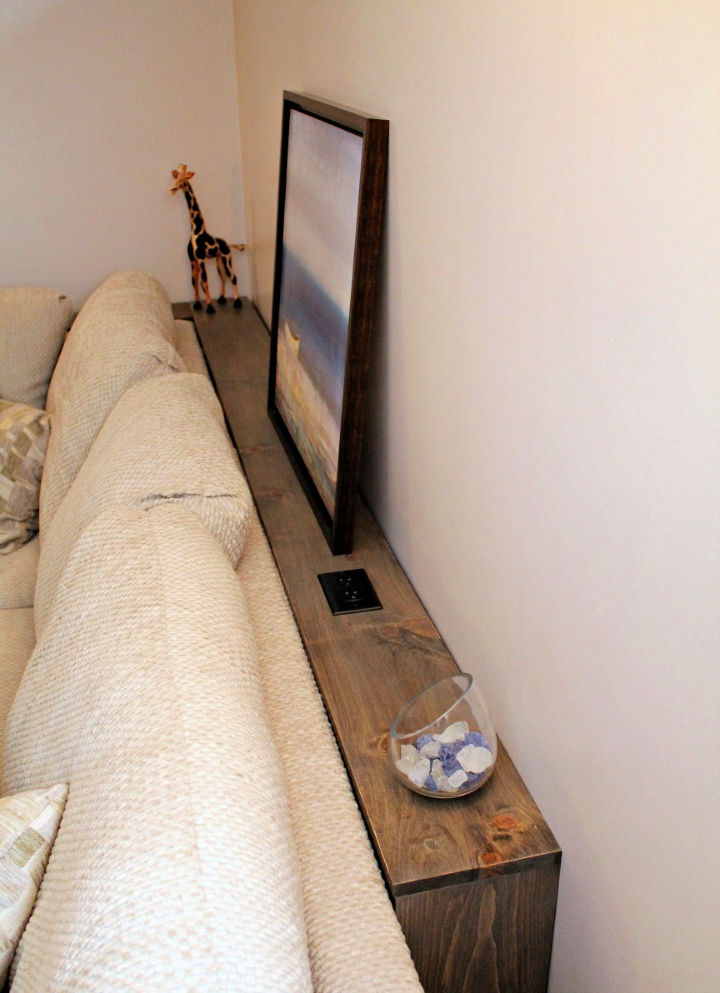 When it comes to displaying decoration pieces more vividly in your living room, this DIY behind sofa table will catch your eyes. It is a super awesome project and totally a beginner's one. Make the space behind your sofa a little more lovely by following the tips here. turtlesandtails
3. Inexpensive Sofa Table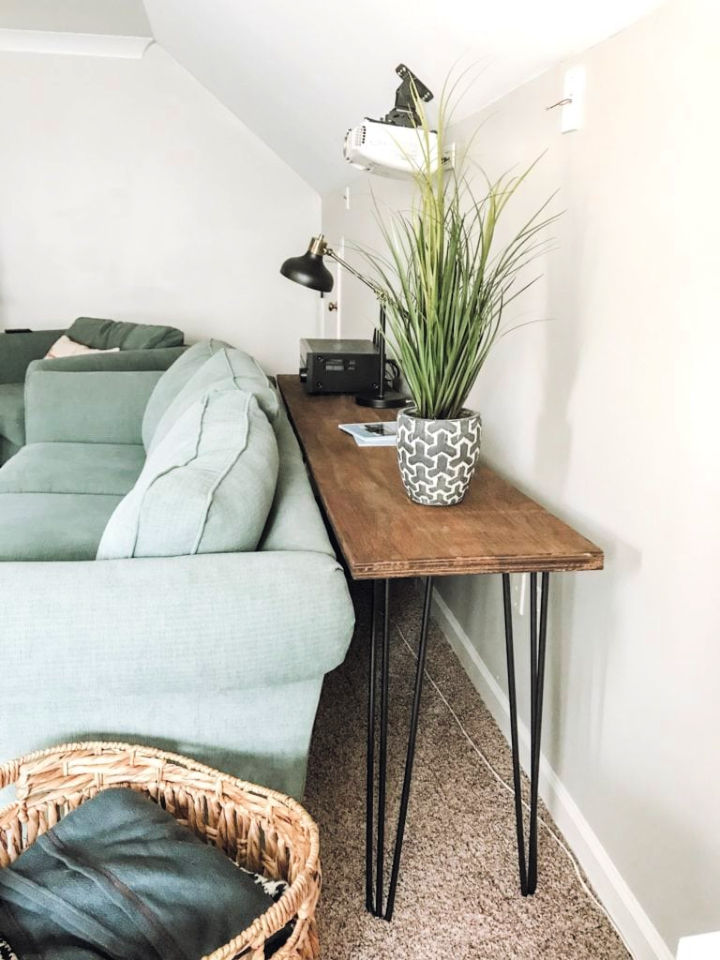 Way to add some more space and decor to your room with this inexpensive sofa table! It is insanely inexpensive. It will need a few tools along with your minimal carpentry experience. That is all. Plus think about how lovely those hairpin legs will look and add so much character too! thelittlefitpupp
4. Reclaimed Wood Sofa Table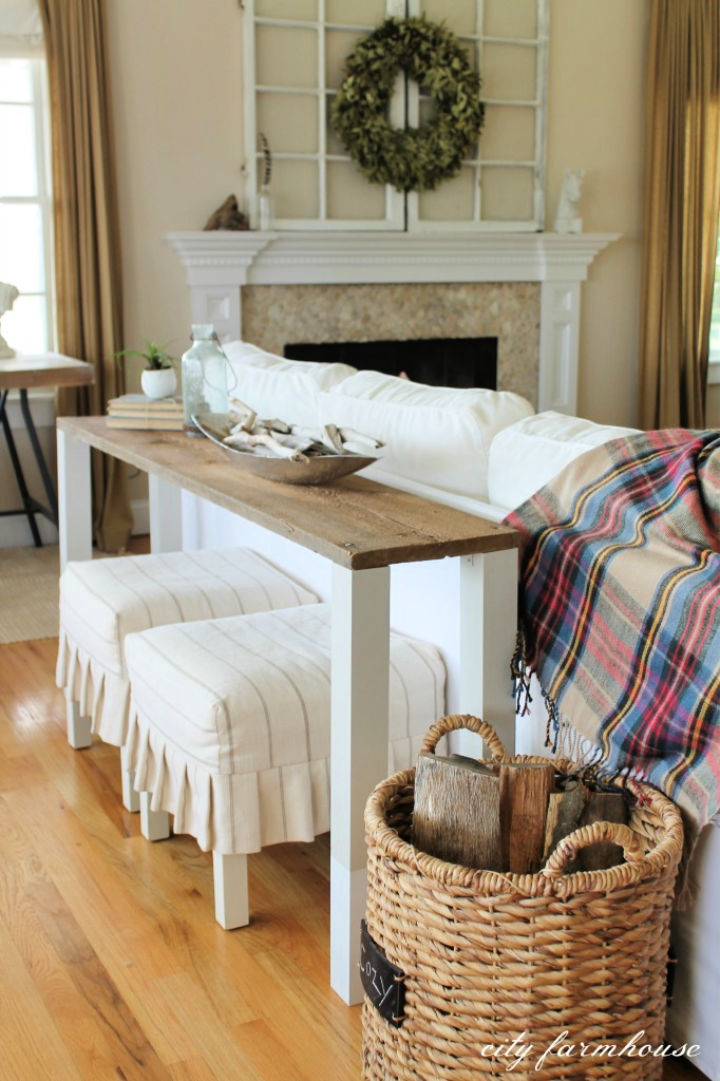 The addition of this piece of furniture will make your whole living room visually more appealing and interesting. This DIY sofa table from the reclaimed wood will be such an easy project to do. You will just need supplies like a drill bit, painters tape, wood screws, corner brackets, and spray paint. cityfarmhouse
5. Outdoor Sofa Table
The urge of decorating home through trying different projects is a never-ending process. What about trying DIY outdoor sofa table this time? It will be a very inviting project and will add more comfort and decor vibes in your outdoor space. Don't miss out trying it as it will take your one evening to get finished. h3obungalow
6. Homemade Sofa Table
If you think your living room is getting boring, you desperately need an inviting project for its revival. Build DIY sofa table all at home and on your own. The materials you will be needing for this project are pine boards, table saw, steel wood, cider vinegar, clay paint and nail gun. picklee
7. DIY Behind The Couch Table
For a DIY behind the couch table and everything you will need can be at your arm's reach. While to start off with this project, keep in mind the height of your couch and thickness of the top board. It would certainly act as an inviting element for the guests. You will surely love the end result. effierow
8. DIY Sofa Table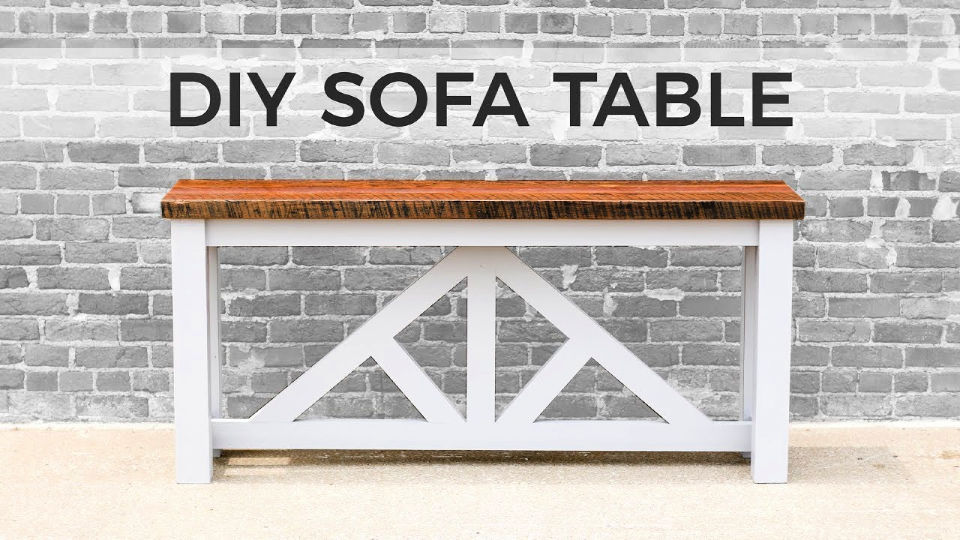 This DIY sofa table will make a great pair with the sofas. Plus, it could be done cheaply and easily! It's a simple craft that you can furnish with your beginner's skills. Use the tabletop as a display space for vases or other decor pieces. Hit the video tutorial to build yourself one. youtube
9. Sofa Table for Only $30
If you have had enough with the spilling of drinks on the couch or rug, it is the perfect time to build yourself DIY sofa table. It will cost you like only 30 dollars. Unbelievably economical! All you need to do is to grab the materials and go along with the step by step tutorial for its completion. simplecrafts
10. DIY Sofa Table from 2x4s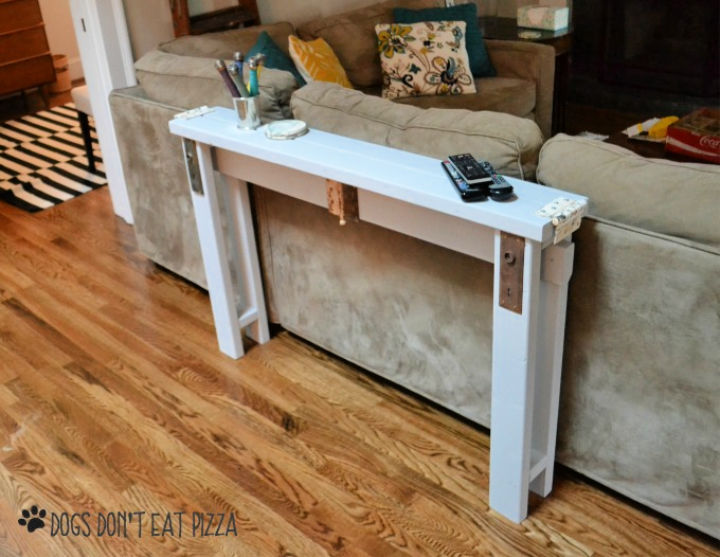 Sometimes, the space behind the sofa drives you nuts for no apparent reason. It annoys you and urges you to put something there to fill up the space. Next time before you get these feelings, build DIY sofa table from 2x4s. A miniature project that can be built in few hours. dogsdonteat
11. Laptop Sofa Table
Surprise! You can build this DIY laptop sofa table on a very short notice. It could be a great Christmas gift for your geeky friend or may be for yourself. Enlist, what supplies you will need for its building. 2''x2'' furring strips, corner brace, glue, Tung oil, spray paint, stain, screws and plugs. twofeetfirst
12. Build Sofa Table With Pipe Frame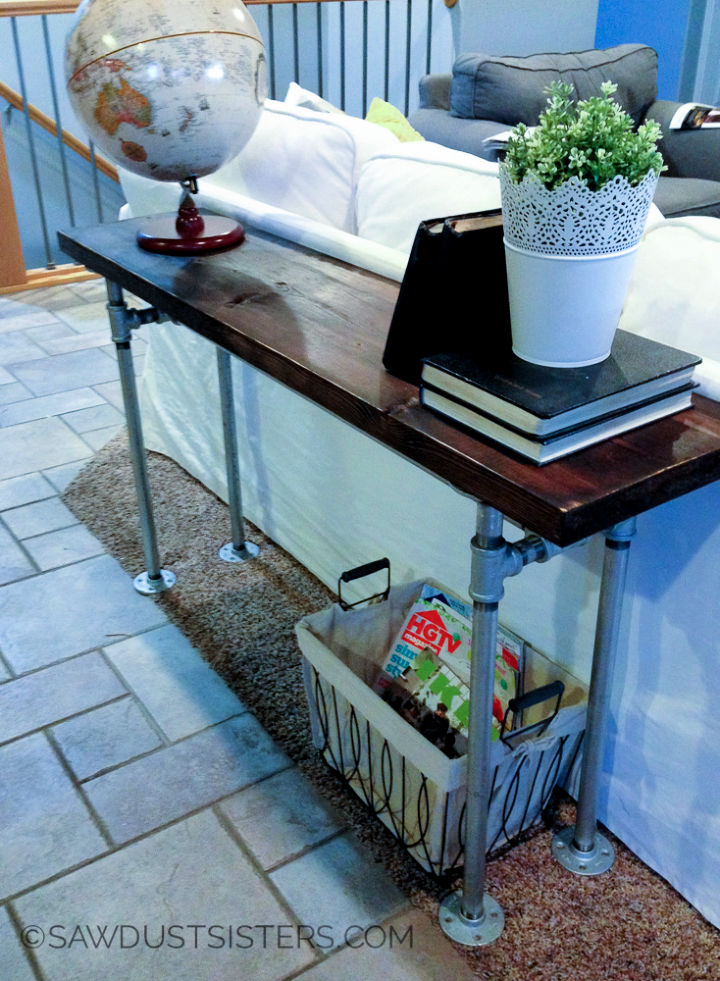 Not a fan of power tools? No problem! This project is exactly for you. This super easy DIY sofa table with a pipe can give an industrial farmhouse kind of look to space you decide to place this table on. It will definitely go with the furniture and fixtures of your room. Check out more below! sawdustsisters
13. X Sofa Table from Scrap Wood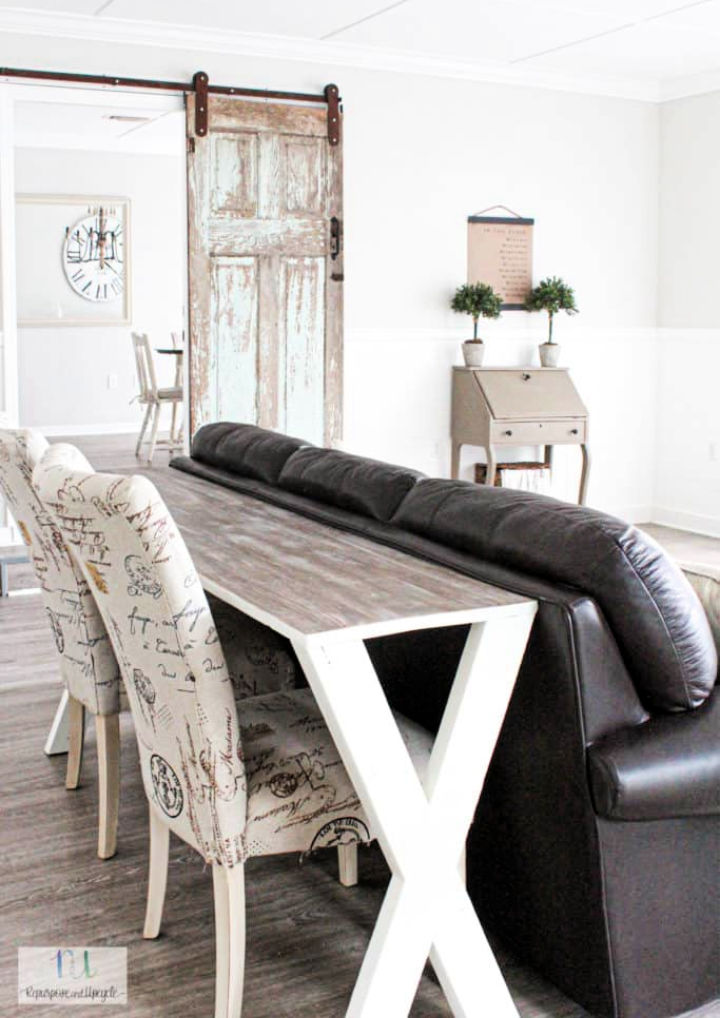 There are of course times, when the price tag might kill all the excitement to buy the new furniture Why are you not switching from buying to DIYing then? You can DIY X sofa table from scrap wood. It will look simple plus elegant at the same time. Very affordable and will be spruced up over a weekend. repurposeandu
14. Farmhouse Sofa Table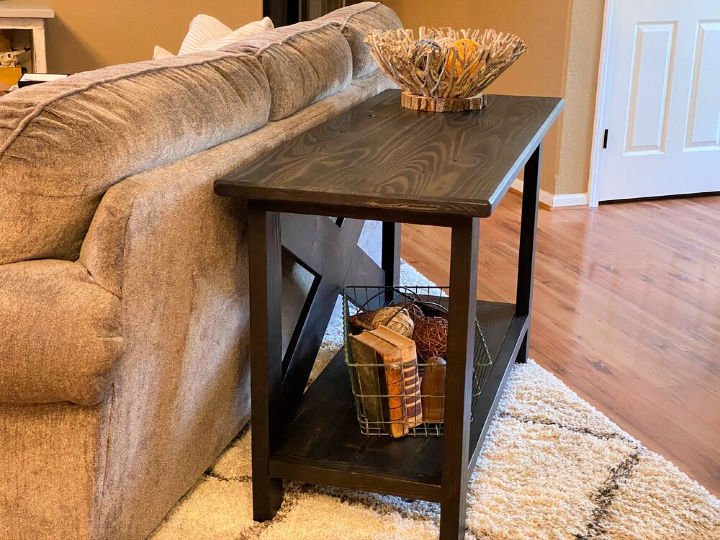 Give yourself more spaces to display your favorite frames, books or vases by adding a sofa table. This DIY farmhouse sofa table will stand out in your living room and will be sucha charmer With this sofa table your living room can be symmetrical balanced. Hit the link to see its making! 731woodworks
15. Sofa Side Table for About $15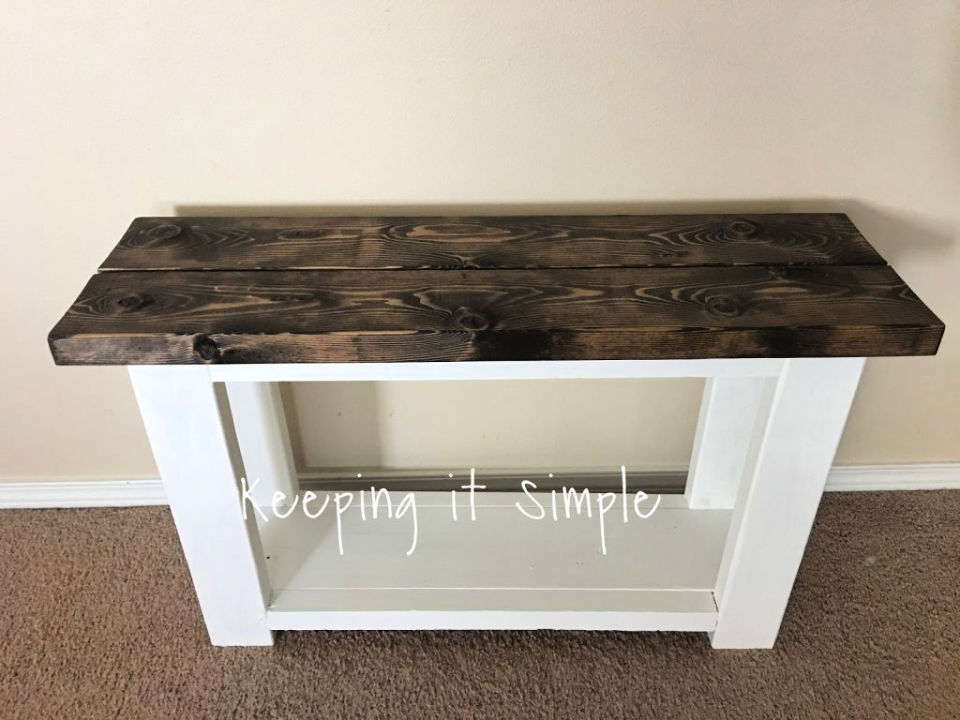 This DIY sofa table can also be your hallway table, foyer table, console table or TV stand. The most amazing part is, it can be whipped up in just 15 dollars. Put it next to your sofa or behind your sofa, it is up to you. Brace yourself, collect your supplies and get started! You will love it! keepingitsimple
16. How to Build a Rustic Sofa Table
This rustic sofa table allows you for more personalization with decore. It will revive the dead space behind or next to the sofas. It adds more character and beauty, simultaneously. Learn how to build a rustic sofa table out of supplies like pine boards, corner braces, screws, nuts, and clamps. worthingcourt
17. Stylish and Simple Sofa Table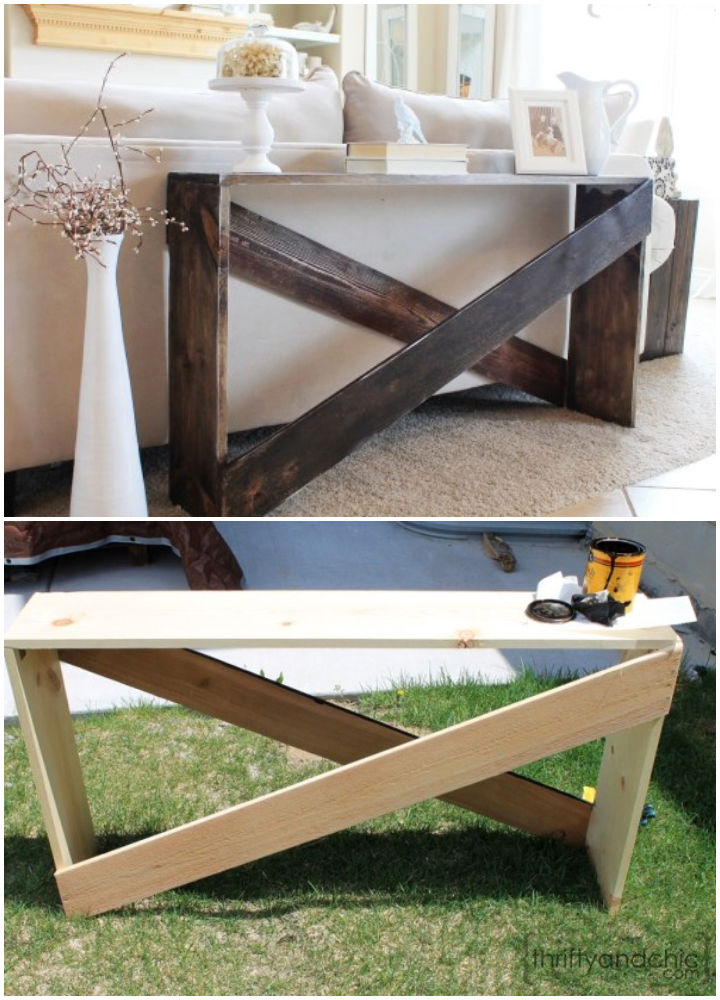 Fill up the dead space around the sofa by following this stylish and simple DIY sofa table's instructions. Finding an adequate sofa table can be a hard job without doubt. But building a DIY sofa table in right size and height can be possible and an easier task to do so. Give it a shot! remodelaholic
18. Farmhouse Style Console Table
A sofa table is a focal point in a living room. It has the ability to add charm in the boring interior of the room. Plus, it is the best project for any beginner DIYer. With its farmhouse style, it can easily fit into any narrow space. Ready to get started? Have a look at the DIY console table behind the couch guide below! thecrazycraftlady
Free and easy DIY furniture plans designed for the weekend warrior with common power tools and little to no woodworking experience required.
19. Build Your Own Sofa Table
If you are having a large gathering in your home, having this DIY sofa table can be very handy. It can be used to put soda, bears and popcorns on it. It will make a fantabulous addition and under the table you can even tuck stools for extra sitting. See what you need to start off here. northernnester
20. Industrial Farmhouse Sofa Table
Need some space for displaying home decor and lighten up the interior of the room? No project is better than this industrial farmhouse sofa table. Gather your supplies. You will need clamps, corner braces, pine boards, screwdriver, screws, nuts spray paint and wood glue. theweatheredfox
Conclusion
These FREE sofa table plans have all the details related to building a sofa table at home. You can make a DIY sofa console table and put them in your living room or bedroom, along with your sofas. The process to make these tables is very simple. You just have to take out some time and put in some effort.