Do you have a sweet tooth? Find these 25 easy candy bar ideas that will help you to display a unique candy buffet table on a budget. Candy bars are usually the favorites of all sweet lovers. The sweetness of candies surely takes you to another world. If you have some in your freezer, you will only wake up happy to take a bite from the candy bar. Only candy bar lovers can understand the sentiments explained in the statements mentioned above. If you are just this type of crazy candy bar lover, you have to follow these amazing candy bar ideas candy for a birthday party, kids party or any event.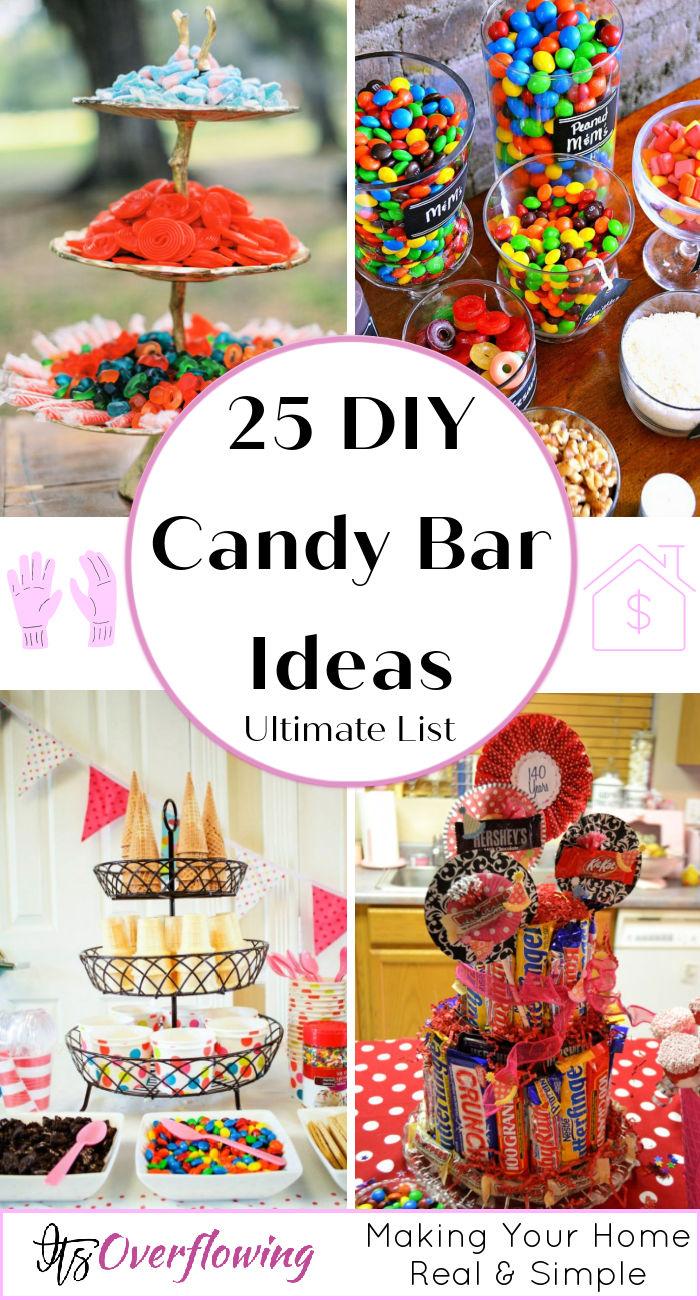 Now you can use candy buffet ideas on a budget to create different outcomes. Whether it is a cake for a wedding, an ice-cream party on the weekend, or a popcorn bar for an event, you can plan all of these with this list of candy bar ideas. You can present the candy bars in style at weddings.
Follow these candy bar ideas for complete details. Other than weddings, you can plan birthday candy table ideas or other events through the candy bar decor. Prove your love with the candy bars, and enjoy the events by keeping the theme. You will enjoy your event more than ever. Hop on to the candy bar ideas for more details.
1. Wedding Candy Bar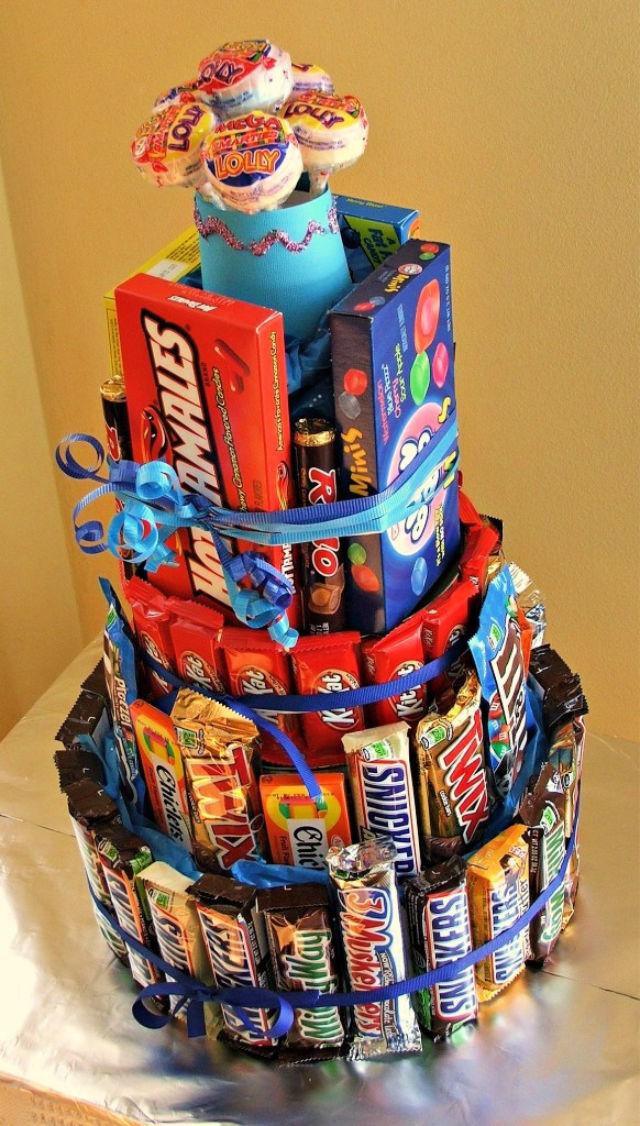 It's always too hard to find a perfect gift for someone's wedding. Here is a cute idea of making a wedding candy bar tasting all super delicious. It will be like a cake that is non-baked plus, easy to make. Take a cookie tin, use the double side tape, and stick the candy bars on it in the shape of a cake. detroitmom
2. Candy-covered DIY Ice Cream Sundae Bar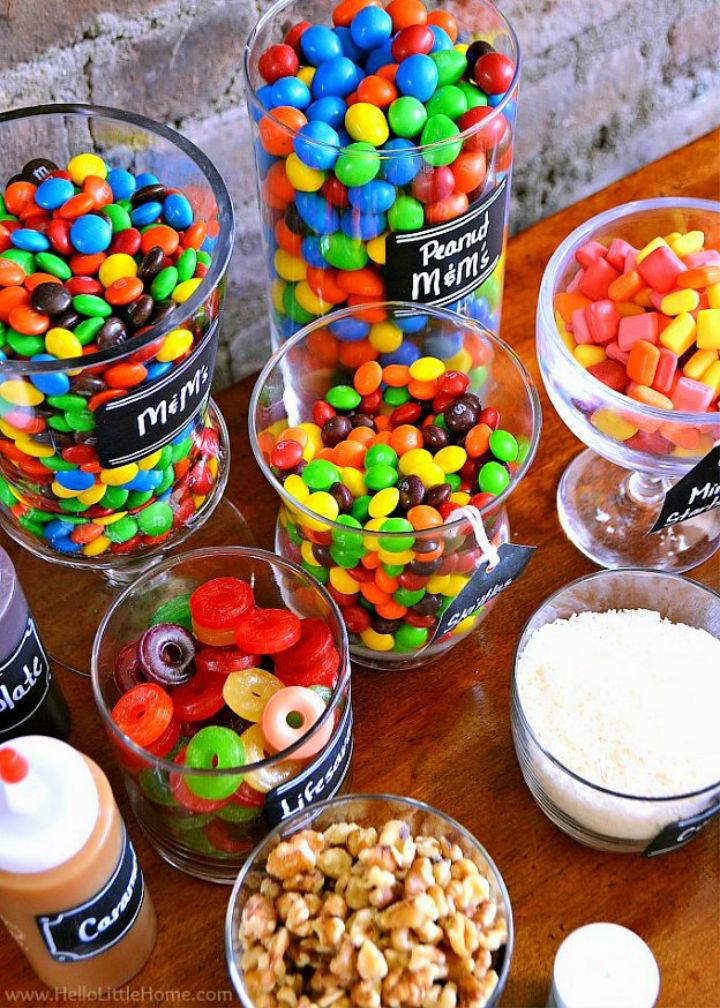 Celebrate any happy occasion with this delicious candy-covered DIY ice cream sundae bar. It can be a perfect alternative for the cake and bring uniqueness to your birthday event. So grab a glass container with chalkboard, marker, plastic bottles, scoops, spoons, and lots of candies to make it. hellolittleho
3. Candy Bar For Wedding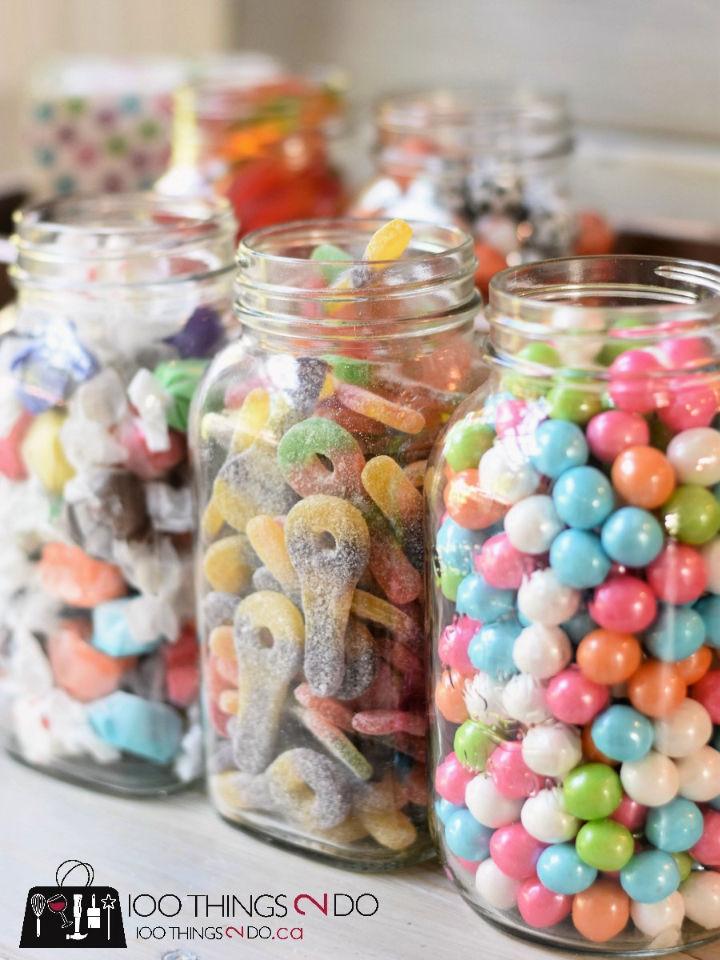 Looking for a creative and fun way to present a wedding gift? This candy bar idea will make the function more sweet and nice. Where everyone is giving boring gifts to the couple, step in with some flare of awesomeness. Go along with the directions and prepare yourself at home. 100things2do
Birthday Party Ideas:
DIY Rainbow Birthday: A collection of DIY Rainbow Party Ideas will help you easily add a lot of colors to a party! However, with a few DIY rainbow decorations, party favors, and food ideas, your party is sure to be a hit.
Birthday Banners: These DIY birthday banner ideas are simple to make and easily customizable! Who knew a homemade birthday banner could look so good?
4. Popcorn Bar Ideas for Your Wedding Or Event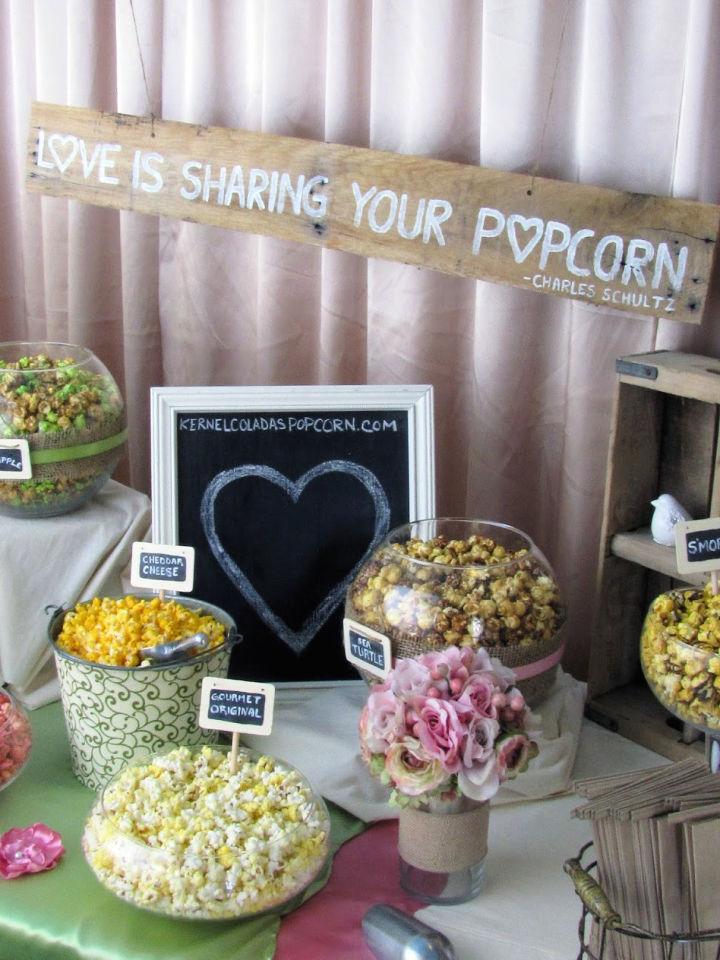 You know how a wedding or any other event is incomplete without any sweet munching? Bring it on! Create a fabulous popcorn bar and dish out every flavor in a separate bowl. Label them with tags and enjoy non-stop munching. Read on the instructions to set your table perfectly. poptiquepop
5. DIY Candy Bar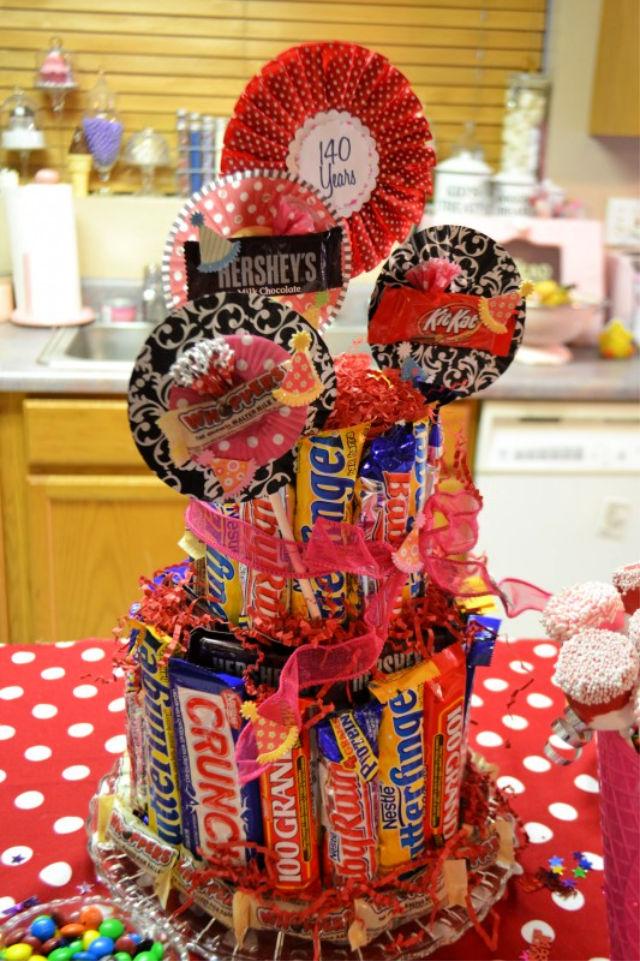 Do you need an alternative choice of baked cake with some fun candy bar cake? Of course, you do, who doesn't like change. Grab a tin, wrap it with the double side tape and stick your favorite candy bars on it. The pictorial instructions will lead you to how awesomely you can finish this off. pinkcakeplate
6. How to Make a Candy Cake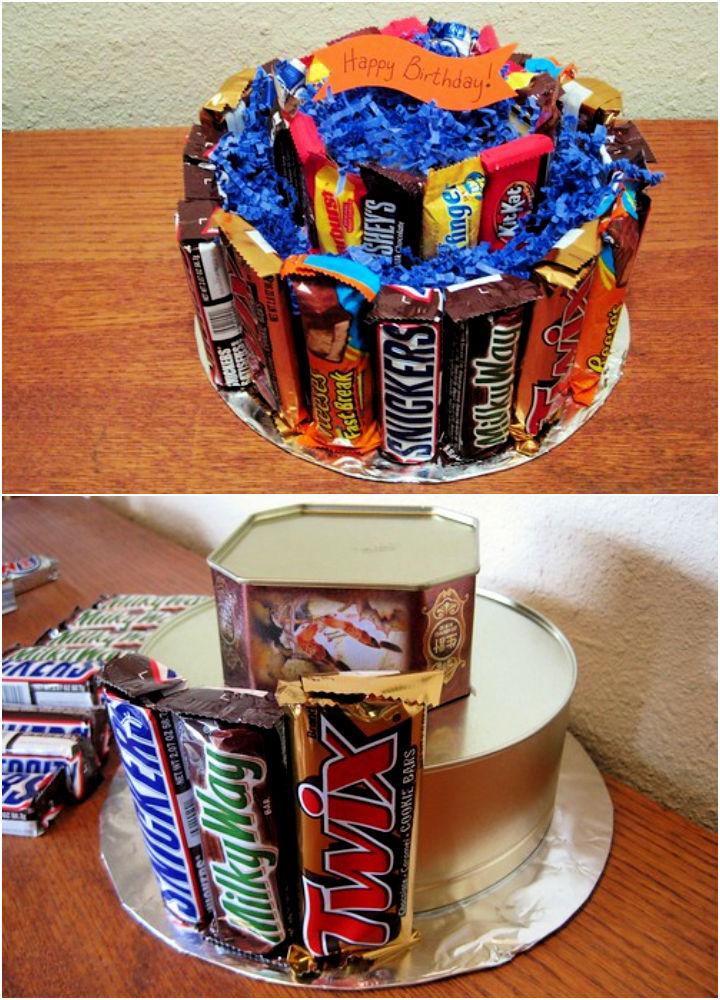 Surprise your friend on her birthday with this candy bar idea of a cake that will look exactly like the baked cake, but more nice-looking and scrumptious. This step by step tutorial will demonstrate to you how perfectly you can whip it up. Grab the required supplies and your favorite candy bars to begin. yourhomeba
7. Candy Bar At Wedding Reception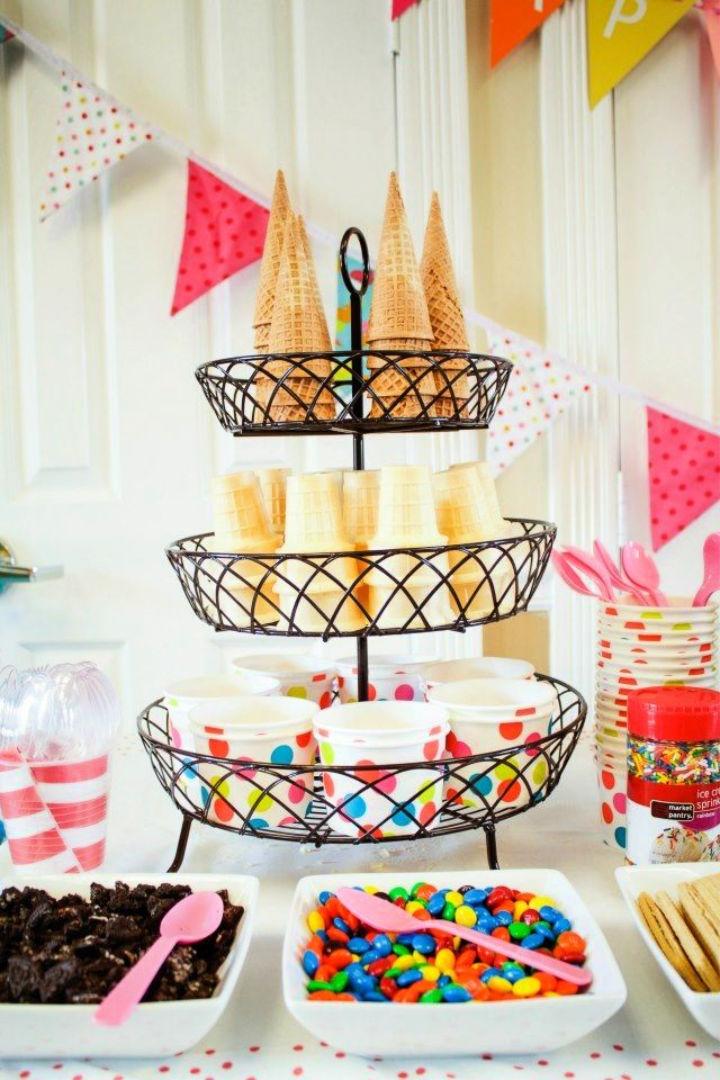 Serve these candy table ideas for birthday party as a starter to your wedding reception and let everyone enjoy the wedding with sweetness. Here are the 3 quirky ideas for a DIY ice cream sundae bar with a sprinkle of candy bars topping. Supplies you will need are cups, cones, spoons, bowls, scoop, and waffles. theprofessors
8. DIY Wedding Candy Bar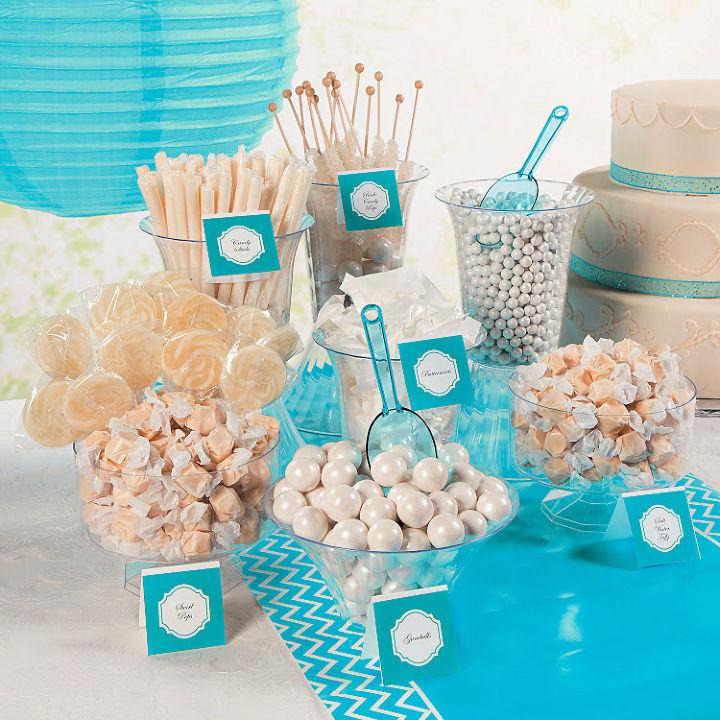 Create a fantabulous candy bar buffet for your wedding day. This candy buffet will be loved by everyone. Plus, the colorful candies placed on the table will double appeal as decor. Check out the complete instructions here to whip up this mouth-watering buffet yourself. fun365
9. Wedding Candy Buffet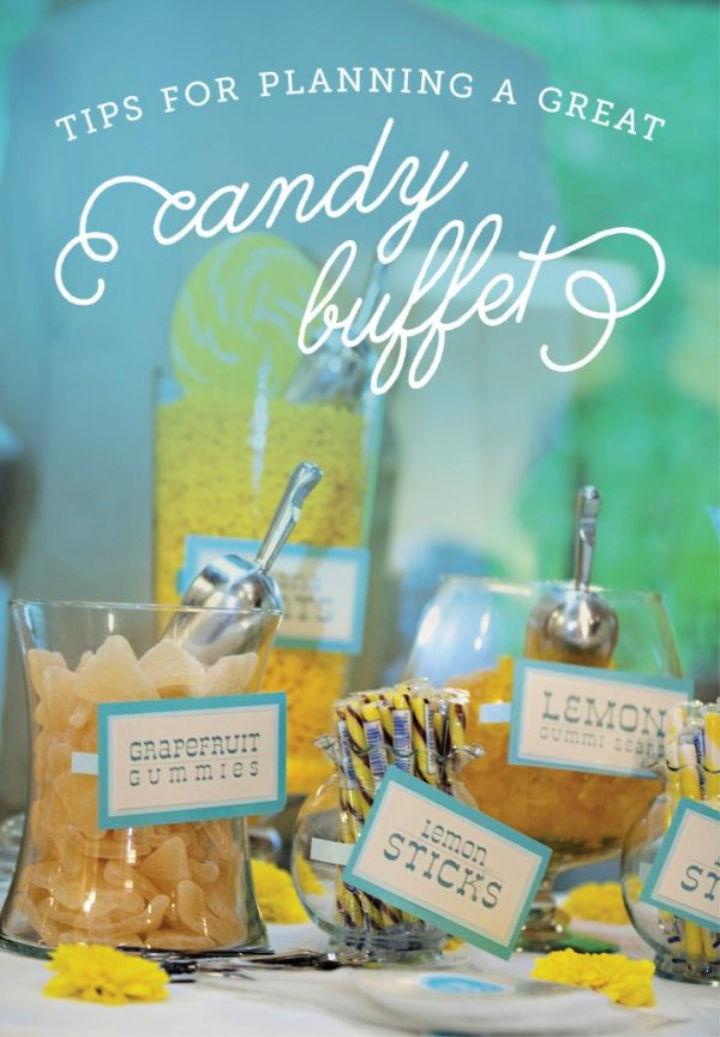 This candy jar buffet will be a delicious treat for everyone at your wedding ceremony regardless of age. Keep in mind that the quantity of candy jars must be in accordance with the number of guests you have invited. Purchase the candies in bulk for this buffet. Hit the link to find out more. thebudgetsa
10. DIY Candy Buffet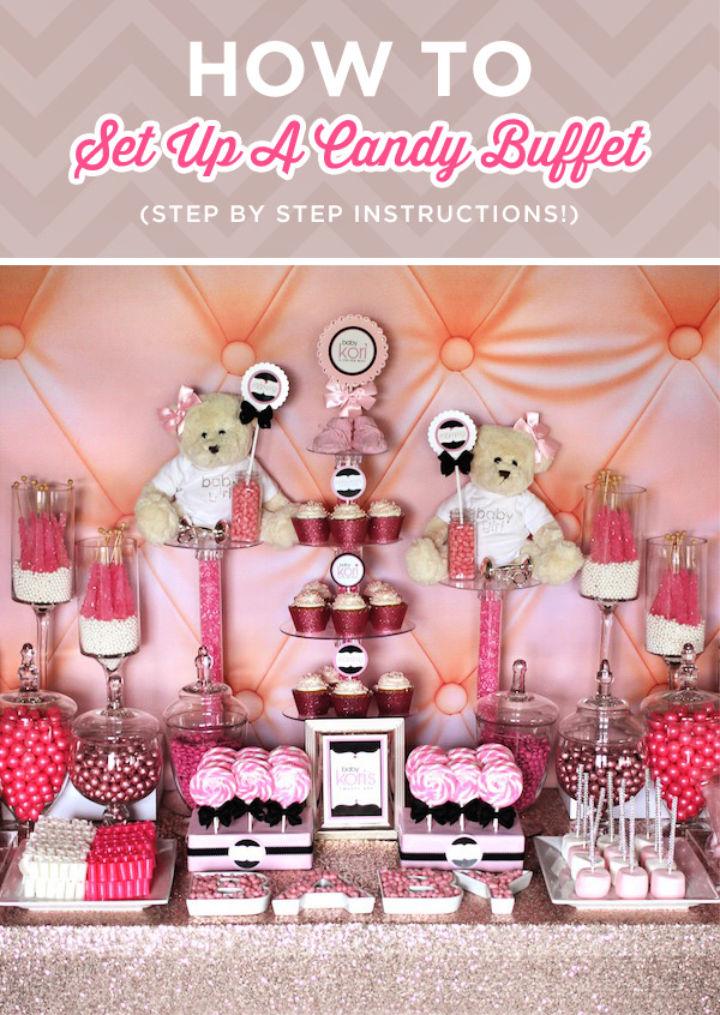 On any occasion, a candy buffet is a delight for so many. So celebrate your happiness or victory by setting up a candy buffet at a party. Check out the step by step instructions on how to set up a candy buffet and make your party more inviting and sweet. hwtm
11. Candy Bar Setup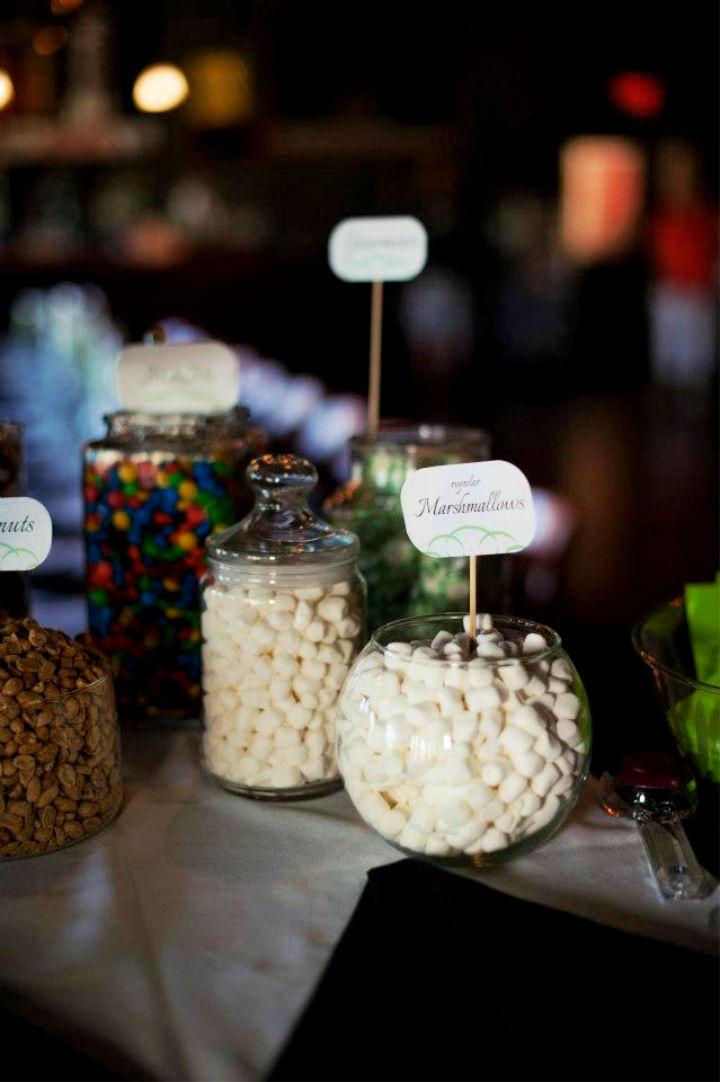 Setting up a candy bar buffet at a wedding or any other party will take the event to the next level of munching and sweetness. Serve the candies in apothecary jars, trays, platters, cake stands or bowls to give a colorful texture on a table—Walkthrough the how-to of this project here. smallstuffco
12. Candy Themed Wedding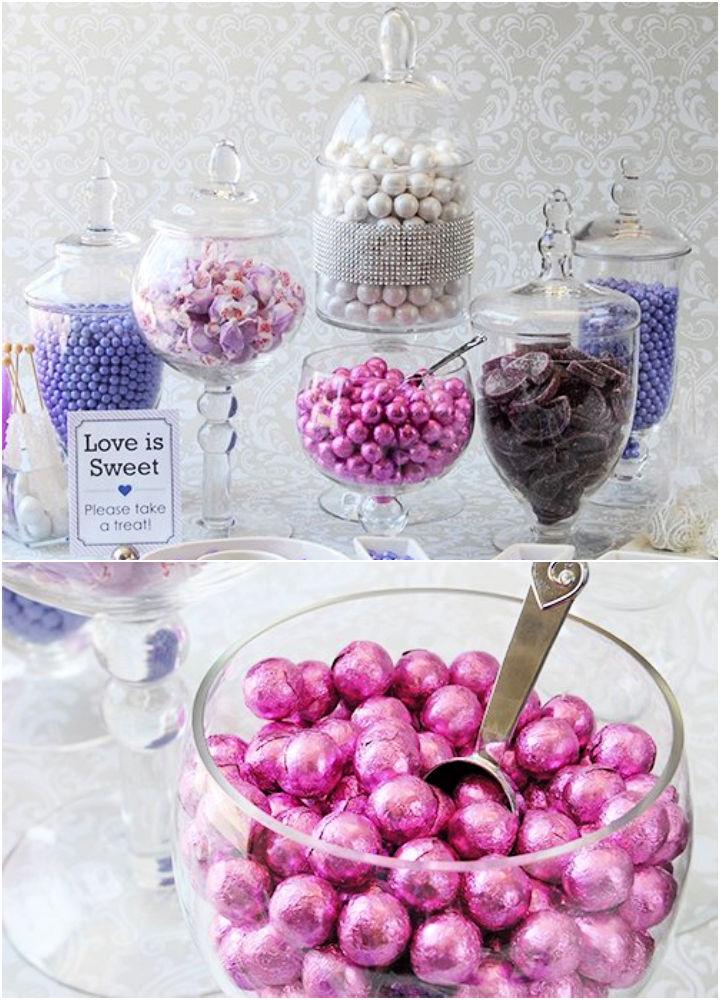 Adults love sweet treats as much as kids, which is why a candy bar buffet is a hit at wedding ceremonies. Setting a corner table for a candy buffet will delight the guests. Check out how to set up a gorgeous candy buffet and bring some sweet and edible decoration to your wedding. beau coup
13. Wedding Candy Table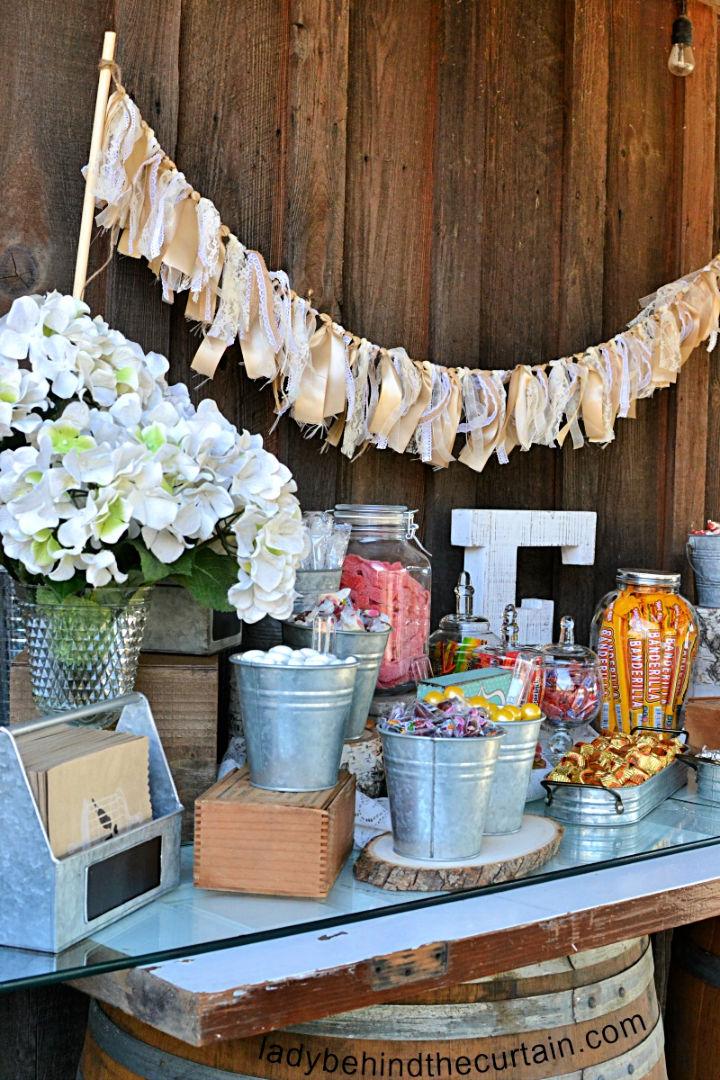 Candy bar buffets always double as decor and triple as favors to any party. Having a rustic candy buffet at any event makes it more inviting and interesting. The plan here includes the supplies list, pictures, the full-fledged instructions, and the list of candies and containers here. ladybehindth
14. Sweet & Sparkly Wedding Candy Buffet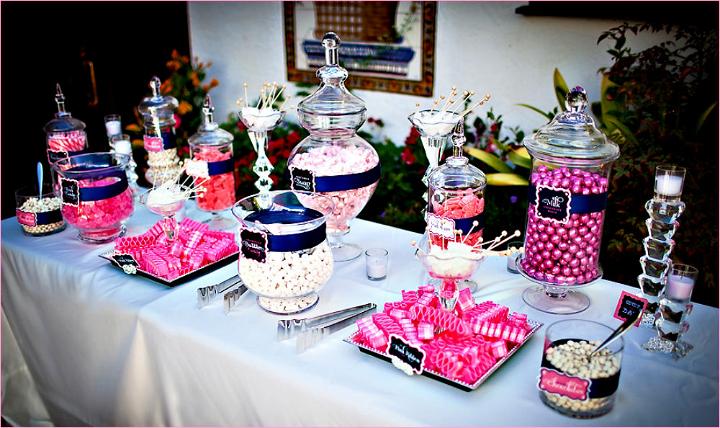 A candy buffet consists of containers filled with sweet and sparkly candies of different flavors and shapes. It will grab the attention of the guests and will look extra delightful next to the wedding cake. Grab supplies such as containers, candies, scoops, tags to make this buffet. hwtm
15. Idea For Candy Bar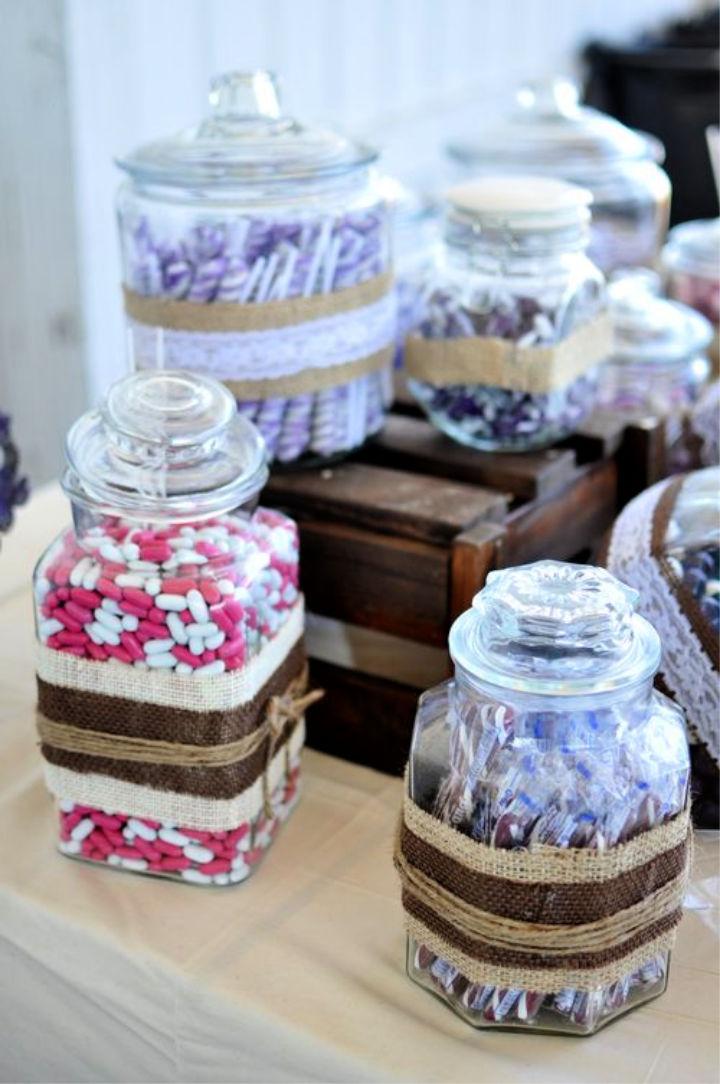 Having a candy bar buffet next to the lunch buffet will serve the guests as a dessert. It will make the wedding spectacular and scrumptious at the same time. The idea of making this buffet is super easy plus, buying the candies in bulk will make the buffet cost-effective. Dive in to find out more. leonalane
16. Create a Dazzling Wedding Candy Bar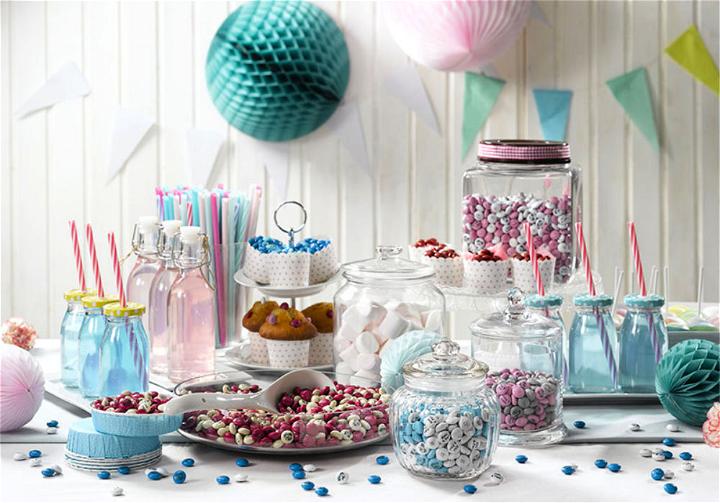 Let the guests on your wedding drool over this dazzling candy bar buffet. Make them enjoy more by adding a fun touch for all ages to your wedding with the colorful candy containers. Follow the tips and tricks to turn your simple wedding into a scrumptious one. mms
17. Wedding Candy Buffet With Candy Warehouse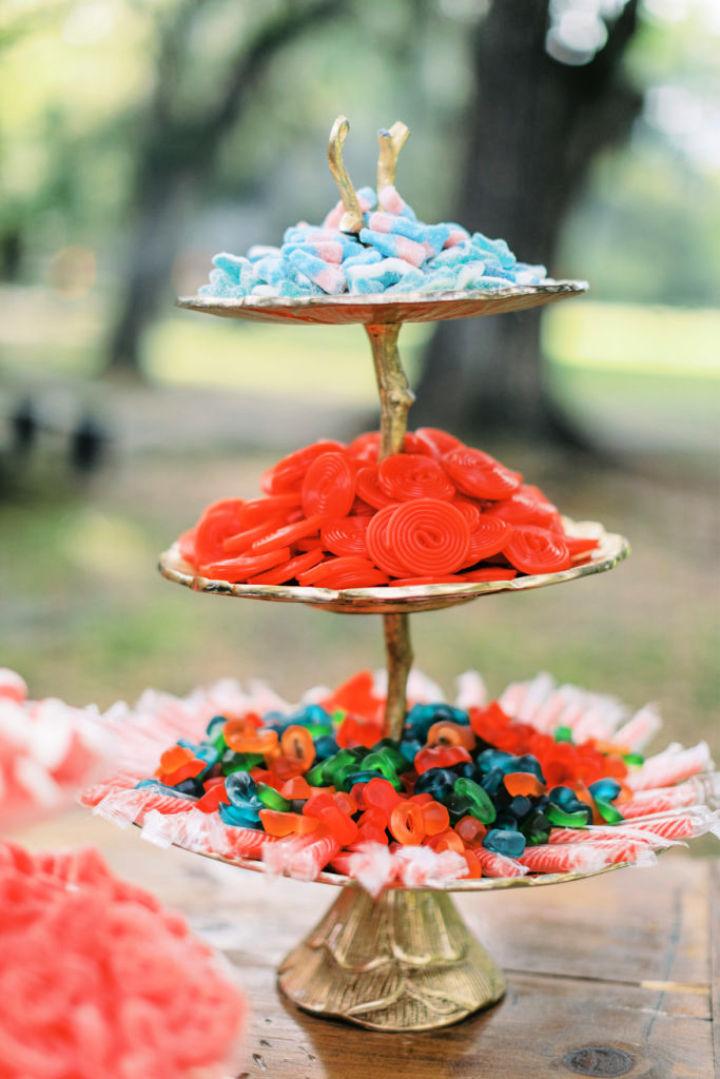 What about creating an eye-catching wedding candy bar that will make the event even sweeter? Here is how you can create a perfect wedding candy buffet with a candy warehouse. Include all types and flavors of candies, jellies, marsh mellows, and much more into it. Check out more here. bellavitastyle
18. Dia De Los Muertos Candy Bar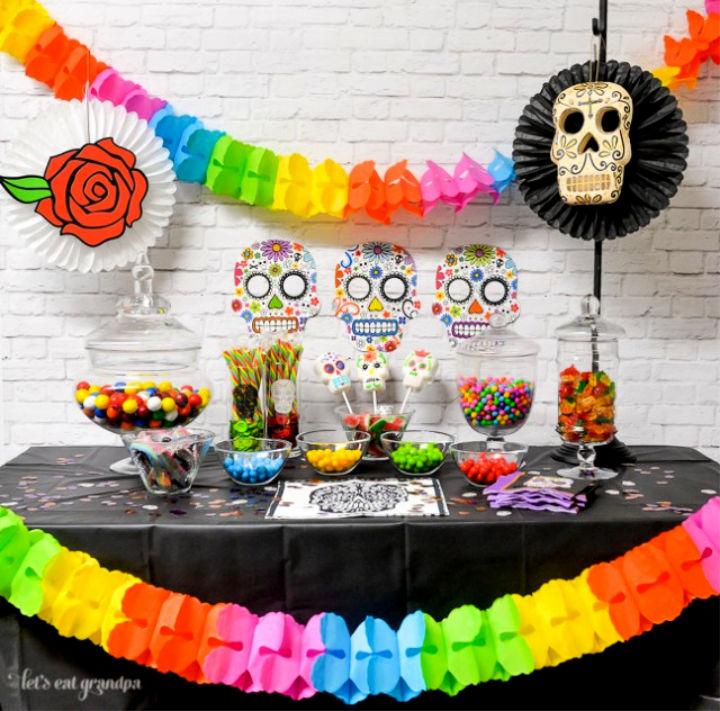 Decorate for your dia de Los Muertos party with this fun candy bar! Take your party to a whole new level this year by serving a candy bar buffet to your friends and family. Let the sugar skulls out and about to look delicious to eat. Click the link to make an utterly horrific candy bar buffet. heyletsmak
19. Candy Bar Decorations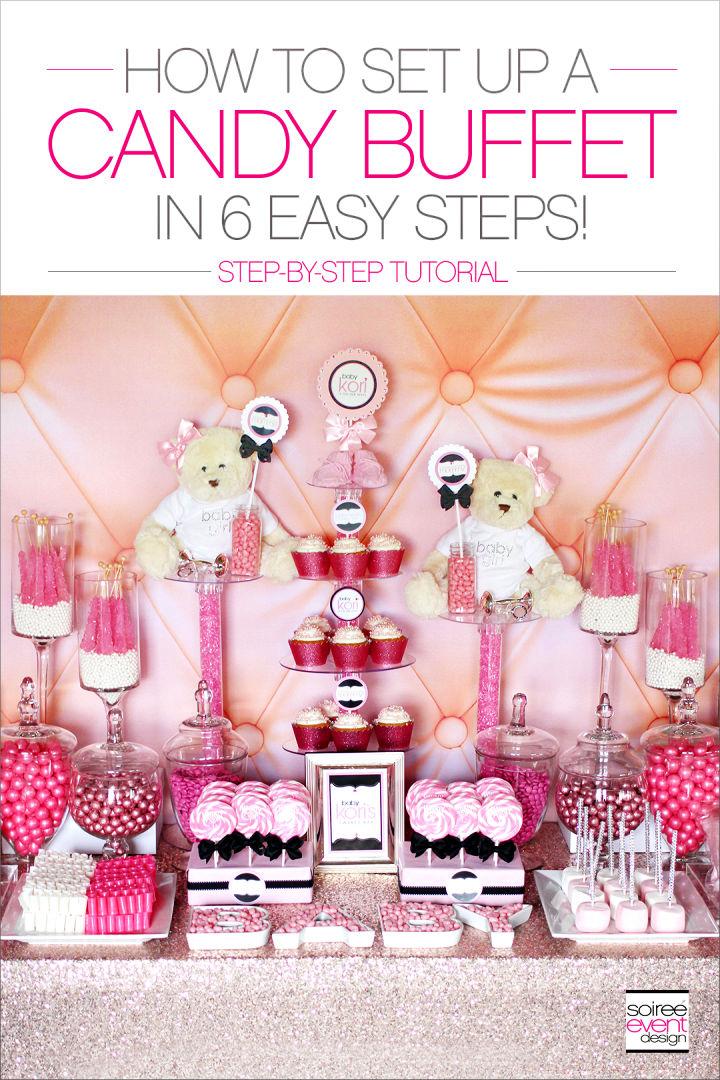 Candy bars buffets, hugely participate in the decoration of any party or celebration. You can easily set this candy bar buffet up by yourself by following the details. Moreover, a candy bar buffet won't cost you much, so you can easily do it on a budget. soiree event
20. Beach Themed Candy Bar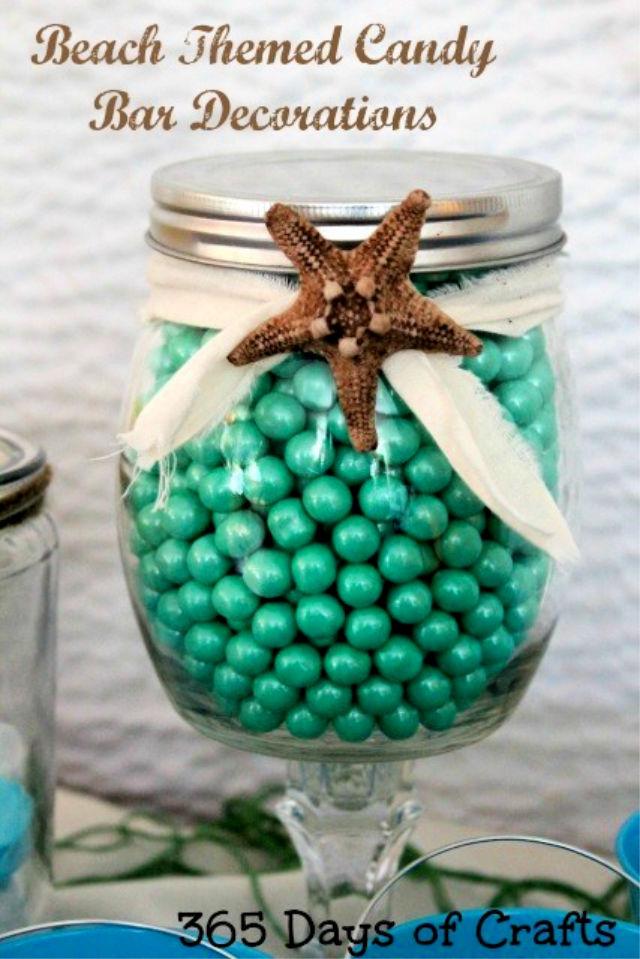 Beech themed candy bar decoration will make the event more fun and sweet. It will keep the party classic and chic. Party hard by making the buffet table a glamorous one. Use supplies like muslin, scissors, jute cording, starfish, and labels to create a buffet up to mark. 365daysofc
21. DIY Candy Buffet for Your Party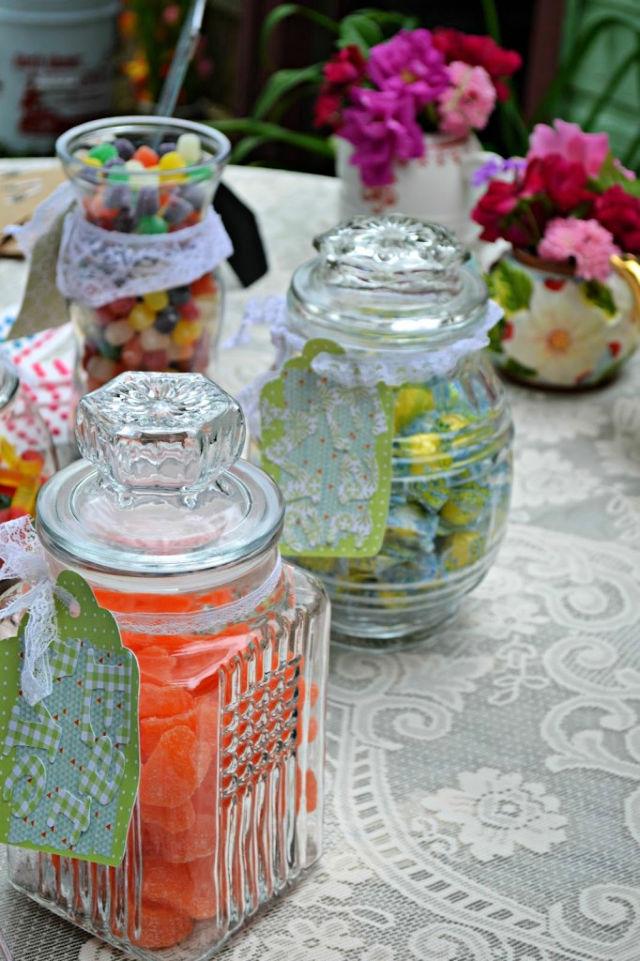 While you may think candy bar ideas look so appealing but pulling out a candy bar buffet is tough, let us tell you otherwise. The Domestic Geek will walk you through all the required details you need to ace at setting up this candy bar like a pro! thedomestic
22. Candy Table For Wedding Reception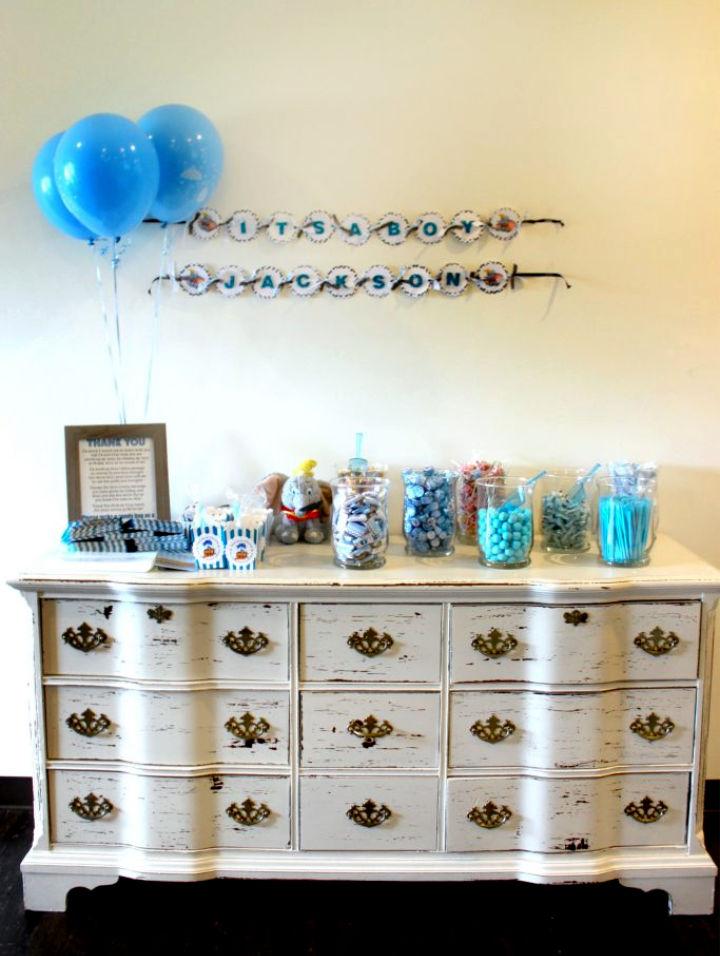 You can set up a candy bar by deciding on a theme first and then moving ahead. Choose the candies like ranchers, mini chocolate bars etc., if your theme is blue, go with the blue candies a dark theme calls for the dark candies. Choose accordingly. bigbearswife
23. Candy Bar Idea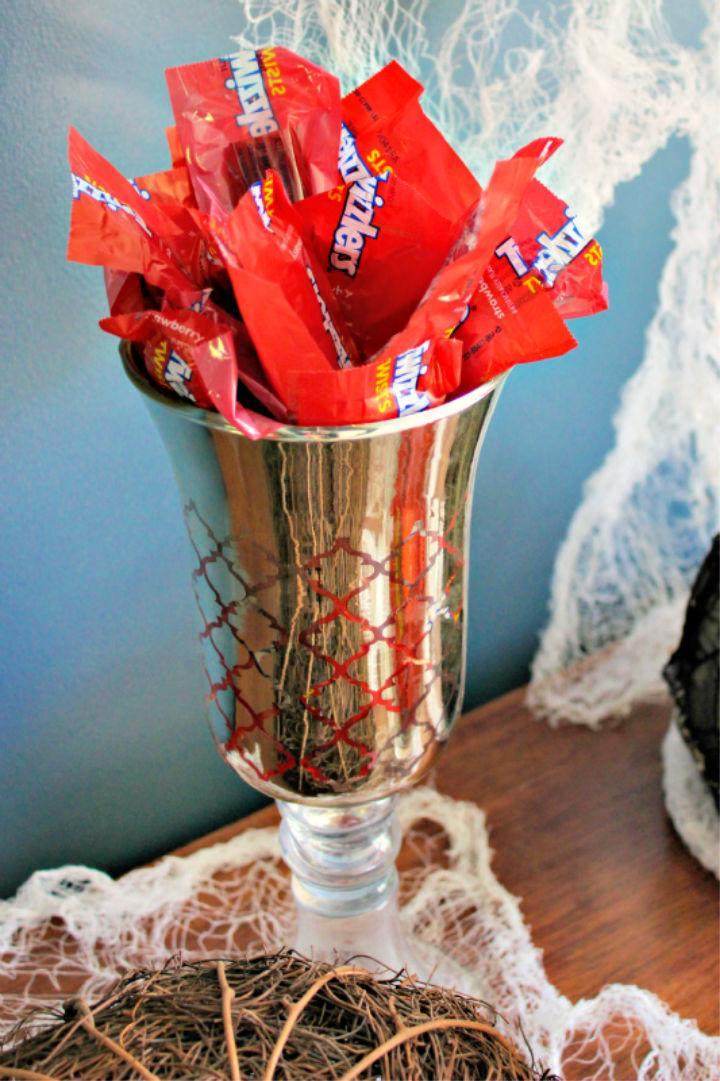 Here is another exciting candy bar idea for you to enjoy and amplify your fun at next Halloween. As Halloween is all about trick or treats, with this treat setup, you can surely win the best part of every crown soon enough. Get all the details below. cmongetcra
24. Candy Bar Wedding Favors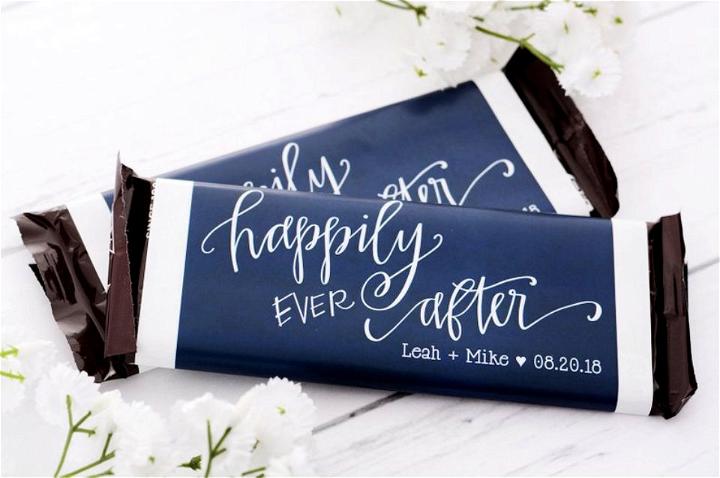 Make your own candy bar spot by following a few ideas. Gather supplies like candies in bulk, candy bar wrappers and any custom party sign if you want. Hit the link and get started. With this guide, you can rock any party. bridalpulse
25. Chocolate Wedding Favor for Summer Weddings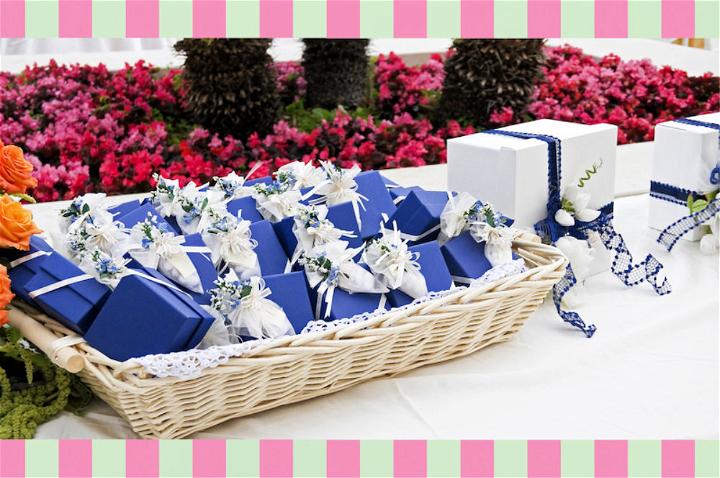 Chocolates are for all seasons! Be it winters or be it summers. Have a summer wedding? This custom wedding favors for guests can certainly make your wedding a memorable event for anyone. Choose a special candy selection and get started. malleys
Conclusion: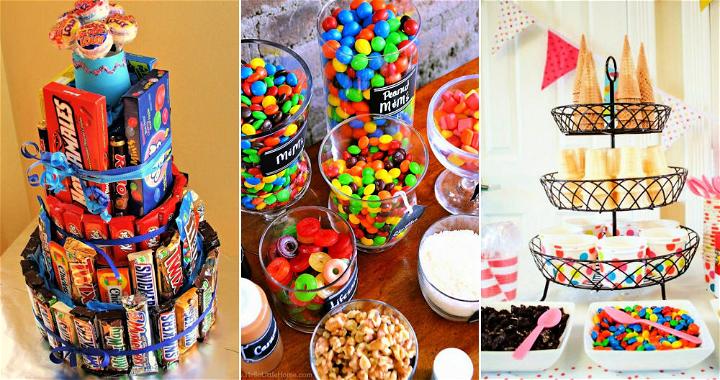 After watching these candy bar ideas, you must be persuaded to adopt one at your wedding or any other party. We assure you, you will never regret following these candy display ideas. Rather a beautiful candy bar party will stay with you your whole life.