Give yourself a big helping hand while raising chicken with these 15 easy DIY chicken feeder ideas that come with easy instructions and guides! Being in poultry is not that easy! You have to manage a lot like daily cleaning of the chicken coop or poultry farms and to feed the chicken nice for quick chicken meat production! To feed and water the chickens regularly can be a pain, and improper feeders can lead to various spills making the living environments of folks look ugly and unhygienic!
So, learn how to make a chicken feeder with these 15 best diy chicken feeder ideas that involve building automatic chicken feeders and waterers that will do their job even in your absence! So, you can simply take a rest without getting worried about the daily feeding of your chickens! These diy chicken feeders will get filled as the chicken will empty them out! You will find the DIY chicken waterers and feeders in this collection that can feed and water the chicken for up to 2 weeks!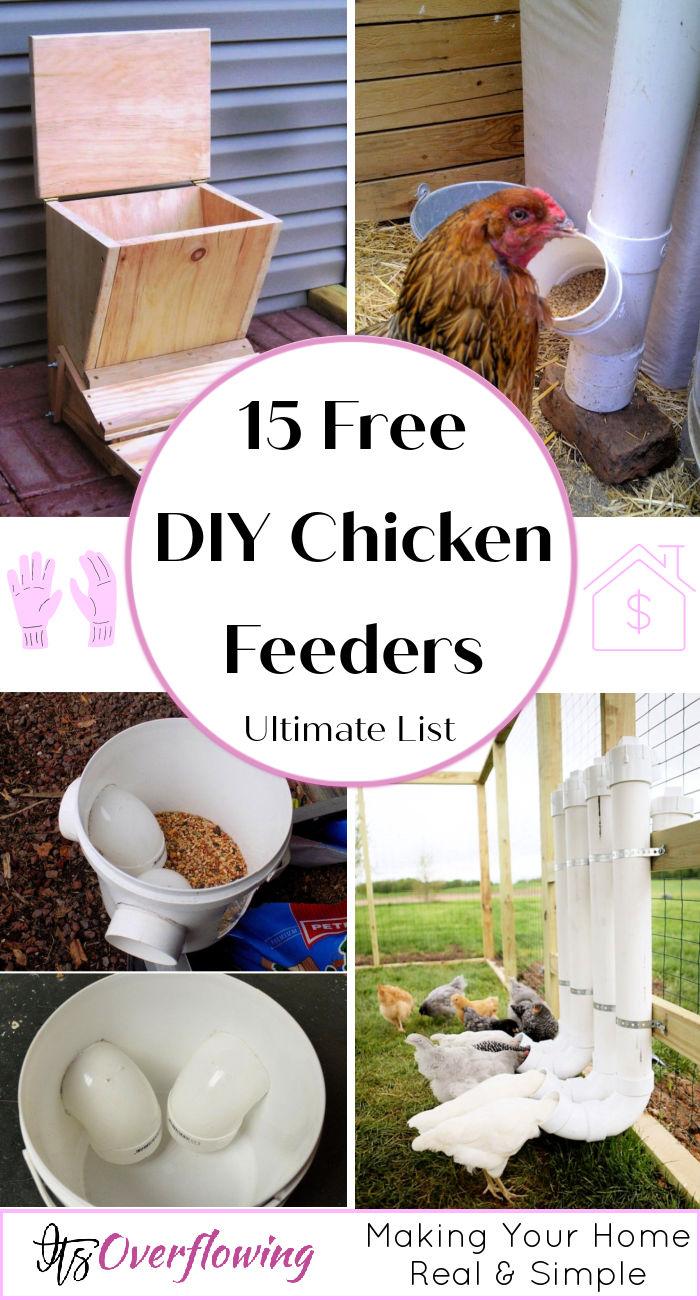 From using a PVC chicken feeder to 5-gallon plastic buckets to plastic bottles, these DIY chicken feeder ideas will use various recycled materials to build the automatic chicken feeding systems! If you love to get crafty with the wood in your workshop, then get free plans here to build the custom wooden chicken feeders at home!
The most popular diy chicken feeder is the gravity chicken feeder box that can feed the chicken from days to months without any delay! Put together the PVC pipes with custom fittings and use the 45 degrees "Y" joints to make instant automatic feeders! Use the Breaktime serving cups and PVC pipes with custom fittings to build lasting longer chicken waterers like a pro! Explore the entire collection of these DIY diy chicken feeder ideas to see lots of interesting designs to choose from!
1. DIY Chicken Feeders from PVC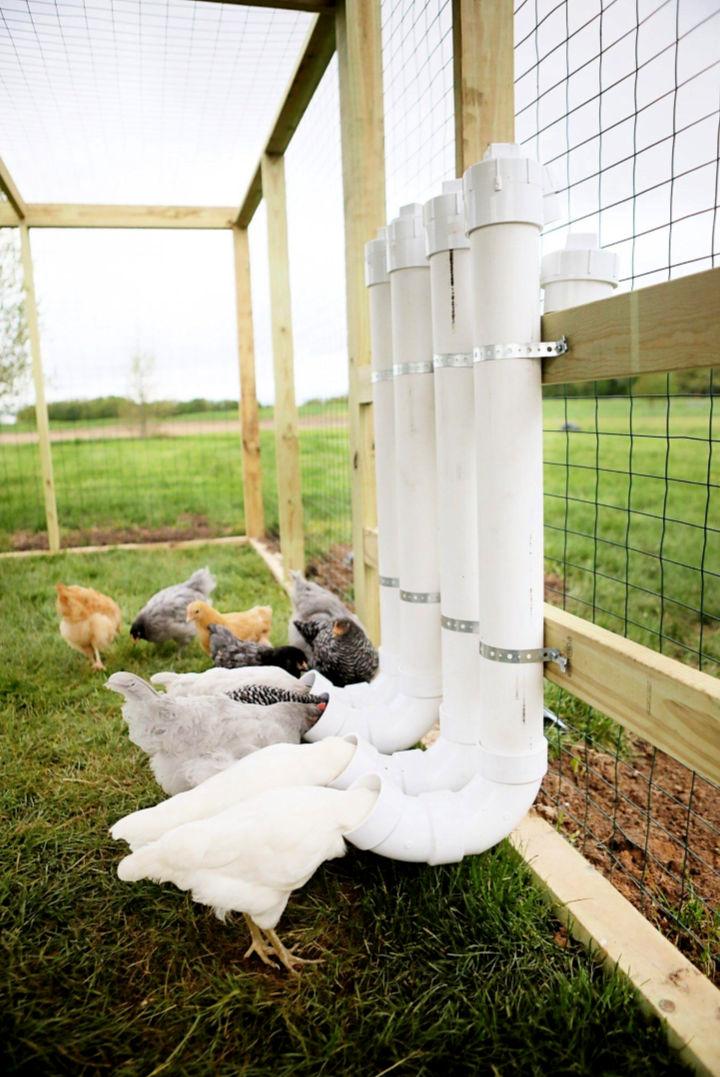 Feeding the chickens can be painful when having the danger of predators and also of food wasting. So, raise your poultry to the next level by adding these PVC pipe chicken feeders, which will work on an automatic system, and will nicely feed your chickens and hens. Build it using a 10ft piece of 3" PVC drainpipe, elbows, caps, adapters, pipe strap, PVC pipe glue, and 4-3 inches pipe caps. This DIY Chicken Feeder can feed 4 hens at the same time and will be super quick to assemble. Details here sugarmaplefarm
2. PVC Chicken Feeder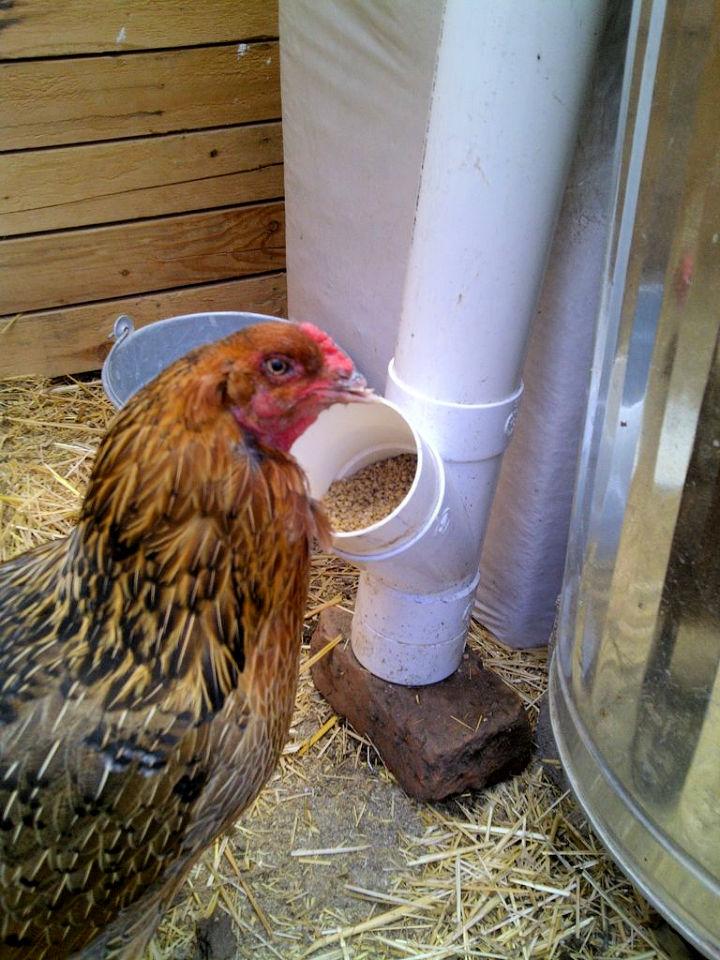 This DIY PVC chicken feeder is highly popular among the folks who are in the poultry profession. It is to build with the PVC pipe and will nicely feed your chickens. You need a 3" diameter pipe of 20", 6" and 3" length and a 45 degree Y connector to build this chicken feeder that can simply be installed to a hen house. Finish this chicken feeder off 2 PVC caps having 3" diameter. Use the hacksaw and PVC cement to complete this chicken feeder project that impresses you. Details here instructables
3. DIY No Spill Chicken Feeder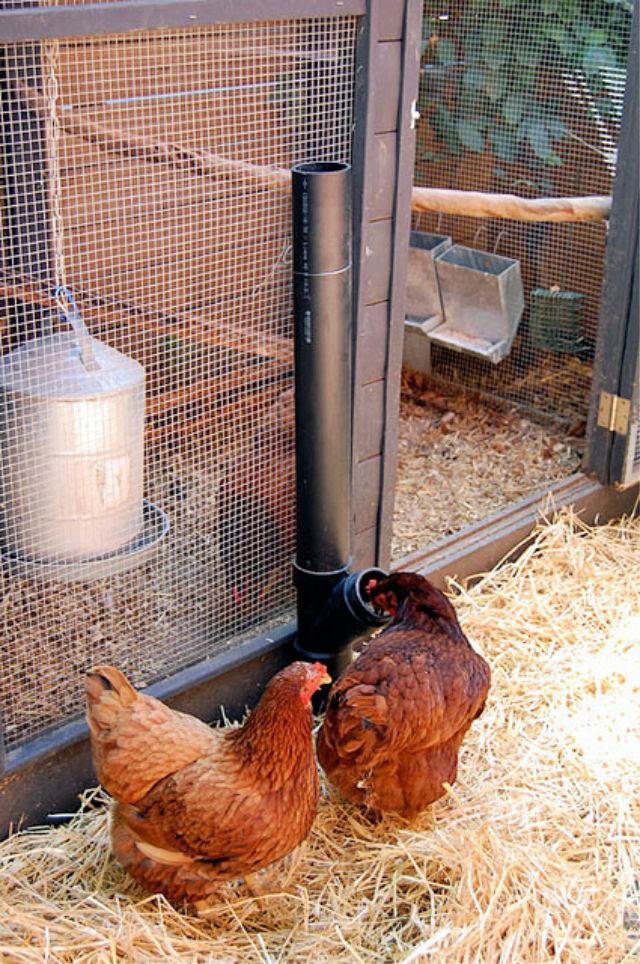 Most of the chicken feeders cause great food spills on the floor that are always painted to clean. So, opt for this no-spill chicken feeder that will be a mind-blowing addition to a hen house. It is made of black PVC pipes and will feed the chicken in a nice and clean way. Again build this chicken feeder using 26" long length of 3" PVC pipe. Further, you need the 45 degrees "Y" connector, 3" caps, and further a 6" length of 3" PVC pipe to build this no-spill chicken feeder. Give it as a sweet gift to a poultry lover friend too. Details here theartofdoing
Find more DIY Projects for Chickens:
Do you need a portable chicken coop? Follow these free DIY portable chicken coop plans that include full instructions to craft a movable chicken coop.
DIY chicken tractor: You can build your own cheap chicken tractor using PVC Pipe and other recycled materials. See these free DIY chicken tractor plans to make a portable chicken tractor!
Chicken nesting boxes: How to build easy and budget-friendly chicken nesting boxes? Check out these diy chicken nesting boxes for making your own best chicken nesting box!
DIY chicken brooder: Brooding chicks doesn't have to break the bank, in fact, there are plenty of ways you can make one yourself! But what is a chicken brooder? What dimensions should it be, and what must it have to keep chicks safe, warm and healthy? How to make a brooder box for chicks? See these diy chicken brooder plans to build one yourself.
4. Building a Gravity Chicken Feeder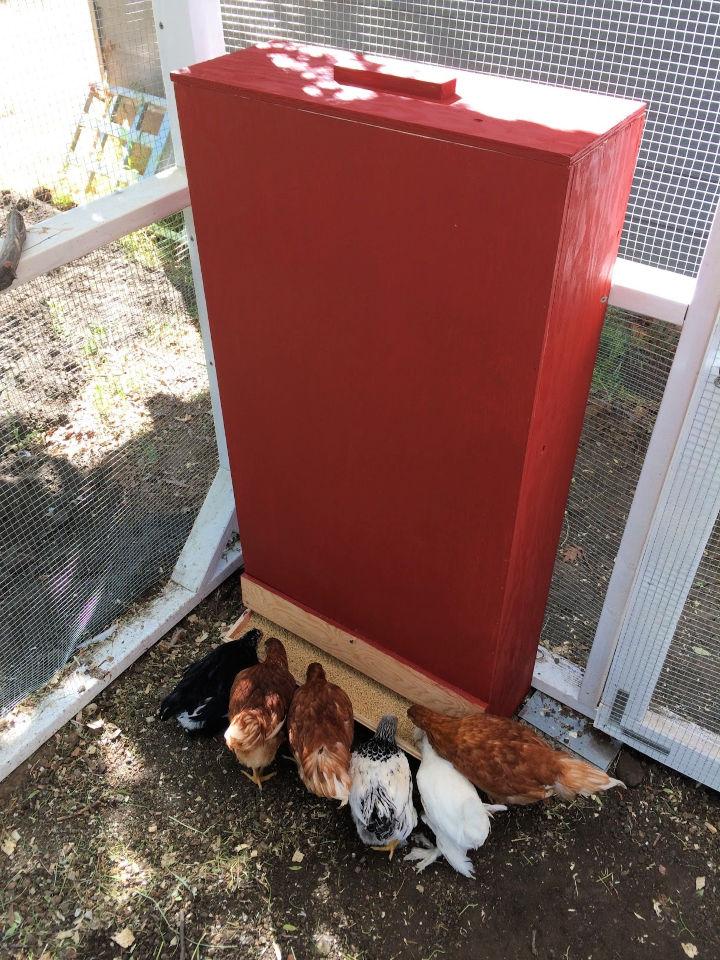 Don't leave your chickens without food for a long time; otherwise, they will peck at your toes when you enter the hen house with a food tray. So, let your chicken flourish nicely with this DIY gravity chicken feeder that will help make it easy to feed the chicken well for a week or two. Reuse the leftover plywood to build this gravity chicken coop that is just like a big rectangular box having a slit cut in the bottom side for food leakage. The big vertical plywood box should end up with an angled box that should come with a hinged lid, too, as you can see. Details here chrisfinke
5. DIY Chicken Waterer and Feeder from 5-gallon Buckets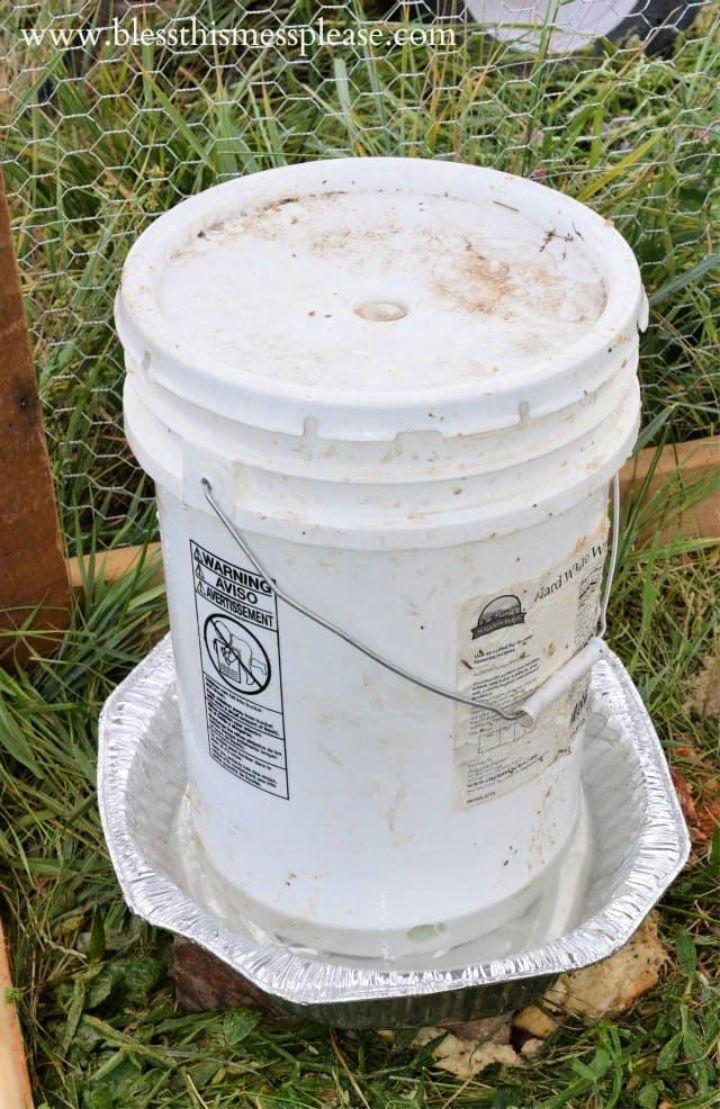 Don't throw those empty 5-gallon buckets as they can lend you a big helping hand in the poultry management. Yes, reuse them to build the lasting longer chicken waterers and feeders. Just grab the two 5 gallon buckets and make holes in their bottom side. Next, place them in the two large foil roasting pans. Fill one bucket with water and other with chicken food to get both chicken waterer and feeder at a cost next to nothing. A great idea to nicely feeder your chicken in the hen house. Details here blessthismess
6. DIY Treadle Chicken Feeder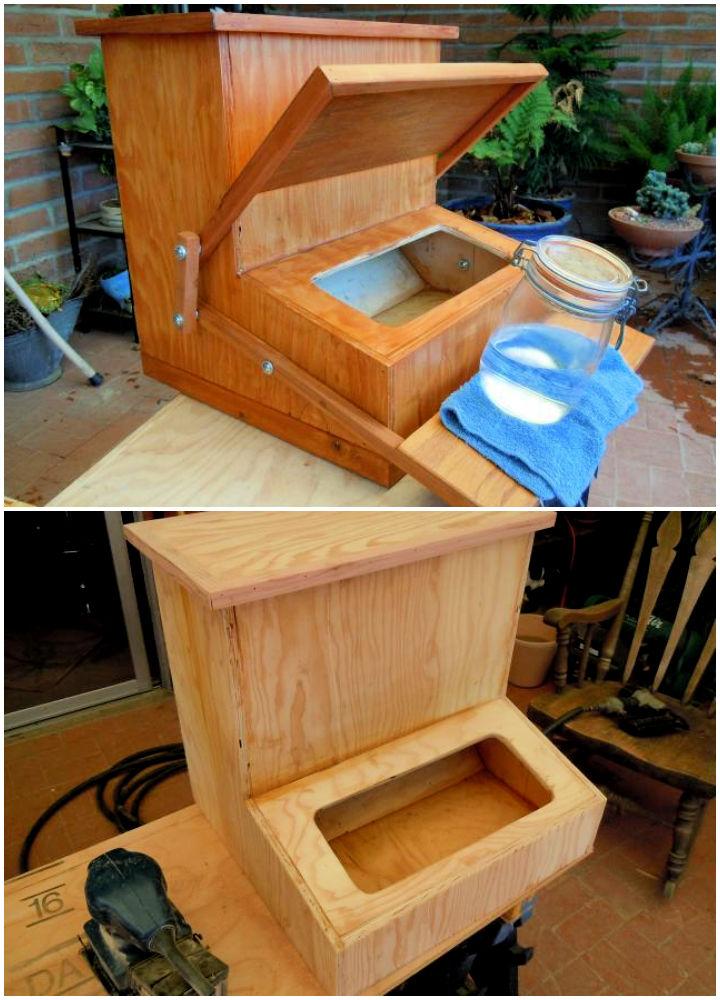 Are you a big fan of neatness and strive for style in everything? Then do build this treadle chicken feeder that gains attention from its exceptionally beautiful and functional design. Get here the free plans about how to build it like a pro using mainly the plywood. Repurpose the leftover plywood too. Build a giant vertical box and next install a smaller one to its bottom side to catch the food that will be just in front of the chickens. The bottom box comes on an angle. A one of the best DIY Gravity Chicken Feeder ever made. Details here backyardchic
7. How to Make a Treadle Chicken Feeder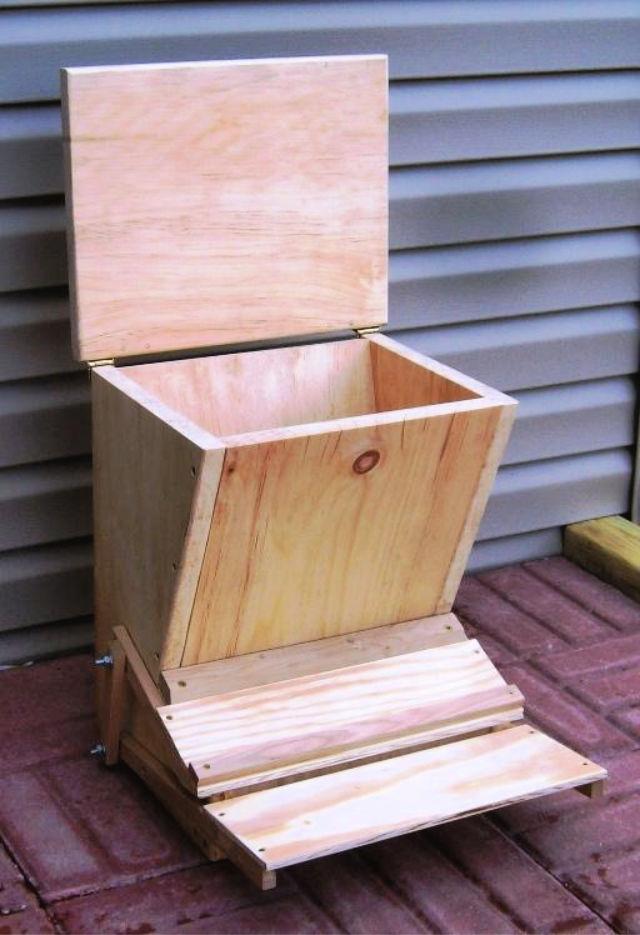 Learn here how to build a treadle chicken feeder step-by-step. Get the detailed diagrams, cut lists, materials lists here to build a chicken feeder like a pro. Grab the 1×12, 5/16" plywood, wood screws, Kreg screws, hex bolts, 90-degree hinges, and sandpaper to build this fantastic treadle thicken feeder. One of the best DIY chicken feeders every built at home without getting expensive. Details here woodworkingcor
8. DIY No-waste Feeder

It is not as difficult as you may thin to feed the chickens in the poultry! Build custom feeders and waterers that will feed the chicken with no-spill! Same will do this glass chicken and poultry waterer, built to inspire! Here you need a canning jar and a glass bowl to whip up this glass chicken and poultry! Make the tiny holes in the glass jar and fill it up with water! Place it in the glass bowl and let the water leak to serve to a hen! Details here mypetchicken
9. PVC Chicken Feeder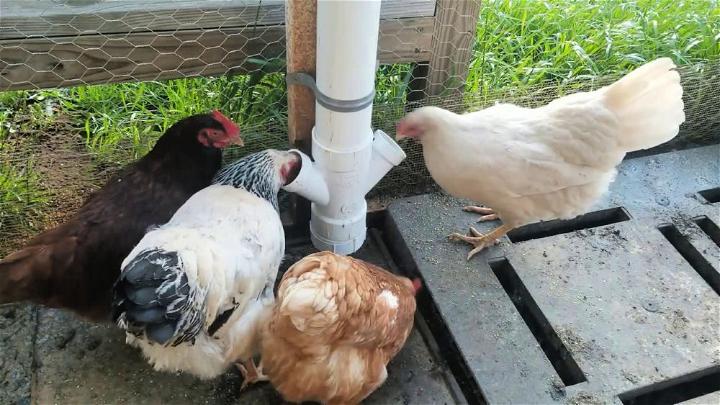 Look at this another adorable and fantastic looking chicken waterer, quite something quick and simple to whip up! Just install the wooden supports on the poultry or hen house walls to hold this PVC chicken waterer system! This system will water your chicken for weeks and hence will save lots of your struggle and efforts! Here you need the 4 breakTime watering cups, 1/2" PVC pipes, 3" PVC pipe, PVC coupling, adapters, threaded caps, fittings, cross tee, bushing, joint compound, and PVC cement to build this chicken waterer! Use the lumber and 5-gallon water jug to build this chicken waterer, will cost you less than $55! Details here youtube
10. Build Your Own 2-Week DIY Chicken Feeder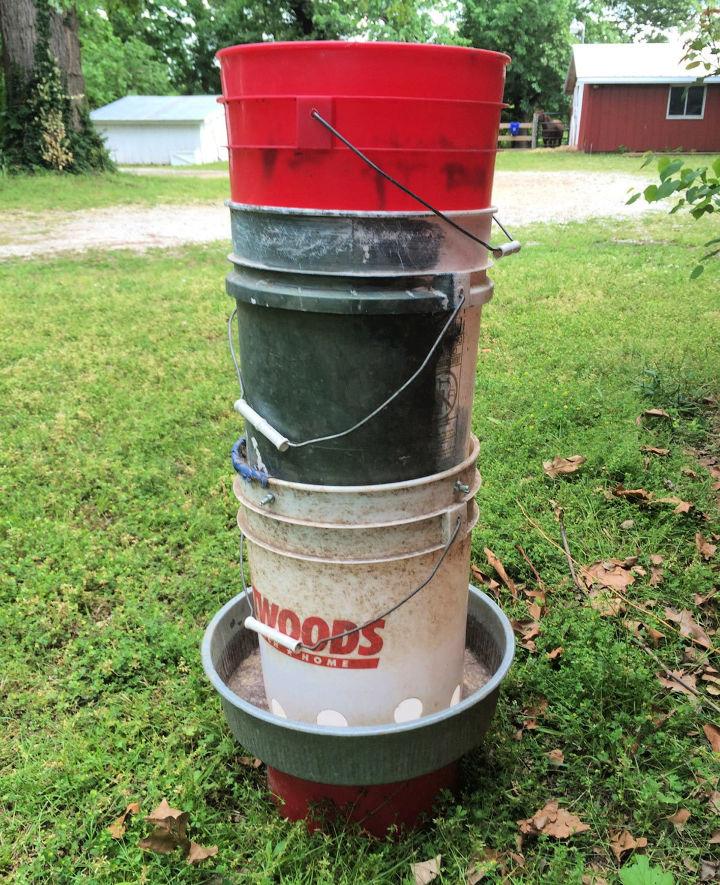 Get rid of the discomfort to water your folds for 2 weeks by building this 2-week chicken feeder, will work up super quickly, and is a breeze to whip up! Grab 3 plastic buckets of 5-gallon storing capacity, a gamma seal lid, 1 metal feed pan, 1/5" bolts with nut, and some handy woodworking tools to make this chicken feeder! Cut apart the bottom of 2 plastic buckets and make holes in the bottom of 3rd one! Fit them all together with bucket holes in the bottom, at a very lower side! Place it in the pan fill with water! Details here hawk hill
11. Mess-free Chicken Feeder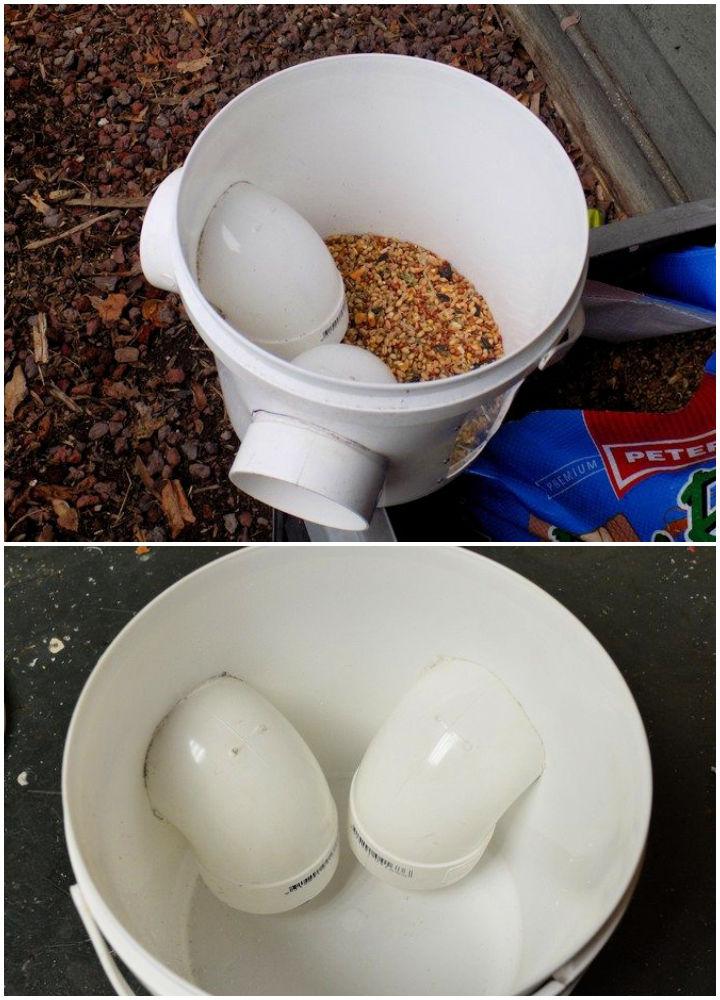 Willing to feed your chicken without making a big mess? Then opt for this mess-free chicken feeder that will allow the chicken to enter their beak and head inside to eat the food! So, there will be no drop of grains on the floor, and everything will remain inside! The chicken can take out their head when having belly filled to leave the space for the next chicken! Grab the medium-size bucket, 70mm PVC elbows, hot glue, clear plastic sheet, rivets, and some creativity to build it! Use marker, knife, hole saw, drill, rivet gun, and glue gun as major tools for this construction! Details here ideas2live4
12. Chicken Feeders

Lend yourself a big helping hand in the poultry routines by building this chicken feeder! It will bring tons of functional behavior in your hen house! Build this fantastic chicken waterer using two buckets with lids! Further, you need 3-4" tall pans, and the hog feed pans will really rock! Building any of these feeders will cost you $10, and you will love having this chicken feeder in the chicken coop! Again make a hole in the bottom side of the bucket and let the water leak in the pan to feed to chickens! Details here barefootones
13. Make Your Own PVC Chicken Feeder

Help yourself in easy poultry management by building this handsome PVC chicken feeder! This no-spill feeder can feed the chicken for a long time! It will even take good care of your thicken when going outside for some holidays! Build this handsome chicken feeder out of 3"x10′ length of PVC pipe! Further, you need the 3" cap, 3" PVC wye, 3" PVC cap, hanger strapping, and 4 screws for attaching to the coop to build this PVC chicken feeder! Fill this feeder with chicken food before you add the top cap! Details here theprojectlady
14. Automatic Chicken Feeder at Home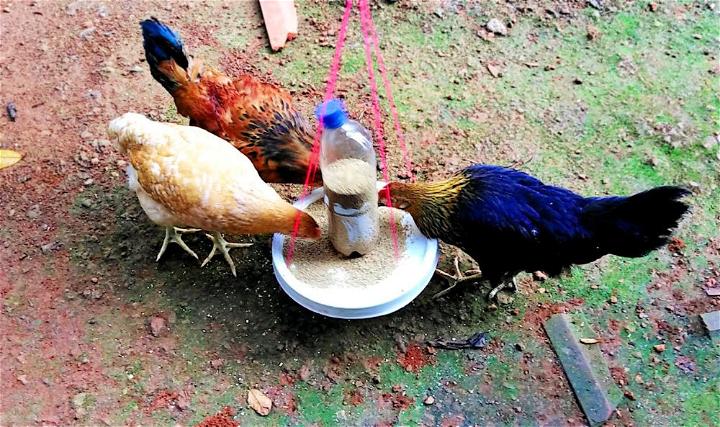 Willing to feed your chickens in a no-spill way? Then you must go with this handing chicken feeder, quite something easy to build at home! Use only the recycled items to complete this project! Grab the old plastic bucket lid to serve as the base and repurpose an old plastic bottle to whip up this chicken feeder! Make holes in the bottom of the bottle and also in the center of the lid to hold the bottle in place using zip ties! Next, just hang the entire feeder up in the air using pieces of twine and string! One of the best DIY chicken feeders ever made at home!
15. Chicken Feeder Using Plastic Bottle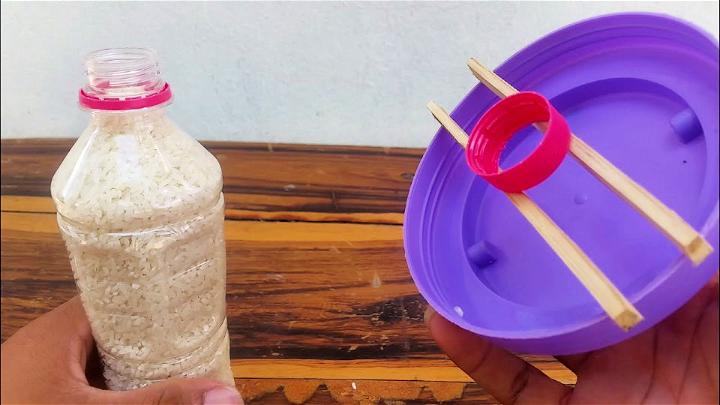 Get here free plans and tutorials about how to build a no-cost chicken feeder out of recycled plastic bottles! This is here an automatic feeder that will work up super quickly! Here you need a plastic lid, 2 scrap wood lengths, an empty plastic bottle, and the chicken food to whip up this fantastic chicken feeder at home! Once filled, this feeder can feed the chicken for up to several days! It will simply cost you nothing and is a smart recycled of empty glass bottles!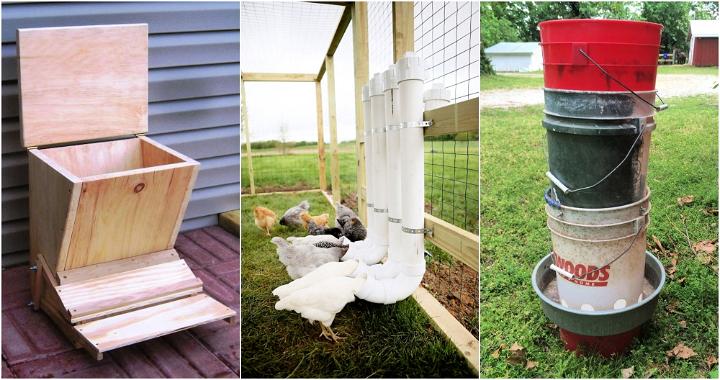 Conclusion:
Raising chicken demands a better protected and functional hen house that is mostly to provide a great chicken coop! So, after the protected residence, installing the best chicken waterers and feeders can be your next step! So, go with these DIY chicken feeder ideas that will help you feed and water the chicken with no spills and will be a pleasure to make using PVC pipes, plastic bottles, wood, and 5-gallon buckets! You will get the step-by-step instructions, free plans, and tutorials for building each of the listed chicken feeders like a pro! If you strive for durability, then PVC pipe and wooden chicken feeders will really rock!