Create an amazing stockpile of your non-perishables with an enchanting display, using these 20 best DIY pantry ideas to build a well-organized kitchen pantry. These kitchen pantry ideas will be the smartest projects ever to do for an amazing pantry organization. A smartly organized pantry will rock for kitchen renovation and revamping, and they will be your first choice also to organize crockery, utensils, and beverages too along with jar food storage. From freestanding pantry cabinets to customizable pantry shelves to built-in pantry shelves, you will get free plans, step-by-step instructions, diagrams, and visual tutorials for all.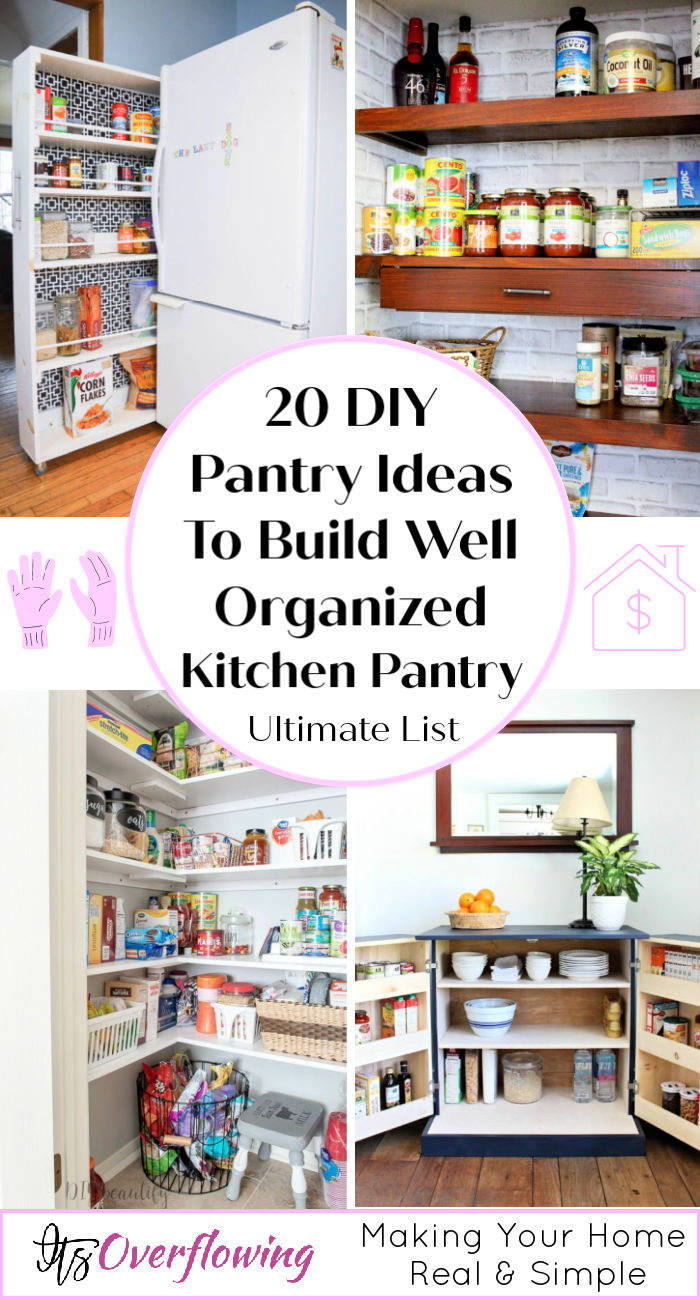 For amazing design inspirations, check out these 20 most helpful DIY Pantry ideas that are sure to be the smartest projects ever to get organized in your home or kitchen. Build also the pull-out pantry cabinets or shelves on wheels that you can even fit narrower spaces to manage a good stock of your food.
These DIY kitchen pantry ideas provide so many amazing choices to organize your kitchen pantry, to style up a pantry, or to build a new pantry in a very low budget. Build also the smartest pantry cabinets that will double up as giant pantry shelves and also build amazing pantry shelves all-around your refrigerator to get organized storage of your non-perishables.
Moreover, these easy to build pantry ideas involve hacks to build old furniture into amazing pantry cabinets. Add up an old entertainment center with more shelves to serve as a pantry. Add or remove shelves in an old closet also to get a lovely pantry. Explore a given list of pantry shelving ideas to design your own today at a low cost.
1. Functional and Organized DIY Pantry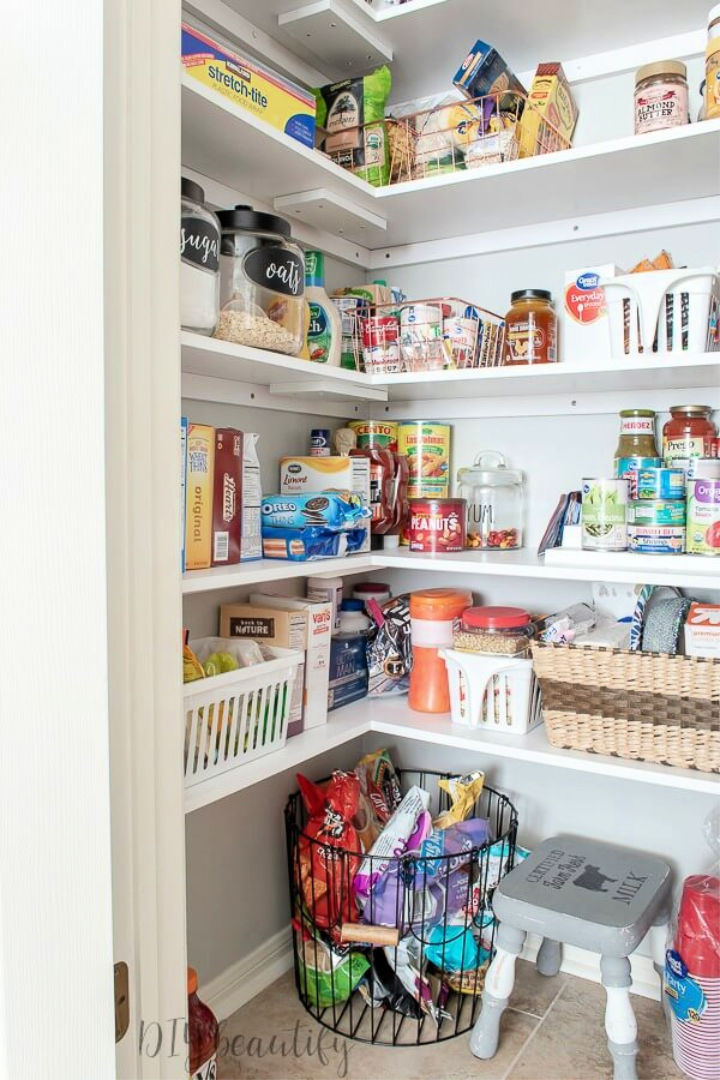 Organize your pantry by building custom DIY pantry for kitchen, use the 1/2" thick laminated wood boards, and primed 1x2s trim boards to build these functional and organized pantry shelves. Build the shelf supports using 1x2s and then add them up with the laminated wooden board shelves. diybeautify
2. DIY Pantry Shelves
Follow our free list of pantry shelving ideas and Build these DIY pantry shelves using 2x4x8′ boards. These shelves are self-standing and provide 4 levels of shelves. The loop style vertical shelving frame brings tons of visual appeal. Prime, paint, and stain your shelves for a gorgeous chic appeal. Add up these shelves with baskets, glass containers, and other items of this kind for an organized pantry. handmade haven
3. How to Build a Pantry
Learn how to build a pantry on a cheap budget. If your pantry is like a big mess and you just want to reconfigure it for a new organized look, then you have got the hack here. Get here free instructions about how to build a pantry using 1x16x8′, 2x2x8′, and 1x2x8′. Use the smaller boards to build the shelf supports and use 1×16 to install pantry shelves. aturtleslifefor
4. Homemade Rolling Pantry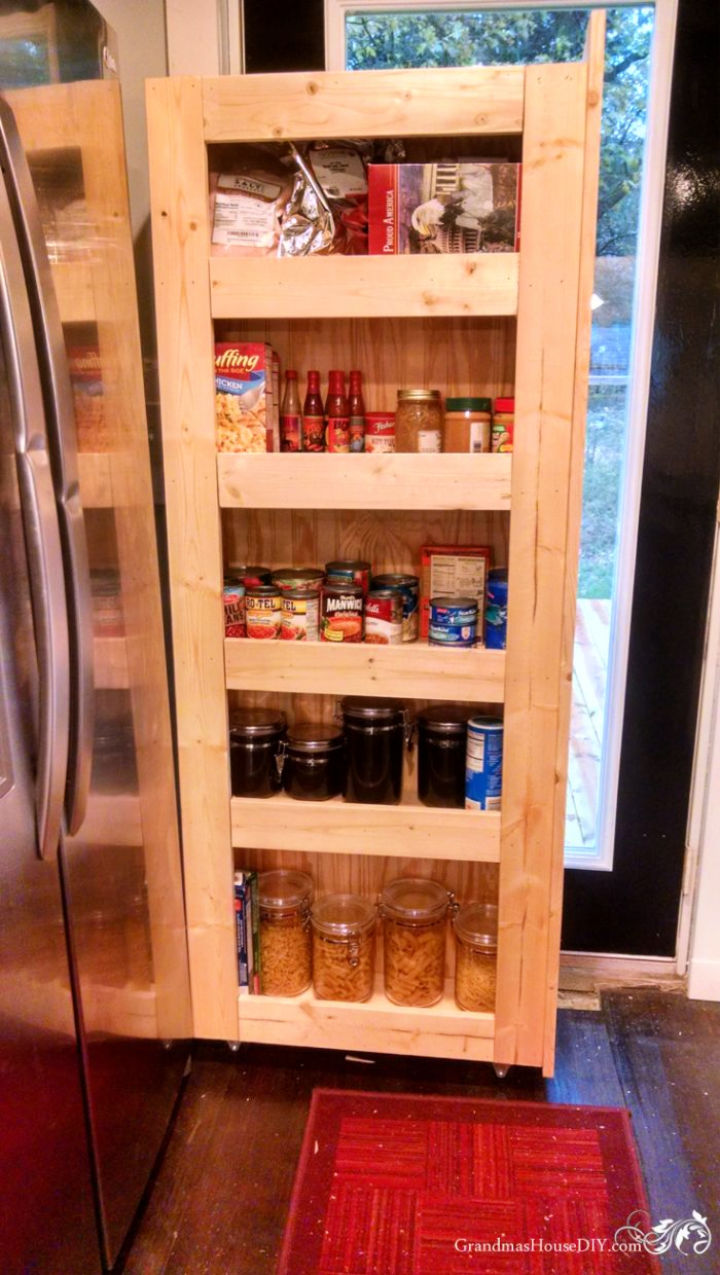 Make the best use of the gap between the refrigerator and the wall by building a best-fitting pantry there. Get inspired by our given list easy pantry ideas and build this homemade rolling pantry that is made of 2x4s, 1x4s, and plywood and comes on wheels for easy dragging and pushing. It can easily be pushed behind the fridge to hide all. grandmashouse
5. DIY Built in Pantry
A big thanks to particle board for this amazing built-in DIY pantry, the best to get to organize your pantry room like a pro. Just cut the particle board to custom shelf sizes and then install the 4" wide and 15" deep shelves, 12" deep will also rock for this built in pantry organization project. Details here centsational
6. DIY Pantry Cabinet On Budget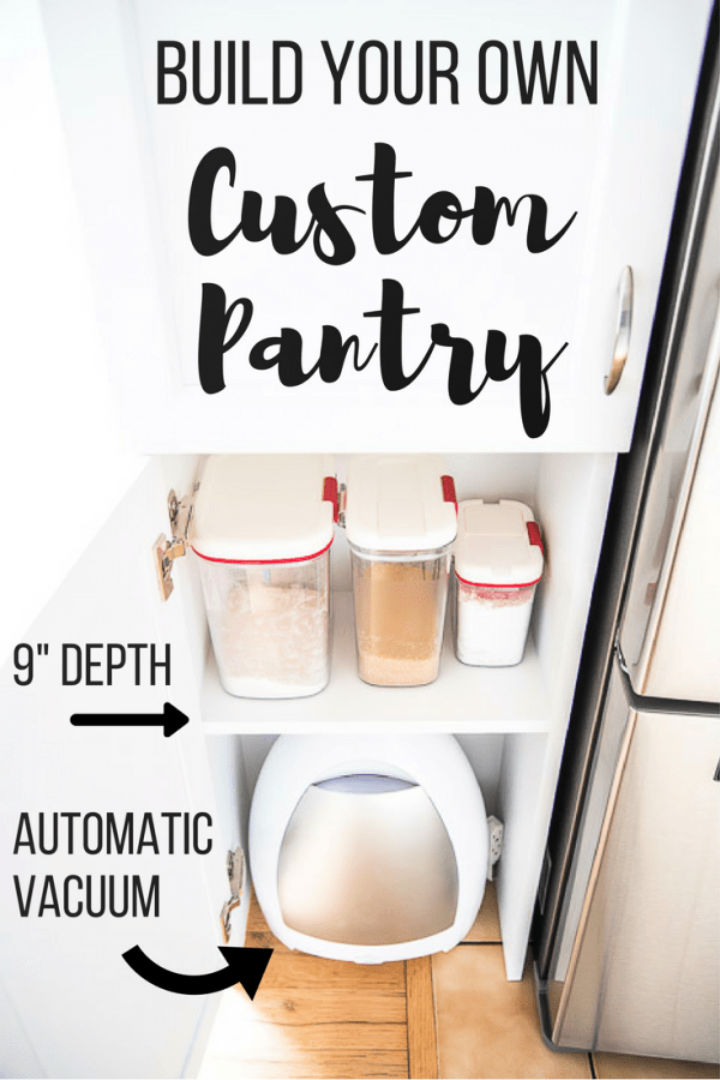 Building a pantry in the pantry room should not cost you big. Get free instructions here on building a pantry cabinet on a budget, will help save tons of your costs. Grab the 3/4" cabinet grade plywood, pocket hole jig, edge banding, edge banding trimming, cabinet doors, concealed hinges, and shims, etc to do this project. thehandymans
7. Sturdy Pantry Shelving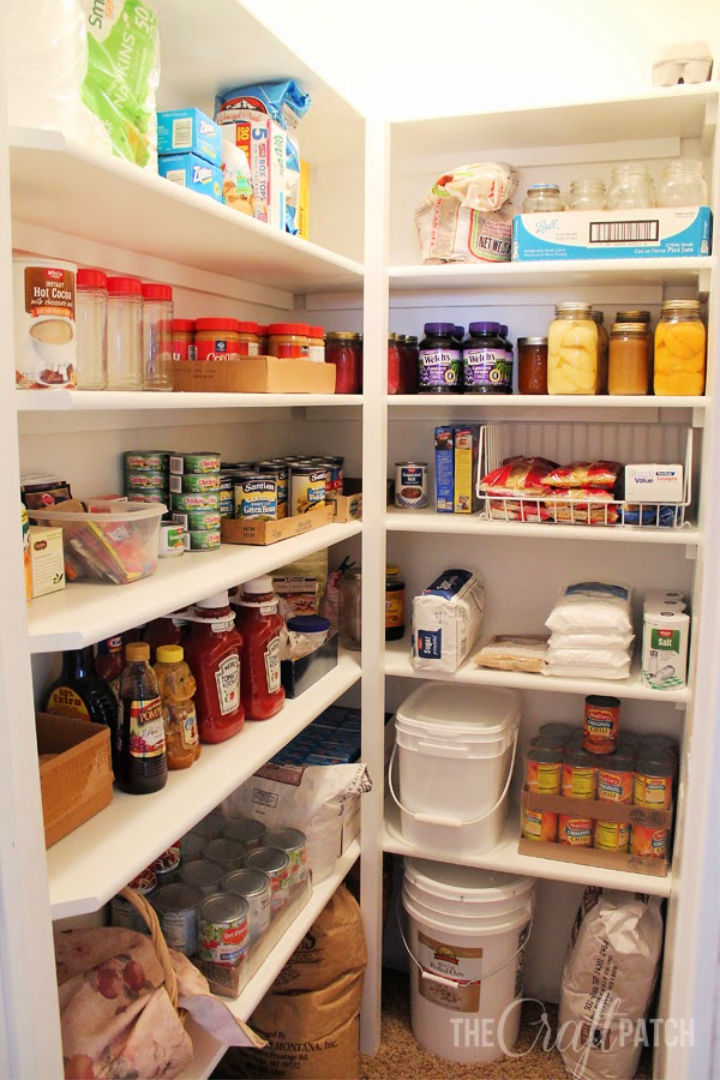 Follow our list of free pantry ideas to build the corner pantry shelves that will be sturdy and lasting longer. Use the 1×2 boards to install the shelf supports on the traced out shelf lines. Next, put the MDF shelving boards on them and use the 2x2s wood pieces for the corners where two shelves meet. Use L-brackets for extra support. thecraftpatch
8. Built-in Pantry Shelves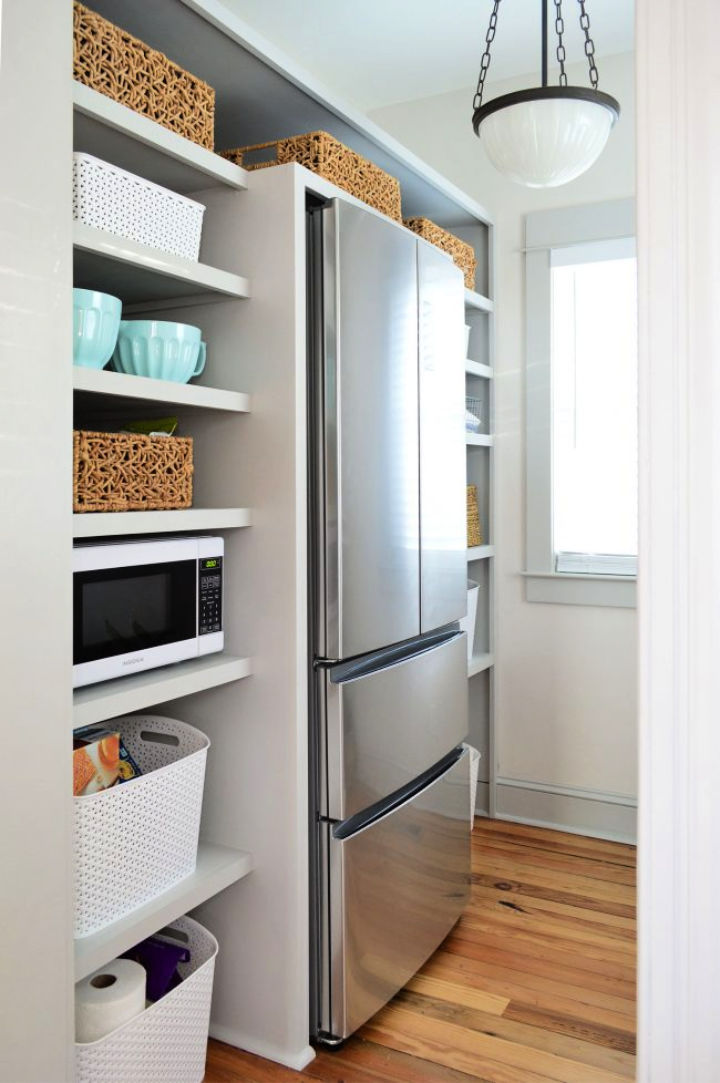 Grab the 3/4" MDF sheets and cut them into 20" wide pieces to get your pantry shelves for this project. Use the 1×2 wooden boards to install the shelf supports on the wall, draw tape lines first before you add the wooden supports. Next, paint or stain your pantry shelves. Here these shelves on the wall space around the refrigerator. younghouse
9. Space-saving Rolling Pantry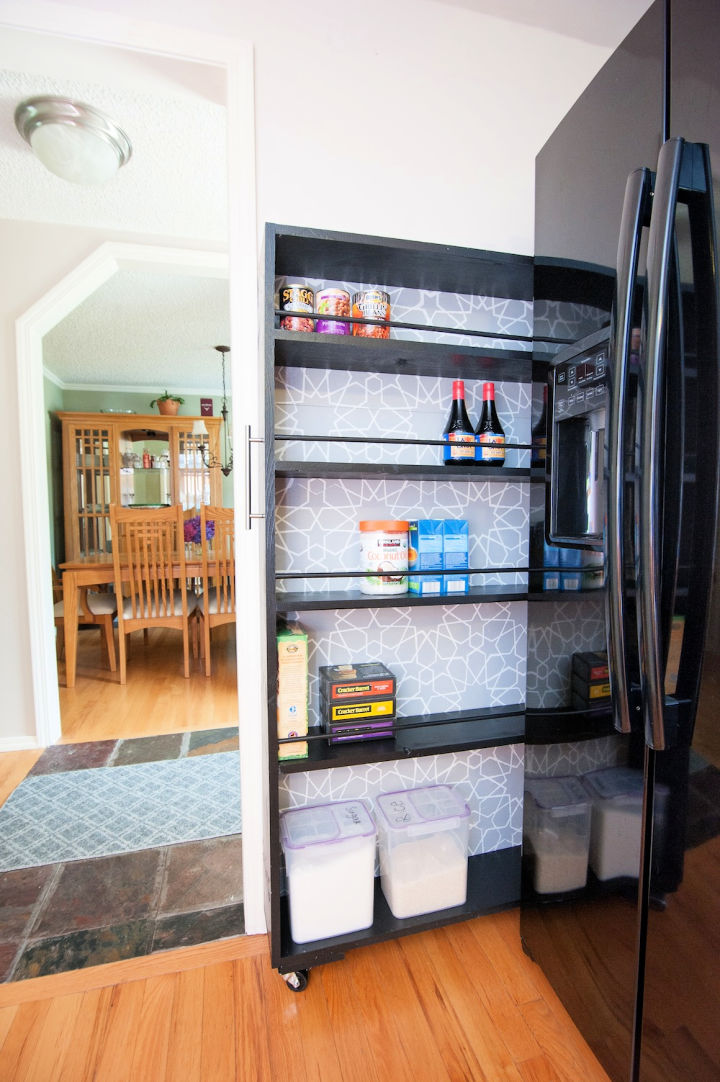 Are you living in a short space interior and think twice before using every further inch of floor space? Then just go with this space-saving rolling pantry that will fit a narrower space between the wall and refrigerator. Use the two 5′ long x 8" wide and 1" thick boards, 6 shorter 2.5′ long x 8" wide and 1′ thick lengths and finally 0.5" diameter dowels to build this rolling pantry. Finish with paint and then with caster wheels. zillow
10. DIY Pull Out Pantry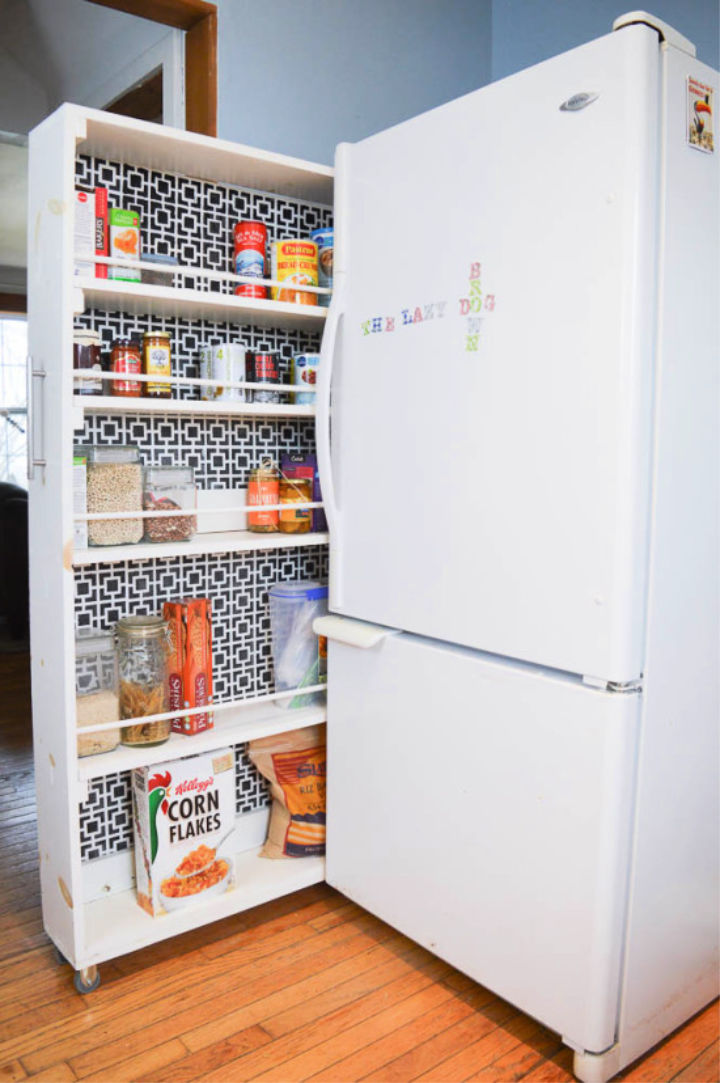 If you are planning to revamp your kitchen, then here is a great pull out pantry hack. Here you will get instructions about how to build a rolling cupboard that will fit best to space between the wall and fridge. You need 6′ x 8" pine boards, a sheet of masonite, 4 non-swivel casters, and 5 lengths of 3/4" diameter dowels. diypassion
11. Pantry Out of a Closet
Make the best use of the vertical wall space and build a lovely pantry that will help organize all your crockery, utensils, jar food, and other items of this kind. Get the free guides here about how to build a pantry out of a closet. You need 12" laminated wood shelves, brackets, screws, and a level to do this project. theturquoise
12. Built-in Pantry Shelves with Drawers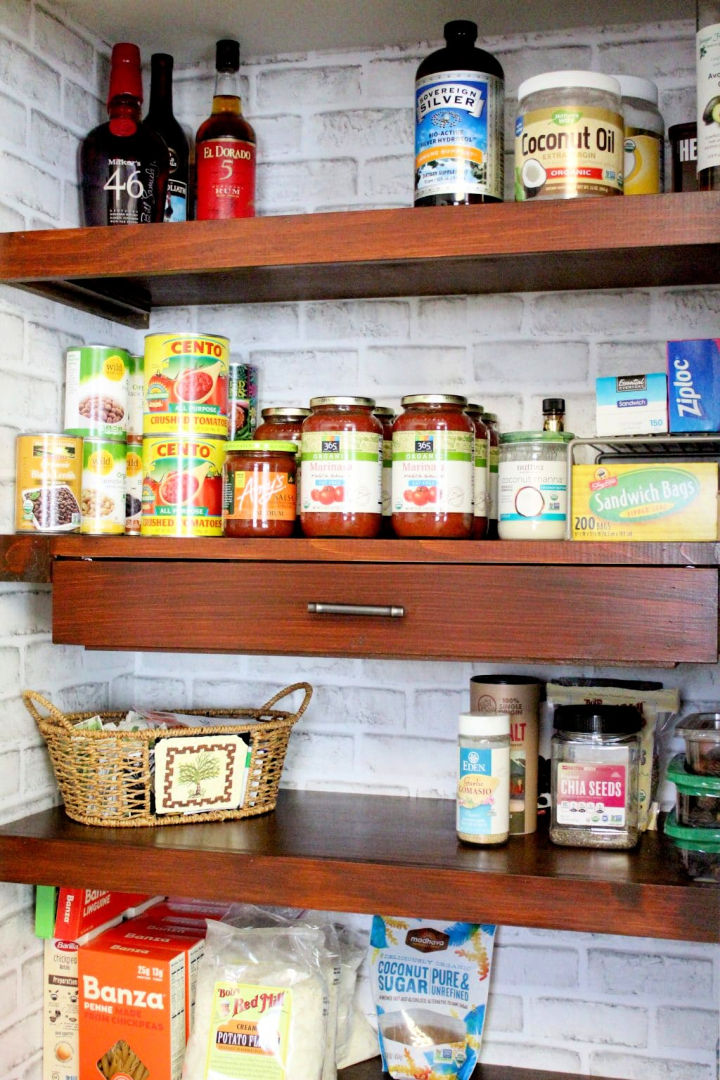 Accomplish your pantry organization mission with this modern built-in pantry shelf hack. Consider building the built-in pantry shelves with drawers, will allow secrete storage of various food and crockery items. You need 3/4" plywood for shelves, 3/4" boards for drawers and trim, drawer slides, and drawer knobs for this project. justmeasuring
13. DIY Farmhouse Pantry Shelves
Bring a farmhouse decor character in your kitchen or in the pantry room by installing these farmhouse pantry shelves. Build these DIY Pantry Shelves using 2"x12" cedar boards that you can stain with Minwax interior wood stain in special walnut. Install shelves using brackets and use a laser level for this project. jenron designs
14. Freestanding Kitchen Pantry Cabinet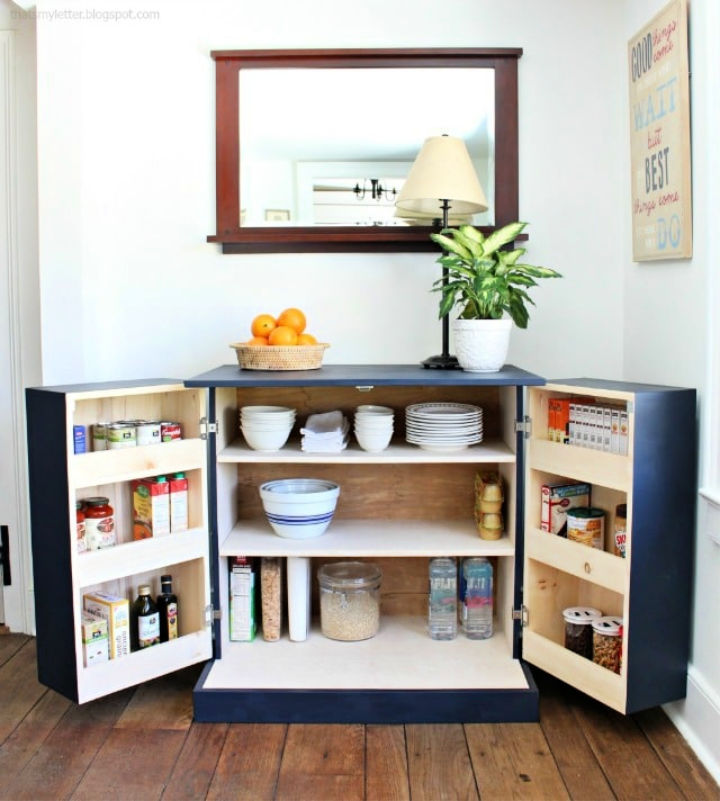 One more creative hack for an organized and spaced savy pantry, the freestanding kitchen pantry cabinet. It just doubles as more as counter space and looks like a cabinet when closed. The main pantry shelves come with doors that are again the mini pantry cabinets having lots of built-in shelves. jaimecostiglio
15. Ballard Designs Knock Off Pantry Cabinet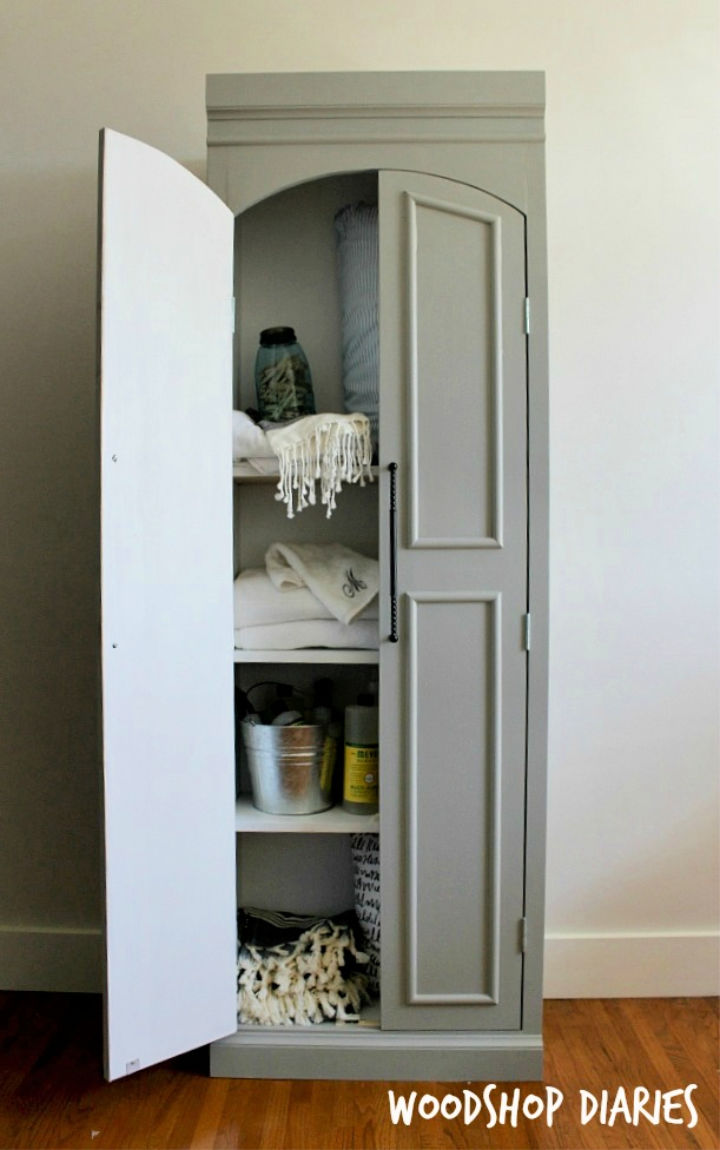 Get here free plans to build a knock-off pantry cabinet, will surely organize your pantry. In wood supplies, you need 2 sheets of 3/4" plywood, 1 sheet of 1/4" plywood, 1×4, 1×3, 1×2, 1×6, cove molding, and half-round molding to build this pantry cabinet. Details here woodshopdiar
16. Entertainment Center Repurposed Pantry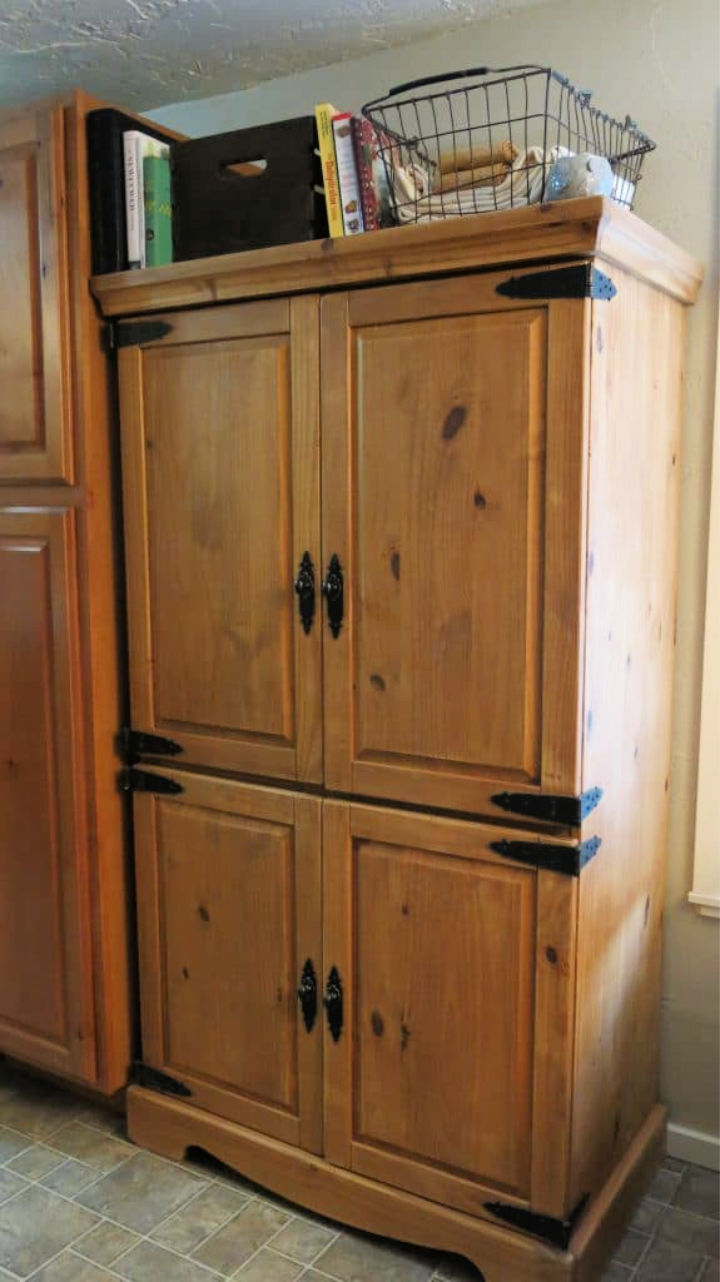 Build the self-standing pantry cabinets also out of your old furniture items. In this creative transformation, an old entertainment center has been transformed into an organized self-standing pantry cabinet that comes with antique hinges. Use 1/4" underlayment plywood and extra wood shelves for this project. makingmanza
17. Free Standing Pantry with Crate Organization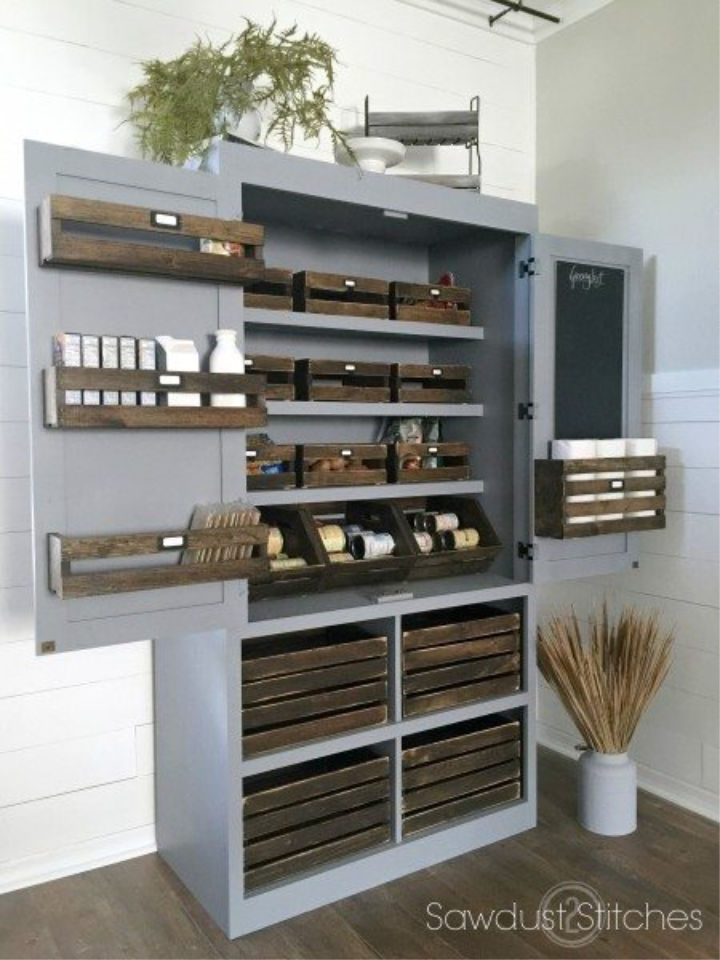 Get organized in your kitchen or in the pantry room with this freestanding pantry cabinet. It provides hinged doors that have shelves mounted on their inside. First, construct this freestanding pantry with built-in shelves using 1×4, 1×3, 1×2, MDF, plywood, and next organize it more using half and full wall shelves, crates, vegetable crates and other items of this kind. sawdust2stitc
18. Kitchen Pantry Plan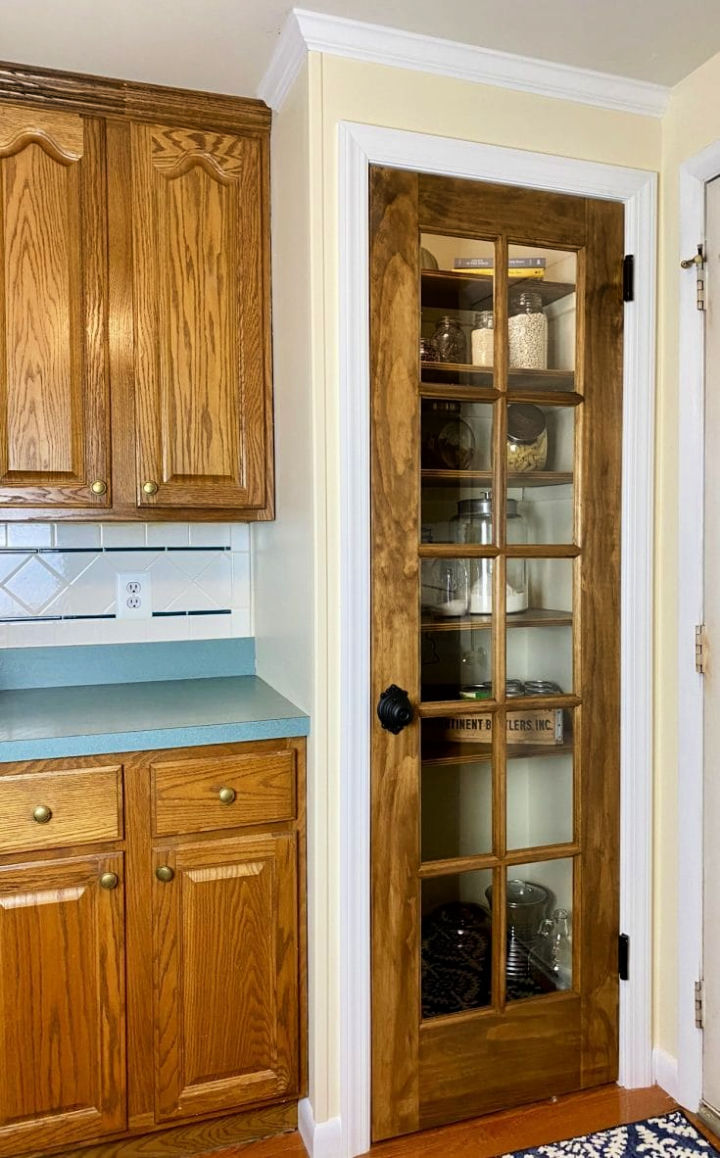 Here you will get all the guides and free plans to build kitchen pantry shelves. This kitchen pantry plan will cost you $370, and it will complete in 2-3 days for sure. You need plywood, 1x4s, trim pieces, 2x4s, doorknobs, primer, and paint to build this kitchen pantry plan. Details here loveremodel
19. Pull Out Pantry Shelves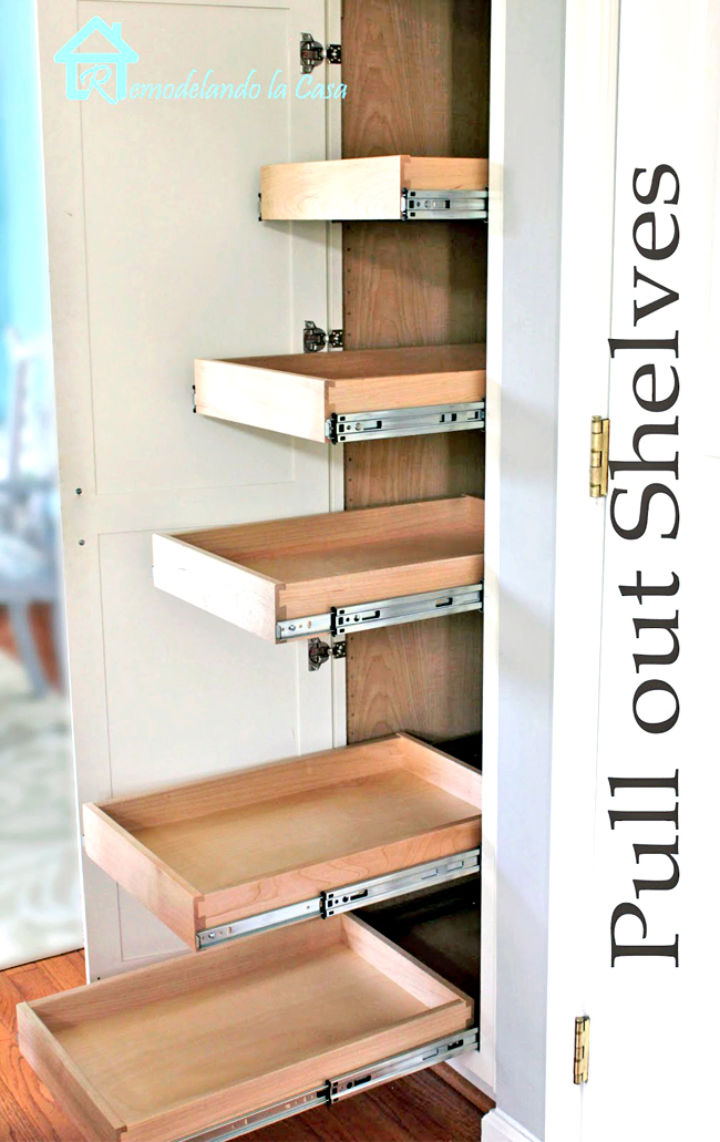 You will surely fall in love with these DIY Pantry shelves that come with tray-like pull out shelves, and they come on 22" drawer slides. Just build the shelves with MDF or plywood and let them come on the 1×2 shelf supports that will be super quick to install. Paint the fronts of drawers with chalk paint and write custom words on them. remodelandola
20. DIY Customizable Pantry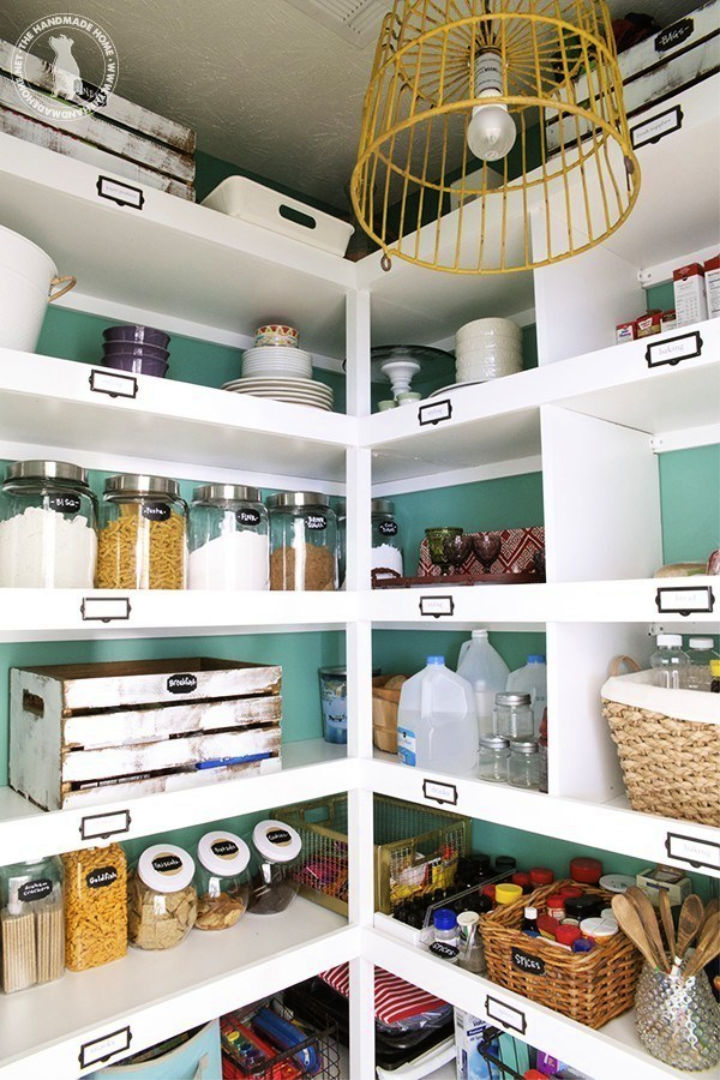 Willing to build a customizable pantry that will be capable of storing all from beverages, food, dishes, cleaning chemicals, and crockery? Then build this pantry with 3×4" melamine board, 2×2, 1×3, and 1×2 pine boards. Further, you need the L-brackets, paint, or stain to complete this customizable panty project. thehandmade
Conclusion:
It just makes your home or kitchen look more attractive when having an organized kitchen pantry. But building a DIY pantry will cost you nothing, so DIY again comes for a great rescue. Use the free plans and kitchen pantry ideas provided to build pantry cabinets or shelves at a fraction of cost. From modern pull out pantry shelves to farmhouse pantry shelves, these pantry cabinets plans provide free step by step detailed instructions for all. These kitchen pantry ideas fit every budget and skill level and can choose any according to skill level, needs, and style.
Related DIY Home Organization Ideas: