It is a big challenge to keep those board games and toys in order. But you can really organize them well with these 20 unique DIY board game storage ideas that involve nicely organize those puzzle game stacks and other games you play on board. From using baskets to old ladders to recycled coffee tables, you use all to build a lovely board game storage. Furthermore, you will get step-by-step guides, tutorials, and visual instructions to build custom cabinets, shelving units, and even custom mini bookcases to organize those board game packs.
Finally, you will be delighted with crazy IKEA hacks too to build fantastic looking board game storage units. Browse this list of 20 simple board game storage ideas and pick out the one that will suit best to your current storage needs and demands. You will get the latest hacks also to use the wall space for space-savvy game and toy storage.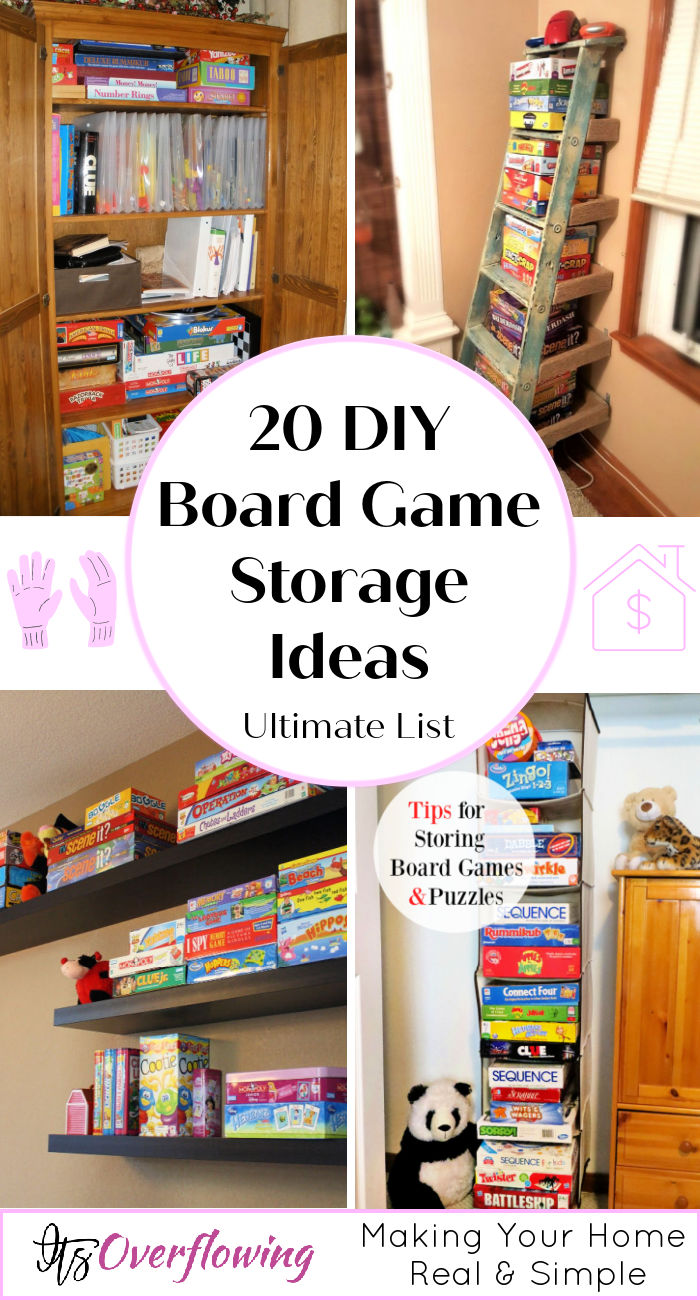 Build the vertical storage unit that can be installed to narrower home spaces also to digest that board game clutters. Get the tips here to smartly organize the kids games in the closets without creating a big mess. Next, opt for the dollar store containers and index boxes also to build lovely board game storage options, which will provide super ease of pick too. Do the manual wood constructions and built the wooden cabinets with adjustable shelves, will surely organize your board game stocks like a pro. Install floating shelves on the wall to nicely display your packed games for the family game nights. Take a short out of all these easy to build board game storage ideas and get yourself inspired.
1. Build a Rolling Game Table
Check out here the perfect hack that involves transforming a coffee table into a lovely rolling gaming table. It will also rock as a rolling flat surface to assemble the jigsaw puzzle. The best table to boost the entertainment of family gaming night. For this project, you need a kento coffee table with storage, caster wheels, veneer edging, stain, and paint. inmyownstyle
2. Baskets and Ziploc Bags
Do you love to play board games? Then get inspired by this another quick hack to organize your board games and components. Simple use the baskets and Ziploc bags and gain dust-free storage of your board games. Secure the game boards in zip locks and then put them in a basket. Details here ourworldwide
3. Repurposed Ladder Shelf
A super quick and elegant board game storage idea will cost you next to nothing. Repurpose an old ladder and use it as a vertical shelving unit to organize the board game supplies and components. Add the ladder steps with extra wood so they will be like tray shelves to hold the supplies. Find this DIY ladder shelf plan on hometalk
4. Hanging Closet Organizer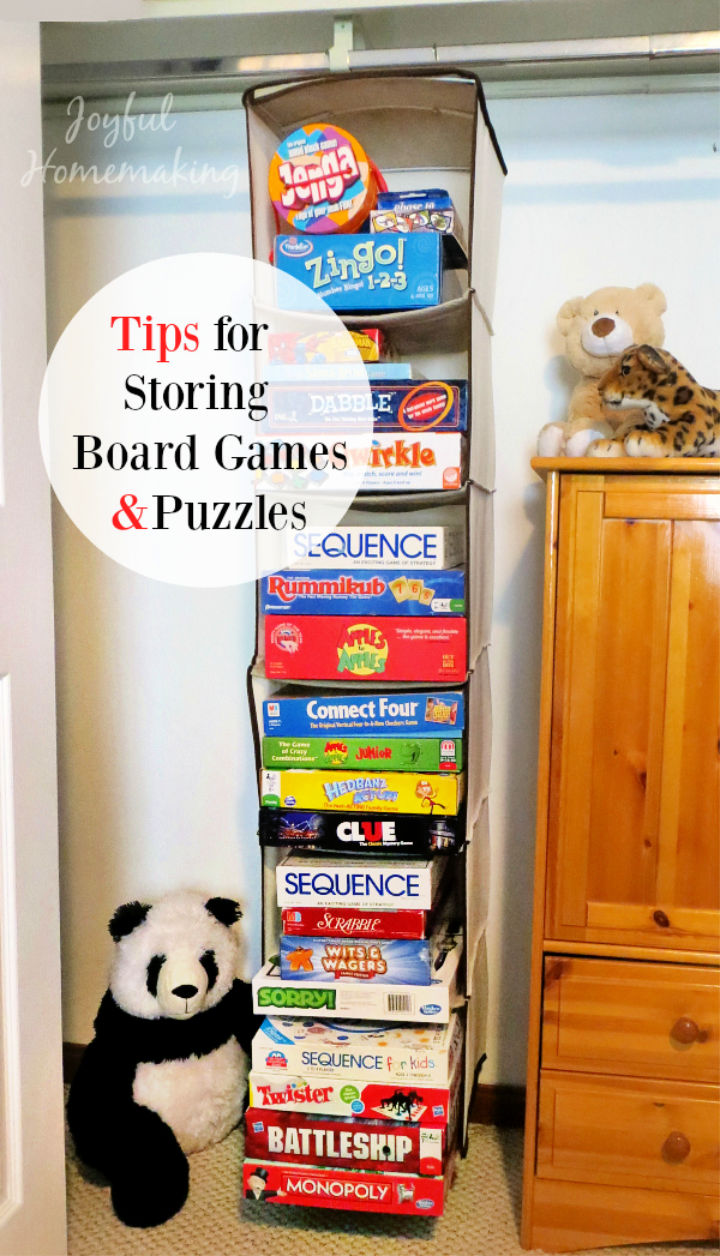 You will surely fall for this unique hack to store and organize the board games like a pro. Just grab a hanging closet organizer and make it hold your game boards and other necessary supplies. The best solution to store your board games and puzzles in a closet or vertically on wall space. joyfulhomemaking
5. Dollar Store Cheese Container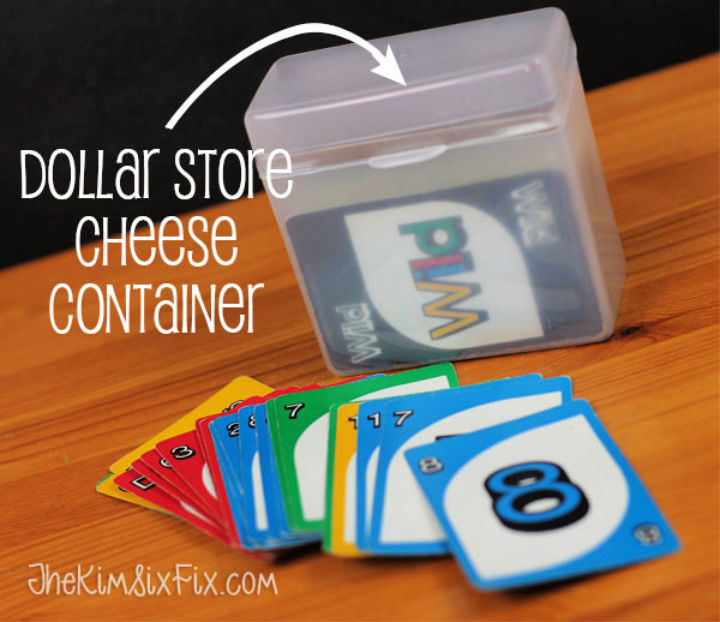 If it is becoming challenging for you to store those game components and board games, then go with this hack. Use the dollar store cheese containers that will nicely hold your board game stacks, giving you a neat and clean board game storage. Just browse this link to check out a more creative way for board game storage. thekimsixfix
6. Game Cabinet Reorganization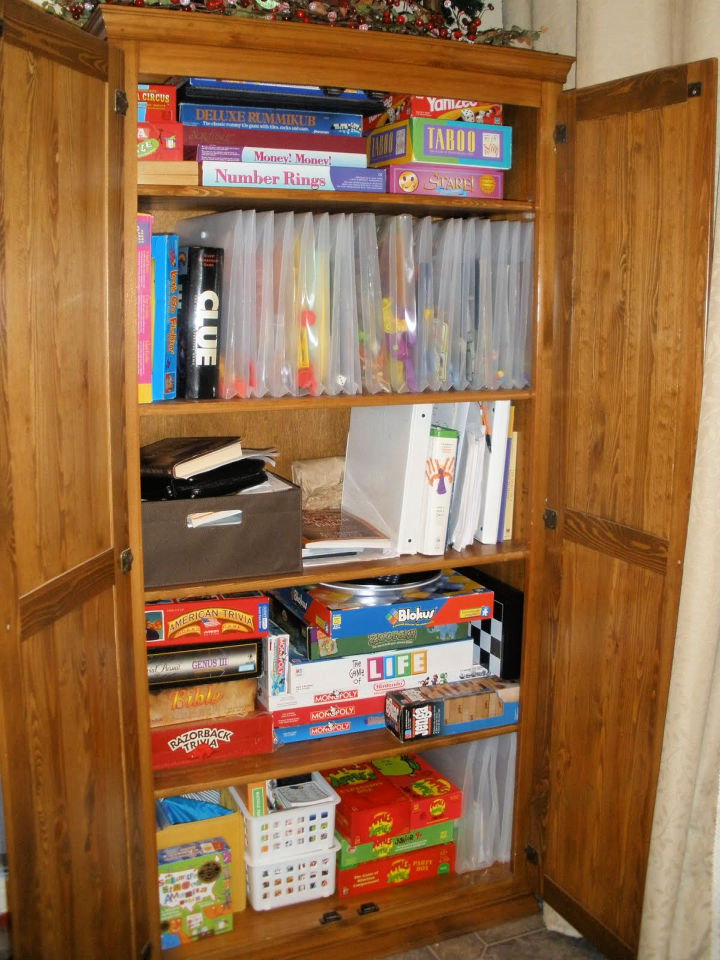 If you are having lots of board games to play with the family at movie night, then you must organize them well. Head over to an old armoire or cabinet and start organizing your board games there. Get inspired by the sample storage here that is neat and well organized and will surely impress. pinkdaisygirl
7. Index Card Boxes
Willing to organize the board games neatly and then get here a super inexpensive plan to build the quick lovely storage options for your board game stocks. Just use the dollar store containers or index cardboard boxes to instantly organize the board games, will impress at a very first look. Details here statteacher
8. Gaming Tower Swivel Organizer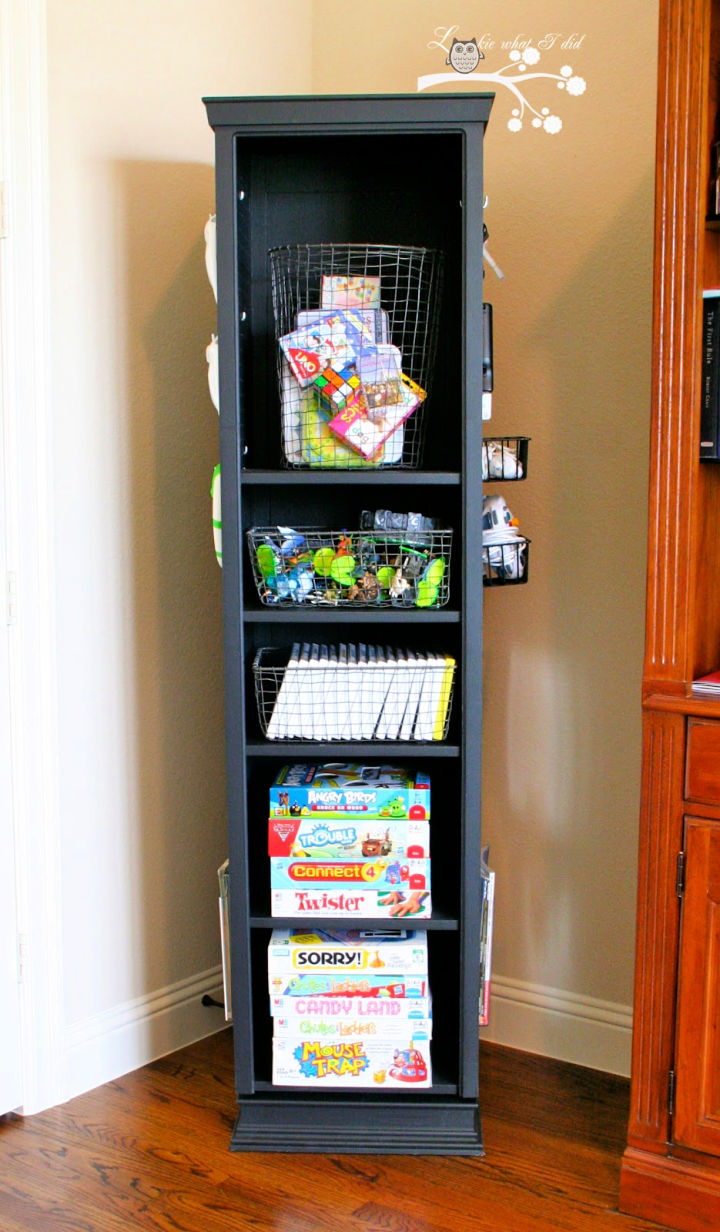 Sorting out a custom storage unit to organize all your board games like a pro? Then head over to this large tower style gaming tower swivel organizer that is self-made and will surely impress at a very first look. Use wood of choice and build this gaming tower with the desired number of shelves. Next, add up each compartment with a wire basket. lookiewhatidid
9. DIY Board Game Storage Organizer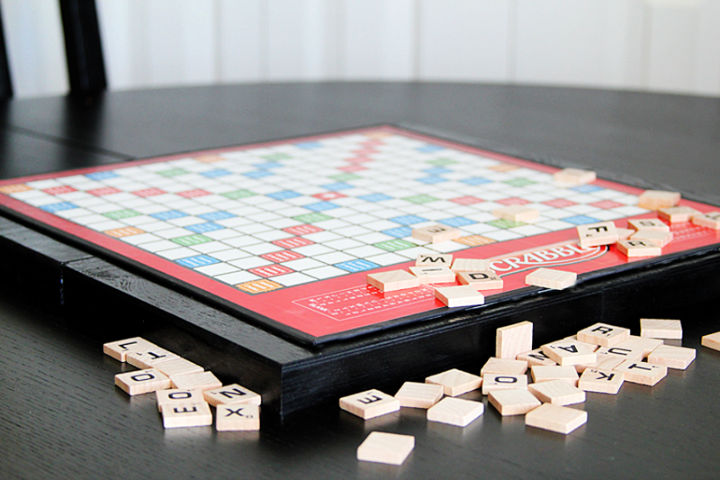 You will give ten out of ten to this mind-blowing board game storage hack, the mounted board game storage hack that is totally self-made. Grab the 10"x10" unfinished wooden painting panels, the board game of choice, gorilla glue, black paint, sew hooks, sawtooth photo hanger, and plastic baggies. consumercrafts
10. Adjustable Board Game Storage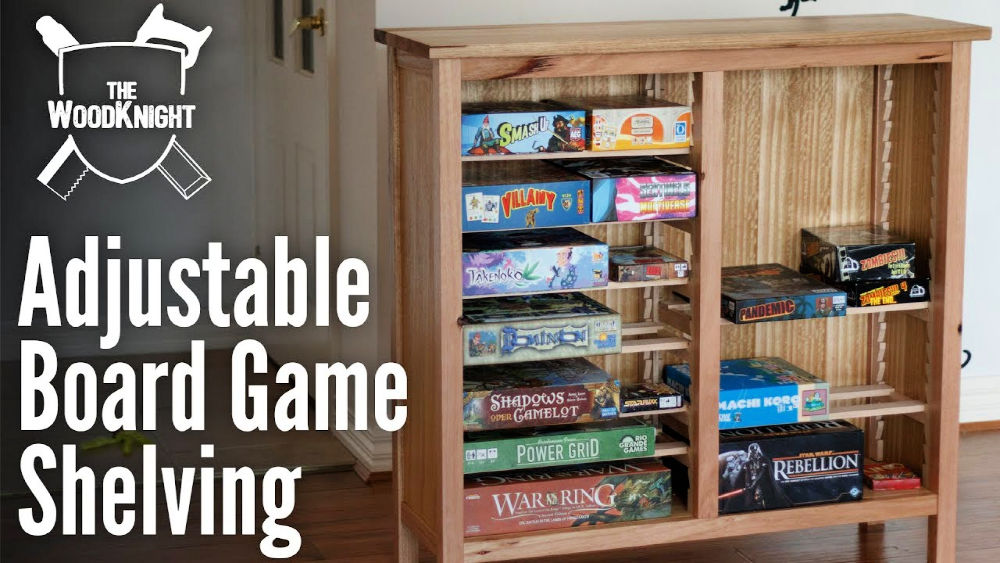 Get the amazing hack here to organize all your board games like a pro. Just build the adjustable shelving units for board game storage. Build a wooden cabinet with sawtooth shelves that will be adjustable and hence will easily digest an assortment of game board sizes. One of the best DIY Board Game Storage Idea. youtube
11. Headbands Game Board Hack
If you are puzzling at storing the board games, then get here the free tips and tricks to organize nice your board games. The best options will be the cabinets to store all your games, readjust your shelves so they will gain a perfect fit in the cabinet compartments. Details here thehomesihavemade
12. Board Games Wall Shelf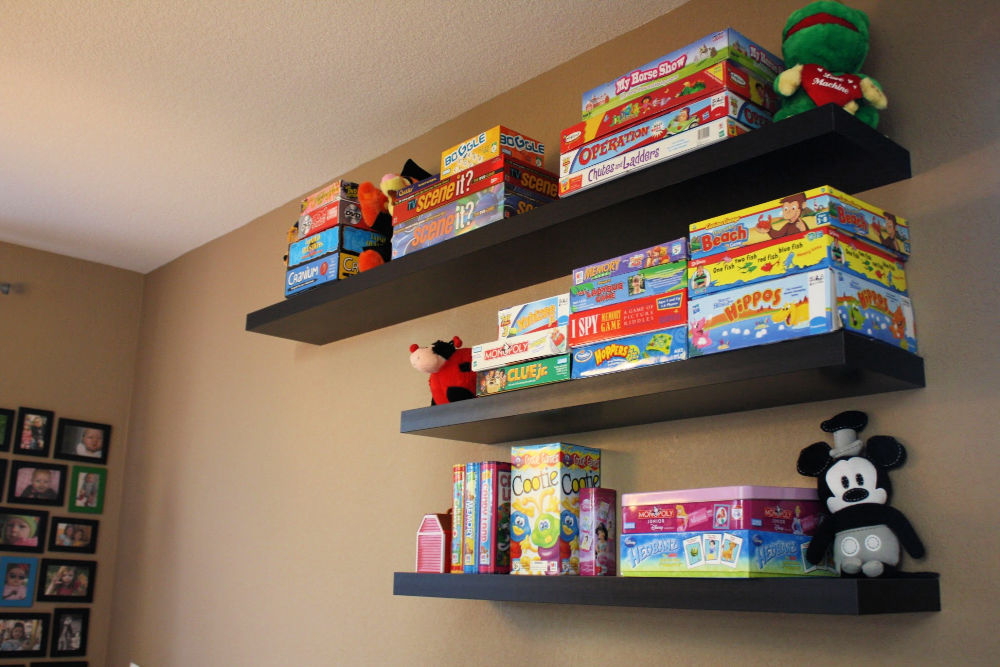 You will surely fall in love with this epic board game storage that involves building floating shelves on the wall. The best way to make smart use of your wall space to organize your gaming supplies. Just grab the thicker and longer shelving boards and install them on the wall as floating, and that's it.
13. Board Game Storage Shelves
Opt for this square compartment shelving unit that is inspired by bigger shop shelving units. Just get crafty with wood, MDF, and or plywood to build this sophisticated board game storage. It will nicely digest your board game and puzzles stocks. You will get great ease of picking up your favorite game.
14. IKEA Board Game Storage
Check out here a smart IKEA hack to carefully store your boards while creating an enchanting display of them. Go with the IKEA kallax or Expedit units, and build this smartboard game storage unit, container lots of square storage compartments and shelves. A modern DIY Board Game Storage Idea.
15. Board Game Storage Cupboard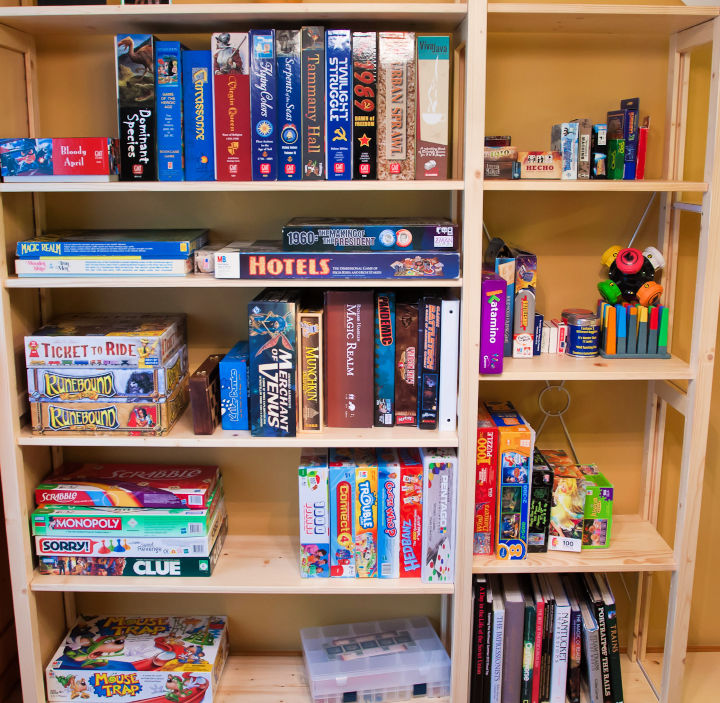 You will surely fall for this fantastic game storage unit that comes with the right side having longer and wide shelves while the left side comes with miniature shelves. It will nicely organize all the sizes of your board games. A must get an item of furniture to enjoy gaming nights. Details here
16. Board Game Storage Units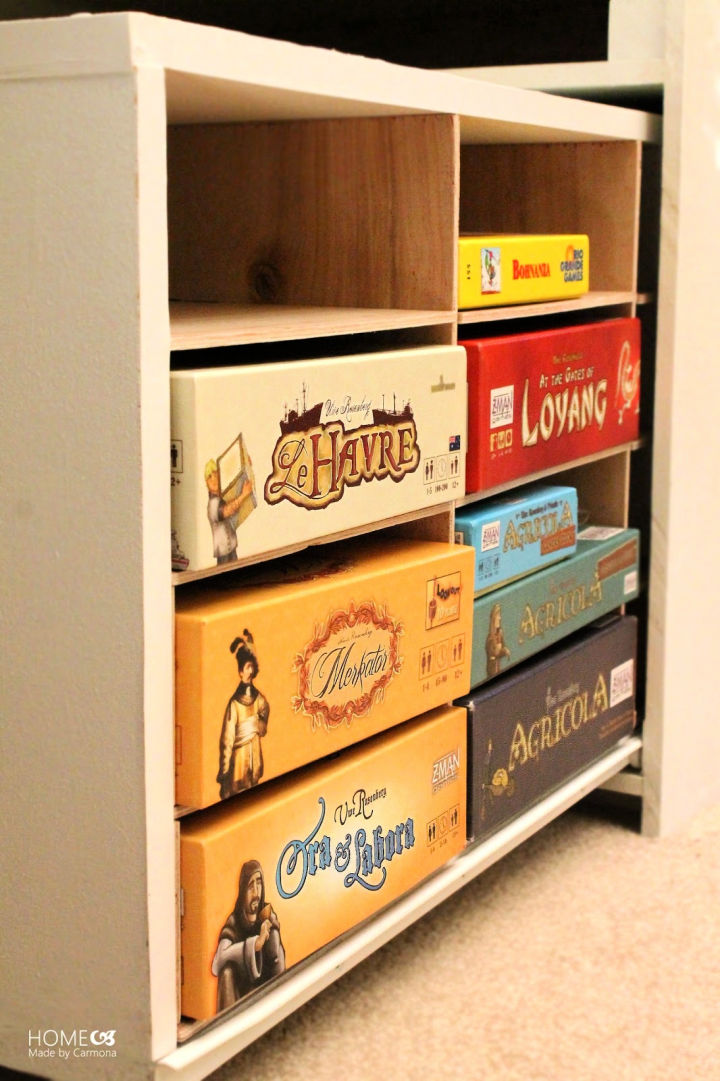 If you are having problems in organized your board games and the puzzle in the minimal interior space, then time to build a custom board game storage unit. A one of the best board game storage unit that provides custom storage compartments to organize the board game clutter.
17. Board Game Shelf Envy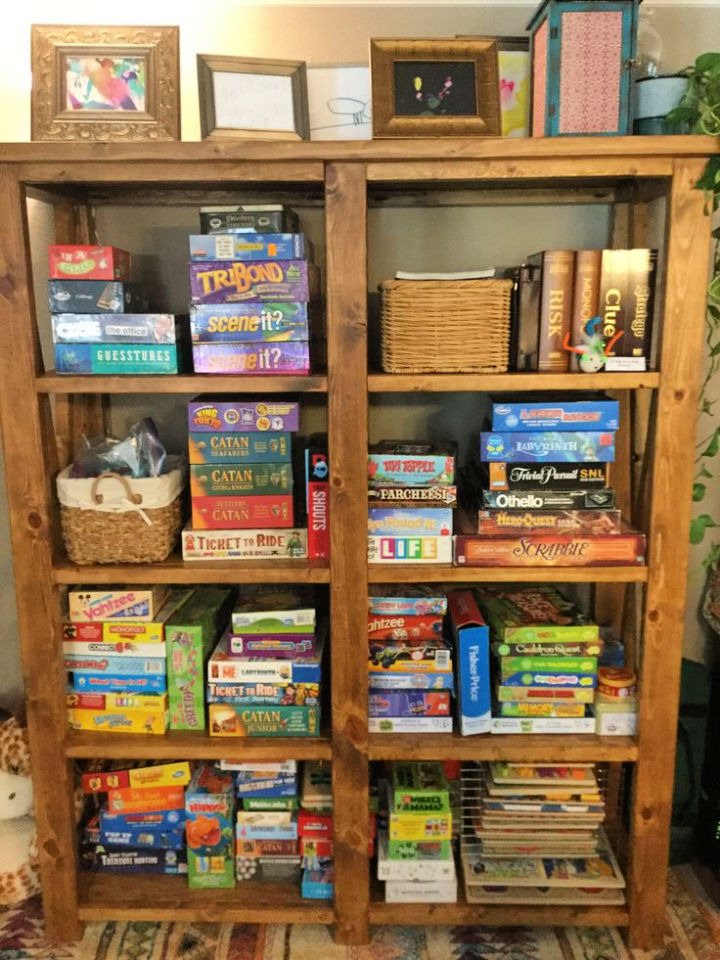 Do manual wooden constructions also to build fantastic board games like this board game shelf envy. A lasting longer storage unit will not merely organize but will create an enchanting display also of your board games. You can easily stack your board games in the compartments. It will allow the categorical storage of your game supplies.
18. Board Game Storage Bookcase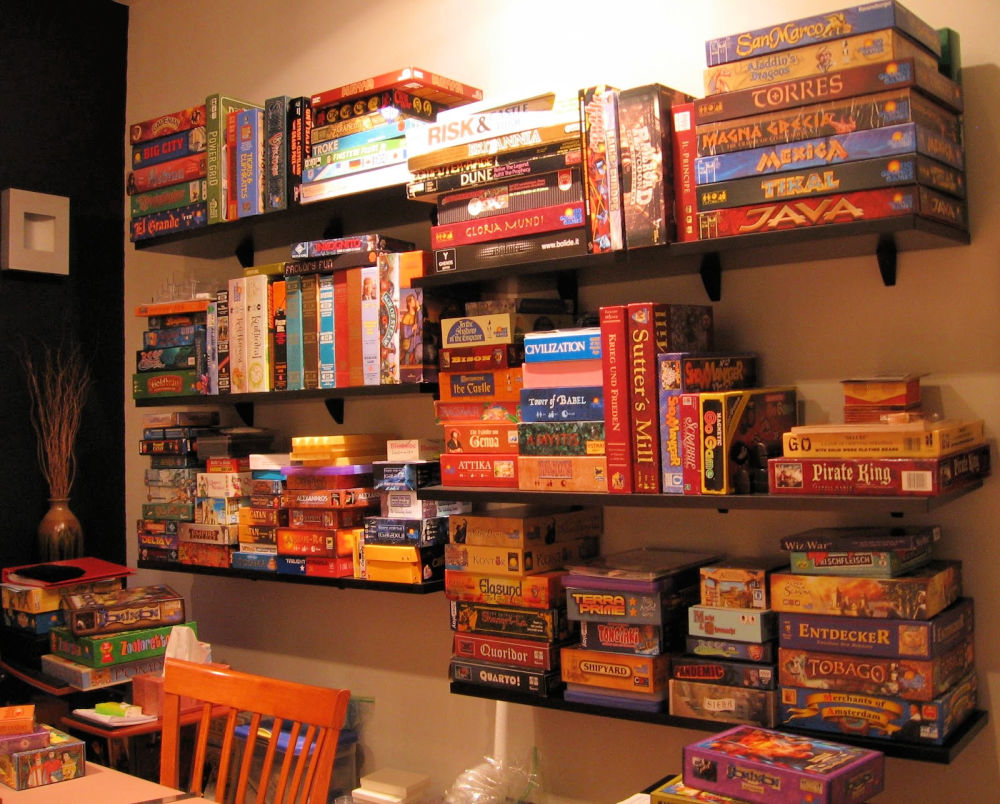 Spice up your board game storage game with these semi-floating wall shelves. They will make it fun to organize your books on the wall and will be a super quick to build also. Just grab the wood shelving boards, give them a nice wood finish, and then install on the wall using custom brackets. Details here
19. Creative Board Game Storage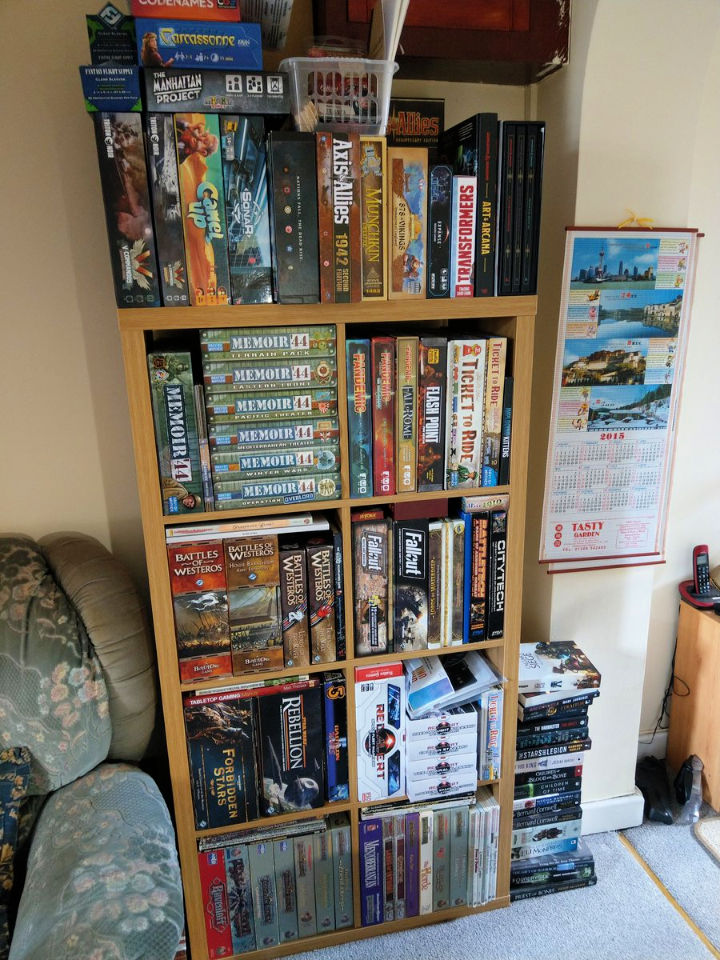 Check out here another great looking storage unit to build for your board games, will carefully hold your board games, and will be a great addition to your home to rock your family game nights. Build it manually with your own favorite wood, plywood, MDF, and lumber will rock.
20. Storage Board Game Cabinet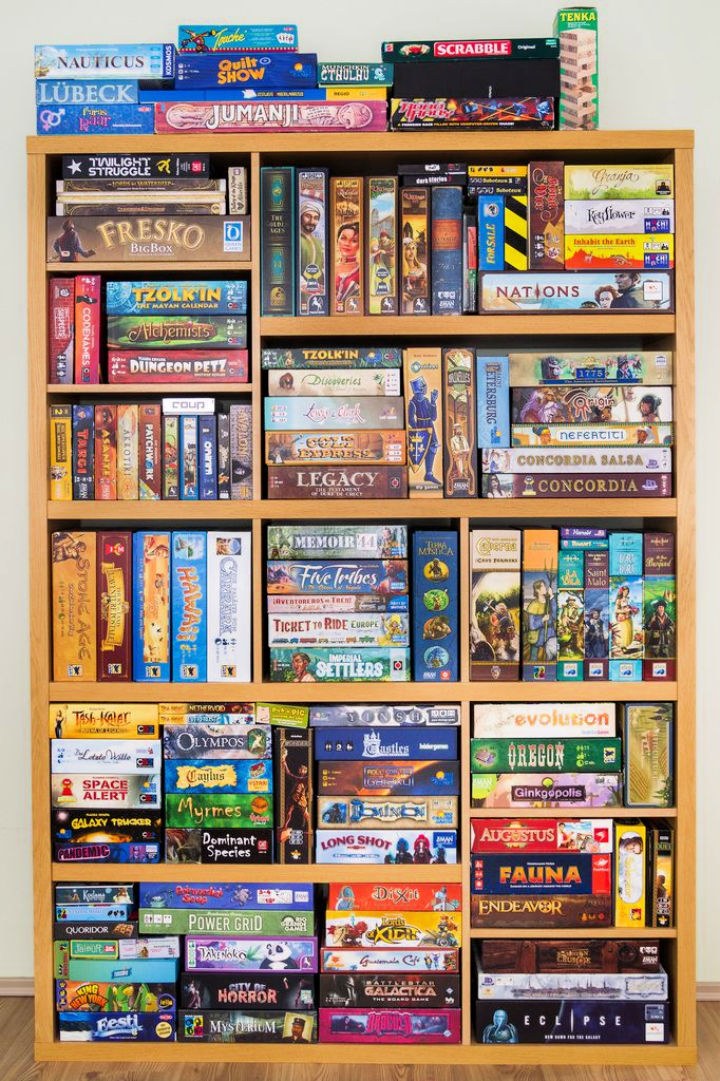 This handsome wooden storage cabinet will provide an assortment of shelves and storage compartments to hold all sizes of board games in an organized way. Go with custom wooden boards like with pine, lumber, and cedarwood boards to build this board game storage cabinet.
Conclusion:
If you are puzzling at how to store the kids' games nicely and toys, then get the perfect and low-cost solutions from here. From recycling old furniture to building new custom shelving units, these 20 best board game storage ideas, and solutions. From using Ziploc baggies to index cardboard boxes to dollar store containers, you can use all to build fantastic board game storage, will surely win the heart of a game lover. Build the shelves, large shelving units, and even the custom storage baskets to build smart and neat storage options for board game storage.
Organize your outdoor area: Follow these garden tool storage ideas to organize all your backyard tools and equipment with ease.