Build yourself a functional and insanely easy DIY hat rack or organizer with these 23 clever and unique hat storage ideas. Your hat storage can actually bring more whimsical decor to your four walls. Must have never thought of it that way, right? Why? Because usually, hats have been a problem so far. They either occupy the end of the closet or are found everywhere around the house. It gets super annoying and can totally kill the decor vibe of your room. Take care of that with these hat storage ideas. They are quite versatile, appealing, and pretty easy to make too. In fact, they are more like refashioning storage ideas with a decor idea. No kidding!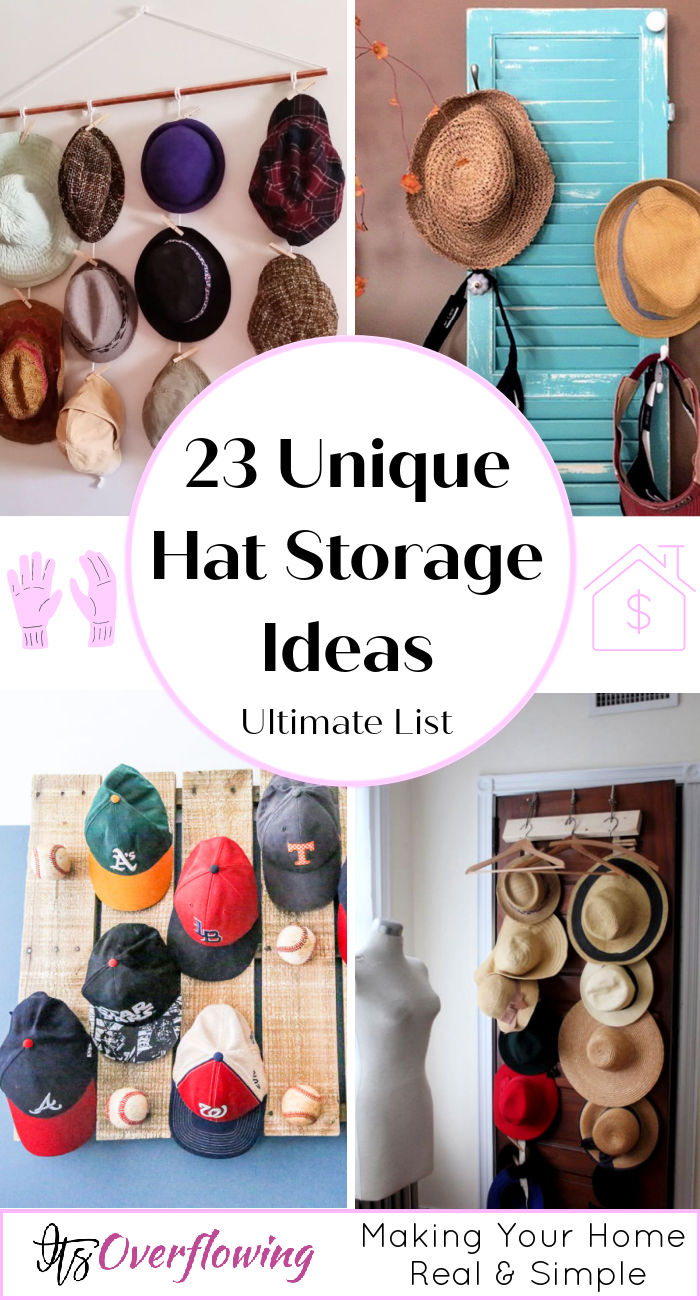 For any homemaker, the biggest problem is keeping the place clean all times while taking no compromise at the home decor. With summers around the corner, you are going to see A lot like quite a lot of these hats around. From beach hats to P-caps or sometimes the cool cowboy hats, there is going to be a lot of hat drama over the summers.
Now, how to look stylish, keep your family safe from the sun rays, and at the same time, maintain a clutter-free home? If these questions have been occupying your mind, you have landed in the right place. These hat rack ideas inspired by a lot of DIY hat rack to baseball cap storage or industrial-inspired hat organizer and hat hanging ideas. We have got plenty of wall decor cum hat storage ideas below. Keep reading!
1. Easy DIY Hat Storage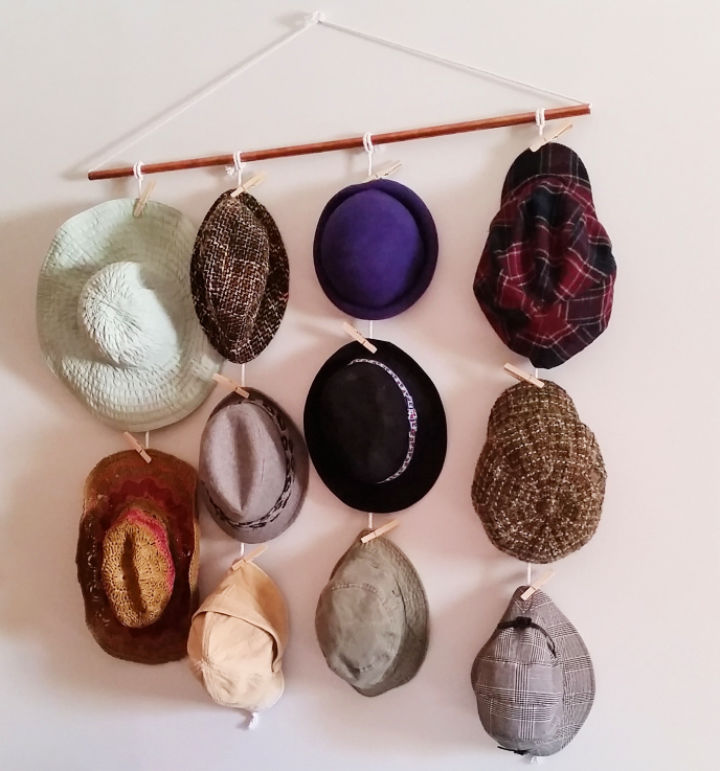 Who doesn't love wearing hats to a beach party, rainy day, or otherwise? Of course, everyone does! But the problem here is how to handle a bunch of your hats that you find everywhere at home. Whip up this hat hanging ideas to organize hats in minutes with supplies like a hollow pipe, rope, and thick yarn. awesomesauc
2. DIY Hat Organizer
Create your own wardrobe for your hats and organize your hats in a fantabulous way. Watch this video tutorial to see how you can do it single-handedly and with just a few tools and supplies. It is an awesome and quick project that will help you to find all of your hats in one place. youtube
3. Baseball Cap Organizer
Check out this pegboard hat rack! It will make a groovy wall decor too. Inside here, you will find the detailed instructions over making this baseball cap organizer project. Here is what you will need to nail this hat rack. Pegboard hooks, corner brackets, pegboards, and 1" x 2" boards cut, and that will do it. rebeccapropes
4. Simple DIY Hat Rack
With your limited space and your growing collections of hats, this DIY hat rack should definitely be your top priority to make. It will also make an excellent wall hanging. Plus, this hat rack will take up all of your hats. Hence the problem of them lurking around the house, solved!! ryobitools
5. Hanging Copper Hat Rack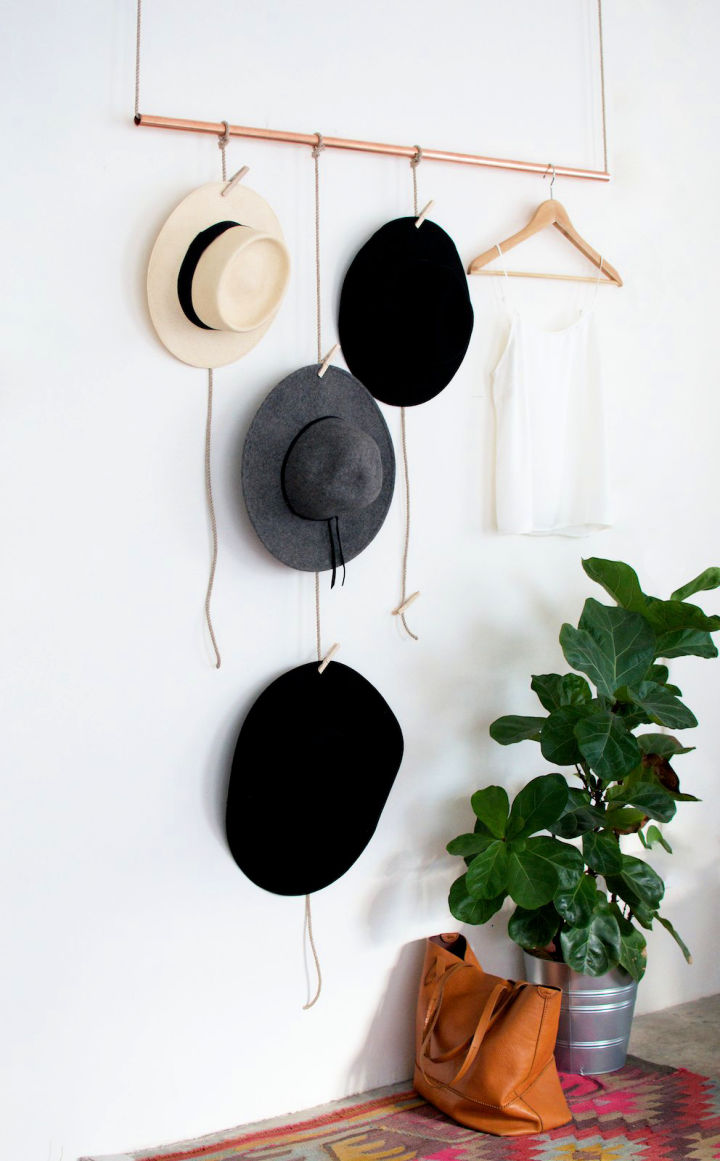 This hanging copper hat rack comes up with an amazing solution to your hat storing problem. All you need to have is supplies like copper pipe, scissors, pegs, and rope to spruce up this amazing and useful hat hanging project. Moreover, you will find the step by step instructions on this project below. collectivegen
6. Baseball Caps Organizer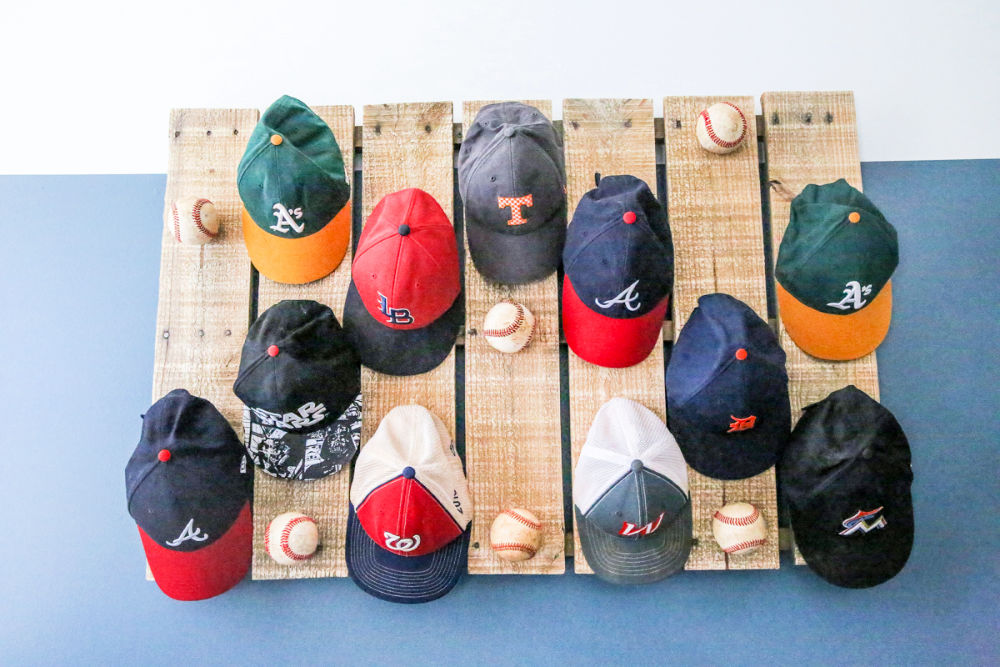 Know anyone who is a die-hard fan of baseball? Surprise them by making this DIY baseball cap organizer. A perfect way to ensure a clutter-free space too! It can be made out of the scrap or pallet wood. Along with that, you will need a drill, saw, screws, nails, hammer, and hooks. bowerpower
7. Industrial Hat Rack
Flip your hat storage ideas to the next level of stylish! This industrial hat rack could be your home decor upgrader and your hat storage simultaneously. Materials required will be boards, hanging rings, iron plugs, screws, and spray paint. Read out the instructions to nail at it! prettyhandygirl
8. Wall-Mounted Hat Rack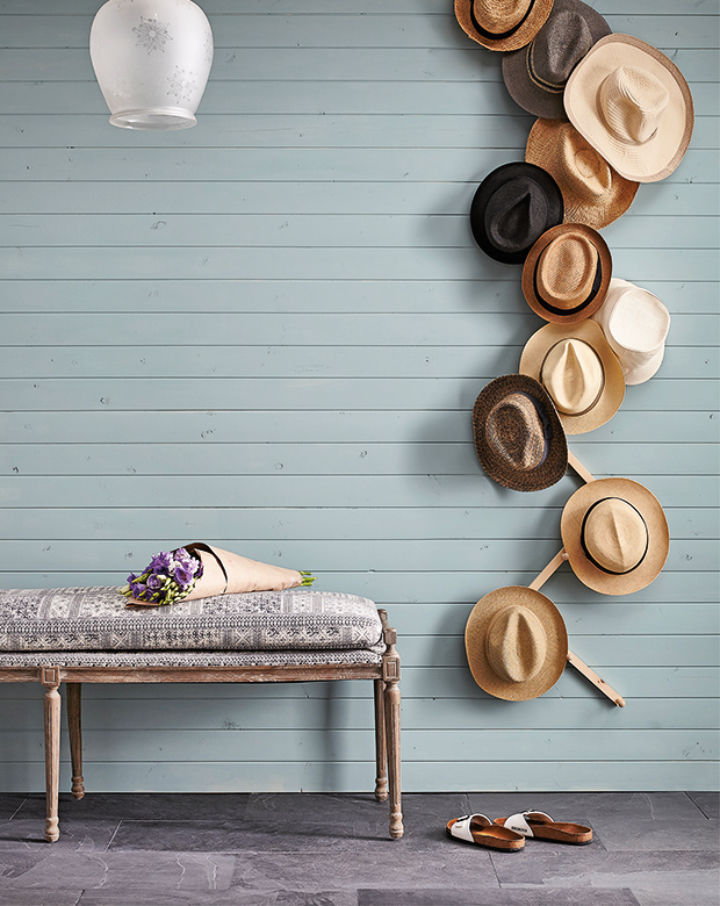 Add some splendid touches to your wall and your hat storage with this fantastic wall-mounted hat rack. This will be quite appealing to the eye and useful for piling up the hats in one place. The making is absolutely easy with supplies like lumbers, wood pegs, screws, and wood glue. houseandhome
9. DIY Baseball Hat Rack
Having a husband and children who love to play baseball is normal in every home now. But the thing is how you assemble the hats once they get home is the real trouble here. But with this DIY baseball hat rack's tutorial, you can easily spruce it up for a clutter-free space. scrappygeek
10. DIY Hat Storage
By just having these few supplies like a pipe, scissors, hammer, nails, pins, and rope, you can completely DIY this hat storage. Seriously, you don't need a professional for whipping it up. Just the instructions right here will let you do it super professionally. Go ahead! gypsytan
11. Hat Storage Boxes
Instead of piling your hats on top of each other in a closed closet, why not build a hat rack? These hat storage boxes will make you find your favorite hat to go, any instant. Here are some simple instructions that will be easy to comprehend and will make you nail it single-handedly. realitydaydream
12. New Era Hat Storage
Name anything more attractive than a storage cum decor option? We bet, for a homemaker, nothing is as charming as this. You will just need cloth pins, adhesive strips, and collections of the hats, of course. Wink! abeautifulmess
13. Dowel Wall Hooks for Hats
Drill these dowel wall hooks in your boy's room, or their bathroom's so that they would know where is the exact place of keeping their hats. This is a super time-saving and straightforward project that you can get done within a few minutes. Check the materials and directions inside the link! themerrythought
14. Pegboard Hat Storage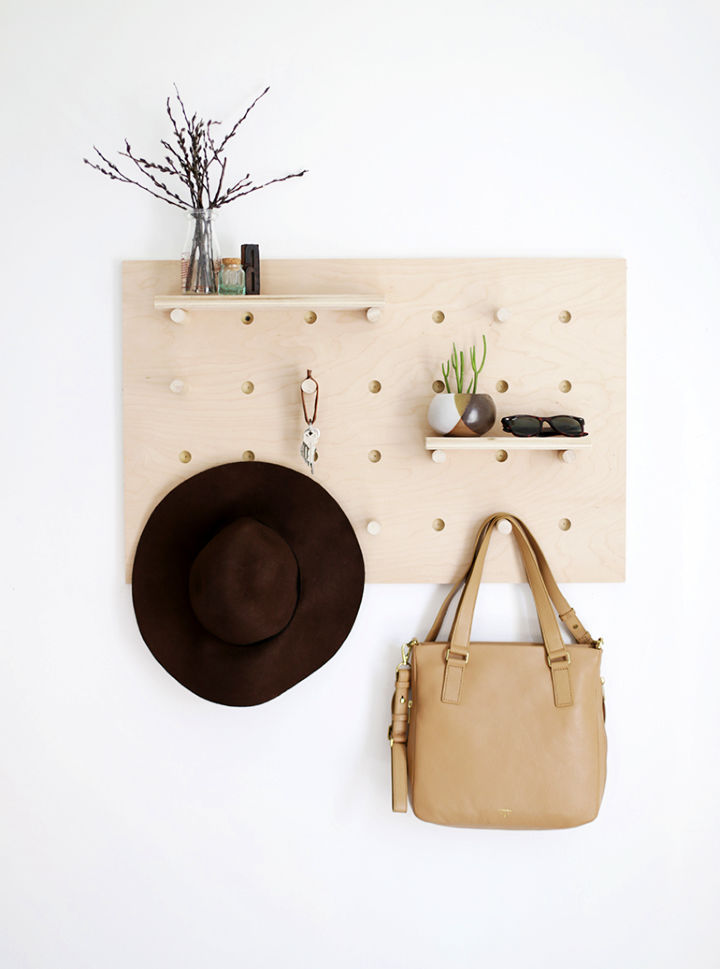 Building a pegboards wall organizer has never been so easy and straightforward as these directions will make it for you. It will be a perfect project for hanging your bags and hats. Along with plywood, you will need dowels, saw, miter box, yardstick, screwdriver, drill, and sandpaper to build this rack. themerrythought
15. DIY Muskie Hat Rack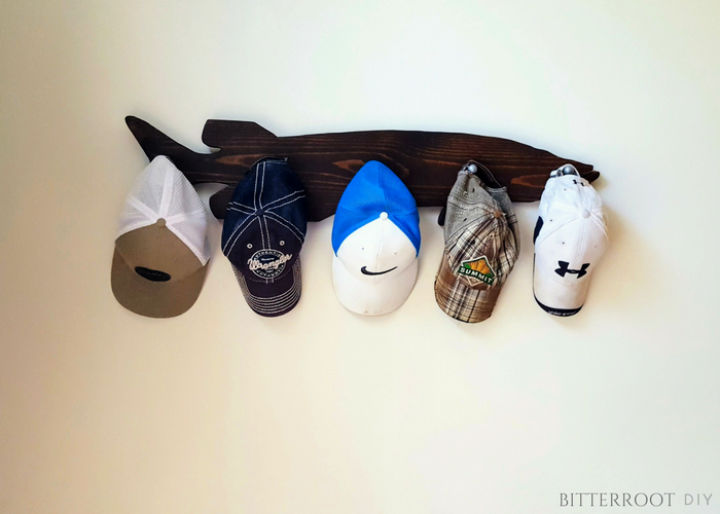 Looking for a project that will organize your hats and look super cute up on the wall too? Yes, this project is exactly for you! You just need to gather supplies like a jigsaw, orbital sander, hanging hooks, knobs, and 1×6 boards. The step by step instructions is all here at your disposal to follow. bitterrootdiy
16. Hat Rack from An Old Shutter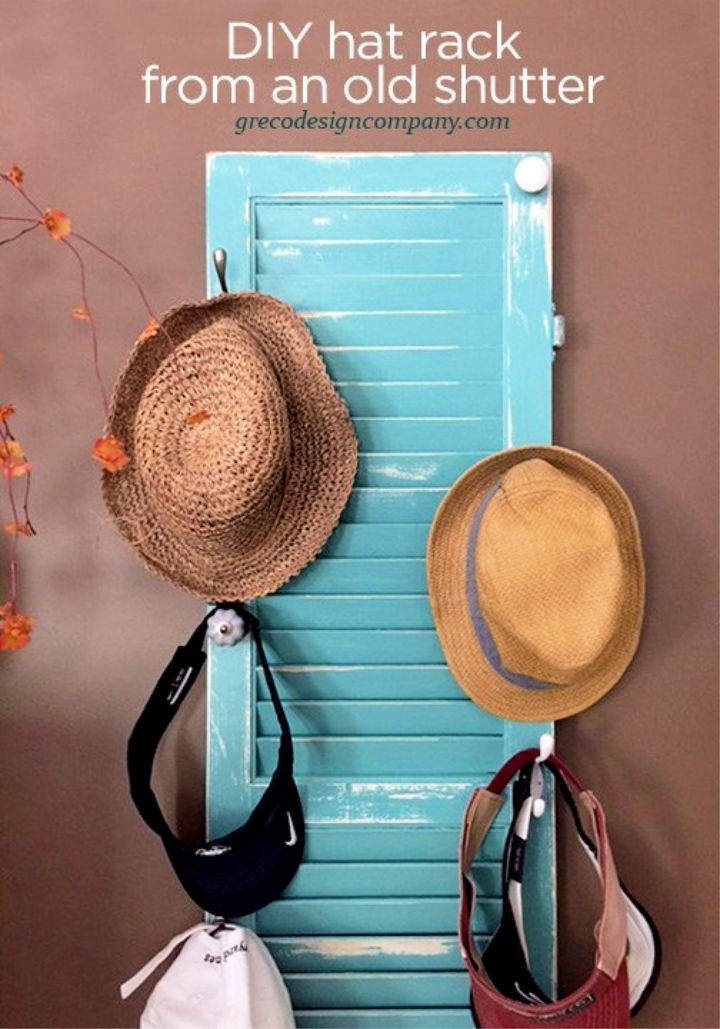 You will never find a useful project than this hat rack from an old shutter that you were about to throw away. This hat storage idea is going to accessorize your wall and will bring some order to hats collections too. With the instructions herein, you will make an antique looking project within an hour. grecodesignco
17. Standing Hat Rack with Mirror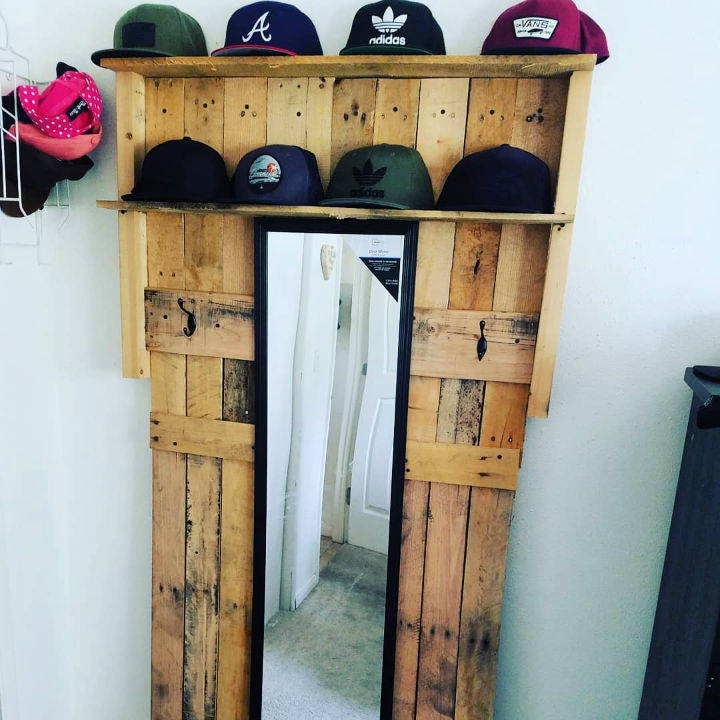 You know you can put the hat on and check how it looks at the same place? By sprucing up this standing hat rack with a mirror, you can totally do that in one go. This hat storage idea is all you need to make your storage ideal and function at the same time.
18. Macrame Wall Hanging Hat Hanger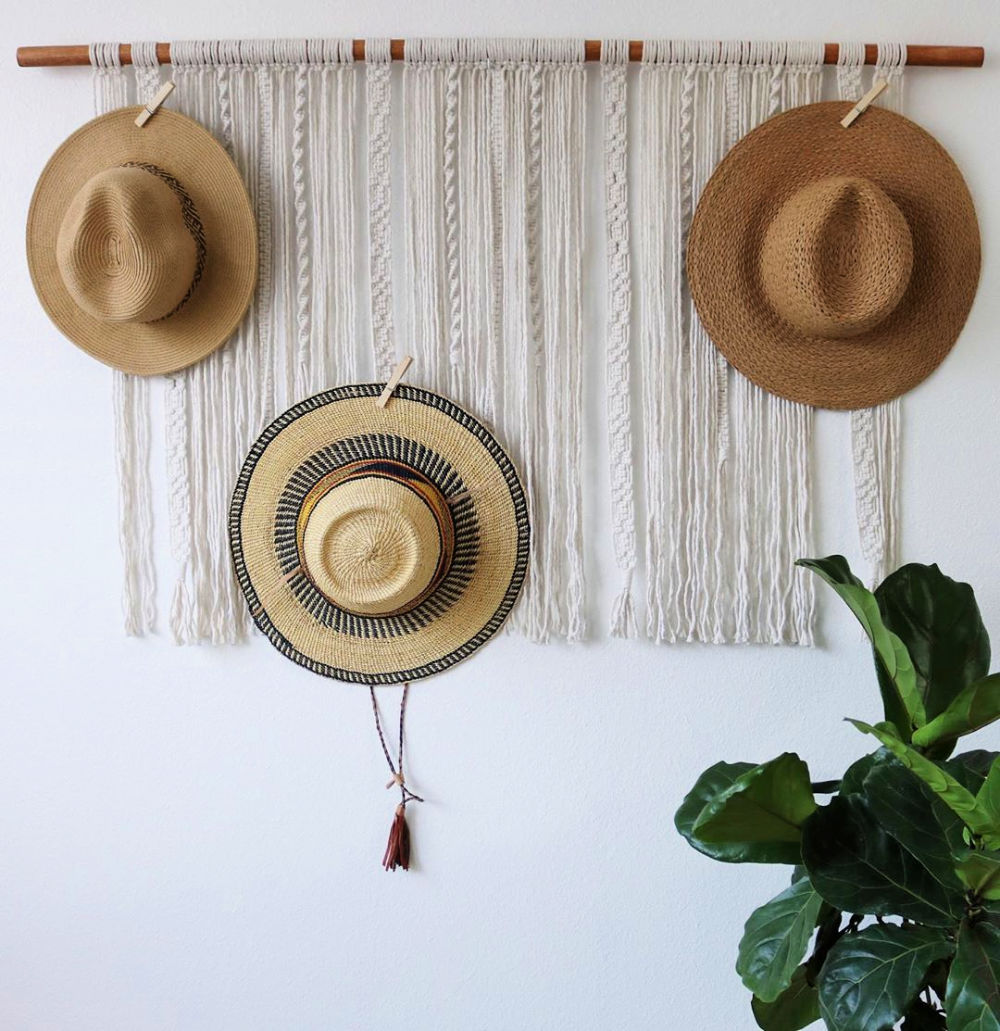 Take care of the clutter of your hats by building this macrame wall hanging hat hanger. The idea of this project is neither too antique nor too modern. It' just moderately contemporary. Also, it will blend perfectly with the interior of your room. Just collect the supplies and start off!
19. Wire Hat Storage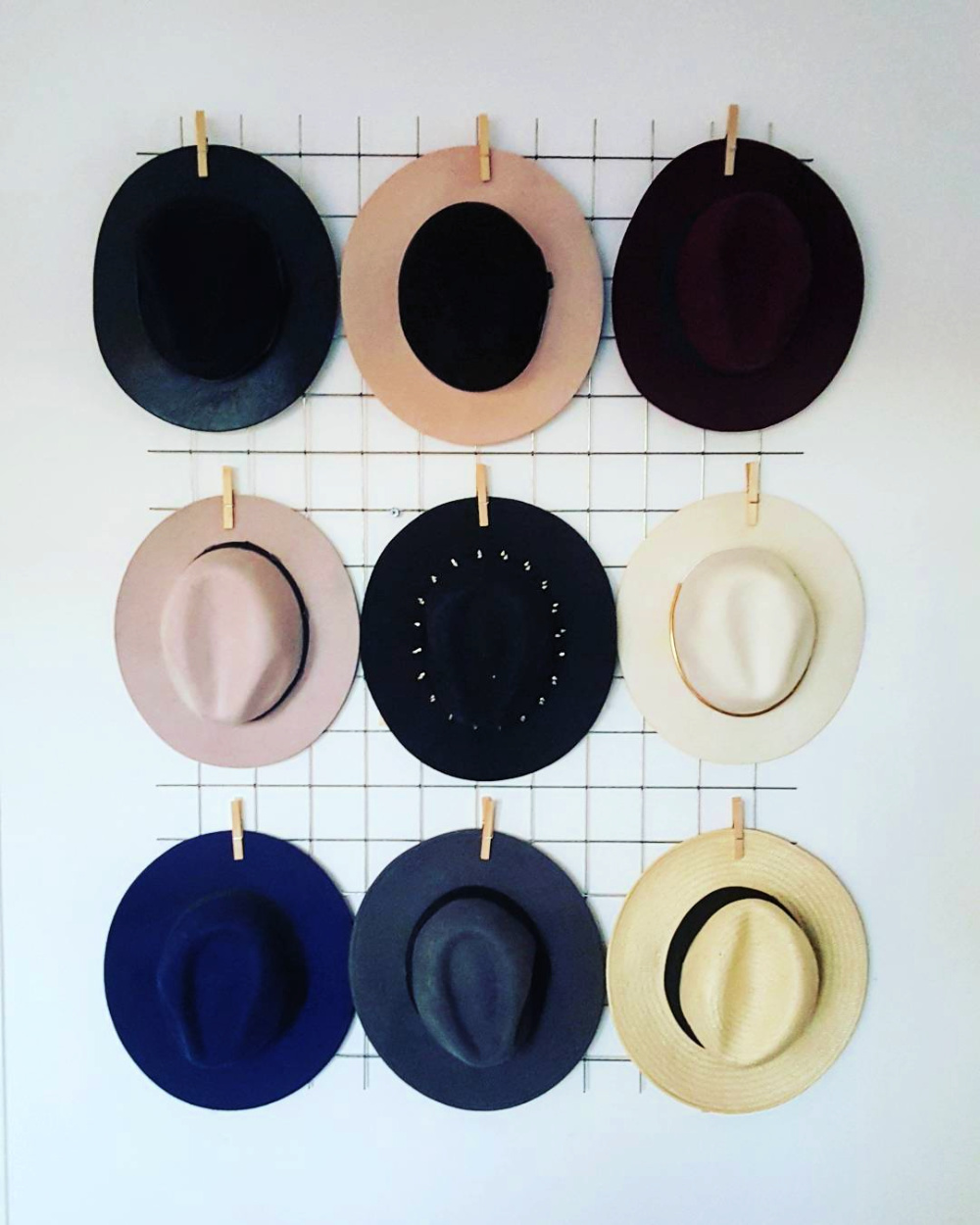 Check out this easy, functional, and insanely cheap hat storage idea to whip up in an hour or less. This wire hat storage will offer you to get rid of the hitch you face when you need any specified hat. Most importantly, it just requires some screws, drills, nails, corner, and copper wire to get started.
20. Cowboy Hat Storage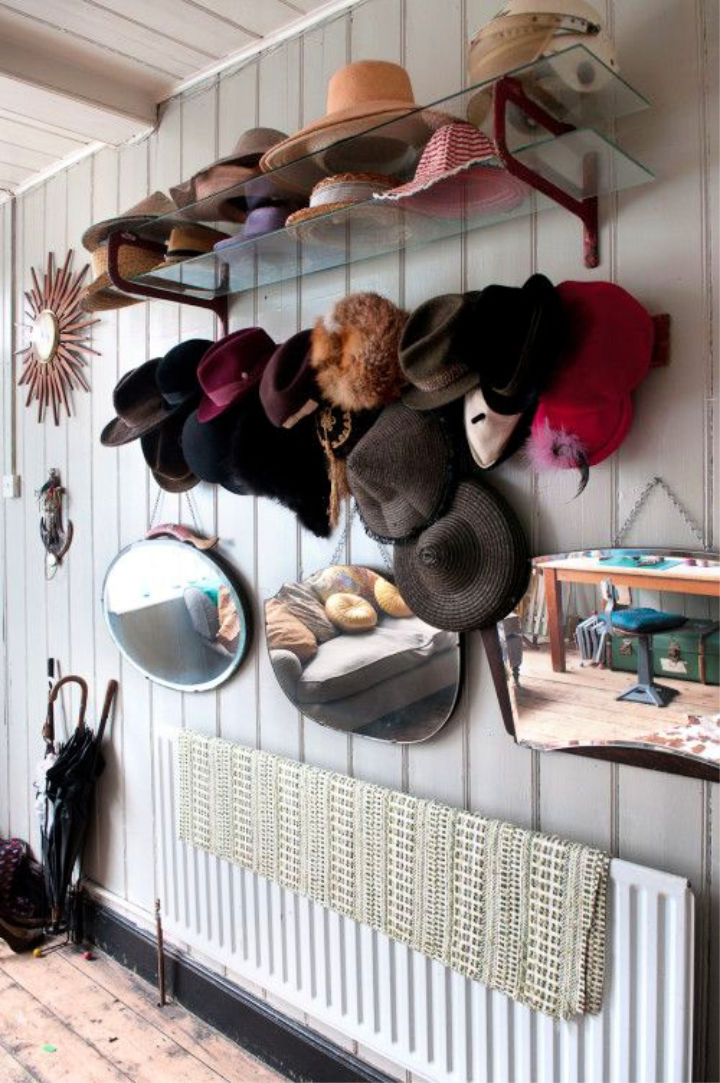 If you are out of floor space at your apartment for making hat storage, this project might help you with that. This cowboy hat storage can be hung up on the wall leaving you with much floor space. Also, it will let you keep your hats organized. Just stop by the instructions to see its making.
21. Hat Organizing Idea for Summer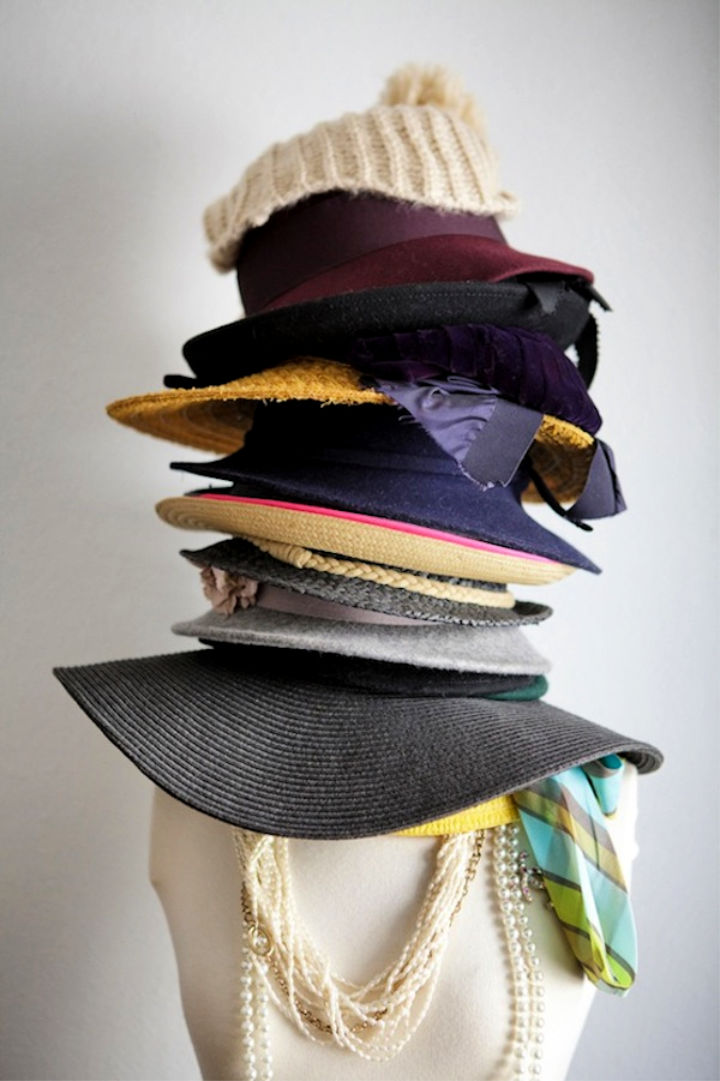 As summers are around the corner, so your home is going to see A LOT of p-caps. This idea of hat organizing is specifically for summers when you need it the most. Build it by using supplies like a drill, adhesive glue, plywood, and wood pegs.
22. Hat Storage Box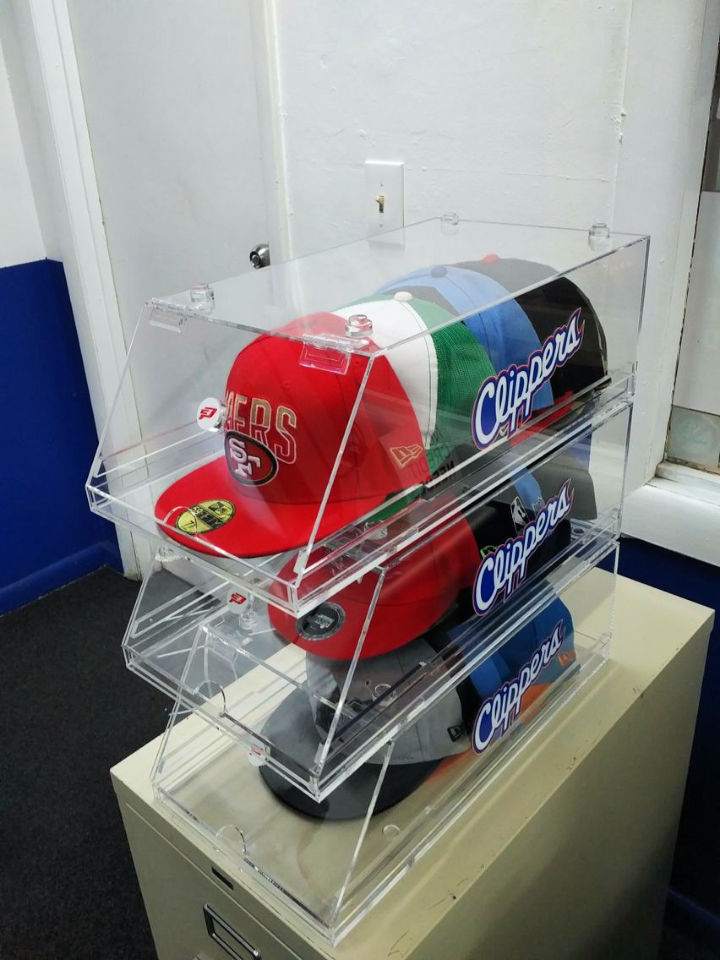 Find out how to create this hat storage box for keeping your hats in order. This project will let you pick one instantly while heading outside without wasting your time on exploring. It will cost you like nothing when you manufacture it at home, abiding by the instructions herein.
23. Hat Storage from Wooden Board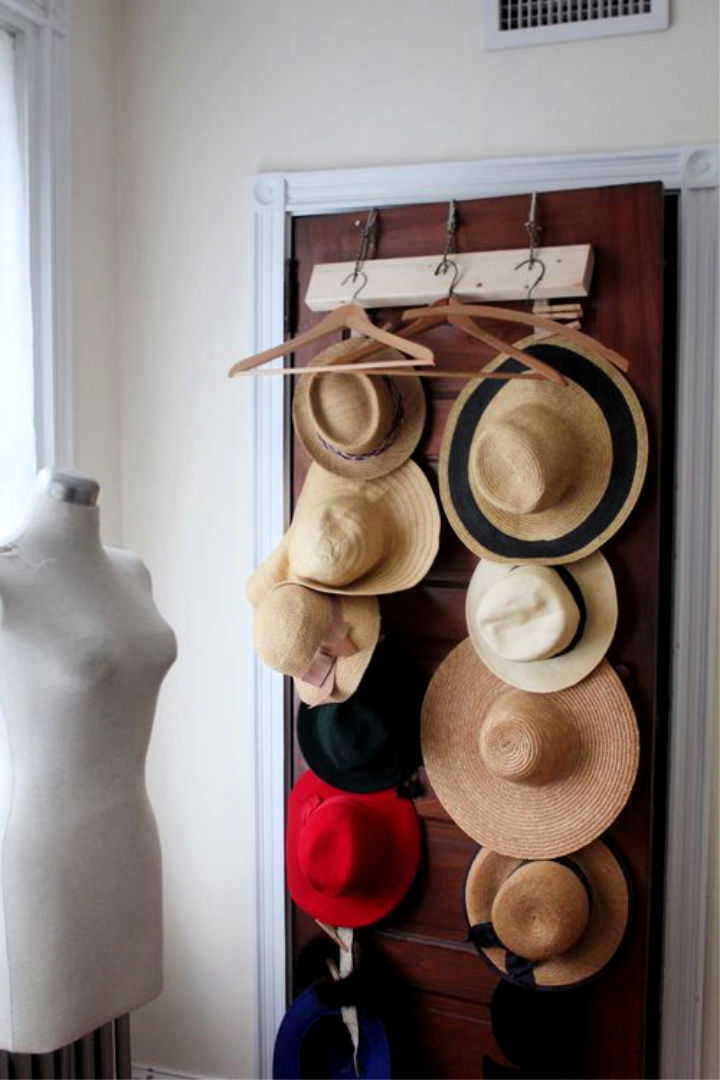 Do you have so many hats that it would be impossible to store in your cabinet? Build this hat storage from wooden boards and save your hats from getting twisted or damaged. Along with wooden boards, you will need wooden glue, drill, screws, wood pegs, and jigsaw.
Windup
An ideal hat storage rack has to be pretty much everything! It needs to keep the hats from getting twisted or damaged. While at the same time, offer enough room to hold them all together for the entire family. If anything, these 23 unique hat storage ideas must have shown you all the shortcuts to that. What are you waiting for? Get started already before summer is here in full swing.
Related Ideas