Digging through drawers is a big pain. Sorting out some quick and affordable solutions to organize your drawers? Then go with these 25 functional DIY Drawer Dividers that will further divide a drawer into custom storage compartments that will allow separate storage of a variety of items. Adding dividers will provide great ease of pick and drop, and you will also get rid of the danger of losing your items. To see lots of variations, browse this collection of 25 unique DIY Drawer Dividers will smartly partition a drawer to organize your items neatly. At the same time, they are quite inexpensive and easy to build using all from cardboard to plastic bins to balsa wood. From kitchen drawers to dresser drawers to bathroom drawers, there are dividers for all drawers you love to store your items into.
Put together the thin wood stripes and build the instant beautiful drawer dividers. Cut notches also from the cardboard strips and then integrate them together to build a custom grid style drawer divider. Just measure well the lengths and width of your drawers and then cut the divider frames according to them. These DIY drawer dividers will surely speed up your crafting game by organizing your craft supplies, and they will also help in easy kitchen organization by being in the drawers as separate accessory holders.
Moreover, you will get the guides also about how to decorate your finally completed drawer dividers. Use the duct tape, wrapping papers, or give custom wood finishes to adorn your drawer dividers more. Browse this entire collection of DIY Drawer Dividers will surely make you say a big wow.
1. DIY Fabric Drawer Dividers
Time to see no more mess in the drawers. Organize all your drawers by adding custom drawer dividers. Use leftover cardboard from boxes and scrap fabric to make these fabric drawer dividers, will surely organize your drawers for a more clean and accurate type of storage. Going this way can easily create so many different storage compartments in the drawers for categorical and separate storage of your things and accessories. Details here lelaburris
2. DIY Drawer Organizer
Want to partition your drawers for discrete and categorical storage of your items? Then do make custom drawer inserts with wood and then adjust them in drawers to create so many different storage compartments in a drawer. They will help tidy up your drawers and will provide you the ease to store a bunch of different items separately in drawers. Grab the 1"x3" white wood boards, wood glue, and saw to build this drawer organizer. One of the best DIY organizers to build at home without getting a bit expensive. Details here sawdustsisters
3. How to Make Drawer Dividers
Get inspired by this another great and cool looking suggestion for organizing your drawers with great ease. Just grab the 1/4 plywood and take it into strips that you can put together to build the drawer divider framework. First, just create the outer frame for the drawer and then insert the custom lengths to partition the drawer space. Finally, you will get lots of compartments in the drawers to separate and neatly store your things. Details here h3obungalow
4. Cheap Drawer Organizer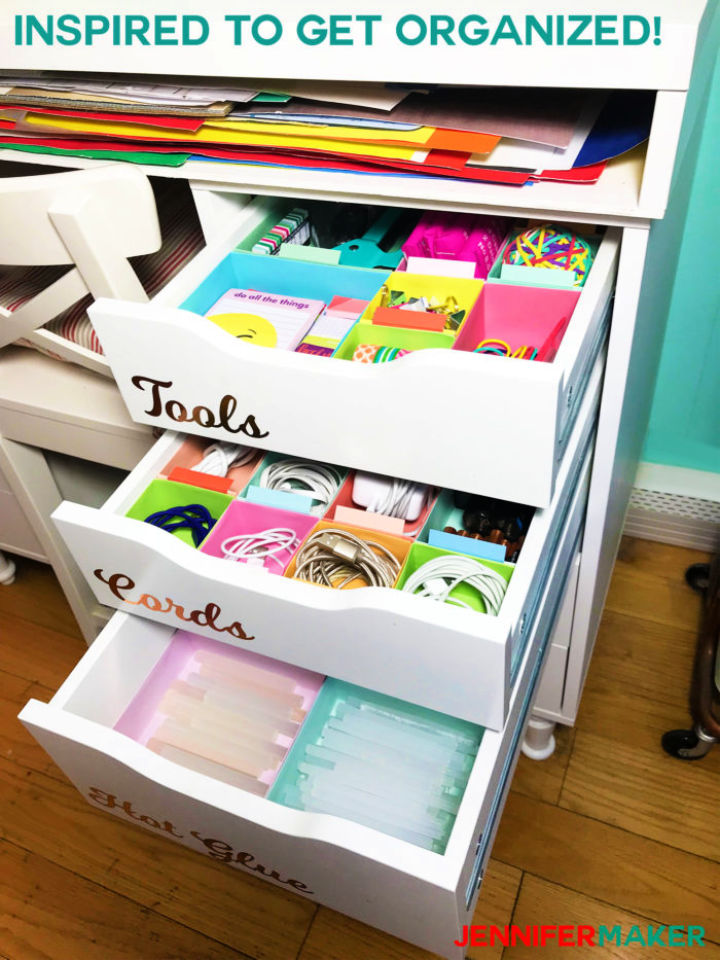 Wishing your bedroom dresser drawers to hold everything? Then do build this cheap drawer organizer that will help create further small and big compartments in your drawers to organize different types of stuff. Grab a drawer divider pattern, tacky glue, and cardstock to make this cheap drawer organizer. So, organizing your drawers will not cost you big now. One of the best and easy to make drawer organizers. Details here jennifermaker
5. Drawer Separators
Tidy up your drawers with this amazing drawer separator will not be a big hassle to make. Here you need the dental molding and mull strip to build these drawer separators, which will surely extend the storage criteria of a drawer. Time to make partitions in the drawers so they can store more neatly. To do this project, the major tools used will be the brad nail gun, hot melt glue gun, and miter saw. First, cut short the dentil molding to make the dividers according to the length and width of the drawer. Details here familyhandyman
6. Kitchen Drawer Dividers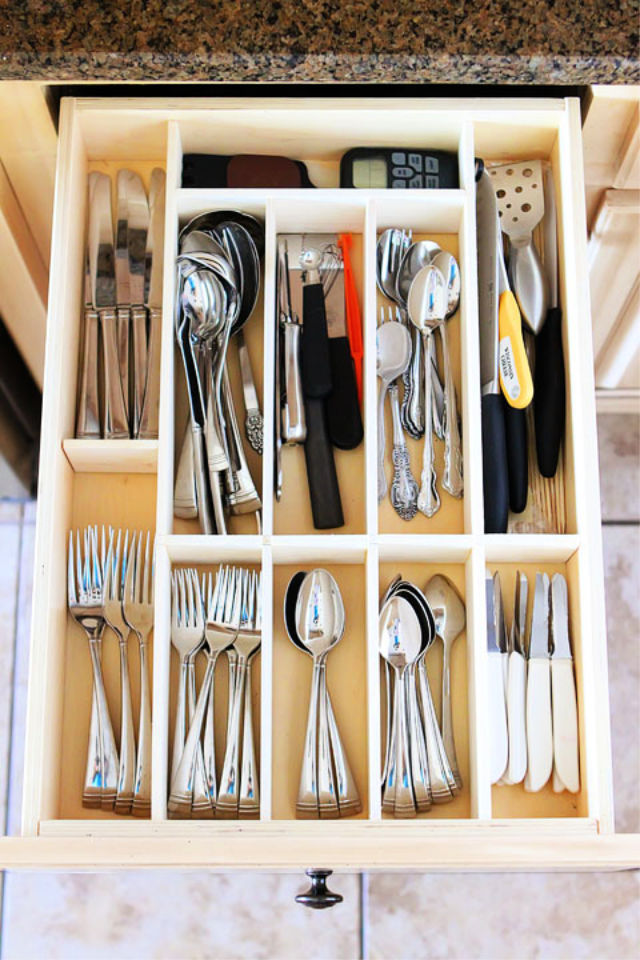 We have to stuff a lot in the kitchen, often a short space room of the home. So, always install smart storage options in a kitchen, so it helps your kitchen look neat and impressive. If you are having trouble with messy drawers, then time to organize your kitchen drawers so they will provide great ease of pick and drop. The idea is just to build these kitchen drawer dividers. Just grab the slim lumber or pine wood boards to make the divider according to your drawer dimensions. Next, install it to add further storage compartments in a drawer. Details here kevinandamanda
7. DIY Drawer Dividers
Get here step-by-step instructions about how to build 2 different types of drawers at just a drop of a hat. They will allow an instant beautiful organization of your drawers. Some will come in handy to tidy up the kitchen drawers where you need to store cutlery neatly. Next, you will find instructions about how to organize a clothing drawer using poplar boards as smart dividers. Measure the wood slats, cut, and then glue together to make the drawer dividers. Details here curbly
8. DIY Desk Drawer Organizer
Get rid of the paint to dig the drawers to find something necessary and important by going with the drawer organizer game. The idea is to further divide a drawer into different equal or small and big compartments to store different types of items neatly. It can be any from your kitchen tools to craft room supplies to custom clothing items. Just grab the thin pieces of wood and put them building a frame that will fit inside the drawer. Partition the frame in the way you like it. Details here organizedmom
9. Make Your Own Drawer Dividers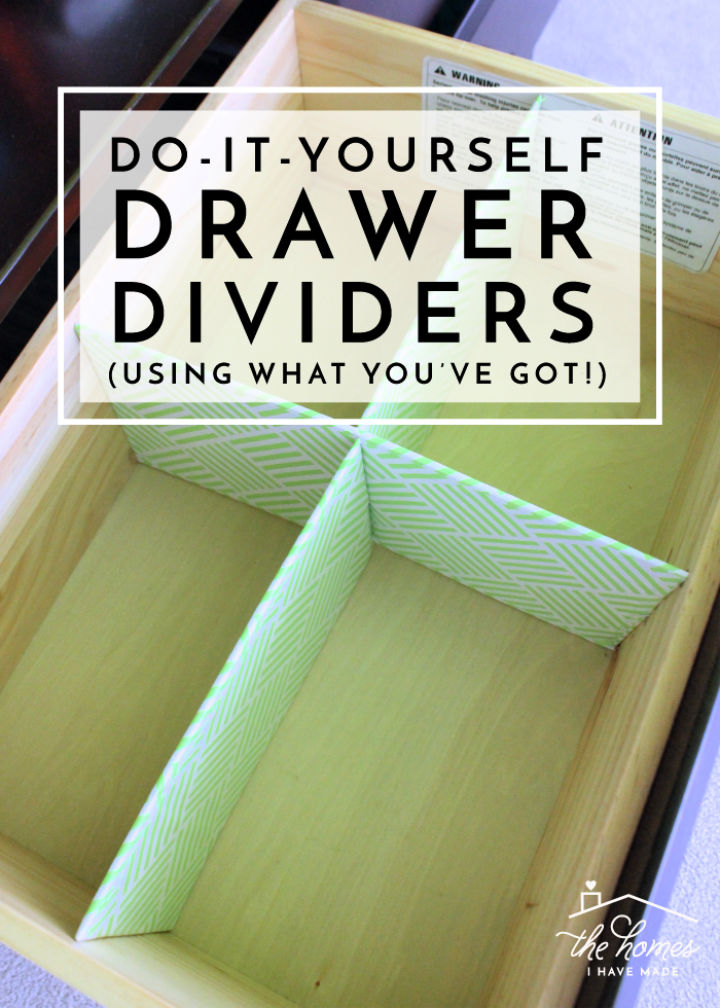 Are you having messing collection of your accessories floating around in your drawers? Then it may often be to find an item quickly need urgently. So, opt for categorical storage of your items and accessories by adding drawer dividers. They will divide the drawer storage area into custom compartments, that will allow organizing a type of stuff separately and neatly. Just cut corrugated board lengths according to the dimensions of the drawers and then build a custom drawer divider out of them. Details here thehomesihave
10. DIY Drawer Dividers for Kitchen
Are you often to find the kitchen gadgets, cutlery, and silverware as big messes in drawers? Then type to organize them by way of drawer dividers will save a lot of time in finding the right tool or custom item in the kitchen. Just build the wood drawer dividers or go with the plastic bins to add custom dividers and extra separate storage compartments in drawers. You can cut the plywood strips also to build these drawer dividers, will surely spice up your drawer storage game.
11. Drawer Organizer DIY
Are you often tossing your items in the drawers and go through a hard time to find them? Then you surely need to update your drawers with these drawer organizers that you can build yourself or can buy readymade from the market. Here you will get the guides about how to use the plastic drawer dividers to cleanly partition your drawer space. Next, head over to thin wood slats to build this drawer organizer. Details here jenwoodhouse
12. Cardboard Drawer Organizer
Make instant beautiful and cheap drawer dividers also using the cardboard. Cut the cardboard strips to fit in the drawers as a custom organizer and next cover it in a decorative paper, opt for the wrapping papers, to create a stunning gorgeous appeal of cardboard drawer dividers. Some time to make quickly and inexpensively to tidy up your drawers. Use any leftover cardboard box to make it. Details here applegreencott
13. Drawer Dividers to Organise your Craft Supplies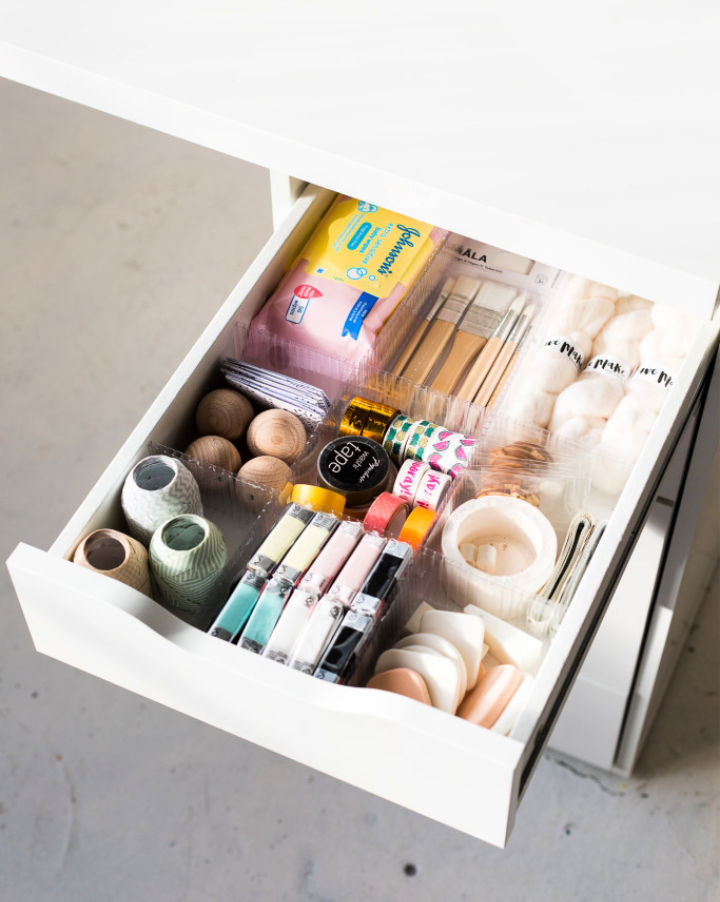 It demands a separate space with a well-organized craft desk inside, to do the DIY craft projects in a brilliant way. If you love storing your things in drawers, then update your drawers also so they will not make a mess of your stored items. Time to add the custom dividing walls in the drawers that will separately hold all your supplies and crafting gadgets neatly in the craft room. Get here some cool suggestions of DIY Drawer Dividers to organize your craft room supplies. Details here fallfordiy
14. Adjustable Drawer Dividers
Get here the step-by-step guides about how to build and install the adjustable drawer dividers. Just use the cord clips and thin wood slats to build these adjustable drawer dividers, will surely jazz up your drawer storage game. Just wrap the drawer dividers in white vinyl for a chic white appeal of your drawer divider. Here these adjustable drawers will rock for storing your clothing items in a neat and clean way. A one of the best hack to build an adjustable drawer divider. Details here iheartorganizing
15. Drawer Dividers for Desk Organizing
Fall in love with these DIY drawer dividers that will rock to organize your desks. Just add up the drawers with custom organizers so they will store all your gadgets and gears neatly. Here you have to do all the amazing crafting work with the cardstock. Opt for a patterned cardstock or white one and then draw drawer divider pattern lines on it. Cut and fold it to make a custom storage bin. Make a bunch of bins glued together to make the drawer divider. Details here thecraftingnook
16. Dresser Drawer Dividers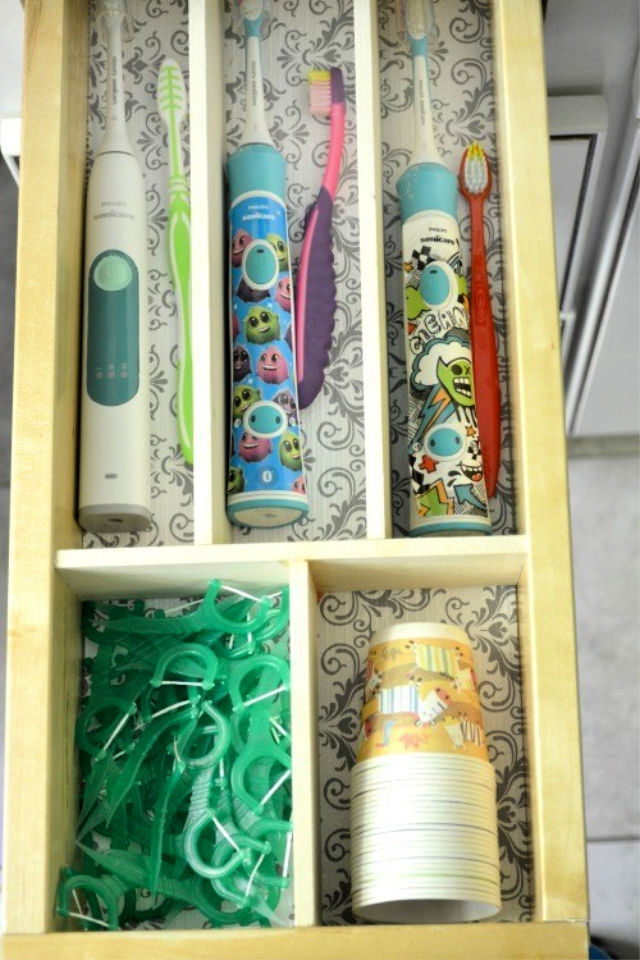 Organize the bathroom drawers also by adding some great dividers. Adding dividers in drawers is a way to create further storage compartments in the drawers that will help get more organized. Just build the dividers with slim and thin wood slats and then add a decorative paper underside the divider for a cool visual appeal. This divider helps create separate compartments in a drawer for toothbrushes and toothpaste. It will only take a few minutes to build this divider. Details here prettyhandygirl
17. Make Your Own Drawer Dividers
Customize the way a drawer stores the things by adding a custom drawer divider. It will take much less time to build a drawer divider like a pro. Grab the balsa wood, craft knife, measuring tape, and ruler to build this drawer divider, which can be customized according to the length and width of your drawer. It will not take much time to build this drawer divider, but results will just be amazing. Time to update your drawers so they will store cool. Details here hunker
18. DIY Wooden Drawer Dividers
Look at the cool organization of a makeup dresser drawer done by building a wooden drawer divider. It provides so many different slim, short, long and wide compartments for easy storage of different makeup tools, items and accessories! mydearirene
19. Drawer Organizer Project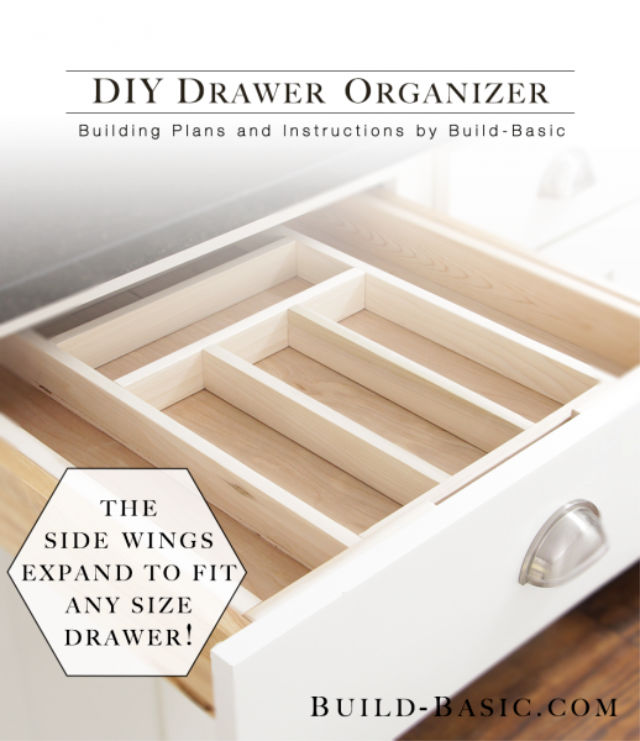 Looking through drawers is a big pain, get rid of it by adding your drawers up with the drawer dividers. Here you have to make this organizer out of balsa wood. Just use a knife and cut the balsa wood lengths according to the size of the drawer. Use the glue to adhere them together, making a lovely drawer organizer frame. Here this divider has been got for a dresser drawer, and it nicely stores the makeup items. Give the dividers a custom wood finish for an enchanting appeal. Details here build basic
20. Custom Drawer Dividers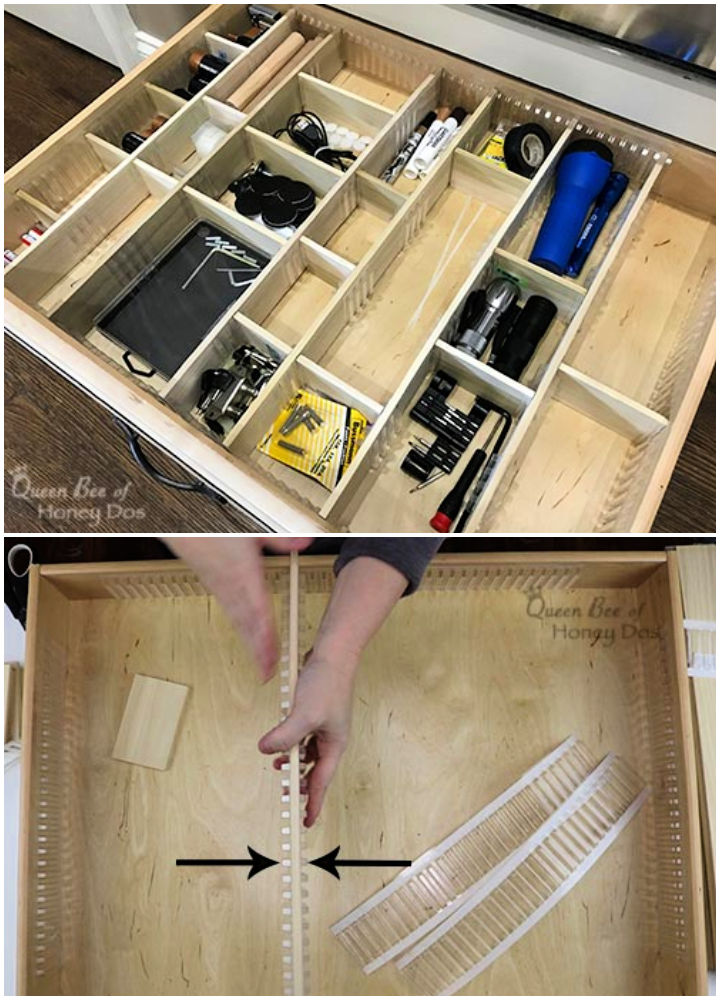 Get here instructions for building an adjustable drawer divider, will be a smart conversion of your drawers so they will store more. First, install the plastic drawer dividers that will come with custom slits in them to adjust the wooden lengths in them, so you can adjust them quite easily and comfortably. Just leave 4" corner space on each corner and then install the plastic dividers. One of the best DIY drawer dividers to build at home cost-efficiently. Details here queenbeeofhon
21. Custom Wood Drawer Dividers
Upgrade your drawers for mess-free storage. No more tangling of your expensive stuff and accessories, these dividers will be a great solution. Build these dividers for kitchen drawers, and they will help store nicely all those kitchen utensils and will be a breeze to make also. Just grab the plywood, sandpaper, and paint to make these drawer dividers will help all your kitchen gadgets and gears too. A measuring stick and a jigsaw will be whole your guides. Details here fromhousetohome
22. Drawer Dividers for Bedroom Dresser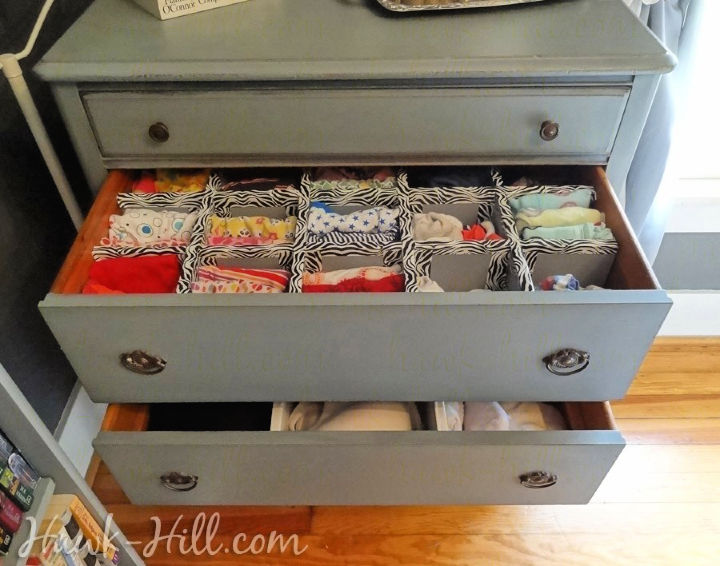 Willing to build an instant modern bedroom dresser drawer divider using the extruded polystyrene insulated sheet. The idea is to cut the notches in the polystyrene sheet so they can be fit together, making lovely drawer dividers. Just cut your dividers lengths and then spray paint them and integrate them together. Hold them together nice using duct tape, which will surely allow you for tangle-free storage in drawers. Details here hawk hill
23. DIY Cardboard Drawer Dividers
You will get the guides here to build another interesting drawer divider here using the recycled cardboard. Just put together the cardboard and build this closet drawer divider, which will surely spice up your storage game. Just take the cardboard into strips and then cut notches in the strips to build the cardboard drawer. Decorate the inside bottom of the drawer first using a gift wrap and next adjust the cardboard drawer divider. Details here designsponge
24. Drawer Dividers for Perfectly Organized Drawers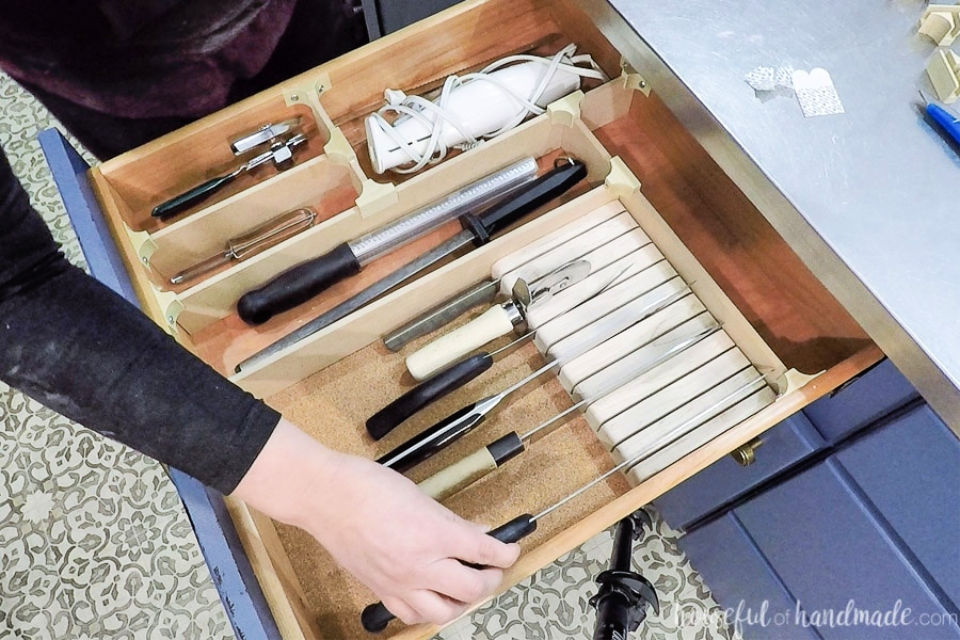 Allow your drawers to store more smartly using custom drawer dividers. They will help create amazing compartments in the drawers so you can store all your items of need and interest nicely. These drawers' organizers are quite inexpensive and easy to make and will be a breeze to craft right in your workshop. From kitchen to dresser to bathroom drawers, these dividers will rock for all sorts of drawers for sure. Details here housefulofhand
25. DIY Custom Wooden Drawer Organizers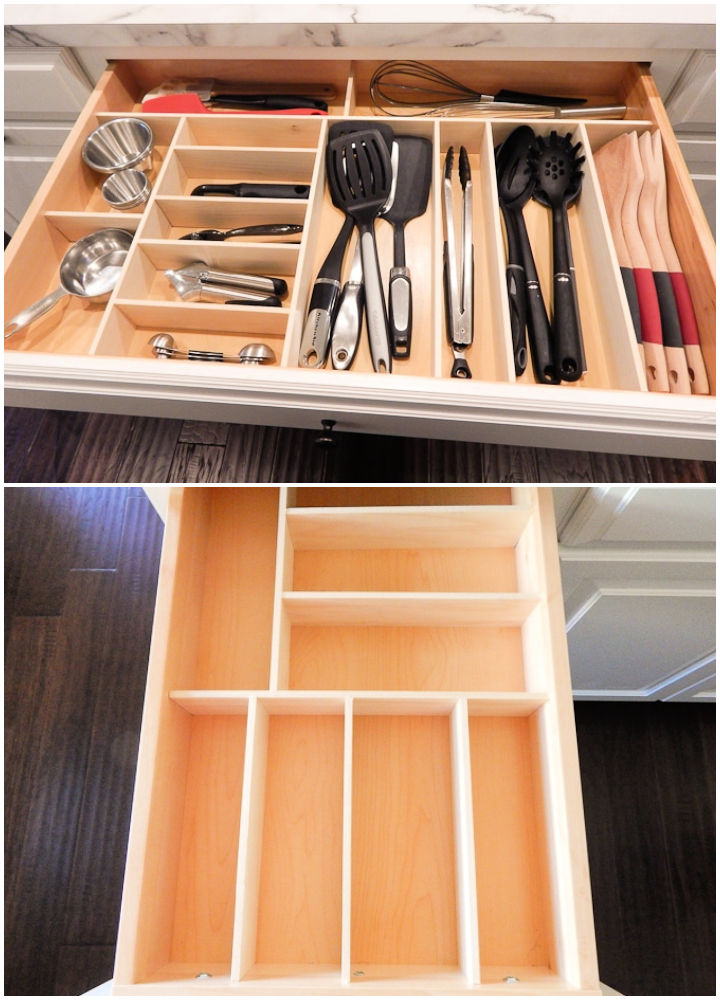 Look at this another fascinating wooden drawer organizer, sure to spice up your drawer storage game. Grab the unfinished poplar boards to build this fantastic looking wooden drawer divider that comes with custom horizontal and vertical storage compartments. Time to transform your drawers into brilliant accessory organizers by means of these homemade drawer dividers. keystoinspiration
Conclusion:
Have you tired of finding the items in the cluttered drawers? The time to organize your messy drawers so they will provide easy of finding a specific item at the very time of need. The best idea is to build the custom drawer organizer that will help create further small and big compartments in the drawers adding separation to a variety of items stored in the drawers.
DIY drawer dividers will not allow the items to mix together, and hence you will get rid of the tangled items. From organizing your kitchen cabinet drawers to dresser drawers to bathroom drawers, you can organize any drawer with the help of these dividers, quite easy and inexpensive to build.