Make your own dice tower for your gaming tables, cheaply and quickly. Just follow these 10 easy and free DIY dice tower plans that will help to make a dice tower at no-cost. With their beautiful designs, they will add new decor dimensions to gaming tables and keep the dices on the table! Building these dice towers is going to be one of the best DIY Projects with minimal skills and budget required! Get inspired by the brick towers, princess castles, and by the luxury houses while building these dice towers.
They will surely spice up the rolling the dices with a hand. See all popular designs by browsing this collection of 10 simple dice tower plans that are too beautiful to hold one's attention, especially of kids at home. They will be ready at a fraction of cost as you can quickly make them at home using scraps of materials.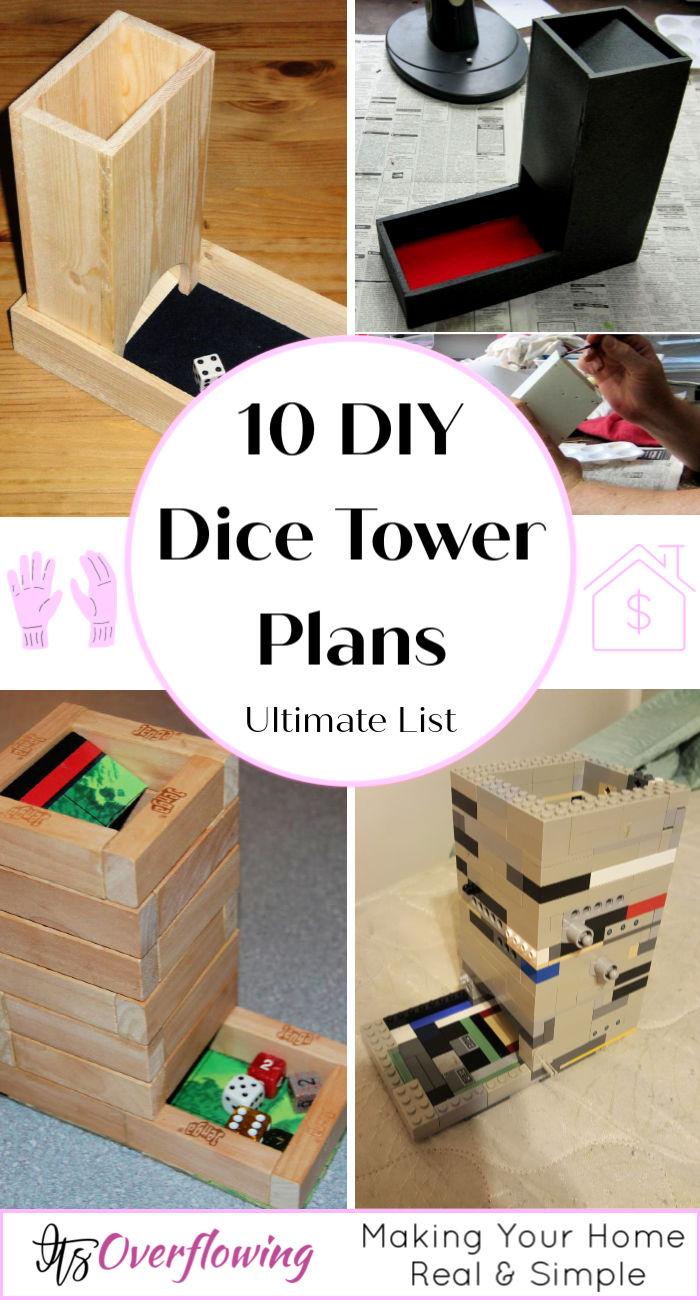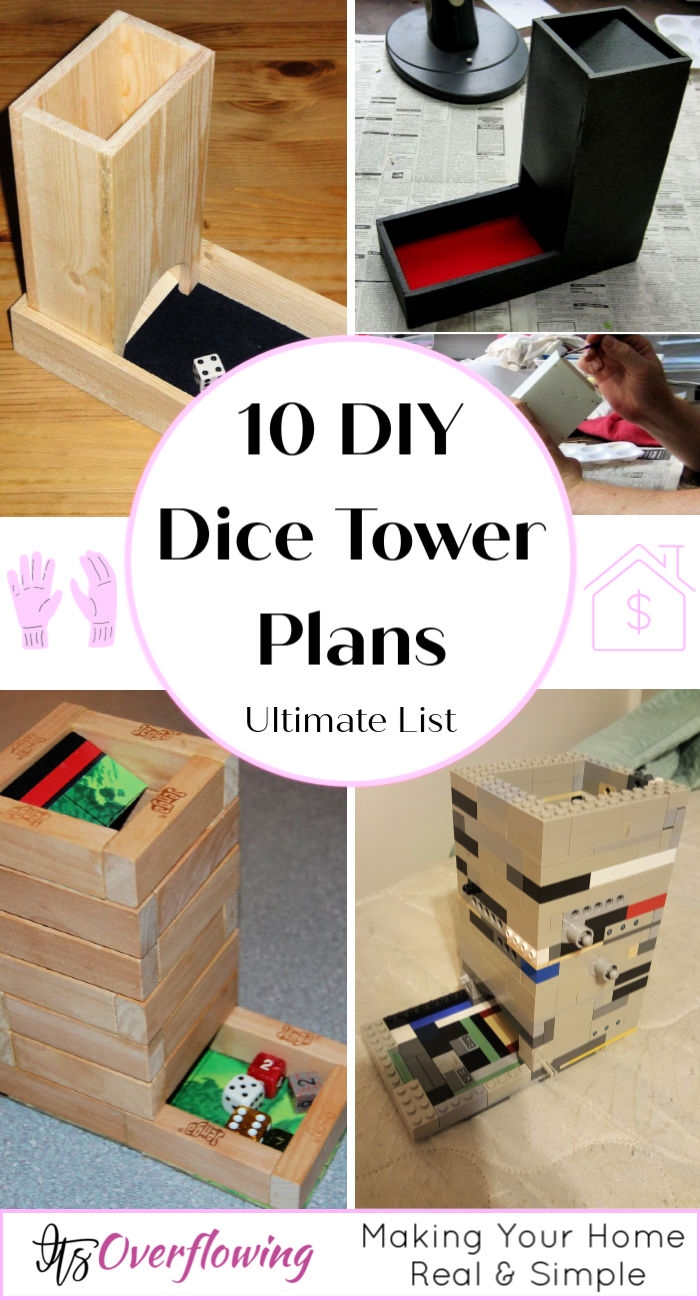 From using an empty Pringles Can to an empty Apple Watch Box to using LEGO Blocks, these dice tower plans involve all to build a beautiful looking dice tower. However, you can opt for the wood scraps too to build a solid and durable looking dice tower. All you need is to build a tower with an open-top to drop off the dices. Next, you need to build a bottom tray that will hold the dices, make it felt covered to reduce dice noise. Don't forget to add inside baffles and slops that should direct the dices to the bottom tray so they will emerge from the front nicely. Browse the entire collection of these DIY dice tower plans to see a lot of interesting designs to choose from and learn how to make a dice tower!
1. Build a Travel Dice Box with Built-In Tower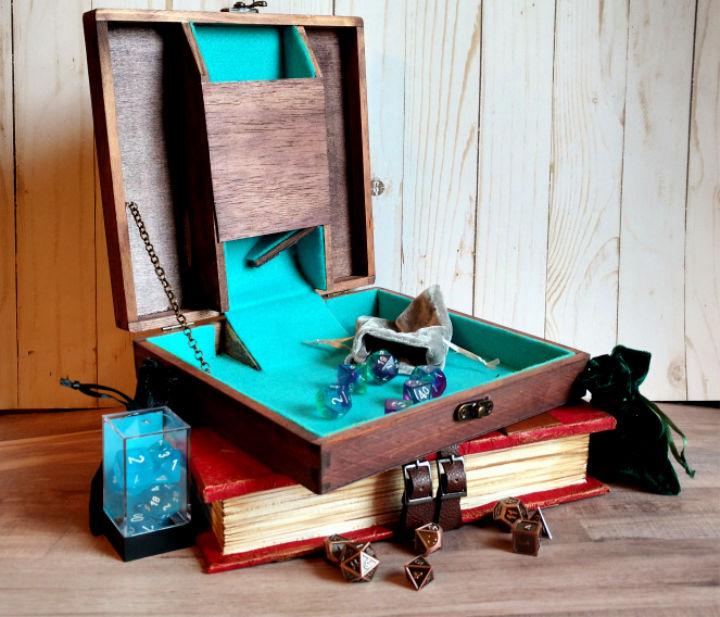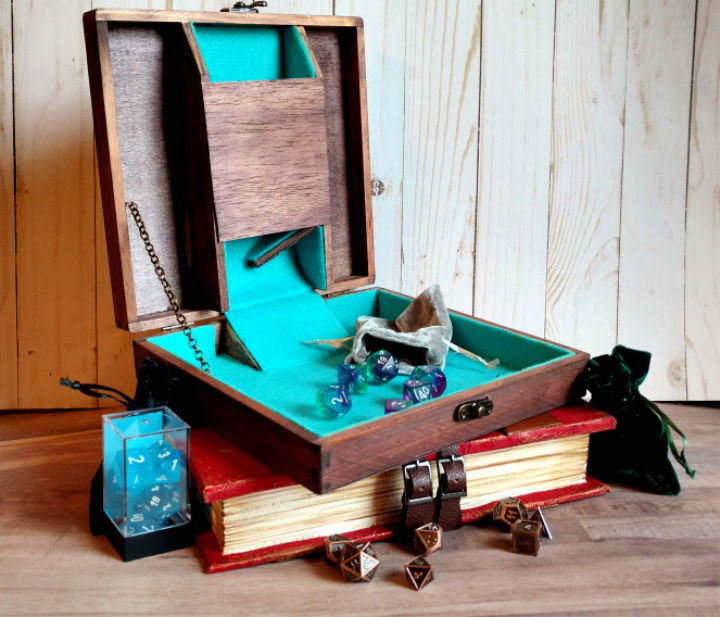 There are always some fun-loving cheaters when playing the dice games. So, reduce the cheating chance when throwing the dices with hands by building this travel dice box. It comes with a built-in tower that will you can make with a wooden box, felt, balsa wood, thick wood strips, and metal chain, etc. Details here stuffjademade
Minimize the chances of cheating when rolling dices with hand using these free dice tower plans that are too beautiful to make a nice gaming table centerpiece too.
2. DIY Formboard Dice Tower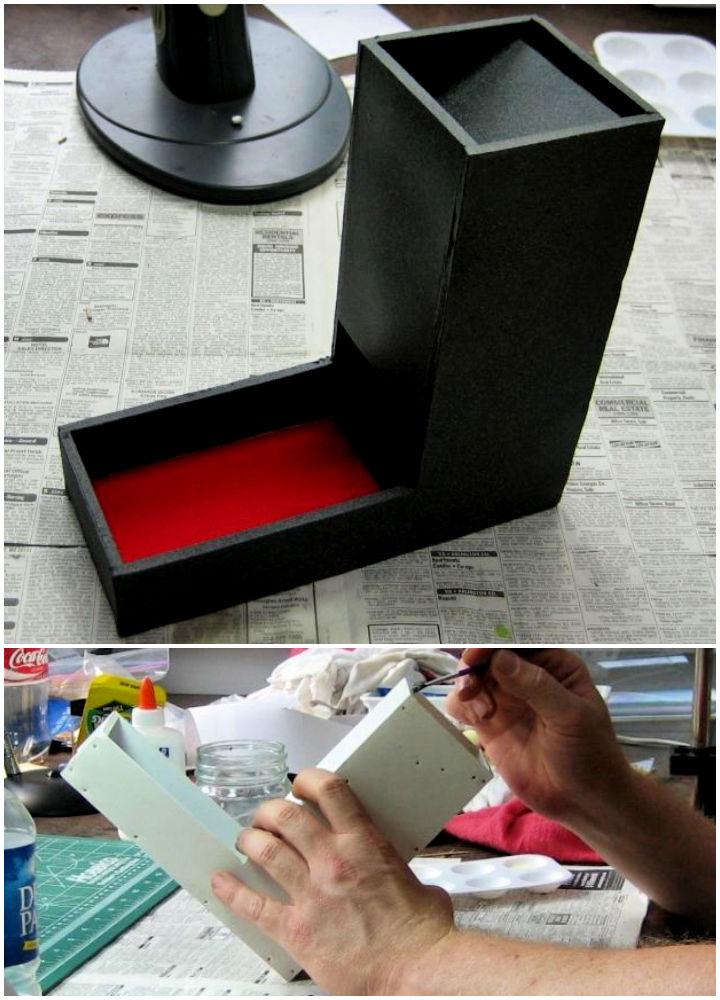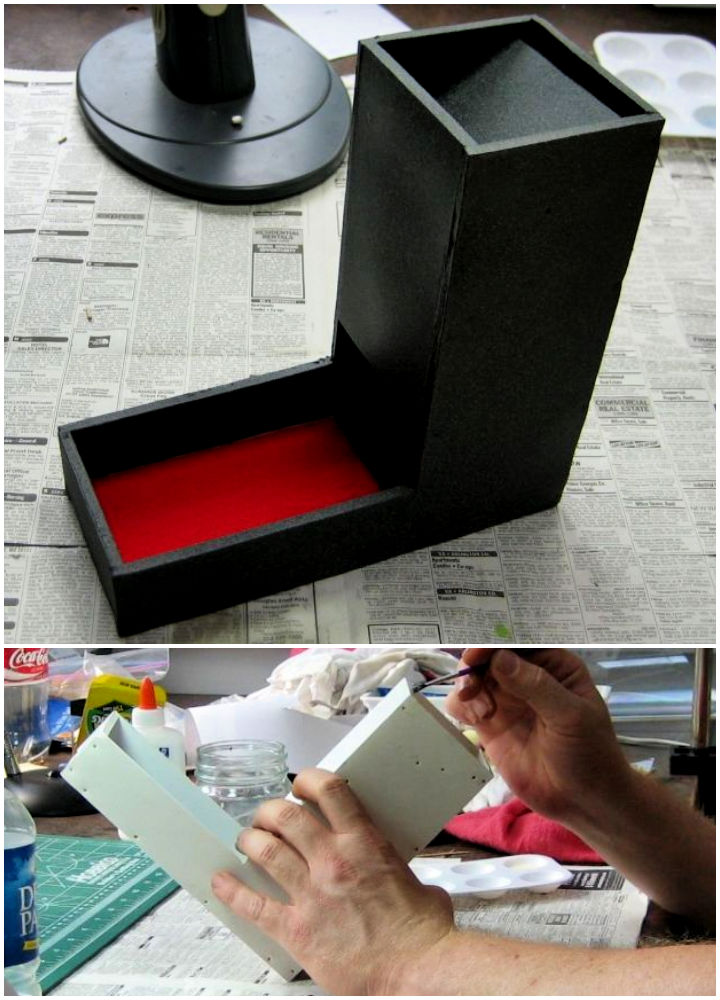 Addicted to tabletop games? Then spice up rolling of dices with this homemade formboard dice tower, quite something beautiful to built inexpensively at home. You need a standard 20inch x 30inch sheet of foamboard, a foamboard dice tower printout, a box of rounded toothpicks, and a sheet of felt to build it. instructables
3. No-frills DIY Dice Tower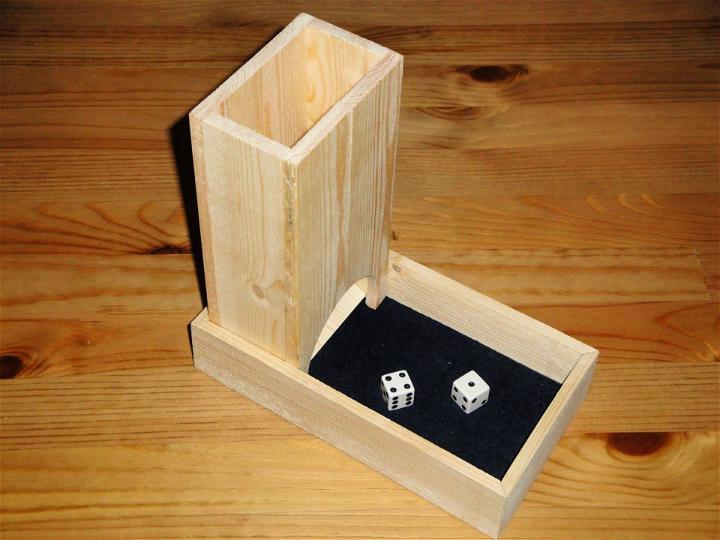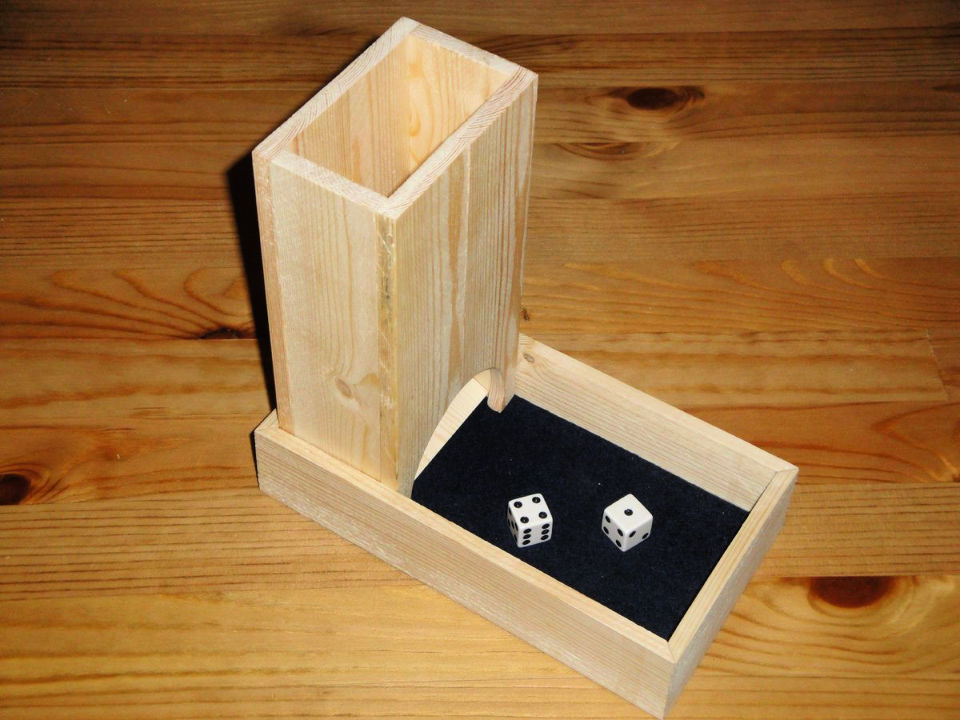 If you want something simple and plain, then opt for wooden dice tower plans, will complete super quickly. Build this miniature wooden dice tower with the 2.4m of the wood batten and felt. Use the PVA glue for adhesive demands and saw, clamp vice and drill for completing the design quickly and nicely. Details here boardgamegeek
4. Easy Homemade Dice Tower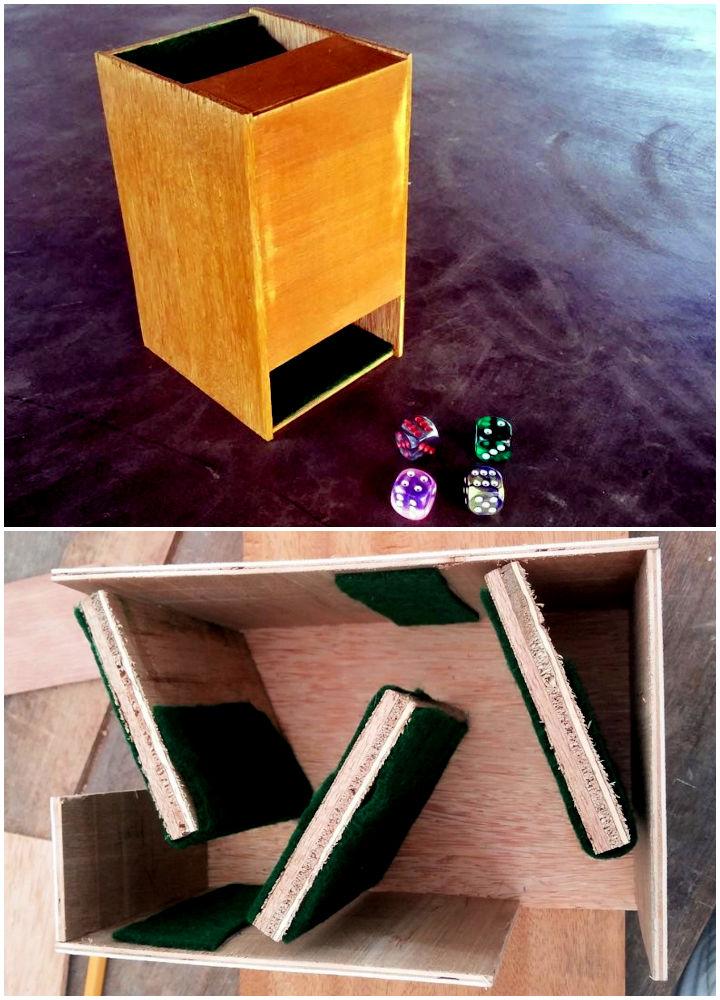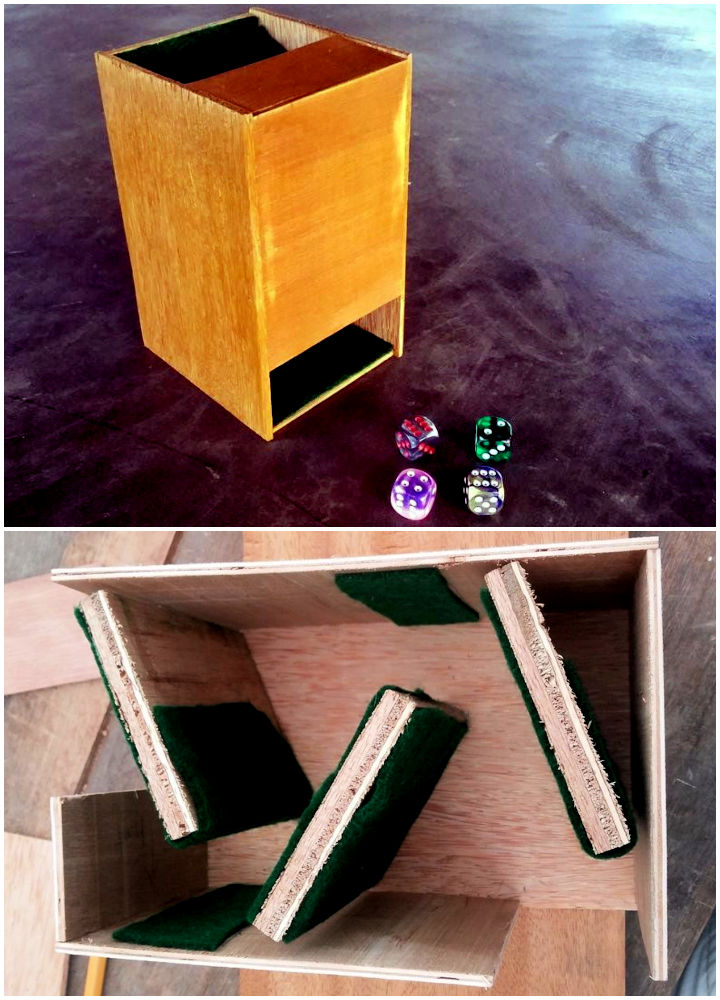 No need to buy expensive dice tower, build homemade dice tower quickly at home, and like a pro with these free DIY dice tower guide. It comes with three green felt covered baffles inside and can easily be made using scrap wood pieces. Balsa wood and plywood will rock to build this 6″ tall dice tower. Details here instructables
5. Make Your Own Dice Tower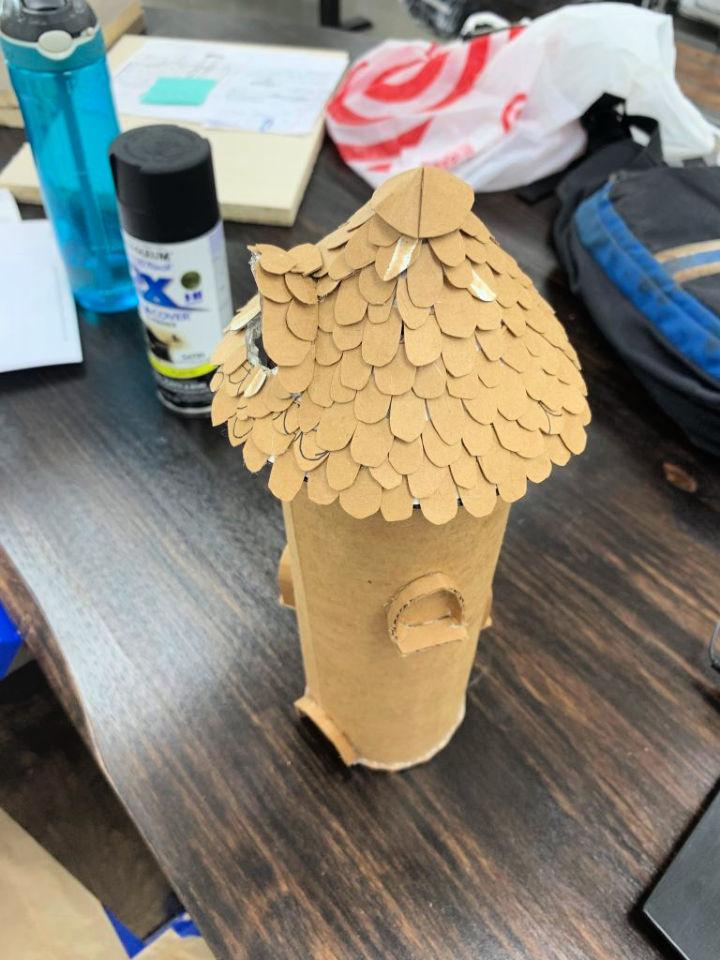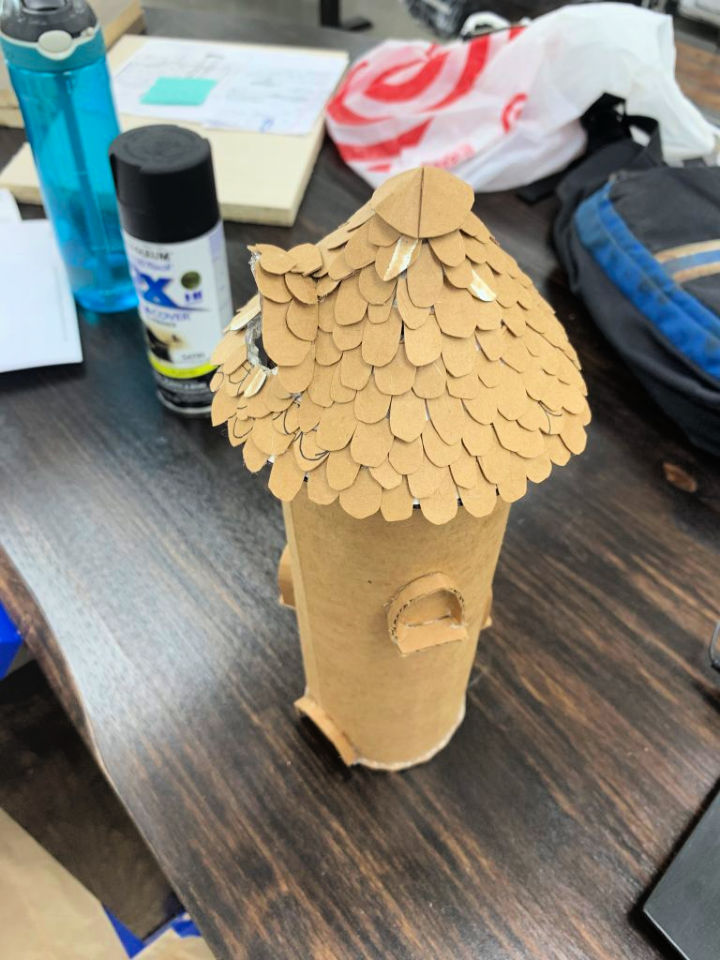 This DIY dice tower will hold the attention as a lovely table decoration. Use both standard cardboard and the lightweight cardboard to make your own dice tower. The cardstock will also work great. Use something in circle shape like a compass to use as a template for this DIY dice tower. Use a box cutter and a cutting mat for accurate cuttings. fabricsnfun
6. DIY Dice Tower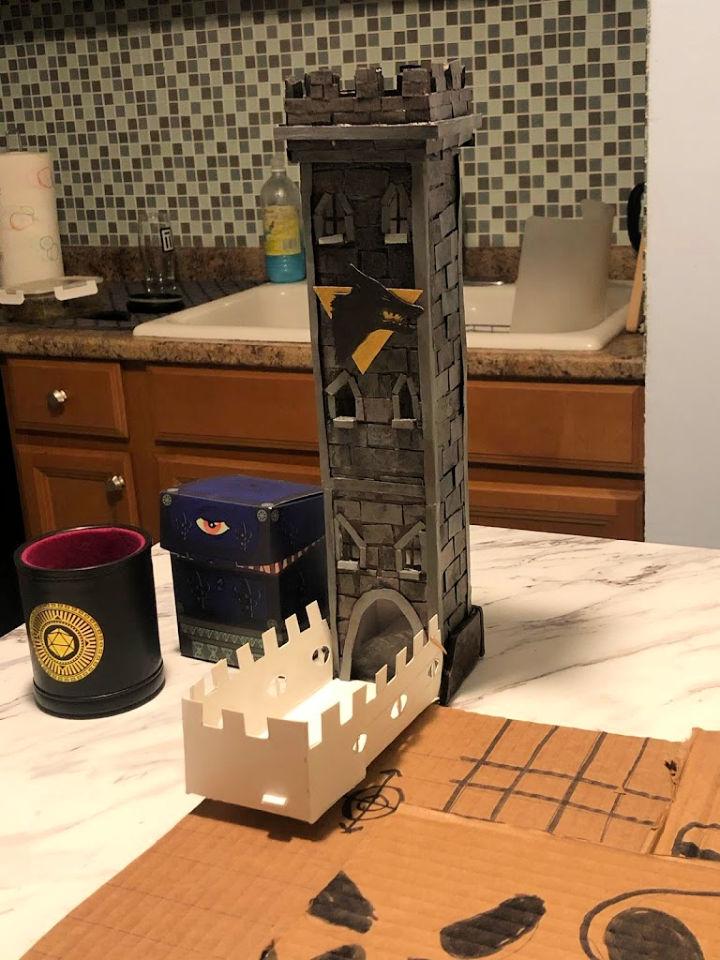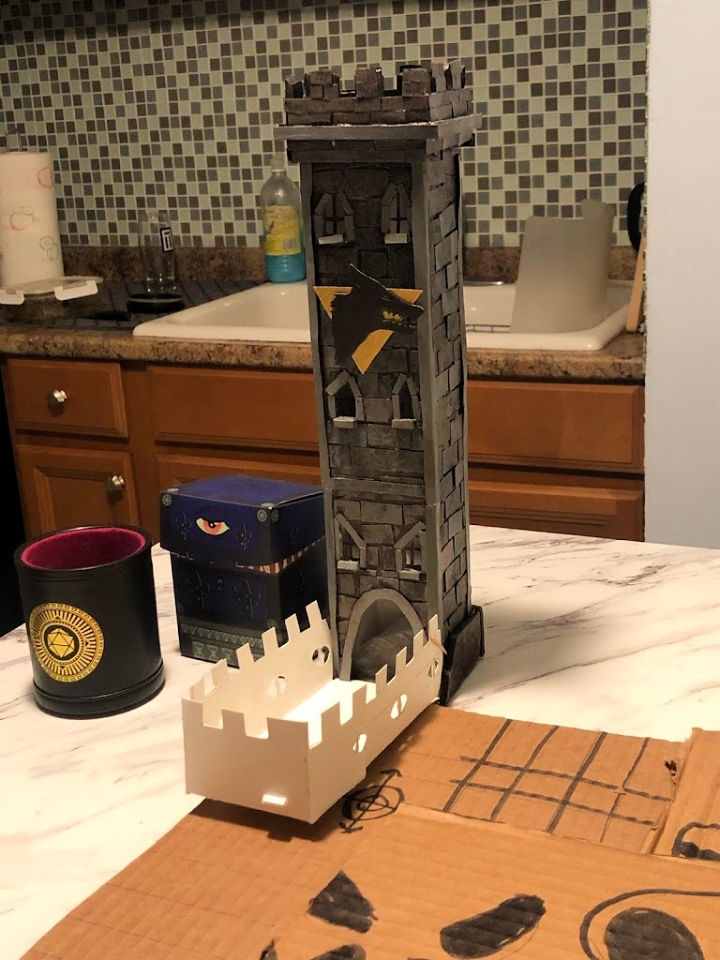 This dnd dice tower more like a home decor centerpiece than just being a dice tower on your gaming tabletop. Repurpose an old Apple Watch Box to build this nice looking tower. Make the tumblers using the inside packaging and use the clear plastic and white gift wrap for the base. It also comes with an LED installed in the bottom. imgur
7. LEGO Dice Tower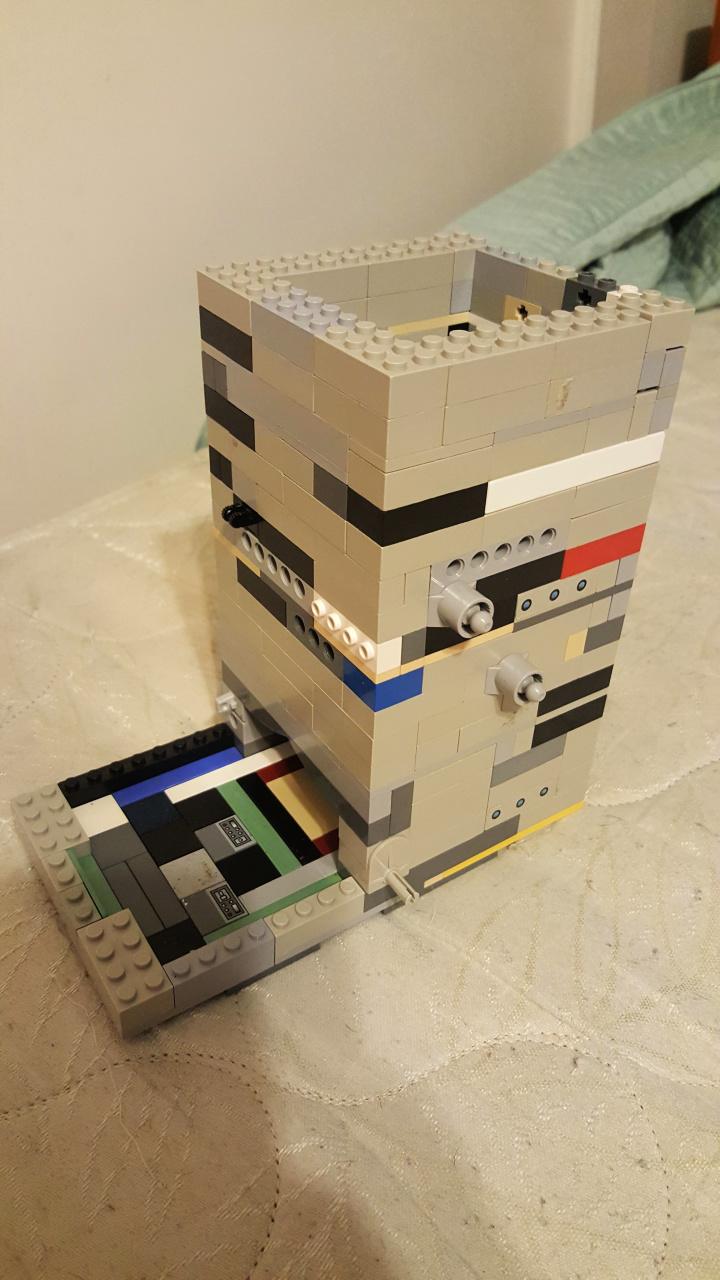 Avoid cheating in throwing the dices while being around a gaming tabletop using this LEGO dice tower. Just put together the LEGO Blocks first to build the bottom tray. To direct the dices nicely to tray, install the plain ramps inside sloping toward the bottom tray. Details here imgur
8. How to Make a Dice Tower

Learn how to make a dice tower! It looks like a miniature brick tower, a cool dice tower to place over the top of your gaming top table as a charming decoration. Upcycle an empty pringle box to make this dice tower. For bricks, use the wooden strips or blocks and next use cardboard, tissue paper, and acrylic paints to build complete this dice tower. Details here amitjain1980
9. Building a Jenga Dice Tower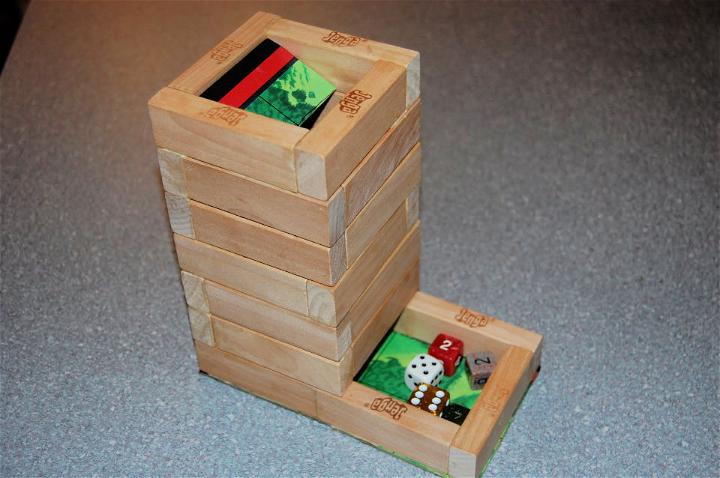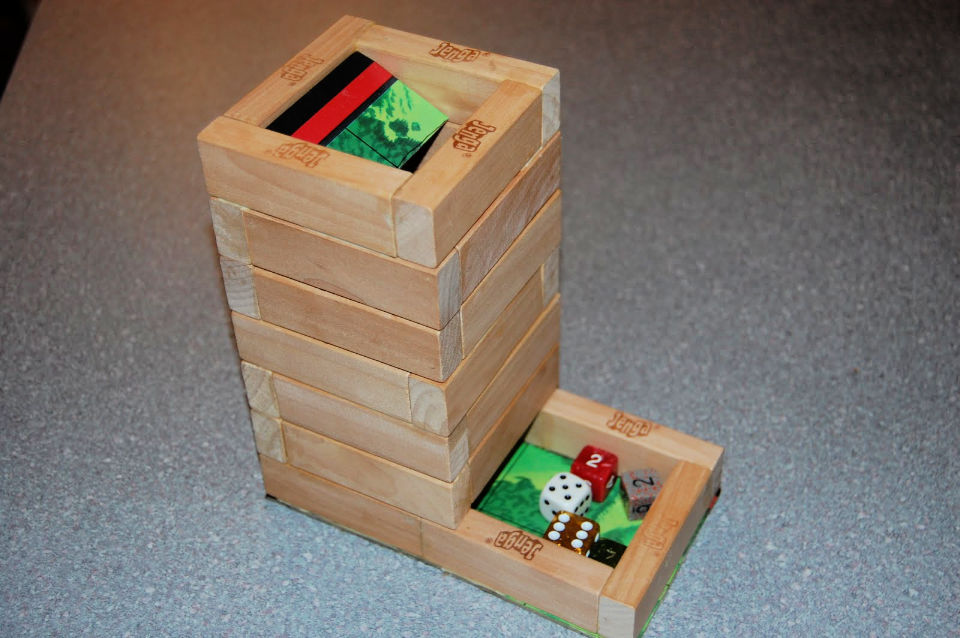 Put together the Jenga blocks to make your own dice tower. Grab the 30 Jenga blocks to build this DIY dice tower. Next, you need foam board, felt, paper towel, and 3 wooden clothespins to complete this Jenga dice tower. A one of the coolest dice tower to make at home. adventuresin
10. Sync's Mini DIY Dice Tower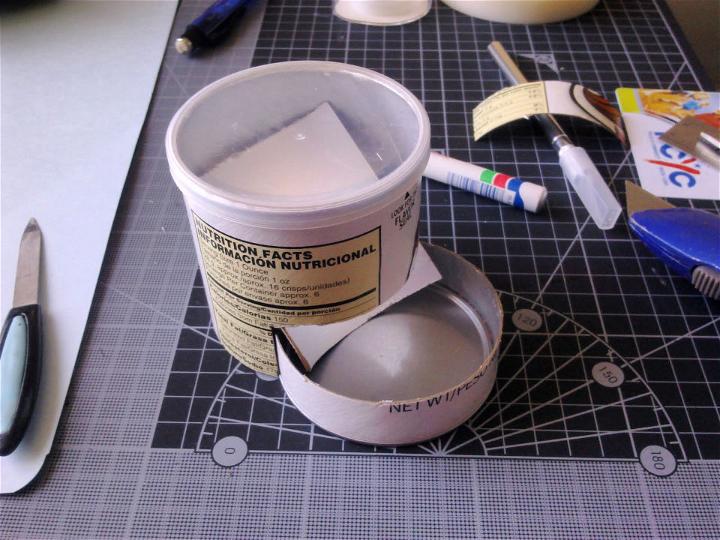 Recycle cans of Pringles to build no-cost and good looking dice towers. Making this Sync's mini dice tower will cost you an empty Pringles can. Just take two pieces of Pringles can build this DIY dice tower, and a bigger top one should come with a step-cut. Add a sloping surface inside to direct the dices to the bottom tray. Details here sync wargaming
If you want to make your own DIY dnd dice tray, just follow these 15 Best DIY Dice Tray Ideas to make your own homemade dice tray at home, quickly and cheaply.
Conclusion:
Maybe you know some friends and family members that are often a confirmed winner in the dice tabletop games. If you have some doubts, that they play hand tricks when rolling the dices with hands, then start playing zero-cheating dice games with these DIY dice towers. They will allow dropping the dices from the top of the baffles so they will emerge in front, revealing the scores. Along with being a big cheating remover in dice games, they will make arresting gaming tabletop decoration too. So, do try building them with these dice tower plans that will cost you next to nothing.