It will bring sudden disappointment when some of the members around the gaming table become overexcited and roll the dice forcefully to wipe off all the game tables. So, go with these 10 best DIY dice tray ideas that will make it safe to roll the dices and will not let them disturb the rest of the game. Just build a dice tray in size according to your gaming table and set it on the table to one side. You can buy the commercial dice trays from the market, but consider making your own favorite dice tray at home without getting a bit expensive.
See all the amazing designs with lots of smart variations in this collection of 15 DIY dice trays that are incredibly beautiful and are mostly made of the picture frames. The old picture frames are inexpensive and can also be recycled from home, so they are the ideal candidate for these DIY dice tray projects.
To reduce the noise of the dices, just give the soft floors to your dice trays. Here the felt and craft foam will be the best choices for the softer dice tray floors. Next, just finish the tray custom pads or rubber pegs so they will make a noise when moving here and there on the table. If you are not getting the picture frames, the shadow boxes will be a better alternative.
Personalize your completed dice trays by adding custom logos, monograms, and gaming accents. In the case of wood trays, sand and stain them and also give a nice glossy wood finish. Opt for a simple wooden square, rectangle, hexagon, or octagon tray for a great geometrical decor statement. Recycle the wooden boxes from home too to make a DIY dice tray with dice vaults.
1. Dice Tray for the Holidays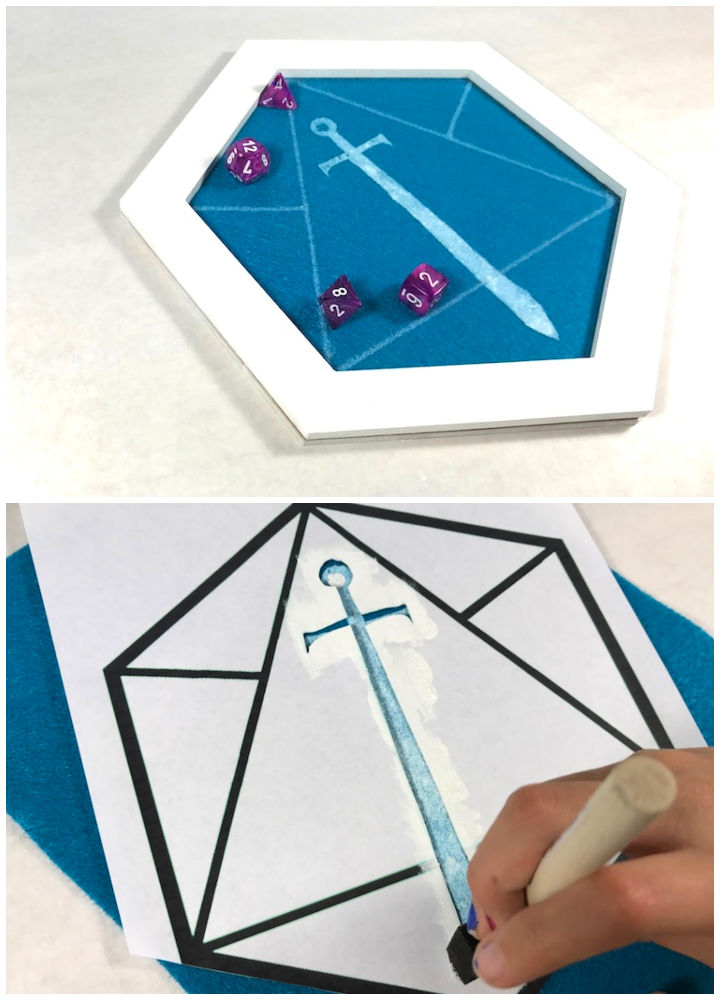 Enjoy the holiday season more by playing some table games. If you have already had a gaming table, then you must make this dice tray to roll over the dice without wiping off the entire game. This DIY hexagon dice tray comes with a critical role logo. Make this 11" x 9.5″ frame using medium hexagon frame, felt, white acrylic paint, and white paint marker. geekandsundry
2. How to Make a Dice Tray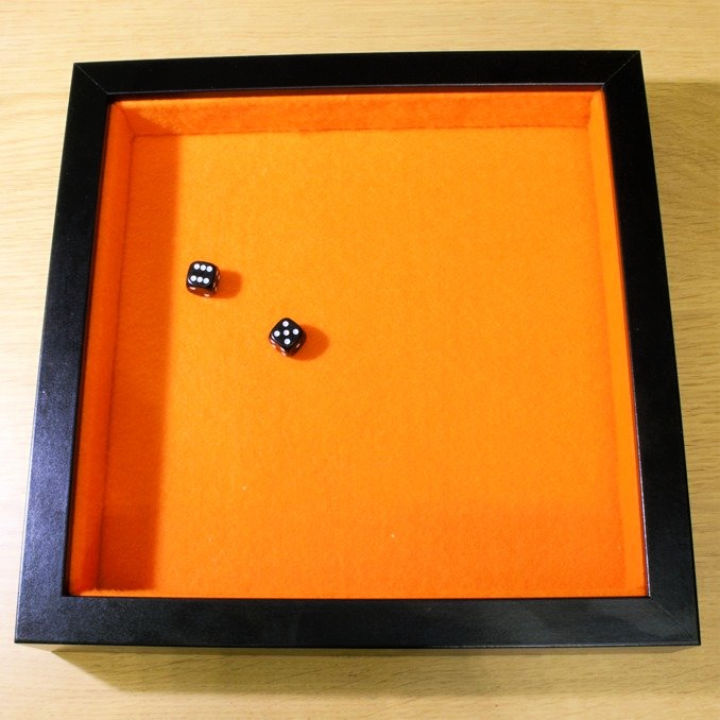 if you love to play games during the holiday season, then you must make this dice tray, will be a pleasurable addition to your RPG gaming table. This DIY dice tray is a smart IKEA hack, make it using an IDEA Ribba Frame, felt, xacto knife, glue, and model clamps. Details here fauxhammer
3. Cheap and Easy RPG Dice Tray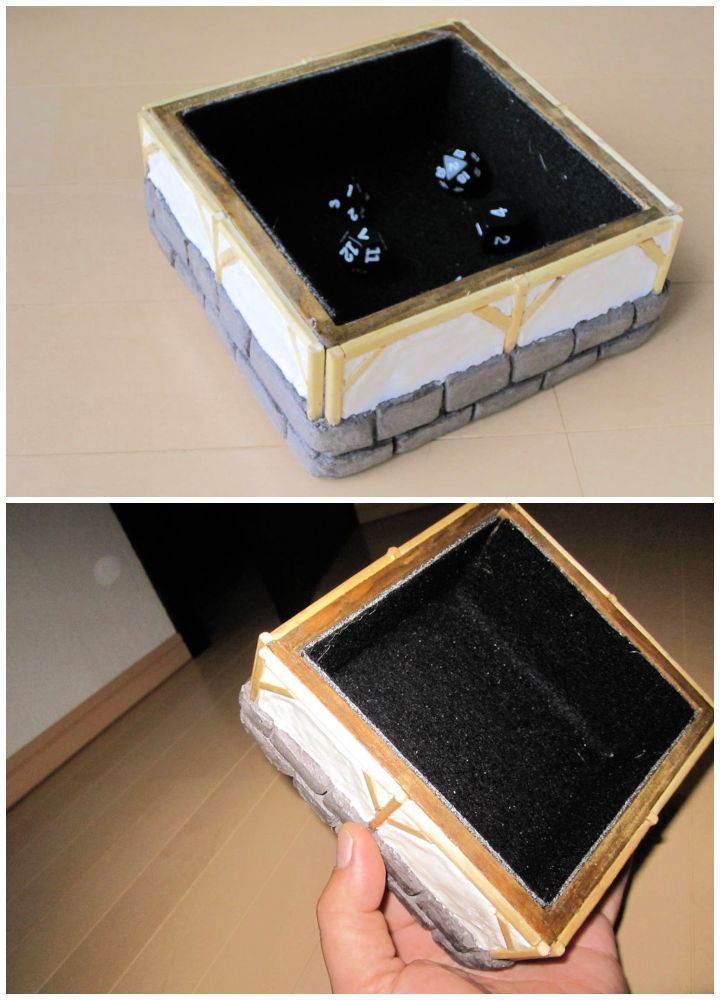 Sometimes you wipe off the entire game while rolling the dices. This is often a case while being around an RPG gaming table. So, make this dice tray for your RPG gaming table for safe and fun dice rolling. Grab a wooden box, air-dry clay, piece of a thin doormat, disposable chopsticks, water-base paint, and varnish. instructables
4. Tabletop Gaming Dice Tray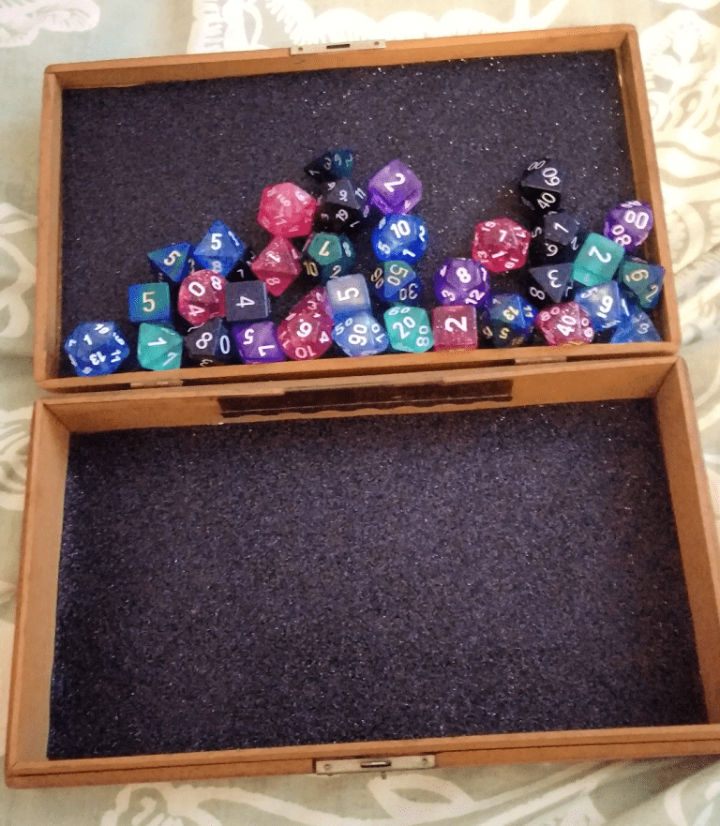 Are you addicted to tabletop gaming? If you mostly spend your weeknight by playing games on a tabletop, then you must get this gaming dice tray. Make it at home without getting expensive. Grab a cigar box, sand and stain it or paint it too if you like. Next, glue the felt inside the box to make a dice tray. nerdophiles
5. Handmade Collapsible Dice Trays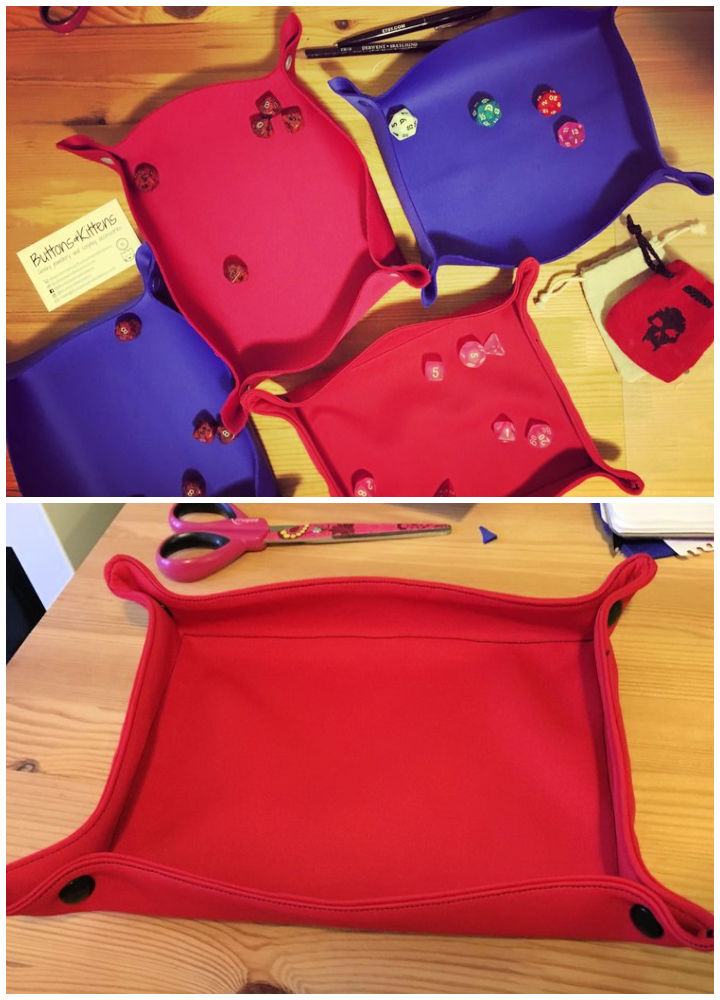 Make also colorful dice trays using the thick knit fabric. Grab a rectangle of this type of fabric and add the snaps to each corner 1″ in and 1″ down. Fit together the snap to raise the side edges of the tray, making an adorable collapsible dice tray. It will make an outstanding gift for a game lover. buttonsandk
6. Custom Dice Tray
Make this another gorgeous looking dice tray that comes decorated with custom charms that may be inspired by your tabletop gaming characters. Sand and stain an unfinished wooden tray, give it a soft floor using felt or craft foam using glue. A fabulous way to make a dice tray in no time. Details here chicagonow
7. Dice Tray for Gaming Table
You will love this IKEA to make an adorable dice tray, will complete shortly, and in just no time. Here you need 22″ x 24″ Ribba IKEA frame to make this dice tray for your modern gaming table. Just remove back the frame, cover it up with felt, and put it back in the frame and add the bottom felt pads. Details here coachingfor
8. Dice Tray from Frame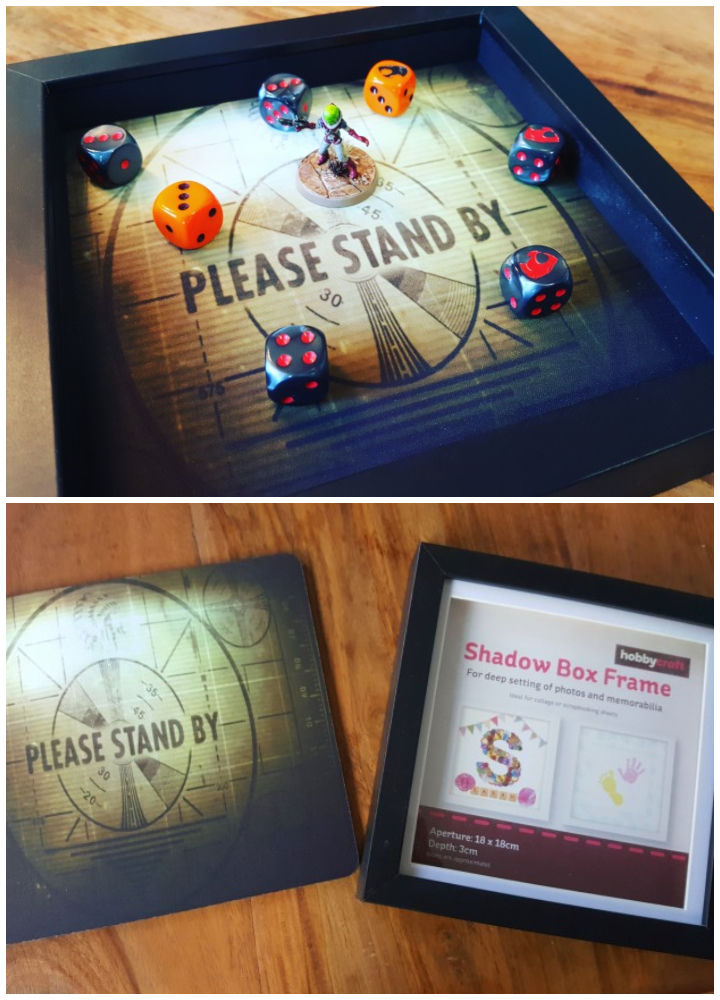 Go smartly handmade with the shadow boxes also to make lovely dice trays. Remove the glass backing from a shadow box and spray paint a shadow box in black. Next, lay down the glass backing on the mouse mat to cut an exact size and just put it back in place. Details here beastsofwar
9. Make Your Own Dice Tray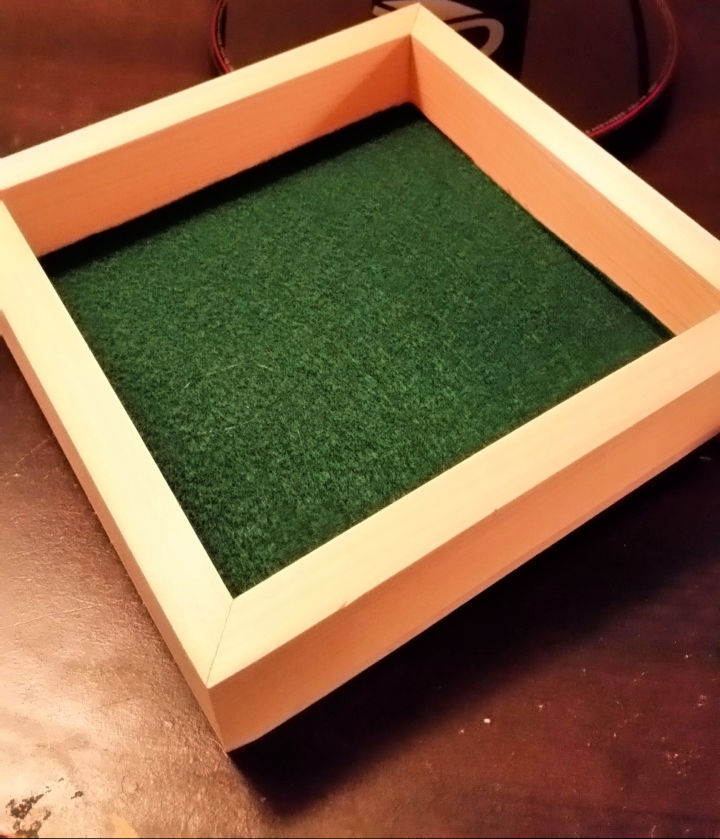 Get busy with 1 piece of 8×81.75″ of basswood and 1 piece of green sharpie and 2 pieces of peel and stick felt in Kelly green to make this dice tray. The green felt just looks like green grass, and it will go much natural to your gaming tabletop. Make it in any size you want. readytorole
10. DIY D&D Dice Tray
This is one of the best dice trays to make at home and will be unique too. Grab a wooden book box with a hinged lid and just cover the inside bottom of it with your favorite color of felt. Paint in black or in the desired color and finish with a gaming monogram. Details here imgur
11. How to Build a Dice Tray
Get this wooden DIY dice tray made by giving a clear gloss finish to a craft store wooden tray using the polyurethane. Next, just give it a super soft floor using self-adhesive craft foam sheet and finish the inside edges with felt select in color of choice. Details here community
12. DIY Dice Tray Under $3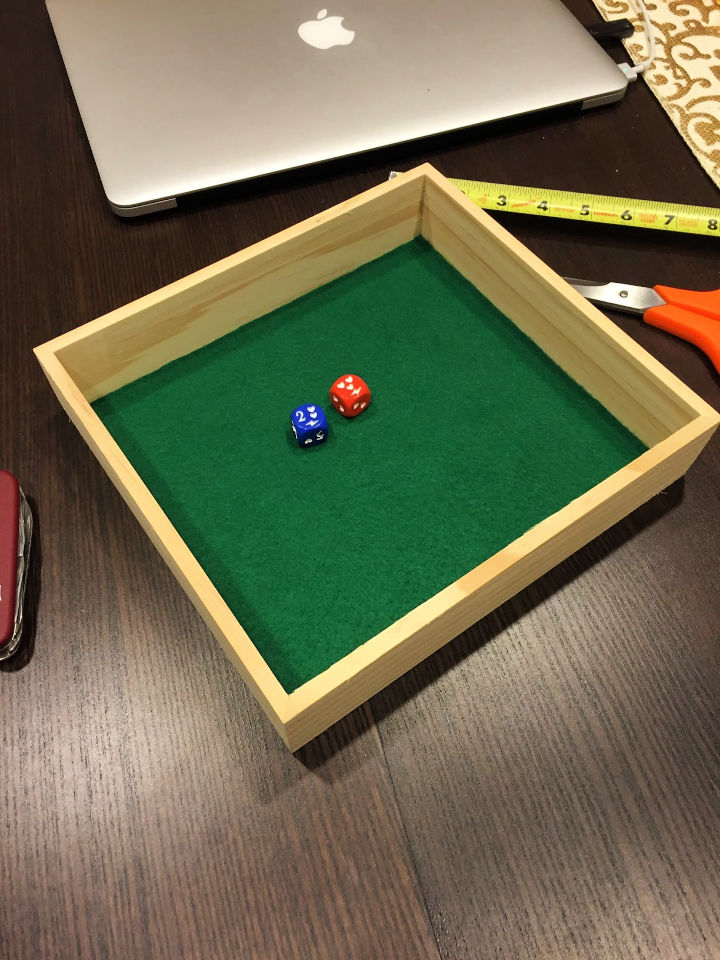 Spice up the rolling dices game with this dice tray. It can be placed on one side of a table to roll the dices without any disturbance to the rest of the tabletop gaming. Making this dice tray will cost you less than $3. Grab an 8″x9″ wooden box, and green $1.5 dollar felt from Daiso to make this DIY dice tray. Details here tawink
13. Wyrmwood Purpleheart Dice Tray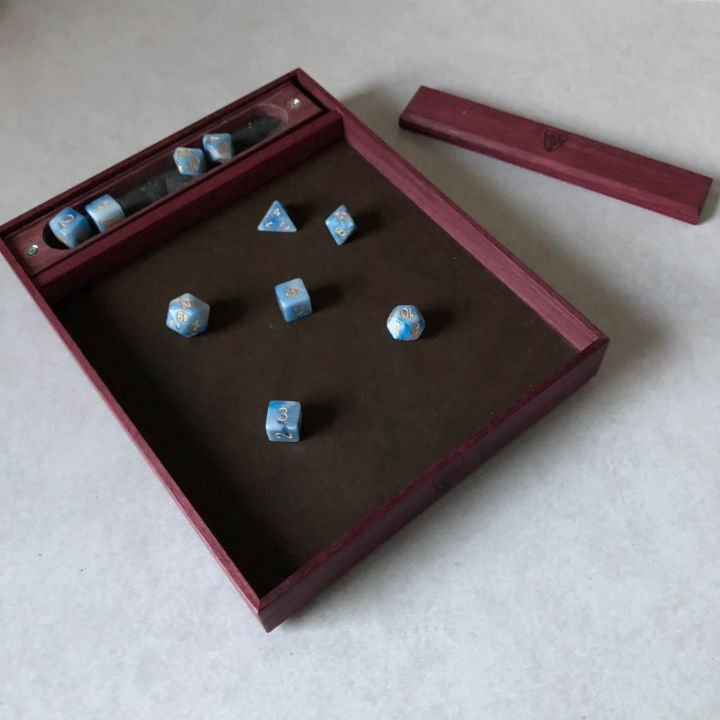 Make this dice tray using the Peltogyne wood featuring a purple hue. This DIY dice tray will rock for large tabletop games and comes with a vault too to store your dices. It looks unique with the Wyrmwood Purpleheart monogram and has been finished with 4 rubber peg bottom legs. Details here bleedingcool
14. DIY Octagon Dice Tray
Duplicate this DIY geometrical dice tray for your tabletop game, will make it super fun to roll your dices. Take the wooden planks into equal pieces having 30-degree angle cuts on both sides. Put them together to make an octagon and finish with a solid wooden bottom covered with a mouse pad cut to size. boardgamegeek
15. Handmade Dice Tray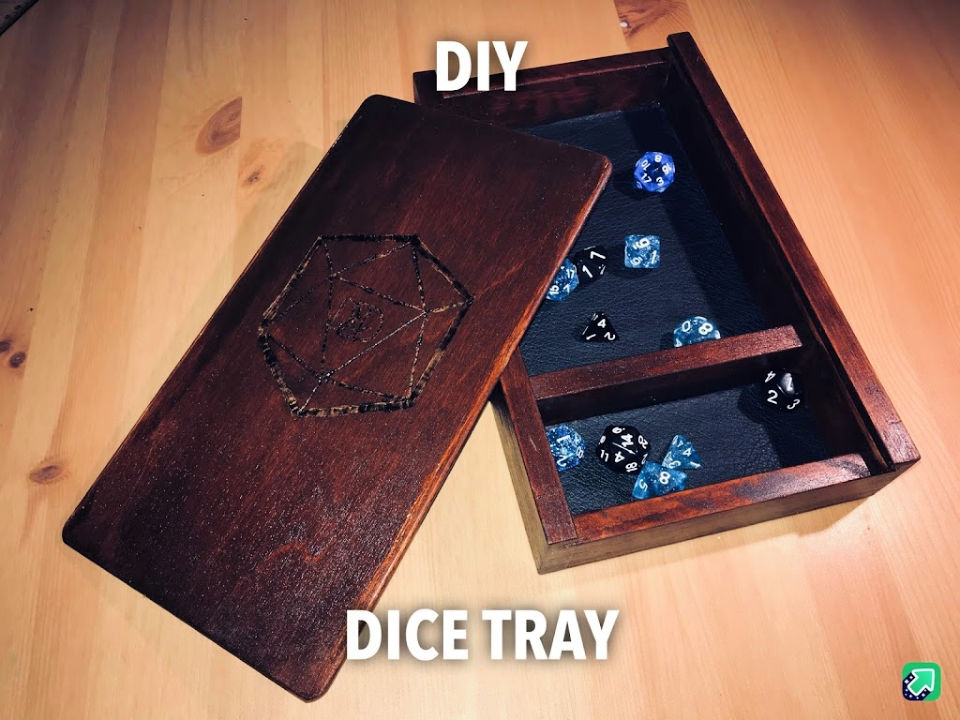 Recycle a wooden box from home having a vault on one side. Sand, stain and varnish it for an enchanting dark choco wooden tone. Spruce up its lid with a custom D&D monogram. Next, adorn it up more with a custom accent inspired by your tabletop gaming routines. Details here imgur
Conclusion:
These DIY dice tray ideas will help you to stay organized when being around a gaming table. The will keep the rolled dices in the boundary and over the felt or foam floors so they will not cause any noise or inconvenience to the rest of your gaming table. These DIY projects use the recycled, repurposed, and reclaimed materials to make the dice trays and hence will cost you next to nothing.