Staying at home all the time can be boring. Give your furry friend the freedom of going outside or to come inside the home any time with these 8 free DIY dog door plans that are to install majorly in the primary entrance doors. There are lots of homemade dog door styles and designs to choose from like they can be spring-loaded panels or the epic mini sliding barn door.
Moreover, they can be like the original main holes or the flexible flipping flaps. However, using custom hardware, you can add more security and control to them. You no need to open these dog doors. They will permit the dogs and cats to leave or enter the building at any time. These DIY dog door plans will allow your dogs to exercise outdoor so they will gain a great healthy while being less bored. The list will discuss all the homemade dog door ideas to build a dog door in an expert way, and you will love the tricks and strategies used in these projects.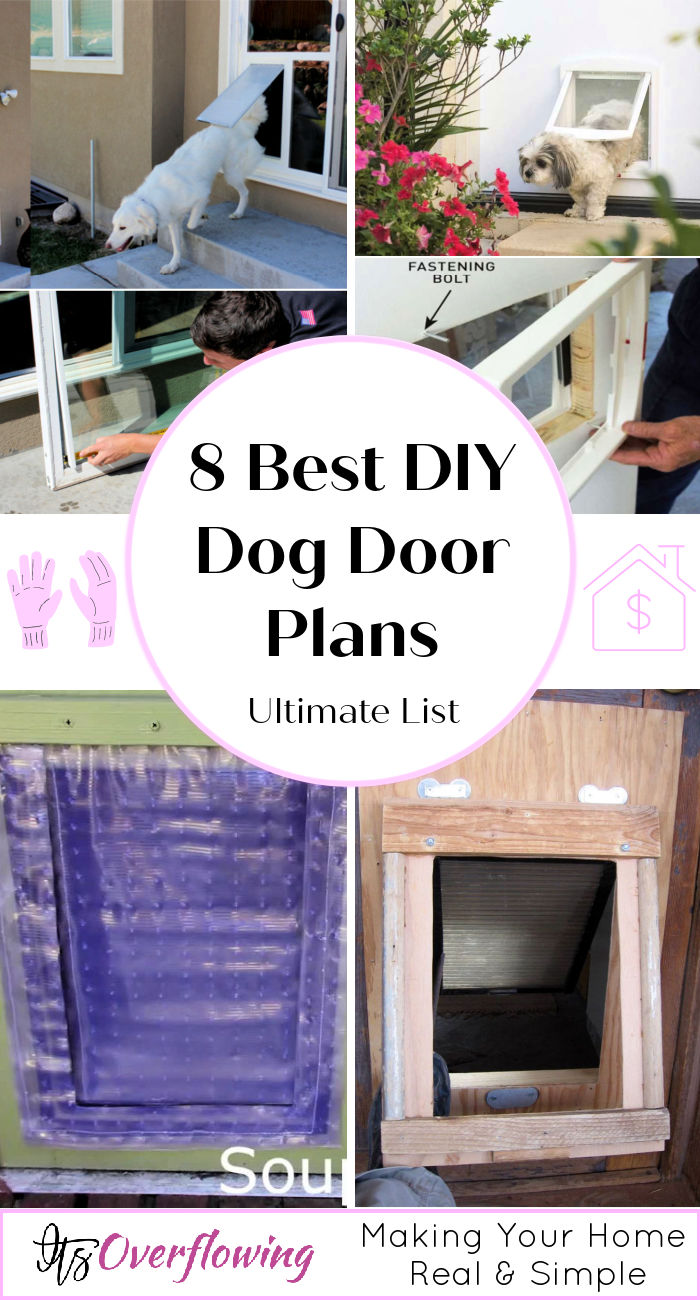 If building a dog door means to you to put the security or weatherproofing of your home at risk, then no need to worry about it. These homemade dog door ideas will not compromise on the security and comfort of your home. From built-in dog doors to self-standing pet doors, get free plans, step-by-step instructions and detailed diagrams for all. Taking a tour of the outdoor with no permissions of you will cause a healthy mental stimulation, too, for your dog.
These DIY pet doors will have a positive effect on the overall health of your dogs. They will be less bored, fewer scratches will be on your doors, fewer indoor accidents would be, and there will be less barking of dogs too. Take a tour of all these DIY dog door projects to see a variety of designs to choose from.
1. DIY Dog Door
Install this dog door to your main door without any compromise on the security and weatherproofing of your home. It will get extra plush points due to being overlapping the main door a little, as this will make it more weather resistant. Build this diy doggie door using plywood, magnets, butt hinges, oak dowel, fine wire, scrap wood, multiwalled plastic sheet, wood glue, weather stripping, finishing nails, and duct tape. The construction is pretty quick and easy. Details here instructables
2. How to Make a Dog Door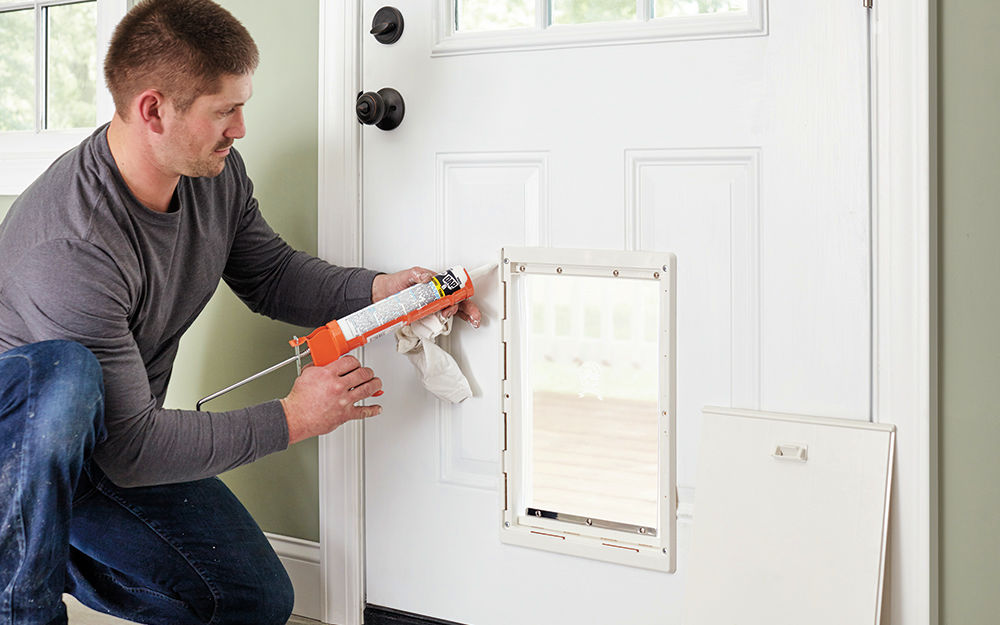 Puzzling at how to make a dog door at home? Then get the step-by-step instructions from here. You will get here all the guides about how to choose the best dog door that will not do any damage to the overall comfort and security of your home. Moreover, building this DIY dog door will provide your dog the ease to move freely in or out of the home too. Be smart when choosing the size of the door as you have to hole it in the main door. Details here homedepot
3. Install a DIY Pet Door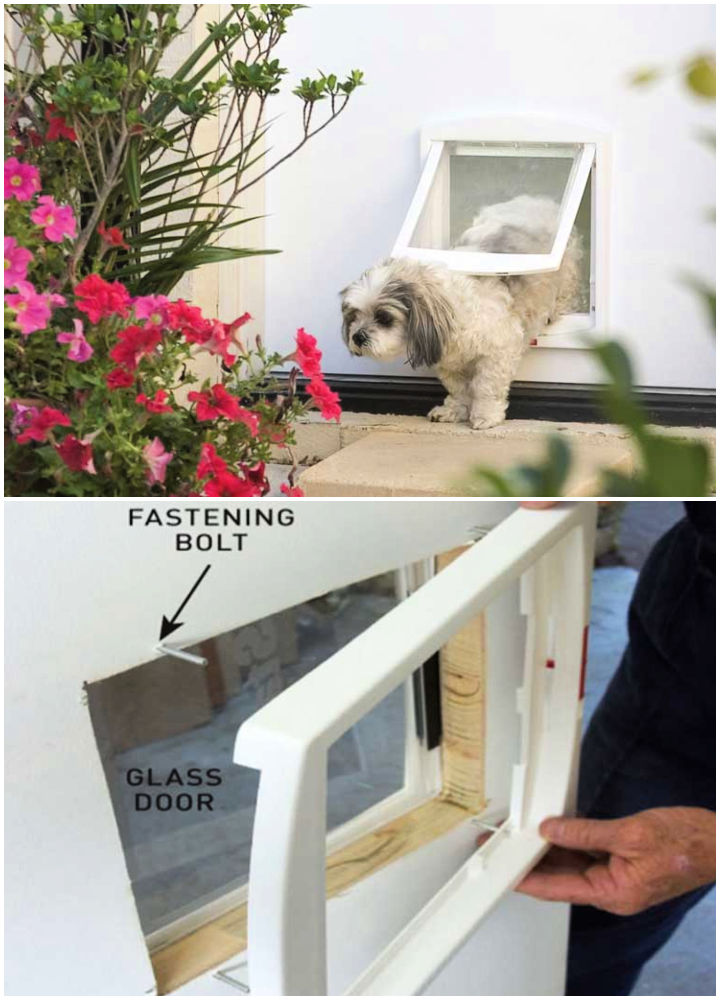 Give your pets, especially the dog, the freedom to be outdoor at any time without causing any inconvenience to the overall comfort and security of your home. The only solution you left within this case is a DIY pet door. First, measure the size of your dog and also the size of his tummy. Next, cut the door out in the main door and install the new door. First, install the glass door and then the internal component. A great idea to make your dog enjoy the freedom more. Details here handyman
4. Homemade Dog Door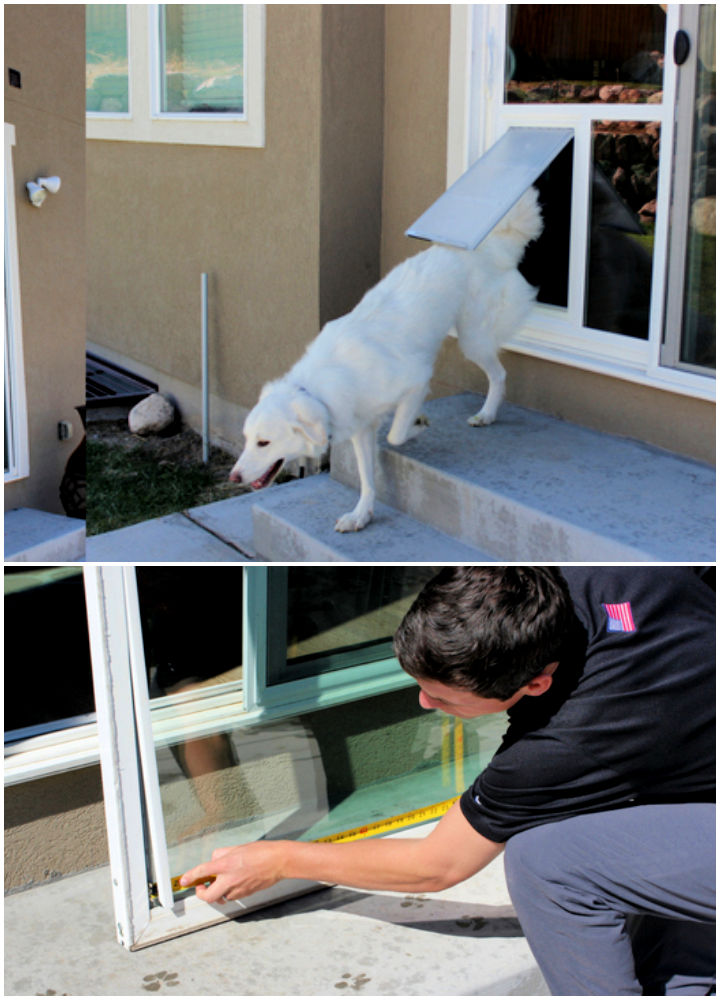 DIY pet door allows your dog to come and go freely, and hence your furry friend enjoys the freedom of being actively outdoor nicely. So, if you are willing to give these facilities to your dog too, then get here homemade doggy door guides about how to install a glass insert in the main door for getting a cute dog door. First, measure the size and thickness of the door and replace the old glazing tape with the new tape. Next, install the pet door unit at the door frame. Details here advancedwindow
5. How to Make a Dog Gate
Finally, get here free plans to build a freestanding dog door that you can easily install to a doorway or stairway. Build this gate for an opening of any size, but here it is made to cover the 30" of the entrance. Grab the pine wood to build this homemade dog door and then get both panels hinged in place. Paint the door or give a nice wood finish and start using it to protect your dog. Building this entire door is a super beginner-friendly project. Details here sawsonskates
6. Heavy Duty Doggie Door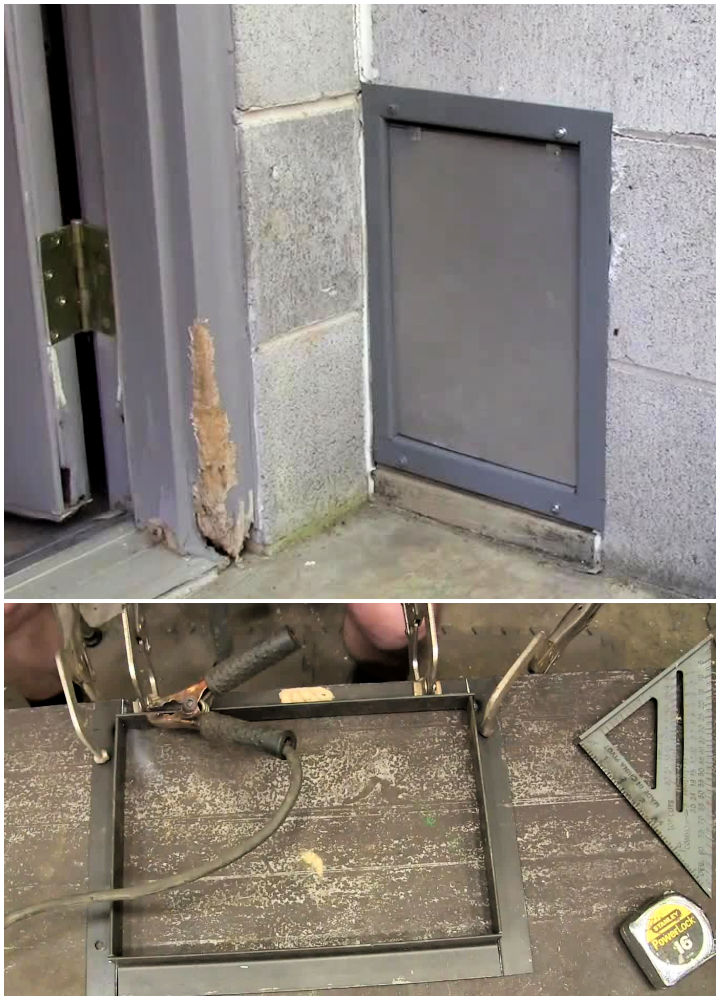 Sometimes you don't have the front door option to install a pet door. This may be because of certain reasons like you don't want to degrade the royal appeal of the main gate or can't put the home security and comfort at risk. So, target the solid concrete walls to build a heavy-duty doggie gate or door. From digging the concrete walls to fitting the dog gate, get here the step-by-step instructions for all. Cut ane weld together the angle metal iron lengths to build the DIY dog door frame. Build the main hinged door for the frame using a piece of aluminum. Details here youtube
7. Mini Sliding Barn Style Dog Door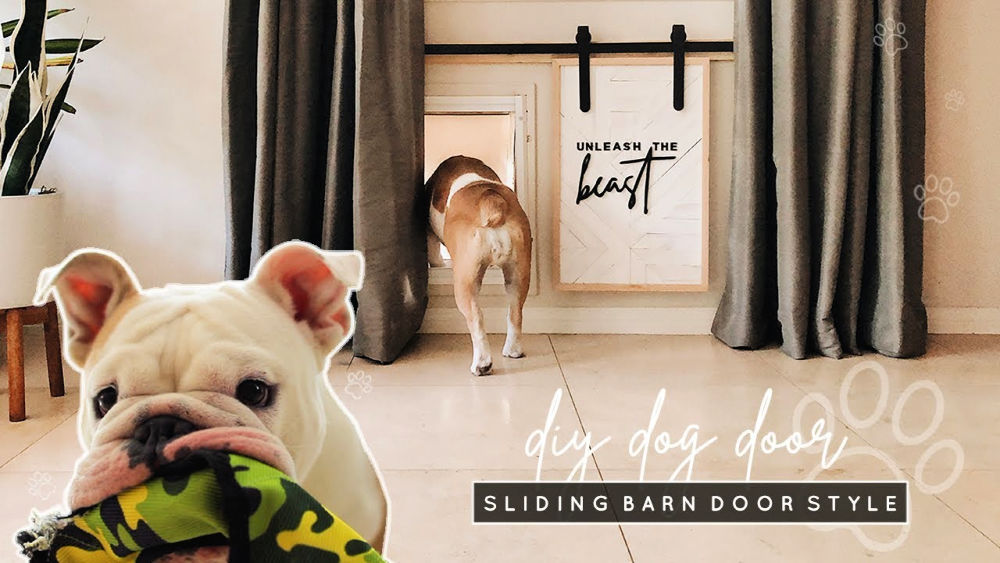 Start practicing building a sliding barn door for your spaces by building this mini sliding barn door. It will nicely slide to give your dog the permissions to be outdoor or indoors at any time of the day. Customize this door by adding custom name letters, logos, dog signs, and other items of this kind. Make this door using a piece of plywood having 1" more all around. Next, put the wood pieces on the plywood pieces starting from the center and achieve your design. Install the door with a sliding door mechanism. Details here youtube
8. DIY Magnetic Dog Door Flap
How to make a doggy door cheaply? Check out here the most budget-friendly DIY dog door flap. It is made of clear plastic and comes with a separate door that moves in the frame. The door lining is also made of clear plastic, and next to the door comes with magnets that will help fix the door in place nicely. The inside of this door comes with a sliding door that adds a lot of security too. The sliding door comes with a latch to get locked in place nicely. The magnets for this door will cost you only $8. One of the best pet doors, suitable for both dogs and cats. Details here youtube
Conclusion:
While living with your pets at home, it creates lots of fun, but being always dependent on you to visit the outdoor will make your furry friend a bit bored. So, solve it without compromising on the security of your dog or of your home with these DIY homemade dog door plans will not require your permissions to let your dogs go outside the home building.
Building and installing a pet door may cost you big, but these homemade dog door ideas will share a whole bag of tricks to easily and cost-efficiently install a doggy door. From building plastic to wooden to metal dog doors, you will get free plans and tutorials for all here.
DIY Dog Projects You Can Do At Home: