Ottomans can never go old when we talk about furniture. Learn how to make an ottoman with these 30 easy and cheap diy ottoman ideas include step by step instructions. A DIY ottoman is a must for your living room or bedroom if you do not possess one. Ottomans give you a comfy space to relax your feet and legs.
DIY storage ottomangive you space to put your book, newspaper or mobile phones. Besides the comfort, they add extra storage to your home decor. Ottomans bring a modern yet traditional touch to your home. Who would not like to have some comfort with the utmost style? Certainly, everyone wishes for this combo.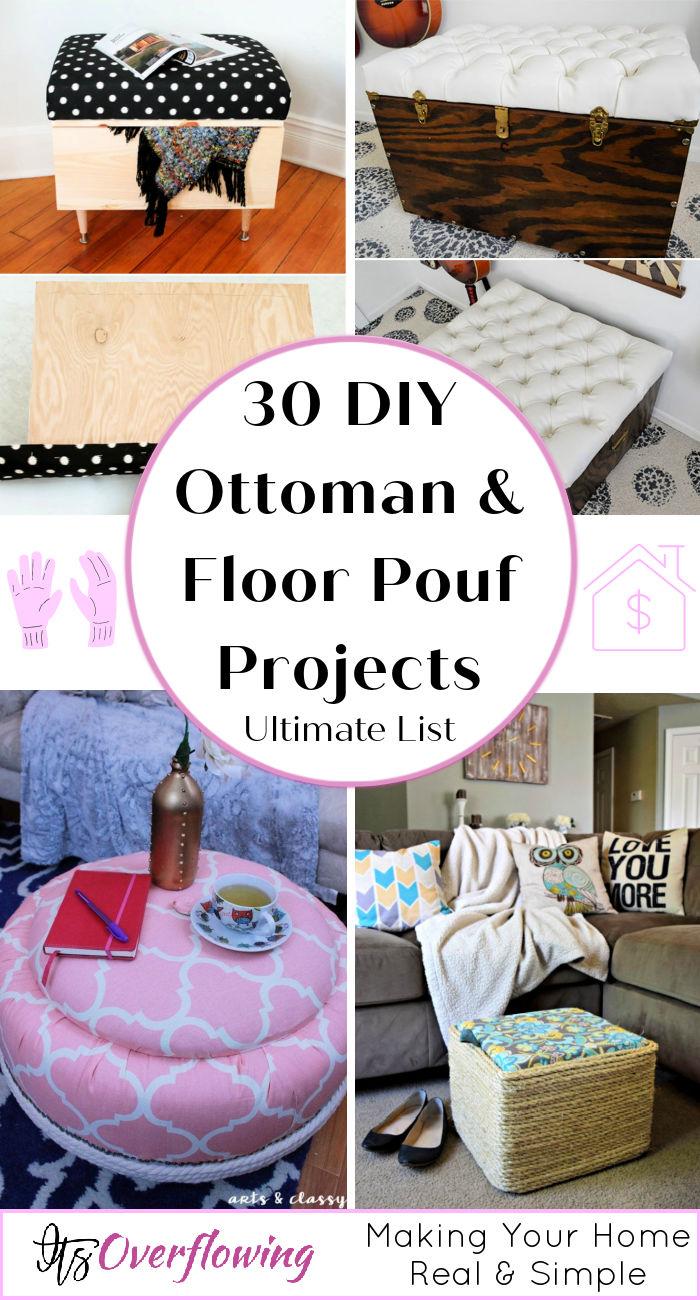 No need to feel left out if you lack this attractive piece in your furniture! Scroll down through these ideas for a DIY ottoman and make one for your home. The ideas have every kind of variety. You can make an ottoman from scratch through these diy ottoman plans.
You can also utilize some old furniture, like a coffee table or an old chair to make an ottoman. Also, you can buy or grab and old ottoman, wasted by someone in junk, and build a brand new one out of it. These diy ottoman tutorials cover every such detail, which you can use to make a beautiful ottoman at home—time to give your legs some rest and flaunt in style simultaneously.
1. DIY Faux Leather Ottoman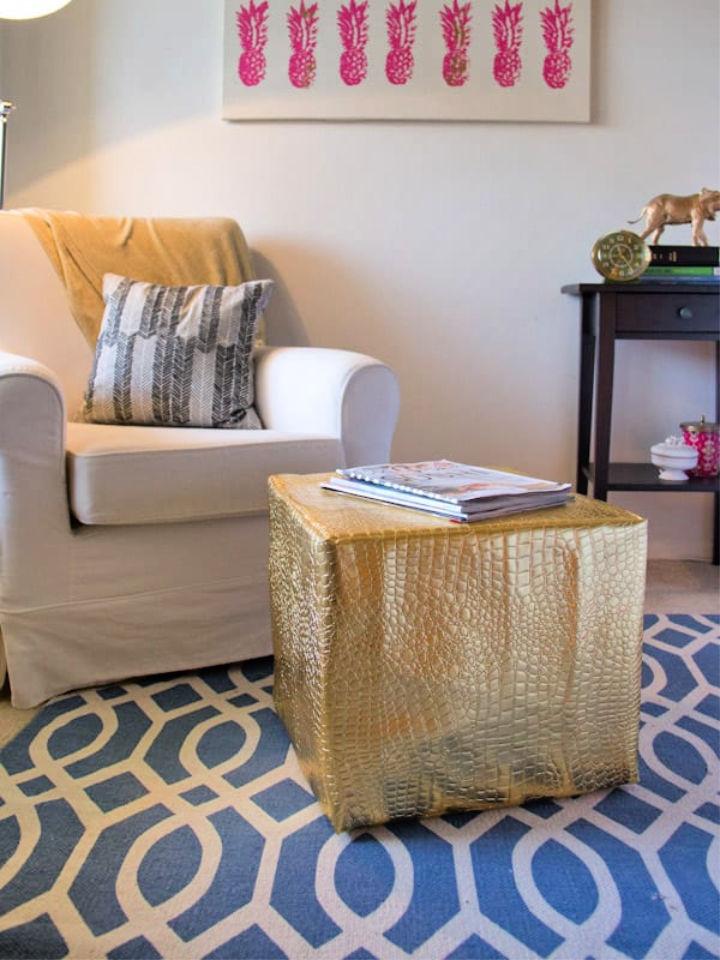 When you consider getting an ottoman, consider making it yourself instead. This DIY faux leather ottoman is super easy to spruce up as there is only straight sewing involved. For making it, grab supplies such as upholstery fabric, scissors, sewing machine, zipper, and foam. lovelyindeed
2. Build Your Own from Scratch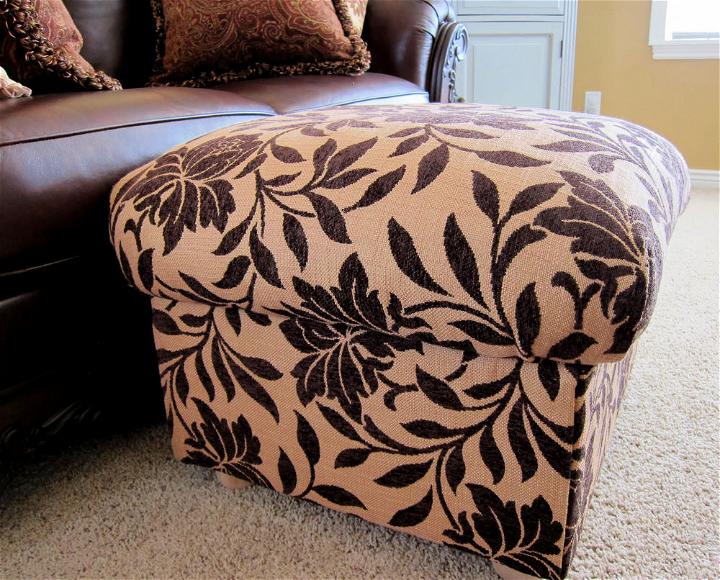 Build your own ottoman from scratch! As you definitely need a comfortable spot to lye your legs on while sitting on the sofa, add up to your comfort and decor. Use it as a stool to sit on or as an ottoman, your choice. The plan includes diagrams, instructions, and supplies here. doityourselfd
3. How to Make a $20 Ottoman

Surprise! Now you can make an ottoman for just $20. This ottoman will make you enhance the seating capacity of your living room. Simultaneously, you can use it to rest your feet as well. Building it yourself won't invite any difficulties. Check out the supplies and instructions below. shanty 2 chic
4. Upholstered Ottoman Plan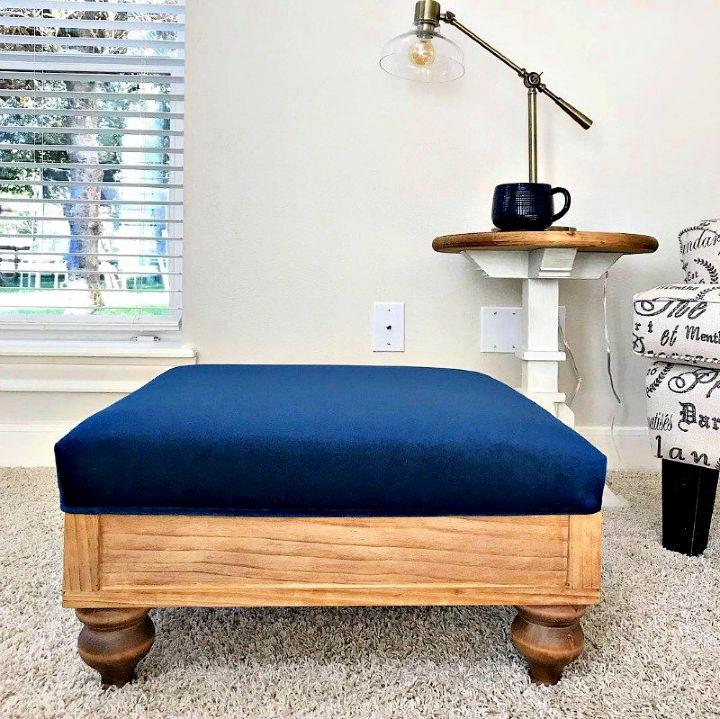 Enhance the visual appeal of your living room by building up this DIY upholstered ottoman from scratch. Footrests will never go out of style, so building ottoman will never disappoint you. Supplies needed for building are pine boards, plywood, pine molding, and upholstery foam. abbottsathome
5. Nifty Denim Crate Ottoman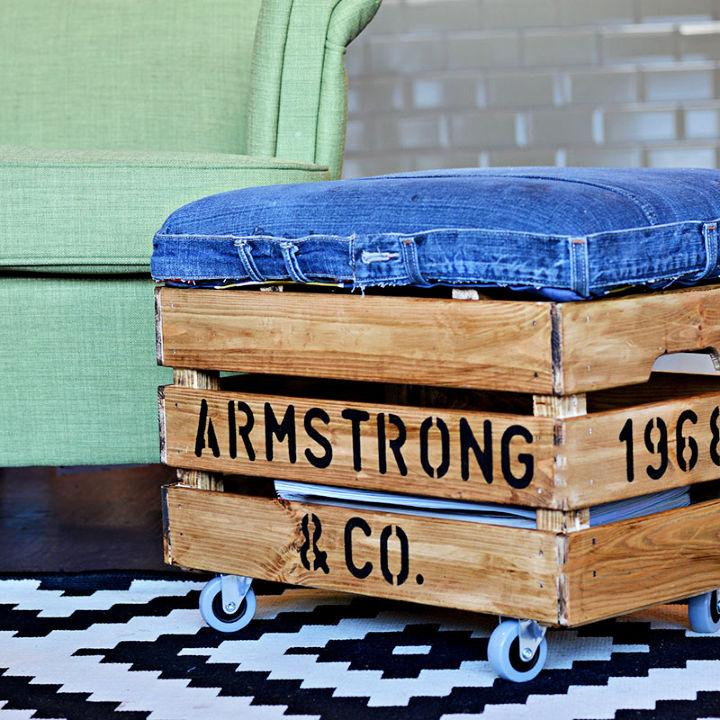 Upcycling is cool plus, it will save you many dollars as well. This nifty denim ottoman is made out of a crate and has a storage capacity for your extra stuff. The top is furnished with the denim fabric that will bring uniqueness in its style. Take crates, wood wax, casters, and stencils to begin. pillarboxblue
6. Buffalo Check Ottoman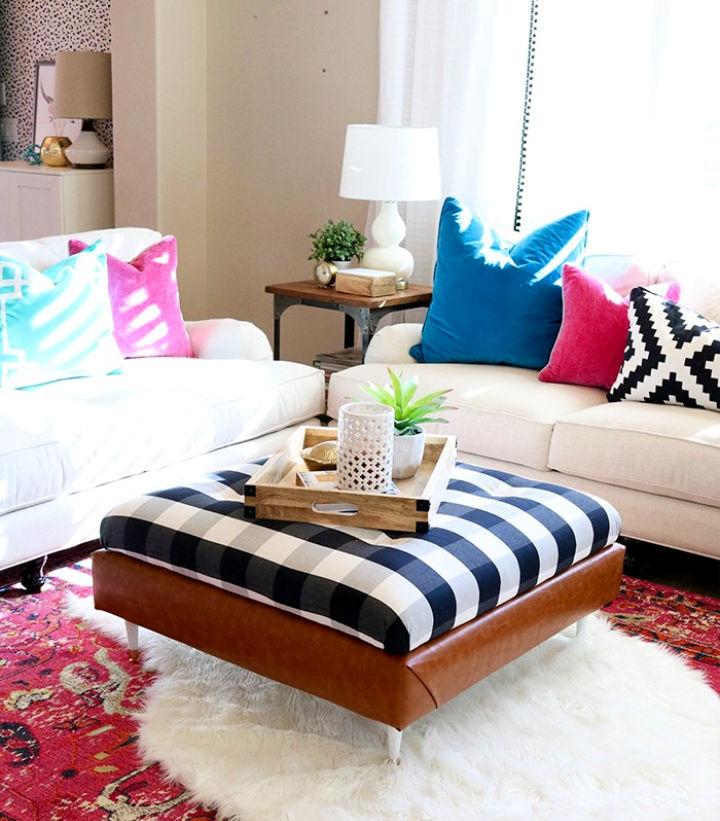 This buffalo check ottoman can be used as a showpiece to your living room. Besides, it can be used as a coffee table, for extra seating, resting your feet, and much more. This highly functional and handy ottoman can be finished off in a weekend. So, go along the tips to spruce it up. petitepartyst
7. DIY Ottoman

What's the excuse of not building an ottoman at home when the easy-peasy instructions are at your disposal to get started? It's pretty quick, and the finished ottoman is to die for. You will love the character this ottoman will bring. Check out the complete plan here. sarahsbigidea
8. How to Build a Storage Ottoman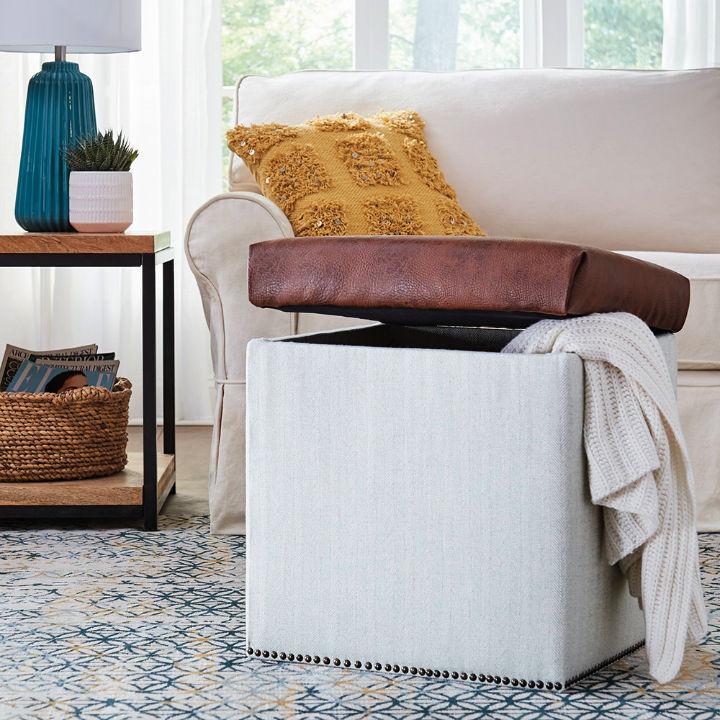 Building an ottoman can be a great way to add the storage space in your home. Though, it has hidden storage that no one can figure out. Plus, you can instantly put the clutter in it whenever you need a quick sweep the area needs! Follow the directions on how to build a storage ottoman. homedepot
9. DIY Upholstered Storage Ottoman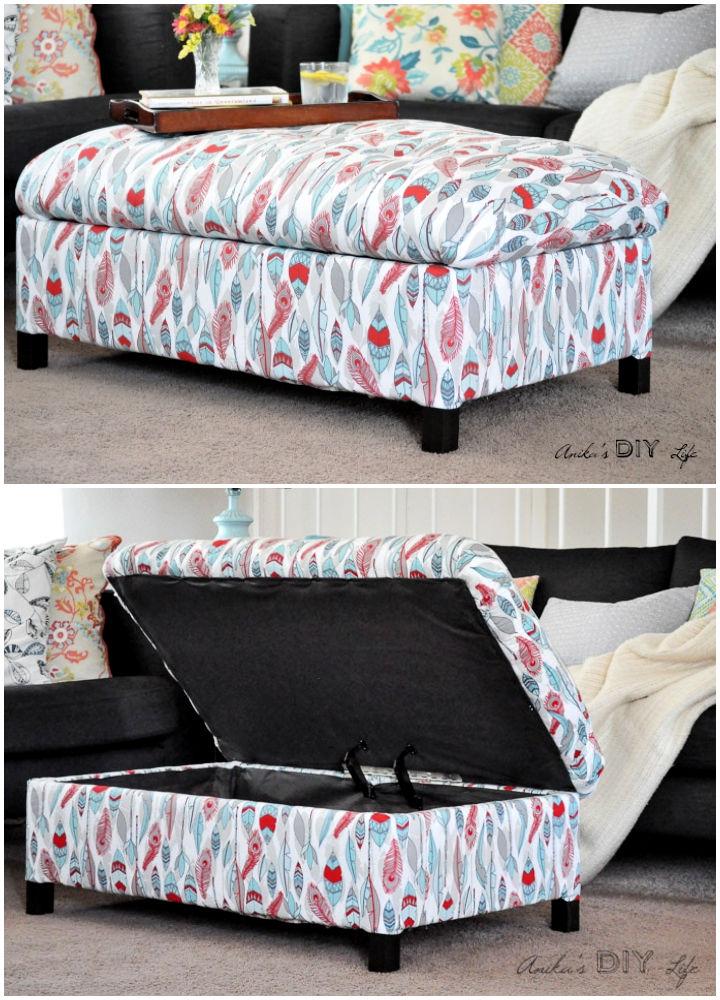 If you are hunting an ottoman for your room on stores, why not give it a shot to build it yourself? The step by step tutorial will show you how to build one with basic tools. Plus, covering the top of the ottoman may seem intimidating, but the plan here will escort you to the end. anikasdiylife
10. Homemade Plywood Ottoman

The homemade ottoman will be manifold durable than the store-bought ones. It will hide your clutter in its discreet storage while serving you as multi-functional furniture. It is also children friendly! Use supplies like pine boards, wood glue, plywood, circular saw, and upholstery fabric. blackanddecker
11. Leather Storage Ottoman

Ottoman furniture is a great way to optimize small spaces. Plus, if you spill something on it, the upholstery leather will restrain the foam from wetting. It will serve you as a footrest, coffee table, seating, and the list goes on. Here you will find out the details on building this project up. realitydaydream
12. Turn Coffee Table into Ottoman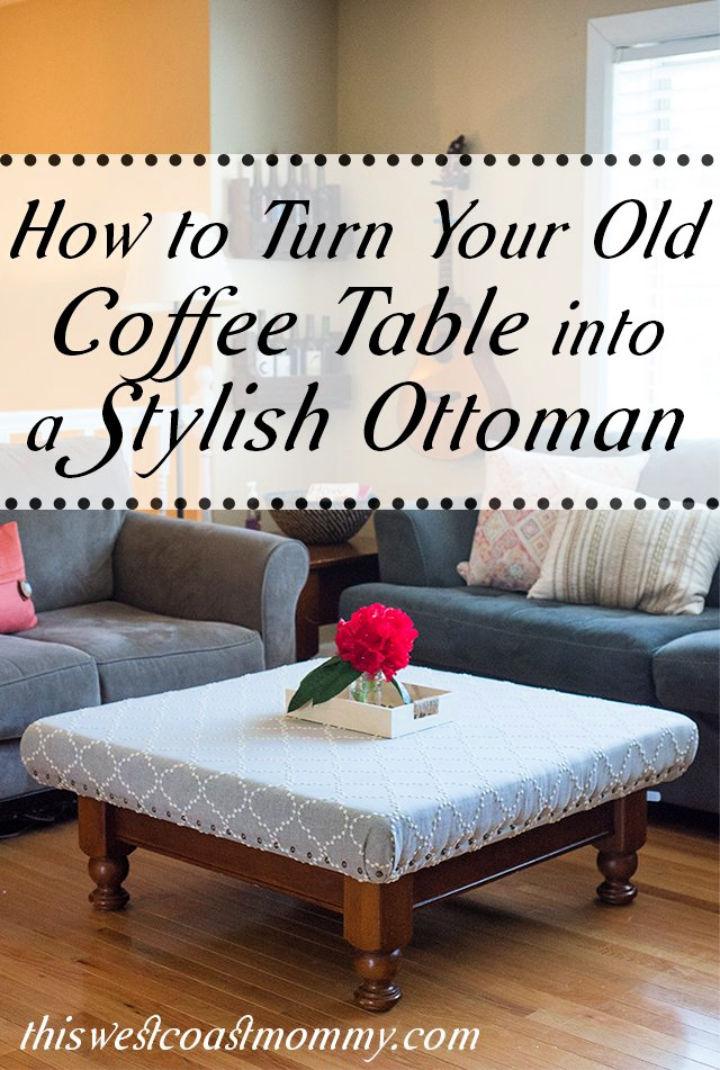 Check out how you can turn your old coffee table into a brand new ottoman. This ottoman will be multi-purpose furniture that will easily accommodate more than one usage. The material you will need to build it up is the coffee table, foam, adhesive, marker, knife, upholstery fabric, and saw. thiswestcoastm
13. Sisal Rope Ottoman from a Milk Crate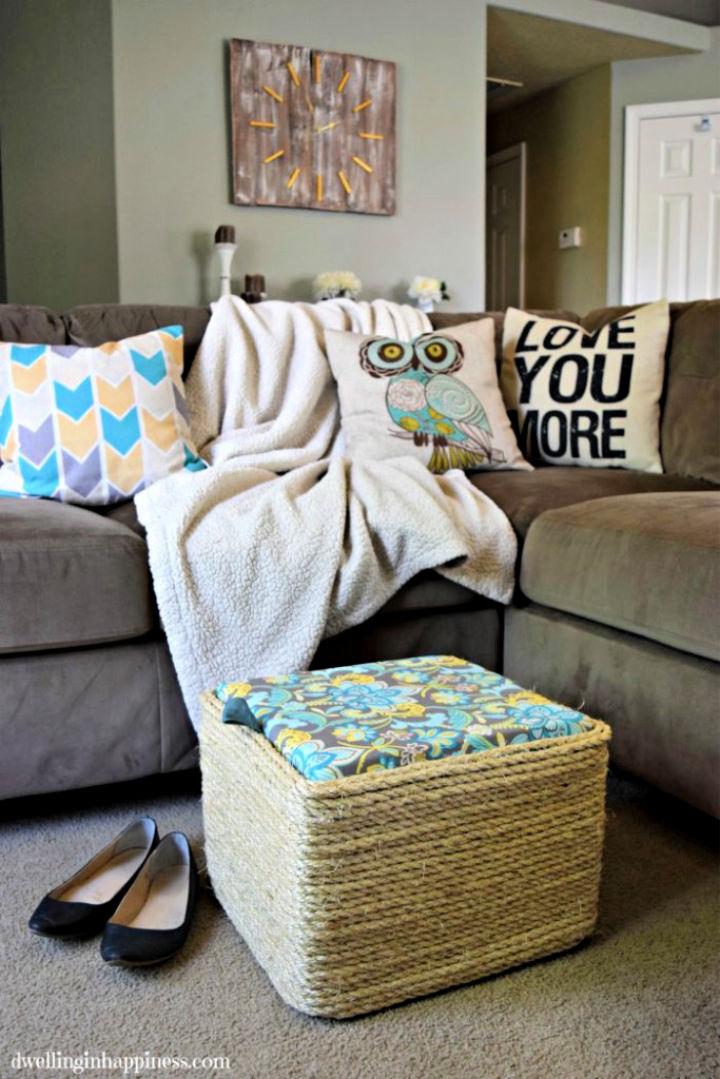 Upgrade your living area by upcycling! You can DIY sisal role ottoman from a milk crate. Use it to extend your legs on it, toss some magazines over it or enjoy your coffee. Make your own ottoman from supplies like glue and staple gun, fabric, foam, ribbon, duct tape, and milk crates. dwellinginhap
14. Turn a Pallet Into the Ottoman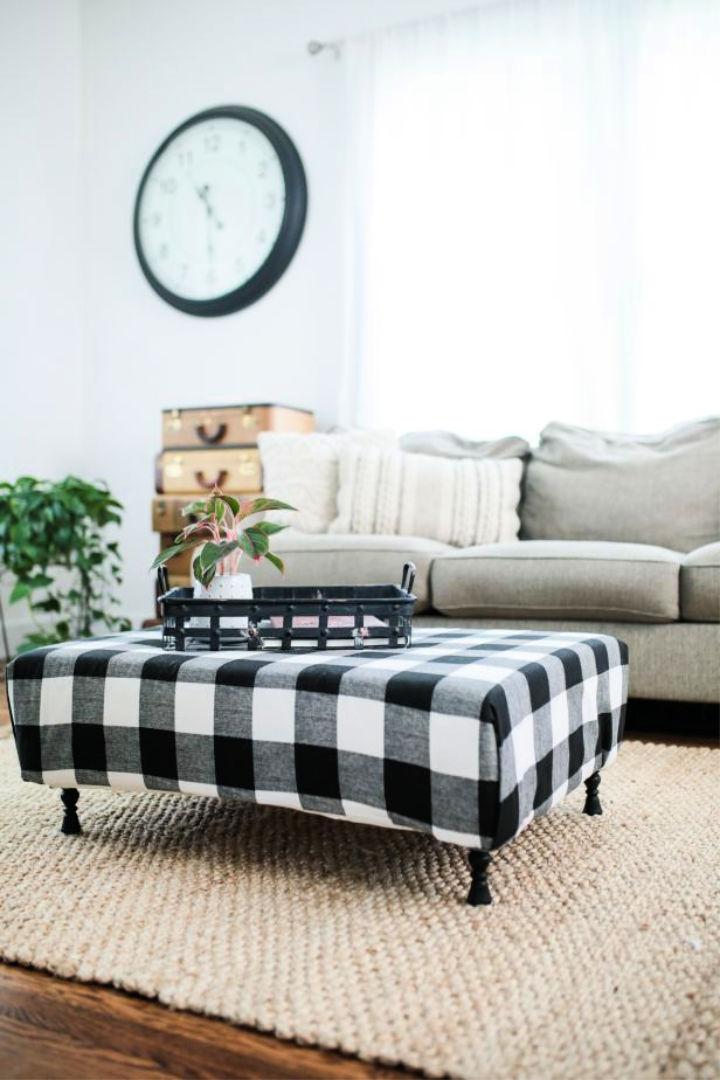 Turn a pallet into the ottoman of your dream! It's an excellent furniture unit that can save your skin by using it as a couch for seating if you have more guests than anticipated. This plush ottoman will bring so much texture and character in your room. Check out the how-to details here. hgtv
15. DIY Tire Ottoman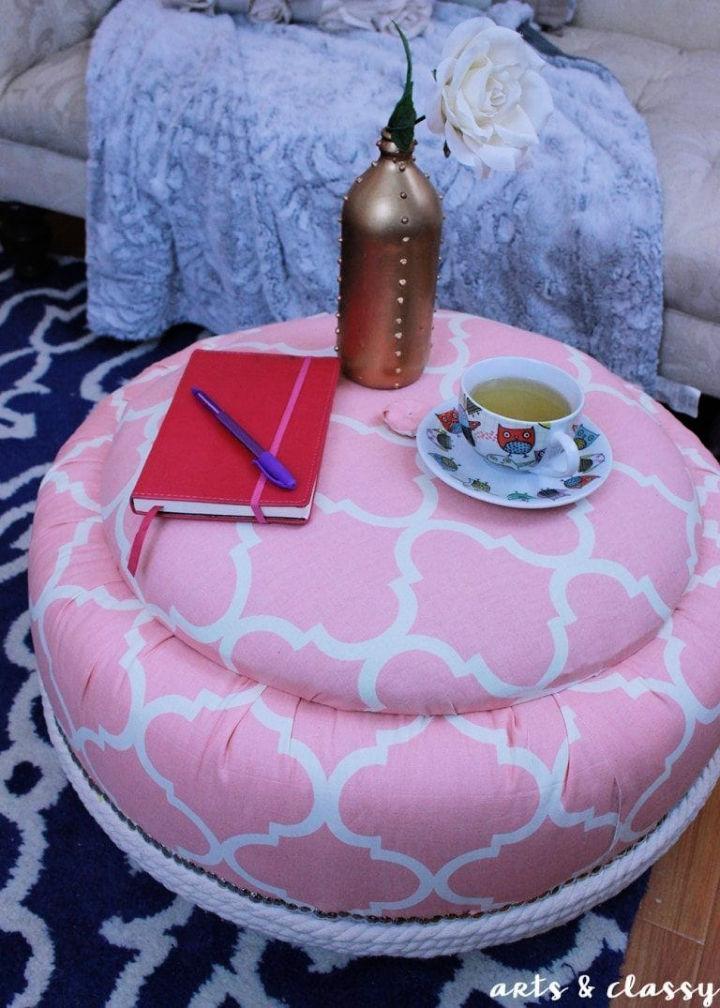 Take your décor to a whole new level with this DIY tire ottoman. Reuse your useless tires that are lying around in your garage into making this ottoman. Collect your supplies such as tire, sofa legs, plywood, cotton rope, fabric, upholstery foam, drill, staple gun adhesive, and screws to begin. artsandclassy
16. Tufted Fabric Ottoman from An Old Table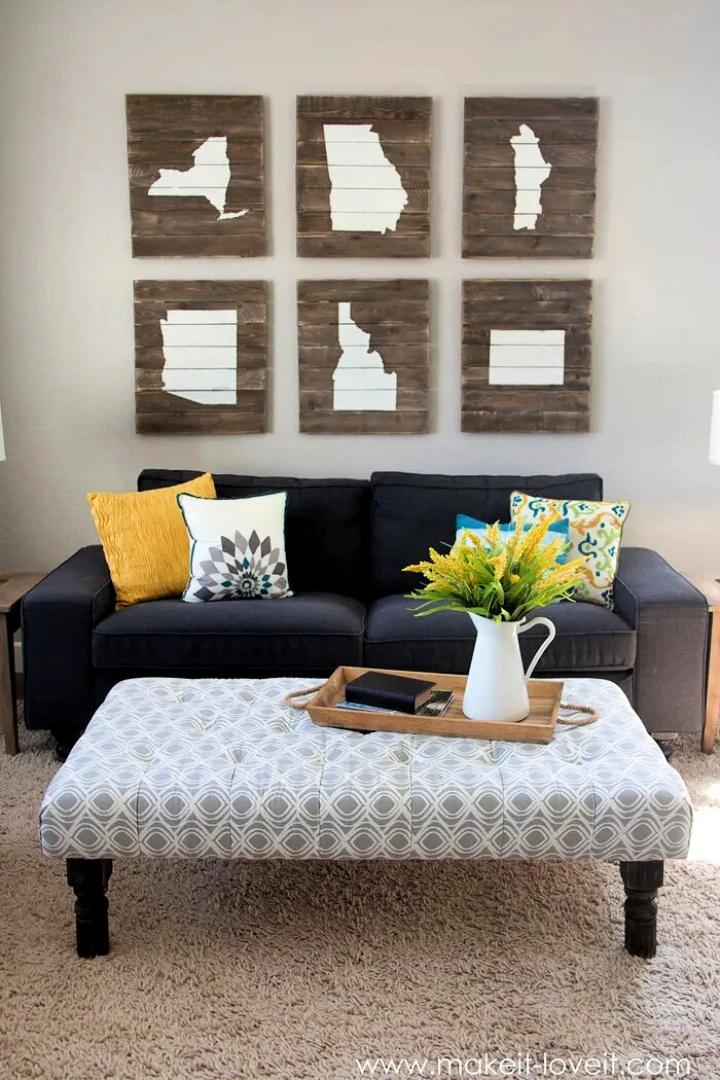 Make your home a luxurious one because home is where comfort is. DIY this tufted fabric ottoman out of an old table. It's a versatile ottoman with its multi-purpose features. You should definitely consider building one for your home. Move along with the steps to build one yourself. makeit loveit
17. DIY Upholstered Ottoman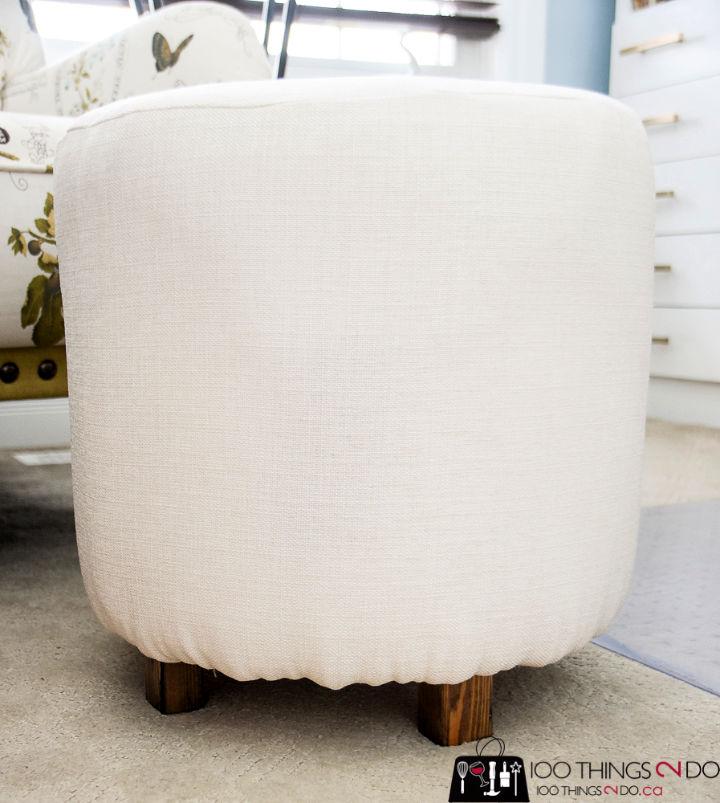 Lavishly appoint this DIY upholstery ottoman table in your living room area. It's a wonderful footstool that will make you comfortable on a sofa while reading a book or having a cup of coffee. It's a small and lightweight ottoman that can be relocated anywhere in your home. Dive in to find more details. jenwoodhouse
18. Ottoman from a Pallet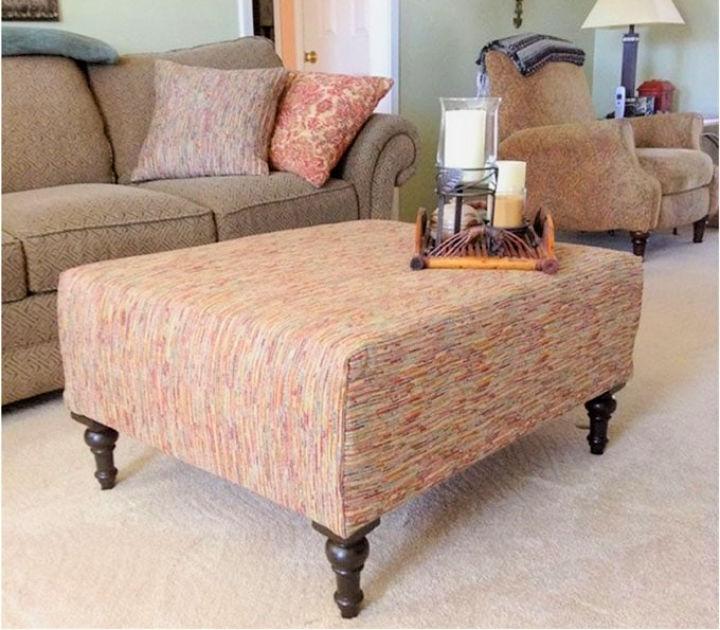 You can build a beautiful DIY ottoman using pallets and mattress. This 48'' by 40'' ottoman will be an obvious furniture piece in your home. It will be the center of everyone's attention with its graceful appeal. Follow along the step by step instructions to spruce it up. apieceofrainbow
19. DIY Utility Bucket Ottoman

Transform the utility bucket into a fantabulous DIY ottoman. This DIY ottoman is too lightweight that it can be lifted up and transferred to any room easily. Materials you will be needing to make this are fabric, chalk, scissors, spray glue, stapler, 5- gallons bucket, carver, foam, and Dacron. designsponge
20. Make a Fabric Pouf Ottoman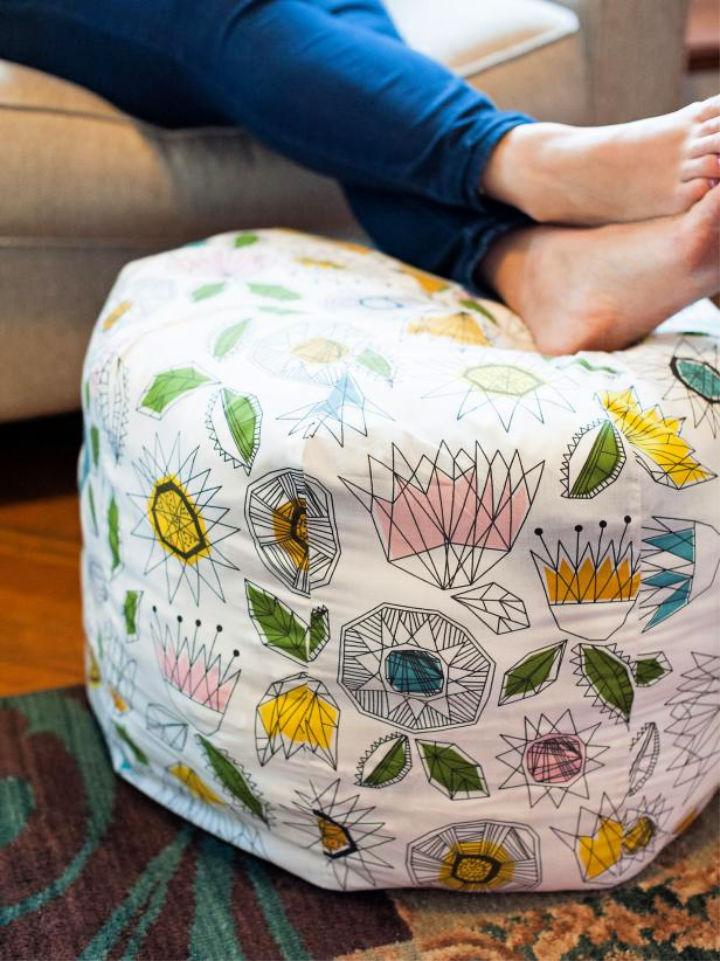 Instruct yourself on how to make a fabric pouf ottoman. It's a squishy ottoman that is soft like cotton. Unlike other ottomans, it is filled with 1 pound of poly-fill. Along with poly-fill supplies, you will also need a sewing machine, 2 yards of fabric, needle, thread towels, and sheets. hgtv
21. Removable Slip Covered Ottoman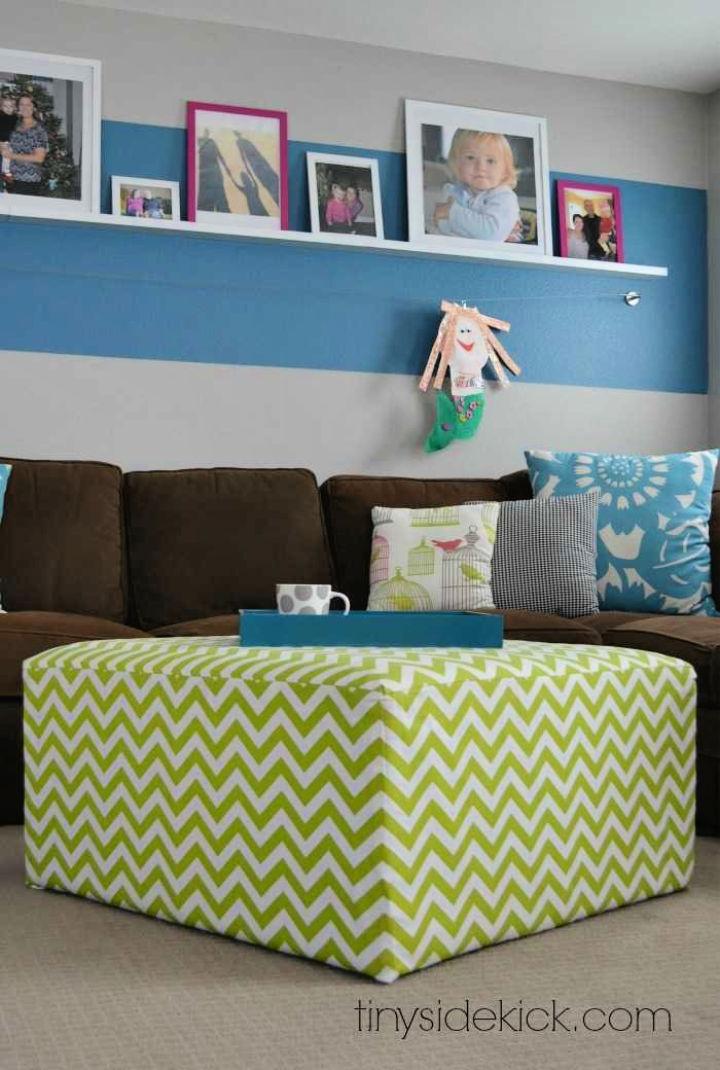 Never throw an old ottoman, whose leather is flaking off. Turn it into a new piece with this interesting plan. You will need a home décor fabric, coordinating thread, Hoop and Loop, and a hot glue gun for fabric. The ottoman will become a brand new piece of furniture in your living room. heytherehome
22. Ottoman Bench from a Coffee Table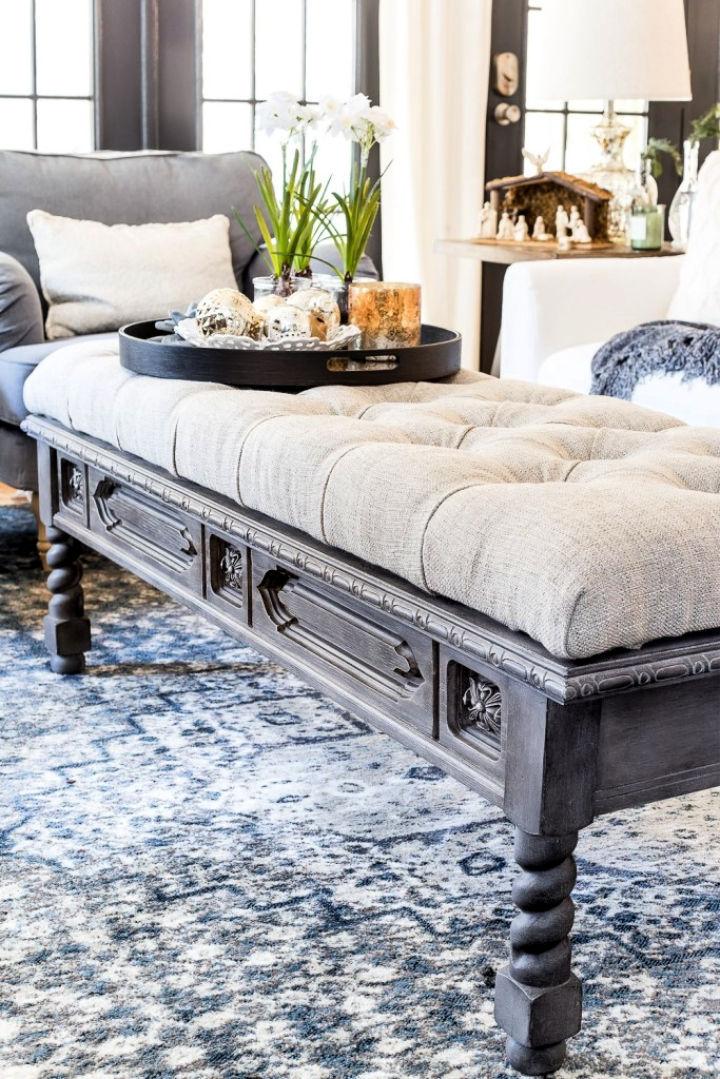 An old coffee table can be turned into a gorgeous ottoman with some simple steps. Grab an old coffee table from a junk store or use yours. Buy some linen fabric, paint casement, bristle brush, chip brush, hardwood plywood, paper towels—also foam sheet, upholstery fabric, sharpie marker, measuring tape, and yardstick. blesserhouse
23. Shelly's Salvaged Spool Ottoman

An easy and interesting frame of the ottoman is presented in this tutorial. You can design an ottoman all by yourself at home by following this simple plan. Arrange some electrical wire spool, wood pieces, wood glue, screws, piece of foam, spray adhesive, scrap fabric, cotton, wide fabric, scrap fabric, thread, straight pins, staples, leg plates, and ottoman legs. designsponge
24. Build a Storage Ottoman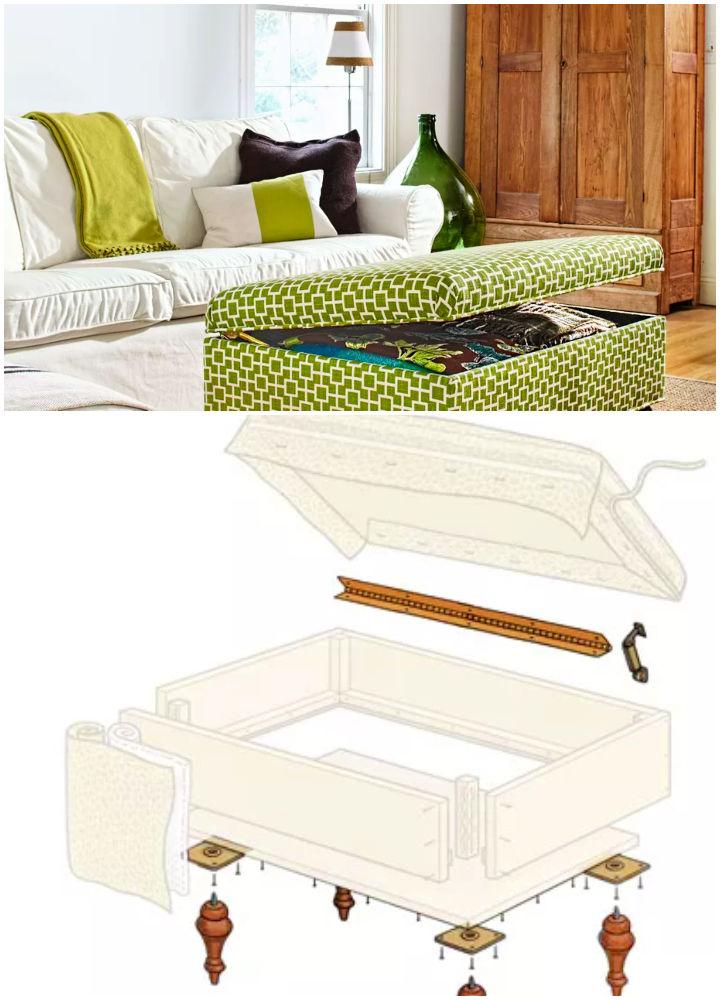 Ottoman with storage space is a win-win. Such ottoman provides comfort, style, and neatness to home. This plan will teach you to make an ottoman with space. You can hide everything inside it and organize your home in the tidiest manner. thisoldhouse
25. Ottoman from Upcycled Pallet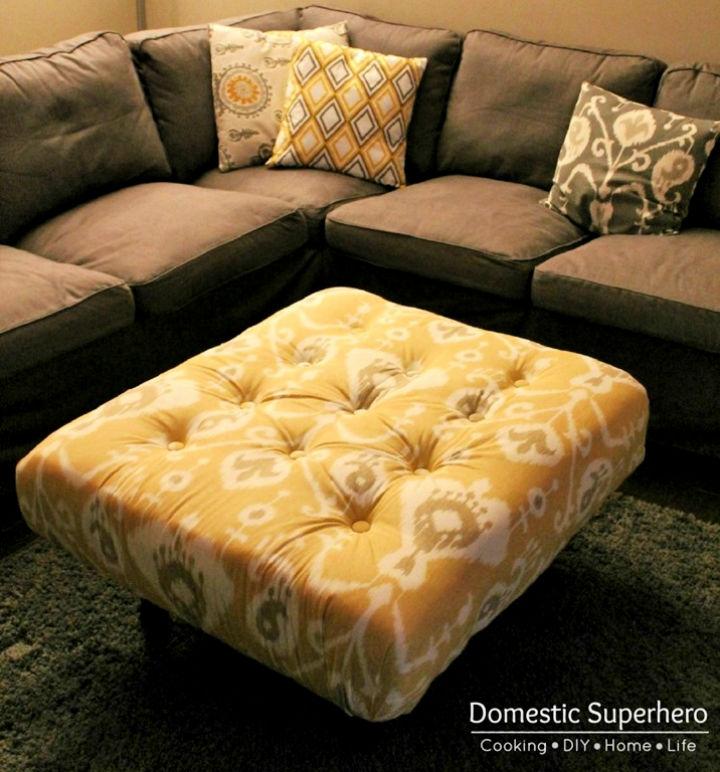 Do not waste the wood pallets of your old beds or sofas. Use them to make an ottoman. Hop on to this tutorial to this amazing hack. You will love to recycle old wooden pallets into a beautiful piece of furniture. Choose the fabric as per your home decor. domesticsup
26. DIY Faux Fur Ottoman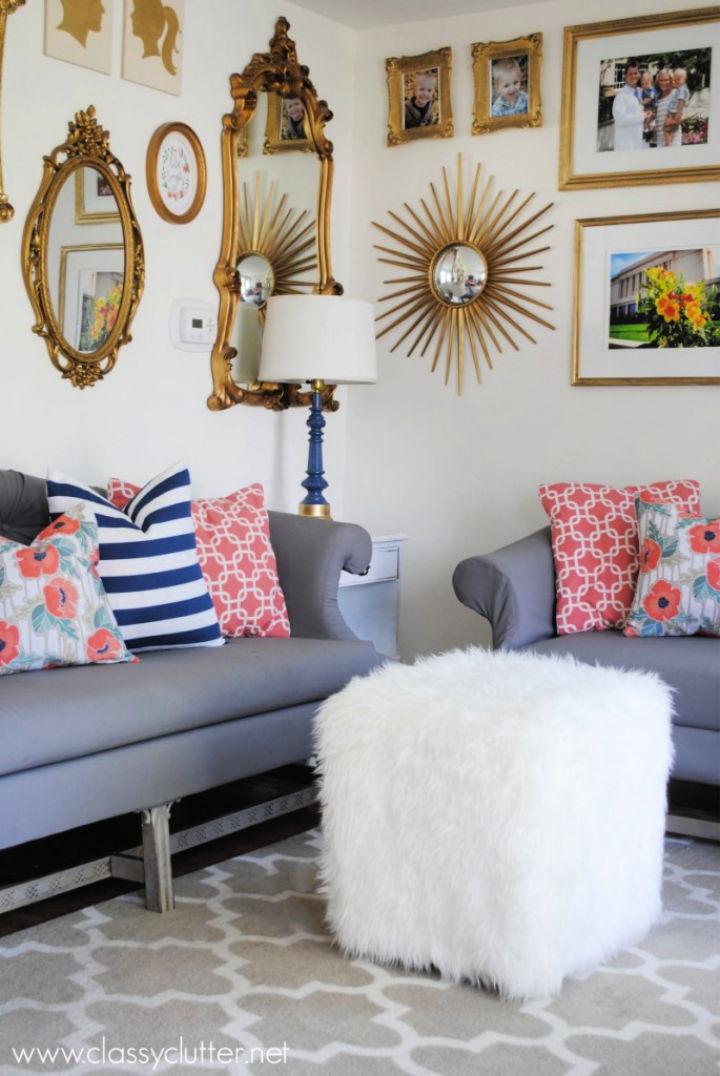 Faux fur is in fashion these days. You can style your ottoman with faux fur. Get some wood and make a cubicle frame. Attach the wooden legs of the ottoman at the bottom. Attach the fur over the top using wood glue. Choose the color of the fur according to your furniture's theme. classyclutter
27. Round Leather Ottoman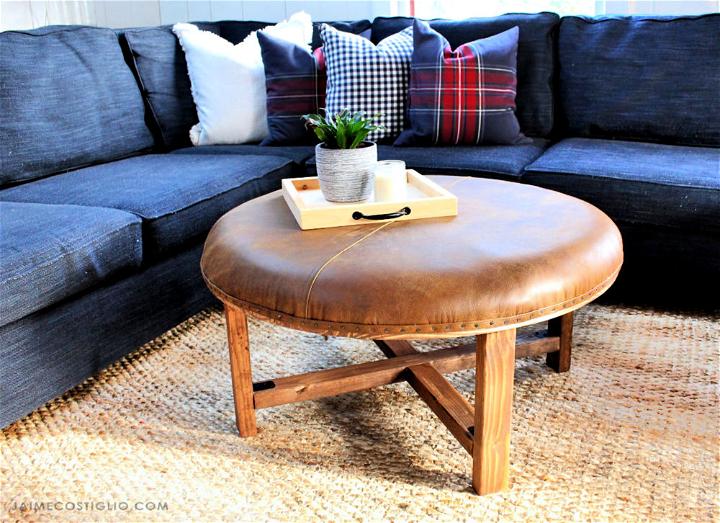 Leather can never go out of style. Make a round ottoman, which can be used as a table as well. A light-colored leather will make the ottoman graceful and stylish at the same time. You will need a round premade panel, stud boards, wood screws, pocket-hole screws, foam, batting, leather, carpet tacks, quilting thread, and sewing machine. strongtie
28. DIY Rope Ottoman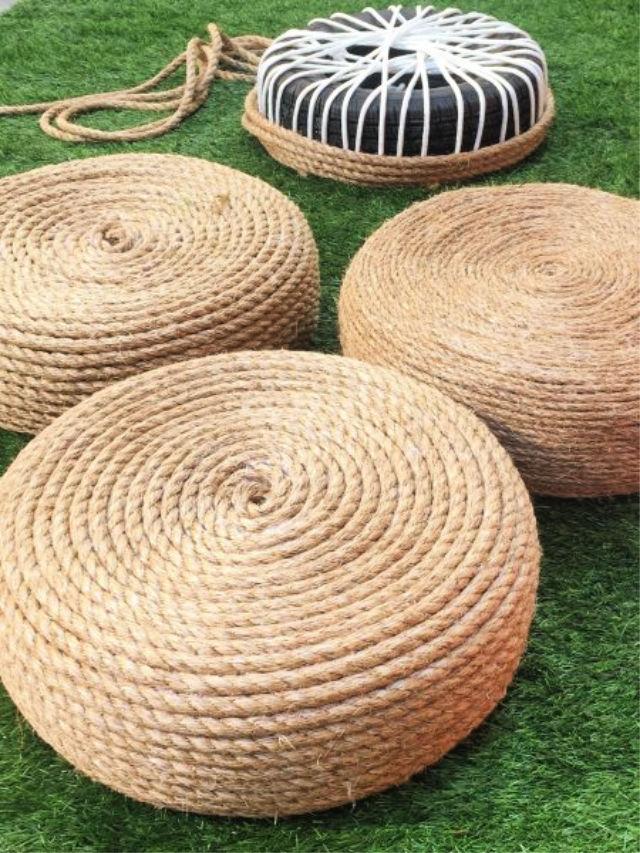 Make an extremely traditional ottoman using rope and tire. If you have recently changed the tires of your vehicle, do not throw the old ones. Make rope ottomans out of them and place them in your outdoor area. For this DIY, you will need an old tire, sisal rope, nylon rope, hot glue gun, and stick, scissors, and paintbrush. stylemepretty
29. DIY Storage Ottoman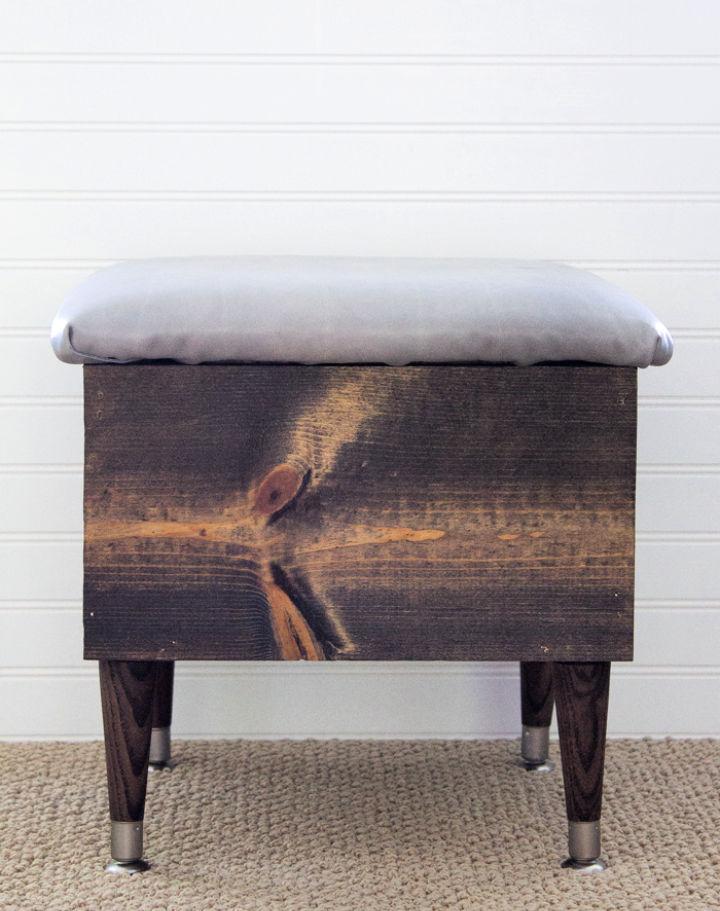 A storage ottoman is perfect for a big family. It not only provides your room with a stylish look but also helps in organizing your homeless stuff. You can place all the small necessary things in your living room in the ottoman and use them when needed. Hop on to the tutorial for the detailed plan. theinspiredhive
30. DIY Square Upholstered Ottoman

A square ottoman will go perfect in combination with your L shaped sofas. Also, it is large in size. Therefore, it will need more space. If you have minimal furniture, you need this one ottoman to complete your room's look. Do check out the tutorial for details. interiorfrugal
Conclusion: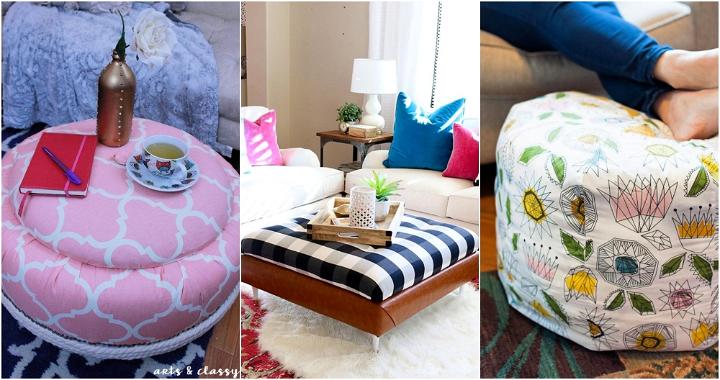 These DIY ottoman PLANS are oozing out with extremely useful information. Try them out and equip your home with a stylish look. Let people appreciate your design skills. You deserve to be applauded with beautiful ottomans.