Need some extra and well-managed storage space? Then, learn to build your own garage shelves these 30 inexpensive DIY garage shelves come with easy instructions and a full material list! Who doesn't need some reasonably managed storage in their garage? Everyone has something to store. And usually, it ends up making the garage an epitome of mess almost everywhere or stacked in a corner!
Everyone wishes to make those things vanish by some type of magic, but that's not possible. However, there is one thing you could do, which is so easy that it will feel like you just did some kind of magic. What is that? Building some DIY garage shelves! You will be so amazed by how much these things can store. They may not look like it, but they can probably organize almost everything in your garage.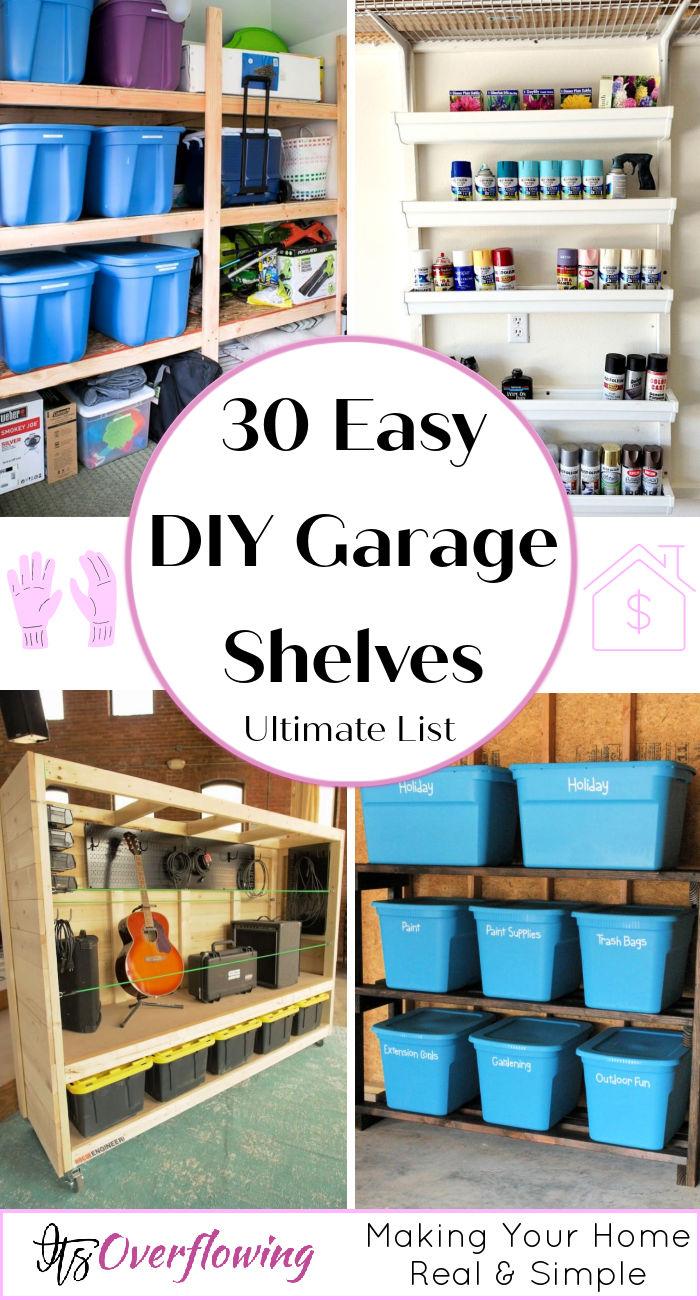 Why should you build your own DIY garage shelves, instead of getting them professionally done? Well, the answer is simple, and just what you're expecting. You will save a ton of money. Not only that, but you'll also realize how easy it really is to make these at home. Most importantly, you can completely customize them as per your needs and store them just the way you like!
This article will cover a range of DIY garage shelves, from 2x4s to workbench garage shelves, from attached to walls to shoe storage shelves, from floating to corner shelf ideas! There's a lot to choose from! Everyone loves to have some choices!
1. Super Easy Garage Shelves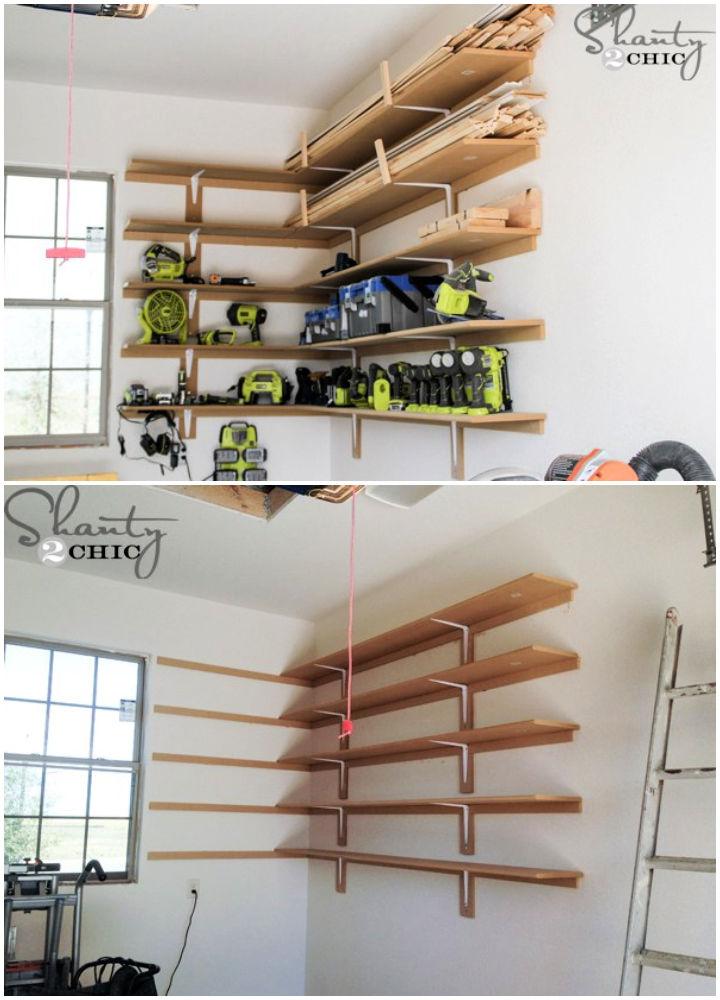 How cool are these DIY garage shelves? They are a great addition to not only your garage but almost anywhere, in order to add some extra storage! They will not cover a ton of space and still be able to store a lot! It is an excellent plan with many real-life images. shanty 2 chic
2. How to Make Garage Shelving

Are your relatives coming over? Want to hide a big mess? Can't find anywhere to hide it? Well, then you use some boxes! Yes, you heard that right! You can make use of some storage boxes and hide more stuff than you think you can! Follow this guide for more information. diydesignfanatic
3. Build DIY Garage Shelving Using Only 2x4s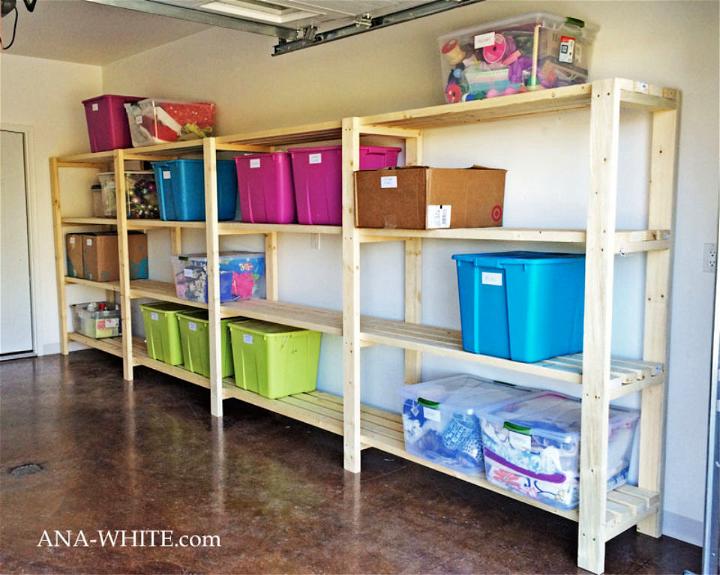 Who doesn't need some extra space to store all their items? Almost everyone needs it. Garages are usually the empty spots in the house, so you can turn it up into some functional storage place! Worried about it looking messed up? Then just follow this plan, and it won't! ana white
Find More DIY Shelving Ideas:
DIY Floating Shelves: Learn to build easy DIY floating shelves with this simple tutorial for beginners. They're perfect for home offices, living rooms, kitchens, bathrooms etc.
Cheap DIY Shelves: Decorative shelving is a great way to make a unique display with convenient storage for your home. This DIY shelves guide will teach you how to make your own DIY shelf.
Bathroom Shelves: Add a rustic touch to a small bathroom by installing easy DIY bathroom floating shelves over the toilet for much required storage and organization.
4. DIY Garage Shelves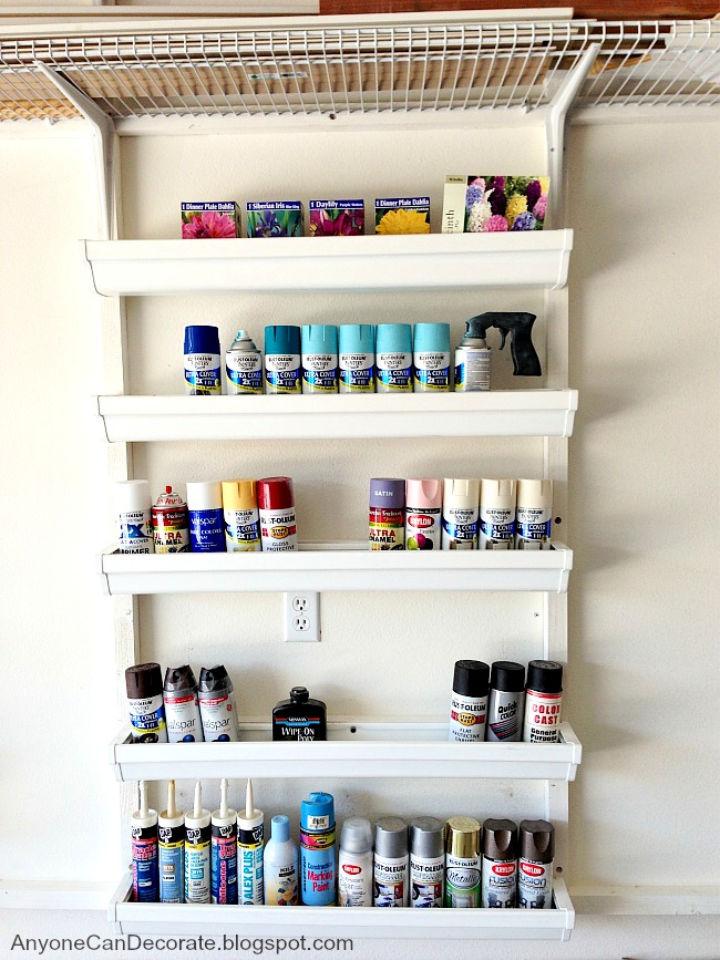 What a transformation of their garage! Isn't this just amazing? A few basic and easy to follow steps have the power to transform your garage like this! All you need to do is follow them one step at a time, and you'll reach there pretty soon! anyonecandeco
5. Garage Shelves and Workbench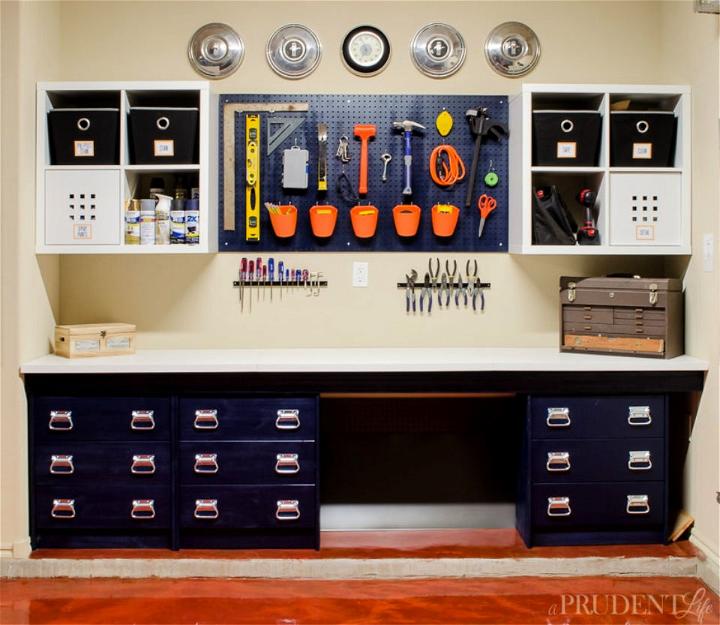 Think about how excited you will be to work when you have this workbench! It's so cool and will carry and organize all of your supplies perfectly! This plan is amazing as it has the whole process written down in detail, along with personal experience and starting draft. polishedhabitat
6. Garage Shelves Plans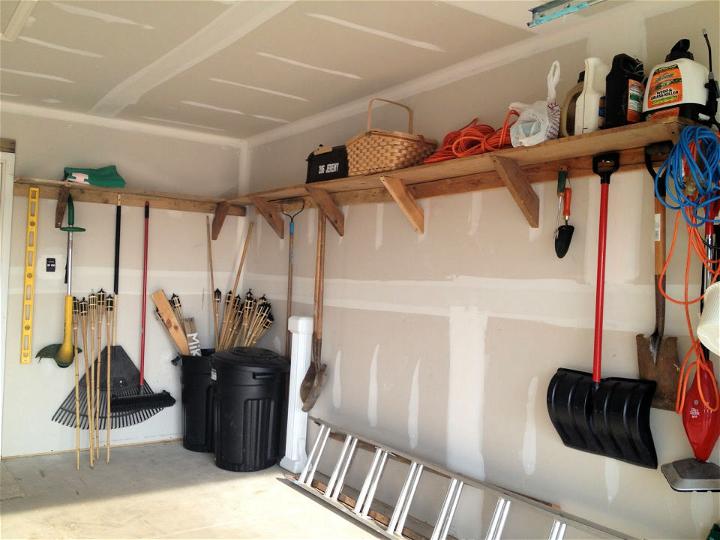 Screws, drill bits, and a few other materials and tools will be required for you to make this project a success. These shelves are pretty high raised so you can store everything you don't want our kids to touch on it. dontworrybehappy
7. Garage Shelves Attached to Walls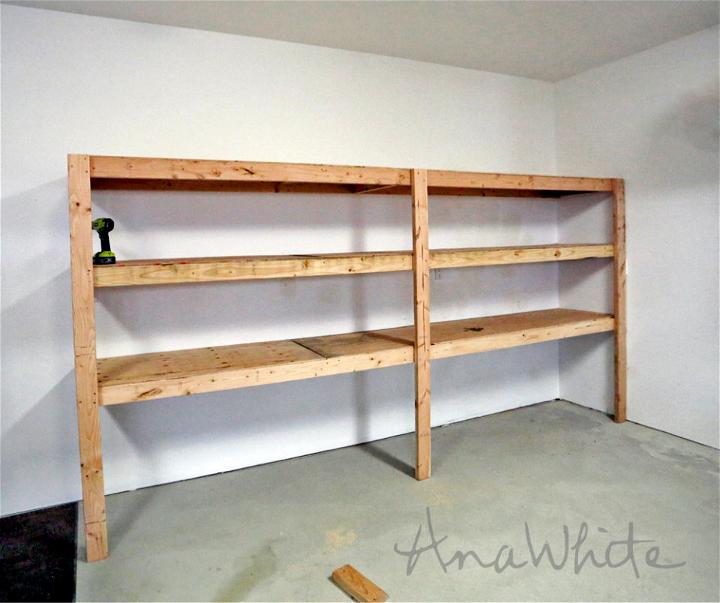 You can always change up the size and customize it up a little bit, depending on your own preferences. However, this plan is for a shelf, which will be 8 feet tall and 2 feet deep. The longer, the better as it will be more spacey and will be able to store more stuff! ana white
8. Garage Storage Shelves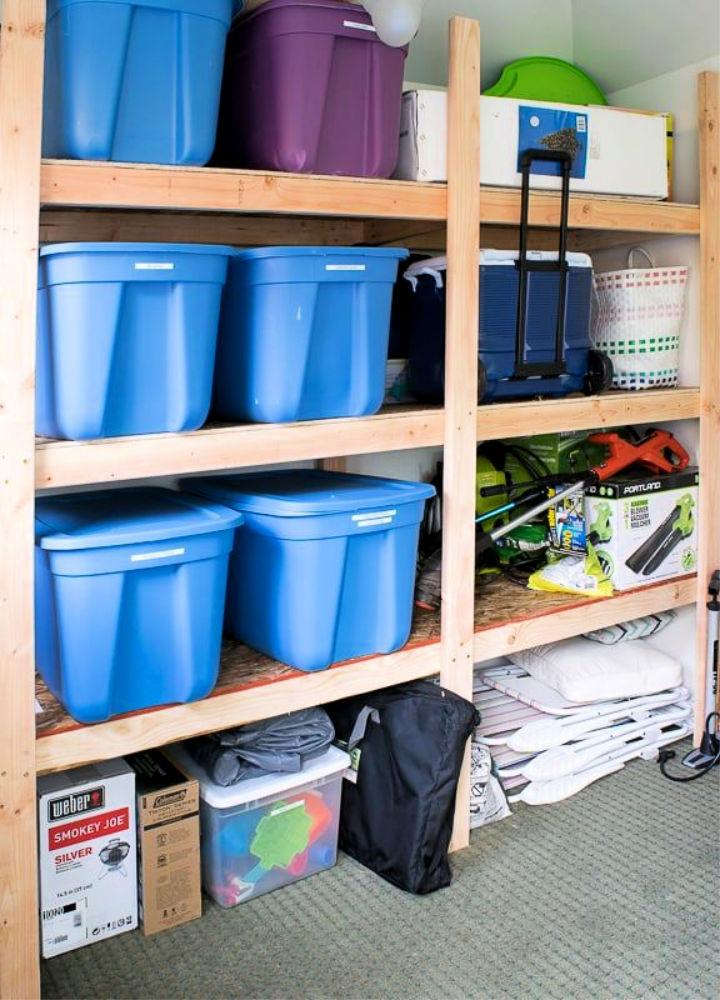 You're going to enjoy these DIY garage shelves a lot! You can almost fit them in any corner of your house by changing up their size a little bit! A drill, speed square, screws, clamps, and a few other basic tools will be needed for this amazing project. thehandymans
9. Garage Shoe Storage Shelves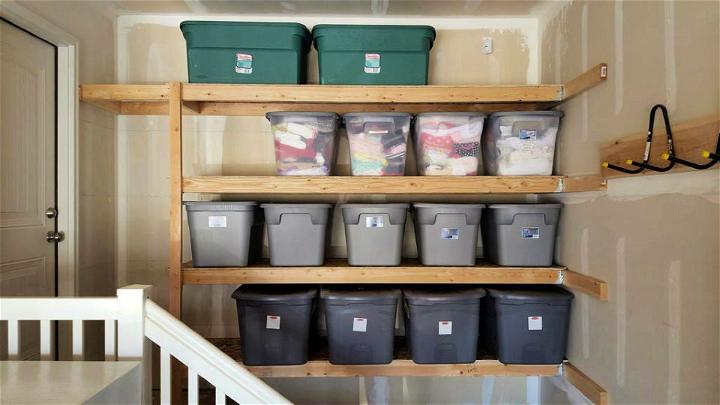 One of the most important things to consider is how durable the material being used is! It has to be strong enough to carry anything. This guide features a very strong shelf, which is made out of strong material to store almost anything on it! instructables
10. Garage Storage Shelves on the Cheap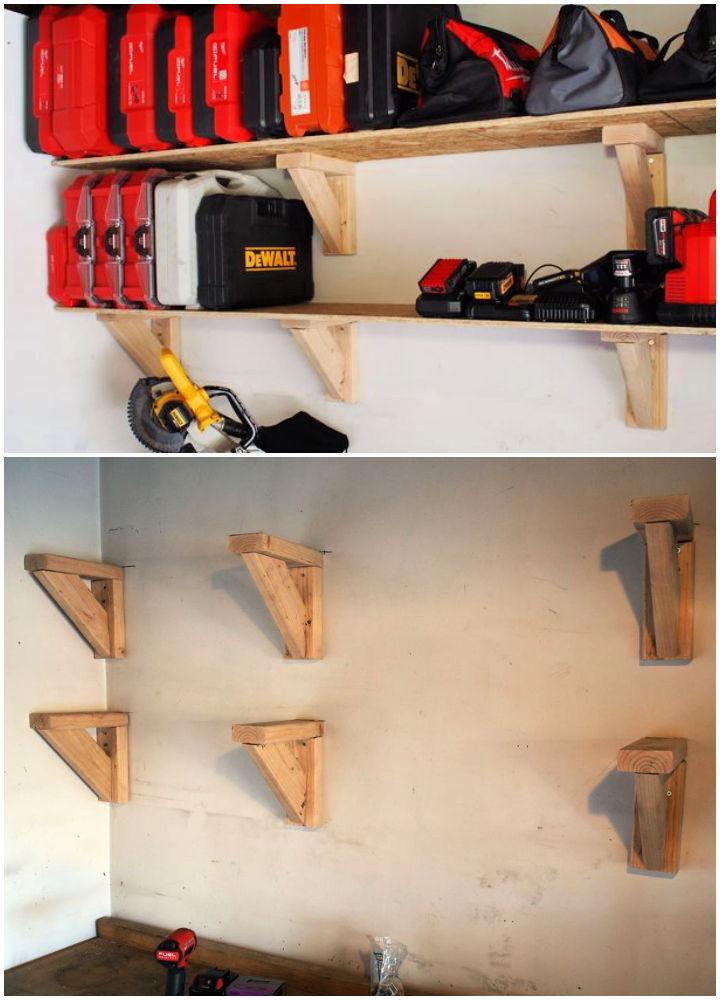 Sometimes, all you need is something simple and easy to make. Here's a simple guide on how you can make these easy DIY garage shelves. They also don't require a lot of time or even effort. Tape measure, drill, circular saw, and a few other simple tools are needed. popularmechanics
11. Floating Garage Shelves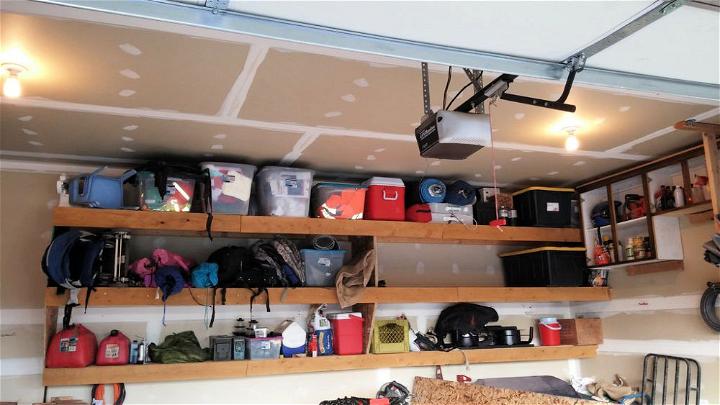 12 angle brackets, 8′ 2×4, 1/2 ' screws, and a few other materials are required for you to make the garage shelf of your dreams, a success! This plan comes with a draft diagram, a lot of personal experience- which is always appreciated, and some extra information, so you don't mess up! instructables
12. Building a Garage Storage Wall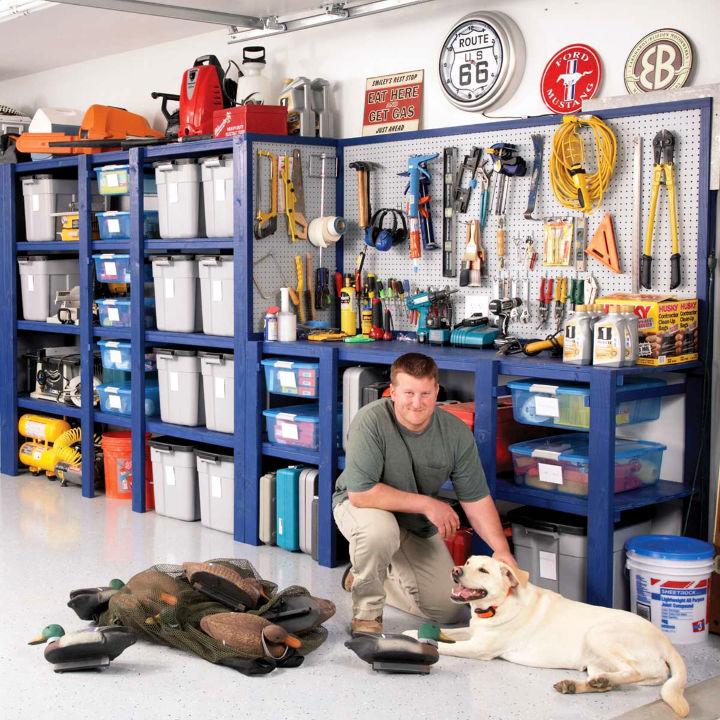 Here's a garage shelf that is not only very functional and will hold almost everything in your garage but also is super pretty to look at! If you want something to make, your garage looks very presentable, then giving this plan a read is recommended. familyhandyman
13. Easy DIY Garage Shelving

A beginner? No worries! Here's a super simple way to make this easy shelf. Now, the different thing about this is that it thinner pieces of wood joined together, which makes it look amazing as a result. You can also paint it if you want! Make it your own! hometalk
14. Garage Storage Shelves for Under $60

Who wants to spend a lot of money on simple shelves anyway? The funny thing is that you actually make them at home under $60 by following this plan, and all you need is a free evening? Then why even think of getting them done professionally? Even beginners with no experience can do this! lifestorage
15. Garage Storage Solutions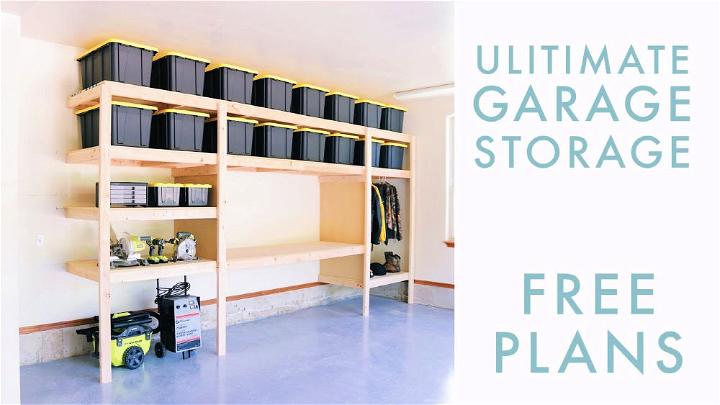 Video tutorials are just the best. They explain everything in detail, and you can see it all happening live in front of you, which makes it super easy to understand. The outcome of this garage storage shelve is just stunning, and it will last you super long as it is very strong and compatible! youtube
16. Garage Shelves Building Plans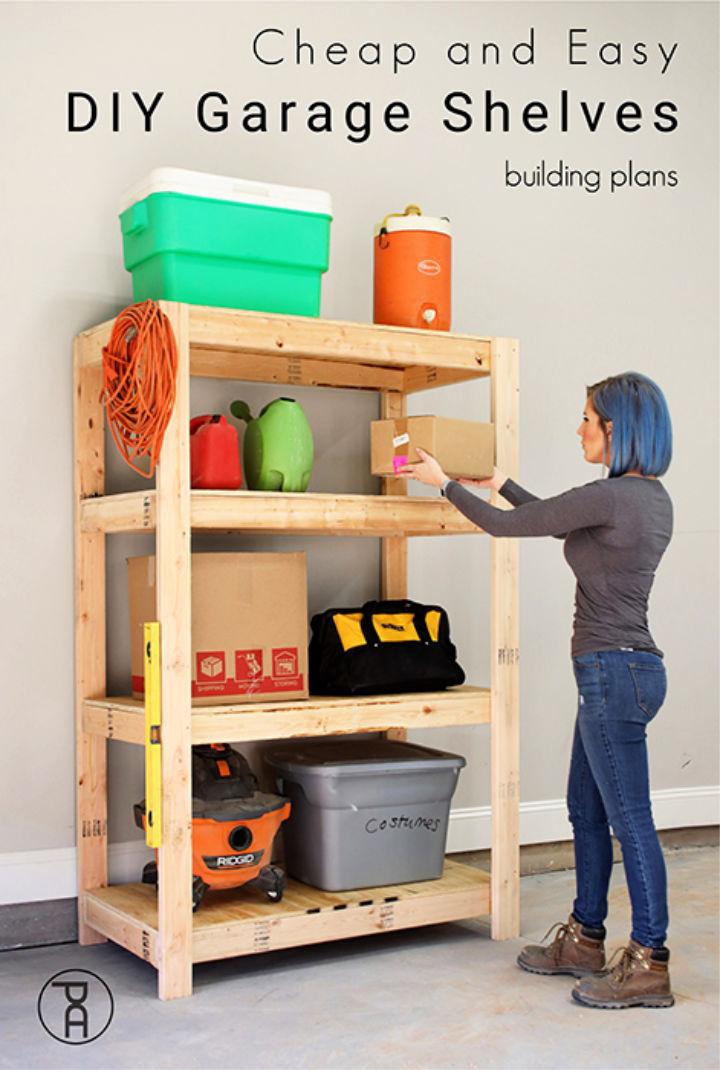 Don't have a lot to store? However, you still want to add a little something to your backyard? It's always a good thing to have some free, extra storage; in your house, just in case. You can need it anytime! Follow this guide to add some extra storage to your house. pneumaticaddict
17. DIY Corner Shelves for Garage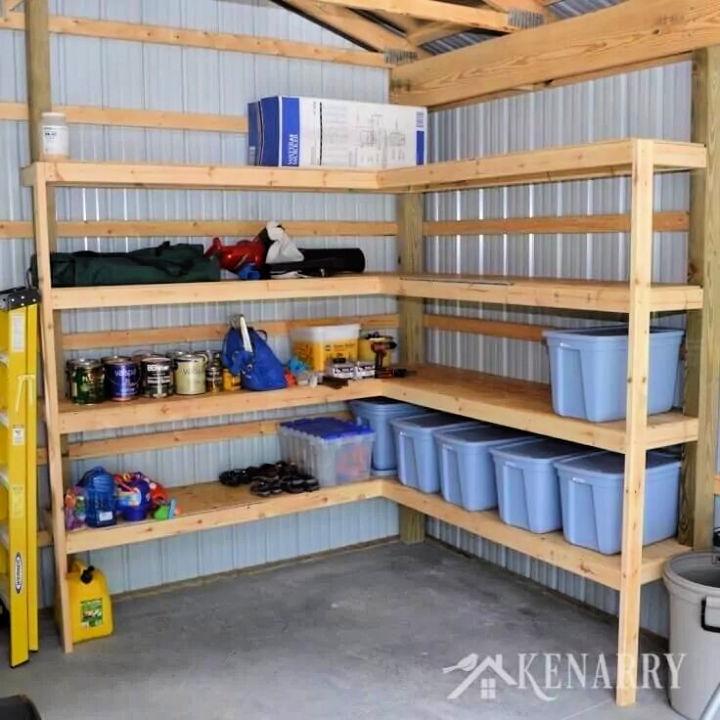 If you love woodworking and building stuff, then you probably have a lot of tools and materials to be taken care of. Those tools will last longer if you store them, well, by making a shelf like this one! It doesn't take long to make and will last you for a couple of years! Isn't that perfect? kenarry
18. How to Build Garage Storage Shelves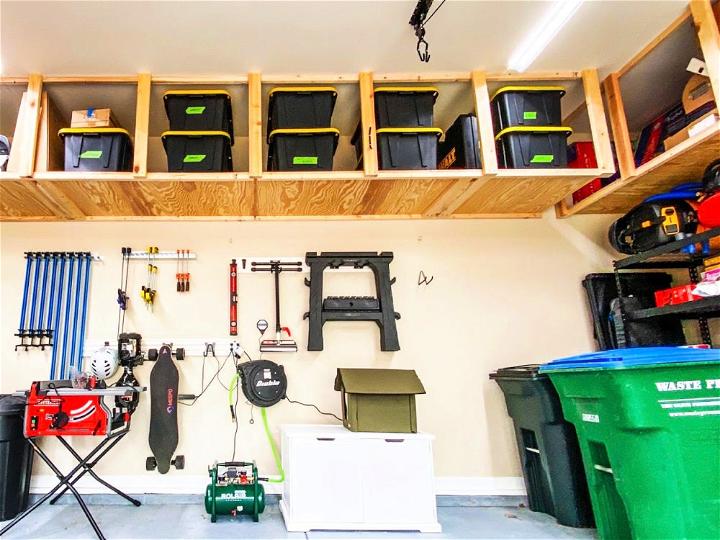 Guides that have written information and videos are just the best! After reading this type of guides, all of your questions are answered, and you don't need to research more! Whether making a shelf or not, everyone should give this a read for some perfect storage guide! craftedworkshop
19. Wasted Space Garage Storage Shelves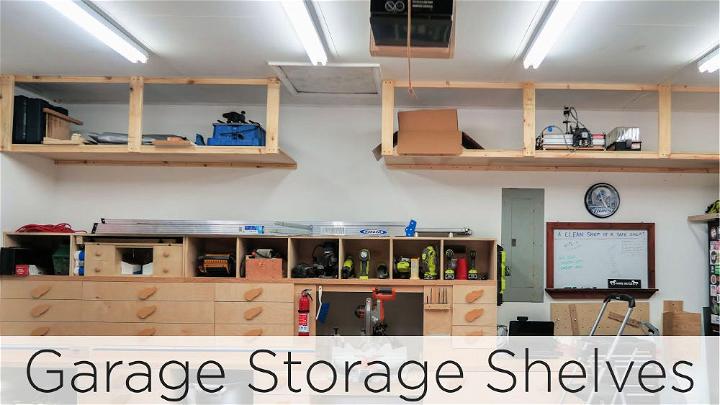 Here's another video tutorial! It is super detailed and has the whole process explained in it! You will understand the whole process, just by watching it! The outcome is also just beautiful. You can keep this anywhere, from your garage to your storeroom! youtube
20. Rolling Garage Storage Shelves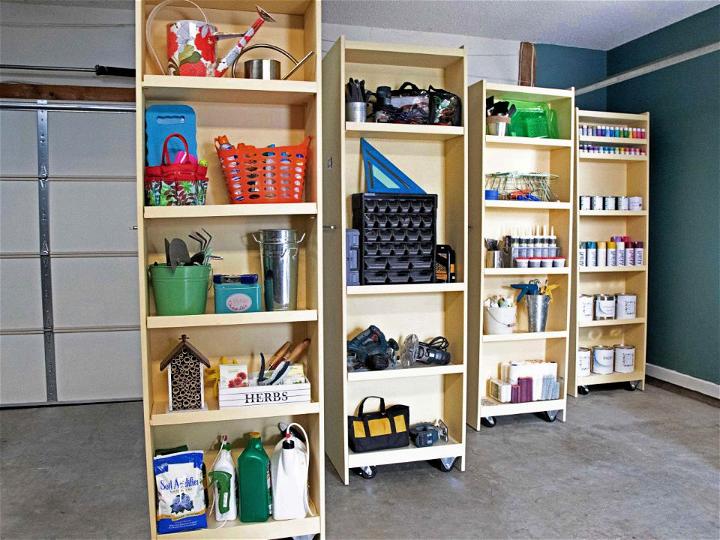 The types of shelves you need to install depends a lot on where you're installing them. These rolling shelves can be installed in your kitchen, as well! You can keep any extra plates or glasses on it. Drill bits, cabinet pull, shelf pins, shelf liner toll, and a few other tools required. hgtv
21. How to Build a Shelf for the Garage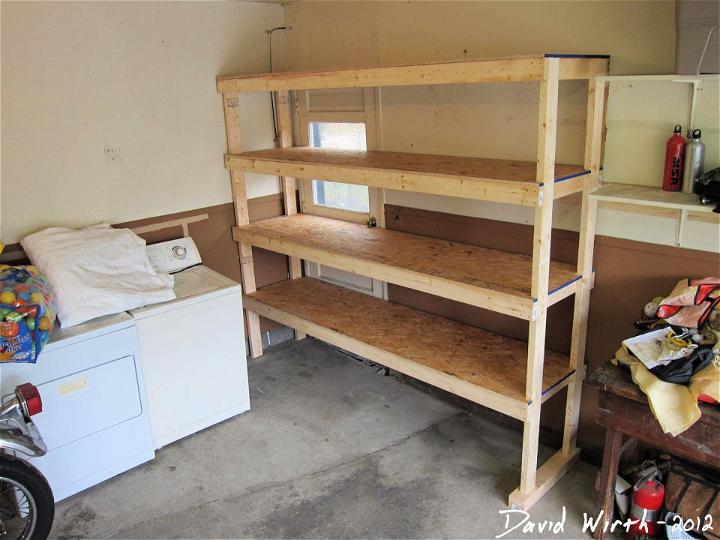 Gardening tools are usually kept in the garage. Do you know how much damage they get just by staying in a pile in that corner? You should make something like this to keep them fully organized and safe. They will last you a lot longer if you do this. davewirth
22. Garage Storage and Shelves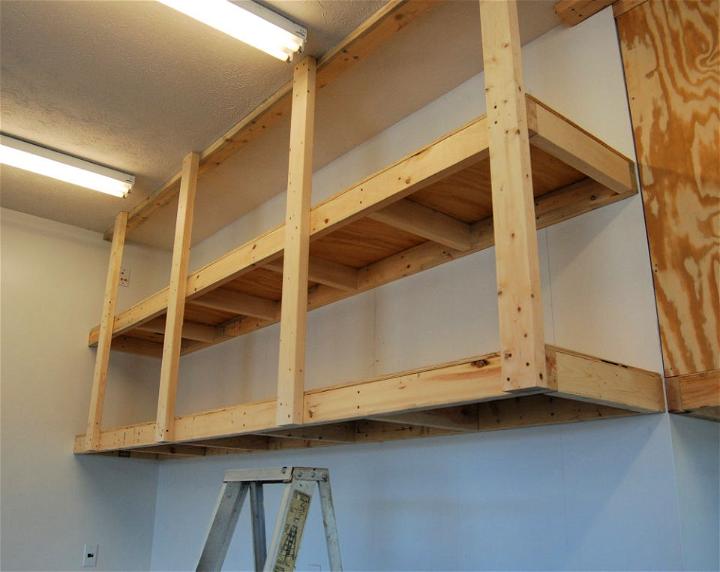 No one's going to believe you when you tell them that you made these DIY garage shelves yourself, in the comfort of your own house! They look like they're professionally done. Their shape is very unique and different compared to the other shelves in this article. outcropacres
23. Garage Storage Favorite Plans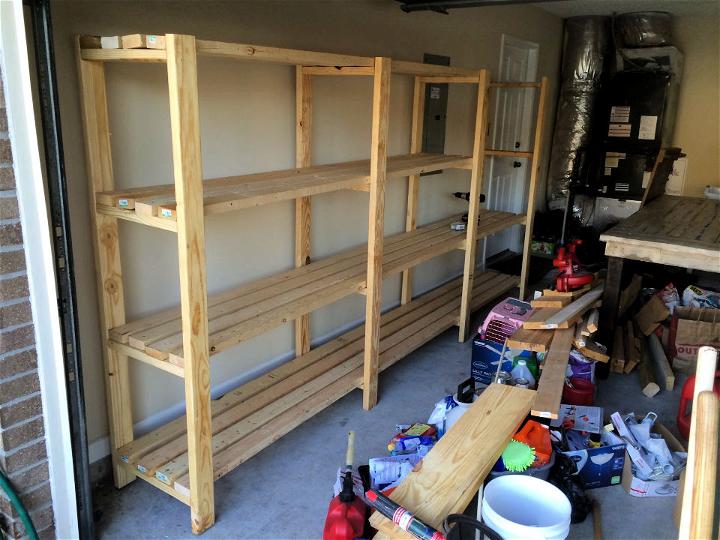 Everyone has a dream to see their garage organized and clean for once! It can be a very tricky job to get it to look neat and tidy. One thing you can do is to install a garage shelve. Do it yourself by following this amazing guide, which comes with real-life images. ana white
24. Portable Garage Storage Shelves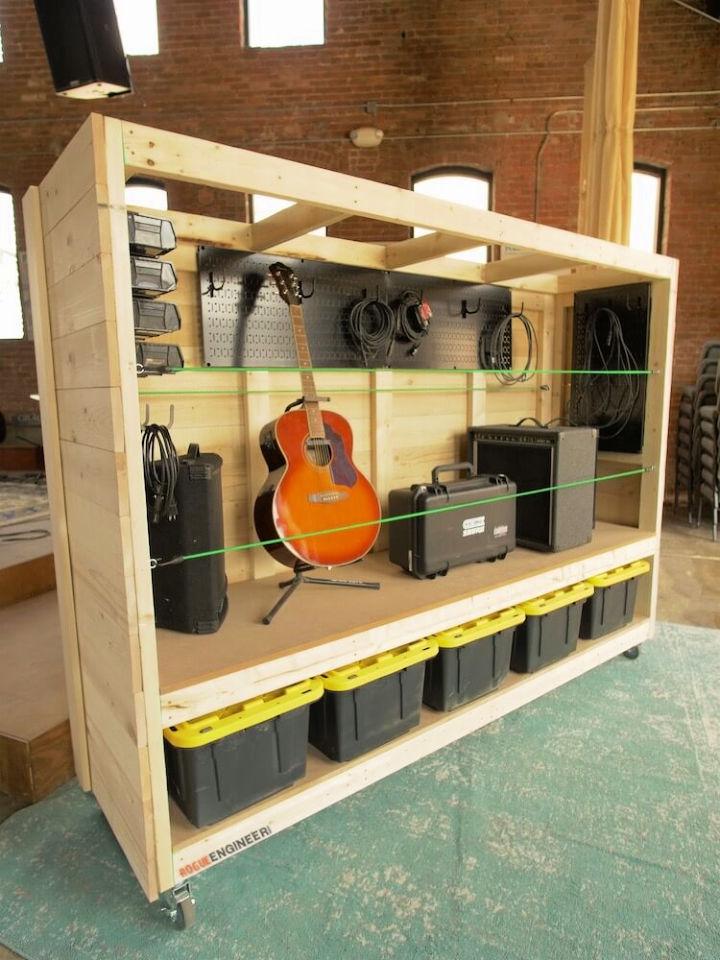 How unique is this shelf! Nothing like you've ever seen before! If you like to sing or play any instrument, for example, a guitar- then this is the perfect way to store it! 2′ brad nails, storage bins, wall control, 1/2 ' wood screws, and a few other materials will be needed for you to nail this project! rogueengineer
25. DIY Cantilever Shelves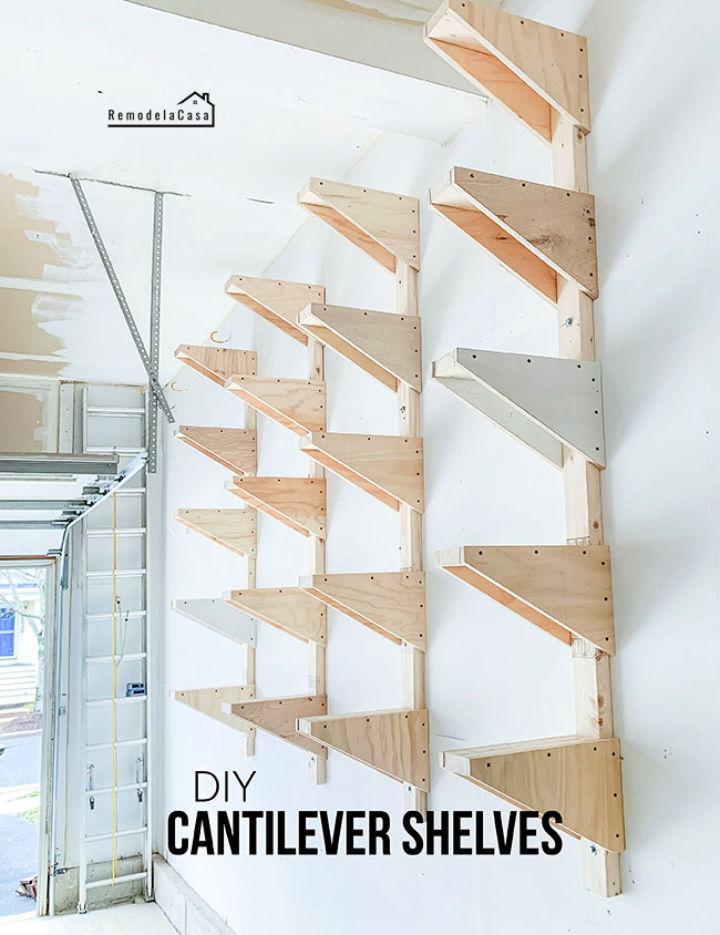 Most of the garages do not have space for large tools, you need to build this cantilever shelves. You can also store your lumbers here, along with other tools. You can organize your garage and other stuff in the garage using these simple DIY shelves. remodelandola
26. Inexpensive Shelves for Garage Storage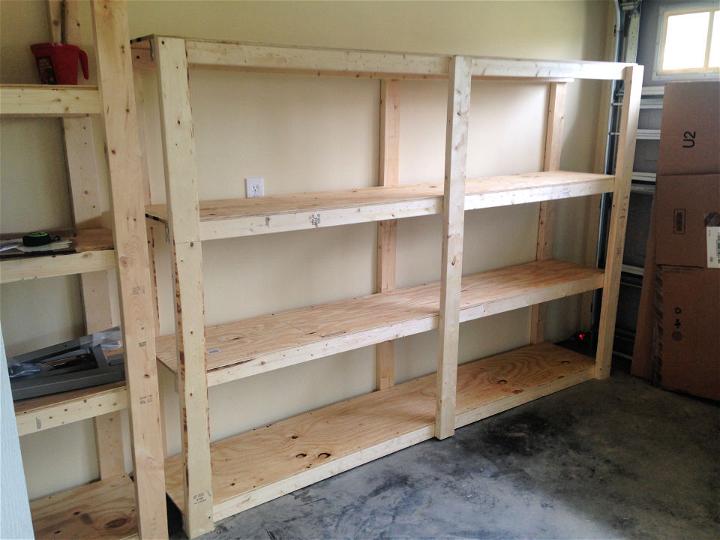 Equipping your garage with shelves can be an expensive matter. This tutorial will help you devise some useful shelves within budget, you can make these shelves all by yourself, and they will turn inexpensive. Certainly, a win-win. diyingtoshare
27. Homemade 2×4 Garage Shelving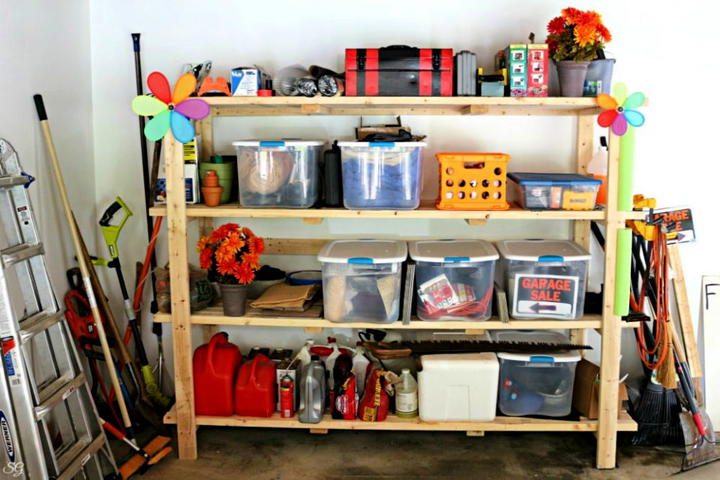 Take some 2 hours from your busy schedule and craft this amazing shelf. The shelf will be 8ft in height and will organize a huge amount of your stuff. Just do the 4 simple steps; cut the materials, build the frame, build shelves, and assemble. scrappygeek
28. Garage Shelving Unit

Build a whole shelving unit at home with the most straightforward hardware tools. This specific unit will be 8 ft long and 7 ft and 6 inches tall. A huge space to organize your wandering stuff, right? After building this shelf, your garage will no more be a messy one. theinspiredwork
29. Floating Garage Shelves Plans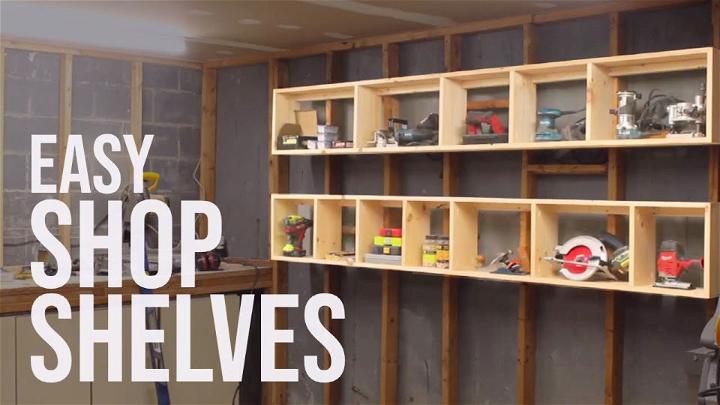 Are you one of those people who keep on shifting? Certainly, you need everything portable. These floating garage shelves will help you move easily. Also, you can change their place in your garage as per requirement every now and then.
30. Build Your Own Garage Shelves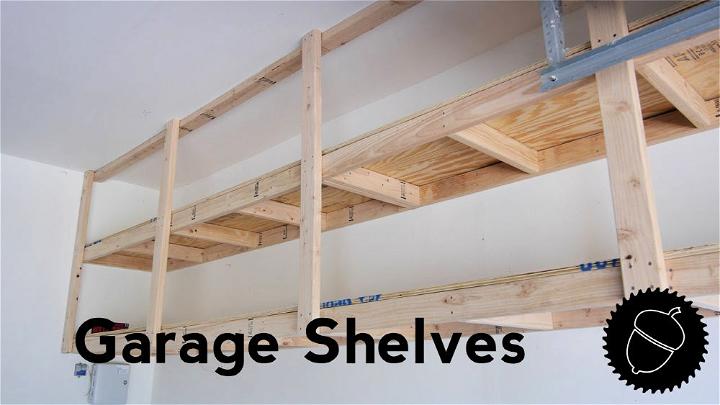 A garage without shelves will be a place with a huge mess. Shelves are the most important entities in a garage. They can turn very expensive if you are planning to buy the whole from the market. On the other hand, you can make them easily. Just follow this tutorial.
Conclusion: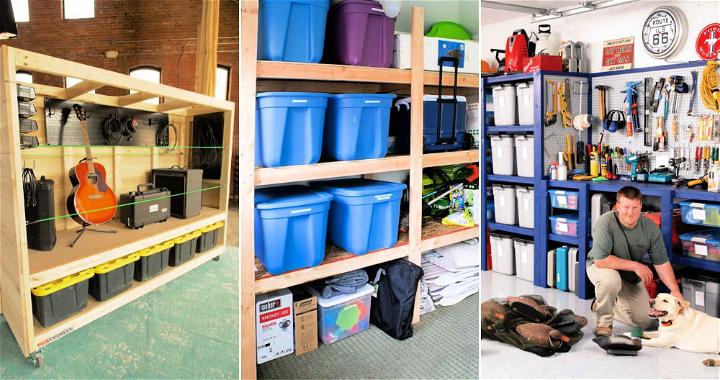 If there is one thing you should never spend your money getting professionally done, that is garage shelves! You have no idea how easy really is to build DIY garage shelves and how it is not worth the professional prices, at all! You might be a little intimidated by the plans, but it's actually super simple to complete. Once you get started, you will understand the whole process. Just make sure to go one step at a time and not rush it. These DIY garage shelves can also be best to make your storage perfectly organized!