Light up your rooms with some homemade creative light fixtures. Make fabulous lamps at home with these DIY lamp ideas that are easy to make. Get smartly crafty with the around-the-home items, leftover materials, and scrap items to build stylishly beautiful lamps. Look through these 30 DIY lamp ideas to see a variety of homemade lamps that will look much expensive but will cost next to nothing. From rustic wooden lamps to minimal light lamps, you are going to see all in this collection. A lamp is a big need for every bedroom and living room, and you should not miss it out in any way. If you are afraid of higher price tags of lamps, then consider making your own DIY lamps with these free lamp ideas.
How to make a lamp? Just fit the light bulbs with the recycled wood pieces to make minimal lamp designs. Fix the pendant light bulbs in the hollow wooden frames to make pendant minimal lamps. Rock your living room with a criss-cross wooden lamp and also stack the birch wood slices to build rustic wooden lamps in no time. Go for a big geometrical decor statement by whipping up himmeli shade lamps at home.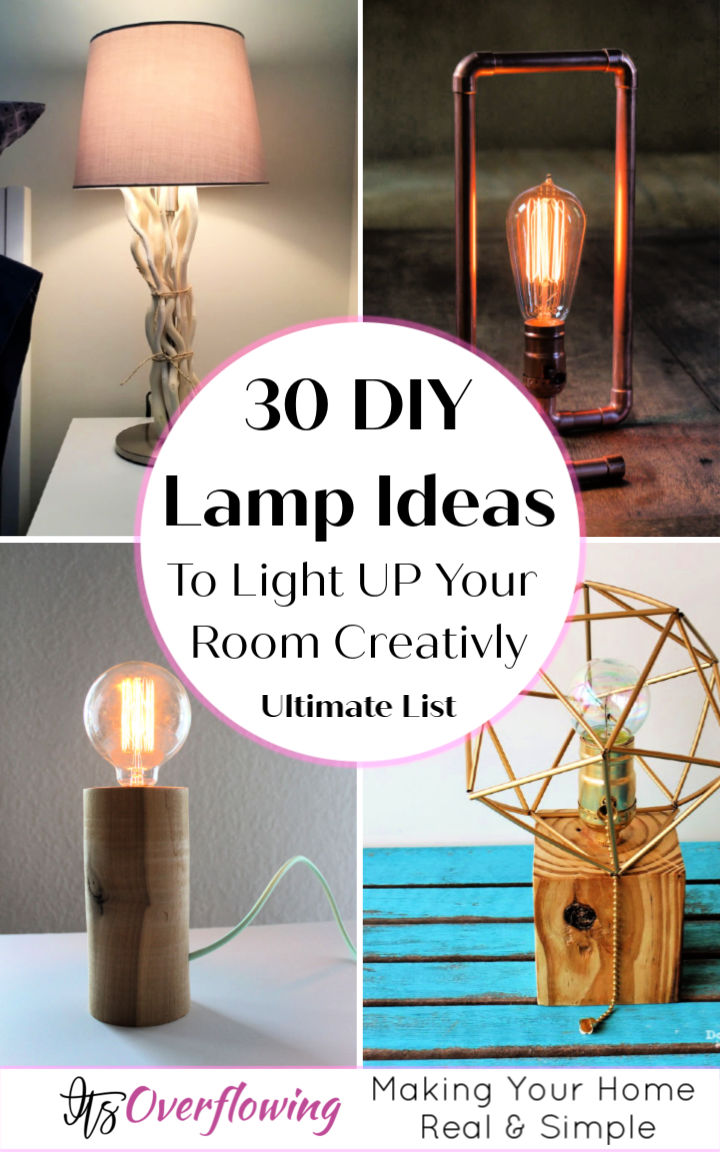 The list will provide creative IKEA hacks to build expensive and modern looking DIY lamps inexpensively at home. Browse the entire list of these DIY lamp ideas to see some fabulous readymade samples more.
1. Wooden Table X Lamp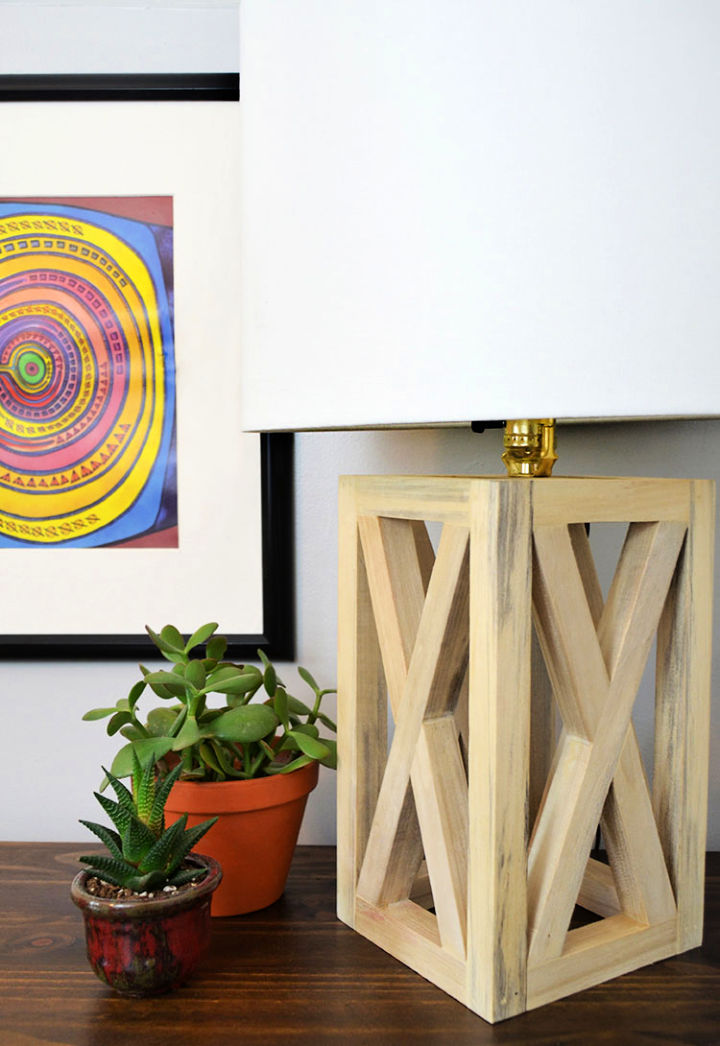 Show off with your lamps that can be exhibited as prominent room decor in your home. Make the base of this DIY lamp using square wood dowels and then install the make-a-lamp kit and finish with a bulb. Don't forget to add a cool lampshade that should match your decor style. homedepot
2. Build a Modern Table Lamp
Satisfy your love for modern minimalistic decor by building this modern table lamp that comes with an enchanting wooden base. This project will cost you $9 and will complete in less than 1 and 1/2 an hour. Use 1x2x8′ to make the base of the lamp and next grab 2 lengths of 1/2 x 3′ to make a cube-shaped lampshade frame. Cover DIY lampshade with fabric. build basic
3. DIY Wood Lamp with Himmeli Shade
Are you a big fan of geometrical decor? If yes, then you will love having this wood lamp with himmeli shade, will make a cool handmade gift too. Use a 4×4 wood block to make the base of the DIY lamp. Next, use wire and metallic painted coffee stirrer straws to make this himmeli shade. Install bulb on the top of the wooden block base. doodlecraft
4. Modern and Rustic DIY Wood Lamp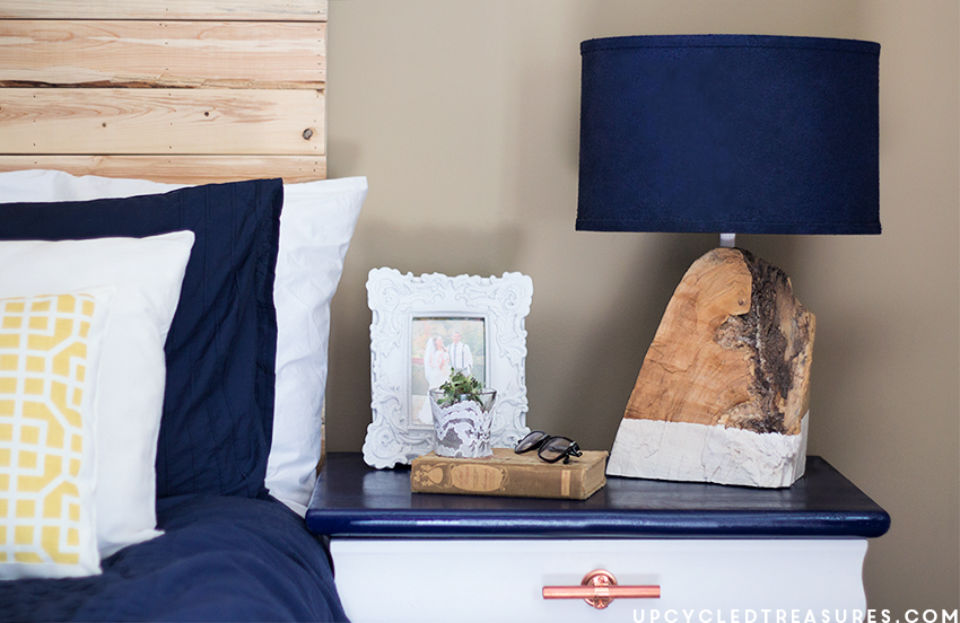 Willing to feature a live wood edge to your home for added rusticity? Then opt for this modern yet rustic type of wood lamp, made of a raw wood piece. Drill a hole in this salvaged wood piece to pass the electric wire through and then finish with a bulb. Details here mountainmode
5. DIY Branch Table Lamp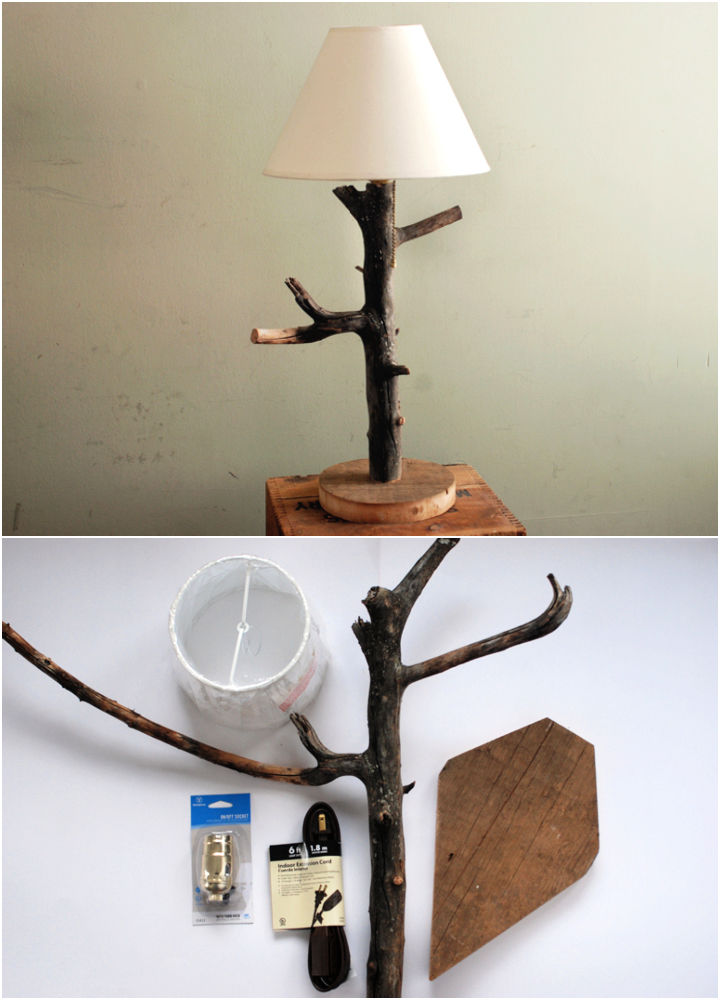 Feature rusticity to a particular modern room interior using this branch table lamp. It is just creative recycling too of discarded tree branches. Build a crate like a box with lumber to serve as the base of the DIY lamp and top it up with a wood circle having a hold in it to hold a tree branch lamp. Details here themerrythought
6. Minimal Wood Lamp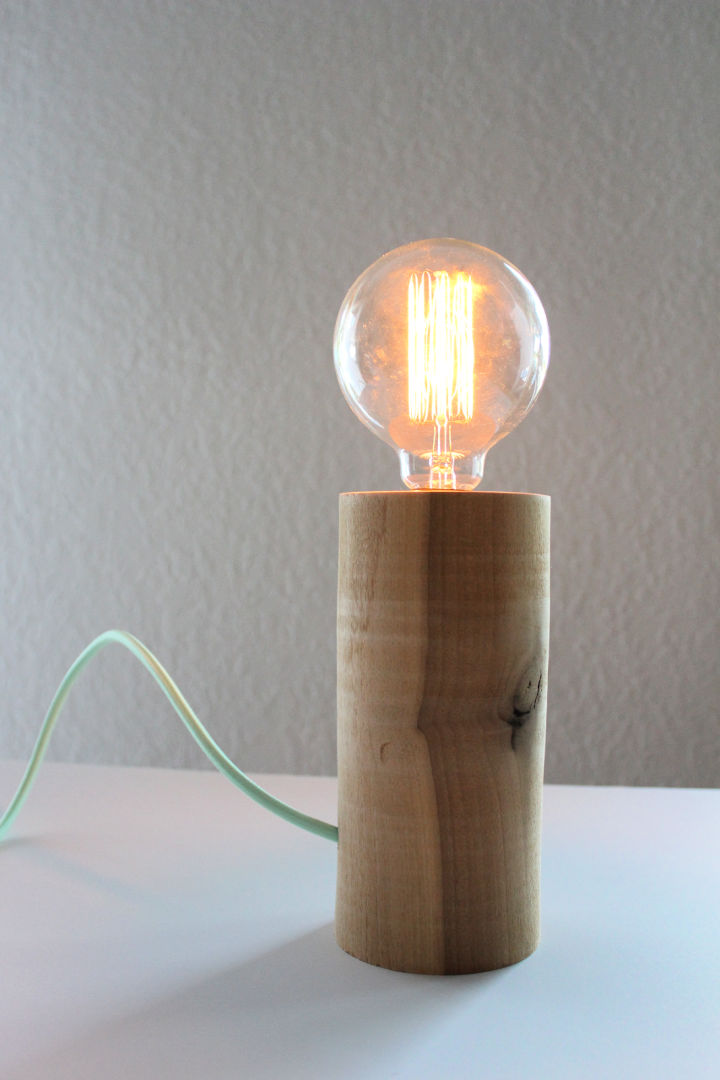 Are you following minimalism? Then you will give ten out of ten to this minimal wooden lamp. Cut a thick wooden dowel piece to s shorter length to make the base of the lamp. Next, the drill hole in its top adds the light bulb. Further, you need a rubber plug, cloth-covered wire, porcelain sock, and a cloth-covered wire. turningithome
7. DIY Driftwood Lamps – IKEA Hack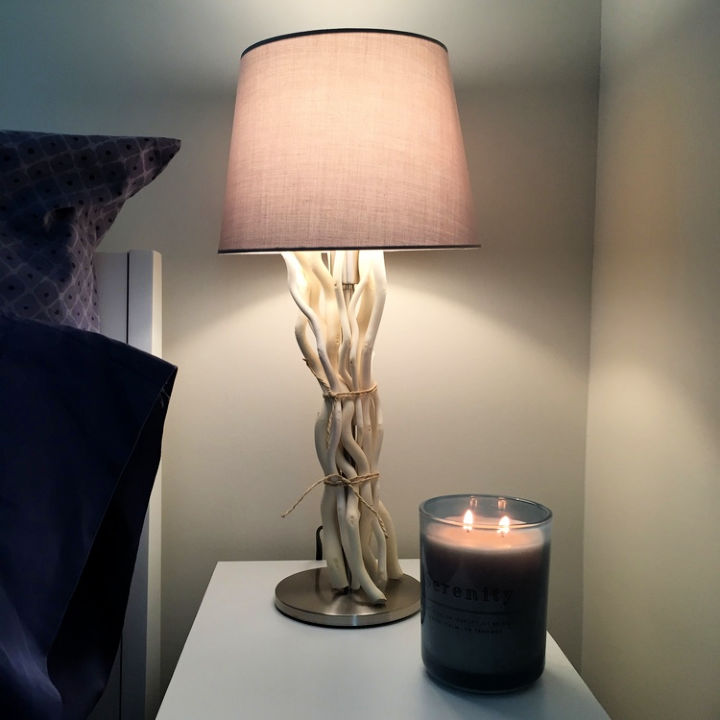 Bring a great rustic decor character to your home decor by building this driftwood lamp, a lovely IKEA hack. This accent driftwood lamp will cost you $28. Grab an IKEA torka decorative dried willow bouquet, IKEA ROD 14″ silver table lamp base, and IKEA JARA 9″ lamp to build this driftwood lamp. Details here stephaniemae
8. Build a Pallet Wood Lamp
Get here an amazing hack to build a free wooden pallet lamp, will bring that necessary rustic wood warmth to your room. Shape up a miniature box-like tower with a flat square base. Make connections inside it and let the bulb holder come out at the top to hold the light bulb. Finish with a cool DIY lampshade. Details here scavengerchic
9. Wooden Cube Lamp
Show your love for the geometrical decors by building this wooden cube lamp. Make it using two pieces of 5″ x 9″ having straight cuts and 2 pieces with the same size having 45-degree angle cuts. Next, paint inside of the lamp white and stain the rest. install a bulb inside, and its stand on a corner. Details here ohohdeco
10. Rustic Natural Wood Table Lamp
A feature again the live wood edge to a particular modern bedroom or living room ambiance using this rustic natural wood table lamp. Grab a piece of raw wood at least with one natural edge, drill hole in it, and install a bulb holder a lamp on its top. Finish off with a cool lampshade. diyfurniturest
11. DIY Tapered-X Lamp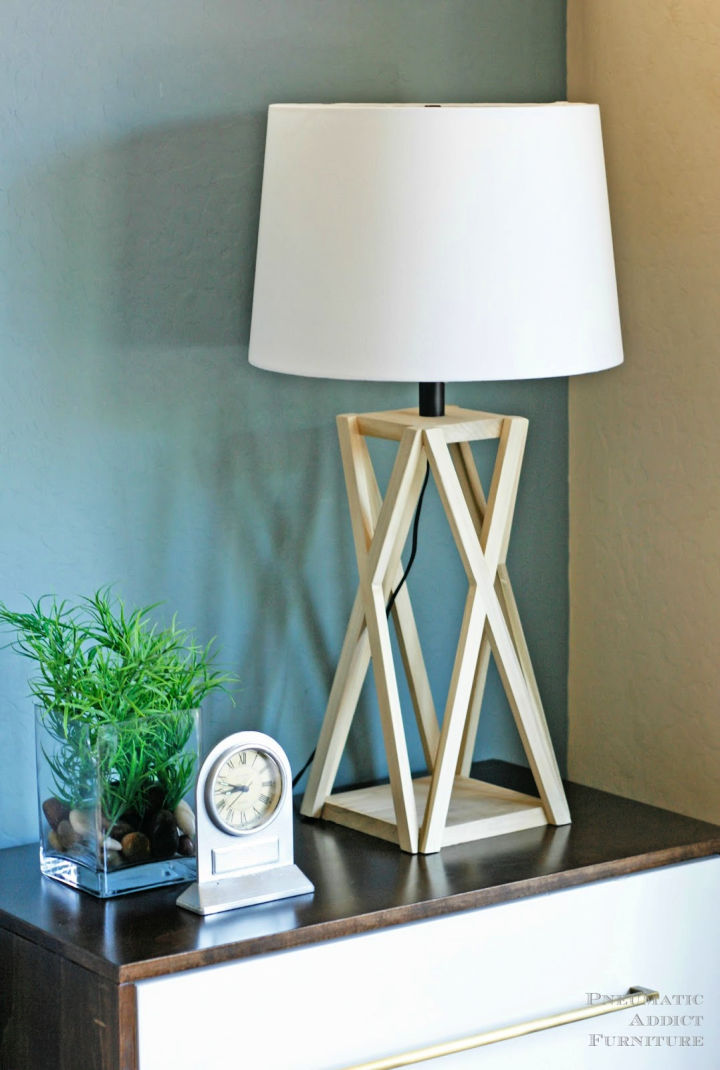 Build this tapered X-lamp using custom lengths of wood and even the wood scraps. Go with the 1×2, 2×2, and 1×8, and also with 3/4″ PVC pipe pieces to make this lamp, will bring a great decorative character to a room. A fantastic design of a wooden lamp to make in no time. Details here pneumaticaddict
12. Wooden Edison Bulb Table Lamp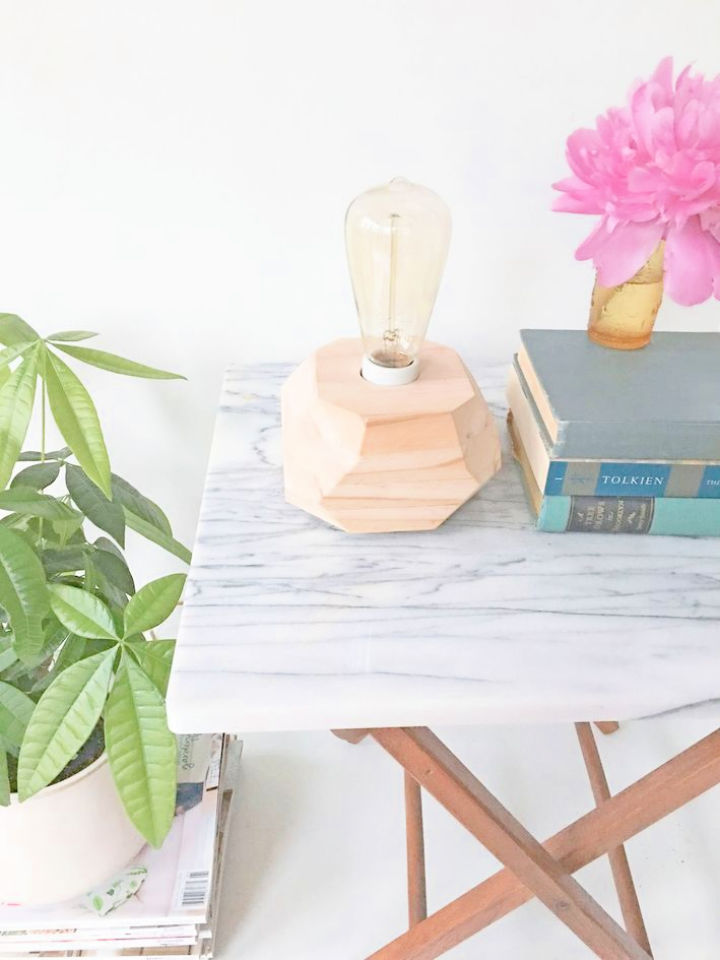 This fantastic DIY lamp project involves using the spade bit and is a perfect, minimal design of a wooden lamp. You need 2ft of 1×6 boards, DIY lamp kit, Loctite adhesive, and rubber feet to make this cute and miniature type of wooden lamp. Finish it off with an Edison light bulb. Details here curbly
13. Make a Wood Lamp from Pallets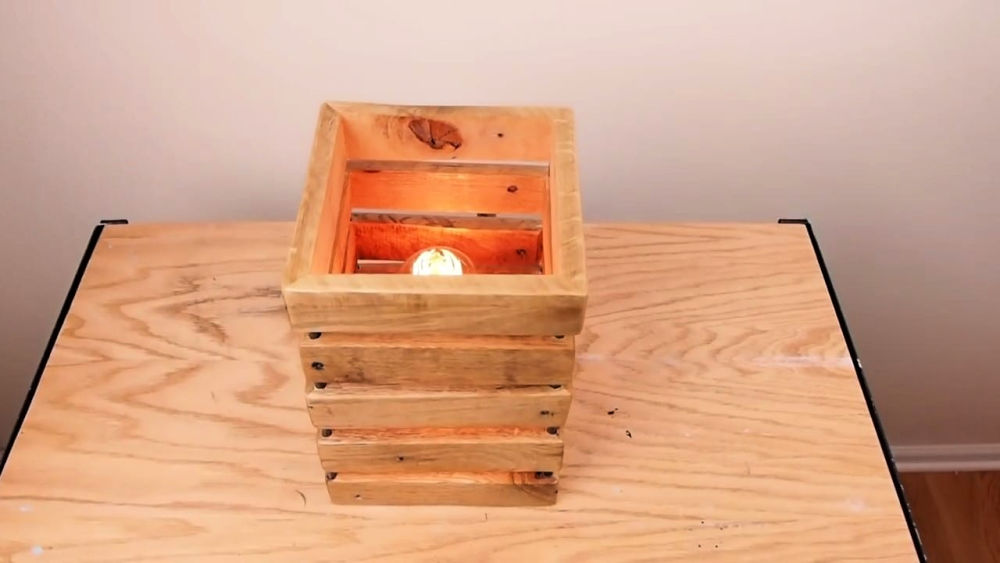 Pallets can become another great obsession to build some free of cost wooden lamps. Build the bench using pallet wood slats, plywood, and other scraps of wood. It holds the light bulb inside and lets the light come out nicely. Next, you need a DIY lamp cord, holder and steel rod, etc. to complete this project. cutthewood
14. West Elm Inspired DIY Floor Lamp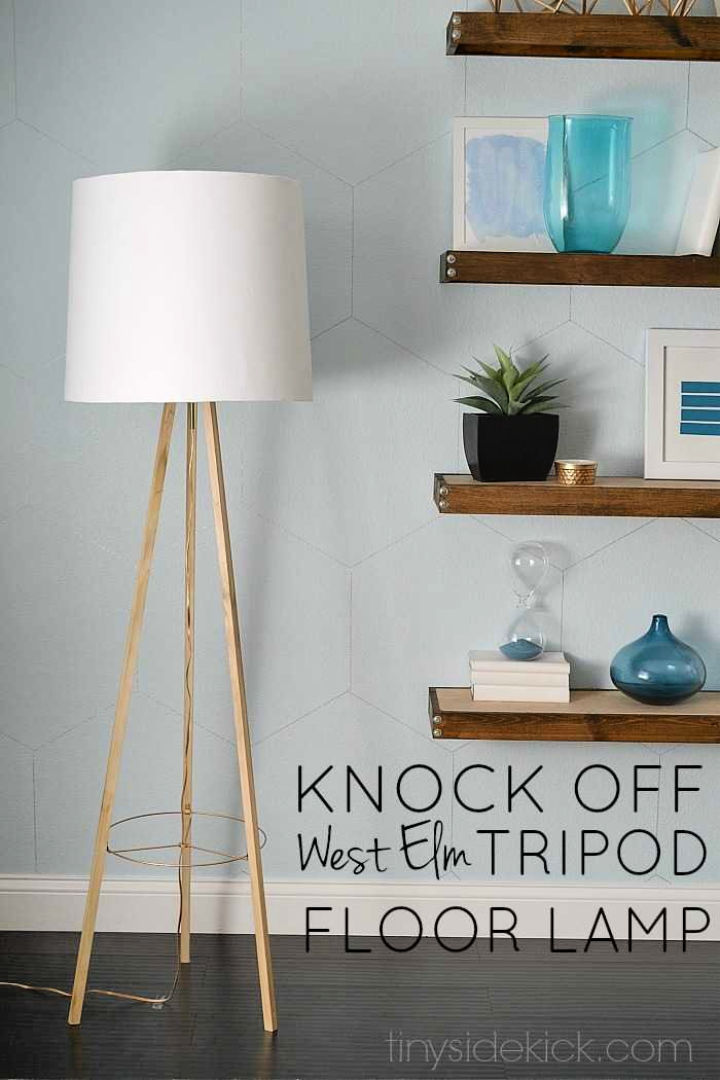 The West Elm home decor are expensive to buy but make the inexpensive knock-offs to satisfy your love for them with getting out of budget. You need 3/4″ square pieces of wood, a lamp kit, 1/4″ metal cable clips, brass nipples, and metallic spray paint, etc. to make this DIY floor lamp. heytherehome
15. DIY Wooden Base Desk Lamp
Check out here one of the easiest desk lamps that even a beginner can make quite easily. Here all you need a wooden block, light socket with a lead, electric cord with plug, wire nuts, and light bulb to complete this wooden base desk lamp. It will bring rusticity to any living or bedroom. Details here poppytalk
16. Minimal Frame Pendant Lamp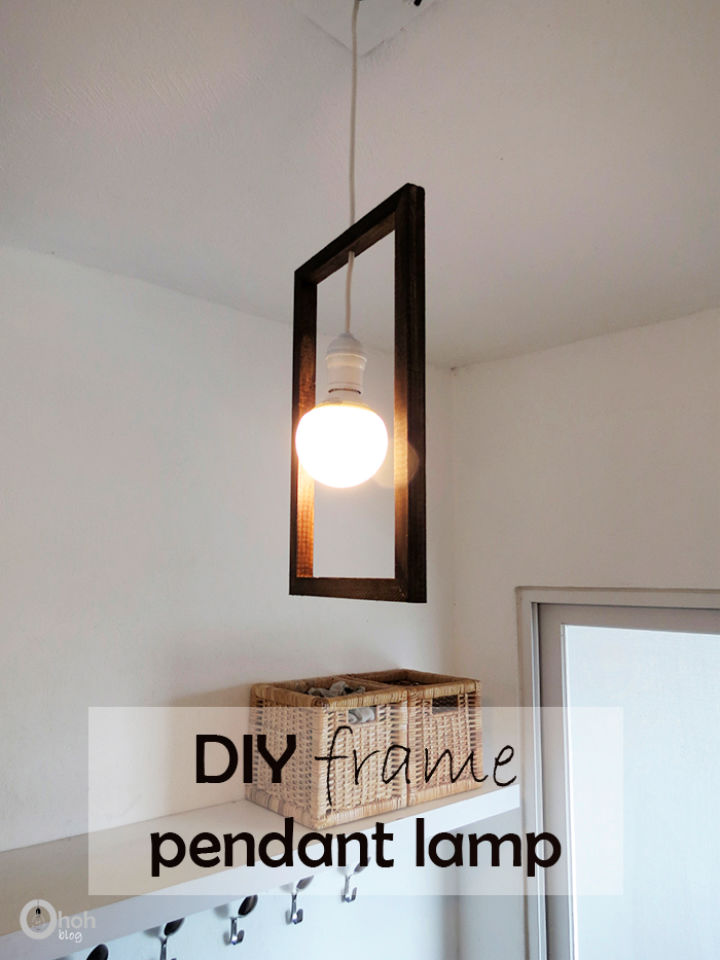 Make it for a minimalism lover, a minimal frame pendant lamp, will impress with its clear enchanting appeal. Just put together 4 lengths of wood to make the hollow rectangular frame, next hang a lovely light lamp in it with a lovely pendant position. Details here ohohdeco
17. Handmade Stacked Wood Lamp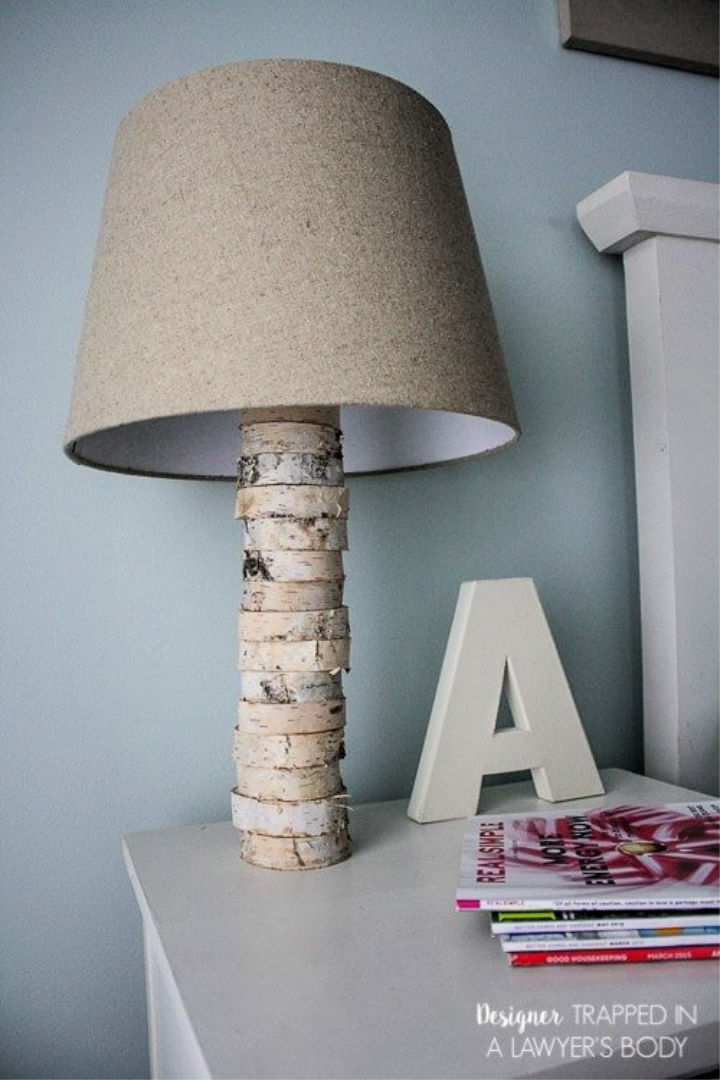 See how beautifully the wood slices build this wooden lamp. Just stack them quite randomly to build this beautiful rustic lamp. Take a birch wood length into slices and then layer them up to build a tower-style lamp base. Install a lamp kit to it and finish with a cool lampshade. designertrapped
18. Wall Lamp Under $40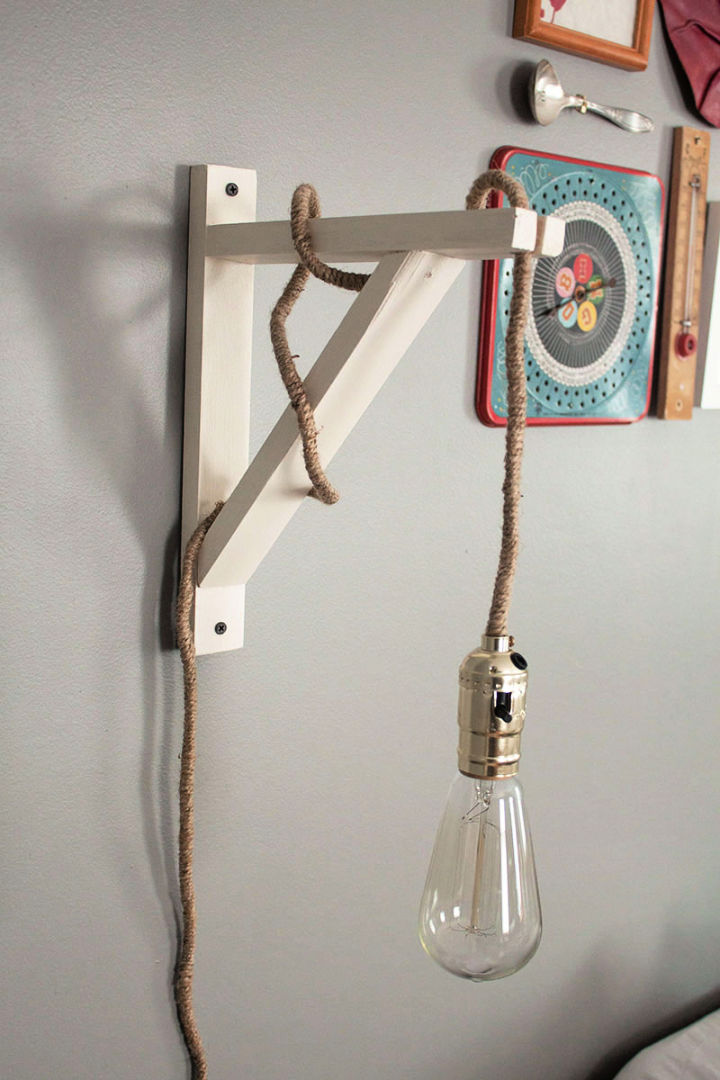 Lamps are too expensive when you need to buy them in a personal favorite design. Go with the DIY alternatives to save a lot of costs. Build this wall lamp by spending less than $40. Grab a make-a-lamp kit, craft jute, wire strippers, bag clip, and vintage style light bulb to make it. thehomesteady
19. DIY Table Lamp Made from Pipe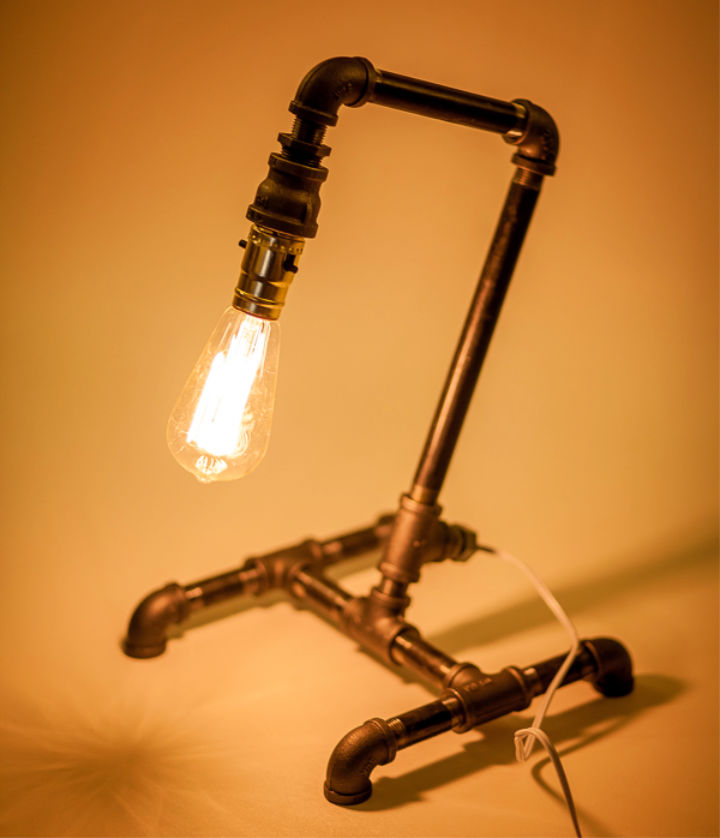 Feature the steam-punk style in your bedroom or living room by building this DIY table lamp, made of a pipe. You need a light bulb, the steel metal pipe, and a lamp kit to build this fantastic looking lamp. This lamp will help bring a great industrial touch to a particular room interior. Details here homedepot
20. The Contour Desk Lamp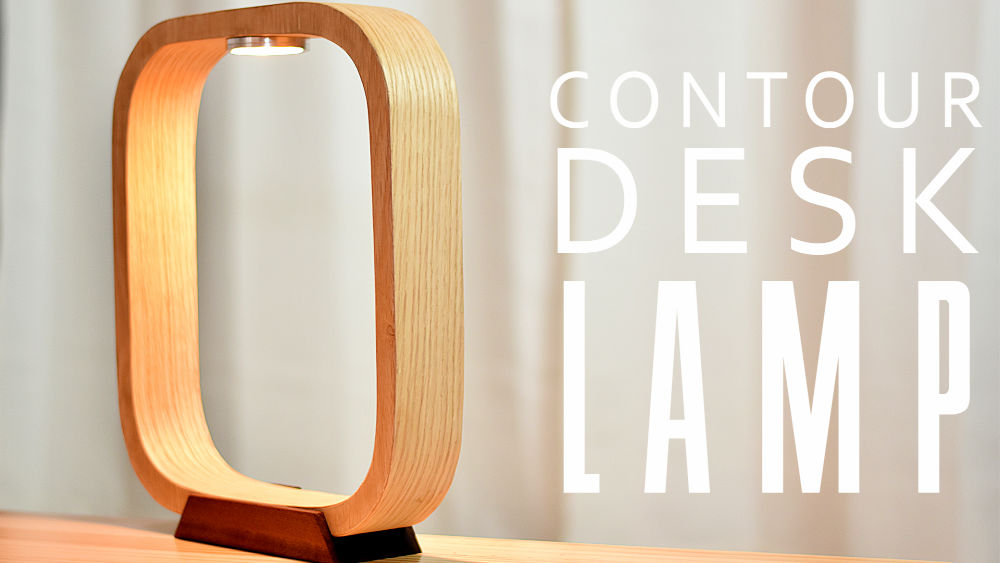 Feature this big "O" style lamp in your home to go for bigger decor statements. You need red oak, oak veneer, mahogany scrap, shrink tube, and plywood to make this very brilliant design of lamp. After you make the wooden bench, just finish it up with the puck lights. Details here diycreators
21. Desk Lamp with Color Changing LED Light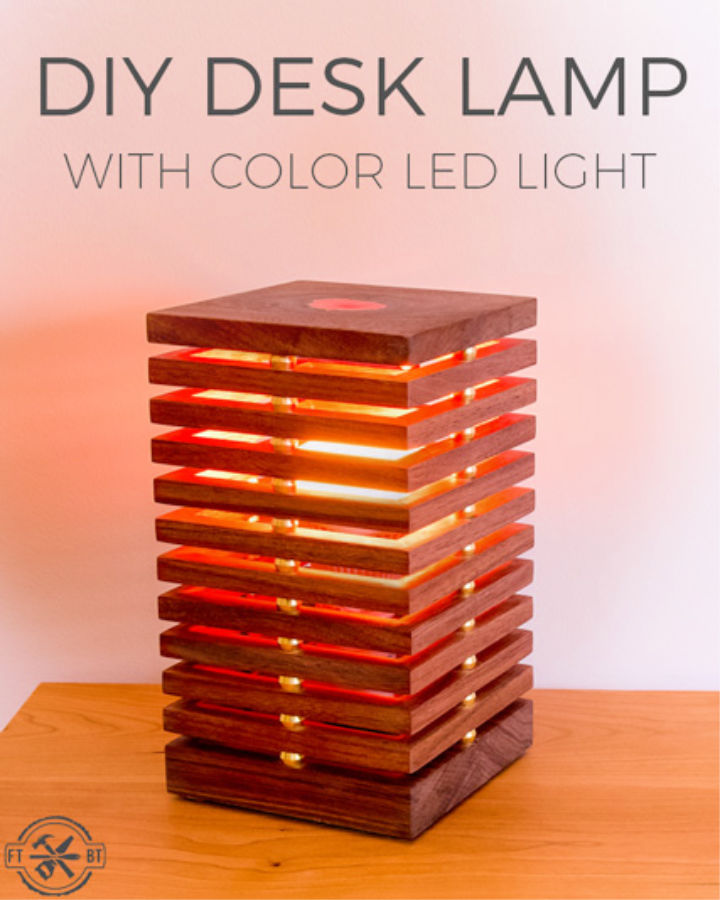 It will be more like a light decor in your decided bedroom or living room than just being a functional lamp. It will change the lights so often for an amazing light spread in the room. Build this lamp using 5/16″ wood dowels, 60W A19 color LED bulb, brass sleeves, lamp wire, and porcelain socket to make it. fixthisbuildthat
22. Amazing DIY Lamp from Anything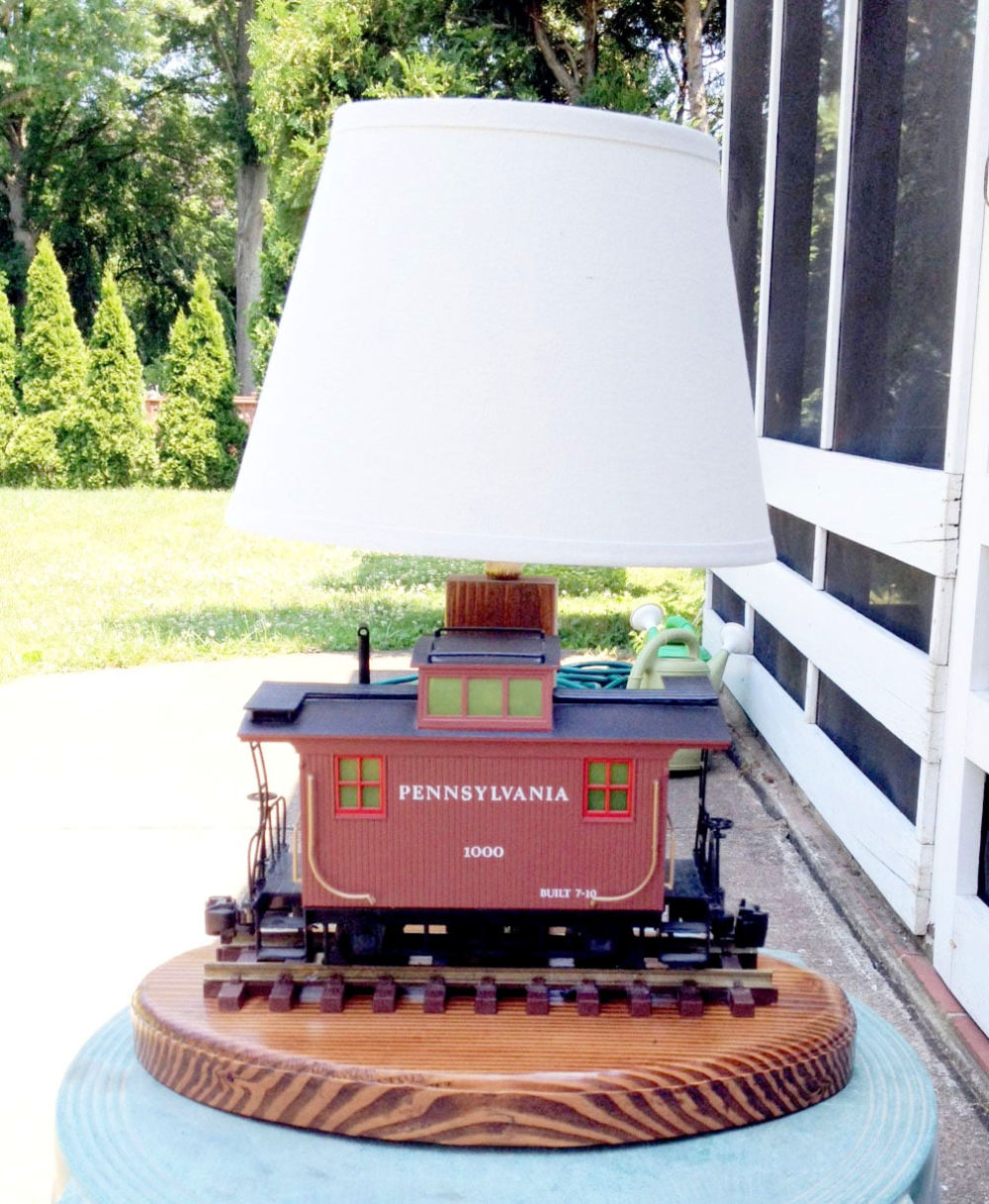 Using your creativity and imagination, you can simply build a lamp from anything that comes to you. Decide the kids' toys to feature in the model and choose a model for the lamp. Grab a piece of 2 x 10 for the base and choose a 2 x 1 1/4 wood for lamp pole. Next, just install the lamp kit to finish it off. justmeasuringup
23. DIY Bottle Lamp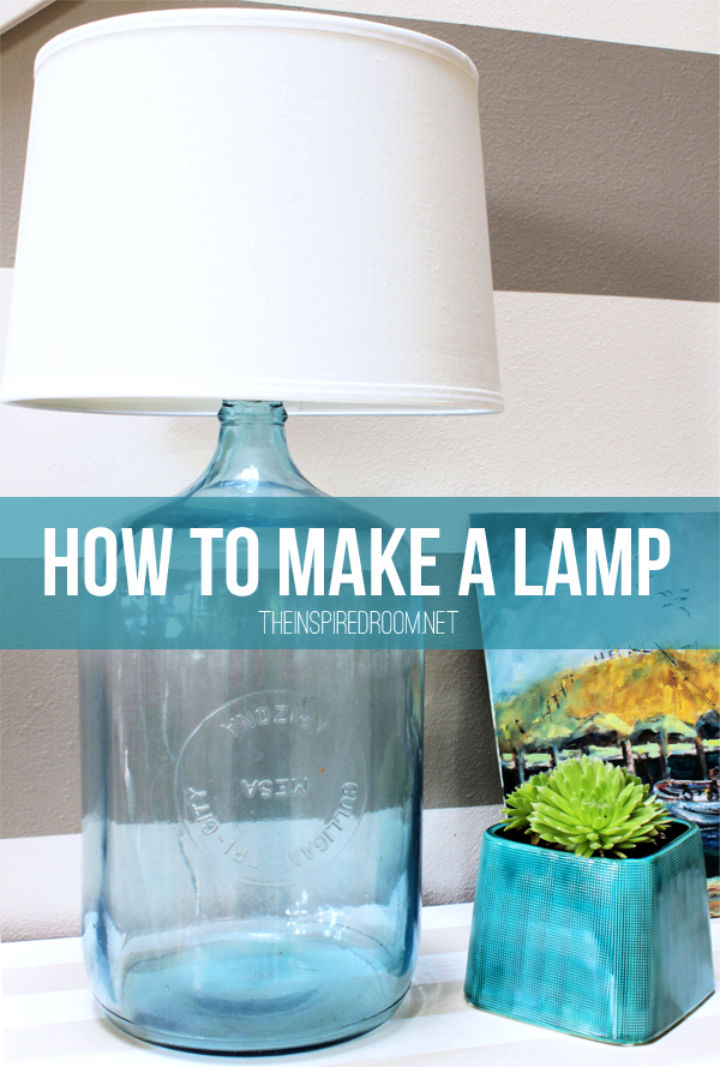 Repurpose the old bottles from home to make gorgeous no-cost DIY lamps for your nightstands. Here the idea is just to install a dIY lamp kit to a recycled glass bottle to make this DIY lamp, will surely impress at a very first look. It will bring a great decorative character too in the living or bedroom space. theinspiredroom
24. How to Turn a Lantern Into A DIY Lamp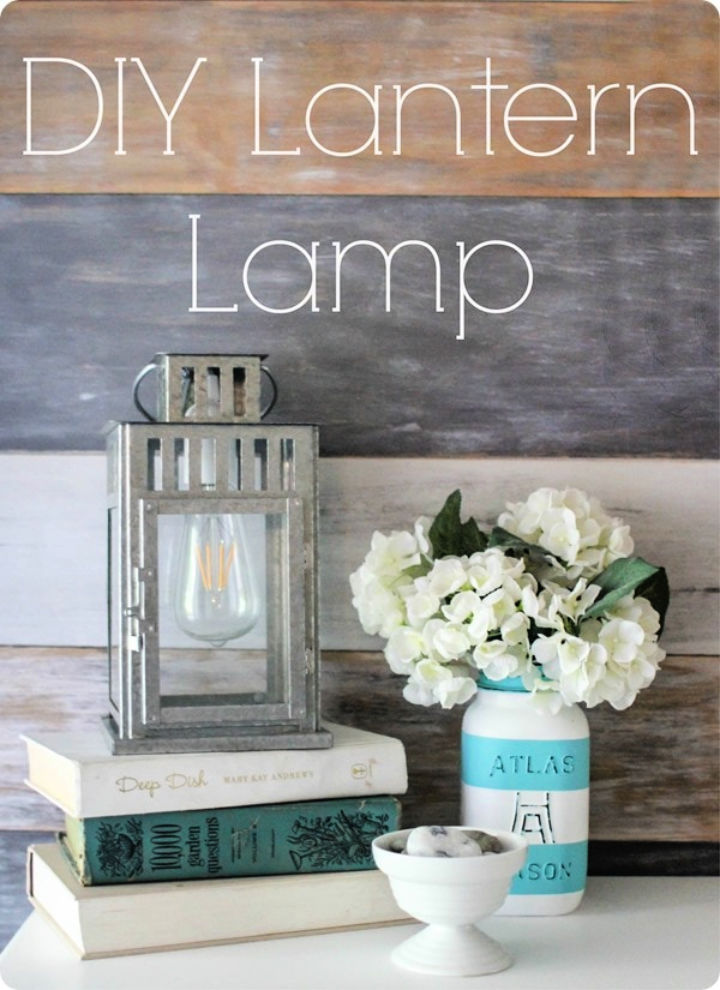 Grab an old lantern, add it up with a light socket and fit an LED Edison light bulb to transform it into a gorgeous looking lamp. Place on a nightstand or on a sofa side table for bigger decor statements. Making this expensive-looking lamp at home will save lots of your costs. Details here lovelyetc
25. Homemade Terrarium Lamp
Recycle an old glass jar and build a terrarium inside. Just fill the jar up with a little sand and plants of choice for a mini eco-system there. Next, grab a make-a-lamp kit and install it to that terrarium base and fit a light bulb in the holder. Finish with a cool lampshade. Details here craftbits
26. How to Make Your Own DIY Lamp
This bench also comes with a rustic base and is darn easy to build with a handful of supplies. Grab 4 lengths of 2x4s and to build the base of the lamp. Install the black iron pipe on it with a floor flange base and finish by installing a lamp kit. Make it hold and Edison bulb and complete it with a lampshade. decorandthedog
27. Custom Copper Pipe Lamp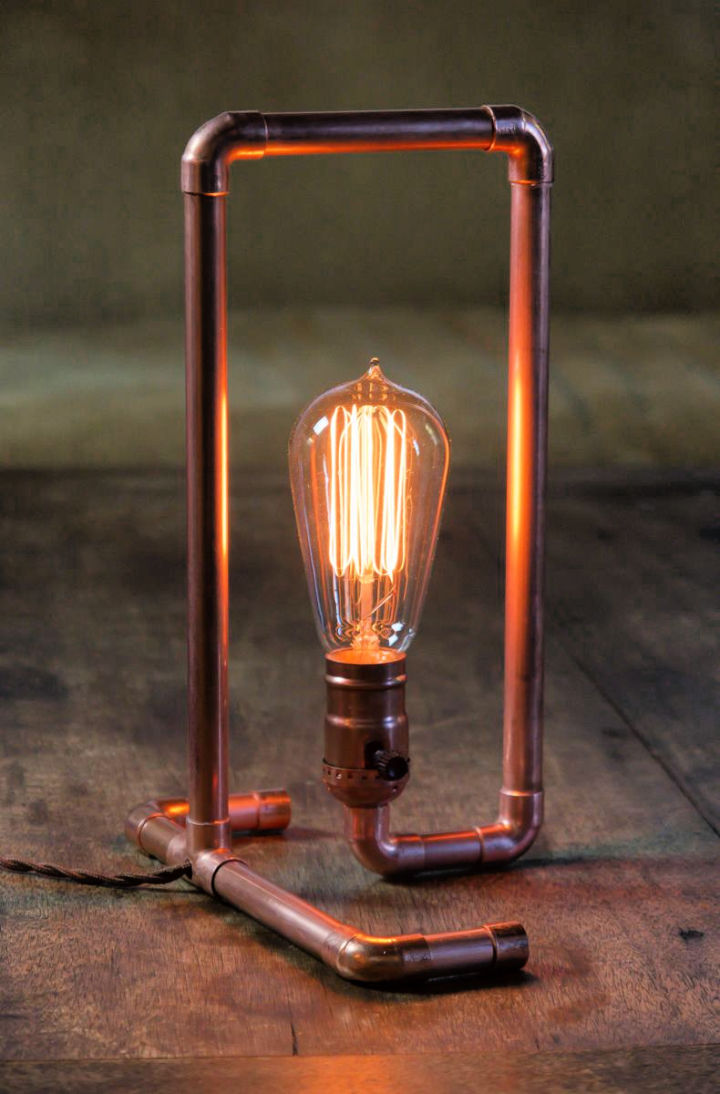 Go with the copper pipes and fittings to make this self-standing copper pipe lamp. It will bring a great decorative character to your nightstands and side tables. You will love having this copper pipe lamp on your nightstand or side table. It will offer a much quick prep time. Details here manmadediy
28. DIY Neon Lightbulb Lamp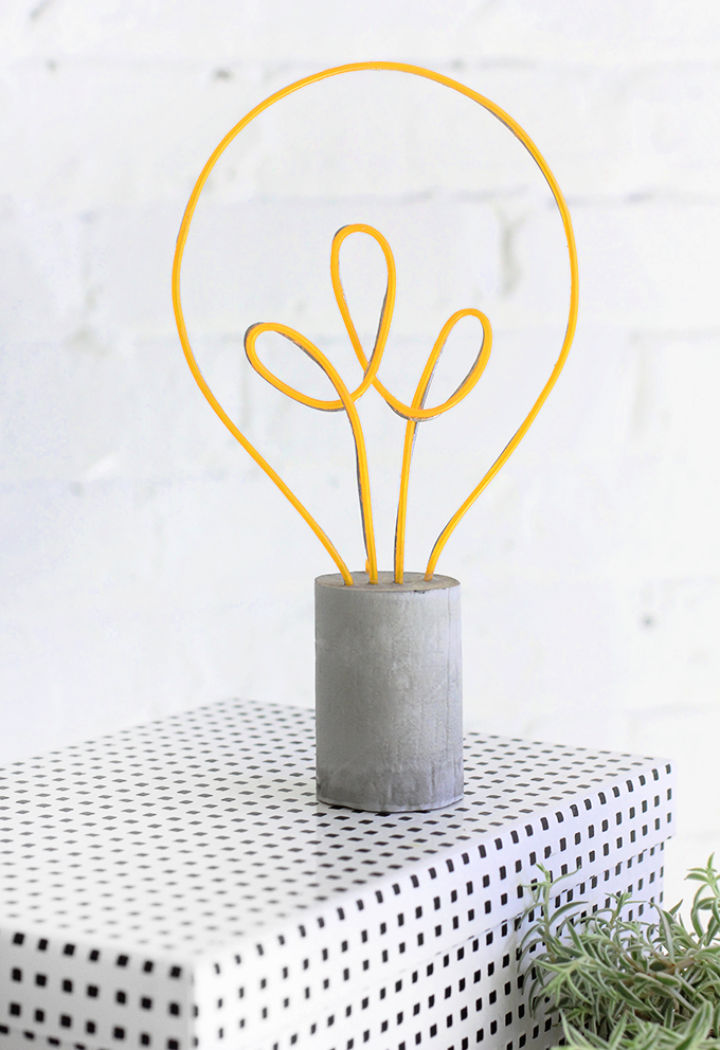 One of the most creatively built designs of the lamp to make at home quite inexpensively. To make the cement base, by filling a plastic cup with a fast dry cement. Next, fit the rope lights in it, making a cool bulb-shape. This will be a lovely minimal light lamp to make in no time. Details here ispydiy
29. DIY Tripod Floor Lamp
Jazz up your living room with this tripod floor lamp. Make it using 1″ thick wood, pine boards, a lamp kit, and a wood veneer. There is lots of hardware to use to assemble this DIY floor lamp. Customize its height so it will look great in the room. Willing to make it now. Details here themerrythought
30. Make Your Own Book Lamp
If you have some leftover books, then why not transform them into a cool looking table lamp? Grab the hardcover books and stack them and glue them in place. Next, finish them with a Mason jar light fixture and install a light bulb on the top to make a cool book stack lamp. consumercrafts
Conclusion:
It is often expensive to buy a custom model of a lamp that may be a table lamp, pendant lamp, and a floor lamp. These DIY lamp ideas will allow you to make incredibly beautiful DIY lamps at home almost at no-cost. The constructions mostly involve recycling, upcycling, and repurposing the old materials; hence will help save a lot of costs. Time to bypass all expensive-looking lamps with these DIY hacks that involve IKEA hacks too.