Do you want to save some money? Then you'll love these DIY shutters! Shutters are not cheap! Someone needs to come to your home, measure everything up, and then they are made in a factory according to your window specifications, and then once made, you need installers to come to your home and put them up. This is why they are premium! Why not make your own DIY shutters? In the comfort of your own house! You can save a lot of money and treat yourself later! Get that dress you've been eyeing for a month or go on that long-awaited trip to the salon once you're done with this!
You need very basic supplies to make some DIY shutters at home. They can be found at any good carpenter shop. It will take you a few hours to make. If you're a beginner, then maybe a whole day or two! However, they will last you a couple of years, which is definitely worth it. This article will cover all types of DIY shutters you would ever need to know about in your life! From hurricane to modern exterior storm shutters, from plantation to interior shutters!
1. DIY Board and Batten Shutters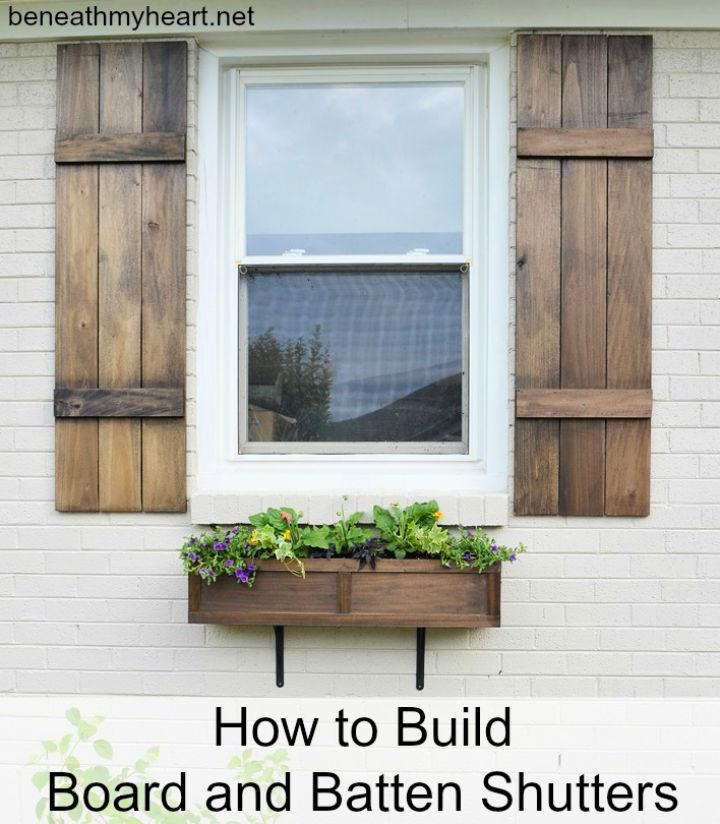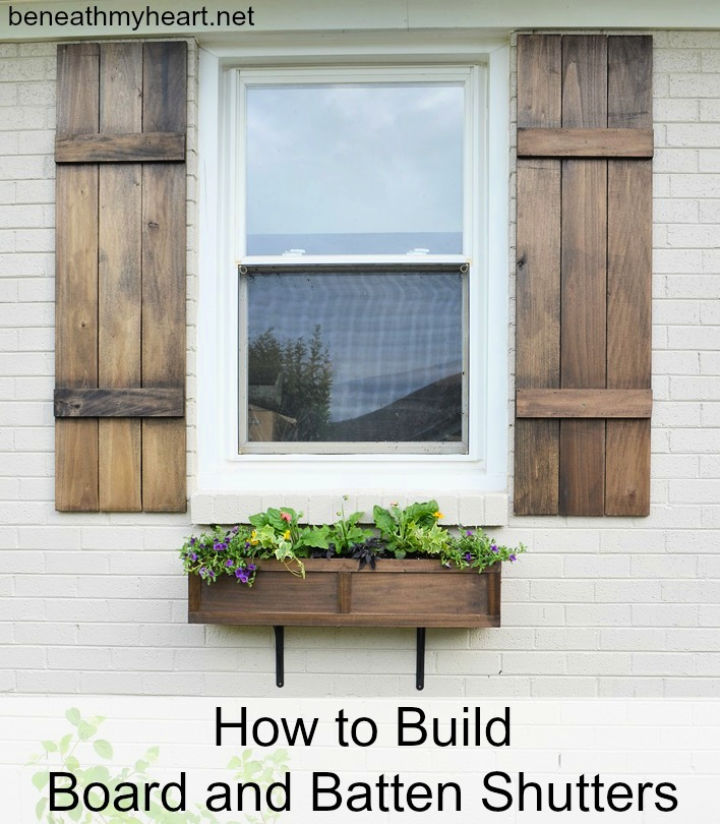 Your home is your safe haven! It has to offer maximum security from any wild weather while at the same time be at the top of its decor! If anything, this board and batten shutter have both of these! This DIY shutters tutorial will guide you to nail at these shutters like a pro. While also bringing your house quite the elevated décor. beneathmyhe
2. Wood Shutters for Under $40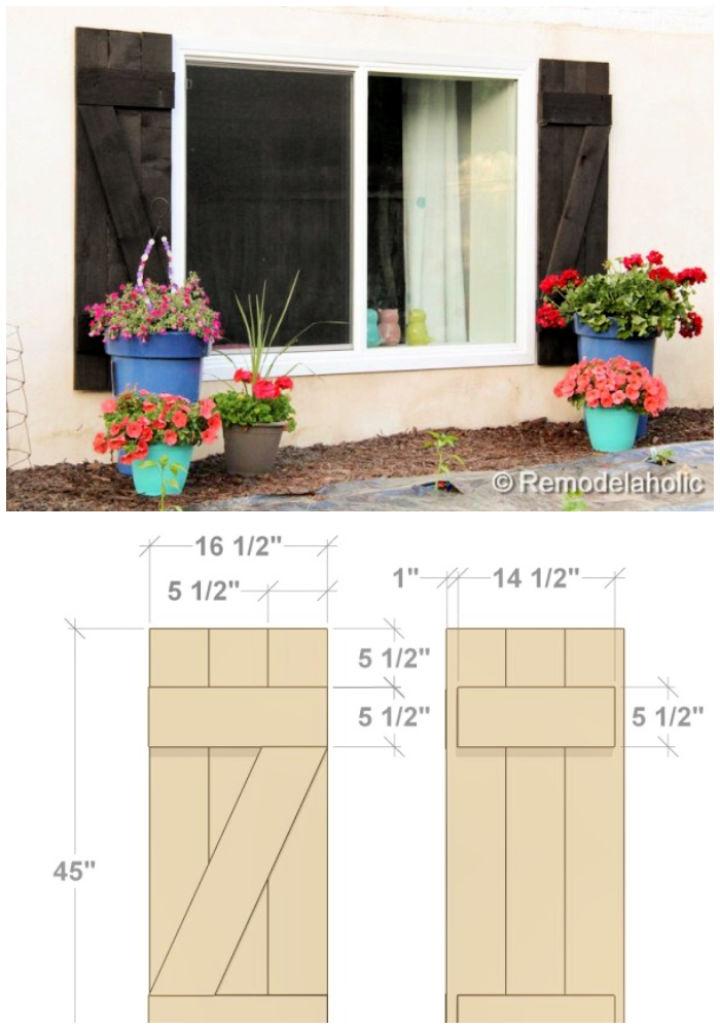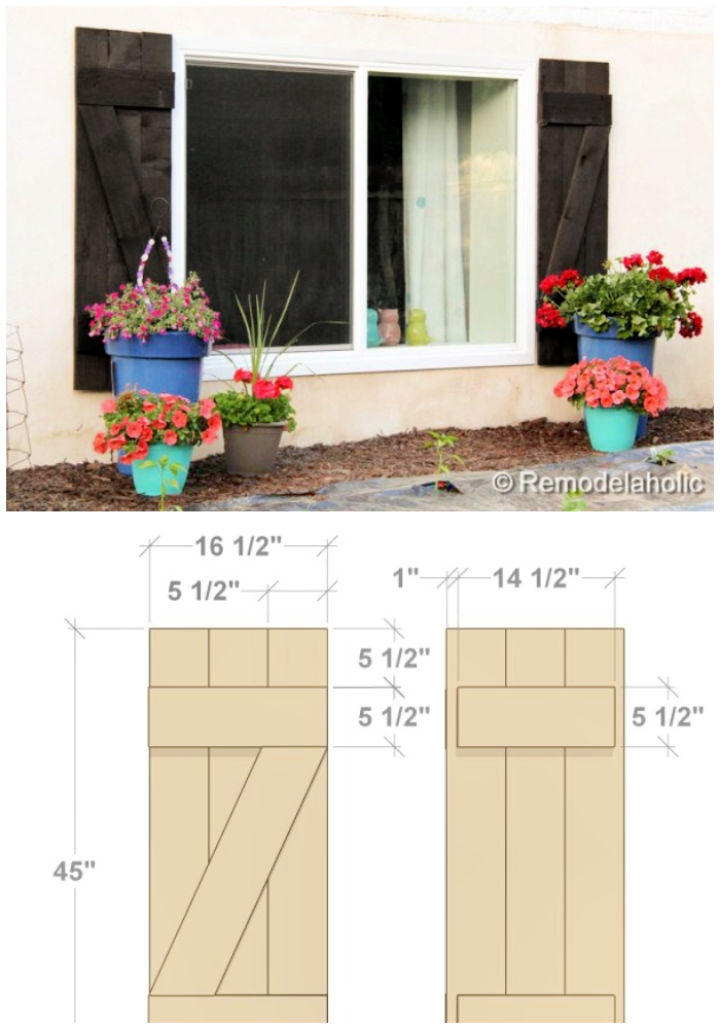 Saving money and making something equally functional is the essence of every DIYer's #LifeMantra. This wooden shutter here looks absolutely breathtaking and refreshing. Plus, this project is super easy to build, and it will cost you under 40 dollars. Don't forget to hit the link below, get all the visual guide points from the video tutorial! remodelaholic
3. DIY Window Shutters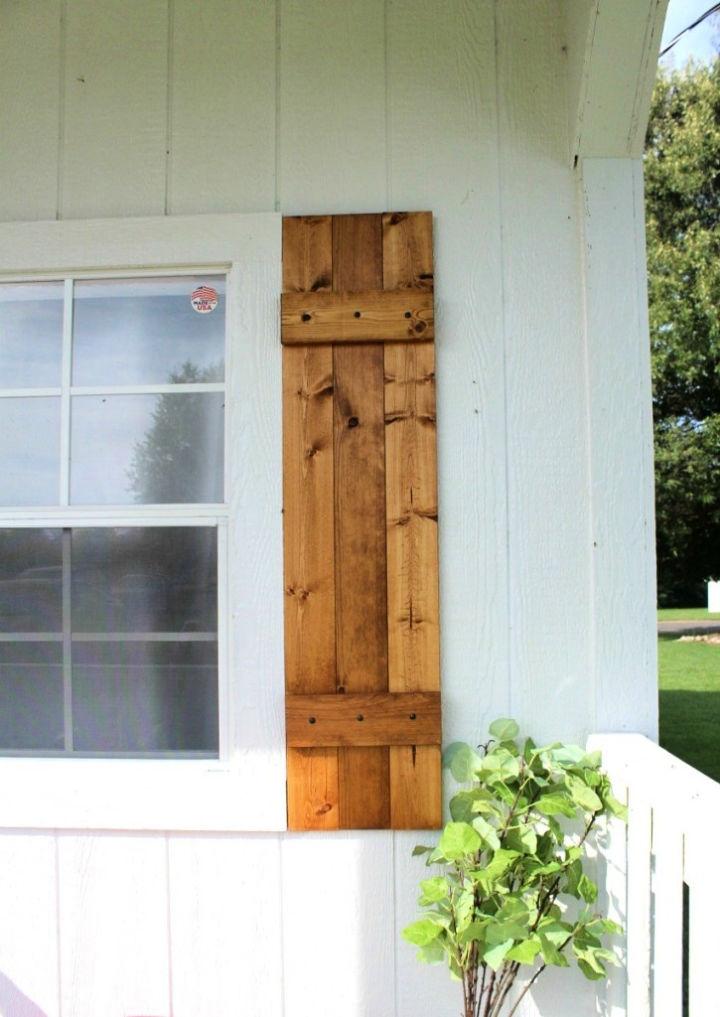 Check out the simple formula for making a window shutter at home. With just a few tools and supplies like a drill, wooden pallets, screws, miter saw, and jigsaw, you can accomplish this project swiftly. Plus, the sleek character of these DIY window shutters looks quite eye-catchy! woodshopdiar
4. DIY Plantation Shutters

Well, plantation shutters are perhaps an excellent window treatment. As they can go with many versatile decor styles, you might have inside your home. For a planting person and allow for the greater control of ventilation and light, the DIY plantation shutters can be a huge relief to take care of indoor plants! diynetwork
5. DIY Interior Window Shutters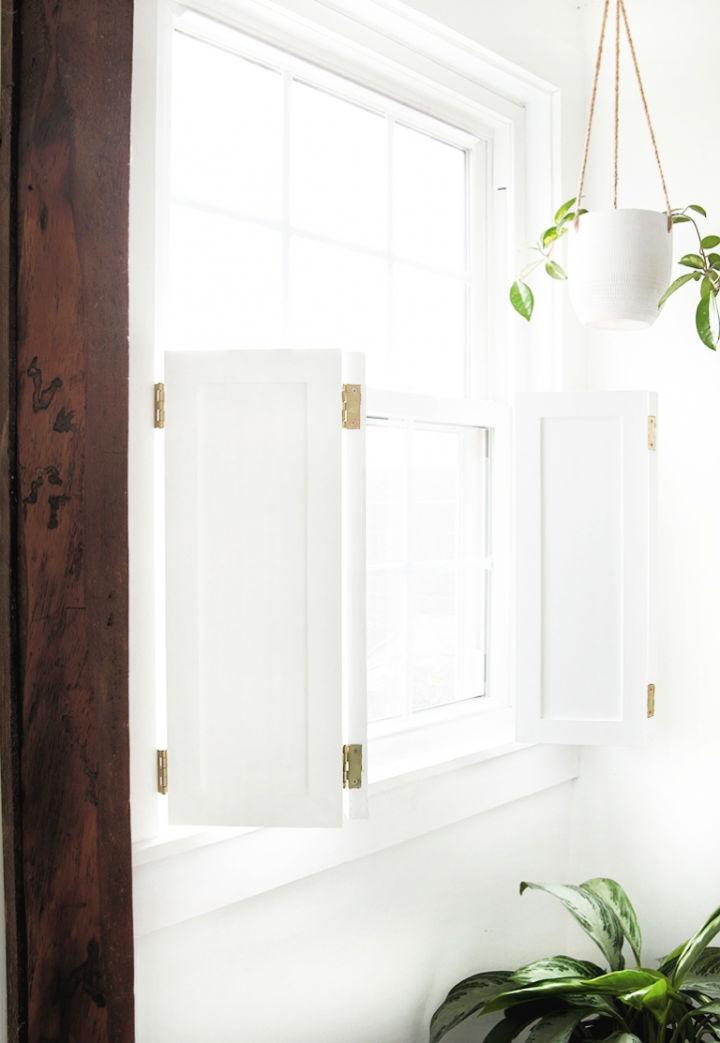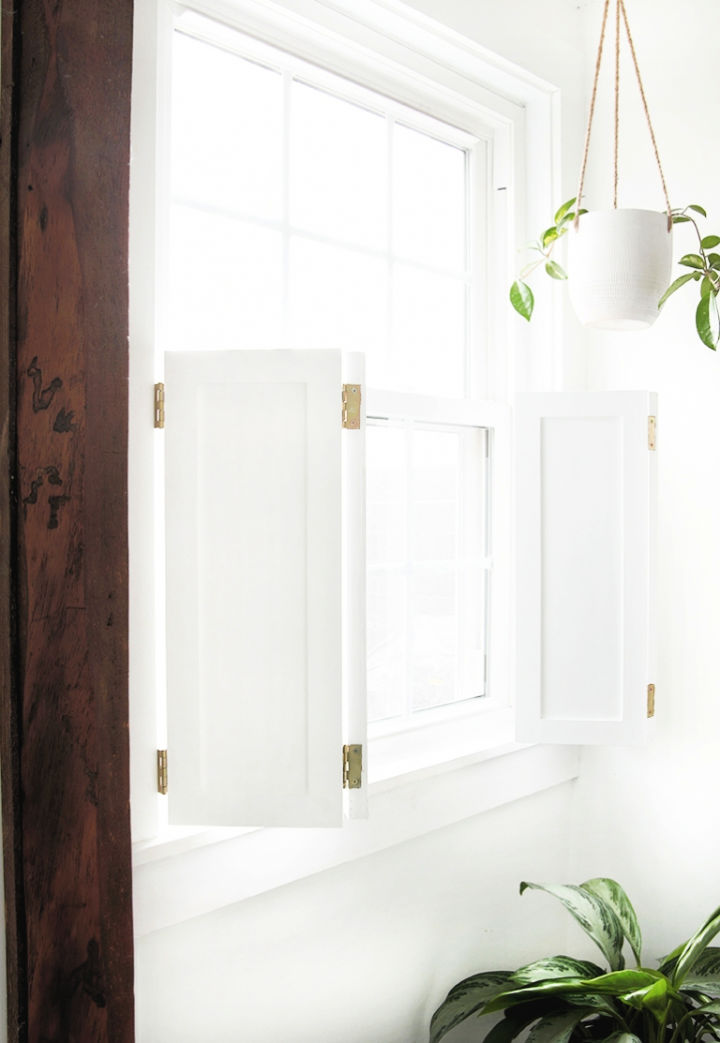 Go from an ordinary skill holder to a professional woodworker with this project. These interior shutters can be great way of sprucing up your home decor! To work upon this project, you must have plywood, table saw, nail gun, sandpaper, drill, hinges, and paint. themerrytho
6. DIY Wood Shutters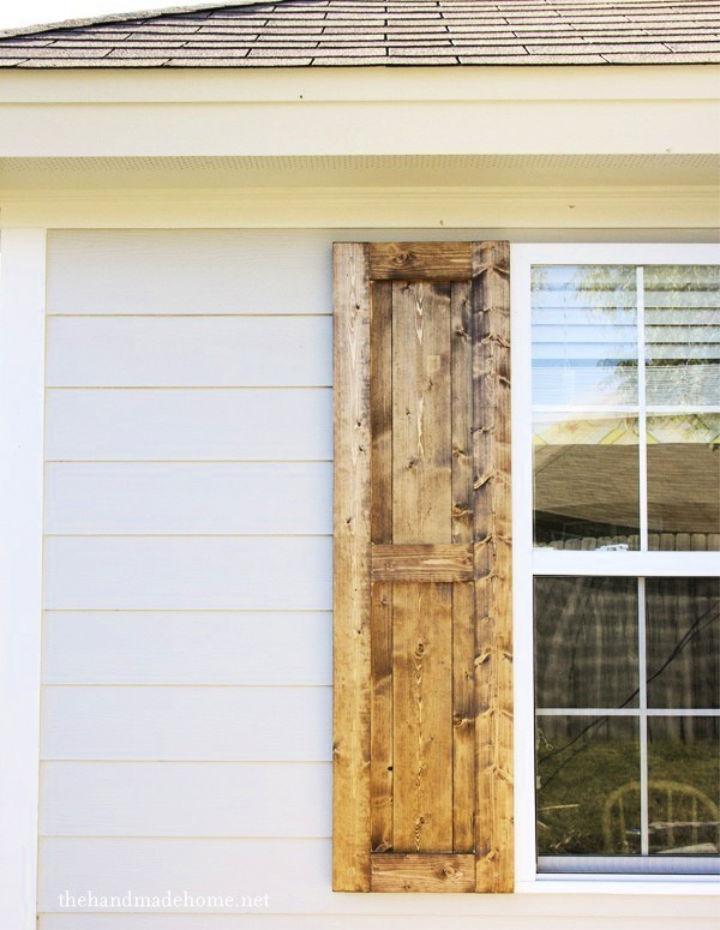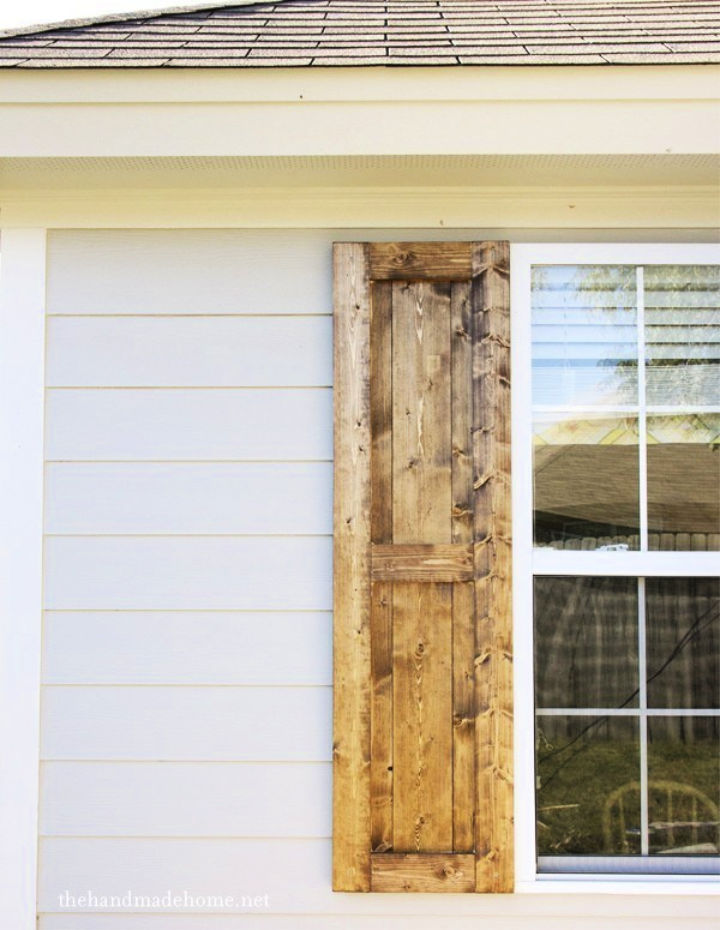 Transform the exterior of your home with simple and easy tactics for building these wooden shutters. This project is darn easy and swift, so much so that it will hardly take one evening to make! Along with some supplies including plywood, you will need jigsaw, screws, nuts, hammer, staple gun, and paint for nailing it. thehandmadeh
7. Barn Wood Shutters from Pallets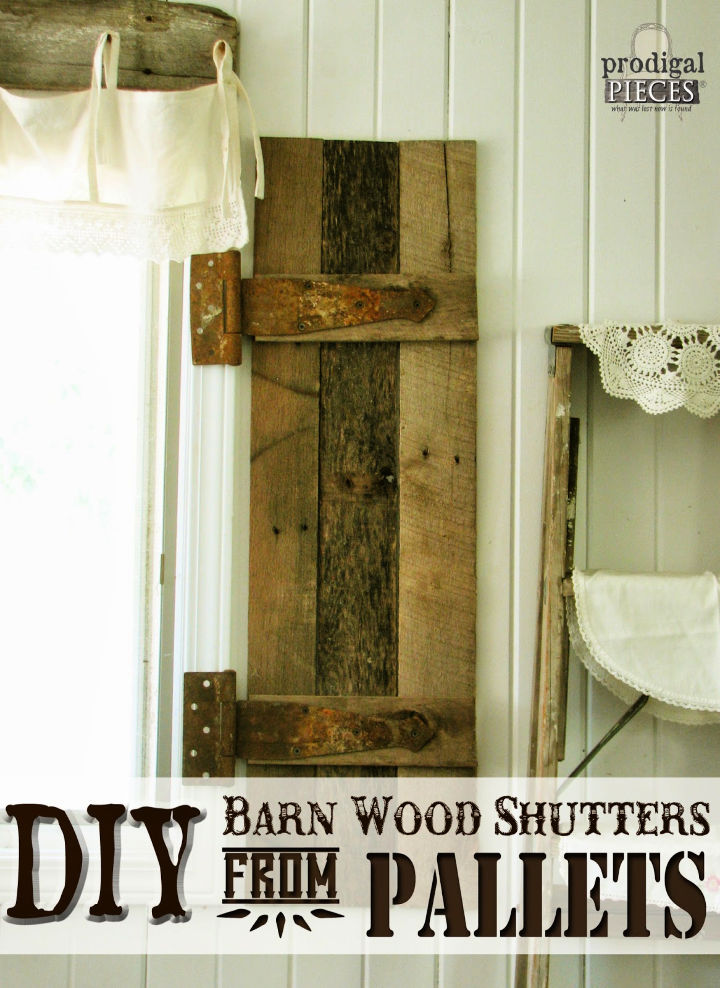 You know you can use the barn wood pallets to make the shutters? The rustic appeal of barn wood gives a fantastic texture to any home interior. With this tutorial and the instructions, you will totally opt for DIY shutters. So what are you waiting for? Get your supplies and get started, it's all just one click away! prodigalpieces
8. DIY Interior Cedar Shutters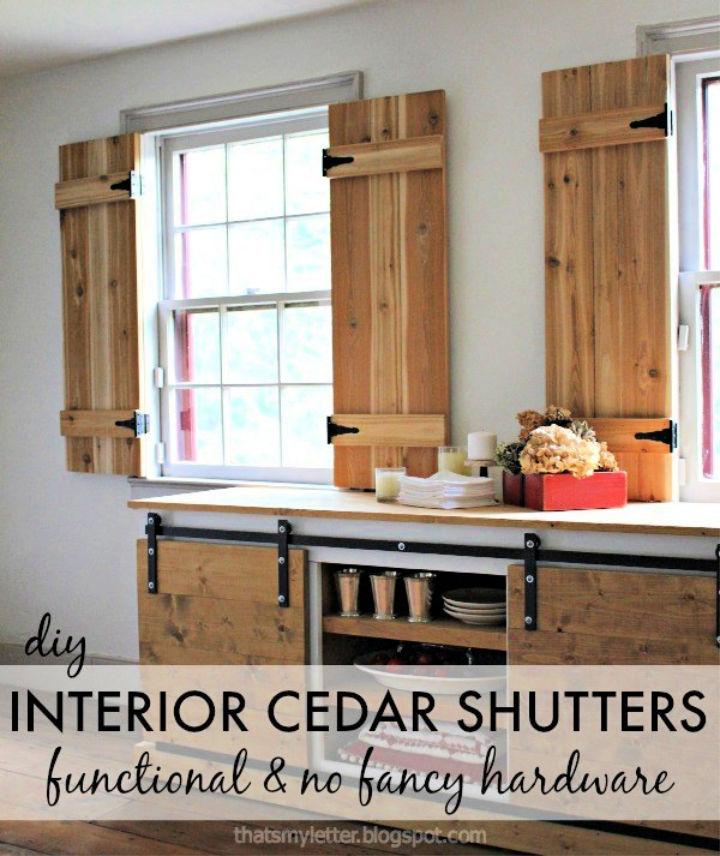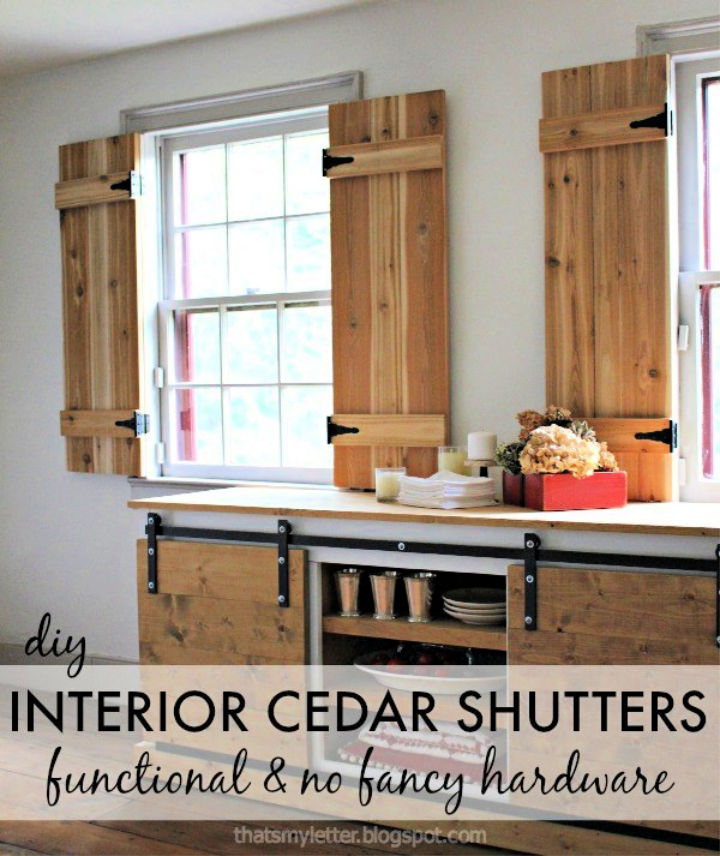 Summer's around the corner, and so is the blazing sun! Block the heat by installing these DIY cedar shutters! You can absolutely make it all by yourself by using cedar wood and with some basic woodworking skills. Cedar board saw, drill, nail gun, wood putty, paint, hinges, and pine board are the supplies for getting started with! prettyhandygirl
9. Window Box and Shutters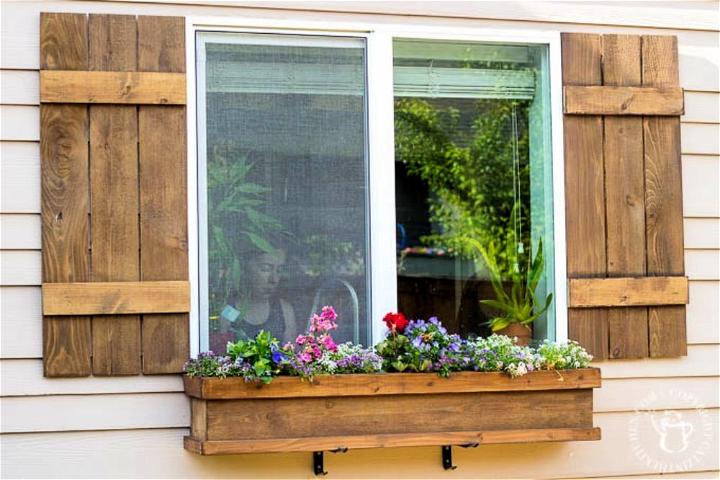 Minimalistic, are you? Say looking to dress up a plain exterior window? Well, it couldn't be any cheaper, easier, and flexible than this plan for DIY window boxes and shutters. We bet it can be something exactly what you are looking for! It will serve the purpose as well as make your place look perfect with a lot of room for planting in some floral affairs in the window box! catzinthekitchen
10. DIY Bahama Shutters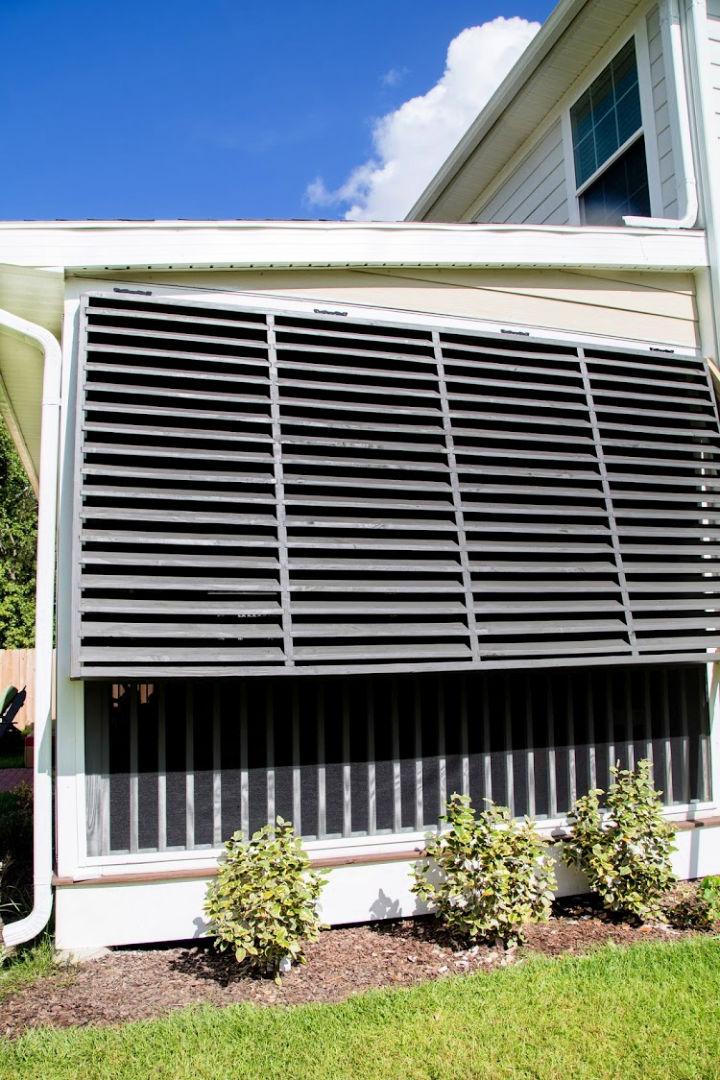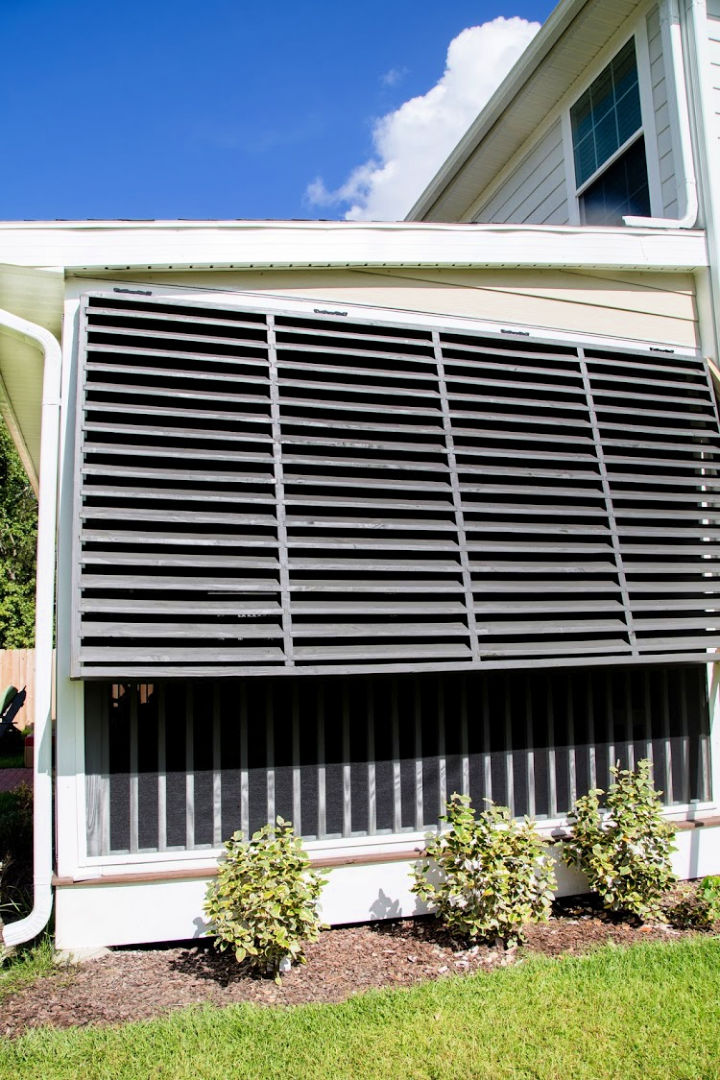 Build a Bahama shutter like the one here measuring around 70 inches in length and 141 inches in width. If you feel like your life is more like life on the stage, these shutters can take care of that problem like a pro! Keep your privacy intact while, at the same time, do not compromise on your décor game. grayhousedesig
11. Build Craftsman Exterior Shutters

The old and traditional craftsman style straight line shutters can never really get out of style! Although their size may vary from house to house mostly, the standard size is somewhere around 18 inches in width! Along with that, the major tools required for this project are a circular saw, router, pocket hole, cordless drill, hammer, clamps, glue, and sander. homedepot
12. Homemade Cedar Shutters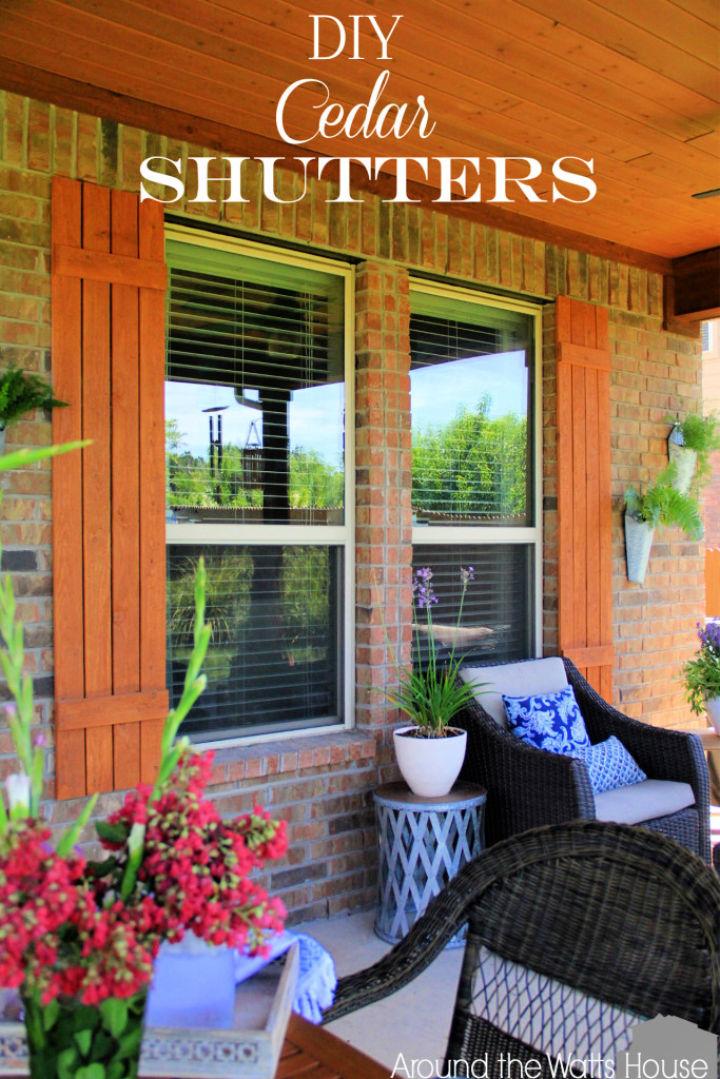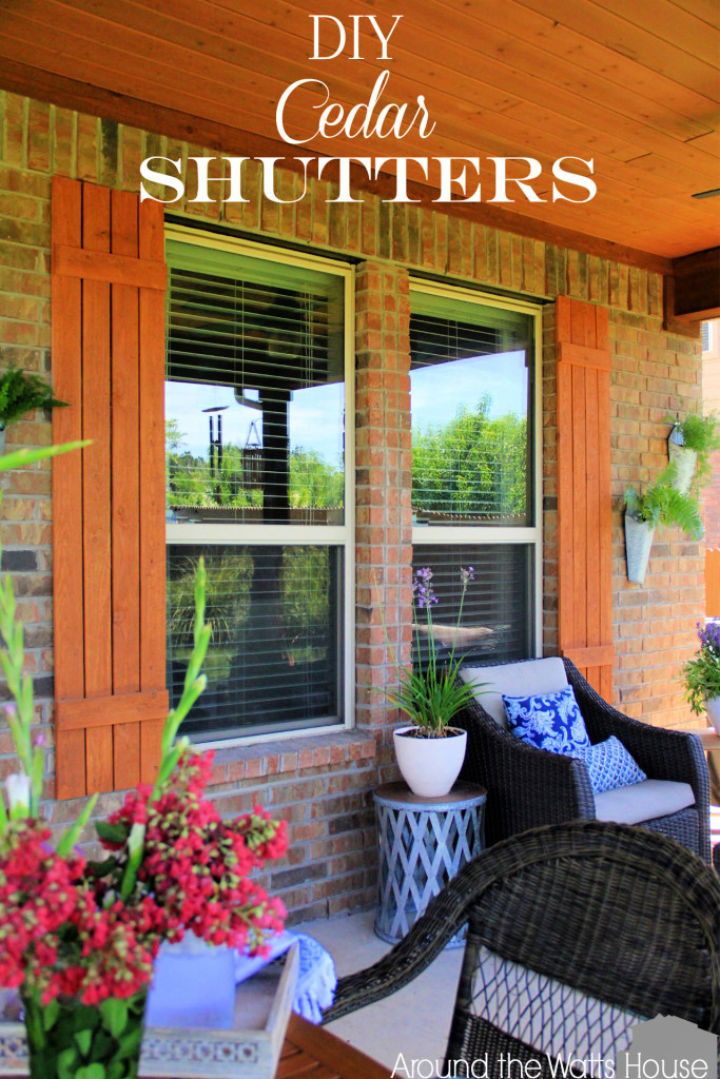 Hey folks! Are you ready to build some cedar shutter to spruce up your backyard decor? You are going to absolutely adore the new look these DIY shutters will bring! Gather your supplies and get started already! You will need measuring tape, safety goggles, pencil, wood planks, paint, brush, miter saw, and sandpaper to work on these. irisnacole
13. IKEA Bed Slats Turned Indoor Shutters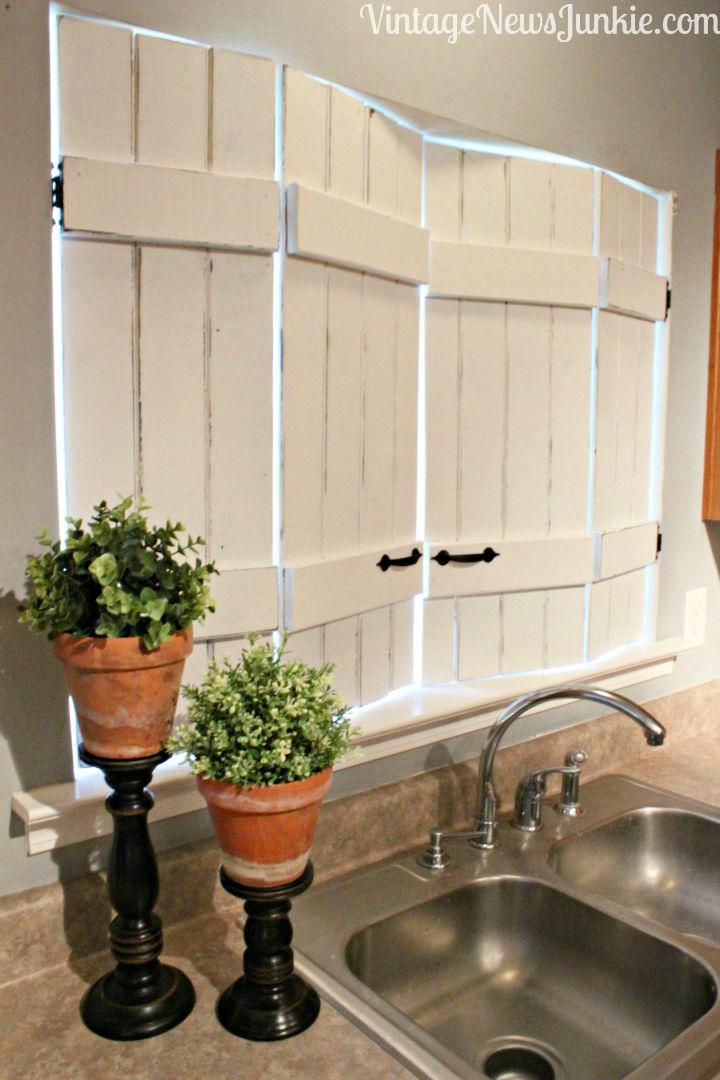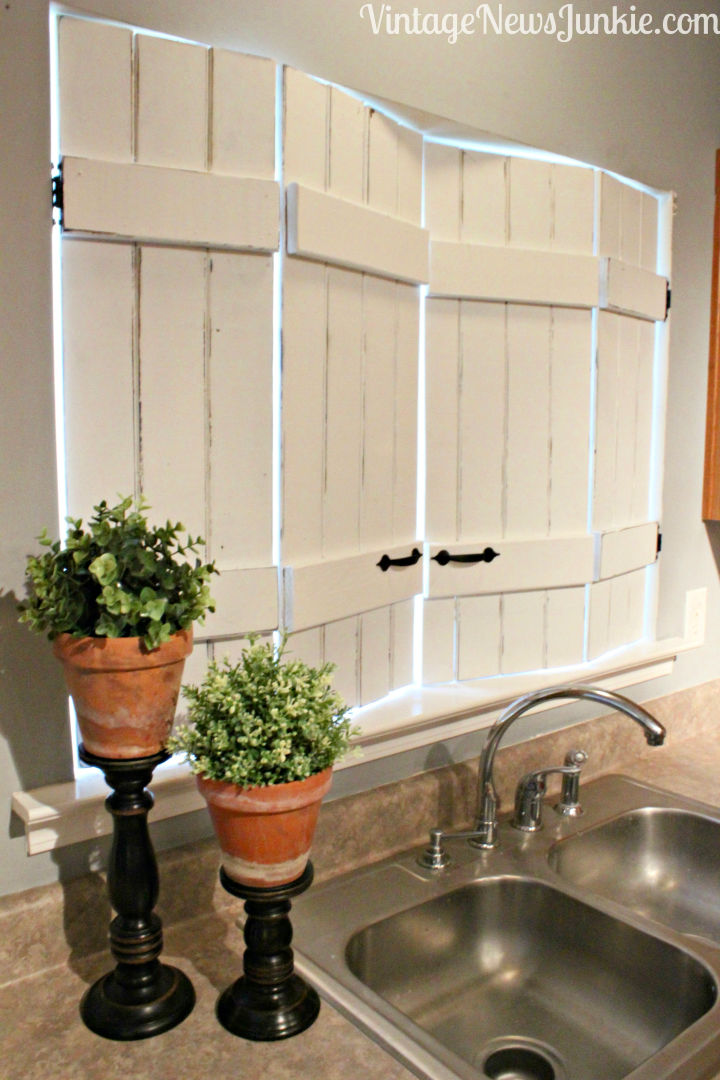 Turn your bed slats into an indoor shutter! Thrilled to transform and build this project? You just need few supplies and the step by step guide to whip up this project. Moreover, this project will cost you like nothing. So get ready to transform the old slats into your new shutters! atthepicketfence
14. DIY Board and Batten Shutters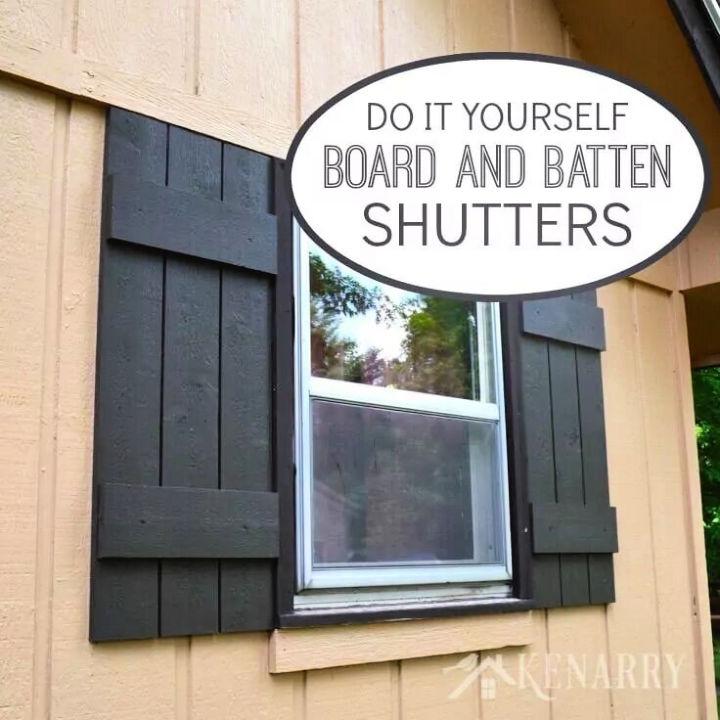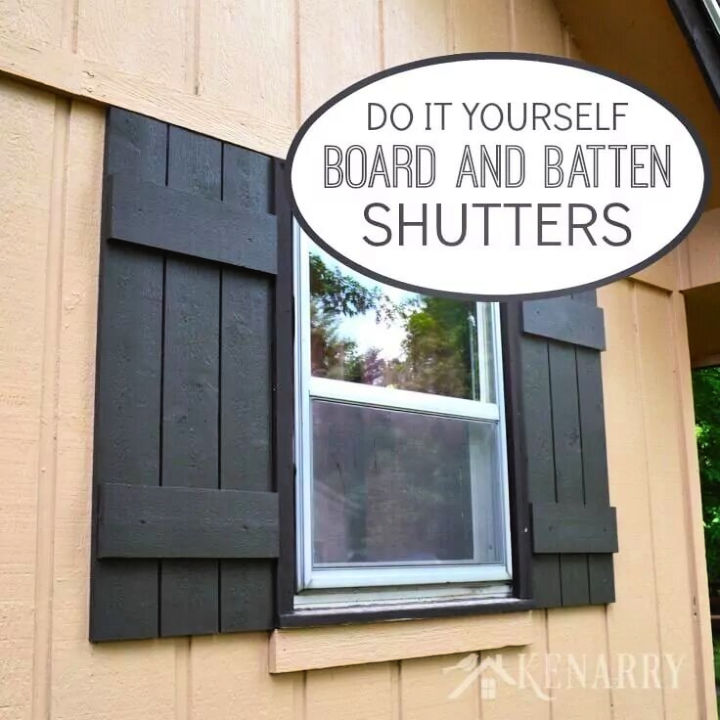 Bring some rustic and farmhouse decor to your home with these DIY board and batten shutters. They are not just easy to make but also require minimal tools and materials. You will need 1 x 6 cedar board, deck screws, liquid construction adhesive, and a few more supplies. kenarry
15. DIY $150 Farmhouse Shutters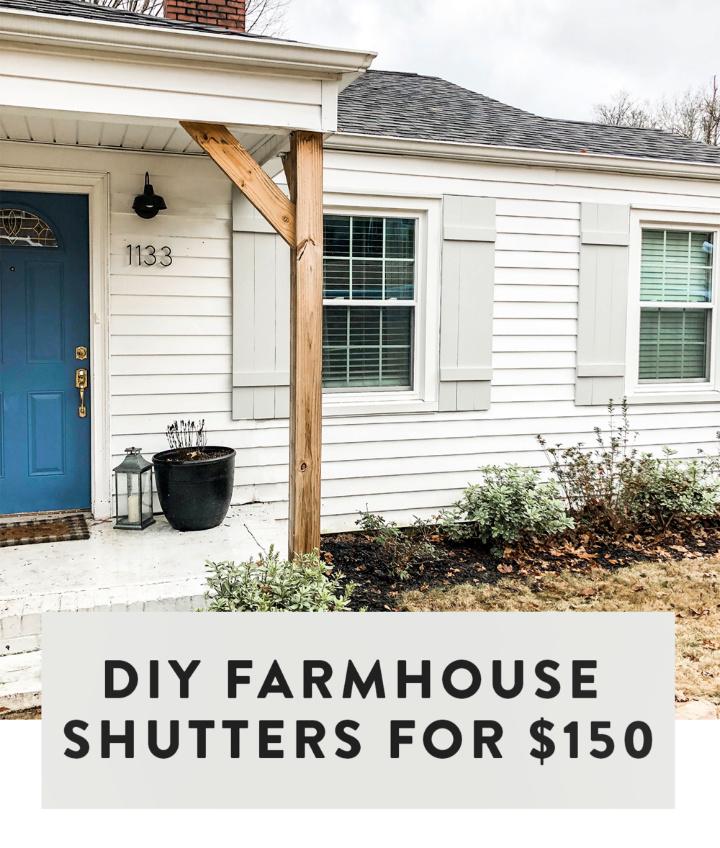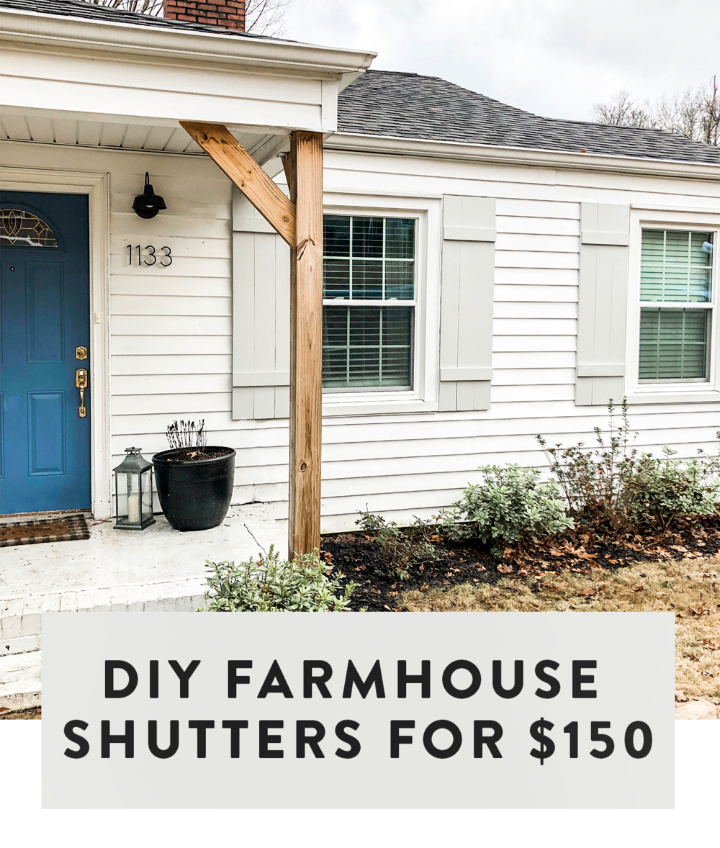 Bring some minimalistic, breezy and hardcore elegance to your place with this farmhouse-inspired DIY shutters! These are made using treated pine boards! Furnished with Valspar solid stain and a few more tools and materials! Hit the tutorial for all the details you need to nail these! themodernreno
16. Homemade Wooden Shutters

We bet you must have never seen something as whimsical and equally functional like these DIY shutters! Their difficulty level is at the lowest. You can totally make these between 40 to 60 minutes. And the per shutter cost will be somewhere around $19. Can't believe that? See for yourself in the link below. migonishome
17. Build Your Own Simple Shutters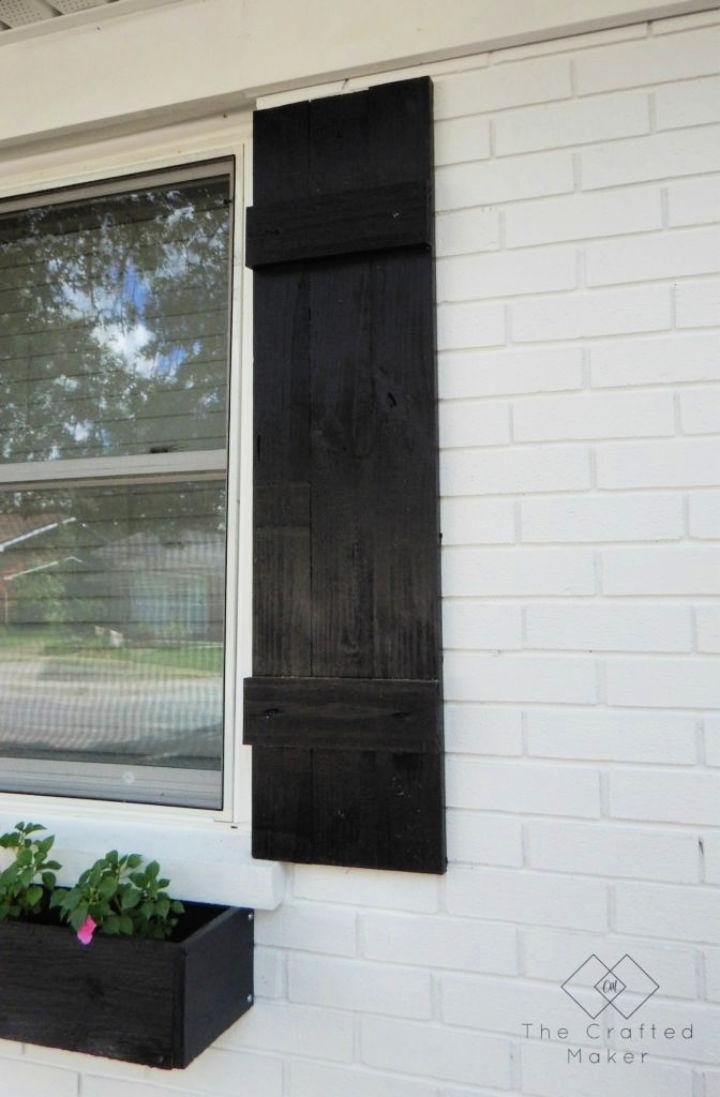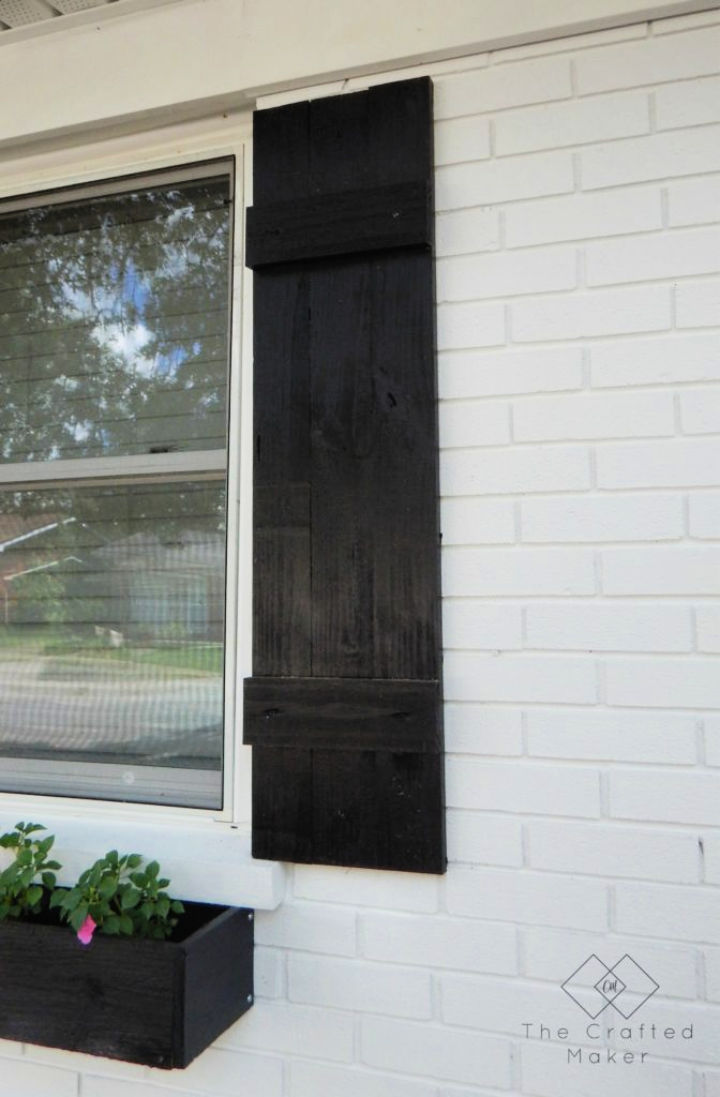 Give your house a much-desired look by opting for DIY shutters, instead! This project is extremely simple and pretty easy to ace. Here is the list of tools and supplies you will be needing to make these window shutters; Saw, drill, pocket jig, sander, hammer, drill, screws, safety gear, and masonry bits. thecraftedmaker
18. Wood Shutters for $0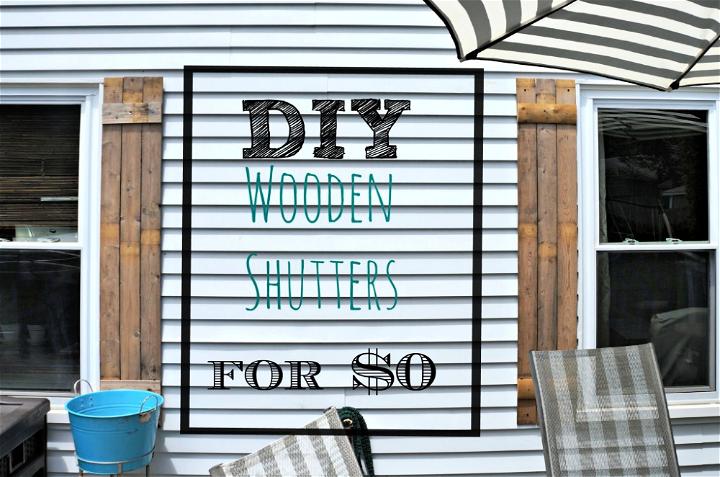 How about we interest you in building a wood shutter completely free of cost? With just extra wooden fence pieces and some finishing nails! This is all you need to nail this project. The tutorial will walk you through the step by step guide. Isn't this the best thing you have read today? seekinglavende
19. Make Colorful Shutters at Home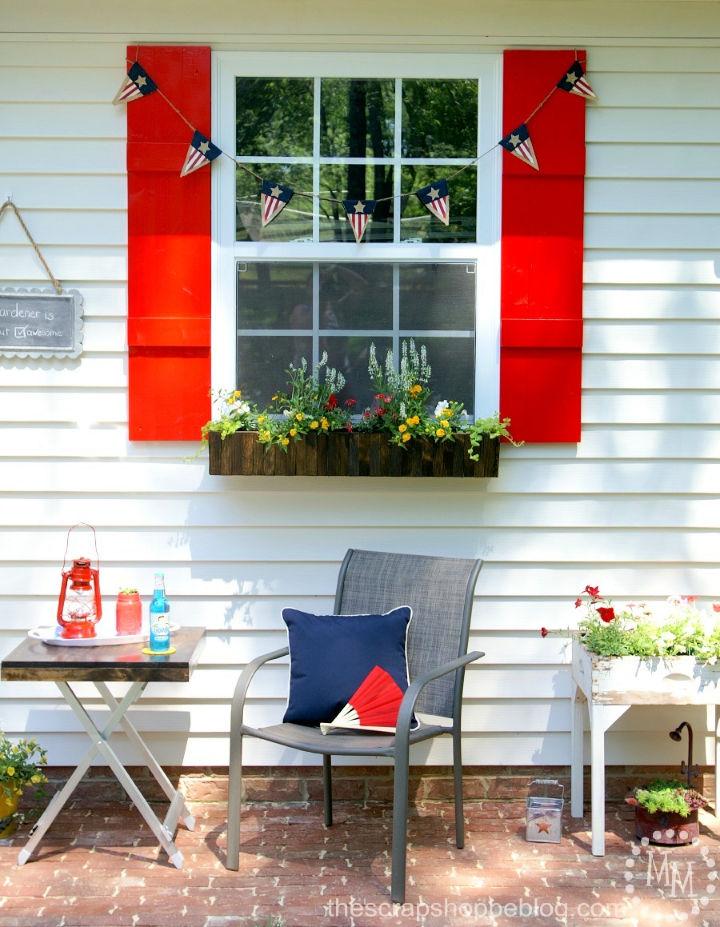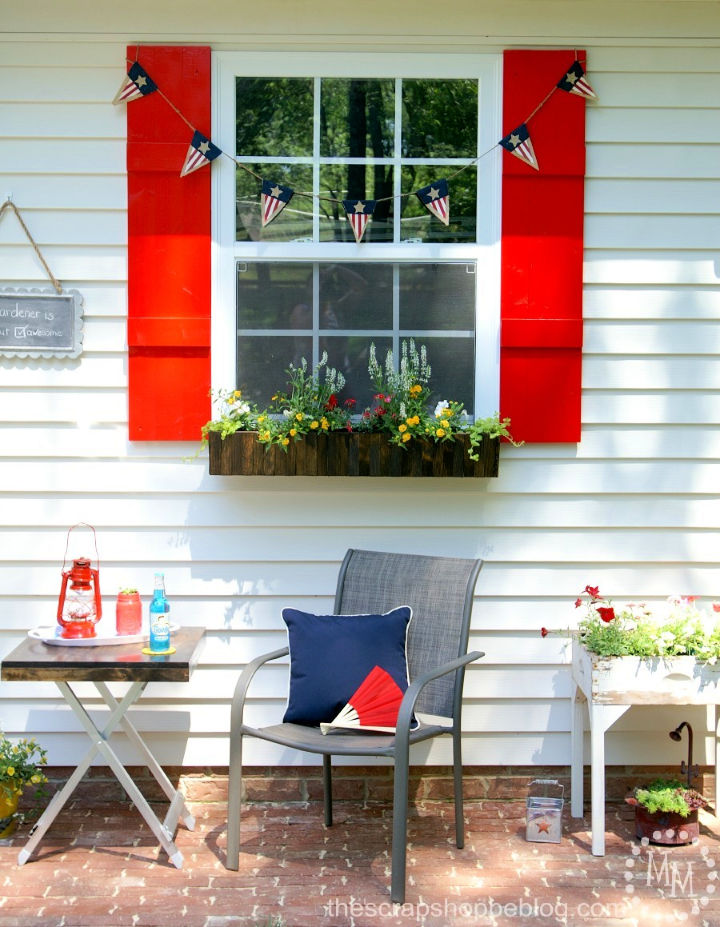 Find out a simple way to add instant color and enticing appeal to your home. Build these amazing shutters for your windows. The fantabulous part of this project is that they can be made in different styles and multiple colors. Also, they are super easy to make and install, then you might think! thescrapshoppe
20. Barn Wood Shutters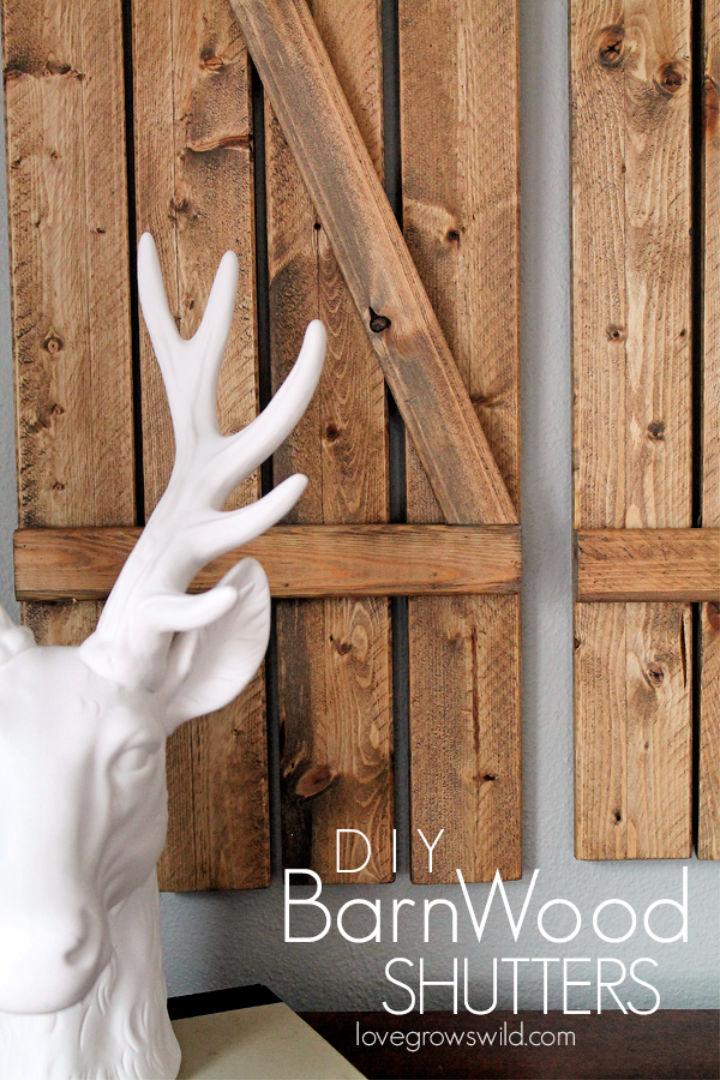 Add some details to the beauty of your house by making these wood shutters with the help of barn wood. A quick project that won't spoil your whole day long. Discover the idea of doing this project swiftly with furring strips, nails, paint, tape measure, drill, and hammer. lovegrowswild
21. Kitchen Wood Shutters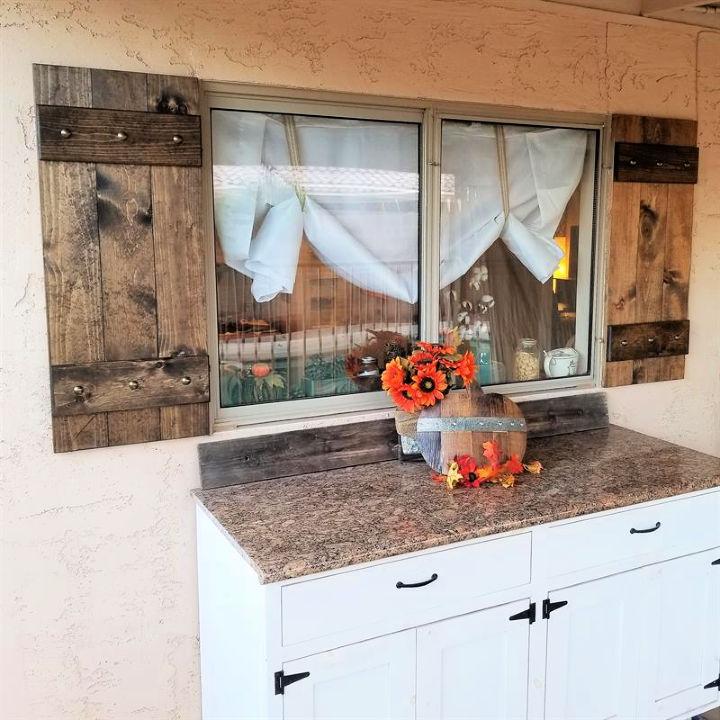 If you live in apartments or a location where people can see through your kitchen window, it can be very annoying! Follow this guide to make these fantastic DIY shutters to add a lot more privacy to your life! You won't regret it. buildsomething
22. DIY Decorative Shutters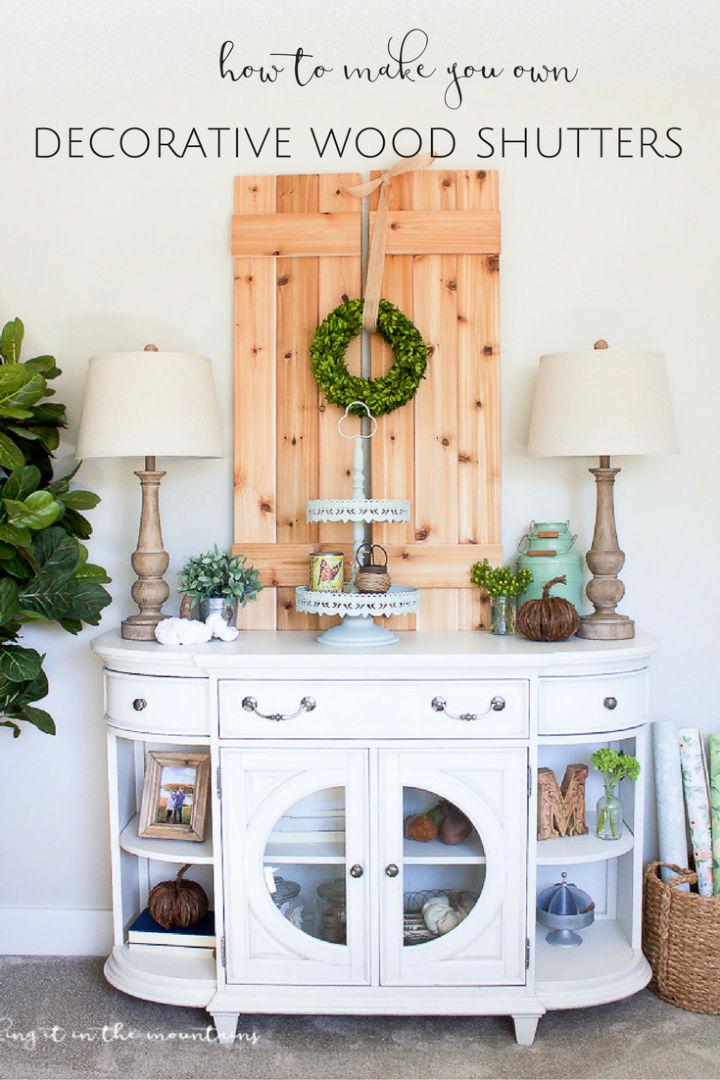 Trying to add that old school vibe to your house, but not quite sure how? The first step can be making these rustic DIY shutters! They have a very vintage vibe to it and look super stunning. You can place it in any corner of the house and make that place look amazing. makingitinthem
23. Farmhouse Style Weathered Shutters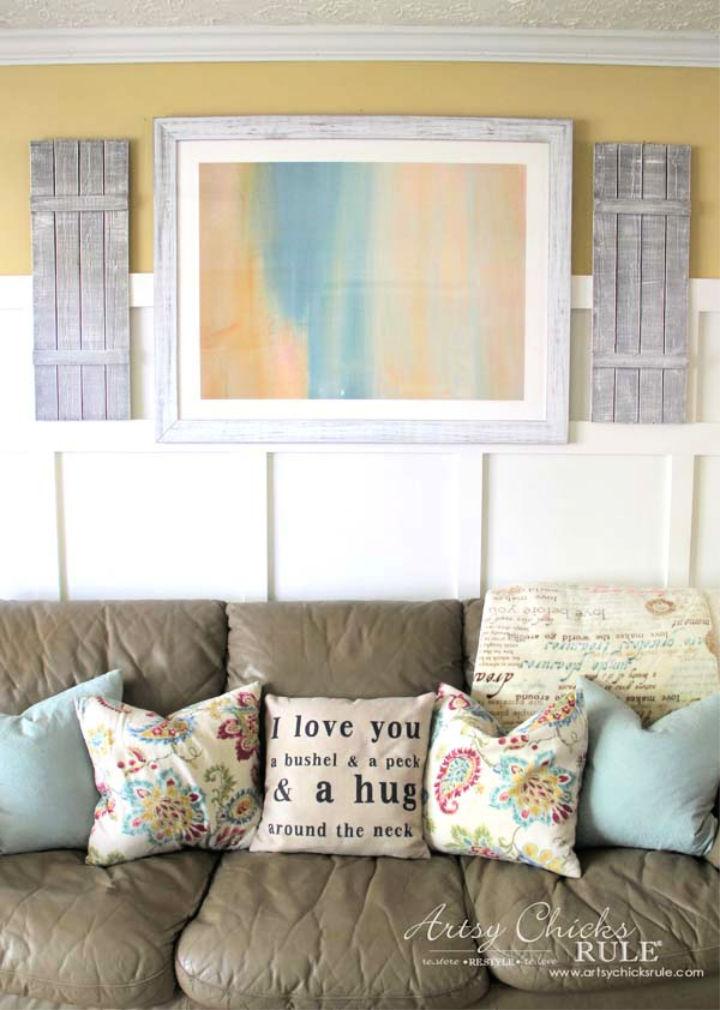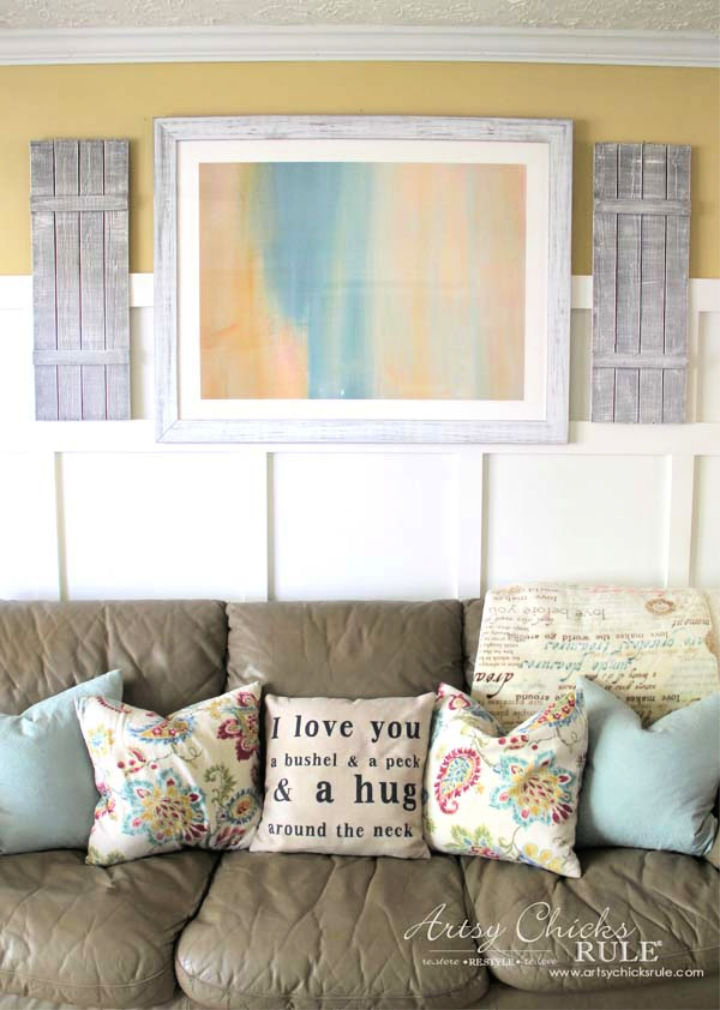 Two craft boards, driftwood stain, pure white paint, and a dry paintbrush is all that you need for this fantastic shutter! They have a wholesome vibe to them because of their old, weathered look! Perfect for farmhouses. You can place them almost anywhere to add some liveliness to that place. artsychicksrule
24. Outdoor Shutters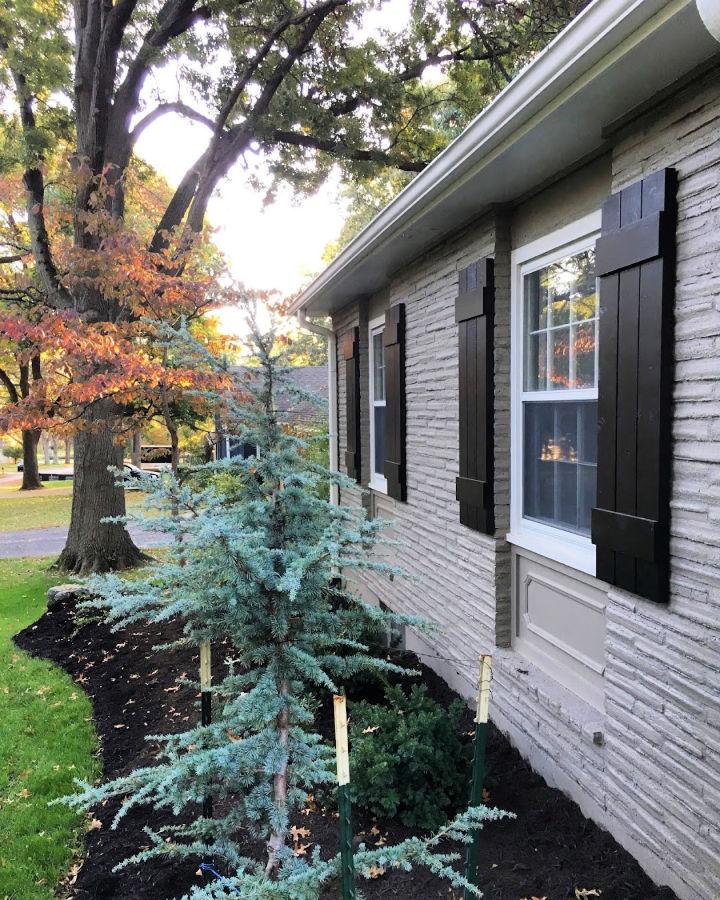 Have you seen any shutters more aesthetically pleasing than these? If you want to add that modern vibe to your house, these shutters scream "modern!". You should definitely make these DIY shutters to make your house look simply stunning. Limited supplies needed for this one! mindfullygray
25. DIY Board and Batten Shutters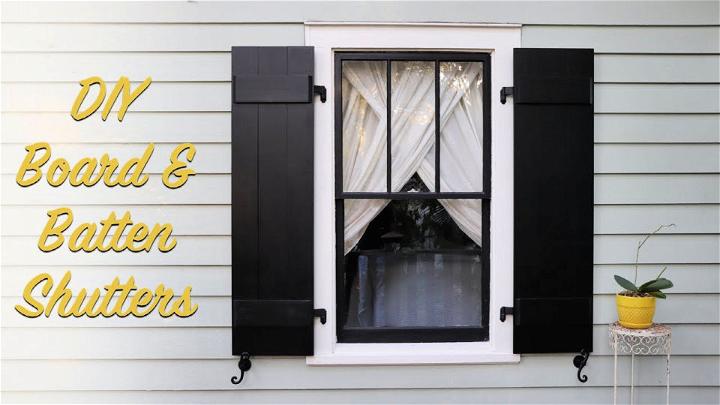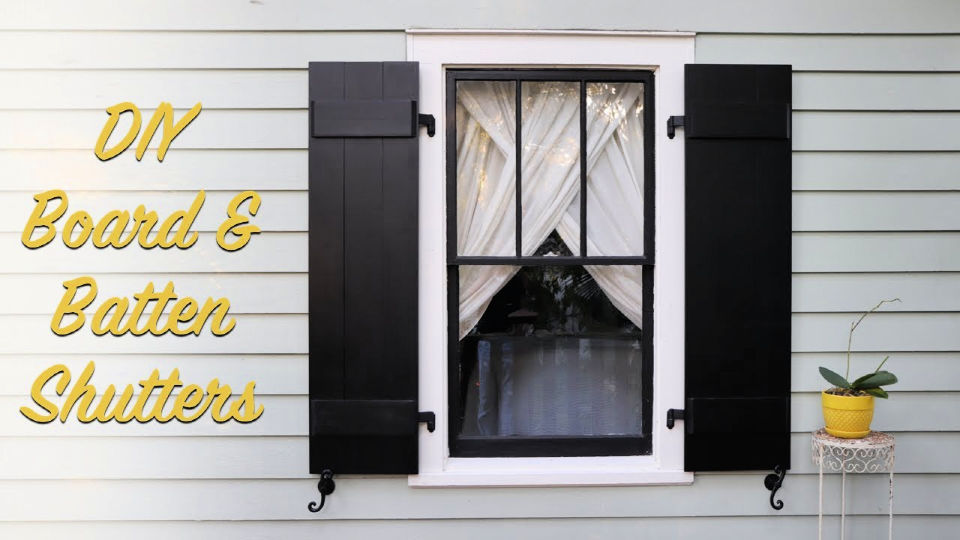 How cool are these shutters? They require limited supplies, which are very easy to find! You won't have to search in every shop to find the supplies for these DIY shutters. It can be made in a couple of hours and last a few years! Isn't that amazing? youtube
26. Hurricane Shutters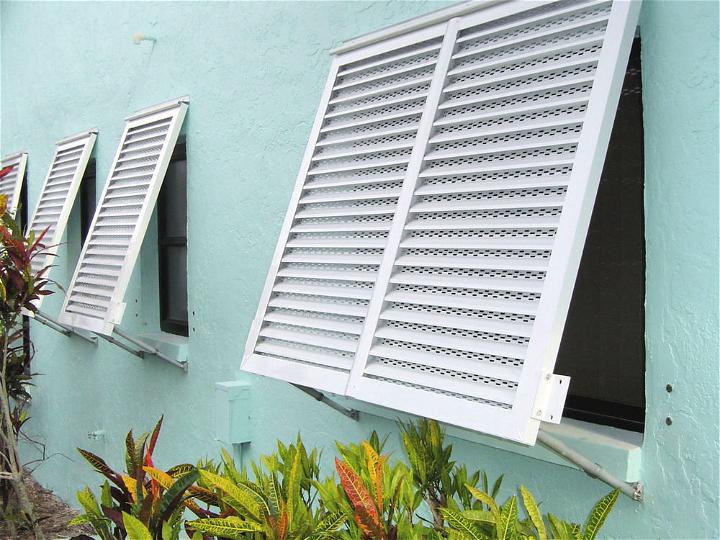 Do you live around an area where hurricanes are more often to occur? Install these DIY hurricane shutters in just a few steps. You need supplies like plywood, Philips wood screws, tape measure, drill bit, and a sturdy CDX plywood.
27. Modern Exterior Storm Shutters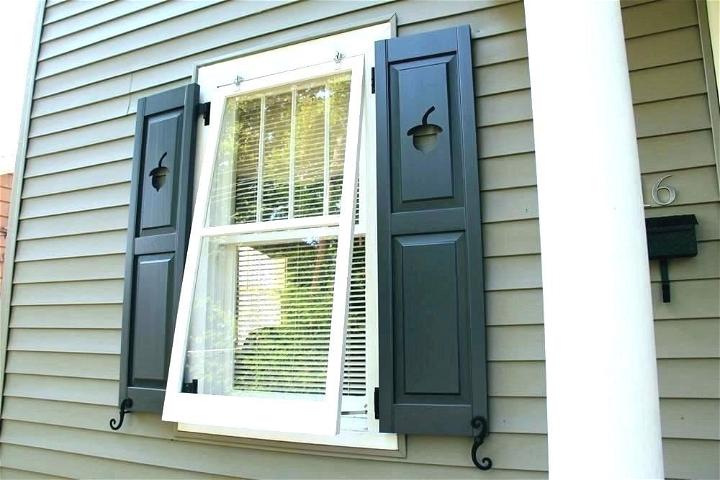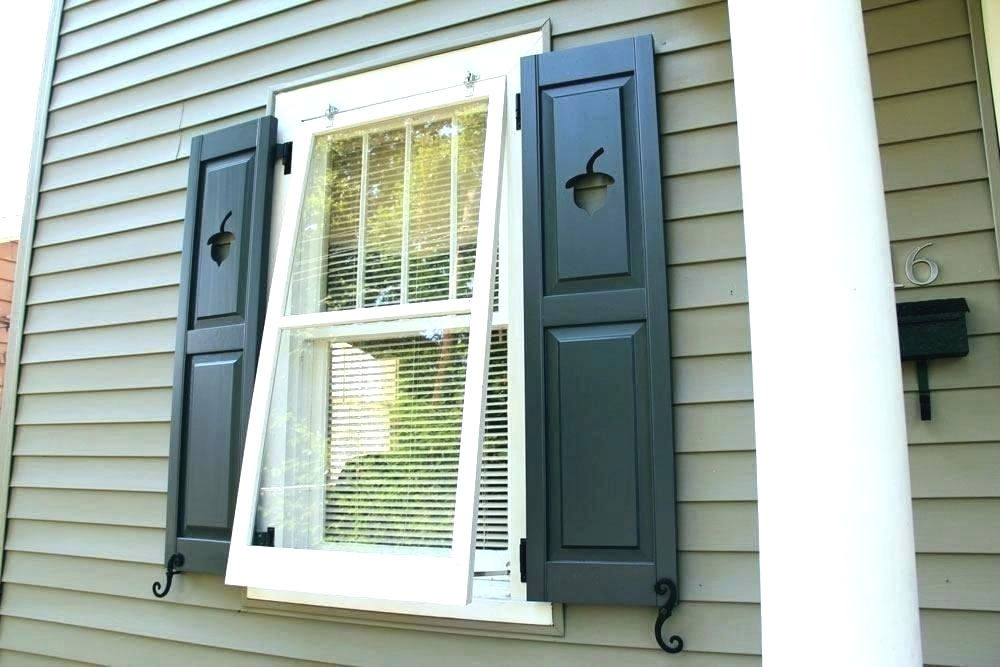 Keep yourself prepared with these storm shutters! They are not just storm proof but also make quite an exquisite modern exterior. They can keep your place extremely safe and secure from the storm while at the same time make an ideal outdoor decor!
28. Outdoor Hurricane Shutters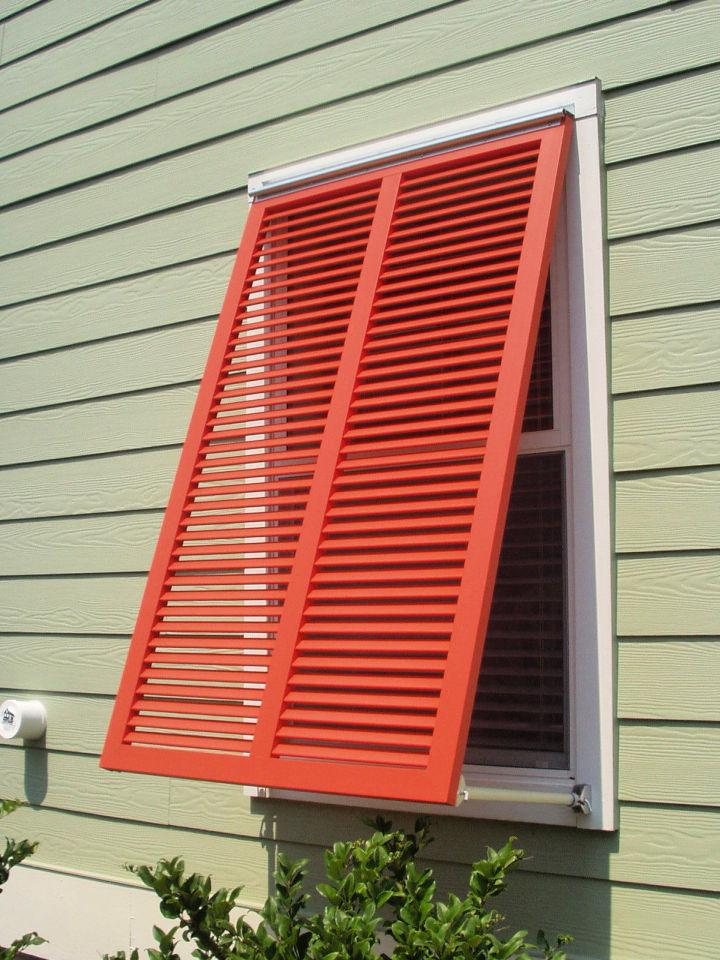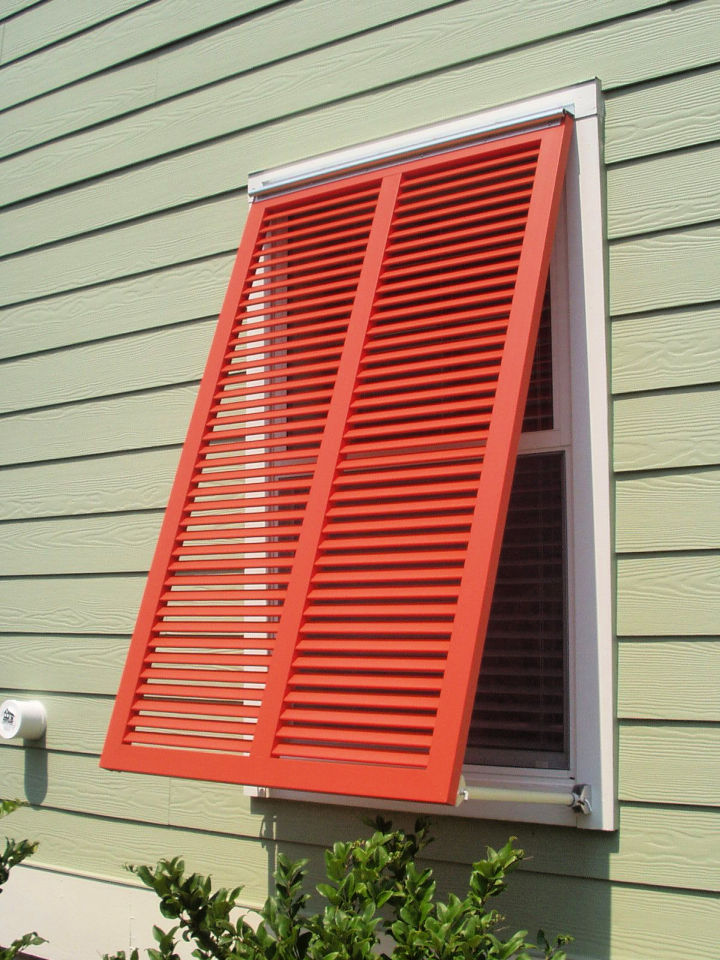 Fan of bright and bold colors? Who says only interior decor matters and your outdoors have to be boring and dull! Check out this uber lively and chic outdoor hurricane shutters. Make your place hurricane resistant and, at the same time, make a statement in your outdoor decor.
29. Plantation Shutters for Sliding Glass Doors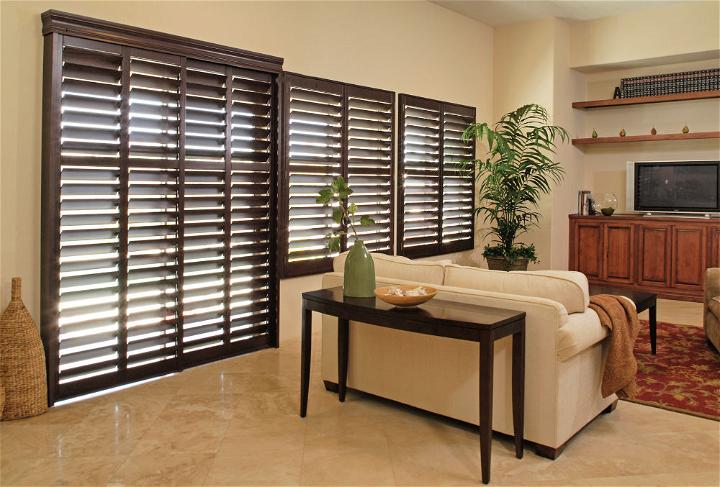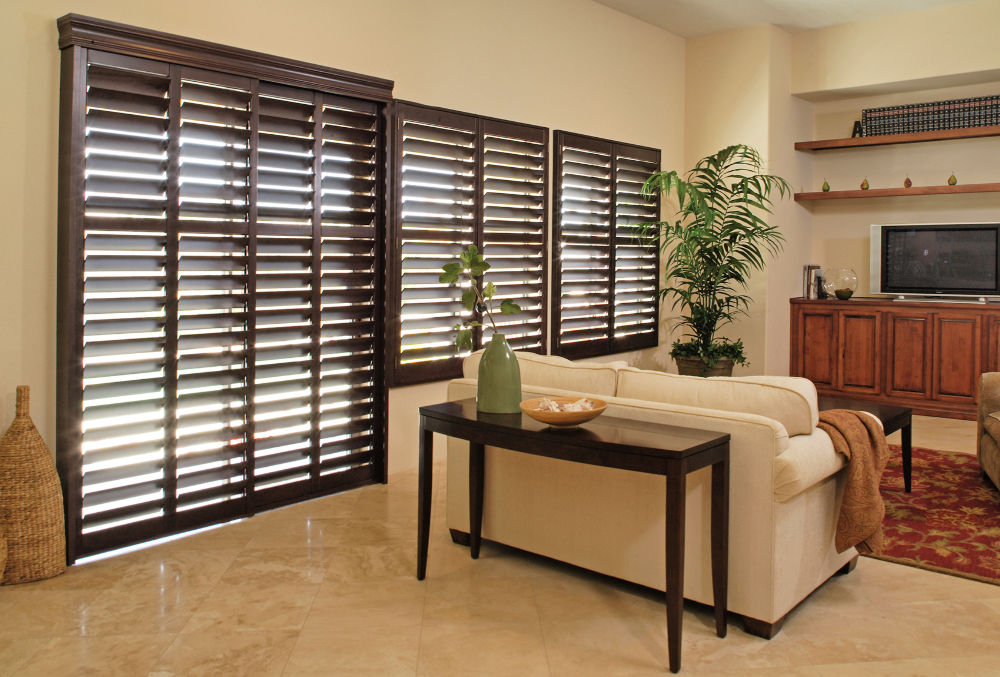 Do you love indoor plants? They surely make any place look more lively and refreshing! But, sometimes indoor plants can bring in some humidity. Take care of that with these cheap plantation shutters for sliding doors. They can help you curb the dullness of a sliding door, and also bring in some fresh air.
30. Roll Down Hurricane Shutters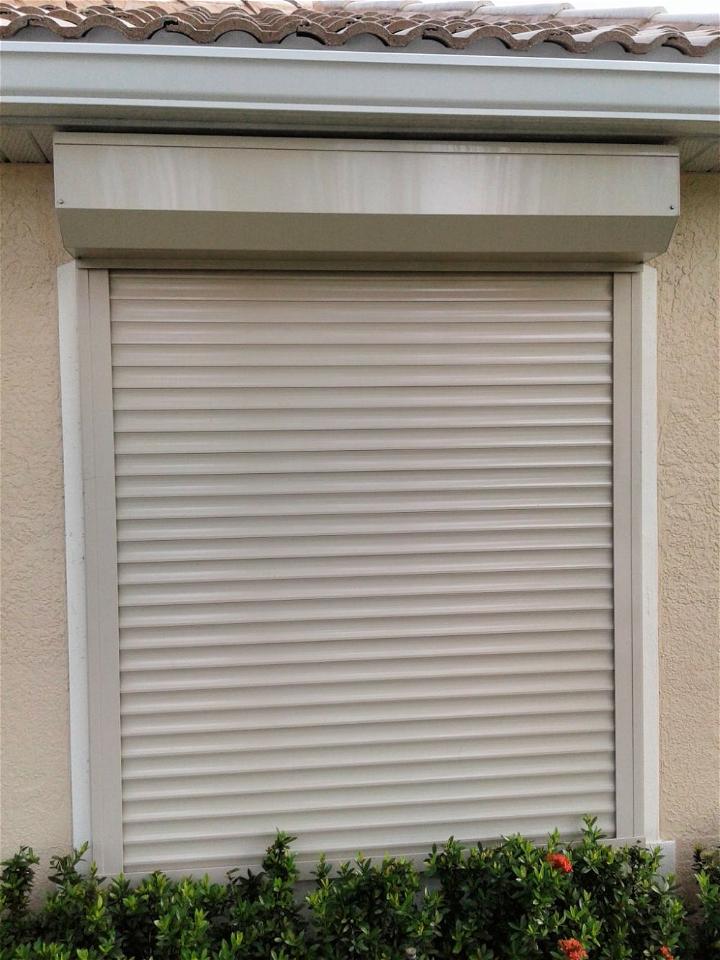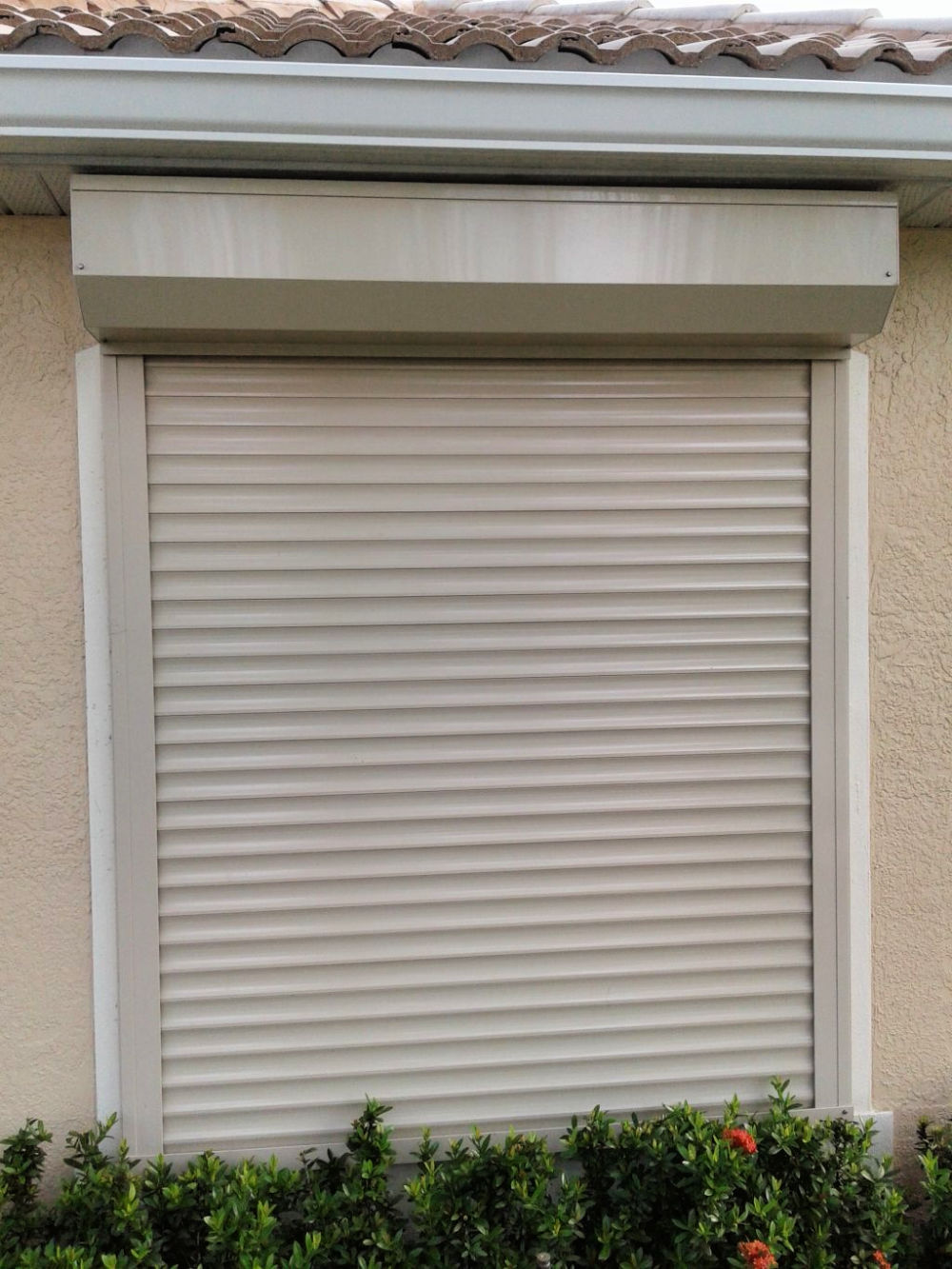 These roll down hurricane shutters can be one great help in keeping yourself ready for the wild weather days! You can close down the shutters completely and keep the hurricane away from bringing any damage inside your place.
Conclusion:
Tempted to make yourself DIY shutters? Who knew they'd be this easy to make! Window shutters look so complicated and difficult to make! But in reality, they're very easy to make and don't even require that many supplies. All you need is some basic knowledge of woodworking and research before you jump into making DIY shutters! Don't forget to do your research and gain as much information as possible about the type of wood and other things you may use. Best of luck!