Upgrade your gardening to the next level with these 15 free plans of DIY Elevated Garden Beds that are easy to build at home. Along with being on a decent height, they help gain an amazing weeding control. They will allow you to moderate the amount of soil and water drainage and hence getting the ideal conditions for healthy plant growth. These elevated garden beds allow you to go for portable gardening as you can easily drag or push them to the anywhere suitable outdoor location.
Browse this collection of 50 free raised garden bed plans that contain so many different designs of elevated planter boxes that come on different height levels. Opt for a waist height or go with counter height, the choices are all yours.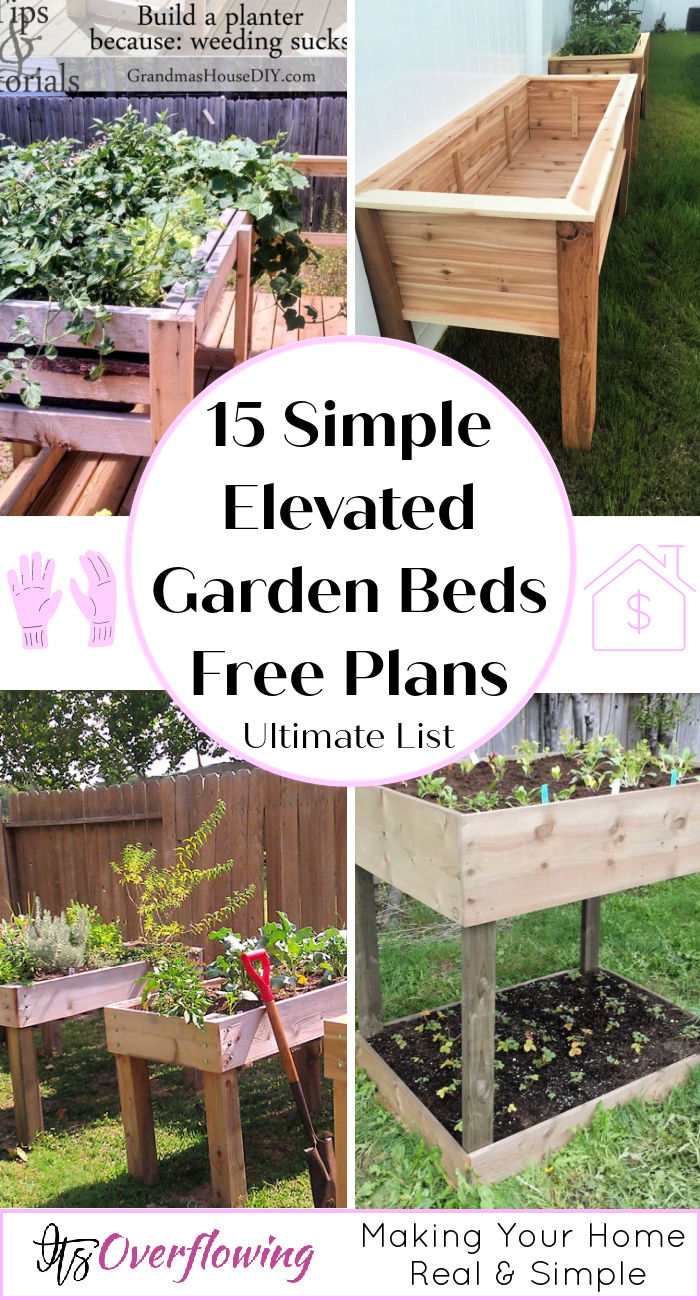 This not ends here, you will also enjoy easy weeding while building these elevated garden beds. Just stand in the sides and start the weeding without bending over. The height of these garden beds will be an unbeatable barrier for the slangs and snails and even for the dangerous garden pests. The cedar, pine, and lumber wood slats will be ideal for building most of these elevated garden beds.
All these woods have great environmental profiles and will be highly resistant to the rod when coming in contact with the soil. Use also the free wood like pallets to build these elevated raised planter boxes at a zero cost price. Browse this entire collection of DIY Elevated Garden Beds and choose your favorite ones to duplicate at home.
1. Build An Elevated Garden Bed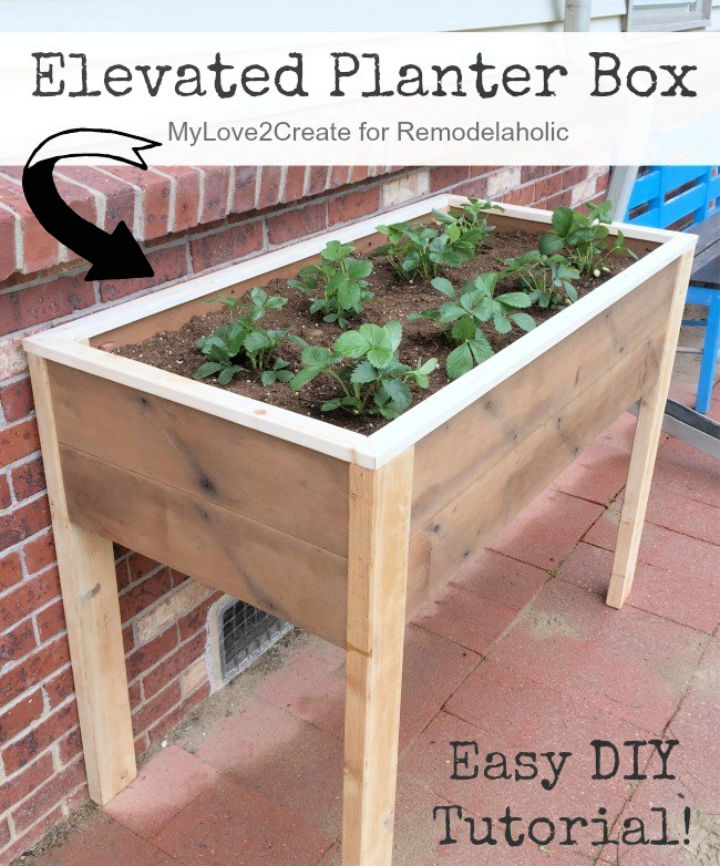 Build the elevated garden bed using wood of choice, will allow you safer gardening. You need to bend over to do weeding this elevated garden bed. Build it up with the 2x4s, 1×2, and 1×6 wooden boards, and the completed design is 48" long, 24" wide, and 35.75" tall. Details here remodelaholic
2. Elevated Garden Bed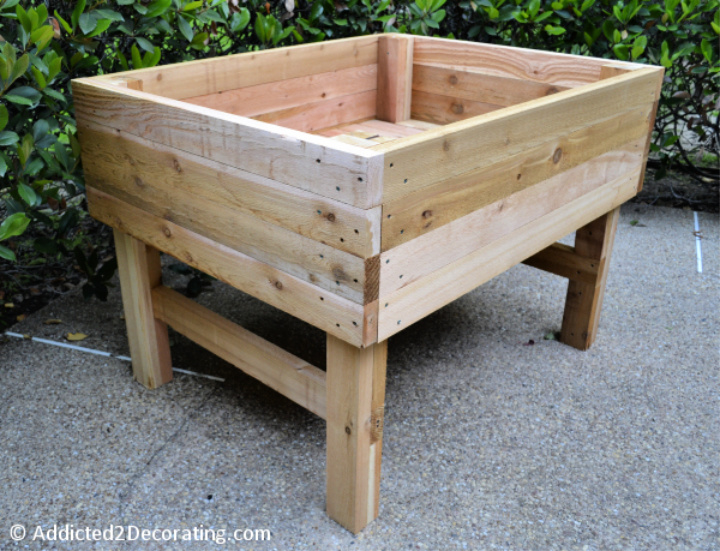 Are you living in an apartment? Having no in-ground space for a garden? Then do build this elevated garden bed that you can simply drag to anywhere you want the greenery to enchant you. Build it up with the 2x4x8′ and 1x2x8′ wooden boards. Choose the cedar boards for this elevated planter box. addicted2decora
3. DIY Elevated Raised Garden Bed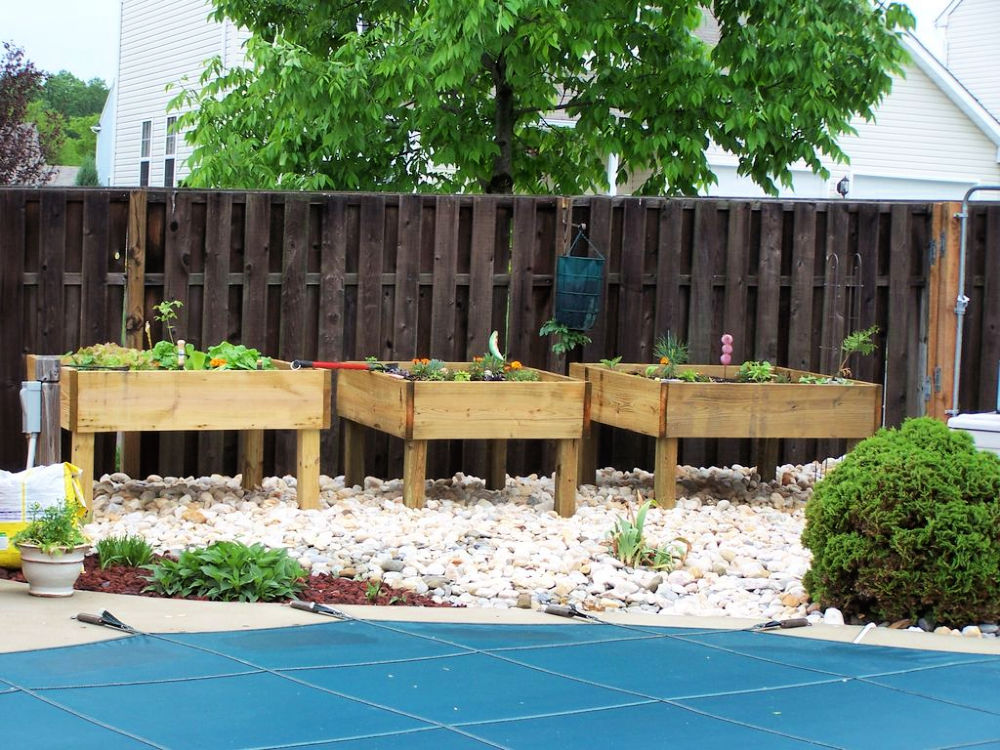 Start giving a creative twist to your gardening routines by adding these elevated raised garden beds. They will allow you to grow small plants, flowers, and veggies quite safely. Build these elevated raised garden beds using 2x12x10 pressure treated lumber boards and use the 4x4s wooden posts to build legs. instructables
4. Elevated Garden Bed Plan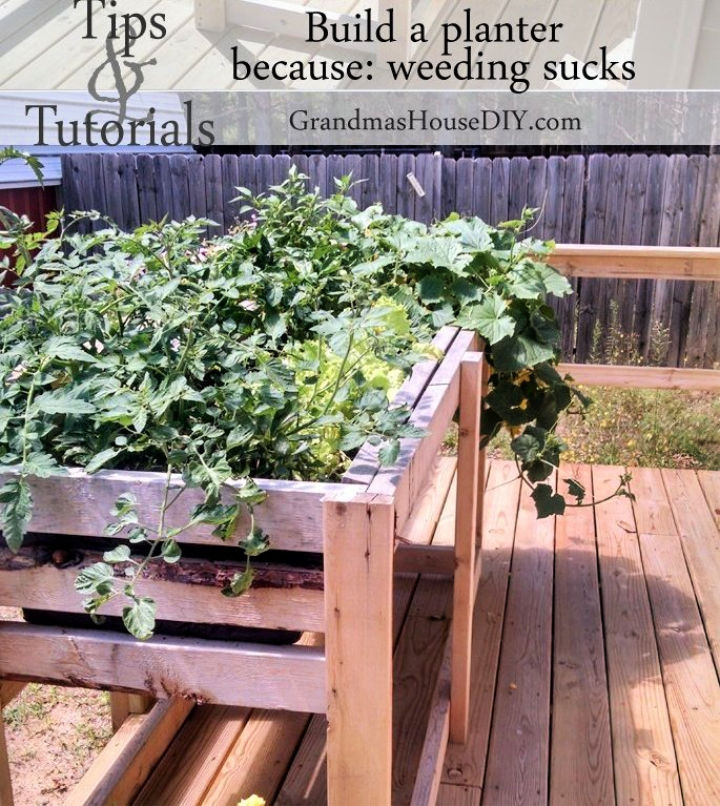 Are you getting bored with weeding? Then take full control over it using this elevated garden bed, which will also help keep those slangs and snails away from your plants. The raised planter box is a crazy combo of wood and metal. Build it with 2x4s and sheet metal, and it will last for years to come. Details here grandmashouse
5. Self-Watering Veggie Elevated Garden Bed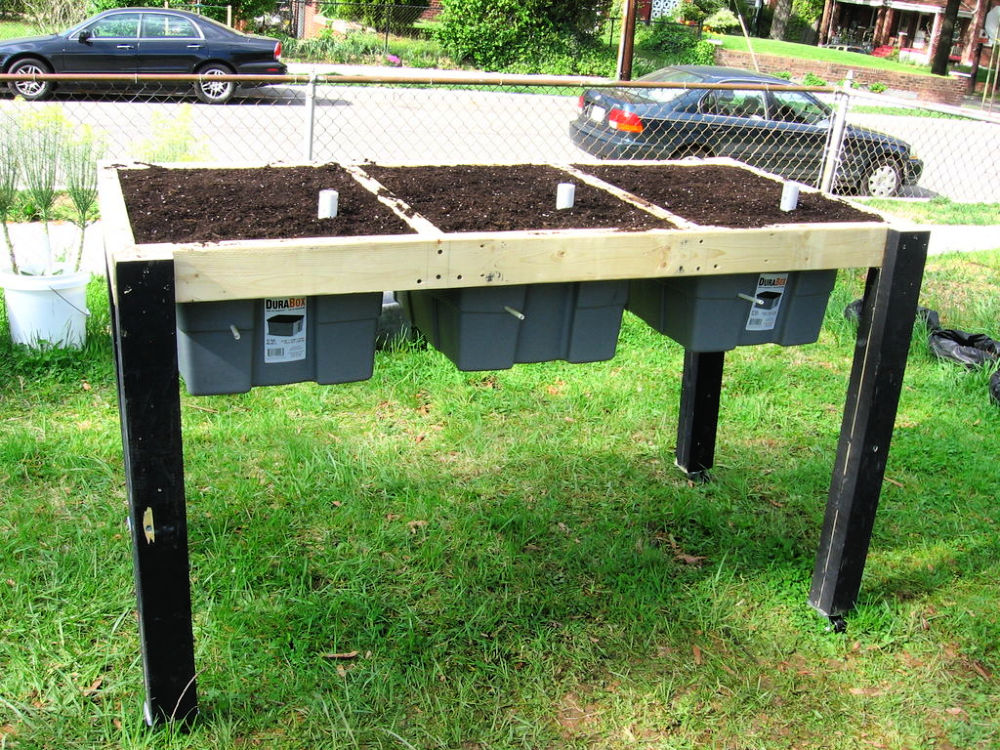 Take your growing vegetable game to the next level by building this self-watering veggie elevated garden bed. The decent height will help keep the critters away. Build the 63" long x 27" wide and 36" tall table with the 2x4s and use the 2x2s furring strips for interior wooden frames. Next, you need the 3 gray duraboxes, 3 white Sterilite bins, 2" casters and 1" x 2ft PVC Sch. 40 plain end pipe. Details here instructables
6. Build an Elevated Wooden Planter Box
Check out here one of the cutest DIY Elevated Garden Bed that looks super cute. Build the box using 1×6 and 2x4s wooden boards and choose the 4x4s for the durable legs. Further, you need the landscape fabric and a staple gun to build this wooden planter box. Details here diynetwork
7. Elevated Garden Bed from Pallets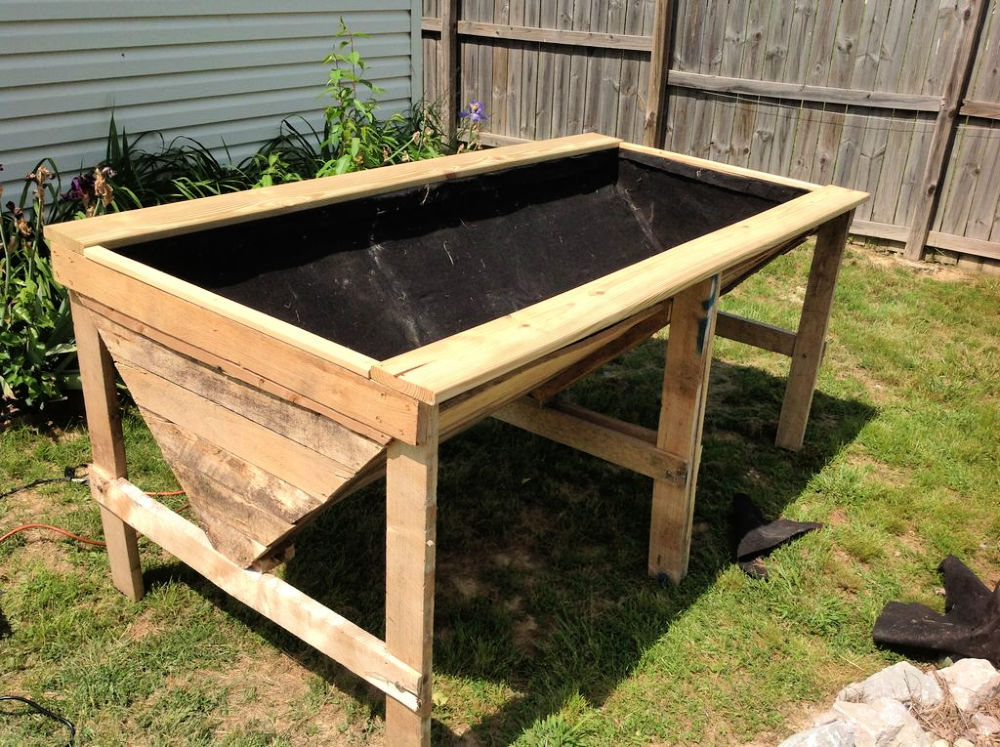 Avail the free wooden sources and build the no-cost elevated garden beds. Build this one using free pallets, the hardwood nature of pallets will surely make this planter box last longer. Here you need 3-4 pallets, landscaping fabric, and custom wooden tools to build this elevated garden bed. Details here instructables
8. Raised Herb-Garden Planter
This elevated herb garden will complete in 2-4 hours and will cost you between $120-$150. Build it using pressure, treated deck boards, pressure-treated 2×2, and 2x6s. To build the planter box, use the 24"x36"x8" slope sided utility tub. One of the best DIY Elevated garden bed idea. thisoldhouse
9. Elevated Garden Bed for Kids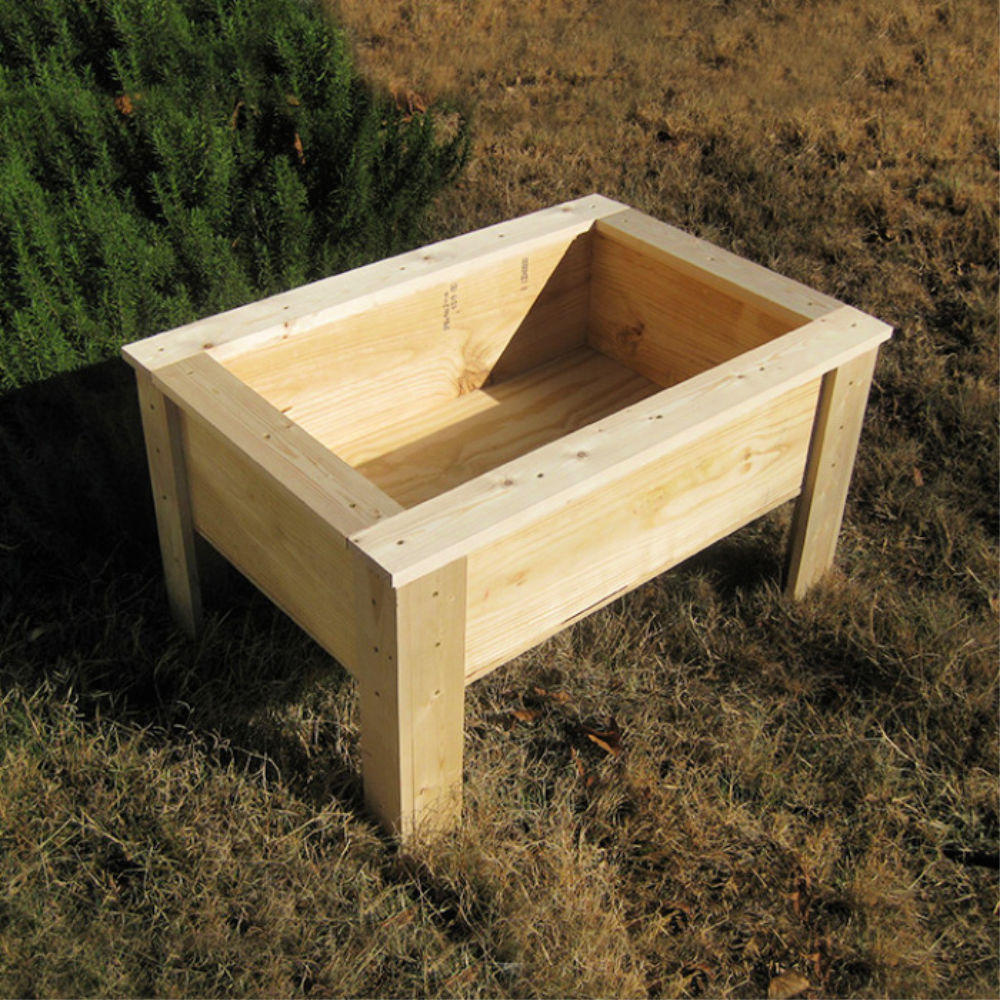 Having kids in the home that love gardening? Then help them make a good start by building this elevated garden bed, will complete super quickly. Grab the 2×10, 1×3, 1×4, and plywood to build this elevated garden bed for kids. It will be the coolest gift to give to kids who have newly started gardening. finegardening
10. Counter Height Garden Boxes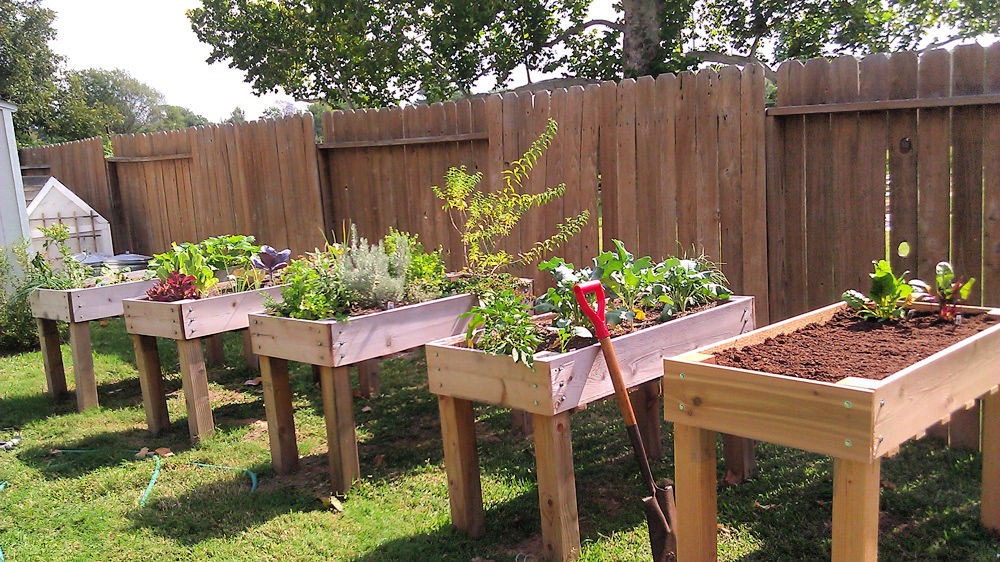 Start growing your herbs, flowers, and veggies on a height that will not be reachable for pests, slangs, snails and other garden critters. So, opt for these counter height garden boxes that will take your garden to the next level. Build boxes with 1×8 and 1×3 wooden boards and finish them up with 4x4s wooden posts. Details here ana white
11. Elevated Planter Raised Bed Plan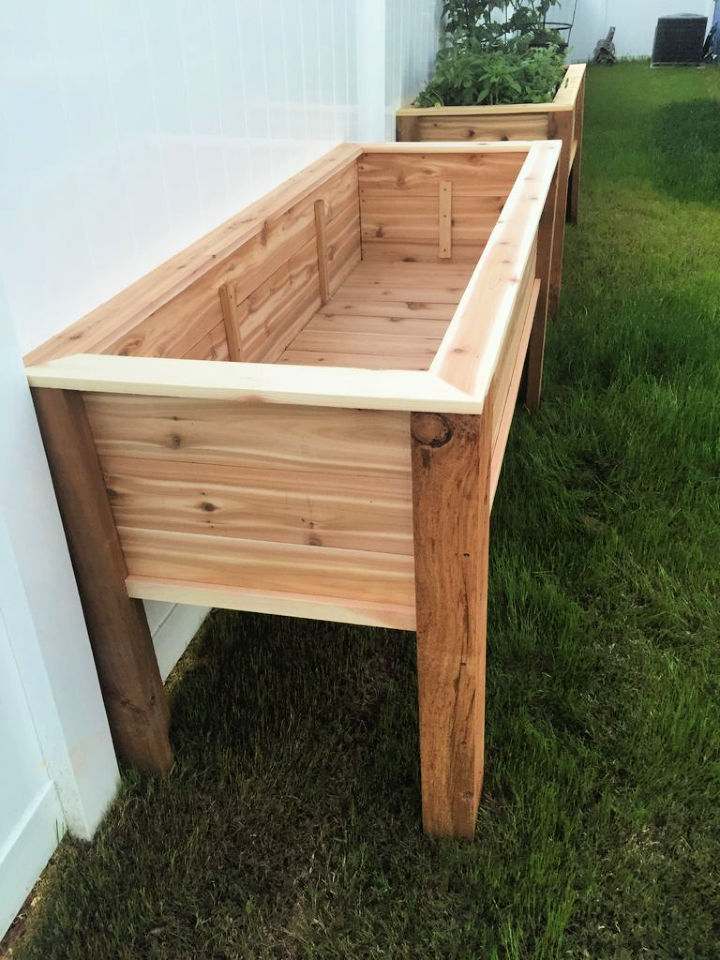 Weeding sucks. Get a great control over weeding using this elevated planter raised beds. This elevated planter box will also allow better drainage. Go with the 1x6s, 2x4s, and 1x2s to build this elevated planter raised bed. The best-raised planters that you can push to any outdoor location. instructables
12. Standing Raised Garden Bed
Create a great focal point in your garden by building this standing raised garden bed. It provides two-tiered levels for growing your favorite plants and is just a breeze to make. Build this elevated garden bed using 1" x 1" pine boards and 2x4s. Use cardboard to cover the whole inside of the flower bed. mikesbackyardnu
13. Wooden Raised Garden Bed
Opt for these raised, and portable raised garden beds that will be a quick solution against the weeds and rain and even against the pests. Make it using 2×2 and 2×6 and grab the 4×4 posts to install as legs. Next, you need the landscaping fabric, screen wire, and a staple gun to complete it. ourlandandhome
14. Tiered Raised Garden Bed
Spice up your gardening game with this tiered raised garden bed will make every onlooker say a big wow. Grab the lumber wood boards, wide corner braces, corner metal plates, and landscaping fabric to build these tiered raised garden beds. Finish it up with a durable outdoor finish. Details here anikasdiylife
15. Waist High Raised Garden Bed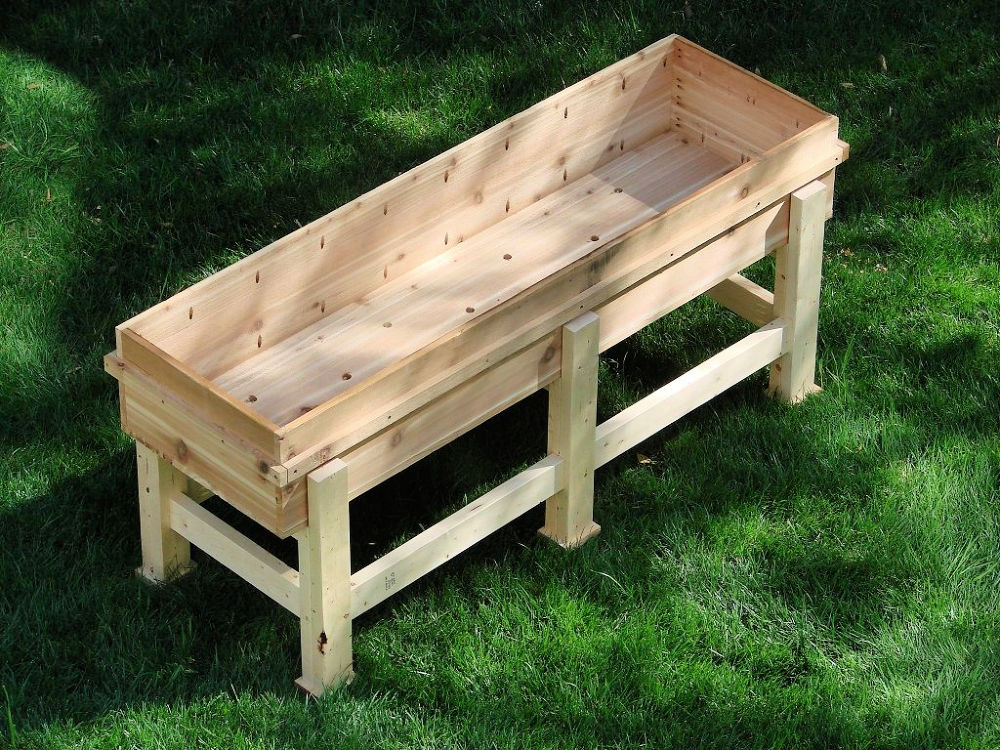 Build this raised garden bed with the 1×8 and 1×4 cedar wood boards, and it will surely last longer even when placed in hard outdoor climates. The waist height makes them far away from the reach of garden critters, and you will get a great weeding control too. A great DIY Elevated Garden Bed Design. instructables
Conclusion:
Sometimes the pests do great damage to your plants, and pulling the weeds is another embarrassing situation. Take control of both by building a raised garden bed or elevated planter box at home. You just no need to buy them expensive, build them at home with these DIY elevated garden beds that provide free plans, step-by-step guides, cut lists, tutorials, and hardware lists to build a raised planter box like a pro. Here all you need is to build up the durable wooden boxes that you can finish with 4×4 legs just to raise them on a decent height level.
Garden Tool Storage: Easy access to essential tools makes gardening more of a pleasure than a chore. Check these Garden Tool Storage Ideas.
Woodworking: Create confidence with DIY project ideas by following these free woodworking plans.