A stylish wrap dress looks flattering on anyone! The best part with a wrap dress pattern is that it could be anything. You any occasions go-to dress. Keep it closed, and it is your elegant but trendy brunch or dinner dress. Keep it open, it could be your chic and classy beach dress! We have rounded up and gathered about 16 of these classy best wrap dress patterns free. For every occasion. From polka dots, single tone fabric to striped fabric, two-toned color ideas, and stylish fabric, we have got it all here.
After exploring through these you are going to fall in love with these free wrap dress patterns So much that we can bet the next thing you know, you are up for a wardrobe redo! Our collection of wrap dress patterns is perfect and befitting for any occasion. Be it a stylish beach party or a formal lunch. Not just these, you can make them for formal office meetings, gatherings, or fun game nights. Each of our wrap dress pattern design has its own charm and importance.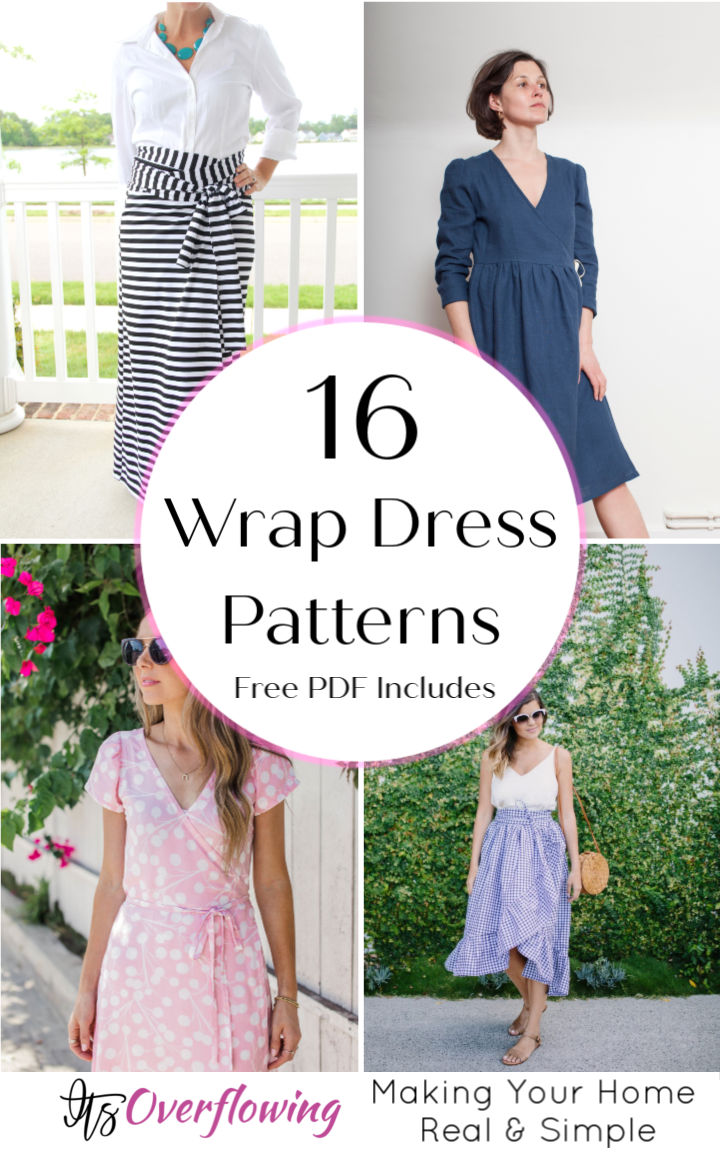 So, get hold of your imagination, your inspirations from the expensive brands and gather around your sewing kit. You are going to love these wrap dress patterns and even if there's nothing exciting coming ahead, after designing one for yourself you are going to want to throw a party by yourself to well, flaunt over your wrap dress. Happy designing, girls!
1. DIY Polka Dot Wrap Dress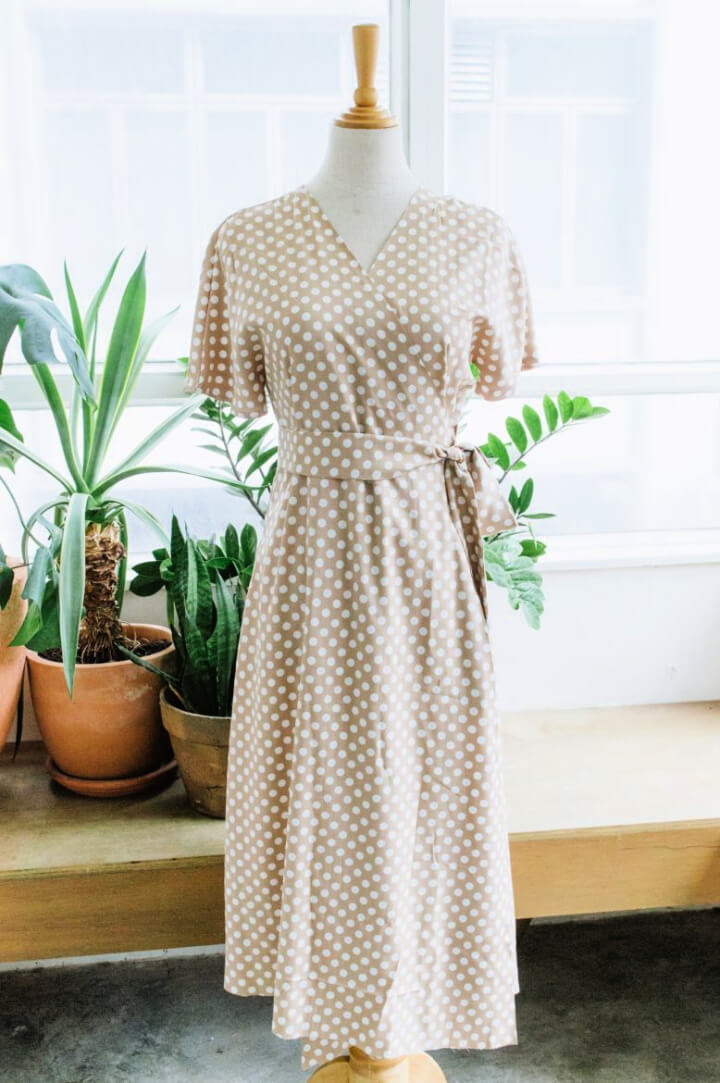 The graceful yet the chic look with a polka dots fabric can never cease to appeal to us. This tutorial elaborates on how you can design yourself this absolutely adoring wrap dress by working on the correct measurements and sewing pattern. Get details in the tutorial. apairandaspare
2. Midi Wrap Dress Sewing Pattern

This classy and breezy wrap dress pattern is all made using three yards of fabric with matching thread! This design is ultra-modern and ever-green. The tutorial will walk you through the step by step guide with illustrations and details. merricksart
3. Wrap Dress – Free Sewing Pattern

If you are not a pro at sewing, this tutorial is going to be your savior! This so-sew easy and free sewing wrap dress pattern not only looks elating but is unbelievably easy for any beginner at sewing. The tutorial will guide you through the steps with illustrations. so sew easy
4. How to Sew Noor Wrap Dress

A wrap dress is a totally feminine yet versatile piece of clothing any woman can have in her wardrobe. This tutorial elaborates on how you can make a perfectly befitting and stylish Noor wrap dress. The tutorial will walk you through the step by step guide with pictures. fabrics store
5. Louise Wrap Dress Sewing Pattern

This killer wrap dress pattern can make you the queen at any gathering or party! It looks absolutely stunning with the addition of velvet used at the fabric. The tutorial will walk you through the step by step guide for this stunning wrap dress design. thehooknooklife
6. DIY Wrap Maxi Skirt

This stunning, striped maxi skirt could be your elite outfit for a brunch or even an official lunch or gathering. Maxi skirts can be a perfect outfit for a not too hot or cold day. It just fits right in an uncertain season. Check the tutorial for details. mesewcrazy
7. Sew Fat Quarter Fabric Wrap Skirt

Well, well gather around favorite pieces of fabric and let's put them together into this stylish and chic wrap skirt pattern. The amazing deal with this design is that it can befit any girl with any fitting size. See for yourself in the tutorial, for the magical fitting. polkadotchair
8. Easy Wrap Skirt Tutorial

This breezy wrap skirt pattern can be a fantastic outfit choice for a casual lunch date! If you are a high waist kind of person, this could be your personal favorite outfit. Check the tutorial for making yourself an absolutely amazing, light, and flowy chiffon wrap skirt. lifesewsavory
9. DIY Ruffle Wrap Skirt Refashion

Redo your old fashioned wardrobe into this flirty and funky DIY ruffle skirt wrap! This could be your perfectly cool and chic formal wear to any official party too. The tutorial will walk you through the step by step guide with illustrations to design this beauty. cottonandcurls
10. Sew Wrap Skirt With Pom Pom Hem

A wrap skirt is not just a go-to wardrobe thing whenever there is a formal or casual gathering around you! With a perfectly DIY warp skirt, you can feel like the real queen and in charge of your life! Add some perfectly cute pompoms to the hem and a mini-wave of celebration. apairandaspare
11. The Faux-wrap Dress Tutorial

For a cool beach day, what's better to dress up in than a perfectly chic style wrap skirt. This could be your perfect outfit for a trendy resort party or a refreshing beach day. Head over to the tutorial now and make yourself this classy faux wrap skirt! elleapparel
12. Tropical Wrap Dress Maxi Dress Pattern

A tropical wrap dress with an added touch of maxi is all you want for your next summer vacation! Feel breezy with loose and flutter sleeves, walk freely with long knee-length. Head over to the tutorial for step by step guide of this SO- sew easy wrap skirt. so sew easy
13. DIY Ruffle Hem Wrap Skirt

This chic and trendy ruffle hem skirt is all you need to upgrade your wardrobe game! It will look absolutely stunning, and you can walk around like you own the place! We can bet on that. Get your hands on the detailed tour of making one in the tutorial. apairandaspare
14. Cut and Sew Wrap Dress

This tutorial will walk you through one magically cool "cut and sew" idea for a chic DIY wrap skirt design. In cut and sew, you cut the outline of the dress and print the design as you like. With color tone complimenting your body type! See details in the tutorial. lanaredstudio
15. Sew Wrap Dress for Any Occasion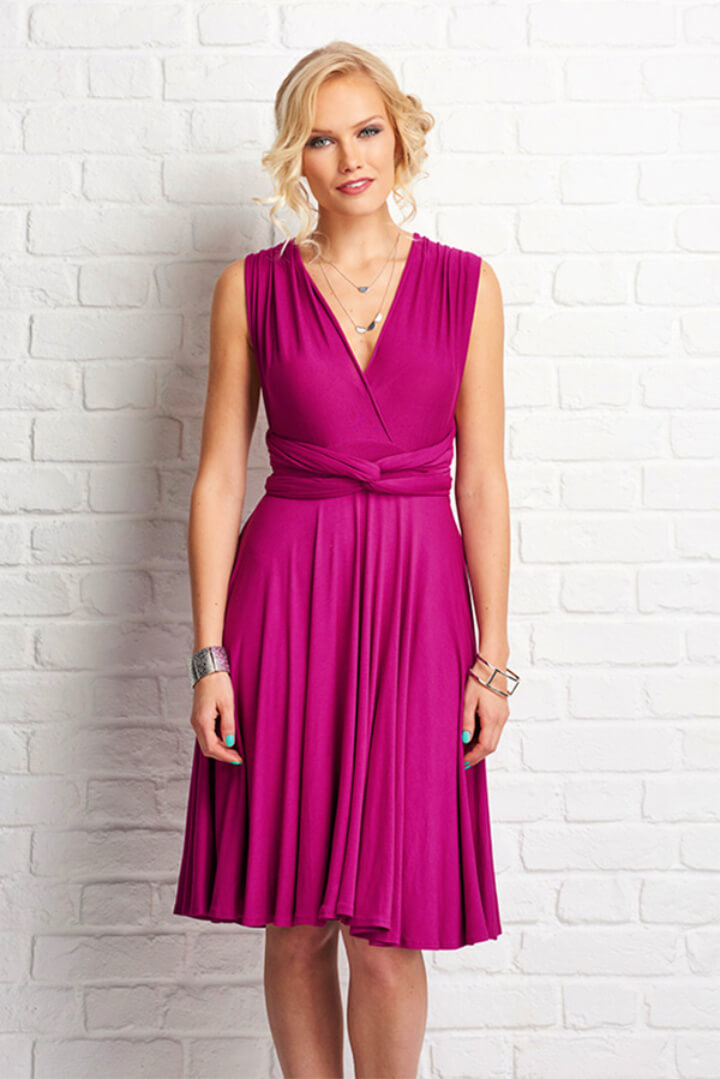 This is one magical and enchanting wrap skirt design! This one dress has not one or two but six ways to wear! Befitting your every occasion. A formal party, big day at the office or a romantic dinner date. See for yourself by clicking on the tutorial! simplysewingmag
16. How to Make Ruffle Hem Wrap Dress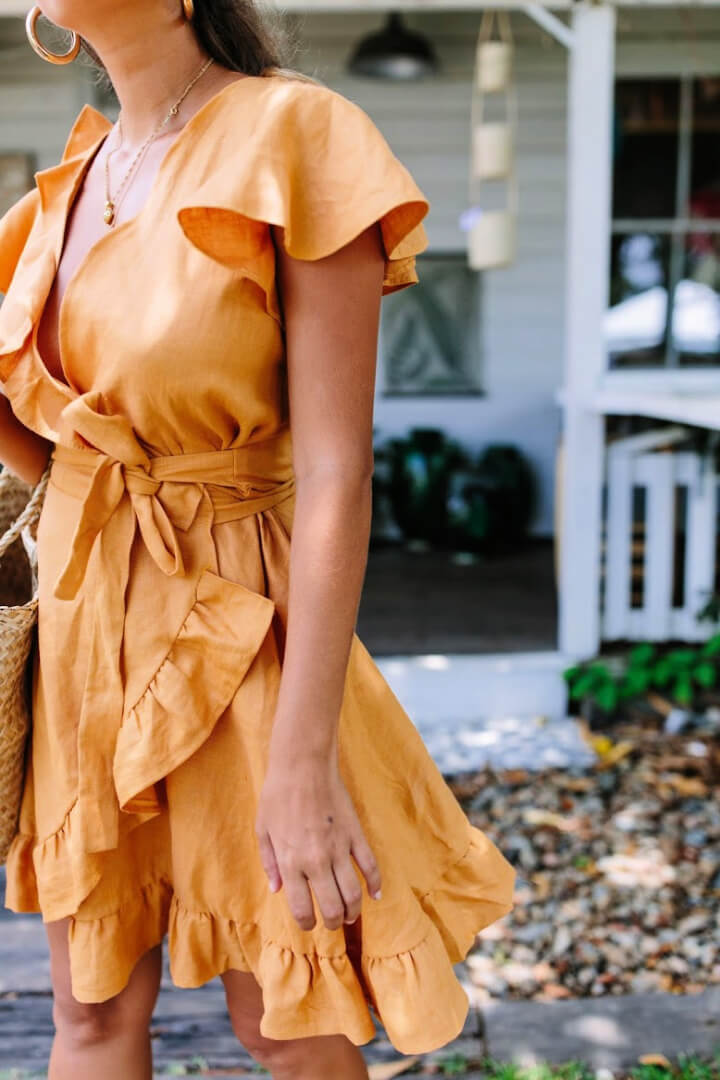 Get your hands on around 3 meters' fabric, a fabric marker, fabric scissors, pins and measuring tape and a sewing machine. Plus, a color thread! This chic ruffle wrap skirt looks breezy, trendy, and stylish at the same time. Get full details in the tutorial. apairandaspare