Find easy instructions on how to build a chair with these easy DIY chair plans includes step by step guides. Bring new life to your old chairs with these diy chairs. Most of the time, we focus on the interior and internal decor of the house. The reason is that we like to occupy ourselves inside the home with gadgets and Netflix. However, with time, people are learning how important it is to sit outside in the natural environment. Therefore, it is necessary to add some seating in the outdoor area.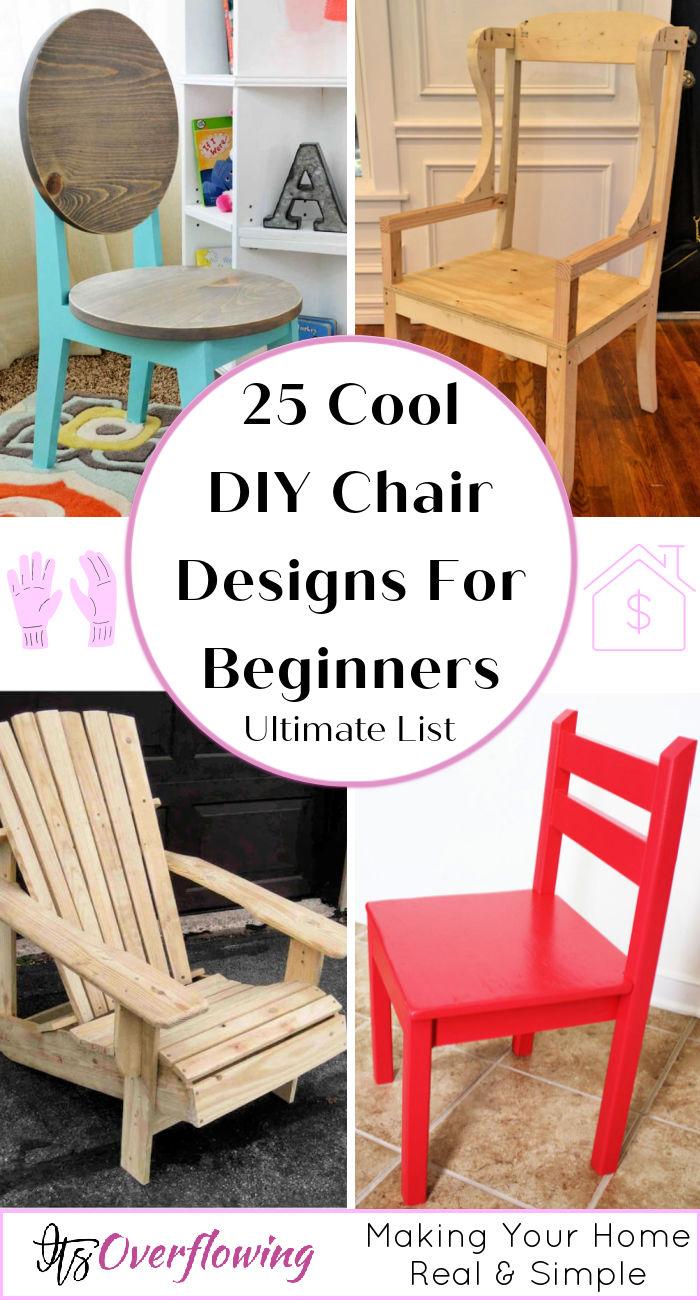 Not only the outdoor chairs, but these diy chairs have ideas for exciting chair additions to your furniture as well. You can craft folding chairs, desk chairs, chairs for kids, stair tread chairs, armchairs, dining chairs, and coffee table chairs through these designs.
What a variety of diy chairs you will be getting! You can add modern chairs, some orthodox ones, or simple portable chairs to your empty area at home. The main focus is to build up the pieces, which provides comfort and relaxation. Find out which chair design you need!
1. Outdoor Lounge Chair Plan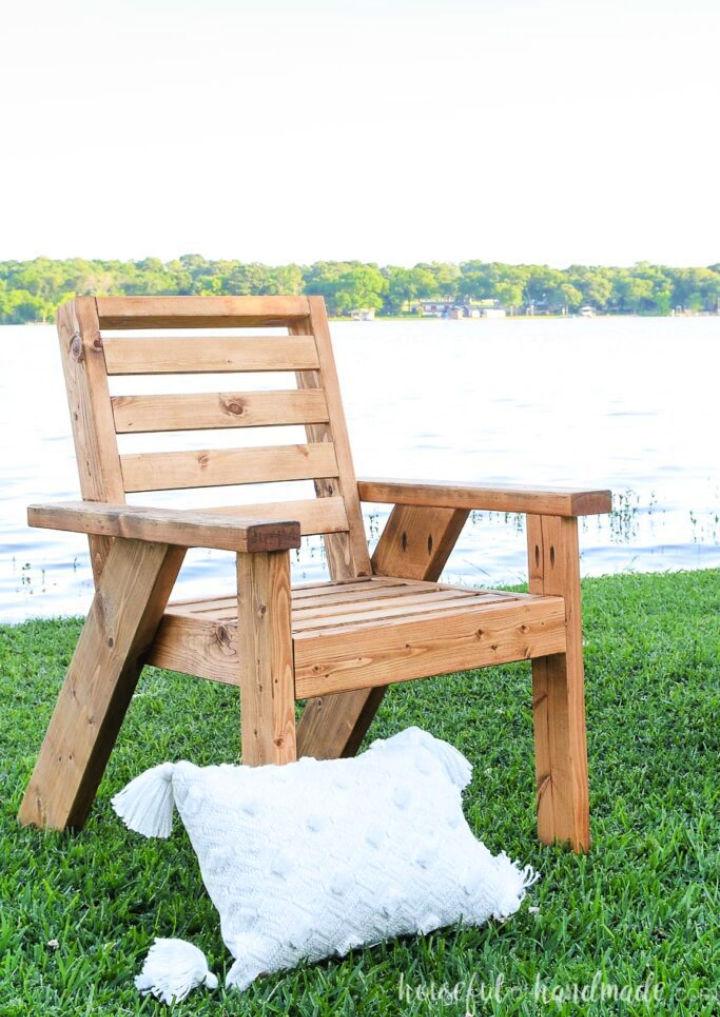 Build this outdoor lounge chair to relax and watch the sunset or enjoy a campfire. This DIY chair will give you some comfy postures to lighten your soul and ease yourself. You can build it easily at home by using supplies like a miter saw, drill, square, clamps, wood glue, and wood boards. housefulofhand
2. Modern DIY Outdoor Chair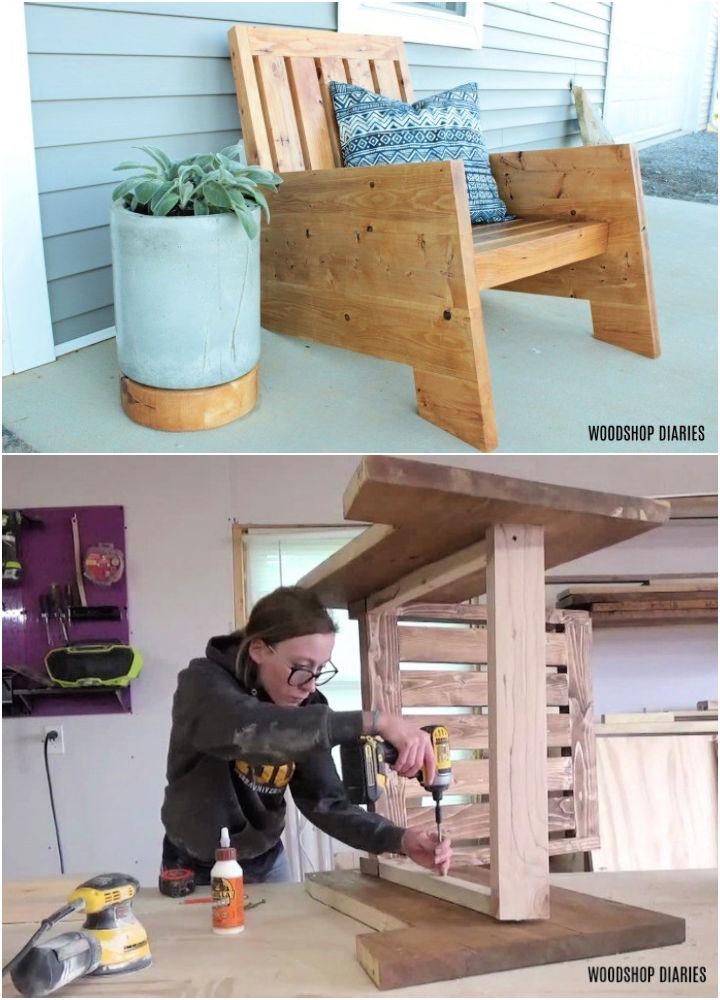 This DIY modern outdoor chair will give your outdoors an excellent exterior and appeal. It can be excellent seating space for all ages to enjoy some fresh air outside. Here is an easy-peasy video tutorial on how to build a modern outdoor chair. Watch out to get a sense of building it yourself. woodshopdia
3. Kids Outdoor Double Lounge Chair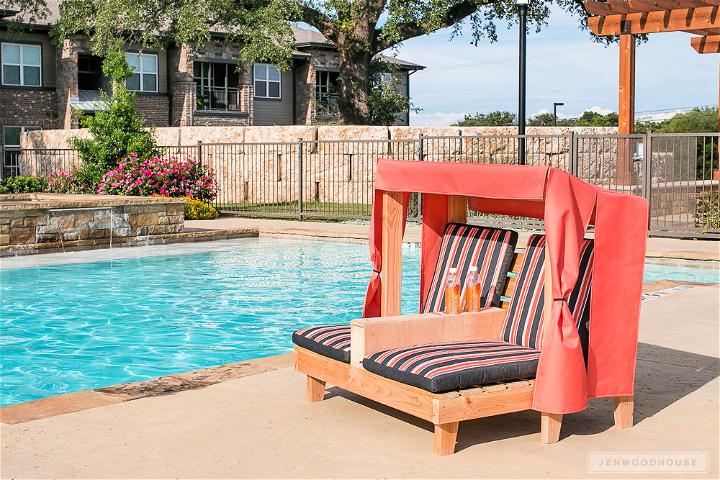 Build the perfect place for your kids to relax in front of the pool in the yard. Give them some beach kind of environment at home by building the outdoor double lounge chair. Along with lumber, you will need supplies like saw, drill, glue, filler, square, clamps to build this project up. jenwoodhouse
4. Modern Deck Chairs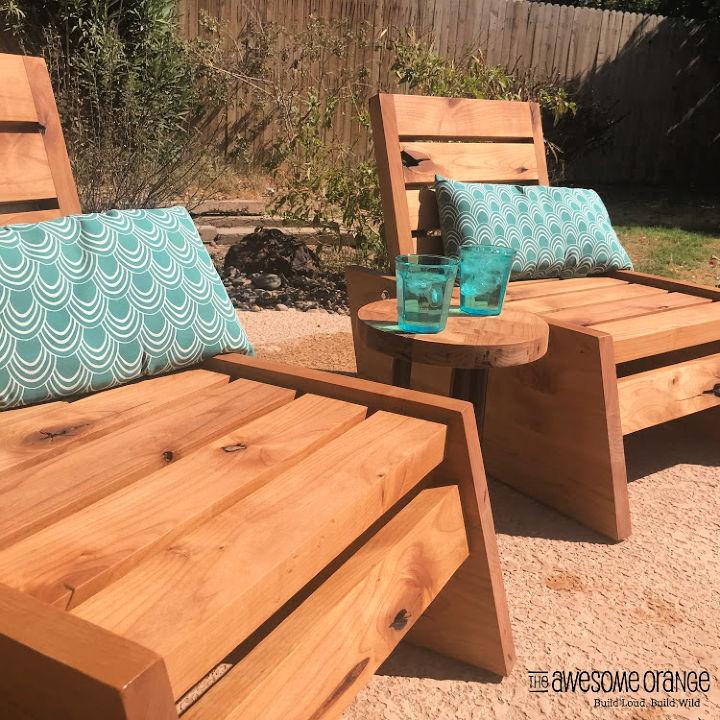 If building a DIY modern deck chair intimidates you, check out these trouble-free instructions here to go on with this project. These chairs will upgrade your boring backyard. Plus, they will add the comfiest and inviting vibe. Find out the step by step instructions on its building here. theawesomeor
5. Chair from 2x4s and 2x6s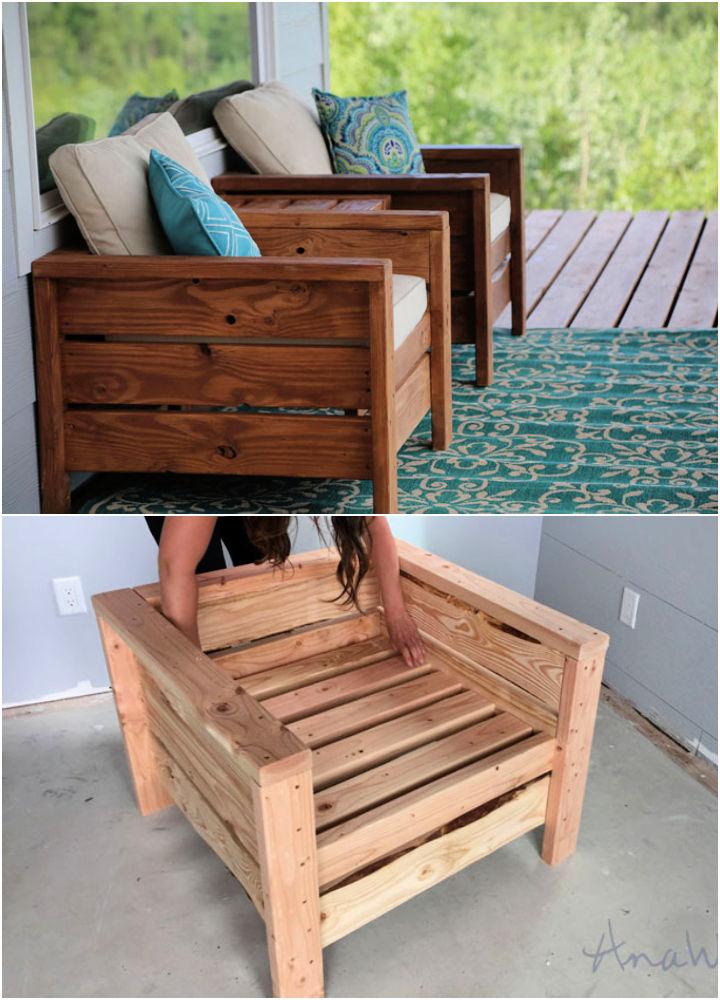 The free plan from Ana White will lead you to spruce up a sturdy yet modern outdoor chair from 2×4 and 2×6 lumber. This chair will be too simple and easy to build if you follow the guide here. You will love the way they will look in your yard, convincing your friends to stay for a while. ana white
6. Folding Adirondack Chair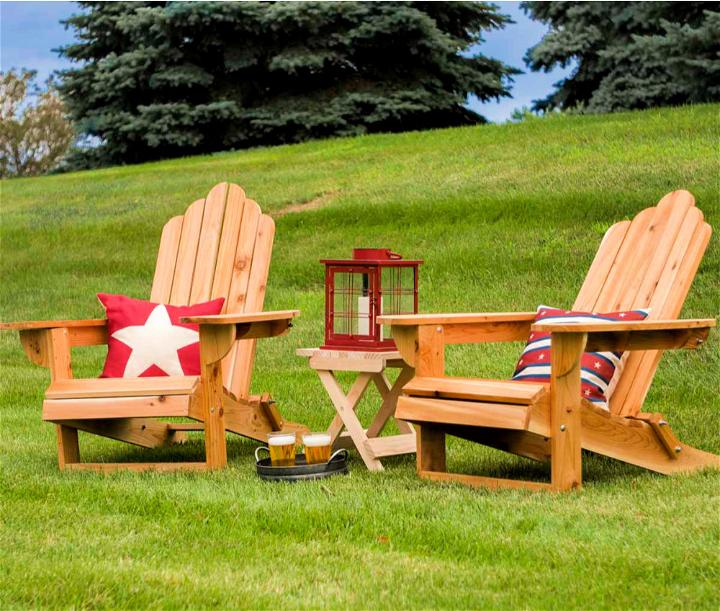 Folding Adirondack chairs are always handier than regular ones. They are portable and let you relax wherever you like. You can build this amazing piece of furniture in one day. Use supplies such as drill, sander, jigsaw, clamps, nylon nuts, washer, boards, bolts, and dowels. familyhandy
7. How to Build a High Chair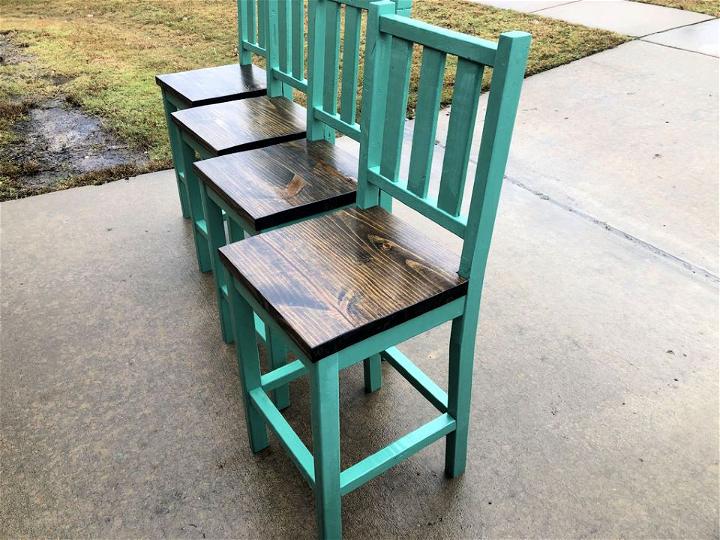 Check out the step by step tutorial on how to build a high chair and get a bird's eye view from it. This chair will be a perfect addition to your poolside or other outdoor furniture. You can build it up at home for a fraction of cost and in only one evening. Don't miss out on building it up. instructables
8. DIY Wingback Dining Chair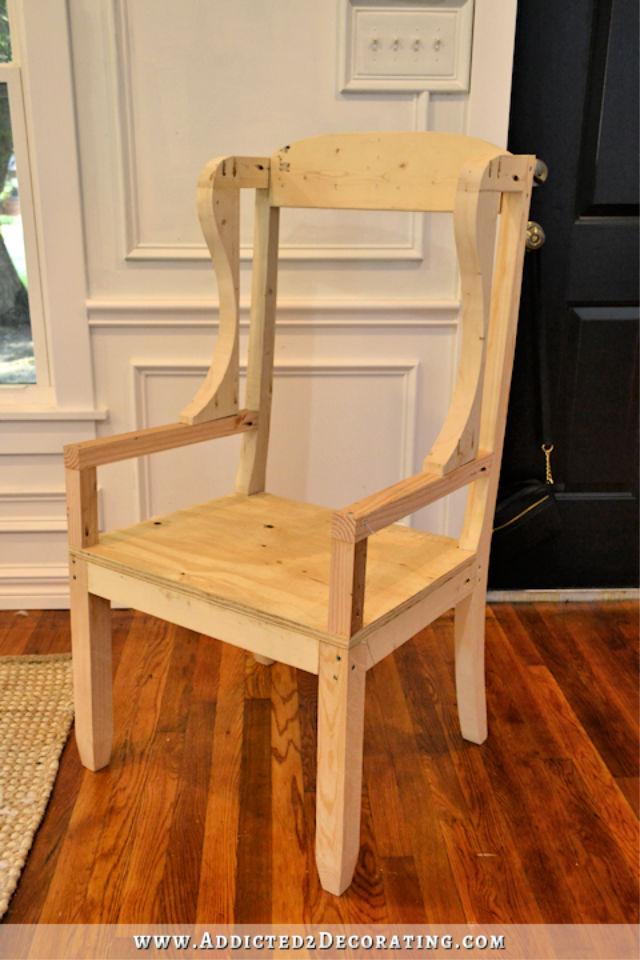 Having guests on event and parties demand more seating space. You can build a DIY wingback dining chair for extra seating and store them in the basement until the next event. Grab the supplies and go along with the details on the building this chair. We bet its going to be such a mood booster. addicted2dec
9. Build Adirondack Chair from Scratch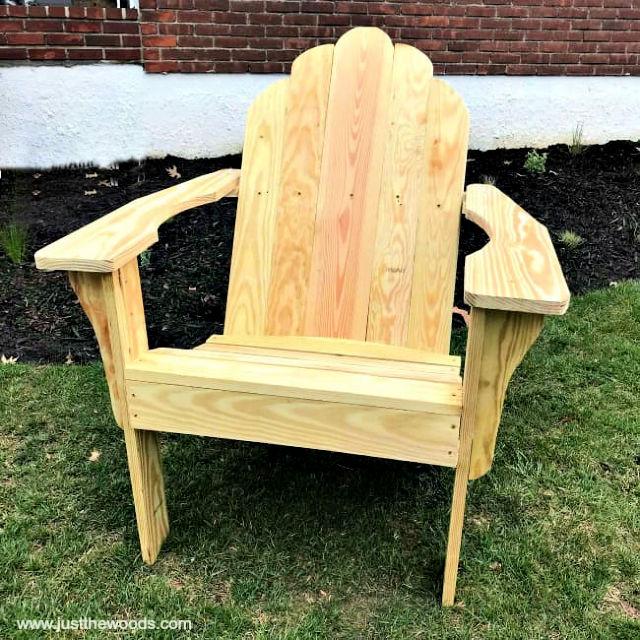 Instruct yourself on building an Adirondack chair from scratch. You can build this chair even if you are a beginner, as it's not that hard to handle the details. Collect your supplies like wood, scroll saw, spray adhesive, spindle sander, electric drill, trigger clamps, and a cable. justthewoods
10. DIY – Instructions On How To Create A Chair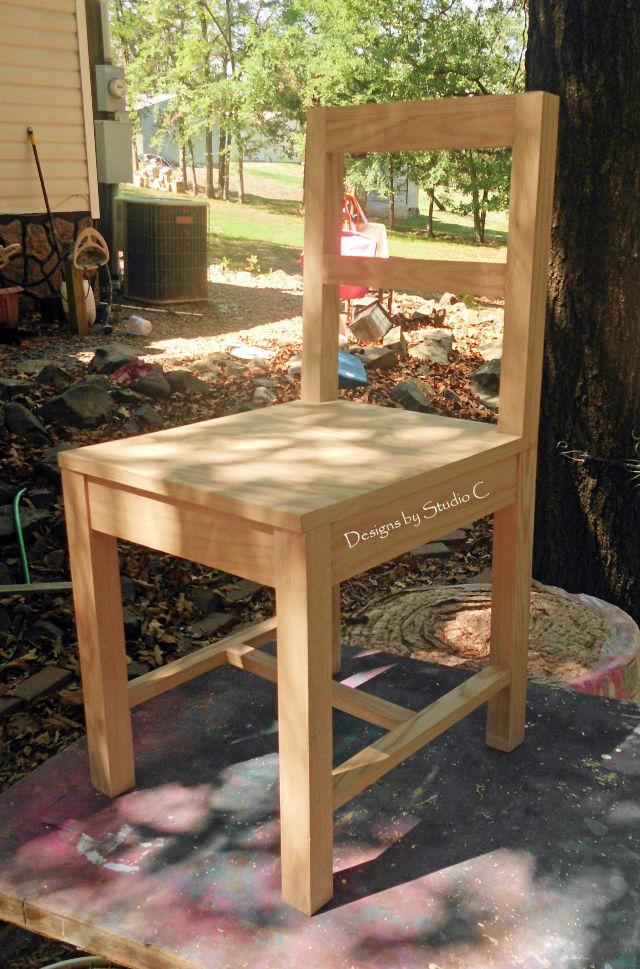 Enjoy the sunset, the gusts of the wind, the fresh air, and the sun kisses by sitting on this desk chair. The free plan here is all about instructing you to bring character and interest in your outdoors. Hit the link to see the supplies list, the lumber list, the cut list, and the directions on it. designsbystud
11. Stair Tread Arm Chair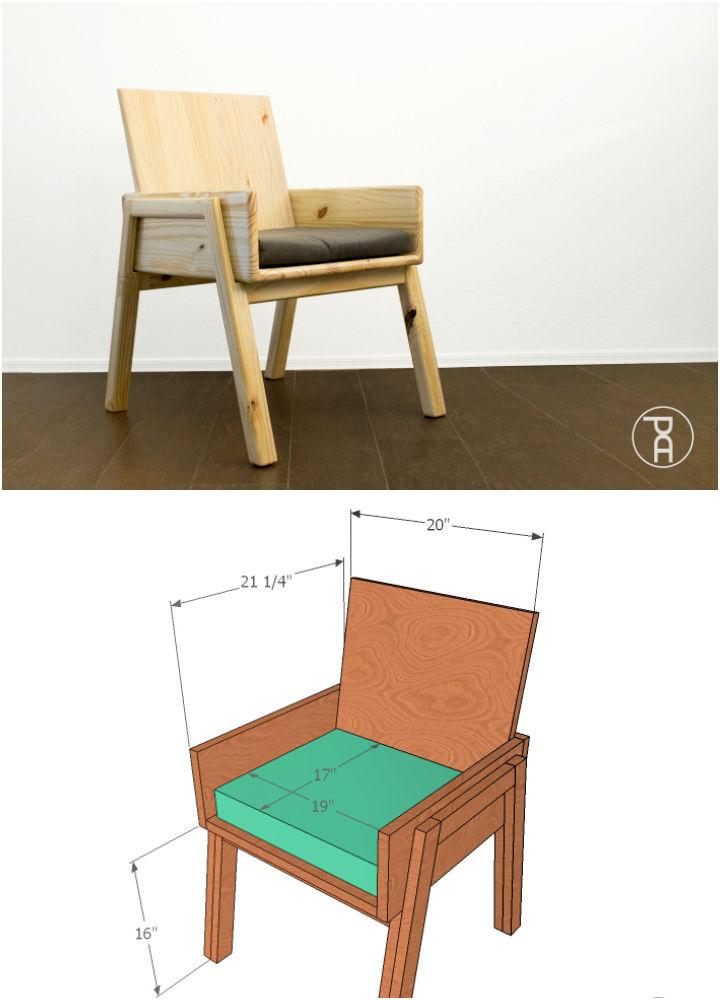 This stair tread armchair will provide you a comfort zone for any activities and parties you like having around. Or if you want some time with yourself, this chair will give you a comfy space for that. The video tutorial here will have your back on building this chair all by yourself. pneumaticad
12. Circle Back Kids Chair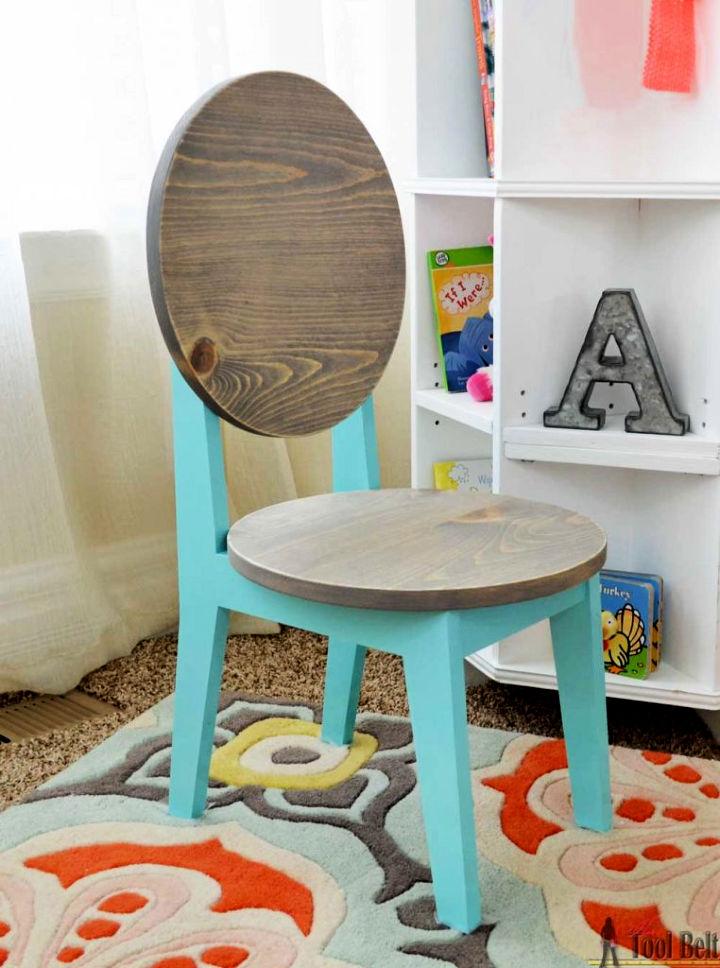 Add some fun and texture into your children's room with this circle back kids chair. It is a fantastic project that can be done with one board. It is 12" off the ground perfect for low heighted kids. Grab other supplies like primer, stain, sandpaper, glue, screws, and drill. hertoolbelt
13. Outdoor Chair from Cedar 2x4s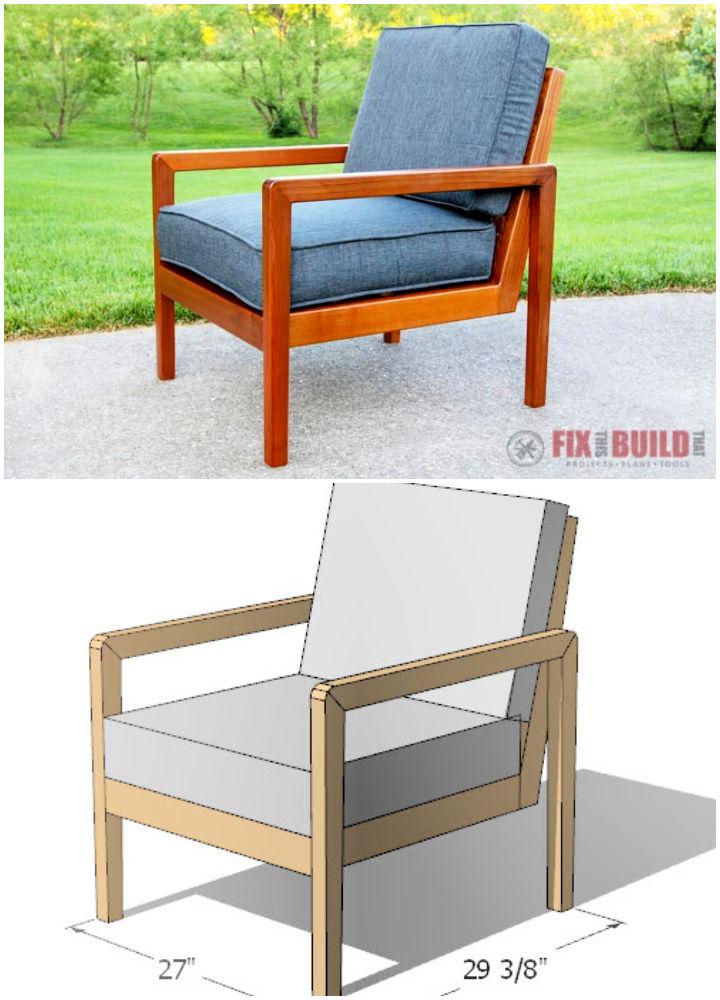 Adding a chair to an outdoor area at your backyard will enhance the seating capacity and beautify the exterior. This modern DIY outdoor chair is made from 2x4s of cedar wood. It will provide you a comfy place to enjoy coffee in good weather. Give a peek to the directions! fixthisbuildthat
14. How To Build A Chair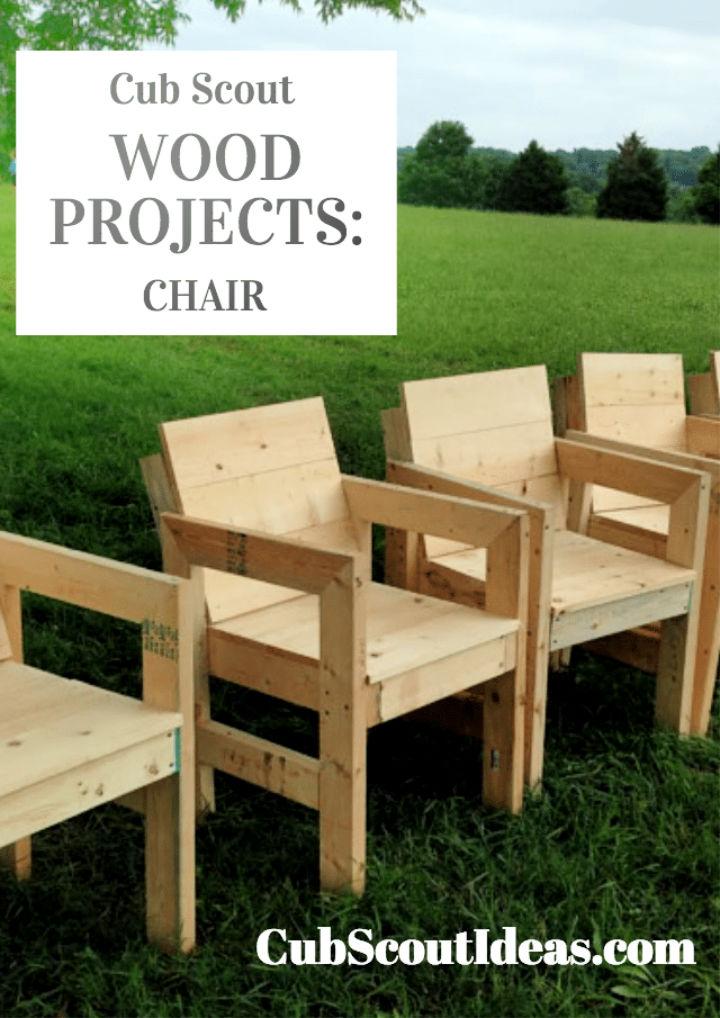 Building a wooden chair design is not at all a challenging project. Especially a durable Cub Scout chair that will last for decades. The building process of these chairs is super easy, and you will finish it off at a very reasonable price. The plan includes a supplies list, cut list, diagrams, and instructions. cubscoutideas
15. Australian Shaker Chair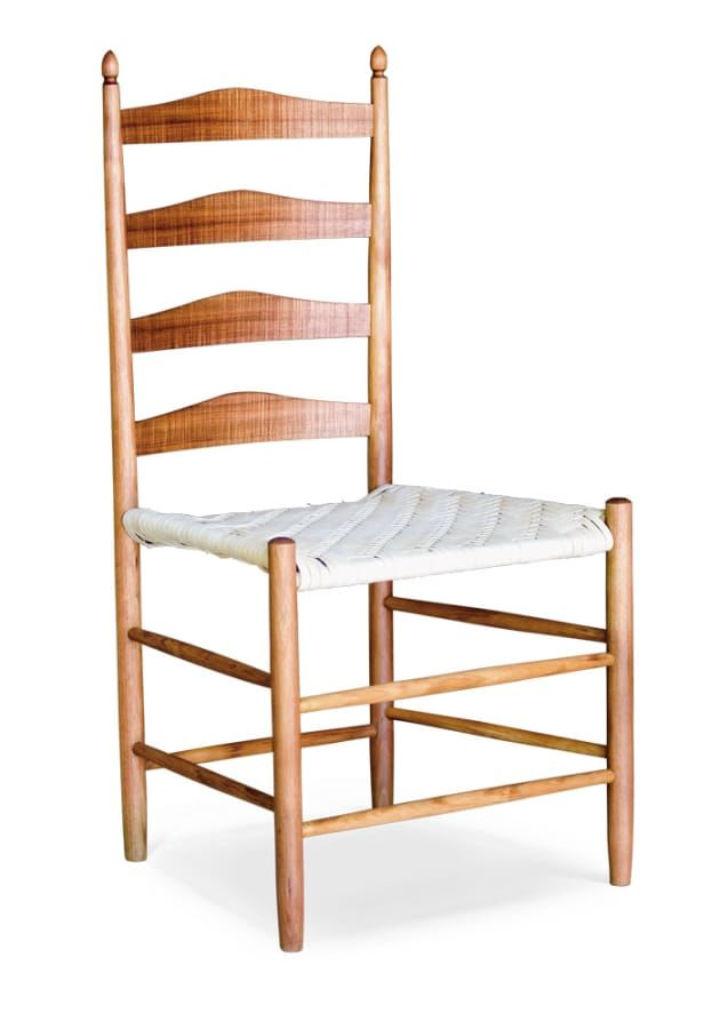 This Australian shaker chair will be a perfect addition to the existing furniture units in your living room! Its chair will be extra comfortable and comfy. The design will definitely appeal to the eyes of the onlookers—Walkthrough the steps to see how this chair can be formed out of maple wood. instructables
16. DIY Adirondack Chairs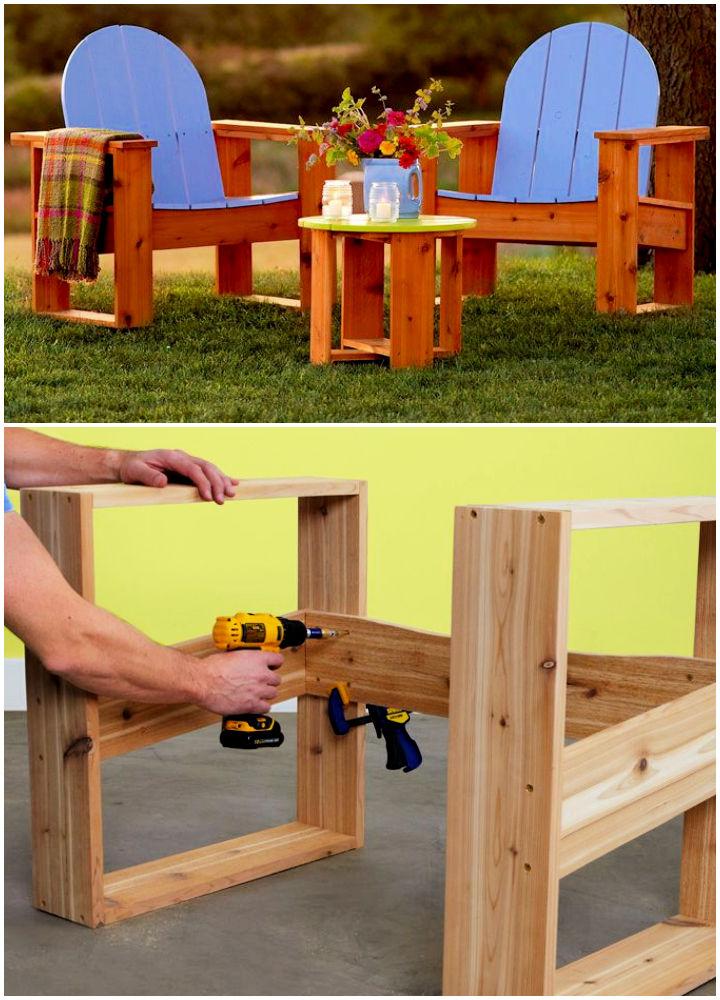 When you need a fusion of functionality with style in the outdoor space, DIY'ing Adirondack chairs are the perfect choice to build up. They are very affordable and easy to build in one weekend. Watch out the video tutorial or read on the instructions to get the perfect sense of building them. lowes
17. Wooden Pallet Adirondack Chair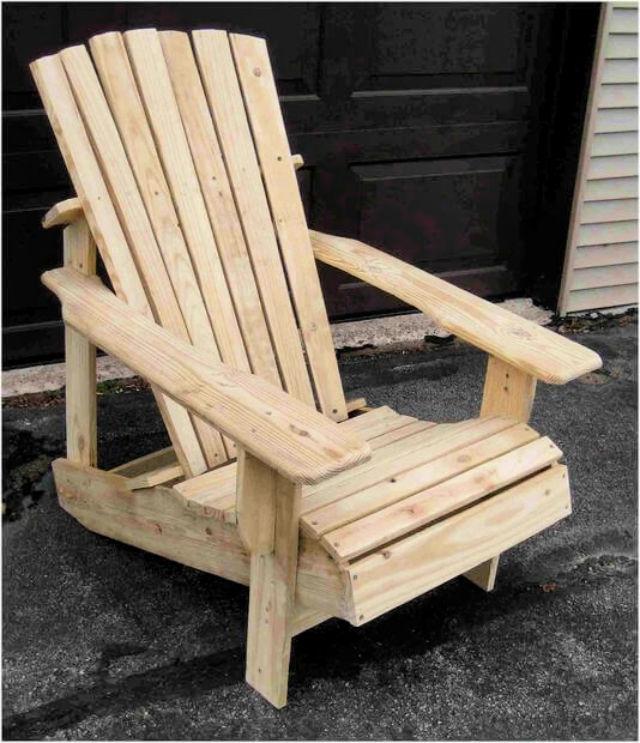 The step by step instructions on how to build a wooden pallet Adirondack chair will make you a pro at your DIY chair choices. Plus, with this outdoor chair, you can get to enjoy the evening tea comfortably with fresh air. Supplies require are wood pallets, hammer, drill, saw, crowbar, and wood putty. homestratosp
18. Homemade Casual Chair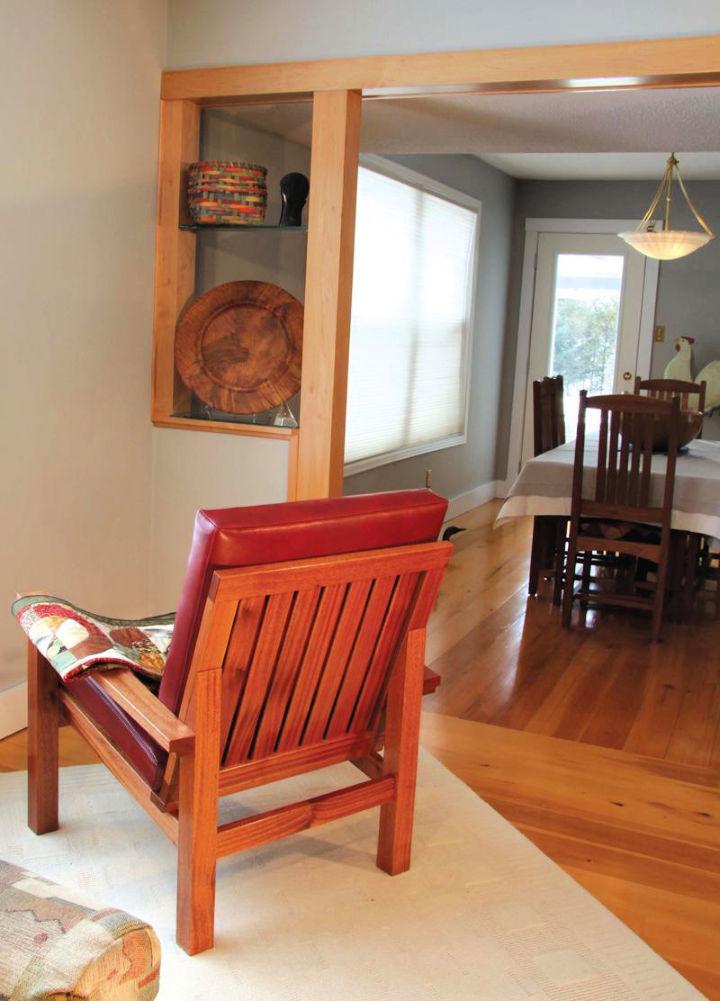 The furniture will get more endearing when you build them up at home. Instead of going after the highly expensive store-bought chair, spruce it up at home by following the tips here. This homemade casual chair will be your companion when you are having tea or reading a book. Enjoy! canadianwood
19. DIY Toddler Table and Chair Set

Provide your toddler with some fun luxuries in his room. This convertible DIY table and chair set will steal his heart. The fun part is, it can be flipped and converted into a bench or stool in a spur of a moment. Plus, it has a storage capacity also. Learn how to build it up by moving along with the instructions here. anikasdiylife
20. How to Build Upcycled Chairs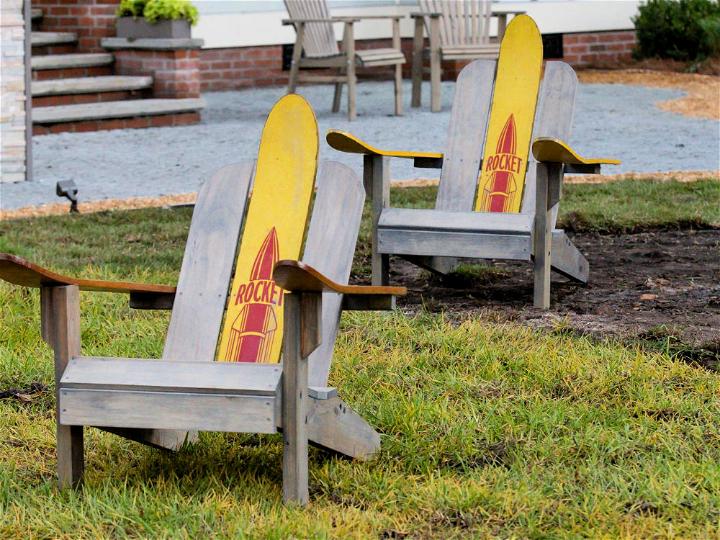 Here is an Adirondack chair that is completely made out of upcycled wood. It will absolutely look gorgeous in your yard. Moreover, it can endure all the harsh climates. You can DIY it at home. The tools and supplies you will need are a saw, drill, router, deck boards, pine boards, and PVC pipes. diynetwork
21. DIY Chair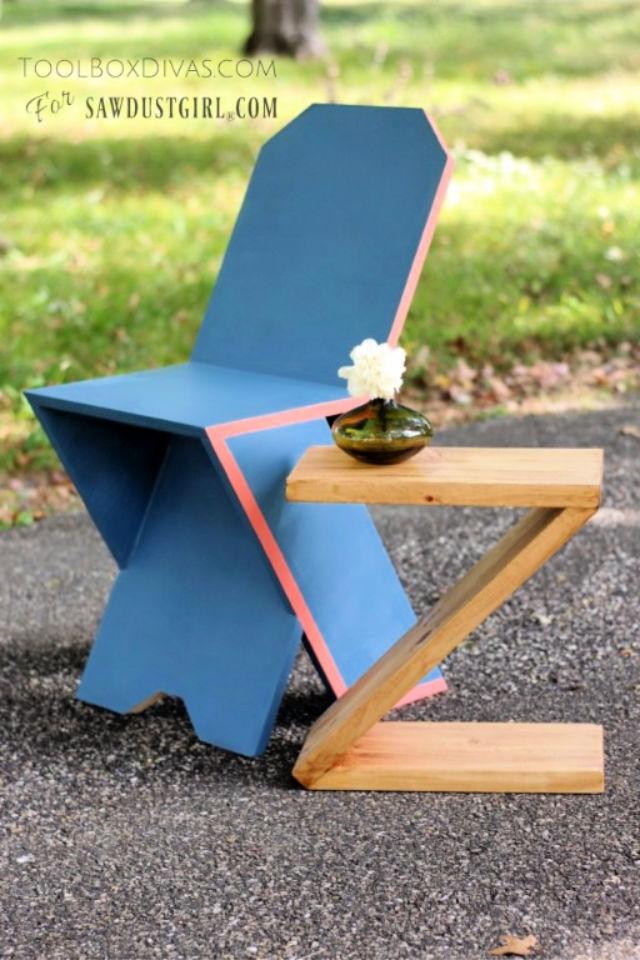 Are you a fan of unusual and out of the box type of furniture? If yes, then you're going to adore this beautiful plan. The chair has a very different shape to it, which makes it look super cool! The faded navy blue color combined with link edges looks absolutely stunning and goes very well together! sawdustgirl
22. Small Chair Plan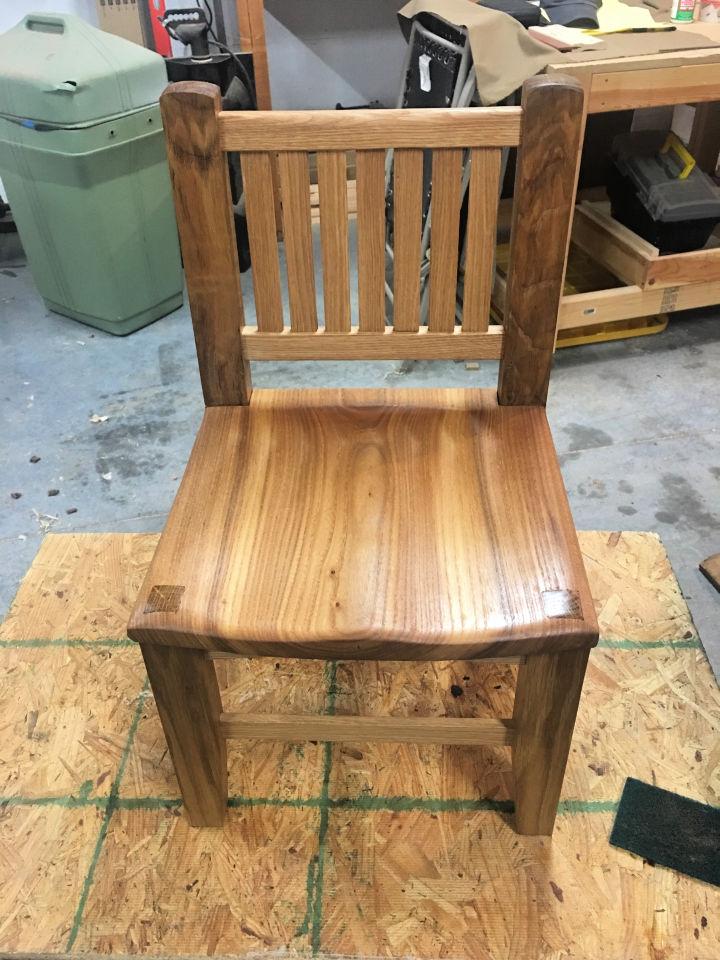 If you're looking for a chair which is simple but still has a beautiful accent to it, this is perfect for that! You won't notice much at first glance, but it does have a lot to offer. Minimalists will love this design as it is not fancy but just enough to make your house look interesting. imgur
23. DIY Kids Chair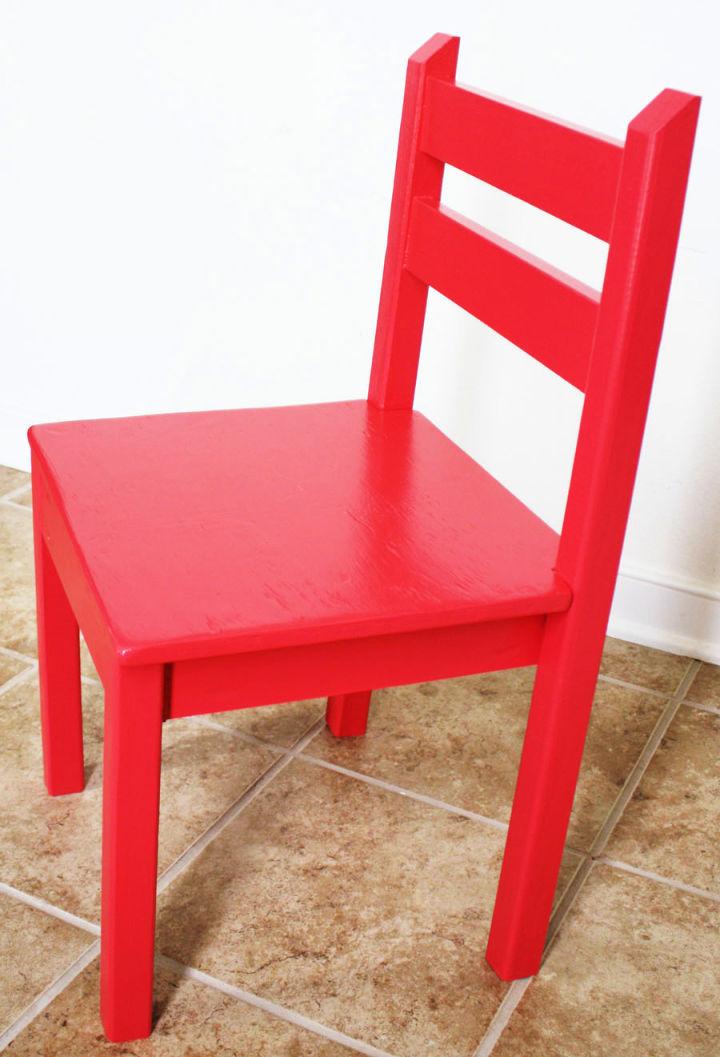 Kids can have a hard time using a chair, which is very large for them, and it is also hard for them to climb into it. Here's a simple chair plan which will just be perfect for your kids. Pocket hole screws, wood fillers, paint, primer, lumber, and a few other tools and materials will be required. jenwoodhouse
24. Gaming Chair for Under $100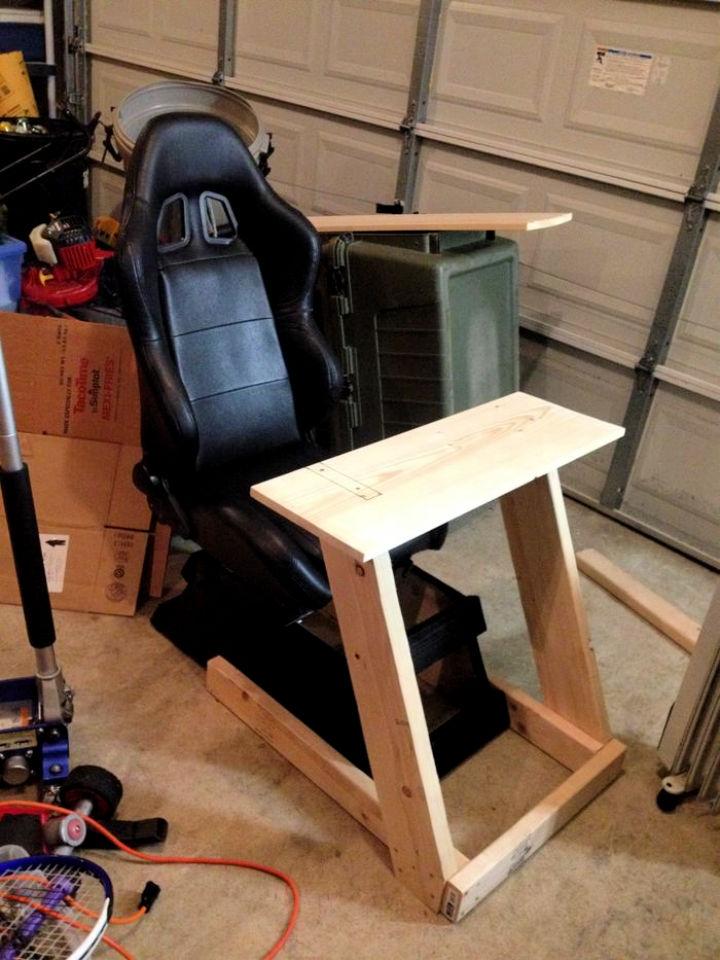 This DIY chair is perfect for you if you like to game a lot. Many people have been gaming a lot lately as the summer season is finally here, and now you have a lot of free time on your hands! However, keeping a good posture is important, and this chair will help you do that! carthrottle
25. How to Build a Patio Chair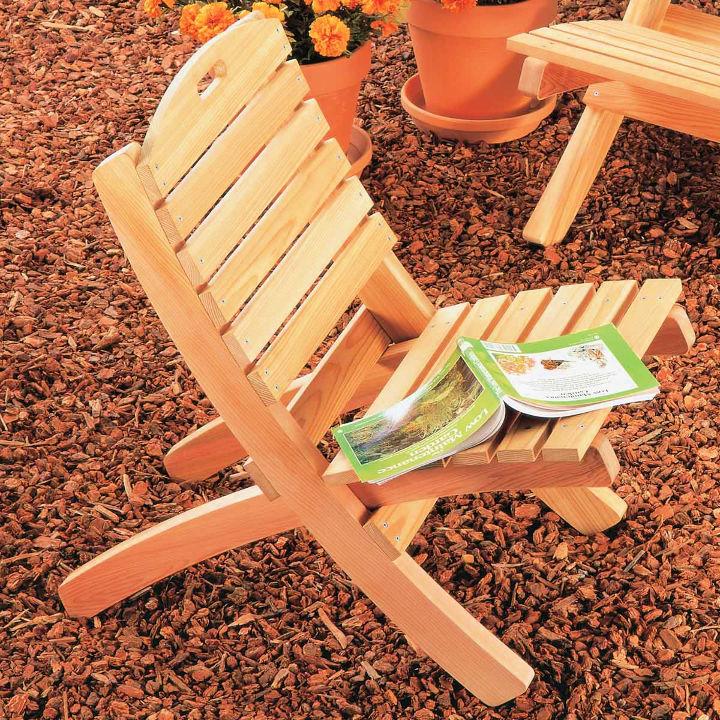 What's the best place to spend your time in summers? Your patio! This amazing patio chair will be your best friend this summer when you want to chill and soak up some sun. It looks absolutely stunning, and you will have no back pains when you sit on this! familyhandyman
Conclusion: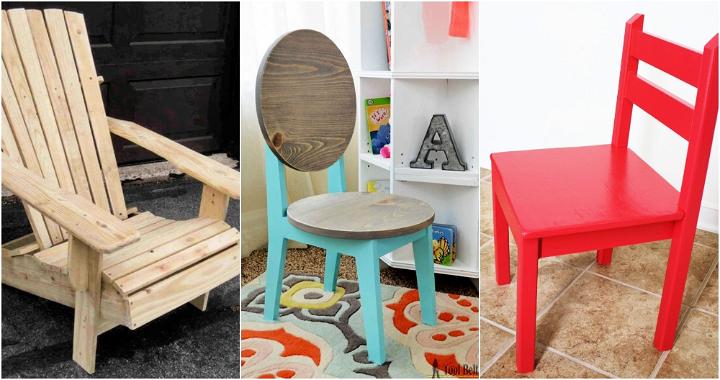 These diy chair ideas are consist of the basic plan and design of the chairs. You can embellish them further with cushions or a coffee table as per your need. You can also choose to color the chairs as per your home decor theme. It is suggested to keep the same theme outdoor which you have indoor. Hop on to the diy chairs and look at them in detail for the clear ideas for DIY chair choices.