Your kids are off school over the weekend, and if you don't have other activities to take them to, such as dancing or football, you need to devise fun crafts to keep them busy. Rather than have your child watch movies or play video games all weekend, parents are always on the lookout for unique, inspiring, and fun crafts to get their kids engaged and help develop their minds.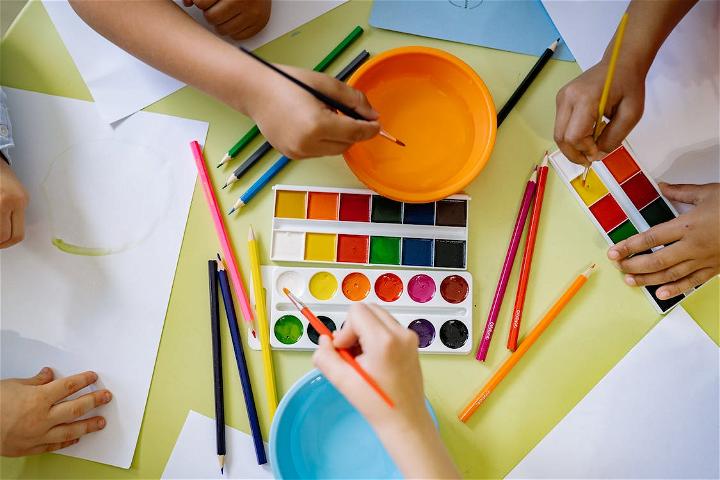 This article explores some DIY crafts that can be done indoors and outdoors and will make your child proud of their creations.
7 Amazing Crafts to Keep Your Kids Busy over the Weekend
Parents can use art and craft activities to help their children develop their brain, color and shape identification, critical thinking, and motor skills.
1. Homemade Slime
This is a favorite craft among kids. And the best part is it can be stored so that kids can play with it later. It helps fine-tune your child's motor skills and enhances their focus and awareness. It also promotes independence as a child can play with it without supervision. It can be used as a sensory toy as it's calming and relaxing.
Items needed
1 bottle of Elmer's glue
2 tbsp of saline solution or detergent
2 cups of shaving cream
Food coloring
Plastic bowl
Instructions
Pour your glue into the plastic bowl
Add the food color and stir
Add your saline solution or detergent and stir until it is well mixed
Add the shaving cream slowly until the solution becomes thick and gains the consistency you want, stop. Most people use about one and a half cups.
Knead the mixture with your hands. At first, it will stick to your fingers, but as you continue kneading, it will stop being sticky and gain the right consistency.
You can add glitter or pom poms to make your slime more beautiful.
If you have made too much, you can store the excess slime in a sealed container.
2. Painting
Kids love playing with colors, and what better way to keep them busy than to have them paint? Take out aprons, their small chairs, paints, and canvas, and set up their working area. They will feel like professional painters. And the best part is that acrylic paint is kid-friendly; however, they have to be above three years.
Some inspiration for acrylic painting includes hands and footprints or letting them go wild and put their ideas on the canvas. If your child is obsessed with something, such as a unicorn, ice cream, rainbow, or snowman, have them paint it on cardboard, frame it, and hang it in the room. This encourages creativity and helps with brain development and motor skills. It also improves their concentration.
And if you don't have a canvas, you can paint on cardboard, paper, or book covers.
3. Homemade Playdough
Homemade dough is another fun craft activity you can have your kids try over the weekend. It is therapeutic to mold the dough, feel it slide through your fingers, and take shape. It will help your child strengthen their motor skills and gain more control as they play around with the dough. And they can mold the dough into different designs. And instead of using the store-bought dough, why not make yours at home?
Items needed
2 cups of cornstarch
1 cup of hair conditioner
A bowl
Food color or washable paint
Instruction
Pour the cornstarch into a bowl and add the conditioner.
Mix it until it becomes stiff.
Separate into several sections and add different colors to each section.
You can place your excess playdough in an airtight container and put it in your fridge.
It is suitable for about four weeks, after which you should discard it.
Alternatively, you can make salt playdough.
Items needed
½ cup of salt
½ cup of water
1 cup of cornstarch flour
Food color
Bowl
Instructions
Pour the flour, salt, food color, and water into the bowl, and stir.
Knead with your hands.
After you have made your items, such as pen holders or sculptures, you can bake them to make them permanent. The time required depends on the size and thickness of the items. For instance, thin pieces take about 60 minutes at 200 degrees Fahrenheit, while thick items can take about three hours. Alternatively, you can increase the temperature to help them bake faster. Keep an eye on your baking dough sculptures to prevent them from turning brown.
Apply varnish to seal and protect your playdough art.
4. Homemade Scrunchies
You can have girls make scrunchies for their hair if you have girls. They will be showing off to their friends in school come Monday. Use their favorite color to make it more interesting. You must supervise every step as they will be using needles and scissors.
Items needed
Tape measure
Needles or sewing machine
Pins
Thread
Elastic band
Scissors
Patterned and plain fabrics; cotton or stretchy velvet is the best for sewing
Iron
Instructions
Use a tape measure to cut the piece of fabric you need and press it using the iron box. The best size for a scrunchy measures 3 by 22 inches.
Fold the fabric and press to form a crease for stitching, with the right side facing out. They use the pins to hold it along the edges.
Then sew it and turn it.
Cut the elastic band and attach a safety pin at one end.
Pass it through the fabric tube and tie the ends into a knot. The knot prevents it from disappearing inside the fabric tube.
Fold one end of your scrunchie fabric by one cm, then tuck the other end inside it and use a pin to hold the layers together.
Use a needle or a sewing machine to secure both ends together permanently.
And there you have your scrunchie.
You can repeat this process with other colors.
5. Pebble Painting
This is another fantastic outdoor craft your kids can do over the weekend. Have them collect pebbles of different sizes and assemble them together. Then have them paint different shapes on them and use them in your backyard or place them on your house planter pots.
Items needed
Pebbles
Acrylic paint
Paint brushes
Vanish
Instruction
If you want the paintings to last, apply a base coat to the pebbles and let them dry.
Decide what you want to paint them with a pencil to etch the design.
Then paint your image and enhance its appearance using a black marker pen.
After it's dry, apply varnish to seal in and protect the paint from being washed off by the rain.
6. Apron
Kids love helping their parents cooks, and to make them a part of your kitchen team, have them make their apron. They will feel proud of themselves whenever they wear it in the kitchen.
Items needed
Patterned or plain fabric (one or half a yard)
Ribbons
Acrylic paint
Sewing machine
Thread
Scissors
Measuring tape
Instructions
Measure your child to determine the length and width of the fabric to cut.
Iron the fabric for better sewing.
Then trace out the design of the fabric with a marker and cut. Fold it along the edges, iron, and then sew. But remember to leave the edges where you will attach the neck and waist ties open.
Then cut out a small piece from the remaining fabric for the front pocket and fold it along the edges and iron it. Then sew it onto the front part of your apron.
Then cut small strips to make the waist and neckties. Fold each of the strips into two on the inside and turn them when you are done.
Take your ties and place them inside the opening and sew.
And there you have the best apron for your kids.
If you are using a plain fabric, you can have them dip their hands into acrylic paint and make handprints on the apron for a more customized look.
7. Pen Holders
If your kids are habitually leaving their pens strewn across their study table or floor, have them craft a pen holder over the weekend. They can also make great gift items for other family members, especially if they have a home office. It will help them be more organized. The best part is you will be recycling used plastic bottles.
Items needed
Empty plastic bottles
Scissors
Acrylic pain
Paintbrush
Marker pens
Instructions
Help your child cut the bottles at least ¼ inch from the bottom. You can make ear shapes while cutting the top to make them more appealing.
Using the paintbrush, have them paint them in different colors and leave them to dry. A second coat may be essential to bring out a bolder hue.
You can draw a face of a bunny, a cat, or any other item on it with a marker pen and let it dry.
Then organize your pens, crayons, and pencils.
Final Thoughts
Weekends are great for spending time with family. What better way to keep your kids engaged while helping them develop their critical thinking and enhance their motor skills and creativity than by devising unique crafts like the ones discussed in this article?