Epoxy resin is one of the best materials to use on your food-safe projects. Food-safe finishes are a must if you're making kitchen or bar furniture with bar tabletop. Besides, epoxy resin is one of the most common products used in commercial food processing.
We're here to tell you 11 reasons why you should be using epoxy resin for your food-safe projects in 2022 and why epoxy resin is better than just using old-school, traditional wax or polyurethane. Before we do this, we'd like to explain to you what epoxy resin is and what are its benefits.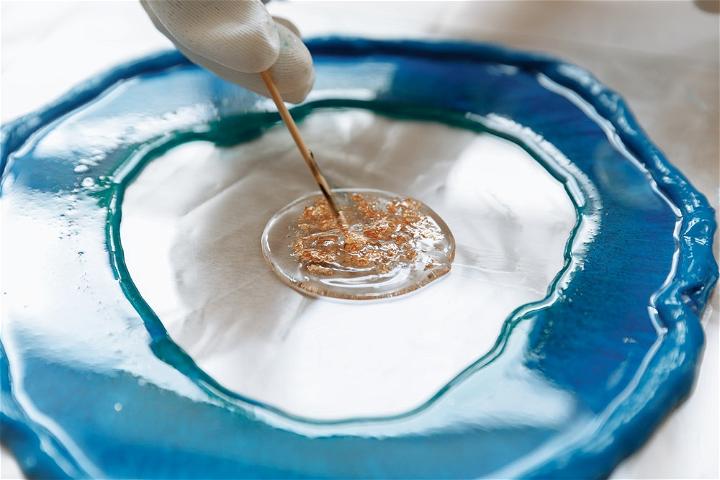 Food Safe Epoxy Resin: What Is It?
Epoxy resin is a hard plastic that can be used to coat many different surfaces. It provides a clear, durable finish that is scratch- and water-resistant.
Epoxy resin comes in two parts: base resin and curing agent. These materials are mixed in equal ratios and poured over a surface. The mixture hardens upon drying, leaving behind a smooth, solid surface with a high-gloss finish.
Epoxy resin can be used in food preparation as well as in arts and crafts because it is very durable and can withstand high temperatures. To gain a better understanding, see an interactive epoxy resin art tutorial from artincontext.org.
The material has been used by artists for decades. But it has only recently become popular with consumers who want to use it for their own projects. And that's for a good reason, obviously.
Reasons You Should Be Using Epoxy Resin for Your Food Safe Projects
Now that you know what epoxy resin is, without wasting any more time, let's jump right into our discussion about the reasons you should be using epoxy resin for your food-safe projects in 2022.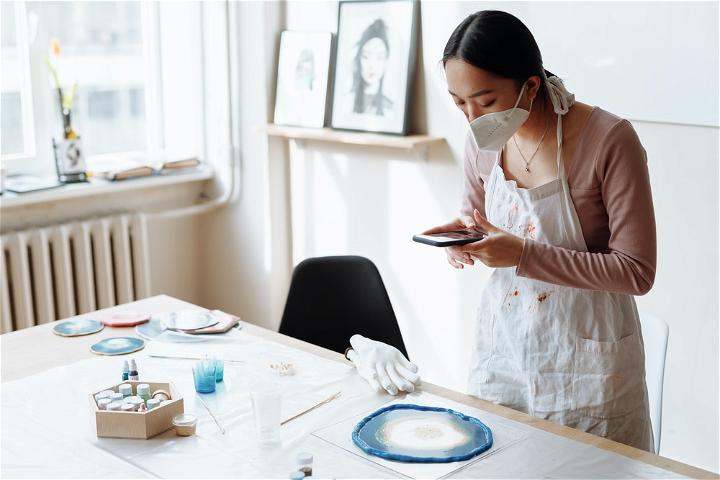 1. Epoxy Resin Is Food Safe
Once you've chosen to work with epoxy resin, you might be wondering if it's safe for your specific project. Other types of resin are not food safe at all, but epoxy resin is one type of material for which safety is not a concern.
Epoxy resin is 100% non-toxic when cured and doesn't release fumes or harmful vapor. This makes it ideal for coating food trays, coasters, bowls, cutting boards, tabletops, countertops, and many more items without any worry.
It's also great for sealing food containers as well as for creating beautiful pieces of art. We highly recommend it if you are looking for a product that will keep your food items safe, last long, and still have a beautiful finish.
2. Epoxy Resin Is Longlasting
Whether you're building profitable woodworking projects or just making a cutting board, an epoxy resin table, or another type of food-safe project for yourself, you want the end result to be durable. Luckily, this is one of the best features of epoxy resin.
It's incredibly durable and resistant to wear and tear. Also, it will not degrade over time like other materials such as wood or even plastic.
When cured, epoxy resin has a hardness of 80D, making it nearly impossible to scratch and resistant to water and UV damage. That's why epoxy resin is the perfect choice for food-safe projects that will last a long time.
3. Epoxy Resin Is a Great Surface for Cutting
When you're looking at materials that are safe for food preparation areas, one thing that you should look at is how well they will hold up around sharp utensils such as knives.
Many surfaces are not knife-friendly, but epoxy resin is such a material that will hold up well to cuts and scratches from tools such as sharp utensils. This is true whether you're using it as a cutting board or are making an epoxy resin table or countertop that could double as a cutting board.
The smooth surface won't damage your knife blades. Also, it won't get scratched easily as glass or wood cutting boards do.
4. Epoxy Resin Is Easy to Use
While many DIYers are wary of using epoxy resin because it seems intimidating, it's easy to work with once you have the right knowledge and supplies.
You just need to carefully measure each part of your recipe before mixing them together. Apart from that, no other special skills are required to use Epoxy resin.
All you need are gloves, a brush, and some plastic cups. You don't need any special equipment like heat guns or expensive tools! Applying epoxy resin over wood or any other surface is not difficult; it just takes time and patience.
5. Epoxy Resin Can Tolerate High Temperature
One of the best things about epoxy resin is that it can tolerate high temperatures. This makes it a great choice for your food-safe projects as putting hot foods on top of your project does not damage the surface.
It's not uncommon for food and drinks to be served hot or warm – especially at parties or social gatherings. You need to choose the right coating product that can tolerate high temperatures without cracking or becoming damaged.
Using epoxy resin, in this case, will ensure that your creations last for as long as possible – even if they're used often!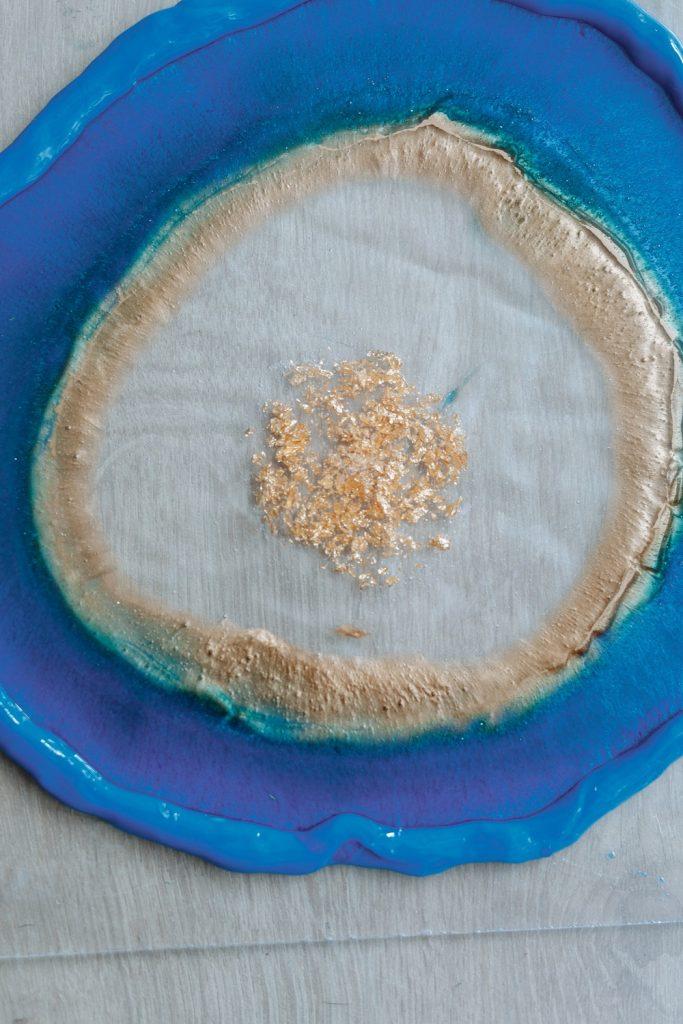 6. Epoxy Is Non-Porous and Doesn't Stain
The best epoxy resin is non-porous, which means spills won't mess up your table, countertop, or woodwork. It also means that the liquid glass effect will remain bright and shiny for years.
Whether you're looking to make a cheese board or a cutting board, epoxy won't stain the way that hardwoods do. This means that you don't need to worry about your project turning from a beautiful piece of art into an eyesore.
After all, you don't want to come home from work to find your epoxy table or countertop stained with splotches that are impossible to remove. You need a surface that's easy to wipe down and maintain.
7. Epoxy Resin Is Water-resistant
Another great thing about epoxy resin is that it is water-resistant when fully cured. It makes it ideal for any application where moisture may come into contact with the item.
For example, if you are making a countertop, bar top, or tabletop out of living edge wood, you'll want to make sure that you seal it with something that won't allow moisture to leak into the wood and cause damage.
8. Epoxy Resin Smells Better than Other Options
If you've ever used polyurethane before, you know how frustrating the smell can be. And if you don't apply it properly in a well-ventilated area, you could end up breathing in plenty of chemicals that only make the smell worse.
You might not think this matters when you're coating your coffee table or dining room table with polyurethane, but what about doing a big project like making an ocean table? What about when you need to use it in your kitchen? No one wants their food to taste like chemicals!
Fortunately, epoxy resin smells much less than other options. It smells much better than wood staining and is much easier to work with when you are working in a confined space, such as a basement or garage.
9. Epoxy Resin Is Highly Adhesive
Another great reason you should use epoxy resin for your food-safe projects in 2022 is that the material has tenacious adhesion. Once the epoxy resin has been poured onto a surface, it will stick until you remove it with a solvent or mechanical tool such as sandpaper.
This makes it an ideal option for countertops, tables, and other furniture surfaces. Even if you place the epoxy resin on a concrete floor, the adhesion is tenacious enough that you won't have to worry about damage from spills or any other mishaps in the kitchen.
10. Epoxy Resin Is Environmentally Friendly
Due to increasing concerns about the environment and climate change, it is important to consider purchasing only environmentally friendly products. Epoxy resin is made from organic materials that are biocompatible and does not cause any harm to the environment.
No chemicals or artificial ingredients are used in the making of epoxy resin. It emits very low-VOC (volatile organic compounds), making it a great choice for food contact surfaces. It also does not contain any BPA and other solvents.
On the other hand, polyurethane is not low-VOC and can be toxic. Instead of being a great choice for food contact surfaces, it should be used with extreme caution, if at all. This makes epoxy resin the best option for consumer products that need to be safe for food contact.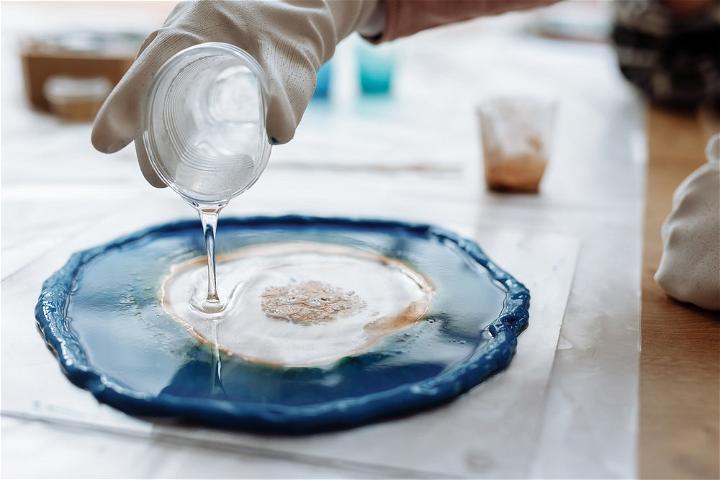 11. Epoxy Resin Can Be Bought Online and Is Cost-Effective
One of the best reasons to use epoxy resin for your food-safe projects in 2022 is that the material can be bought online and is incredibly cost-effective.
Epoxy resin is usually cheaper than polyurethane in terms of the cost per square foot of coatings applied. It's also easier to buy from online sites.
You can purchase epoxy resin for your kitchen and have it shipped to your home or business, making it an excellent option for those who want to add a little bit of modern flair to their kitchen.
Final Words
Epoxy resin is a versatile and inexpensive material for creating food-safe projects for your kitchen. It's an extremely useful material and can be used with wood, tiles, glasses, and ceramics to create surfaces that won't break.
With this material, you can start building beautiful things in your kitchen or at home, like bins to hold your sponges, your own DIY floating shelves, or a fancy caddy for your spices–the possibilities are endless!