All hail to the season of cuddle accessories upon us! With these Tunisian crochet patterns, you can amplify the cuddles way more. We have rounded up below these 15 lovely and inspiring free Tunisian crochet patterns that can keep you interested for quite a long time! These include free patterns that can befit any skill level from beginner level to expert level! The logic or the plus point behind a Tunisian crochet pattern is that it creates a very dense pattern! Which is definitely quite warmer and comfy to keep you all warmed up in winters! Bonus knowledge; Tunisian crochet is also known as the Afghan crochet! It creates a very lovely and comfy fabric!
In these Tunisian crochet patterns, you can find many inspirations for your winter wardrobe, accessories, and even excellent home décor ideas! All inspiring winter things. From warm and comfy crochet neck warmers to stylish and trendy shrugs, scarves, shrugs, Tunisian crochet shoes, and even a full-fledge comfy and heavenly Tunisian crochet blanket! And, so much more. All of these tutorials listed below are going to take you to the wonderland of minimalistic and whimsical free crochet patterns made with the ever-favorite Tunisian crochet stitches. So, grab on to your yarns and crocheting notions, and let's get to some inspiring and elegant Tunisian crochet patterns to spruce up your winters game!
1. Beginner Tunisian Crochet Top – Free Pattern
To all the newbies at crocheting out there, check out the free pattern of this Beginner Tunisian Crochet pattern Top! For all the young and beautiful ladies who want to knit themselves a trendy topless crochet top. You'll need supplies like cotton yarn, yarn needle, measuring tape, and a crochet hook. makeanddocrew
2. Tunisian Crochet Feathers Free Pattern
Check out these Tunisian Crochet Feathers made totally from leftover cotton yarns. This easy-going crochet feather knitting can embellish your any plain crochet sweater or cap. The required material is tapestry needle, crochet hook, cotton yarn, and scissor. poppyandbliss
3. Tunisian Crochet Dishcloth Pattern
Dishcloth is a satisfying project to crochet with any color combinations. Check out the free pattern for this Tunisian Crochet Dishcloth and start knitting these easy peasy dishcloths and give your kitchen a luxurious look just by having a 5mm crochet hook and cotton yarn. stitchandunwind
4. Tunisian Crochet Blanket Pattern
Soothe yourself when watching or reading on the sofa with the cozy crochet blanket. Use this free pattern for making this Tunisian Crochet Blanket to warm yourself in this snowy season. Use knitting items like cotton yarn of your choice, crochet hook, and a tapestry needle. 1dogwoof
5. How to Tunisian Crochet Ten Stitch Blanket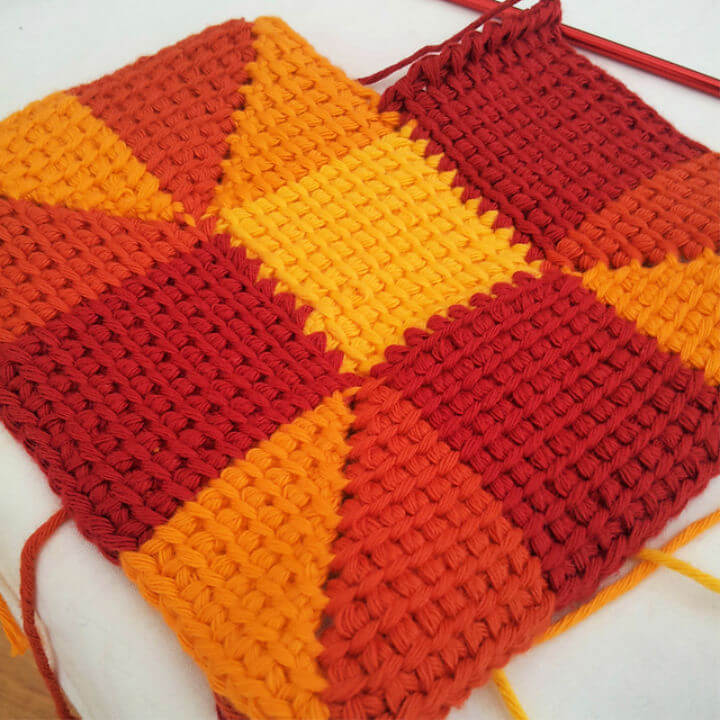 Now you can use your random or leftover cotton yarn into making this Tunisian Crochet Ten Stitch Blanket by using simple and easily available supplies like 100% Cotton yarn, F-5 Crochet hook, yarn needle or tapestry needle. ravelry
6. Free Tunisian Crochet Neck Warmer Pattern
Comfy your cold neck with this Free Tunisian Crochet Pattern for a neck warmer in a few simple steps. First, cut the crochet fabric that you made by using yarn and hook, place one piece to other and sew the side edges of this 5-inch width and 24-inch length crochet fabric. tracingthreads
7. How to Tunisian Crochet Hats
Learn how to make Tunisian Crochet Hats in a fun, easy way. Materials required would be in total 2 balls of 50 grams cotton yarn! To create a fun effect. Use different colors, 1x double-ended Tunisian crochet hook size 9mm, scissors and pins, crochet needle or tapestry needle for sewing byclaire
8. Tunisian Crochet Harry Potter House Scarves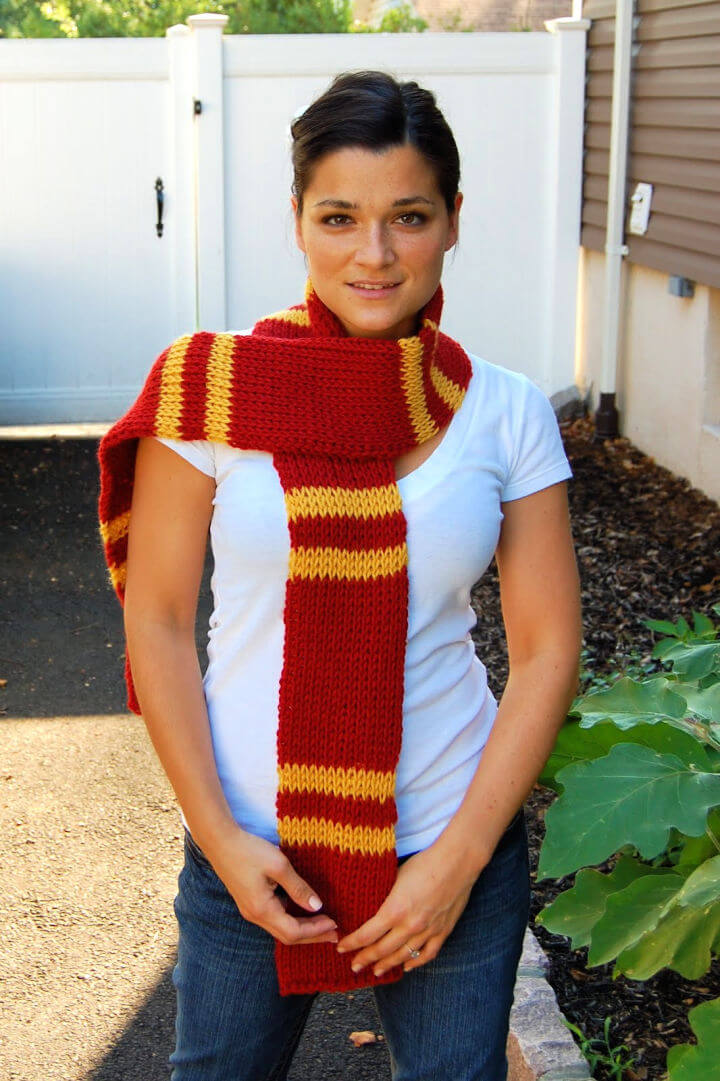 Are you a fan of Harry potter? Then you would definitely be on the Gryffindor side. Show your love by making Free Tunisian Crochet Harry Potter House Scarves using the materials like the cotton yarn in dark red and autumn yellow color, Scissors, and J size Tunisian crochet hook. carmenbee
9. Simple Tunisian Crochet Starlight Shrug
Make this simple Tunisian crochet starlight shrug and figure how Tunisian crochet is the mixture of crocheting and knitting. Look swanky even in winters and Knit this shrug using materials that are scissors, embroidery needle, stitch marker, Tunisian hook, and cotton yarn. 1dogwoof
10. "Let's Get Cozy"Mug-Cozy – Tunisian Crochet Pattern
Drink coffee or take tea in this winter season in the mugs covered with Mug-Cozy- Tunisian crochet pattern and raise slogan with your friends "let's get Cozy" guys. This cute mug-cozy is an innovative idea to avoid chilling your hot beverage in the cool season. ravelry
11. Tunisian Crochet Shawl – Free Pattern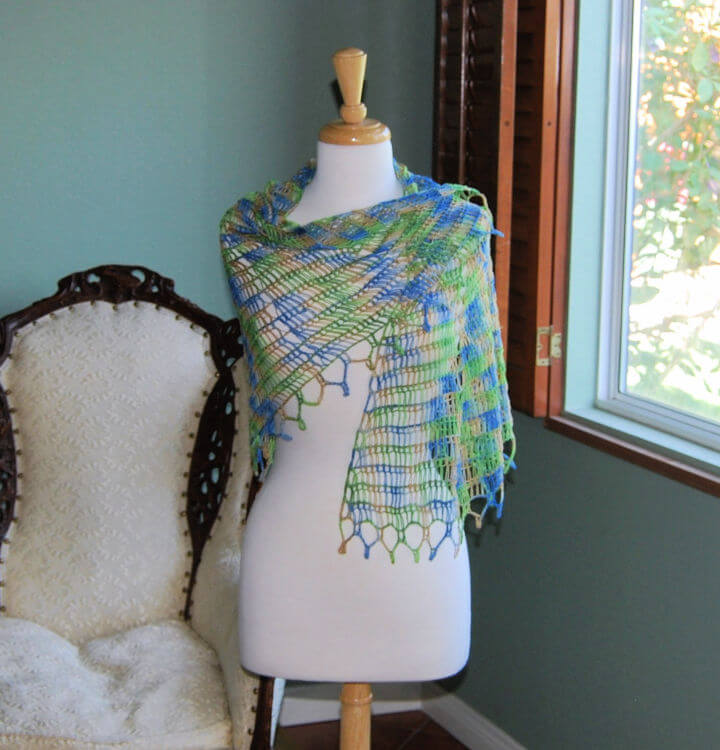 Be trendy and look classy with this Tunisian Crochet Shawl, even in the chilling days. It uses the simple Tunisian stitch and knit that will make you to learn a breeze. This comfy shawl provides you with tranquil, and you don't need many supplies to knit this shawl. All you need is a hook and cotton yarn. thelaughingwillow
12. Tunisian Crochet Lace Vest Pattern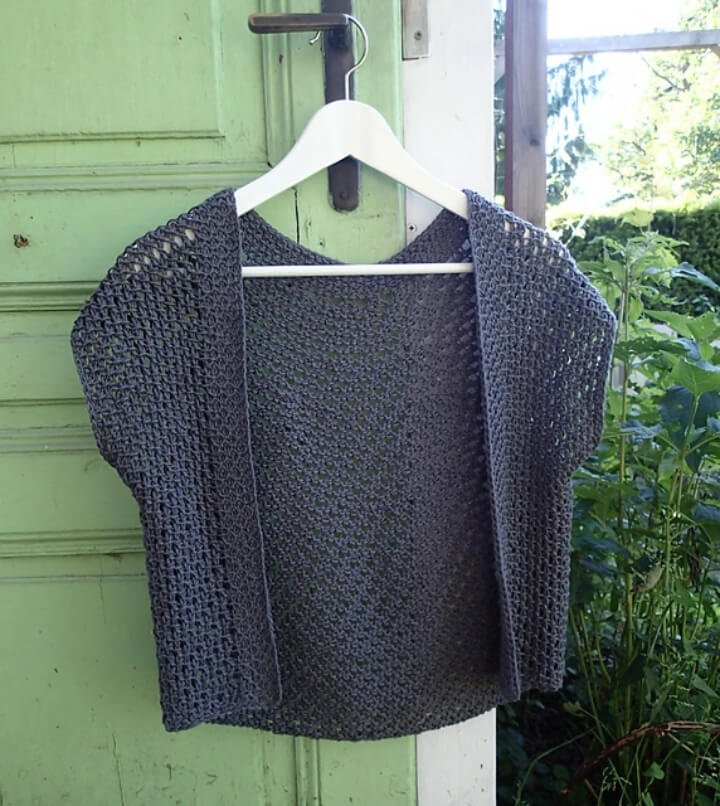 Let's get slaying with this Tunisian crochet lace vest pattern! You will need a 5.5 mm hook size to make this pretty piece for your classy winters wardrobe! It can also make a lovely addition to your wardrobe during springs! Hit the tutorial for a complete guide. ravelry
13. Crochet Strawberry Clutch Bag
This Tunisian crochet strawberry clutch bag is quite a heart stealer from our collection of these unique and exquisite Tunisian Crochet Patterns. You will be needing yarn in 3 colors, 3mm hook, scissors, and yarn needle. Along with that, you will also need a zipper to close the bag from the top, of course! lecoinpaisible
14. Free Crochet Hat Pattern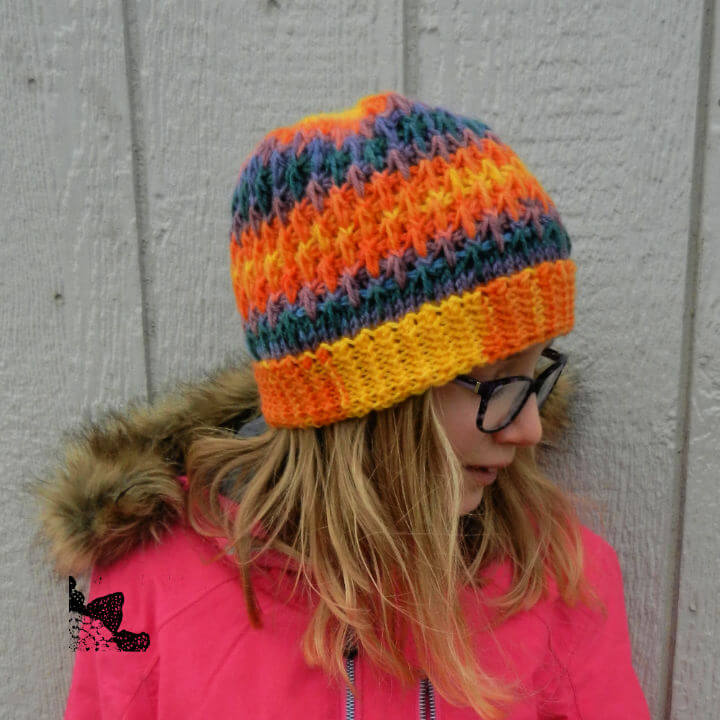 Hats are the go-to idea to keep your cold heads covered, and all warmed up during the shrilling winters! The tutorial features this lovely hat made with Hayfield spirit yarn. Its circumference size is about 20 inches, perfect for most adults. designsbydiligence
15. Crochet Birchbark Slippers
Well, well look what we have got here! Perfect treats for your feet these winters. These birch bark slippers are giving quite the trendy vibes and are totally chic! All you need is a simple and easy Tunisian simple stitch! mrsmicawber
Conclusion:
With these Tunisian crochet patterns, you can make your winters more worthwhile! BY enjoying a cup of coffee around the fireplace and doing the trendy and comfy crocheting in the meanwhile! After exploring through these free crochet patterns, you must have known by now that the Tunisian crochet stitches are pretty easy to hook. As a result, you get to enjoy a squishy fabric!