There are a hundred ways to make your special wedding day memorable, and spending thousands of dollars might not be the only way you can do that. Get an affordable wedding dress from awbridal along with some decor that looks beautiful but doesn't necessarily have to cost you too much. Stay in your budget and have the fairytale wedding you've always dreamt of. There really is no escape from spending money on the venue or setting a rich menu as these are the things that one really does for a wedding. What can be done is to spend your money wisely and make the most of the best day of your life.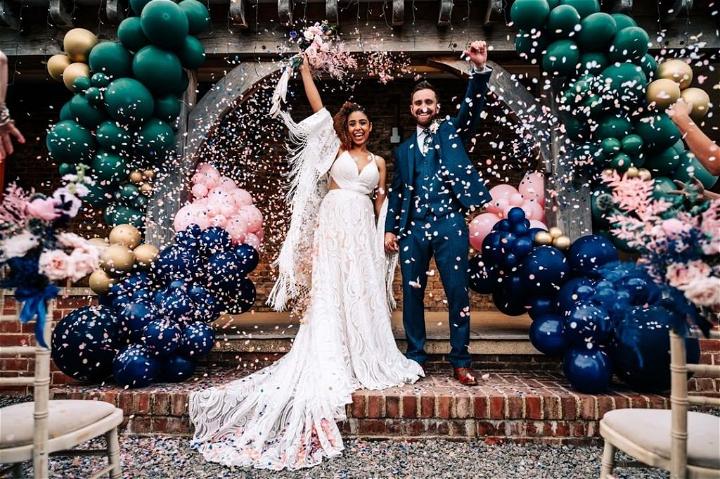 The prices of wedding dresses depend mostly on the type of brand, the design of your dress and mostly the amount of material used on your dress like sequins, thread or different motifs. Order an affordable wedding dress from awbridal, where you can get the design and style of the dress of your dreams, and the price can be adjusted within your budget too. Sometimes it's really not anyone's choice to spend heaps of money on a dress that will be used only on one day. The dress never loses its significance but dressing up as a bride to someone's wedding is never practical, no matter how close the bride is to you. Even if you do decide to use your dress again at a close friend's wedding, changes need to be made, and different alterations finally prepare it well enough to be used.
The Gist: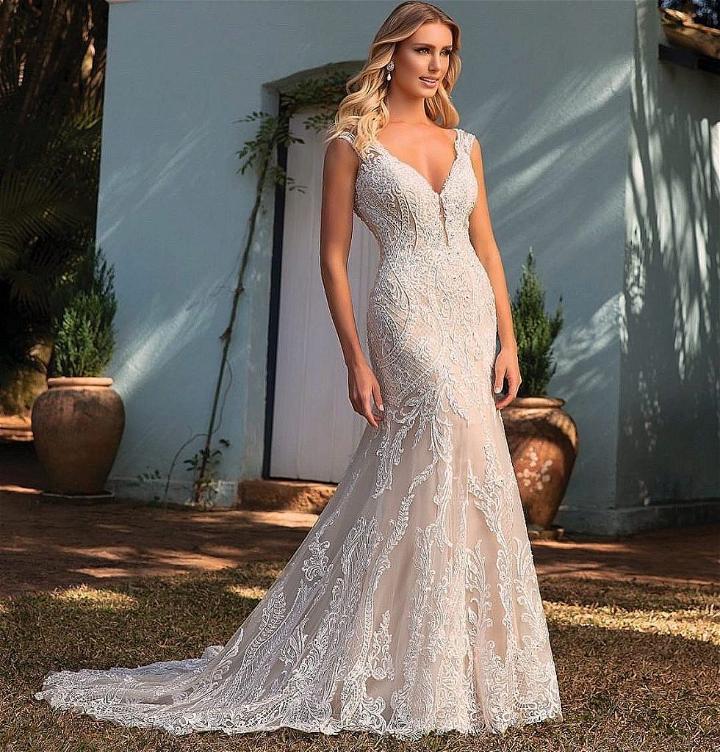 There are thousands of choices available online with millions of designs and colors, and of course, one or two of them are good enough to fit your choice. Select the one that goes perfectly with your body shape and style and get down to work. Bring your design to awbridal or choose from a wide variety of stitched gowns they already have available. There are thousands of different designs that you can choose from, and new arrivals keep on gracing their website, making it super easy for you to make your choice. That way, the lesser you spend, the more you can spend on things that matter more. Set the right mood to the start of your new life and make choices that will help you kick start your new life in a meaningful way. Along with that there are also some other inexpensive ways to buy a cheap and unique wedding dress on a budget.
Some inexpensive ways to save up:
1. Using an oldie
In market or online, for many years, people have been saving up by buying dresses that are secondhand. They are in great condition and, after being dry cleaned, look as good as new. You can purchase your own secondhand one and do a bit of mending to bring it up to match your style, and there you go. At awbridal, you can find any dress that will fit your budget, and you won't even have to do any hard work to change it in any way as the fitting can be done for you or whatever else you require.
People love to add a bit of lace here and there to the dress, and the length and width also might not be what you like. So choose wisely and make a choice in silk or satin that can even be customized according to your needs.
2. Buying a gently used sample dress
There is also a chance that a wedding dress that has been used as a sample on different brides can fit your needs. If you buy that off the rack, you might get a chance to avail yourself of a big discount and make a purchase of your life. You will be able to feel super proud of your haggling capabilities, and the money saved is money spent on something that matters more. Who knows that you might be honeymooning later in Maldives or Bali having the time of your life?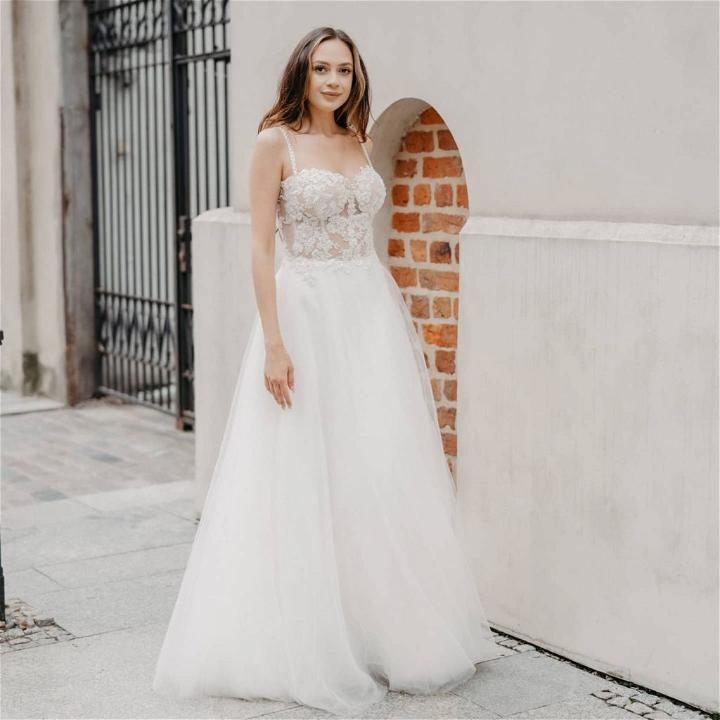 3. Tons of designs online:
There are different types of fabric choices to choose from that offer a wide range of stuff for wedding dresses like cotton, chiffon, satin, silk, lace, tulle, organza and glitter mesh etc. There is also a chance to choose from different types of sleeves like strapped, butterfly, cap sleeves, sheer straps or elbow sleeves. You can decide on your own neckline, the back detail, the hemline, silhouette, color, embellishments and the price range that suits you.
4. Running from store to store:
When you are going from store to store to make a purchase for your wedding dress off the rack, there is a great chance to feel overwhelmed. This may not be because of the high prices but also because of the variety of dresses you see around. You might forget what Beyonce or Shakira wore for their weddings and even what you were looking for. To be safe from that, make a choice on the type of cloth you are looking for and the design that might be best for your body size and start shopping.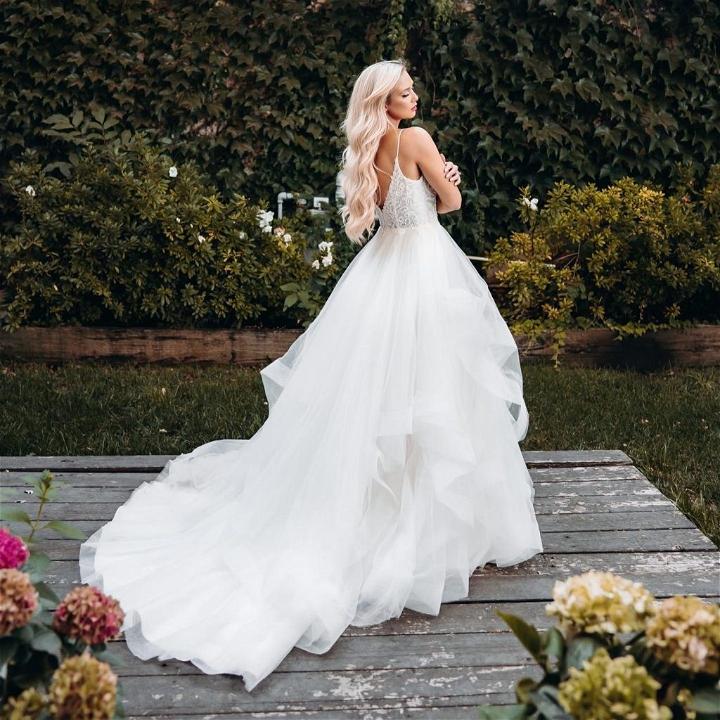 5. Wear your curves
You can even try different things from different stores, and something sure will come up that will really accentuate your curves, making you look and feel like a celebrity. Here is your chance to buy a perfect and affordable wedding dress from awbridal to make the best purchase of your life.
There is no denying the fact that designer wedding dresses or dresses from those god-awful expensive boutiques can dampen your mood, and you might feel like you can't afford anything. For that purpose, there are many retailers offering their own wedding dress lines that can come to your rescue and help you in buying something at half the price from these boutiques.
6. Don't blow your budget: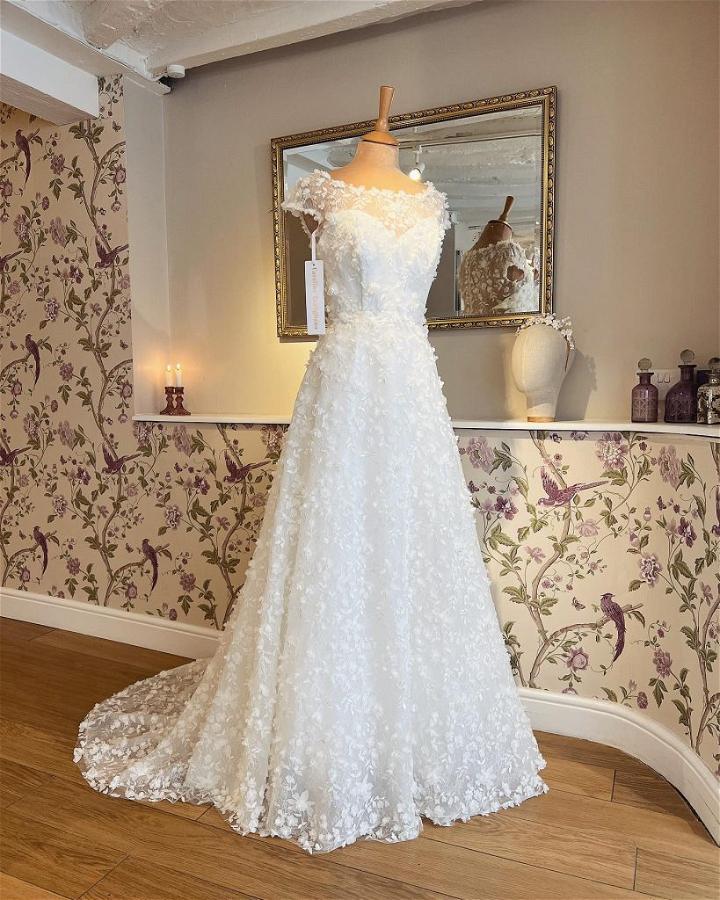 If you're not excited to jump out of your budget, there is a better chance to simply go to a rental. Yes! You can even get something on rent and return it safe and sound after use. Rental dresses are available online, at different shops or even at small stores that will also provide you with a large variety to choose from. You can try something out that matches your style and get it for that one special day. Return it later, and no one will know that you put it back in your wardrobe or in someone else's wardrobe.
7. Go non-traditional:
Also, there is a great choice of going non-traditional and using knee-length or a full-length dress in any color you want. After all, it's your special day, and only you have the choice to do whatever you want without a single care. Besides, you can be the bride people will talk about for ages who didn't jump on the bandwagon and did something unique for a change.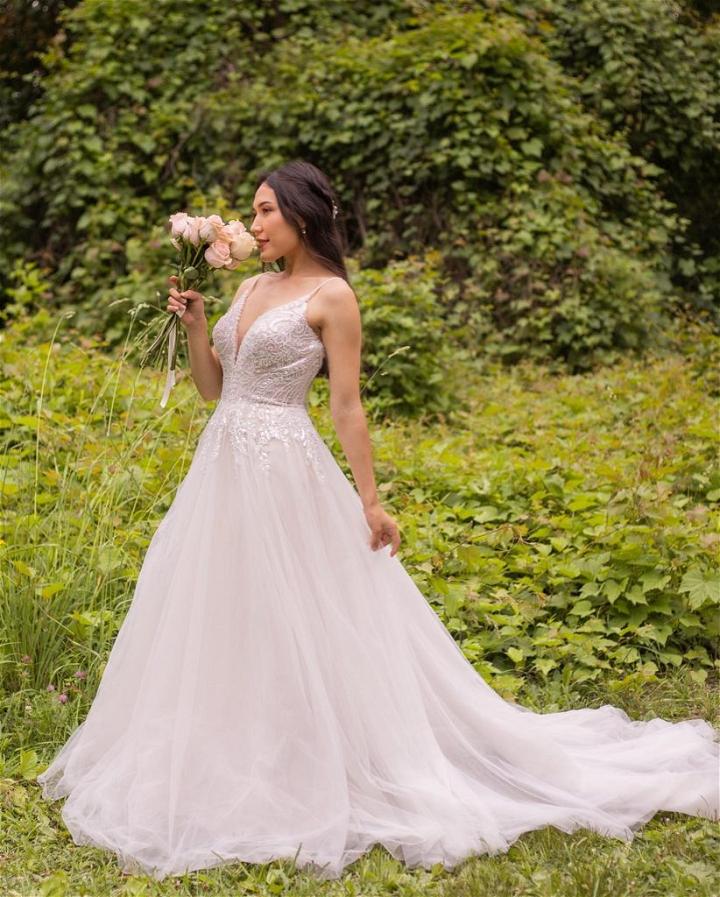 8. Buying broken pieces
There is also another option of buying some separate piece of fabric in any color you like and using your basic tailoring skills to stitch a gown. Take help from your mother or grandmother and enjoy wearing something that has your blood and sweat-literally. You could also get a separate skirt and a shirt from different stores and match them up to make a gown that will be memorable for you and everybody else forever.
9. Something borrowed, something old and blue:
People really get superstitious during the time of a wedding, so if you think something is triggering your superstitions, you can go completely old style. Use a gown that your mother wore for her wedding. That way, it will cover your something old, and something borrowed both at the same time. You can also decide on a color probably no one has worn before and choose a blue shade at your wedding. This will bring the good luck some might think you were missing on your special day.
10. Simplicity is the key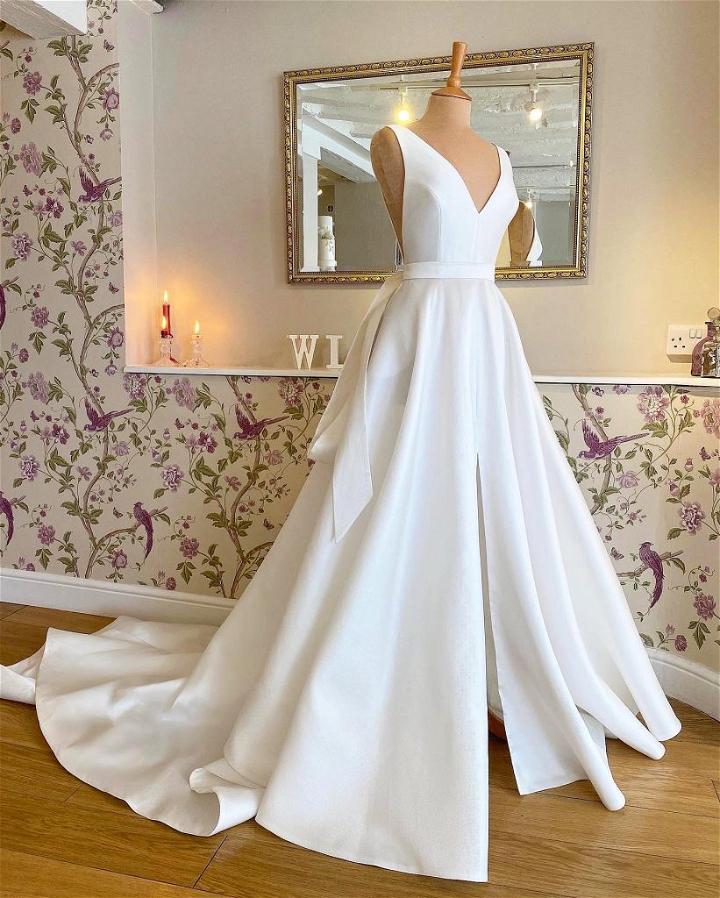 Bling is the thing! The only problem is that the more bling, the more expensive it is. Save a lot of money on keeping the embellishments and bling down on your wedding dress, and you will be doing yourself a favor. Staying simple is your best chance to save up on a lot of money and enjoy wearing something that will mean a lot to you. Minimal embellishments mean lesser money and hence a simple gown it is. Wear simple but look stylish as it all depends on how you carry yourself that day. You will stand out on your wedding day no matter what you wear as the whole aura around you will speak happiness, and that's what makes a bride beautiful on her special day.
Wrapping UP
Make a choice from these ideas as that is your chance to have the wedding dress of your dreams whilst staying within your budget. Choose from hundreds of old and new designs that are mostly available in 1 or 2 colors. Different fabrics, styles and lengths are available to choose from and have the time of your life shopping away.
Save up on tons of money and choose whatever you wish for. It's really up to you how you want to start your new life and how you want to please yourself! Don't forget to enjoy and live in the moment.