To say that work means a lot for modern people is to say nothing. Some have 9:5 jobs; others like spending 90% of their working day at the computer. If office workers have a specific place where they work, people who work remotely often can't boast of it. Remote work was widespread enough up to 2020, but the COVID pandemic made almost the whole world move to it. People turned out to be unprepared for it. Those who were happy to start working or studying at home noticed that their work performance worsened every day. We understand that it is partially connected to the quick change in lifestyle.
The atmosphere at home is a lot different from the atmosphere in the office or the college classroom. But the place where people work means a lot as well. By the way, how many offices can boast of having functional workplaces? Not so much. Working in an office may be more convenient than working at home, but none of these variants is functional. A good workplace involves many factors, and they should be based on the worker's personal needs. Today we'll share six good tips and tricks that'll help people organize a functional workplace, no matter where you work, at home, or in the office. Use them, and you'll see it makes a difference.

We are sure that the following information will be useful even for students who have to work at home but lack productivity and often get help writing a paper. Let's start!
1. Take care about the view
Unfortunately, the majority of guides you can find on the Internet recommend the office and remote owners not pay attention to the design. Well, how do you plan to love your work and be satisfied with it if everything that surrounds you is negative? Loving your work isn't enough to enjoy it to the fullest. Place a desk in front of the window to enjoy the sunrays and the abundance of sunlight. The majority of offices are located in busy city areas, and not all people like staring at people who run back and forth. Here you have to start from your preferences. If you don't like staring at people or that they'll distract you, you may turn the table and place it near the wall. The main thing here is the emotions you feel when you look away from the monitor.
2. Think of the furniture
Ignoring the need to buy high-quality furniture makes no sense. Ergonomic furniture is a necessary element of any office or home workplace. People sit on computers for several hours in a row, and they should feel comfortable. It's not so easy to order a custom table and chair, but if your office is your home, you may order a table that'll suit your parameters. It may be a little more expensive than the usual furniture. A good chair is the one that supports your back and isn't hard enough. A table shouldn't be too high or too low; otherwise, you'll have problems with the back, neck, and elbows.
3. There can be too much light
No matter where your desk is located and how much natural light it gets, you still need to address this aspect when creating a functional workplace. You sit on your computer at least 8 hours a day and even more, so your vision already suffers too much. Even the most powerful and bright ceiling lamp isn't enough to give each worker in the office the necessary amount of light. Moreover, remote workers and students do even worse — they can work in darkness and state that the monitor light is enough for them and their eyes to feel comfortable. We advise you to use both table and floor lamps and place them in a way that won't shine in your eyes.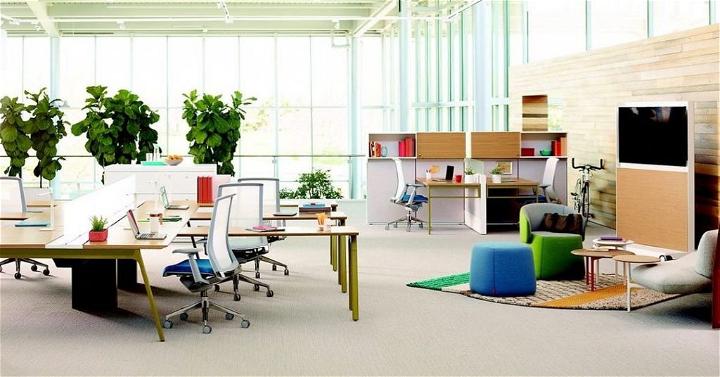 4. Clean air is never enough
If you work at home, you can hardly ever feel the lack of fresh air. First of all, you're alone. Then you can always open the window if you feel uncomfortable. But summer also makes some adjustments to it. You may think those office workers shouldn't lack the air since they also can regularly air the office. However, let's not forget that the offices are located in the center of the city so that the air there is far from being fresh. Poor air quality makes people take more sick days, although they never imagine that they feel sick because of it. Place more plants, air cleaners, and humidifiers so that you and other workers feel comfortable even if it's very hot outside.
5. Organize a restroom or a relaxing space
Your workday consists not only of the endless hours of sitting in front of the computer. You certainly have some breaks when you're allowed to have a rest from work. It usually helps workers to relieve stress, gain some new ideas, and fall in love with their work harder. Those who work at home may just go to bed and have a rest. But office workers often have to work out ways to create a relaxation zone alone. It's possible to buy beanbag chairs and place them wherever it's possible. Large offices should have enough place to devote a whole room to such a zone: workers can lay on beanbag chairs, play games, or discuss the workflow with colleagues in a comfortable atmosphere.
6. Use shelves wisely
Often people use shelves on the walls just to decorate the room or office. But in terms of organizing a functional workplace, wall shelves are one of the best ways to store documents and other things that are necessary but can't occupy space on the desk. You may use shelves for various purposes at home: storing documents and some other items, placing photos of you and your family. Don't forget that person who works on the computer needs to have freedom of movement, but when the table is littered with endless papers, the freedom is out of the question.