All the crochet lovers will totally adore these our collection of 20 free crochet market bag patterns gathered here. Even if you are a beginner at crocheting, you can still make your way through making these easy and beautiful crochet patterns. If you like to be well organized and you are a perfectionist, you must have some designated crochet market bags while you go for groceries out there. Or even if you are just out in the flea market, carrying your entire purse with all those important documents and heavy stuff could be a No- no zone. Our crochet market bag pattern collection has got some gorgeous and free patterns for tote bags and various sizes of market bags.
All these free crochet market bag patterns are very easy to make, and you can get done quickly with just a few stitches. They are also made up using around only 500 yards of yarn. From our collection, you can choose your desired crochet market bag pattern and style statement that best synchronizes with your taste. Our free crochet market bag patterns are in a wide variety from the color scheme, bag sizes, crochet styles, and even come with short and long handles.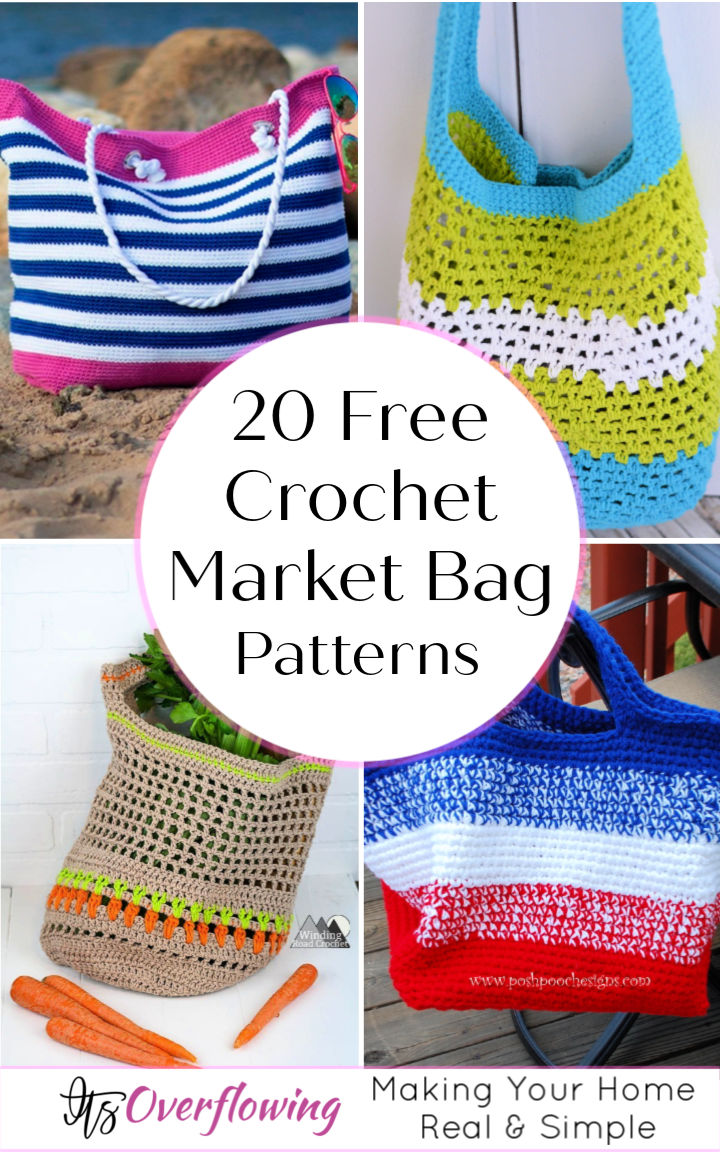 Crocheting is not only a fun activity, in fact, but it also keeps you productively occupied. Meanwhile, you can easily socialize or watch your favorite serial while you are on it. Plus, think about the end result with these free crochet patterns! When you have a finished bag, it will be like a little achievement party inside you! Hold on to your colorful yarns, explore through our creative and gorgeous free crochet market bag patterns, and let's do some classy crocheting!
1. Rainbow Pocket Market Bag
This adorable and vibrant rainbow pocket market bag and the short handle market bag to hold your fruits could be a lovely colorful addition to your grocery days. Keeping your things organized and well managed! Get full details in the tutorial. moogly
2. Crochet Summer Fun Market Bag – Free Pattern
For a vibrant and funky summer day, this crochet bag pattern could be your thing. With its shoulder long handle, you can wear it diagonally meanwhile shopping like a free bird. The tutorial will walk you through the step by step guide. thestitchin
3. Crochet Milo Market Tote Bag Pattern
This cute crossbody crochet market tote bag could be your favorite companion while on your shopping spree. The best thing with cross body bags is that they are unbelievably easy to carry and they don't slow down your speed. Check details in the tutorial. rescuedpaw
4. Crochet Trinity Bag
This adorable trinity crochet bag can be your perfect carrier for your work-in-progress projects! If you are going to take a walk in the park, put your crochet rolls, yarns and all the stuff in it. Carry them with you and resume working there. It looks soft and is very easy to carry. nickishome
5. Crochet Berries and Sunshine Mini Market Tote
Add brightness and festivities to your summer days' market rounds! This vibrant and funky crochet tote with a hint of berries and sunshine can already boost the market energy in you! Plus, the adorable ladybird would work like the cherry on top! thestitchin
6. Crochet Cotton Shopping Bag Pattern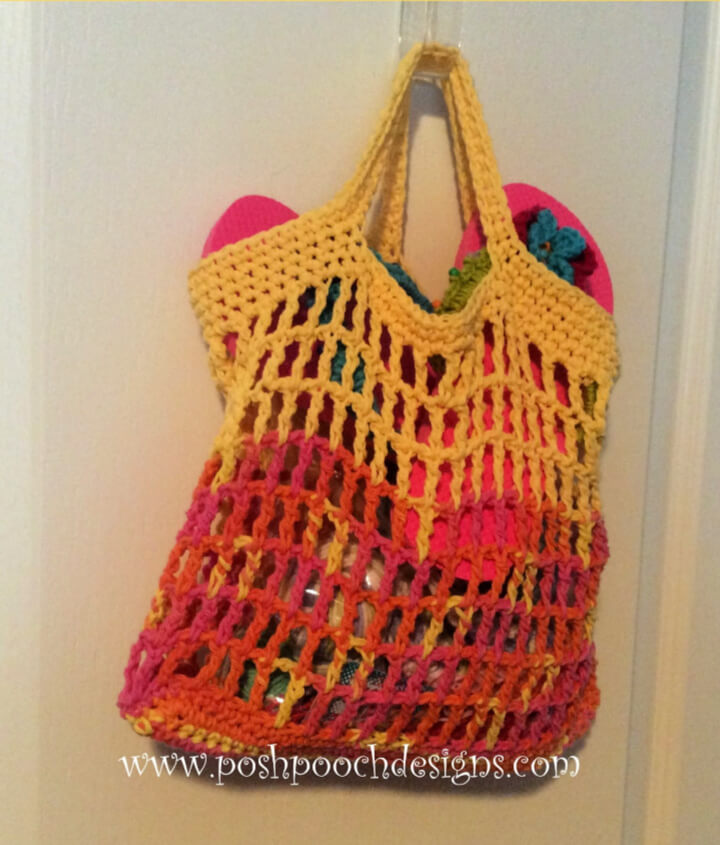 Your funky colored leftover yarn rolls can be put into use by making something this adorable and lively. These bright and colorful totes will add a silver lining to any rainy day. Plus, save the environment by not using plastic bags! Go green with colors. poshpoochde
7. How to Crochet Mesh Market Bag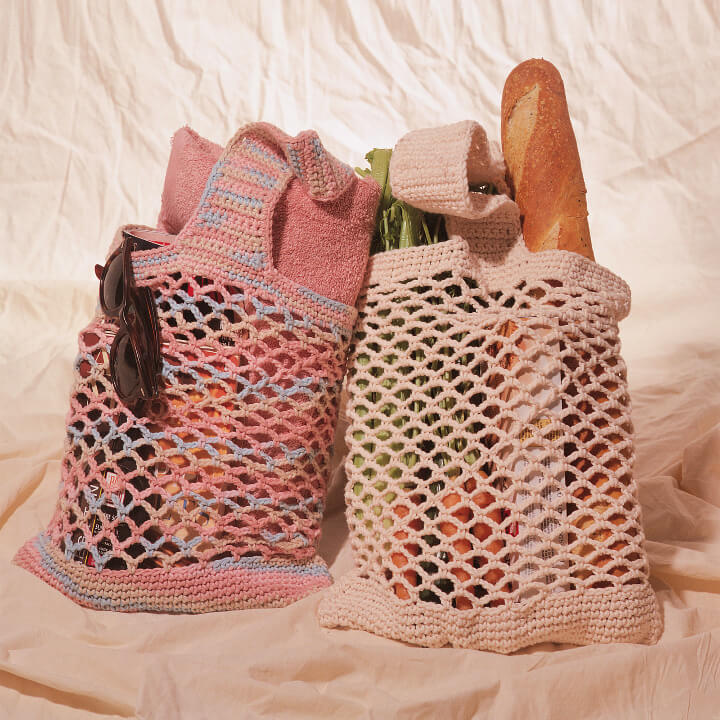 Everybody loves a handy mesh bag with these royal colors. The pattern is uber simple for any beginner as well. You can keep them in your car for any mid-way market rounds or keep them with you for carrying and managing your stuff with groceries. Multiple-uses, high storage. yarnspirations
8. Environmentally Friendly Crochet Market Bag
We have got to save the environment now! Big time. With this vibrant crochet bag pattern, you don't have to buy plastic bags or even brown bags for carrying your groceries. You can use one crochet bag multiple times. Get crochet details in the tutorial. knotyournanas
9. Felted Bag Pattern
This charming crochet felted bag pattern in these adoring 3 tones can be your own style statement. The tutorial will walk you through the step by step guide and materials required. It could be your fun winter's craft! Hit the tutorial now. petalstopicots
10. Crochet Big Striped Bag
This uber easy to moderate crochet striped pattern bag could be your next exciting crochet bag pattern! It is vast enough to carry even 2 Chihuahuas. The two stitches type used in this crochet pattern is a chain and single crochet. Hit details in the tutorial. poshpoochde
11. Easy Crochet Market Tote
This simple yet chic market tote crochet pattern combined with some very easy stitching patterns could be your enchanting market fellow. It looks spacious, and you can manage your entire groceries quite easily! Get full details in the tutorial. daisycottage
12. Crochet Santa Monica Bias Wrap
Isn't this one stately and coolest looking crochet bag you have ever seen? With the added aesthetic touch of tussles. The tutorial will walk you through the chic Santa Monica bias wrap guide, which you can make for yourself and manage your own style statement. mamainastitch
13. Crochet Market Tote Bag
A huge and deep crochet tote bag is all one needs! This crochet tote bag pattern will elaborate on how you can make yourself an uber pretty, two-toned crochet market tote bag! With a large handle for easily carrying it around. Get details in the tutorial. yarnandchai
14. Crochet Vegetable Market Bag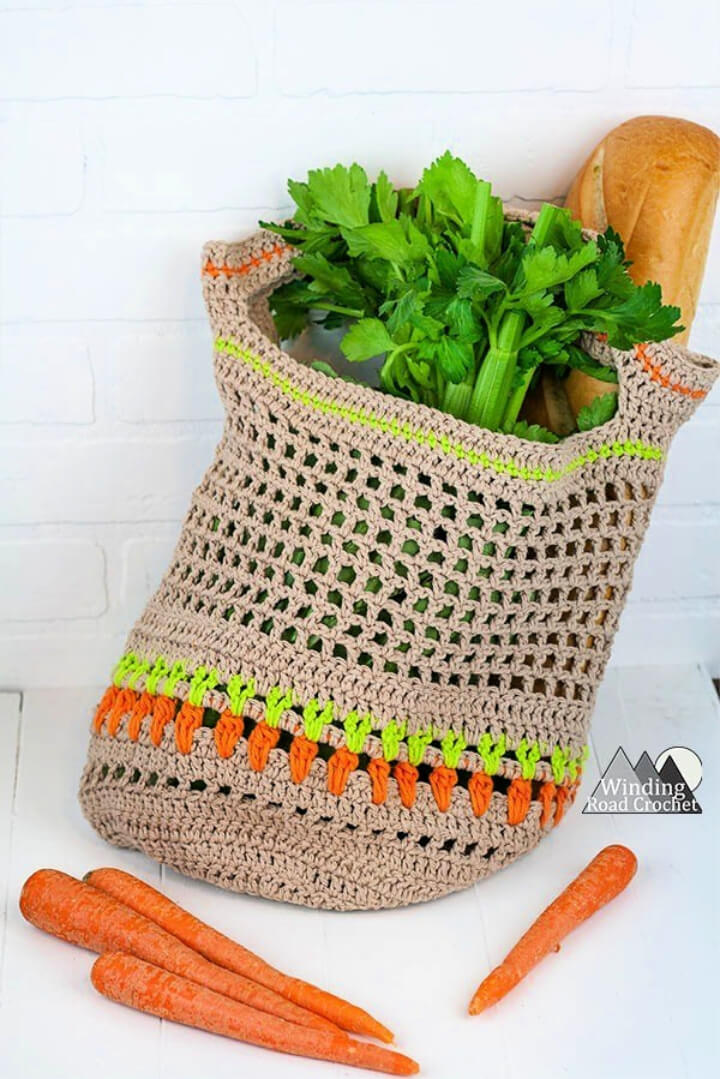 This neon highlighted stripped crochet market bag could be the best alternative to brown bags for shopping and carrying around vegetables. With its handy short handle, you no longer have to worry about the vegetables falling around. Get details in the tutorial. windingroadcrochet
15. March Market Bag Pattern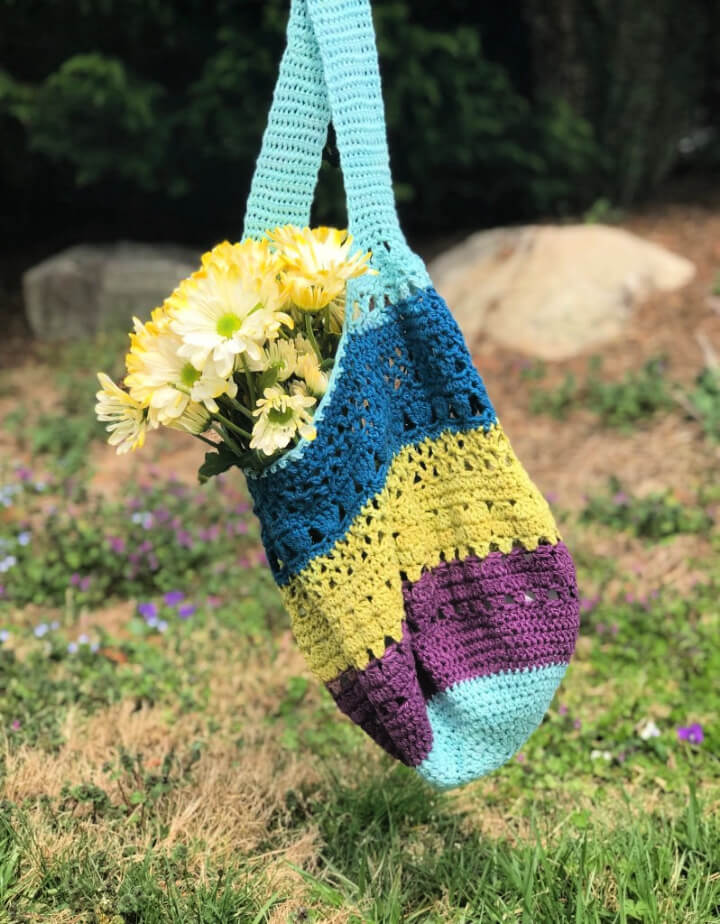 This tutorial will equip you with some crazy cool spring crochet bag patterns! Carry around the collection and vegetable of your favorite flowers in these gorgeous crochet bags. The color tones are smooth yet vibrant like welcoming spring. Get details in the tutorial. desertblossom
16. Crochet Your Own Market Bag – Free Pattern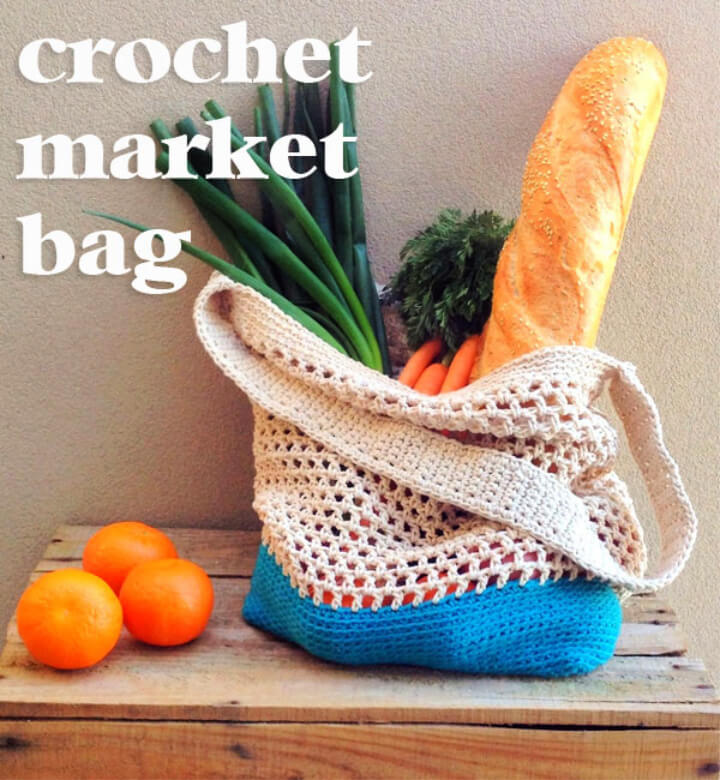 Why flash a lot of money on crochet bags when you can have an absolutely classy bag made by yourself. The tutorial will walk you through the step by step guide into making this chic crochet bag, and you can proudly go green shopping with this fella'! mypoppet
17. Free Crochet Farmer's Market Bag Pattern
Minimalism at its best! This single tone, stately crochet farmer's bag can be the best thing you can have while picking up some vibrant flowers and vegetables. It is suitable and easy for both beginner fellows and seasonal crocheters, alike. Get full details in the tutorial. justbcrafty
18. Crochet Classic Beach Bag – Adult & Child Sizes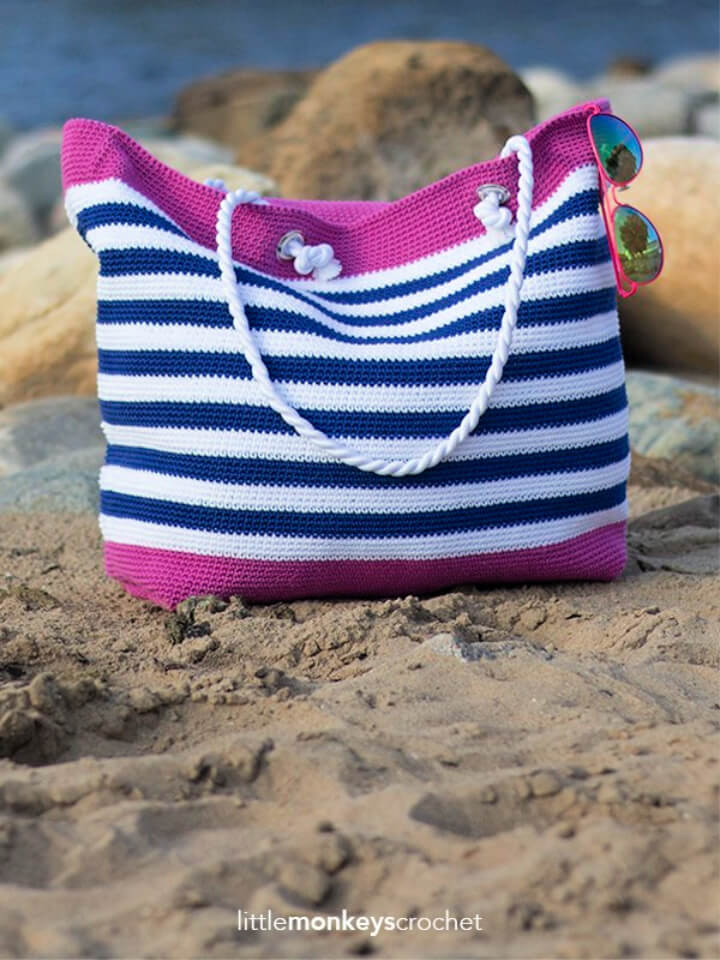 Well, well, look at this cool and trendy crochet beach bag! Carry your flip flops, your glasses your sunscreen lotions and everything in it. Even your beach wears! The best part, if it gets a little beach mud on, just wash it away, and it is back like brand new. littlemonkeys
19. Crochet Gingham Market Bag – Free Pattern
This tutorial will elaborate on how you can make a perfectly balanced and beautiful crochet market bag with a gingham print style. Add a farmhouse-inspired rope as the strap or handle. Use it as your market bag, library bag, or a pleasant summer bag. leftinknots
20. Simple Crochet Market Bag Pattern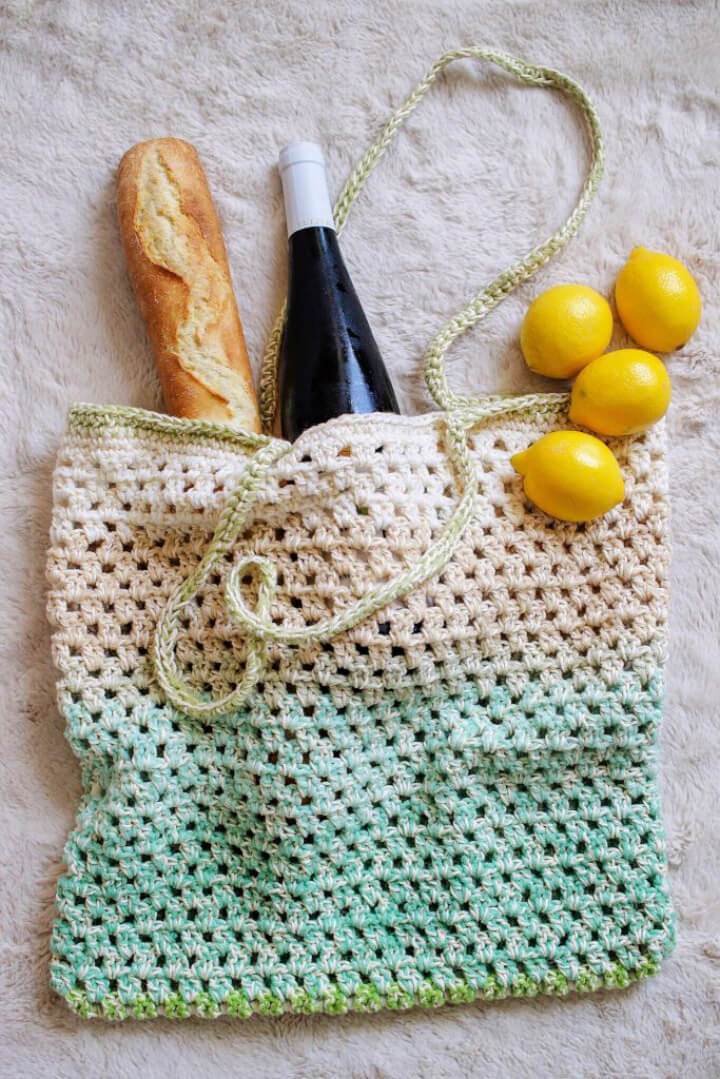 Design your own custom crochet market bag for your market days. Make it easy to carry as well as a vision to look at. This tutorial will share with you some brilliant and mind-blowing tips and tricks to design yourself a catchy market bag, which is way too easy to handle. tlyc