When October is at its peak, there are only two things people are looking for: cozy sweaters and eye-catching Halloween props. A few pumpkins and a couple of witches are common decoration ideas. However, adding a few hissing snakes, haunted mirrors with ghost hands, and dramatic black calla lilies in dark vessels will make the atmosphere even more mesmerizing.
To prepare for the fall festivity, you can create thematic posters and greeting cards to invite your friends to the celebration. Browsing https://depositphotos.com, you can find HD licensed halloween graphics for your DIY decorations and creative projects.
In this article, you will find 13 spook-takular ideas for decorating your house for Halloween this year. Read on!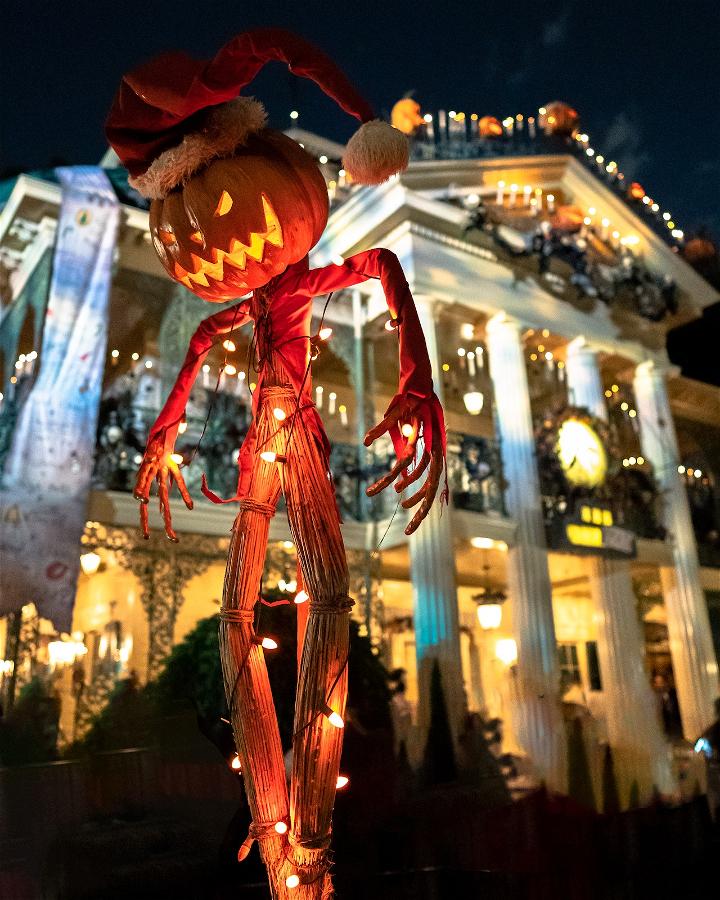 3 outdoor Halloween decoration ideas
Storytelling is a big part of house party decorations on Halloween. Before decorating, make a plan and think about a story you want to tell. Instead of mixing carved pumpkins, aliens, and zombies, choose one key idea with lots of small details that your neighbors can look at for hours. There are many scare-inducing options for a Halloween outdoor display, but sticking with one immersive theme and tone is better. This way, everything will seem well thought out.
Abandoned house
If a deserted home is your chosen theme, decorate the house exterior with fake spiders, DIY cobwebs, and use broken-glass stickers on windows. You can also place black or yellow bulbs to darken the porch lights. Create a scene of the first frost killing off your summer flowers; you can gather dead stems for spooky arrangements. Hang the porch swing crookedly or prop up wood scraps across windows to create a boarded-up effect.
Goblin house
To create a Goblin house for Halloween, make ghosts using bed sheets or plastic drop cloths. You can purchase the props at a shop. Create a Halloween tree with orange and black streamers, strings of orange lights, and homemade Halloween-themed ornaments. To make the atmosphere spookier, replace the porch light bulb with a black or dark green one. And make jack-o'-lantern scarecrows using goofy hats, straws, and old clothing.
Gory scene
Use skeletons, ghouls, tombstones, artificial rats, and monsters to design your house as a set for a gory scene. Place old dolls and furniture outside to create a scary stage, and add a smoke machine or frightening sound effects to make the house decorations even spookier. For this Halloween theme, you can also hang scary-looking figures around the house.
10 indoor Halloween decoration ideas
Depending on the Halloween theme you choose for the outside of your house, you can select relevant decoration ideas for the indoors. Here is the list of props that will leave your home frightening and scream-worthy.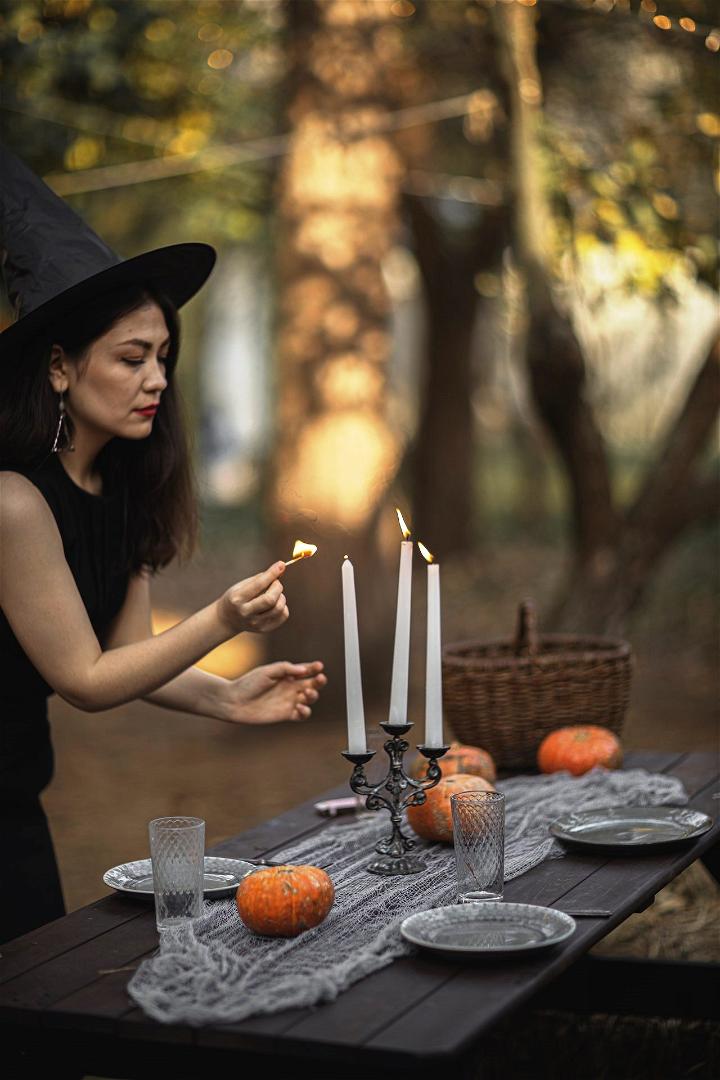 Creepy Halloween table setup
Whether you're throwing a party or just want to decorate a table for your own entertainment, a Halloween-themed tablescape is always an excellent idea. You can use a lace spider web table cover and put it over a white tablecloth. Add various decorations to suit the occasion, like fake skulls, candelabras, spiders, dead flowers, empty black cages, and other props.
Floating cheesecloth ghosts
It has never been easier to welcome ghosts into your home. All you need is balloons, cheesecloth, and a marker. Make them in different sizes by changing the size of the balloon. Scatter them around the house to make it haunted with ghosts. Also, you can draw faces and emotions on them.
Frightening glasses and hand soap bottles
If you have glass cereal containers, stuff them with printed images of skeletons or skulls. Put creepy images of spiders or bats on your hand soap bottles. Refill the container with purple-colored liquid, remove the hand soap or hand sanitizer label, and put the stickers on.
Dripping candles
Get a lighter and candles in shallow jars. Light the candles and brush the lighter around them so that the wax starts dripping. Make sure that wax pools spill over the edge by making deep dents on the area near the surfaces. Scatter dripping candles all over the house to create a mysterious atmosphere.
Googly eyed chocolates
These are a lot of fun to make and are one of the cheapest edible decorations. Mix four cups of icing sugar, five tablespoons of meringue powder, and half a cup of water. Beat that for 7–10 minutes. Get black food coloring and apply it to the smaller half of the created whipped icing. Using two plastic bags and a baking tray, make white eye-shaped drops, add the black circles on top of them, and bake for 5–10 minutes. Place the created googly eyes on your chocolates or any other Halloween desserts. It's easy, tasty, and spooky!
Painted wooden spoons and holders
When it comes to decorating, the small things matter. Painted spoons and holders are a great way to liven up your kitchen when you lack space for large items. You can make ghost and monster faces on your wooden spoons or draw something more creative, like spiders, cobwebs, or scary pumpkins.
Skeleton hand smoky wine glasses
To make aesthetic Halloween decorations, get wine or water glasses on skeleton hand stems. Or you can also make a goblet. To give them a spooky and smoky appearance, use washable and edible paint in dark red or gray colors and paint the outside bottom of the glasses.
Spooky witch legs hanging from a chandelier
Do you have a couple of striped stockings, old shoes, and an umbrella? These are enough to make eye-catching Halloween decorations and create a shocking surprise for your house guests. To create the illusion of two hanging legs, put the umbrella over your chandelier and attach stuffed striped stockings.
Halloween optical illusions
The illusion of a witch crashing into a wall is another original idea for decorating the inside of your living room. It may seem a little bit hard to do, but all you need to create this optical illusion is an old pair of shoes, stockings, a few pieces of craft paper, and a broomstick. To make this design easier, attach everything to a posterboard and then pin it to the wall with the help of hanging tape.
To sum up
All Halloween decoration ideas presented in this article don't require a lot of your time or money, just a little bit of creativity. Depending on the theme you choose, you can select a couple of the above-mentioned prop options and make your house look spooktacular.