There are types of birds that don't get attracted to suet, seeds, and nectar. So, you can attract birds by way of these 15 unique DIY bird bath ideas that are sure to be one of the best addition to your garden. If you come in garden decoration appeal, they will create a big focal point in your garden, and if selected with the best fountain pumps and auto circulated water system, they will be the beautiful water feature for your yard. If you are addicted to seeing the birds dancing and bathing or willing to serve wildlife well, then you must learn to make a good looking homemade bird bath.
Browse this collection of 15 DIY homemade bird bath ideas that will share all the hacks and tricks to build a birdbath like a pro. Plus, you will get so many inspirations to make the good looking birdbaths out of recycled materials lying useless in your home trash stores. Finally, you can choose the dollar store and thrift store items also to make fantastic birdbaths that your feathered friends will surely like.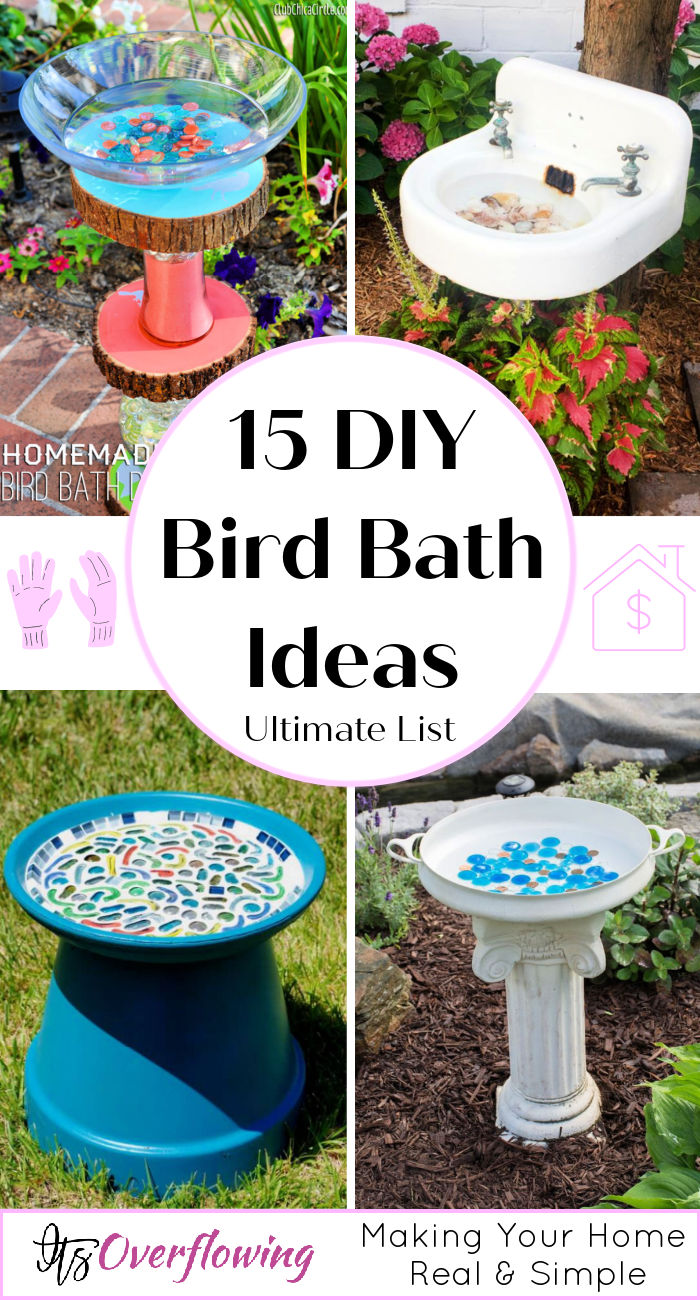 Put the serving bowls on the recycled furniture legs and build a cool homemade bird bath. Use the ceramic pans and dishes on the upcycled garden columns to get budget-friendly birdbaths in no time and put together the terracotta pots and saucers also to make beautiful instant homemade bird baths.
Finally, you will get the hacks to build a solar-powered and fountain style birdbath too. Browse the entire list of these DIY homemade bird bath ideas and see which design inspires you the most.
1. Vase and Wood Slice Bird Bath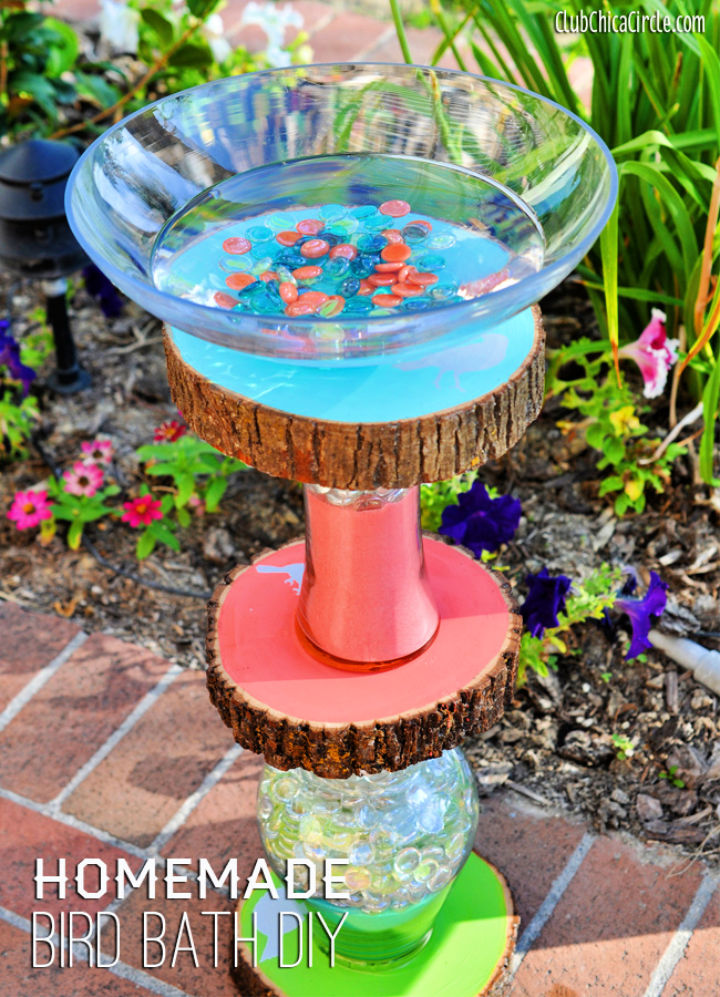 Accomplish your mission of attracting birds to your garden with this vase and wood slice birdbath. It will be a great way also to spruce up your garden. Get here guides to build a unique birdbath with a great natural touch. Here you need acrylic paints, glass bowl, thick basswood slices, industrial-strength glue, bird stencils, colored decor sand, and decorative filler baubles to make this birdbath. club chicacircle
2. Tea Pot Bird Bath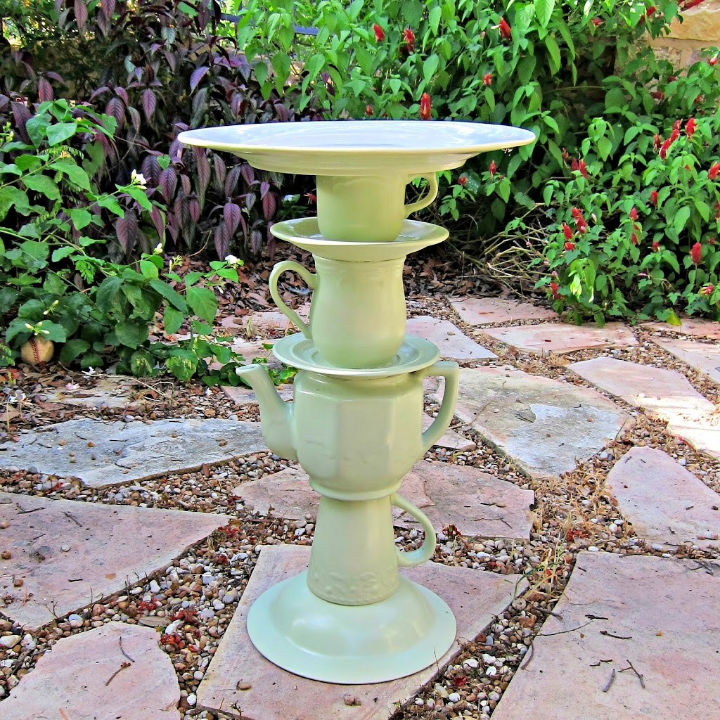 A bird bath can be a way to attract the rest of all the birds that are not interested in suet, seed, and nectar. So, build a birdbath at home inexpensively using ceramic cups, saucers, teapots, and plates. Build a vertical tower by stacking the cups and saucers, and the teapot may come in the center. Add a plate to the bottom side for a flat bottom and then add a bigger plate at the top for the birdbath. Details here morenascorner
3. Bird Bath Using Old Lamp
Repurpose the old lamps also to build quick, beautiful bird baths at a zero cost price. Here you need an old vintage lamp and a shallow grass plate to make this birdbath will elegantly supply the water to wildlife. Here the glass plate looks like a seashell, and the old lamp has been painted and modified to serve as a base and to hold the plate evenly on its top. A great DIY birth bath to make with thrift store items. Details here sadieseasongoods
4. DIY Bird Bath from a Salvaged Sink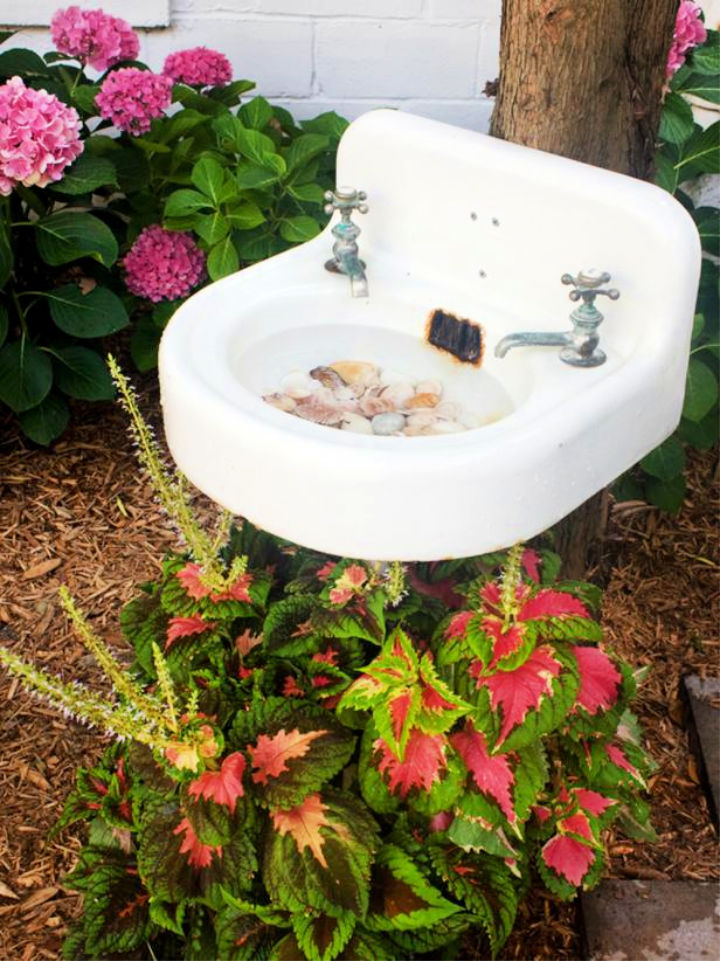 A bird bath can be made with a variety of items, and you can even make a lovely one out of salvaged sinks. Building this bird bath will surely attract the birds to your garden, and it will be a breeze to make. It will add charm to your garden and is to make with vintage, wall mount sink, drain plug, and PVC pipes. This bird bath will allow you to easily change the everyday water details here. hgtv
5. How to Make a Bird Bath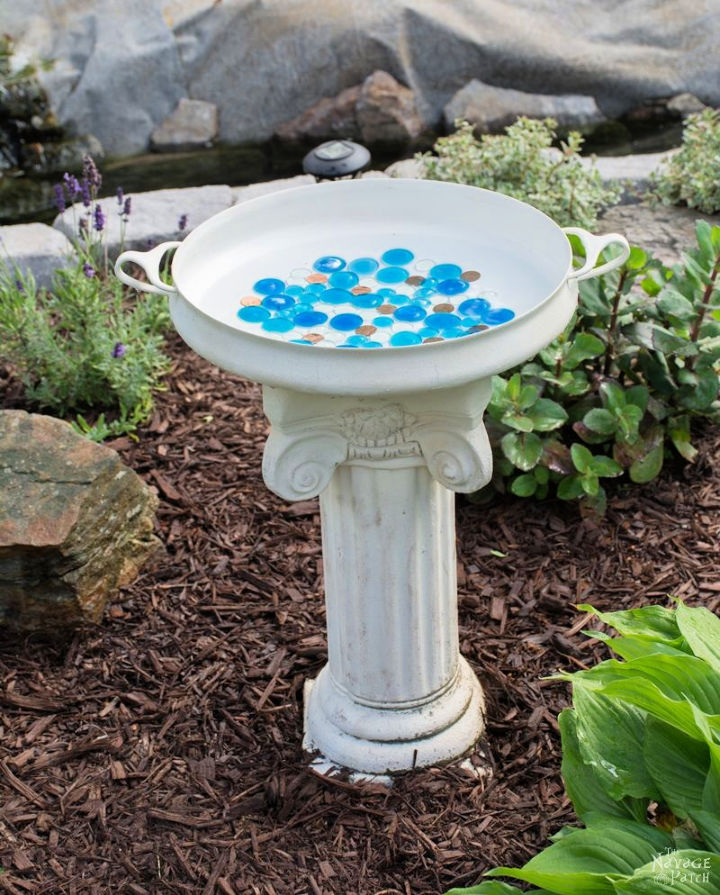 You will love this another great and creative hack to build a bird bath. How to make a bird bath? Repurpose the old garden columns and add a big pan, tray, or dish on its top to build a birth bath. In this case, a $2 pan-ish thing has been used to whip up this DIY bird bath, will work up super quickly. A one of the cutest bird bath ever to make at home in just no time. You can repair the columns a little before use. Details here thenavagepatch
6. DIY Concrete Bird Bath
Boost the visual grace of your garden with this concrete bird bath that is looking just solid and will help keep the concrete birth bath hydrated. Use a big cardboard tube to use a mold for the vertical round base and next opt for 2 different sizes of plastic bowls to make the top of the concrete bird bath. Using plastic bowls is recommended as they will be easy to remove from the concrete. Details here gardenclub
7. Glass Lid to Hanging Bird Bath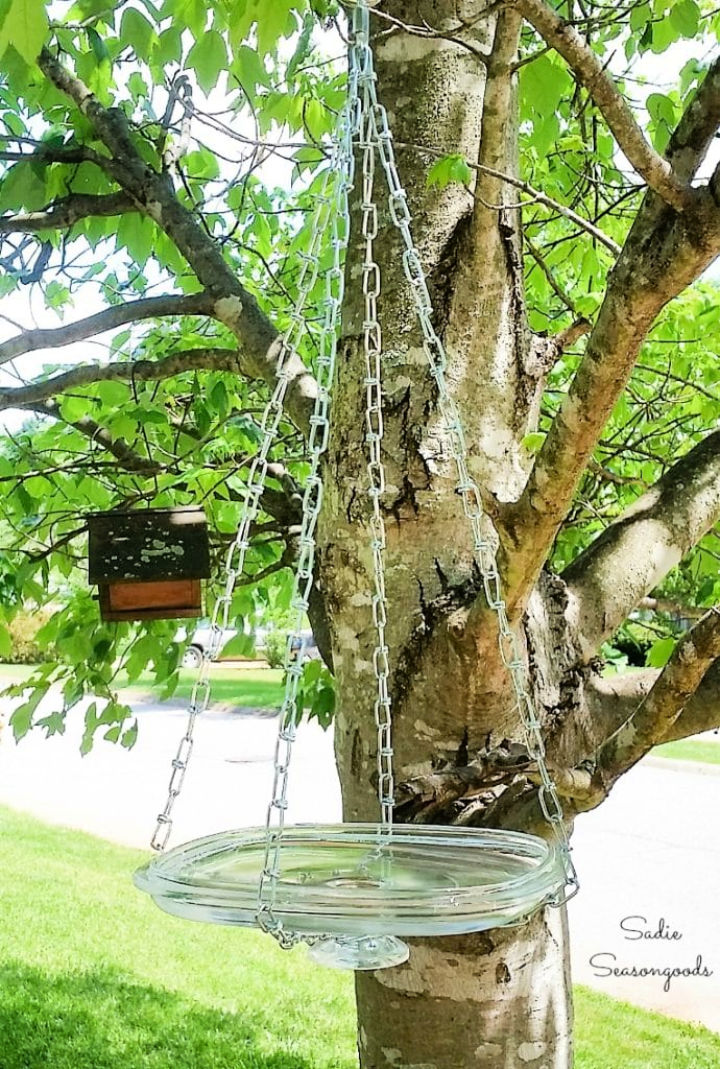 Opt for this hanging bird bath that will boost the visual of your yard and garden and will also be a fun hangout for the feathered friends. Willing to clone this hanging bird bath? You need a thrift store glass lid and metal chain from the hardware store to make this hanging bird bath. Use the metal chain to hang the glass lid up to serve as a bird bath. Make sure you are choosing the lid with a little depth. Details here sadieseasongoods
8. Paint Clay Pot Bird Bath
Get here instructions to make one of the most beautiful birth baths at home inexpensively. Here you are all free to raise this homemade bird bath to any height as it is to make by stacking the terracotta pots in face-to-face and bottom-to-bottom arrangements. Finish both top and bottom of the birdbath with a saucer to get the birdbath. Adorn the birdbath more by adding the shells around the rim of a saucer. Here you are all free to paint the bird bath in any color you like. Details here sunnyslifeinrehab
9. Bird Bath for Yard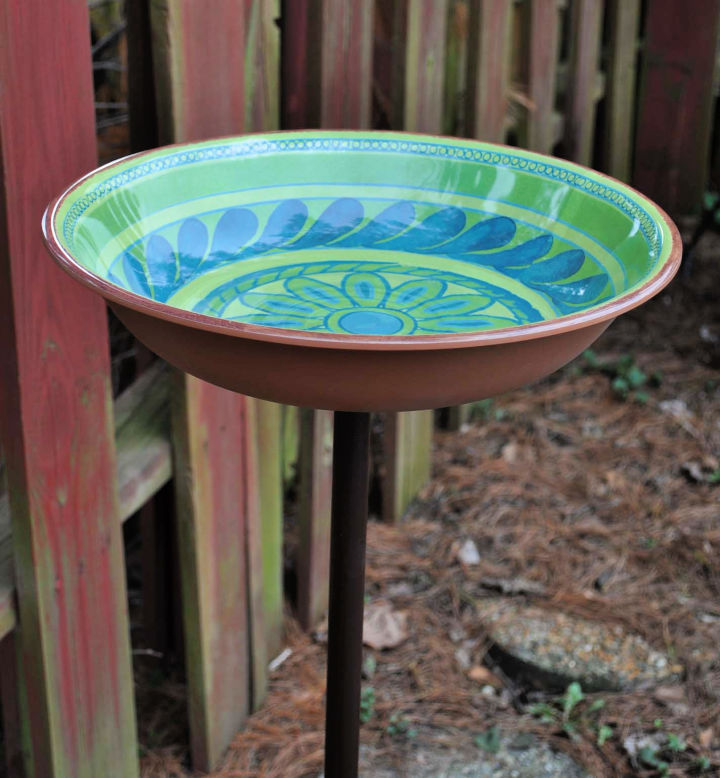 Get inspired by this another great looking bird bath that is sure to impress any onlooker and also a bird at a very first look. Just grab a serving bowl, s 1/2inch threaded cast iron pipe, 1/2" cast iron flange, glue scrap wood, and spray paint to make this quick and lovely looking bird bath for your yarn. One of the most cost-efficient DIY bird bath to make at home in no time. Details here darningdiva
10. Tomato Cage Bird Bath
Your feathered friends will surely fall in love with this great birdbath that is looking sweet and gorgeous. Here you need a lovely green tomato cage and a terracotta saucer bottom to make this fabulous bird bath. Paint the terracotta bottom in the way you like and then add it to the top of your tomato cage to make this lovely tomato cage bird bath. A one of the best DIY tomato cage bird bath to make in no time and without getting a bit expensive. Details here hometalk
11. Mosaic Bird Bath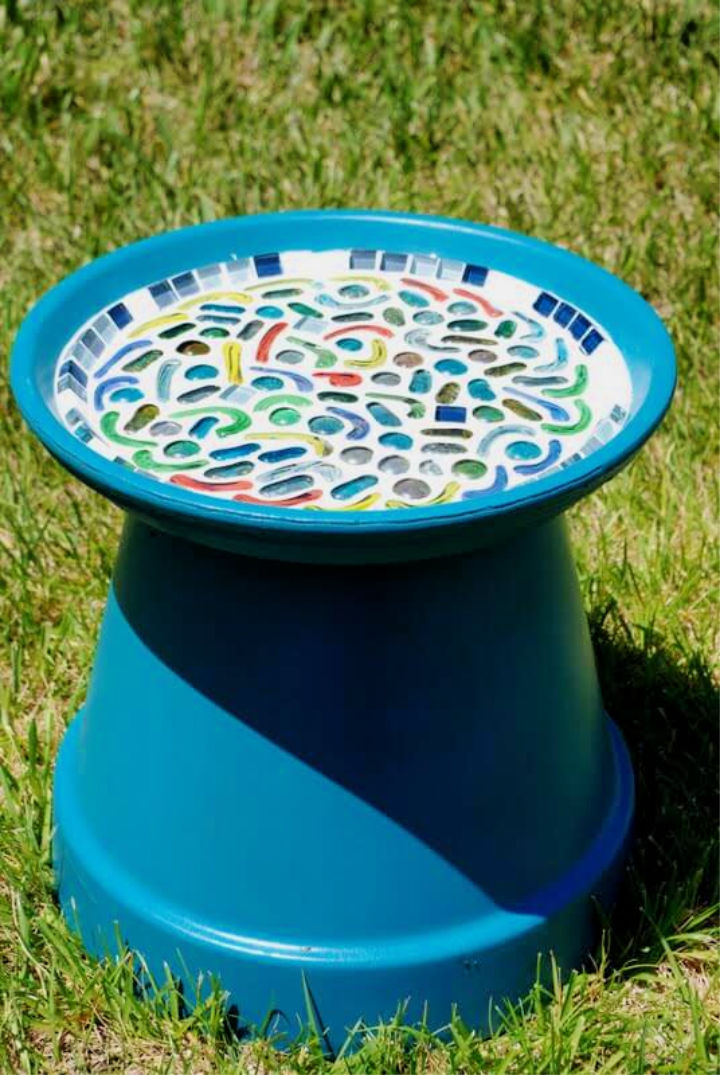 Bring the lovely mosaic effect to your garden by building this mosaic birdbath. It features colors that will brighten up the garden space, and everyone can whip up this beautify at home quickly. Just grab a terracotta saucer and spray paint it. Create a mosaic appeal of it using glass gems that can be glued in place. Apply the white grout for a clear mosaic appeal and then simply glue it on the top of a flipped terracotta pot to make a quick lovely terracotta bird bath. One of the best DIY birth bath designs to make at home inexpensively. Details here happinessisho
12. Concrete Bird Bath
Get more instructions about how to build a concrete birdbath using molds. Mix the concrete in the large container and then pour the concrete in the molds to let dry well. Use leftover burlap pieces for cleaning the extra concrete coming out of the molds. Put the glass gems to adorn the rim of the bird bath more. Use a big plastic trash can to use as the base mold for the birdbath. One of the best concrete birdbath to make at home in no time. Details here ashleydiy
13. Serving Bowl Birdbath
Repurpose, also a serving bowl and a table leg to build this fantastic looking birdbath will be loved dearly by all. Building this bowl will simply cost you nothing as you are making it with the recycled items. Use the strong glue for your adhesive demands, and you can easily glue the serving bowl on the table legs. Adorn it in the way you like, and that's it. homejelly
14. Step Stool Bird Bath
This simple bird bath will complete in just 3 hours to complete. You need a step stool, plastic plant saucer, and some leftover exterior paint to make this serving bowl bird bath. Paint both the step stools and plastic bowl bird baths to make this serving bowl bird bath. One of the best bird bath to make out of the step stool and terracotta saucer. ourfairfieldho
15. Solar Powered Hummingbird Bath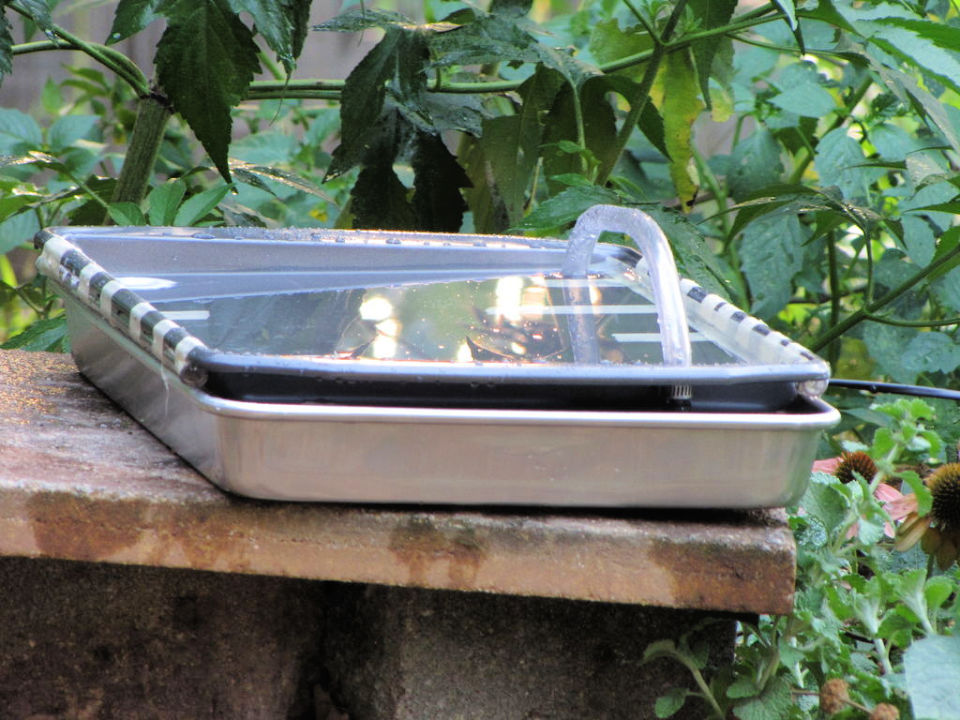 Finally, the ultimate bird bath achievement, the solar-powered hummingbird bath that will provide fresh water supply circulated by a fountain pump. If you really want to serve freshwater to garden wildlife, then this birdbath will be an ideal choice, and with the provided free tutorial, it will be super quick to build also. Details here instructables
Gardens are great but, a garden you can stroll through is even better. Here are some fabulous walkway ideas you can incorporate into your yard. You can build many walkway ideas in a day or two without costing a fortune.
Conclusion:
You can put the food of every bird in your garden while being on a mission to invite them for a visit. Then you can simply plan to serve them the freshwater by installing lovely fountains, birdbaths, and a mix of both. This will surely attract them to your yard or garden.
So, go with this list of DIY bird bath ideas that are actually the smartest DIY hacks to recover the most beautiful and functional designs of bird baths out of thrift stores, old and recycled items. They will add in the beauty of your garden by being a cool water feature and will surely be a big pleasure for the birds to drink water and dance in while bathing.