Constructing a DIY kitchen island is a very fun project and the perfect way to prevent you from getting bored. The whole process will keep you busy for about a week – if you're a beginner. The summer vacations will be very boring with nothing to do, so it will be the perfect time to get you busy with DIY projects like this. A very entertaining process, from preparing with a diagram to having the project completed in front of your eyes – it's going to be very fun and satisfying! Follow these 25 free DIY kitchen island plans to build a functional kitchen island design with drawers and a lower shelf for storage.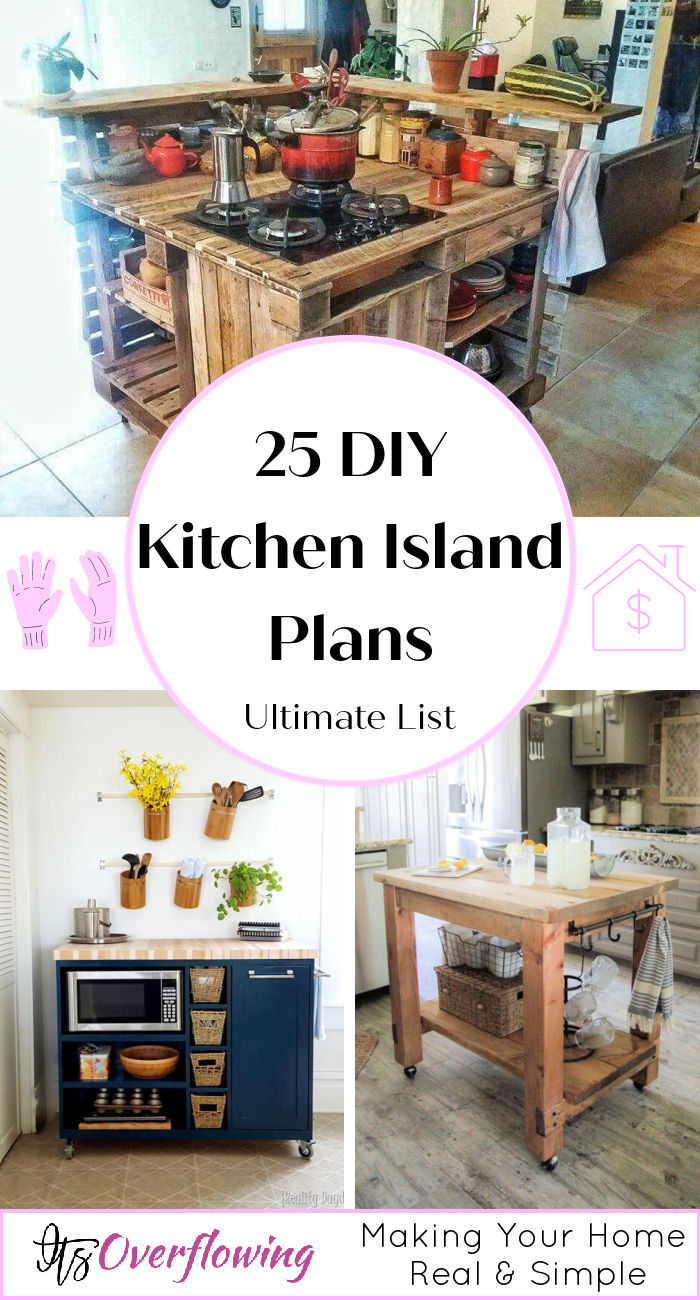 If you already have a DIY kitchen island in your own house then you could make one for your friend's house! Do you know a friend who has recently shifted to a new house? Then, this is the perfect time to help them out! This article will cover a large variety of free DIY kitchen island plans, from rolling to trim and lights kitchen island; from cedar wood to rustic reclaimed kitchen island; from kitchen island with trash storage to turning an old bookshelf to a brand new kitchen island! There is a lot of kitchen island plans PDF to choose from. After all, who doesn't love a few choices?
1. Rolling Kitchen Island
It can be a challenge to work with a small kitchen space. If you live in an apartment or small space and don't have a lot of space to build a permanent kitchen island. Then here's a temporary one in which you can move at any time whenever you need too free up some space. jenwoodhouse
2. DIY Kitchen Island from Desk
How cool is this idea about building your own island! Don't want to spend a lot of money and effort on a kitchen island? Maybe you're very busy and just don't have the time to spend on making it for a long time. Here's how you can use an old desk and turn it into a beautiful kitchen island! simplytodaylife
3. Kitchen Island Trim and Lights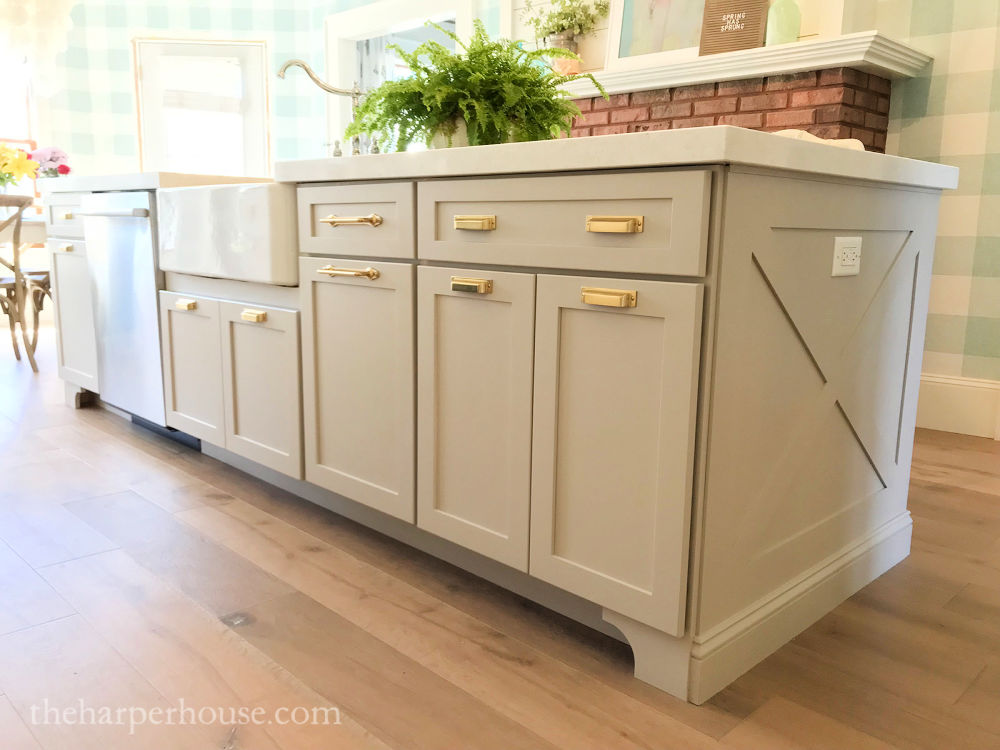 A kitchen island is one of those things that you should consider spending a little extra money on. That is because it's going to last you a long time, so it's worth the investment. This amazing guide will show you how you can do this project with just a few basic tools. theharperhouse
4. Pallet Kitchen Island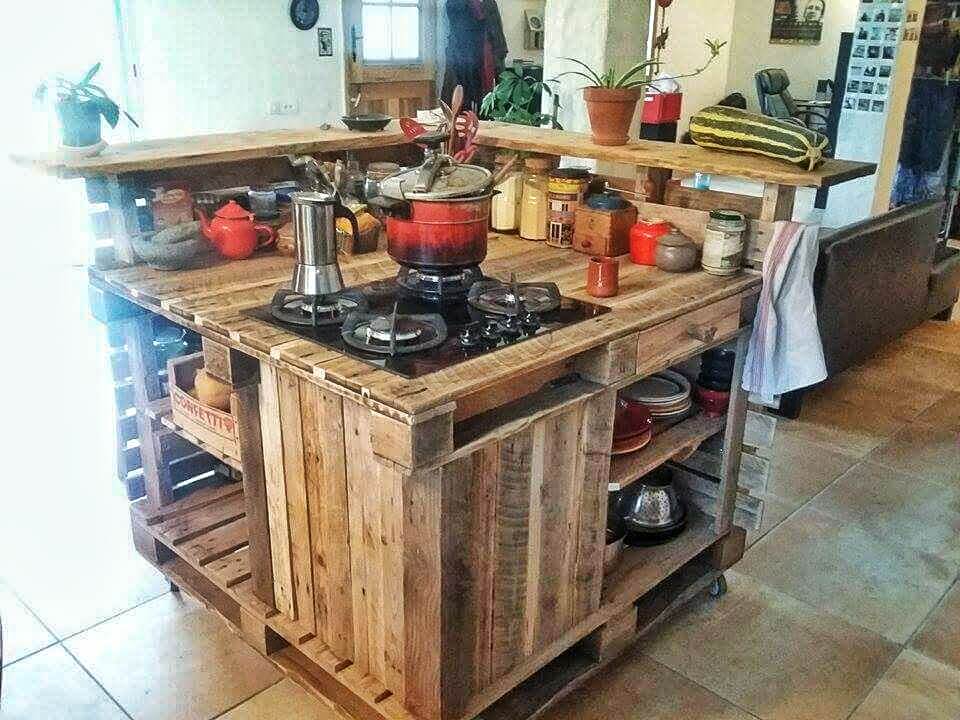 Want a cheap kitchen island? This pallet kitchen island plan is perfect for you! It features a simple and inexpensive way to design a functional kitchen out free wooden pallets. Its shape is super clean and sleek! It is a movable kitchen, and its average size will fit perfectly in your kitchen. The sizing can be customized to fit your kitchen perfectly. Find the kitchen island out of pallets instructions on diycraftsy
5. Kitchen Island with Trash Storage
You can make your kitchen a lot more functional and fun just by a single kitchen island like this one. It can be a place to keep the food when ready and also a great place for your family members to come, sit, and have a conversation with you while you're cooking! shadesofblueinte
6. Gaby Kitchen Island
Sometimes, we all just want something quick and straightforward to get the job done. If you're a beginner and just want something easy and quick, then you should follow this guide! Gaby's kitchen island offers both storage as well as functionality. Moreover, the detailed guide will prevent you from getting lost while making it. oldpaintdesign
7. Farmhouse Kitchen Island
This kitchen island project does require you to have some experience as it is a little complicated to finish and complete. The blue color makes this DIY kitchen island truly unique and super stunning. Nothing like something you'd find at a normal furniture store! ana white
8. Free Kitchen Island Plans
Love a white kitchen theme? Well, then this kitchen island is perfect for keeping in your kitchen. It has a white underlayer and a simple wooden top part. Minimalists are going to enjoy this plan a lot and want to make one right away. It's never too late! shaydacampbell
9. Cedar Wood Kitchen Island Plan
Sandpaper, casters, nail gun, plywood, cutting surface, and screws are the only tools and materials required for this super stunning DIY project! The results are truly beautiful and will look amazing at your house. It does add a lot to a simple kitchen. diynetwork
10. Rustic Reclaimed Wood Island
Who doesn't love a vintage-looking, white and plain kitchen island? It will match any kitchen with any aesthetic, theme, or coloring. White is one color which can match with almost anything! A very detailed plan with many steps and real-life images, included! krusesworkshop
11. Building a Kitchen Island
A DIY kitchen island which is perfect for those modern apartments and houses! Want to take the first step to make your house modern? You should definitely start with the kitchen and by constructing a kitchen island. The end results will satisfy you and make you very happy. domesticblonde
12. Bookshelf into Kitchen Island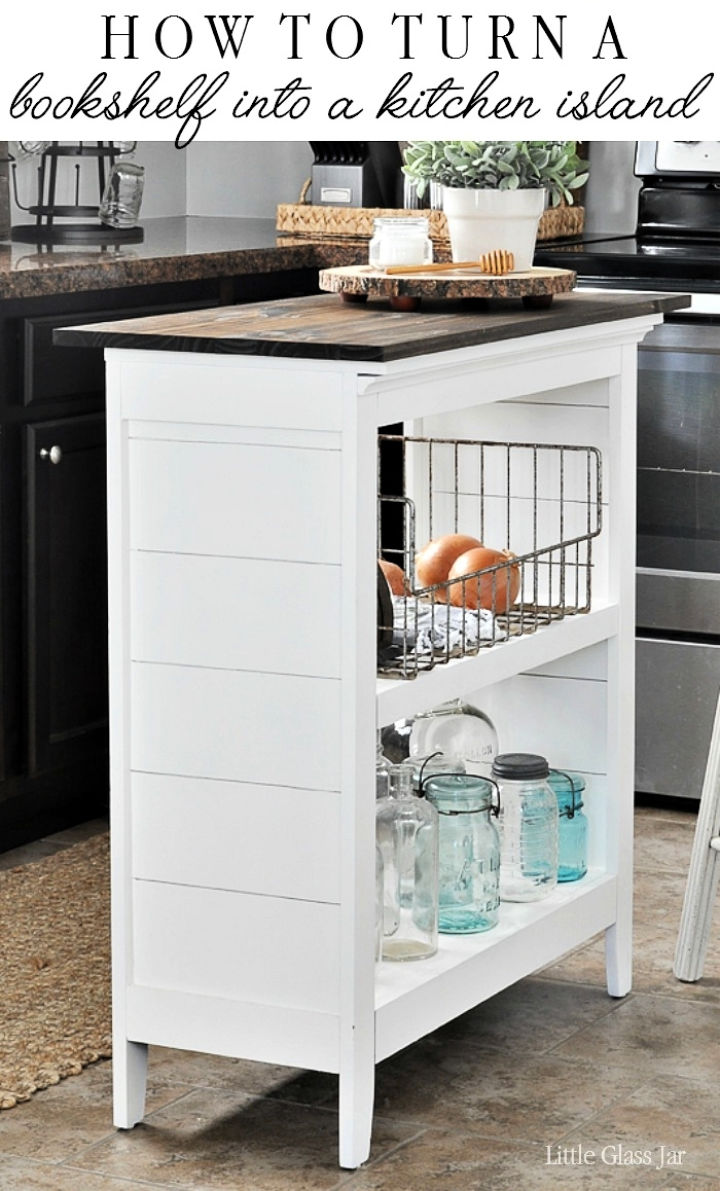 Dark wood is just so beautiful and will make one amazing kitchen island. This special project features a dark wood top, white bottom, and two big storage compartments to provide a unit of utilization. An old bookshelf can be turned into this ad. All you need is a single free evening to do so. littleglassjar
13. Farmhouse Kitchen Island & Bar Plan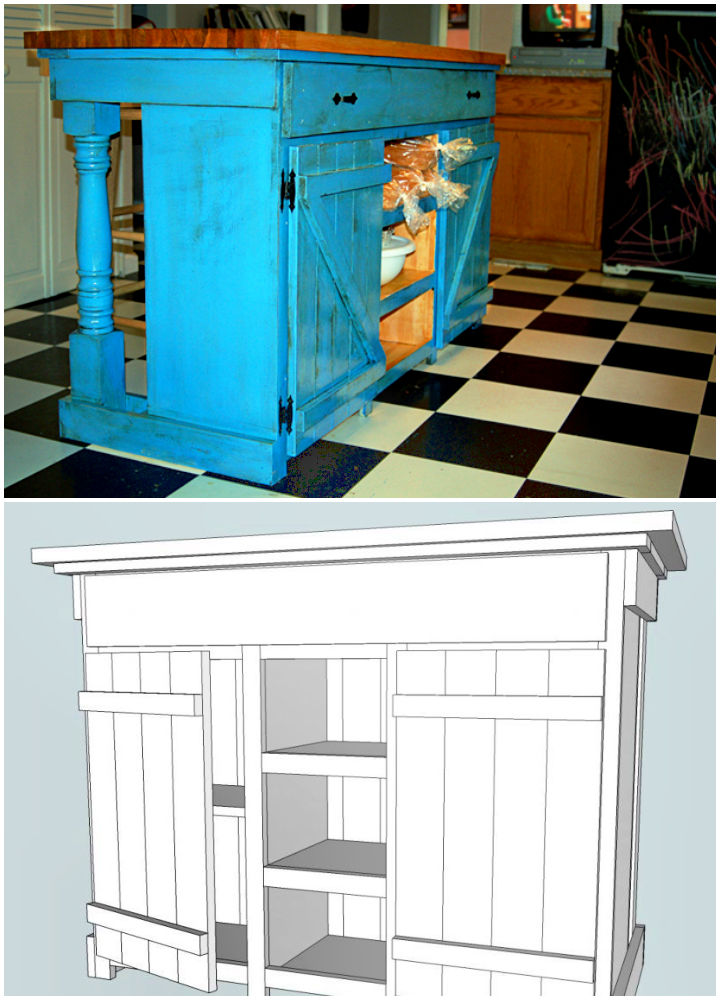 A fantastic plan which features beautiful blue colored DIY kitchen island. The plan comes with many details on how you can make this island just perfectly. It also comes with a shopping list, cut list, dimensions, and many directions, which will help even the beginners to make sense of this complicated project! ana white
14. How to Build Kitchen Island
2×2 lumber, hand saw, palm sander, ruler, wood glue, 3-inch screws, wood clamps, acrylic paint, and a few other tools and materials will be needed for you to nail this project successfully. Featuring two opposite shades of wood – the outcome is super stunning! bobvila
15. Homemade Kitchen Island
Just imagine how beautiful this tiny kitchen island will look in your kitchen! It is truly perfect to have in almost any kitchen. Its lumber is also relatively easier to find as it uses just some basic materials. You also don't need any complicated tools for this one. instructables
16. Custom Rolling Kitchen Island on Wheels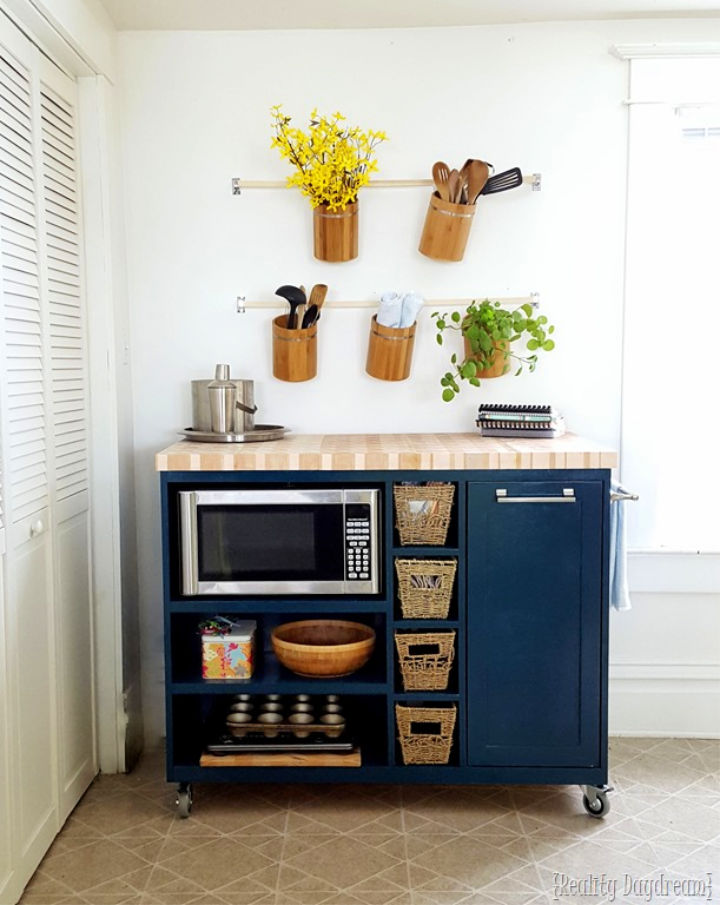 Small spaces can be very annoying, and it's to work effectively in places like those. Everyone dreams and wishes for a kitchen island in their kitchen. If you don't have enough free space, then you can just go for a DIY kitchen island on wheels that can be moved away when not in use. realitydaydream
17. Kitchen Island Plans
How to build a kitchen island from scratch? Here's a plan which will show you some ways to make an island for your kitchen in a budget! All you need to find is some cheap lumber for saving even more money! This will require some research, but it is definitely possible. You will be amazed by the results. ana white
18. Build a Kitchen Island
You will need a few 1×3's, 1×8's, 2×4's, screws, gel stains, and a few other materials will be required for you to make the kitchen island of your dreams! It does require a few days to complete and will require some time dedication – it will be worth it! cedartreefarm
19. Ana White Kitchen Island
You can keep this mid-century looking island in almost any kitchen. It will work really well in a farmhouse kitchen as it has a vintage look to it, which means that it will match the farmhouse vibe. No complicated tools or materials required. Isn't this just perfect? ana white
20. Rustic Kitchen Table Island
A rustic, vintage, and old school inspired table. The best part about this is that it comes with a stand, as well. You can hang your towels and aprons on it! A very functional and amazing island table that will work with any type of kitchen and any amount of space. ourvintagehome
21. Kitchen Rolling Island
All you need is about 85 dollars to make your dream DIY kitchen island a reality! This has a very rich and luxurious look to it, and the best part is that it's a rolling table, which means that you can easily move it into the dining room when serving food. shanty 2 chic
22. How to Build a Kitchen Island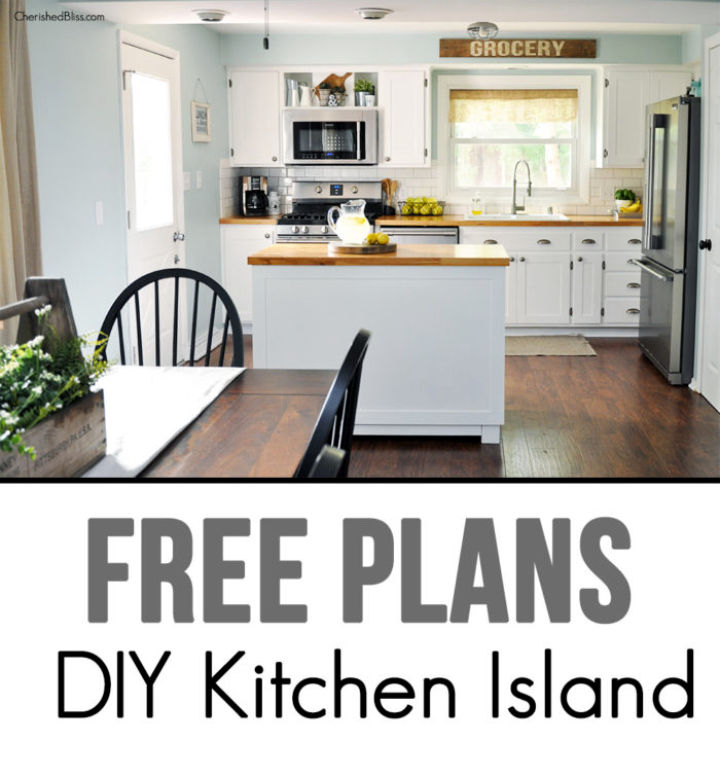 How to build a kitchen island? To build this kitchen island you will need, a Circular saw, miter saw, wood filler, drill, sander, finish nailer, and a few other supplies are needed for you to nail this amazing project. All you need is some patience and free time to make this a success. The guide also comes with a lumber shopping list! cherishedbliss
23. Kitchen Island Inspired By Pottery Barn
Don't you just love this free kitchen island plan? You can not only download it for free but also has many details and images in it. You're going to love the end result, and it's going to be very fun to make this. Here's the dream guide for all the beginners reading this! shanty 2 chic
24. DIY Kitchen Island Makeover
A plain, simple, and white-colored DIY kitchen island is perfect for any kitchen, with any theme or aesthetic! White is a color that can be used anywhere. It also has many drawers for a ton of storage to hide all of the mess away! A very functional and great island. artsychicksrule
25. Furniture style Kitchen Island
Get ready to be blown away by how amazing this DIY kitchen island with furniture style appeal is going to look! It certainly is a vision and the perfect marble edge or slab is going to make your kitchen time worthwhile! Head over to the link and grab the free plan, time for a dreamy kitchen décor revamp. ninahendrick
Conclusion:
Tempted to make a beautiful DIY kitchen island for your kitchen? Follow given 25 easy-to-build free kitchen island plans made of base cabinets, back panel and countertop. Are you already imagining yourself cooking in your brand new kitchen? And keeping the food that is ready on that super stunning kitchen island in the middle of your kitchen!
There are a few things that you'll need to know before getting started, for example, the type of wood or marble you'll need and the pricing of it. If you already know the pricing, then you'll be able to buy the lumber at a low price and save a ton of money! The end results will be very satisfying and make you a lot more confident in woodworking.