Thinking of getting a new pet? Or maybe getting your house ready for a new baby? Whatever it may be, the first step is to make your home a lot more secure by Making a DIY baby gate in it! But how to make a baby gate at home? Make the perfect and functional homemade baby gate to fit your home with one of these 25 free DIY baby gate plans for stairs and large openings. Babies and little pets can be super sensitive. They should be left nowhere near the stairs as at such a young age, their bones are not fully developed. This is why it is an excellent thing to baby proof your house to keep it safe and healthy. One of the best areas to install this can be around the stairs.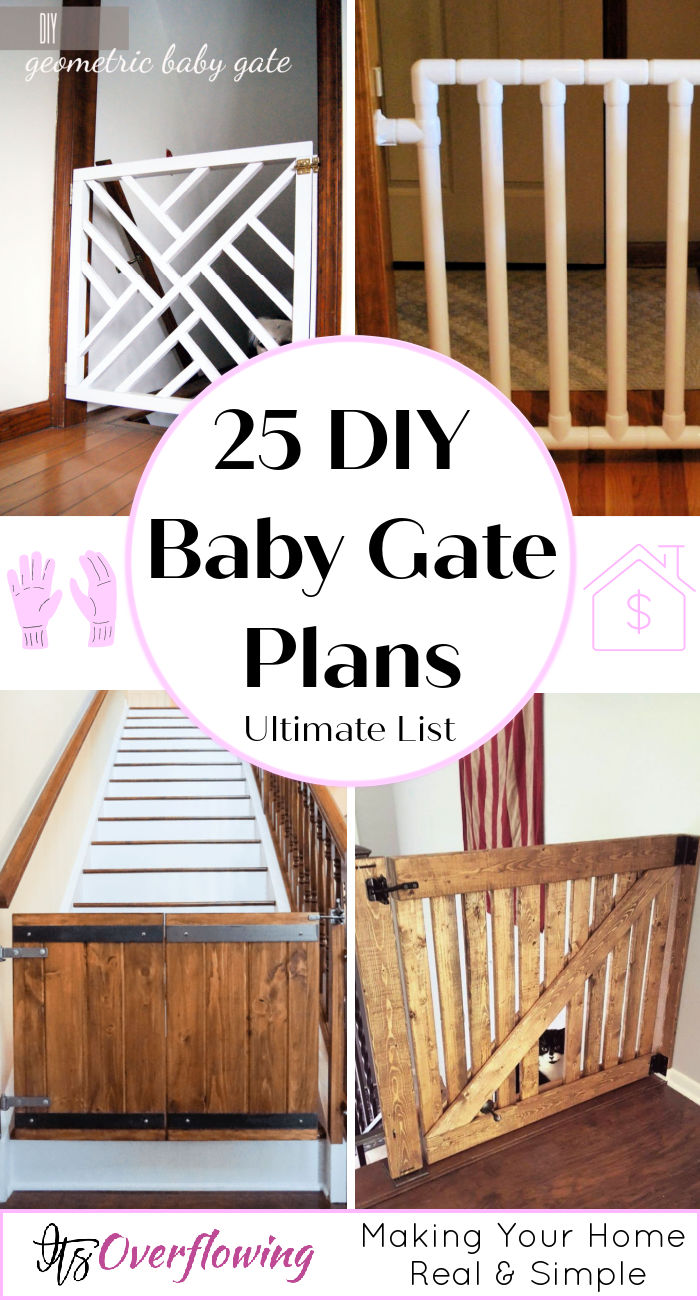 However, stairs are not the only area you need to install a safety gate. But It can also be around your meeting room or your workroom. Maybe if you own a gym, you can also keep this outside that room. This way, you will make sure to keep your baby or pet safe from anything potentially dangerous around your house. A big range of DIY baby gates will be covered in this article, from fabric gates to rustic gates, from acrylic to PVC pipes gate. There are a lot of baby gate alternatives to choose from.
1. Baby Gate On a Budget
Not satisfied with the baby gates you currently have? It can be hard to find them in a color that will match the theme and aesthetic of your house so you can just make them at home and customize them. Nail gun, screwdriver, hinges, and a few other tools required. thefathydrangea
2. Fabric Baby Gate Sewing Pattern
If you're a beginner and just want something to get the work done, then you can make a fabric baby gate! This will not only look beautiful but also it will be easier to match with the theme of your house. It works well and is super easy to re-create and a baby gate alternative! Find the DIY fabric baby gate with free sewing pattern here: merrimentdesign
3. Baby Gate from Vintage Wood Headboard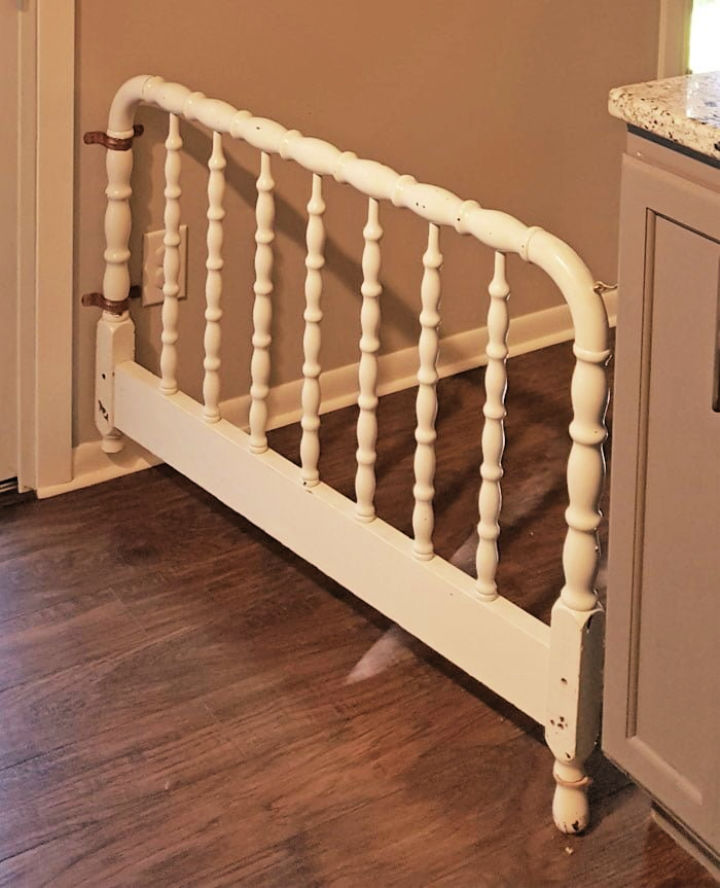 How cute is this DIY baby gate! It is not only super stunning but also super easy to re-create. That is because all you need to do is to turn an old headboard into a baby gate. Not hard at all, and anyone with no skills at all is capable of doing so. factualfairytale
4. How to Build a Baby Gate
The perfect wooden baby gate for any house with a dark wooden theme. This would work amazing in most of the homes and may even look great in an all-white themed house. Screws, plugs, gate latch, hinge pins, strap hinges, drill, driver, and a few other tools will be required. simplydesig
5. Geometric Baby Gate
Such a pretty DIY baby gate! It is all white with a touch of some décor and designing with this geometric pattern. This type of gate is an excellent way to make your house look modern, sharp, and clean. You can make two of these for the bottom and top of the stairs. undeclaredpa
6. Wooden Baby Gate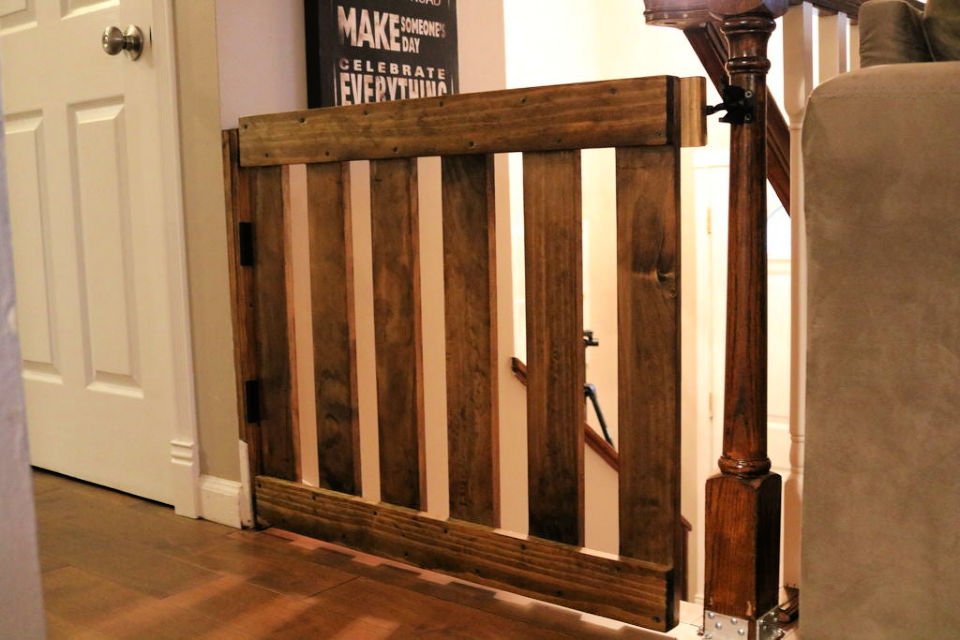 Here's a great makeshift baby gate plan to make this beautiful gate for your house. It is super sturdy and strong and will be a great way to keep the babies away from the stairs or anything that could potentially hurt them. Circular saw, speed square, and a few other tools needed. youtube
7. Farmhouse Baby Gate
A few 1×6's, 1×4's, 1×3's, paint, hinge set, wood glue, screws, and a few other materials and tools will be required for you to nail this amazing wooden baby gate project! The painting on this and the color scheme of the paints are just beautiful and will make it look a lot better! catzinthekitch
8. Baby Gate Out of PVC Pipes
You can make this PVC baby gate to match the aesthetic of your house and surroundings if you love the look of industrial appeal. It can also be used if you're just into industrial furniture and like to use it in your house. PVC baby gate is super inexpensive, and you don't need to spend a ton of time making this. instructables
9. Acrylic Baby Gate
Those plastic baby gates found at the market can be quite expensive, and it is hard to match with the theme of most of the houses. This is because they can look a little worn out and ugly. Make this stunning glass inspired DIY baby gate and make your house look really modern! chrislovesjulia
10. DIY Long Baby Gate
Gorilla glue, lock according to your liking, dill, hinge, spray paint, and a few other supplies will be required to nail to build your own baby gate successfully. It is very simple and easy to re-create as PVC pipes will be used in this project, which is almost easy to use. coveredinmod
11. Baby Gate With a Rustic Flair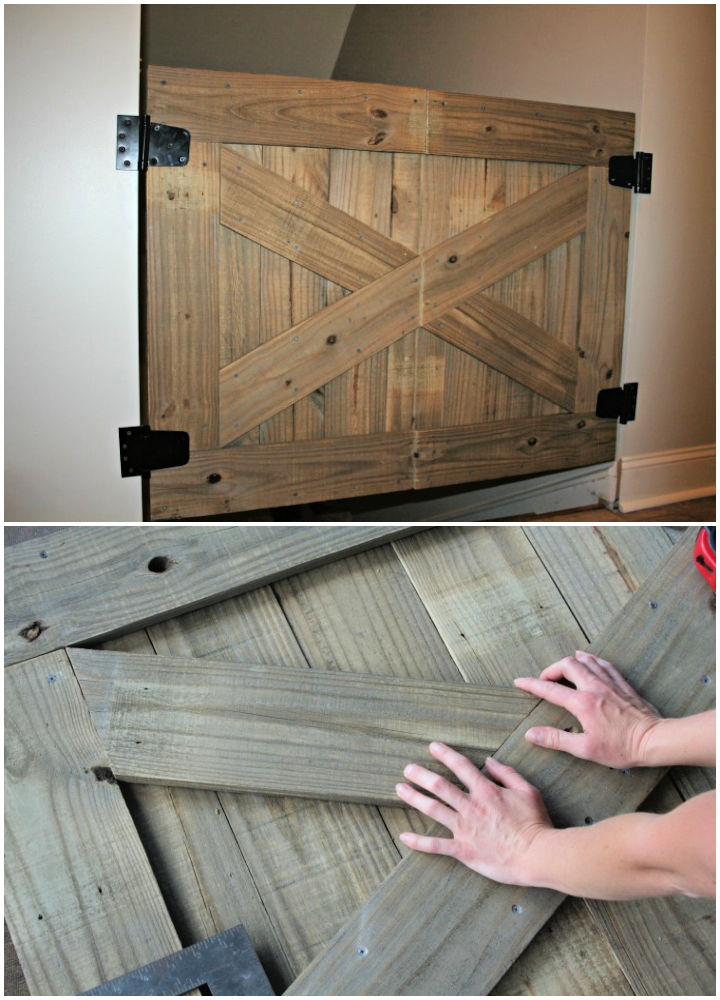 Are you trying to get a vintage theme in your house? Well, then you should follow this fantastic plan to make a baby gate with a rustic flair to it! You can also install these in your farmhouse to match the vibe of that house. Especially if you're thinking of escaping to your village for a while. homedepot
12. $25 Wood Baby Gates
One of the most important things to do before thinking of having a baby is to baby proof your house! This means that you need to do a few things to keep your baby safe when they do their usual adventures. Make this $25 wood bay gate to take the first step. youtube
13. How to Make Stunning Baby Gates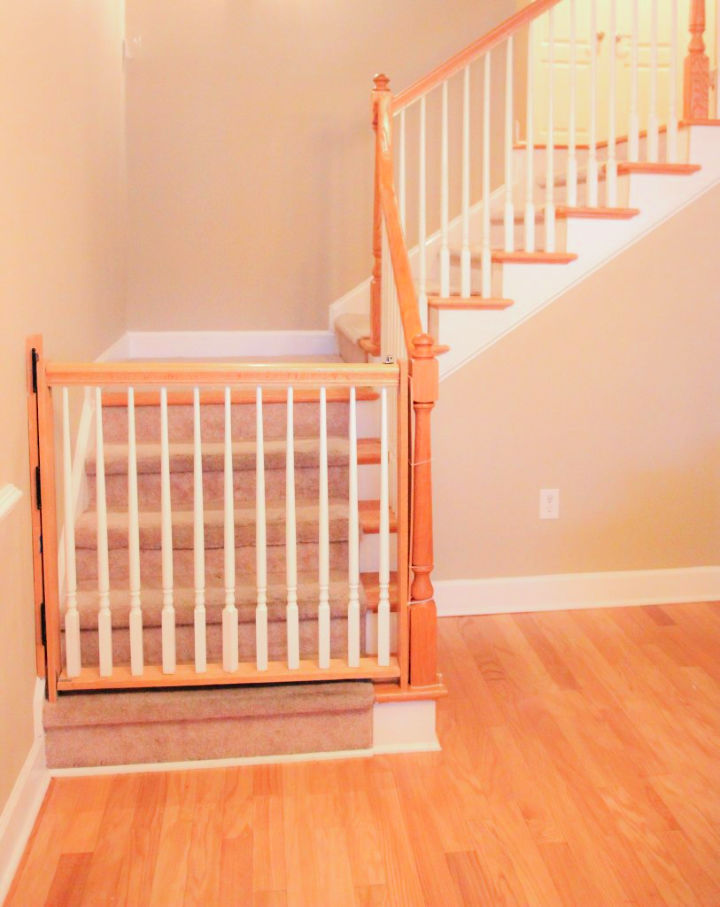 White and light brown wood will make a beautiful theme. It will almost make your house look like a good cup of milk coffee. Does that sound like a beautiful theme? You can do so by making this gate. All you need is a free evening to do this project. thewoodenma
14. DIY Baby Gate for Stairs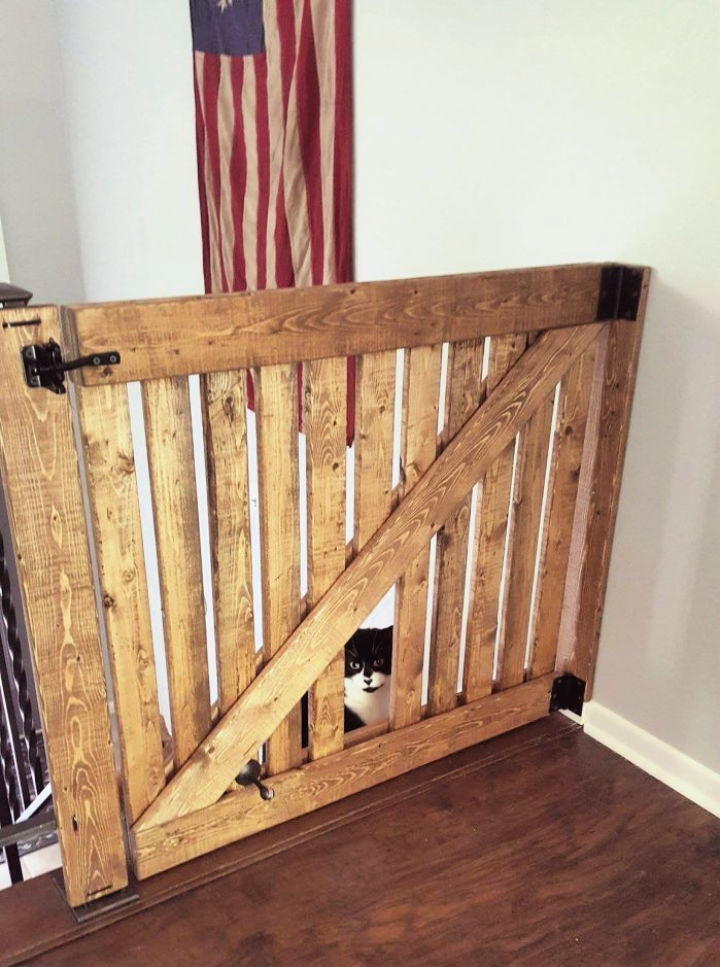 How cool is this barn door? It has a very dark and cozy vibe to it, which is perfect for making your house look more welcoming and fun. After all, isn't this just the perfect way to make your house a little lively before you get a pet or before a baby is born? Buid this pet gate or baby gate by yourself and find plan here: factualfairytale
15. Make a Modern Baby Gate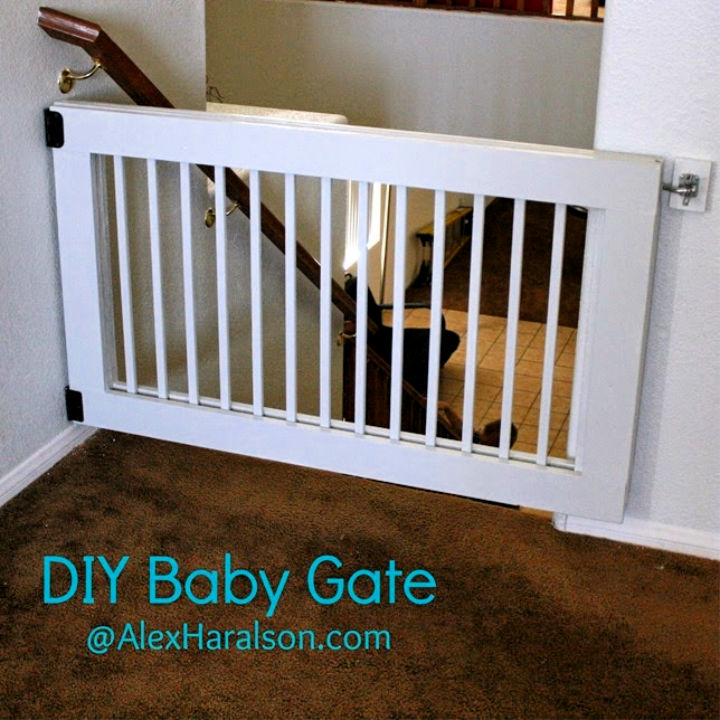 Tired of looking after your kids all the time? Well, you can save yourself from the extra effort by just making one of these amazing DIY baby gates. They can be built anywhere around your house, especially around the stairs. This is because stairs can be a dangerous place for the babies. alexharalson
16. Wooden Barn Door Baby Gate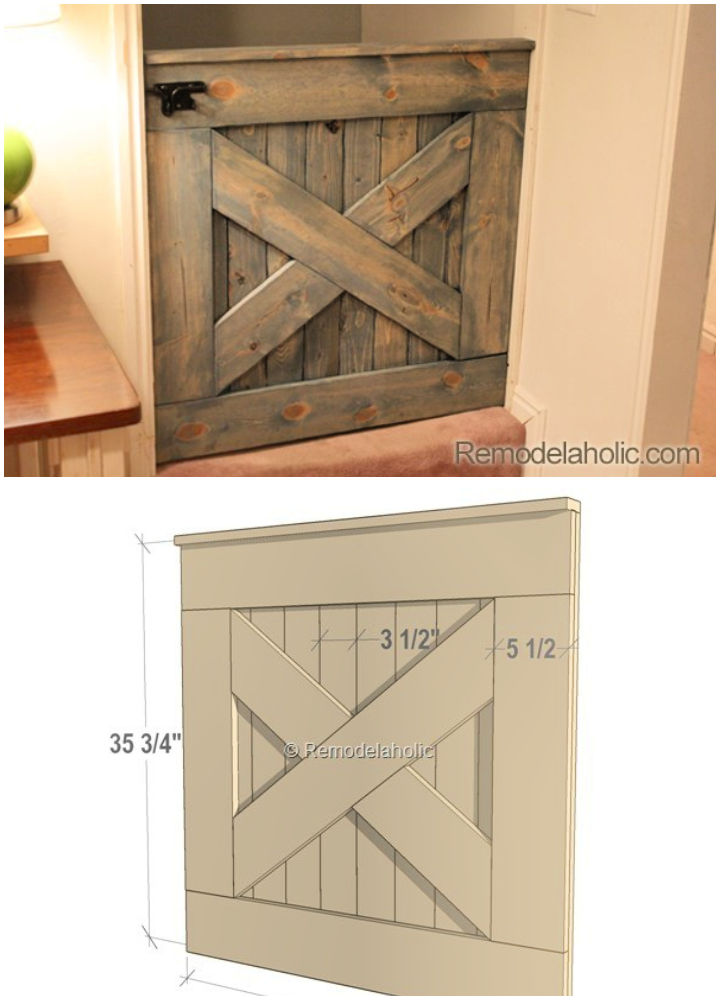 Rustic gates are just the best way to make your house look a little vintage and cozy. Sometimes, the best way to make your house look welcoming can be by adding an old school vibe to it. You will love how it will look once it's done! remodelaholic
17. DIY Fabric Baby Gate
Fabric DIY baby gates are a great way to incorporate some unique designs and patterns into your house. This is because you can almost choose any type of pattern! You may want to choose colors that will go well with the theme and vibe of your house. curlygirl
18. Homemade Baby Gate Or Dog Gate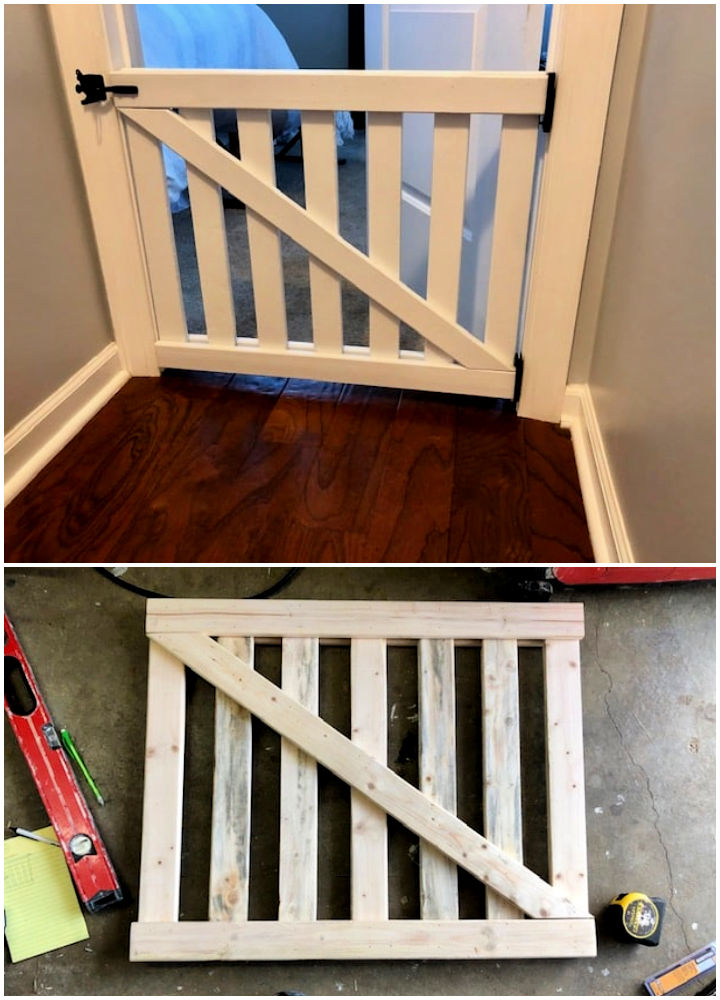 This amazing baby gate can be doubled as a pet gate, as well. This is because it is quite the same. It has one person – to keep unwanted things away. You can keep a baby or any little pets away from any potentially dangerous place by making this. thelittlefrugal
19. Bottom Of Stairs Baby Gate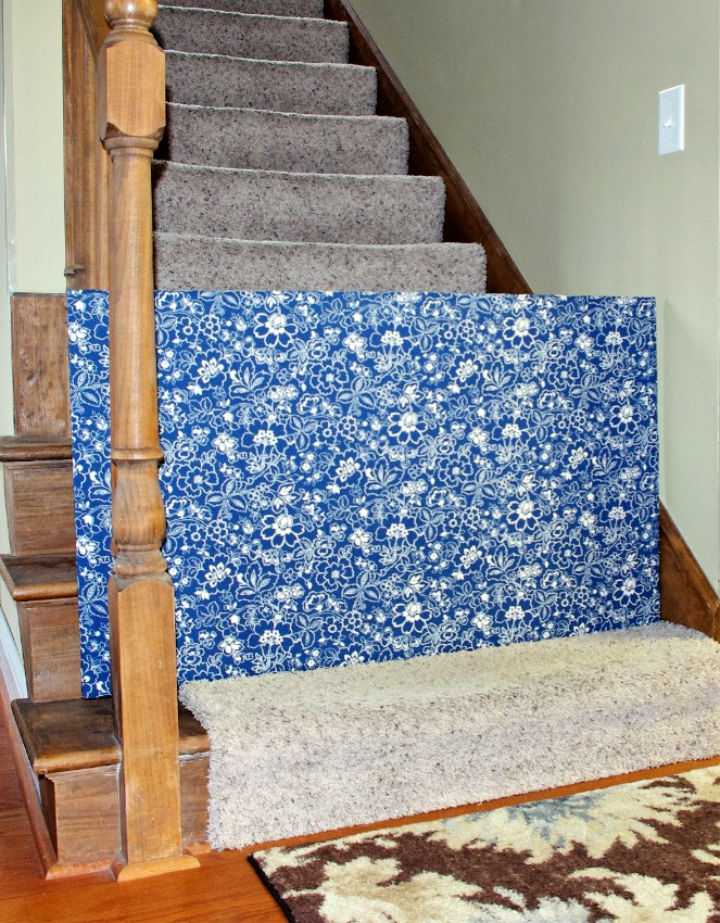 Here's a great way to make a bottom gate for your house. This fantastic DIY baby gate is made using fabric! Yes, you heard that, right! Isn't that so cool? You can use any color and any pattern because of the fact that fabric is being used. funandfunctional
20. DIY Dog Gates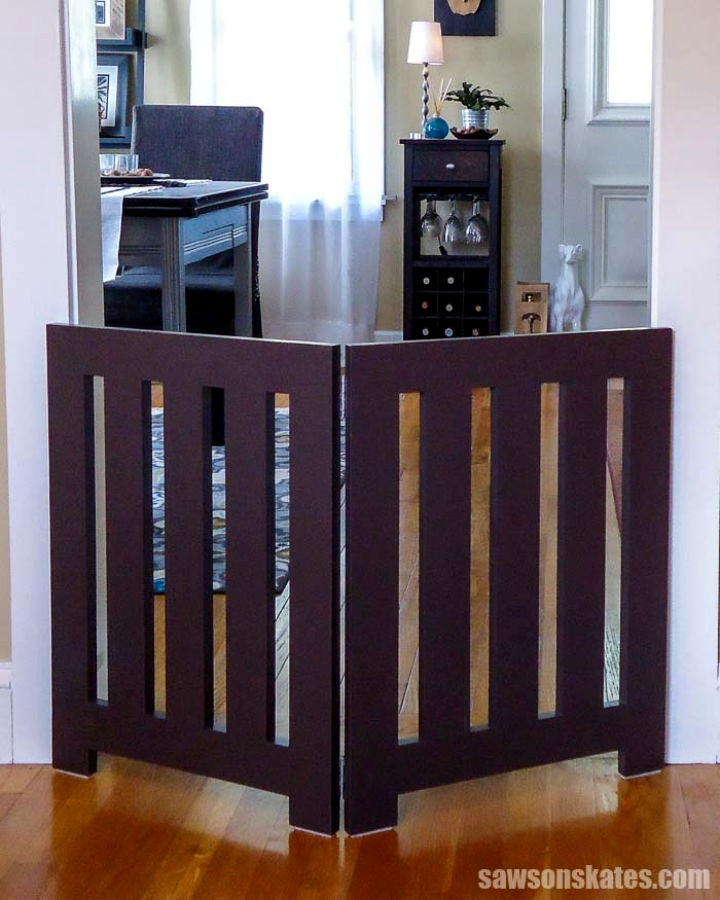 Here's a beautiful and stunning half door baby gate, which is a great way to keep your babies and pets safe! It is super versatile and can be used in any part of your house! This is the best part of making this DIY dog gate. Who doesn't like something that can be used in many areas of the house? sawsonskates
21. Sliding Baby Gate
Just look at these! They look so modern and stunning. You can add them in front of the stairs or any room to keep your babies or pets out. This is essential if you work from home or have an important meeting in any part of your house.
22. Custom Baby Gate
You don't need a lot of effort or time to make this DIY wood baby gate as it is super easy and quick to make. Here's a detailed guide that will teach you to step by step how you can make this white themed sliding gate. This sliding gate can be a great way to utilize space and use it more effectively. thekimsixfix
23. Modern Baby Gate Or Pet Gate
Sometimes, you just need something simple and easy to get the job done. Here's a project that is not only easy to do but also takes very little time to complete. You just need one shade of paint – which is white – in order to nail this baby or pet gate.
24. Saloon Style Baby Gate
Babies are super sensitive and can be hurt while trying to crawl over the stairs. This is why it is a good idea to keep your baby away from the stairs! All you need is a basic and simple plan like this one to make some effective baby gates. They will work very well. madnessandme
25. Build Your Own Baby Gate
If you have a baby or a dog, who has to be kept from going upstairs, this DIY baby gate project is for you! You will need 1 x 6 and 1 x 4 boards, 2 hinges, wood glue, wood filler, sanding blocks, and Kreg Jig. Finish the complete look with paint or stain. Hit the link for more. createandfind
Conclusion
You may be tempted to make a DIY baby gate, right away! However, you do need to know a few things before getting started. It is recommended to do some research and find the best-fit lumber for your opinions and choices. You should definitely make a fabric baby gate or a cheap PVC baby gate if you're looking for something a little more colorful and creative. However, if you want something neutral and simple, then you could go for a wooden design! There are many options, choose carefully.
Related Ideas:
Dog House: Making a dog house for your pooch is a wonderful idea since you can customize it to your liking and of course, his!
Need a new comfortable, easy-to-build house for your furry friend? Get inspired by this large dog house plans.
Woodworking: Looking for some quick and simple woodworking projects to build with your kids this season? Follow these woodworking projects for kids and start building by yourself.