Get relaxed is becoming crucial in this life full of tensions. So why not get the royal spa treatment to instantly relax with the DIY float tank that is best to get hot water therapy too. These 10 easy DIY float tank plans can help you to build a sensory deprivation tank for every size. Almost equal to kids' swimming pools and will help you dive in the water a little deep to feel the dark around and the soundproof medium. This is what we call Sensory Deprivation Therapy helping people relaxed like they were never stressed. However, these float tanks also having names as isolation tanks, sensory attention tanks, floatation tanks, float cabin, and sensory deprivation tank can easily be set up by choosing a suitable location at your backyard or in the garden.
If you need the guides for the installation, then browse these 10 free DIY float tank projects. That will discuss in detail about how to install these tanks and make them work properly. There are lots of designs of these stock float tanks like oval-shaped, round, and rectangular ones. And you can choose any that will fit best to your decided location.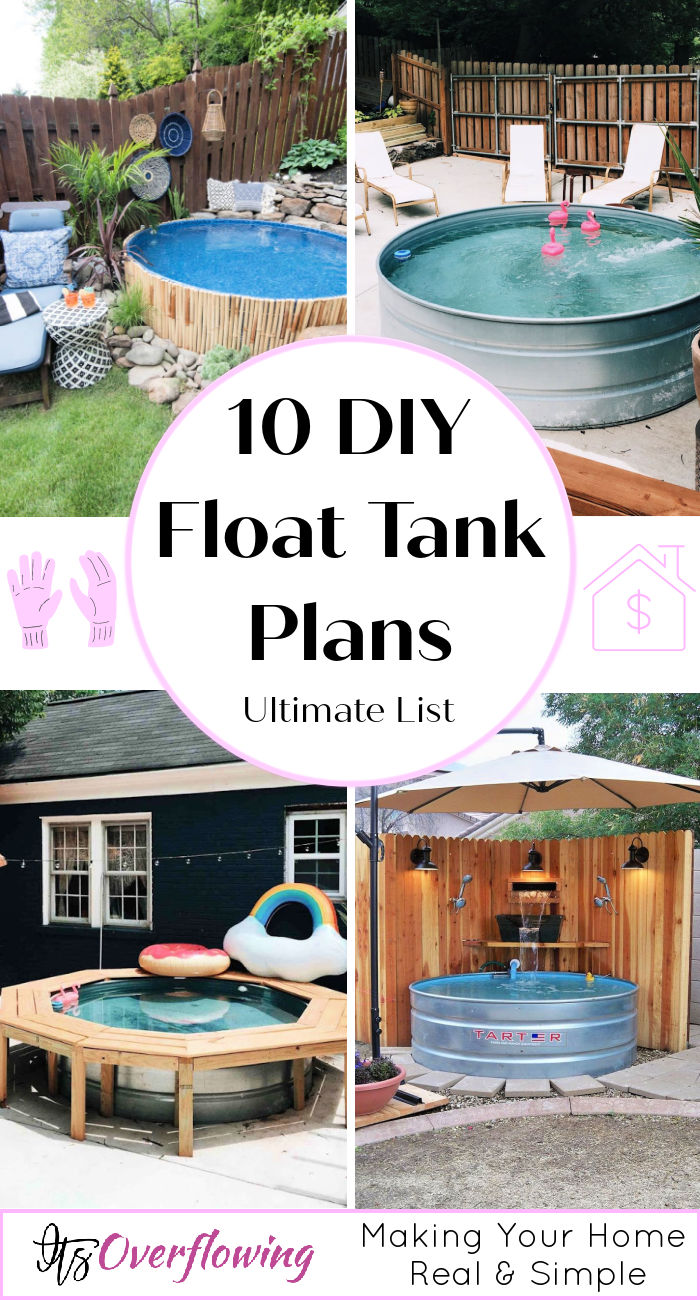 DIY sensory deprivation tank:
Relaxing in this tank help treat insomnia and various other health problems like autism, arthritis, muscle strains, and fibromyalgia. You de-stress yourself by floating on the water and also by diving deep to get the sensory deprivation therapy. First, you need a tank, and then you can install a water filter pump. Use the custom hoses, and plunger valves to manage the water pump system.
Next, heat the water to the body template, add custom spa products like Epsom salt. The salty hot water therapy will help ease your muscle cramps, and absorption of magnesium and sulfates by your body will rock for deep relaxation. Just browse the entire collection of these DIY Float Tank Projects that will make you say a big wow.
1. DIY Float Tank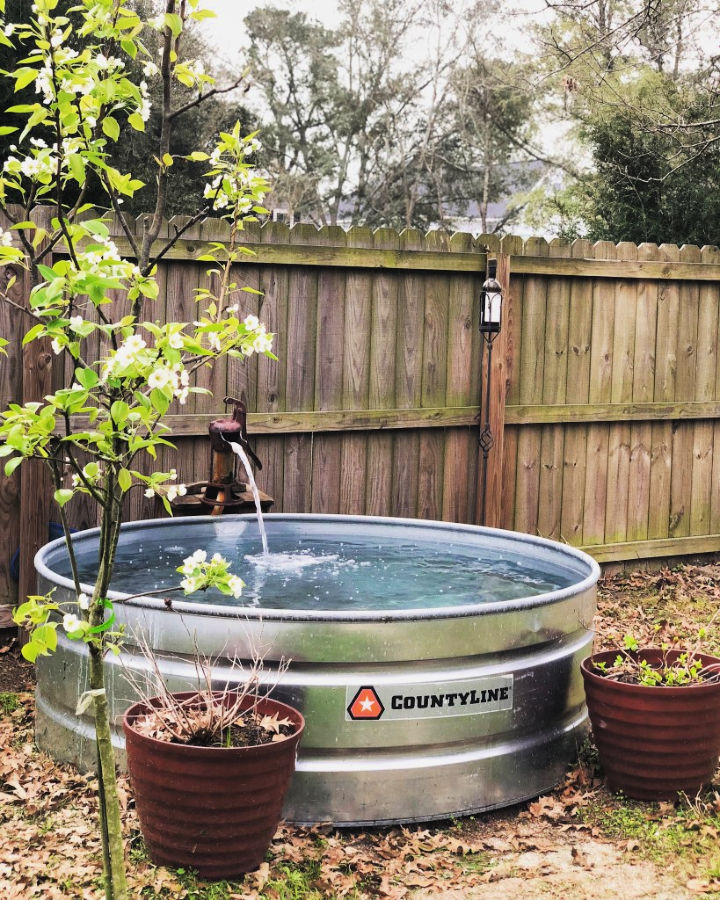 Do you want to go for deep relaxation? They just get into this DIY sensory deprivation tank that will help relieve your stress by lowering down the cortisol levels. While floating in this tank, your body will absorb lots of minerals like magnesium and sulfate. And this helps you get relaxed more. Here you need a stock tank pool, above ground pool pump, pool filters, hose valve, waterproof silicon, pool net, and pool cover, etc to make it. flowertowncharm
2. Stock Tank Pool
If you wish to install a float tank outdoor for the royal spa treatment, then get here the free plans to build a one by yourself with all the luxury installed. You need an 8′ round stock tank, pool pump with built-in filters, strainer covers, 2 plunger valve, and saltwater system to make this stock tank pool. One of the best ways to get relaxed by lowering the stress hormone level. Details here thejoshuatree
3. Float Tank Swimming Pool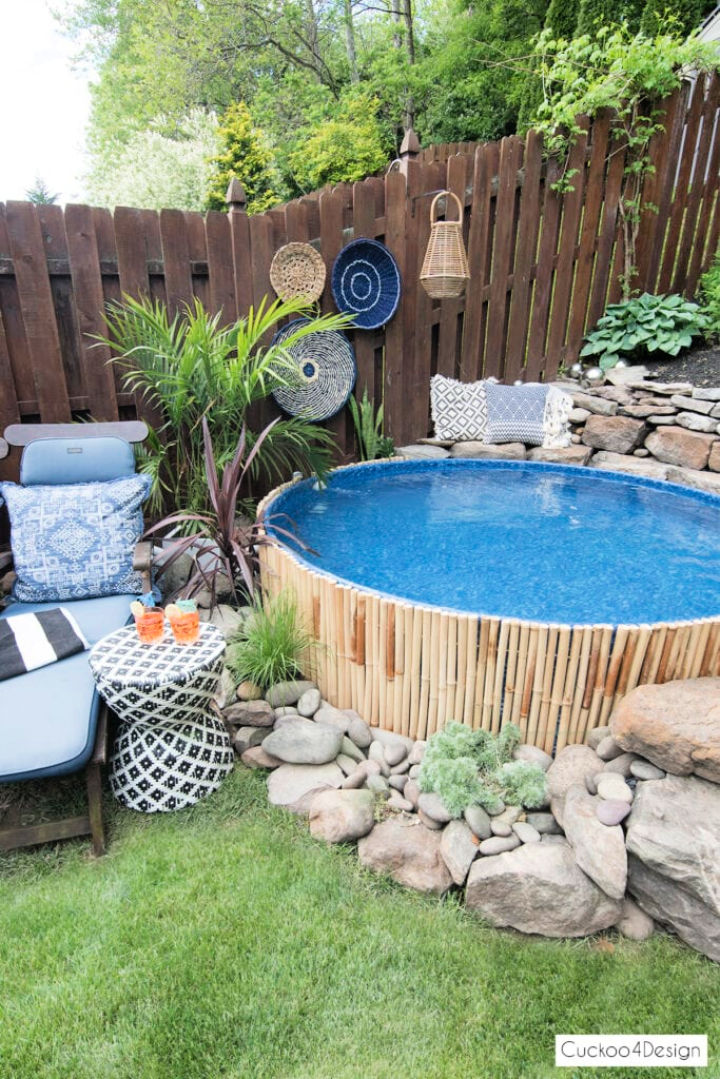 Treat your insomnia and addiction problems with this float tank swimming pool. Having this DIY swimming pool in your garden or backyard will make you enjoy more your relaxing hours. To build your own sensory deprivation tank, you need a stock tank pool, clear sand filter pump, filter stand, waterproof caulk, 8-foot pool liner, metal spring clamps, and bamboo fence to build this float tank, will make you live the real luxury. details here cuckoo4design
4. Ultimate DIY The Stock Tank Pool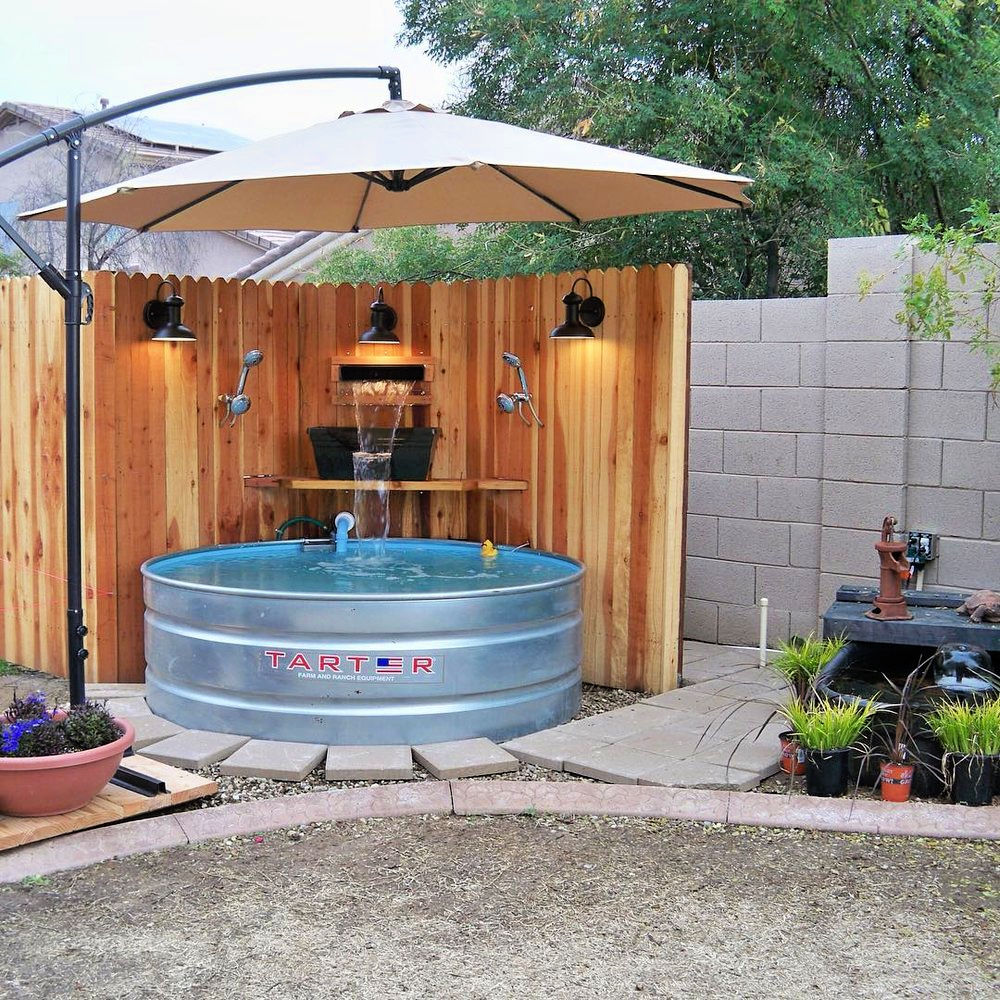 Sorting out the best DIY sensory deprivation tank plans and guides about how to install and step a stock tank pool? Then get the perfect guides here that will give you tips for choosing the best outdoor location and also in choosing the best size of your pool. First, choose the size and shape of your stock tank pool and then install the filter pump. Keep the water look clear and glue using floating chlorine dispensers, and that's it. stocktankpool
5. DIY Stock Tank Pool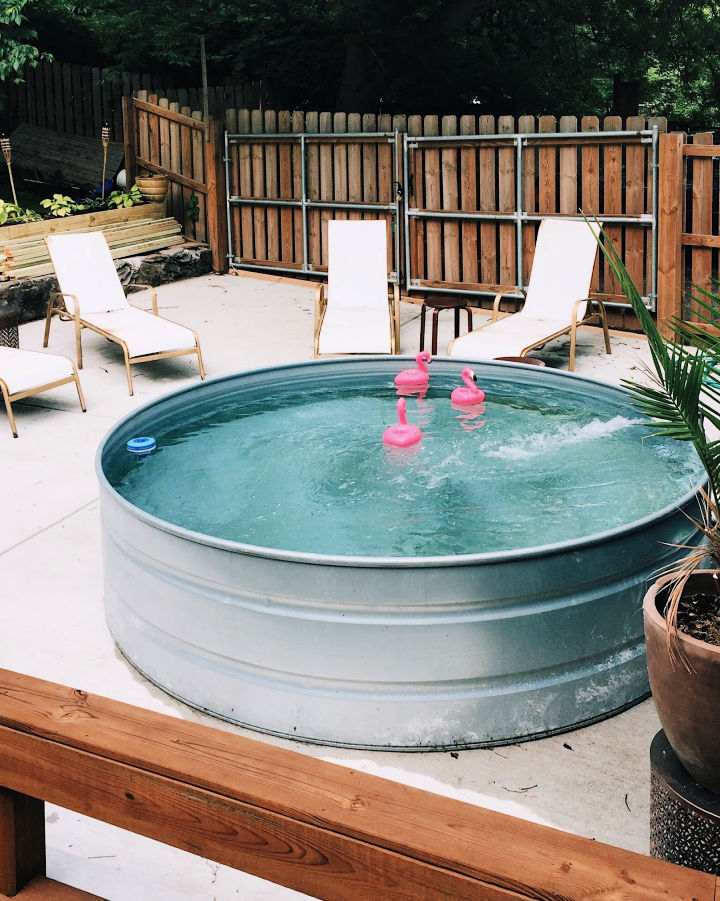 Start getting the stock tank pool hot tub therapy and say bye to daily tensions of life. Just spending a little time in a hot tub will help you instantly relax, making you feel the real joy of life. Grab a stock tank pool, above ground pool pump, weatherproof silicone sealant, plunger valves, pool outlet, chlorine tablets, and custom water cleaning dispensers. One of the best stock tank pool for 2 or more people. Details here heywanderer
6. Clever Float Tank
Get rid of sadness and stress and by getting a sensory deprivation tank therapy. Just heat the tub to your body temperate and add custom salts like Epsom salt that will help ease in muscle strains. Moreover, it will provide the perfect buoyancy of the water, so you float more easily. So, why not install an isolation tank in your backyard or garden to enjoy getting relaxed in a healthy way. Get inspired by this given sample that provides a hexagonal wooden deck all around also. Details here
7. Oval Stock Tank Pools
Say bye to all tensions of life by building this oval stock tank pool, the best one that comes under the shades of the tree. Just decide your own suitable outdoor location and then the size and shape of your homemade sensory deprivation tank. Install the filter pump, heat the water to the body template, add custom salts, and stat getting relaxed in this hot water tub. Use custom water cleaner to make the water look blue all the time. The chlorine tablets will rock in this case.
8. Backyard Float Tank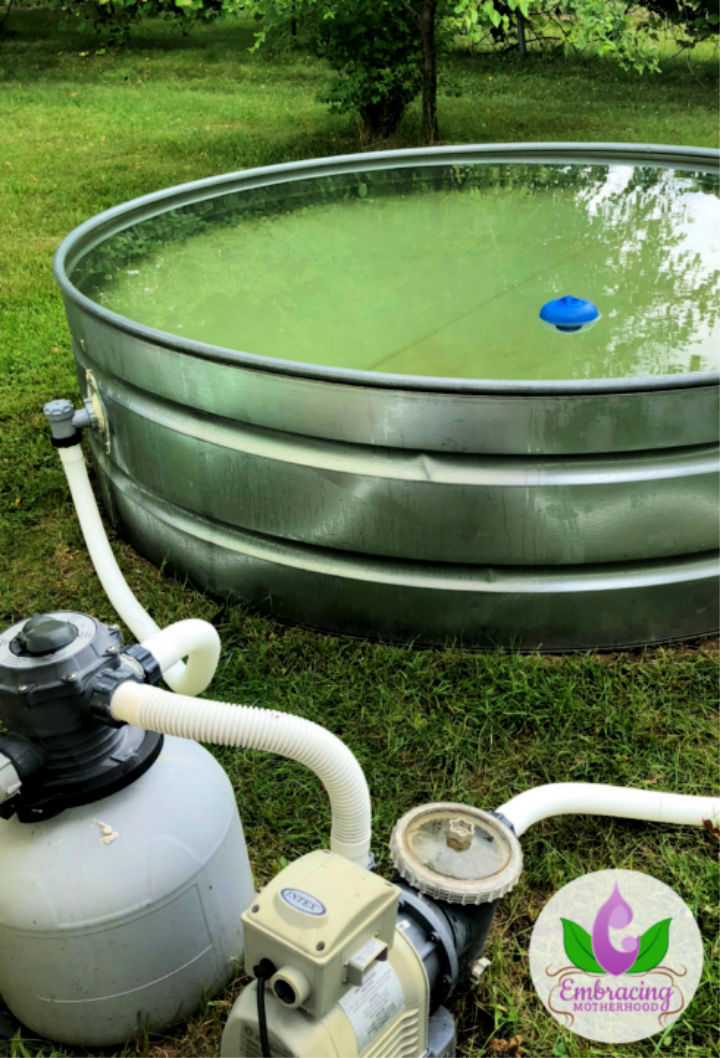 Taking a bath in saltwater that is heated to body temperature will the best way to reduce your stress level. At a first dark and soundproof dive, you will feel less depressed. And the salt therapy will remove all the tiredness from your body. Check out here one of the best isolation tanks built at the backyard will help soothe your nerves along with treating muscle cramps. Build it using a round float tank and a filter pump.
9. Float Tank Pools
Are you suffering from insomnia and other sleep problem? Are having lots of muscle strains teasing you all the time? Then this DIY float tank pool will be a lovely treatment for both purposes. Check out here the float tank installed in a clean green lawn area and has a lovely decorative paver pathway all around. It comes in round shape and can be selected in any size with any water capacity. Further, you need a filter pump, plunger valves, custom hoses, and water cleaning systems.
10. Float Tank Pool Design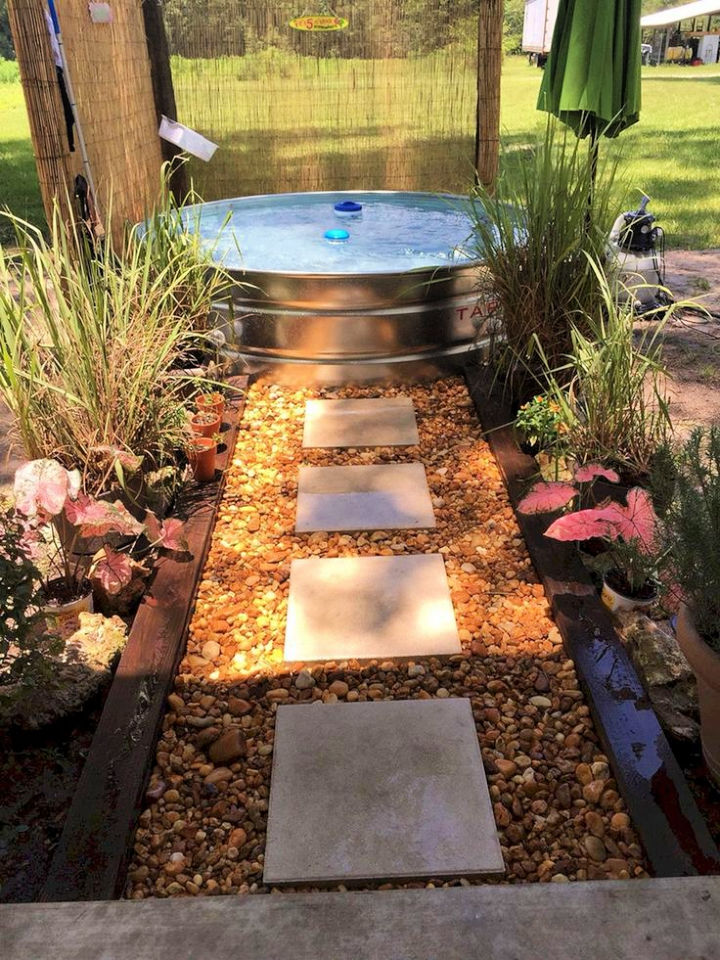 Get inspired by this another enchanting design of the float tank pool that is looking amazingly gorgeous. You will surely fall for this float tank pool design that is looking exceptional. This pool tank design comes with a round design and offers a paver pathway to reach the heat water tank in style. Get the royal spa treatment by getting dive into this float tank pool design will surely impress. One of the best DIY Float Tank Pool design.
DIY Solar Pool Heater: With these easy to follow DIY solar pool heater instructions, you can build your own solar pool heater in less than one hour.
Conclusion:
If you are addicted to getting relaxed by getting a hot water bath, then why not take it outdoor? Install a mini pool outdoor may cost you an arm and a leg, but you can go with these DIY Float Tanks that will help install the stock float tanks at your outdoor without breaking the bank. These ideas will help you to be your own boss and will guide you through all the steps. Like a hose to choose the location, the size of the tank, the best water filter pump, and also a water cleaning floating dispenser. So, these projects are actually the budget-friendly expert ways to build a float tank for hot water therapy, will remove tension and tiredness from you.