It is crucial to install good drainage to get rid of the garden's muddy mess and rainwater pools. So, get your yards, lawn, garden, home foundation, basements, and garages dry and mold-free by learning how to install a french drain these 20 easy diy french drain installation guides provide the best hacks to install the trench and piping based drainage systems. You are to meet here a variety of French Drainage Systems that will rock for different situations, spaces, and budgets. Most of them are all about digging a trench than installing the perforated piping.
Use the landscape fabric for trench lining and hide the piping with gravel. Explore this collection of 20 DIY French Drain Installations covering all the secrets to installing the worldly popular drainage system. Go with a suitable installation to remove the groundwater that collects in the basements and choose a desirable type to eliminate the free-standing water.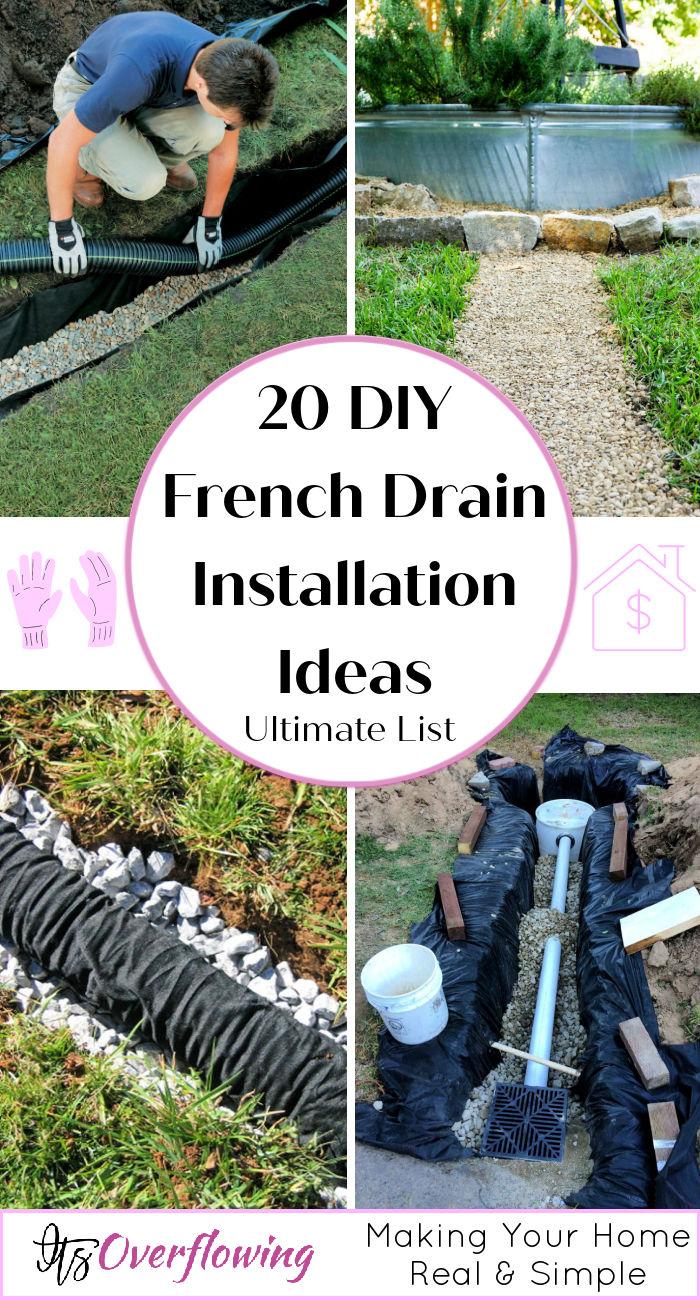 Make sure you are installing the driveway piping on a slope so it will nicely drain the runoff to decide the ending point. Before you get into the construction, you must determine the start and endpoints. First, make a ditch at the starting point and let it hole a catch basin too if you have.
Moreover, make the downspout connections too. To redirect the surface's water, subsurface water, and groundwater, this drain system will really rock, and you will have lots of choices for the perforated pipes, the corrugated 4" perforated pipes will make a smart choice. Explore the collection of all DIY french drain installation projects and choose the one according to your garden, yard, and backyard space. Follow our and you don't need to look french drain installation near me:
1. How To Install a French Drain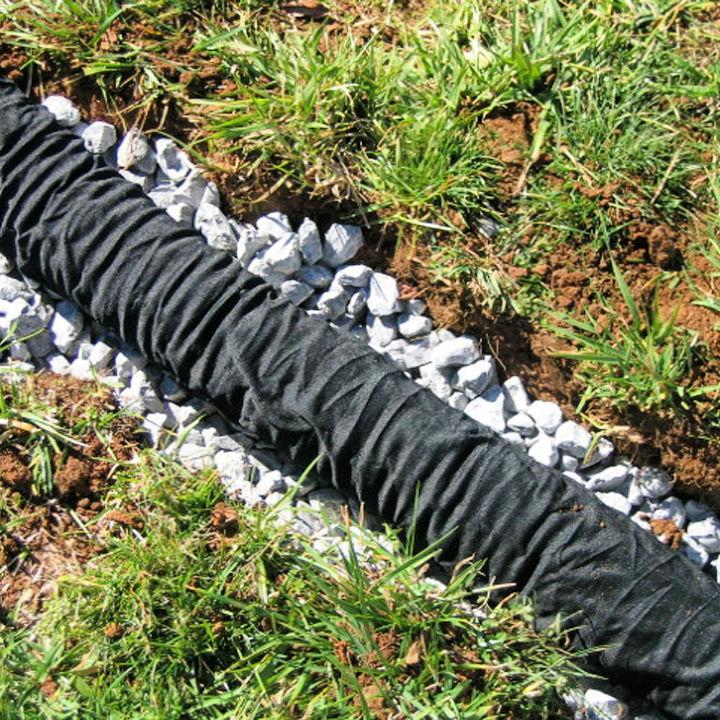 Are you having drainage problems in your backyard or garden? It can lead to less production and will also cause mold and water damage to your property. So, the best solution to come out from this embarrassing condition is to install the French Dain. This system really works to drain water from your yard in a natural way. Installing this Drain will demand to dig a trench, and you must decide a suitable area first while saving the neighbor's property. Line the trench with filter fabric, lay over a gravel bed, and then install the drainage pipe. Details here homedepot
2. Installing a French Drain

Filter the runoff from your law by installing this gravel-covered French Drain in your yard having drainage issues. Install this system with a slope is must to easily direct the runoff to the Drain. Make sure you are not doing any current or future damage to your neighbor's property. First, decide an exit point and cut turf, dig a trench with a slope and add landscape fabric, add gravel, and then lay pipe. Cover the pipe with gravel too. Details here blackanddecker
3. French Drain System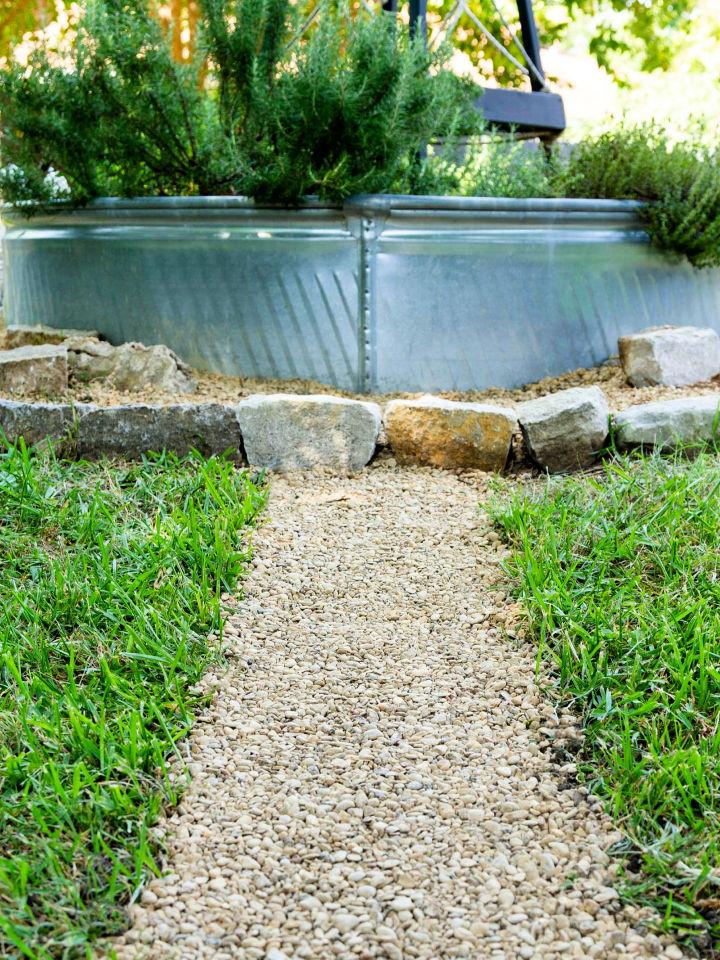 Is the pooling of rainwater is causing big damage to your property? Do you have an unnecessary water pool in your yarn that is made of water coming from a planter or drain gutter? Then time to prevent the water from retaining in your property by installing a French Drain, the worldly popular drain system. You need PVC pipe, drill, pea gravel, weed barrier cloth, shovel, scissors, drainage rock, and some patience to install this system. First, find the place where this problem occurred and then determine the point where you want to divert the water or runoff. Details here diynetwork
4. French Drain In Yard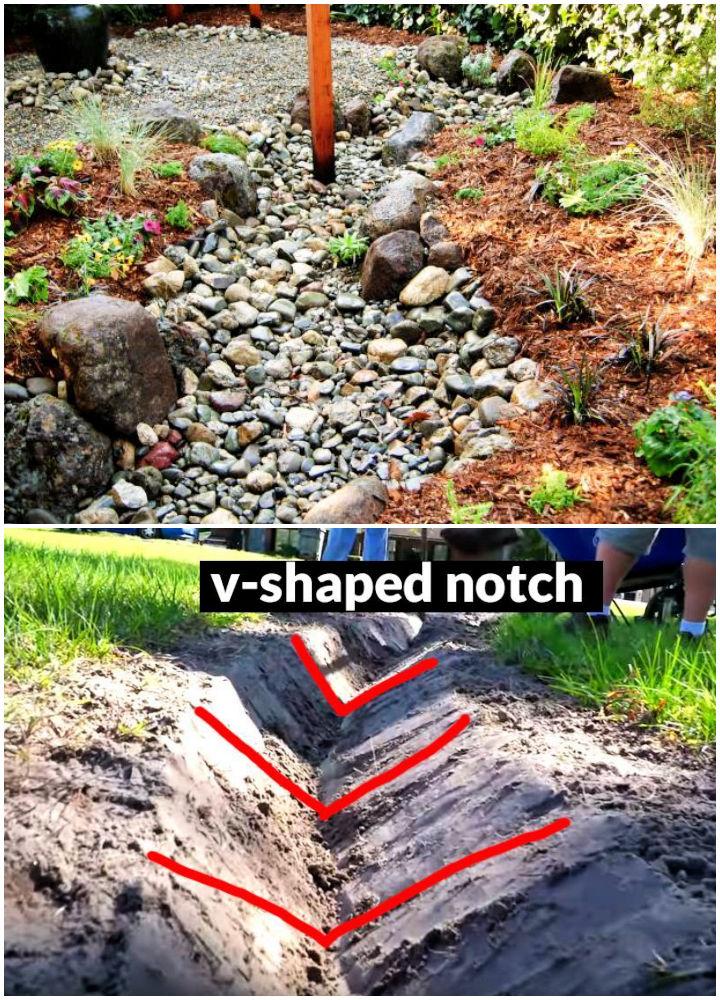 Are you having spots in your yarn or garden where rainwater gathers, causing big damage to space and also to your property? Then time to install a French Drain in your yard will remove all the unwanted water pools from the yard and also from the space that is near to foundation. First, you have to decide the starting and ending point of the Drain. Next, dig the trench, line the landscape fabric, and add the pipe and finish with stones. Hide the completed Drain using the landscaping fabric. Details here prettypurple
5. French Drain Installation

Building this French Drain will cost you $8-$10 per 10 linear feet, and you need the beginner skill level to install it. The total project will complete in less than a day. There are different types of French Drains that work for different types of situations, land conditions, and landscaping. This is just ideal if you need to drain the excess of surface water, causing damage to your property and yard. Learn here how to install a drain without disturbing the neighbor's land. You need wood stakes, landscape fabric staples, crushed granite, Mason's line, line level, tape measure, digging shovel, bow rake, and a hammer to do this project. Details here thespruce
6. How to Build a French Drain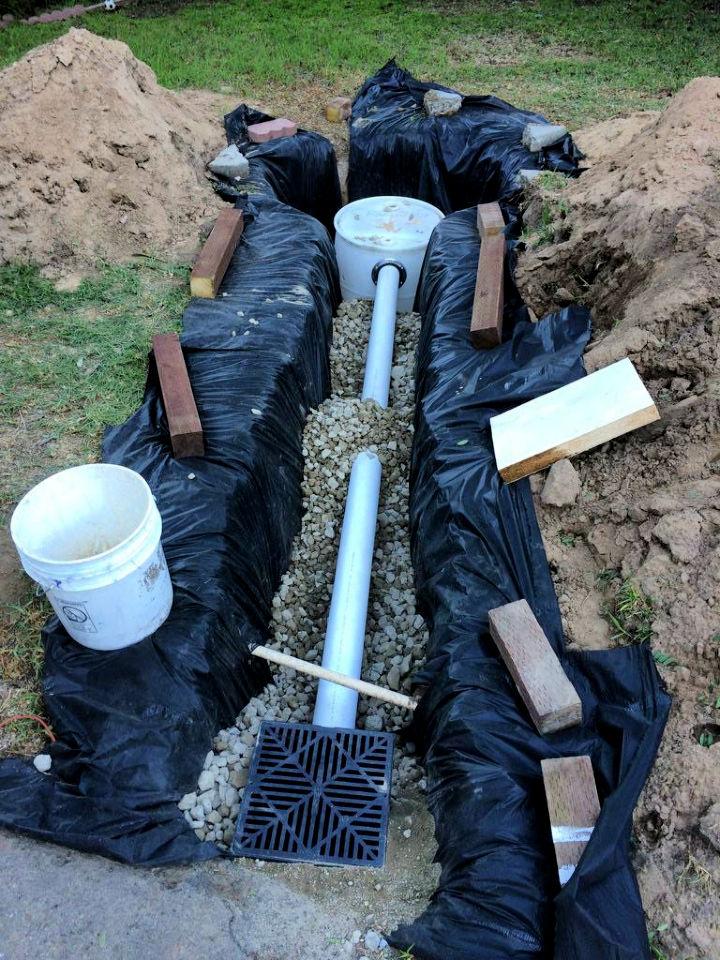 Get here plans to drain the water that is gathering anywhere in your yard or coming to your spaces. Here the idea is to install the French Drain that will run out of the curb and will be below the street level. First, you can draw rough plans and then go ahead. First, dig the mouth for the Drain and then install the trench. Next, install the drain pipe, should be sloped to direct the runoff to the ending point. Don't forget to line the trench with landscaping fabric and fill the trench with gravel. Details here instructables
7. DIY French Drain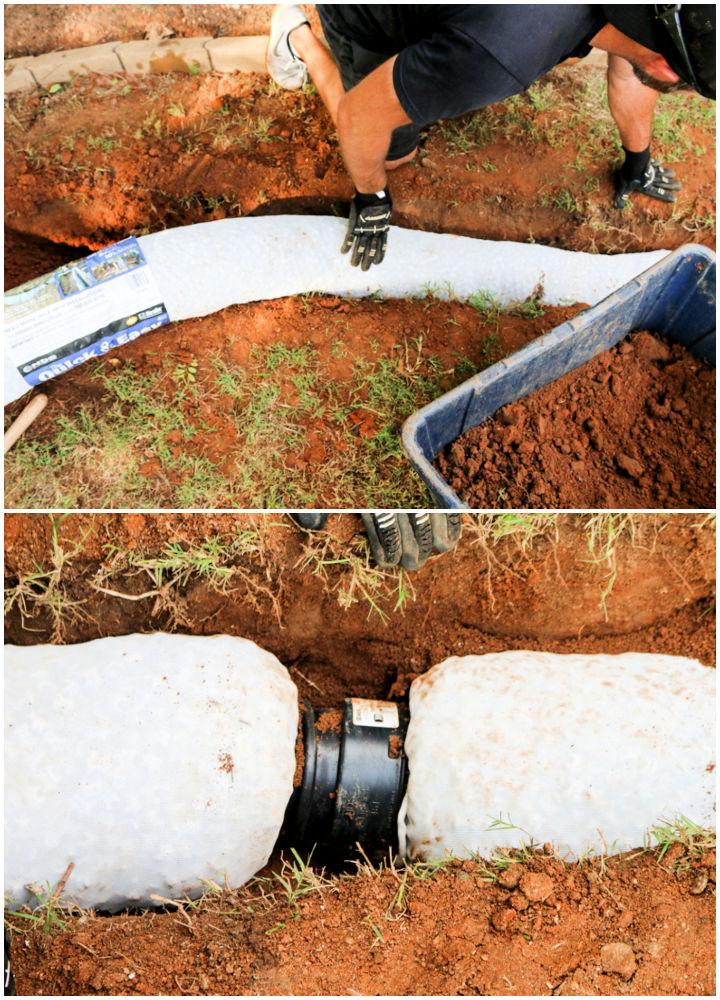 Stop the rainwater pooling in your yard or garden by installing a cool system. Get here free plans to install a French Drain like, will be inexpensive but will drain out all your surface water, preventing washing out your landscape further. Decide the starting and ending points and combine them both by digging a trench. Install the driveway sloped to easily divert the water to end the draining point. The project involves installing the All-in-one EZ Drain that will do a great job of stopping further water damages to your property. Details here bowerpower
8. Installing French Drain

Redirect the surface water and groundwater by installing a French Drain, will be an inexpensive system to easily solve the water drain problems from your yards and lawns. This system will work great to remove those water pools on your patio that are to see soon after the rain. Here you have to dig a trench and then to use the grave and perforated pipe to install this very famous type of Drain. Make sure you have enough to direct the runoff exactly to the ending point. You need gravel, landscape fabric, landscape staples, square shovel, and a wheelbarrow. Details here realtor
9. French Drain Construction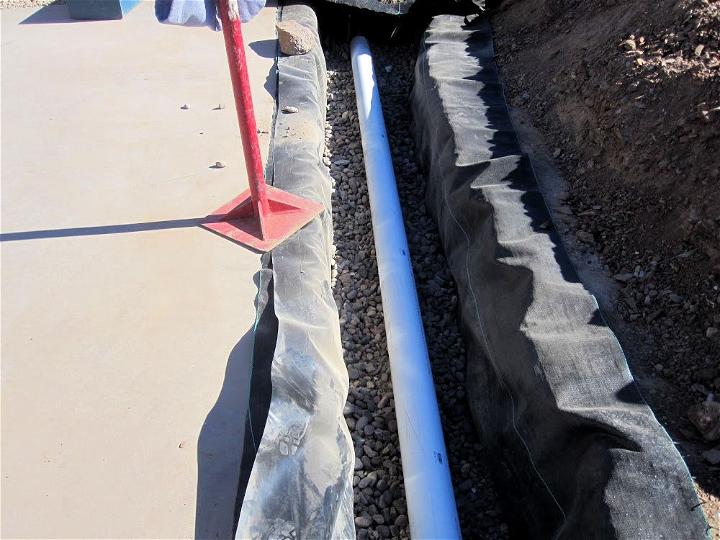 Have you headed over the French Drain system after hearing about their fame? Then learn here step-by-step guides to build a French Drain system right in your backyard or lawn, will redirect the surface water from the rainwater pools to groundwater. So, there will be no retained water to cause mold to your property. Dig the trenches and then install the perforated pipes in them that you can cover then with the gravel. Direct the trenches to either direction to reach the ending point and do line them up with landscape fabric. Details here landscapedraina
10. How to Make a French Drain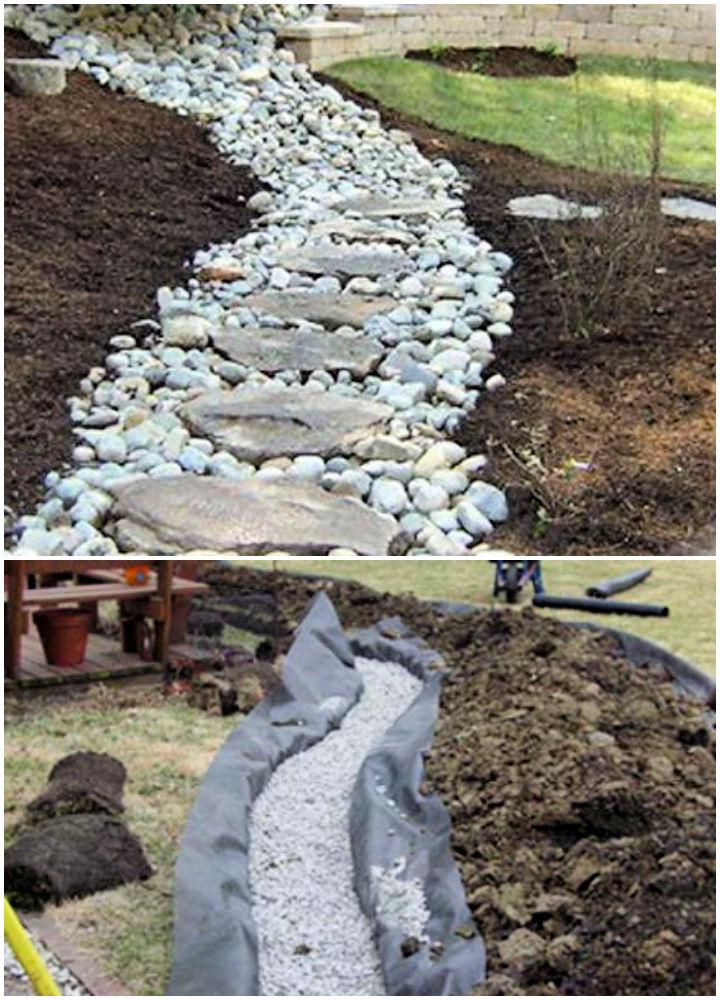 Are you new to build a French Drain system? Then learn all the hacks and tricks here to install an inexpensive, lovely, and well working French Drain like a pro. This system will diver the surface water and those or retained water pools, causing damage to the foundation, away from the property. Along with being hidden, they will not do any bad to outdoor landscaping. Without using any special tool, you will be able to install this drainage system brilliantly. This French Drain also comes covered with gravel. Details here nachi
11. DIY French Drain Installation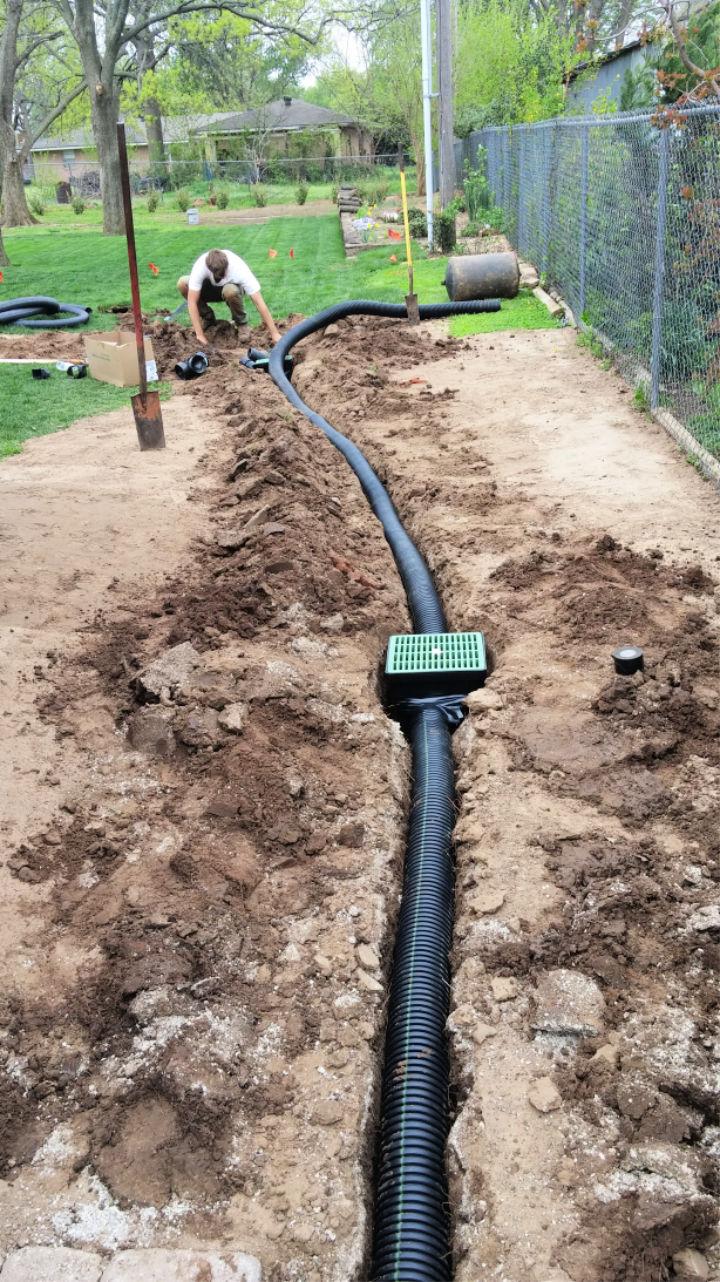 One more project that covers all the details and the common mistakes while installing the French Drain. From draining the surface water to sub-surface water, this drainage system will work great for both. Again you need the perforated pipes and gravel to build that hidden drainage system that will direct all the water pools from your property to a decided place. Don't let the rainwater retaining and planter water pools do further damage to your property. Get rid of all of them by installing this cheap, beginner-friendly, and well-working drainage system. Details here blanecallen
12. Underground Gutter French Drainage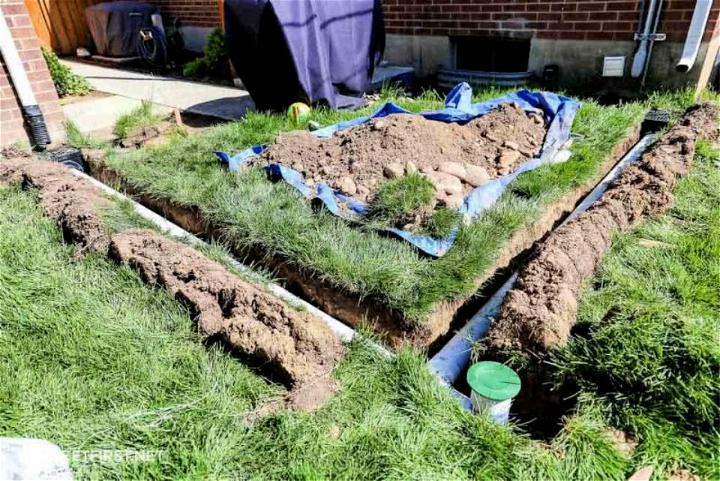 Get here all the secrets to installing so many different types of French Drainage. The project will provide instructions about how to build an underground gutter French Drainage that will keep the water away from your home that is gathering near the foundation. Install the downspout water extension also to this drainage system to remove all the unnecessary waters away from your property. You need to catch basic kit, catch basic filer, drainage emitter, coupling fitting, drain pipe, silicone, gravel, and glue for this project. Details here twofeetfirst
13. French Drain Installation Fact Sheet

Get here instructions for installing another great trench and water pipe system that will drain off the groundwater. If moisture from the rainwater pools or ditches is causing damage to your basements, walls, patios, and home foundation, then installing this French Drain will really solve your problem. First, choose the location and then dig a trench. Line the trench with outdoor landscaping fabric and then install the perforated plastic pipe. networx
14. French Drain Around House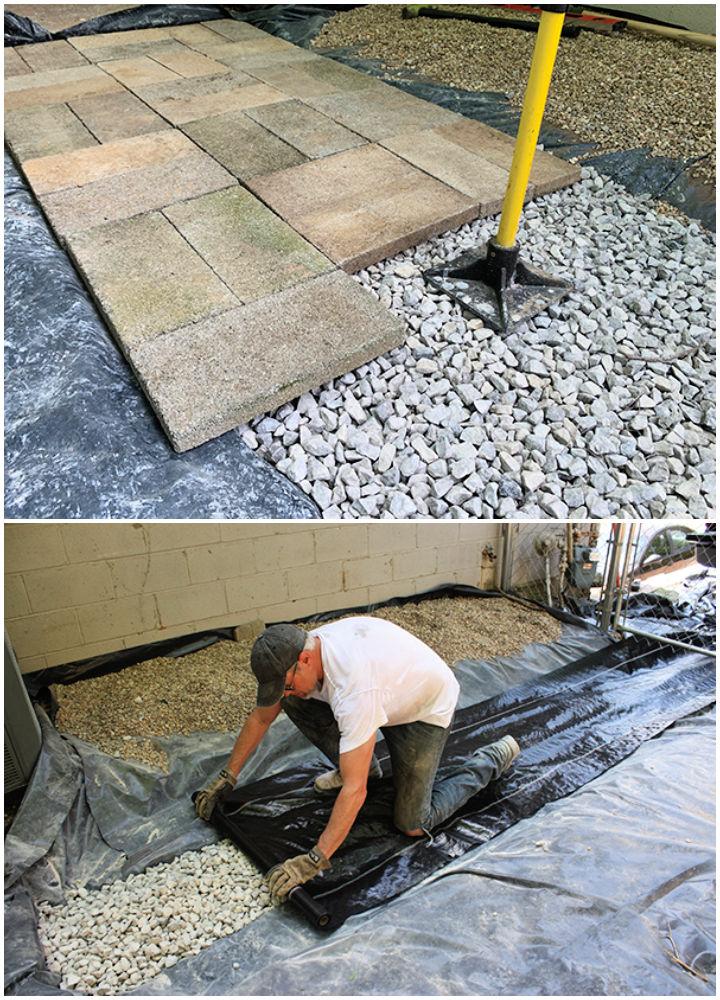 Gathering of water near the home foundation can do big damage to your property. So, if you are sorting out the best solutions to overcome this problem, then do build this French Drain around the house. It will redirect the surface and sub-surface water and will not let the disaster struck your home. From choosing, digging, lining, and piping, this project guide you for each step and provides the professional help to get the necessary slope to easily drive the water stream to the targeted location. Details here extremehowto
15. How to French Drain Installation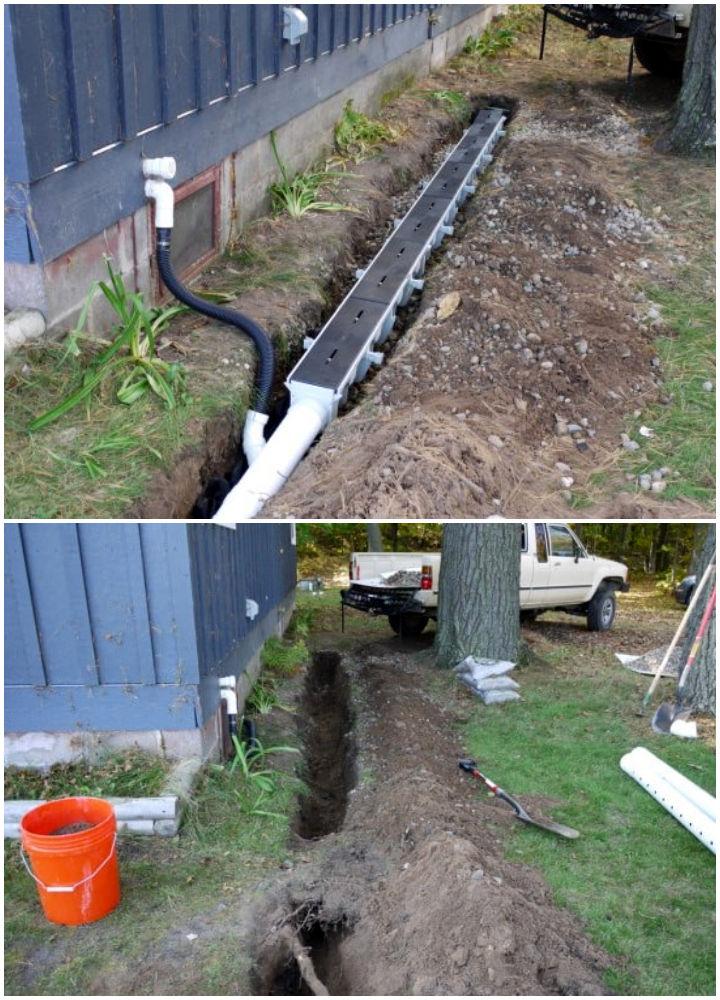 Wishing to install the French Drain like a pro? Then get here the professional guides helping you install a fully functional French Drain that will remove all the causes of web basements and wet home foundation. You need drain pipe for discharge circle, perforated drain pipe for French Drain, trench drain system, and drain emitter to do this project with great ease. The main task will be to decide and dig the space. Details here cabindiy
16. DIY French Drain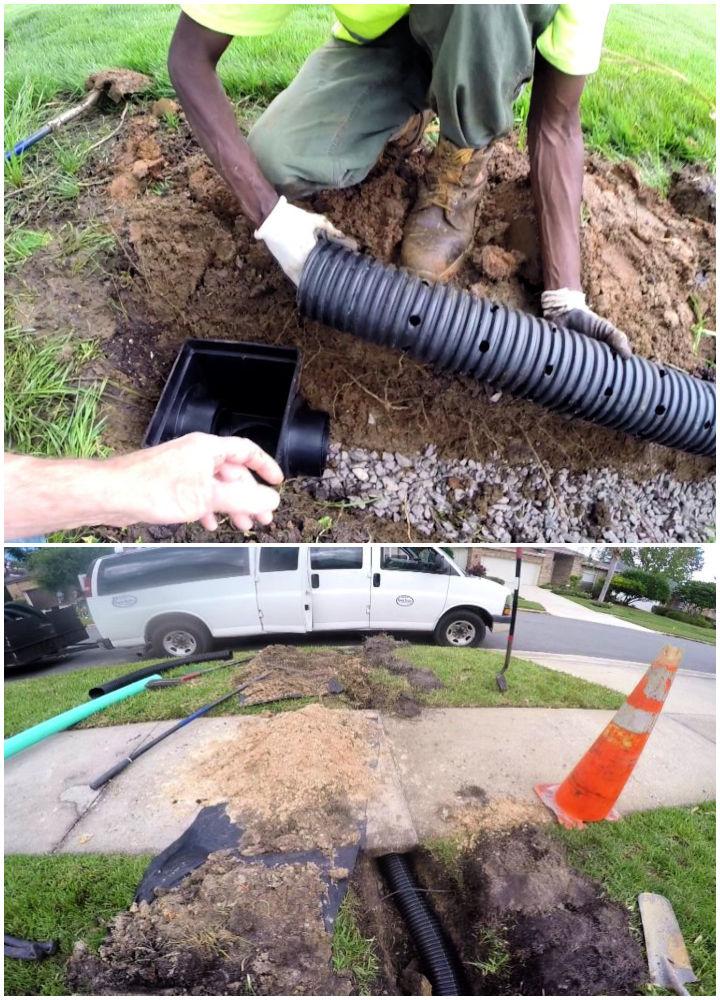 Are you sorting out the best artificial ways to naturally gathering surface's and sub-surface waters from your spaces, causing wetness to the home foundation and basements? Then get here free instructions about how to install a French Drain, will be a simple and cost-effective solution to all your problems. You need 100ft rolls of both solid and perforated pipes, gravel, catch basic, grave, and maybe the lining fabric. Opt for this system to drain out all the surface waters for instant waterproofing foundation repair. Details here appledrains
17. DIY French Drain for Under $250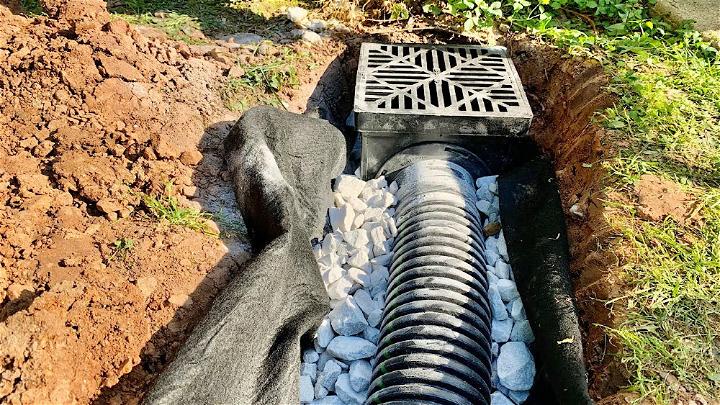 This French Drain project is super budget-conscious, will cost you less than $250. Install it will make preventing mold to your basements, and you will have an instant solution to get rid of the water pooling in your yard. Moreover, this drain system is going to be a big secret to waterproof the foundation and will be not let the water get into your basements and garages. You need the digging tools to dig the trench, a water catch basin, geotextile fabric, and 4" corrugated perforated pipe to install this system details here.
18. Cheap DIY French Drain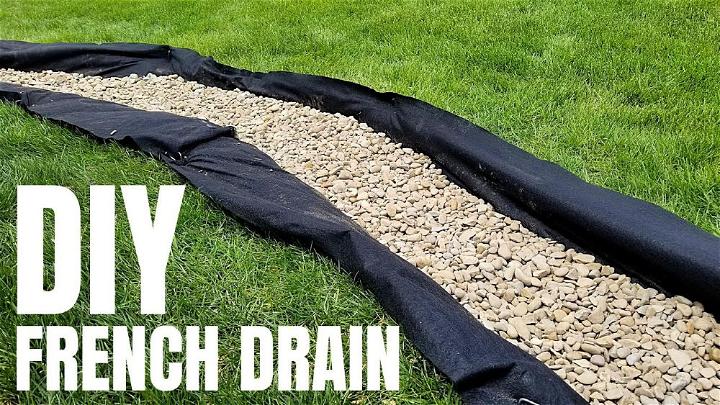 Installing this French Drain will cost you comparatively cheap prices. It comes with filled with gravel too for a great hideout. Dig the trench between the decided locations and then cover it up with the gravel. Don't forget to install the lining fabric right after your finishing digging. Fold the extra edges of the fabric over the gravel bed and then hide it out to get the same stimulating visual of the space. The best drainage systems to prevent water damages to your spaces.
19. Installing a French Drain In Garden

Say bye to all those muddy messes of your garden and also add a full stop to rainwater pooling that is causing damage to property foundation and basements, by installing this French Drain system. Get here guides about how to install it in your garden, and you have to choose first the starting point and then the ending point. Digging the space to get the drain trench, is the most challenging in the entire installation. This project also uses the 4" corrugated and perforated drainage pipe. Install the landscape fabric lining and then hide the pipe with a gravel fill.
20. French Drain Installation System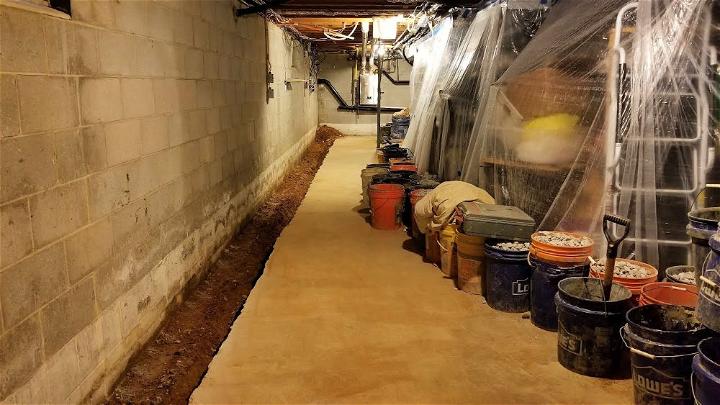 Hiring the contractors or professionals for the French Drain system installation is a matter of bigger investments. Save tons of your costs by installing them your own to prevent the home foundation wetness, to waterproof the basements, and also to remove all the muddy messes from your garden. There will be no water pool in your garden after the rain once you install this drain system. The project is all about digging a trench around the home to install the drainage pipe on a slope. Use lining fabric and gravel for a complete hide. Details here
Conclusion: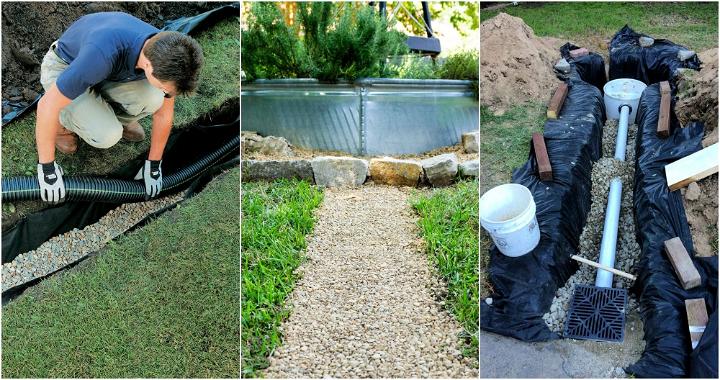 The pooling of water in the backyard, near the home foundation, can be a big future disaster. Before this disaster struck your property, install the French Drain System to waterproof the home foundation and basements. This system will nicely drain the water pools and will eliminate all water gathering tipping down to the foundation. Exploring this project will meet you with the new innovative ways to install a French Drain system, and they will help solve different issues of water retaining in your yarn or garden. Most of the diy french drain installation guides are budget-friendly, beginner-friendly, and will not require any special tool for their completion.