The biggest asset of any woodworker or a DIYer is to keep their tools easily accessible! Find 25 DIY tool storage ideas that will help you organize your tools or inspire you to create a new space for your tools. This roundup of tool organization ideas below is not limited to tools storage options but also offers great workbenches or works shelf spaces. For power tools or hand tools, you can find all kinds of storage options and too storage ideas below to make your workspaces more functional.
Of course, we all want to store our tools properly and organize the available space efficiently. No one likes seeing a messed-up tools box or a cluttered garage! Fortunately for you, with this creative roundup of tool storage ideas, you can now manage the storage canvas at your place like a pro.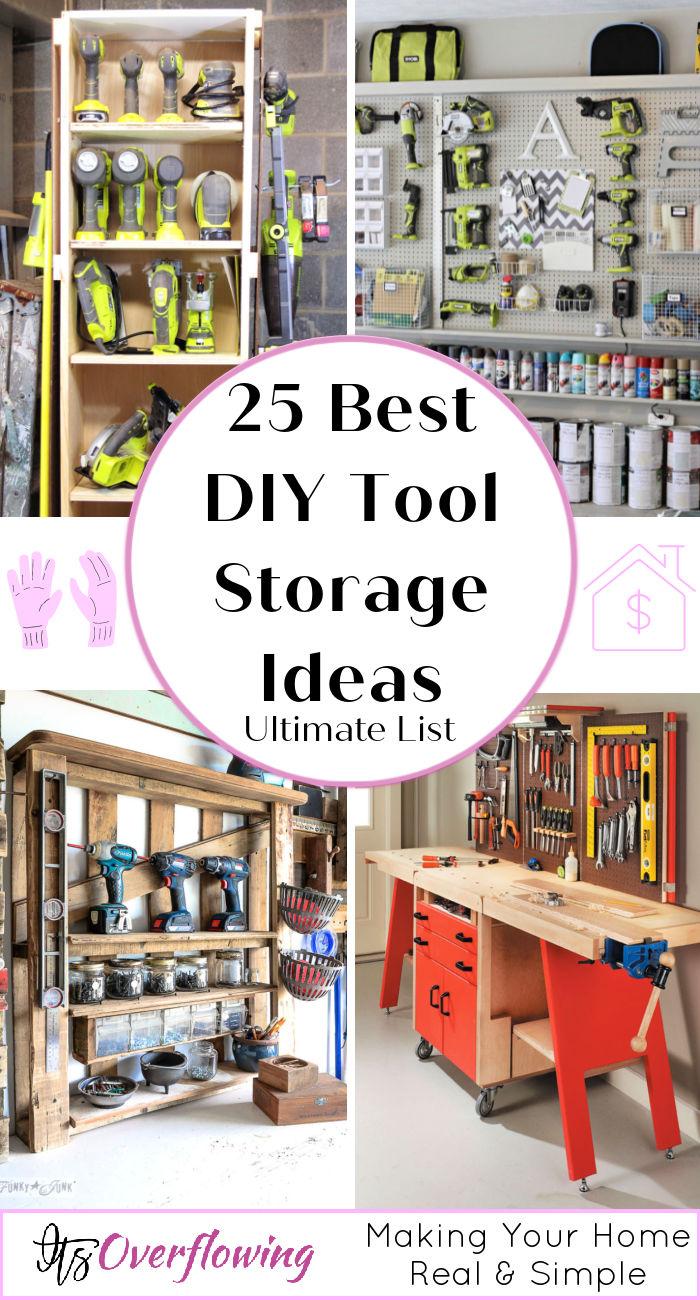 These tool storage ideas for small spaces can bring the most exciting reforms to your workspace, from wall-mounted French cleat systems to rolling cabinets or fixed tool boxes. Save yourself some massive amount of time from rummaging through multiple boxes and then finding dirt-filled tools. Hence minimize the stress and the extra effort by keeping everything in one designated place. Less clutter means less trouble working!
These DIY tool storage ideas can be rolled along with you to the backyard or anywhere else you plan on working. Dedicate a diy tool organizer to your collection of screwdrivers or make a perfect storage facility for your sanding disks, miter saw, or drills. Let's get started.
1. How to Build a Drill Dock Organizer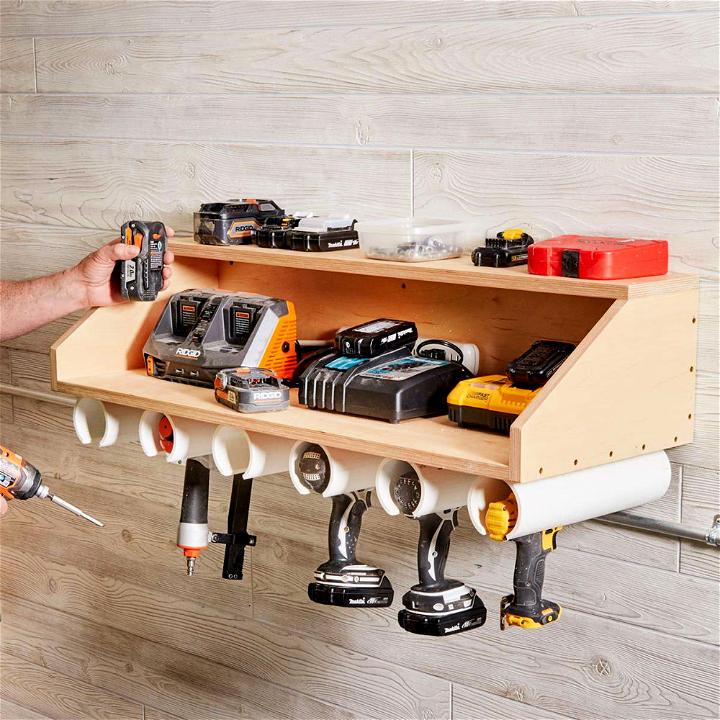 Looking for ways to keep your workshop clutter-free? While keeping all the tools easily accessible in one place? What you need are some cool tool storage ideas. Like this DIY drill rock here. It will cost you hardly around $ 50, and just 2 hours are required to nail it! familyhandyman
2. DIY Cordless Drill Storage Rack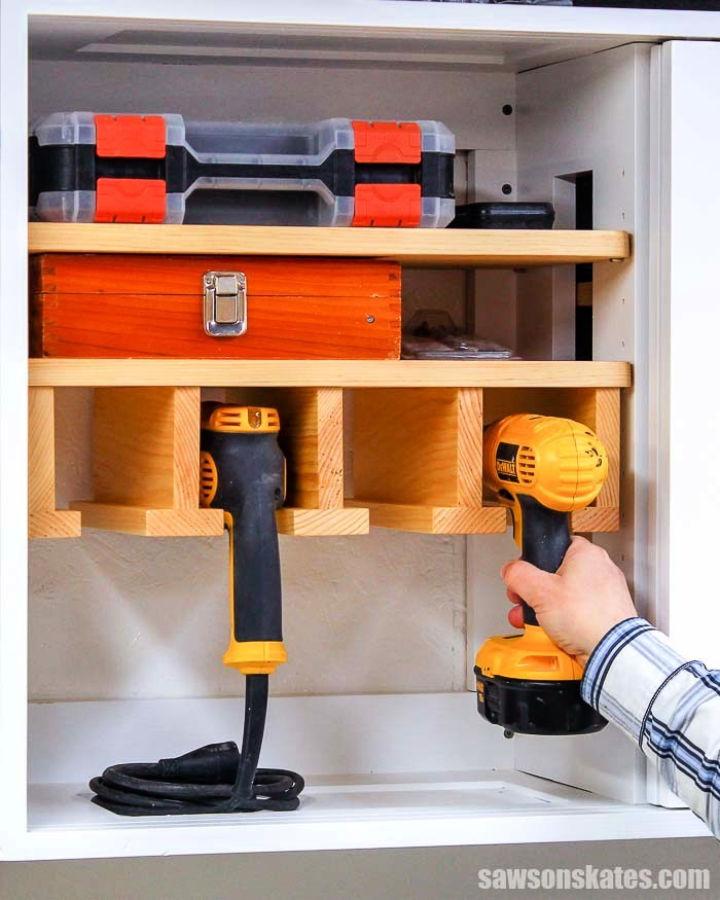 Check out this super functional wall mounted storage rack! It can be ideal for placing all your cordless drills and tools easily accessible in one place. Start by adding a divider in the cabinet and then making shelves to optimize the storage space available! Hit the link below for more details. sawsonskates
3. DIY Power Tool Storage Tower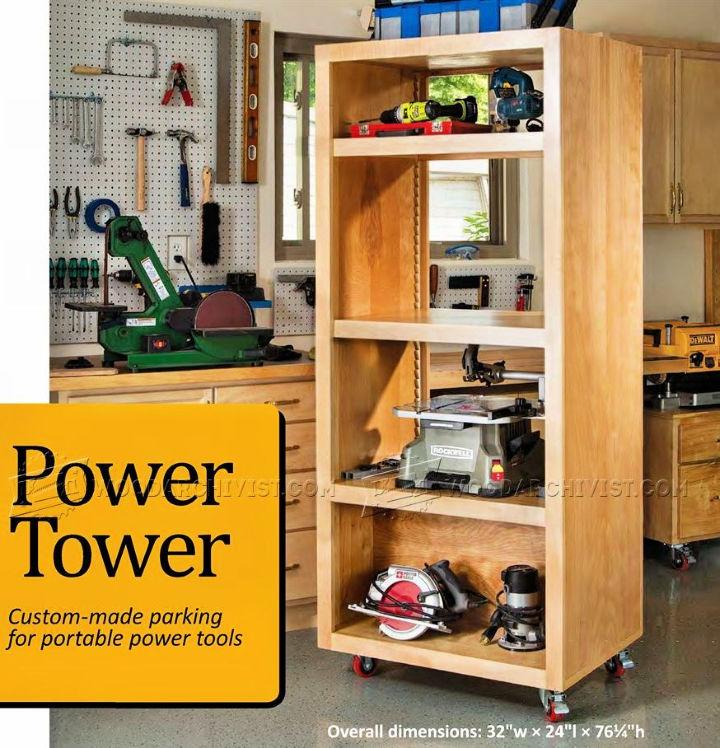 Store with style! This power tool storage tower is stylish if anything! It looks uber-catchy. This is more like your power parking vehicle with wheels underneath. It offers four shelves for wide storage options for your electric or manual tools. Get the complete building guide. woodarchivist
4. Mobile Power Tool Storage Unit

Nobody likes rummaging through a bag full of tools just to find the right one! This highly functional and appealing mobile power tool storage takes care of that. For 17" long shelves, you can use 1 x 12's. This tool storage also has additional pegboards at the sides that can be utilized for even more storage. buildsomething
5. Homemade Docking and Charging Station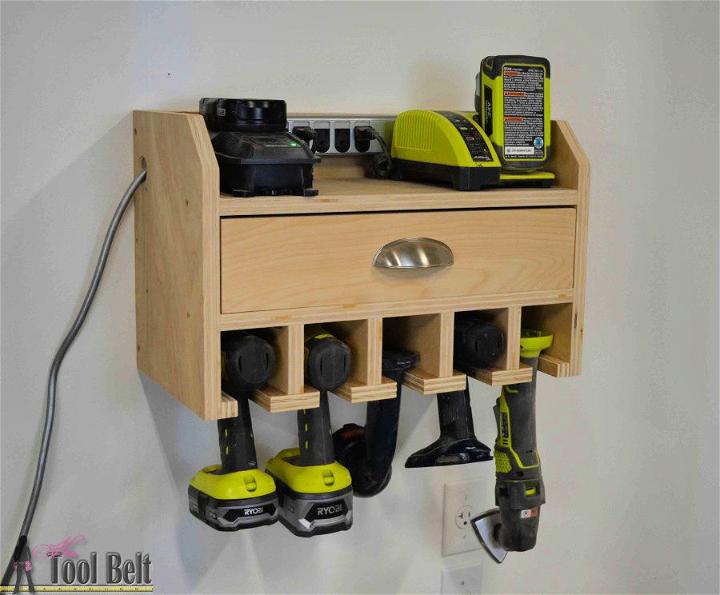 Make a designated space for charging stations, and keep your tools in place too! Like this homemade docking and charging station by Her Toolbelt. Gather supplies including ¾" plywood, 5 mm plywood, wood glue, sandpaper, 3″ screws, and drawer pull. hertoolbelt
6. Tool Organization with Pallets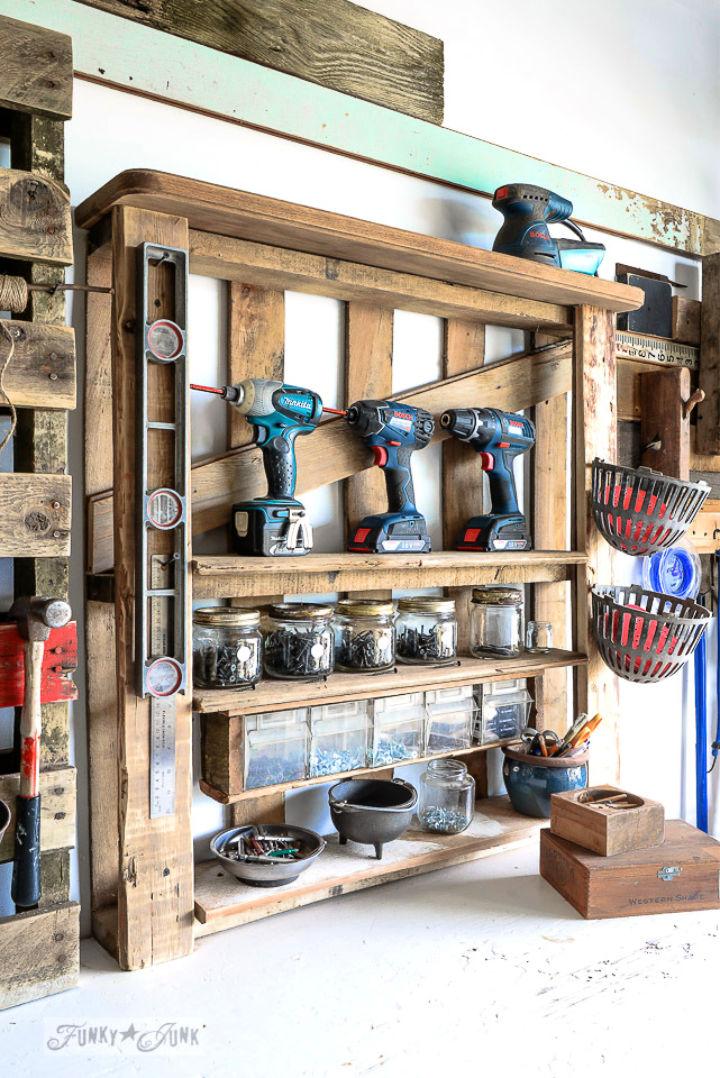 Make your very own dream workshop with this enhanced pallet shelf tutorial! Pallets are a DIYer's first love. They add a unique accent to any place, they are also relatively easy to make and add some personal touch. Put some nails in a mason jar and put them up! Get more creative homemade diy tool storage ideas. funkyjunkinteriors
7. DIY Power Tool Storage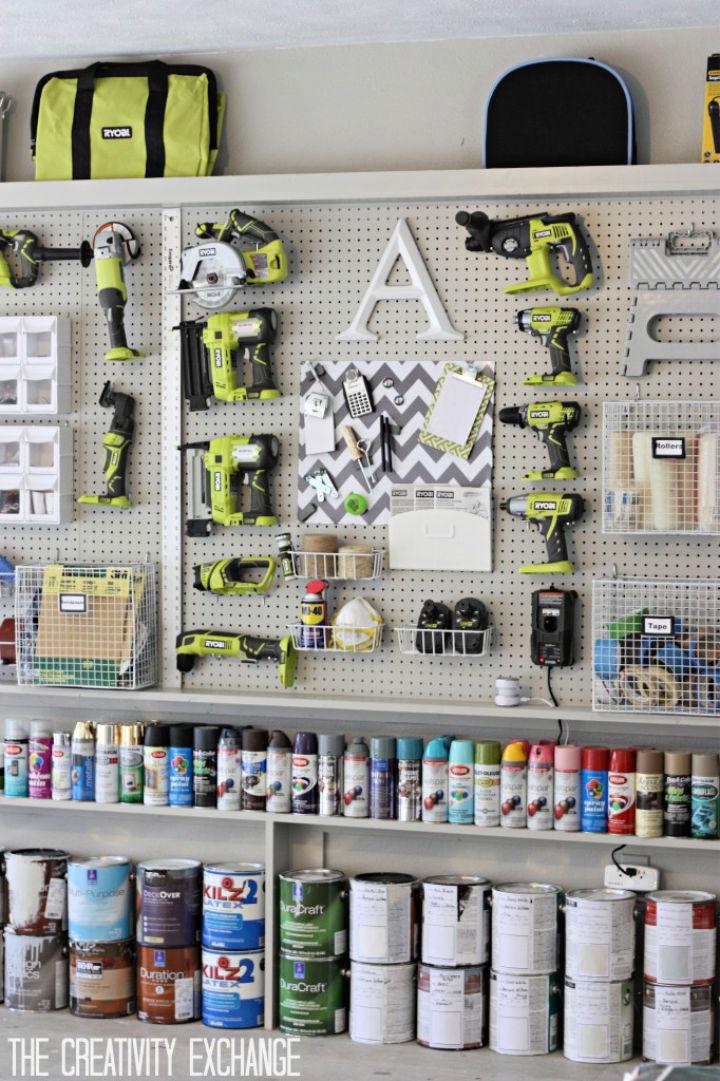 This pegboard storage wall can be one great way to organize your workshop or garage on a full-fledged level. This garage pegboard can turn out to be pretty handy to use. It measures about 8' x 11.2' x 5.5' Hang in some small baskets or racks for an even more ideal storage point. thecreativityex
Related DIY Ideas:
Garden Tool Storage: Find this list of 17 easy DIY garden tool storage ideas. These simple DIY projects can be completed in a day to help you organize and keep your garden tools neat and tidy.
DIY Garage Shelves: You don't need to spend a lot of money to buy the perfect garage shelving units. Here are 30 easy DIY garage shelves that you can build for less than $100 each.
8. Garage Hand Tool Storage Cabinet Plan

This garage hand tool storage plan gives your garage the ultimate clean and neat look! It is exceptionally eye-catchy as it has doors that can be closed shut for a flawless look. The materials required include sheets of ¾" plywood, pocket hole screws, drawer slides, wood glue, hinges, sandpaper, metal pegboard, and a few more supplies. hertoolbelt
9. Sanding Disc Storage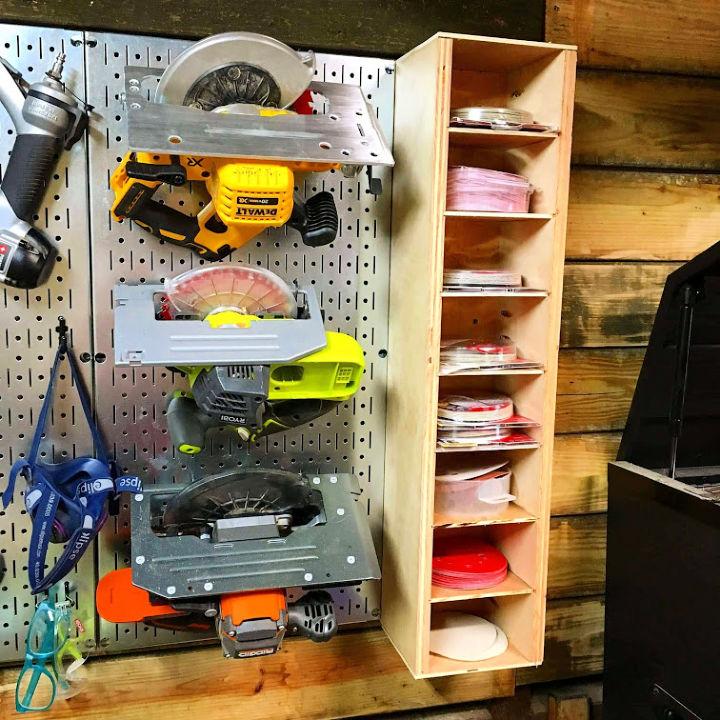 For any woodworker, one of his biggest assets is keeping the sanding disks closer! As that's what gives the final product the ultimate catchy look. It might look quite detailed, but it is actually quite an easy build using just 4 tools. The materials include ¾" plywood, underlayment, wood glue and pocket screws. lazyguydiy
10. Power Tool Storage System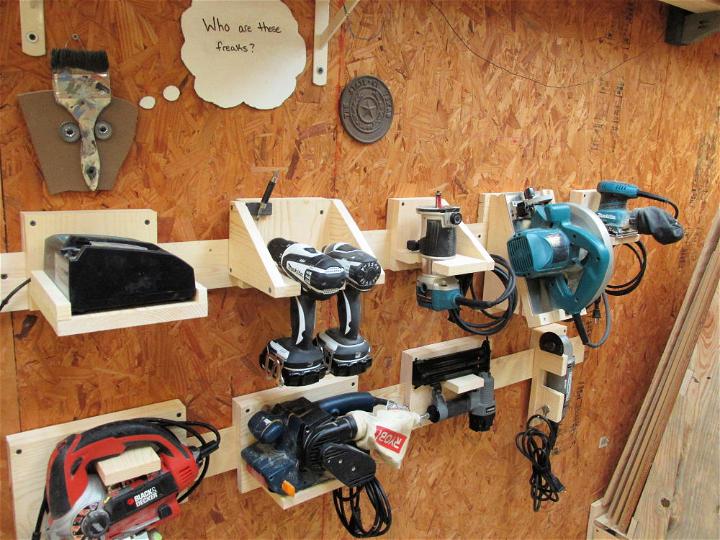 Get creative and craft with your tool storage ideas! This power tool storage system can be made by working on a French cleat system. It is just pieces of wood attached to the wall at a 45-degree angle. The tutorial will walk you through the step by step guide. wilkerdos
11. Rolling Tool Cart and Air Compressor Storage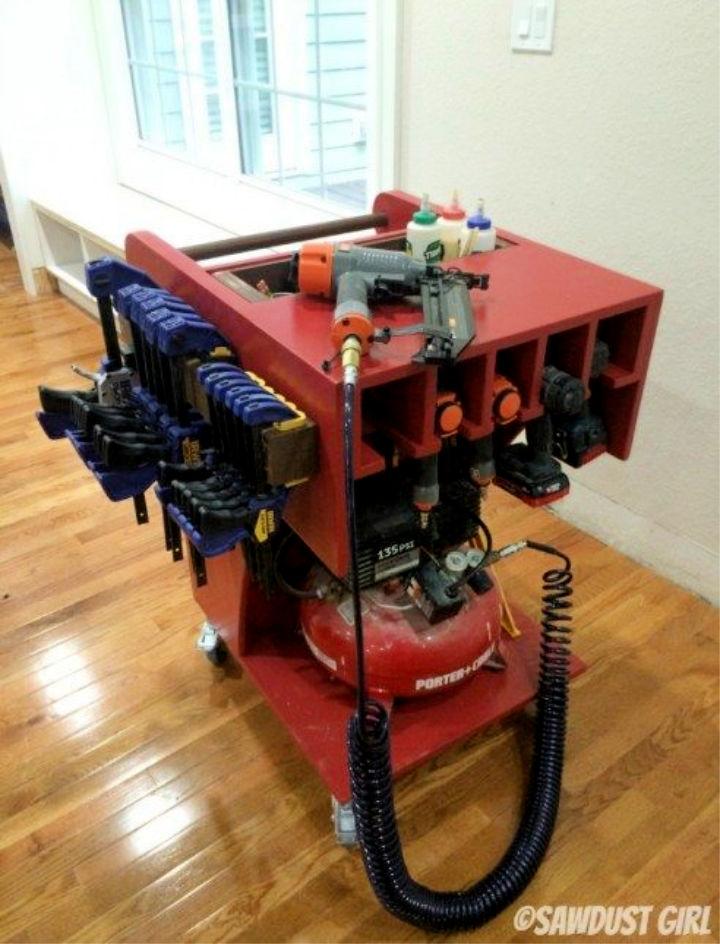 This may look like a complex generator or machine, but it is actually a rolling cart tool. It has a brief or wide storage option to hold your air compressor, nail guns, and more tools! The material used is plywood, wood dowel, wood glue, pegboard and 2 x 4 with a few more supplies. sawdustgirl
12. Power Tool Storage

Amplify your woodworking experience to a whole new level with this grab and go tool storage. Store your tools, paints, and power tools in such an effective storage unit. It is moderately difficult to build. The cost will be somewhere around $100 to $500. familyhandyman
13. Ana White Shop Organization

The greatest point of relief for any woodworker is to find their tools all in one place. Create your own workspace with this ultimate roll-away workbench featuring a miter saw stand. Optimize your storage and customize your tools placement with Ana White. ana white
14. Folding Workshop Plans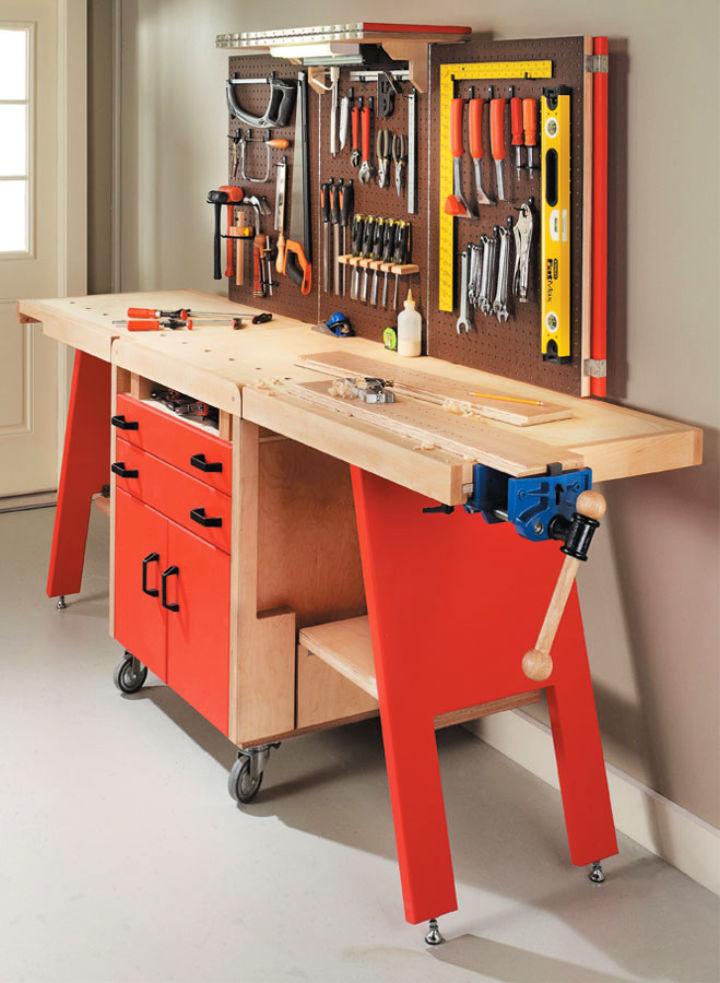 We love this super creative shop-in-a-box tool storage idea. It is a box that has all of your tools in one place. Also, it offers built-in storage with a sturdy and huge workbench, which is about 8' long. By just occupies six square feet of space in general and can be placed anywhere. woodsmithplans
15. PVC Pipe Drill Storage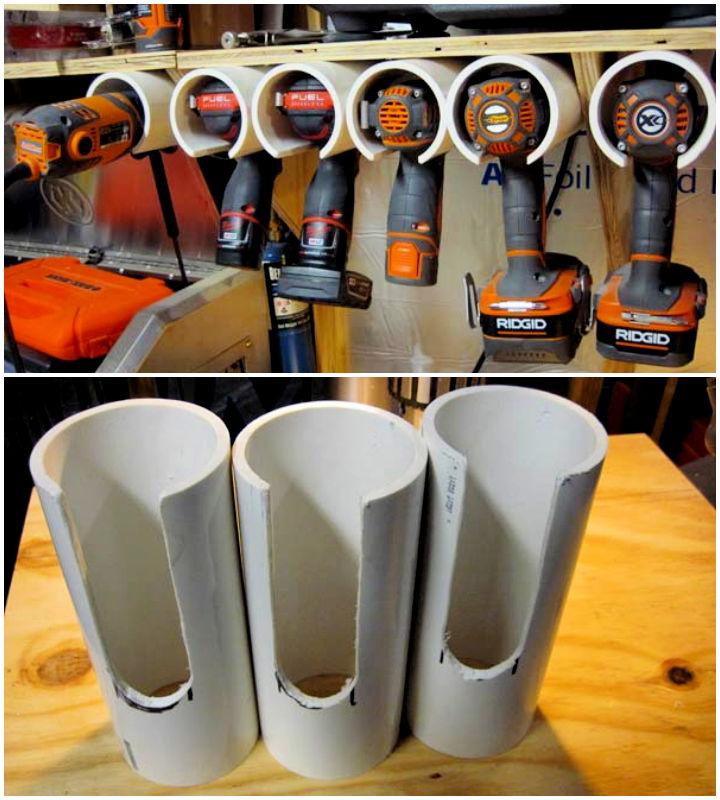 Way to get craftier with your tool storage ideas! This PVC pipe drill storage option is a great and quick way to manage your workspace wisely or smartly. The best part is that it will not even cost you more than 10 dollars. You will need a miter saw, combination square, drill, sharpie, sanding block, and a few more tools. toolboxbuzz
16. Power Tool Storage Cabinet

Keep it simple, keep it clean! This power tool storage cabinet is perfect for keeping your tools all in one place. Plus, this is not just a storage box, but it actually offers a work shelf as well. Isn't that just great? It has a mini desk on top that can be used for crafting small projects! blackanddecker
17. DIY Power Tool Storage Unit

A French cleat system is a pretty crafty way to store your drills, drill bits, machines, or other tools in one place. By using a plywood and backer board of 3/8 inches, these tool storage wall mounted pieces can be made quickly. The video tutorial is just a click away! youtube
18. Hanging Power Tool Storage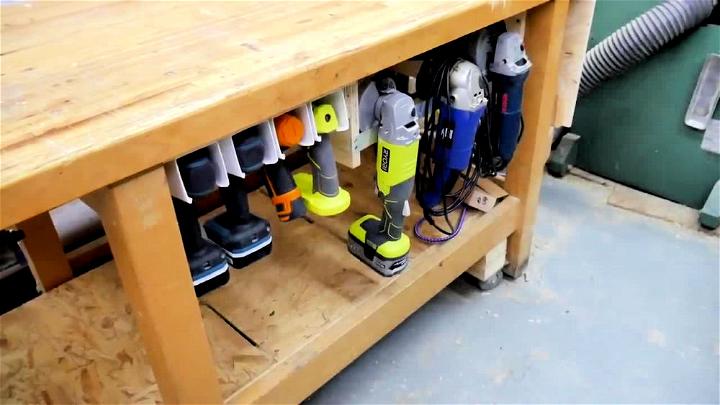 Make your workspace as accessible as you would want it to be! How about we interest you in a hanging workspace with a wooden shelf on top to use as a cutting surface or for other measurement taking purposes? Hit the link below and get the step by step guide.
19. Build a Storage Cart for Yard Tools

Check out this highly functional storage cart to keep your yard tools a hand away. As it is a mobile rack, you can easily move it around. It will take you only half a day to finish it. The tools and supplies include plywood, casters, hooks, circular saw, and drill press. diynetwork
20. Customized Tool Storage System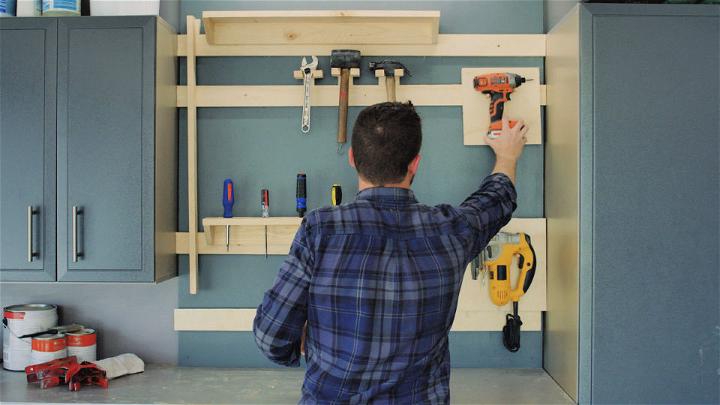 Get your hands on the table saw, drill, screws, level, and ¾" plywood for making this customized tool storage system. Start by cutting the plywood into five or six inches strips. Make your hangers first by following the steps in the tutorial and organize your wall! theverge
21. DIY Screwdriver Storage

It gets literally super annoying to rummage through a box of tools just to find the right screwdriver. Take care of that with this DIY screwdriver storage! Keep them easily accessible and use the one you need. Five simple supplies including drill, spade bit, miter saw, spare wood pieces and screws can do the magic. freshcrush
22. Handmade Drill Storage Cabinet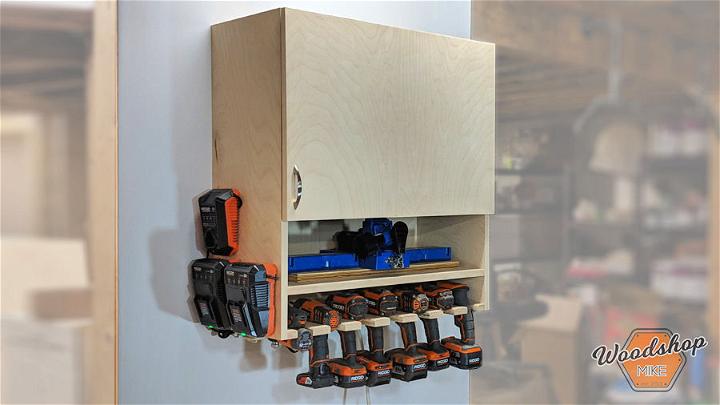 Keep your drills, bits, and drivers just around the corner by setting up this DIY drill storage cabinet. You will need single sheets of plywood to make this cool tool storage idea. The French cleats are made up of 3" wide pieces. Get the complete guide in the link below. buildsomething
23. Workbench Tool Storage Organizer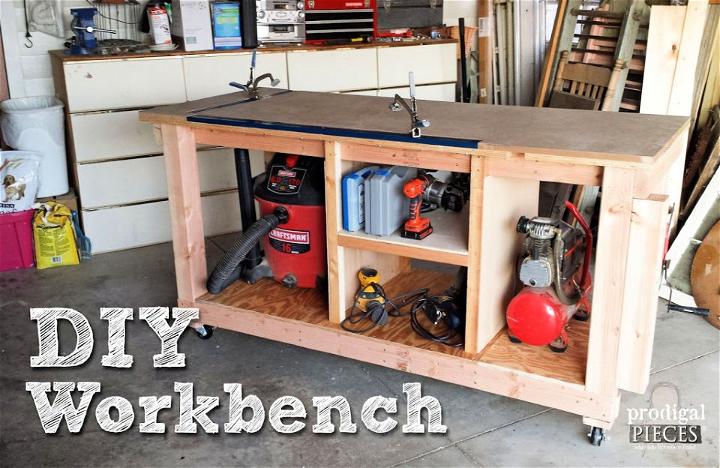 Time to declutter your garage with this workbench tool storage organizer. This is a work of repurposing by using some old cribs. The ideal tool used for this DIY workbench is the Kreg Jig pocket screw system. prodigalpieces
24. Power Tool Storage Organizer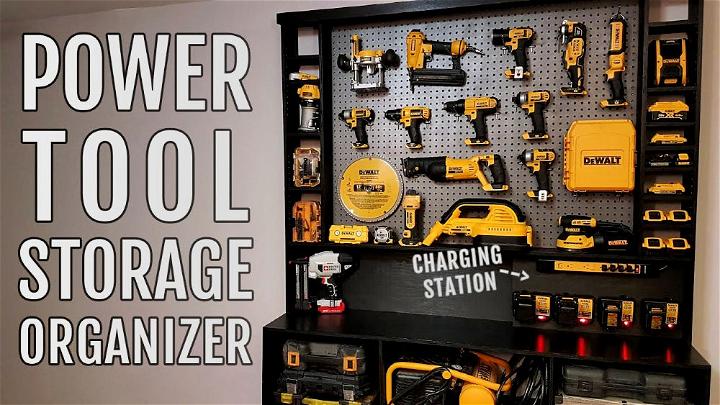 Here's another vertical storage unit for your work tools! If you have multiple tools, including the ones that are mostly cordless, you can make a charging station, too, alongside using this tutorial. It is made using plywood and a piece of pegboard.
25. How to Organize Power Tools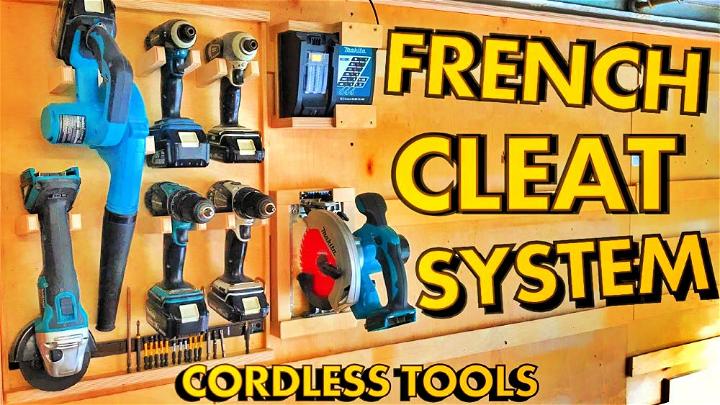 A French cleat system is easy to build, and it also adds quite the stylist and creative look to tool storage. This French build system can easily hold all your cordless drills and other tools. Hit the link below, get the complete guide to get started.
Conclusion: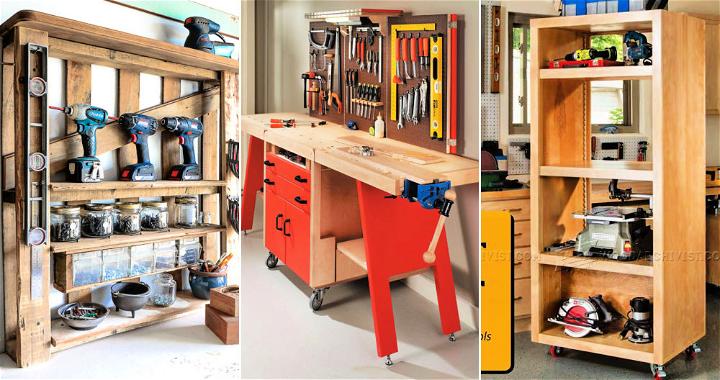 Who says that your garage has to be a mess or a haphazard area with a ton of cluttered tools lying around? We beg to differ. And so does these tool storage ideas you have just enlightened your lives with. Store smartly and live trouble freely. Isn't that the goal, eventually?