As the years go by, these DIY wood signs keep getting more and more attention. There must be a reason behind that? This is because words hold a lot of power. Just by reading a simple motivating quote, your day can be a lot better. They can deeply affect your mood. If you're working towards something, you can hang a few quotes around your house to make the energy more positive or motivated. If you wake up and see a positive message right in front of you, it will make your day a lot better. Learn how to make wooden signs with these 30 handmade diy wood signs come with detailed instructions and step by step guide. These wooden signs are a great way to incorporate your favorite quotes into your decor!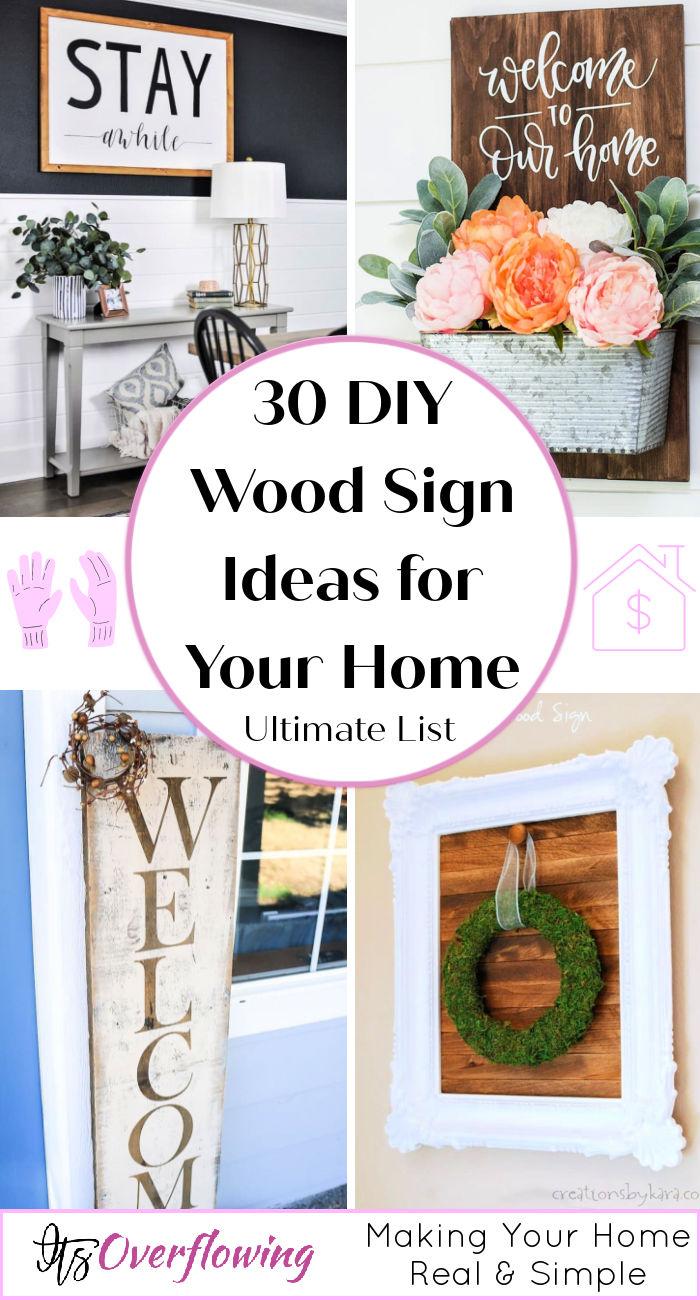 These DIY wooden signs can be quite motivating and can make great gifts. If your friend is working towards something important, you can write a phrase on it to motivate them and gift it to them. They will love it! This article is going to cover a range of DIY wood signs, from rustic to pallet wood ones, from collage walls to hand-painted planked ones, from reversible to Easter bunny ones! There's a lot to choose from for making your own wooden signs. After all, who doesn't like to have a few options?
1. How to Make a Wood Sign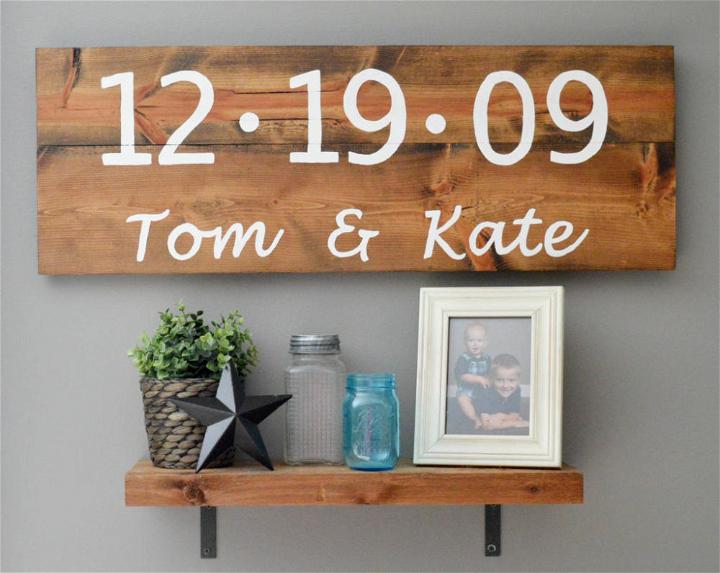 One of the best DIY wood signs is the ones that are rustic. They have this aura about them, which is quite aesthetically pleasing to look at! You can write almost anything special to you on it- your marriage date, favorite quote, or poem! thesimplyorgan
2. Wood Pallet Sign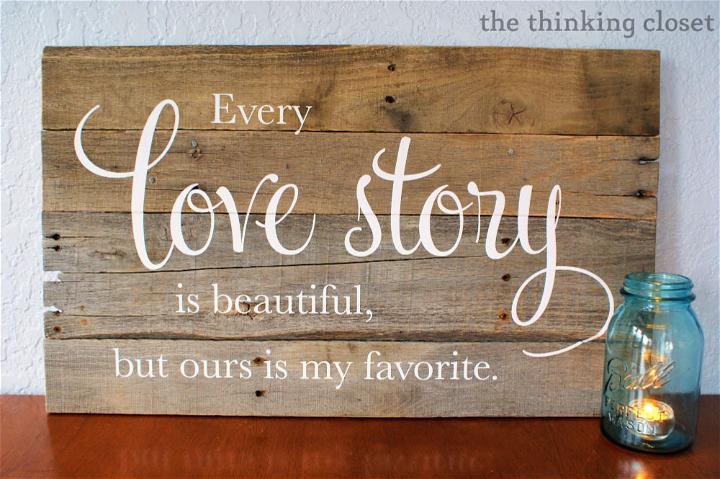 Pallet wood is one of the best materials to make a wood sign out of. This is because it gives off a super rustic vibe, and the shading of wood can make it look beautiful. Hang this in front of your bed and write your favorite quote on it so you can wake up every day and read it. thinkingcloset
3. Wood Signs for a Collage Wall

Contact paper, vinyl, sandpaper, plywood, board nail, and a few other tool and materials will be required for you to nail this project successfully. It is super easy to make, and you can make a bunch of these in under a few hours to make that collage wall of your dreams a reality. craftremedy
4. DIY Fall Wood Sign with Vinyl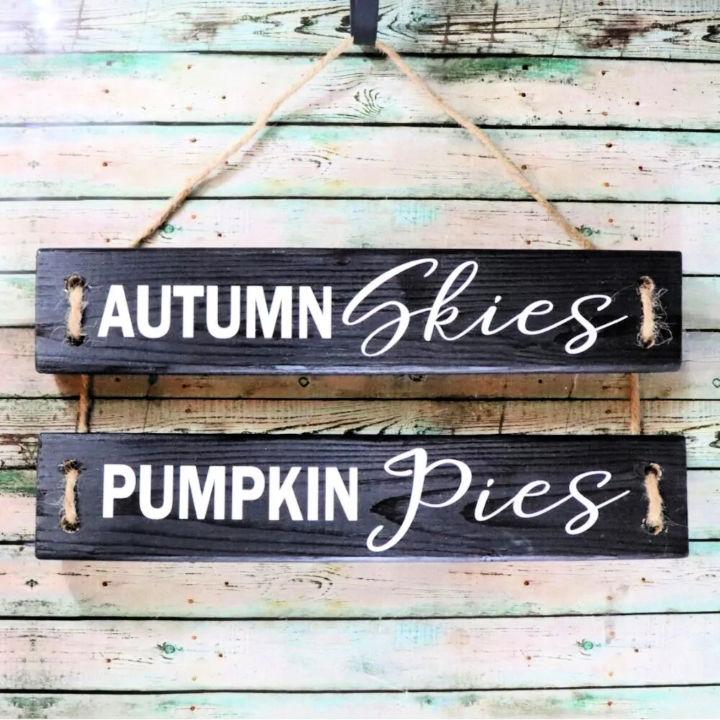 Everyone looks for ways to make their houses look cozier during the fall and winter season. You can do so by adding dark wood pieces in your house. A wood sign like this one would just be perfect, and t's a great idea to make one for every season. creativerambli
5. Painted Wooden Sign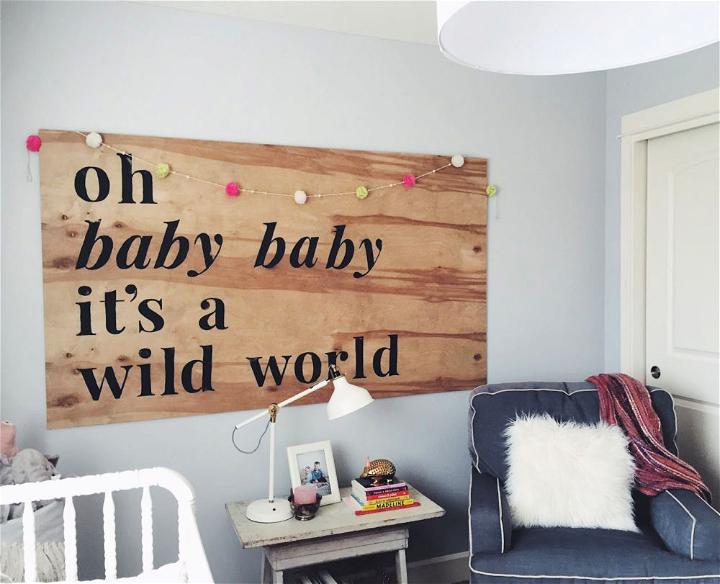 Here's a more straightforward piece that would be amazing to have in your house if you just want something easy to make and quick. Hang the finished product in any corner of your house and see it shine! Hang a few fairy lights or garlands around it to make it more decorative. henandco
First day of school sign: These free printable first day of school signs are great for taking that all-important picture on the front porch!
6. DIY Wooden Signs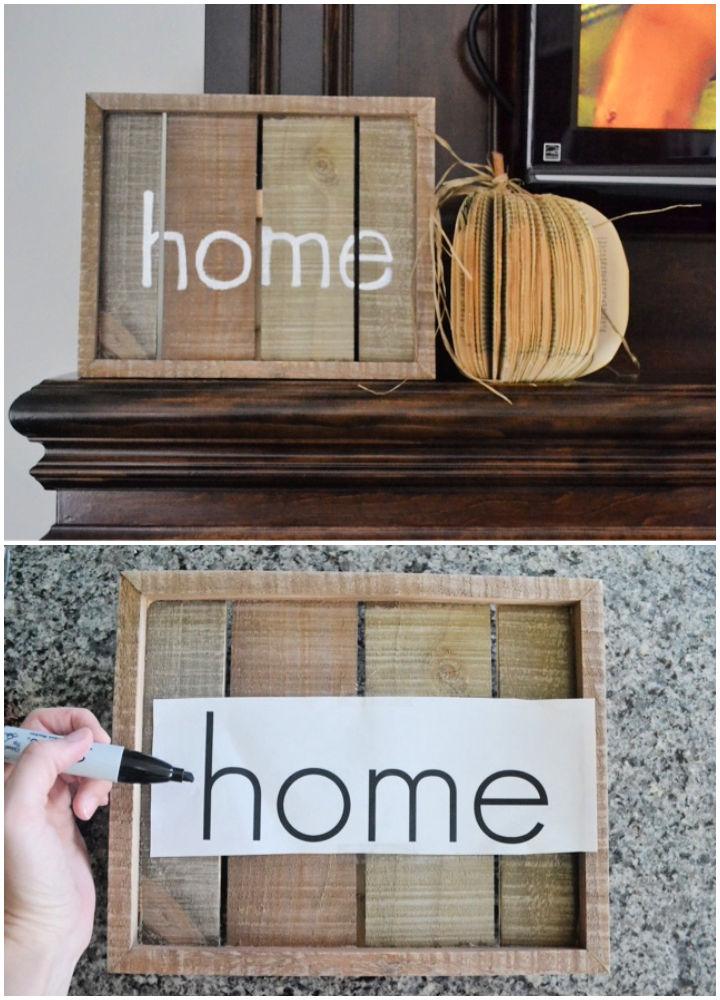 All the minimalists reading this guide will adore this simple and easy wooden sign. It's very basic, but it still looks absolutely stunning. It's not hard at all, and any person with zero talent or skills could even re-create this! You will need a few basic supplies. babybyoakley
7. Handpainted Planked Wood Sign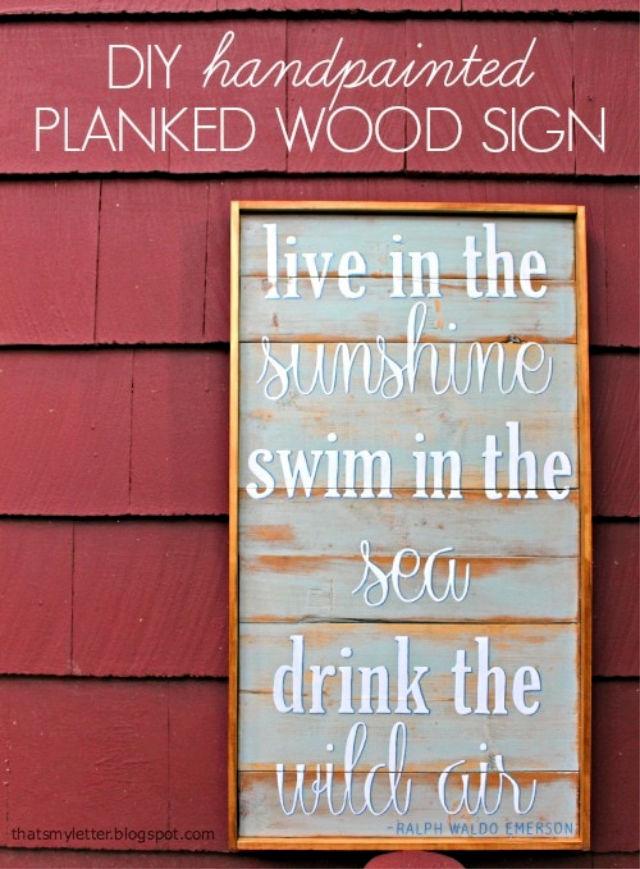 If you hand paint a decor piece in your house, it can give it a very vintage and rustic vibe, which is just so aesthetically pleasing! You can place this in your farmhouse, as well, since it does have an old school vibe to it. jaimecostiglio
8. Reversible Farmhouse Wood Sign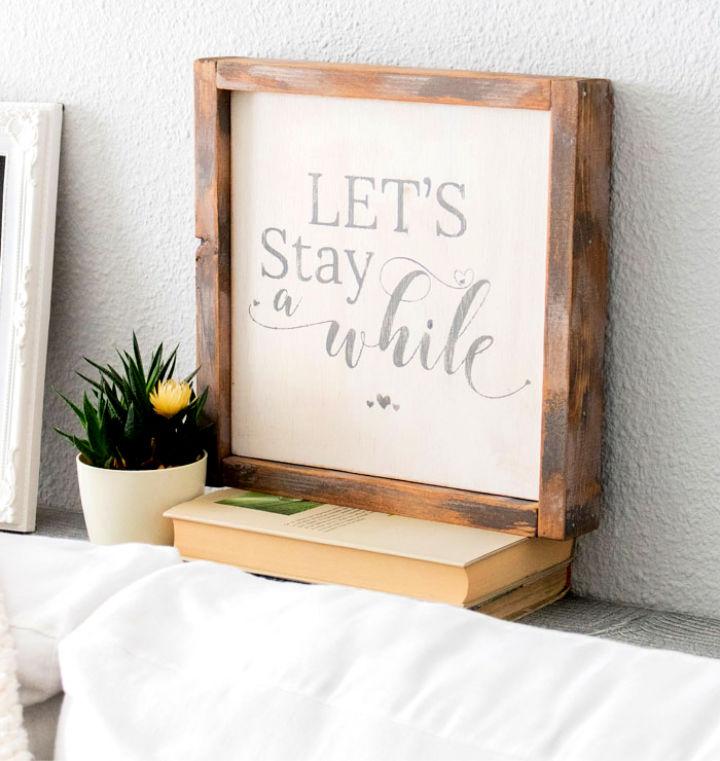 Here's a guide that also comes with a video to make things easier! The wood sign almost looks like a frame and has very beautiful shading to it. Place this anywhere in your house, and it will look especially better in minimalistic settings. thecraftingnook
9. Striped Round Love Sign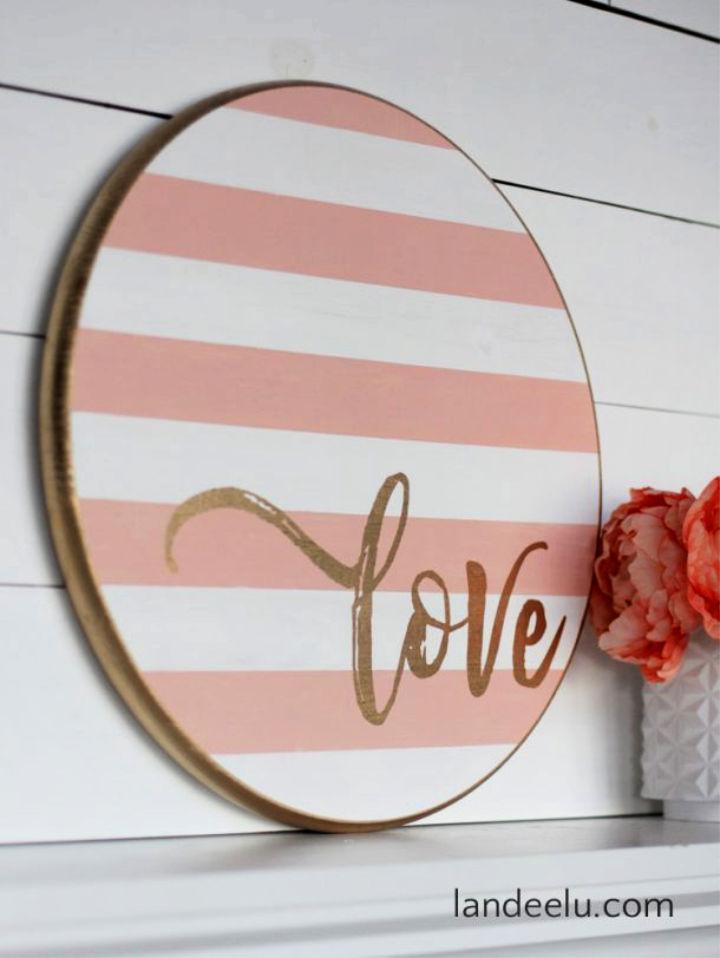 When it's finally February, and you're looking for ways to make your house look a little more romantic for Valentine's Day, here is the perfect love sign for you! Gold spray, painter's tape, wood round, and a few other supplies will be required for you to nail this project. landeeseelan
10. DIY Wood Sign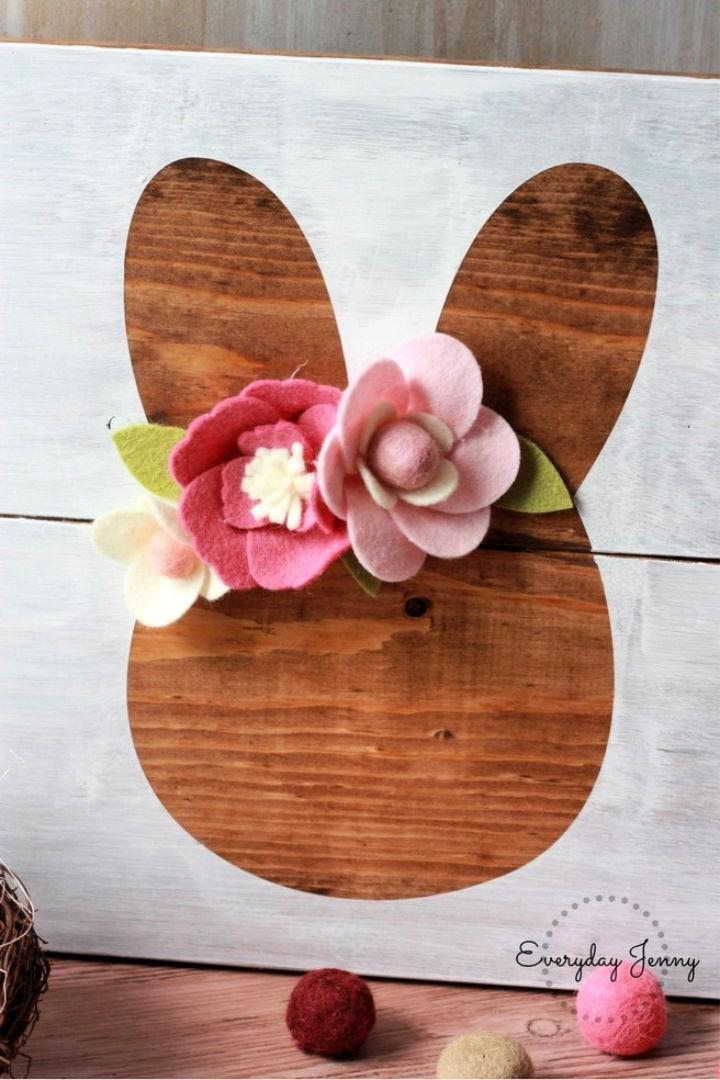 Easter bunny is in the list of girly DIY wood signs. It has some pink detailing on it and looks super cute and adorable. You can make this around the Easter season to make your house look a little more festive and cute. Rags saw, wood clamps and a few other materials required. everydayjenny
11. Rustic Wood Sign + Free SVG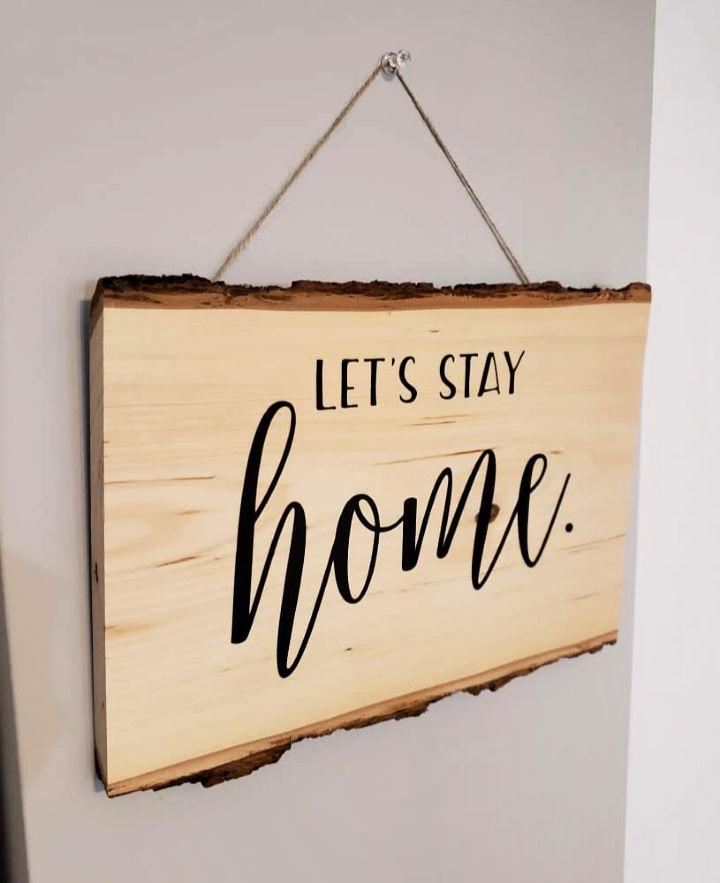 This type of furniture will make your house look very vintage and old-school! It can be hanged on the wall using a nail and a hammer! It has edges that look like they are burned! Isn't that just the coolest thing ever? marchingnorth
12. Wood Sign With Calligraphy Quote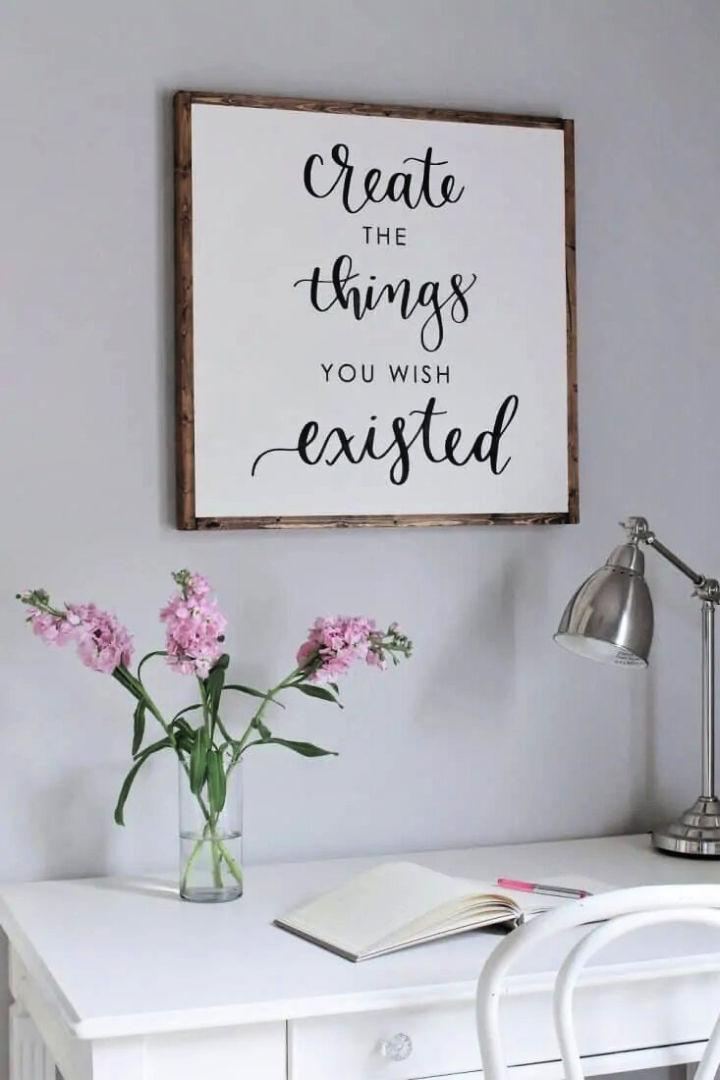 Calligraphy has been one of the most trending topics lately. It is a beautiful way to present your favorite quotes or phrases, and using this on your DIY wood signs will add to the beauty and aesthetic. Follow this amazing guide to learn how to do so. angelamarie
13. Building A Wood Sign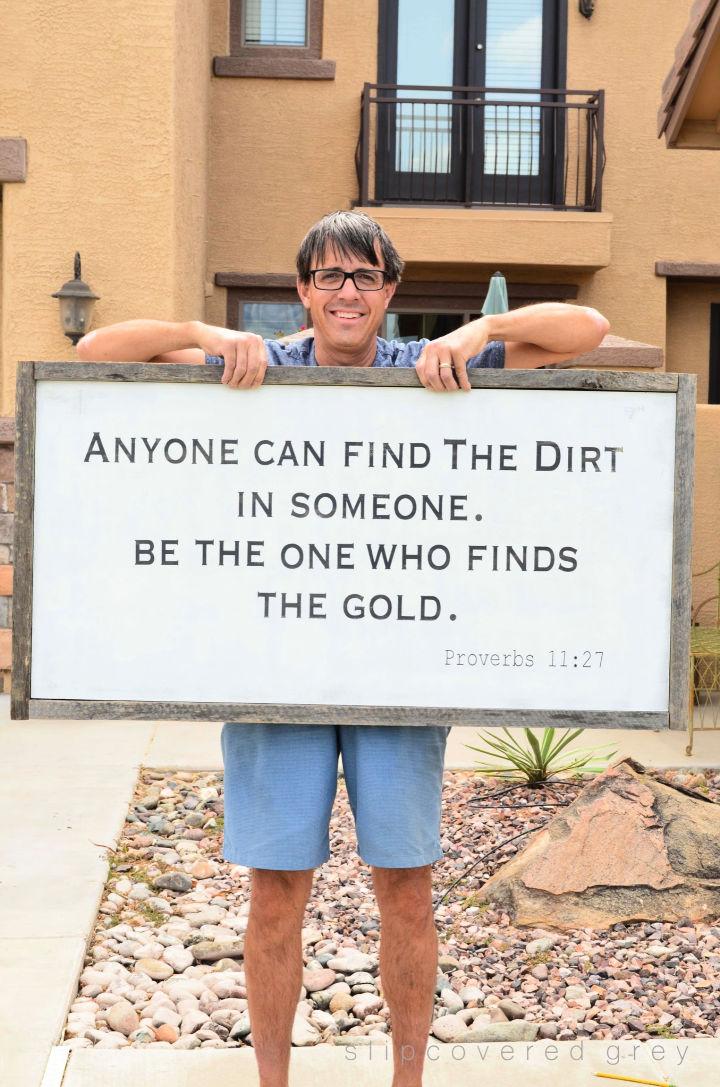 If you really want your house to look interesting, it is a great idea to make it tell a story. Hang up a few wooden signs with images or phrases. The first step would be to find a phrase that you adore, and then you can continue making this beautiful piece of furniture. slipcoveredg
14. Wood Sign With A Cricut Machine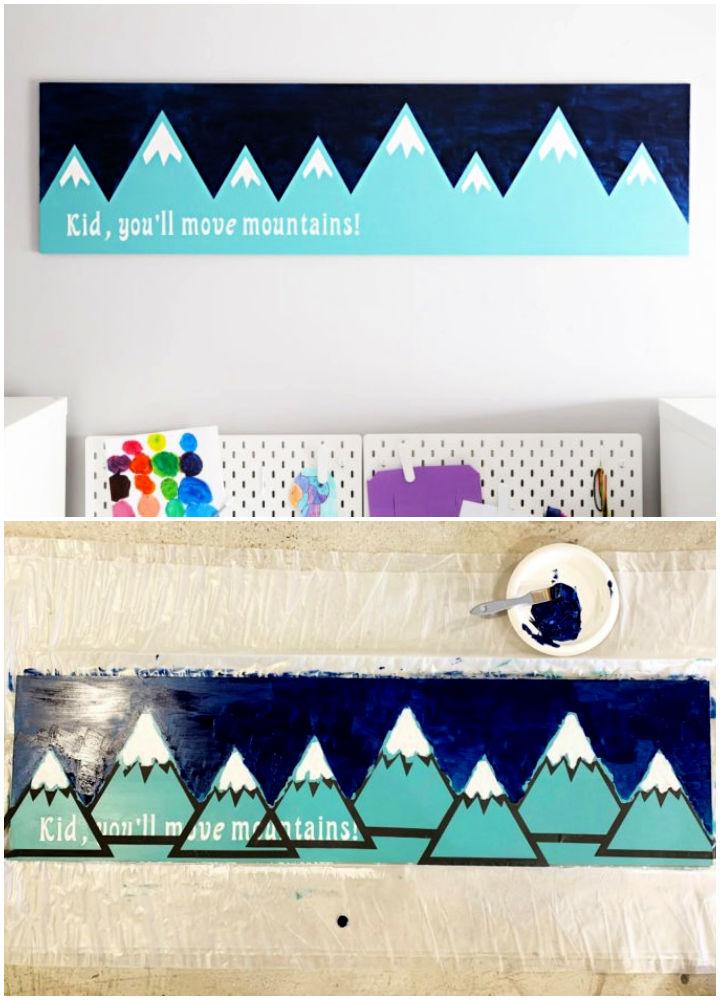 Teen and tween rooms should look interesting and have many quotes and words for them to read and look up to. This is because they are at a stage where they are still learning, and words can turn into actions very fast. Make colorful and fun wood signs for them by following this guide. justagirland
15. DIY Family Name Sign

Do you want your house to tell a story? You can do so by hanging up your family tree. A good way can be by making these name signs. You can make a linkage between them and hang them up on a free and plain wall. This will make our house look super interesting. sixcleversisters
16. Large Wood Sign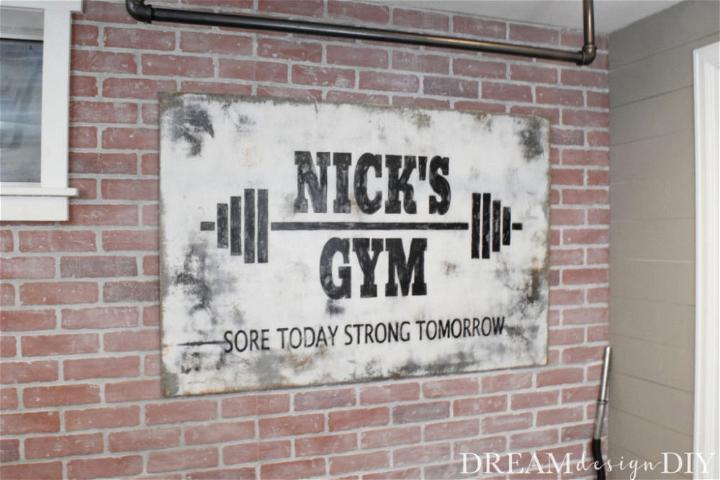 It's hard to tell that this is actually a wooden sign since it looks so much like metal. Measuring tape, sander, hammer, black spray paint, scissors, scotch tape, and a few other tools and materials will be required to make this project a success. dreamdesign
17. Autumn Wooden Sign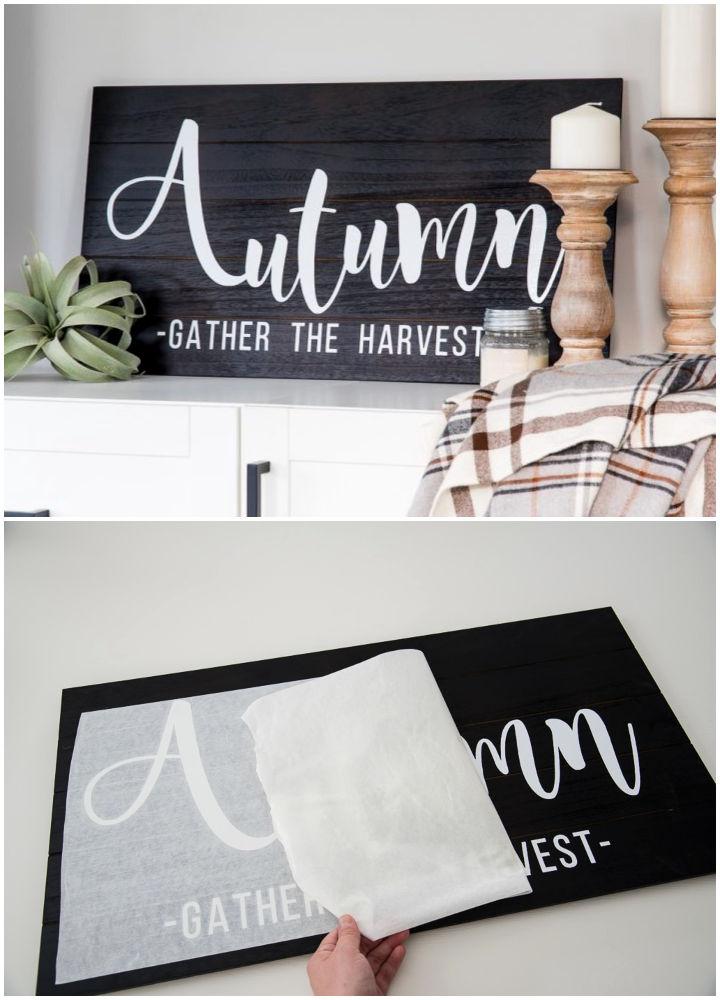 Autumn is a great season to invest some time and effort in making these DIY wood signs to make your house feel cozier. White vinyl, pallet sin, transfer tape, scraper tool, paper cutter, and a few other tools and materials will be required for you to nail this project! keystoinspir
18. Wood Garden Welcome Sign

Trying to make your house look and feel more welcoming? Well, what's welcoming than a welcome sign itself? Make this amazing wooden sign and place it in your garden to make people feel the warmth of your house and let them know that they are welcome no matter what. darice
19. Homemade Wood Signs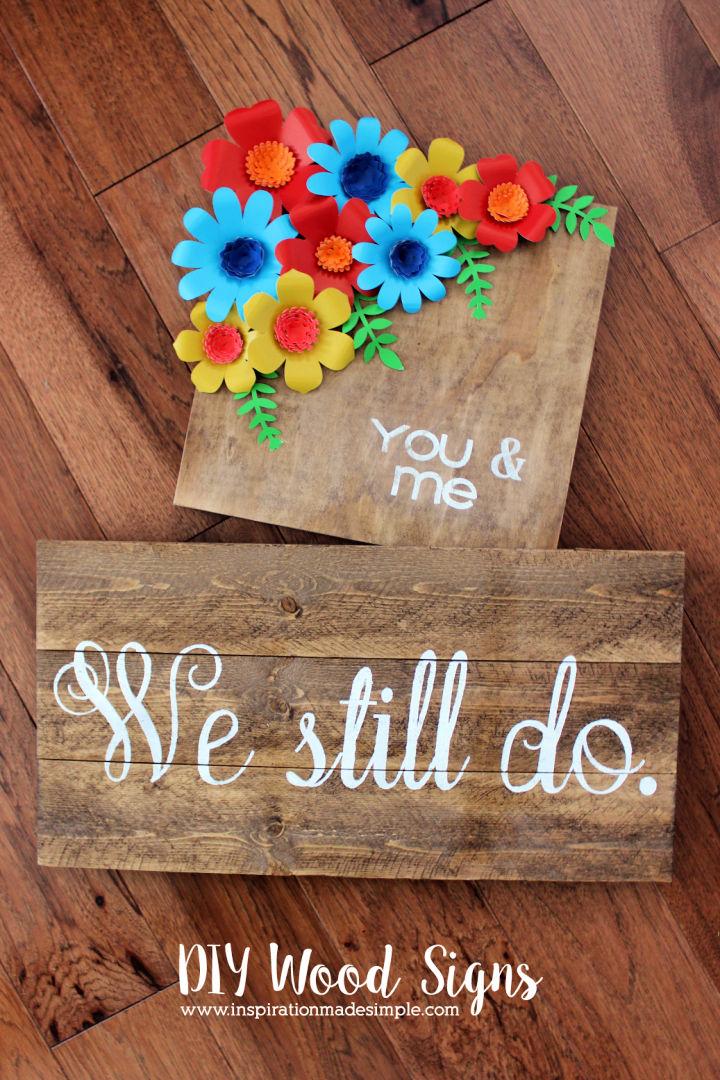 Wedding anniversaries can be a little hectic. Are you planning to surprise your loved one by throwing a party? It is a good idea to make it look instagrammable by using wooden signs like these. They can be kept for long after as well to remember these special memories. inspirationma
20. DIY Farmhouse Signs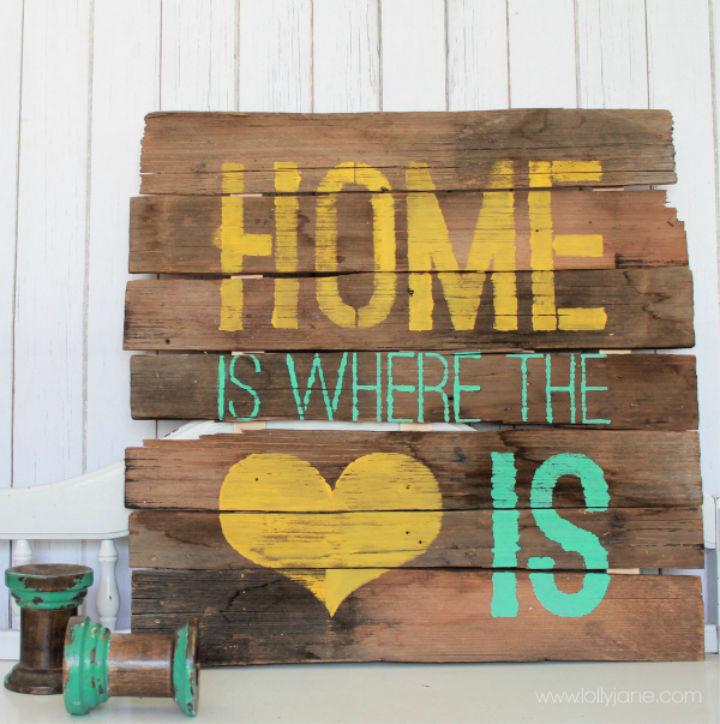 Do you love your house? Well, everyone loves their house! It's where they can be themselves and don't have to act a certain way. You can make this adorable wooden piece of furniture to appreciate your safe place a little more and to remind yourself of how lucky you are to have it. lollyjane
21. Mason Jar Pallet Art

Mason jars have been all the rage lately. They are loved by almost everyone and especially the VSCO girls around the globe. Turn it into this beautiful art by using a few supplies. Boards. Saw, pencil, chalky finish Krylon and a few other supplies will be required. thecountrychic
22. The Easiest DIY Wood Signs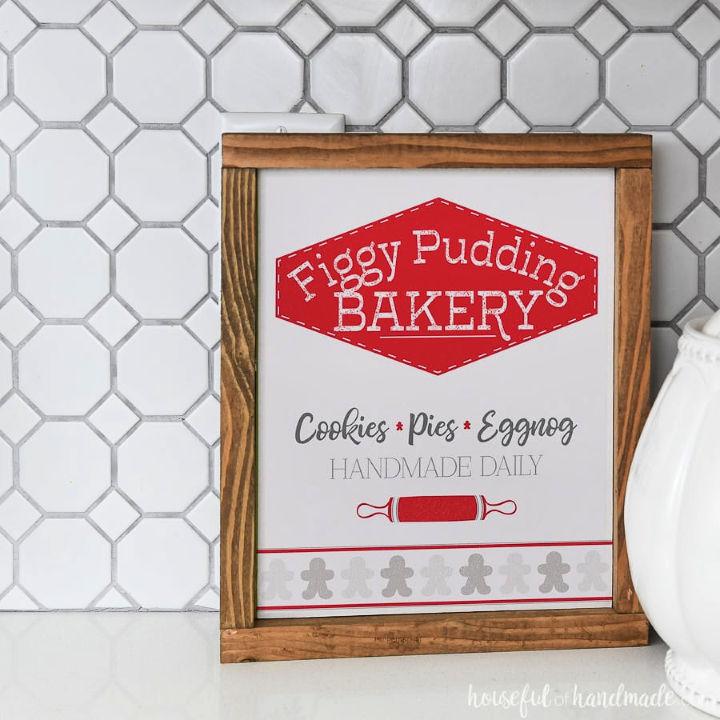 Every year, the Christmas season sees to arrive beautifully. It gets colder outside, and you see everyone trying to make their houses feel wholesome and cozy. Here's a DIY that you can try this Holiday season to make it feel and look more festive! housefulofha
23. Custom Wood Signs for Your Front Porch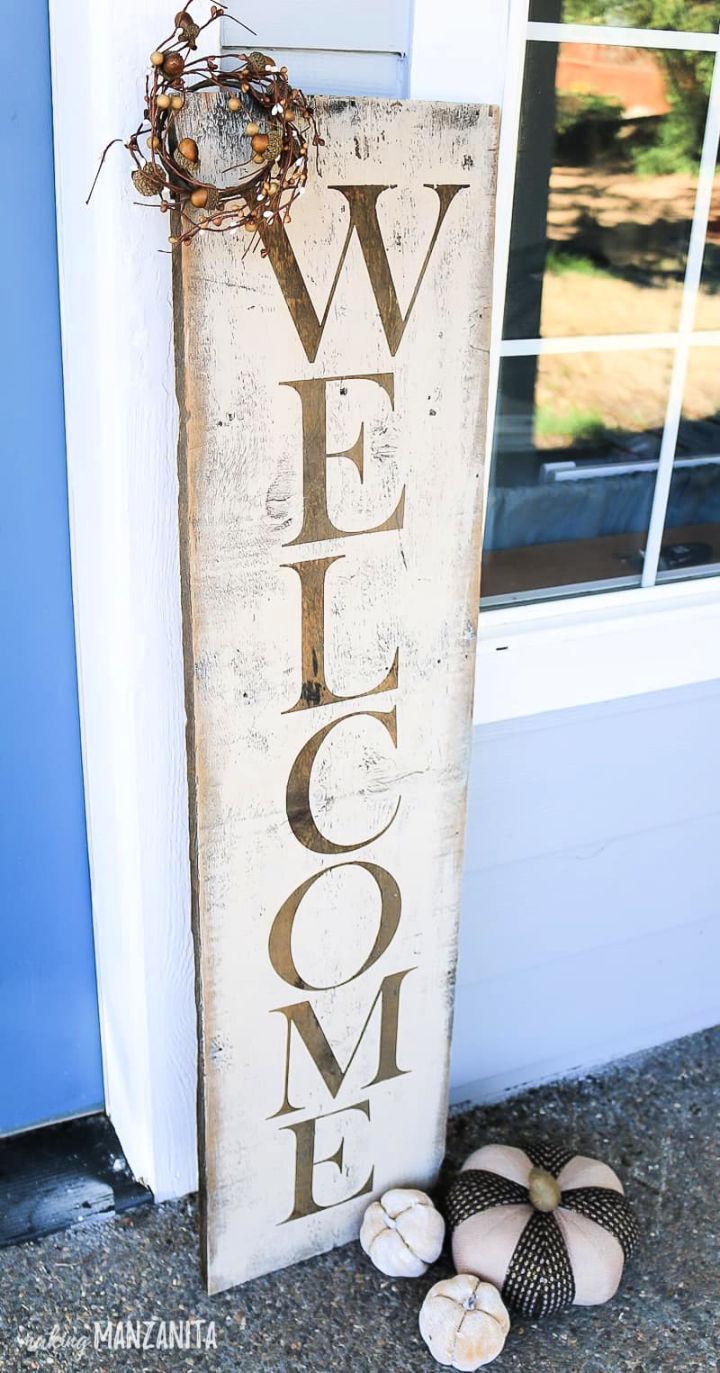 Many people use a welcome sign outside their houses to make their guests feel more comfortable and "at the house." This is a great psychological trick to make your guests feel some warmth and just better about staying or visiting your house- a beautiful wooden sign! loveandreno
24. Easy to Customize Wooden Sign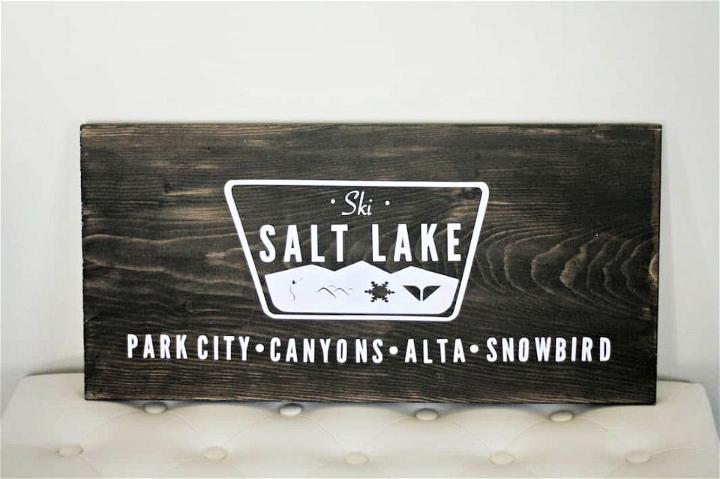 Are you a beginner? Don't know what to do? Well, here's how you can make an adorable sign, which is a lot easier in comparison to those other DIY wood signs. It is a great thing to already have a rustic surface to start with! diycandy
25. DIY Pallet Sign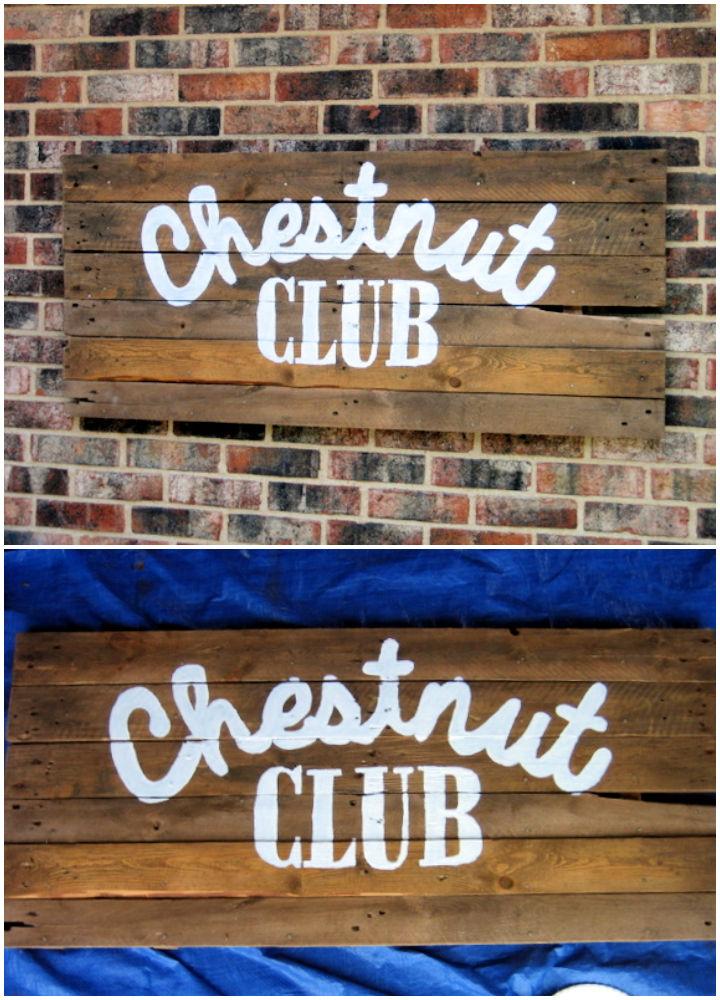 If you're trying to promote a group or carrying out a certain campaign, using a wooden sign will be a lot more effective than just using paper. It will show that you actually care, and you will also feel like you're closer to your goal since you will have to put in a lot more effort to make it. thediyplayb
26. How to Make a Wood Sign with Paint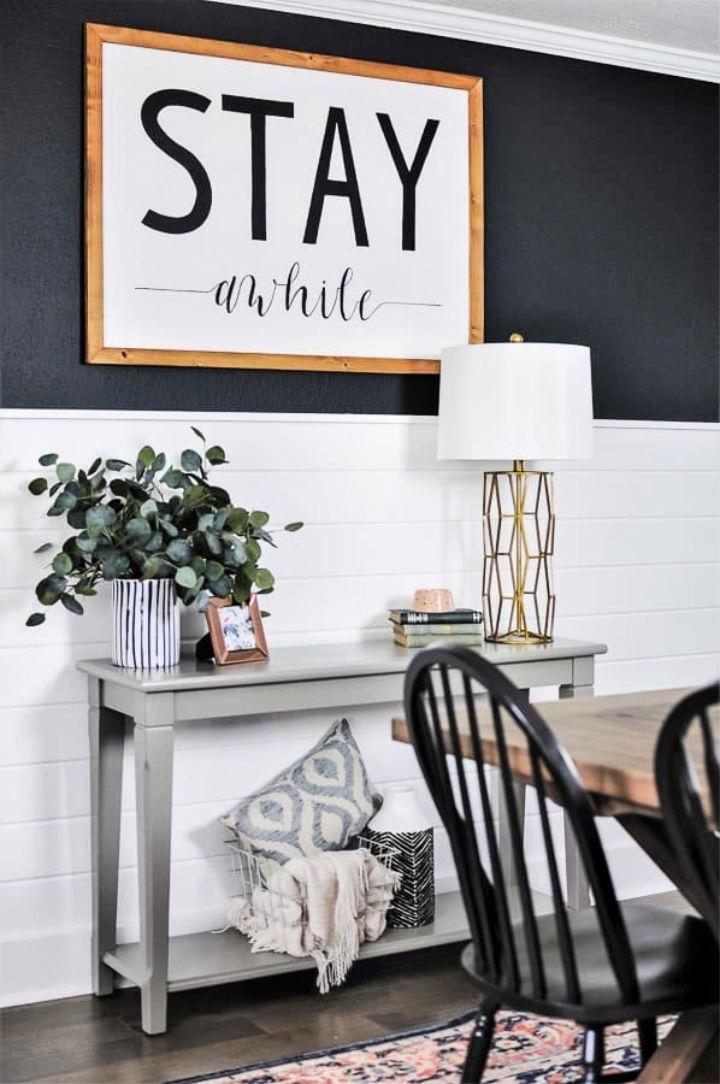 Now your decor game will say a lot! Instruct yourself to make a wood sign with paint by watching this simple tutorial. This farmhouse signs can say anything. You can convey a gesture or a message through it. It's fun to portray the saying like this. Also, it's the cheapest and easiest way to build it up. joyfulderivat
27. Front Door Welcome Sign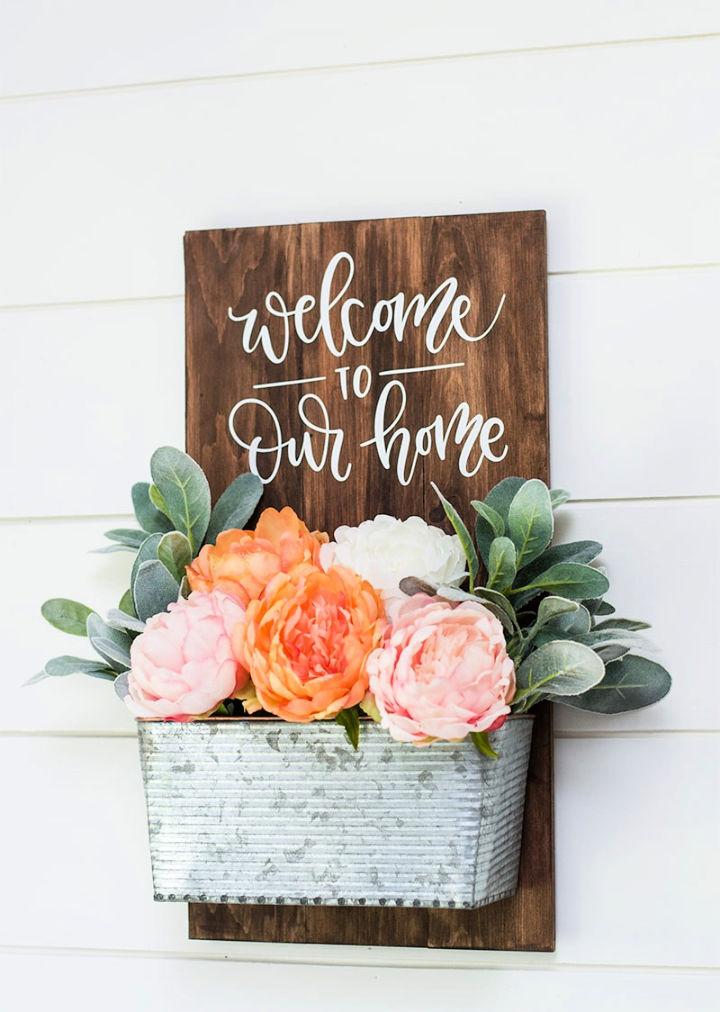 Not always you are available to welcome your visitors. Try something new and crazy this time. DIY welcome sign and mount it on the front wall or door to greet your guests. To make this front door welcome sign, supplies that you must have are stain, planter, cutter, hot glue, paint, and flowers. craftsbycour
28. Embroidered Pallet Wood Art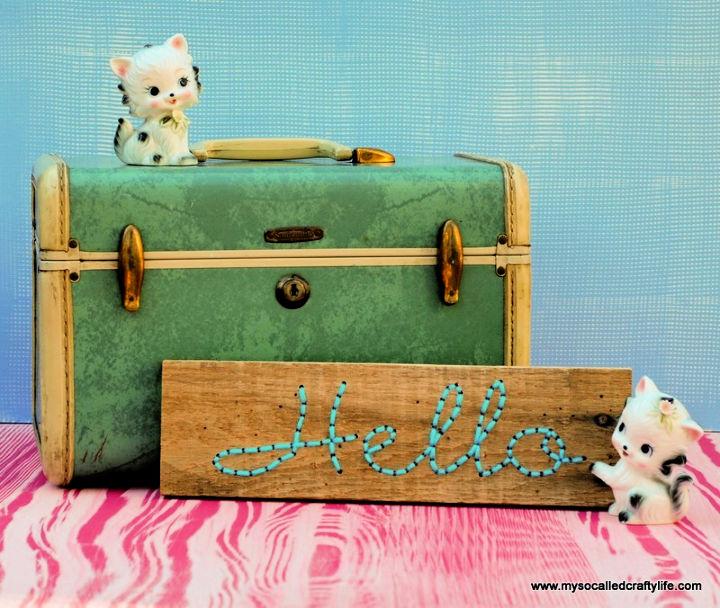 Repurpose your old and rustic pallet and transform it into DIY embroidered pallet wood art. It's such a fun craft that will turn out so perfect and beautiful. Add it along with your decoration pieces up on the shelf. Plus, you can even embroider your own name on it. To create this art, you need to hit the link. mysocalled
29. Framed Rustic Wood Sign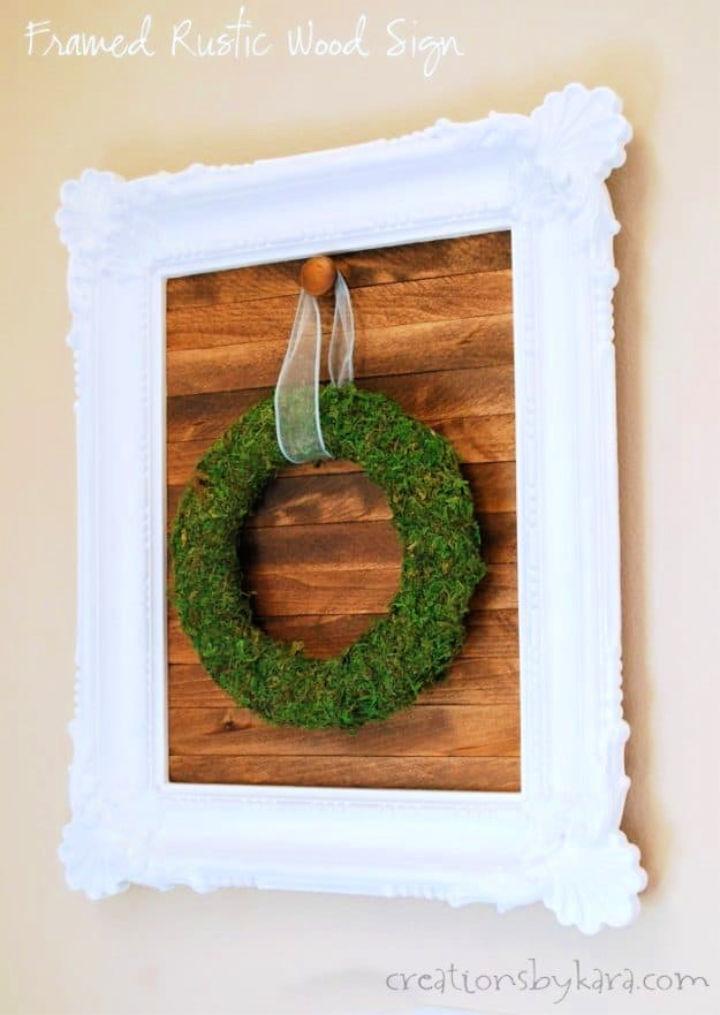 This is the beauty of crafting with wood that you can create or recreate a decoration beauty with it. DIY Framed rustic wood sign will let you do any fun stuff with it. Hang any wreath in it or use it to display any other decor item or family photo. Find out the supplies and the how-to of this framed wood sign below. creationsbyk
30. Large Wood Sign for the TV Wall

Want to say something vividly and silently loud to your homies? The perfect place is the TV wall! Here is how you can do it with this easy DIY large wood sign. Get your hands on reclaimed wood, screws, paint, and brushes to get your building journey started. Moreover, the tips and tricks are below to escort you. thehappy
Conclusion: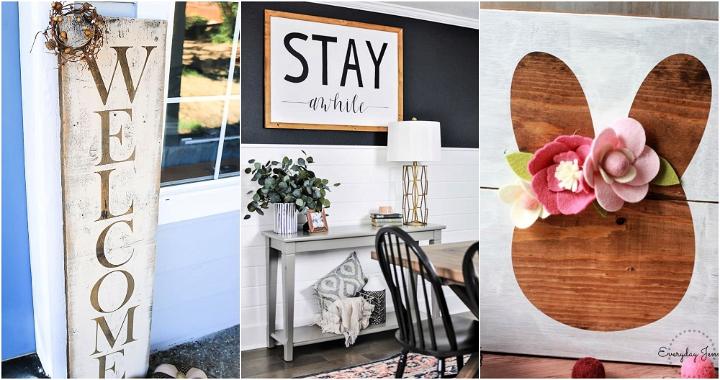 Tempted to try out a few of these beautiful DIY wood signs? They are just so gorgeous and can be used for so many purposes, whether it be a campaign or just to hang as decor. You can use an already doe surface if you're a beginner. Choosing a rustic surface will make it look a lot more professional and well done. If you're going for something modern diy wooden sign, then you can just keep it simple and plain. It's a very fun little homemade wooden signs project which will take you under an hour to complete.