The love for crochet can never die. No matter what age group you belong to or which culture is around you, free crochet patterns are always everyone's favorite. So, we have a list of 100 quick and easy free crochet patterns for beginners, which may help you in crochet learning. the crochet patterns always seems a little difficult. But in reality, they are simple and do not involve the hassle of buying multiple colored yarns. One skein yarn can be used in making multiple products. Whether it is a sweater, a neck warmer, a hat, or a purse. One skein yarn can do all. Hence, there is no need to worry if you want to start a project with one skein.
The free crochet patterns for beginners are easy to follow. Furthermore, these crochet patterns have made the crocheting easier. You can spend your nights in peace, not thinking about the color combinations. If you are looking for subtle looks and sleek designs, we would highly recommend you to opt for these free crochet patterns for beginners. You will not only love working on them, but you will also learn quick and easy ways to start crocheting.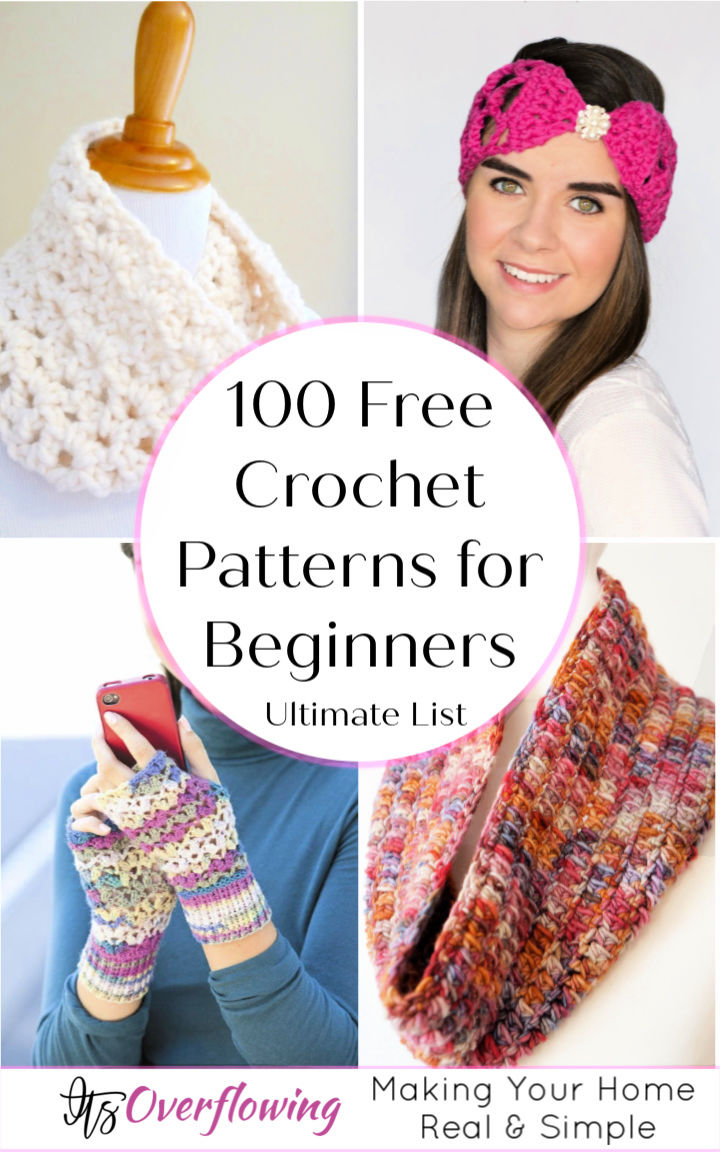 1. Crochet Desert Winds Scarf
Do you love crocheting sitting in front of the heater in this cool breezy weather? Making your own one skein desert wind scarf? Try this crochet one skein pattern and create one from the skein leftover from the other project and put it around your neck, giving yourself a swanky cool look. makeanddocrew
2. Crochet Lacy Lattice Headband
This project of crocheting one skein lacy lattice headband is for all the earlier knitters! Likewise, for anyone who wants to get an expert in crocheting by knitting mini minor bands. Using easy crochet patterns and supplies that are readily available to your nearby craft shop. hopefulhoney
3. Crochet Mesh Cowl Scarf
Next time when you wear your tee-shirt, don't forget to wrap up your neck with this fantastic crochet mesh cowl scarf. This pattern will instruct you how easily you can crochet this scarf by using a few supplies like skein yarn, tapestry needle, crochet hook. deliacreates
4. Crochet Mini Mandala
These little mandalas can be used as decoration for a hat, jacket, purse, and more. You can even hang them up to embellish your plain walls. To make these mandalas, you should be an adventurous beginner and have material of E/5/3.50mm hook and worsted-weight cotton yarn. mooglyblog
5. Crochet Sailor Knot Headband
This sailor knot headband is an easy but stylish pattern that can work up quickly and it also makes a perfect gift for Christmas or Thanksgiving. The required supplies to crochet this headpiece is scissors, yarn needle, size H (5.00) crochet hook, and any of your favorite worsted weight yarn. persialou
6. Crochet Snuggly Wave Cocoon Pattern
So if you are expecting a baby and nausea is upsetting you then make yourself comfortable by knitting this crochet one skein pattern! Featuring snuggly wave cocoon for your upcoming teeny tiny guest. You'll need supplies to crochet this snuggly cozy cocoon DK weighted yarn, 4.00mm hook, and buttons (optional). storey
7. Crochet Meringue Cowl
Feel the fashion in the air and have the sensation to look sumptuous and fancy among all of your mates at any hangouts you're having? Use this free crochet one skein pattern of meringue cowl and envy your mates by wrapping it around your neck, feeling flashy, and lavish. fiberflux
8. Easy Crochet Cowl & Scarf
Are you looking for a fun crochet project that looks great with just about any outfit you are wearing to go somewhere? Make this easy crochet cowl with buttoned on the front and is 18cm wide and 137 inches long. A pro tip: don't crochet too tightly and try to work in the round. rescuedpaw
9. Crochet Cabled Beanie
Are you looking for something that will keep you warm while giving you a stylish, posh look? This skeins cabled beanie is constructed from the brim up using front and back post stitches. Material needed 15.5mm crochet hook, tapestry needle, 250 yards of cotton yarn. allaboutami
10. Crochet Cuddly Koala Lovey
This crochet koala is the perfect combo of a cute cuddly comfy! Also, it makes an ideal gift for your toddler. These free crochet patterns will allow you to make this cuddly koala lovey with 5 yards of grey yarn, 20 yards of black, 10 yards of accent, tapestry needle, and a large handful of stuffing. makeanddo
11. Crochet Shawl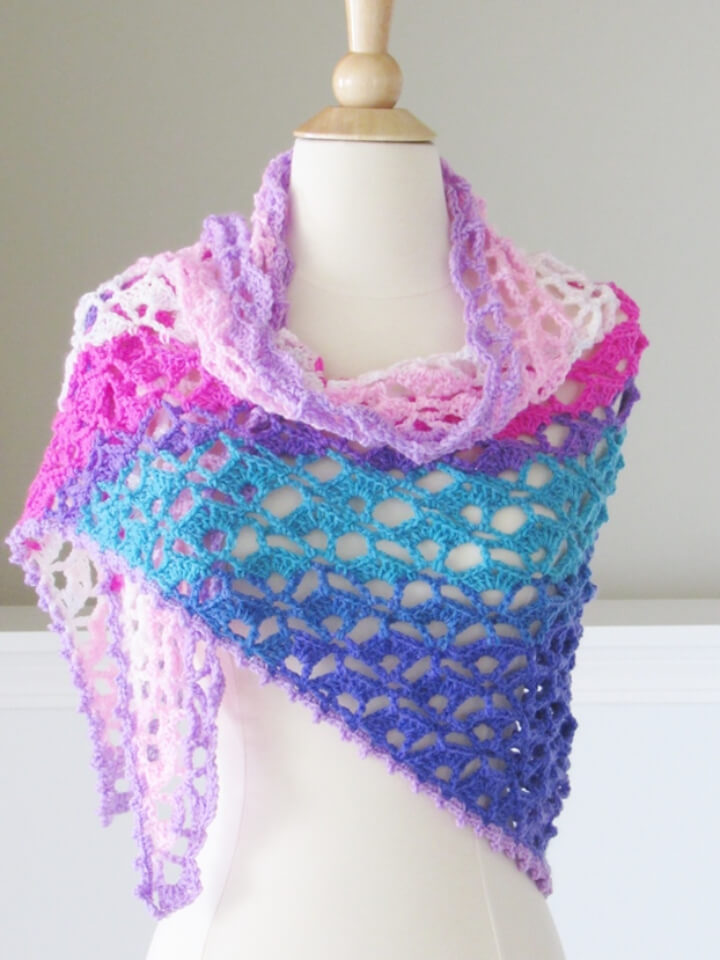 There is some time left for the spring season to come with all of its colors and blossoms. But this shawl can cast its magic spell going and bring the spring season soon with its rainbow bright colors. The material you'll need is one skein of cotton yarn, 5mm crochet hook, and a needle. crochetdreamz
12. East Village Slouch
Be a country girl wearing this east village slouch with 9" diameter in the base and 11.5" from top to bottom when laid, using skills like single crochet, chain, slip stitch, and crocheting in the round. The size of the crochet hook is H 8mm and H 5mm respectively and 1 skein of worsted yarn. mamainastitch
13. Crochet Infinity Scarf
If you want a smaller than a regular infinity scarf, then try out this neon light infinity scarf! But if you want a bigger one, you can easily make it by using more yarn and gauge. The skill level required to crochet this scarf is medium, and supplies needed are yarn needle and cotton, stitch marker, and a 10mm crochet hook. thestitch
14. Crochet Neck Scarf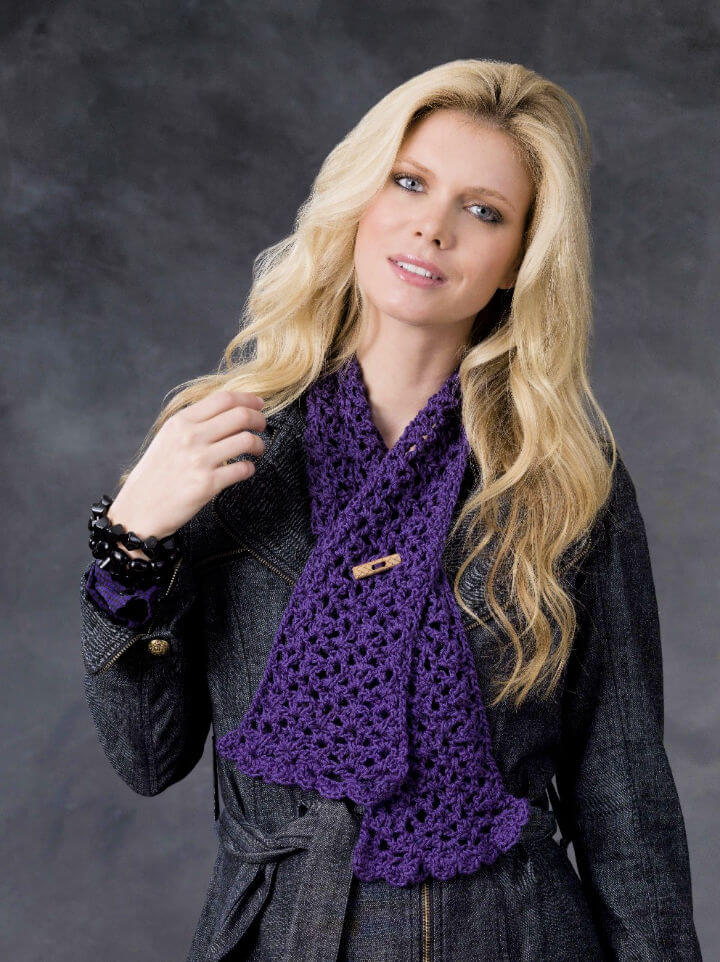 Check out this one looking most beautiful from all free crochet patterns! This pattern is fun and easy and works up in less than an hour if you have a hang on knitting. You can certainly enjoy crocheting this neck scarf with size M and N crochet hook, bulky weight size 5 yarn, and yarn needle. hooked
15. Crochet Janice Cowl
When you want a scarf that drapes nicely out of the neck of your coat, a crochet Janice cowl pattern is ideal to go for. Crochet cowl scarfs are versatile and fashionable and tend to fit the neck more snugly than the other scarves. Give it a shot! divinedebris
16. Crochet One Skein Cowl
Peeking out of your jacket or sweater, this crochet cowl will make your outfit more exciting and add sophistication to it. Not only that, it will make you warm and cozy even in the snowfall and minus temperature. With crochet needle, hook and cotton yarn craft this cowl. ravelry
17. How to Crochet Cathedral Convertible Cowl
This convertible cathedral shawl can be used in different ways, from headscarf to neck cowl to shoulder cape. Once you learn how to crochet this, you will find yourself addicted to it. It's a quick and easy project and can take a few hours to finish crocheting. cre8tioncrochet
18. Prettiest Frosted Plum Beginner Crochet Cowl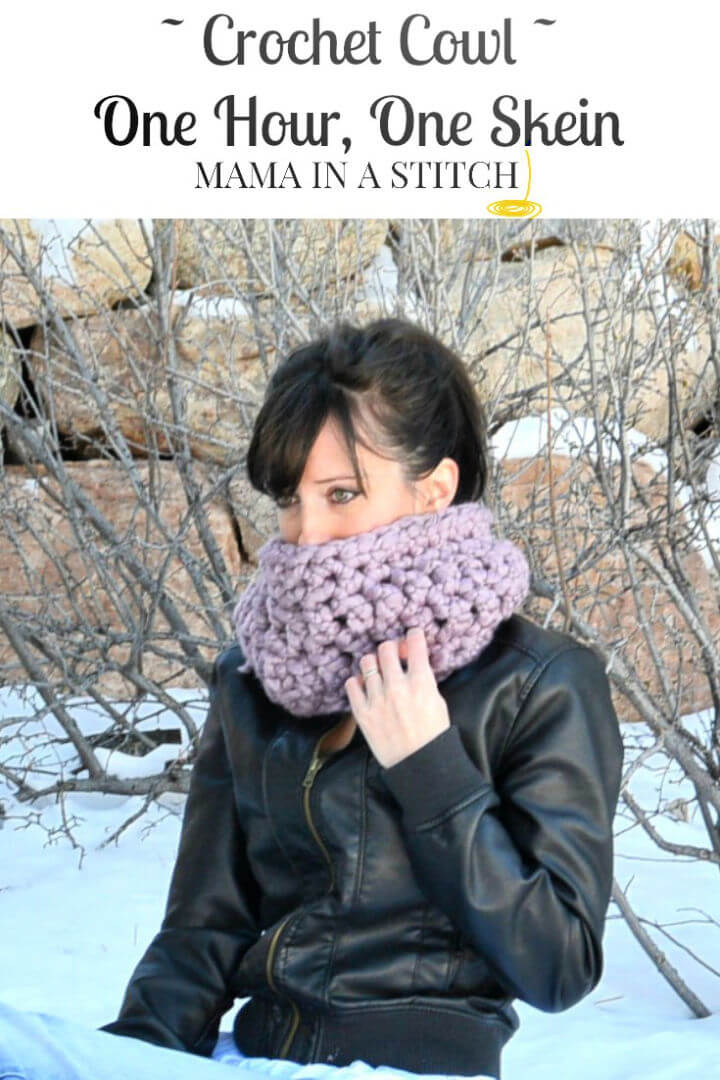 Hey ladies! Want to crochet cowl or shawls with an easy pattern? This prettiest frosted plum cowl is for all the beginners because of its most manageable skill level and for those who want to keep them all cozied up! Just by wrapping it around their mouth. mamainastitch
19. Crochet Woven Cowl Pattern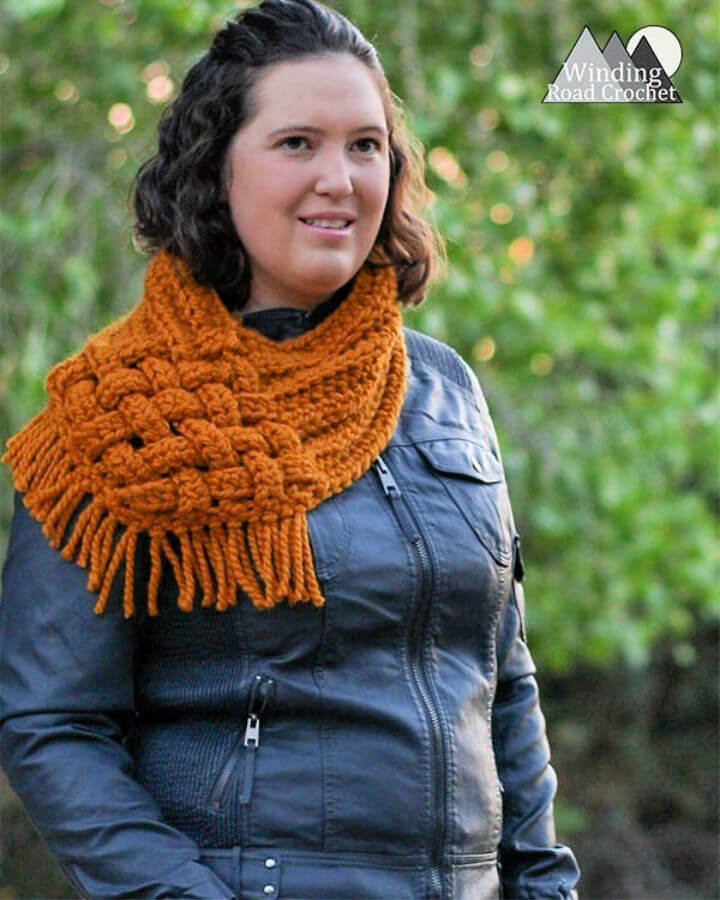 With 4 medium base yarn and 5 bulky thicker yarn, 5.5mm and 6.5mm crochet hook, scissors, and tapestry needle, you can crochet woven cowl for yourself! Or a gift for your mother on mother's day. This woven cowl is will surely look equally splashy to both the young and aged. windingroad
20. Crochet Chunky Cowl
Have you ever seen something so catchy that you fell in love with it at first sight? This Crochet chunky cowl is something worth praising for. This cowl is worked up with two skeins of bulky yarn and puff stitched to give it a delightful textured yet not too heavy to carry around. makeandtakes
21. Chunky Head warmer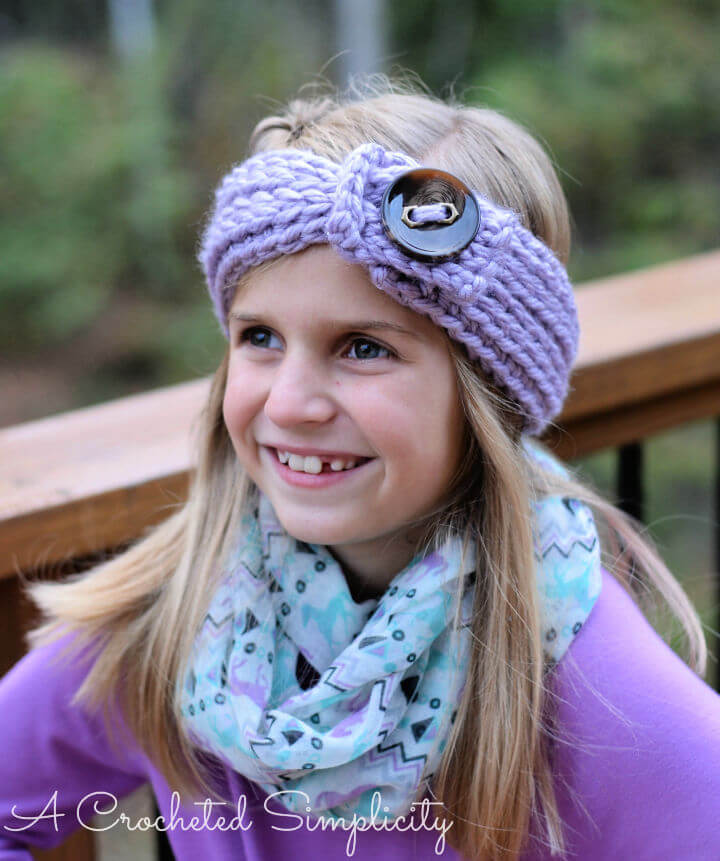 If you're looking for a quick swift crocheting head warmer that can work up in less than two hours! Try this crochet one skein pattern of chunky head knit-look for your teen girls with the material of 9mm crochet hook, bulky yarn, a large adorned button with needle and thread. acrocheted
22. Crochet Cowl
The combination of the cost and time to create this crochet one skein cowl makes it a perfect item for the crocheting affairs! And not only that, it can be used as a teacher's day gift or for any other lady in your life. The versatility of this cowl and the texture of colors while popping out of your coat will give you an appealing look. littledoolally
23. One Skein Fortune's Shawlette Pattern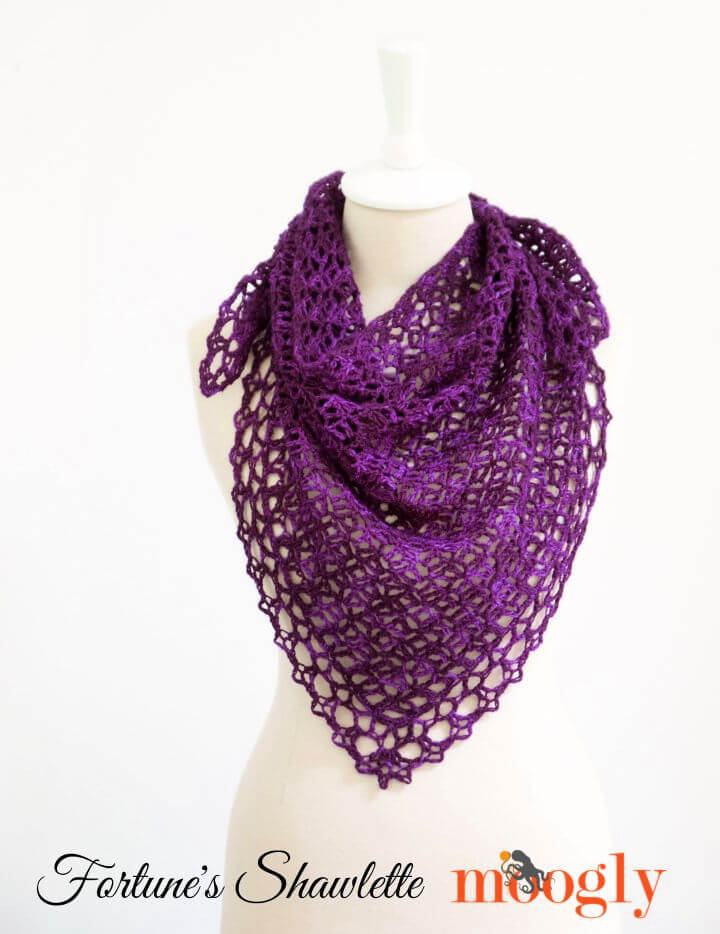 Do you have a beautiful skein of fingering weight yarn that you've been holding on to because it is very special? It is a perfect choice for this delicate yet cozy fortune's shawlette. To make this shawl, you get to work backward for the skip stitches for a stunning detailed effect. moogly
24. How to Crochet Chic Aran Boot Cuffs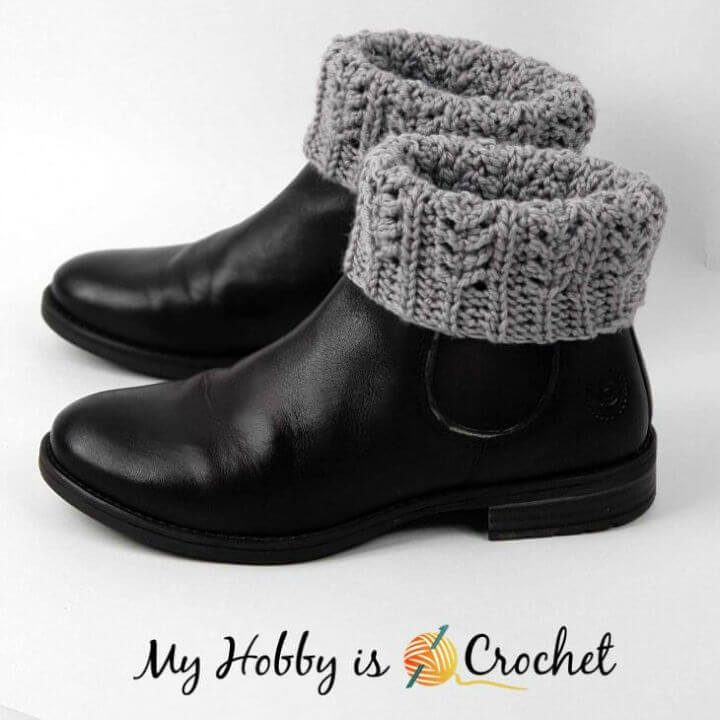 These amazing boot cuffs are worked sideways in one piece, so you don't need to make the ribbing separately! But they are customized to even cuff size and to even boot height also. You can wear these boot cuffs just the way you like it. Knit these cuffs with a 5mm crochet hook, tapestry needle, and a stitch marker. myhobby
25. Crochet One-Skein Lace Mitts
These skein lace mitts are a fantastic project to crochet and classy to wear! You can wear it to warm your hands, but your fingers will be free for driving or sipping coffee. All you need to accomplish this project is one beautiful skein of weighted yarn, 3.5mm crochet hook, and a tapestry needle. allfreecrochet
26. One Skein Cowl – Free Crochet Pattern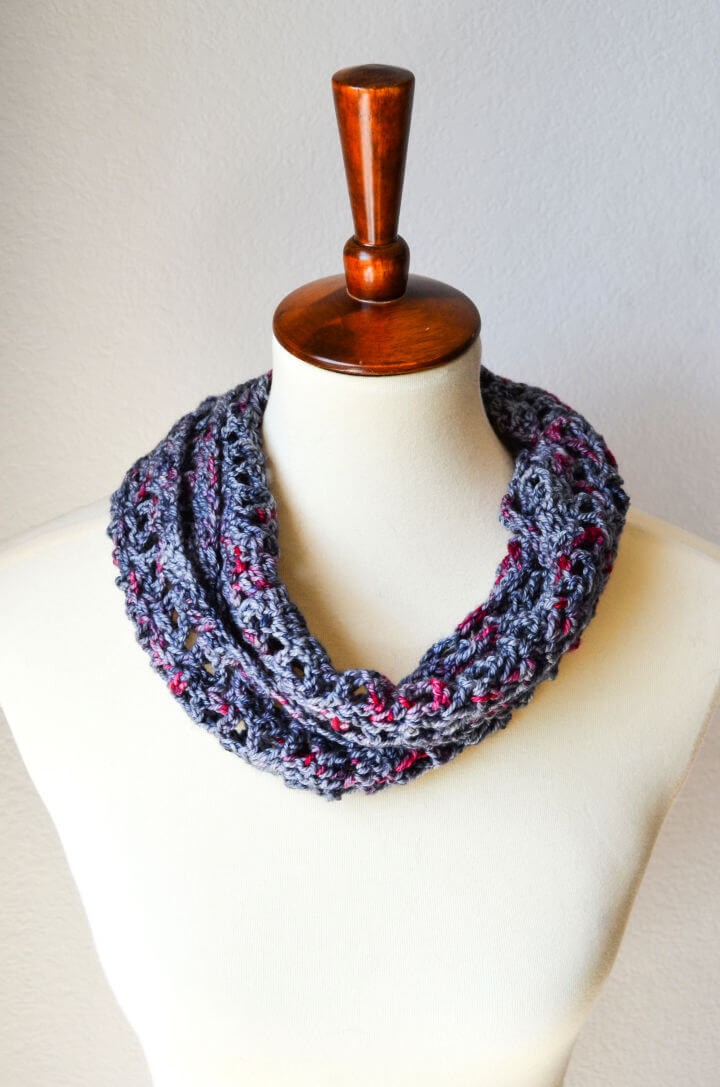 Cowls are such a fun trend, they keep your neck warm and cozy while giving you a lush look. The fine crochet cowls make your outfit look manifolds attractive, so make sure you're using the pattern accurately and correctly with the recommended supplies. simplycollect
27. Crochet Sprinkles Cowl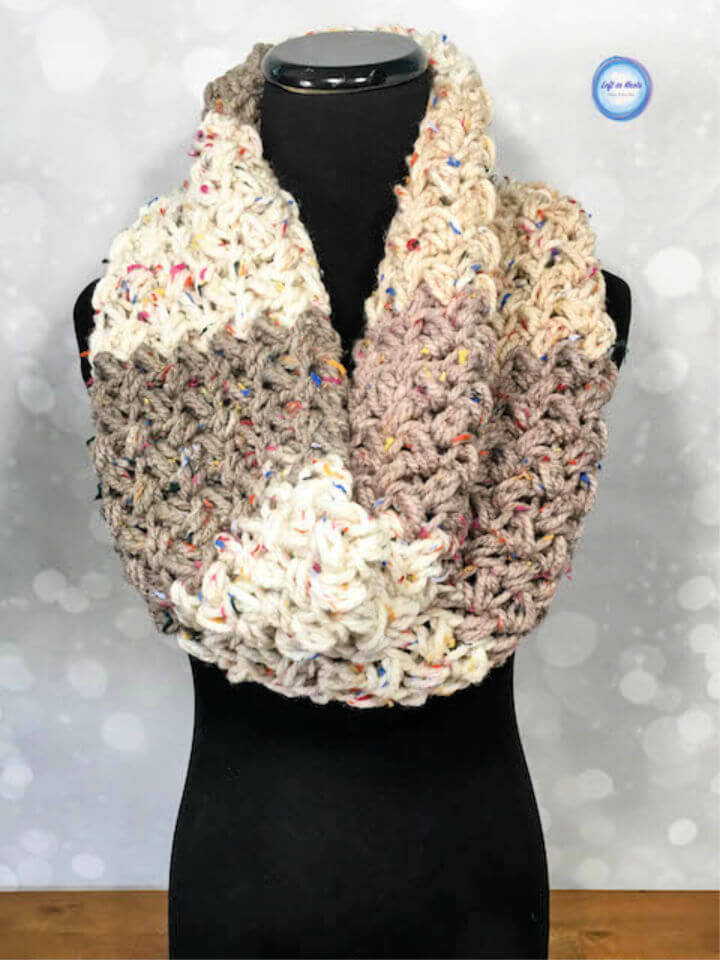 Check out this colorful chunky crochet sprinkles cowl pattern! Its subtle look and neutral appeal make it ideal for wearing with any outfit! The pattern allows you to make and stock your winter wardrobe with different and unique cowls. leftinknots
28. How to Crochet Women's Slouch Hat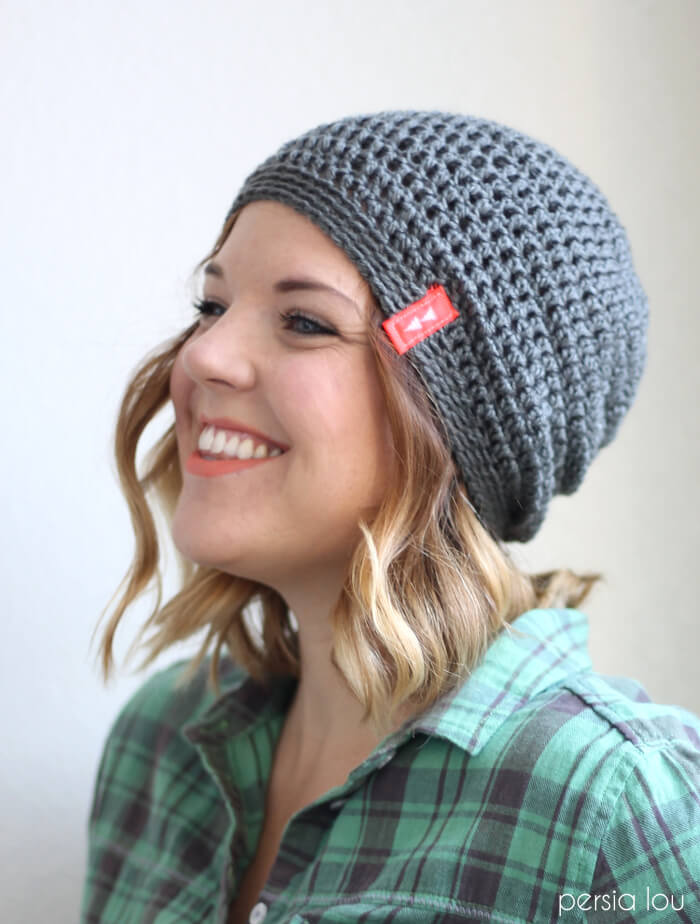 The slouchy women hat is the perfect solution for your bad hair day and a stylish accessory to keep you warm and cozy. This slouchy hat is designed in a way that even a beginner can easily pick to crochet it with a 6.5mm crochet hook and weighted yarn. persialou
29. Crochet Abella Triangular Scarf
This fabulous triangular scarf is not only stylish and reversible but also a great project to crochet and decompress your stressful day. You can make it in any custom width and with any weighted yarn. This project takes two hours and two balls of yarn with a 6.5mm crochet hook. acrocheted
30. Easy Crochet Key Tab Fingerless Gloves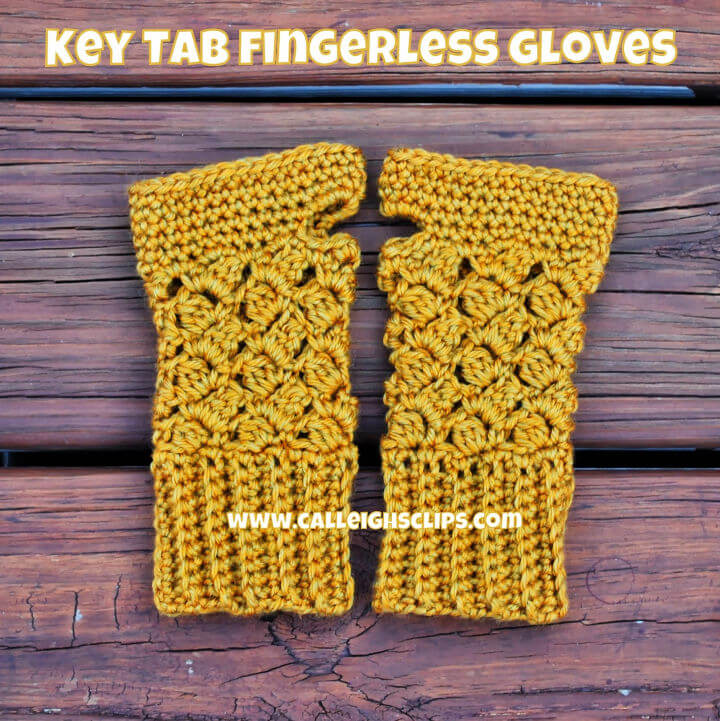 Fingerless gloves enable you to keep your hands and wrist warm while doing any stuff you like, from using the phone to typing on the keyboard. It offers you an excellent level of comfort and coziness without any inconvenience! calleighsclips
31. Crochet Coffee Cozy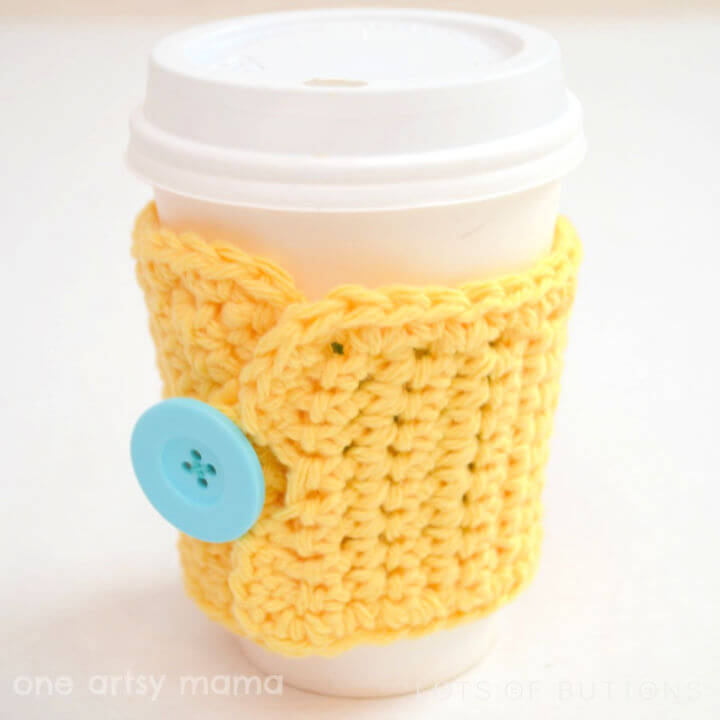 Do you love coffee as much as you love to crochet? If so, then it's a perfect combination to bestow some ornament to your coffee mug when there is hot coffee inside it. Make the coffee mugs worth admiring for your guests and for yourself too! Keep it warm for a longer time in this crispy cold season! amylattacreations
32. How to Crochet Blue Bunny
If your nephews or nieces birthday is around the corner, don't rush to the stuffed toy store to buy some overpriced toy. Instead, crochet one at your home. Learn how to crochet a blue bunny with blue colored cotton yarn, tapestry needle, 9mm crochet hook, and a handful of stuffing. favecrafts
33. Crochet Amara Shawl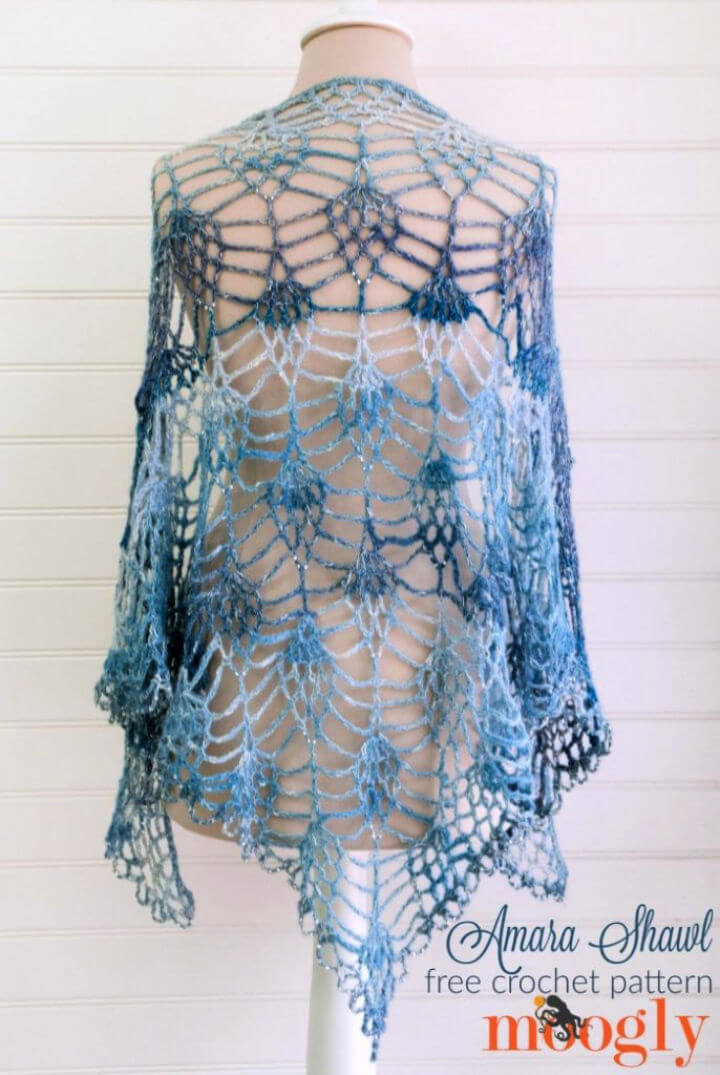 Here is something sparkly and stylish to crochet and also super duper lightweight to carry. This Amara shawl is inspired by both beauty and need. The material required to crochet this modish shawl is a tapestry needle, 2.5mm crochet hook, and any branded weighted yarn. moogly
34. One Skein Lilac Blanket
Crochet a wonderful baby shower gift with the free crochet patterns and make the cute little lilac blanket that can be used for newborn babies to pre-school going age. The supplies you'll need are a 5mm crochet hook with DK-weighted yarn, needle, and a stitch marker. allfreecrochet
35. Crochet Catarina Cowl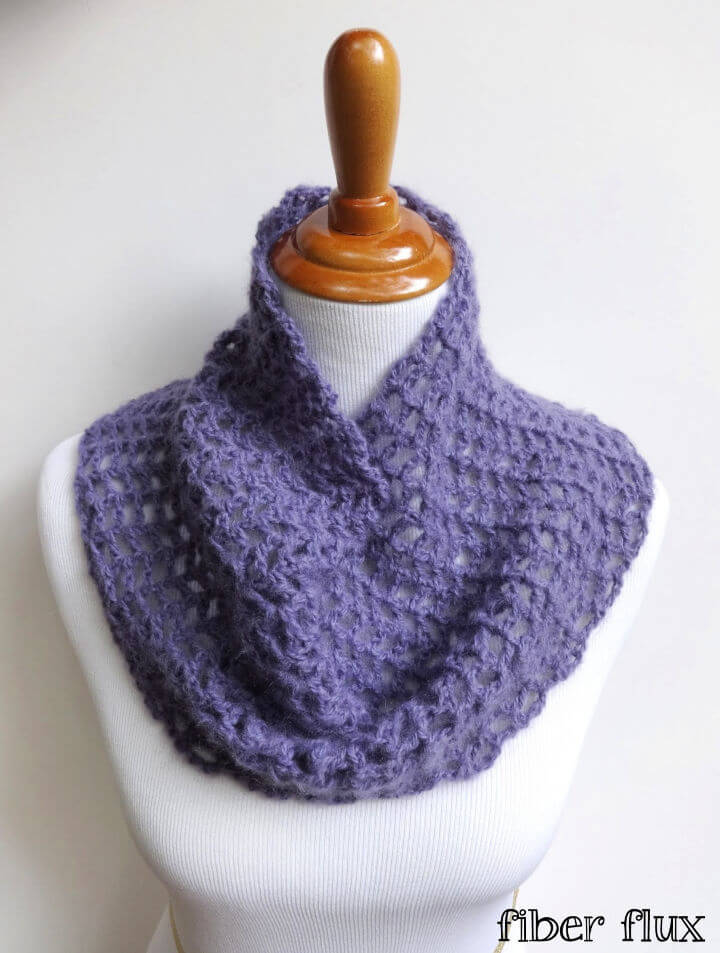 The Caterina cowl is a lovely and elegant cowl with an open stitch pattern. It can be stitched fast and easy, with an average skill level. With 5.5mm crochet hook, needle, scissors, and weighted cotton yarn, you can make a stylish and thoughtful gift too. fiberflux
36. One Skein Infinity Scarf
This infinity scarf uses exactly 100g of a skein of weighted yarn 5mm crochet hook, yarn needle, and scissors. The skill level required to make this scarf is easy peasy. This scarf is first made as one long rectangle, and then the ends are sewn together to create an infinity scarf. goddesscrochet
37. Crochet Chunky Cowl
The time of the year is here when you start noticing the leaves to fall off and the nights getting longer but chiller. It's also the perfect time to break out your cozy and warm crochet cowls, and if you don't have a cowl, why don't you crochet one for yourself with just a few supplies as done here. justbcrafty
38. Crochet Summer Slouch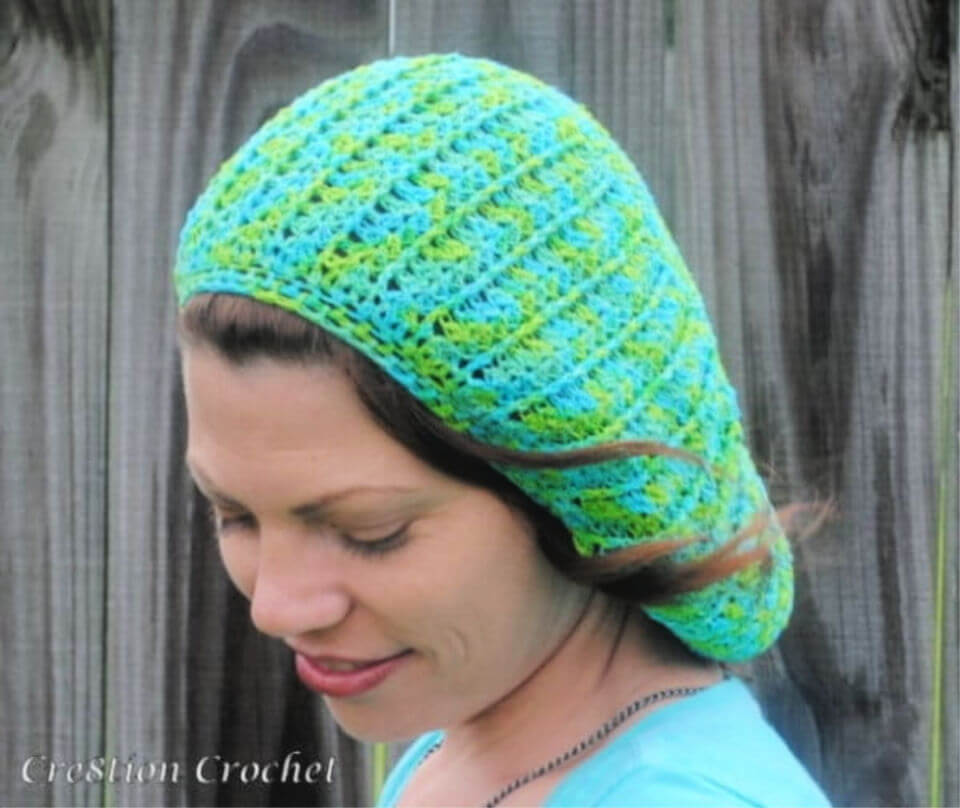 With the handy and helpful pattern of this sea breeze summer slouch, you can make a versatile and pretty slouch for yourself! And for a swanky hot look in the summer or spring season. Try this stylish slouch with a crochet hook, needle, scissors, and cotton yarn. cre8tioncrochet
39. Crochet Dogwood Cowl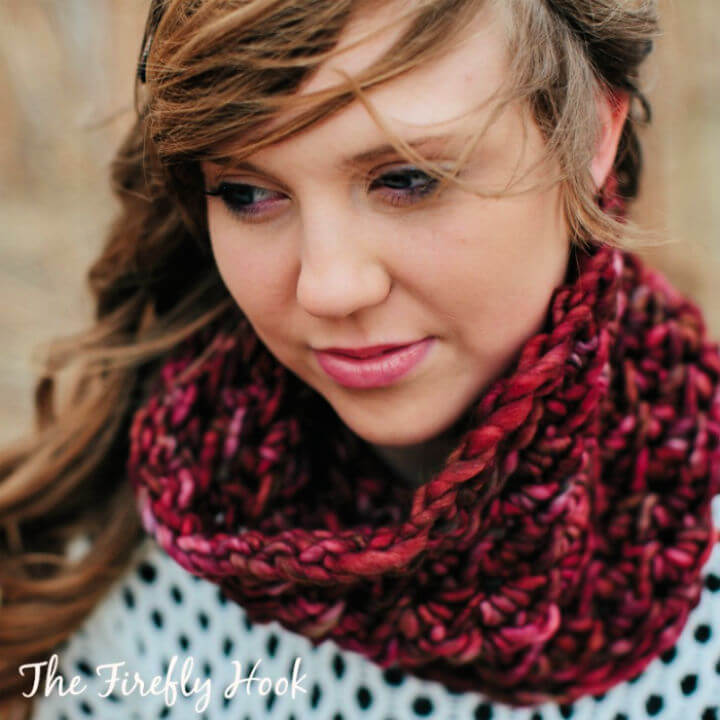 This dogwood cowl is luxuriously soft and stylish, made with merino wool that feels really gentle next to your skin. This free pattern will allow you to crochet one for yourself with 15mm of a crochet hook, one skein 100% of weighted cotton yarn, yarn needle, and scissor to finish ends. myhobby
40. Luscious One Skein Cowl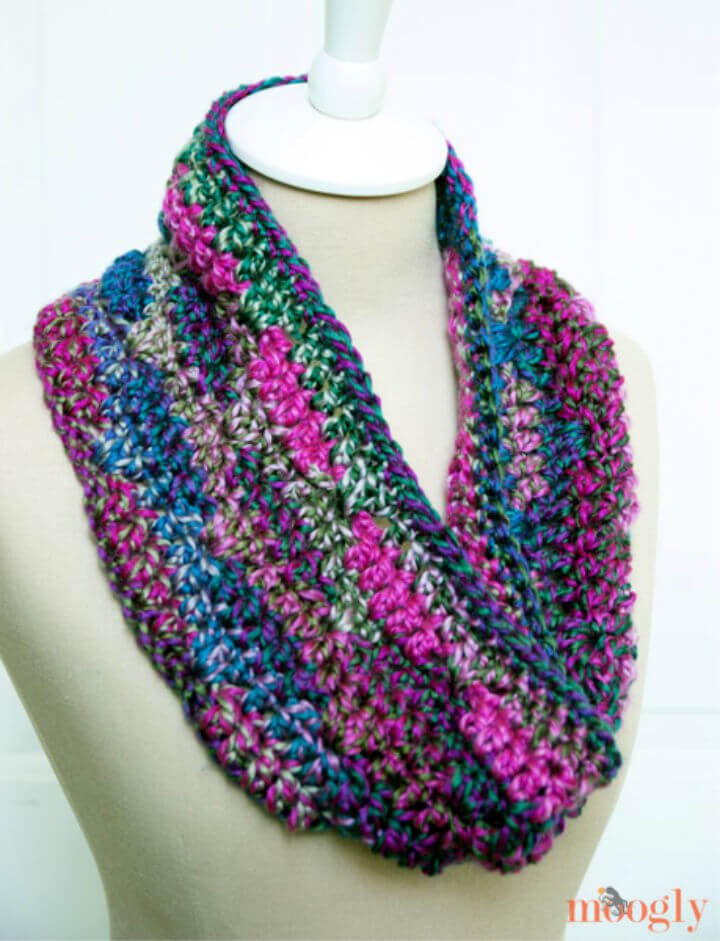 Look at this luscious one skein cowl that is long enough to drape beautifully and frame your face perfectly. If you need a long infinity scarf, you'd need another skein or two. Still, it's straightforward to upsize with a 9.5mm crochet hook and a needle. Also modishly attractive enough to entice the onlookers. moogly
41. Crochet Infinity Scarf Pattern
You know how infinity scarf has definite advantages over a traditional scarf? Look at this pretty crochet infinity scarf pattern and free yourself from the worries to keep your neck warm by tying the traditional scarf around. It's also lovely to simply loop the scarf around your neck, and be off without having to fuss over it. poshpatterns
42. How to Crochet Ski Lodge Chunky Pom Hat
Check out this crochet ski lodge chunky hat! It sure seems like a great project to spend your idle time productively. You'll love how warm and cozy this hat will be, and the pom on the top will make it super fun to wear. Use tapestry needle, crochet hook, cotton yarn for this project! mamainastitch
43. One Skein Whimsical Warmth Headband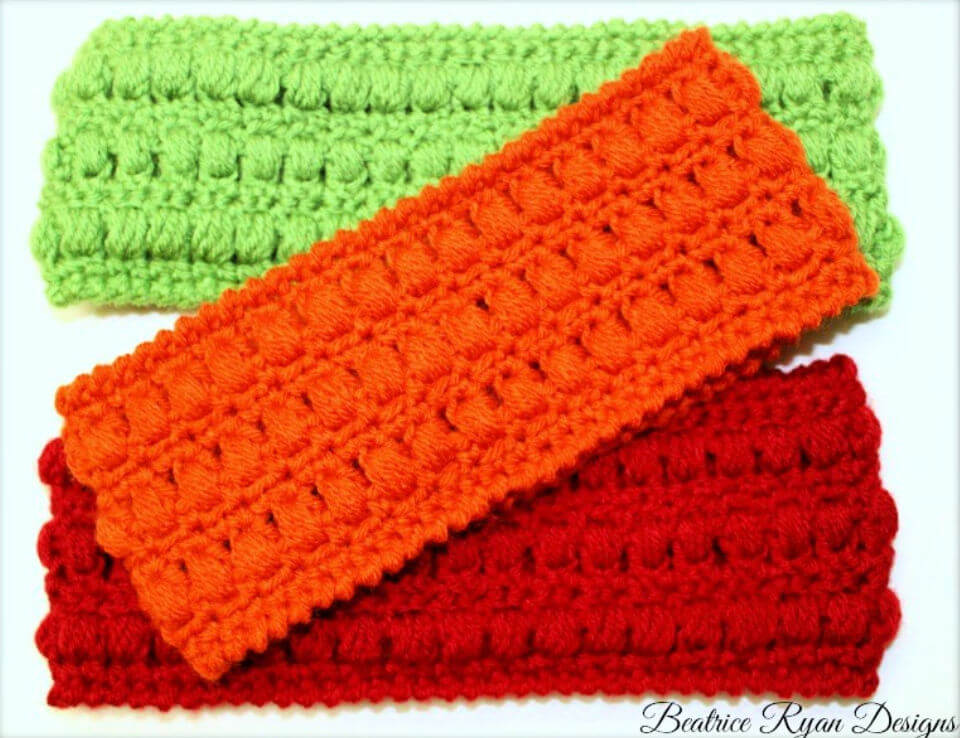 If you love an easy peasy crochet one skein pattern that can be made using one skein project, then this skein whimsical warmth headband is for you. Also, this most straightforward project certainly gives a perfect hang on your crocheting skills using some supplies like hook, needle, and cotton yarn. beatricery
44. Crochet Glacial Cowl Pattern
If you're striving to look adorable and funky in winter season too, try this crochet glacial cowl pattern. This simple pattern will make you crochet a cowl for yourself easily by using some materials! Like a 6.6mm crochet needle, tapestry needle, medium-weighted yarn, and scissor. leftinknots
45. Crochet One Skein Boho Shawl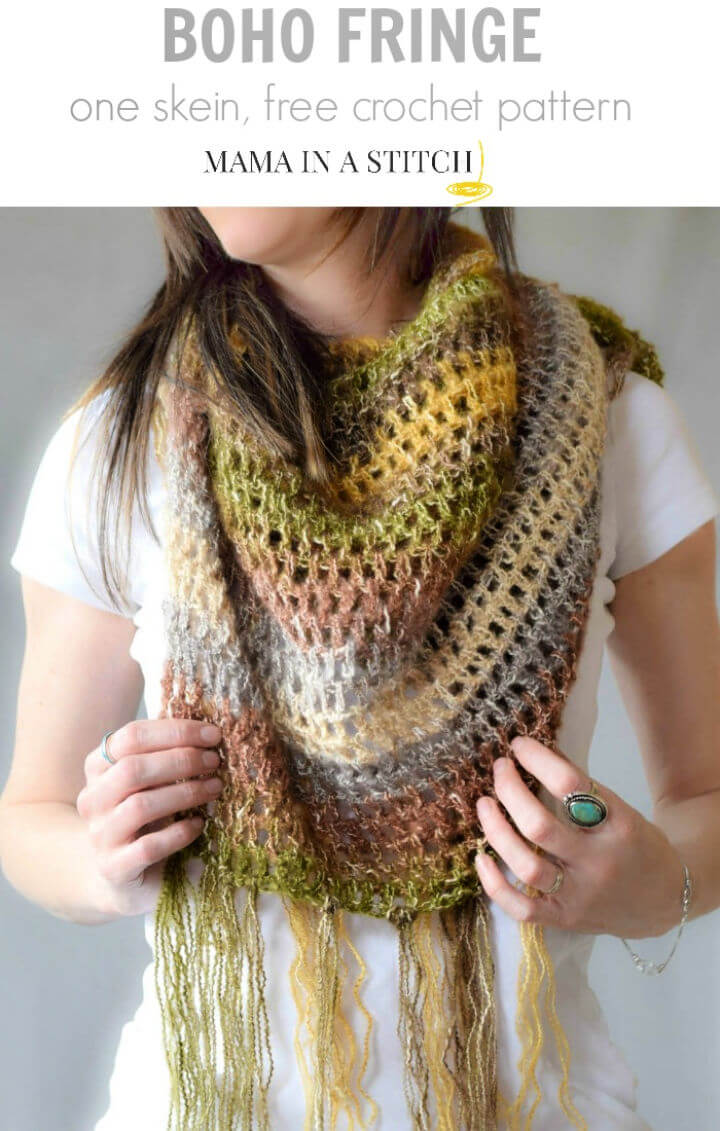 Do you need a shawl, scarf, or a funky wrap at the same time and by working on the same project? If so, then you should try this skein boho shawl pattern. This simple pattern will teach you to make a shawl with long lengths or a scarf with a short length with a 5mm crochet hook and one skein weighted yarn. mamainastitch
46. Winter Sunrise Scarf
This winter sunrise scarf is light and beautiful, and a perfect accessory for the chilly days! Also, the provided free crochet patterns will let you work upon this project in a flash!! You won't be in need of many supplies for this project other than the crochet hook, needle, scissors, and cotton yarn. moogly
47. Crochet Northwest Forest Cowl
Using super bulky yarn and a big hook, this northwest forest cowl pattern will take your just one hour to crochet it! And you will need just one skein of yarn with 16mm hook, tapestry needle, and a scissor. To bring a nice texture in your cowl, use back and front loop double crochet stitch. goldenlucy
48. One Skein Boot Cuff
To bring further charm in your new boots or to modernize your vintage style boots, use these free crochet patterns to make one skein boot cuffs! Using one skein cotton yarn with 9mm of the crochet hook and bring elegance and style in your boots and look flashy by tap-tapping on the floor. cre8tioncrochet
49. Crochet Wreath Base
Hey there, are you planning to embellish your front door because Christmas is around the corner? No problem, with this crochet wreath base and using few supplies you can make your very own wreath! And easily decorate it with different flowers and jingle bells. sewrella
50. Caron Cupcakes Hat
Crochet this cupcakes style hat using the free pattern and gift it to your kids on their birthdays with the edible cupcakes. Isn't it a perfect combination? These funky colored hats having pompom at the top of their hats will make your kids look so much extra cuter! smilingcolors
51. Crochet Wildwood Chunky Beanie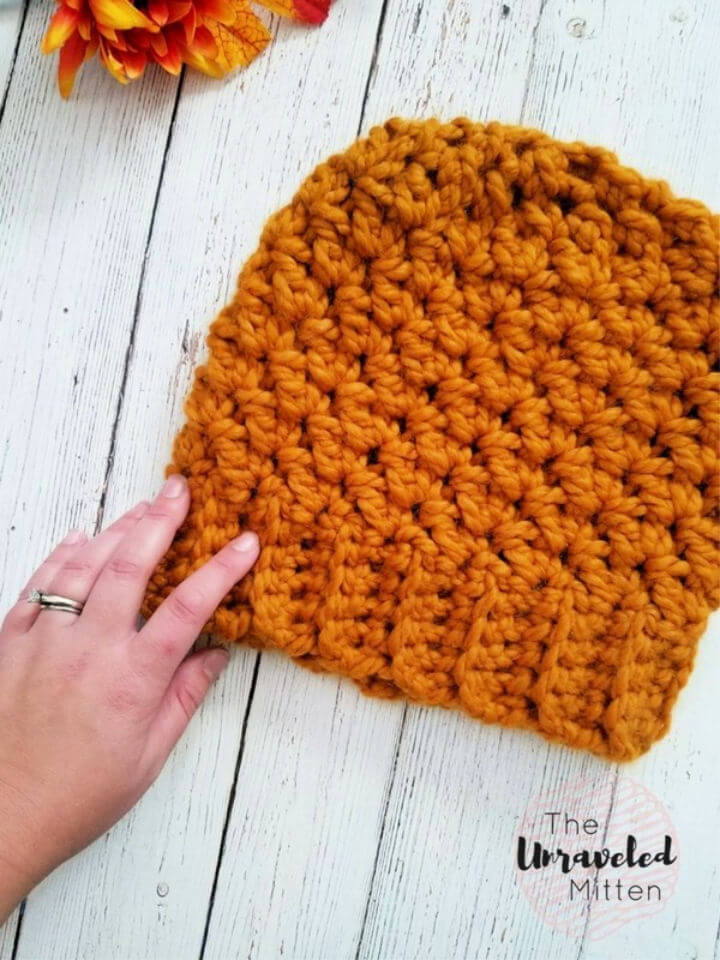 If you're looking for some easy pattern to make a warm and cozy hat for yourself or your school going kids, watch this free pattern of wildwood chunky beanie hat! And make one for your kid. This chunky hat can be your or your little one's winter savior accessory! theunraveled
52. Crochet Sparkles Scarf
Stun everyone with this sparkly scarf that can easily be crocheted with 7mm crochet hook and weighted yarn! It's so shiny that it can brighten up your outfit like anything! Plus, a little sparkle never hurts, right?! moogly
53. How to Crochet Fringe Clutch Pattern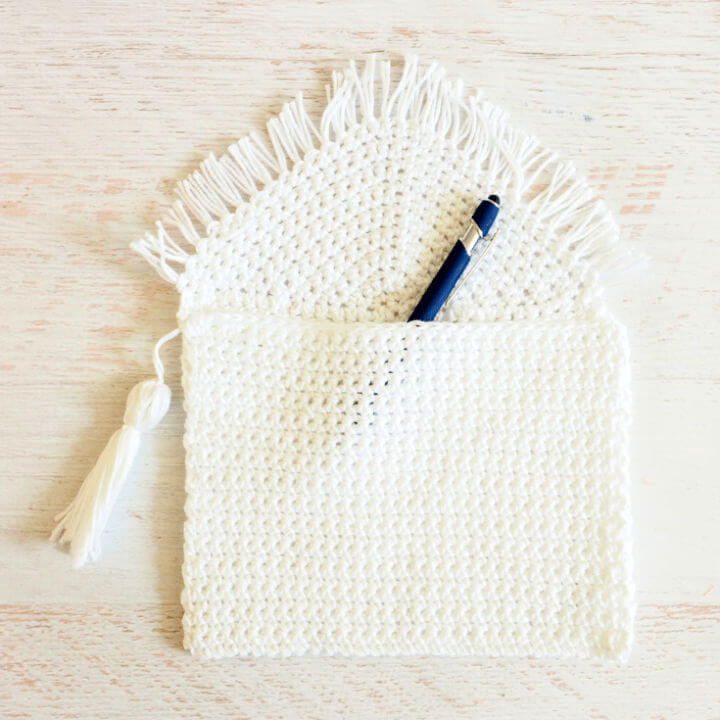 Need a hand pouch in which you can put your money or change or your make up stuff? Try this pattern to knit a crochet fringe clutch for your very own personal usage! With the materials including tapestry needle, medium weight yarn, 5mm crochet hook, and scissors to cut the fringes in line. idealme
54. One Skein Chunky Cowl
Cowls are the updated fashion version of the high-neck shirts while they keep your neck cozy from the chilly weather. This list of free crochet patterns will let you crochet the chunky cowl with only one skein of cotton yarn with 6.5mm of a crochet hook. makeandtakes
55. Crochet Fingerless Gloves
Don't bound yourself by wearing gloves that won't let to do other stuff! Use these fingerless gloves instead of regular gloves, and do your work freely and comfortably! Making yourself warm. You don't need many supplies or a higher level of skill to crochet these gloves. crochetforyou
56. Crochet Swanky Glam Cowl
By using a bulky yarn with a 9.5mm crochet hook and tapestry needle, you can easily crochet this single colored crochet swanky glam cowl! Make it for yourself or your loved ones with a squishy look keeping warm from the cold! myhobby
57. Crochet Aveline Reversible Scarf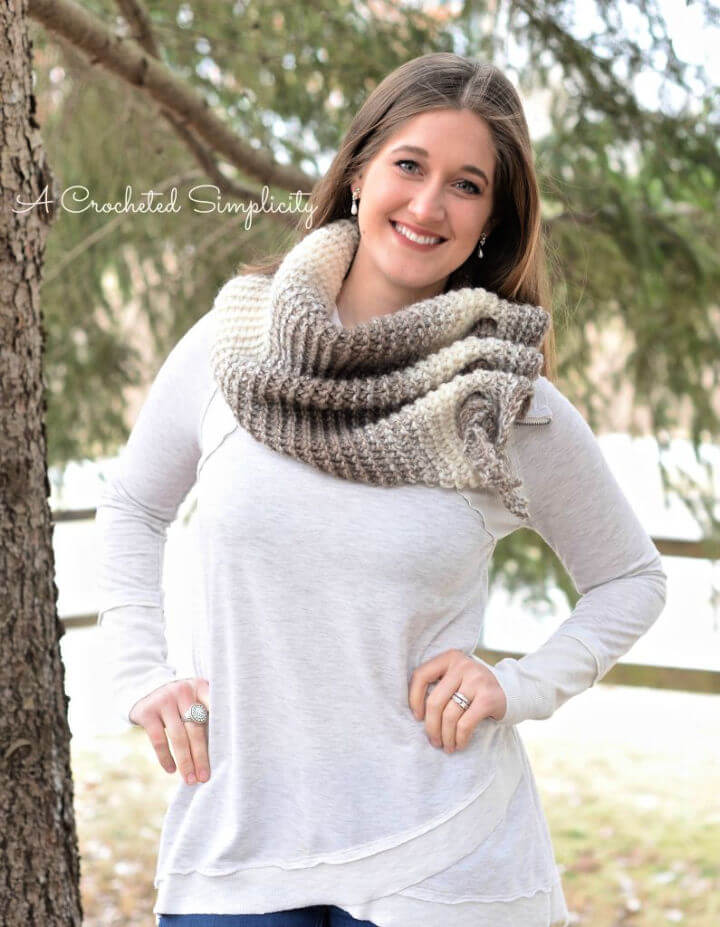 Just 2 hours, that's all this reversible crochet scarf takes with supplies that you can quickly get from your nearby craft shop and with an intermediate skill level. You can drape this reversible scarf to make it look like a shawl, or you can tie around the neck like a cowl. acrocheted
58. One-Skein Lap Throw
This lap throw is a fantastic crochet invention to use as a little blanket to warm your feet and legs while sitting in the TV lounge or in the garden. Using only one skein of cotton yarn with a tapestry needle and 9.5mm crochet hook, this lap throw is a luxury for your winter season. redheart
59. Crochet Market Bag
Get rid of the polythene plastic bags and become a participant in cleaning the environment around you. Crochet your own market bag from cotton yarn, needle, and hook. This bag is perfect to endure all the weight you usually carry while shopping for groceries. zeensandroger
60. How to Crochet Tallulah Waterfall Scarf
Learn how to crochet the Tallulah waterfall scarf with this pattern and glamourize your look and personality by swirling it around your shoulder or neck. The crochet hook used to knit this Tallulah scarf is 1.5mm and any branded cotton yarn with a tapestry needle to refine the ends. moogly
61. Crochet X Stitch Series Boot Cuffs
Give your boots an exclusive look that it catches every eye. Style them with this X stitch series boots cuffs that will warm your ankles too. You can use it the way you like it from wearing it straight up to folding it around the boots. Go grab the materials and start crocheting cuffs. paradise
62. Crochet Cozy Fall Headband
Crochet this cozy fall headband for yourself or for a thanksgiving gift. It's the most straightforward project for the beginners who want to get a hang on crocheting different projects. Plus, it will look super pretty with matching outfists! WIth Stitch 11, you can surely learn making so many of these for different outfits! stitch11
63. Crochet Caron Big Cake Bag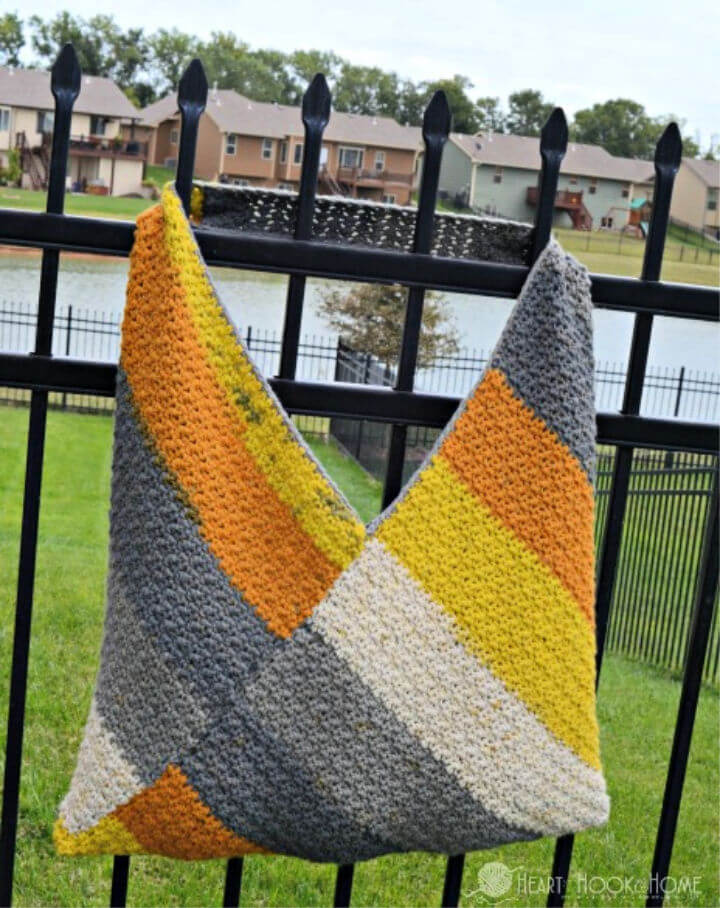 You can use this big cake bag for any multi-purpose stuff like carrying heavy tools from one side of the lawn to the other and putting any useless lawn stuff into it. Even a beginner-learner can crochet this easy-peasy bag with multi-color cotton yarn and a 5mm tapestry needle. hearthookhome
64. Mountain Land Scarf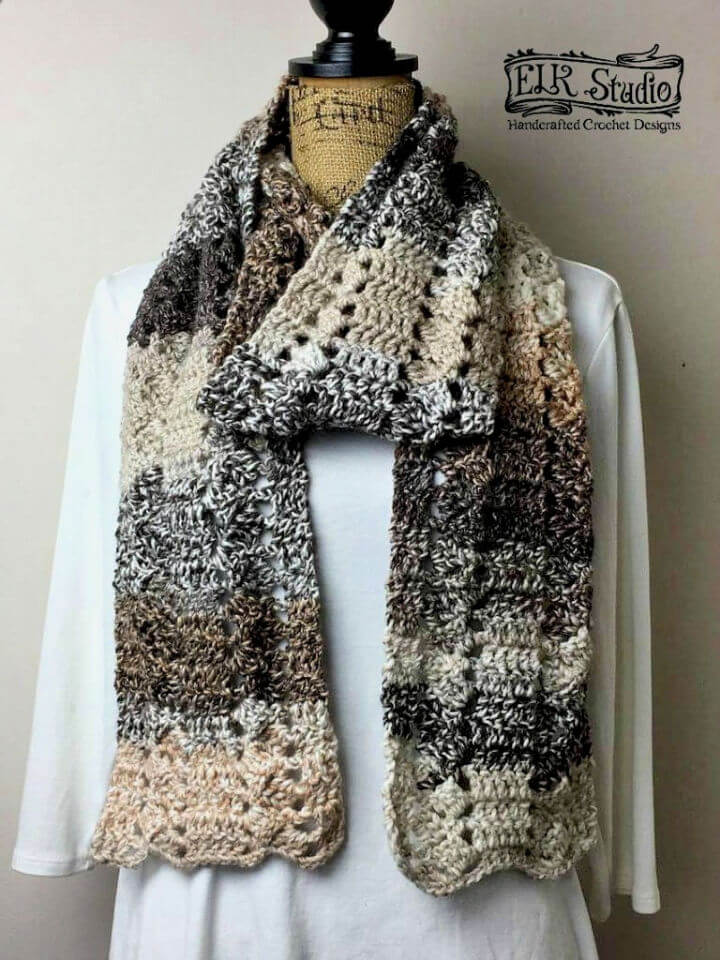 For those peeps who feel chill and cold more than the others, this mountain land scarf is for you all. With 78" of length and 7" of width, this scarf is perfect for covering your neck, shoulders, and chest from the cool breeze. Supplies required are acrylic yarn, 5.5mm crochet hook, and needle. elkstudiohand
65. One Skein Caron Baby Blanket
If you have some idle hours in a day, use them wisely to learn crocheting some simple projects like this one and stop wasting your time and money over store products. Well, just by using one skein of cotton yarn, makes this cute baby blanket for a lovely bridal shower gift. yarnspirations
66. Cluster V-stitch Scarf
The v-stitch is the pretty cross stitch that can work up so easily and quickly. To complete each v-stitch, work one double crochet one chain stitch and one more double chain stitch in the same chain or space. Use supplies like weighted yarn, tapestry needle, and a crochet hook and scissors. mymerry
67. Crochet Market Bag
Crochet market bag of your own desired size and volume, and next time when you head towards the market, don't forget to take it with you. This free pattern will allow you to knit a floral accent market bag with 9mm of the crochet hook and medium weight yarn and needle. bobbles
68. Fingerless Mitts – Free Pattern
Be different, feel different, and wear different. When everyone goes to the same fashion style and design, why follow the everyday boring glamour. Choose to wear unique! These multi-color uniquely designed and crocheted fingerless mitts are perfect to wear and make your own style statement. moogly
69. Easy Crochet Beanie
Learn a new style and design in this free pattern to crochet cost freely at home than to purchase an overpriced product from the stores. You'll need 9.5mm of the crochet hook, tapestry needle to compose the ends, cotton yarn of your favorite combination of colors, and scissor artsydaisycrochet
70. Swanky Days Scarf
Make your own fashion statement! Opt something flashy and sparkly that can catch the eyes of the onlookers, and they can't resist themselves to admire you. This swanky crochet scarf is the perfect choice to gain appreciation at the least cost. crochetzone
71. Crochet Providence Scarf
You will love the details and pattern of this awesome crochet providence scarf. This scarf is wide enough that you can wear it over a shoulder in more of a shawl wrap fashion, and you can even secure it with a cute pin. You can choose the color combination of cotton yarn. littlemonkeys
72. Crochet Neck Warmer
If you like a more composed and refined form of a cowl that gives you a formal look, then you must try this free pattern of neck warmer. The two-button sewed on the front will make your button in and button out in seconds. Crochet this neck warmer with crochet hook and yarn. cats-rockin
73. Crochet Lace Cape Shawl
This free pattern of crochet lace cape shawl can provide you with a rustic super girl look with the rawness of having super girl powers. The double chain and single chain texture with 5.5mm crochet hook and medium-weighted yarn are giving the cape a pretty distinctive look. poshpooch
74. Crochet Cherished Moments Scarf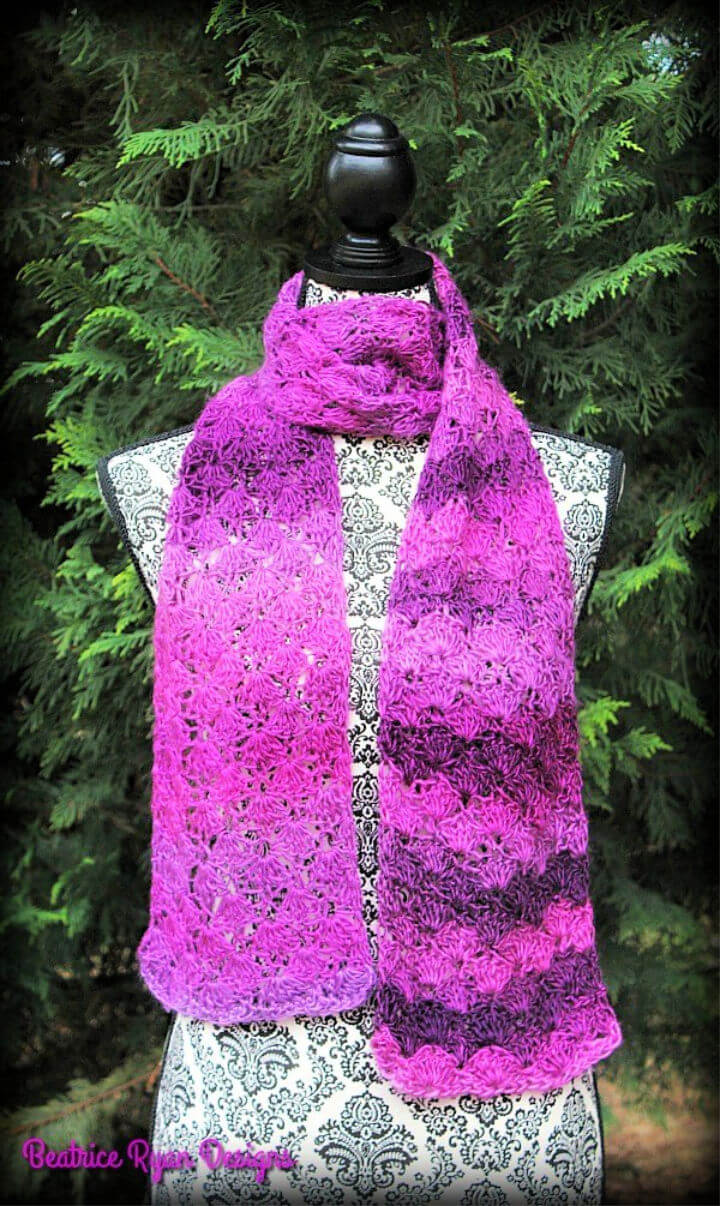 Cherish your moments by crocheting this cherished moments scarf using cherry color cotton yarn and crochet hook with a tapestry needle and scissors to finish the ends. The end look of this scarf will be so sophisticated that it will surely cheer you up. beatriceryan
75. Crochet Fallen Leaves Slouch Hat
Use this pattern to make fallen leaves slouch hat for making your fall season more adoring and considerable! Also giving you a luxurious no-fuss fall season look. Have an excellent look at this free pattern that will let you crochet on your own with a yarn needle, crochet hook, and cotton yarn. moogly
76. One Skein Ear Warmer
Are you tired of your new haircut with short fringes that keep coming on your face? Now worry no more! This free pattern brings you a great project of the ear warmer that also work as a bearer of your front fringes, and with just one skein. Don't you want these two in one project? rescuedpaw
77. Crochet Pacific Lace Shawl
So the crochet pacific lace shawl is uniquely styled and designed as a triangular shawl that has one side longer than the other making the triangle asymmetrical. You'll need one skein of cotton yarn with size 6 of the circular needle. undeniableglitter
78. Crochet Pencil Pouch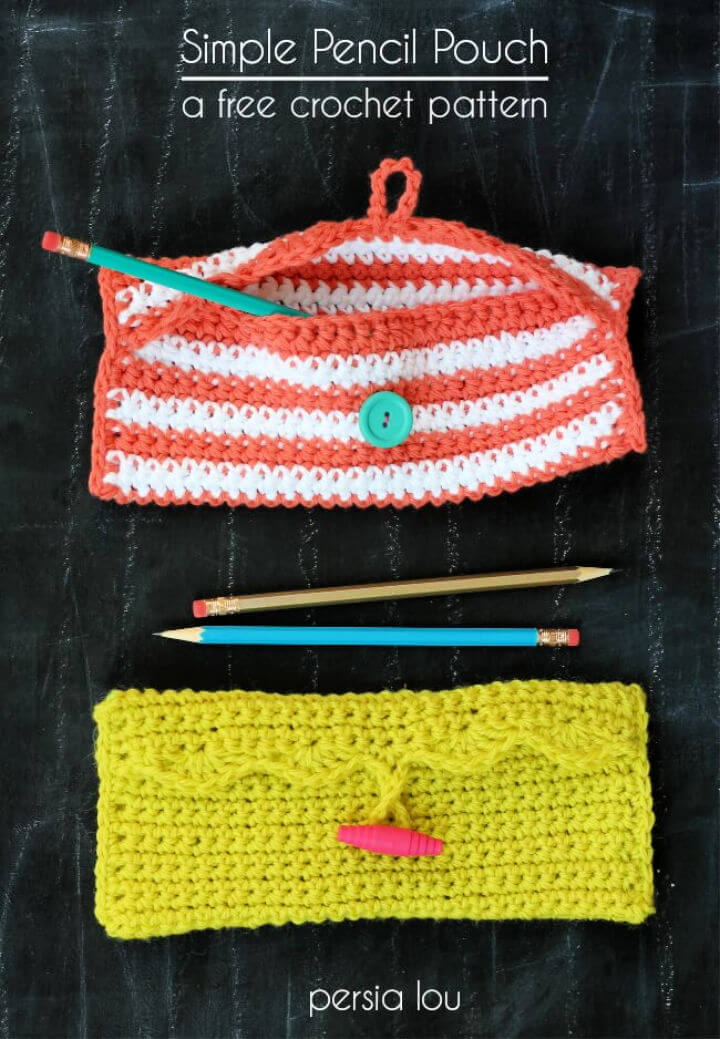 For all the ladies who have school-going naughty toddlers that love to break their stationery boxes. This idea is for these moms who are tired of buying them new pencil boxes, learn to make a crochet pencil pouch for them with 5mm crochet hook and cotton yarn. persialou
79. Crochet Spring Infinity Scarf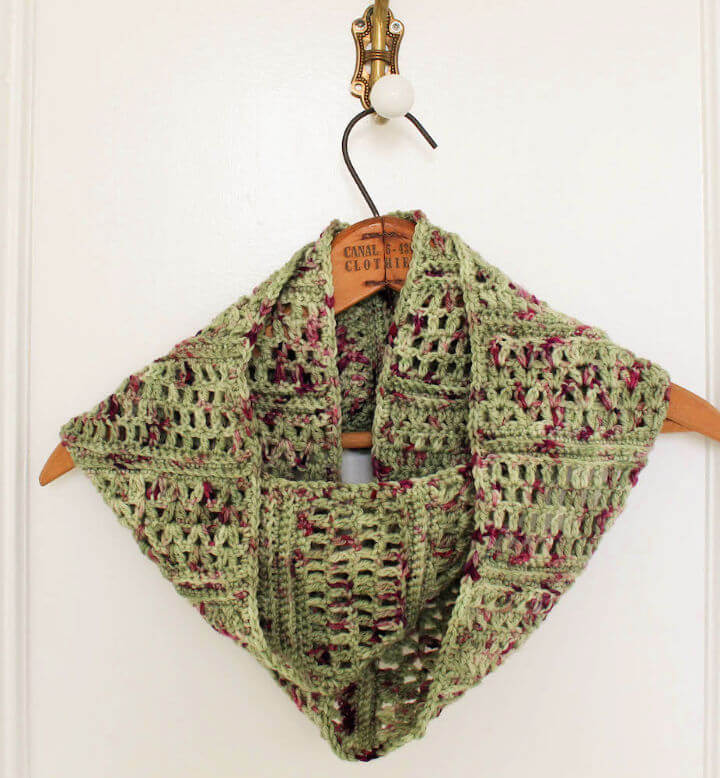 To make this crochet infinity scarf, you need a beautiful medium-weighted cotton yarn 2-3 balls, tapestry or yarn needle, 6.5mm crochet hook, and a scissor. The length and width of this scarf are totally up to you, but the longer length makes the infinity scarf more lingered and covered. underground
80. Dragonfly Bandana Cowl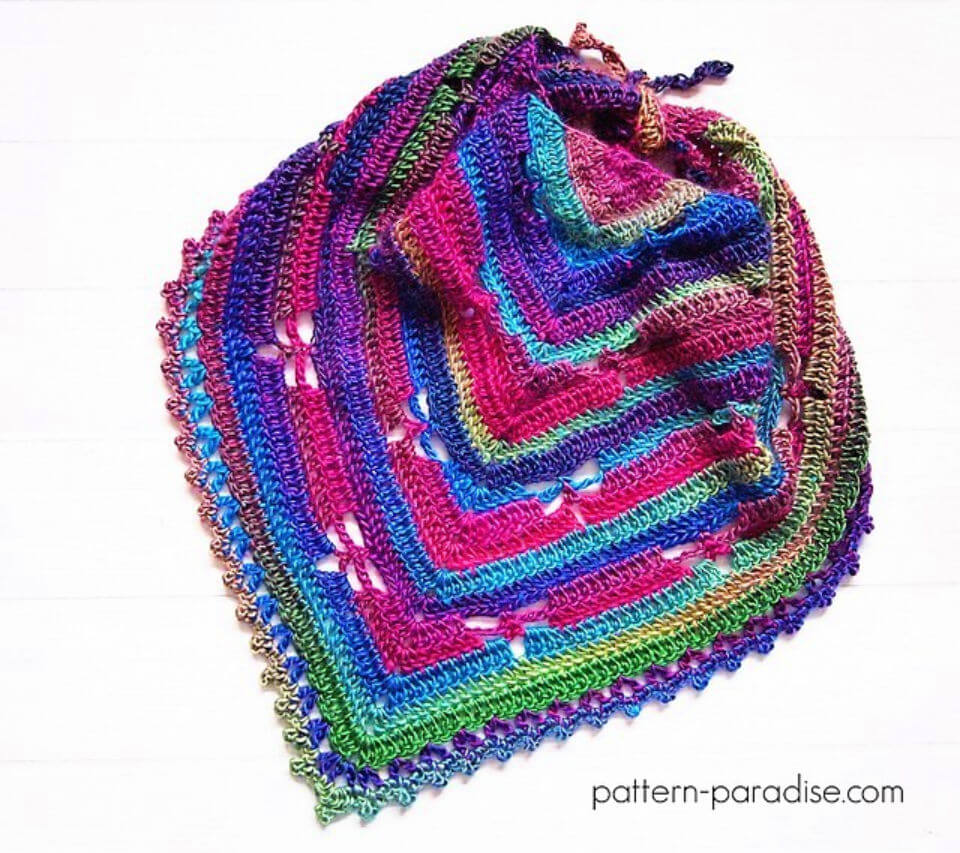 Try this free pattern of swanky dragonfly bandana cowl. It's surprisingly easy to crochet with one skein of cotton yarn and 4mm of the crochet hook and yarn needle for weaving in ends. Even this pattern can be easily adapted into a full-size shawl. paradise
81. Snowball Infinity Scarf
This free pattern uses the grit stitch and a combination of aqua and white color of cotton yarn to create a perfect and cozy snowball infinity scarf with fantastic texture. The supplies required would be one skein of cotton yarn, 6mm crochet hook with the scissors, and yarn needle. leftinknots
82. Crochet Berry Harvest Bandana Cowl
Do you like a cowl that is light enough to drape across your shoulder? Try this easy and free pattern of berry harvest bandana cowl that when peeks out of your long coat, will give you such a classy look. The required supplies are 5mm crochet hook, tapestry needle, scissors, and cotton yarn. moogly
83. Chunky Beanie
The pattern of this chunky beanie hat is designed using a stitch that resembles the star stitch but is very easy to work up even if you're a beginner at skill level. You'll need super large size 6 yarn, 8mm of the crochet hook, yarn needle with a big eye, 2 fur pompoms, sewing needle with matching thread and a stitch marker. persialou
84. Crochet Key Tab Slouchy Hat Pattern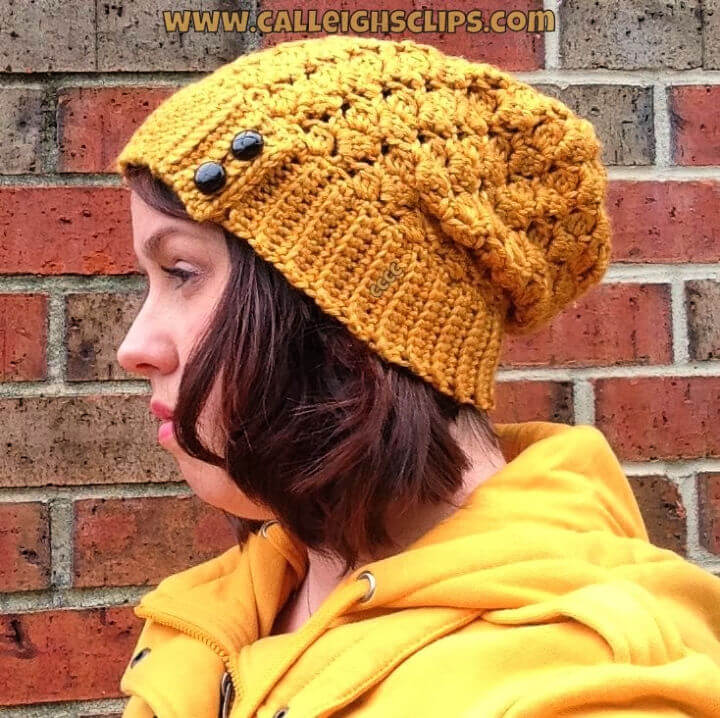 Want to make your own tab slouchy hat that is cozy and snuggly too? You should give a try to this free pattern that will provide you with enough tips and extra information along the way! So that you can adapt the design to suit your personality with just a few crocheting materials. calleighsclips
85. Crochet Lacy Shell Stitch Shrug
Material required to crochet this fantastic and stylish lacy shell stitch shrug is one skein worsted weighted yarn, size 1/9 5.5mm crochet hook, scissor, plastic needle for sewing corners together. It is perfect for Thanksgiving or Christmas gift and is way economical than any shrug at branded stores. ashleemarie
86. Crochet Diamond Cowl
If you have a date night at this valentine and you're nervous about what to wear to look darn classy and perfect at your date night! Try this free pattern of crochet diamond cowl, with only 18 rows, this project can be worked up in just a few hours! And it will make an excellent accessory! moogly
87. Crochet Tulip Tree Scarf
By using a double crochet stitch, this tulip tree scarf can be crocheted to about 4" in length and 56-inches in width! With luxurious variegated yarn and is easy to work up in less than two hours. Materials needed would be tapestry needle, J(6mm) crochet hook and one skein of cotton yarn. fiberflux
88. Crochet Sailor's Knot Belt
If you've been intimidated by trying your hands on crocheting, then fear no more and try out this free crochet one skein pattern! Learn to make a sailor knot belt. This project is so fun and unique that you'll love creating it. With one bulky skein yarn, measuring tape, needle, yarn needle, crochet hook, you can easily make this belt. ashleemarie
89. Crochet Splash of Spring Cowl
This colorful cowl pattern is the perfect accessory of the springtime. It works up in a few hours and by using one skein of variegated cotton yarn. Or you can use your own worsted yarn in your desired colors! moogly
90. Crochet Banana Split Baby Vest
Look at this cute little crochet baby vest, you can use it as a sweater or as a vest on their dress shirt. The banana split baby vest is not only an adorable baby crochet one skein pattern, but the best part is it uses only one skein to finish this vest in just one go! allfreecrochet
91. Clusters Mini Mandala
You are going to love yourself if you choose to invest time in creating these mini mandalas from this free pattern. Make a list of supplies and run to grab them. Make sure you get a finished size of 6" in diameter. moogly
92. Crochet One Skein Criss Cross Cowl
Make a chain as long as you want it to be! Crochet into the second chain with the hook, once you reach the end of the first row, turn the stitches around and chain three new stitches! Now, skip double stitch crochet, return to the skipped stitch, and double crochet and go on like that to make this one skein criss-cross cowl. jennyandteddy
93. Crochet One Skein Camel Bucket Bag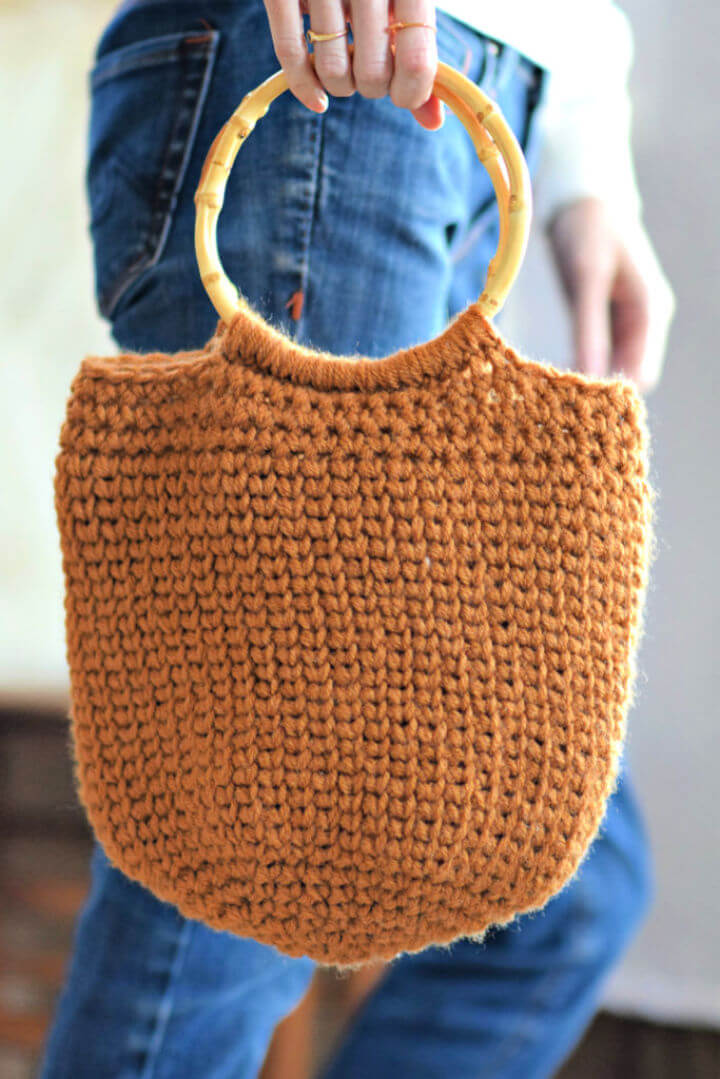 Make this budget-friendly camel bucket bag with just two skeins of cotton yarn. This bag needs an extra material of 6" diameter of bamboo handles with the regular material of tapestry needle, scissors, stitch marker, and 8mm of a crochet hook. It's fairly small but can hold most of your stuff with its 11" length and 10.5" width. mamainastitch
94. Crochet One Skein Triangle Scarf Pattern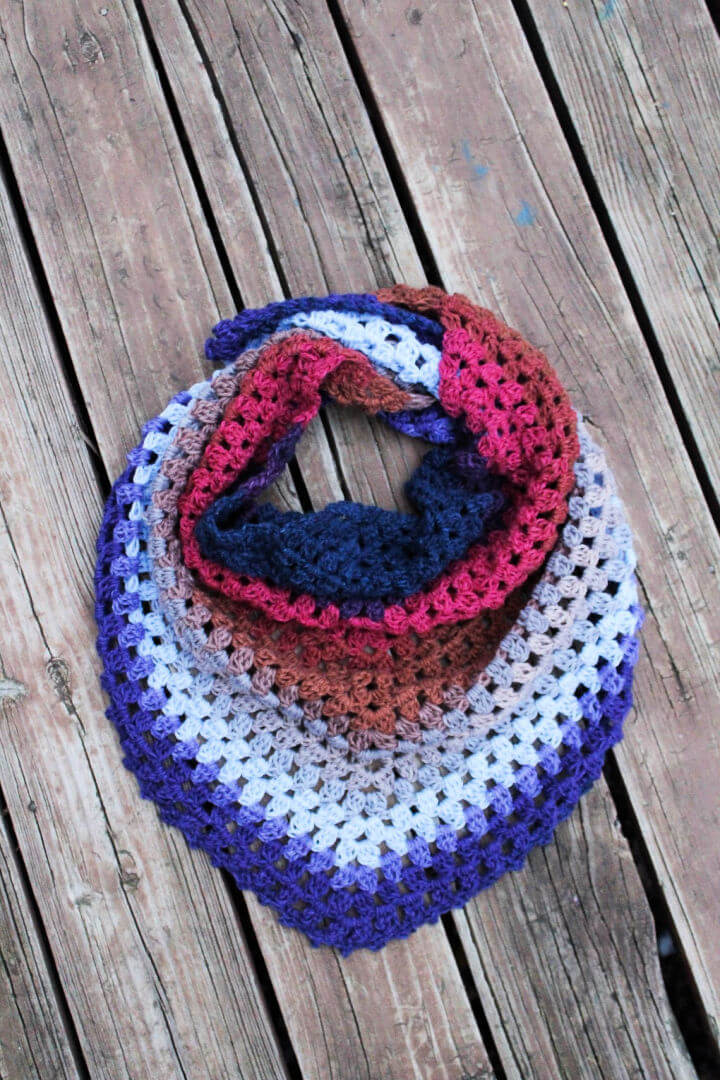 Try this easy-peasy crochet one skein pattern and create one skein triangular scarf for yourself to spend a cozy winter this year. This scarf is easy enough for the beginners and a piece of cake for those who have a hang on crocheting. This project just needs 200 yards of worsted yarn for the whole project. yarnhookneedles
95. How to Crochet Tango Shawl
This pretty tango shawl is made with an easy four-row repeat in an asymmetrical style! The borders can be made with scissors or stitch markers. It's a perfect project that uses only one skein of worsted cotton yarn. moogly
96. Free Crochet Bead Stitch Beanie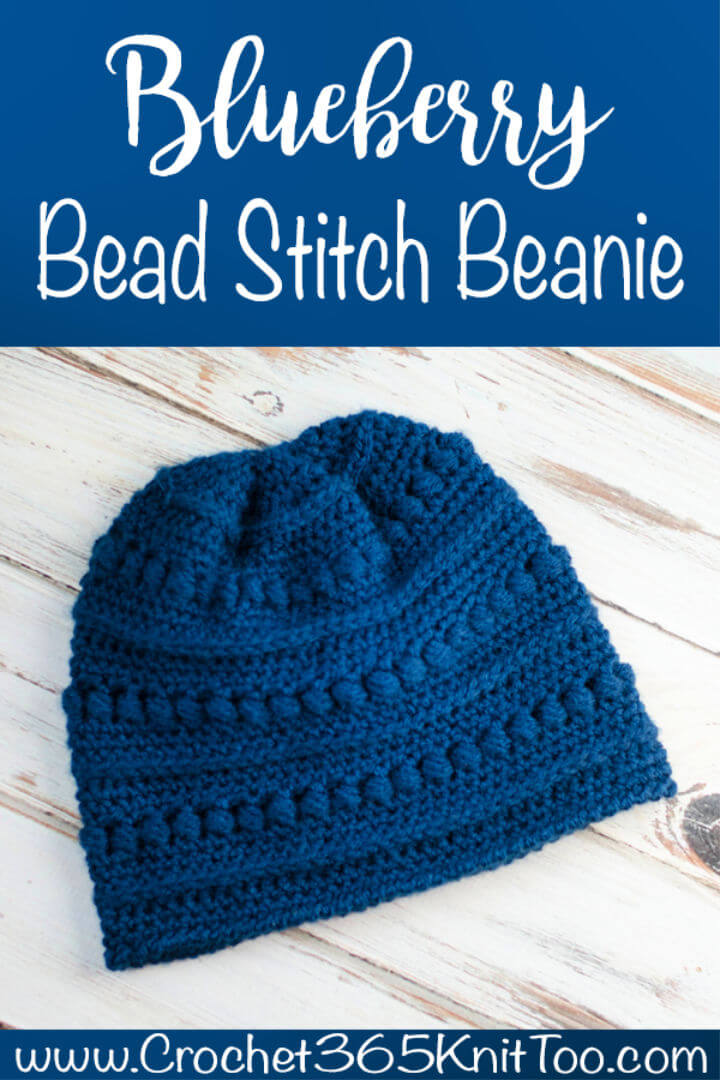 If you're looking for a comfortable, cozy hat with a lot of texture, this blueberry bead stitch beanie is the perfect project to spend the winters in. Here is what you'll need to crochet this hat; H8/5mm crochet hook, tapestry needle, and 3.5oz worsted cotton yarn. crochet365
97. How to Crochet Hood for Kids
Your kids will love wearing this crocheted hood even inside the home if you give the hood some funky look. You can also make ears on the hood to make it look like a cartoon character or if you're making it for a baby girl, then crochet it depicting the princess #feels. ladybehind
98. Crochet Men's Beanie Pattern
The best thing about this trailblazer men's beanie is that they are classic and stylish and still somewhat minimalistic in design. Just a few classic stitches and BAM! A fabulous and awesome hat is ready to be worn by the men in your life! stitchandhustle
99. How to Crochet One Skein Connie Cowl
This Connie cowl shawl is made with self-striping yarn that creates beautiful colors with only one skein chunky yarn-130 yards and size 6.50mm crochet hook. This free pattern will let you work up on this quickly and smoothly. artsydaisy
Conclusion About These Free Crochet Patterns:
You know what the best part about working with crochet is? You can work on these one skein free crochet patterns while watching TV. In contrast to other DIY projects, crocheting is rather an easy job. No fancy material is needed, neither any extra equipment is required. No hassle of dealing with a glue gun or cutting with scissors. Lastly, no stress of thinking of unique ideas. Just hop on to these free crochet patterns and create incredible products.