Kitchen remodeling can be a great way to spruce up your home and add value. No matter your budget, there are plenty of creative kitchen remodeling ideas you can incorporate. From replacing cabinetry and adding new countertops or backsplashes to repainting walls and swapping out appliances, dozens of affordable options for kitchen remodeling can give your space a modern upgrade. With the right materials, tools, and dedication, you can refresh your cooking area without breaking the bank!
But with the cost of home repairs on the rise, it's important to have a few kitchen remodeling ideas in your back pocket. Whether you need to update outdated appliances or renovate your kitchen, these top 10 ideas will get the job done without breaking the bank. From updated cabinetry to new countertops and backsplashes, look at these top 10 kitchen remodeling ideas for any budget.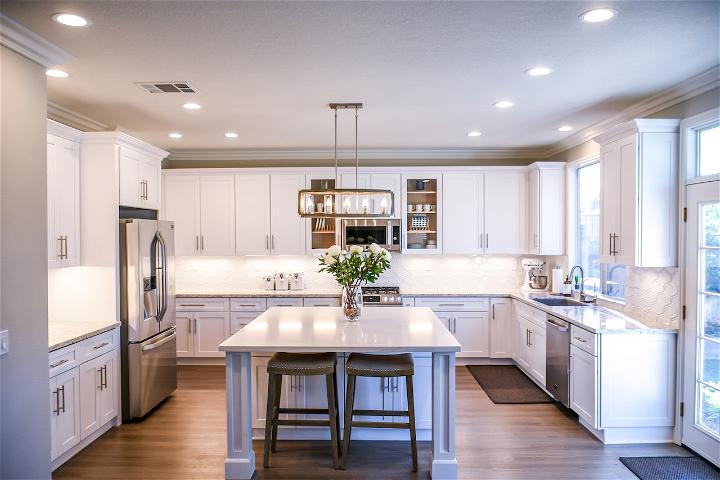 Begin with the End in Mind
Before starting any kitchen remodeling project, taking stock of your current layout and needs is essential. This means determining what type of cooking and eating habits you currently enjoy and what space limitations you have. Once you know all this, you can start to design a functional and stylish kitchen that meets your needs. Whether you're looking to update an outdated kitchen or build one from scratch, these kitchen remodel tips will have you up and running in no time.
1. Update kitchen lighting: Whether you're looking for a simple update or something more dramatic, updating lighting fixtures is one of the easiest and most cost-effective kitchen remodeling ideas. Aesthetic and task lighting can be easily swapped out for something brighter and more modern, allowing you to update your kitchen without breaking the bank.
2. Update your cabinets: A fresh coat of paint or a new style cabinet can completely update your look in the kitchen. Updating your cabinets can save you HUNDREDS on custom cabinetry and drawers!
3. Add a splash of color: A bright pop of color can really add life to a drab kitchen, and it's pretty inexpensive to do either yourself or hire a professional! Try adding pops of color to walls, ceilings, and flooring using plants, flowers, and accessories.
4. Update your appliances: Not only do updated appliances look great in a kitchen, but they can also function better and last longer than older models. If you're in the market for new appliances, consider features like energy efficiency and water conservation.
5. Change up your layout: Maybe you don't have enough counter space? Or you could move some furniture around so that more than one person can work in the kitchen. A change in layout can transform a cramped space into something usable and comfortable!
Choose Your Materials
One of the best ways to get creative with your kitchen remodeling is to think outside the box. Here are some top kitchen remodeling ideas for any budget:
When starting a kitchen remodel, one of the most important decisions you'll make is what materials you will use. You have various options to choose from, including tile, laminate flooring, wood flooring, countertops and cabinets, stainless steel appliances, and more. Finding the right material for your space and needs is important. For example, go with stainless steel appliances and countertops if you want a sleek and modern look in your kitchen. Choose wood flooring or tile if you're looking for something more traditional or rustic. There is no wrong choice when it comes to materials!
Choose A Theme:
Another great way to get creative with your kitchen remodeling is to choose a theme. This can be anything from classic country kitchens to 1970s-inspired kitchens! You can find themes online or in stores. Once you have chosen a theme, it's time to start shopping for cabinetry and countertop options that match your style.
Add A Twist:
One of the best things about starting a kitchen remodel yourself is being able to add your own personal touch. This means choosing materials and colors that reflect your personality and style. For example, choose a colorful laminate flooring or tile if you love bright colors and geometric designs. Or, if you're more of a traditionalist, go with wood flooring or cabinets in a traditional style. The possibilities are endless!
Consider Your Needs:
When starting a kitchen remodel, it's important to consider your needs and wants. This means thinking about what cooking you will be doing, what appliances you need, and what layout you are most comfortable with. Once you have determined your needs, start shopping for materials and planning your layout.
Plan Your Layout
The layout is key when it comes to designing a kitchen. Make sure you think about how you'll use the space and what layout will look best. Here are some layout ideas to get you started:
A modular kitchen can be designed in any shape or size so long as it's functional. You can create a large open kitchen with a center island and lots of counter space or a more compact space with separate dining and cooking areas.
Kitchen islands can be great for organizing your food and appliances. Please select one that's the right height for your needs, and ensure it has storage underneath for your cookware, dishes, and spices.
Create a casual breakfast nook with a small table and chairs. Hang up some art or add easy-to-clean tile floors for easy cleanup in the morning.
Consider installing cabinetry on one or both sides of the room for a formal dining area. This will give you plenty of cabinet storage while also creating a focal point for your table.
Whatever layout you choose, ensure it works well with the surrounding furniture and décor. And remember: kitchens are often one of the most used spaces in a home, so make sure everything looks good from every angle!
Update Your Cabinets
Cabinets are one of the essential pieces of furniture in any home. They must be updated and remodeled regularly to keep your kitchen looking its best. Here are some top kitchen remodeling ideas for any budget: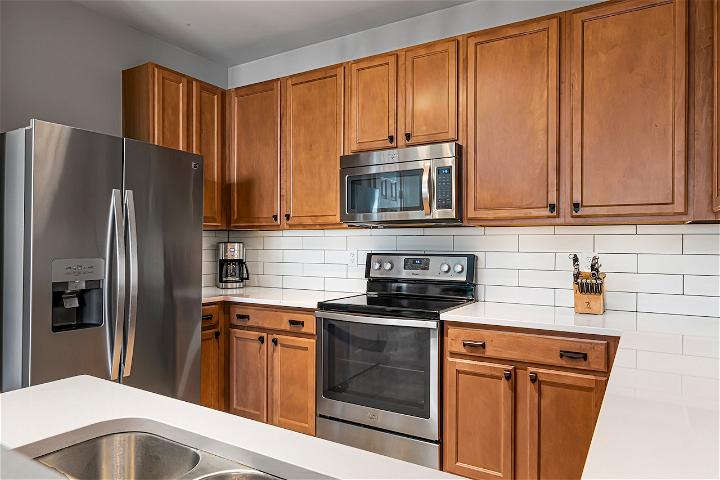 1. Replace Your Cabinets with Granite Countertops: One of the most popular updates you can make to your kitchen is to replace your cabinets with granite countertops. Not only are they stunning, but they also provide a sleek and modern look that will upgrade your entire kitchen setup. You can find granite countertops in many different shapes and sizes, so finding the perfect one for your kitchen is easy. Just be sure to factor in the installation cost when deciding whether this is the correct update.
2. Update Your Hardware: Another great way to update your cabinets is by updating your hardware. This includes things like drawer pulls, cabinet knobs, and door hinges. By updating these components, you can give your kitchen an updated look that's both classic and stylish at the same time.
3. Install a New backsplash: A great way to add personality and style to your kitchen without spending too much money is by installing a new backsplash. This can be done in various materials, so you're sure to find something that fits your style and needs. Plus, adding a new backsplash will reduce the clutter on your countertops, making your kitchen that much more practical.
4. Change Your Flooring: If you'd like to update your kitchen without replacing any cabinets, you can change your flooring. This can be a great option if you have outdated or worn-out flooring that you want to replace with something more modern and stylish. You can also install new flooring instead of existing tiles or linoleum, giving your kitchen a brand-new look.
5. Install a New Sink: One of the most common updates you can make to your kitchen is by installing a new sink. By upgrading to a newer sink model, you'll not only get increased functionality, but you'll also get an updated look that will complement your existing cabinets and flooring perfectly. Plus, installing a new sink is an easy and affordable way to update your kitchen without spending too much money.
Add Open Space to Your Kitchen with a Customized Island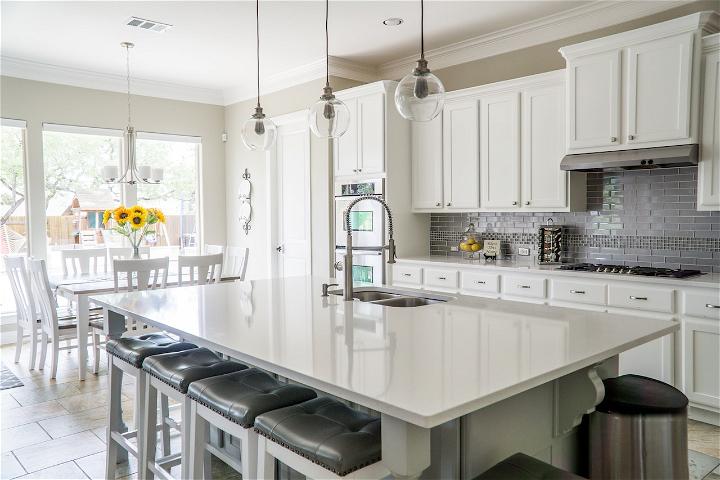 Customized kitchen islands can give your kitchen a much-needed boost. While only sometimes necessary, adding an island can easily elevate the look and functionality of your kitchen. Not to mention, custom islands are a great way to add extra storage space and work area. Here are some tips for choosing the right customized kitchen island for your needs:
1) Consider Your Needs. Before you start shopping, first determine what you need on an island. Do you need a large surface area to work on, or do you need more storage? Once you have determined your needs, take into account size and dimensions. The average kitchen island is between 18 and 24 inches wide by 30 inches long by 36 inches high.
2) Consider Your Budget. There is no one-fits-all answer regarding prices because each island is unique and shaped differently. However, custom islands generally range from around $2,000 to $10,000+. If you're looking to buy an already-made island rather than customize it yourself, be sure to factor in the cost of materials and installation.
3) Think About Your Space. Once you know what you need and how much it will cost, consider your space in the kitchen. Is there enough room for the island without taking up too much counter space? Will the floor permit installation of a platform, or do you need extra cabinet space? If you need help determining whether an island is a good fit for your kitchen, consult a designer or an expert in kitchen design.
If you're considering adding an island to your kitchen, consider your needs and budget. Additionally, consider the space you have in your kitchen and what modifications may need to be made for the island to fit.
Create a Functional Family Kitchen with a Walk-In Pantry
If you're looking to create a functional family kitchen with a walk-in pantry, many budget-friendly remodeling options are available. One popular option is to install new cabinets and flooring, then cover the entire space with an unfinished basement ceiling or wall. This will create a convenient storage area above the kitchen island and give the room a finished look. Other options include updating existing countertops and cabinets or installing floating islands that combine cabinet space with open shelving for cooking supplies. As long as your goals are to create a functional kitchen with plenty of storage and counter space, a remodeling option will likely fit your budget.
Finish Up by Installing Flooring and Wall Finishes
Once your walls and flooring are ready, it's time to finish up your kitchen remodeling project. Here are a few ideas for adding finishes to your kitchen:
Polished Granite Countertops: A great way to add high-end style to any kitchen is by installing polished granite countertops. Not only will they look great, but they're also durable and easy to clean. Plus, they can be customized in various colors and patterns so that you can create the perfect look for your space.
Tile or Laminate Flooring: Tile or laminate flooring is another great option for a budget-friendly kitchen remodel. Both options are durable and easy to clean, and they come in various colors and patterns that will complement any decor. Plus, if you ever decide to change the layout of your kitchen, tile or laminate flooring is a relatively easy upgrade.
Cabinet Hardware: If you're looking for ways to spruce up your cabinets without spending an arm and a leg, consider cabinet hardware like knobs and pulls. Not only will these additions add personality to your cabinets, but they'll also help keep them organized and looking brand new.
Countertop Appliances: When it comes time to store food in your newly renovated kitchen, go ahead and install some countertop appliances like microwaves and dishwashers. Not only will these appliances save you space on your kitchen counter, but they'll also make cooking easier and more convenient.
Get Estimates From Professionals and Contractors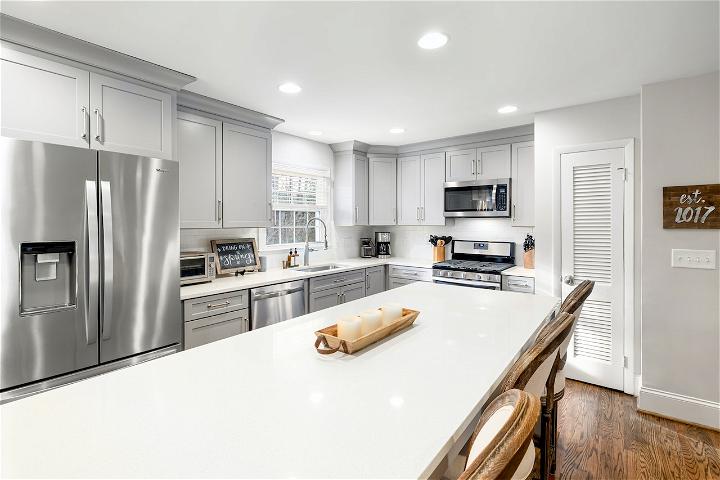 When it comes to kitchen remodeling, there are many options available, but you don't have to do it all yourself. If your budget allows, consider seeking help from professionals and contractors to get estimates. This will ensure that your kitchen remodel is done correctly and that you get the best quality within your budget. Reputable cabinet makers can help you find the right materials, finishes, and features to fit your style and budget. With their expertise, you'll get the perfect kitchen to remodel within your desired price range.
No matter what sort of kitchen remodeling project you have in mind, there are plenty of ideas out there that will fit any budget. With a little research, you can create the perfect kitchen for your needs and budget. So get started today and start dreaming about the possibilities!
Enjoy your new kitchen!
Your new kitchen is finally ready, and you are absolutely thrilled with the results! If you followed our guide, you built a functional, beautiful space that fits your needs and budget. Here are some final thoughts on how to enjoy your new kitchen:
1. Start with the basics. First and foremost, ensure that all your appliances are in working order. Check for leaks or any other problems before doing anything else. Once everything is squared away, it's time to start cooking!
2. Create a functional layout. When determining where to put your appliances, think about what tasks will be easiest for you to complete. Arrange your pots and pans in an easily accessible area near the stovetop, or place your dishwasher next to the sink.
3. Add personality with accessories. A well-placed countertop accessory can inject fun into any kitchen design – from floral mats to cutting boards made of wood or stone. And remember, architectural elements like built-in shelving or window dressings can impact a room's overall appearance.
Conclusion
Kitchen remodeling can be daunting, but with the right planning and budgeting, it doesn't have to be. Plenty of ideas will fit any budget – from cabinet makers to countertop appliances – so get creative and make your kitchen design unique! With patience and hard work, you'll have a space that you'll love for years. Happy remodeling!