Learn how to make an origami heart quickly with these 10 unique origami heart designs the best to get out of your paper folding art. It is going to be big fun to fold a paper into a cool slim, or puffy heart shape. So, you can string those paper-made hearts to make hearty garlands. Put them on the straws as lovely toppers will rock for a love-themed party. Moreover, these paper hearts will be a smart choice to use as gift toppers, and finally, they are just made to get out of origami for Valentine's Day. There are lots of different folding hacks to fold an origami heart.
Check them out all in these 10 simple DIY origami hearts that come with step-by-step guides, visual tutorials. And even with free diagrams to make you fold a heart like a pro. A heart shape is a symbol of love, and these hearts will be the best to get out of your scrap papers you are going to end up in a dumpster.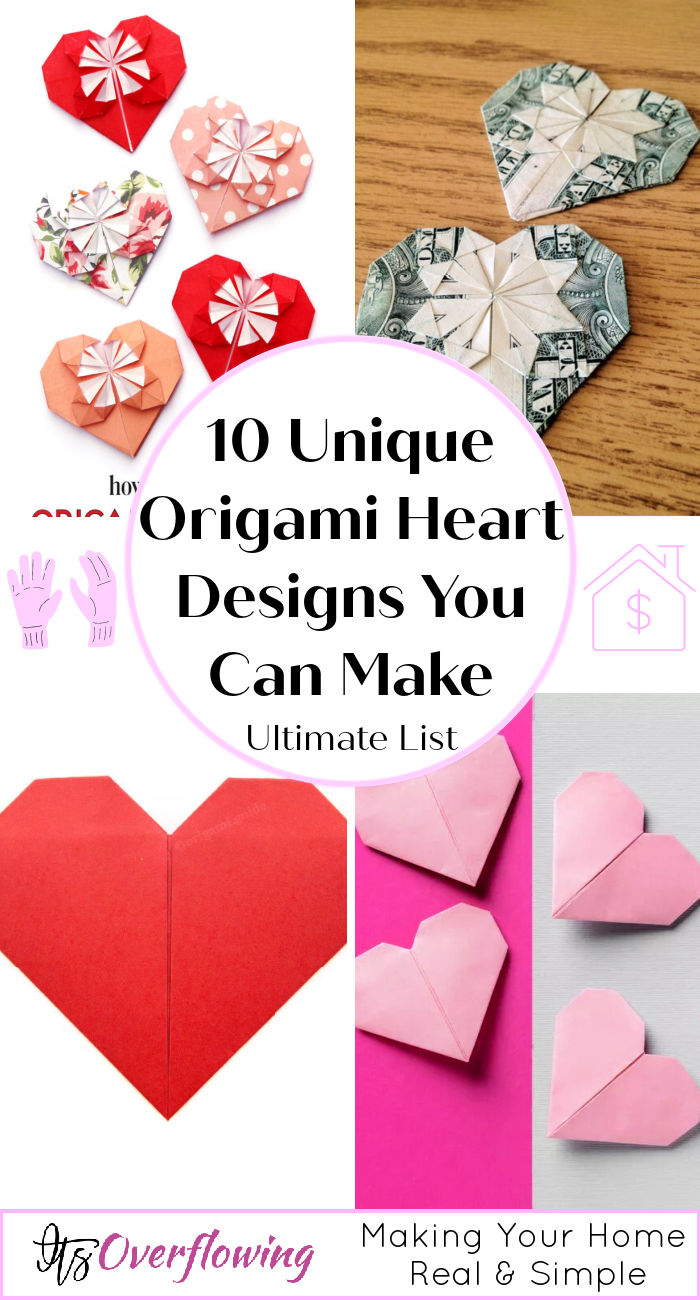 Having nothing to do with your old magazines, just fold the magazines' pages and front covers to make colorful origami hearts. Learn the best guides to make an origami heart out of woven fabrics. That can be used as a lovely applique on your items of clothing. These paper hearts will make a smart choice too to adorn your wedding invitation cards, gift boxes, candies, and other small trinkets.
Looking for the best last-minute Valentine's Day decorations, then do make these sweet paper hearts. In this list of origami hearts, you will get the free folding patterns to make a 3D puffy heart and a heart with folding notes inside.
1. How to Make an Origami Heart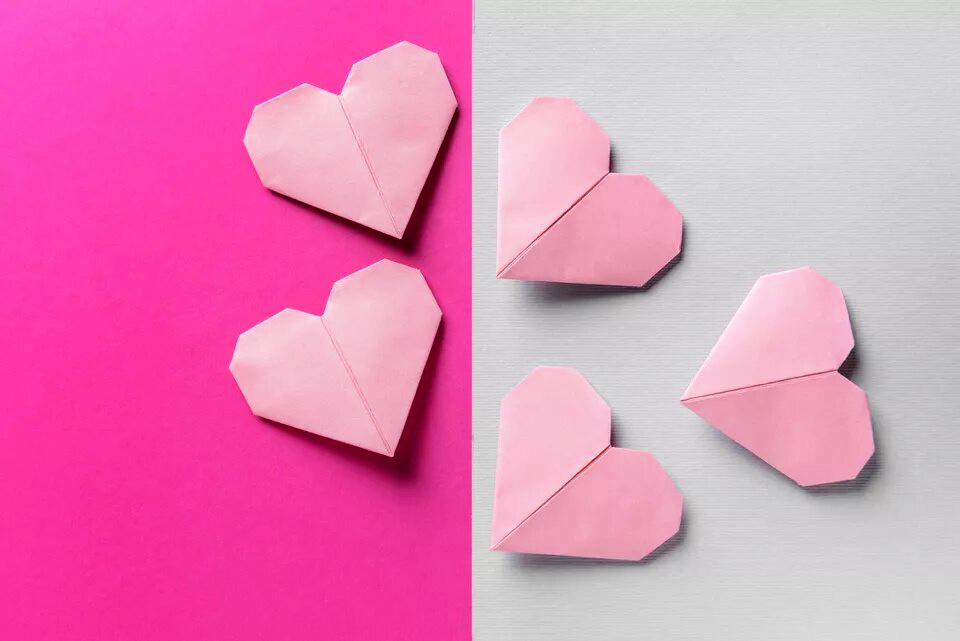 This time spread the love with your paper folding art, make this origami heart that is beautiful to enchant the audience. Just smartly fold a square paper piece and add creases. Stop folding when you gain a lovely heart, will make a sweet pencil or party straw topper. Details here thesprucecrafts
2. Origami Blossom Hearts

Rock this Valentine's Day season with these origami blossom hearts will be a big love of everyone. Just make it out of a rectangular piece of paper can be thought in a number of different ways for home and party decor. A perfect Valentine's Day paper project. Details here gatheringbeauty
3. Easy Origami Heart

Use only 1 sheet of origami paper to make a cute little heart, will be loved dearly by all. Just write a lovely message on it. And give it as a sweet handmade gift on Valentine's Day and also on the wedding anniversary. One of the best DIY love gifts and decor to make out of paper. origami guide
4. Origami Dollar Heart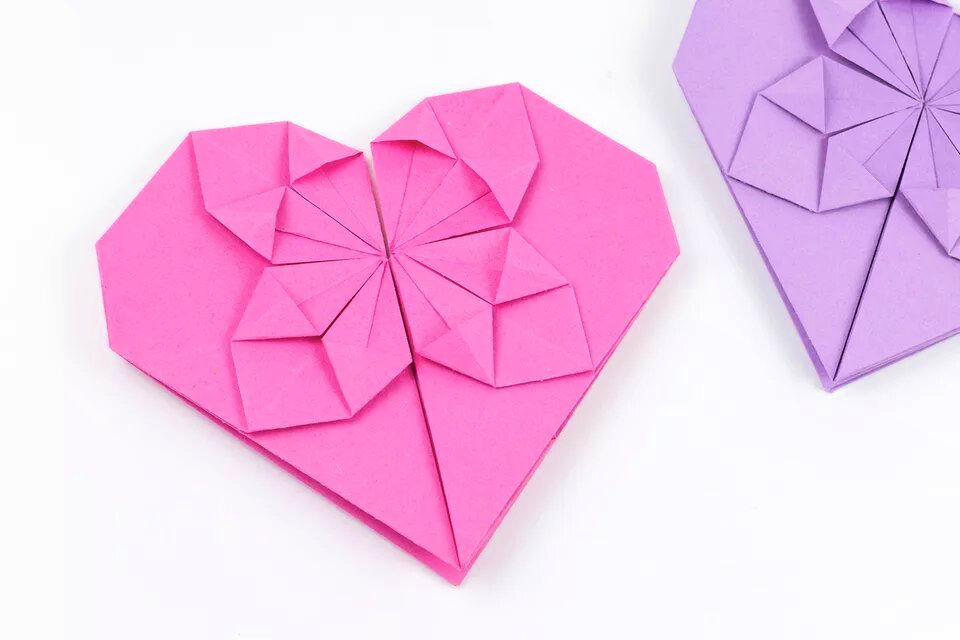 Get here the professional instructions about how to make a dollar heart origami. It will be a great embellishment to stick on Valentine's Day cards. They are just great to add to the wedding invitations too. Hang such dozens of hearts to the ceiling as a great love decor. thesprucecrafts
5. Origami Heart From a Dollar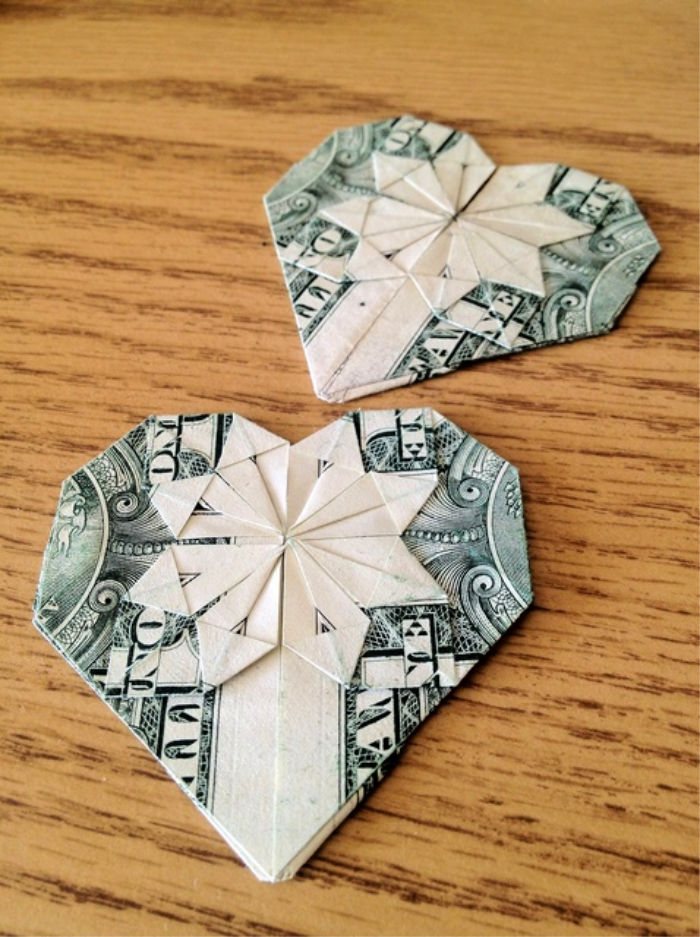 Get here step-by-step instructions about how to fold a dollar into a perfect heart. The shape will make one of the sweetest handmade gifts for the kids in the home. Just smartly fold both sides of the dollar and start gaining the heart shape. The best idea to give the surprise and prize money to kids in a lovely way. snapguide
6. Heart from Old Magazines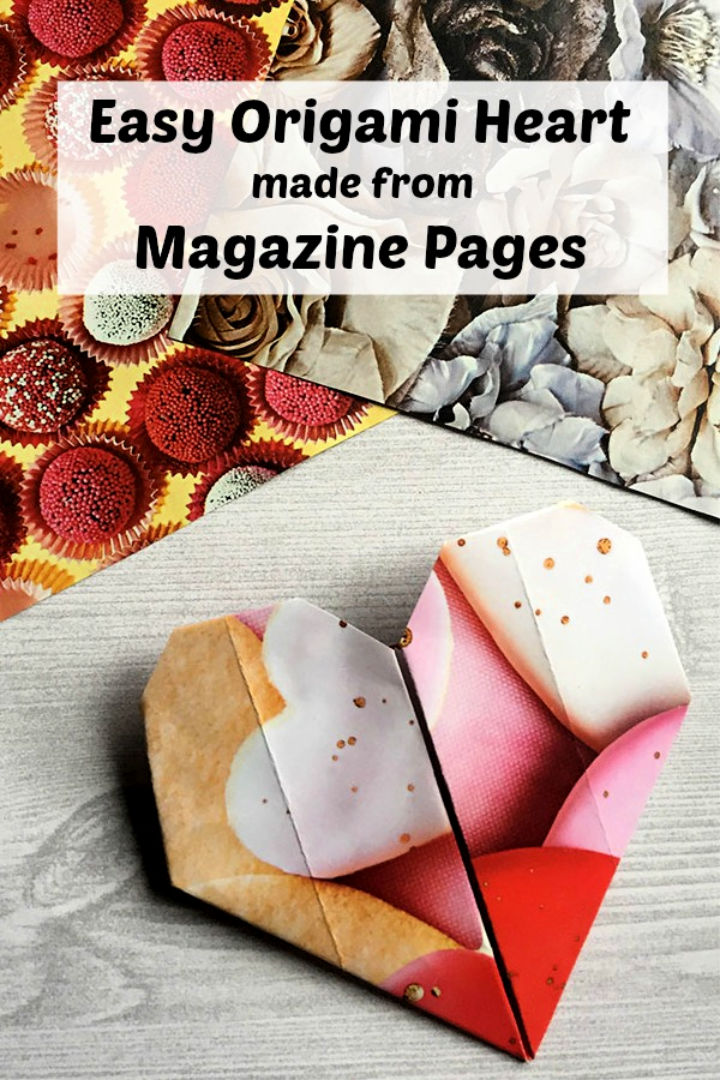 Do you have anything to do with the old magazines and its pages? Then start making lovely hearts out of your old paper pages, can be given as instant pleasing gifts to kids and friends. Grab the free guides here about how to fold an origami heart from old magazines, will be colorful and enchanting. greenkidcrafts
7. Linen Origami Heart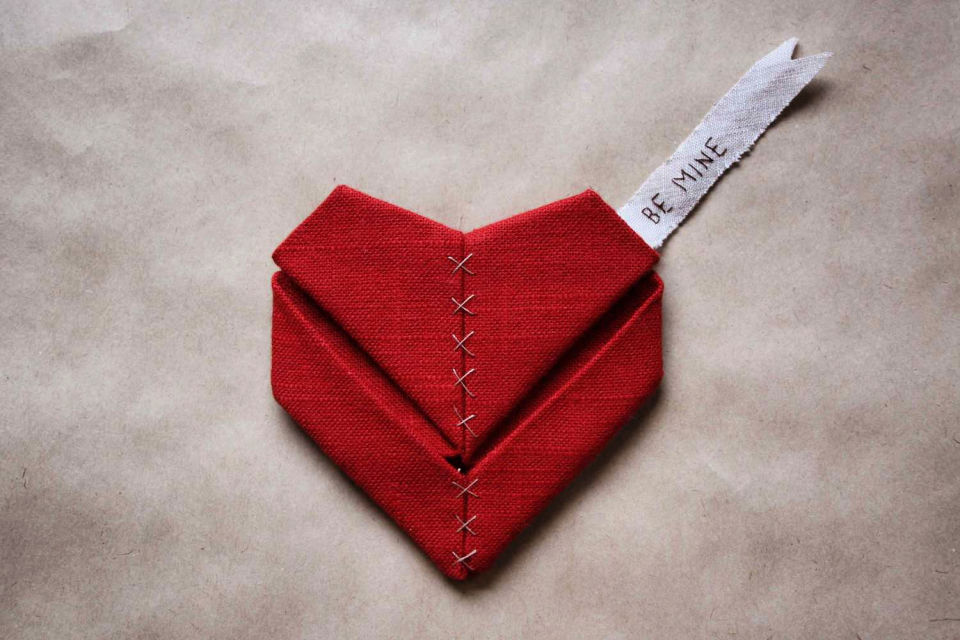 Spread love all in your family and friends by making this linen heart. It can be used as a sew-on patch on your items of clothing and can be practiced early using a sheet of paper. Grab 1 piece of 8 1/2" x 11" paper, and 8 1/2" x 11" piece of medium weight natural woven fabric to make this origami heart. Details here threadandwhisk
8. Origami Puffy Heart
Get the free video guides and instructions here about how to make a puffy origami heart, will surely impress the people all around. To make a 7cm x 7cm size of this puffy heart, you need a 15cm x15cm paper piece in your desired color and printed pattern. A one of the best 3D puffy heart.
9. Paper Blossom Heart
You will love this another great looking paper blossom heart, will make a sweet handmade gift. Use to make hearty party garlands, cool gift toppers, pencil toppers, and also straw toppers. The step-by-step video guides will make it easier for you to fold this blossom heart like a pro.
10. Origami Heart with Message
Sweetly with a happy birthday and a happy wedding anniversary by making this origami heart with the message, will be super quick to complete and will be a breeze to fold too. Use a strip of paper to make this heart with the message, will be a lovely way to express your love for the receiver.
Conclusion:
The heart shapes are a symbol of love, and they are often to use as love monograms, gift toppers, party straw toppers. And also as lovely appliques, if made in fabric medium. So, if you love using hearts for a home to party decor, then why not make them quickly at home with the leftover papers?
Just grab your favorite colored papers, even the old magazines to quickly make lovely paper hearts. That can be used in numerous different ways to bring and spread life in your home. They are just the perfect origami heart to win someone's heart and will be the highly impactful type of decor to consider for Valentine's Day parties.