Take your couch sitting to the next level with these sofa arm table ideas that are quick to build. These sofa arm tables will sit the armrests of your sofa beautifully, and it will require much less wood to make them. Just build the simple U-shape wooden structures that will fit best to your sofa arm and may come with a coffee cup holding or with a slit too to hold drinks and mobile phones nicely. Moreover, depending on your needs and also on the way you want to relax, you can add and remove different features. Browse this collection of 20 DIY sofa Arm Table ideas that share lots of enchanting designs to make at home. From the best fitting armrest table to a self-standing side table to a flexible sofa arm table, you are going to see all the designs in this collection.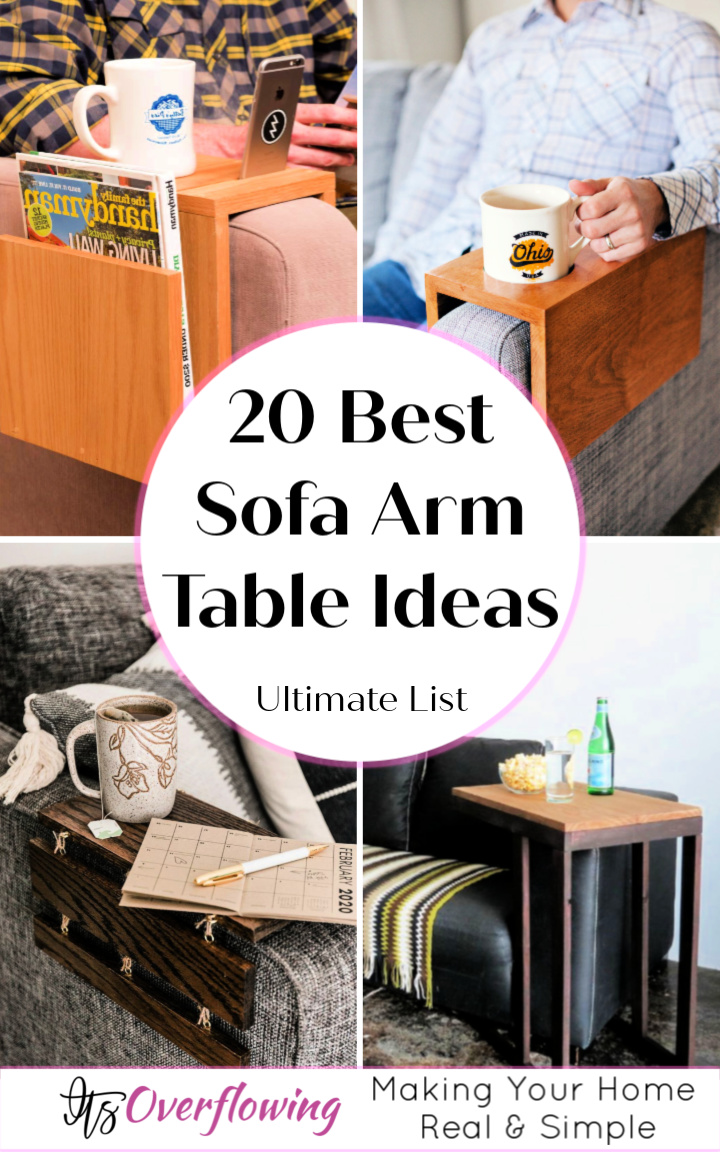 The purpose of a sofa arm table is to make you experience the most comfortable and luxurious type of sitting. Use the pinewood boards, scrap wood pieces, plywood, and even the bamboo wood to make these sofa arm tables like a pro. Build them with simple U-shape designs or opt for a more functional design that may come with side pockets made of wood, fabric, or leather. Here you will learn so many different ways too to assemble your couch arm table quickly and durably. Browse the entire collection of DIY couch arm table ideas to see a variety of readymade samples.
1. Wooden Sofa Armrest Table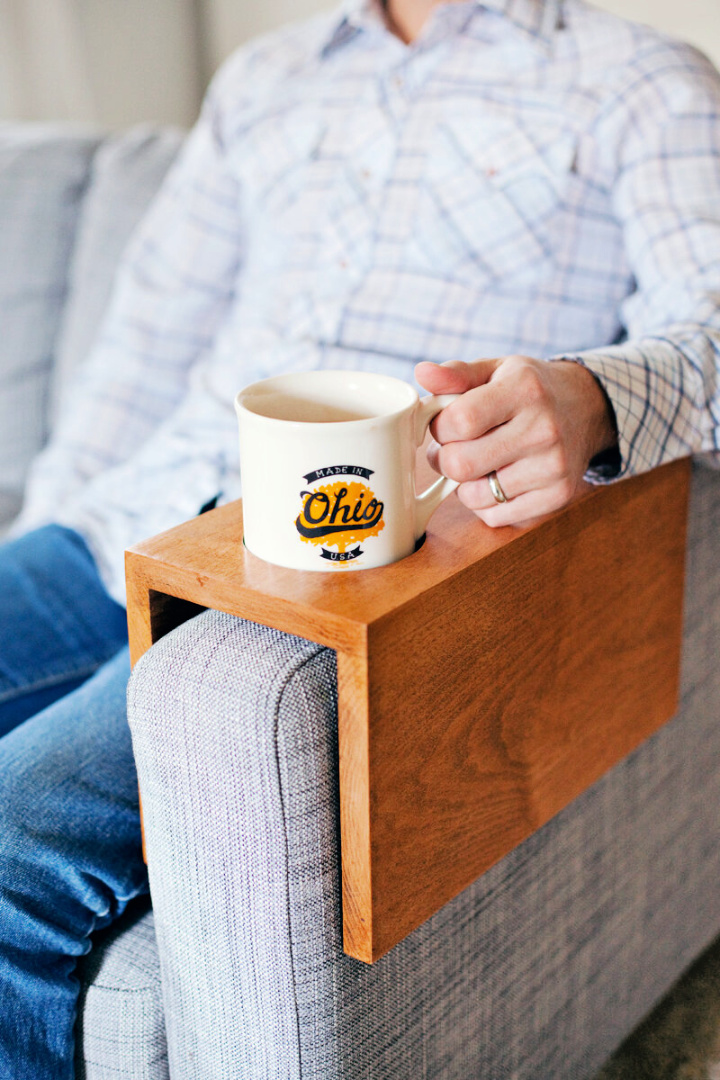 Keep enjoying your coffee and drink while sitting on a couch using this wooden sofa armrest table. Make it using 3 equal pieces of wooden board and thin plywood. Build a U-shape holding to fit on the sofa arm and finish it up with wood stain and with polyurethane. Details here abeautifulmess
2. Striped Sofa Arm Table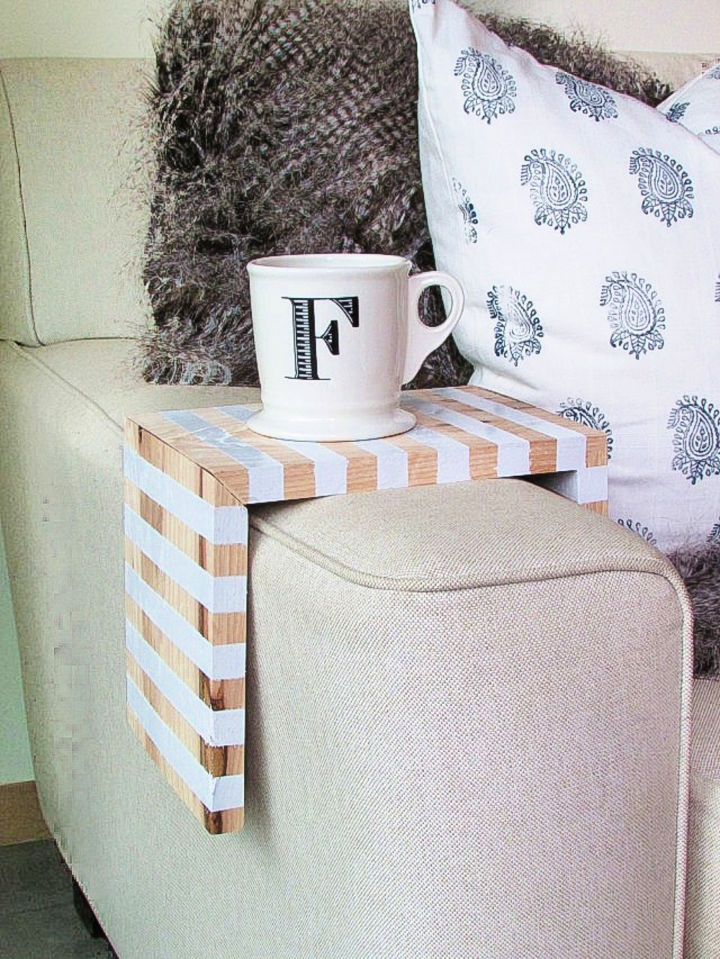 Gain a safe surface to rest upon your drinks and coffee by building this striped sofa arm table. It will stay nicely over the sofa's arm and will not let your sofa dirty with beverage spills. Make it with two pieces of hardboard brought to an L-shape. Next, tape off the sides and spray paint for a striped appeal. francoisetmoi
3. DIY Couch Armrest Table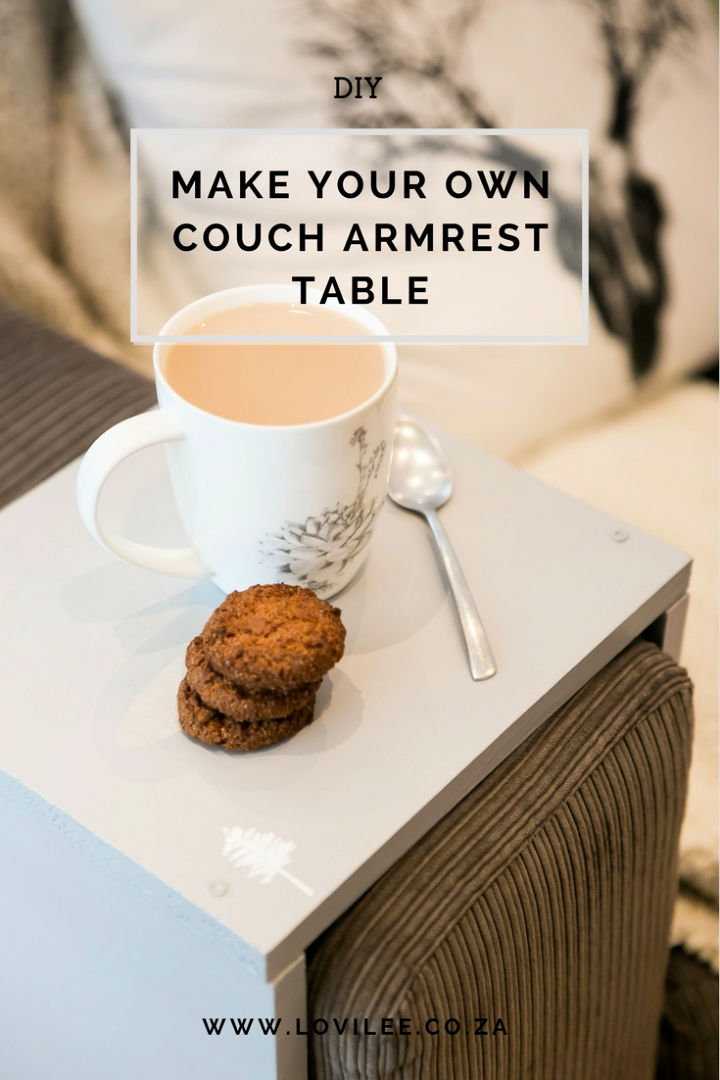 Boost the relaxing and comfort value of your couch by installing this couch armrest table. Make it with chipboard, plywood, or with hardwood and give primer coats for a white appeal. Fit the U-shape tale on the armrest to hold your drinks TV remotes and other items of this kind. lovilee
4. How to Make Sofa Arm Table
Gain a convenient sitting experience by building this sofa arm table. Place your drinks and game time snacks on this armrest table that is super quick to build. The finished model is 6″ and 14″ deep and 9 1/4″ wide. Build this couch arm table using pine boards and give a lovely wood finish. Details here remodelaholic
5. Sofa Arm Table Plan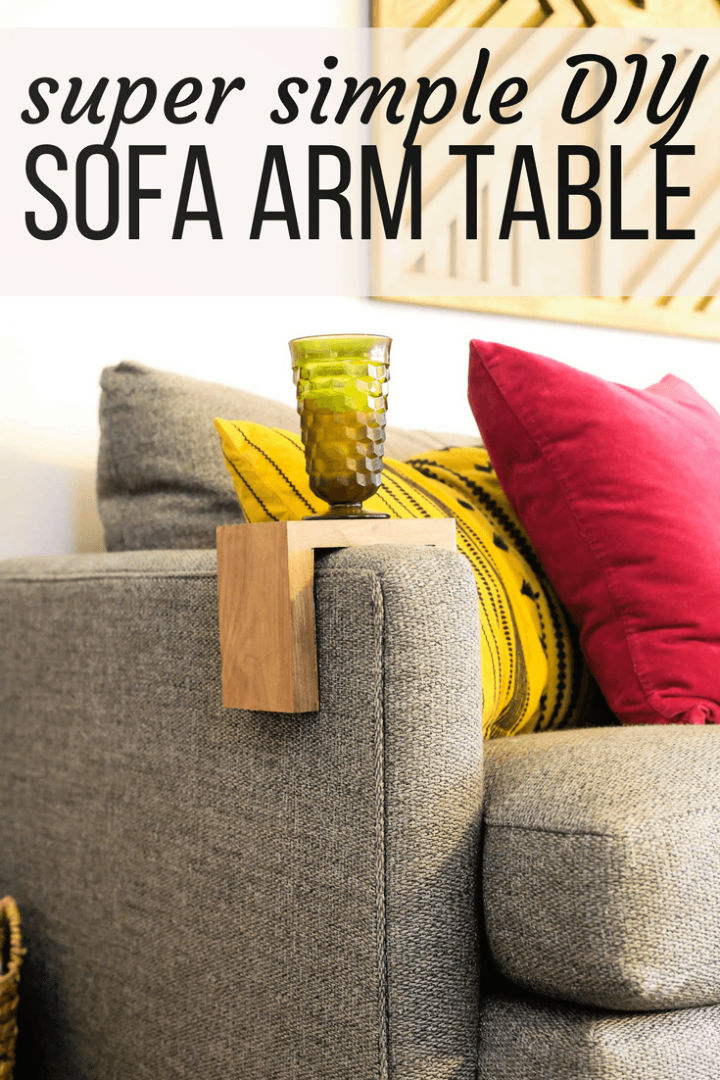 Must get this small wood essential when to be more comfortable on your couch, a mini sofa arm table. Grab a 2 feet length of a 1x6s board to build this couch arm table. Give it a polyurethane finish to bring amazing shine and spark on the wood grains. Details here loveandrenova
6. Cutting Board Turned Sofa Arm Table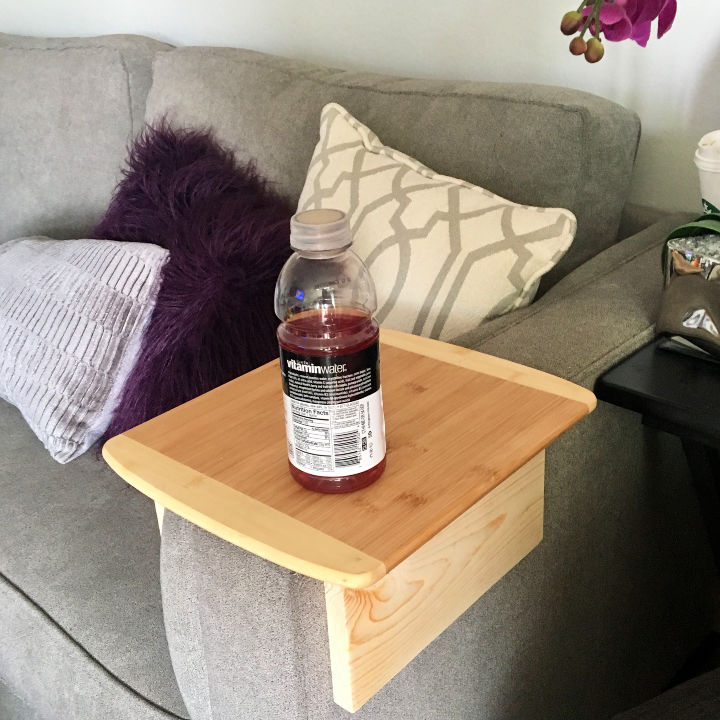 Make this sofa arm table using a $5 cutting board and pine wood pieces. Just fix two pieces of pine to the bottom side of your cutting board to gain a U-shape couch arm table. Sand it smooth and give a durable wood finish for a more enchanting visual of this couch arm table. Details here myeye4diy
7. $5 Sofa Arm Table
Building this sofa arm table will just cost you $5. Just cut down the 6″ pieces of pine or lumber to make this couch arm table. Give sharp 45 degree cuts to each board for nice assembly. Give your arm table a custom wood finish to bring an alluring shine on wood grains. Details here homealk
8. Build a Sofa Arm Tray Table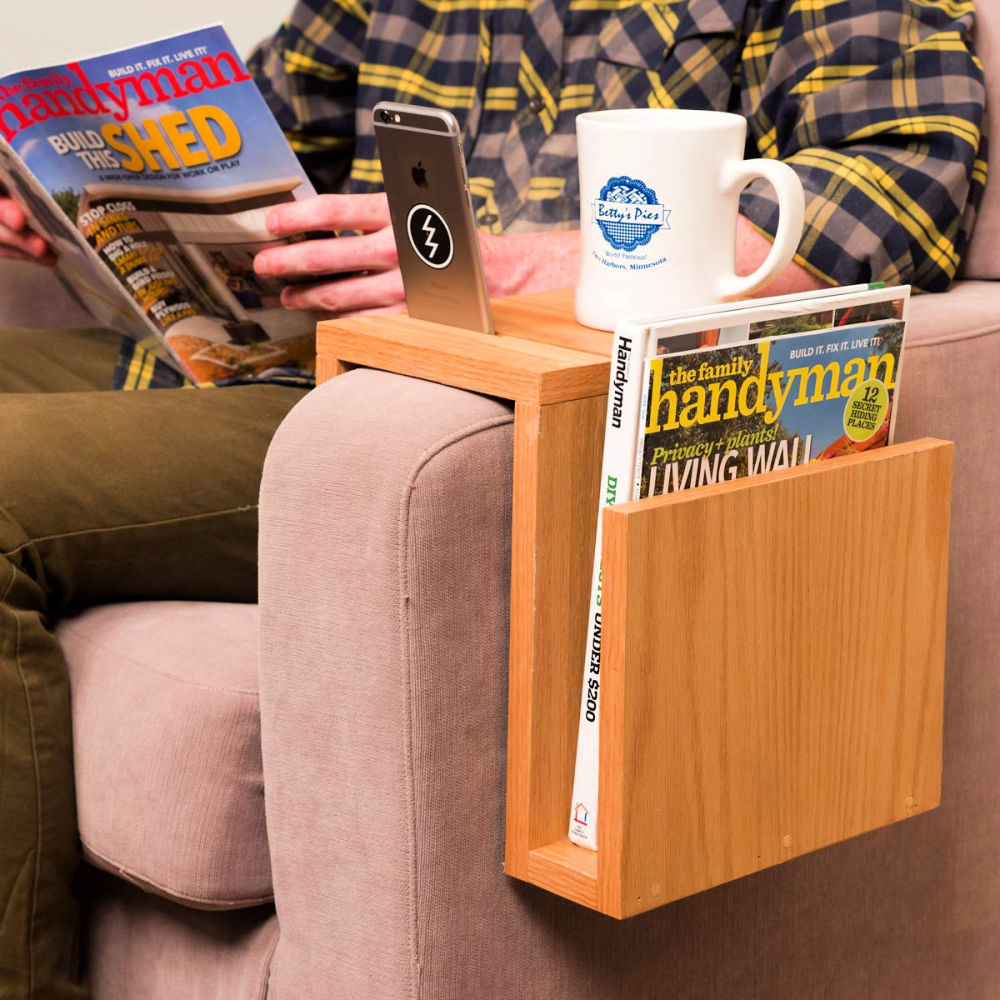 This sofa arm table is super functional and comes with lots of interesting features to make you sit more comfortably on your couch. Here you need 1/4" pine dowel, plywood, 3/4" oak Iron-On edge banding veneer, and wood glue to make this arm tray table. It provides a slit to hold your phone, and an extensive holding for holding books. familyhandy
9. How to Make a Sofa Arm Tray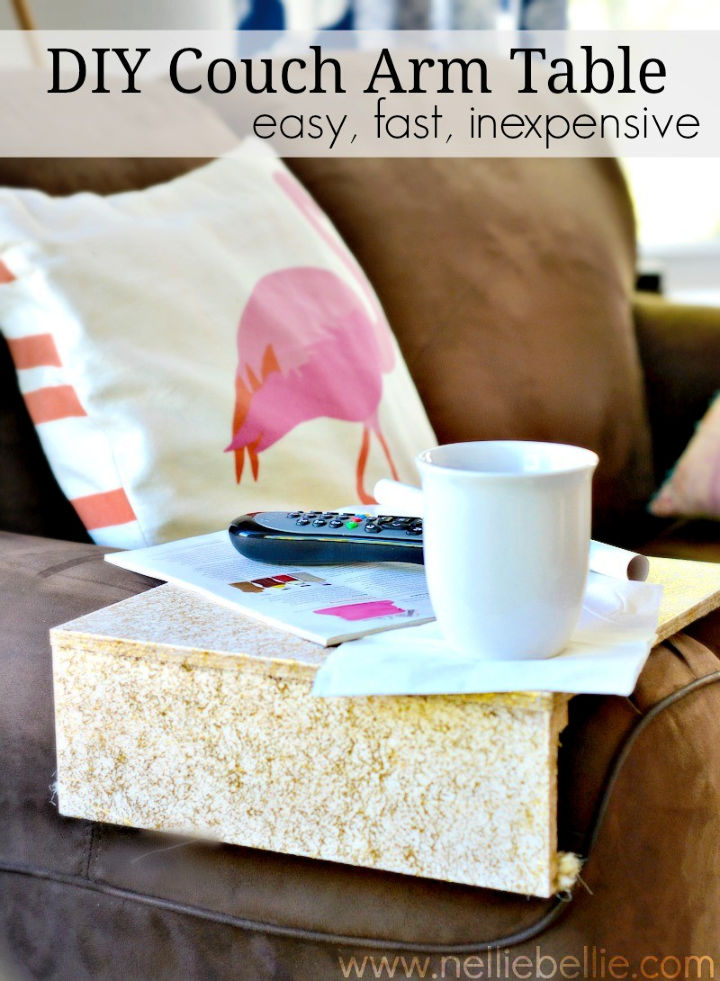 This sofa arm table will work up super quickly. Build it with 12" x 12" and 12" x 6" pieces of plywood. Just add up the 12" x 12" pieces with 12" x 6" legs and build this sofa arm tray. Adorn it more by wrapping the rope around or by using decorative paper. Details here nelliebellie
10. Sofa Arm Table from Three Boards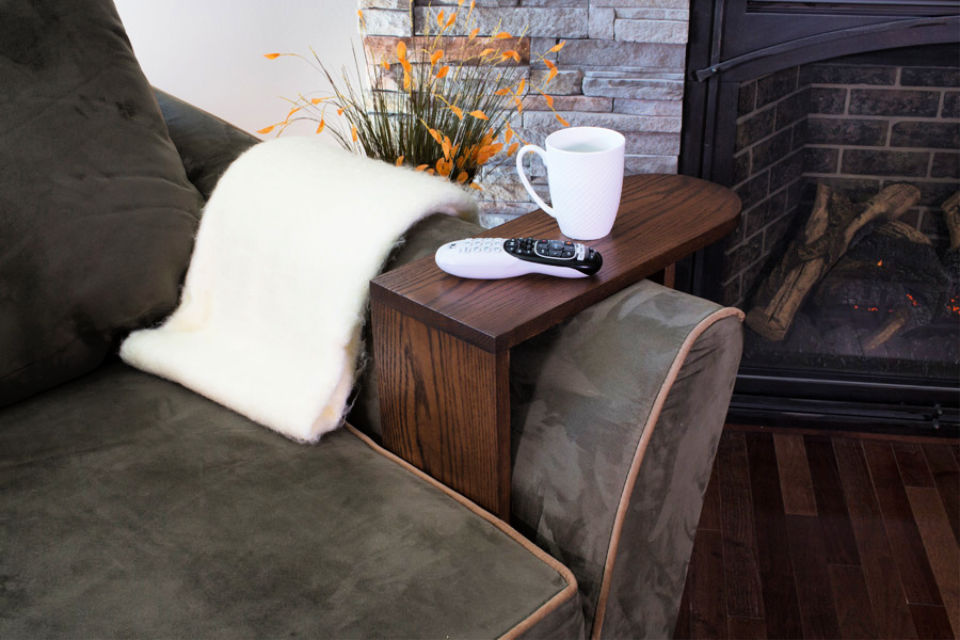 You will love the dark choco appeal of this sofa arm table. It looks distinguished due to one round edge and can quickly be made using 1x8x4′ board. Just take the central length equal to the width of your sofa arm and then add legs to the bottom side of it. Details here buildsomething
11. Most Convenient Couch Arm Table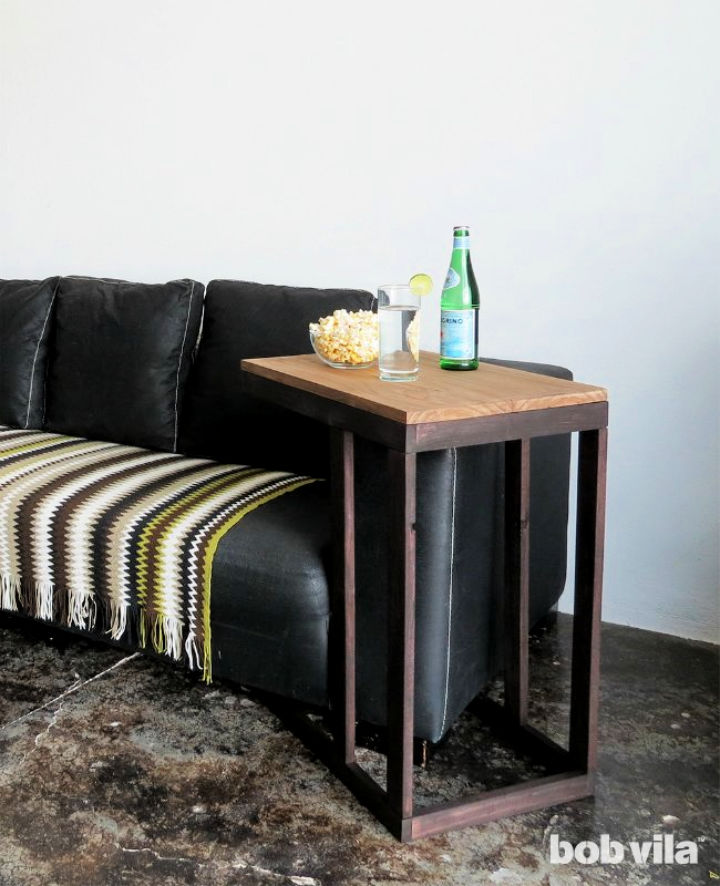 Bring both decoration and function to your couch by adding this sofa arm table. Build using 1x8x8′ and 1x2x8′. Assemble it using brackets and steel plates. Assemble your table nicely and then give a nice wood finish and start using it right in your living room. Details here bobvila
12. Leather and Wood Couch Arm Table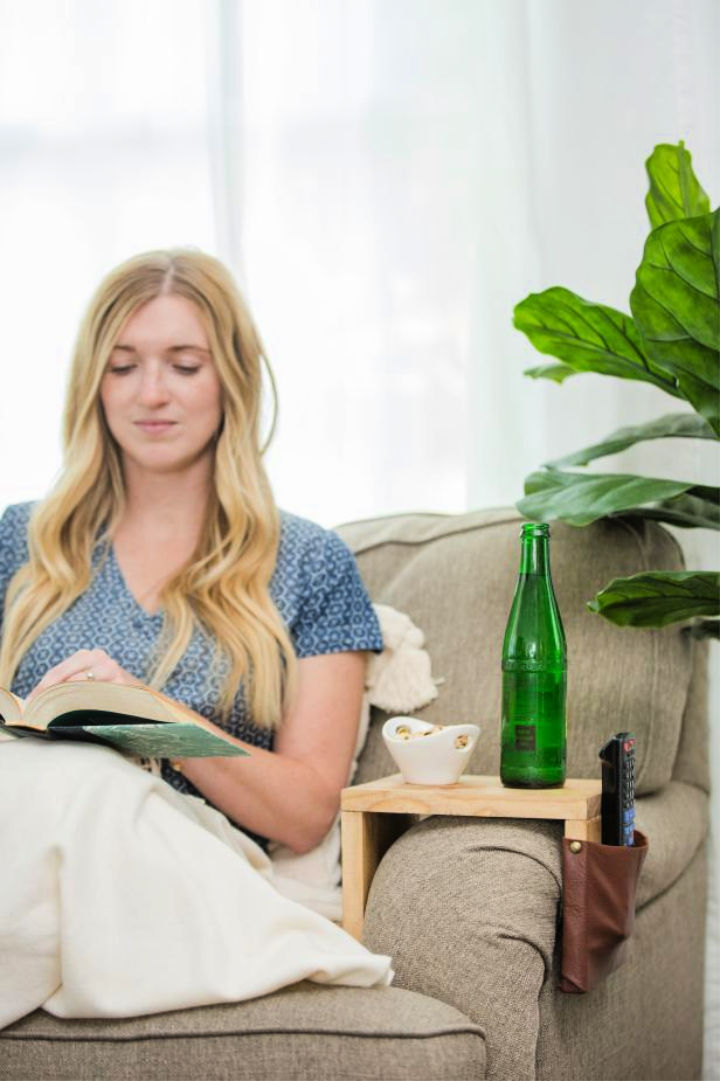 Enjoy your snacks and book reading on a couch by using this leather and wood couch arm table. Just build first a U-shape wooden armrest table and then add one leg of it with a leather pocket, can easily hold your remote and mobile phone. Finish with your favorite wood stain. hgtv
13. Make a Handy Couch Arm Table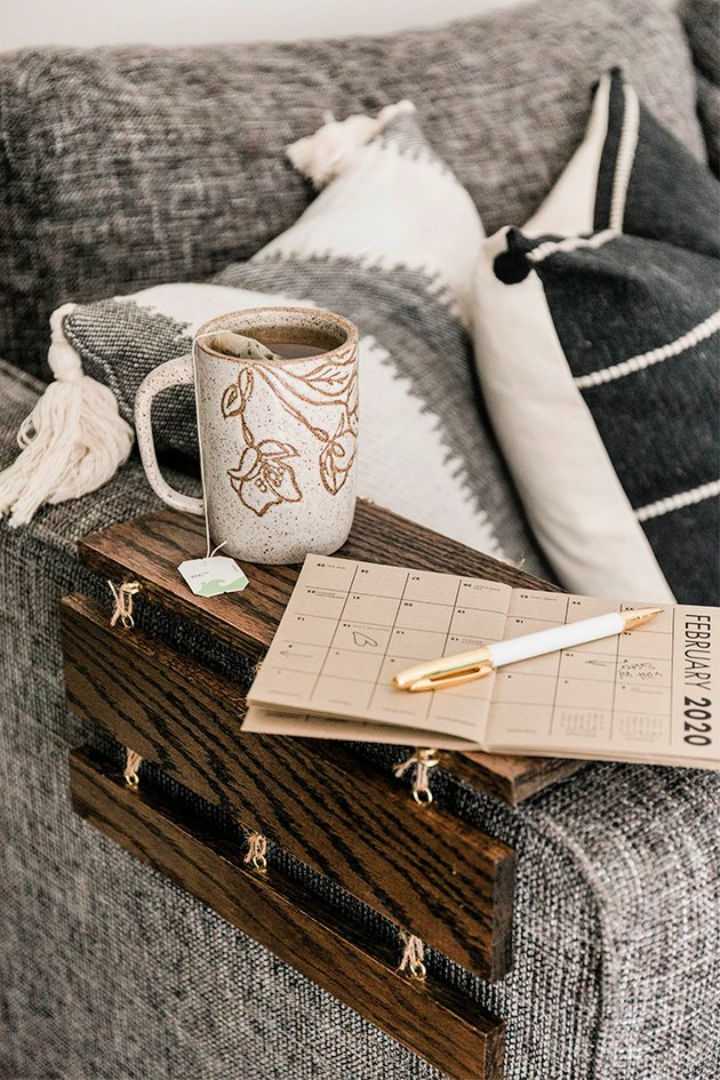 Build this handy tabletop for your sofa arm using 1/2" thick x 12" long wooden boards having different widths. Here you have to assemble the custom and well-stained pieces using string and eyelet screws to get a better folding armrest table for your couch arm. Give a nice wood finish and enjoy it. hunker
14. Easy to Make Couch Arm Table
Keep your sofas safe from the beverage spills using this sofa arm table. You need 80cm of wood and a scrap wood piece to build this couch arm table. This armrest table looks like a perfect square and will work up super quickly. Sand and varnish for amazing visual appeal. Details here instructables
15. DIY Wooden Couch Sleeve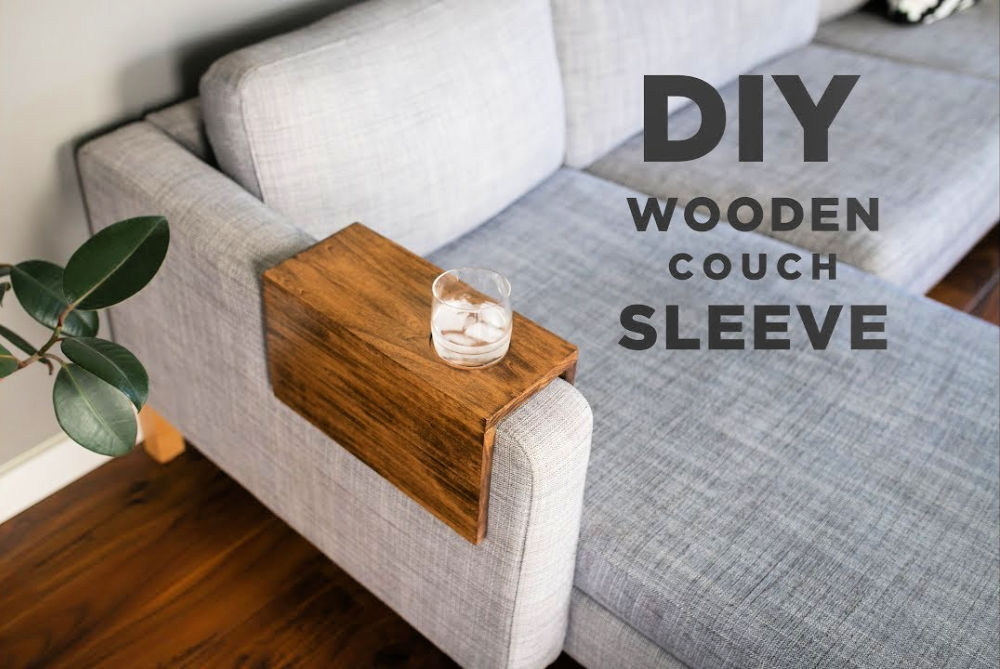 One of the easiest wood projects is to build this wooden couch sleeve, will allow you to rest upon nicely your drinks and snacks while enjoying book reading or watching a movie by sitting on a couch. Make this wooden couch sleeve using 14" long wooden pieces. Stain the sleeve and finish with varnish. youtube
16. Homemade Sofa Arm Table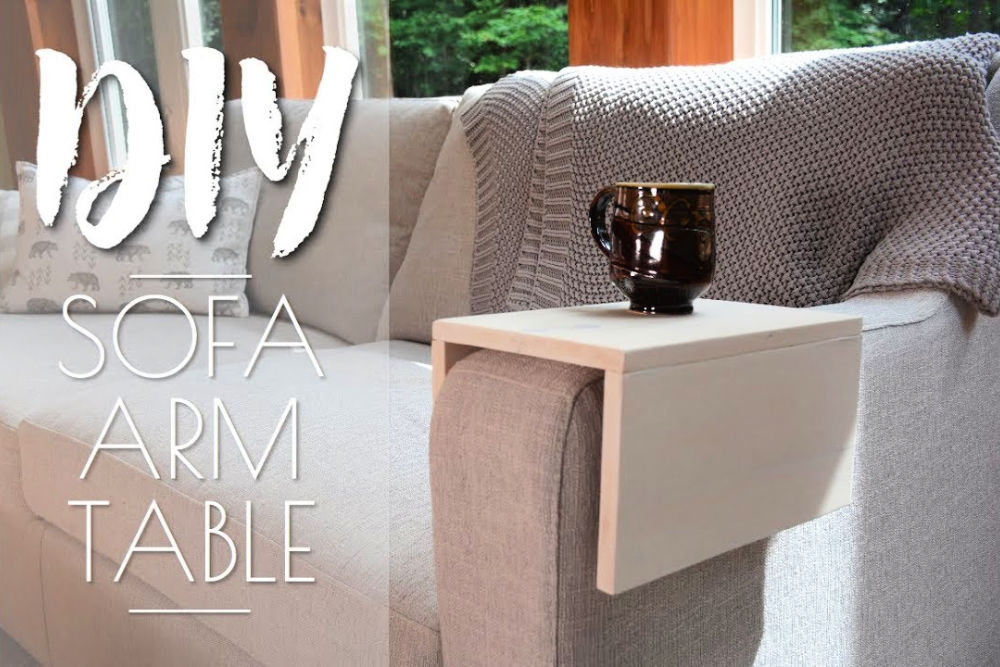 Build this armrest table using 3 pieces of wood that should be 12" long. Get two pieces with 6″ width and let the 3rd come with a width equal to the width of your sofa arm. Use glue to assemble the pieces to make a couch arm table. Give a nice wood finish and start using it. youtube
17. Simple Couch Arm Table Wood Project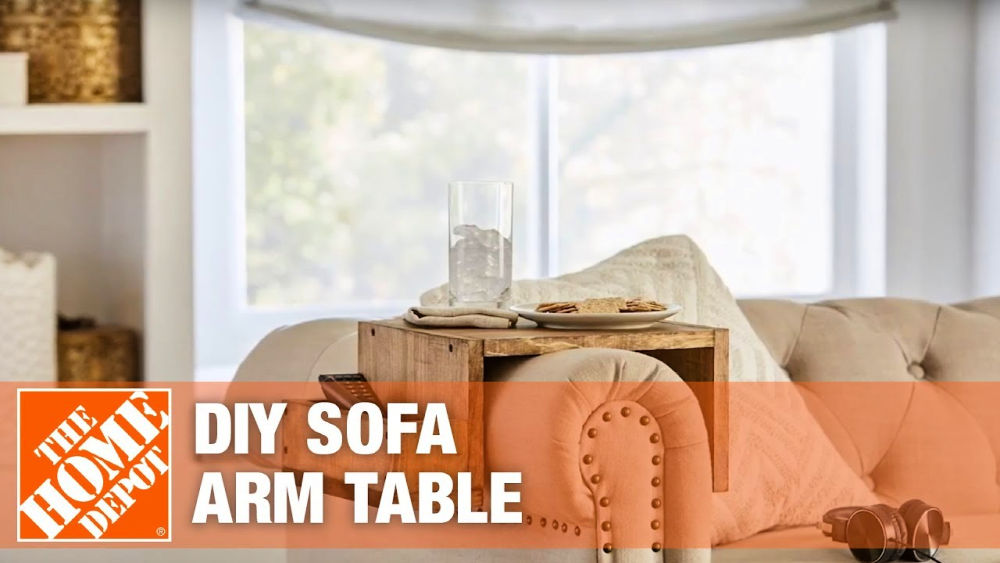 Grab the 1″ x 12″ to build this sofa arm table, will work up super quickly. Assemble your design using #6 drywall screws having 2" size. This armrest table comes with a side pocket to hold your phones, tablets, and other items of this kind. Paint it or stain for a better wood appeal. Details here youtube
18. DIY Armrest Table
Build this armrest table using recycled bamboo wood, and this will make your coffee taking routines a bit more enjoyable. Cut your pieces with 45-degree cuts and then fit them together using wood dowels and glue. Add up this armrest table with a pocket so it can hold your TV remotes and mobile phone too. youtube
19. Handmade Sofa Arm Table
You will love the folding and spinning features of this sofa arm table that is installed to the top of a side table. It will provide an extended arm that will come in front of a person sitting on the couch for easy laptop operating. You can make it up with any scrap wood, and it will not require too many skills. Details here youtube
20. How To Make a Flexible Sofa Arm Table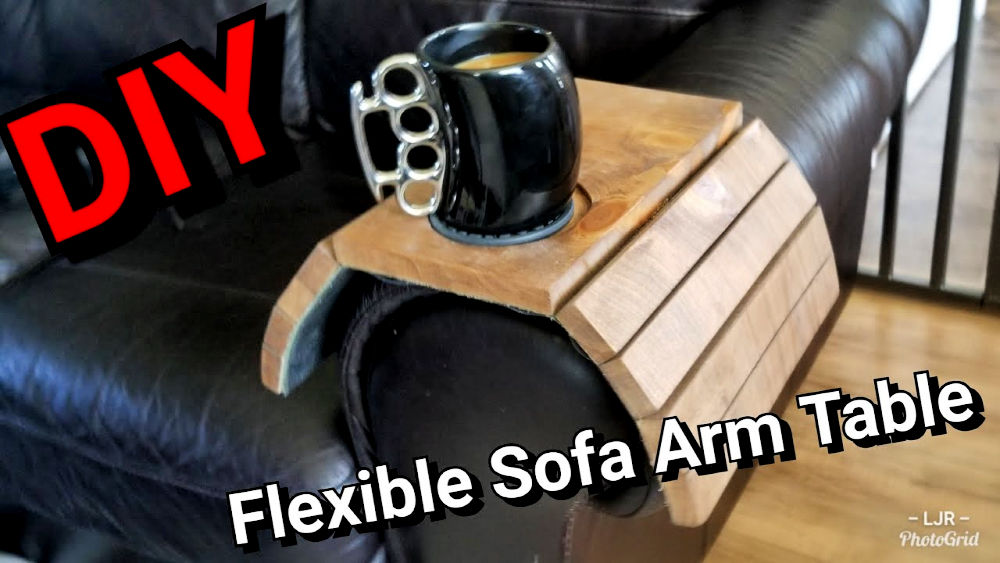 Build this nice folding arm sofa table using a piece of pine having dimensions 1"x10"x19". Just cut your both side strips and the central board with a cup holding. Next, add nylon webbing straps to the backside of the arm table and cover them up with non-slipper shelf liner. Details here youtube
Discover more beginner woodworking projects that make excellent homemade gifts either for yourself or a loved one and are perfect for beginners.
Conclusion:
You can always bend to pick your coffee cup again and again while watching a TV on a couch. At the same, you can't head over to the side table to pick up your reading books and snacks while being on the couch. So, to relax you more on the couch, these DIY Sofa Arm Table Ideas come for a big rescue. They will fit armrest of your sofa and will allow the user to rest upon the coffee mugs, snacks easily, and some will also allow you to operate your laptop easily. Some may come with built-in slits or pockets to nicely hold your TV remotes and mobile phones too.