This episode of building your own longboard will surely satisfy the longboarding addicts. They are often to buy their rolling vehicles expensive but actually they can be made even with scrap wood. Follow these 15 homemade DIY longboard plans to build your own longboards at home, quickly and cheaply. These cool longboard designs will surely spice up your skating and longboard game and you can make super beautiful ones for your longboard collection to impress your friends.
Browse this collection of 15 DIY longboard plans that are sharing some best homemade longboard samples that do nothing but impresses a lot. From cardboard to wood to metal, you will get here guides, free plants, step-by-step instructions and visual guides to build a longboard in any medium.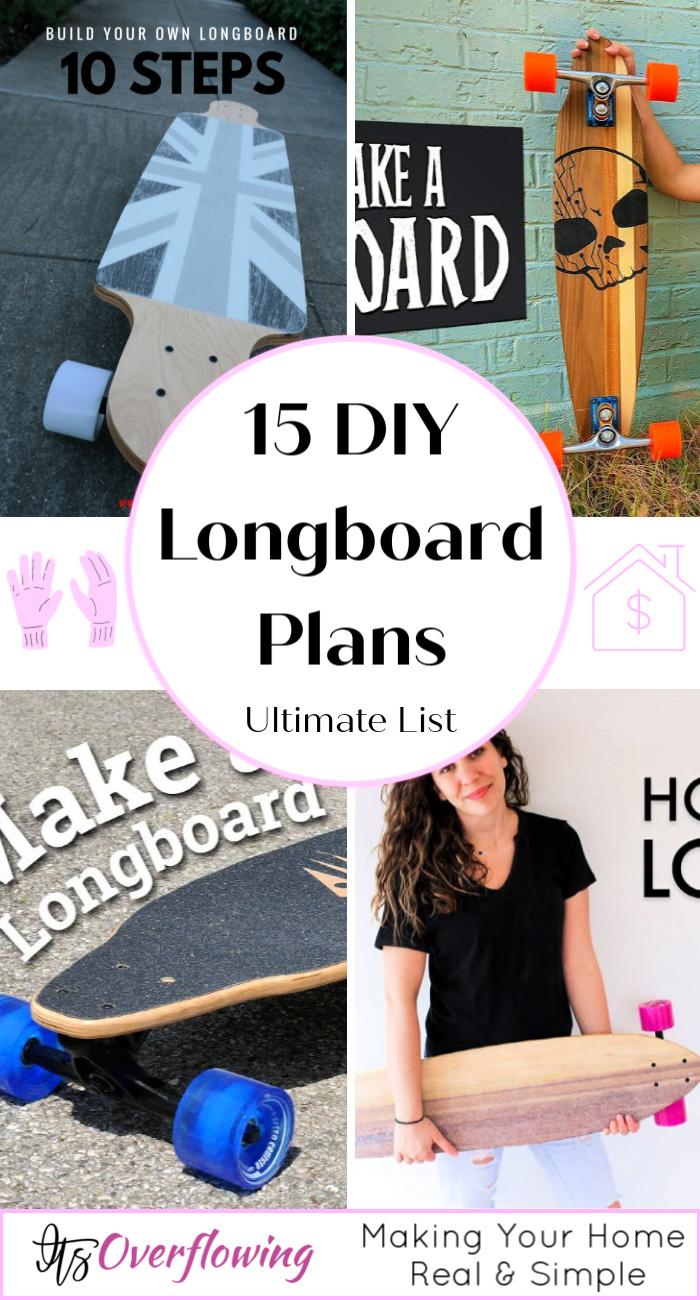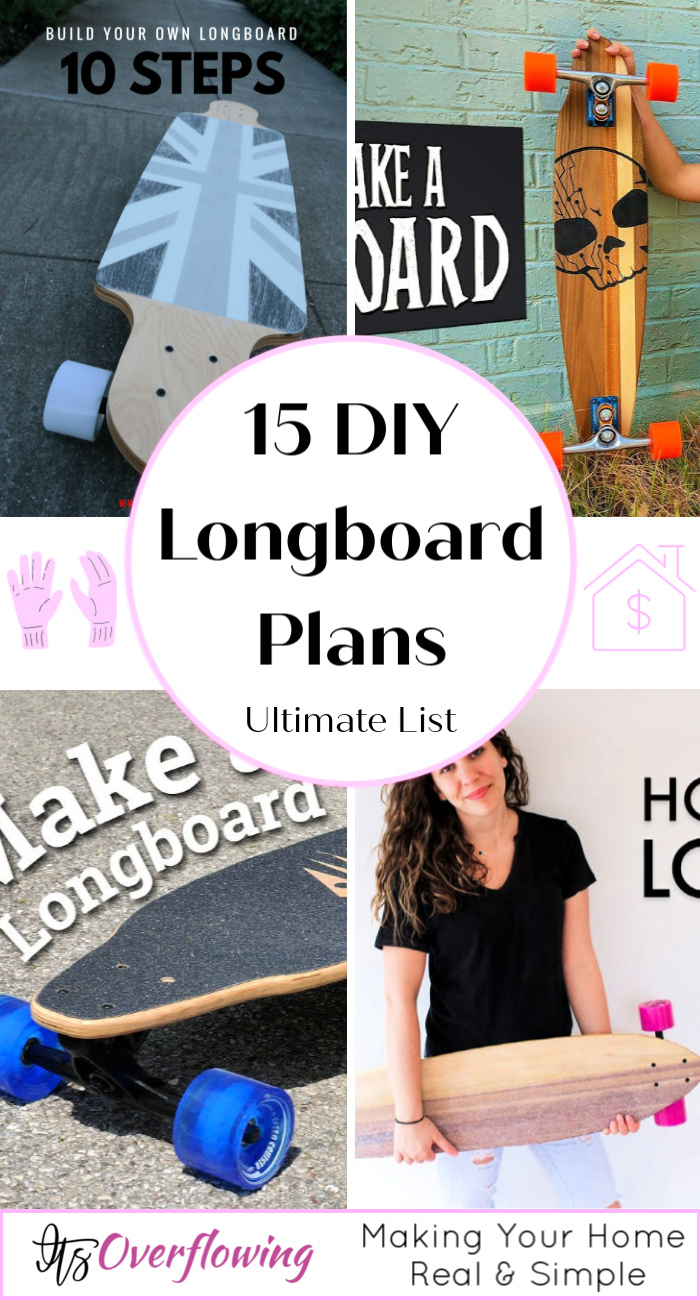 Integrate together the cardboard strips having various ribs and then cover them with acrylic sheets to gain a posh looking longboard with the classy glassy appeal. Put together the scrap wood pieces and make the longer wood slabs out of them. Next, cut the skateboard shapes out of them using custom templates and finish them with custom trucks and wheels. Give a custom mineral oil finish to bring shine and lots of protection to wood grains.
Look through the entire compilation of these DIY Longboard Projects to see a variety of readymade samples that will surely inspire. Moreover, you will get the hacks also about how to personalize your finally completed skateboard by using custom stickers and by carving custom shapes, logos, and monograms.
And if you're new to woodworking then you'll follow our beginner woodworking projects that will teach you essential woodworking techniques.
1. How to Make a Longboard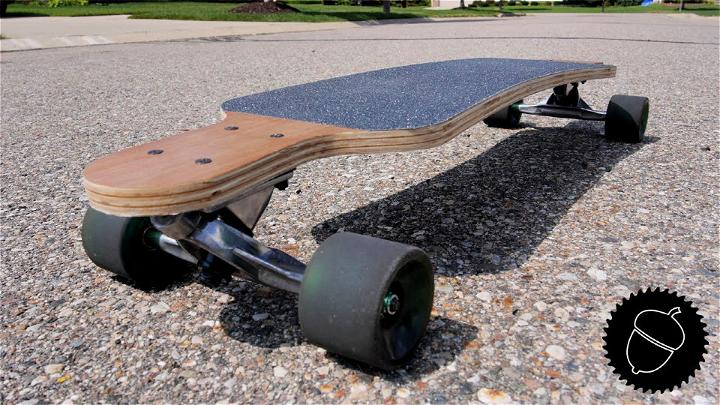 Are you addicted to longboarding? Then don't buy those longboards and make one inexpensively at home with the provided free homemade longboard plans and step-by-step instructions. Build this longboard using quarter birch plywood. You need a 2'x4′. Here you need the jigsaw to cut the perfect shape of your longboard out. First, just layer your plywood to get the desired thickness and then create a little bent in the center by putting some weight over. Next, adhere to the DIY longboard template on your boards and cut the shape out using a jigsaw. Install the wheels and here you go. Details here youtube
2. DIY Longboard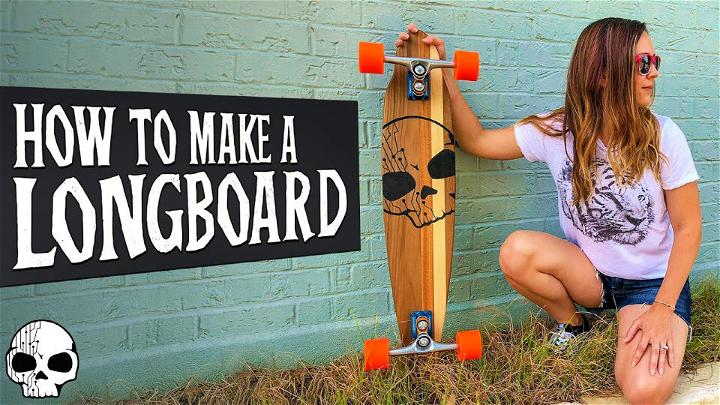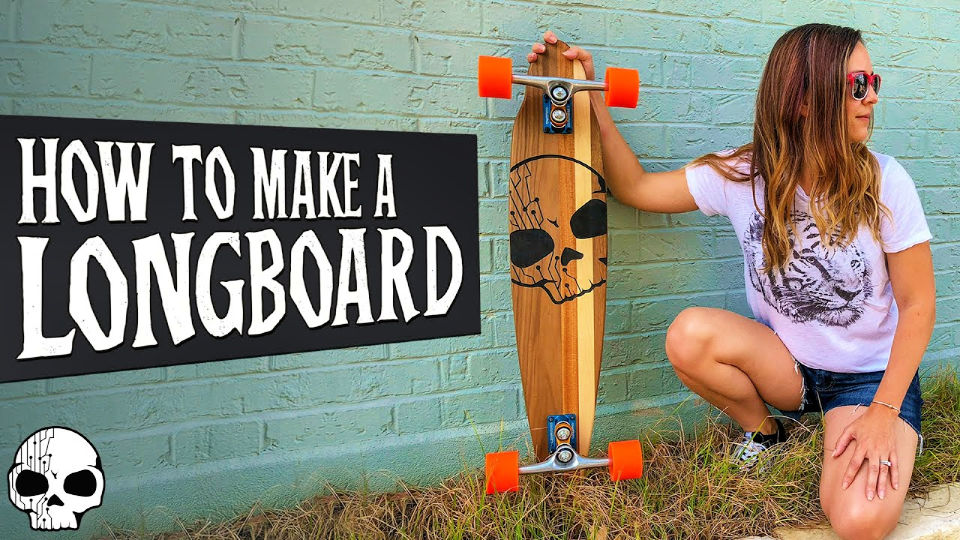 This project shows how you can use the scrap wood pieces to build a longboard for your skating routines. Just put together the scrap wood like maple, mahogany, and Sapele and then make a slab out of them. Cut the longboard shape out of it using the paper template and precise wood cutting tools. Just use a carving machine to carve a skull art, will create that dramatic appeal of the custom longboards. Sand, grit and finish with hands, and then install the wheels at the end. Details here youtube
3. Homemade Cardboard Longboard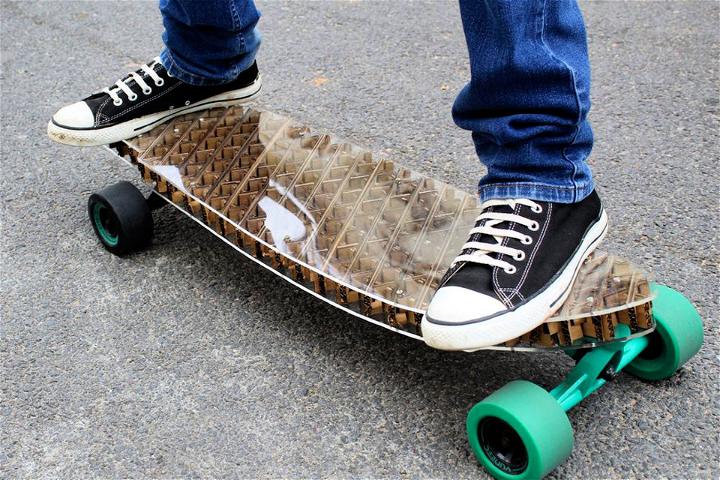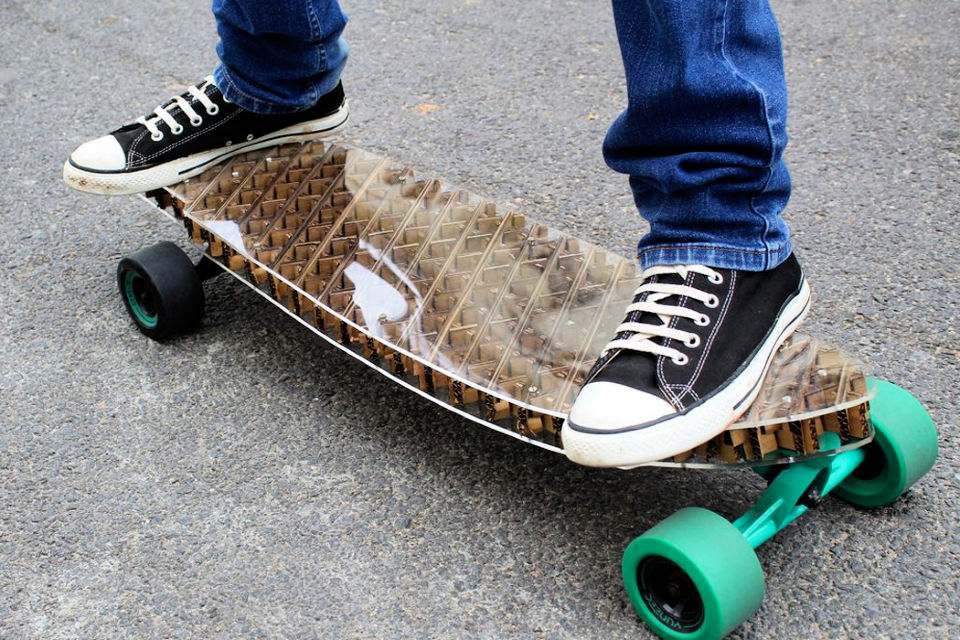 How to build a longboard? Hopefully, you can use the cardboard to build a lasting longer and beautiful longboard that you can hold a whole weight of you. Just grab the thicker cardboard pieces with several ribs that you can fit together making a lovely iso-grid structure. The structure should be done solid and you can simply weave the ribs to make a parallelogram. Install the trucks and wheels then finally the acrylic panels to complete this homemade cardboard longboard. It will be a highly impressive gift to give to a longboard addict. Details here yankodesign
4. Make a Longboard from Scrap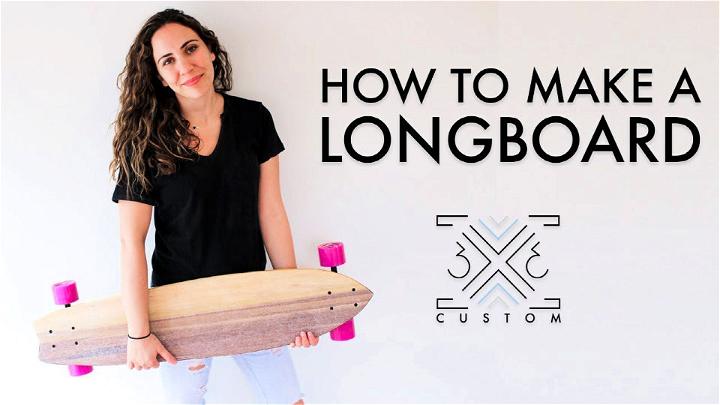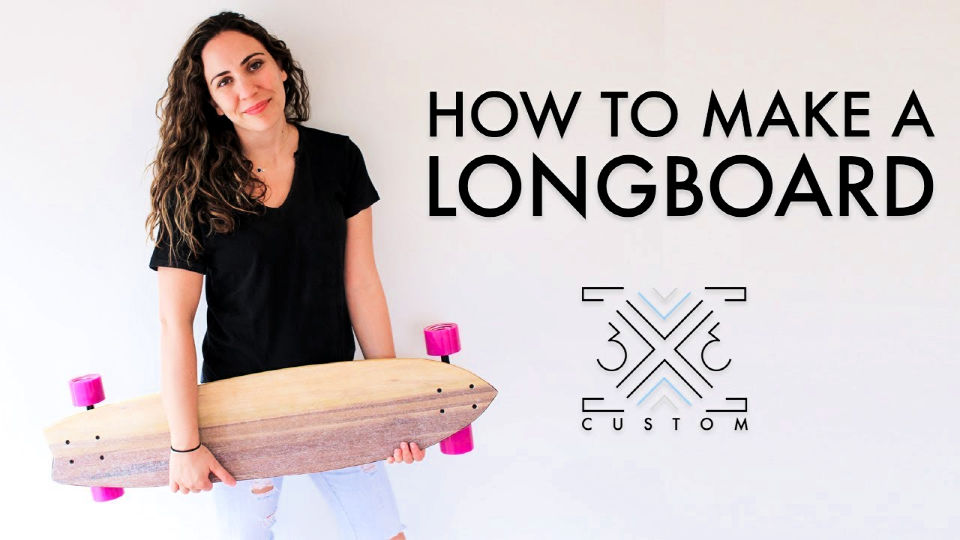 Making a longboard is super easy now! Get our free plans to build a DIY longboard at home like a pro. Just grab the scrap wood lengths and glue them together and add clamps to build a solid wood slab featuring a variety of wood tones. Next, just cut longboard shape out of it using a custom template and then install the trucks and wheels to it. Give your completed design a nice oil-based finish and gain a fantastic homemade longboard that will have shine on wood grains. the given model is amazingly beautiful and is sure to impress at a very first look. Details here youtube
5. Building Your Own Longboard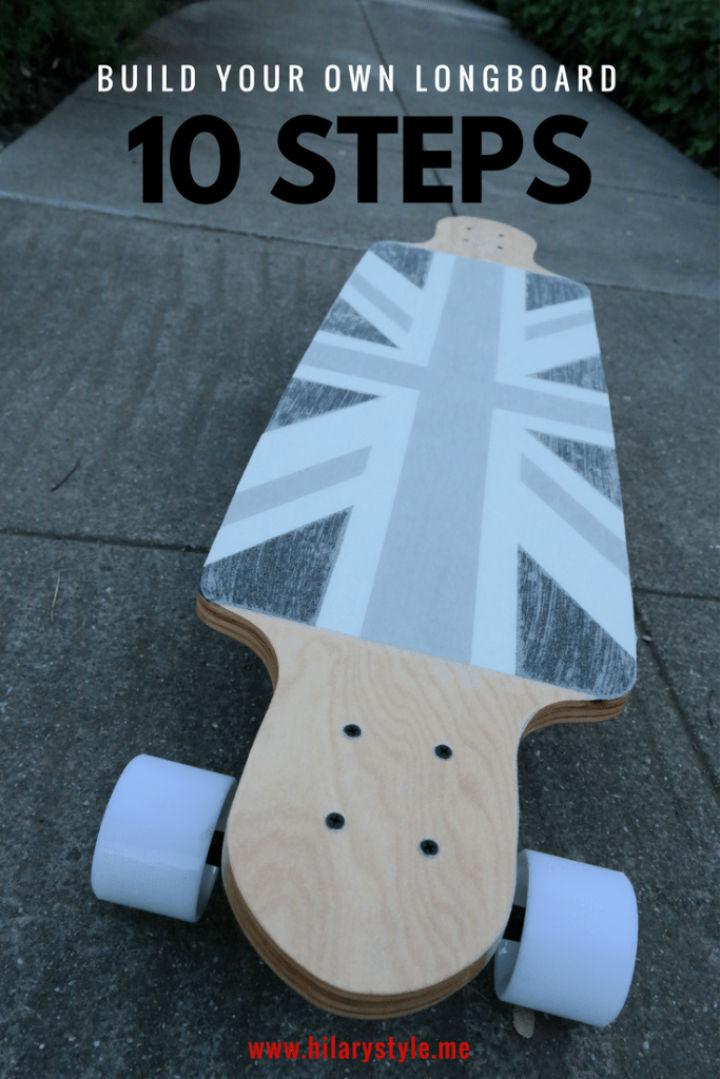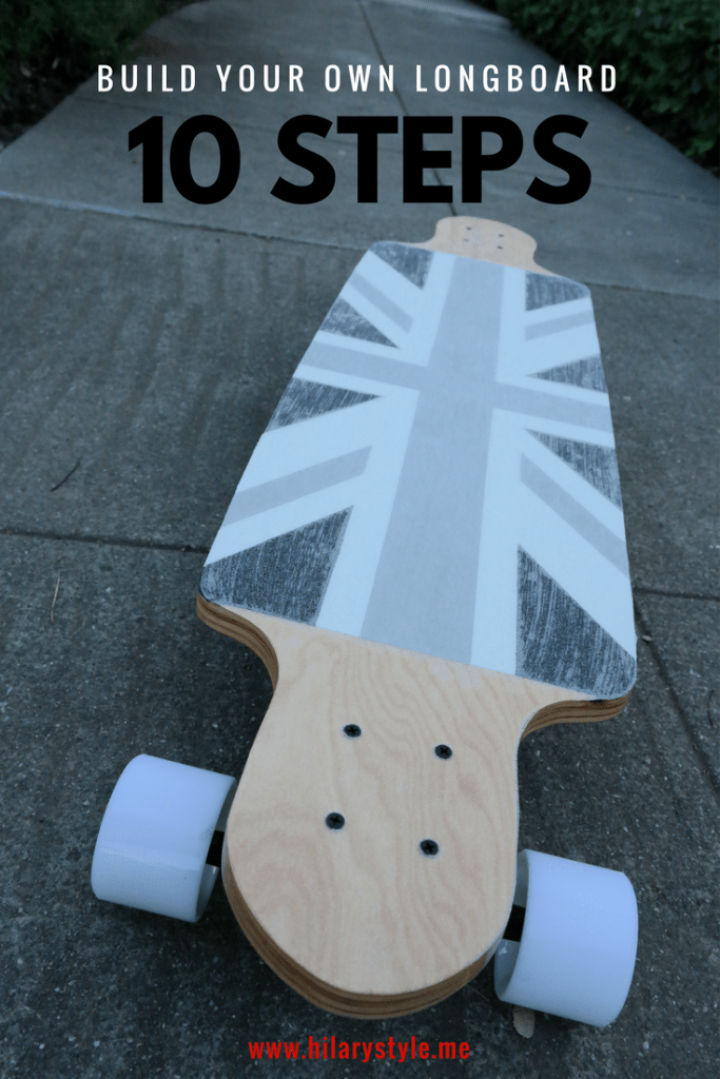 Satisfy your love for homemade longboard by building this fantastic DIY longboard at home, will be loved by all. First, laminate the wood and then cut your longboard deck or design using a template that you can easily print out. Next, decorate your longboard by adding custom design and finally install the trucks and wheels to ride on the longboard. The best gift to make at home to promote physical fitness in the kids. Building this homemade longboard at home, will not cost you big for sure. Details here hilarystyle
6. DIY Electric Longboard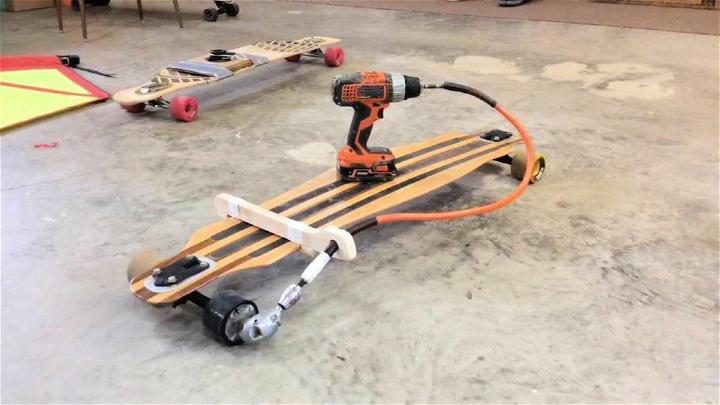 The long electric board just cost you an arm and a leg. Get the free instructions and plans here about how to make the electric longboards at home without getting a bit expensive. Use the universal flex drill and step it with the longboard wheels to get your longboard moving like a bike or car automatically with controls in your hands. Grab and old wheel, flat metal disc, drill adapter, a piece of maple wood to install the whole electric step for the longboard. Details here youtube
7. Homemade Longboard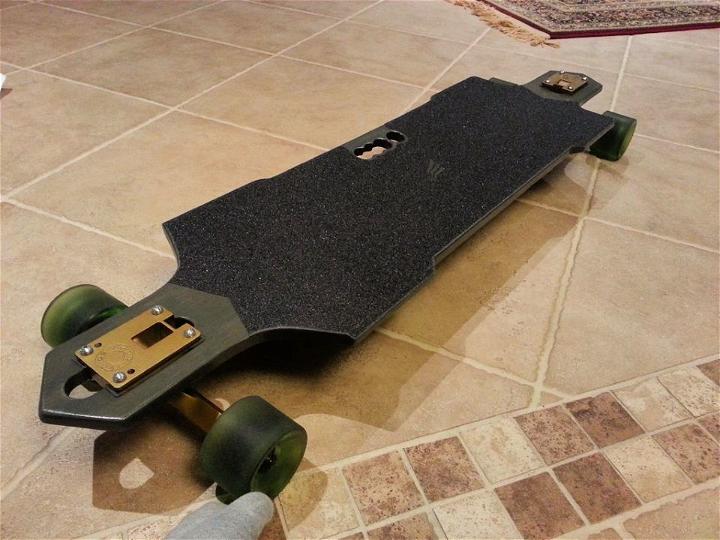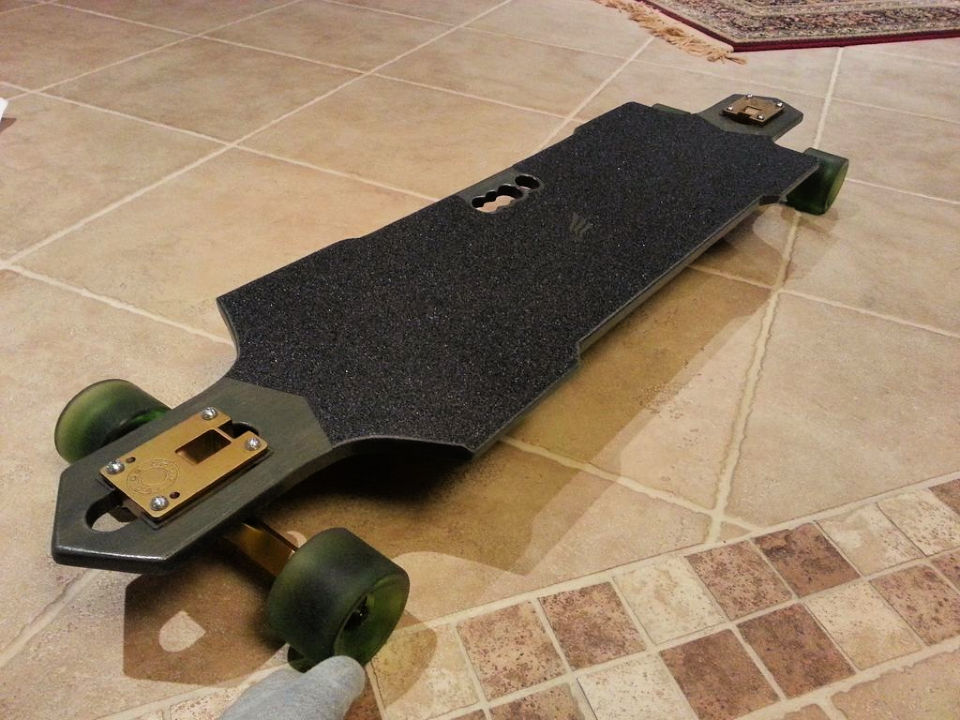 Check out another gorgeous and beautiful looking homemade longboard that will be a delight to ride on. First, choose a design template to cut your longboard deck design. Cut the design out of a 1/8" baltic birch plywood and next add your design of any. Finish the longboard with a longboard grip tape and install the final trucks and wheels using the best longboard hardware. One of the best DIY Longboard ever made at home. Details here instructables
8. How to Build a Longboard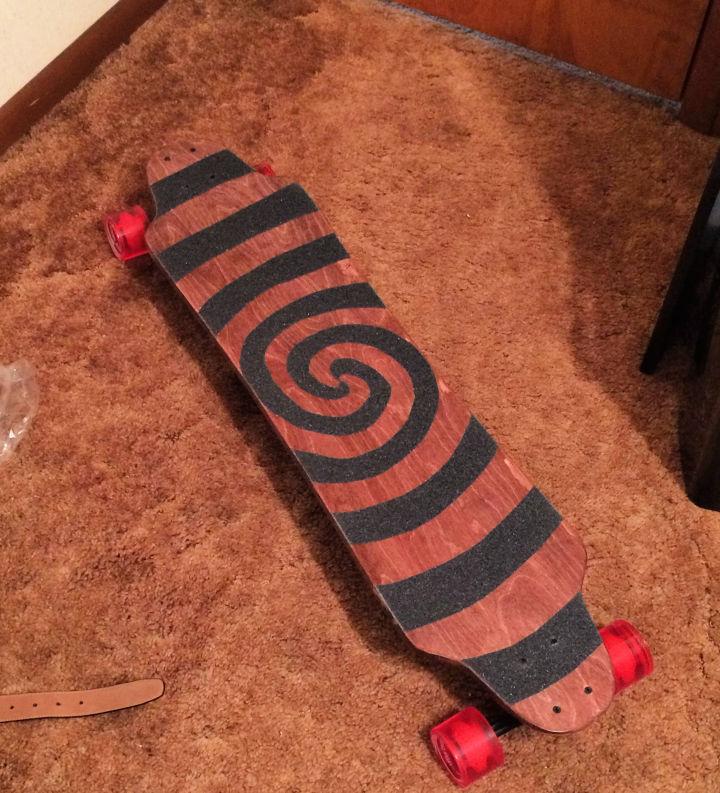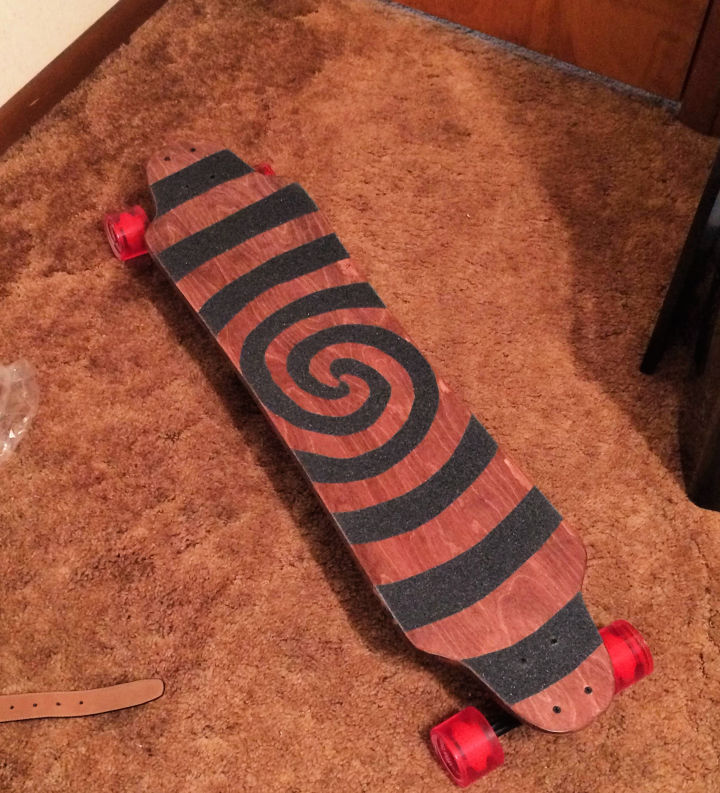 Learn how to build a longboard? Make this excellent DIY longboard that is too beautiful to gift to a longboarding addict. To build this longboard, first, grab a 5'x5′ piece of baltic birch plywood and then take it into 4 equal pieces having size 10"x40" long. Next, put together all the boards and adhere them together using waterproof glue. Start laminating the board and next cut the design out using a longboard template, and there are many online. Give the primer base coats and then spray paint the DIY longboard in gold. Next, add your design using stencils or tape and finish by installing trucks and wheels. Details here buzznick
9. Longboard or Skateboard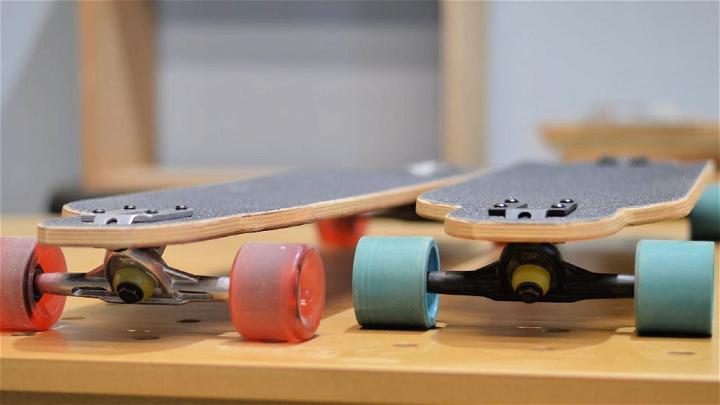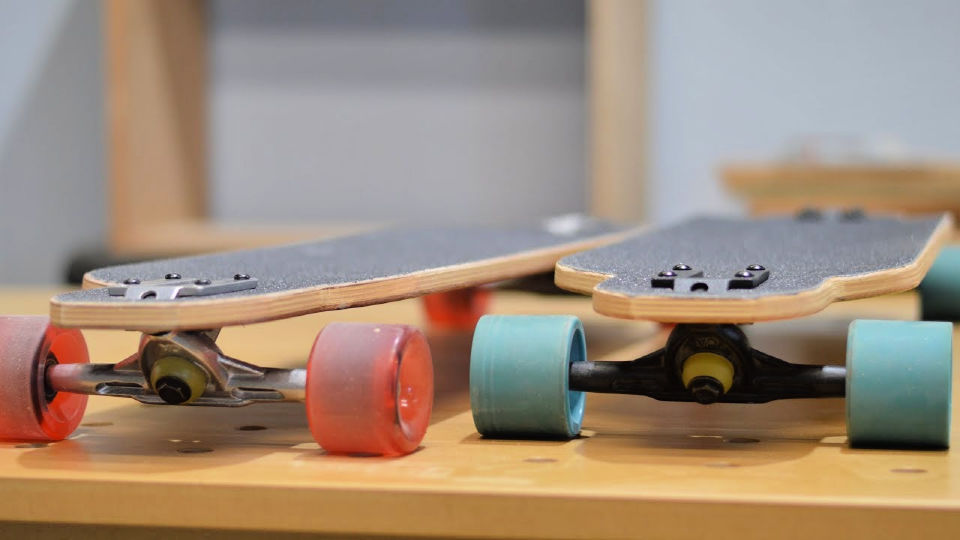 Get complete professional guides here about how to build the longboards and skateboards the same as you buy from the market. First, just put together the bent lamination and make a thick board from which you will cut your design out. To bend the design, make a bending board and then set the bent lamination onto it until you see a bend. Next, cut out your design, add design, and finally install the trucks and wheels. Look at the beautiful, given samples that are amazingly beautiful. Details here youtube
10. DIY Skeleton Longboard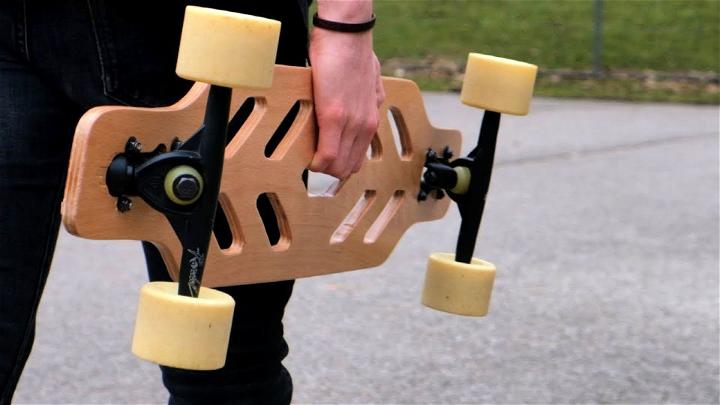 One who is a passionate lover of skateboards or longboards will surely fall in love with this unique skeleton design of the longboard. This entire longboard is made at home, and you have to use the birch plates at the top and bottom while the core should be made with the poplar. Glue all the layers together and hold them up tight using a clamp system and add a bend. Next, trace your design using a template and cut that out nicely. Install the trucks and wheels and enjoy a great longboard ride. Details here youtube
11. Easy Flat Style Longboard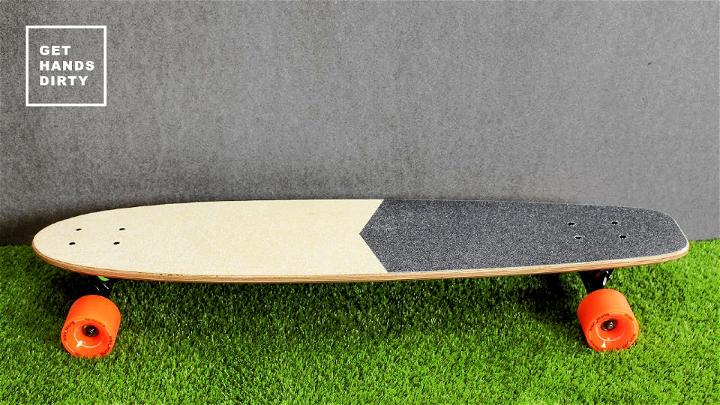 You need the beginner skills to make this easy and flat style longboard that is half painted in dark, and the rest appear in an alluring blank tone of wood. Cut the design out of the baltic birch and then trace your design to cut out. Use a template and next use the modern carving tools to cut the design out. Trace more design and letters and then make the bright using pencils and markers. Grit well the edges and sand it smooth. Add the grip mat and finish by installing trucks and wheels. One of the best DIY Longboard design ever made. Details here youtube
12. Make Your Own Longboard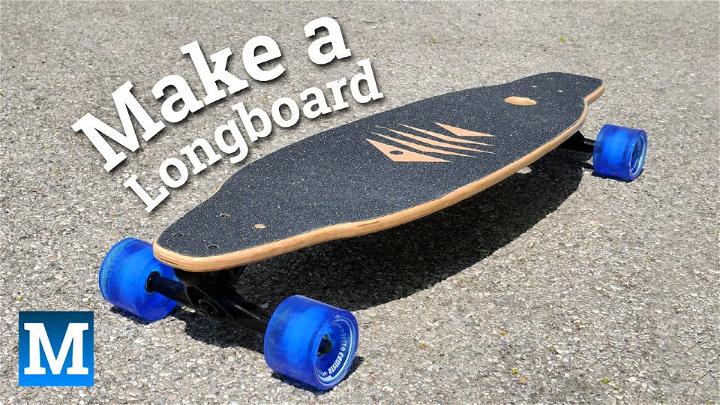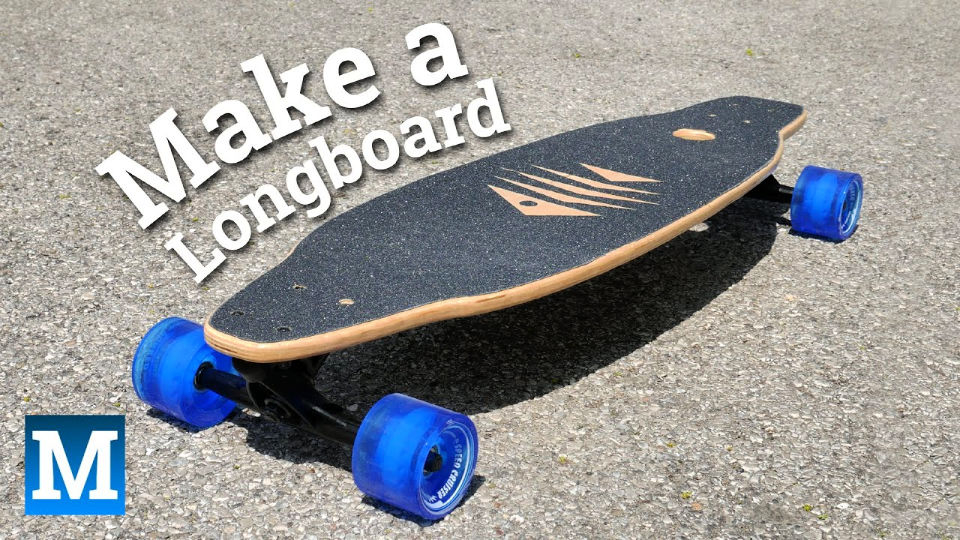 This longboard is to make with the 5/8" baltic birch, and it is fairly easy and inexpensive to make it. If your workshop is loaded with highly accurate wood cutting and carving tools, then it can really bring lots of accuracy to your completed longboard design. Cut the design out using a template and then sand it smooth and stain also. For amazing feet grip, adhere the grip tape to the top side. Install the trucks and wheels and gain a beautiful longboard for a fun ride. youtube
13. Make a Wooden Penny Board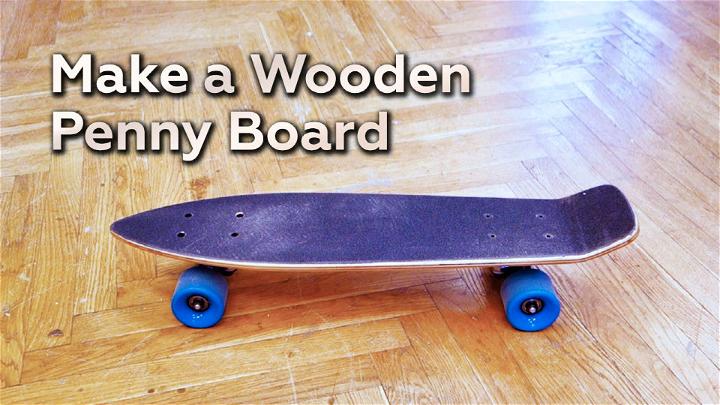 Whether you wish to build a longboard or an intending to design a small skateboard, grab the full free instructions and guides here. Just put together the layers of veneer and then laminate them to make this penny board inspired longboard. Use the MDF or chipboard to make the pressing and bending mold for the longboard. Use the clamps to leave the bent plywood in shape overnight, and the next day, remove the clamp. Cut the design out of the bent plywood and install trucks and wheels. Details here youtube
14. Handmade Electric Longboard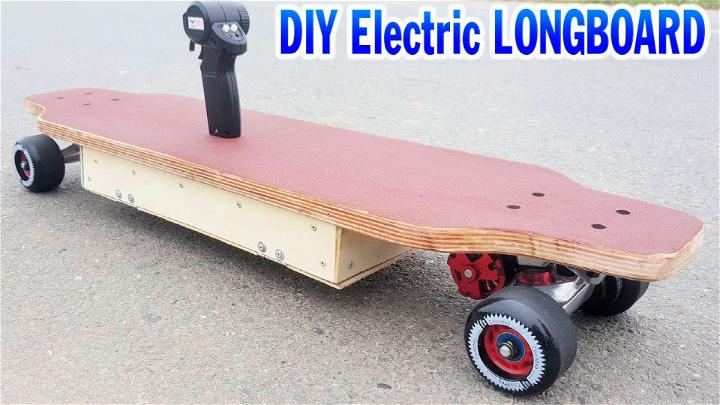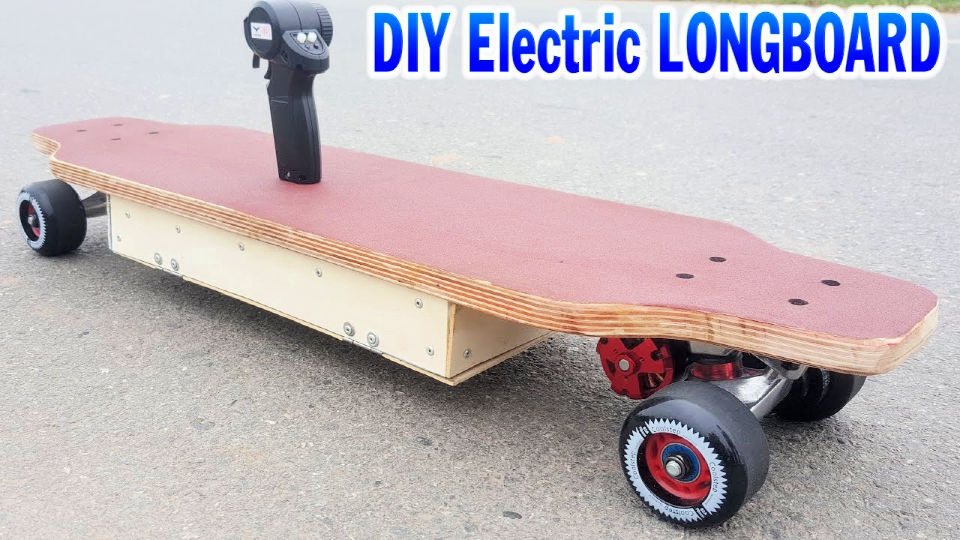 Look at this another fantastic and good looking electric longboard, looking amazingly beautiful and graceful. The design is to make with the wood like you mostly make with plywood, layers of veneer, or baltic birch. The creative twist here is to install the electric box underside that will give the powers to bottom wheels, so they will make this longboard move on the road as a fast vehicle. One of the smartest and automatic electric longboards made to inspire. Details here youtube
15. Wooden Fiberglass Longboard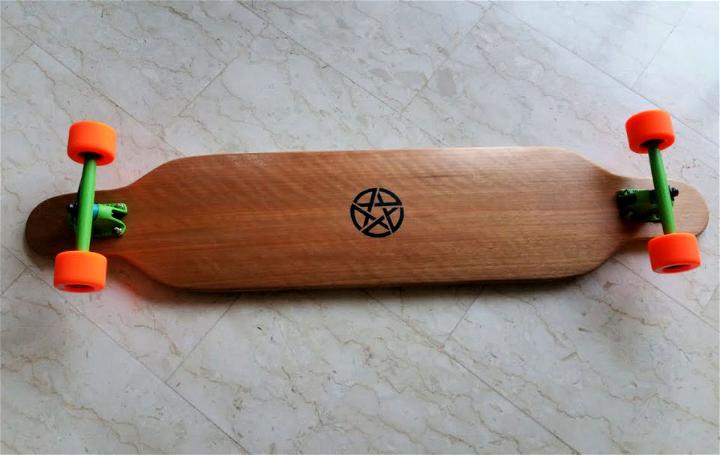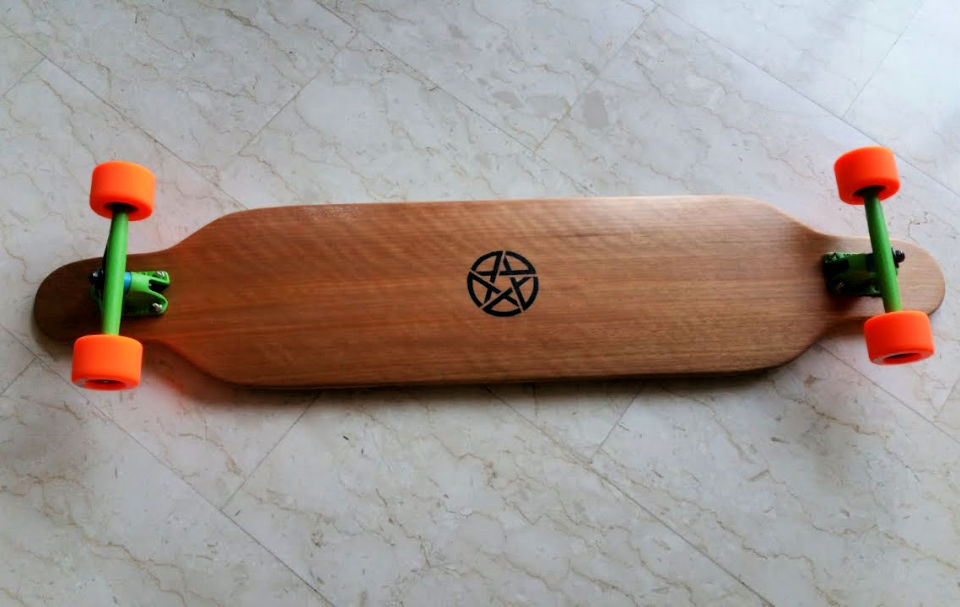 Get the pro guides here about how to build a wooden or fiberglass longboard. This longboard also comes with a little bend that you can easily create using a custom wooden mold. Here you will learn how to build the bending mold also for this a little bent fiberglass longboard. Use the custom stencil to drawer your custom monograms and logos. Adorn the longboard more using spray paint, by giving clear wood finish and also by adding your design. The final step would be to install the trucks and wheels. Details here youtube
Interested in becoming a do-it-yourself woodworker? Learn how to build your own furniture with this woodworking guide from Its Overflowing!
Conclusion:
Longboarding a great passion for many of us and longboards come with high price tags when we intend to buy them from the market. So, don't cause a big load on your wallet and build a fantastic, super stylish, and pro-style DIY longboard at home without getting a bit expensive. You just only need to understand the custom longboards so you can make them at home quite easily and inexpensively using even the scrap, recycled, and old materials. Try these DIY longboard ideas to building your own longboard at home like a pro. From using scrap cardboard pieces to wood slats to metal scraps, you can use any to build a long-lasting and impressive design of custom longboards.