Are you ready to decorate a fireplace mantle? Make your house look amazing with these 40 best fireplace mantel ideas? These fireplace mantel decor ideas are so cool and definitely worth a try! The fall season will be here in a few months, so building something like a fireplace would be amazing to make your house cozier and warm. Little details can add a lot to a house, and something like a farmhouse is going to make your house warmer, which is, in turn, going to make your visitors feel more welcome as well! Even if you're going to choose a simple plan and spend less money, these fireplace mantel ideas will still turn out looking amazing and add a lot to your house.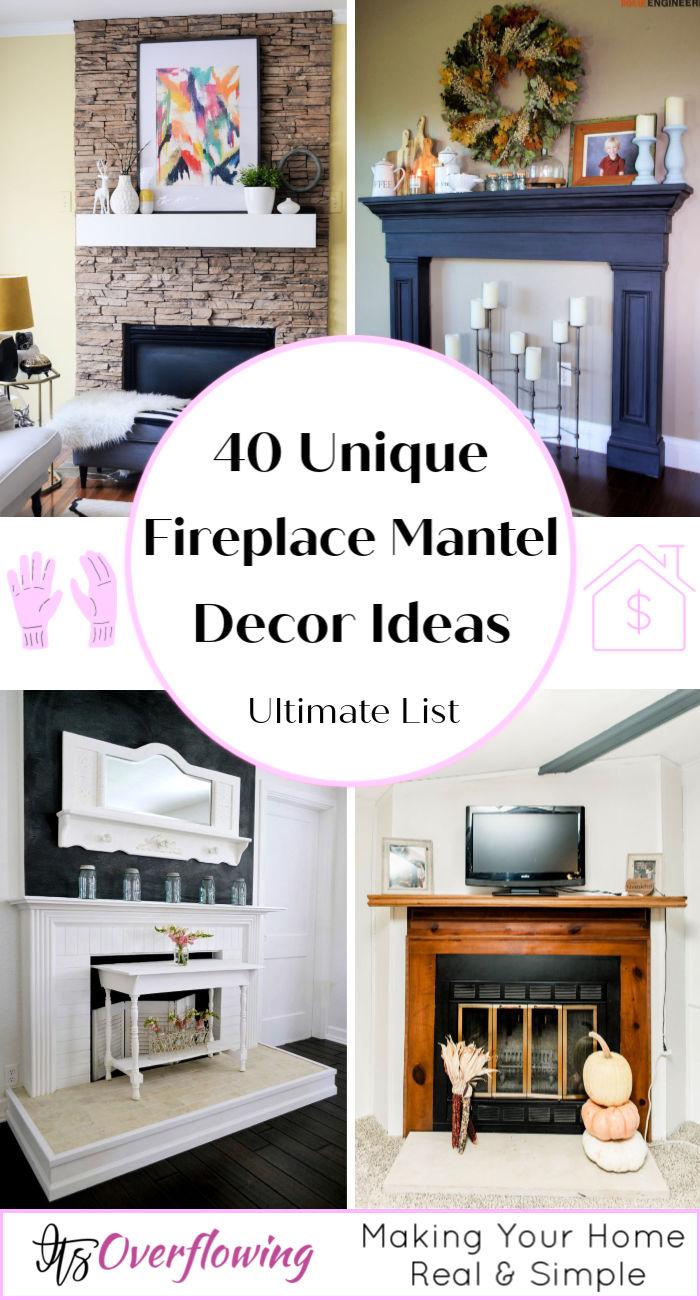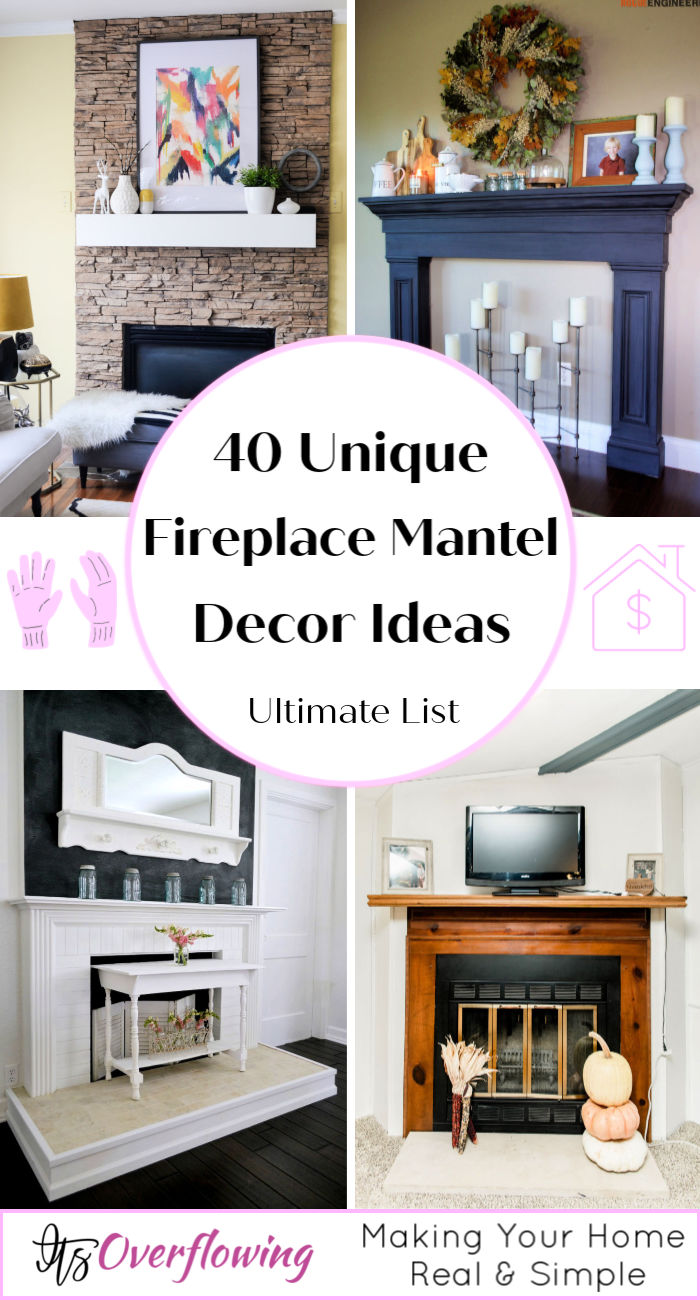 It can be very nice to build this for a friend if they've just moved into a new house. Professionally done, fireplaces can be too expensive. This article will cover a range of fireplace mantel ideas, from rustic to modern ones, from pallets and plywood to driftwood ones, from bricked to floating ones. There's a lot to choose from, which is just perfect. This is because more options can help you make a better final decision, which is quite important. You don't want to spend all that time building something that you won't like in the end. Start mantel decor right now!
1. Wooden Fireplace Mantel Decor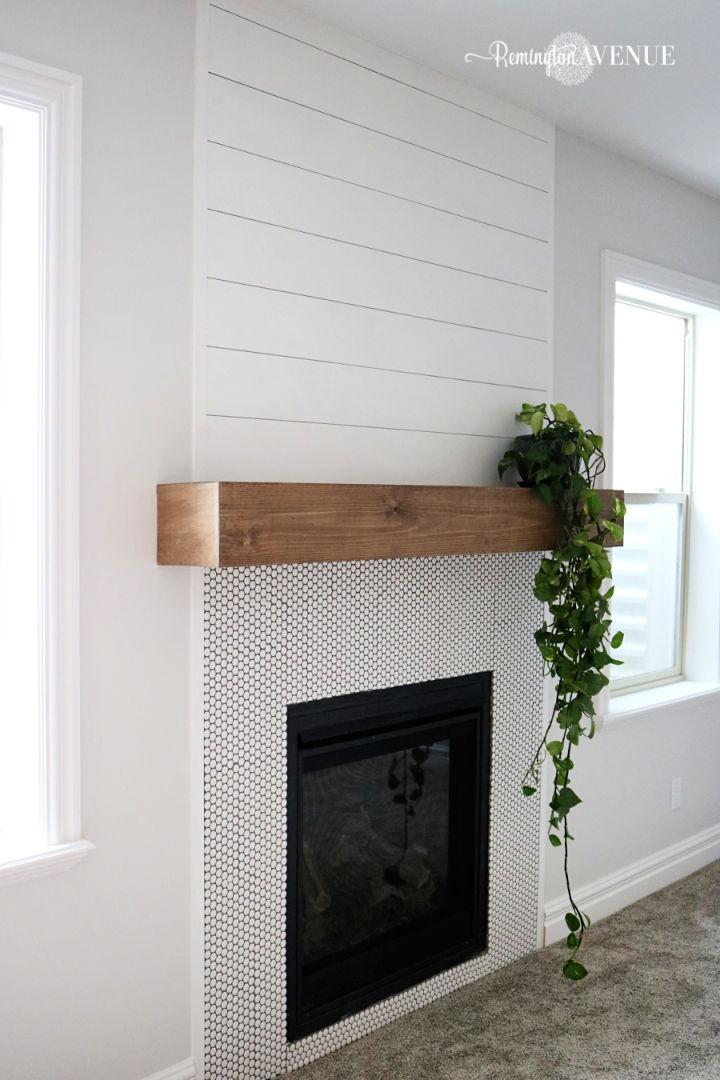 One thing to instantly upgrade your living room decor? A fireplace mantel idea! Create this DIY wood mantle decor. It is easy to build and will look exquisite in your decor game! You just need supplies such as lumber, veneer, stain, polyurethane, and 2 blocks of wood to build it up. remingtonaven
2. Rustic Fireplace Mantel Decor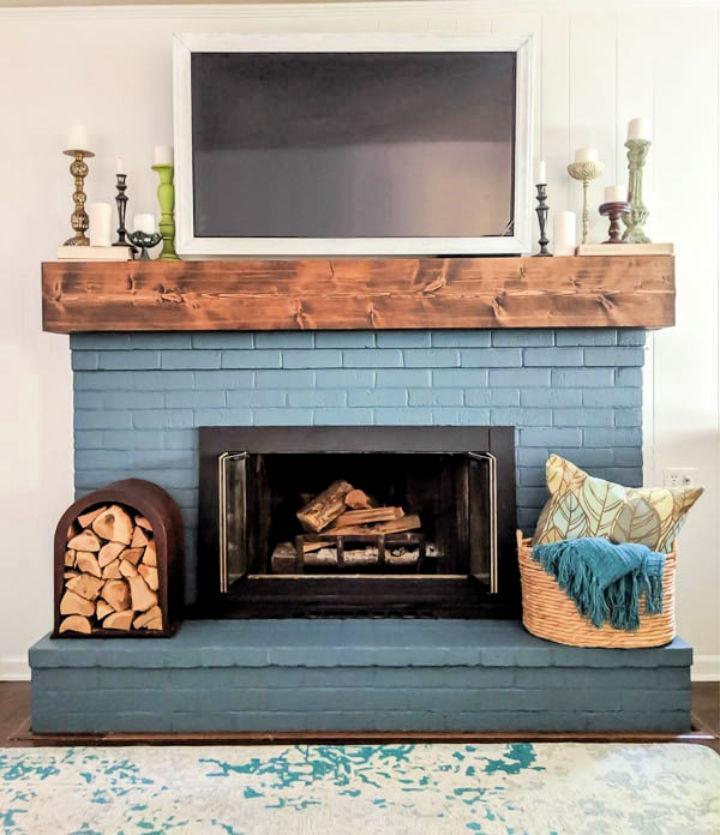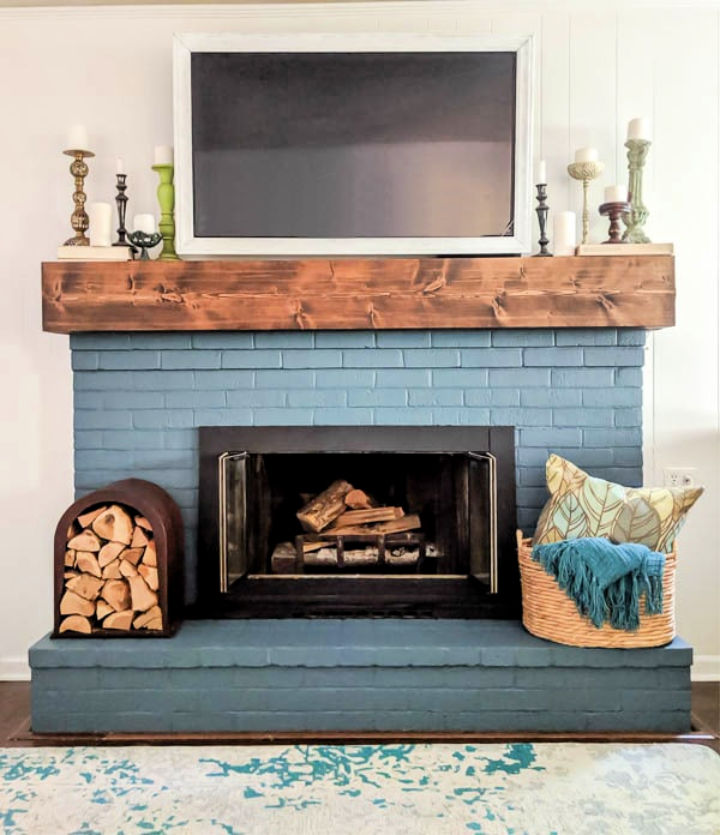 This DIY rustic fireplace decor will be the most efficient and comforting corner fireplace. It will heat up your freezing living room and be a perfect cure for any boring decor. The plan will guide you to build it up inexpensively by using reclaimed wood and a few other supplies. lovelyetc
You don't have to be an expert woodworker to take on one of these quick & easy woodworking projects for beginners. Every project includes plans and tips for success.
3. DIY Live Edge Fireplace Mantel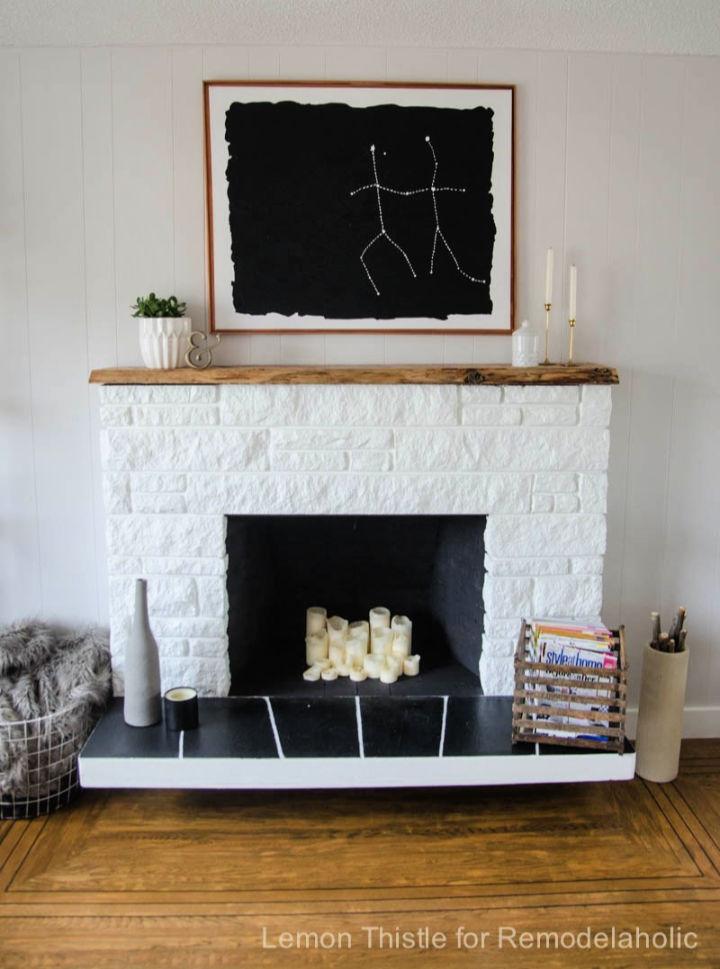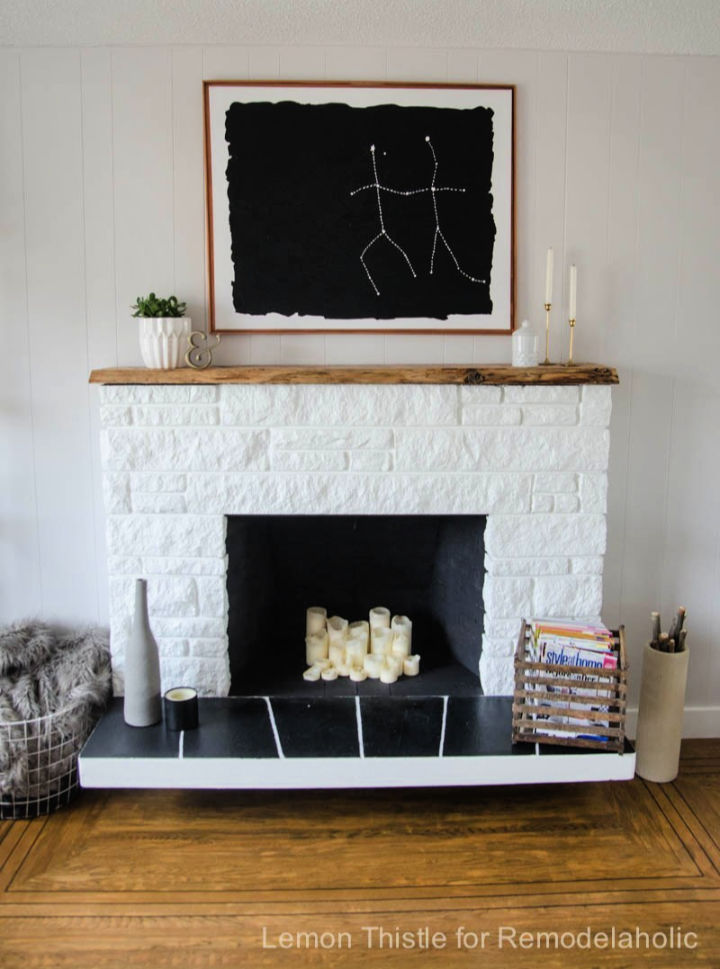 Forget about your furniture goals and look how superb this live edge fireplace mantel looks! Spruce up this DIY fireplace from stones and add live edge wood mantel to upgrade the fireplace area. Walkthrough the link below to get started! remodelaholic
4. Building Wood Beam Mantel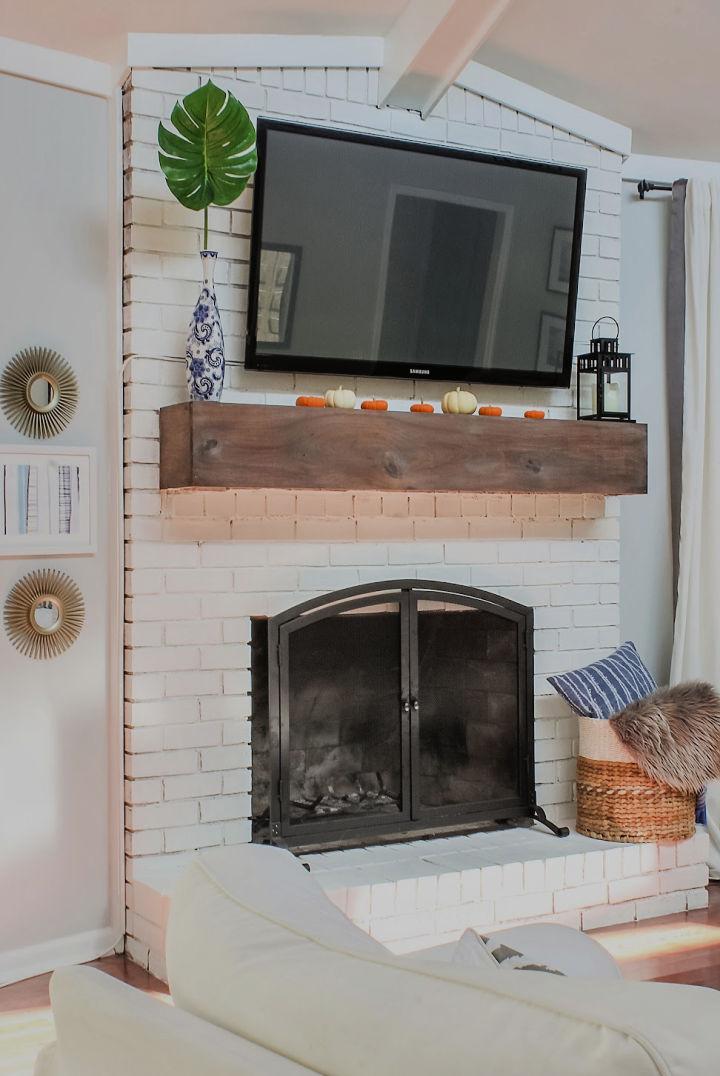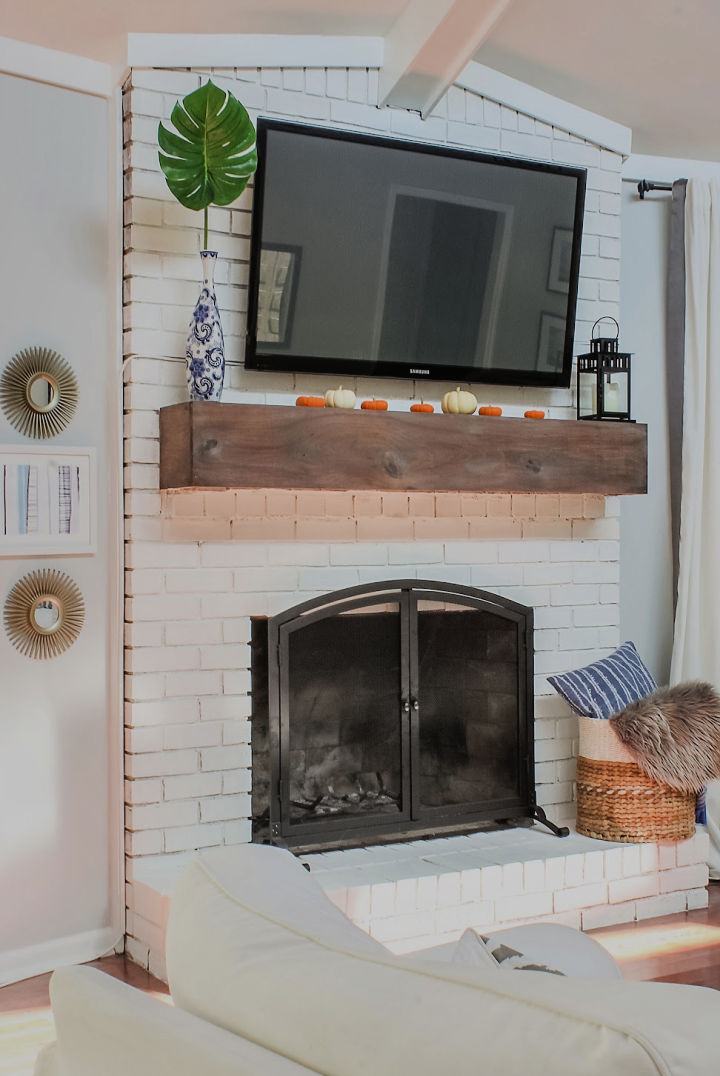 For just under $30, you can build this wood beam mantel at home just by following the tips and tricks here. It will hardly take up your 2 hours of time to nail it. And above all, it will make your fireplace stand out and become the focal point of the room. designingvibes
5. How to Make Fireplace Mantel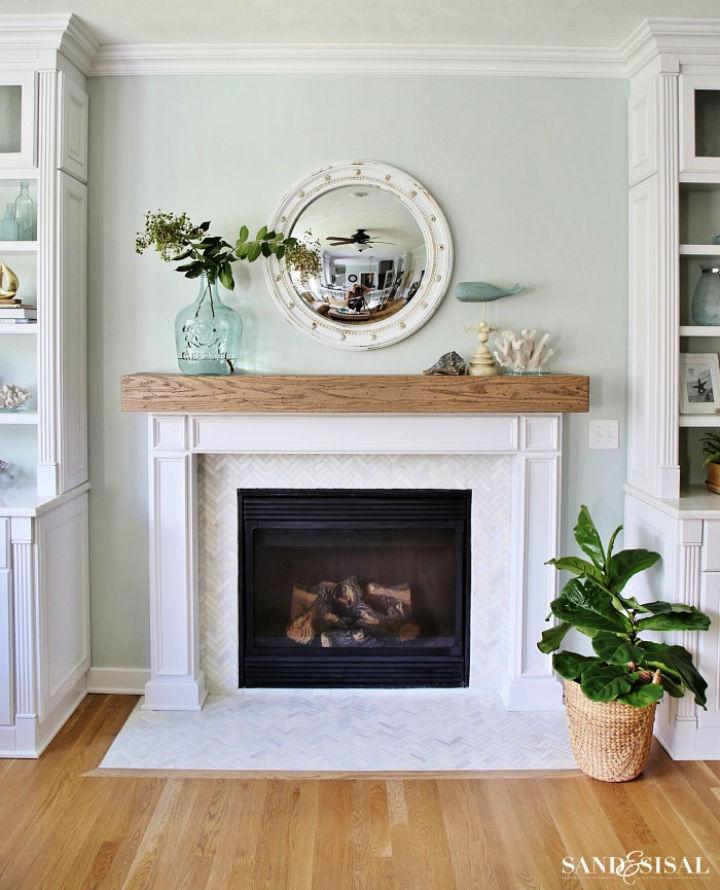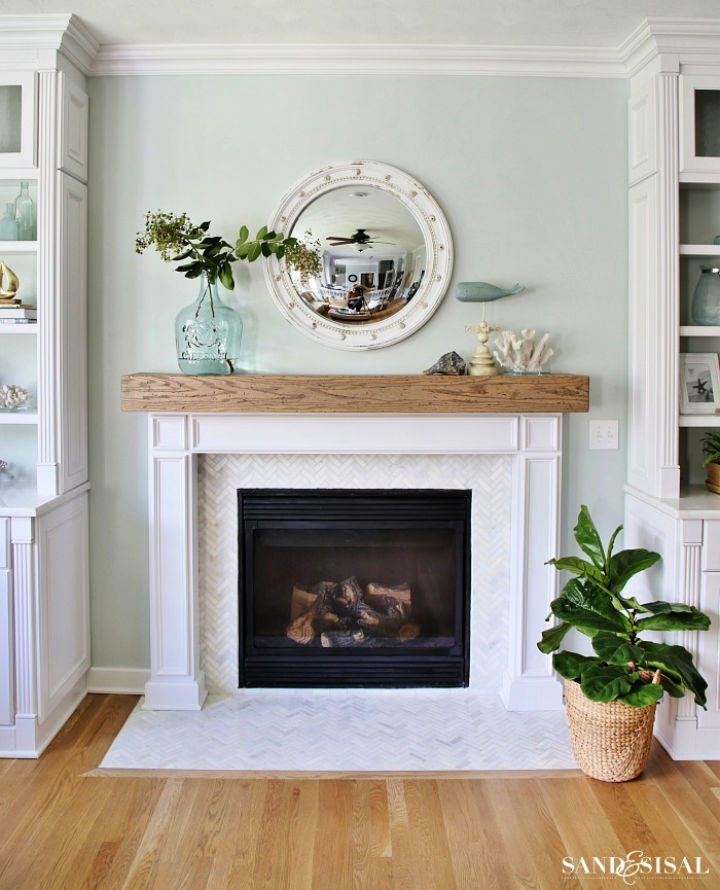 Brace yourself, because you are going to transform your boring living room into a fascinating cozy place by doing this fireplace mantel decor. The method is too simple, and most importantly, it will be furnished without breaking your bank. Go along with the steps to build it, trouble freely. sandandsisal
6. Budget Shiplap Fireplace Surround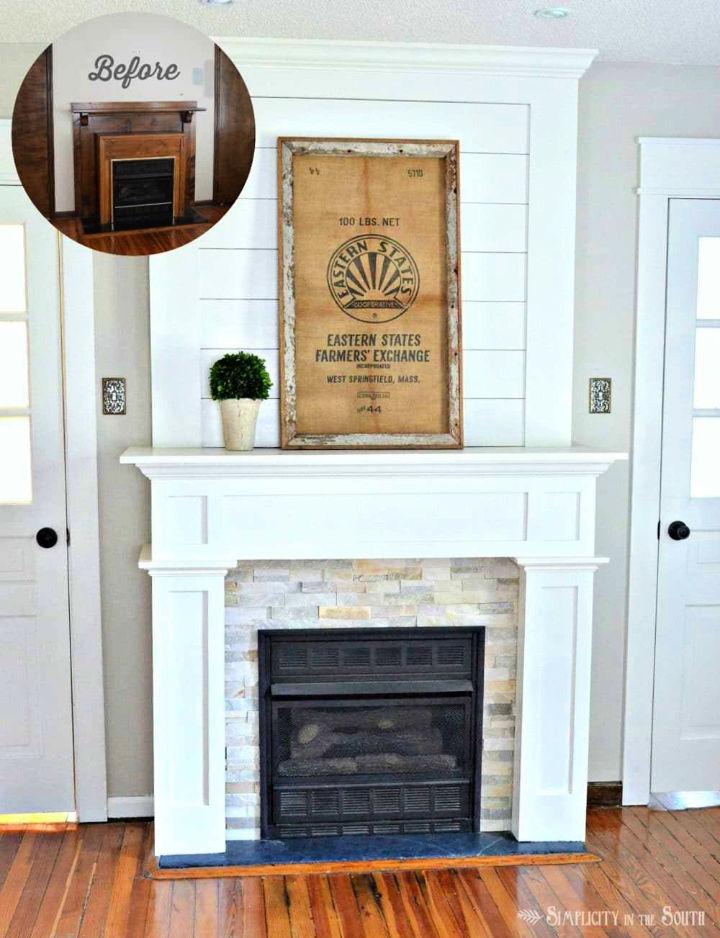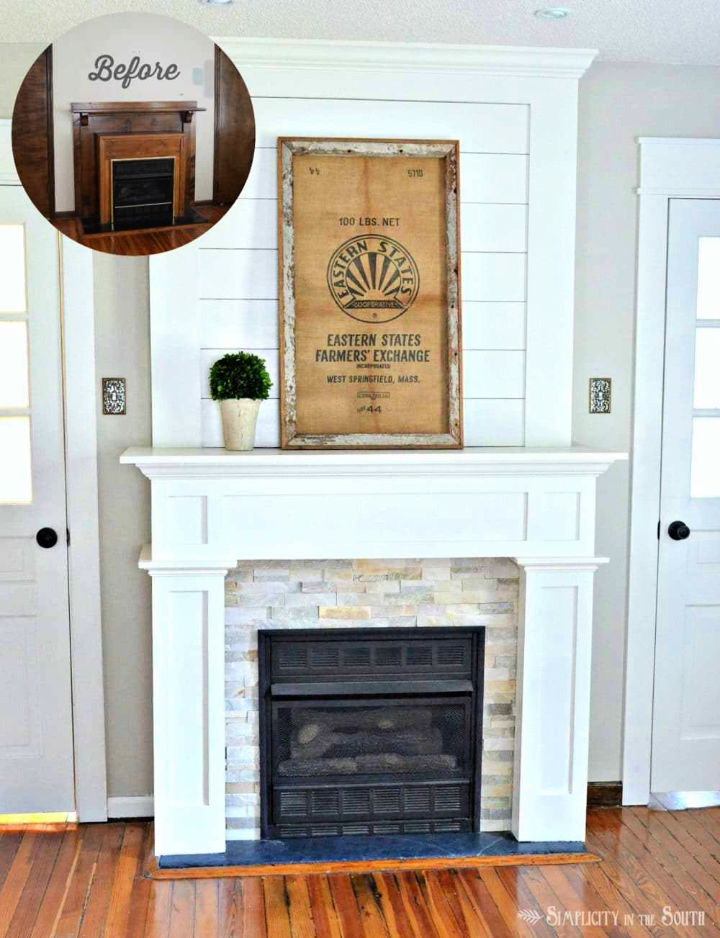 Are you looking to add some rustic vibes to your existing fireplace and its surroundings? But, on a budget? Just follow our fireplace mantel decor ideas. Here is an idea of how you can renovate and do the makeover of your fireplace. For this shiplap fireplace, use supplies such as lumber, molding, and ledge stones and lightning. simplicityinthe
7. DIY Floating Mantel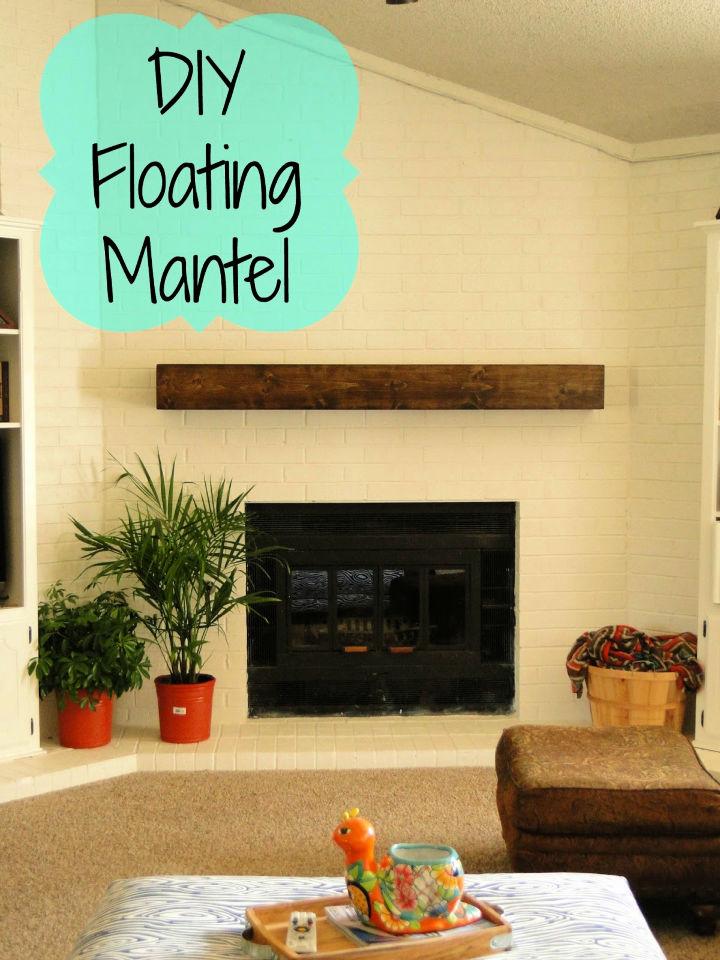 If you find DIY a floating mantel hard to build up, these detailed instructions are here to prove you wrong. The best part is that you can display decoration pieces or the pictures on it and make a perfect corner. Check out the stepwise guide and the list of supplies here. frazzledjoy
8. Faux Fireplace With Mantel Decor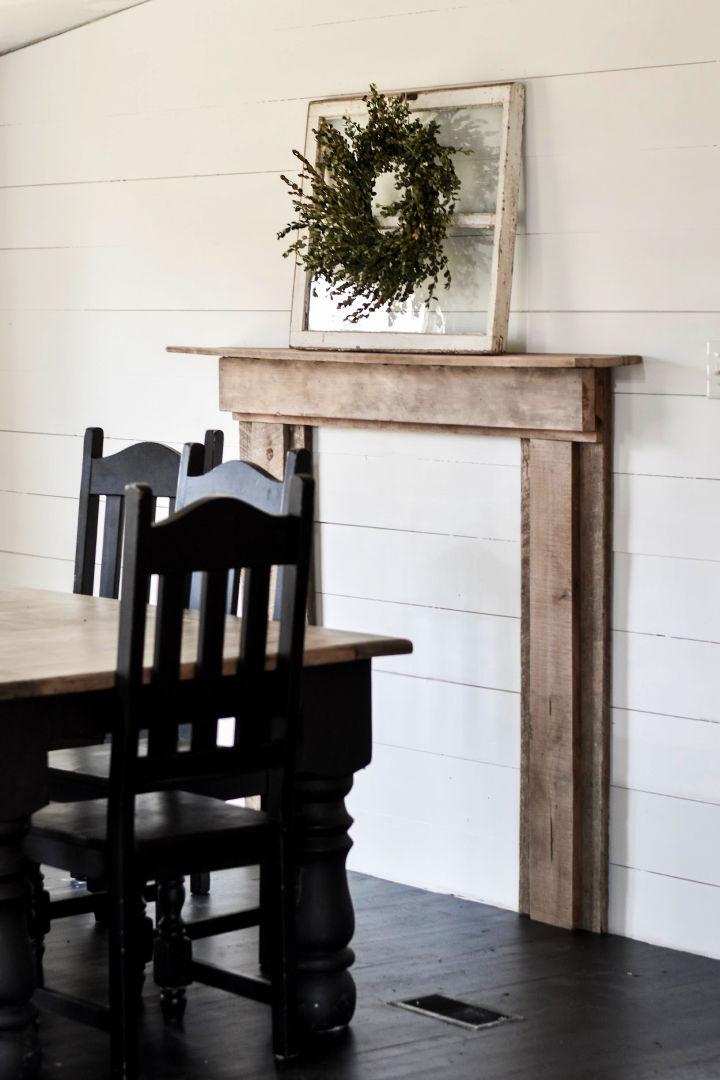 Planning on renovating your living room? Start from remodeling the fireplace first, as it is the focal point of your living room so, it must be breath-taking. Get your hands on supplies like plywood, dowel, screws, wood adhesive, lumber, wood pieces, and varnish. rockyhedgefarm
9. DIY Fireplace Mantel Plan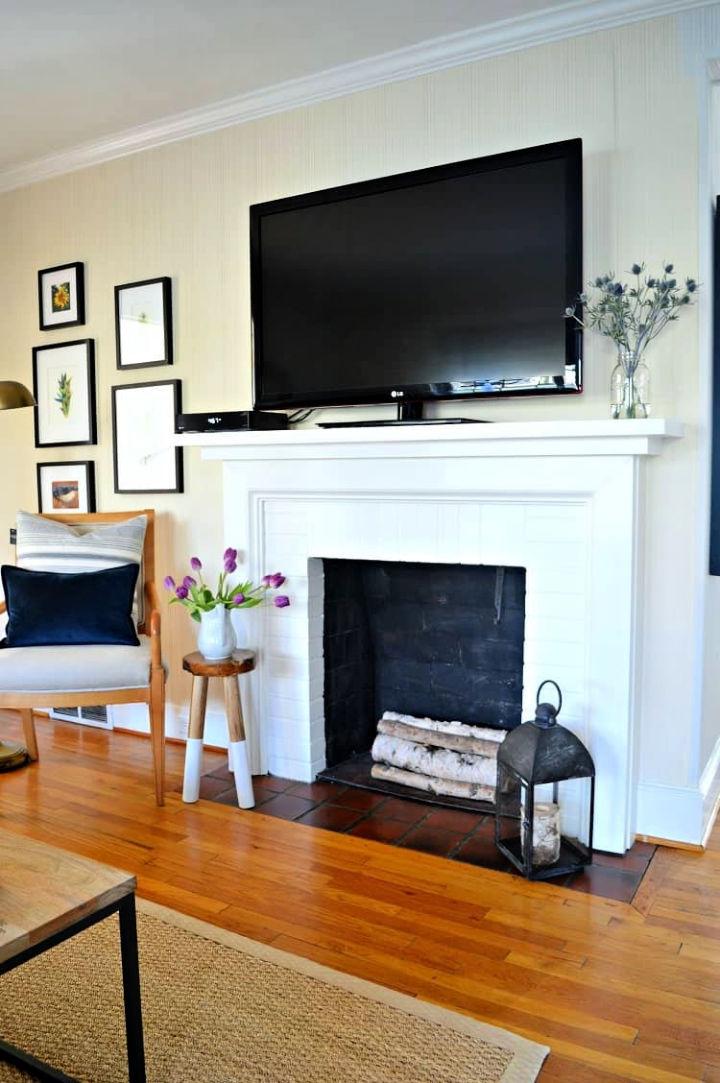 Here is a quick plan to build up this DIY fireplace mantel to add additional style in your master bedroom. It will make your room cozy and warm and provide it with tons of texture and hell of a character. Start your sprucing up the journey by following the directions here. chatfieldcourt
10. Wood Mantel for Brick Fireplace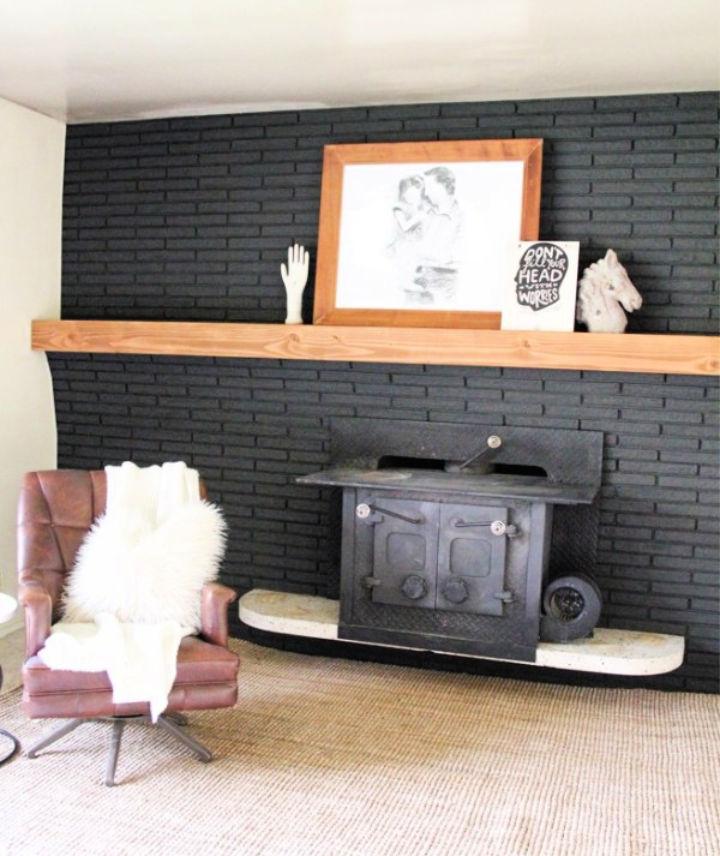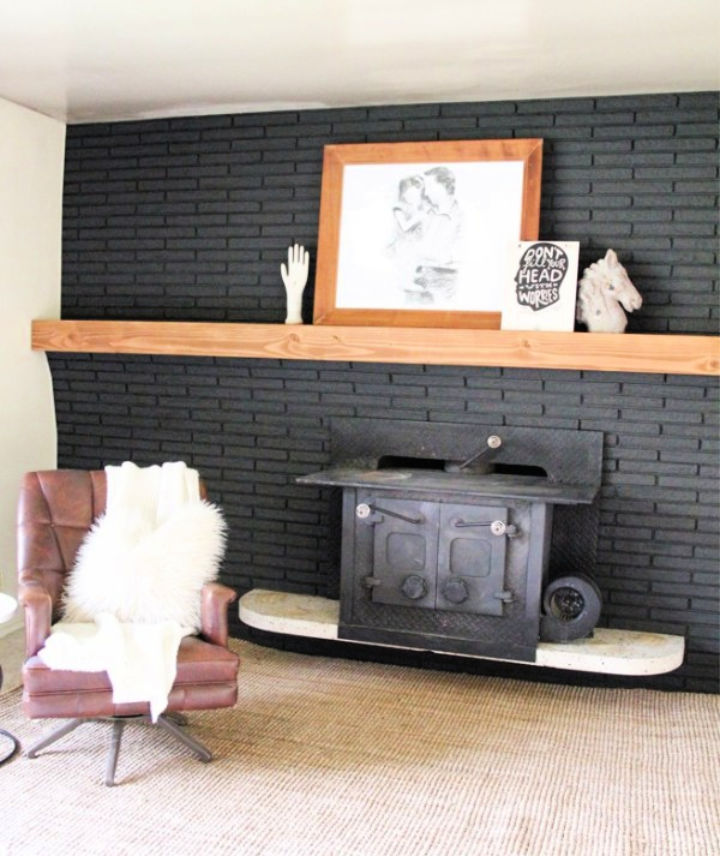 This wood mantel for a brick fireplace will surely add a whole new vibe to your home decor. The project is super swift and totally affordable as well. You can even do it with your beginner's skill. Grab mantel supplies like wooden boards, stain, polyurethane, anchor bolts, and drill. remodelaholic
11. How to Build a Fireplace Mantel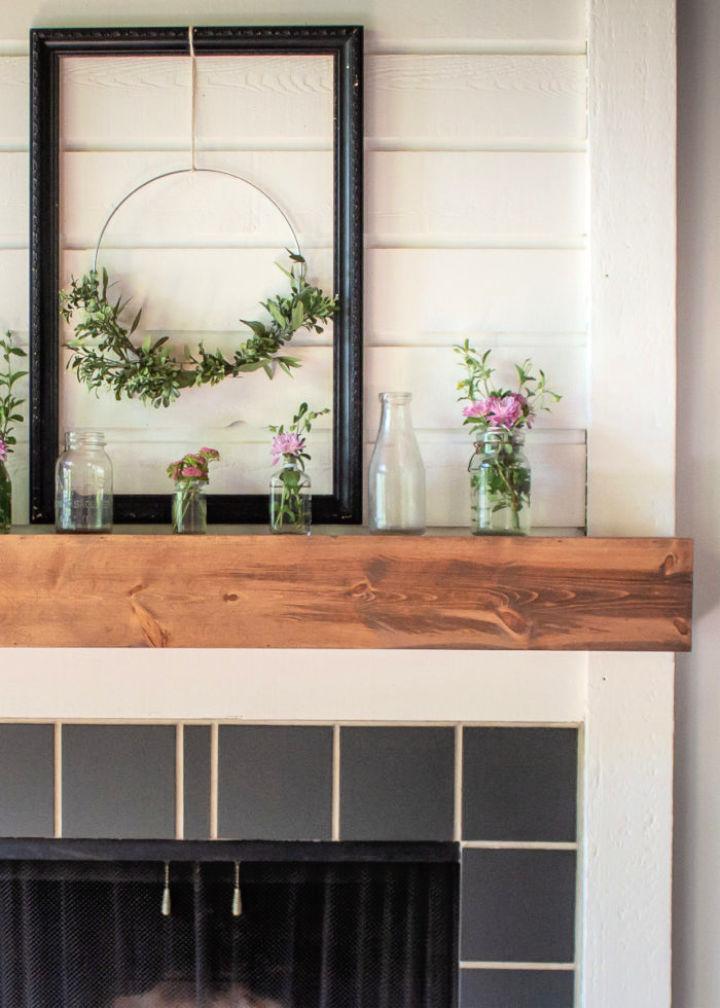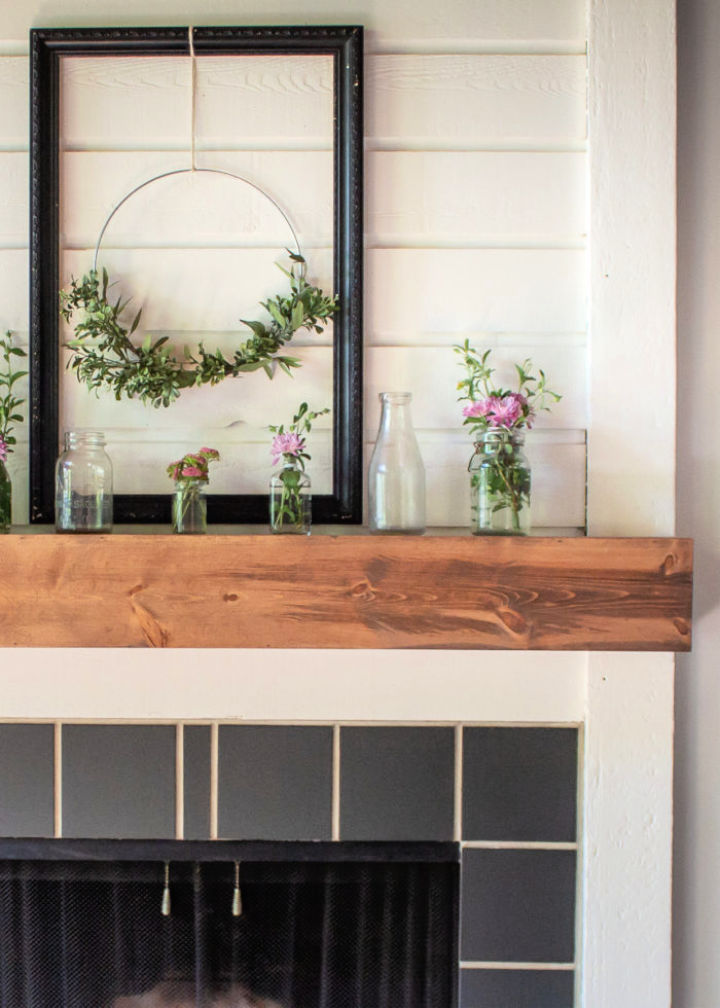 Building this fireplace mantel with just a few tools and supplies will take your living room's interior to a whole new level. It's too easy to build up, and you will love how beautiful it will turn out. The plan includes the instructions, supplies list, and the cut list here. ablossominglife
12. Build Your Own Fireplace Mantel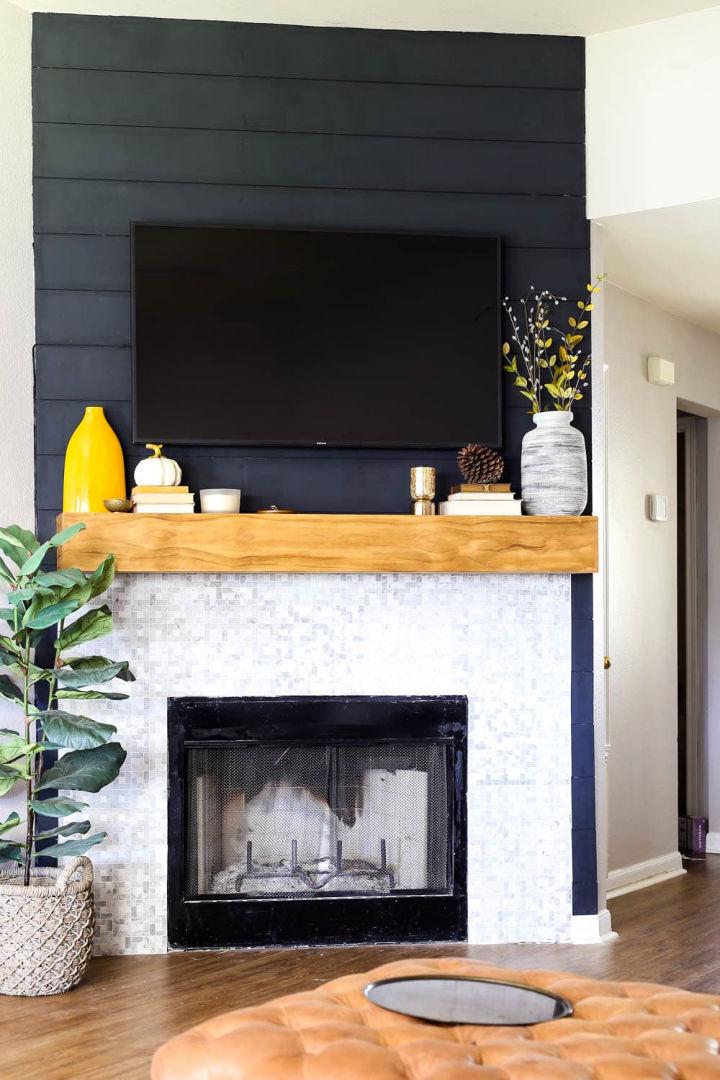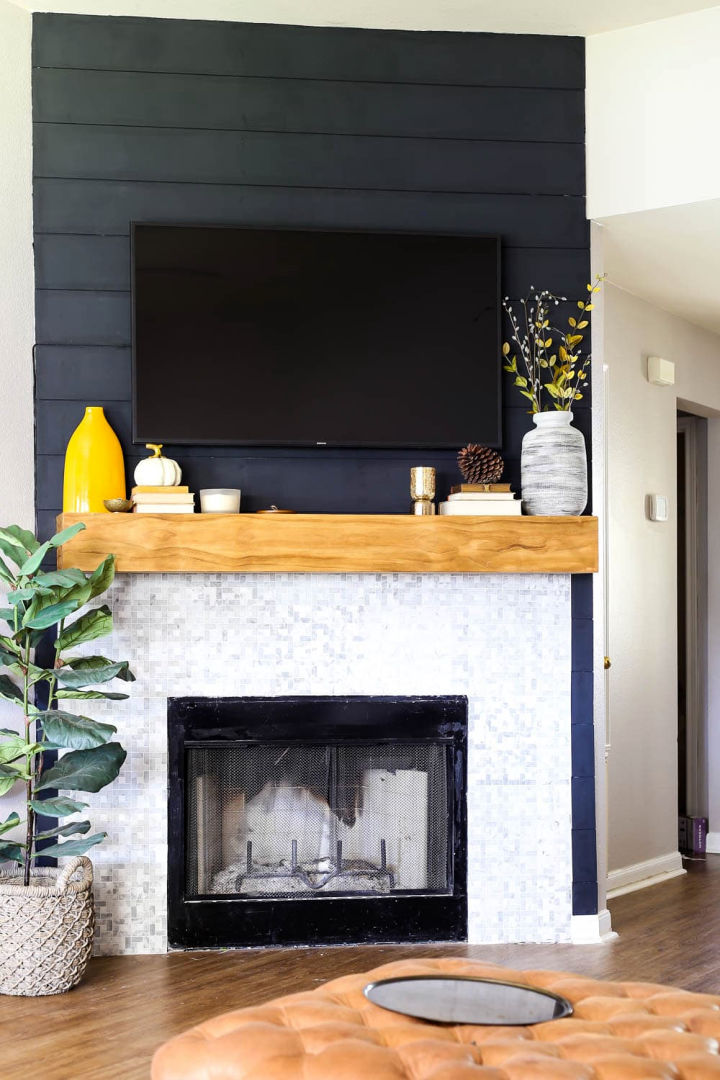 These easy-peasy steps will lead you to build your own fireplace mantel in an evening and for a fraction of the price. It will turn out super whimsical! Use materials and tools like pine, glue, tape, saw, stain, and sealer. loveandrenova
13. Faux Railroad Tie Mantel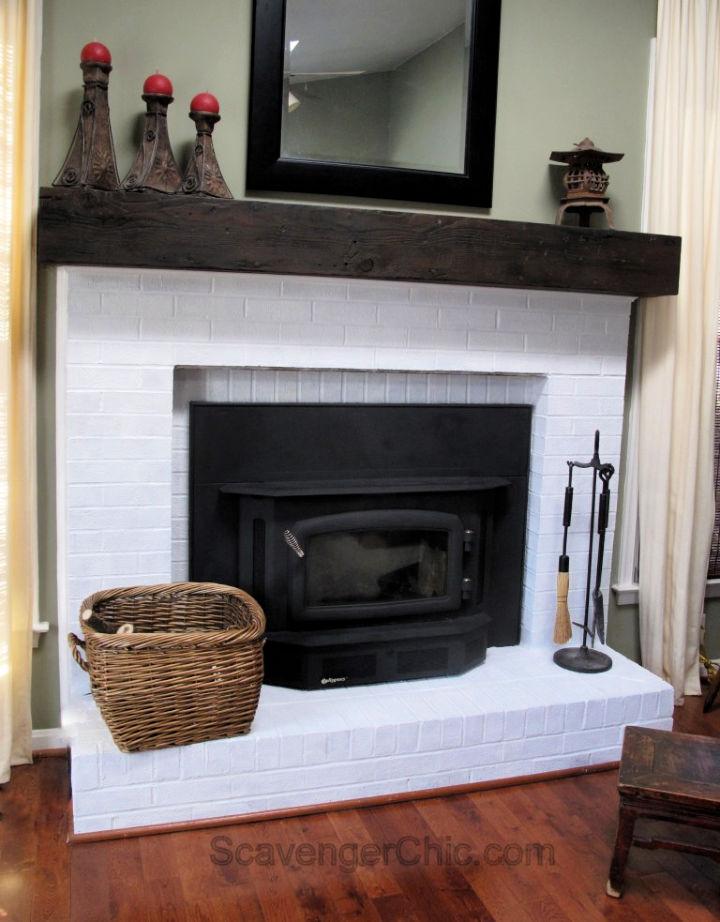 In order to make your living room a cozy and comfortable place plus, to bring loads of character there! Spruce up this utterly beautiful Faux railroad mantel. Its simple to create and can be installed with few supplies. Most of all, you will clearly see the noticeable change in your fireplace. scavengerchic
14. DIY Fireplace Mantel with Storage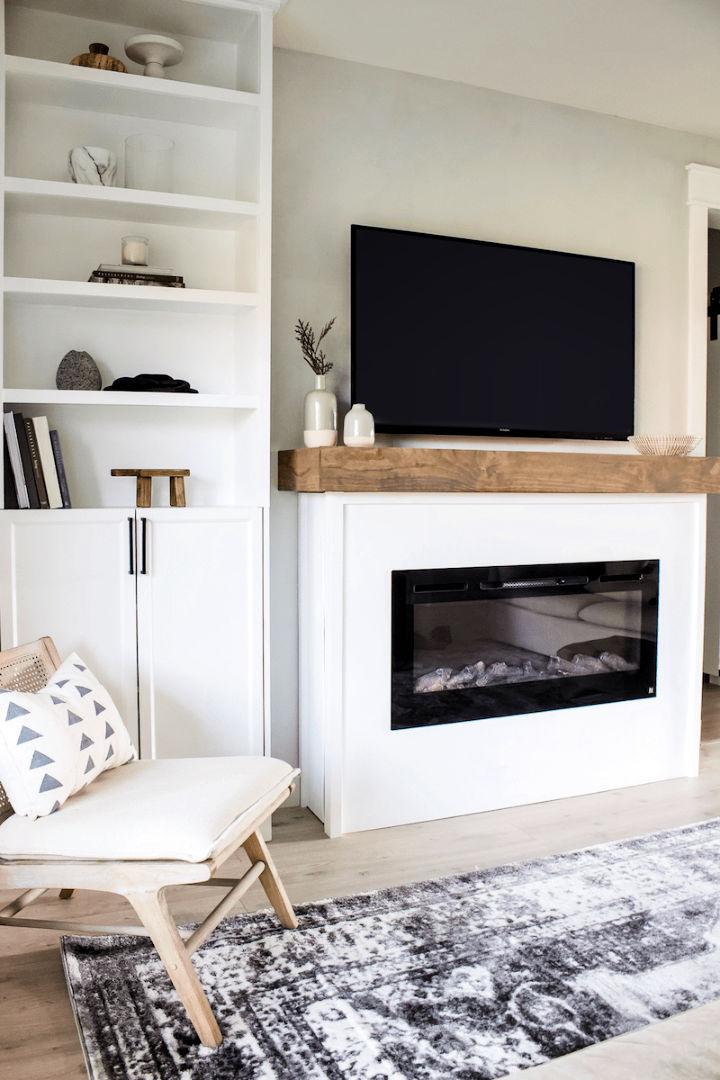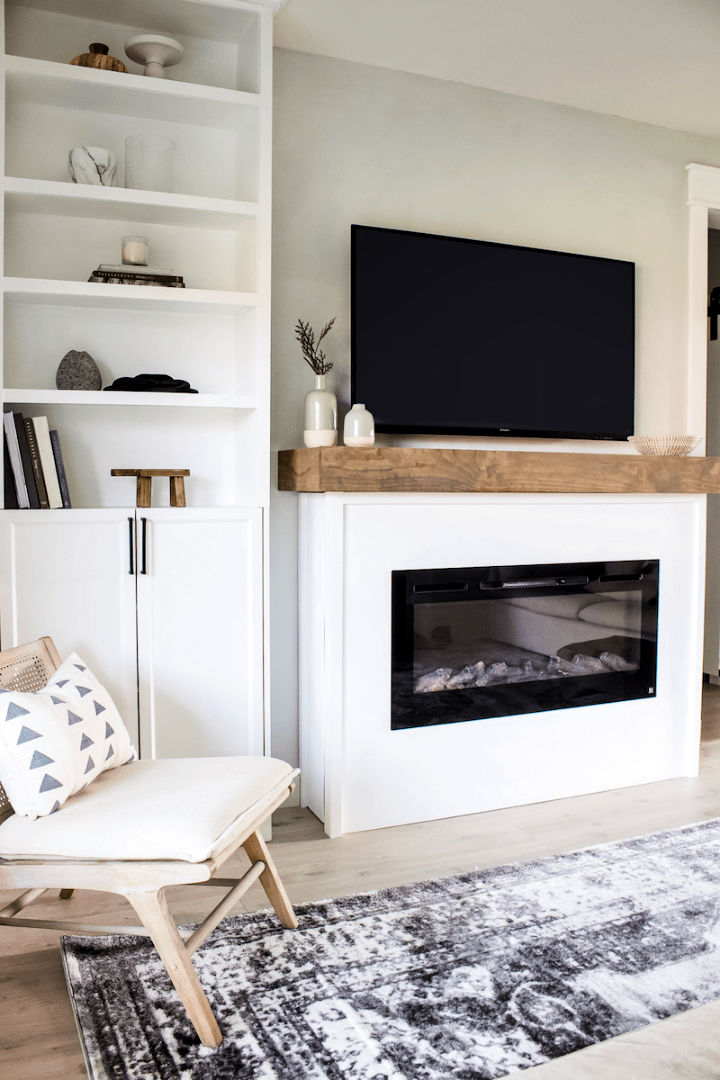 This handy guide on DIY fireplace mantel will escort you to accomplish this project like a pro. This fireplace is extra functional. It will provide you with a massive amount of storage for any clutter and daily usage stuff. You will be done this building on the weekend. Dreamy, right? designedsimple
15. Electric Fireplace Mantel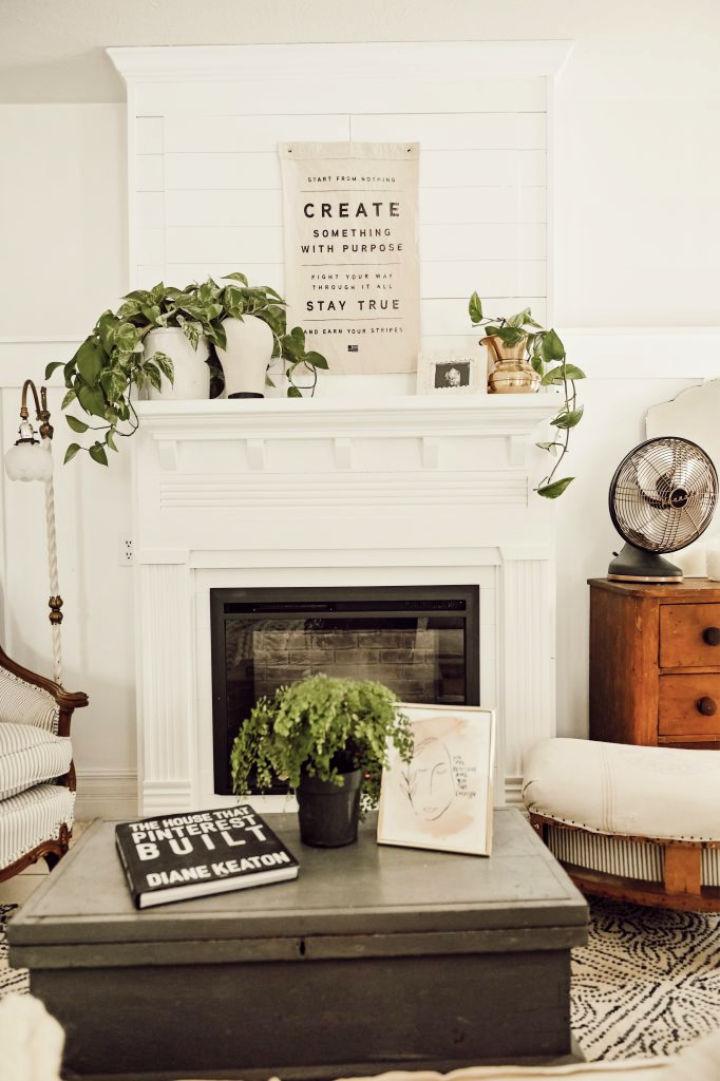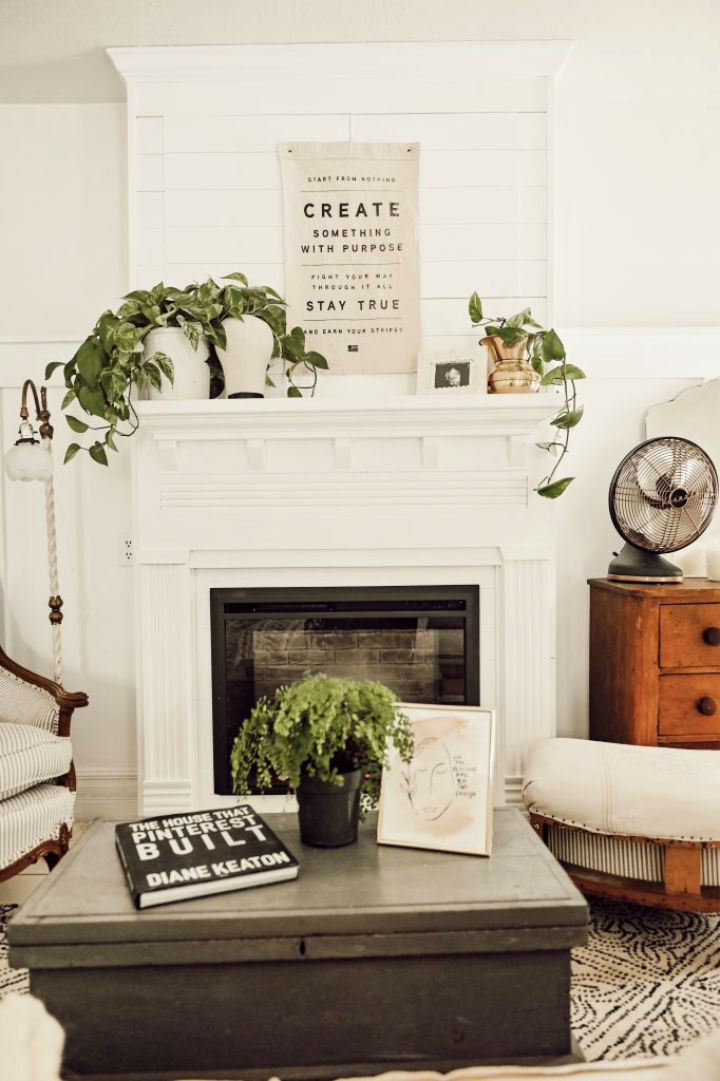 Looking for some exciting fireplace mantel ideas? Switch your regular fireplace with an electric one and enjoy the non-stop cozy time. This is a unique and festive idea of building up a fireplace mantel all at home. Enjoy the appeal of a wooden mantel, while living the warmth from an electric fireplace realm. thewhitecottage
16. Homemade Fireplace Mantel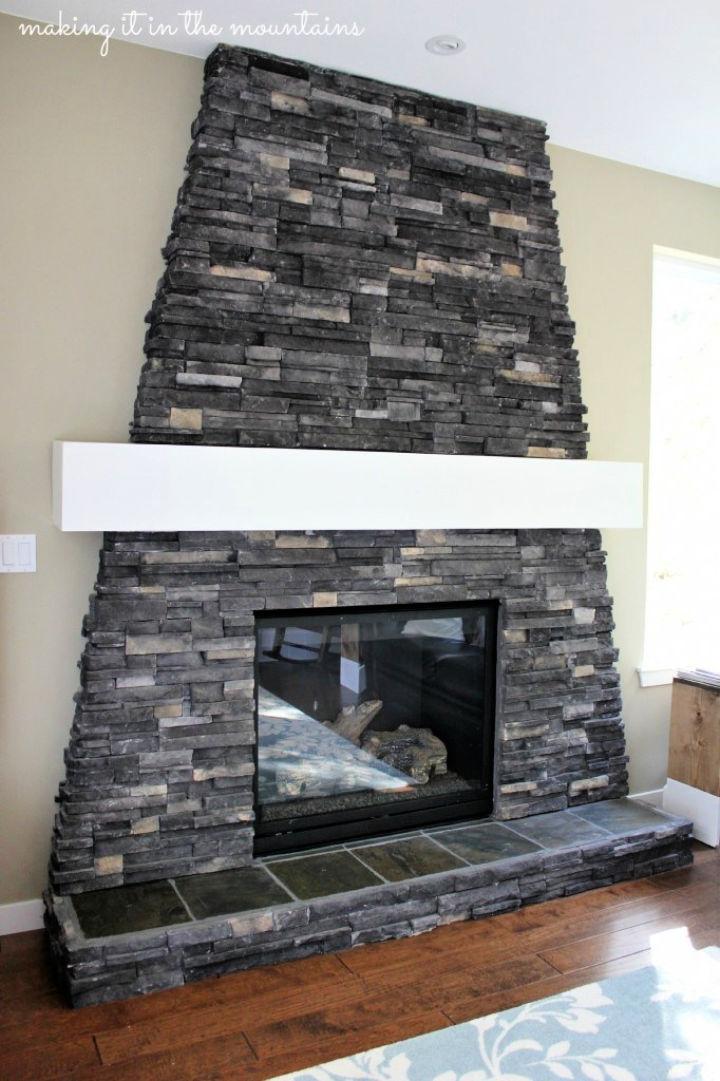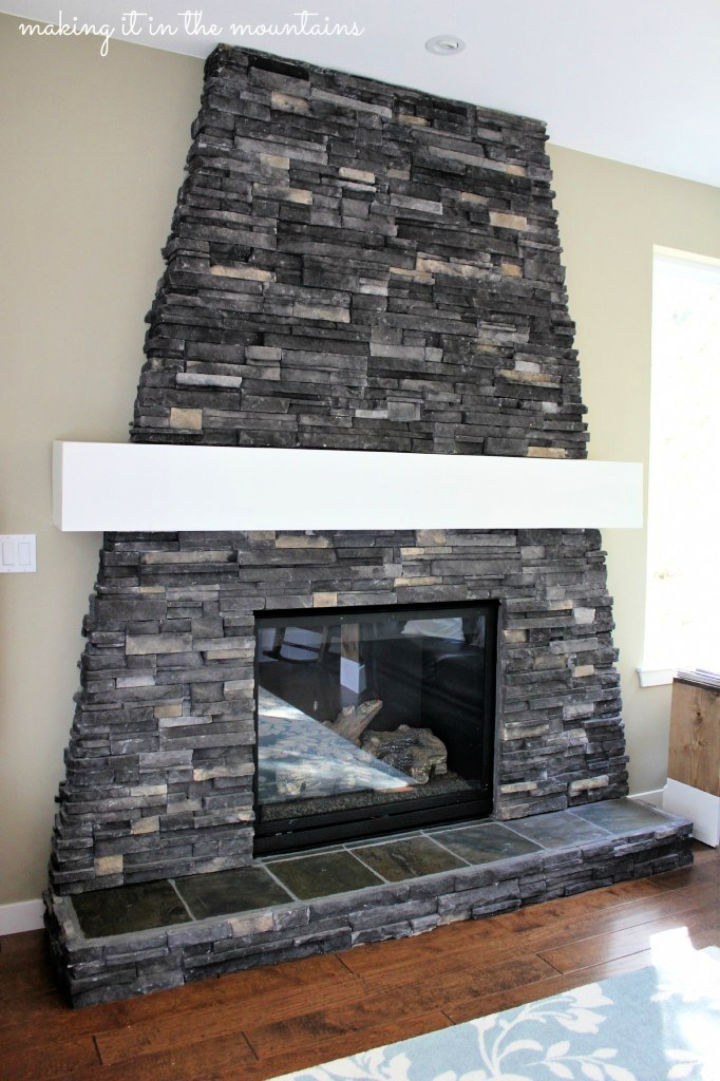 Homemade fireplace mantel is manifold, more durable, and functional than the commercial ones. You can customize the size, style, and color of this mantel, as you like. Get supplies such as pinewood, molding, glue, adhesive, sandpaper, stud finder, saw, leveler, and air compressor to get started by just following these fireplace decor ideas. portablefireplace
17. Faux Fireplace Mantel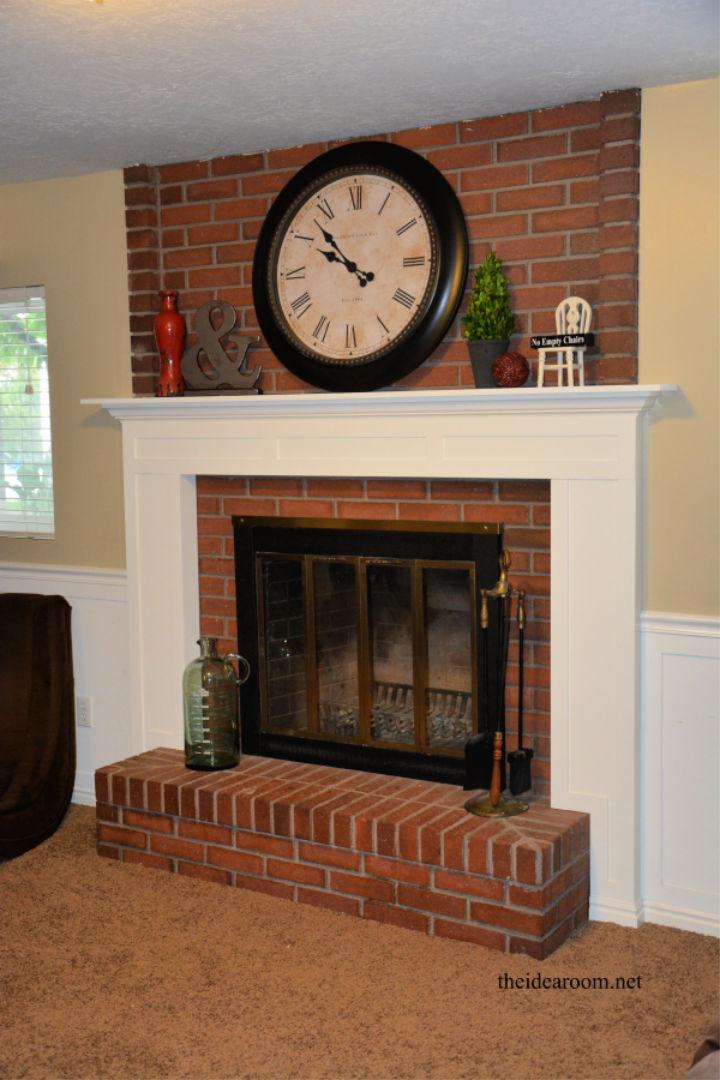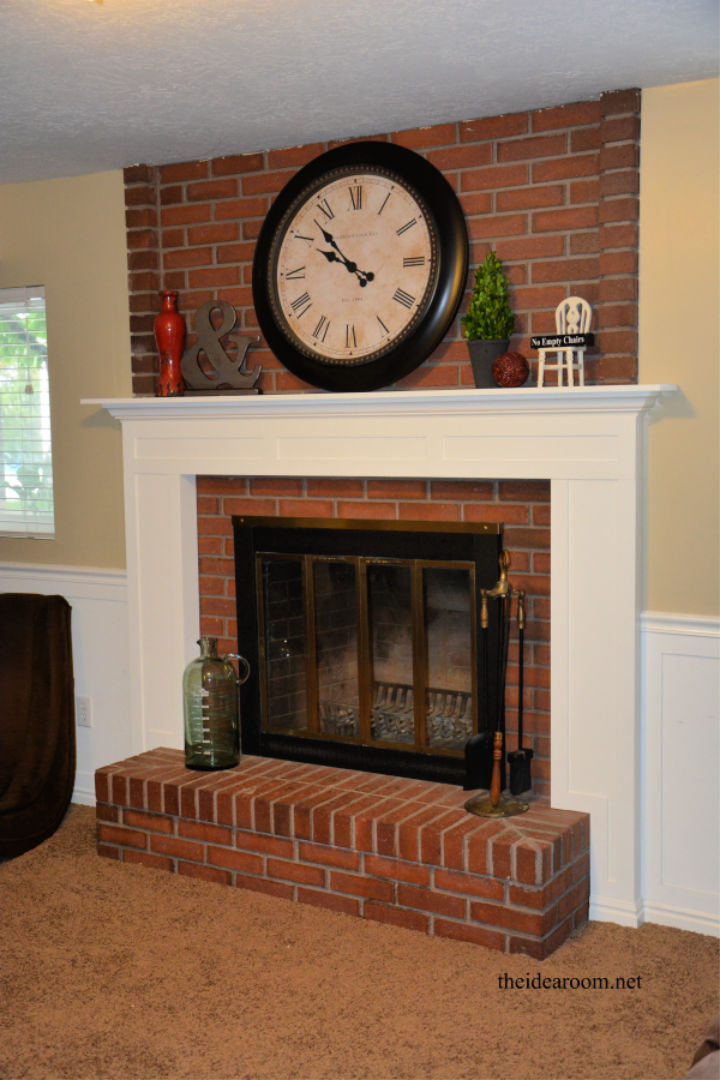 This fireplace decor tutorial will teach you how you can make a faux fireplace mantel from scratch with your basic skills. All you are going to need are the right tools and supplies, and the little know-how to complete this project. Put on your safety gear protection, grab the supplies, and get started. makingitinth
18. Build a Fireplace Mantel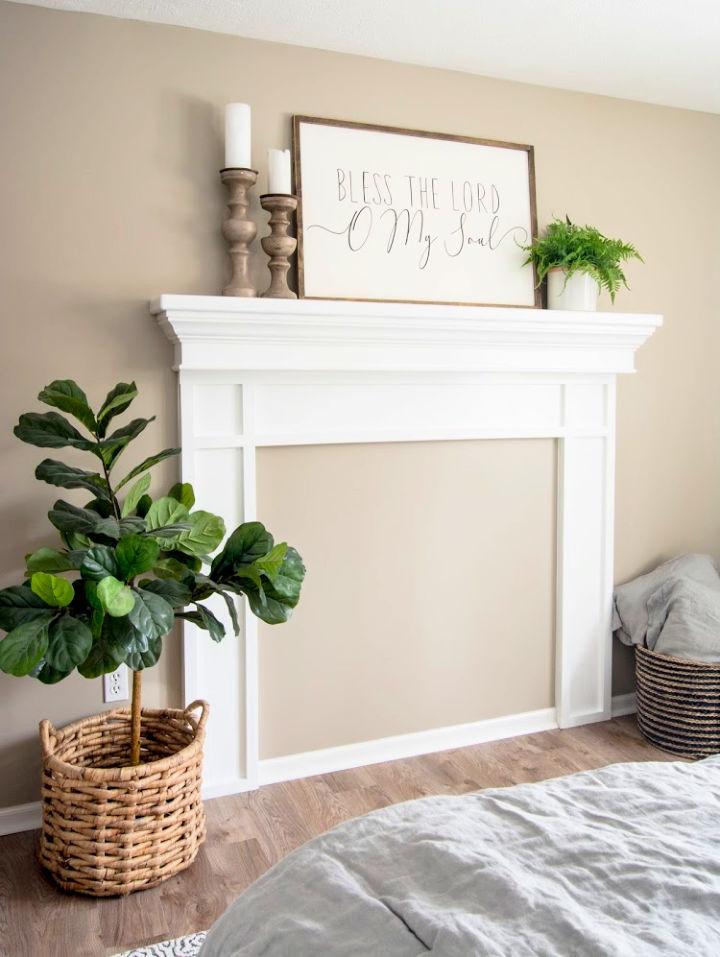 This is the beauty of DIY, a project that you can bring in an assortment of style, theme, and colors according to your own choice. Plus, you can try to sync it with your overall decor theme! What a catch, right? graceinmyspace
19. Build a Rustic Faux Beam Mantel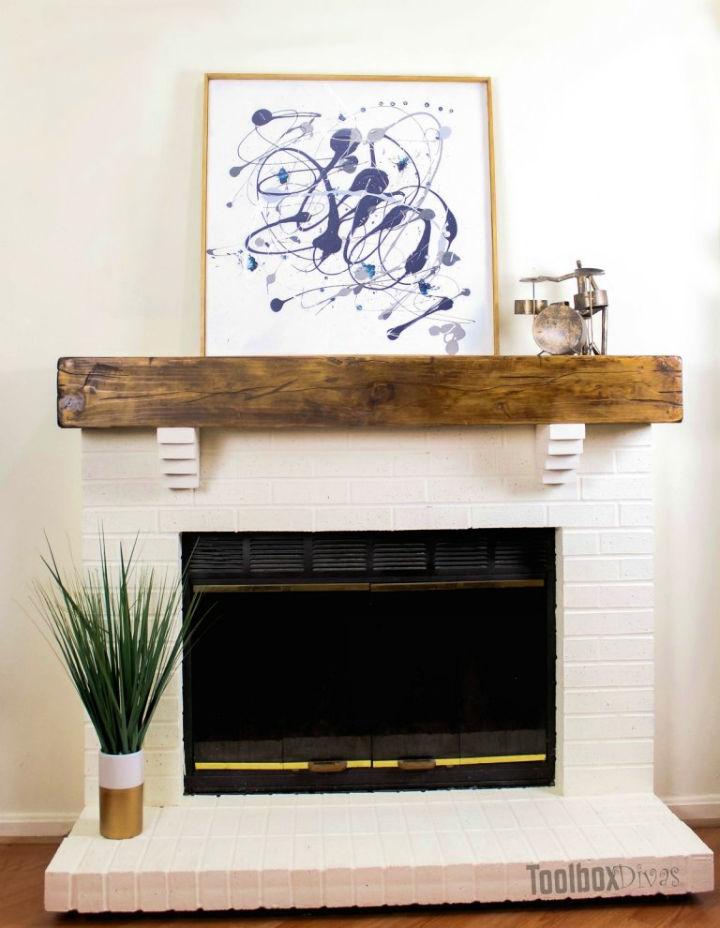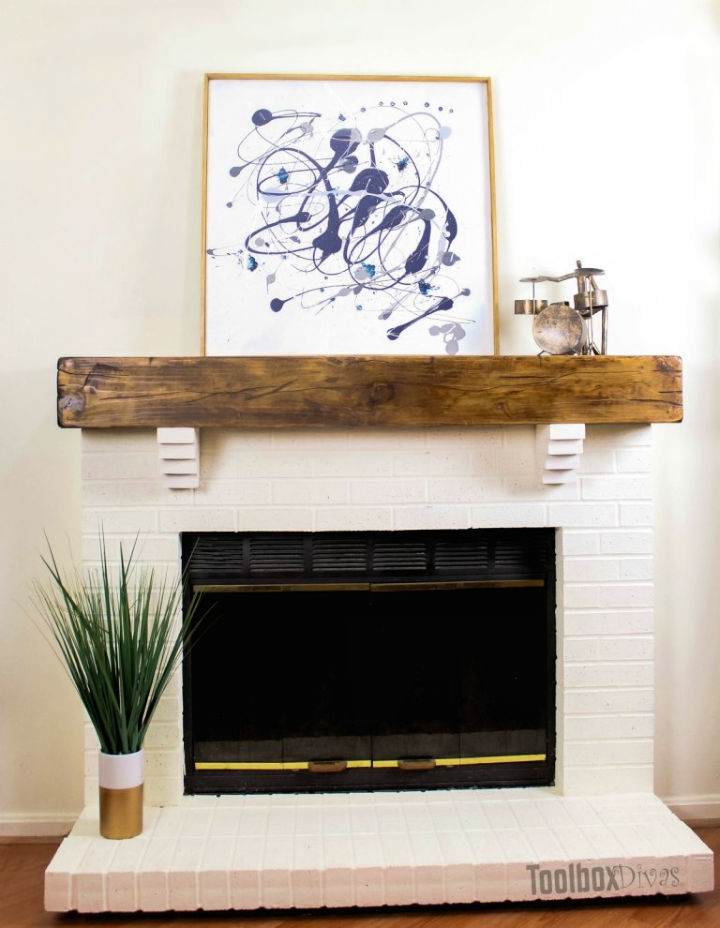 Turn your plain fireplace into this rustic faux beam mantel by following these fireplace mantel decor ideas with step by step tutorial! It will demonstrate to you categorically the how-to details. Plus, it will work quite efficiently and will keep warming your home for years. Needed supplies are wood boards, wood filler, dye, glue, and polyurethane. toolboxdivas
20. Faux Fireplace Mantel Surround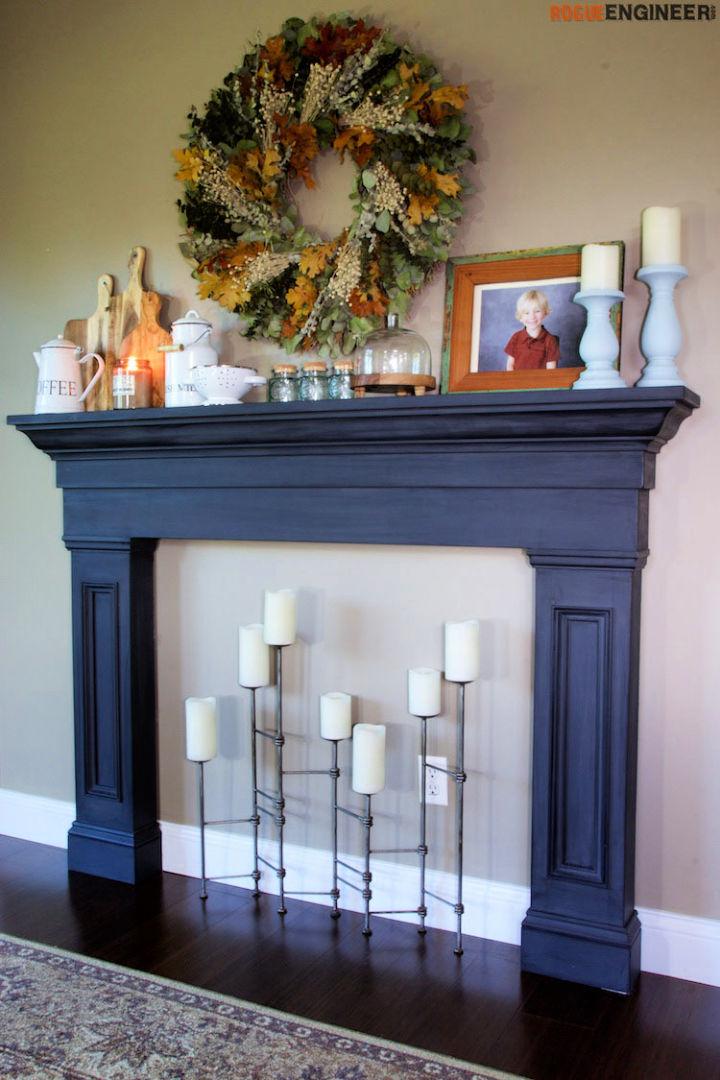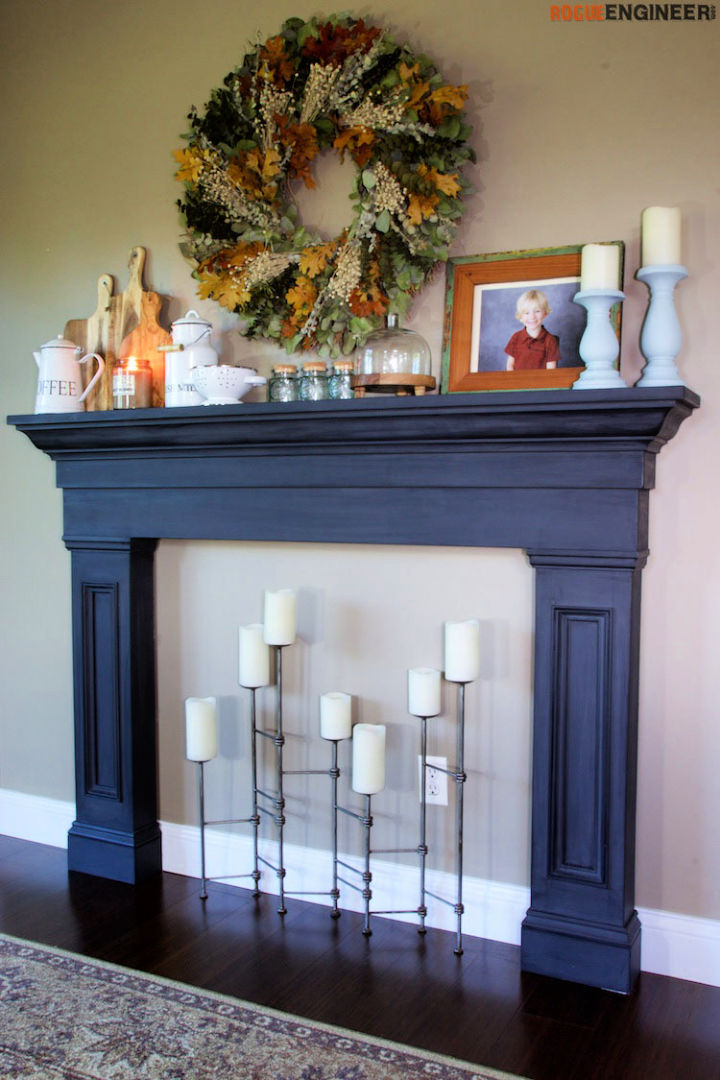 The surroundings of the fireplace count a lot when it comes to bringing chic appeal in the mantel. It's a decorative framework! Make your living room stand out by building it with supplies such as saw, birch plywood, baseboard, wood glue, and primer. rogueengineer
21. Fireplace Mantel Using an Old Door Frame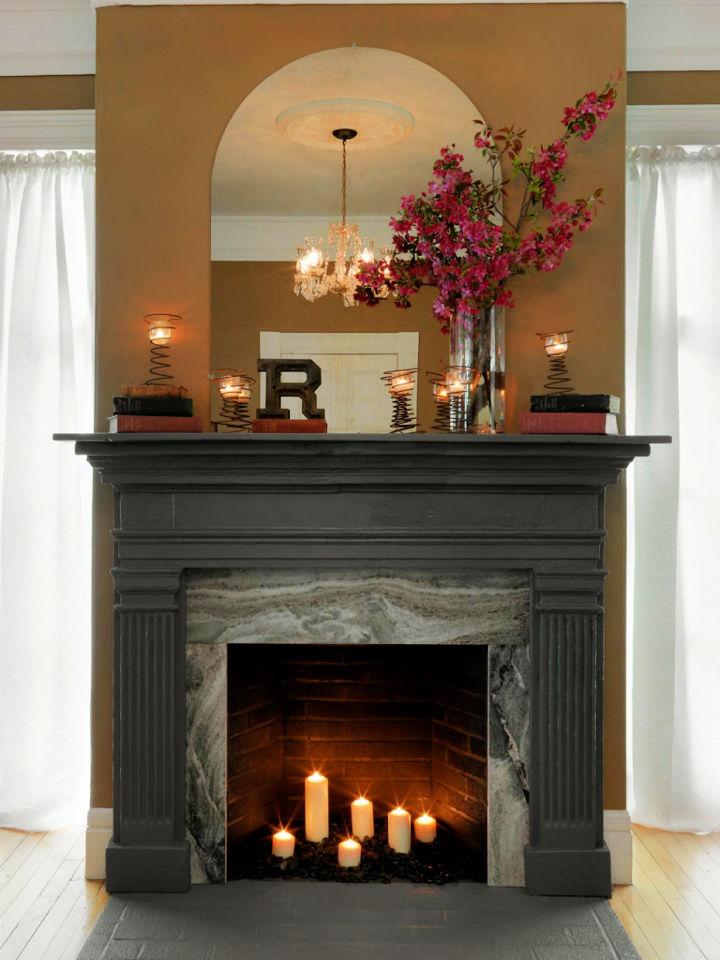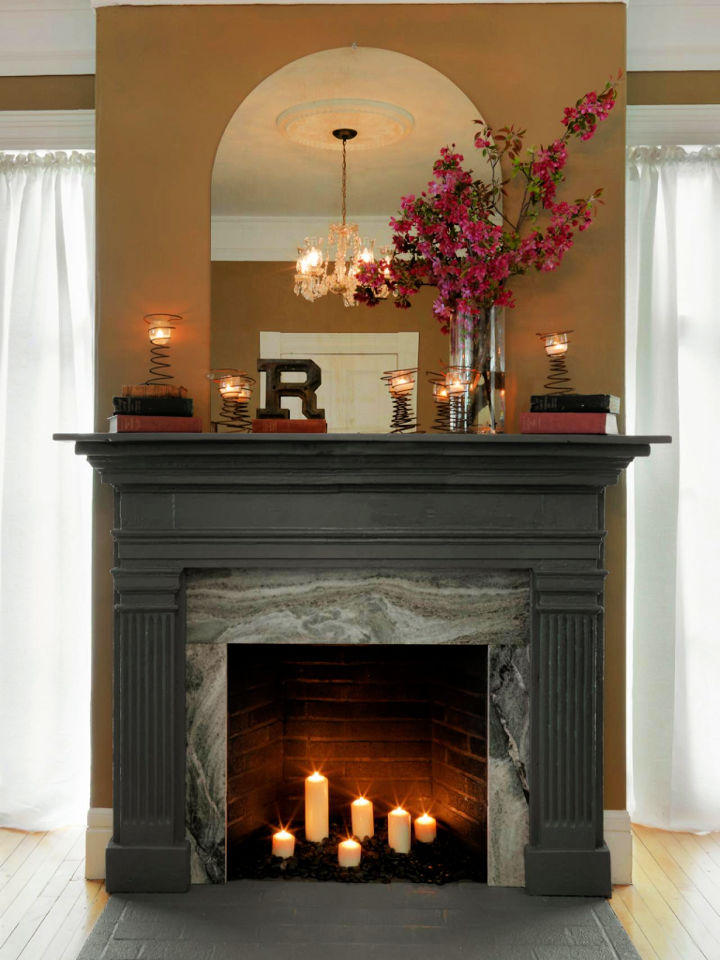 Everyone has old stuff lying around their house. Why not use it up and make something interesting out of it? Here's a very cool idea for making a DIY fireplace using an old door! Isn't that just perfect? No need to work too hard and cut a lot of wood. diynetwork
22. Fireplace Mantel Decor and Hearth Makeover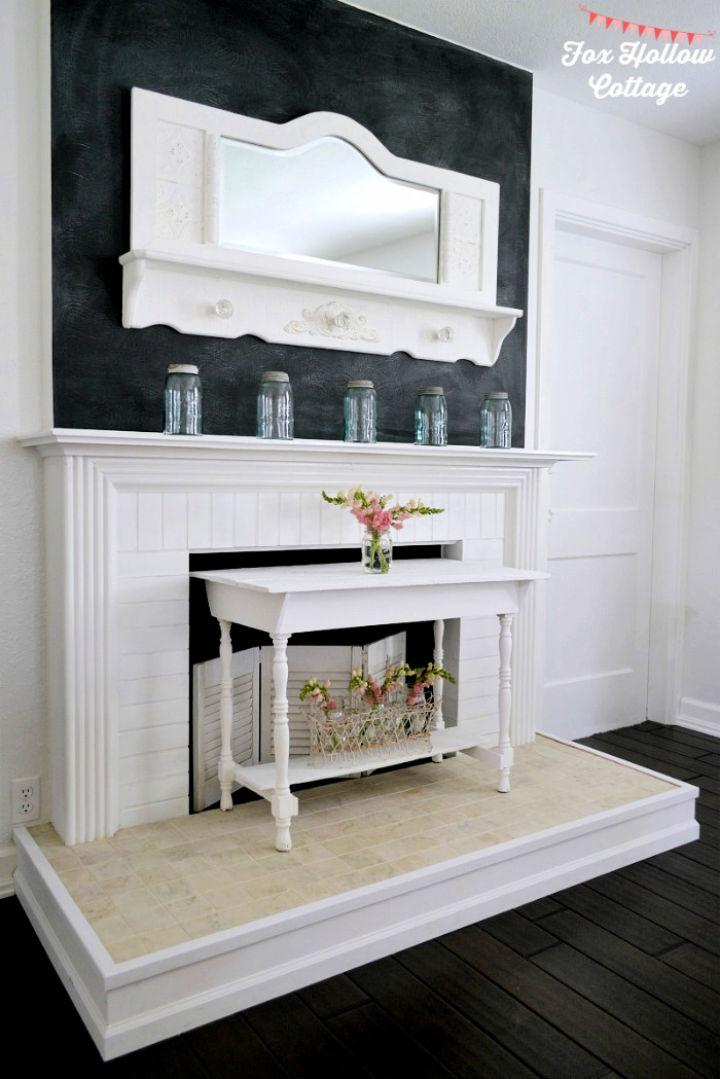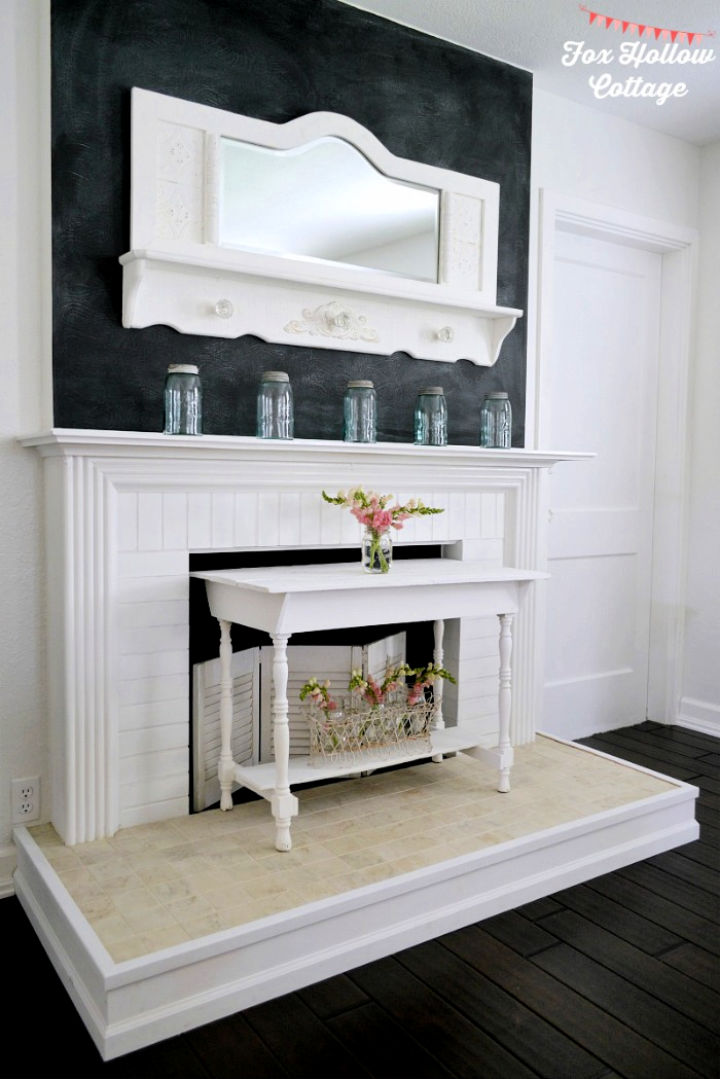 No one has to spend a ton of money on making their own fireplace. If you're on a tight budget, you shouldn't get it professionally done as it is quite easy to do on your own. Start off the project by cleaning your bricks and taping off the mantel area. foxhollowcottage
23. Simple DIY Painted Mantel

How pretty is this fireplace? You will love the final product as it is very aesthetically pleasing! The best part is that any beginner can make this project a success. Wood glue, paint, nail gun, hammer, plywood, and a few other materials will be required for you to nail this plan. checkinginwith
24. Build and Hang a Mantel On a Stone Fireplace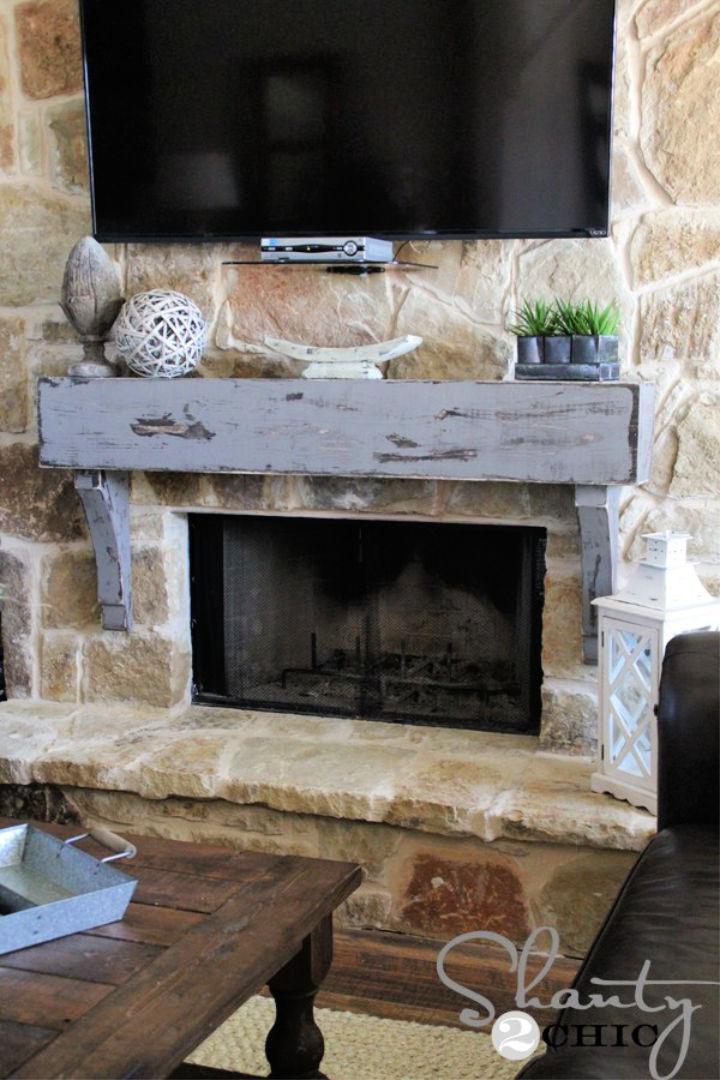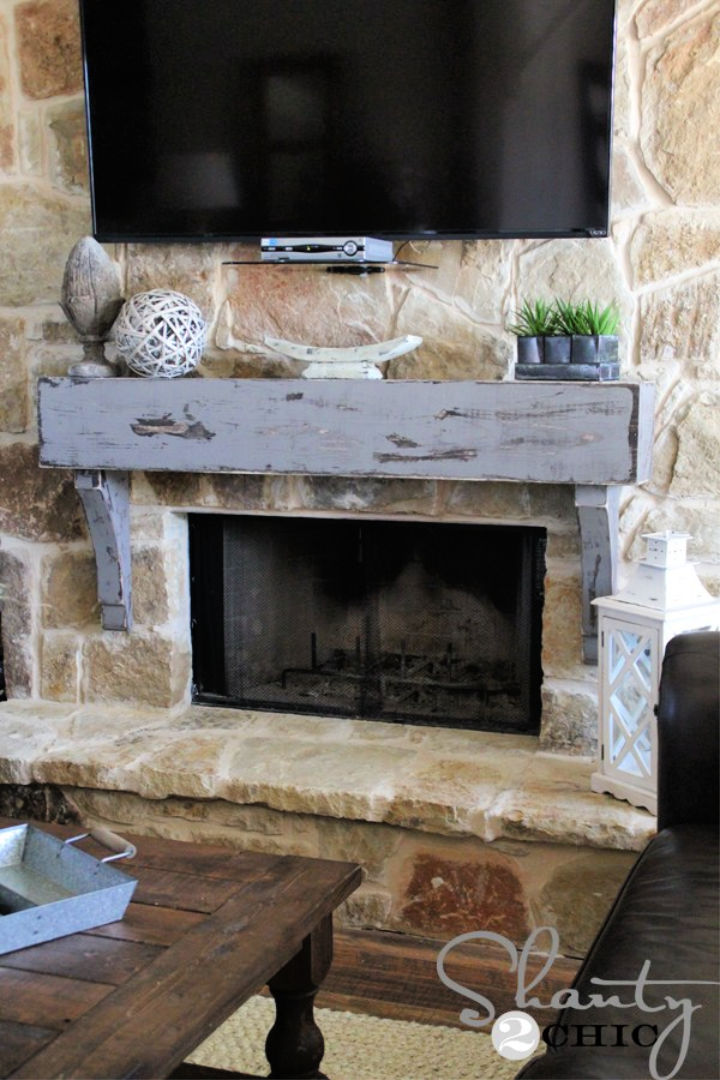 Who doesn't like to have a good fireplace in their house? It makes a house look more beautiful and pretty! The theme and color of this will go perfectly with any house of any vibe. Are you ready to make your house look super cozy and warm? shanty 2 chic
25. How to Build a Fireplace Mantel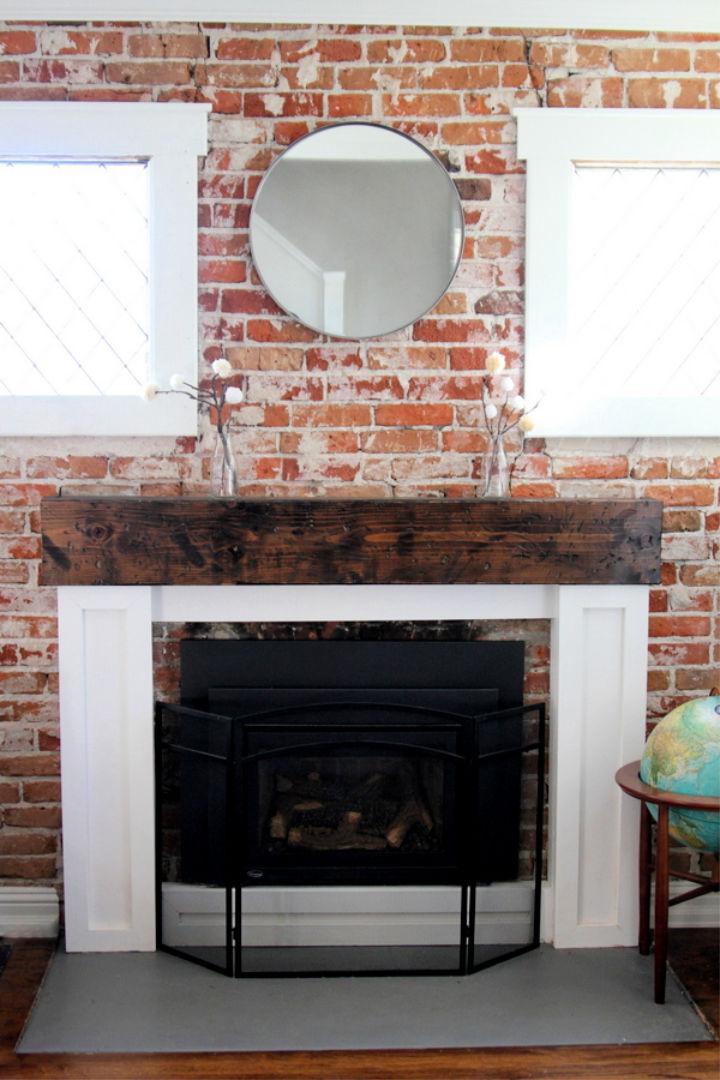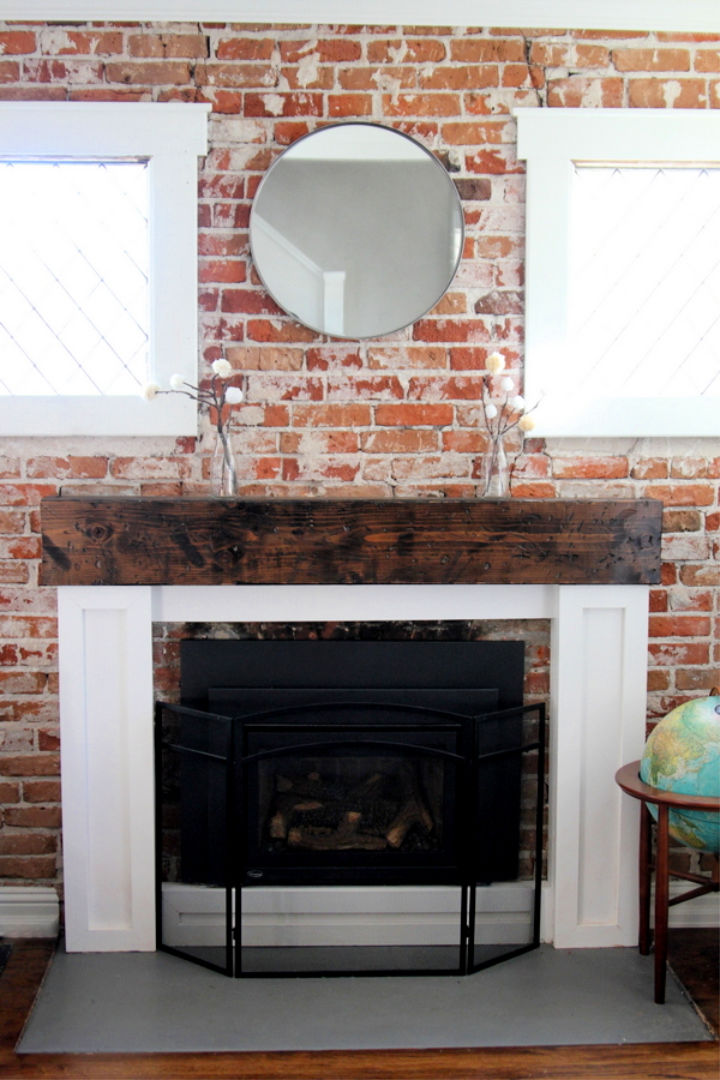 Professional fireplaces can be very expensive, and no one wants to spend that much money on a single fireplace. In order to make it at home, you will require a budget of around $100! Yes, that's how less it is to make it at home! These fireplace mantel ideas are so beautiful! kojo designs
26. Fireplace Mantel Beneath Your Shiplap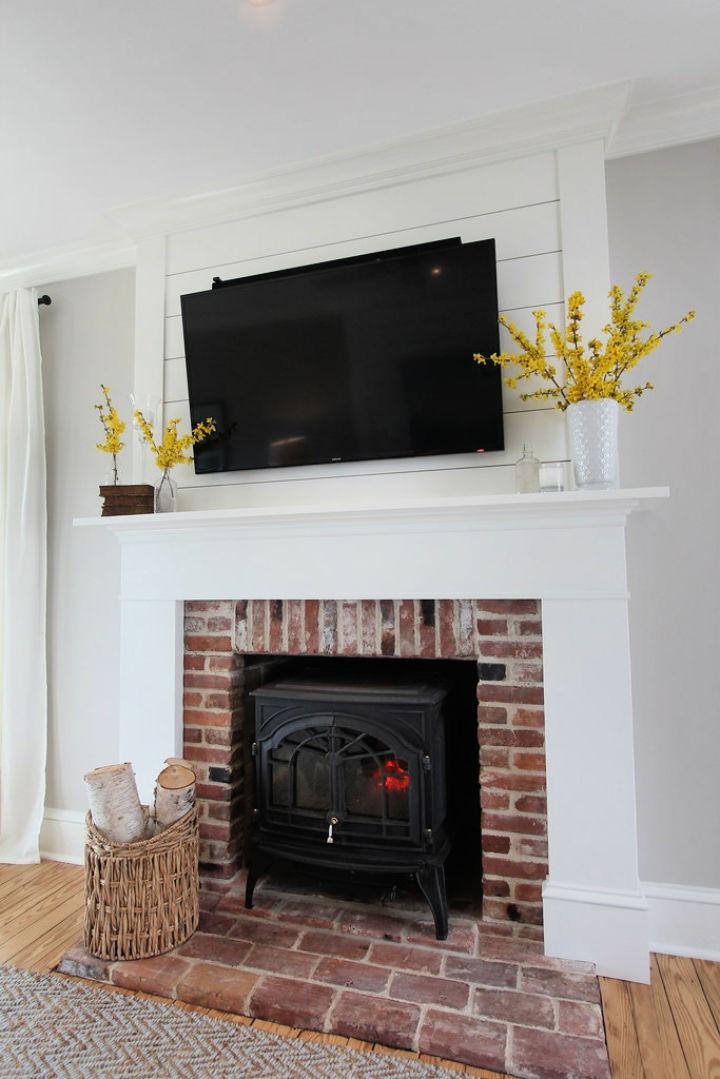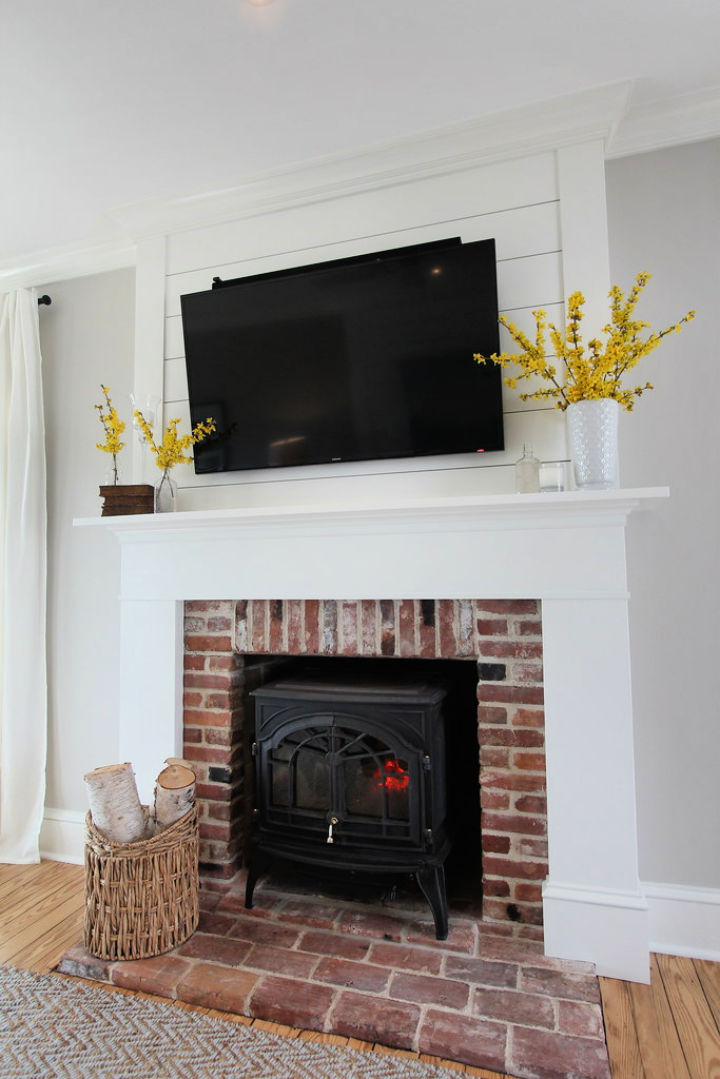 Here's another plan for all the beginners to try at home! Using the shiplap treatment, you can disguise an old look quickly! You don't need many tools or materials for this. Since you're a beginner, tools can be borrowed from carpenter shops or friends. oldtownhome
27. Fireplace Mantel Upgrade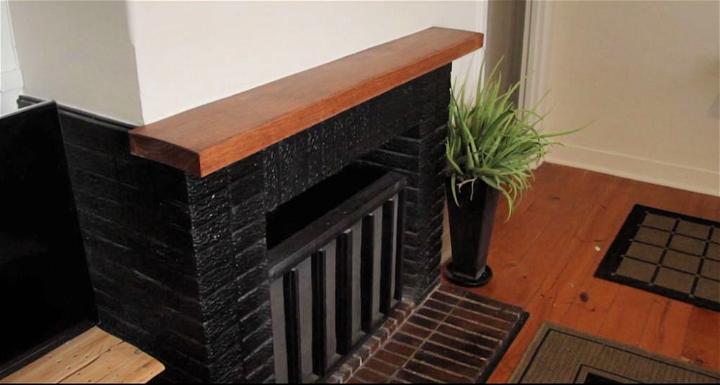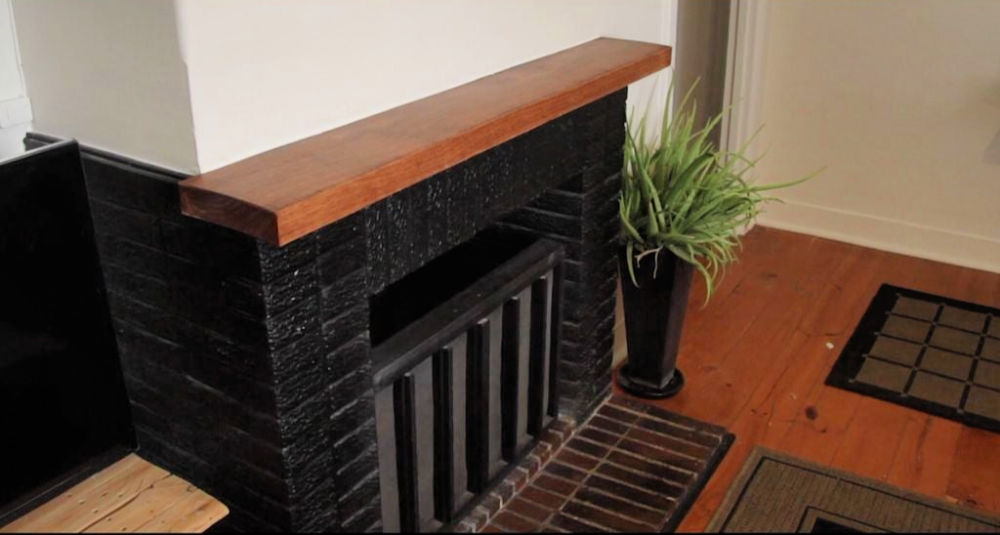 Fireplace mantel ideas are just perfect for making any living room look amazing. Circular saw sandpaper, clamps, hammer, chisel, and a few other tools and materials will be required for you to make the mantel of your dreams a reality! instructables
28. Modern Fireplace Mantel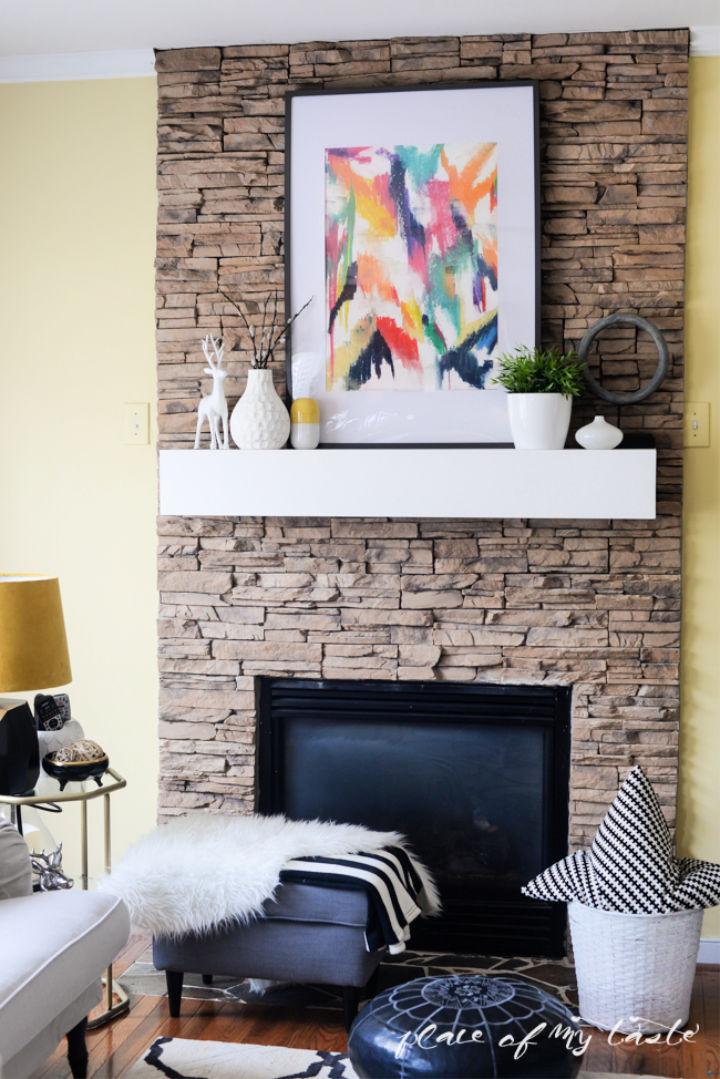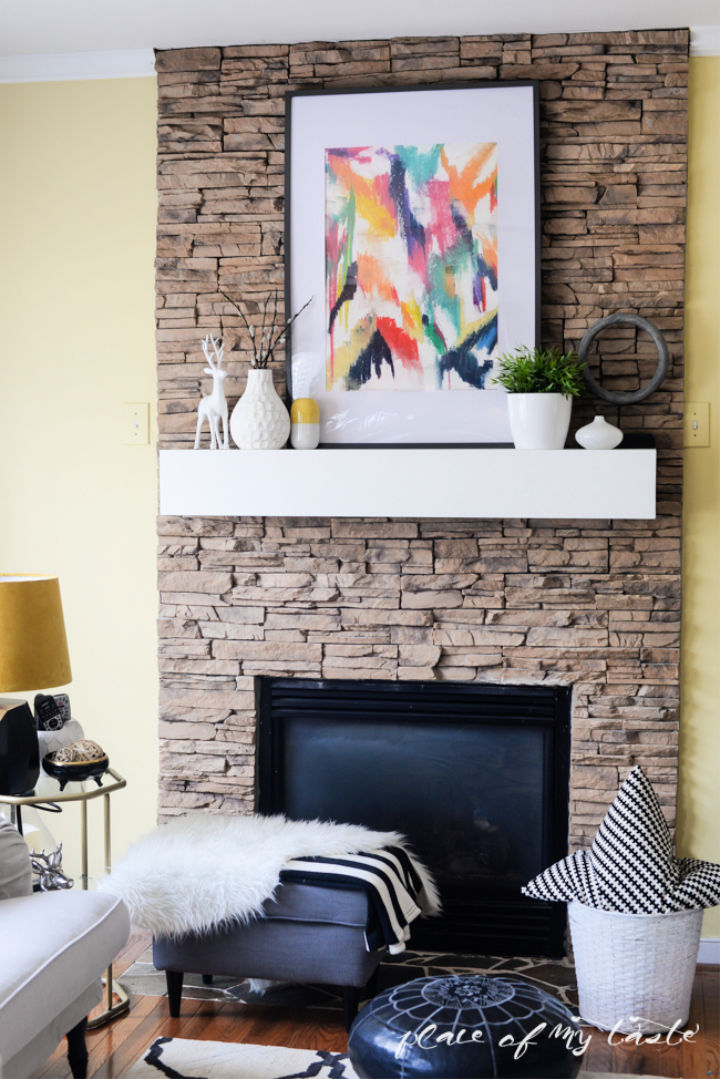 If you already have a mantel in your house and you're just trying to upgrade it by using some basic tools, here's how you can do so! It is really important to take care of your house and revive the old stuff to make it look super clean and modern! placeofmytaste
29. Build a Fireplace Surround and Mantel Decor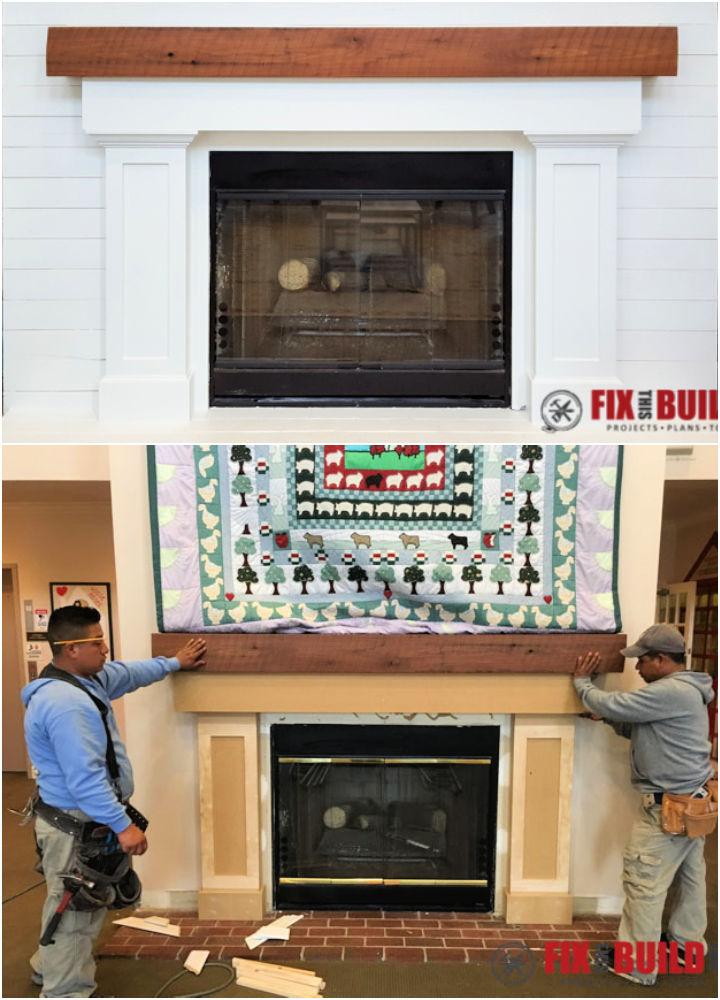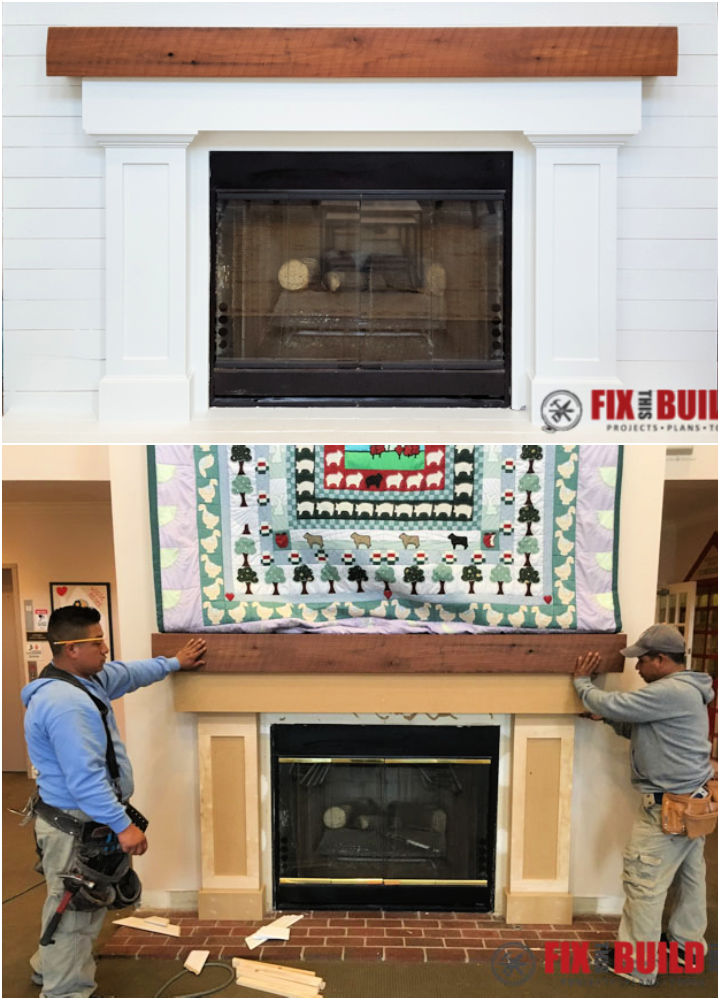 This plan is for all the lovely minimalists reading this article! They love something white, simple, and basic. The whole wall is pure white, which ends up giving it a very clean and fresh look – perfect for making your house feel more open and spacious. fixthisbuildthat
30. Rustic Fireplace Mantel- Fireplace Makeover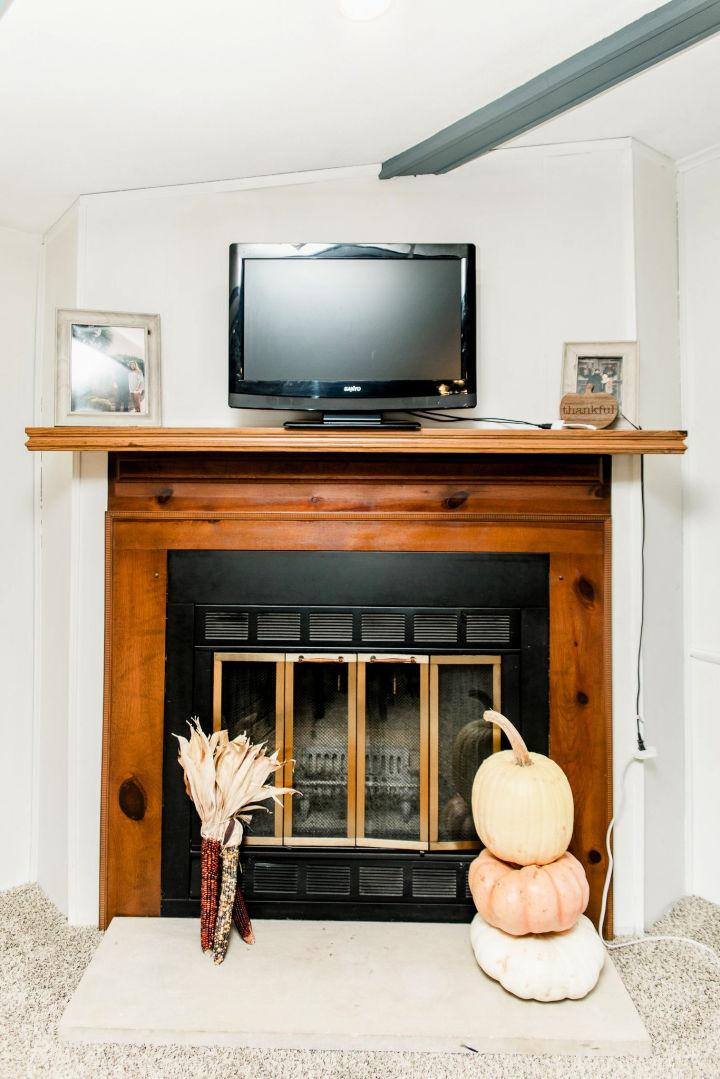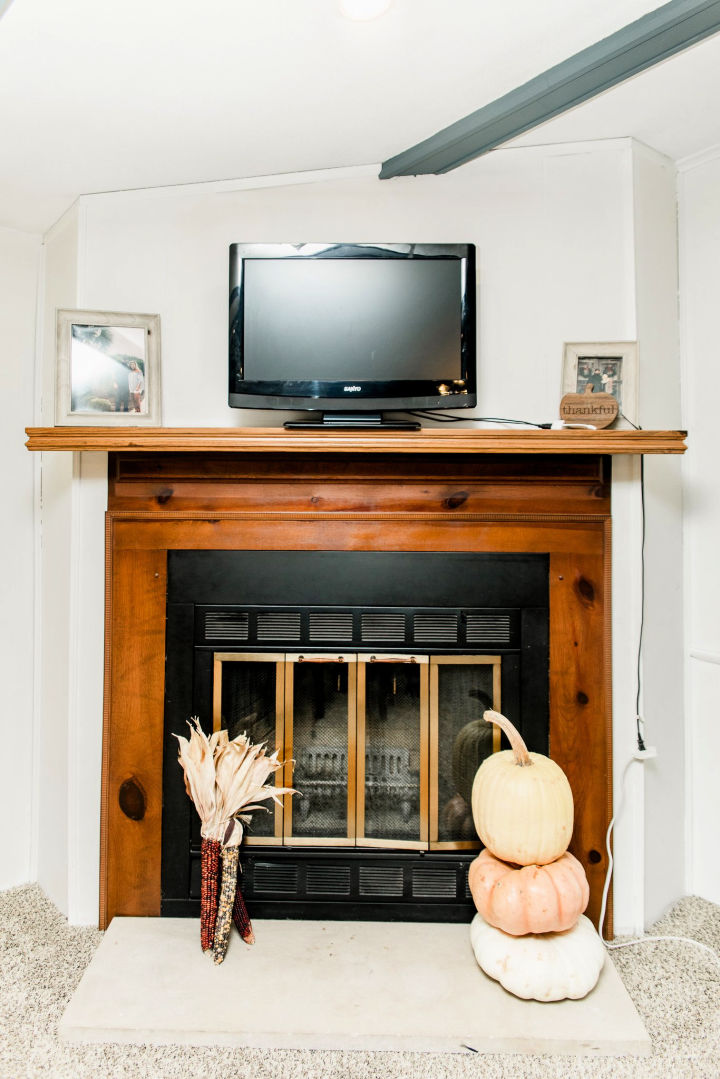 If you just love old school designs or maybe your just trying to decorate your farmhouse, these fireplace mantel decor ideas would be perfect for anything! The letters behind add such a beautiful look due to the perfect calligraphy on them! Definitely, a must-try if you love antique and old stuff. cottonwoodsh
31. Budget-friendly Fireplace Mantel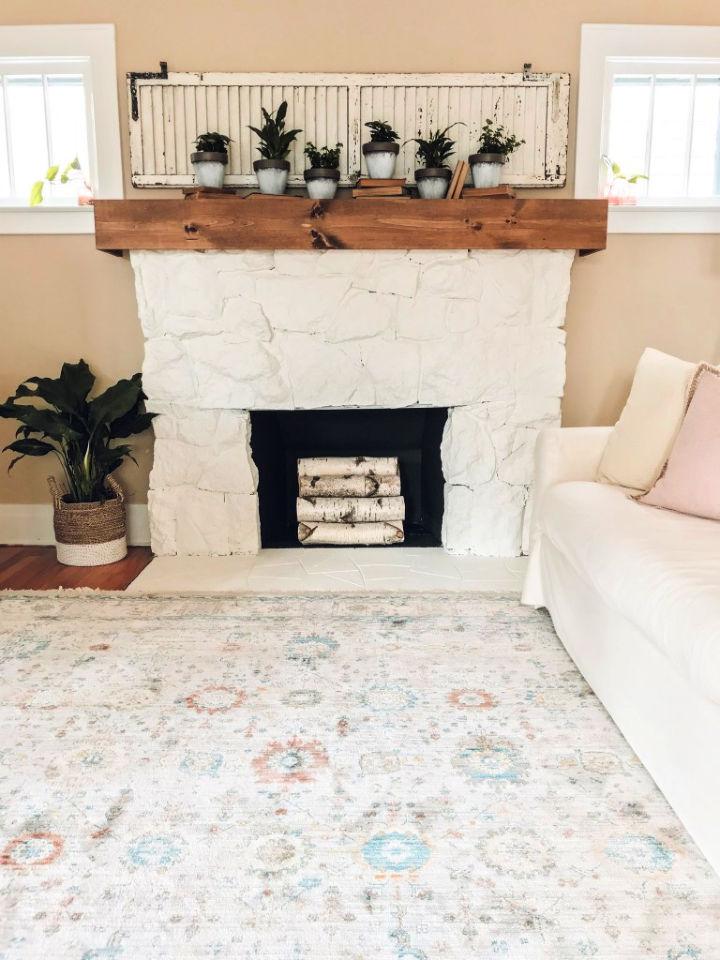 All the fireplace mantel ideas are very beautiful; however, it is important to choose the one that's the most perfect fit for you. This one is perfect for you if you love stones and beautiful patterns. It's also white, so minimalists may like it, as well. thelittlebylittle
32. DIY Wood Mantel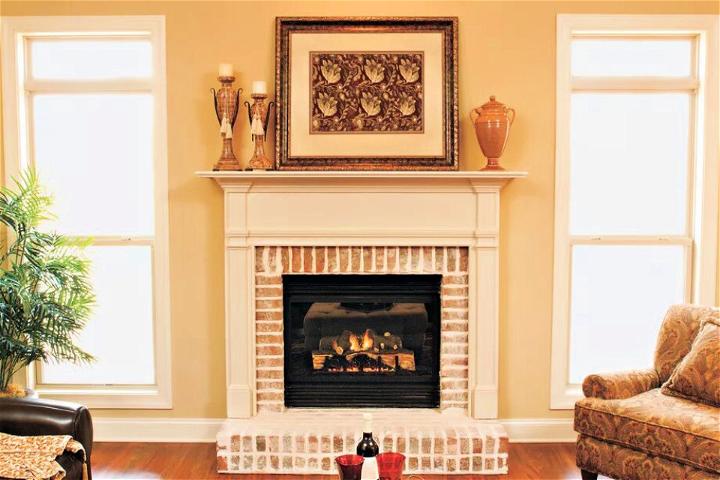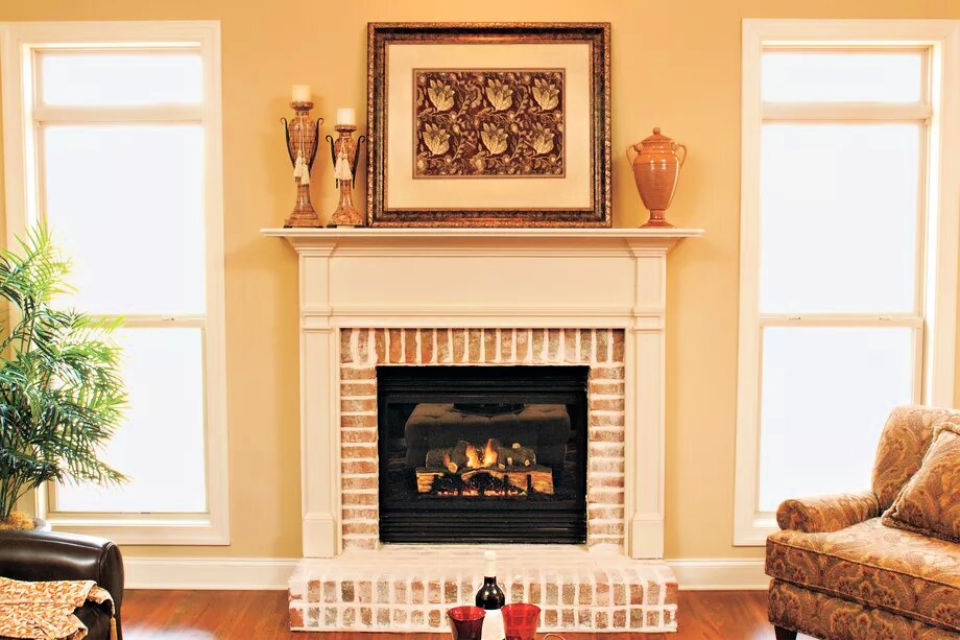 Wood is a great material to use for something like this. That is because wood is a very strong and durable material, and who doesn't want their fireplace to last them a few years? Circular saw miter saw, drill, brad nailer, and a few other tools will be required. thisoldhouse
33. Fireplace Mantel DIY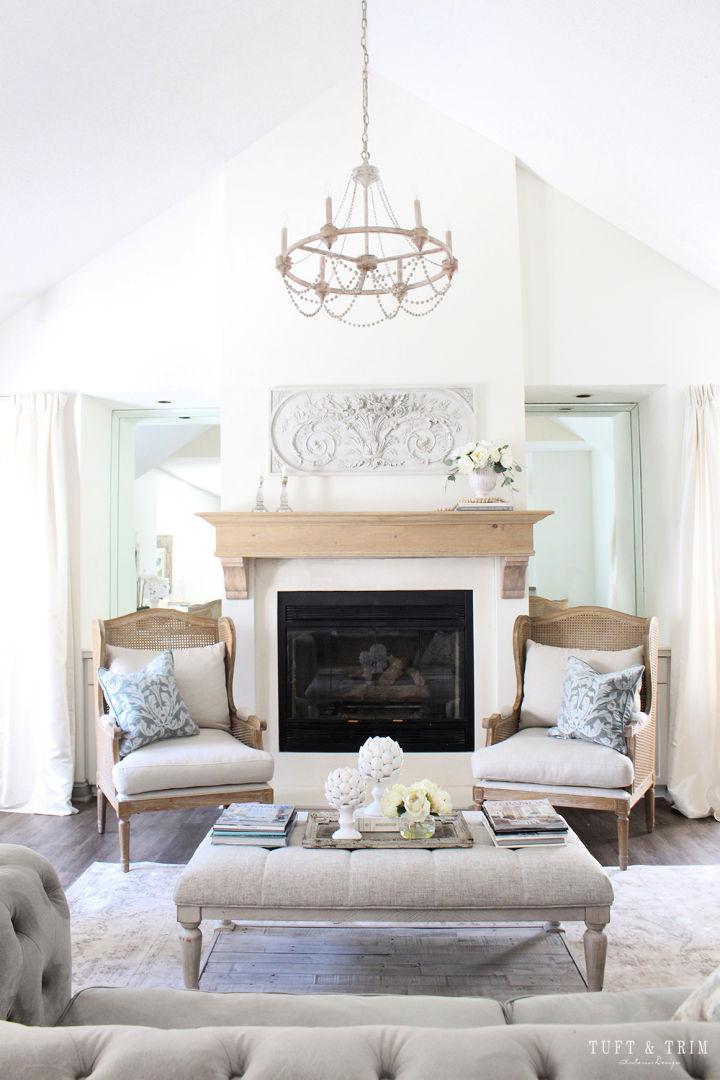 Isn't the final result just so beautiful? If you want simply stunning results like these, definitely look into this guide. Anyone who likes to keep things simple and basic will love this! The design and theme scream, "less is more!". tuftandtrim
34. Rustic DIY Fireplace Mantel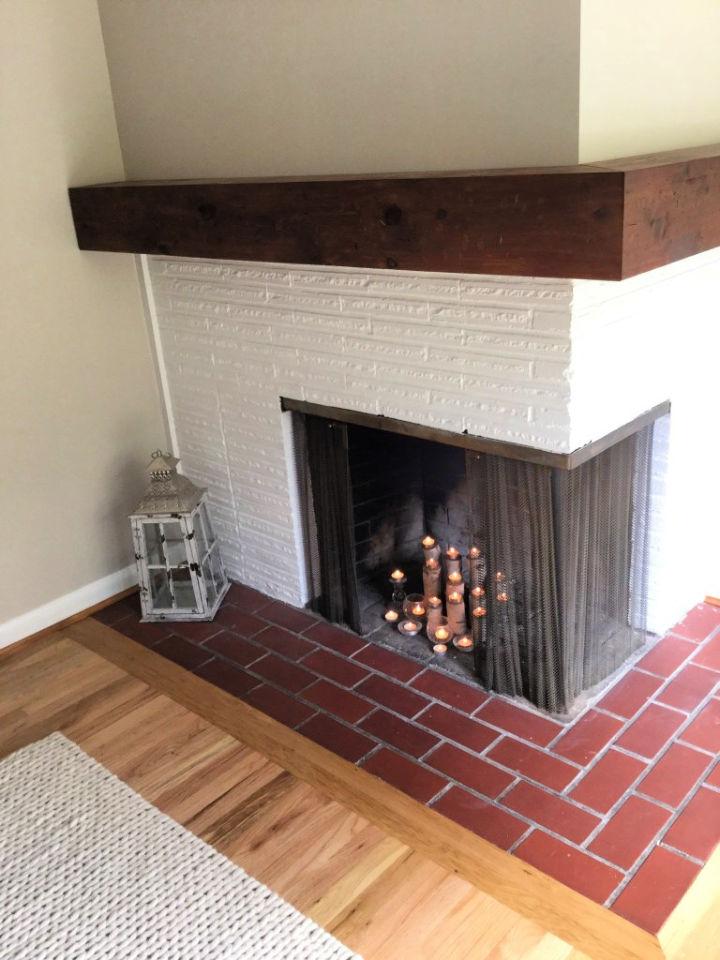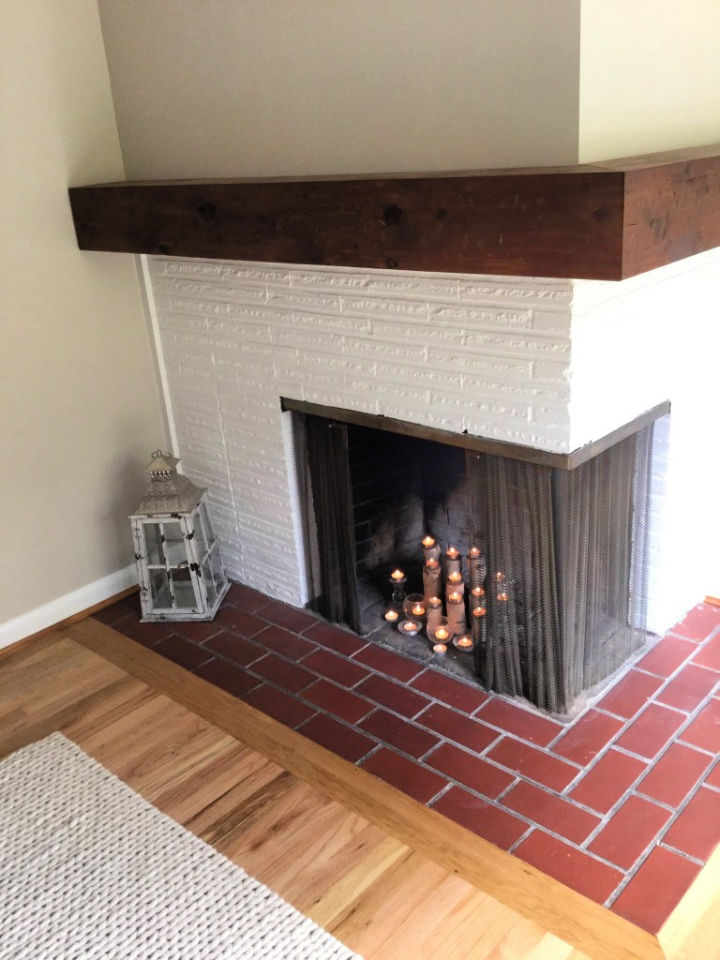 It's a good idea to plan out beforehand, as shown in the guide of fireplace mantel ideas. The brick design is absolutely stunning and can match almost any theme of any house. Carbon monoxide tester, level, battery, and a few other supplies will be required for you to nail this project. athomewiththe
35. Build Your Own Fireplace Mantel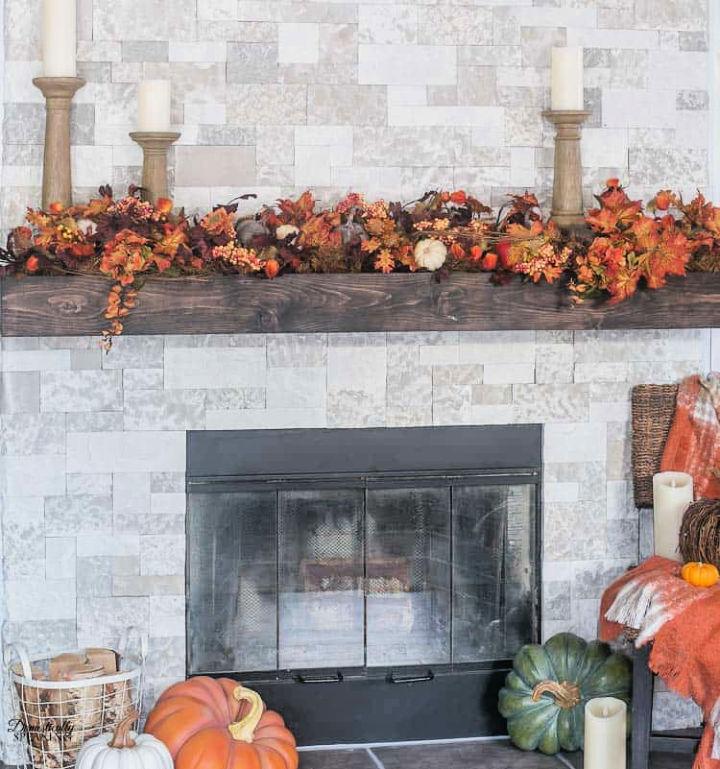 Farmhouses look the best when decorated with rustic furniture. The fireplace is a really important thing to have in your living room as it can make it cozy and warm. Make this mantel for your farmhouse as it will be a perfect fit for its vibe and aesthetic. sincerelysatur
36. Floating Wood Mantel on Brick Fireplace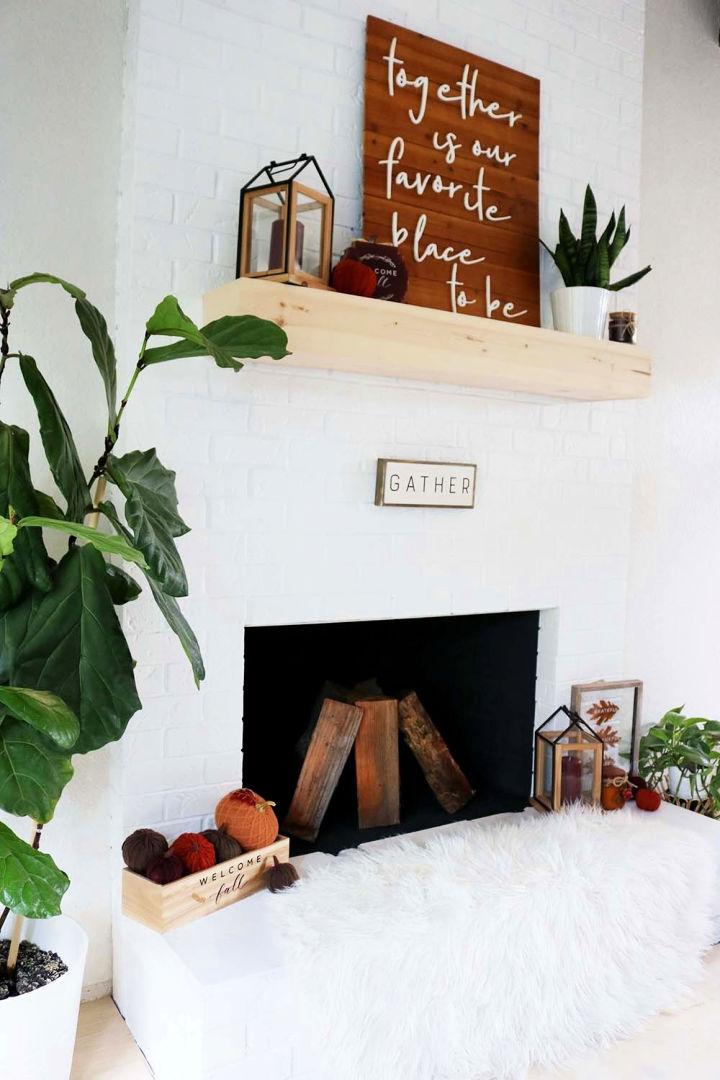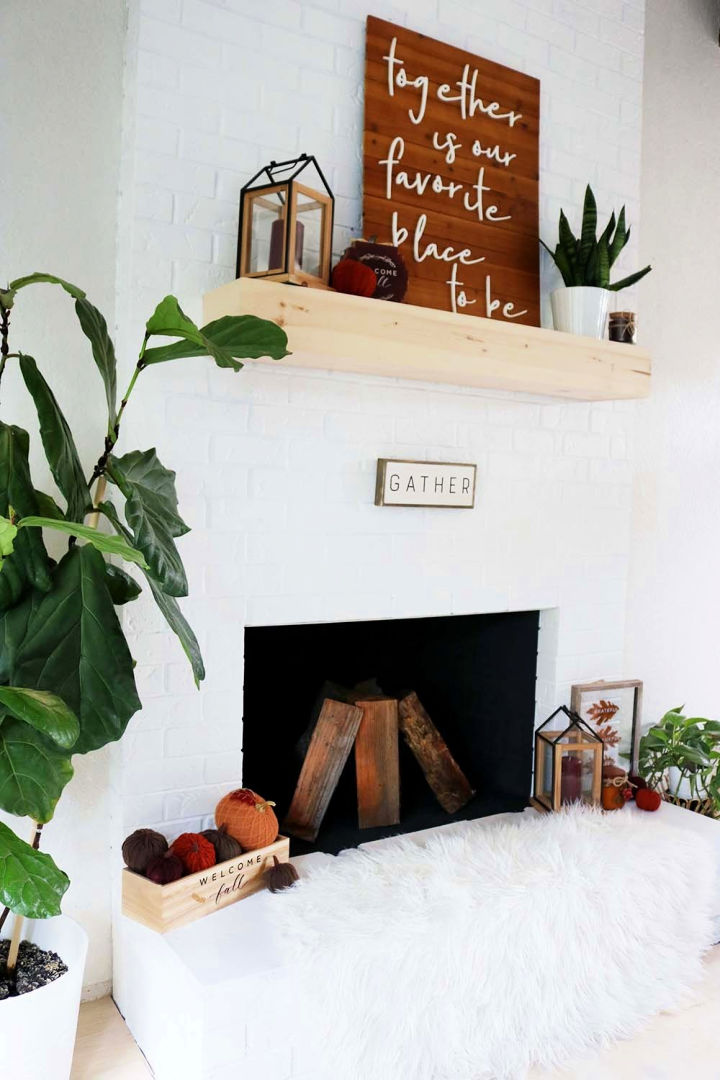 The faux stone fireplace is a great idea. Stone is very beautiful to look at, so it will make any room of your house look amazing. You can use it in many different types of things; however, using it for a mantel is just an amazing idea! The final product is beautiful. domestically
37. Farmhouse Style Fireplace and Mantel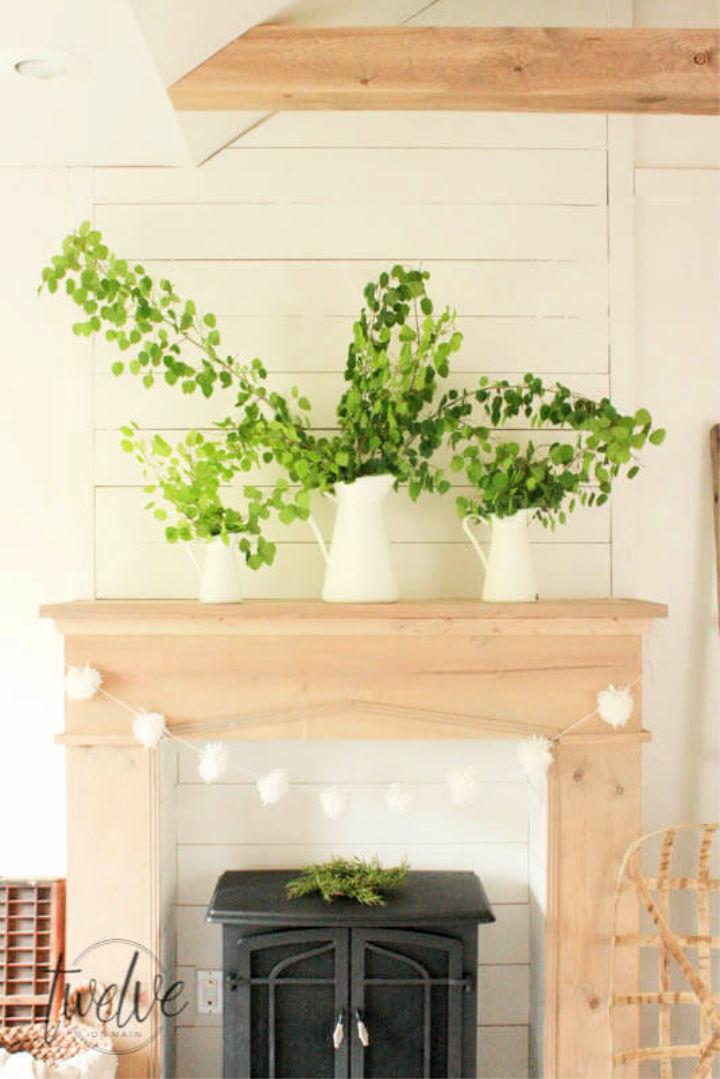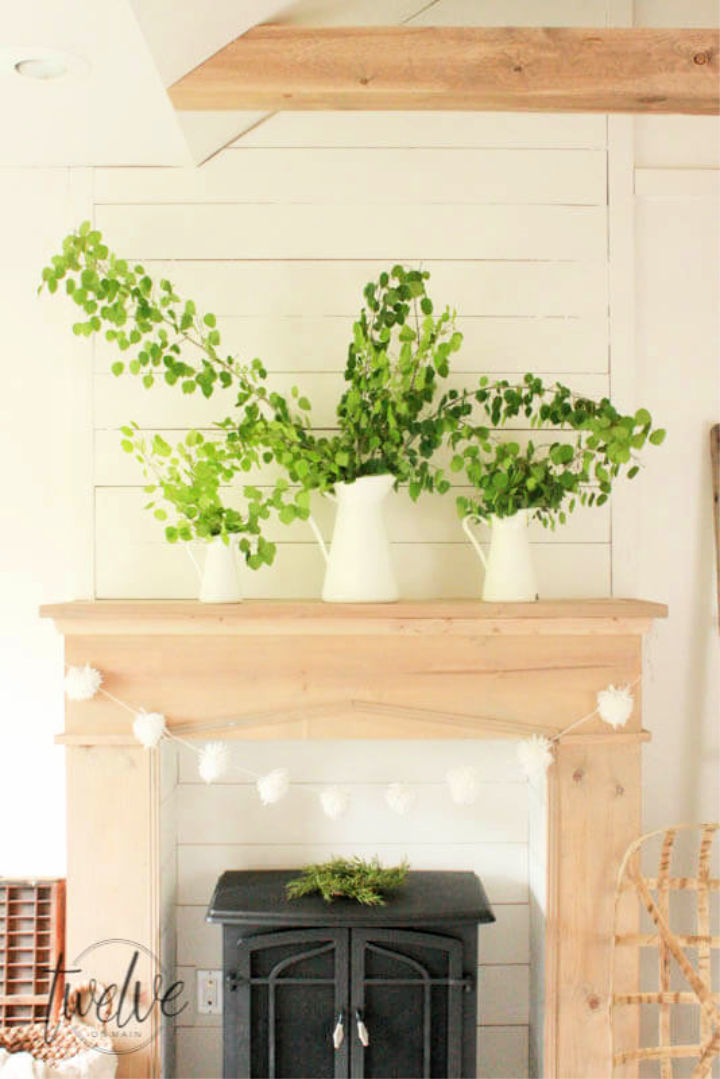 Are you tired of the simple and basic fireplace mantels? If yes, then here's a unique idea to make your house look very fun! A floating mantel! It will look like it's flying in the air, which will be a very cool effect. Miter saw table saw, and a few other tools will be needed. seekingalexi
38. Faux Fireplace Mantel for Only $75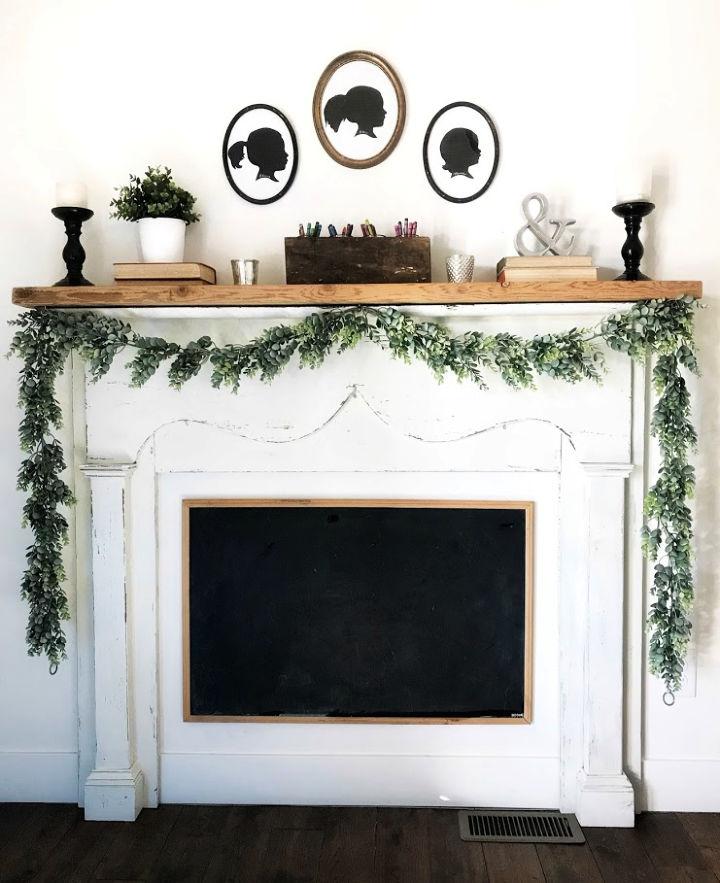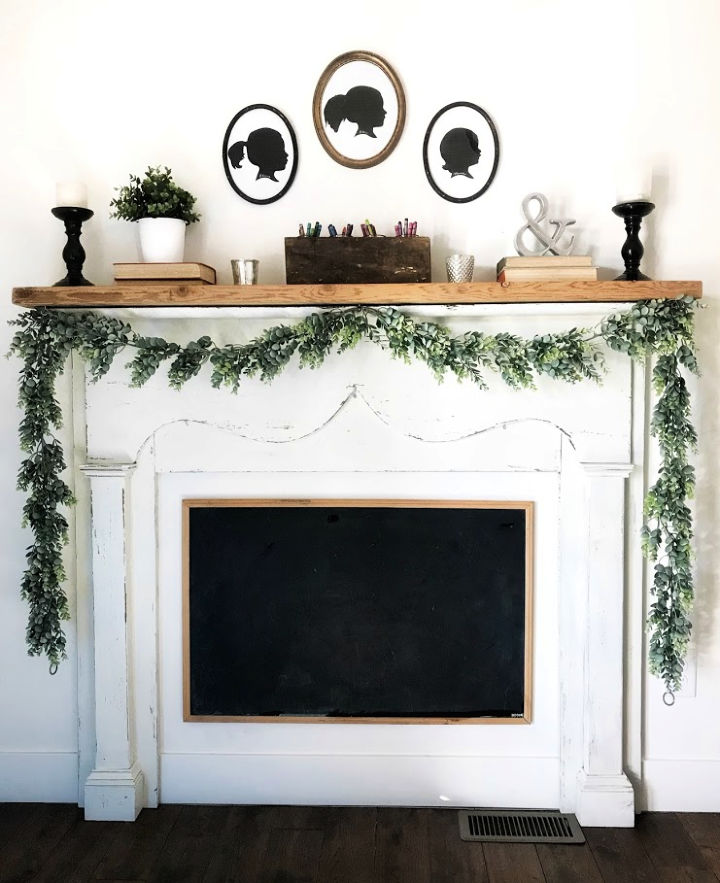 Farmhouses have a vintage vibe to them, which can be taken to the next level by installing this rustic faux stone fireplace! Brad nailer, air compressor, freestanding fireplace, miter saw table saw, square trim, decorative trip, and a few other tools and materials needed. twelveonmain
39. DIY Distressed Wood Beam Mantel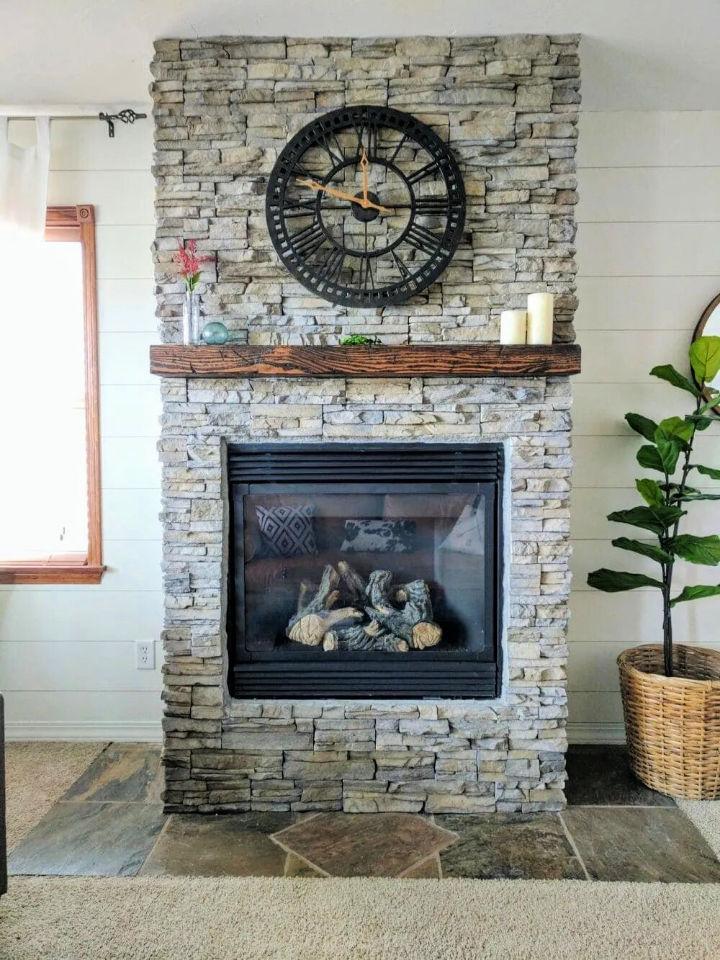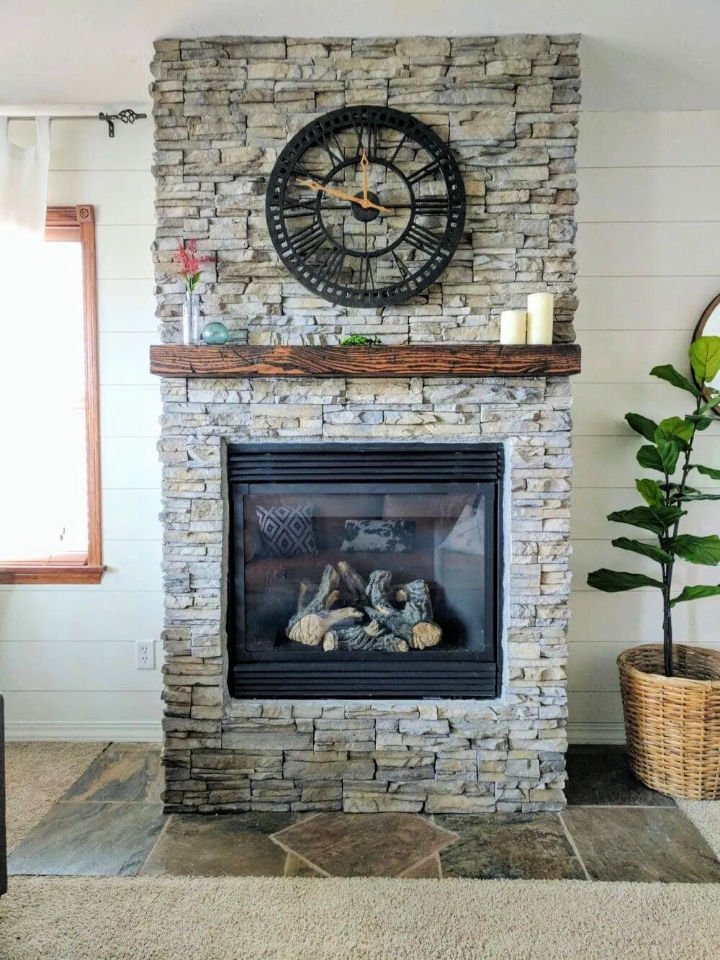 Everyone wants their house to look different and unique. If that's the case with you, as well, then definitely take a look at this fireplace mantel decor guide. The detailing on the wood really adds a lot to this beautiful mantel! It's quite fancy compared to the other fireplace mantel ideas. joyfullygrowing
40. Fireplace Mantel With a Driftwood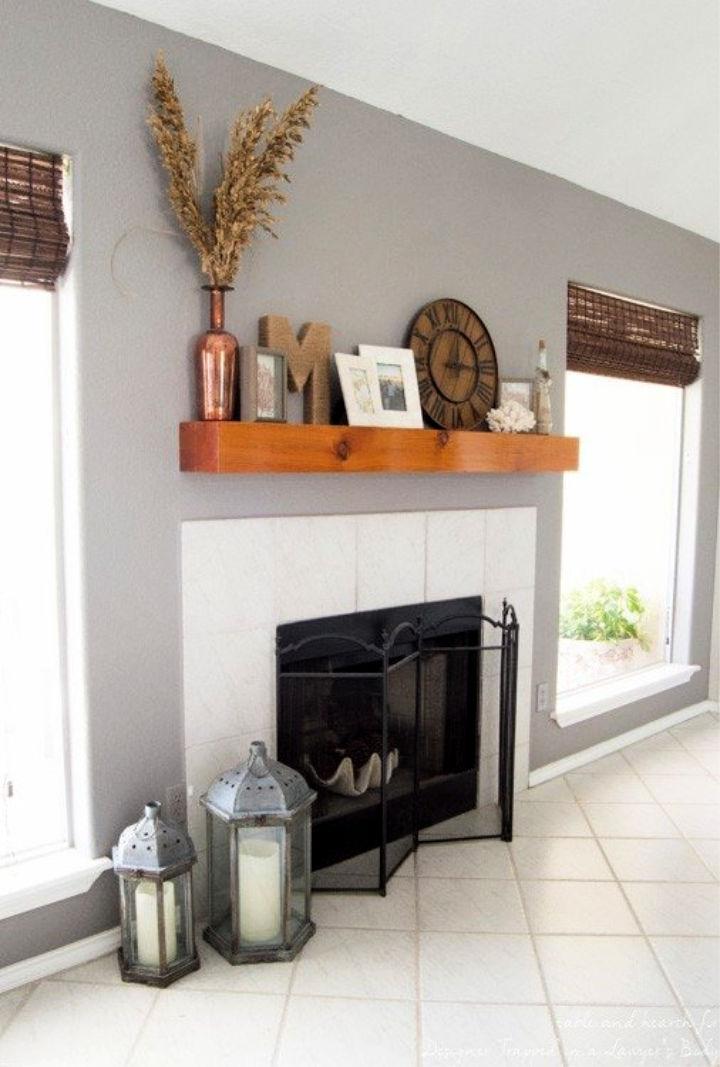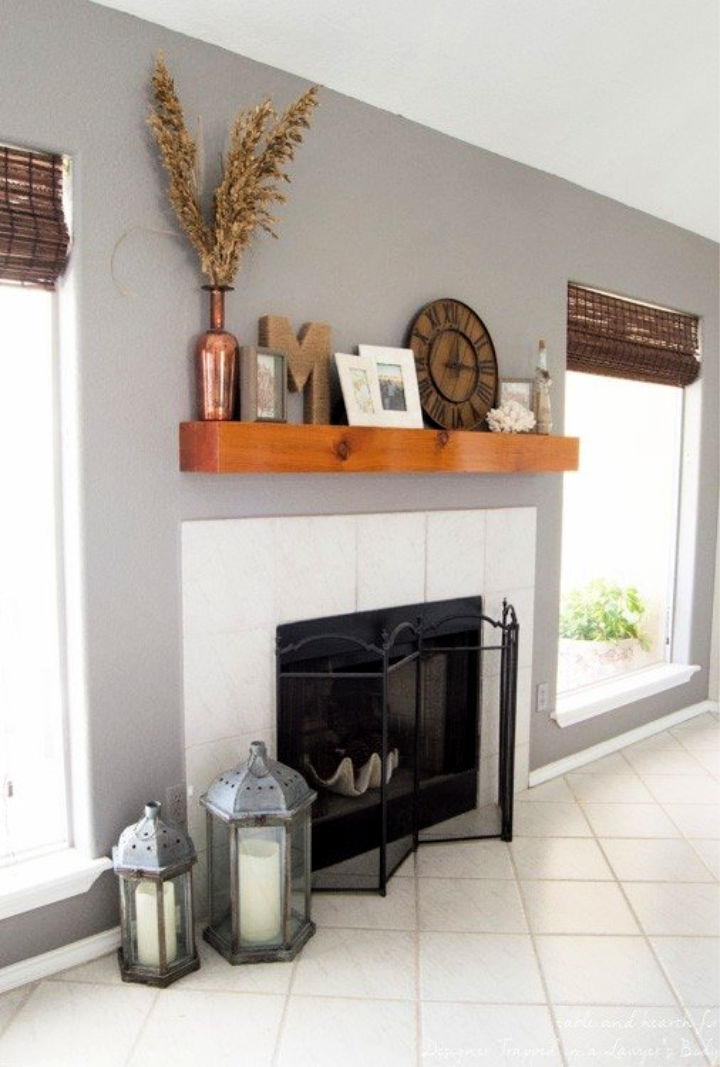 Driftwood is another really good quality wood for an amazing finish. Flat trim, power sander, project panel, crown molding, wood filler, and a few other tools and materials will be required for you to nail this project! The outcome is truly beautiful. designertrapped
Conclusion:
Tempted to try out some of these fireplace mantel ideas? If yes, then definitely get started right away! If you're still trying to decide between your favorite ones – consider the size, height, color, and theme! The fireplace mantel decor theme should match your house in order for it to look put together and pretty. Once you've decided, it's time to get the tools and materials! Now, if you're a beginner, just borrow the tools from a friend or a carpenter. The materials can be found at any local carpenter store, and follow our fireplace mantel decor ideas, which are just perfect.