For most people, outdoor living space is a must. Creating a beautiful backyard does not only add joy and comfort, but it can also add value to your home. When it comes to designing, everyone can do it. But making it more look elevated and luxurious is another thing. Here are a few tips and ideas you can follow to make the most high-end looking outdoor space for your home.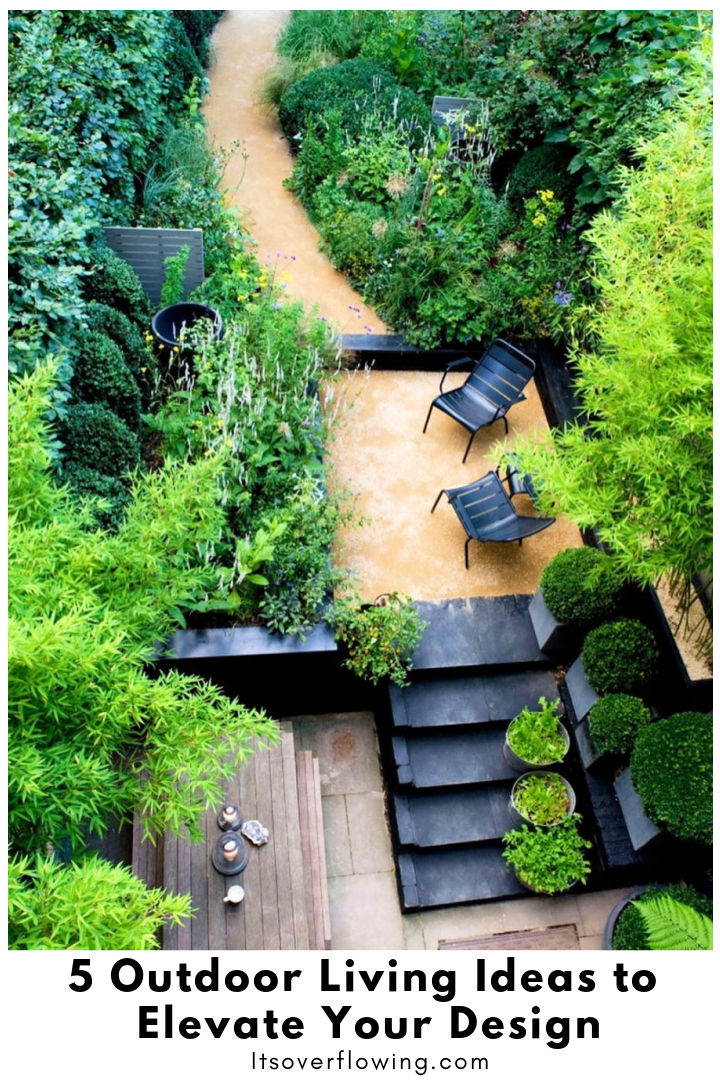 Pick a Theme: Vintage or Modern?
It's easy to design an outdoor living space. But making it look luxurious without spending thousands can be challenging. Sure, you can get expensive fountains and exotic flowers to decorate your garden, but these alone won't elevate your design. The first and one of the most important things you'll need to do is to plan your outdoor living space. Determine what you're trying to achieve, and have a clear image in mind.
For instance, you could design your outdoor space into a vintage backyard. Use antique-looking decorations and rustic colours to create a cohesive look. Greys, whites, and beiges are the best colour palettes for this theme. Alternatively, you could also try for a more modern look. One of the most popular modern designs is minimalism, which requires bold and simple colours and motifs. There are a few more styles you can choose from. If you've got a theme in mind, your outdoor space won't look messy or chaotic, but luxurious and well-thought instead.
Add Some Ambient Lighting
Enjoying the deck even after sundown is possible with excellent lighting design. But for most homeowners, putting up lights in random places seems to be enough. While it does the job, it doesn't contribute to a beautiful and luxurious outdoor living space. When setting lighting for your deck, consider adding the right type of lighting. For instance, consider ambient or mood lights if you're aiming for a relaxing outdoor space. Unlike regular lighting, mood lights are softer, often diffused, and come from different light sources. They can provide a calm and warm atmosphere without having too much glare or brightness.
Aside from ambient lighting, consider adding a decking light for added safety and illumination. On places where you will do activities or work such as an outdoor kitchen, brighter lights may be necessary. Selecting the right lighting, along with the shades, types of fixtures, and the amount of illumination can be a technical and challenging task. But by carefully planning your lighting design, you'll improve your outdoor living space and make it more impressive and elegant.
A Fireplace or a Fire Pit
Adding a fire pit and/or a fireplace is another way to create a more beautiful, luxurious-looking outdoor space. They act as focal points, areas which attract most visual attention. Not only provide added aesthetics, but they also bring functionality and comfort. Who doesn't like warming up on fireplaces or fire pits on a cold winter evening? They can provide a space for social interaction and entertainment. They can also give off additional lighting and ambience.
For fireplaces, you can choose from various designs. One of the most popular options today areventless fireplaces. They are cheaper and more cost-efficient to traditional fireplaces. Most models are also easy to install. You also have as many options for firepits. You can even make your own by using simple construction materials. The most common type of firepit is one made up of concrete blocks and gravel.
Use The Best Materials
When designing outdoor spaces or any project in general, everyone wants to save as much as possible. Unfortunately, many homeowners compromise quality for affordability. Because of this, many people use second-grade materials for their home improvement projects. But if you want to elevate your design, and take it up a notch, you'll need to use the best materials possible.
For instance, many use wood for decking primarily because of its low price. However, there are many issues with wood decks. They are high-maintenance and short-lived. They are susceptible to moisture, rotting, and mould growth, which can make them unattractive. On the other hand, composite and plastic decking materials are more durable and longer-lasting than wood. You can also get them in various colours and designs. This tip also applies to furniture, decorations, and even the rugs and carpets you use.
Add a Water Feature
Water features are excellent ways to add depth and personality to your outdoor living space. They can also act as compelling focal points or areas of interest. For small backyard spaces, you can design a miniature birdbath, a small fish pond, or a water fountain. For people who have wider spaces to work with, you can choose water gardens, waterfalls, and streams. As with other backyard additions, make sure that you carefully plan its design, matching it with the overall theme of your outdoor living space.
Another thing you can add to your garden is a pool. While most people think of building swimming pools, it's not exactly for everyone. It requires a lot of funding to build and is very high-maintenance. It can also be a safety hazard for families with small children. Alternatively, you can choose to design a smaller variety, like a spa pool or a plunge pool. They are cheaper to make but also offer almost the same functionality and aesthetics.