Having a safe outdoor living space for you and your family is a top priority. Many unwanted accidents occur on decks every year. Fortunately, there are many ways you can improve deck safety. Here are the best tips that you can follow.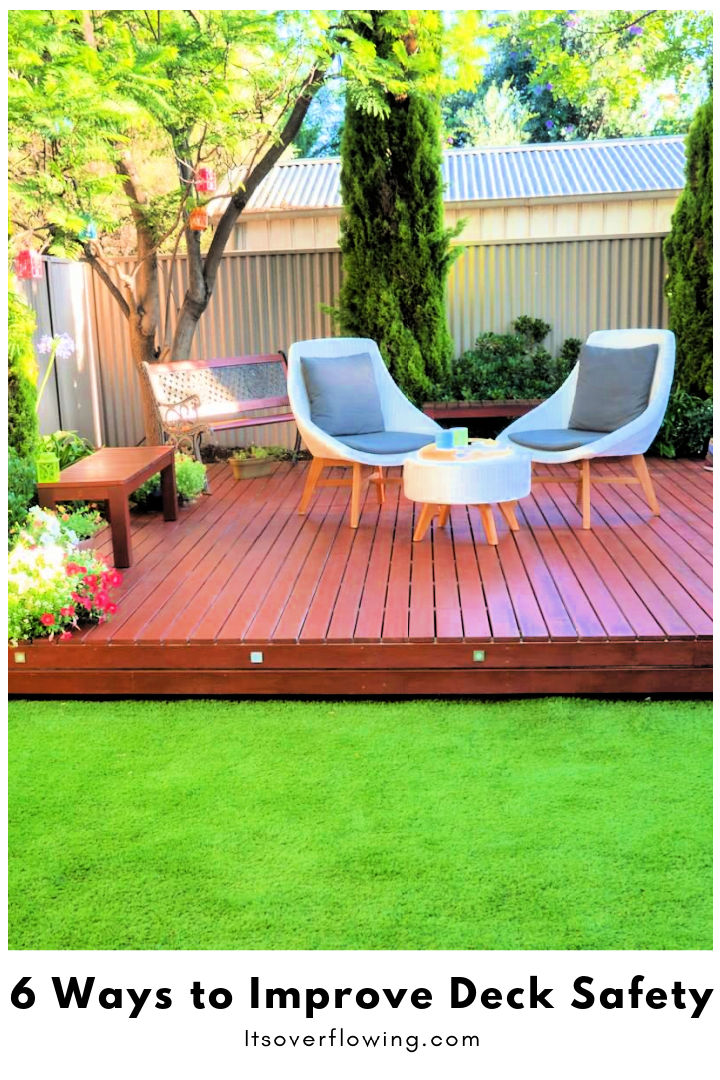 1. Regular Maintenance and Inspection
Maintenance and inspection are not only for keeping your deck at top shape, but it also contributes to ensuring safety. How so? Neglected decking can lead to many accidents. For instance, moulds and mildew will grow on decks when you don't clean dirt or debris off its surface. When left alone, it can cause rotting of the boards which will make it unstable. Not only can moulds cause the deck to rot, but it can also make it very slippery. Depending on the material you are using, make sure to follow the instructions on how to clean and maintain them.
It's also crucial to inspect your deck regularly. One of the few things you can do is to check every fastener, like nails, screws, or clips, and re-attach them if necessary. Also watch out for broken and sagging boards, as they need immediate replacement.
2. Choose the Right Materials
Choosing the best materials can also have a hand in making a safe environment for you and your family. For instance, many accidents happen due to slipping on the deck. If you plan to use wood, make sure to get high-quality ones. While wood is the least smooth among the available materials, it is more susceptible to moulds, fungi, and moisture than others.
Plastic and composite decking materials are also popular options. They are more resistant to rotting, moulds, and fungi growth. However, they too can be slippery when wet, since they are made or partly made with plastic. If you plan to use them, make sure to get the ones with grained textures, as it decreases the smoothness of the boards. Many brands also offer non-slip composites and plastic decking materials that you consider getting.
3. Proper Decking Board Spacing
When installing a deck, proper deck spacing is important. It contributes not only for the longevity of the deck but also for safety. A deck with gaps that are too wide can easily trip people. It can also increase air circulation, which can be dangerous in case of fire. On the other hand, too narrow spaces can also lead to problems. When the decking boards are too near, there is a higher chance for water pools to form. Moulds and fungi can also grow on these narrow spaces, as dirt and debris may get stuck there easily.
For proper decking board spacing, make sure to follow instructions from the suppliers. In general, you'll want to dry your boards first, specifically for wood and composites. Take into consideration the shrinking and expanding of the boards. In most cases, 1/8 to 1/4 inch of board spacing is sufficient.
4. Add Railings
Railings for decks and deck stairs are necessary for a safe outdoor living space. It's even required by most building codes, especially for high-rise decks. The main reason for adding railings is to provide added security and safety. For example, railings can be installed on the edges of the patio, which can prevent small kids from falling off. You can also limit slipping by adding railings, especially on the stairs.
Aside from safety, railings can also be stylish. You can also choose from various materials, such as wood, composites, and plastic. If you want to learn more, you'll need to consult your local building codes. It can also provide you with information on railing, guardrails, and balusters.
5. Install Lighting
Installing some lights on your deck lets you enjoy your outdoor space even sundown. But that's not all. It can also improve deck safety. For lighting, you have a few options available. You can install decking lights on the steps of your deck stairs. You can also use wall-mounted and floodlights. Small strips of LED lights also work well on stairs.
Aside from deck lights, you can install string lights, place some lanterns, or add some railing lights. However, make sure you have a concrete plan when installing lighting design. For outdoor spaces, ambient lighting works best. It's also an excellent idea to avoid too colourful or blinking lights, as they may look untimely. You'll also want to get energy-saving light bulbs to cut down cost. Most importantly, don't settle for low-quality lighting, which can cause an electrical fire.
6. Remove Potentially Dangerous Objects
Keep all dangerous materials and chemicals out of your deck and off children's reach. Keep them securely stored away. If you have an outdoor kitchen, make sure that the kids won't be able to go near stoves and grills when using them, and never leave them unattended. You can section it off away from foot traffic for added safety.
Make sure to check garden hoses, rugs, carpets, as they can also cause trips and slips. Always keep your decking tidy to avoid accidents and improve deck safety. You'll also need to be careful in selecting the plants for your deck. Some plants can be toxic to humans and pets. Before buying a plant, make sure to look into it first.