Let's talk about some indoor and outdoor activities for kids that you can do to get rid of gadgets all the time. Learn how to make a play tent with these homemade DIY tent ideas for kids that will make your kids happy and instill interest in indoor and outdoor activities for kids. If not possible outdoor, you can prepare an indoor tent as well. After all, the main purpose is to make your kid mobile instead of being a lousy potato with a gadget in hand. You can involve your kids in this activity as well. It would be very interesting for them to see a tent being built from scratch. You can plan a variety of tent games inside the tent.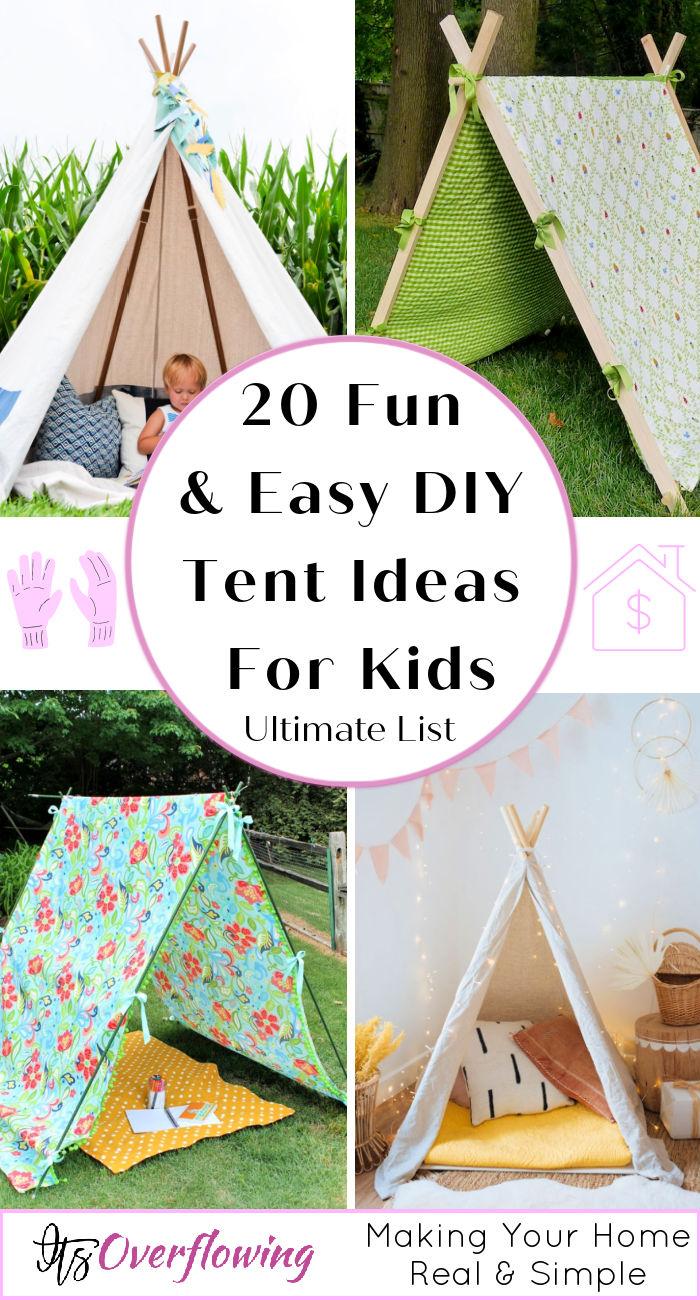 You do not necessarily need a tent kit to implement these DIY tent ideas for kids. A huge fabric with some sticks can easily do the job. In order to make the tent firm, try finding some support accessories for the base. You can also use bricks if you have access. These homemade diy tent tutorials will teach you to make tents in a variety of ways. You can make both casual and proper tents with kits. As we always believe in creativity over expensive products from fancy stores, therefore, you will find the easiest and cheapest diy play tent ideas to make your children happy with tents. Just watch the tutorials in detail and spend some quality time with your kids through this DIY activity.
1. DIY Tent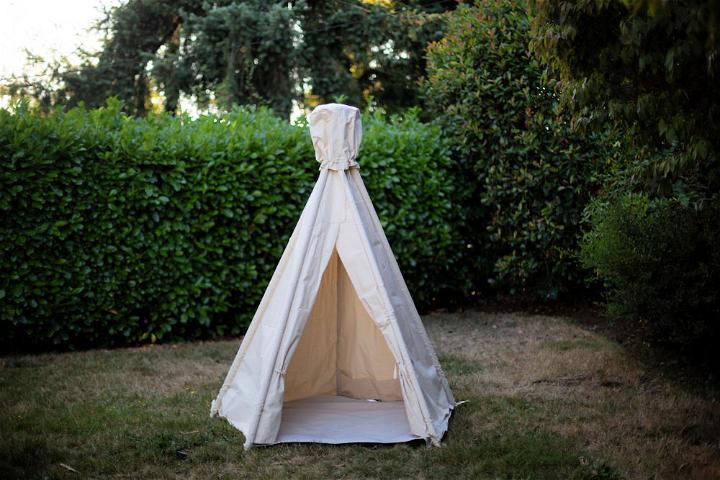 The growing up of kids mean unlimited fun all the time at home. Right? Learn how to make a DIY teepee-style tent for your kiddos, so that they can have their own fortress to play in. With just supplies like canvas, drop cloth, cotton cord, fabric, scissors, and straightedge, you can make it. dunnlumber
2. DIY Kids Tent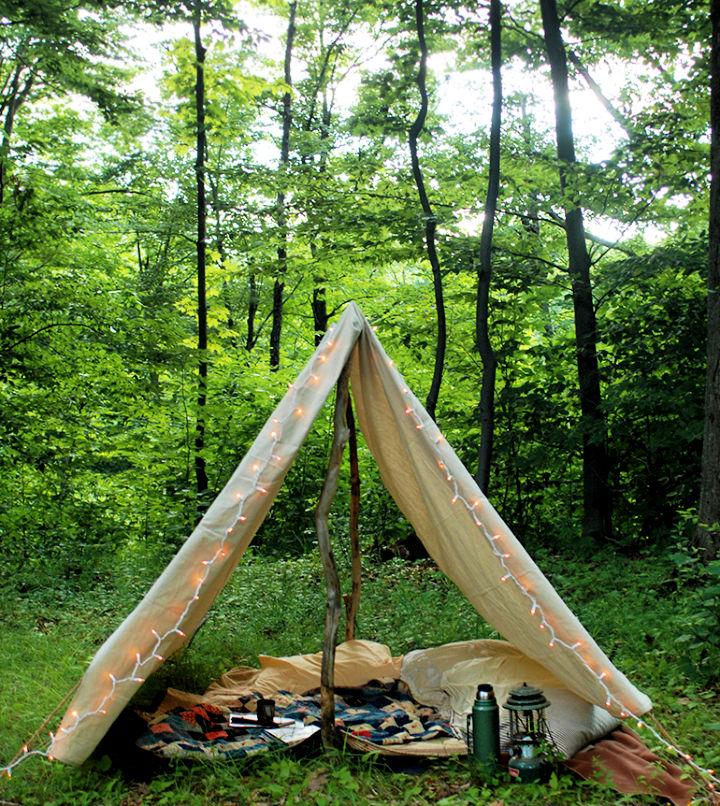 This amazing DIY kid's tents can give your kiddos some camping experience in their backyard. It's pretty simple to assemble and can be folded up in minutes. Well, you can personalize the size of this tent from kids to adults as well. Check out what supplies you will need and the how-to details below. themerrytho
3. How to Make a Tent For Kids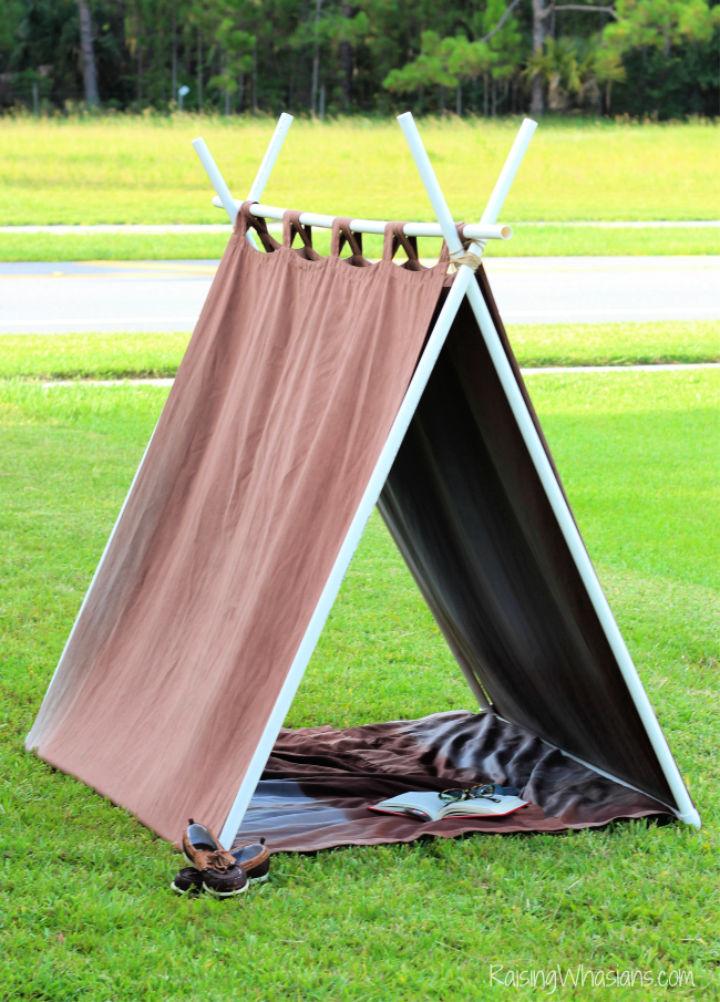 To delight your kids and make them more enthusiastic about their studies, here is what you will need. This tent for kids can be a perfect place for your energetic kids for learning. The best part is, whipping it up doesn't involve any sewing. Moreover, see the link for further details on it! raisingwhas
4. DIY Play Tent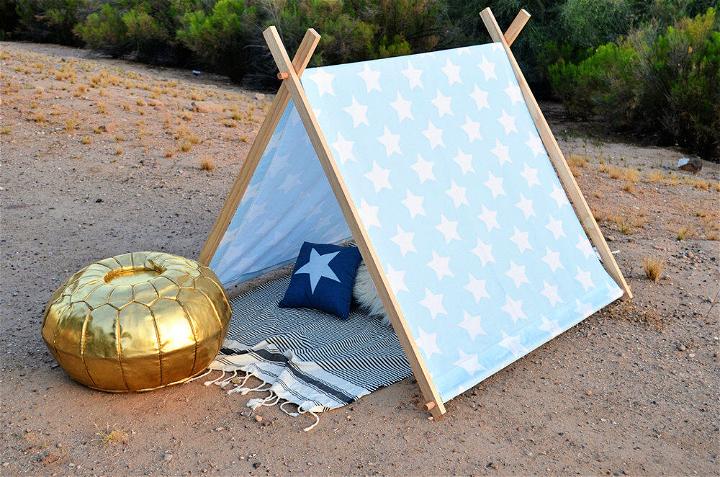 For those of you who want to have a venture with kids, but not farther than your backyard, set this DIY tent up with your kids and for your kids. Because this tent has an A-line shape, so building it up is super easy even if you are a beginner. Check out your needed supplies to start off. mommasociety
DIY swing set plans: Get your kids playing outdoor by building a backyard swing set. Here's a collection of free DIY swing set plans for you to get some ideas. All these free wooden swing set plans include step-by-step directions, diagrams, and color photos to help you build a DIY swing set for your backyard.
5. How to Make Tent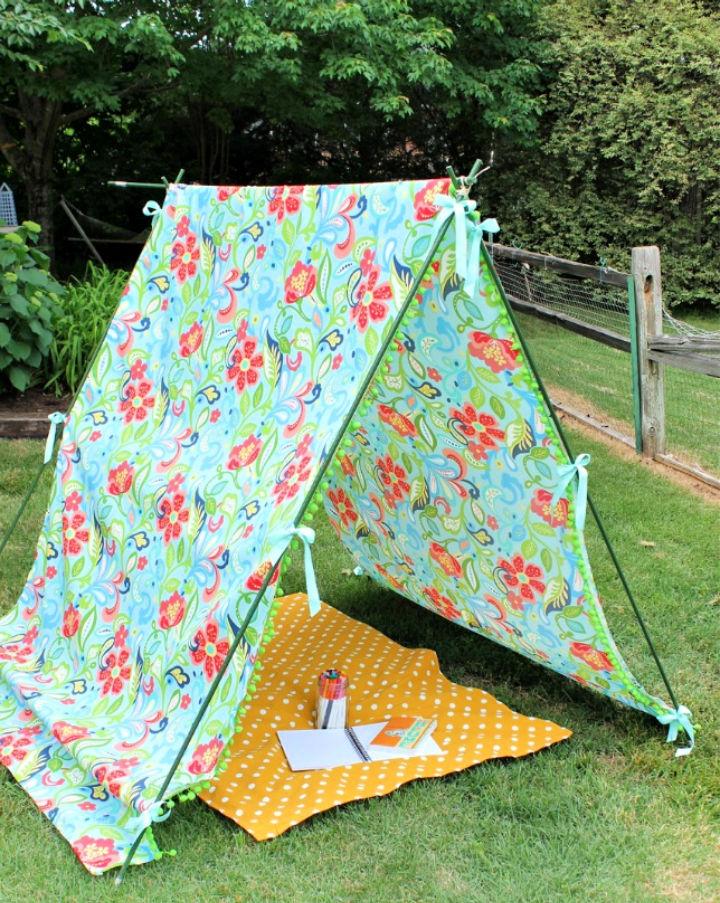 Give the children some space where they can build their own fortress. Team up with them and set up this simple DIY tent. So that they can make loads of childhood memories there. Make your supplies list and include twine, fabric, ribbon, hot glue, and sewing machine in it to grab. daisymaebelle
6. How to Make a Play Tent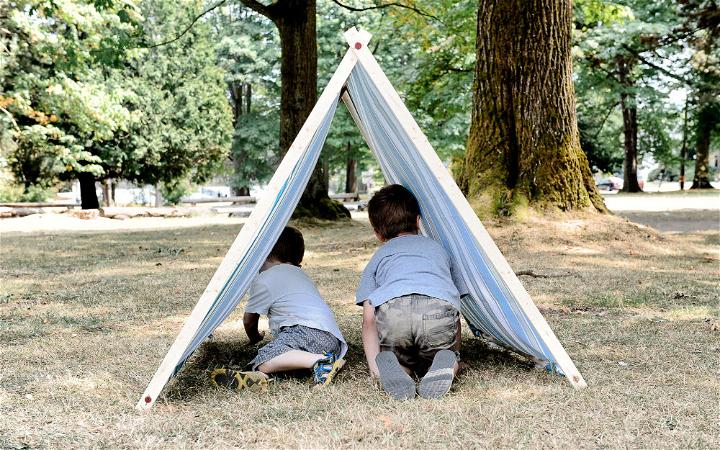 It's always very important for the kids to have a place where they can fulfill their fantasies. And no place is great and safe than this play tent. You can set it up in your backyard so that you can keep an eye on them too. Go along with the steps to be able to set one up for your kids. dunnlumber
7. How to Make a Tent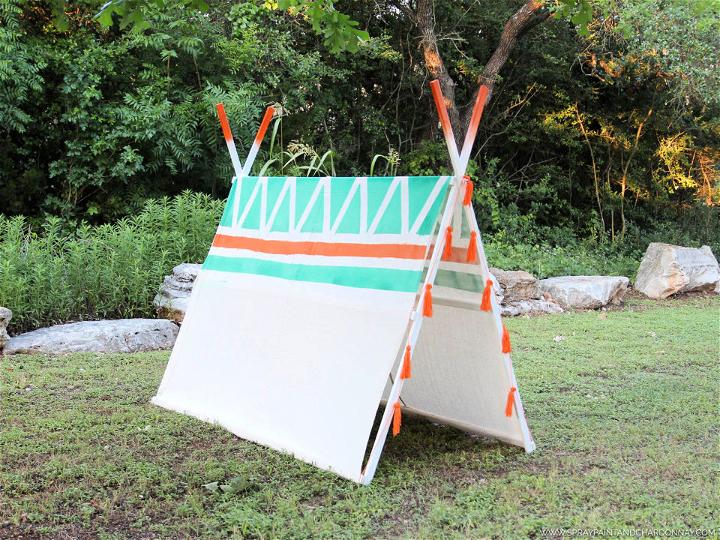 DIY an A-frame tent and have fun with your kids playing games and building memories inside it. It's actually very simple and swift to frame up, especially when you have these easy-peasy instructions at your disposal. Materials you will need are primer, drill bits, wing nuts, staple, and drop cloth. spraypaintand
8. Making A Tent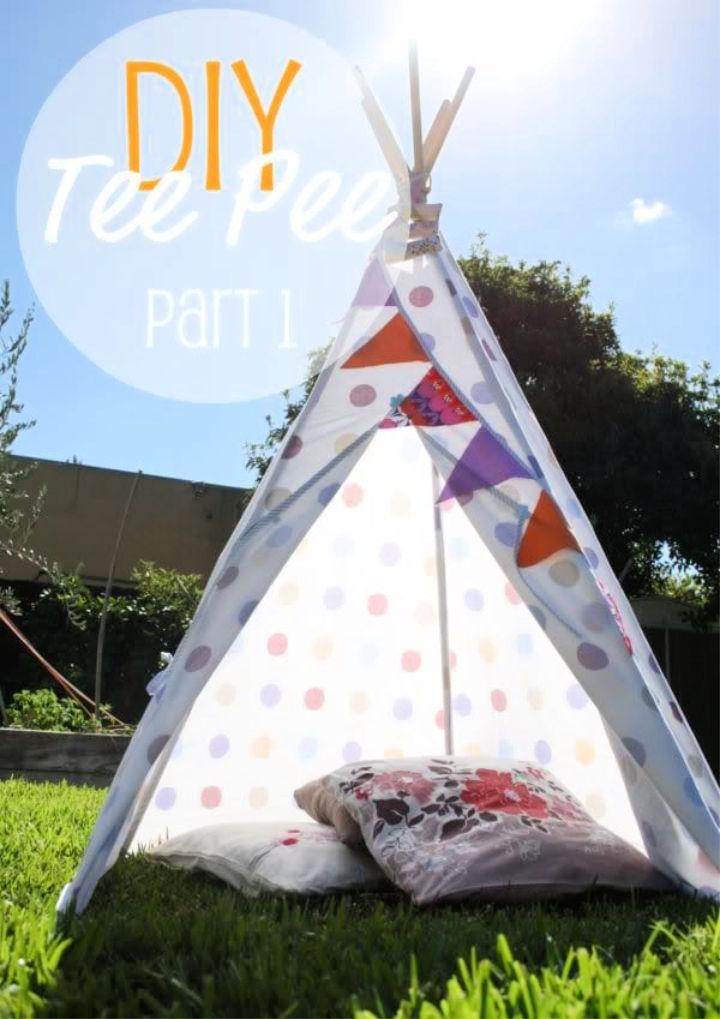 Put your minimal amount of effort into this tent craft and yield extraordinary results. The DIY teepee tent is a beautiful way to romanticize any site when you are on hiking with your loved one. The setting up process is super simple, and you can withdraw it in minutes too. mypoppet
9. How to Make a Homemade Tent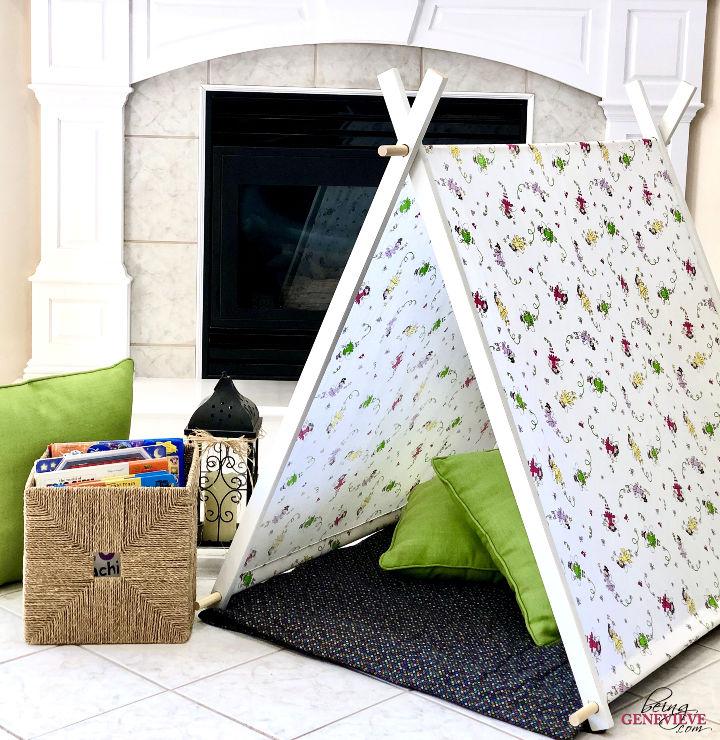 Now you can easily DIY a kid's tent that will be totally homemade and can be finished off in less than an hour. This tent can be easily assembled or disassembled if you need the space for any other purpose. You will just need wood boards &dowels with fabric and sandpaper for it. beinggenevieve
10. DIY Indoor Tent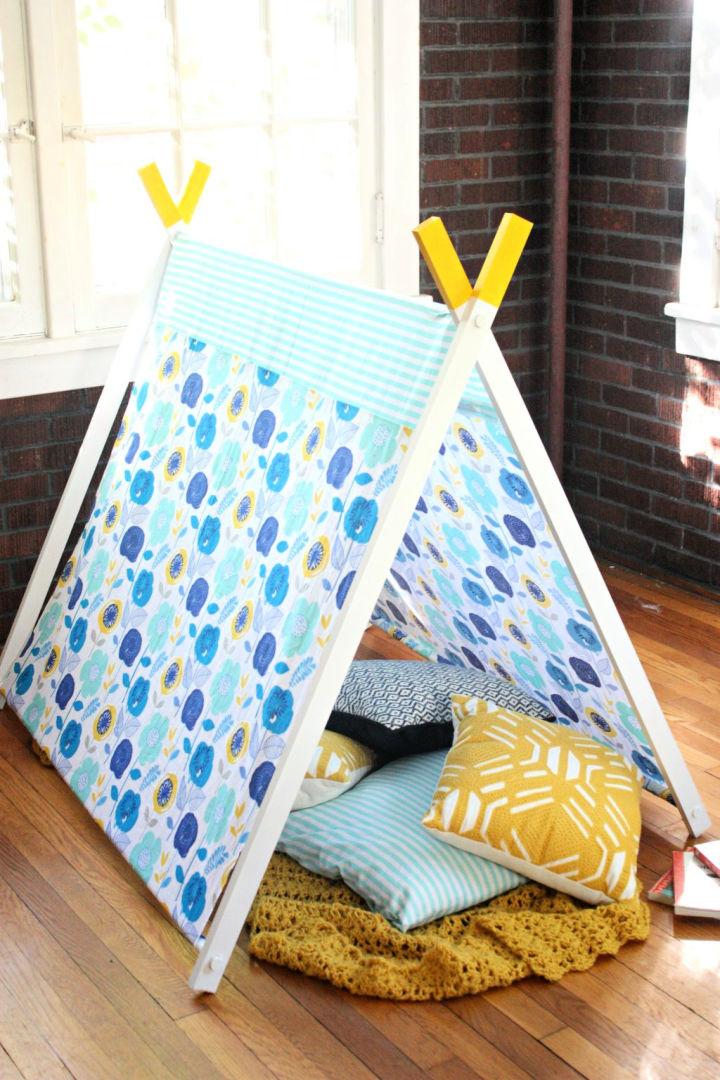 A tent for children is actually their refuge, a place of their own to do playing, gaming, sleeping, or studying without any intruders. Also, you can fold up and lean it to the wall anytime, it will be that easy. To build your kid's play tent, you will need dowels, molding, spade bit, fabric, and paint. prettylifegirls
11. Homemade Tent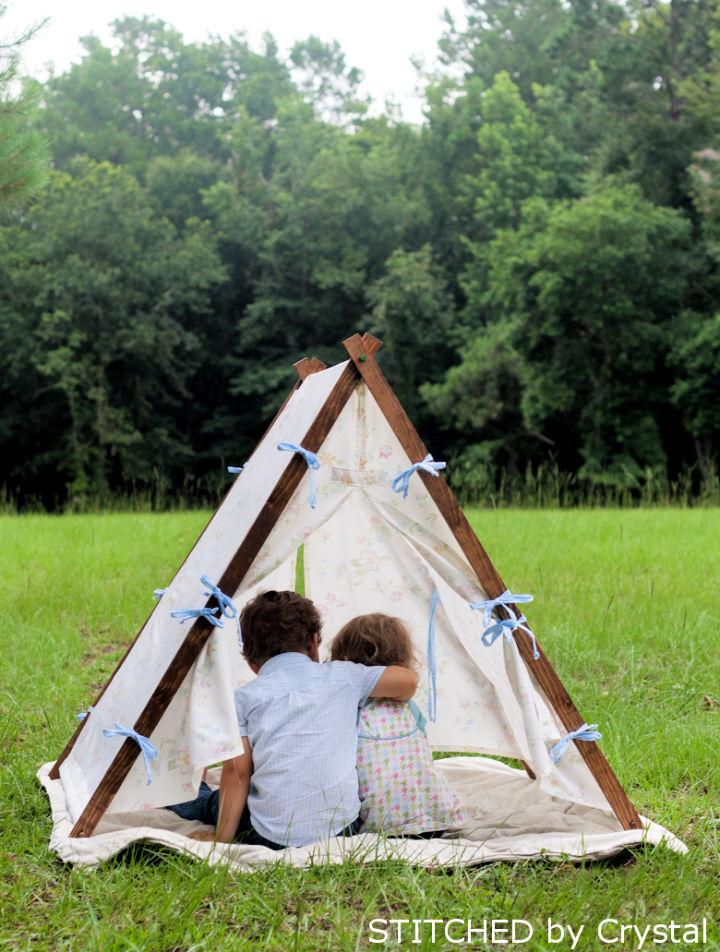 Fulfilling fantasies of your kids by making this homemade tent with the ordinary supplies will make you their favorite parent. This is a collapsible tent that can be set up or folded up at any time. Watch out the tutorial to get some tips and tricks on making this tent. makeit loveit
12. How To Make An Indoor Tent for Kids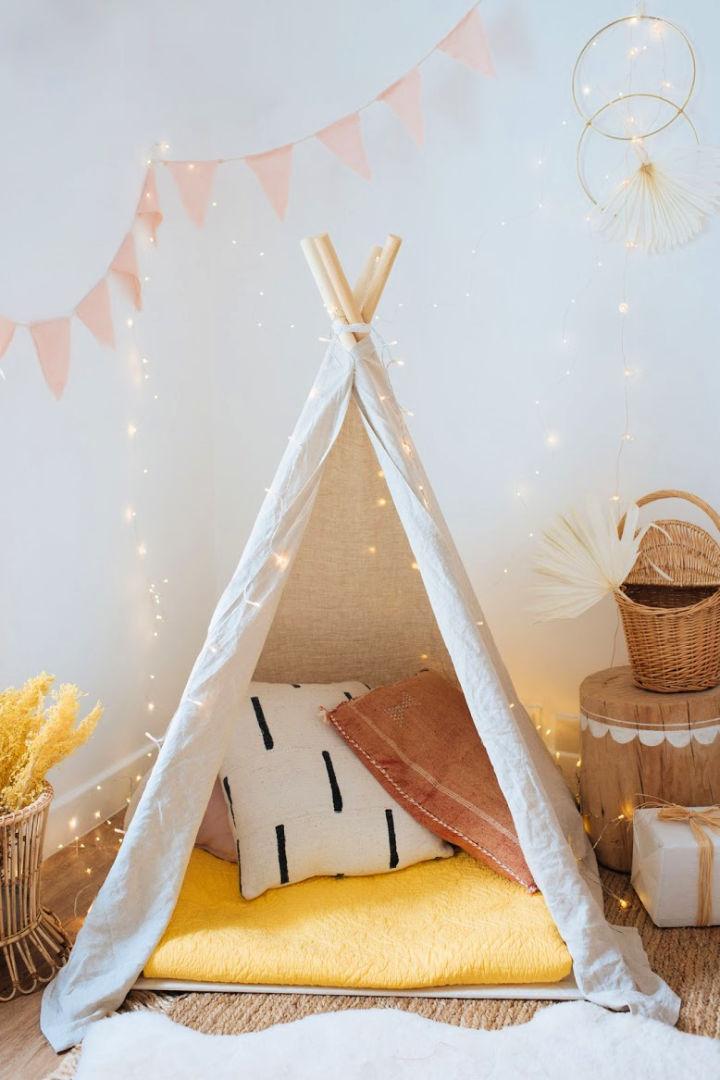 Make the most out of the bedsheets that you were going to throw away and spruce up this DIY kid's indoor play tent. It will take your few minutes to assemble it up, and it will provide hours of fun to your kiddos. With 4 wooden dowels, fabric, canvas, glue gun, and thin rope, you can craft it. collectivegen
13. How to Make a Viking Play Tent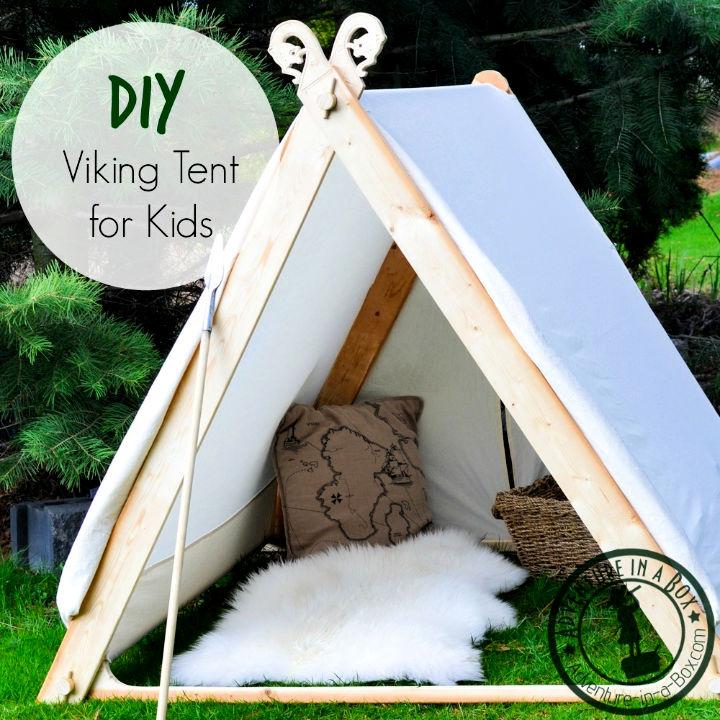 Inspired by the Vikings season? Here comes your Viking tent so that your kids can lurk inside or play a fight. This tent will satisfy your kid's urge to play in the park. Moreover, they will get a chance to do an adventure at home. Read on the instructions to make one for your kids. adventure
14. Small Kids Tent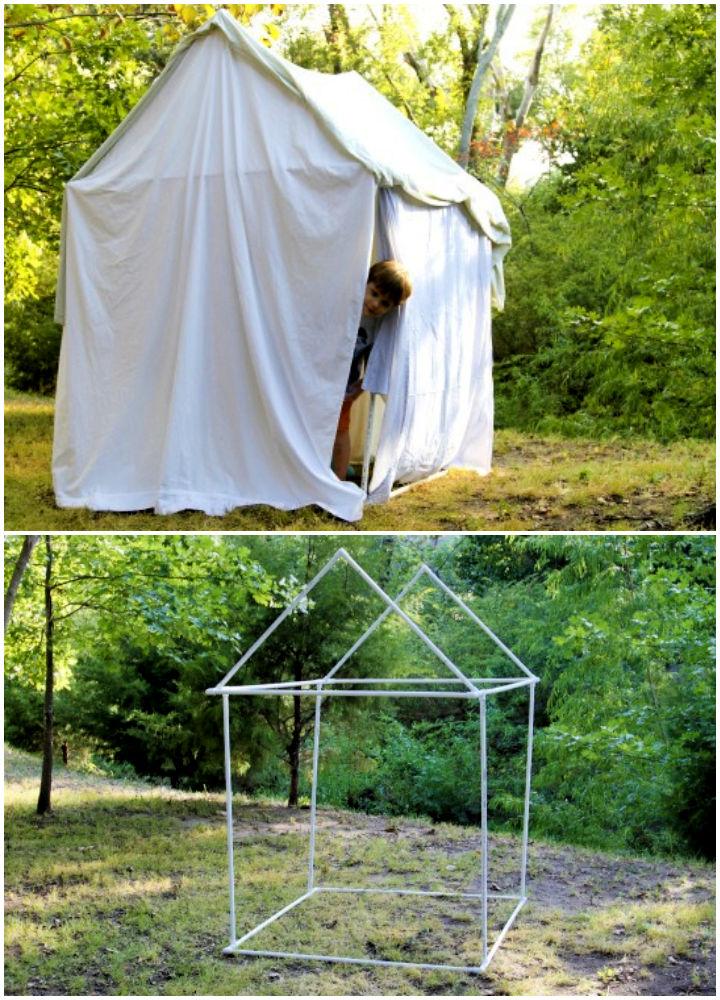 With a little effort, you can make your kids super happy. This insanely amazing small kid's tent can be made and collapsed in minutes. This tent is their mansion, and they are the kings, who can play the way they like. Sheets, PVC pipes, elbows, PVC pipes cutter, is all you need in supplies. kidsactivities
15. Homemade Tents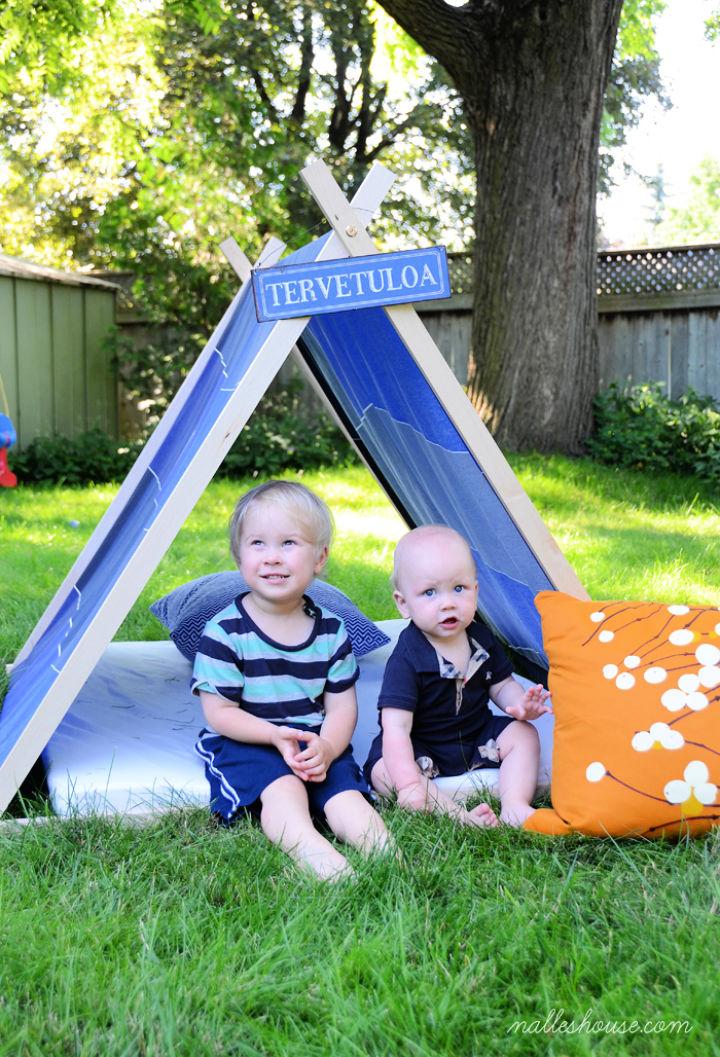 Let the kids create their own fortress in which they can rule and fulfill their imaginations. It's a homemade tent that will provide massive playful opportunities to your kiddos. By making this tent to them, you can run your errands easily and with peace. Hit the link to see the details. 4men1lady
16. Children's Outdoor Tents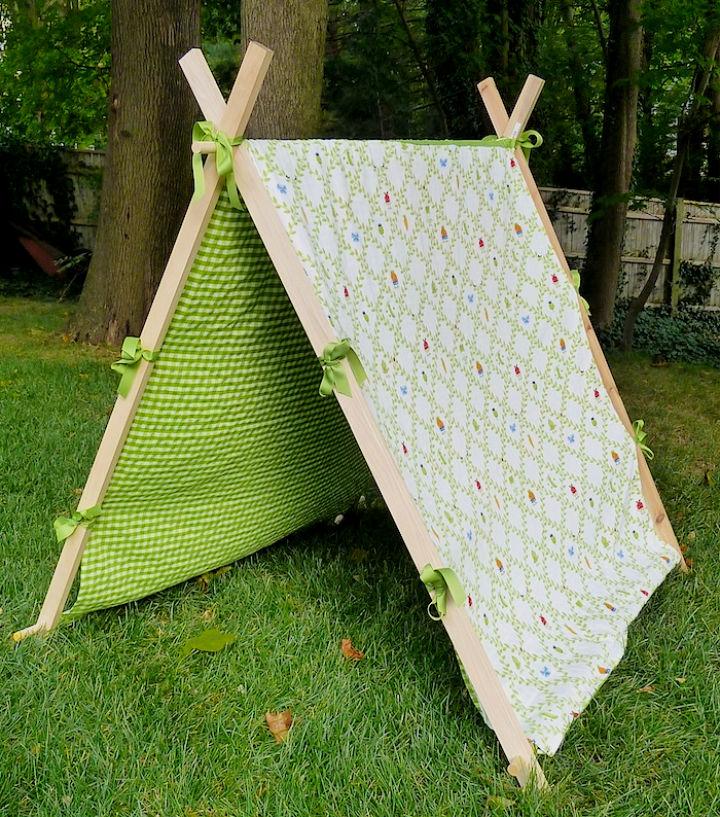 Here is a super swift and insanely fun project on children's outdoor tents making. It's a perfect project to get your hands on when you need some silence and peace inside the home. DIY it by going along the directions and let your children get non-stop fun, yelling, and playing inside it. bottlebranch
17. Children Indoor Tent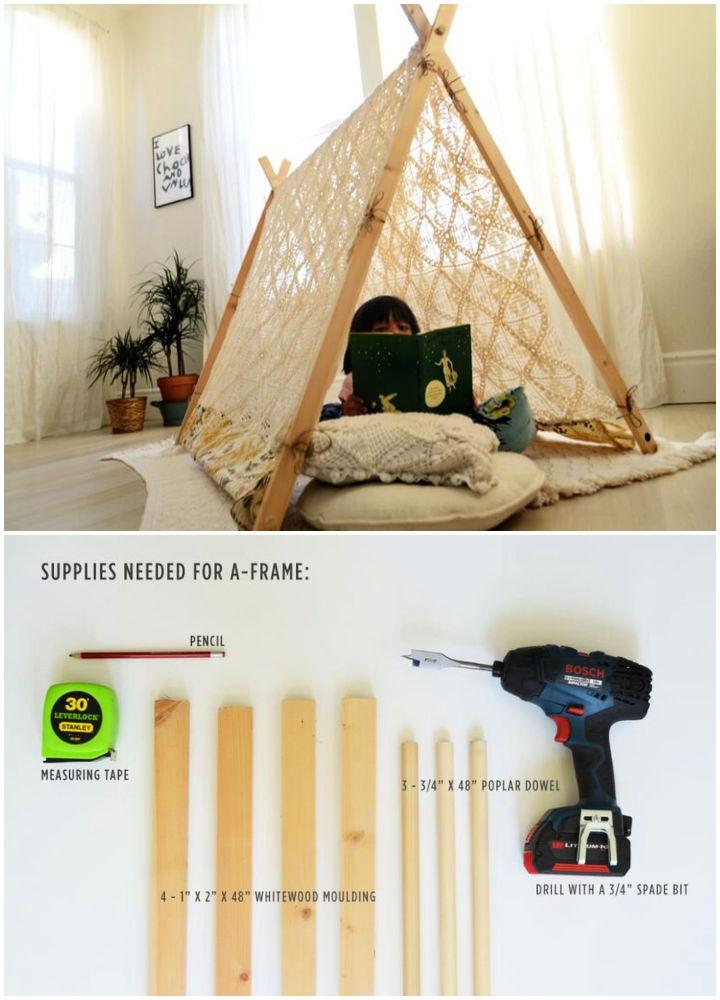 When your children are not satisfied by the room and space of their own, build them this indoor tent with A-frame. It will be a kind of their private spot where they can sit and do whatever they want without any interruption. Move along the steps to make this tent. abeautifulmess
18. DIY Tents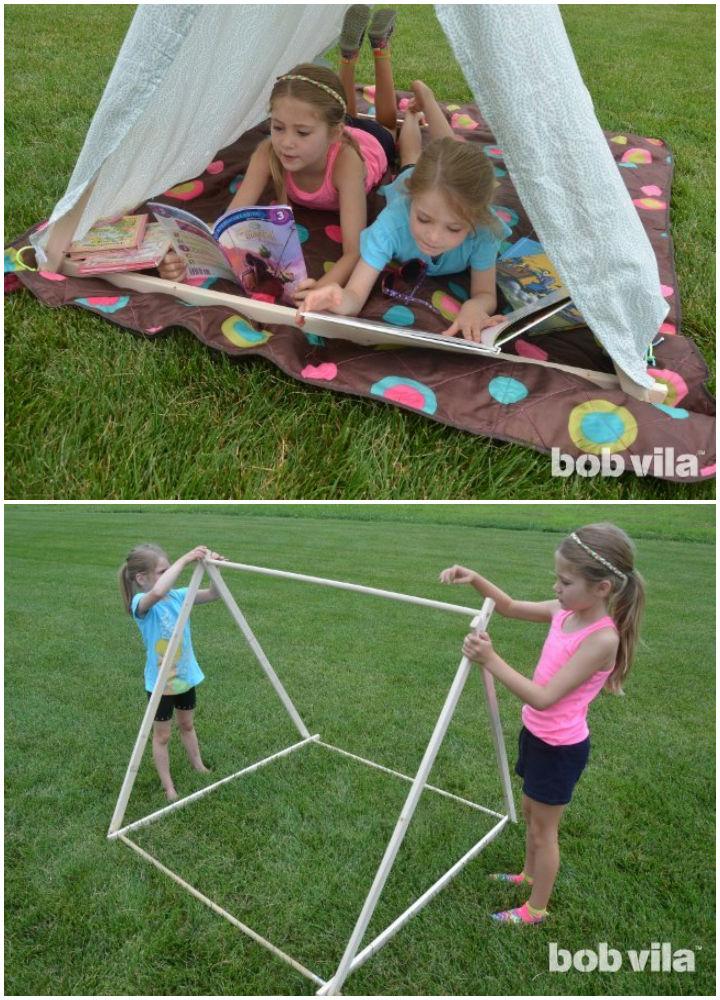 DIY tents are always a fun idea to opt and will be loved by your kids so much. It will make an excellent space for them that they won't want to come out of it. Consequently, you can live in peace and quiet inside your room. Get a hammer, cord, twine, drill, bed sheet and sandpaper to start off. bobvila
19. Kids Sleeping Tent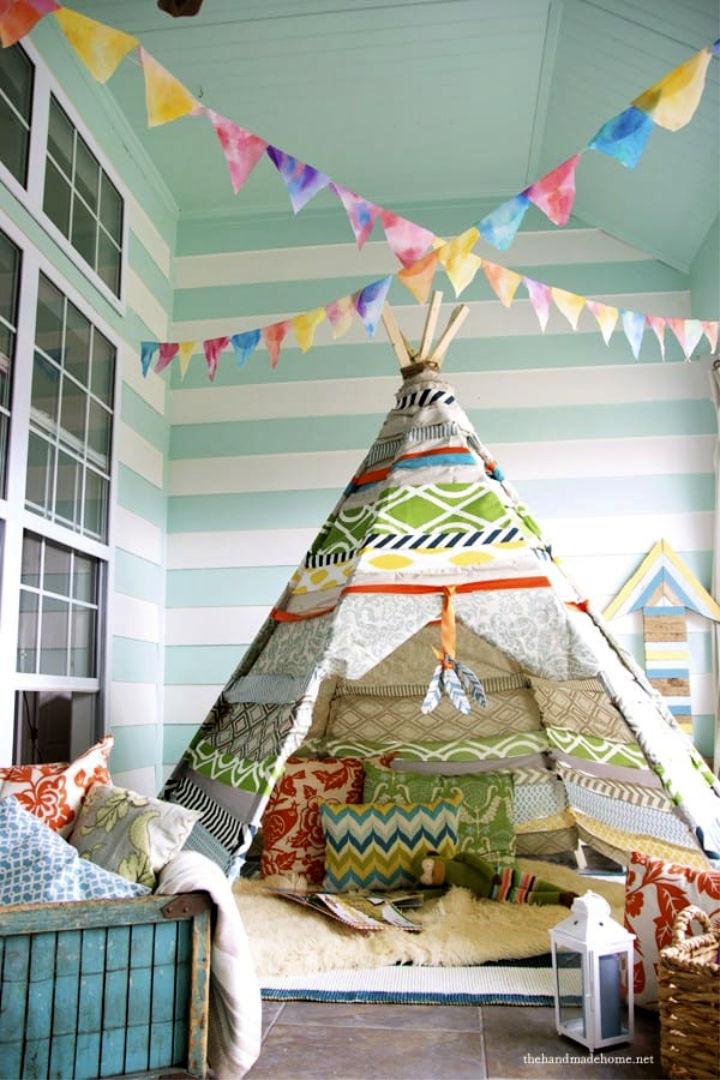 Usually, kids always tend to live in fantasies. What if you make their fantasies fulfilled by making them this kid's sleeping tent? They will love it. Plus, you can make it up without any stitching or sewing. Just by following the instructions, you will be able to make it on your own. thehandmade
20. Boy Play Tents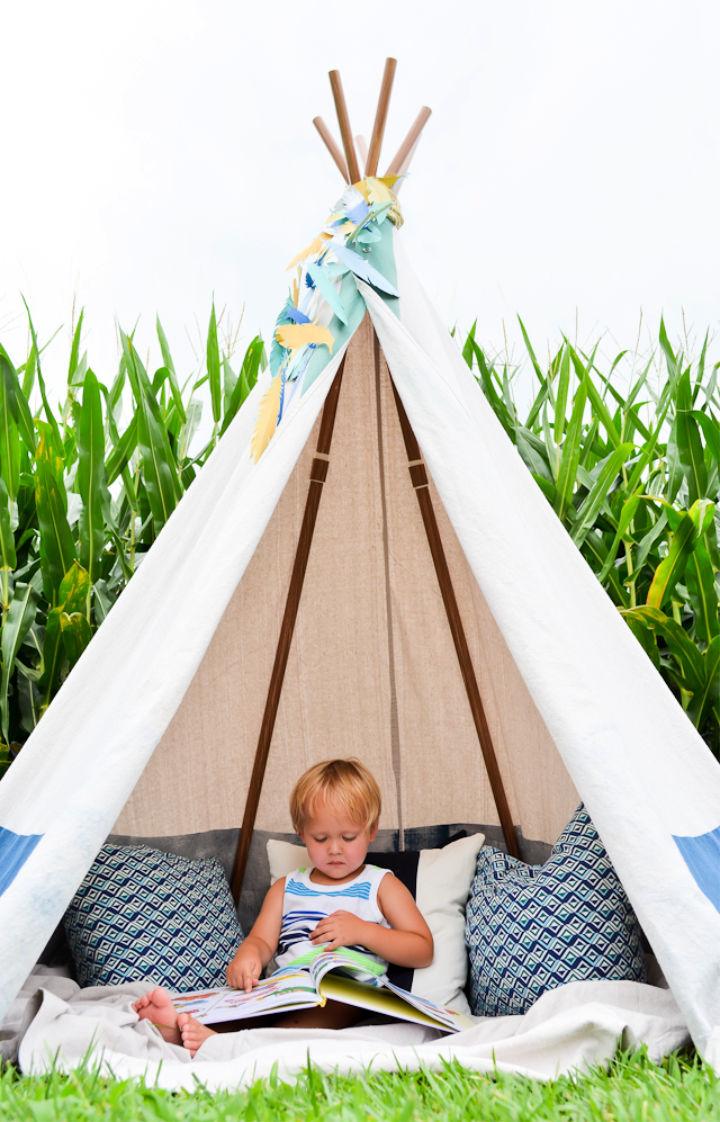 This boy play tent is specifically for your baby boy, who wants to have a fort and want to be the king of it. Let them grow their imaginations and live their fantasies there. The DIY no-sew teepee shape is more easy to give to the tent. Dive in to find out the making of this tent here. projectnursery
Conclusion: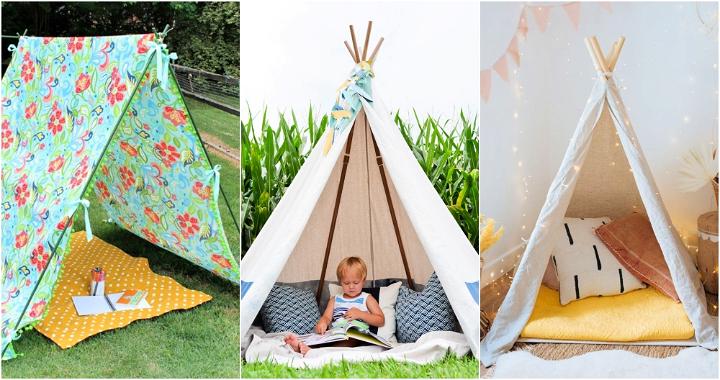 We are sure you found the tutorials for DIY tent ideas for kids very interesting. Do try making one of these diy play tents at home. You can gather your children's friends, and they can play all day long. Let your child play carelessly in these homemade tents.