Give your kids the strong fun reason to be outdoor by installing some fun playhouses, swing sets, and slides. Go with these 28 free DIY swing set plans and start building your own beautiful swing sets, slides, and kids playhouse and even the all in one kids' entertainment center like a pro. You will get the step-by-step instructions, diagrams, and tutorials for building the self-standing swing sets too. Opt for an A-frame swing set design or with a straightforward one that will have pillars or poles fixed in the ground.
See a variety of readymade designs by browsing this list of 28 DIY swing set plans that are quite easy to follow and involve using budget-friendly supplies to build a durable DIY swing set. There is nothing better than to ride a swing when willing to spend the summertime in fun.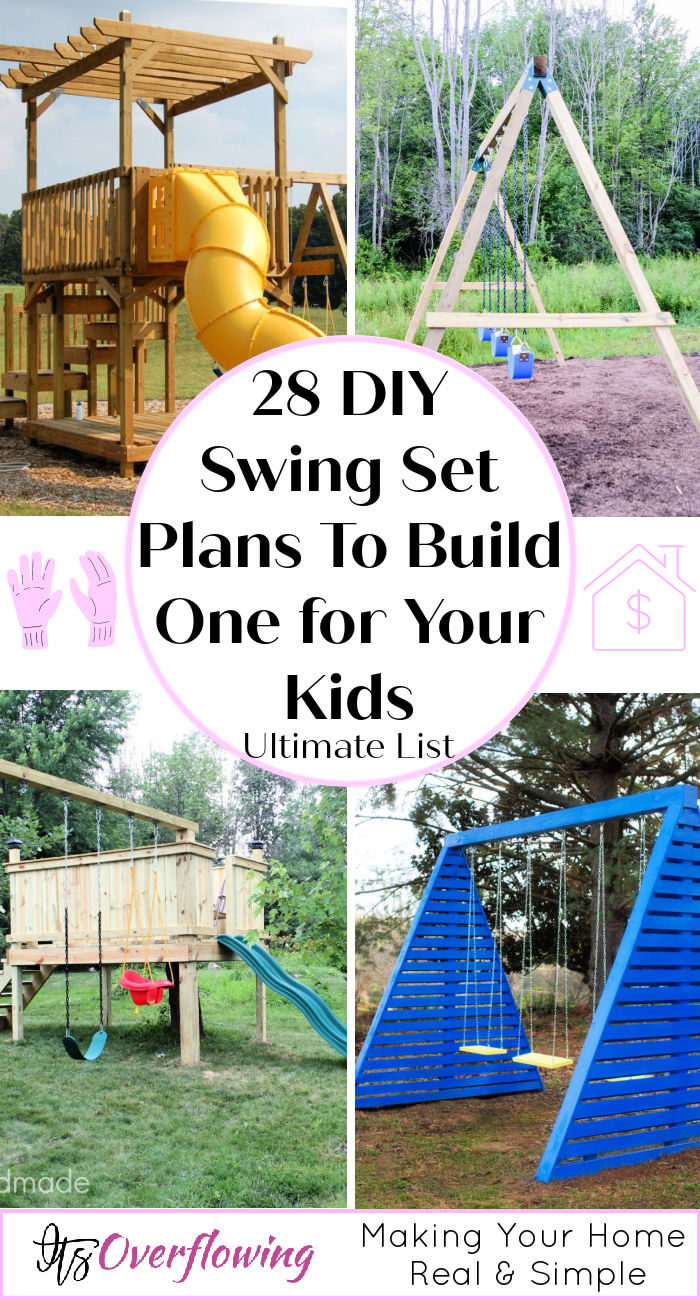 These swing set plans will attract your kids to be outdoor and hence raising their outdoor physical activities. Most of these DIY Playhouses or swing sets provide stairs and climbing walls to reach higher levels and hence will serve as a great kid' gyms too. From separate self-standing swing sets to attached swing sets to A-frame swing sets, you will get the free swing set plans for all here.
Moreover, you will learn to make the super fun-shaped swings too like an airplane swing. Take a short tour of all these DIY swing set plans and do try out your favorite ones for the sake of kids' outdoor entertainments and fun.
1. Build a DIY Swing Set Frame With Slide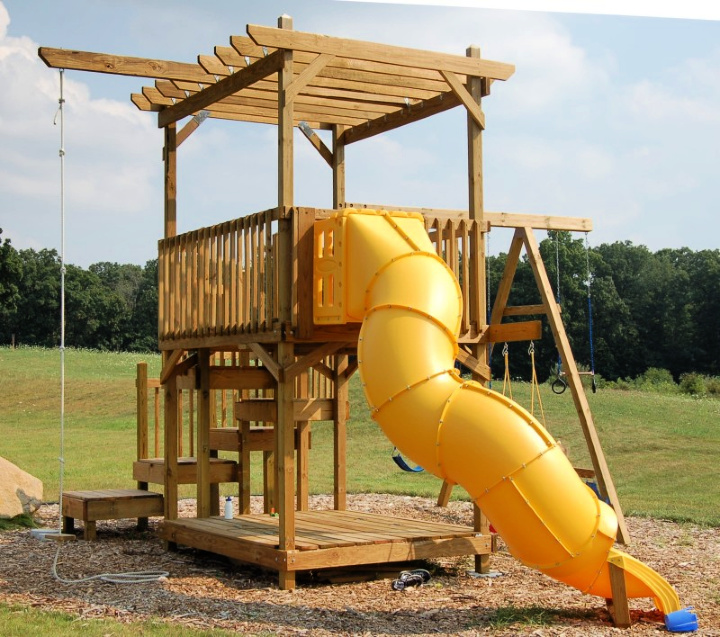 Kill the boredom of your kids with this DIY swing set that comes with a slide, a perfect playhouse for the kids to build yourself. You will get the step-by-step instructions and free plans here to build this swing set frame. First, select the garden ground, trace the area, clean the area, and then install the base. Details here howdididoit
2. Free Swing Set and Climbing Wall
There is nothing more relaxing but to sit on a swing in the summer. Build this swing set that comes with an attached climbing wall, will take the kids' outdoor entertainments to the next level. First, install the wooden deck then and heavy-duty wooden posts to build this swing set and climbing wall. Details here diynetwork
3. DIY Playhouse With Slide and Swing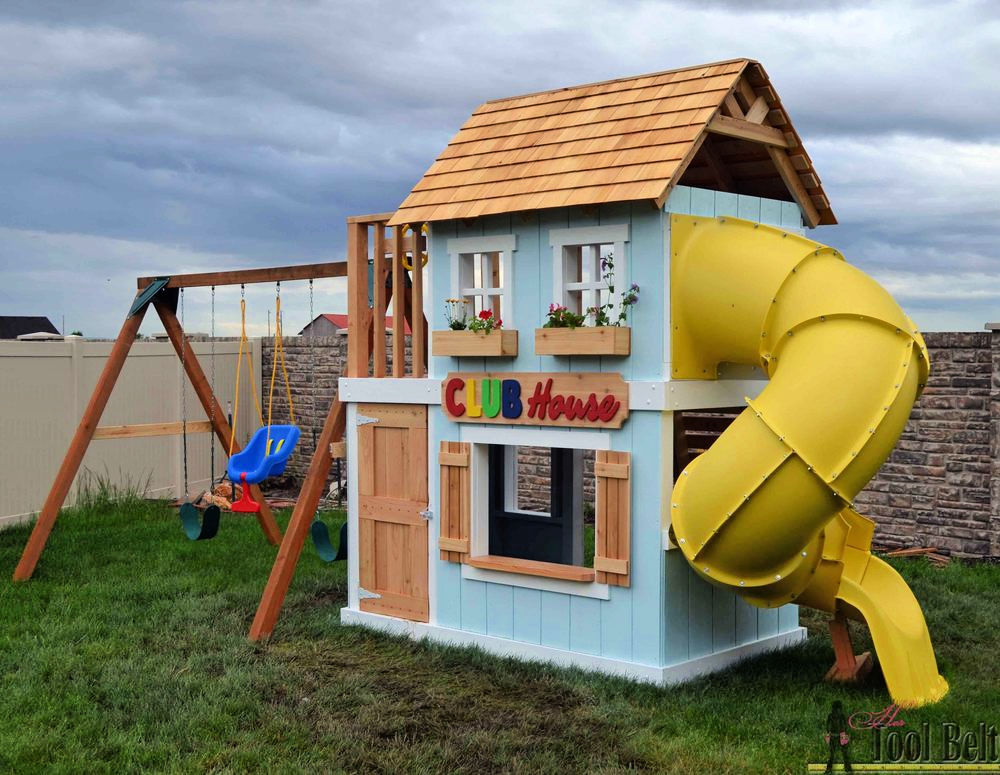 Download here the free PDF swing plans to build this real heaven for the kids, the playhouse with both slide and swing. You will get the free diagrams, cut lists, tool list, and hardware list along with step-by-step instructions to build this fantastic playhouse for your kids. The best gift to give to your kids. ryobitools
4. DIY Swing Set for the Playhouse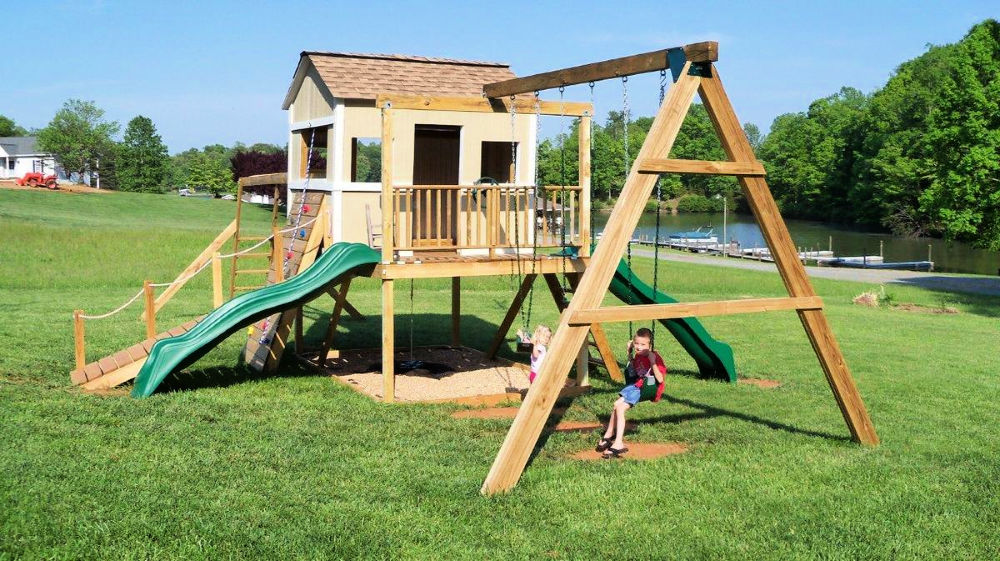 It may be intimidating for many of us to build a playhouse for the kids. You just no need to puzzle get these free plans to build a lovely one with a DIY swing set. And You will get a separate plan to build a playhouse deck, back wall, roof, swing set, and gable end walls. You have to use mostly the 4×4, 4×6, and 2×4 for this project. ana white
5. Wooden Kid's Swing Set
Transform your outdoor into super fun making lands for the kids by adding a swing set, get here free instructions, and plans to build a swing set like a pro. Go with the 4×4, 4×6, and 2×4 wood slats to build a lovely swing set, will take the kids' fun to the next level. Next, you need rope and custom swing seats. hgtv
6. Homemade Backyard Swing Set
Get the step-by-step instructions and free diagram plans here to build a backyard swing set that will take 16ft x 12ft space and will be 12ft tall. This backyard set also comes with a slide and is sure to be the super fun place for the kids. The best thing to plan to boost the physical activities of your kids. Details here motherearthnews
7. Modern A-Frame Swing Set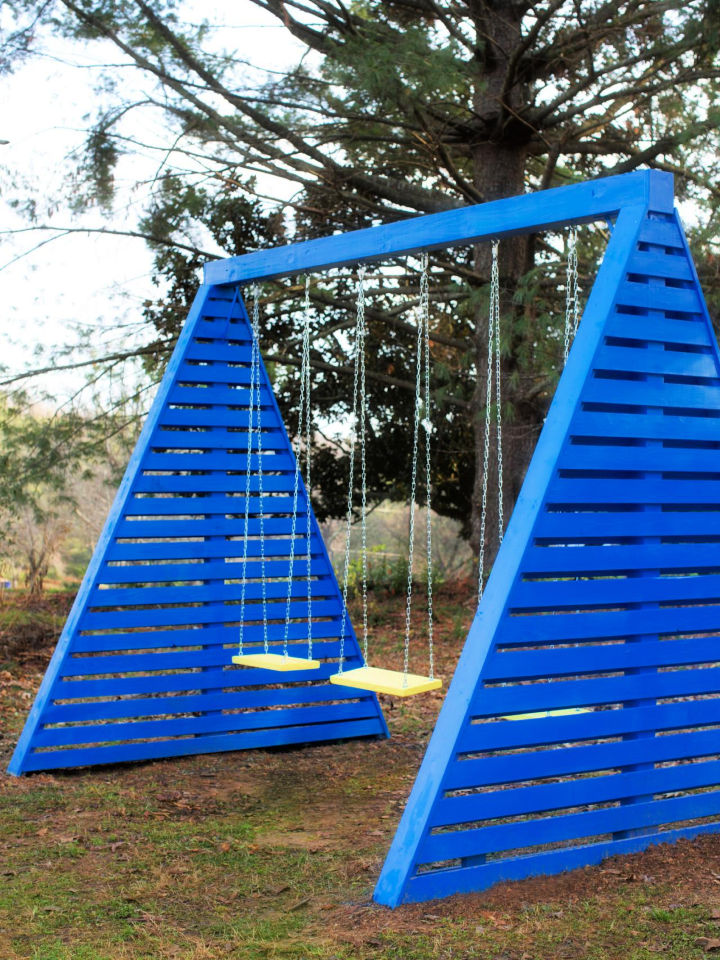 The A-frame swing sets are fairly common, and you can get here free plans to build an A-frame swing set. Use the 4×4, 2x4s, 1x4s, 2×6, and 4x6s to build this A-frame swing set that comes with A-frames covered with slatted arrangements of wood slats. A best blue painted DIY A-frame swing set to build in no time. Details and tutorial here hgtv
8. Homemade Playset
Every outdoor containing a swing and a slide will be the best fun place for the kids to enjoy the free time. This homemade Playset is having all to impress your kids, a lovely big slide, and a cool swing set that is attached insides. This Playset offers different elevated levels to reach to higher sliding sections. Details here instructables
9. DIY Swing Set
From cleaning the space to build a big swing set tower, get all the step-by-step guides and free plans here. Use the 2×6 and 2×8 to build the tower. Cover the tower sides with wood slats, and next extend the frame to install swing set frame. Use the heavier posts like 4×4 and 4×6 for it. Finish with stair. Details here blackanddecker
10. The Airplane Swing
Think out of the box and spice up the kids' swing game, build this airplane kids swing set, will be a big pleasure for kids to sit and ride. Build the airplane seat using 1×8. 1×6, 2×4, and 1" dowel and next get it in the air using heavy-duty rope and eye-hooks. Paint the plane in any color your kids will like. whitneyswork
11. Building Your Own Playset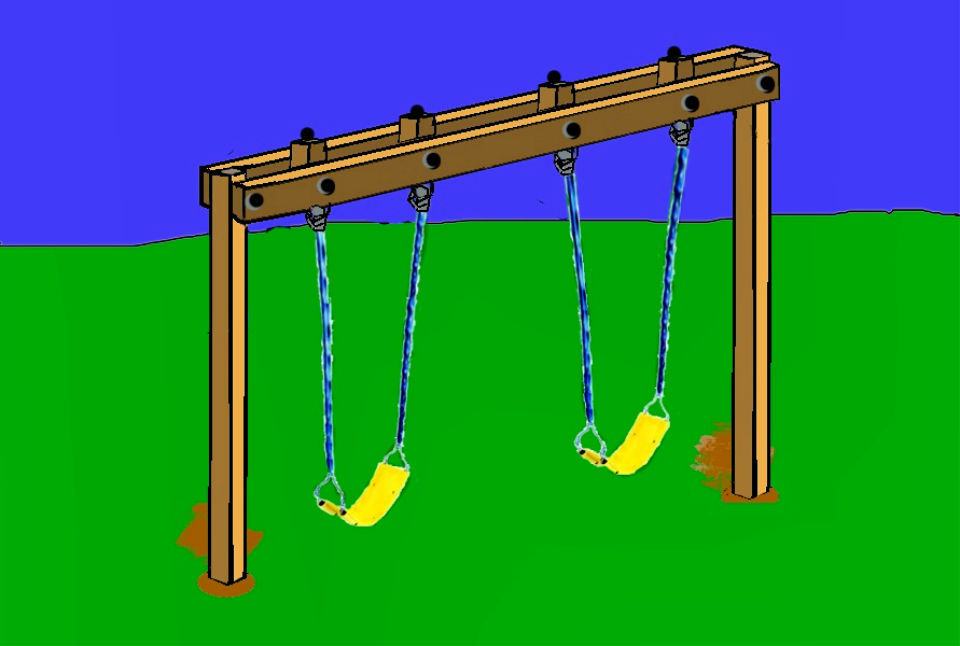 Get the free plans here for a simple and straightforward play set that comes with no A-frame but with heavy-duty wooden poles. Grab the 2x8s, 6x6x12ft, and 6x6x8 inch to build this outstanding Playset for the kids will be the best summer gift to give to your kids. Make the posts stable using concrete mix. howdyyadewit
12. Wooden Playset Plans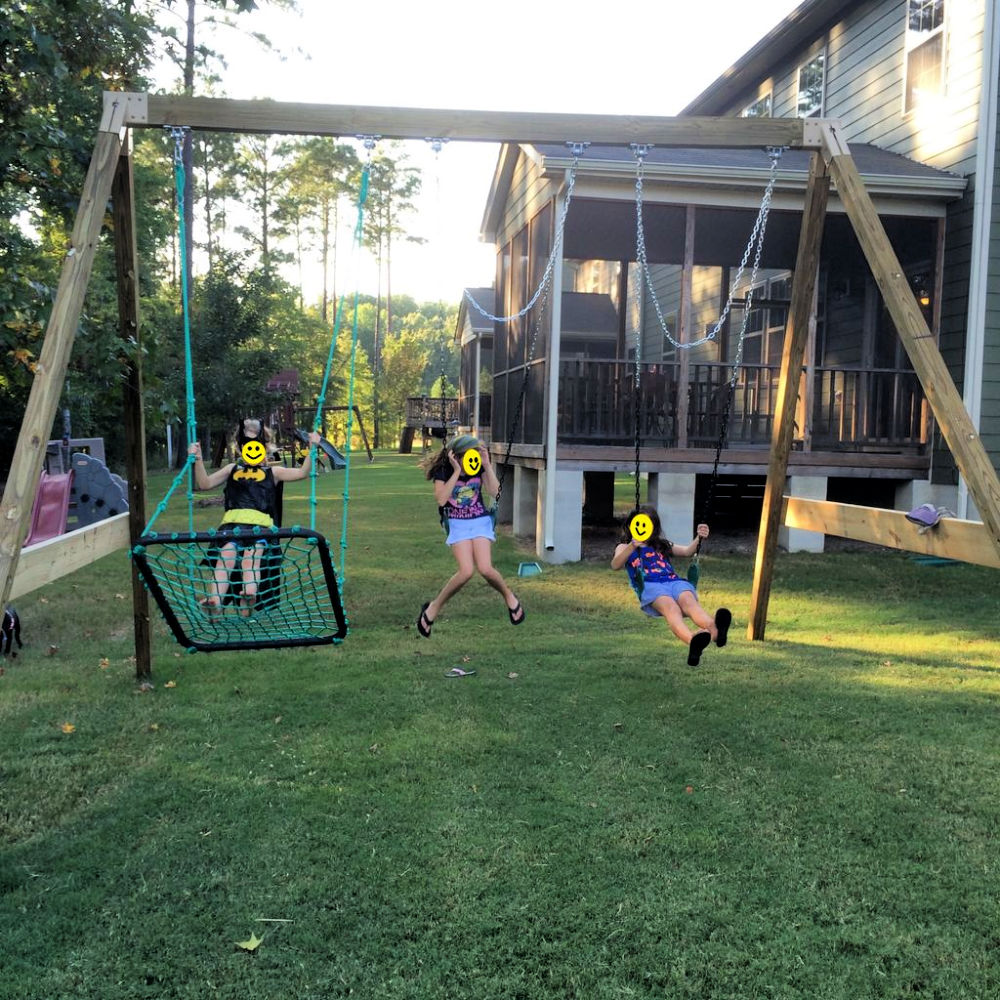 This Playset is heavy-duty and provides 3 swings for the kids. It takes the 13′ x 13′ space of ground is about 11′ tall. The A-frame comes with a wide stretch, and you will surely fall in love with this wooden Playset that is looking just fantastic and lovely. You need 4×6, 4×4, and 2×8 to build this wooden Playset. Details here instructables
13. Wooden Swing Set Plans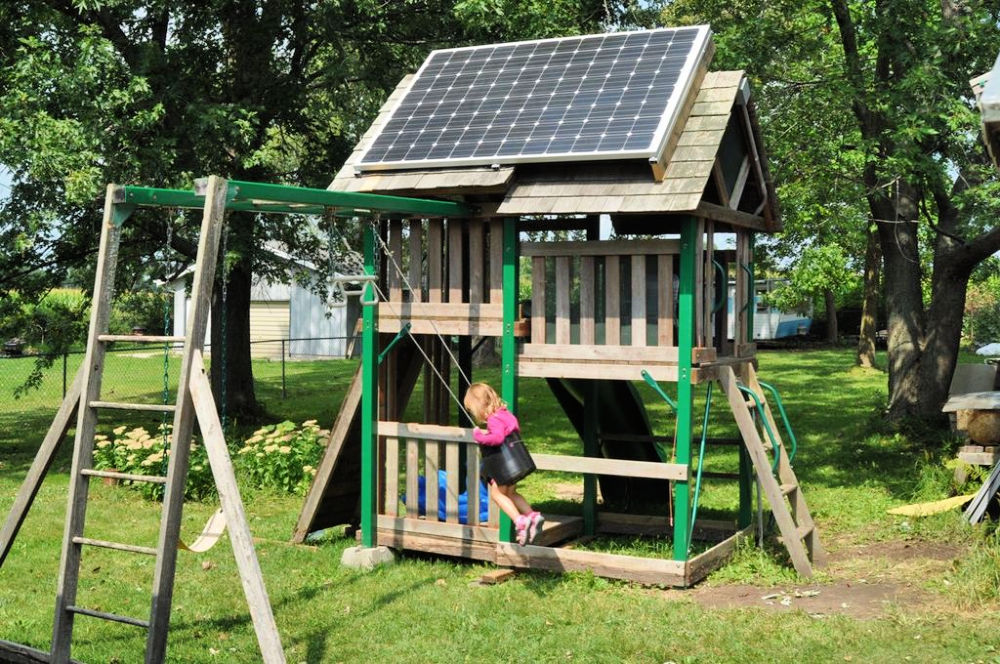 Peek into details of this another wooden swing set that comes with a solar system installed and can easily be lighted at night. Here kids swing set has been repurposed to build this wooden swing set, will surely impress. Choose the 48V solar panel for this swing set, which will create too much fun for the kids. Details here instructables
14. Outdoor Playset Plans
Get busy again with 4×4, 2×4, 2×6, 2×8, and 1×4 wooden boards to build this outdoor Playset. Grab the free plans and step-by-step instructions to this Playset featuring a big tower, an attached swing set, stairs, and a big slide. The best Playset to bring tons of fun to your outdoors. Details here howtospecialist
15. Wood Playset Plans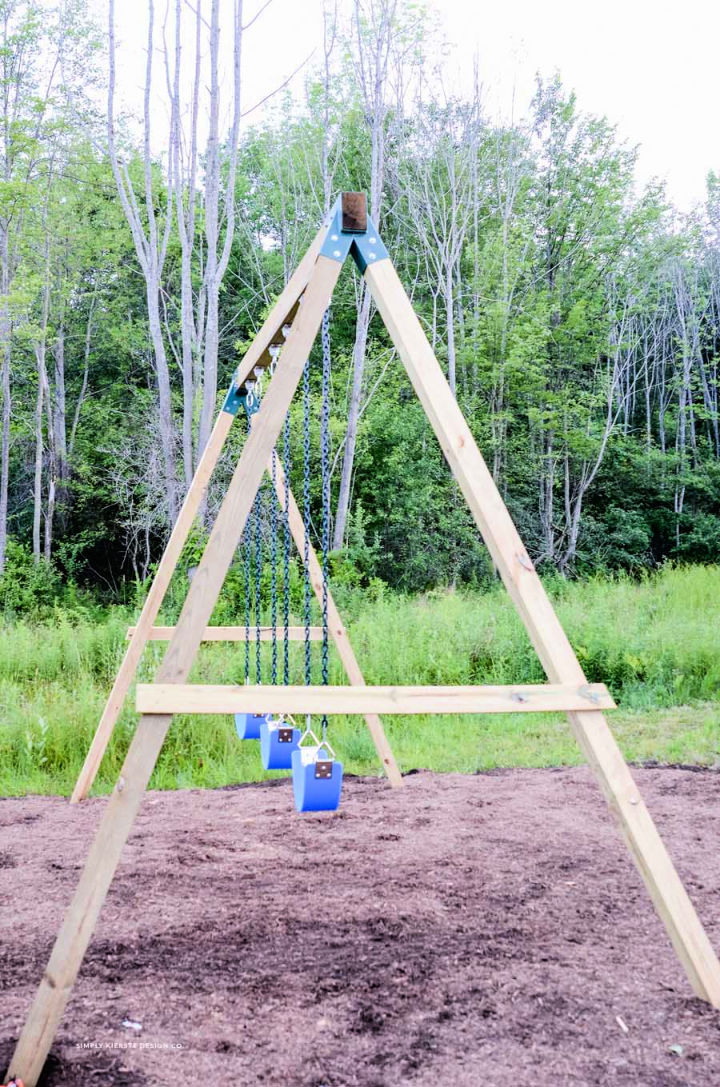 Look at this another fantastic wooden playset that provides 3 swings supported with the metal chains. Build the swing set using 4×4 and 4×6 boards and opt for the 5.5" x 8′ wood stringers for A-frame. Next, you need anchors, A-frame swing brackets, swing chains, swing seats, and swing hangers to make this Playset. oldsaltfarm
16. Wooden Swing Set
One of the best DIY wooden swing set plans free to build the kids for a great spring break. It features a slide, a big tower with a chevron roof, a swing set and lovely stairs to reach to higher levels. Use extra braces to support the slide and stairs and cover the roof with a waterproof fabric. Details here boxycolonial
17. Build Your Own Swing Set
A super sturdy and perfect wooden swing set to build for your outdoor, so it will be more entertaining for kids. Just grab the 4×6 and 4×4 wooden posts and beams to build this swing set. Use the hardware A-frame swing brackets for durable assembly and just extend it to get as much swings as you want. Details here youtube
18. Wooden Playset Plan
A one of the most terrific outdoor gym for the kids, will help keep your kids physically fit. A lovely wooden playhouse that comes with a slide, climbing wall and an attached swing set. It will create tons of fun for kids along with raising their outdoor activities. A one of the best DIY Wooden Playhouse Plan that is super easy to clone also. youtube
19. Build Your Own Playset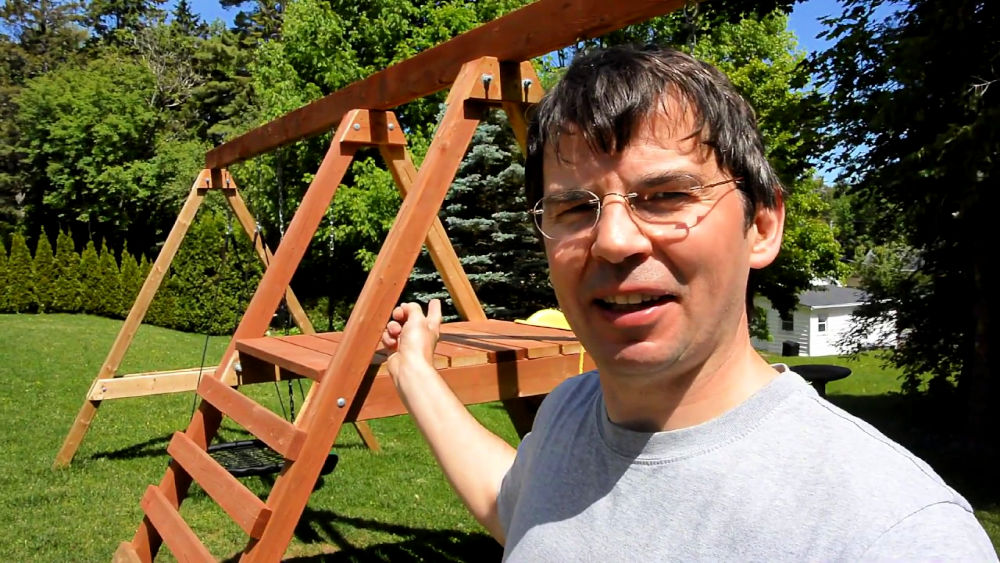 Take the A-frame swing set game to the next level by building this fantastic Playset that provides stairs and a raise slide platform at one side. It provides the swinging fun and a slide at the same time and will be quite something quick and easy to build this weekend for your kids. Details here youtube
20. Wood Swing Set
A one of the best DIY wood swing set to add to your outdoor for kids' fun. Start building it by building first a raised wooden tower that may come with steps or stairs to reach the higher levels. Attach slide to it. Extend one side of this tower to install an A-frame swing set and hence double up its fun. Details here youtube
21. Set Post Kids Playhouse
You will surely fall in love with this et post-kids playhouse that comes with a country flag to look more fantastic. It comes with a heavy-duty tower providing stairs for an easy reach and has an attached swing set. The swing set does not come with A-frame; it has just poles fixed in the ground. Details here ourfifthhouse
22. Swing Set Designs
Feel free to build this swing set for your kids that is all in one entertaining center for the kids. It provides a climbing wall, a lovely slide, a fantastic chevron roof, and an attached swing set. Just grab the 4×4, 4×6, 2×4, and other this kind of wood lengths to build this heavy-duty and lasting longer swing set. Details here
23. Playset Plans
You will find nothing more beautiful for your kids' entertainment and gym-ing purposes than this Playset. It provides all the monkey bars, swing sets, a climbing wall, and a slide. The best fun station to raise the kids' physical activities whey they are outdoor. One of the best DIY Playset to build for your kids.
24. Wooden Swing Set Plans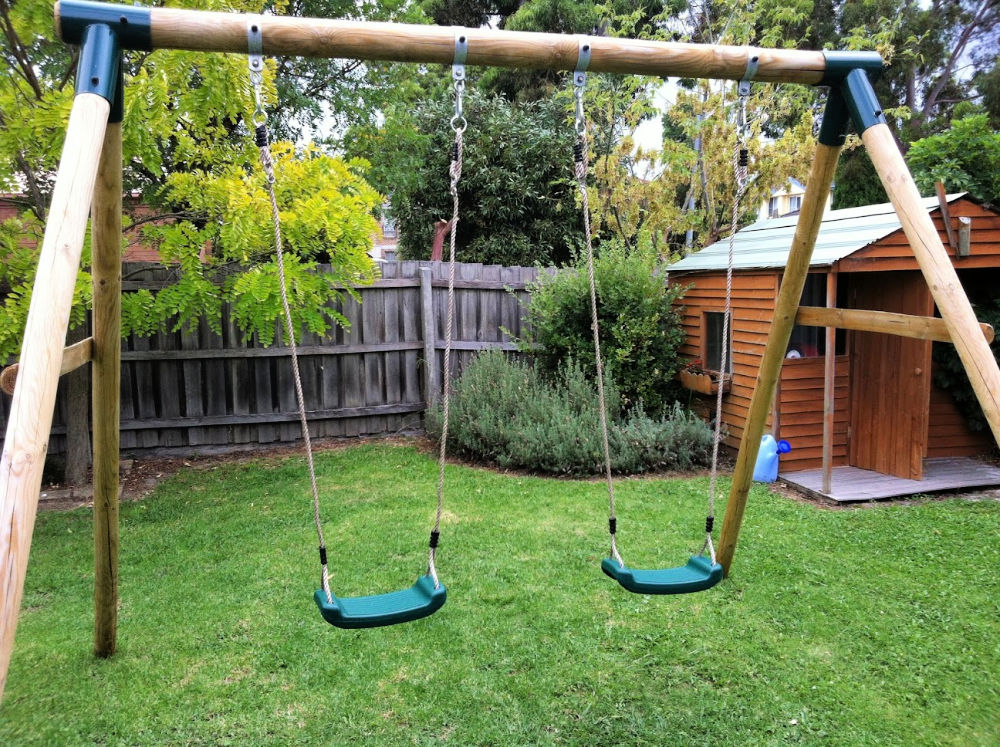 You can copy building this wooden swing set using heavy round wood posts or dowels. The strongest bamboo may work great too. Next, assemble the A-frame for the swing set using A-frame hardware brackets and go for a custom stretch of legs.
25. Playground House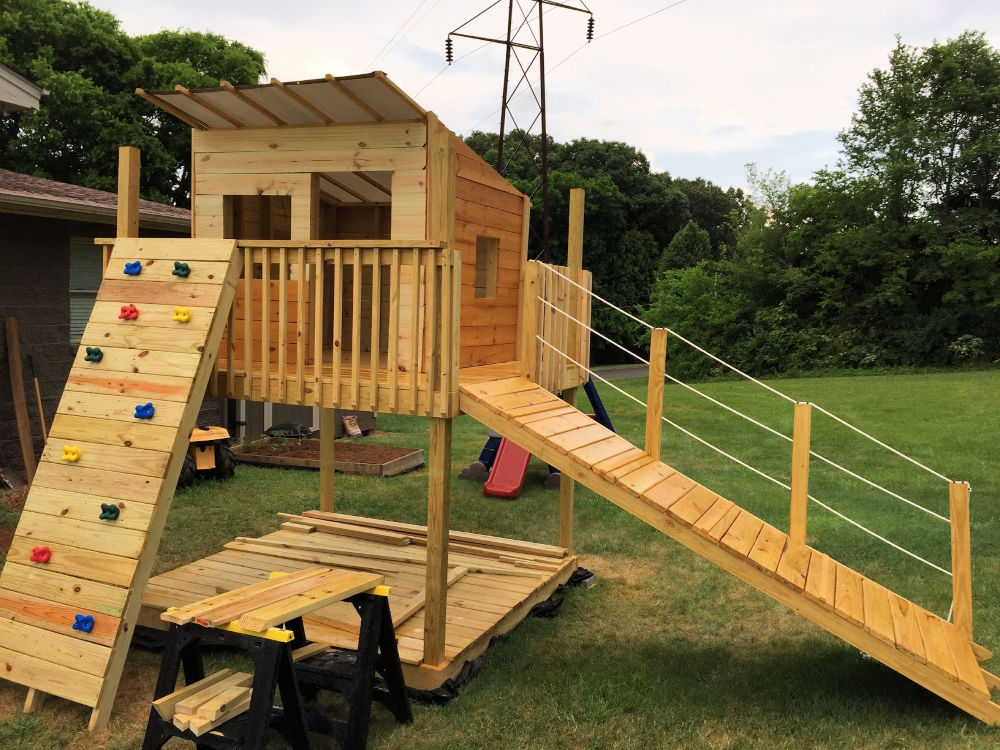 The best to get to boost the outdoor entertainments of your kids, a fantastic wooden playground house. It comes with certain added features like a climbing wall, bridge-style staircase, and a gorgeous slide system. It has been built durably with the wood and will last for years to come for sure.
26. Backyard Swing-set Plans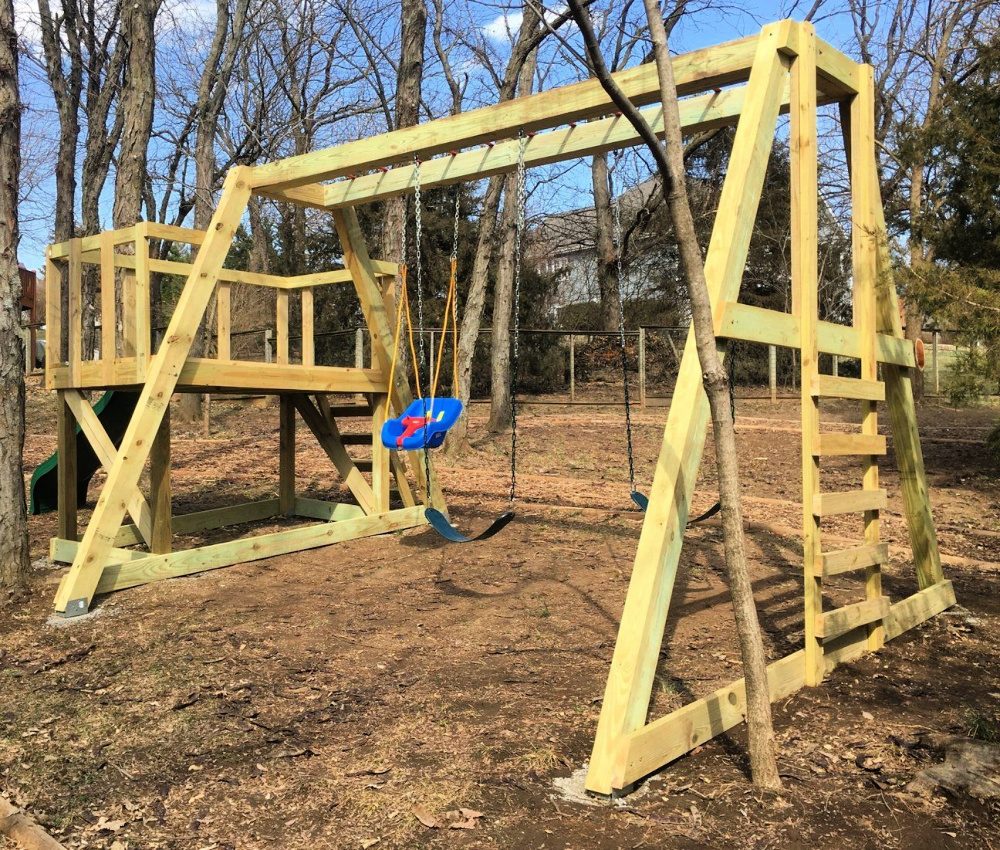 Opt for this backyard swing set that is too durable to be super safe for the kids. Use the heavier wood beams and posts to build this A-frame swing set that is attached to a treehouse. This swing set comes with two cross beams having monkey bars installed in between.
27. Swingset Plans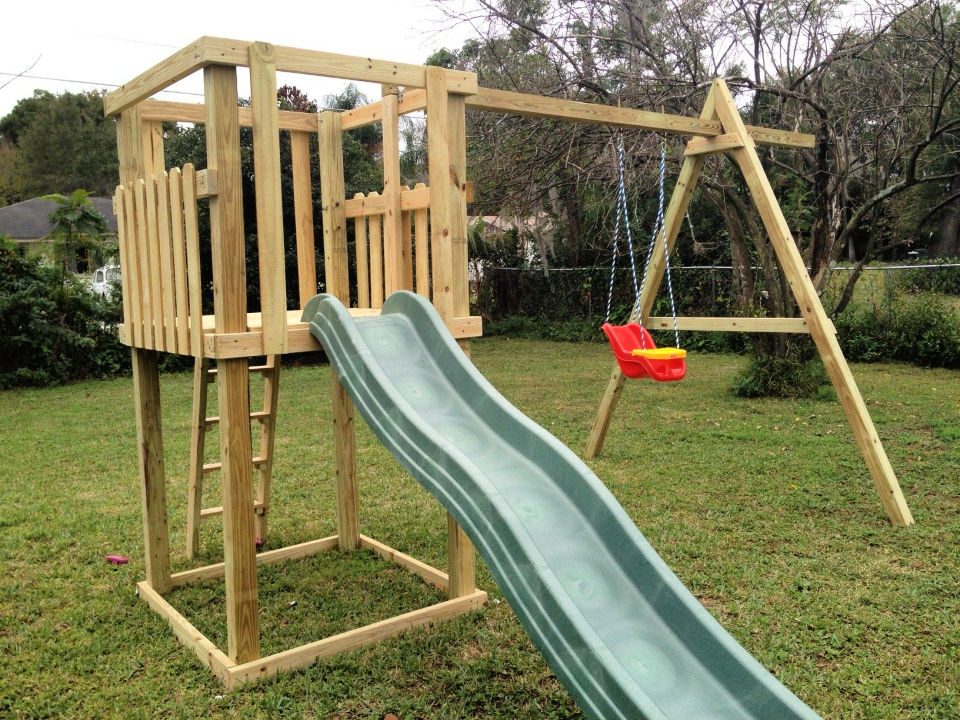 Another great swing set to make in no time will be the best surprise for the fun-loving kids. It has an A-frame to one side and a sliding tower to another end. Use the heaver wood posts to make the pillars, cross beams, and poles. A one of the best swing set ever.
28. Swing Set Plans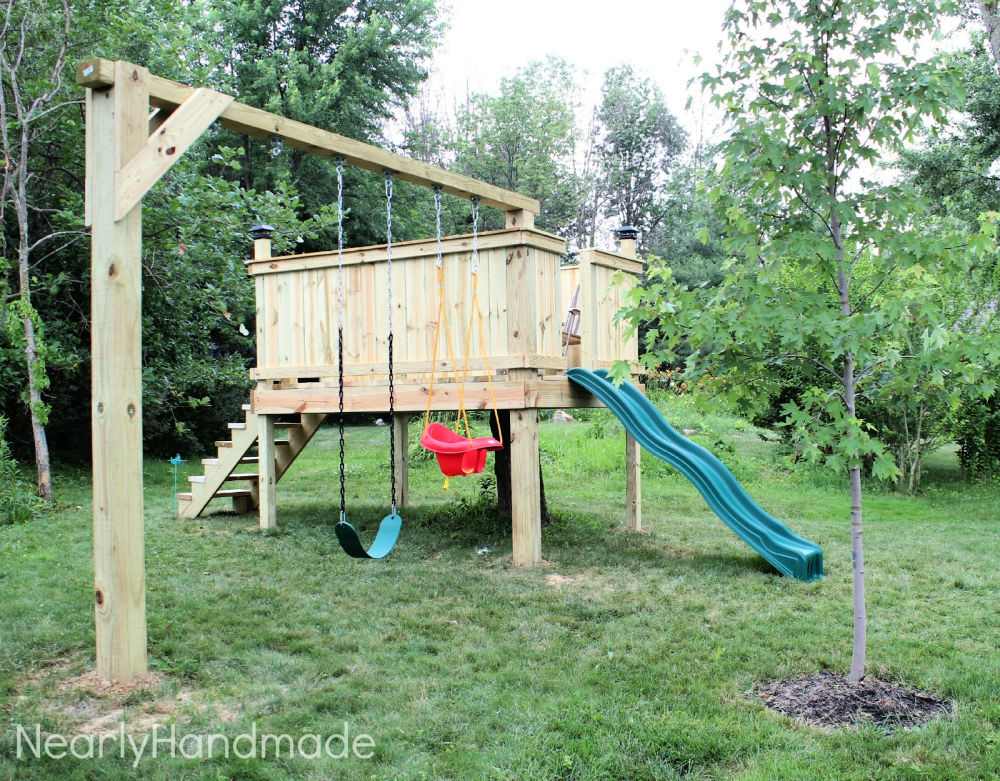 Transform your backyard into mini heaven for your kids by installing this lovely swing set. It has its structure based on heavy-duty wooden pillars and is super quick and easy to make. It provides a slide on one side of a raised platform, stairs to another side, and has a swing set attached to another side.
Conclusion:
Willing to install the durable and fancy swing sets to your outdoor without breaking the bank? The get the DIY hacks here that will allow you to build your own beautiful swing sets at home in a budget-friendly way. Most of these swing sets come attached to kids' playhouses.
However, you will get FREE swing set plans and tutorials to build the self-standing swing sets, too, will double up kids' outdoor fun for sure. From beginner to advanced skill level, you will get here free swing set plans for every level. Build the solar-paneled swing sets too that will be nicely lighted at night.
DIY Teepee: Give your little one a place to adventure with these easy-to-make teepees and tents. How to make a teepee? – a quick and easy DIY teepee tutorial!
Turtle Crafts: Here are some adorable turtle crafts for the kids to make! Recycle items you normally throw away or re-purpose things you no longer use (such as CDs).
My kids love their piggy banks. Here are a bunch of super cool ways to make a DIY piggy bank all by yourself. These are so much fun!
Woodworking: Expert advice on woodworking and furniture making, with how-to videos, step-by-step articles, project plans, photo galleries, and tool reviews.
Picnic Tables: These free DIY picnic table plans will help you build a backyard retreat in just one weekend. All of the free plans include instructions and downloadable PDFs.