Did you get a new dog? If yes, then you'll love to make dog crates that look like furniture with these 15 free DIY dog crate plans include easy instructions! They are straightforward to re-create, and you will love the outcome. Training your dog in the first two months is very important. You don't want them to chew on your new furniture and stuff like that. In order to make sure that they don't, you will have to place them in these cute dog crates while training them. This is a difficult part for those people who love their pets; however, it is only a matter of two months, and then they're perfectly trained!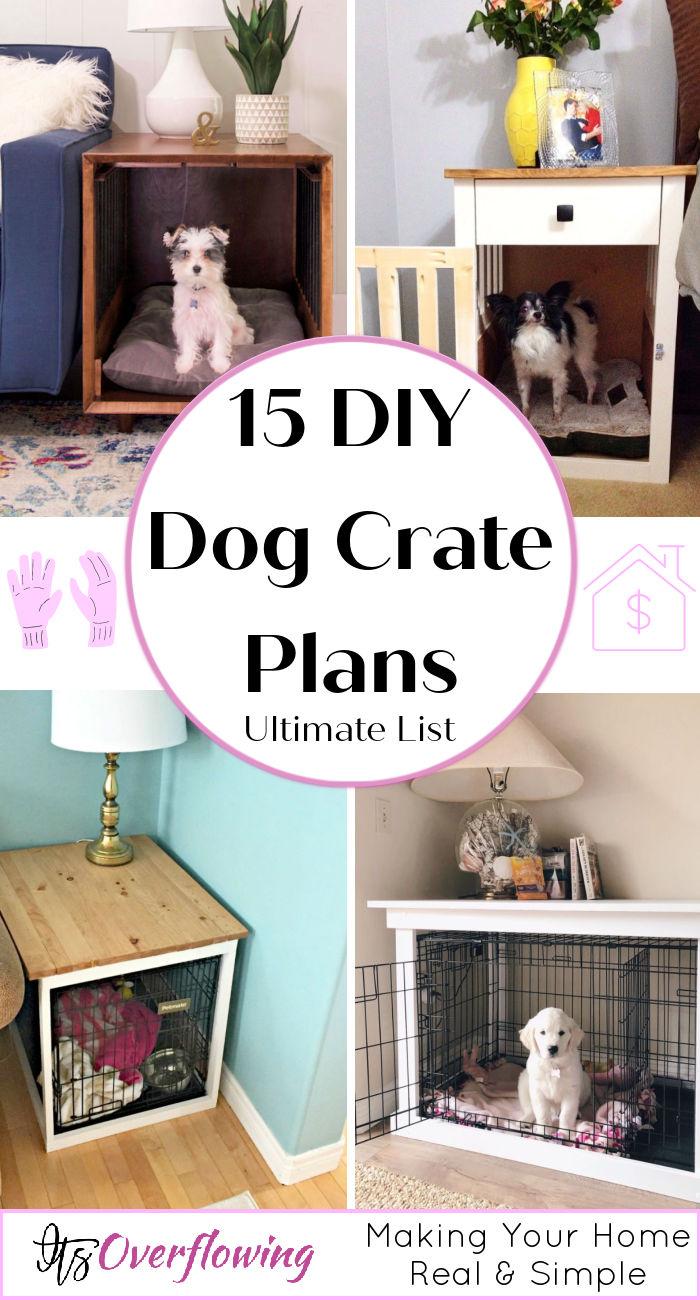 If you want to have a well-behaved dog in the future, then you can make a dog crate look like furniture by following these easy diy dog crate plans. You can double these up as your side tables, as well! This article is going to cover a range of DIY dog crate plans, from wooden to geometric ones, from the nightstand to console dog crates, from a barn to side table crates. There are a lot diy dog cage ideas to choose from. After all, who doesn't like to have a few options? By having this many diy dog crate plans, you will be able to find something that will be perfect for your dog and match the aesthetic of your house!
1. How to Build a Dog Crate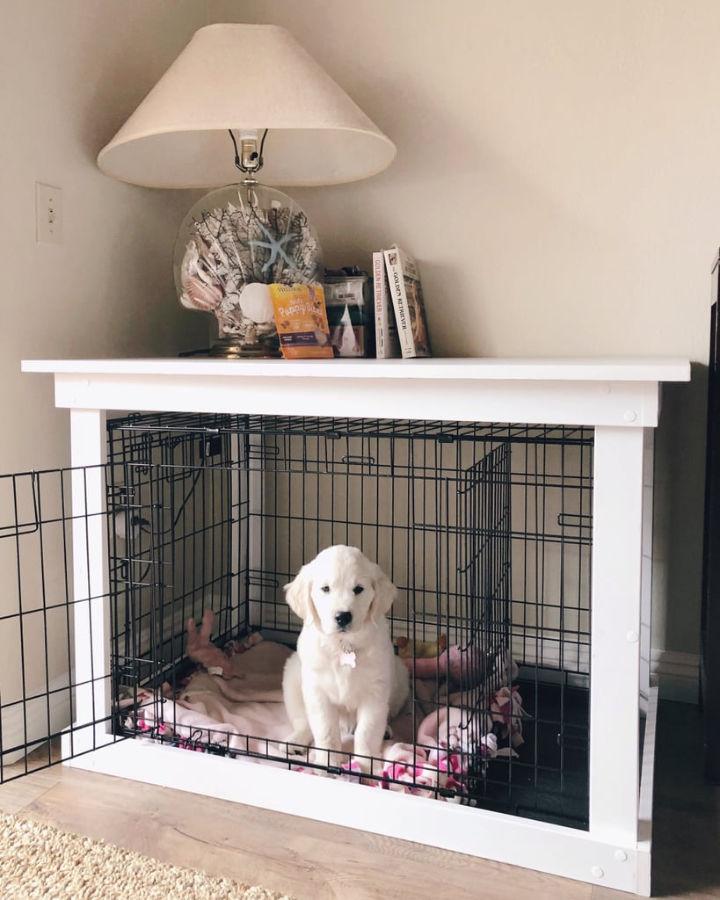 Dog crates are very helpful when you're training your dogs. They make life easier. Here's a guide to how you can re-create this heavy-duty dog crate. It has some simple colors like white and black, which give it a very minimalist and clean feel. popsugar
2. Dog Crate Nightstands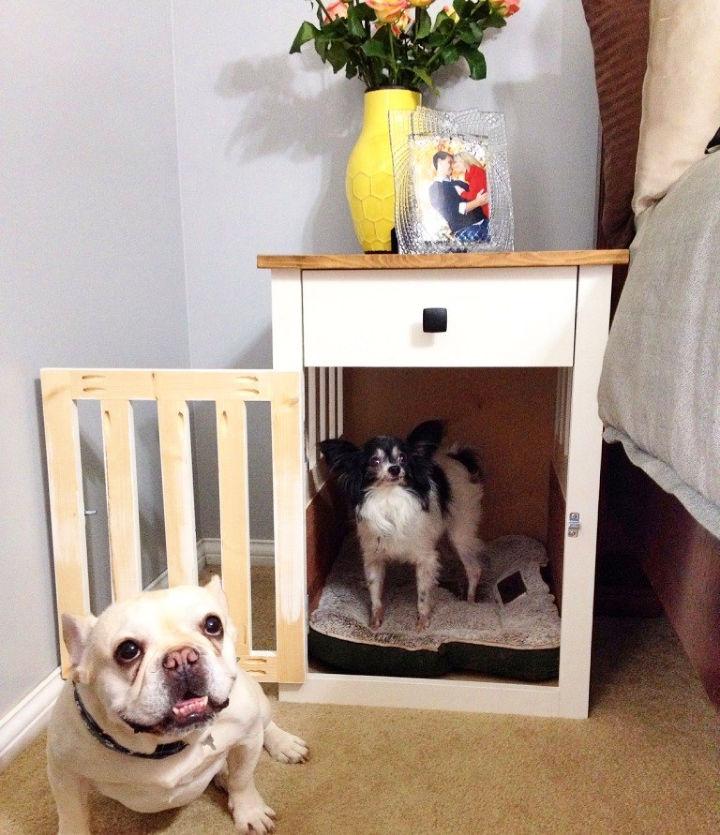 Everyone loves their dogs and wants to stay close to them even if they are training. Nesting is an important part when dogs are growing up; however, you can keep them close to you by having a nightstand with a dog crate inside it! Isn't this just such a genius idea? woodshopdiaries
3. Wooden Dog Crate

Such beautiful a dog crate and the best part is that you would have to build this diy dog cage from scratch. You can use any old dresser or buy a cheap one. This guide will show you how you can make an indoor crate that will match the aesthetic of your house. carlylifeandstyle
4. DIY Dog Console Crate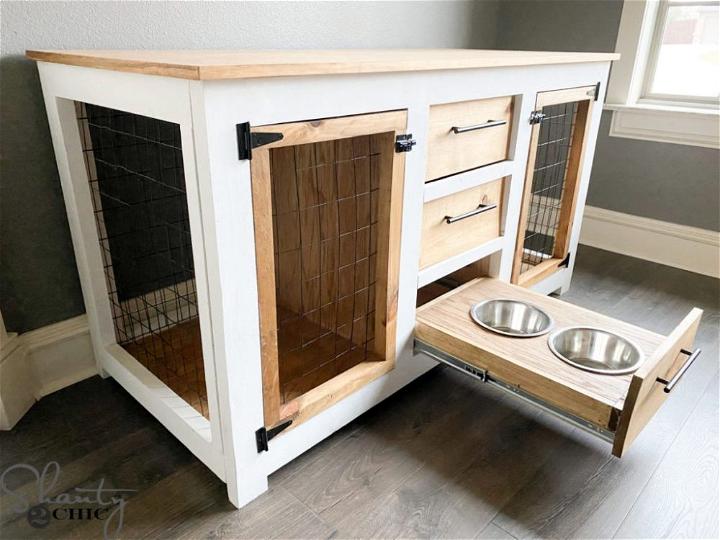 Our dog deserves all the love that there is! Making a beautiful crate as this one will really improve the quality of your dog's life and make them happier. It is so professional-looking, and you will be very amazed by the final results as it is just so stunning! shanty 2 chic
DIY Ideas for Dogs:
Dog house plans: Need a new comfortable, easy-to-build house for your dog? Get inspired by this collection of free DIY dog house plans and ideas include step by step details and guides.
Large dog house plans: These free large dog house plans include step-by-step illustrated instructions, measurements, cutting lists, and shopping lists. Easy to build a sloped roof dog house.
DIY dog pool: Check these DIY dog pool ideas for your pet dog so that he can cool off while staying outdoor with boiling temperatures.
How to make a dog collar: These diy dog collar ideas will show you how to design and sew your very own customized dog collar using your favorite fabric pattern!
DIY dog bed: Help your pet with these easy DIY dog bed plans. Your furry friend will love lounging in one of these inexpensive and easy-to-make dog beds.
Dog kennel plans: Learn how to build a dog kennel at a low cost. Find these free DIY dog kennel plans include step by step instructions for indoor and outdoor kennels.
5. DIY Dog Crate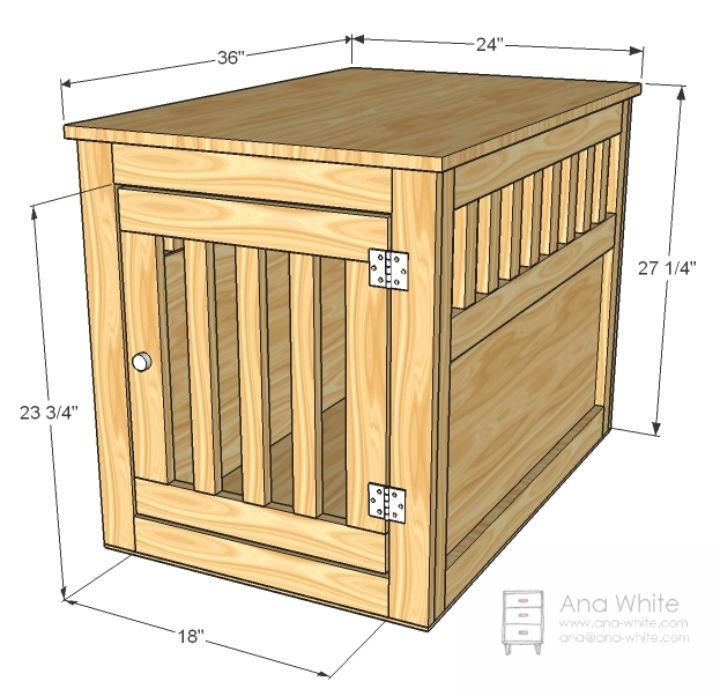 Some dog crates can be very boring and plain. You can spice things up by making this DIY dog crate, which is all wooden. The design and shape of this crate are just so beautiful. It is very roomy, so your dogs can be super comfortable inside it. ana white
6. Barn Door Dog Crate

A plan which is very modern and a perfect barn crate. The color theme includes white and brown, which is just a fantastic combination. There is also a gate that will make things easier when you don't want to let the dog out! It is very convenient and easy. buildsomething
7. DIY Dog Crate Table or Side Table Knockoff Challenge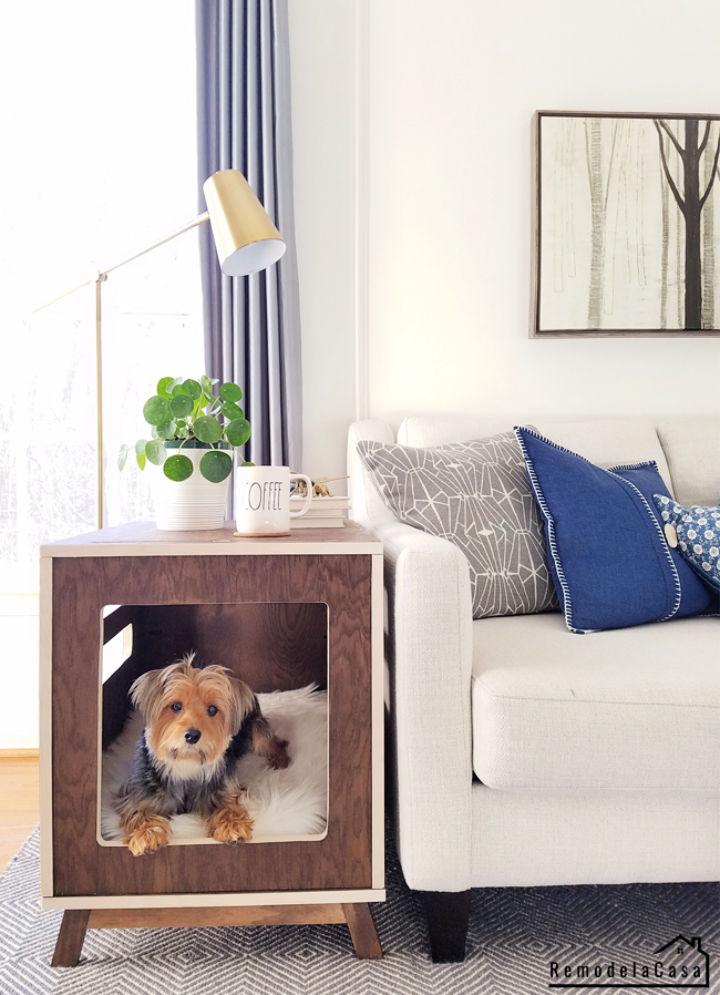 Mid-century furniture is always a lot of fun and will make your house look so luxurious and beautiful. Drill, circular saw, clamps, and a few other tools will be required for you to nail this diy dog crate table project successfully! Start the project by taping both sides of the plywood. remodelandola
8. Turn An Old Crib Into An Homemade Dog Cage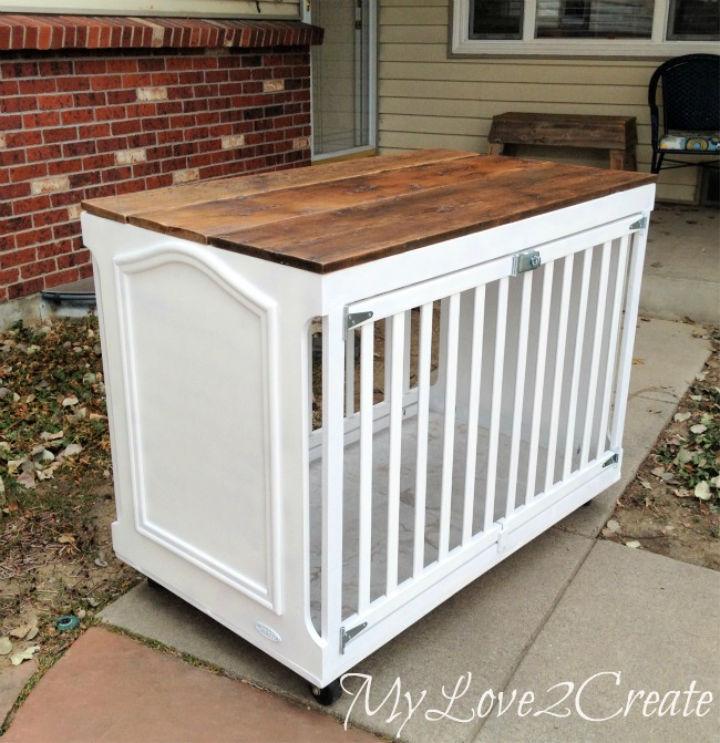 Your dog needs love and support. You can show it to them by making a beautiful crate like this one where they can spend their days. It will make them feel safe and secure. This brown and white-themed one is so pretty. A very detailed plan! mylove2create
9. DIY Dog Crate Cover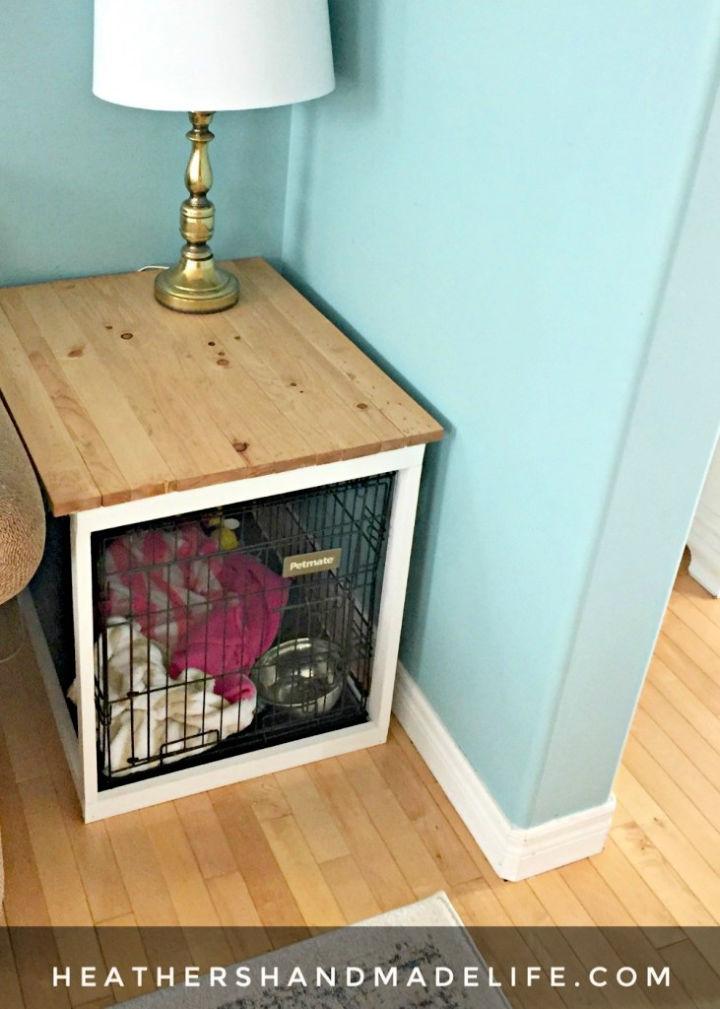 Make this stunning diy dog crate table and put many blankets inside. Your dog will love the environment inside it. It has white borders, black grills, and a wooden top part. You may keep things like flower vases, candles, and other stuff on top of this adorable little crate! It can double up as a side table. heathershand
10. Homemade Dog Crate

You only need some basic supplies to make this project a success. Screwdriver, drill, bar clamp, tin snips, jigsaw, miter saw, and a nailer are the only tools required for you to nail this project successfully! The guide also comes with a cut list. thisoldhouse
11. How to Upcycle a Crib Into a Dog Crate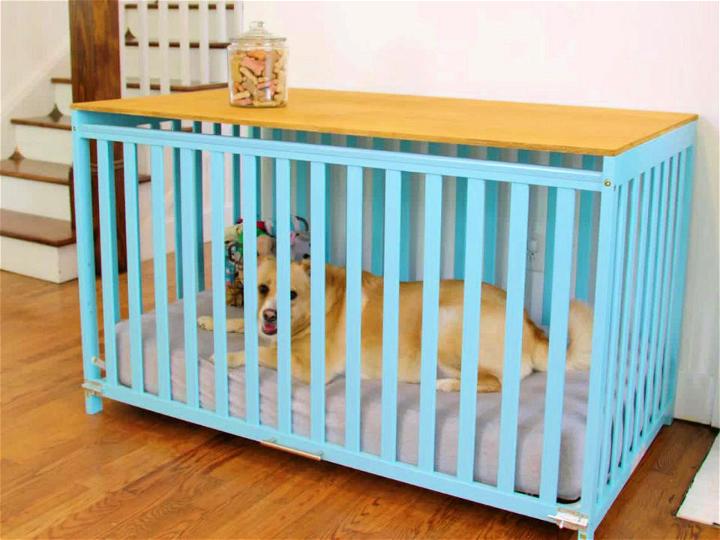 A circular saw, drill, Allen key, drawer pull, screws, throw bolts, and a few other tools and materials will be required for you to make this adorable blue colored DIY dog crate. You will need to add a mattress at the end to make it a comfortable place for your dog. diynetwork
12. DIY Dog Table Crate

All you need is some good-quality plywood to make this project a success. Any beginner can make this adorable dog crate as it is super easy and won't take that long to re-create. You just have some basic tools to nail this project successfully! doglifeincle
13. Dog Crate That Doubles as an End-Table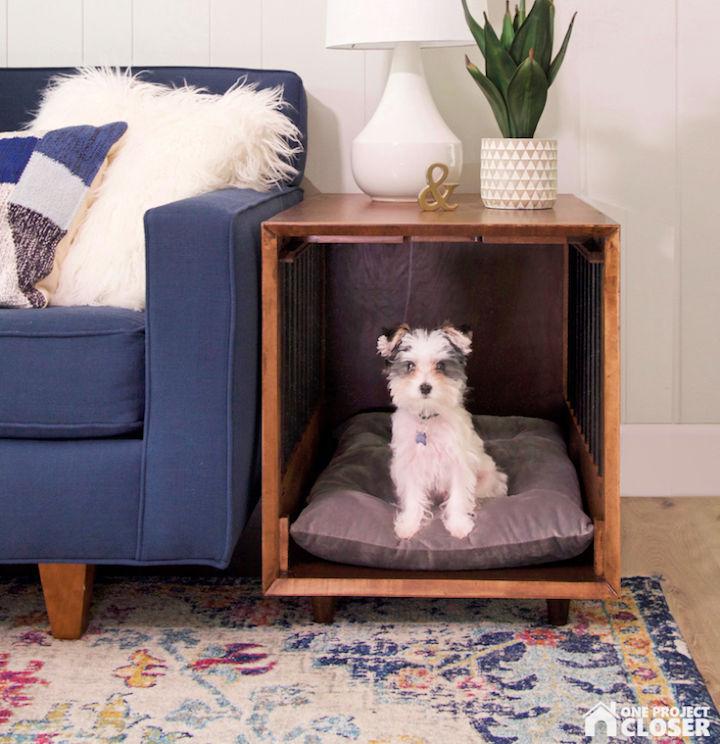 It will be a beautiful sight to see your dog cuddling up in this adorable dog crate. It will double up as a side table, so you won't have to move it around when someone decides to visit you. Wood stain, plywood, wood glue, and a few other supplies will be needed. oneprojectcloser
14. Geometric Doghouse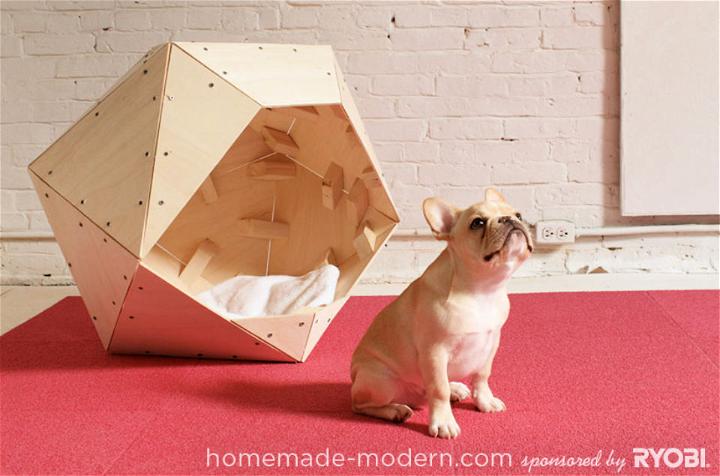 Geometric shapes are just a great addition to add to your house if you're looking for ways to make it look interesting and unique. In comparison to the other DIY's, this homemade dog cage is a very different and "out of the box" idea. You only need two tools to recreate this- cordless drill and a circular saw. homemade modern
15. DIY Wooden Dog Crate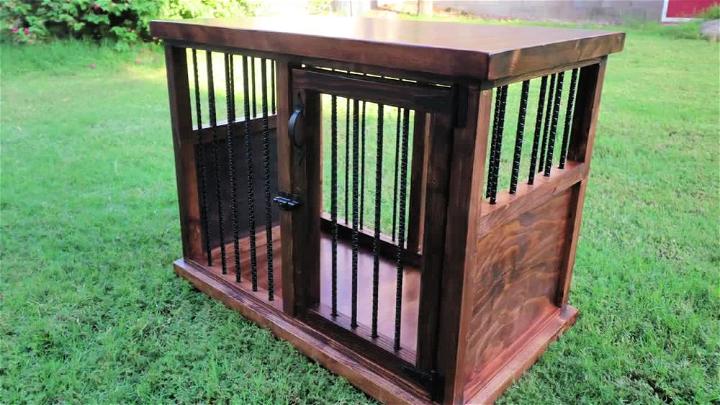 Rustic furniture is just amazing, and it adds a cozy vibe to your house. You can also place this DIY dog crate in your farmhouse to match the vibe in there. Saw, drill, angle grinder, pocket hole jig, and a few other tools will help you nail this project. Isn't this just perfect?
Conclusion: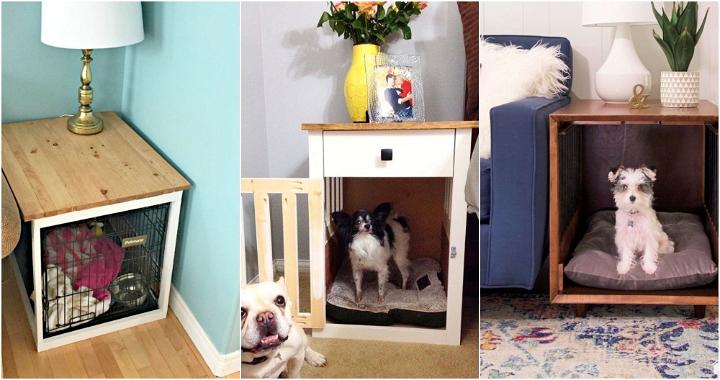 Tempted to try out a few of these DIY dog crate plans? You can start working on them right away! It can be a very fun process building these homemade dog box ideas. You can start by making a to-do list.
This list of diy dog crate plans can include stuff like what lumber you'll need and the tools that you may not have already. You can look for ways to spend less money- for example, by renting or borrowing the tools that you don't own. You can also browse through the internet to find lower lumber prices!