While visiting the home decor sections in the store, the wall hangings are often to come in your eyes. No doubt, they enchant you but suddenly become less attractive due to ridiculous higher prices. So, try making your own interesting wall hanging tapestry like the store-bought ones, with these 15 DIY wall hanging tapestry ideas that share all weaving, no-weaving, macrame-ing, and dip-dyeing hacks to make a fascinating wall hanging tapestries. At their completion, while hanging on the wall, they will make you feel proud. It is going to be the best way to feature your best art, pattern, and colors on a blank and boring wall. Moreover, these DIY wall hangings will be a cost-efficient way too to upgrade the blank walls with bright yarn colors, and there are projects for every skill level even for those who have never gone through weaving-on-a-loom.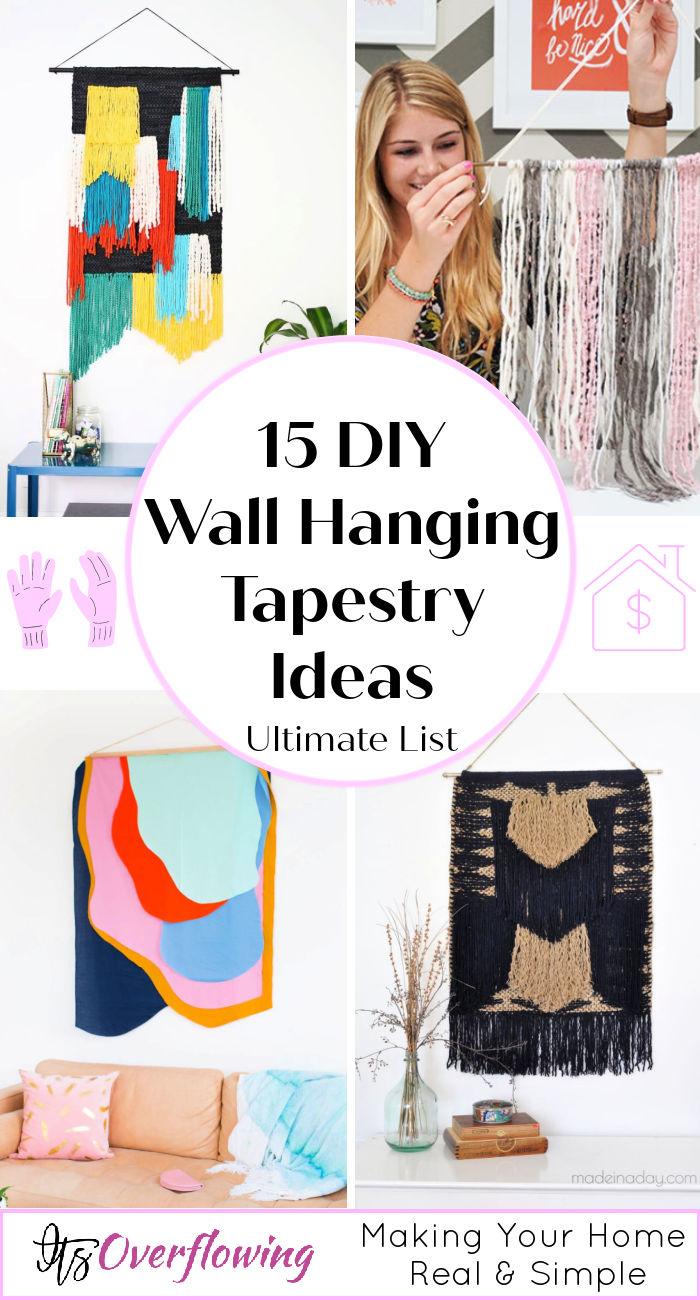 Just add up the printed pieces of fabrics with wooden stick borders and make crazy wall hangings. Use a braided macrame cord and a wooden stick to make a lovely wall hanging decoration piece. And simply tie the colorful yarn lengths on to a wood dowel, straight or in loop style to get a lovely quick wall hanging tapestries. From simple tassel hangings to layered colorful yarn wall hangings, there are too many DIY wall decor ideas to choose from. Also, get the guides about how to turn the old rugs, mud cloths, fabrics, and quilts into a sweet, adorable DIY wall hanging decorations for home.
1. DIY Wall Hanging Tapestry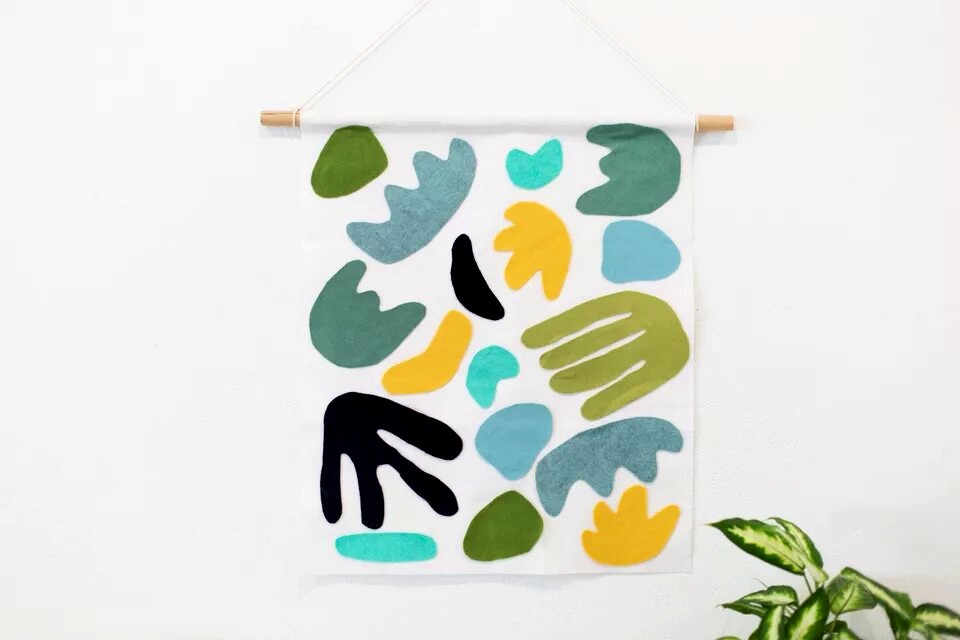 Are you addicted to self-made wall art signs? Then you must go with this wall hanging tapestry, quite an amazing piece of wall art to make quickly at home. Grab the felt in different colors, a thick fabric, glue sticks, wooden dowel, and cotton cord to make this wall hanging. Details here thesprucecrafts
2. Large Tapestry Wall Hanging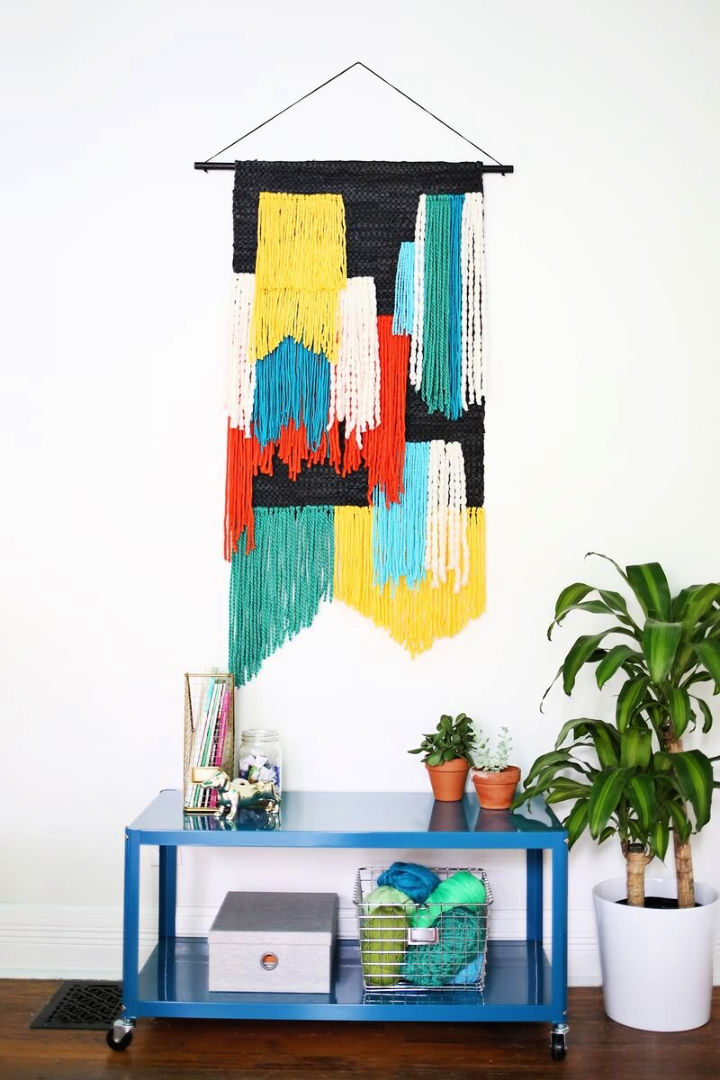 Get amazing DIY satisfaction by decorating your walls with your own hand-woven tapestries. Check out this large tapestry wall hanging that is to make using a 2'x3′ woven rug, a small crochet hook, and with yarn of different lengths, colors, and textures. Hang it on the wall using a wood dowel or string. abeautifulmess
3. Wall Hanging Yarn Tapestry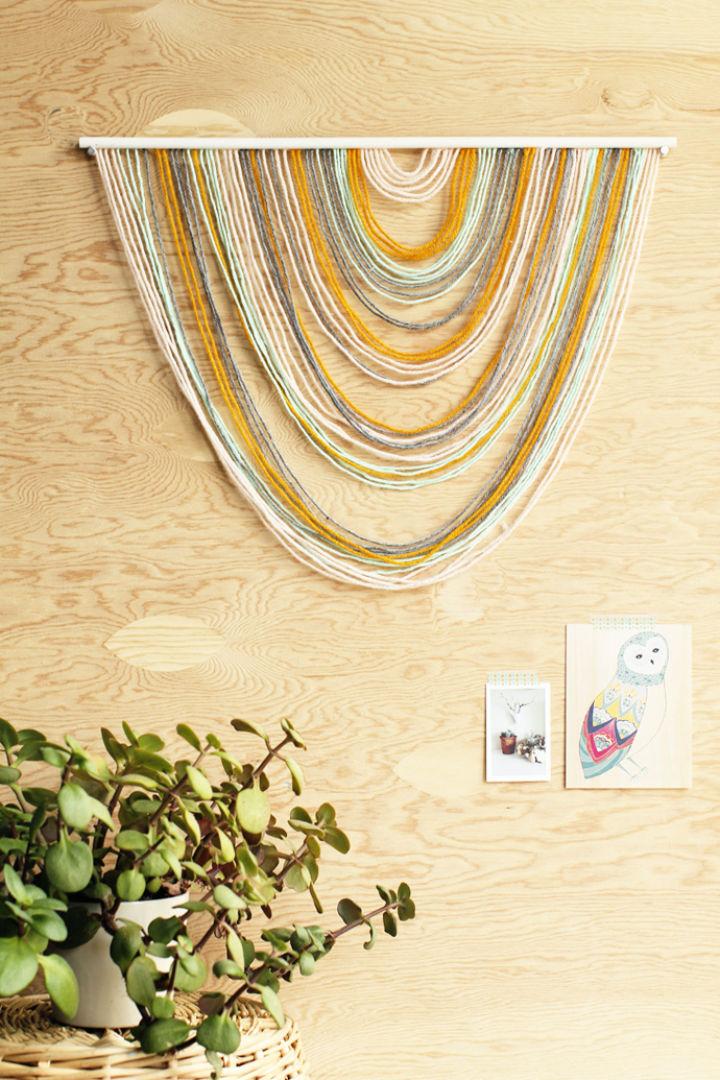 If talking about the best interior home decor, you will give ten out of ten to this wall hanging yarn tapestry, will win your heart at a very first look. Grab a wood dowel, or a stick, white paint, and painting sponge brush, and hot glue to make this lovely wall hanging yarn tapestry. Details here howewelive
4. Handmade Wall Hanging Tapestry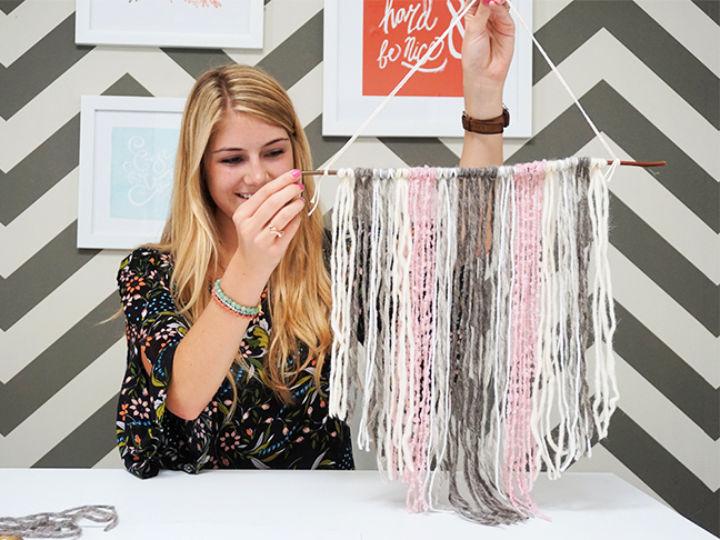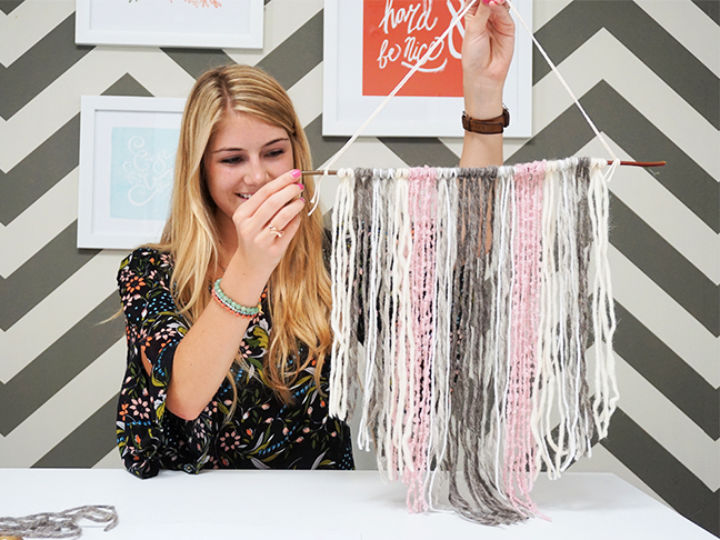 Rock your interior wall decor by adding custom homemade pieces of art like this wall hanging yarn tapestry. It is something best to get out of yarn when willing to fancy up a wall. By simply tying out colorful yarn lengths to a piece of yarn or wood dowel, you can easily create this yarn tapestry. momtastic
5. No Weave Large Tapestry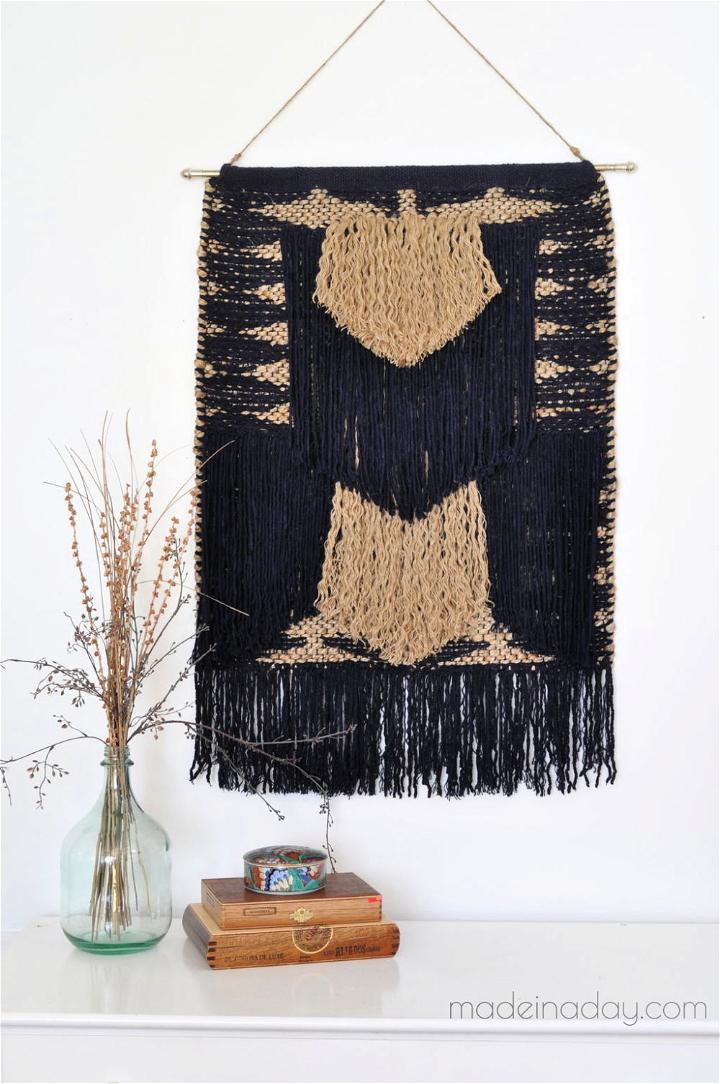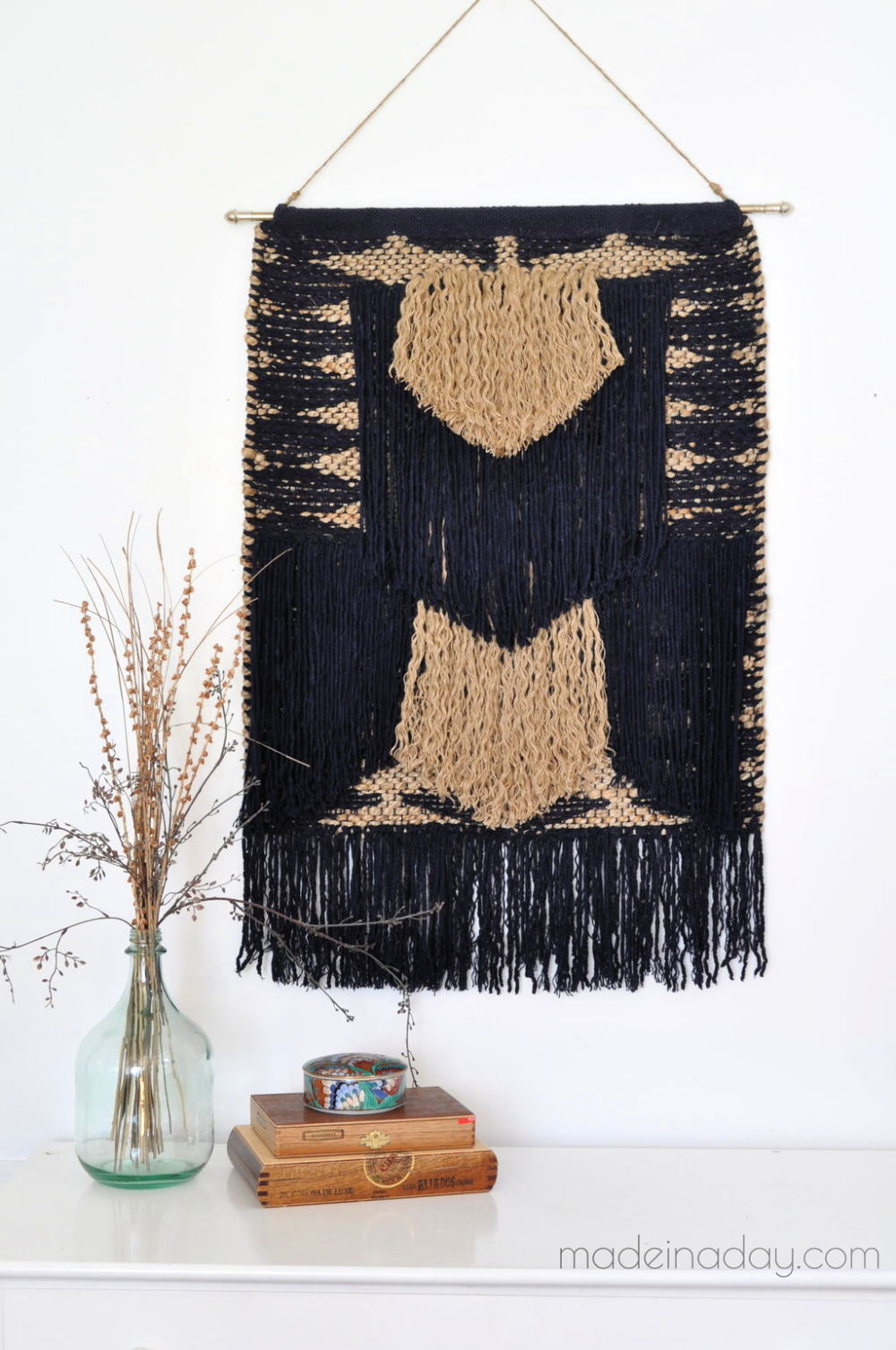 Tapestries are often to weave on the looms using your hands. So, make this no-weave large tapestry that requires no weaving tapestry skill. Here you need a rug, 2 skeins of chunky yarn in navy blue, 2 pkgs of rope, a gold cafe rod, jute twine, and a 5.5mm crochet hook to make this large tapestry. madeinaday
6. Stupid Easy Yarn Wall Hanging Tapestry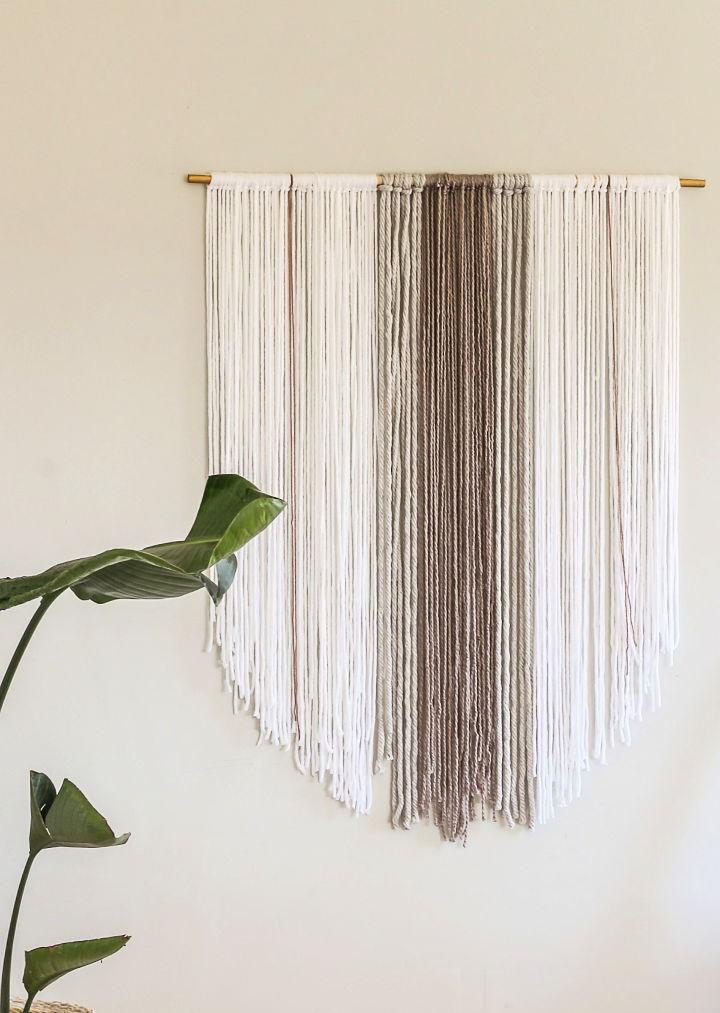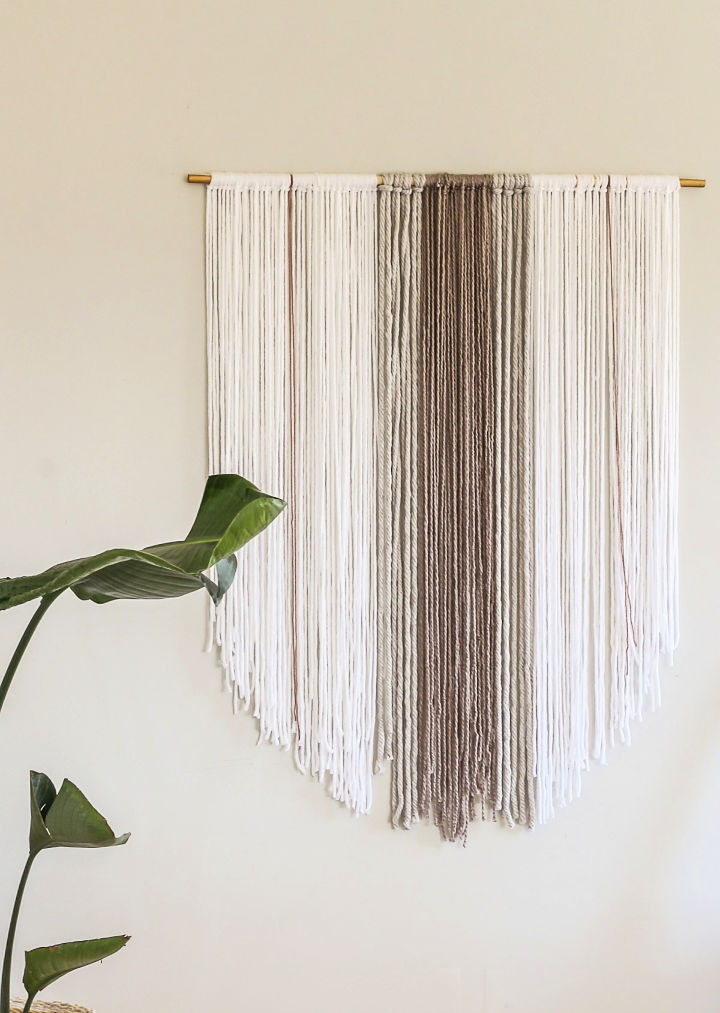 Jump on the wall tapestry bandwagon and get the fancy wall decor you have never seen or thought before. Set the decor standards in your bedroom with this classy yarn wall tapestry hanging. Here all you need to tie the yarn lengths of different texture and color onto a gold spray-painted wood dowel to make this wall hanging. designingvibes
7. Custom Tapestry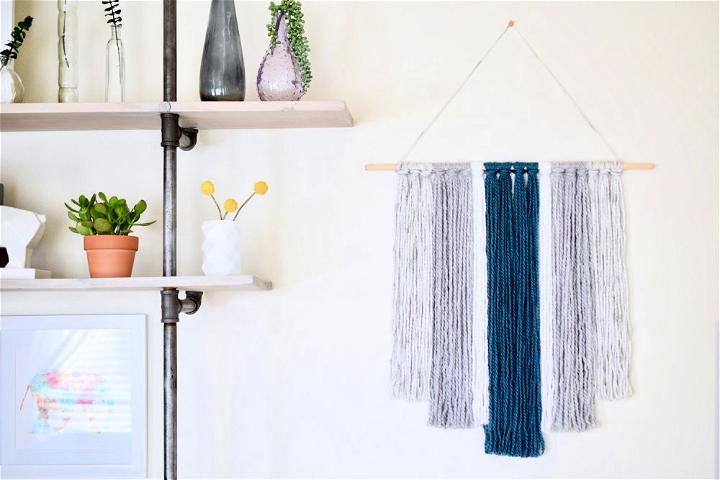 Take your bedroom or any wall decor to the next level with this custom wall hanging tapestry. You only need the chunky yarn in 2 or more colors and a wood dowel to make this custom tapestry, the best DIY Yarn Wall Hanging. Try it with your own favorite colors of yarn. Details here mintandpine
8. DIY Tapestry Hanger

Wow, the bedroom audience with this DIY compression quilt hanger, the best DIY tapestry hanger to make at home. You need a quilt, 2 pieces of wood, 4 screws and bolts, polyacrylic, wood stain, a drill with bit and picture hanging hardware to make this tapestry hanger. Details here audreygail
9. Turn a Rug Into a Wall Art Tapestry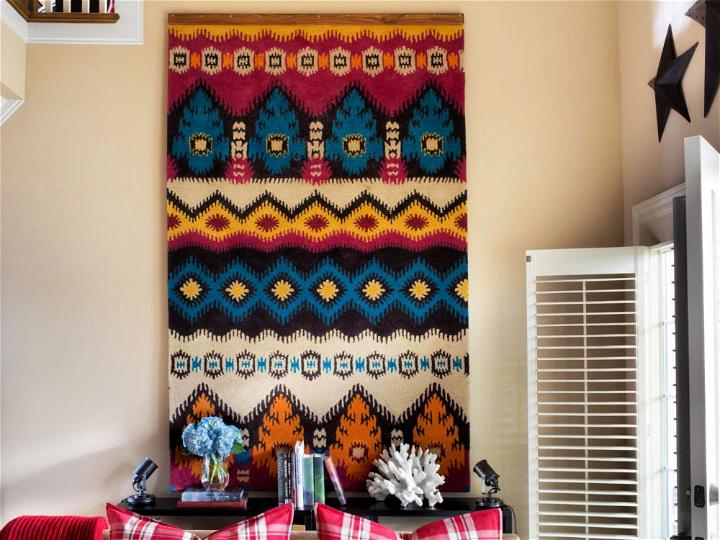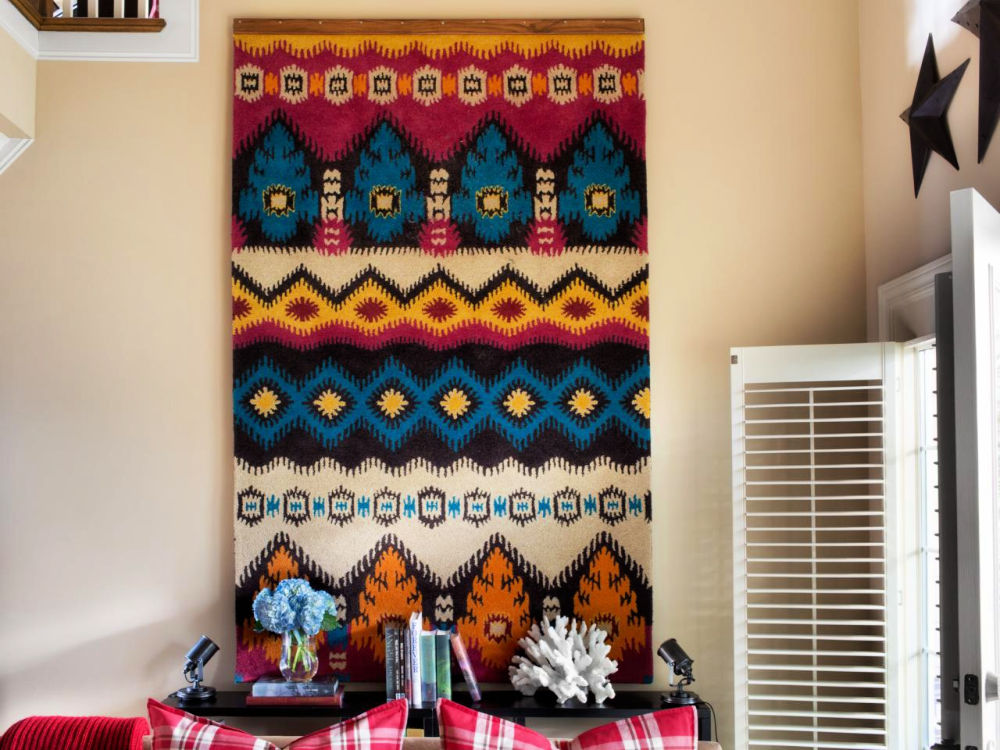 Having nothing to do with your old rugs into fascinating pieces of wall art tapestry. Learn the whole hack here. Here you need 8′ long carpet tack strip, 8′ plan of 1"x4" oak and 8′ long pieces of 1"x2" and the perfect hanging hardware to make this lovely piece of wall art. Details here hgtv
10. Colorful Fabric Wall Hanging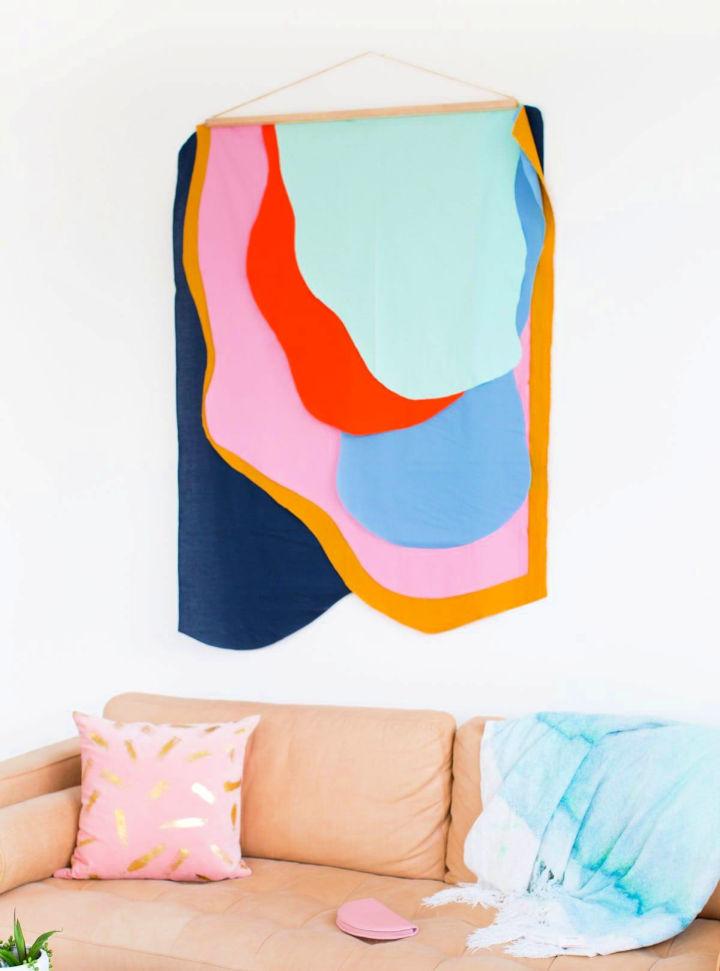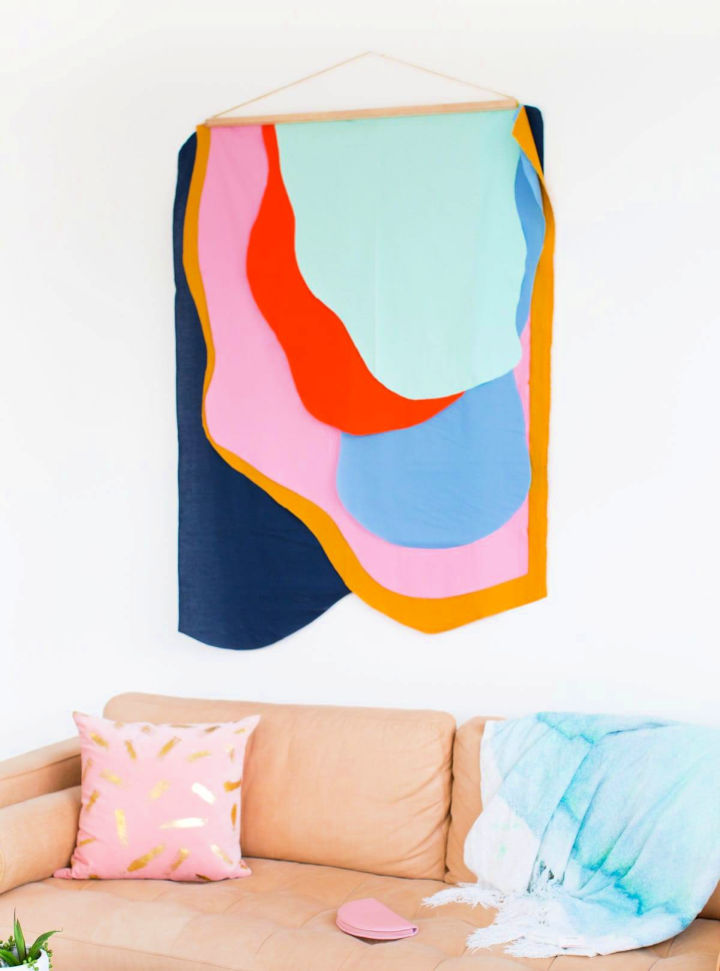 A divine way to bring colors to a blank, boring wall that is begging for a makeover. To make this flawlessly colorful wall hanging, you need cotton fabric in your favorite colors, square wooden dowel rod, gold screw hooks, gold craft cording, and a staple gun. Details here sugarandcloth
11. Mudcloth Wall Hanging Tapestry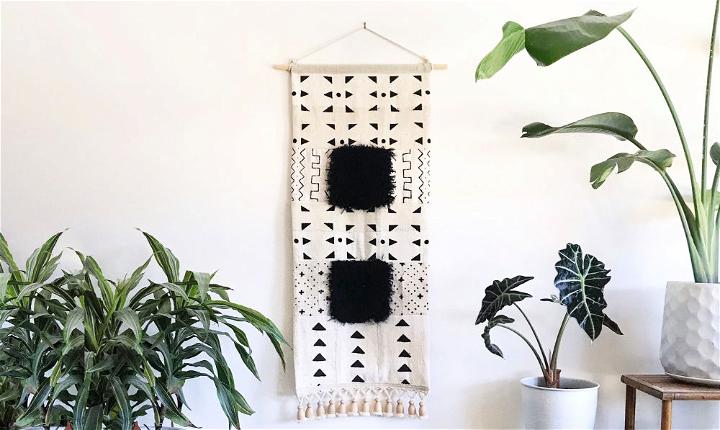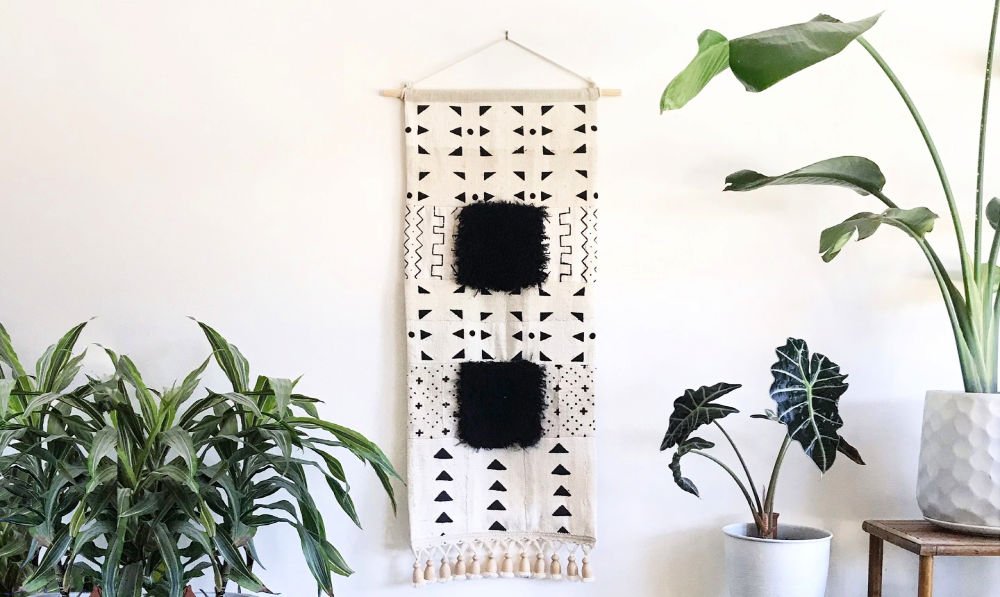 Renovating your boring interior walls should not cost you big, actually. Repurpose a mudcloth and transform it into a sweet wall hanging tapestry, will surely gain attention at a very first look. You need an intermediate skill level to make this 18×42-inch wall hanging tapestry. You need patterned fabric, faux fur, backing, and casting fabric, pressing cloth, thread, decorative trim, a 5/8" diameter pine wood dowel, decorative trim, and brass picture hook, etc. to make it. mybluprint
12. DIY $7 Tapestry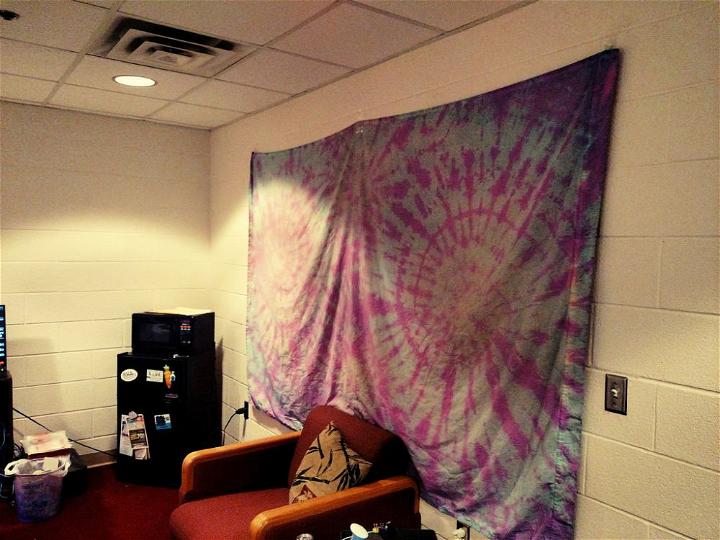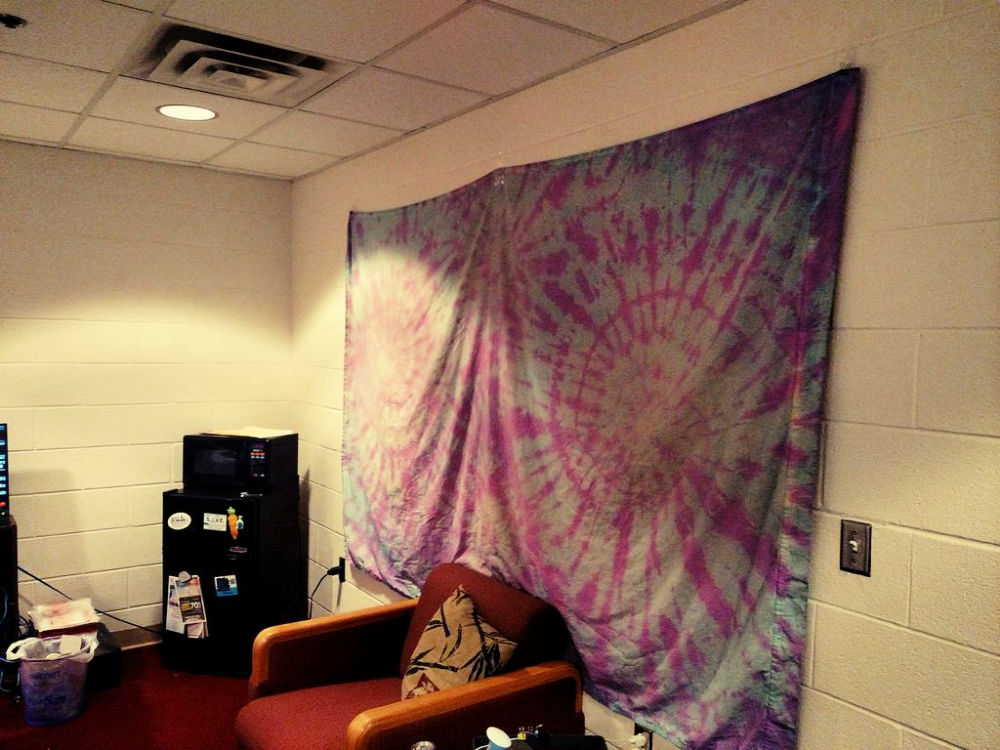 Willing to decorate your common rooms in an impressive way? Then spending just $7 dollars from your pocket to do so. Yes, this cheap investment can make you get this expensive looking wall art, the wall hanging tapestry. Just use the dip dye technique and dye a piece of fabric in homemade dyes to make it. instructables
13. DIY Macrame Wall Hanging Tapestry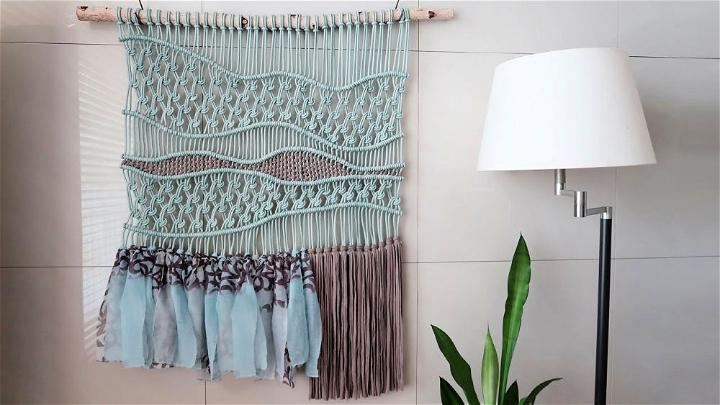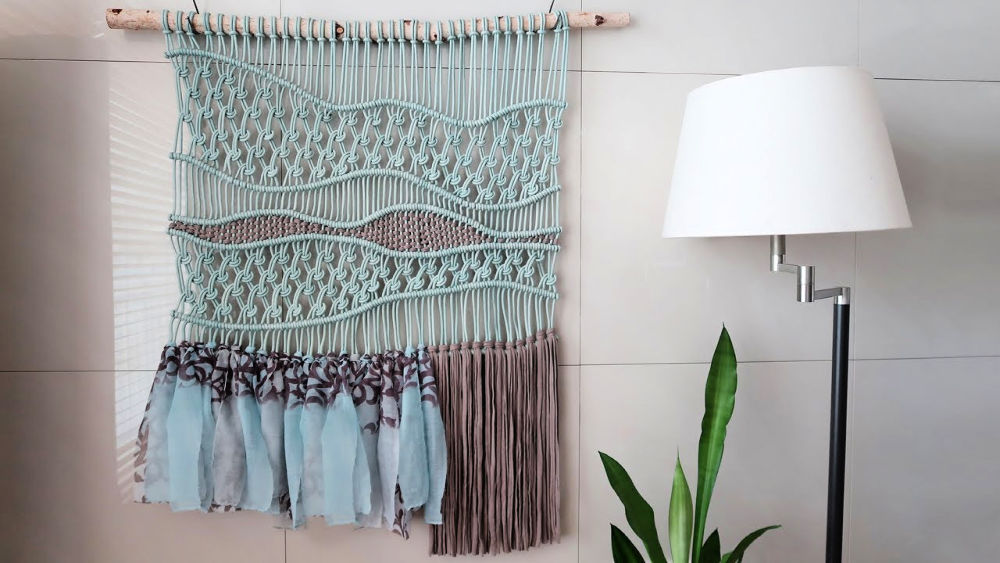 Use the macrame art that is pretty much equal to hand weaving to make an interesting DIY macrame wall hanging. Just grab a 100cm wood stick and start tying the braided macrame cord on to it to make the wall hanging. You have to use an old t-shirt or scarf too for this 108cm x 100cm DIY macrame wall hanging. youtube
14. DIY Large-Scale Wall Tapestry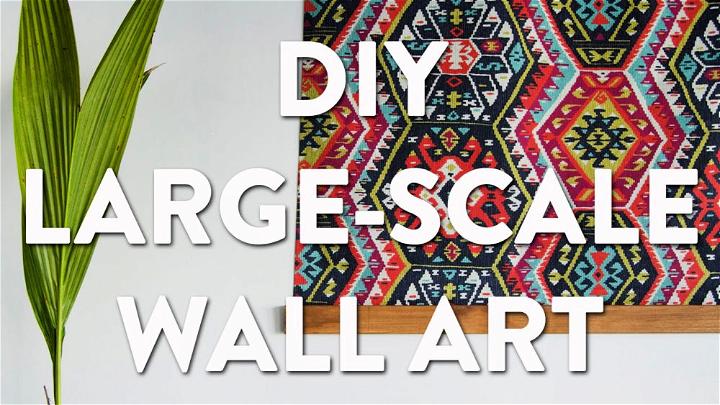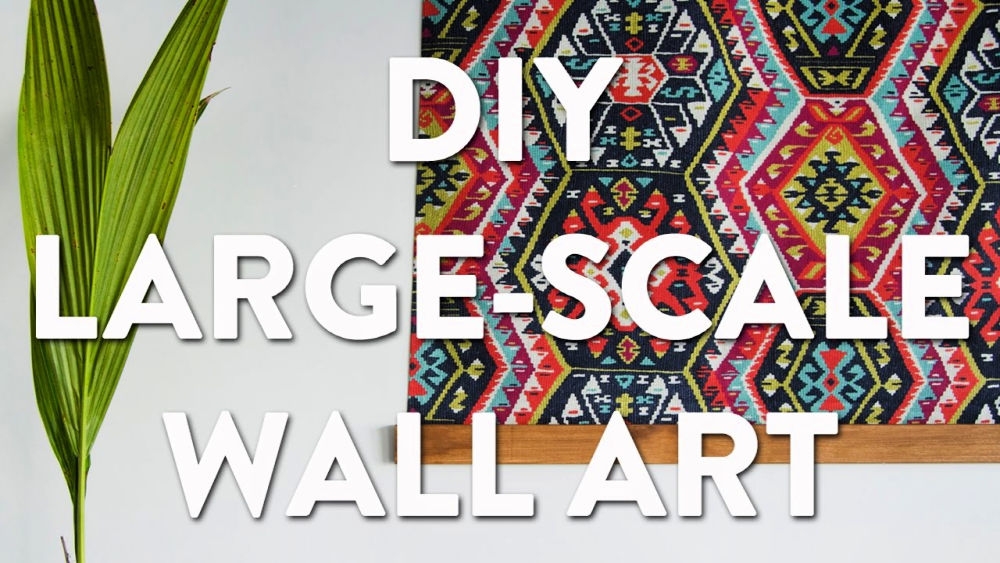 Are you not a weaving expert? You can still make the interesting wall hanging tapestries when you have never gone through hand weaving. Just grab a piece of fabric with your favorite print, wood slats, twine, hem tape, screw eye hook, and a staple gun to make this large scale wall tapestry. Details here youtube
15. Easy Wall Hanging Tapestry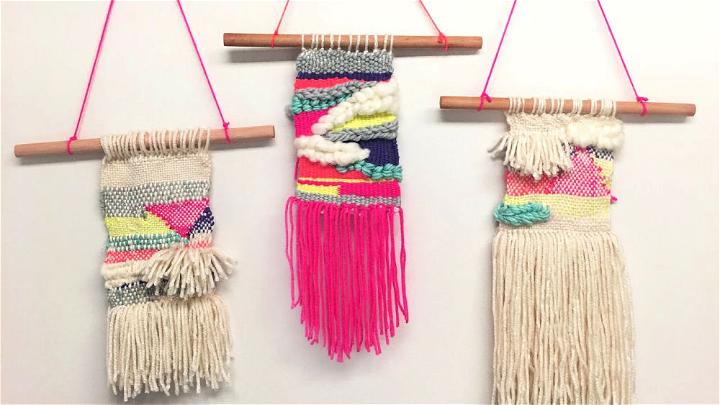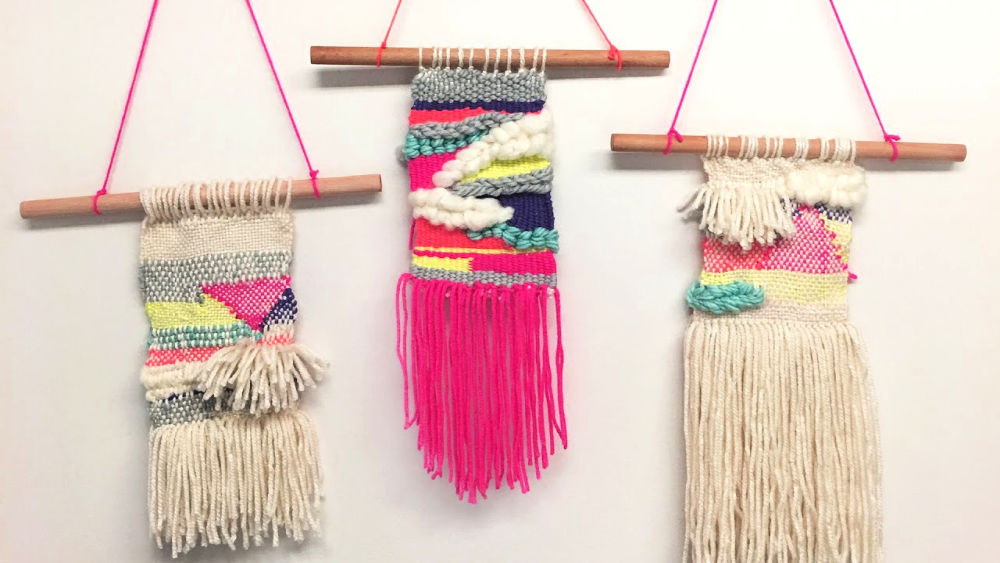 Do you love making tapestry on the loom or want step-by-step instructions for it to take a good start? Then check out here this easy tutorial for a tapestry wall hanging that guides you through all steps about how to make a loom first and then how to weave it with hands for interesting art. youtube
Conclusion:
Bringing a lovely decorative character to your blank walls may cost you big, for sure. So, head over to these DIY wall hanging tapestry and decoration project that will help you quickly and inexpensively make the pro-style ones right in the comfort of your home. From miniature to medium size to large wall hangings, there are free plans, instructions, and tutorials for all.
Time to brighten up your indoors with these enchanting pieces of yarn wall art. Frame up the printed fabrics, rugs, and mud cloths also to make quick lovely wall art hangings. You will get the perfect guides too about how to set up or build a loom, how to start hand weaving like a pro, and how to use macrame art to make arresting wall hangings.